How I Cut My Wardrobe In Half and Why You Should Too
I'm going to show you how cutting your wardrobe in half will lead to a quicker dressing routine and a more stylish you!
(THIS POST PROBABLY CONTAINS AFFILIATE LINKS. OUR FULL DISCLOSURE POLICY IS LONG & BORING BUT, YOU CAN FIND IT HERE.)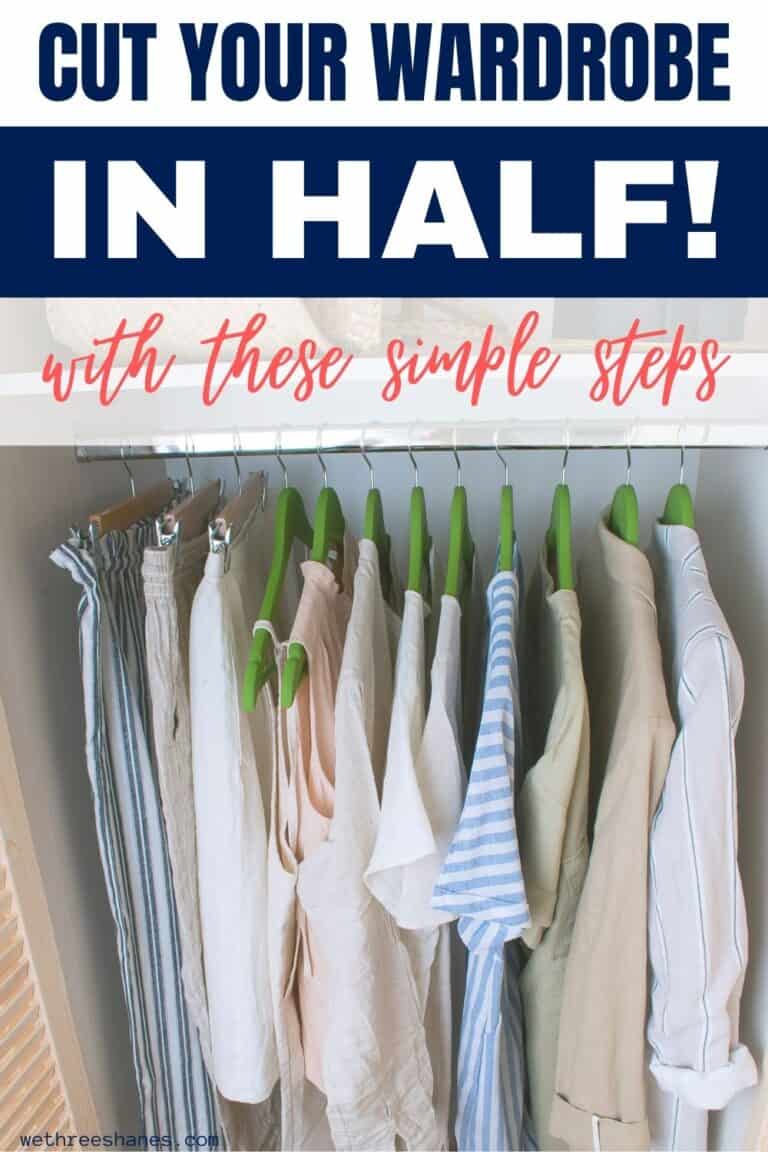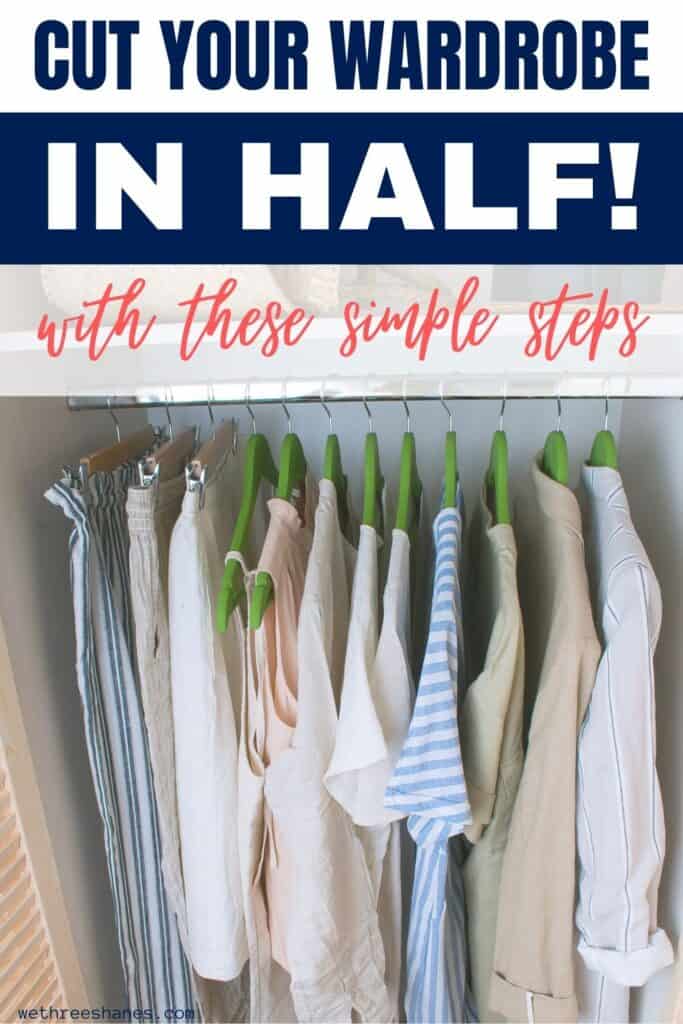 How I Cut My Wardrobe In Half
I gotta tell ya, just months ago I was so sick of my wardrobe. Every morning I stood in front of my full closet and couldn't decide on a single thing to wear.
Inevitably, I would grab the same old shirt and pair it with the same old pants and went on my way. I didn't particularly like the outfit but it worked, and that was gonna have to be enough.
One day when washing clothes, I had enough. I was washing and putting away clothes I wasn't happy with and there was so much of it! As I was putting them away, I started to notice how similar some of the items were.
I realized that I really wasn't unhappy with all of my clothes. Actually, I really liked a good amount of them but they were so similar it became easiest to go for my most worn outfits.
That's when I decide to cut my wardrobe in half.
I have been intrigued by the thought of a capsule wardrobe for quite some time but I didn't want to get rid of clothes I like just because they didn't work in a capsule. If you haven't heard of a capsule wardrobe before, it's done by simply limiting your wardrobe to a smaller number of items that you can mix and match to make many outfits. (You can change it out with the seasons).
So, did I create a capsule closet when I cut my wardrobe in half? No, at least I don't consider it to be a true capsule wardrobe.
I do think it's a great start to see if a capsule wardrobe is right for me. As I run out of clothes, I plan to update them with items that will be more in line with a capsule wardrobe, making sure clothing pieces will mix and match better to make a higher number of outfits.
Ready for that step already? Learn how to create a capsule wardrobe in your style with clothes you already own.
---
WHY I CUT MY WARDROBE IN HALF
The big question is: Why did I decide to cut my wardrobe in half?
1. I wasn't wearing most of it.
Statistically speaking people only wear 20% of their wardrobe regularly. I feel like I was represented by this statistic.
Having a wardrobe full of clothes that I don't even wear made getting ready in the morning less fun. I always grabbed the same stuff to wear while the rest of the clothes collected dust.
Here's the thing though, I still looked at the clothes collecting dust and thought, "should I wear that today?" It was taking me too much time in the morning to pick something out just to turn around and wear the exact same thing I always do.
2. I spend too much time on laundry.
When I have more clothes to wear I have more clothes to wash and put away. I wanted to streamline the process.
I know this doesn't make sense for some people.
Some people might be thinking, "But you wear the same amount of clothing everyday so how does having less clothes cut down on laundry?"
That's a great question. I guess, technically it doesn't.
It means I'm doing laundry a little more often but it's more manageable.
There are 3 people in my family. Because we've cut down on all of our clothing items, I can wash our clothes in 3 washes. Two dark loads and one light. About once a week.
This is a much better system for me. So less laundry…no not really. But, laundry feels less daunting to do and that's really helpful.
---
HOW I CUT MY WARDROBE IN HALF
A ton of decluttering closet articles help you get rid of the clothes you don't like, that are out of style, are too worn out to wear, etc. When you're done with all of that you could still end up with a pretty substantial wardrobe depending on how many clothes you started with.
This system will help you get rid of those unwanted items and cut down the items in your closet even more.
Here's what I did.
I cut my wardrobe in half but didn't get rid of the extra items. The idea is to separate everything by colors and styles and then split the wardrobe into two similar, but separate, wardrobes.
One went back into my closet, the other went into storage. Now, when one of my shirts or other articles of clothing gets worn out I can swap it for a similar item from my storage inventory.
Basically, I'm shopping from my own stored clothes. This will save me time and money.
I already know I like the clothes, and after I haven't seen clothing items in a while I like them even more. Haha!
It's like when you're pulling out old toys your kids haven't played with in forever to get rid of them, and then they play with them instead.
However, sometimes storing clothes has the opposite effect. I've pulled out a shirt and thought, "Hey! I've lived without it this long and didn't miss it, I guess I don't really need it."
This makes it easier to get rid of which also helps with the closet decluttering process. Both situations work for me.
---
First Steps

To Decluttering Your Closet
Now that you know what the process is and what you're getting into, let's start the closet decluttering and wardrobe cutting.
Step 1 – Throw on some Netflix or listen to some music, a podcast or book on tape. If movies can have a wardrobe montage, so can you!
Step 2 – Look at every item of clothing you haven't worn in a while and try to figure out why. Those items either go directly into the donate pile or you go on to step 3.
Step 3 – Every item of clothing gets tried on. If it doesn't fit correctly, it's thrown in the donation pile.
Step 4 – Look for holes, stains, wears and tears that you might not have noticed. Toss it or use for rags when this is the case.
Step 5 – So far those 4 steps look pretty normal for a decluttering post. Here's where things change. Start sorting your clothes by category. I started with shirts then moved on to sweaters and jackets, pants and shorts, then skirts and dresses.
Step 6 – Here's where my plan really differs from other closet decluttering plans.
Lay items out by color, pattern, and style.
It's much easier to see how many shirts you have that are similar when they are categorized this way. You already have the clothing sorted by type so grab all your shirts, for example, and separate them by style.
Then do the same with sweaters and jackets, pants and shorts, skirts, etc.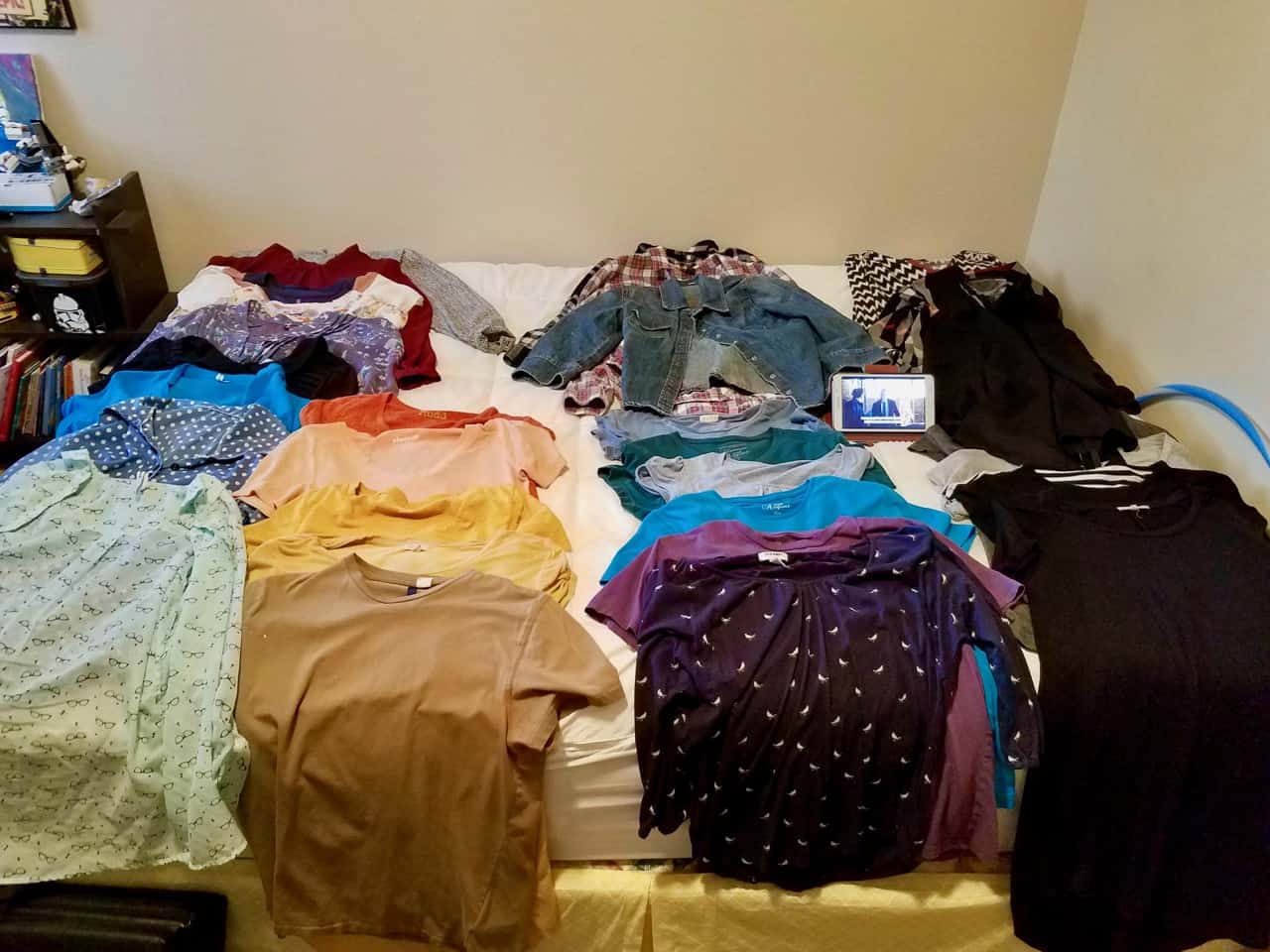 Step 7 – Split the clothes up into two similar wardrobes. Basically, I am making two similar wardrobes from the existing one.
Example-
You can see in the photo above that I have a lot of shirts that are comparable in both style and color.
I'll put two yellow/orange shirts in one pile and the other two in another pile. Then I move on to another color until they have all been split into two piles.
They don't have to be exact matches for them to be split apart. For example:
The light blue glasses shirt was split from the darker blue polk-a-dot shirt. I feel like these are two shirts that would be worn in similar situations so I don't need them both out at the same time. One will go back into the closet and the other into storage.
Also, I made sure to have some round-collar shirts and some v-necks in each pile. This is also a good time to get rid of more clothes if you feel the need.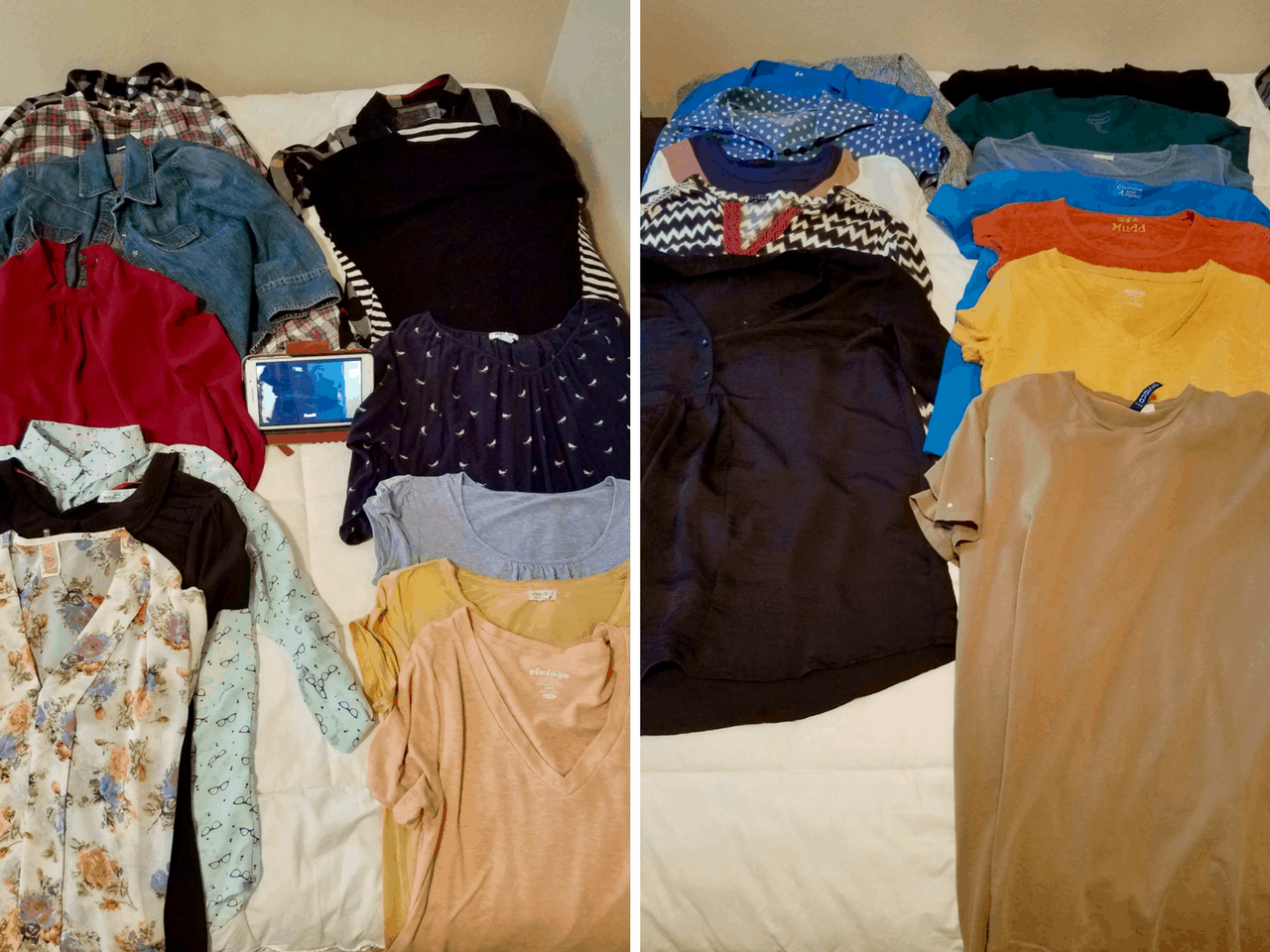 The photo above shows how I've split things up. You should be able to see how the two piles look similar to each other but are different piles.
The pile on the left went back in my closet and the shirts on the right went into the storage pile.
I've gone from 29 tops in my closet to 14. Some how a white v-neck didn't end up in my sort but did get added to my closet later. Not bad.
You can see two flannels in one wardrobe. Those could have been separated from each other but it's still a bit chilly here so I kept them both out and the colors are different enough that I felt good about that decision.
That's the thing, you're in charge of what goes back into your closet so you can make exceptions to the rules when it fits your needs.
A couple more tops ended up in the donate pile during this process, so I had 13 go into the storage pile. I feel like I'm left with a good mix of tops.
I have some solid t-shirts in both round and v-neck, a couple of cotton prints and a number of blouses, some with short sleeves, some long sleeves. (I'm watching The Blacklist in case you're wondering).
---
Tips for Separating Your Clothes
Go through the same process as above, with your sweaters and jackets, shorts, pants, skirts and dresses. Breaking your clothes down into categories and then styles and colors makes things less complicated. If you tried to do your whole wardrobe at once, it would seem a lot more daunting.
Keep colors in mind when splitting your clothes. I put my blue pants in one pile and my red pants in another. (Yes blue and red aren't necessarily the same but I wear these pants in a similar way so that's why I put them in separate piles.) Next, I matched the shirts up with the color of pants they work best with.
Since it was winter when I cut my wardrobe in half, I kept my red pants out and put my blue pants in the storage pile. I felt like the colors worked better for the seasons, red-winter, blue-spring.
You can split your whole wardrobe that way too. Instead of putting 2 pair of shorts in one pile and putting the other in the put away pile, you can store them all until warmer weather hits. I didn't split my 2 flannels apart, I kept them both out because I basically lived in them this winter. You do what works best for you.
Continue sorting all your clothes in a similar manner until you've gone through all of them. Place one half back in your closet and place the other in storage.
I put everything in a storage bag with a clear strip on the front. This makes it much easier for me to see what's being stored so I can swap items out when I need to. It doesn't take up much space in the bottom of my closet.
Put seasonal items on top so they are easier to get to when you need to swap them out.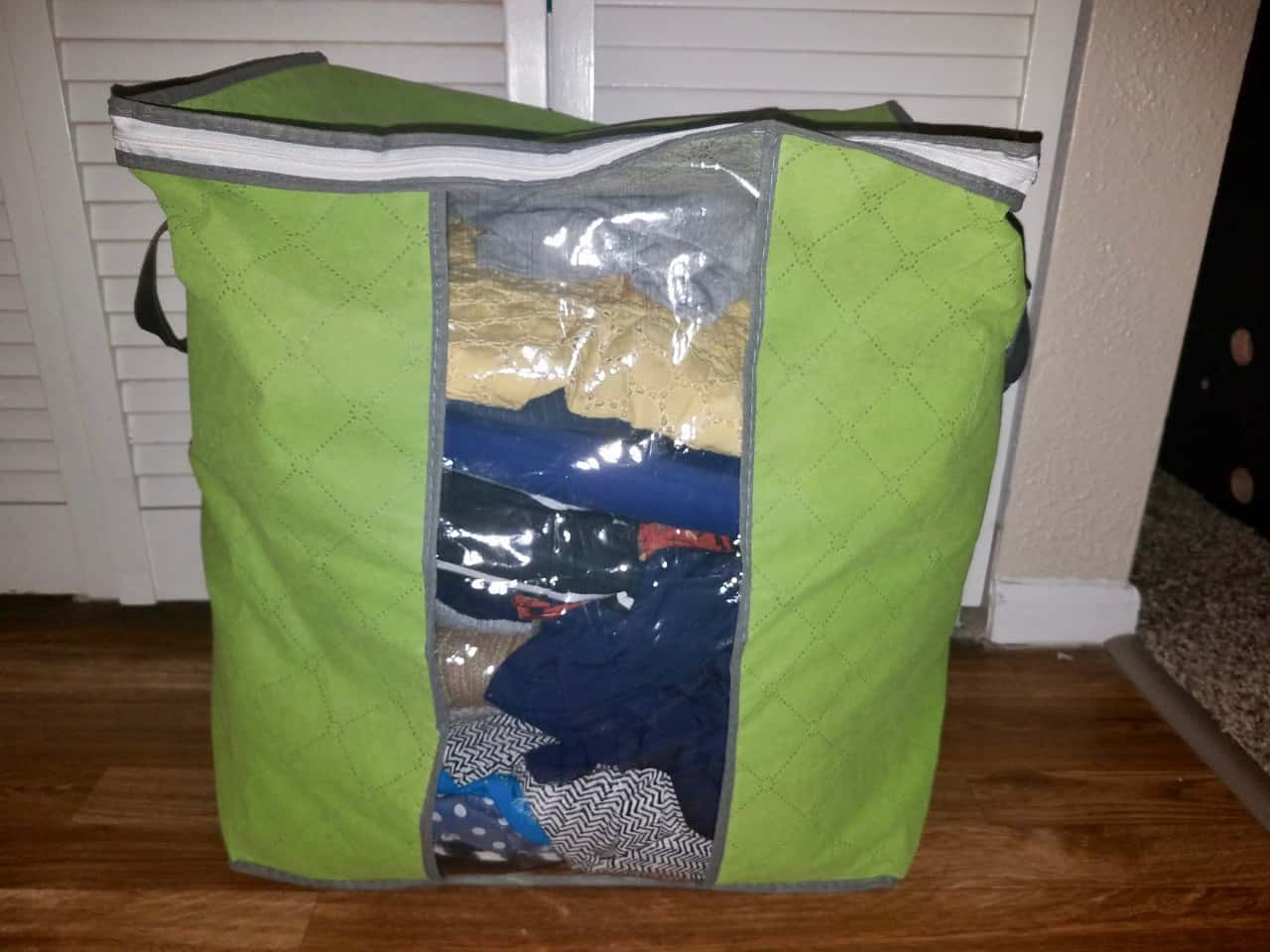 I used these Storage Bags because they are cheap and you get three of them. I only used one for my clothes and now I have two more bags to use for blankets, sheets, and other clothes.
---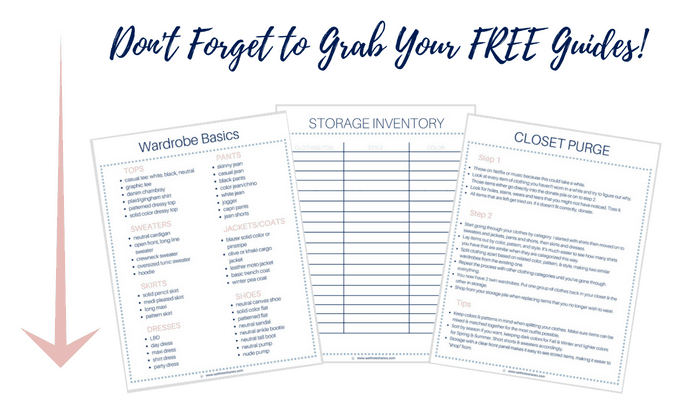 The Decluttering Results
Here's everything I'm left with after going through the whole decluttering process. It still looks like a lot of clothes but it's only 40 pieces.
I think that's pretty good. This doesn't include workout clothes and things I sleep in, but I did narrow those items down too using the same process.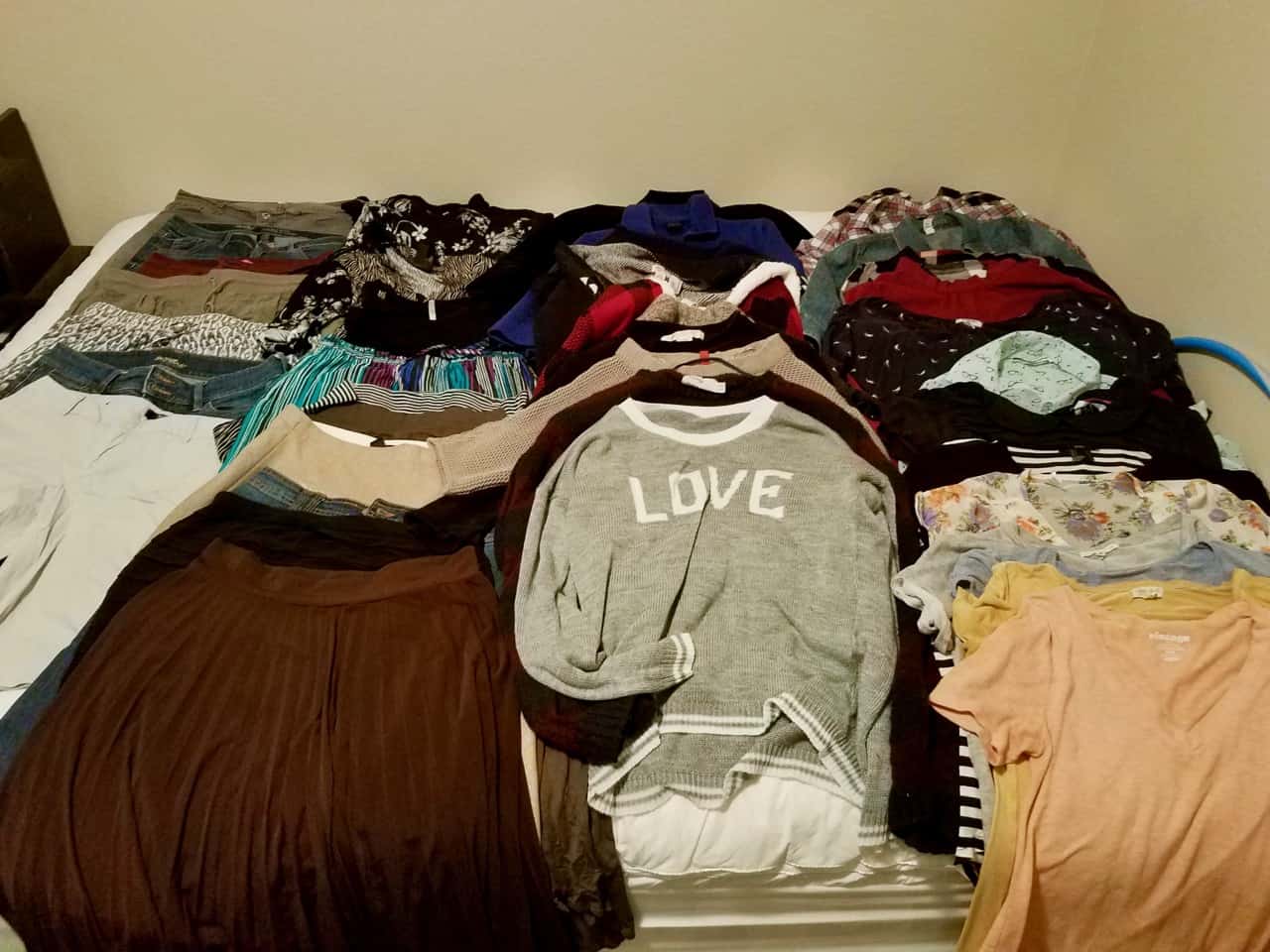 Check out my closet now! No more shoving clothes in because they don't all fit. I don't pull out one pair of pants and have 2 more fall out because they're so packed in.
I can easily see every item which makes getting dressed a quick process.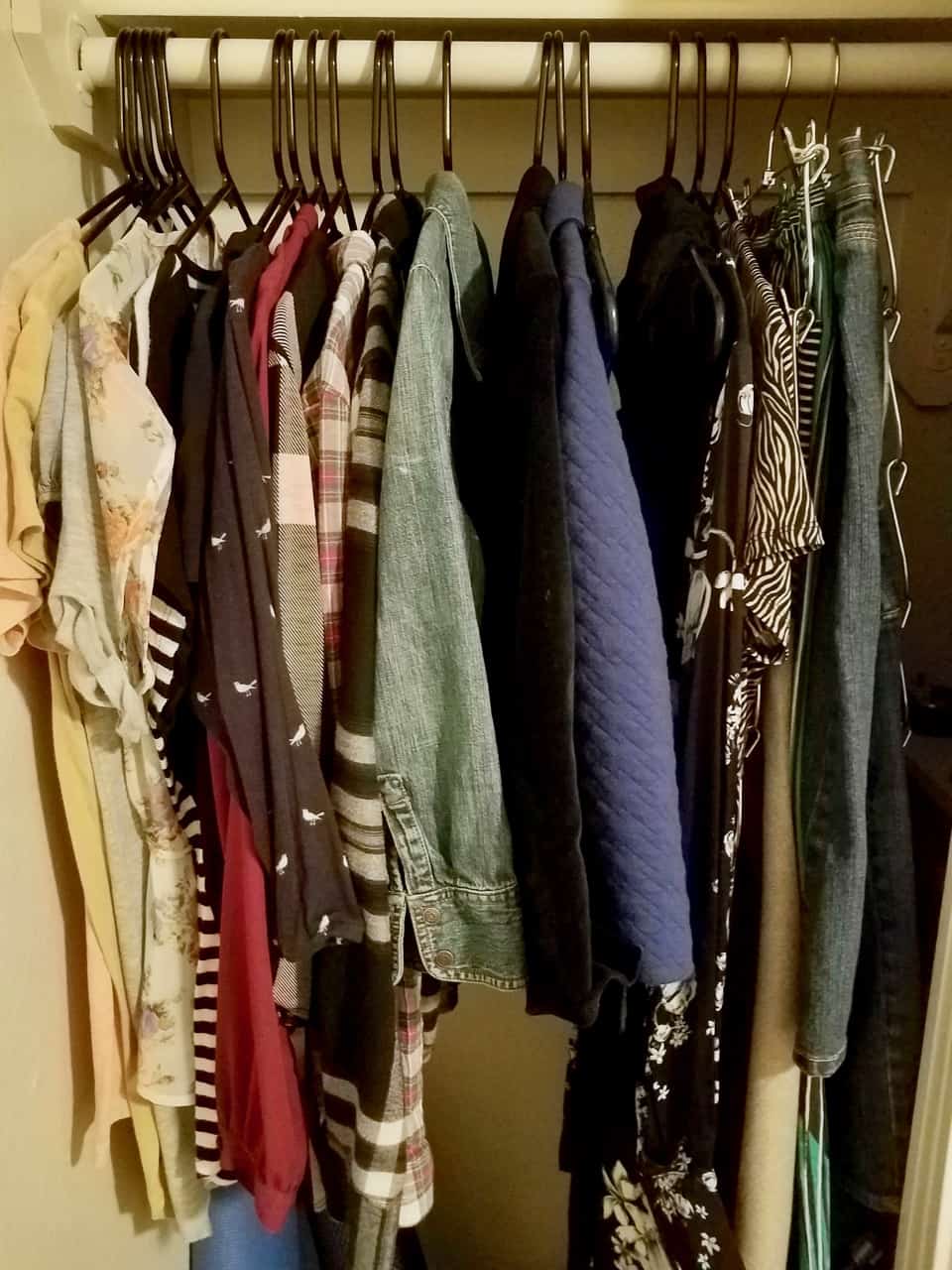 ---
Thoughts on How My New Smaller Wardrobe Works
There was definitely a bit of a learning curve when getting dressed after I split my clothes. Occasionally, I have planned an outfit in my head and later realized that one of the items has been stored, so I have to adjust the outfit.
Because this isn't a capsule wardrobe, not every article of clothing can be mixed and matched.
Some sweaters just don't go with certain shirts. All you need to do is re-evaluate, and swap things around from your closet wardrobe and your stored wardrobe until you find the best combinations of clothes that work together.
Having fewer clothes has helped me see what items I still don't wear. Even after purging a large amount, there are still articles of clothing I don't throw on.
When I get dressed, I still find myself reaching for the same items. This helps me figure out a better style for myself and helps me decide what clothes to buy and what not to buy in the future.
Getting dressed in the morning has never been easier! Having only a small number of previously selected items to choose from means I like everything hanging in my closet and when you love everything, choosing an outfit is so much quicker.
I still find myself buying clothing items occasionally. Yep, I have a problem.
When I buy something, I try to get rid of a similar item. If I don't have an item I want to replace, then I don't buy anything new (and by new I mean new to me).
Most of my stuff comes from the thrift store. The maroon pants and eight out of the nine tops below came from various thrift stores.
I dress better and feel more confident. I find myself putting a whole outfit together because it's so much easier to do. All of the clothing items are ones I love and think I look best in.
No more wearing the same boring outfits. Now, it's fun to look for new outfit combinations. Check out how easy it is to mix and match just a handful of pieces to make many different outfits.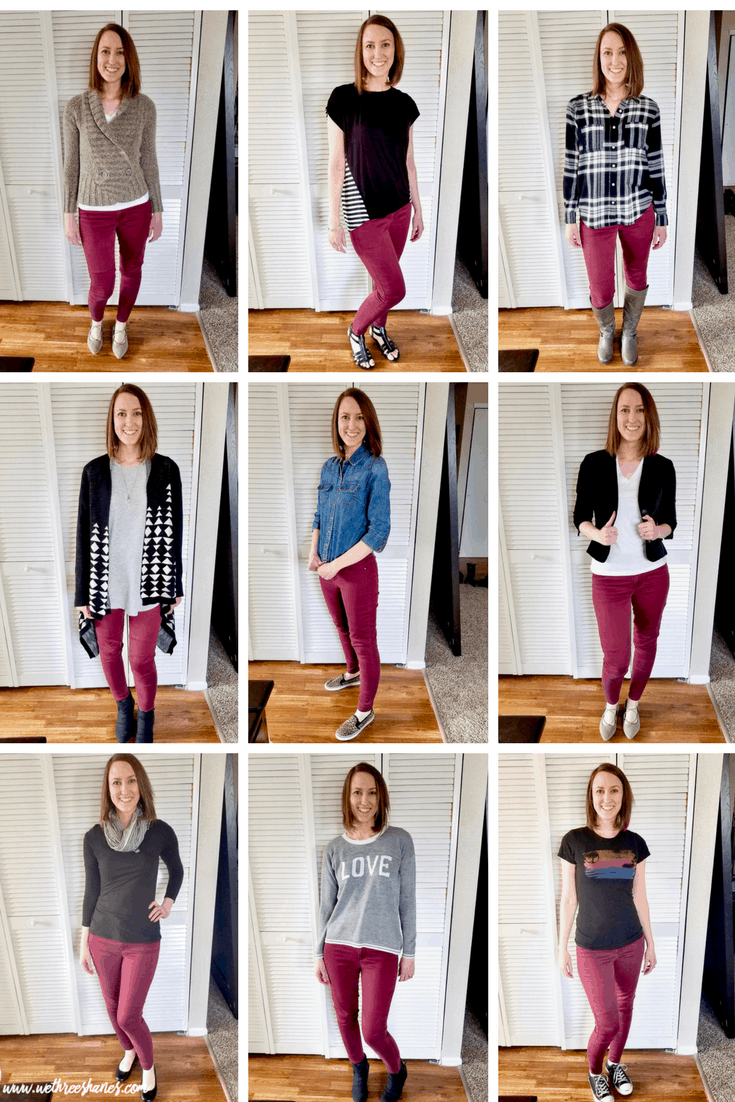 Cut Down Your Wardrobe
Cutting my wardrobe in half has been a huge blessing for me for so many reasons. It's definitely helped me realize a capsule wardrobe would work great for me. I'm happy I get to wear out the clothes I have before replacing items for a capsule wardrobe.
The stored clothes have been great to pull from once I've ruined a shirt with a stain or gotten a hole in it. It's also been nice to rotate seasonal items so they aren't taking up space in my closet.
Do you have a closet that needs to be decluttered? Do you think cutting your wardrobe in half could work for you?
---
You Might Also Like: