Free Car Scavenger Hunt Printables (the Whole Family Will Love!)
Planning a road trip? Print out these free car scavenger hunt games to use on the long drive. We've got three types of scavenger hunts for all ages so it's fun for the whole family!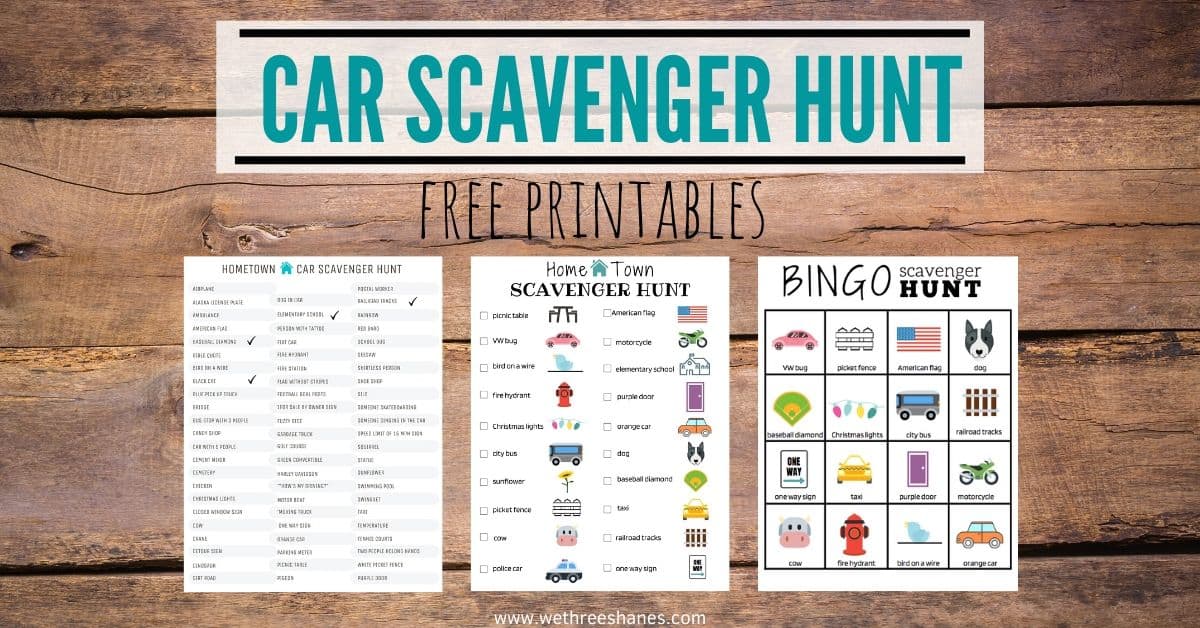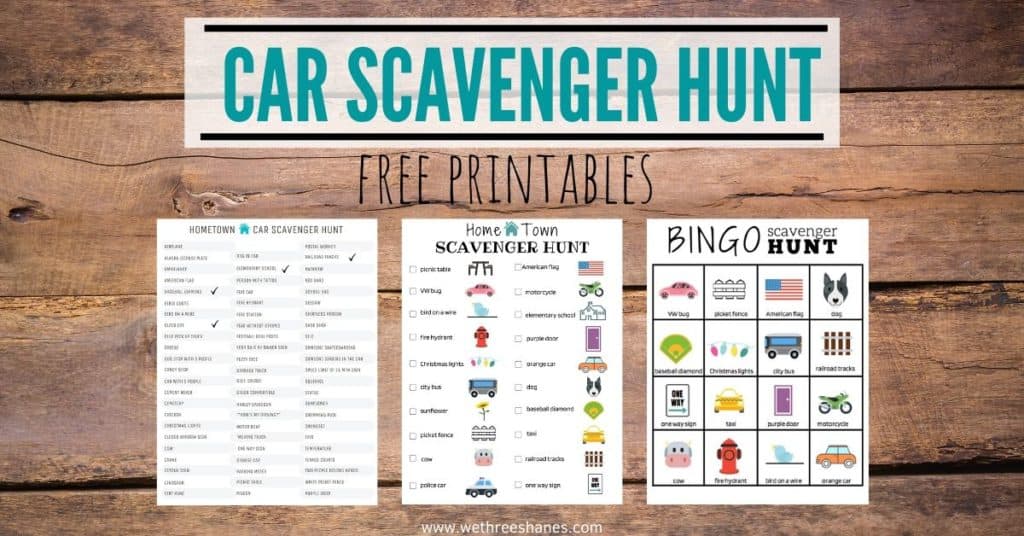 (THIS POST PROBABLY CONTAINS AFFILIATE LINKS. OUR FULL DISCLOSURE POLICY IS LONG & BORING BUT, YOU CAN FIND IT HERE.)
Road Trip Scavenger Hunt Printables (the Whole Family Will Love!)
Summer is just about here and that means longer car trips. It could be to your favorite camping spot, a day trip to a new place, or a trek across states to visit friends and family. A scavenger hunt is a great way to stay busy in the car.
Do you have to go on a long trip to use these free car scavenger hunt printables? Nope! We've done them around town when we needed to get out of the house and as a fun competition with friends.
However you use them we know you'll have a good time!
---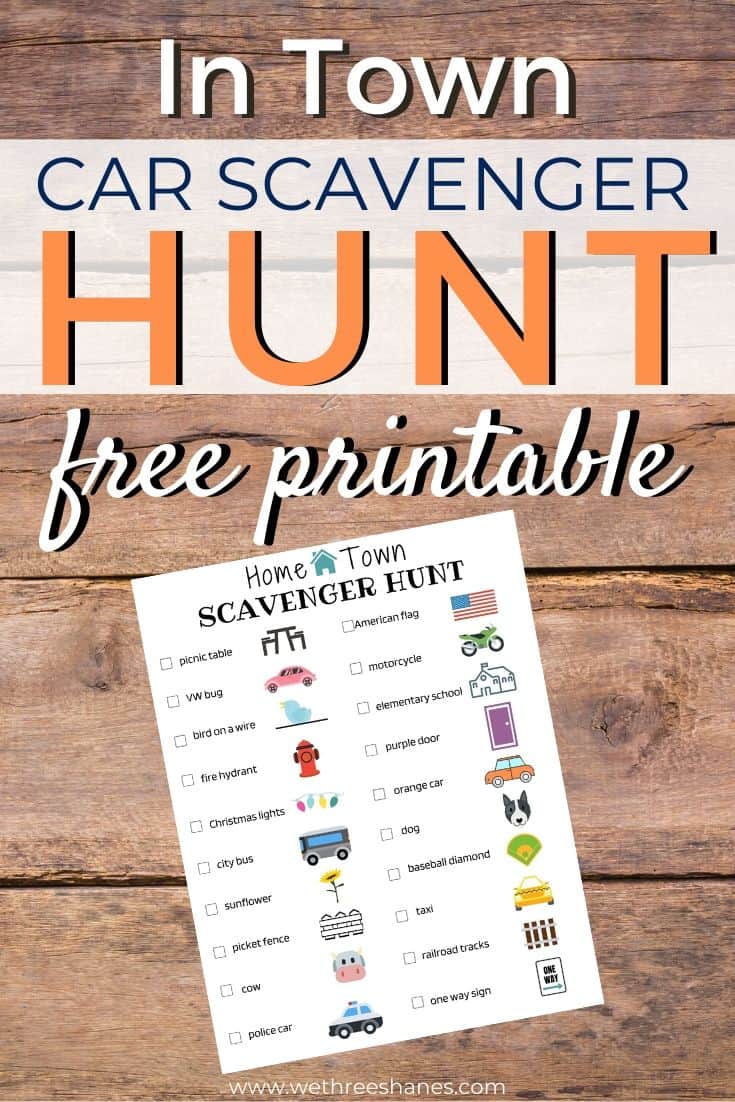 Road Trip Scavenger Hunt Printables
We've got three different scavenger hunt printables for you to try. I wanted to cover all types of age groups who might like to play.
First, is Car Scavenger Hunt Bingo. These would be great for families with a couple of young kids. The items to look for are similar to the other printable but they are in bingo board format. Each kid can have their own printable so they can look for items on their own. First kid to get bingo wins! There are six different bingo boards.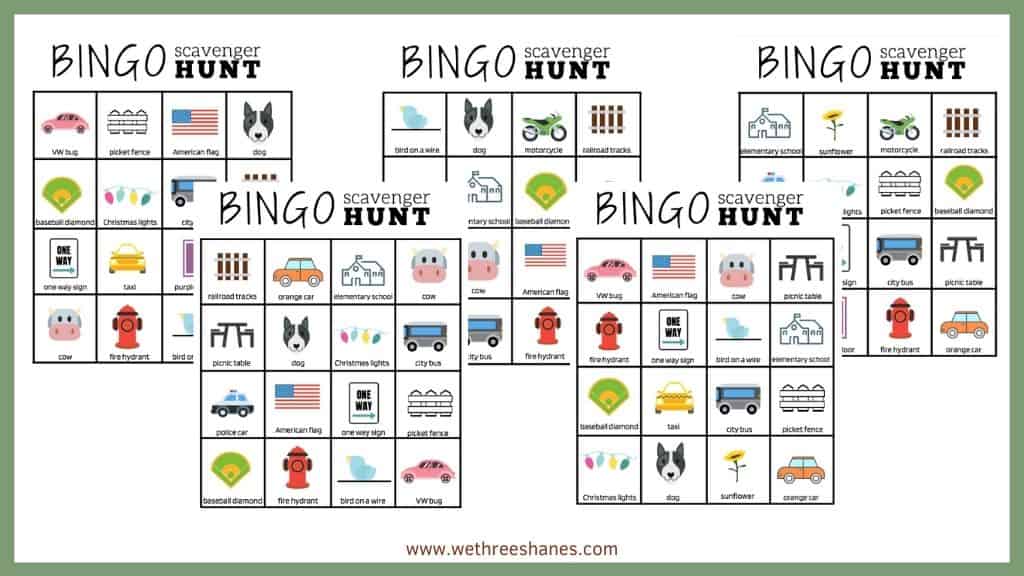 Next, there is a scavenger hunt printable for kids and tweens. It has easy to find items with both pictures and words so young kids can play too.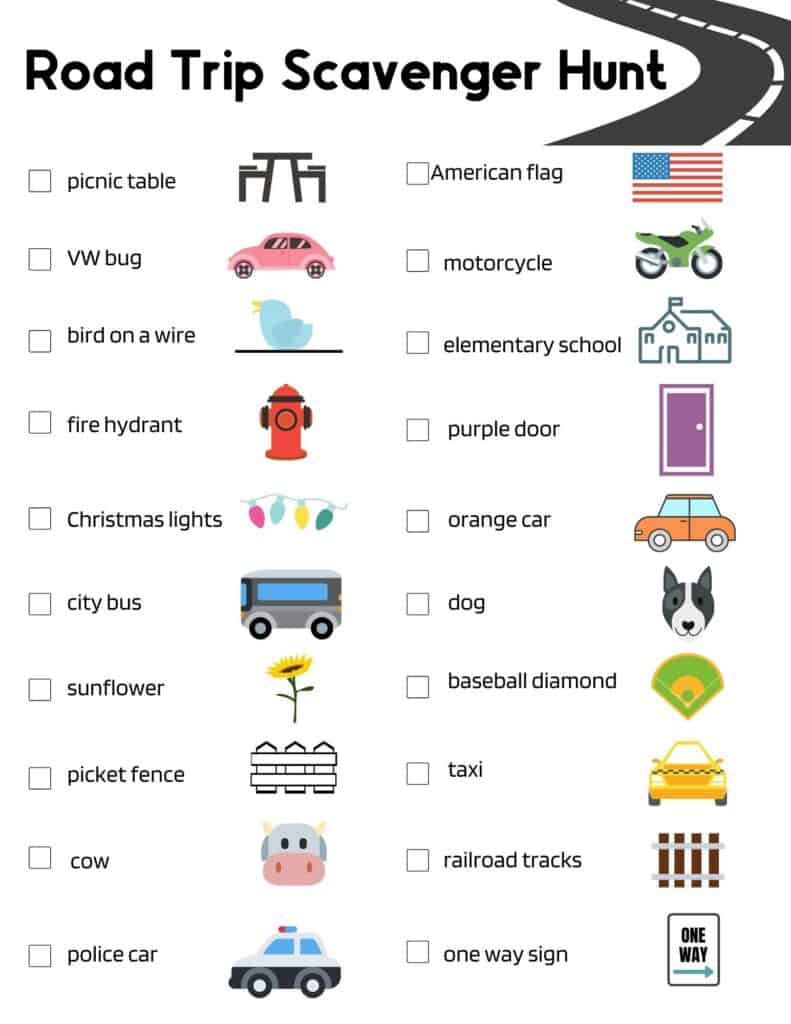 The teen and adult car scavenger hunt list has a ton more items to find and no pictures. We've done this one as a family before and we only found about half of the items in 30 minutes driving around town.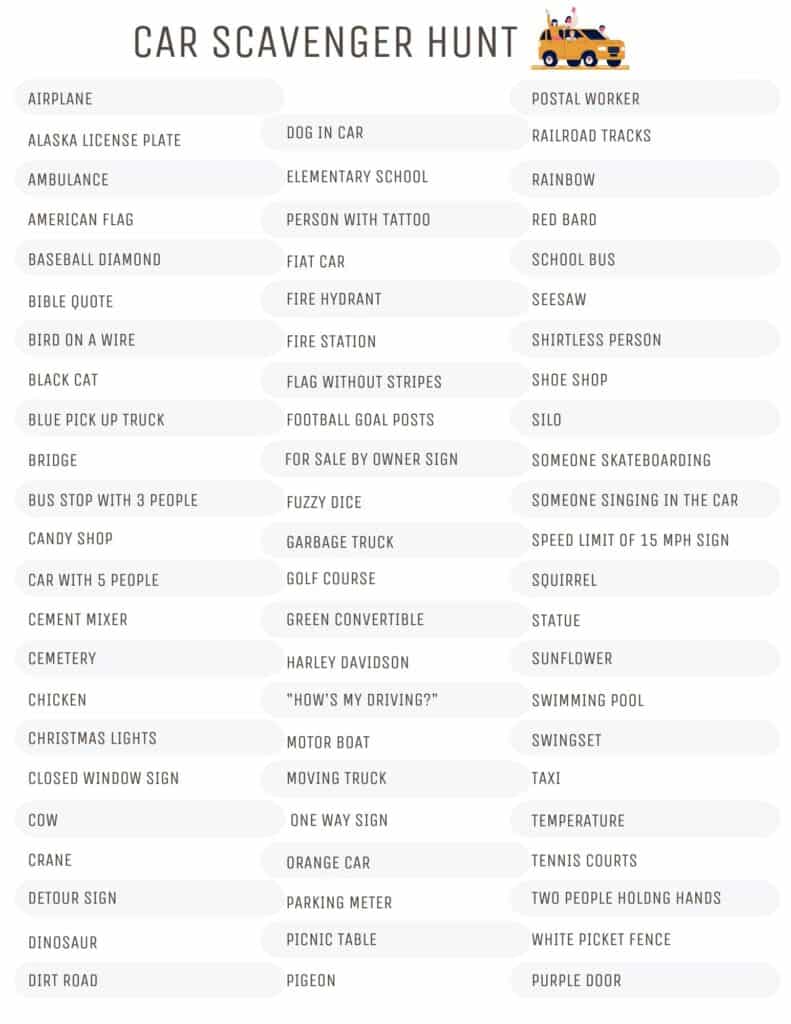 Print the one that works best for your situation and go have some safe fun out of the house.
---
Fun Car Scavenger Hunt Ideas (Fun Ways to Play)
There are a couple of different ways you can use your car scavenger hunt printables. You can simply print off the ones you want to use and go on your trip. Kids will have fun and stay busy for quite some time.
But it's more fun to set some ground rules first or make a competition out of it.
You can give everyone in the car (except the driver) their own copy of the scavenger hunt list. Everyone has to find the items on the list on their own. Drive around town for 30 minutes (driver gets to pick the route) and see who finds the most items when time is up.
You can do the hunt as a family. This is what we did and it was a ton of fun. We worked together as a team to find as many items as possible. You can guess before hand how many items you'll find then see how close you got to your guess.
Play with friends in town. Invite friends to your scavenger hunt. Pick a meeting place and time to meet up. Once everyone is there, get into groups, hand out the scavenger hunt printable, each group gets in one car and you're off! Everyone has 30-45 minutes (agree on time before hand) to find as many items and be back to the meeting spot on time. Come up with your own rules for late arrivers. They can be disqualified or loose points for each minute late. (This would also be a great activity for youth groups.)
If you have a big family then you can split up and compete against each other. You can do boys against girls with dad driving the boys and mom driving the girls. You could also simply split up evenly keeping ages in mind. Come up with a fun prize like the losing team has to serve the winners dinner or make their beds for the week.
Play with friends and family out of state. There are two ways to do this. You can lay out the rules and tell everyone they have a week to complete the car scavenger hunt. Or, you can pick a designated day and time. You can hop on a quick chat through facebook messenger or text chain to make sure everyone is in cars and ready to go and then start. Everyone then has to send in a photo of their family list at the end of 30 minutes. Bragging rights goes to whoever found the most items.
---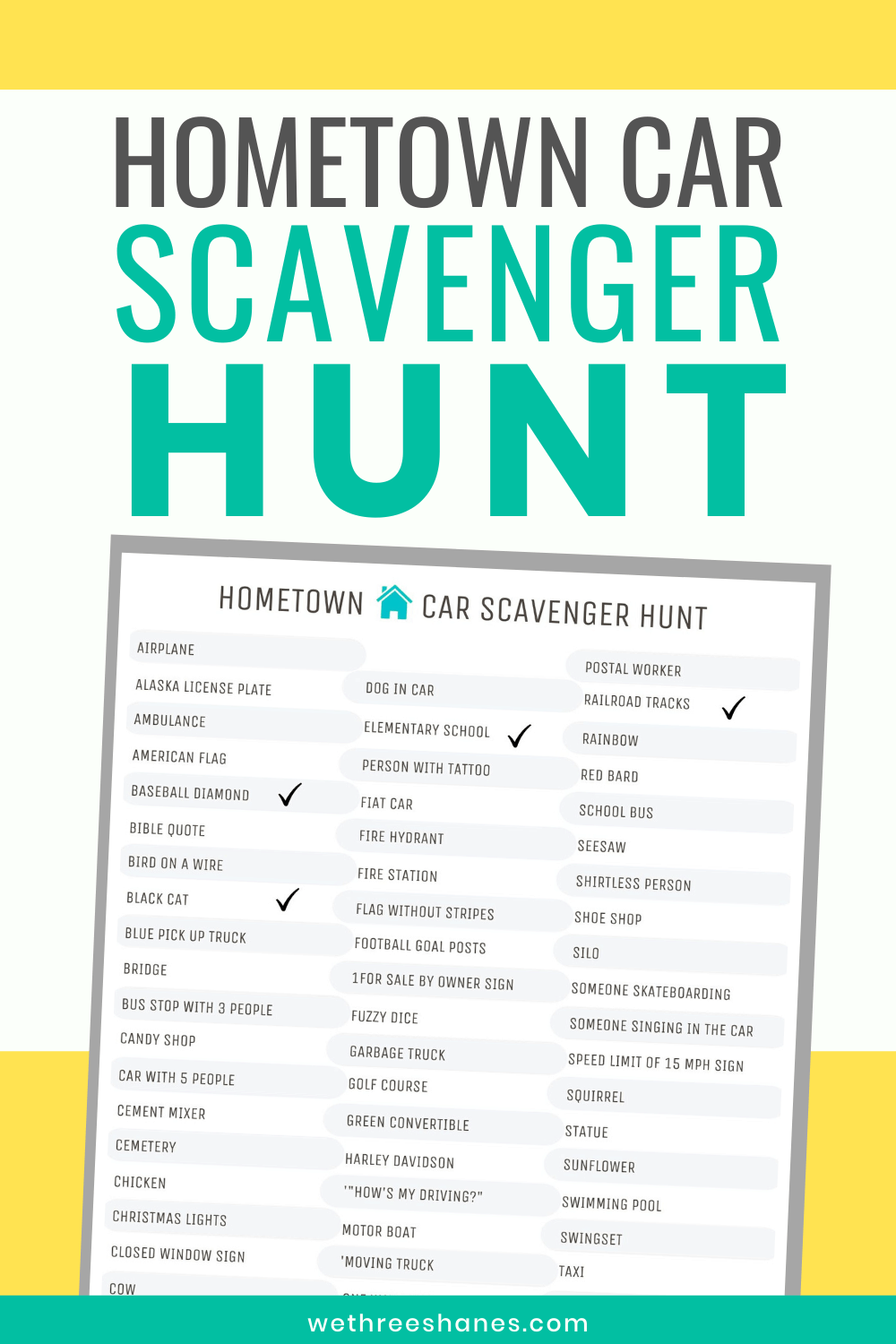 Tips for Using Your Car Scavenger Hunt Printables
These road trip scavenger hunt printables can be printed out on card stock to make them easier to write on in the car. I like to give everyone a clipboard to use because they are extra sturdy and kids can always use them for other stuff later, like drawing or even eating a snack on.
You can also laminate the printables for multiple uses if you'd like. Then kids can play on the way and on the way back. You can change up the rules a bit on the way back so kids still have fun with them.
However you decide to play the car scavenger hunt just make sure to play safe. Have some fun and get creative! We'd love to hear how you play in the comments.
---
You Might Also Like: