DIY Sinus Relief Shower Melt Aways
DIY Sinus Relief Shower Melts combines powerful essential oils with shower steam to give you soothing relief from congestion, helping you breathe easy.
(THIS POST PROBABLY CONTAINS AFFILIATE LINKS. OUR FULL DISCLOSURE POLICY IS LONG & BORING BUT, YOU CAN FIND IT HERE.)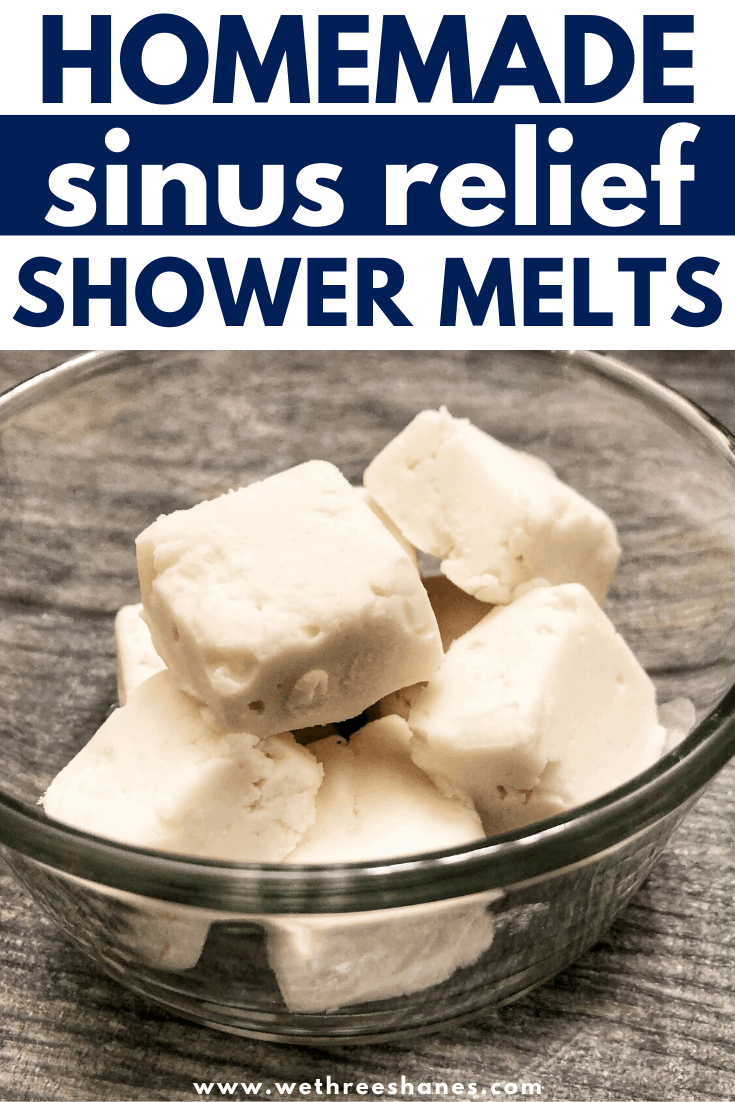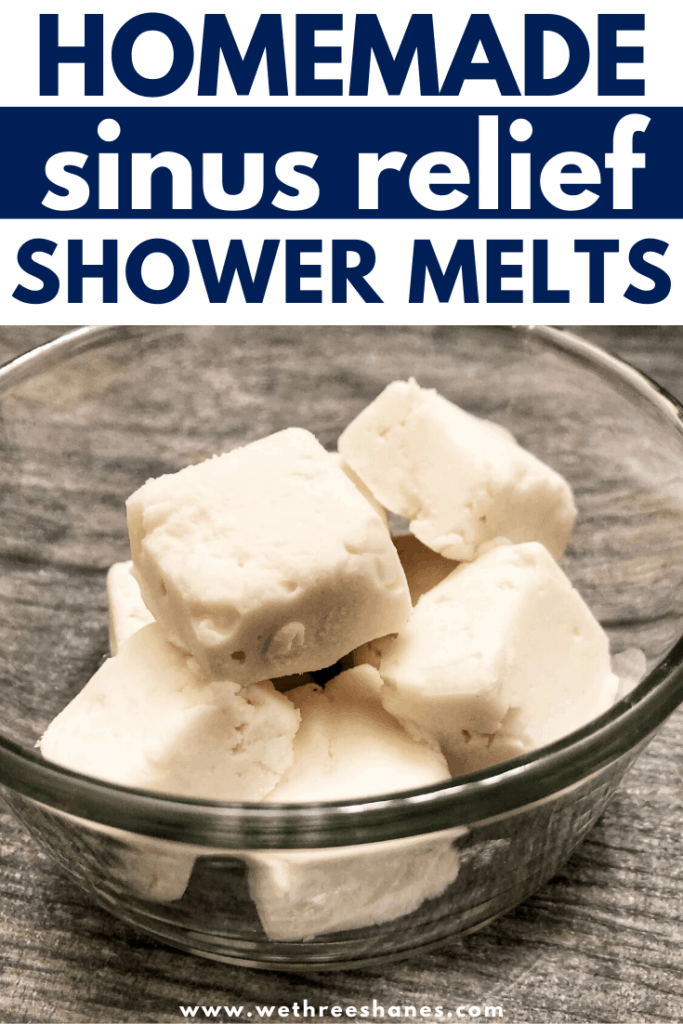 DIY Sinus Relief Shower Melts
The Holiday season is so magical. Everyone is decorating and singing and loving life! Unfortunately, they are also spreading germs and sickness. It just goes hand in hand with the cold weather as it comes in, which is why these DIY shower melts come is handy.
If you live somewhere with back and forth weather like I do here in Texas, it does not help our bodies at all. We were down in the 30's last week and today the high is 79. That is quite the difference.
Everyone in my house hold has felt it and been congested. My poor daughter has been coughing up a storm! We needed some help.
I love menthol stuff! It is great to rub into my kids feet and chest before bed to help open up their noses at night while trying to breath. Sure you can buy some at the store but, I like to make my own.
My kids usually shower at night as well, so what better way to further help their congestion by making some aromatherapy melt aways for the shower?
What is a Shower Steamer?
Have you heard of shower steamers before? You just throw one in the shower with you and let it melt with the water and steam. Then enjoy your shower as normal.
The steam from the shower and vapors from the shower bombs help open a stuffy nose and help clear out lungs. When I made these, my down stairs smelled fantastic all day. I'd leave the room and come back and it would re-open up my nose.
Not sick? You can make shower steamers for any time of the year. You don't have to congested to use these. How these work comes down to the essential oils you use. More on essential oils soon.
---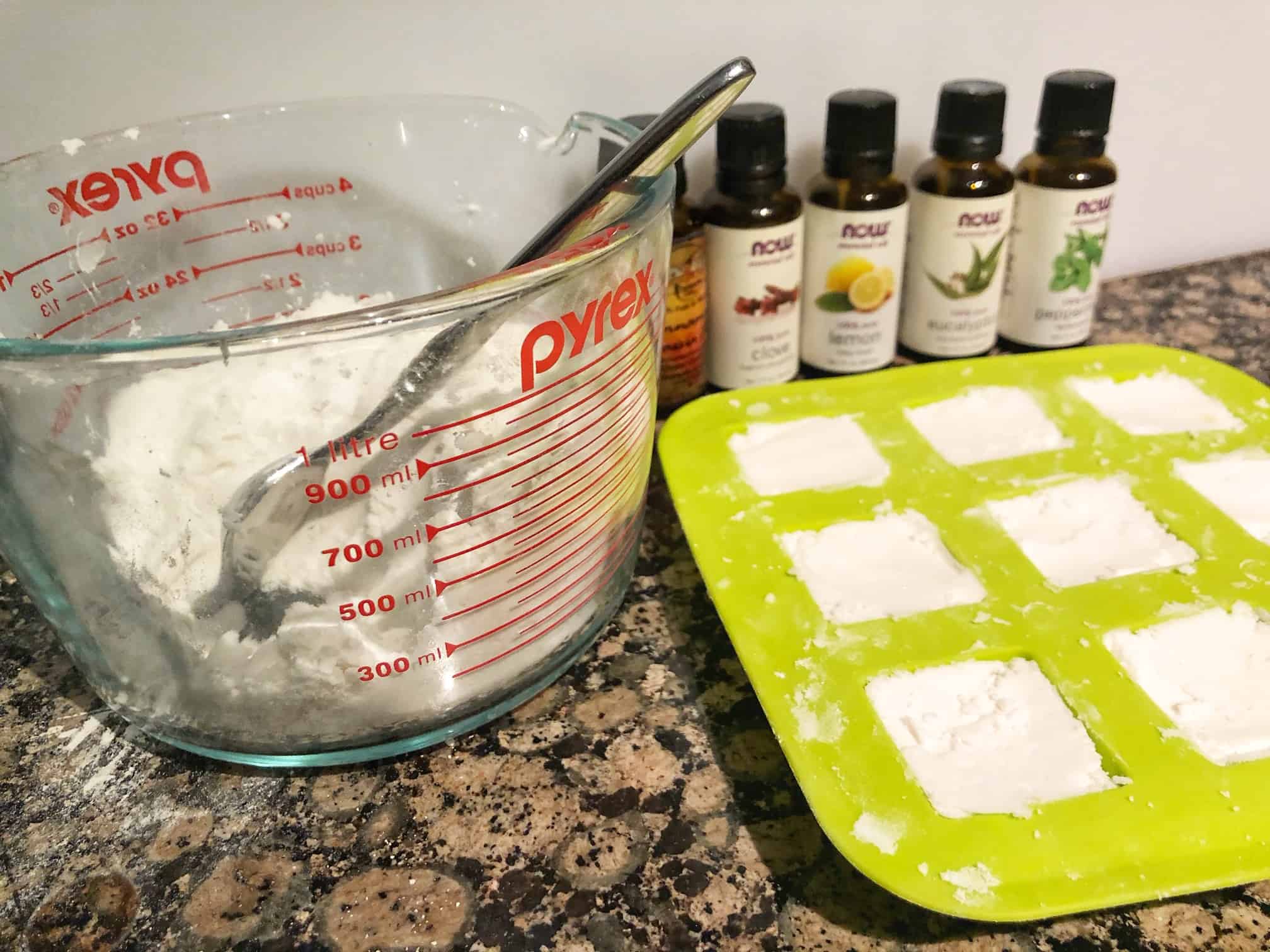 Shower Melt Ingredients
There are several ways to make shower steamers. Some people use citric acid, like you would use when making shower bombs or toilet bombs. It's not really necessary though so I opted to use baking soda and arrowroot powder.
If you have never heard of arrowroot powder it's basically corn starch. But unlike corn starch, it is derived from a plant that isn't genetically modify.
Corn starch is almost always made from GMO corn. So, if you do not have arrowroot powder you can buy some, or just use corn starch if that's what you have on hand. Either works fine.
There are a ton of essential oils that are good for sinus relief. In fact, most companies make a sinus relief blend. If you have one of those you can just use it in this recipe. If you do NOT have a pre-made blend, then you get to make one. Yippee!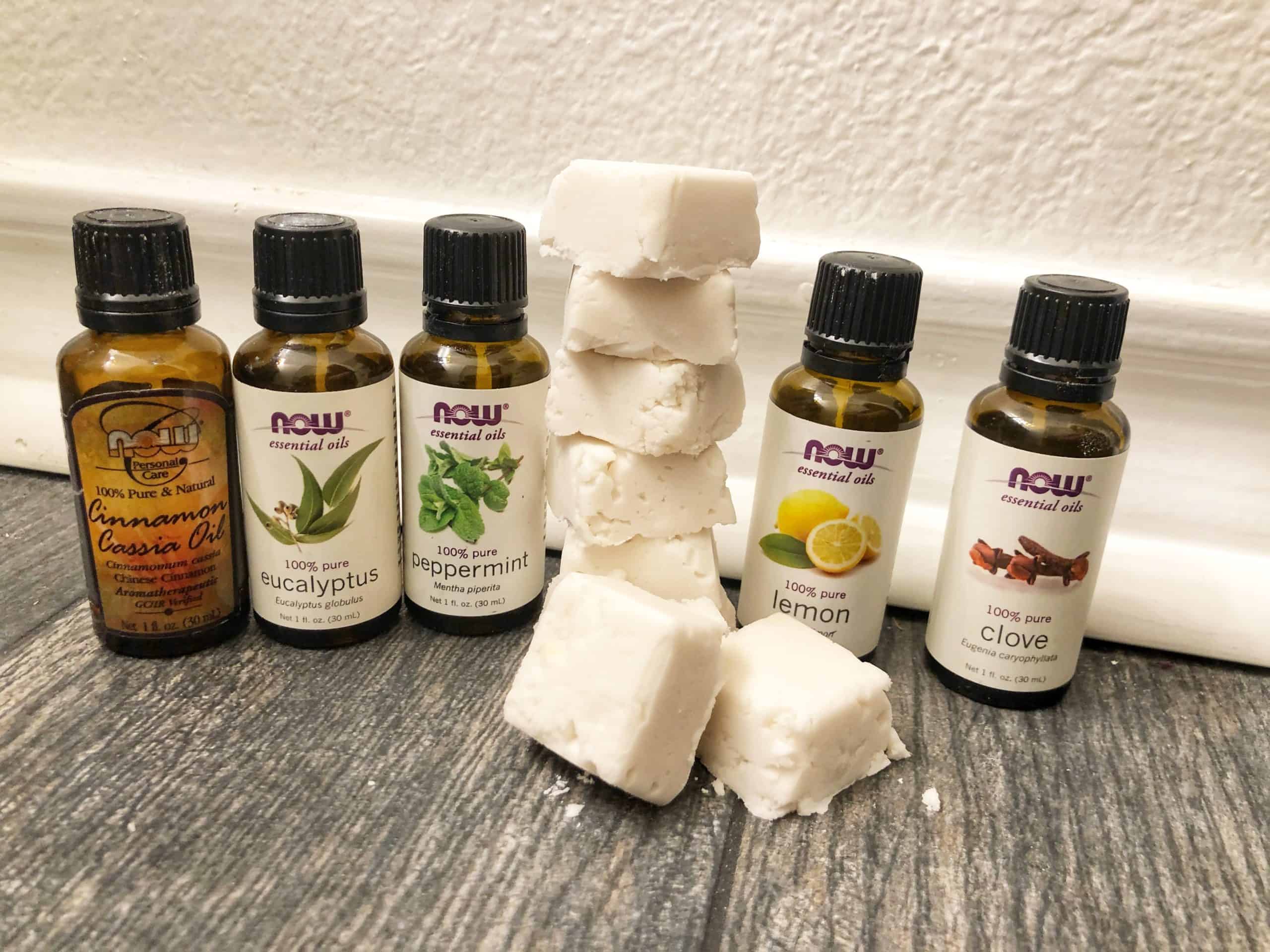 1 1/2 Cups Baking Soda
1/2 cup Arrowroot Powder
25 – 30 Drops of Essential Oils
4 to 5 Tablespoons water
Essential Oils For Homemade Shower Steamers
Some essential oils that are good for sinus relief are: Eucalyptus, Spearmint, Pine, Clove, Lavender, Rosemary, Tea Tree Oil, Peppermint, Lemon, Orange, and Cinnamon.
I choose to work with Cinnamon, Peppermint, Clove, Lemon, and Eucalyptus. You don't have to use them all but they smell great together and work really well for decongestion.
If you want to make these shower steamers for stress relief or a pick me up then you can choose other essential oils. You just need to use 25-30 drops of the essential oils you like.
Sinus Relief Steamers
Stress Relief Steamers
Rise & Shine
Lemon – 15 drops
Peppermint – 15 drops
When making things with essential oils, make sure that you do not use the same equipment for food. Always have your own designated essential oil stuff. You can find ice cube trays at the dollar store or on amazon and yard sales and thrift stores are a great place to find mini muffin tins for these projects.
---
How to Make Sinus Relief Shower Melts
Start by mixing the baking soda and arrowroot powder in a bowl.

Then add in the essential oils. If you already have a sinus blend and are using that, then I would try adding about a teaspoon in and see if it seems strong enough for you. These blends are usually pretty strong so you don't want to add TOO much!

Once it seems like the essential oils are mixed in, you add your water. I did a tablespoon at a time and ended up using 5 Table spoons. But, my discs were still pretty crumbly. I added a little more and felt like it was a good consistency. You don't want them too dry or they will crumble.

Lastly, just pack the mixture into a silicone ice cub tray or a mini muffin tin.

Once you have these in the mold go ahead and place them in the freezer for a few hours or just leave out over night. Whichever works best for you.
---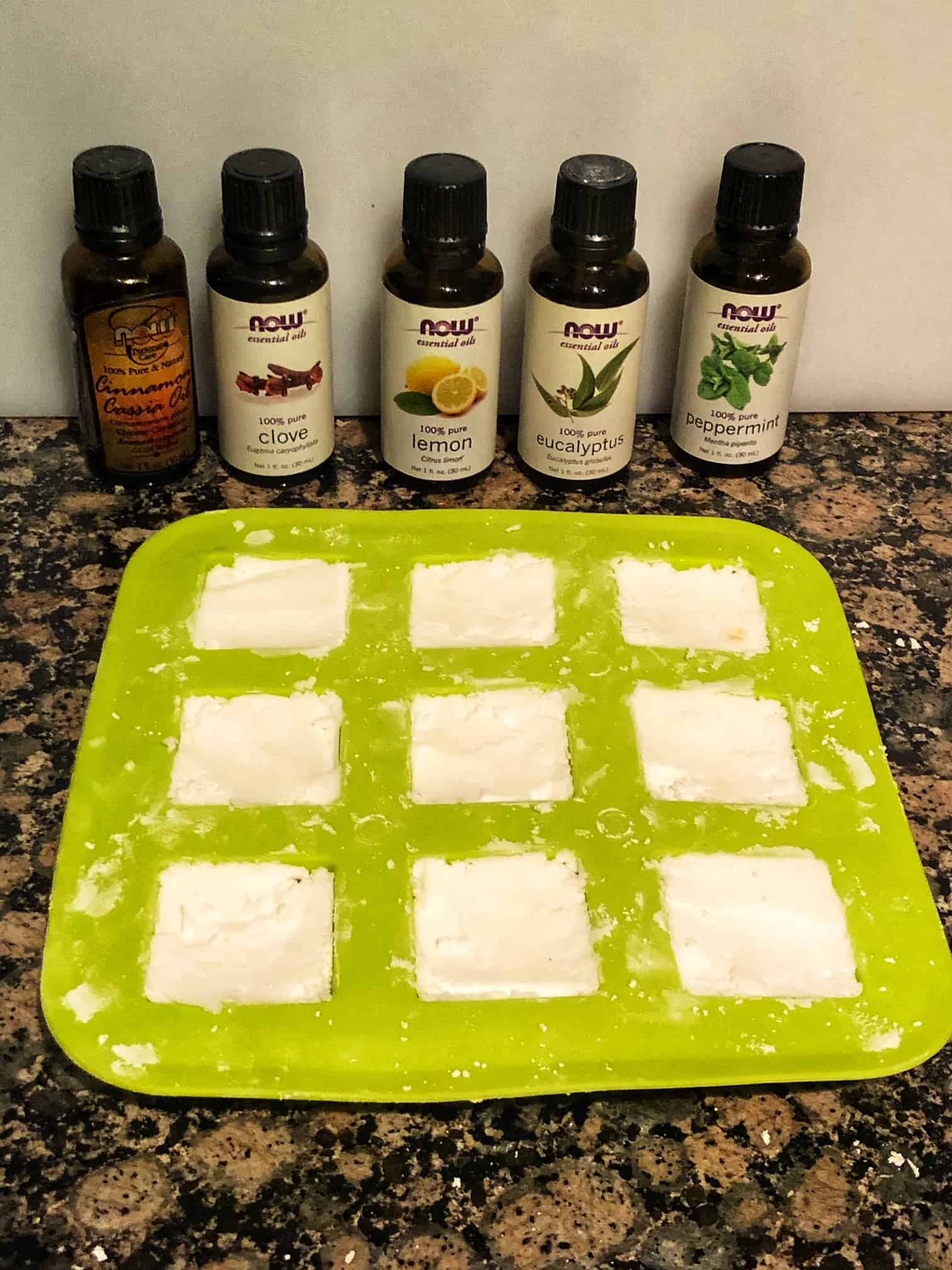 How to Use Your DIY Sinus Relief Shower Melts
Homemade shower steamers couldn't be easier to use.
When you are ready to take your shower just grab a melt away, throw it down on the floor and let the magic happen.
You do not want it to completely melt right away so make sure it isn't getting hit by a straight stream of water.
When you are done with your shower, if there is anything left of it, just rinse it down the drain.
How to Store Homemade Shower Steamers
Obviously, it makes sense to keep your shower steamers in the bathroom and that's fine. You do want to make sure they are in a tightly sealed container though. The steam that naturally occurs in the bathroom can make your shower steamers melt before you even use them.
These will keep for months at a time. It's a great idea to make a big batch of sinus relief shower melts at the beginning of cold and flu season so that you have them on hand to use when the time strikes.
---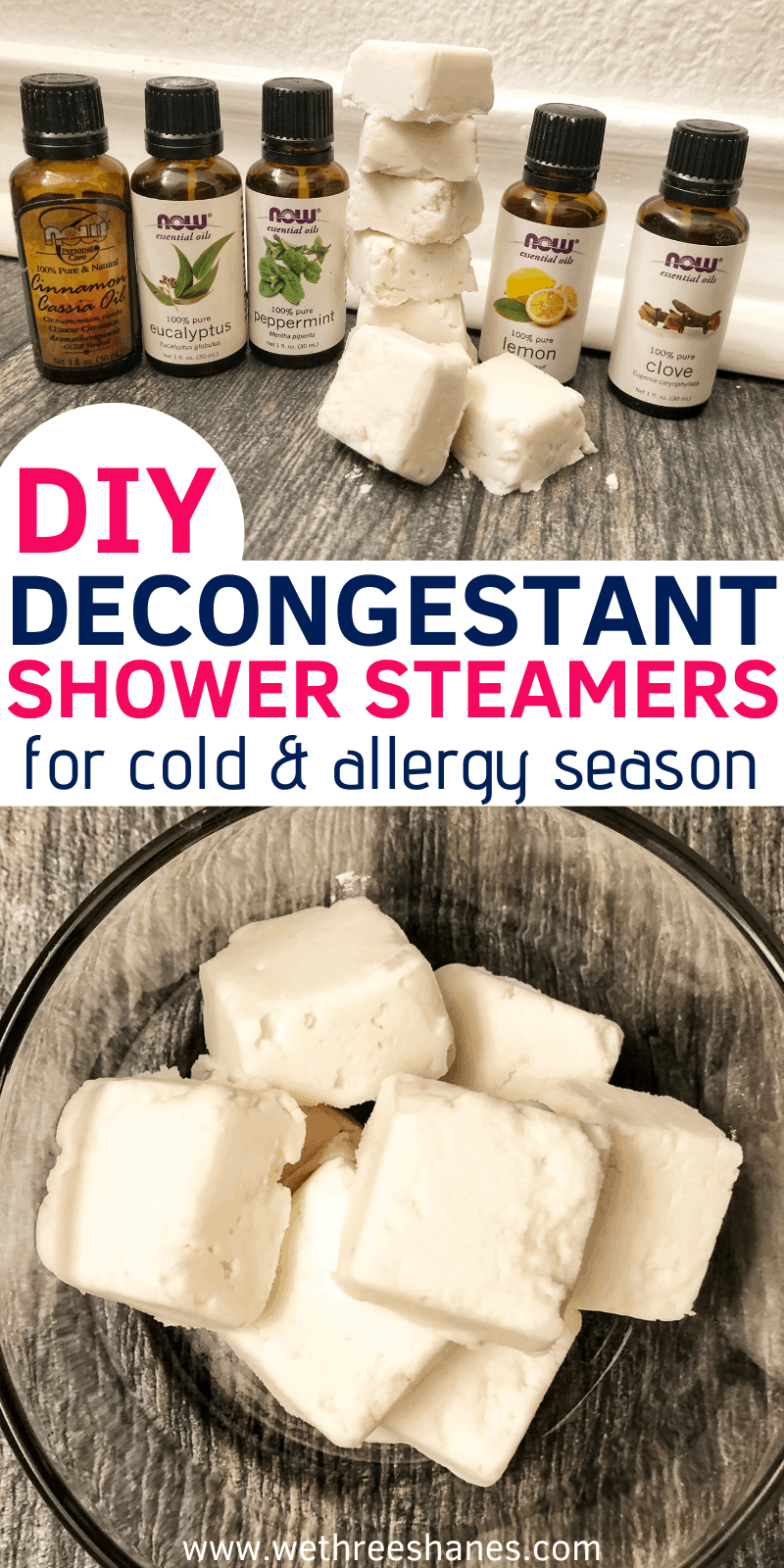 Shower melts really are a great way to use essential oils and not actually put them on your body especially if using them on kids makes you nervous. We love using these at our house and hopefully you will too.
Making Shower Steamers are a very easy project to do with kids. They also make great presents this time of year when everyone seems to be sick and needing all the help they can get. They can be used for sinus relief due to allergies too so really they work great for any time of year.
Grab your ingredients and make some Shower Melt Aways and while you're at it, make them for your friends. They are seriously so easy to make, you'll wish you would have started them sooner.
---
You Might Also Like: