Checklist for Next Level Prepping
Did you know the Red Cross has estimated that over half of Americans have experienced either a power outage for 3 days or an emergency evacuation, yet only 12% had taken adequate disaster preparedness steps? Emergency preparedness is crucial, so I have put together a checklist for next level prepping to help keep your family safe.
This post contains affiliate links. You won't pay any extra for 
making a purchase through these links but we earn a commission 
for purchases made through links. You can read more about it in
our full disclosure.
I am a prepper…there I said it, it's out there. Now, I don't have an underground bunker or anything even close to that level, and I couldn't even make it on a prepper TV show, but I do prep. I spend a decent amount of time thinking about emergency preparedness, reading about prepping, and pinning about prepping.
I will admit if I had more money, I would prep a lot more, but alas having money to burn is not one of my problems. So even though I am not a master prepper extraordinaire, I do think it's important. I want to help all of you improve your emergency preparedness.
Most people have done some basic form of emergency preparedness for their home and family. This might include an emergency prep backpack, food storage, or an evacuation plan. All of that is a great first step but everyone should have more than just a basic knowledge of emergency prep, so I have put together a major emergency preparedness checklist for next level prepping.
---
Next Level Prepping
Did you know the Red Cross has estimated that over half of Americans have experienced a power outage for 3 days, an emergency evacuation, or have provided first aid to others, yet only 12% had taken adequate disaster preparedness steps?
When prepping for emergencies, I tend to prep for the worst case scenario so I can be prepared for anything that might come my way. In my opinion, the worst case scenario would be an EMP from either a nuke or a coronal mass ejection (from the sun).
An EMP is an electromagnetic pulse that has the ability to cause a short burst of electromagnetic energy. This would be capable of destroying susceptible electronic equipment over a large area.
Think about what life would be like without electricity and you can imagine why this would be a major problem in a place like the United Sates where we are so dependent on electricity. That's why I use this scenario as my sounding board for preparedness.
If you are just starting to think about emergency preparedness then my previous post about Finding Room for Food Storage in a Small Pantry would probably be where you want to start, but if you want to take your prepping beyond the basics of food and water, then keep reading because this post is for you.
---
WHAT YOU NEED
I have prepared a checklist of things I think are important for taking your prepping to the next level. To make the information easier to digest I have divided things into categories. In some categories, I have included tips that might be helpful.
Don't feel like you need to buy everything at once. There is a lot on this list but I don't want you to be so overwhelmed that you don't do any prepping. You can start with one category at a time, or jump around with a little from each category. Do what feels right for you and your loved ones.
Let's get started!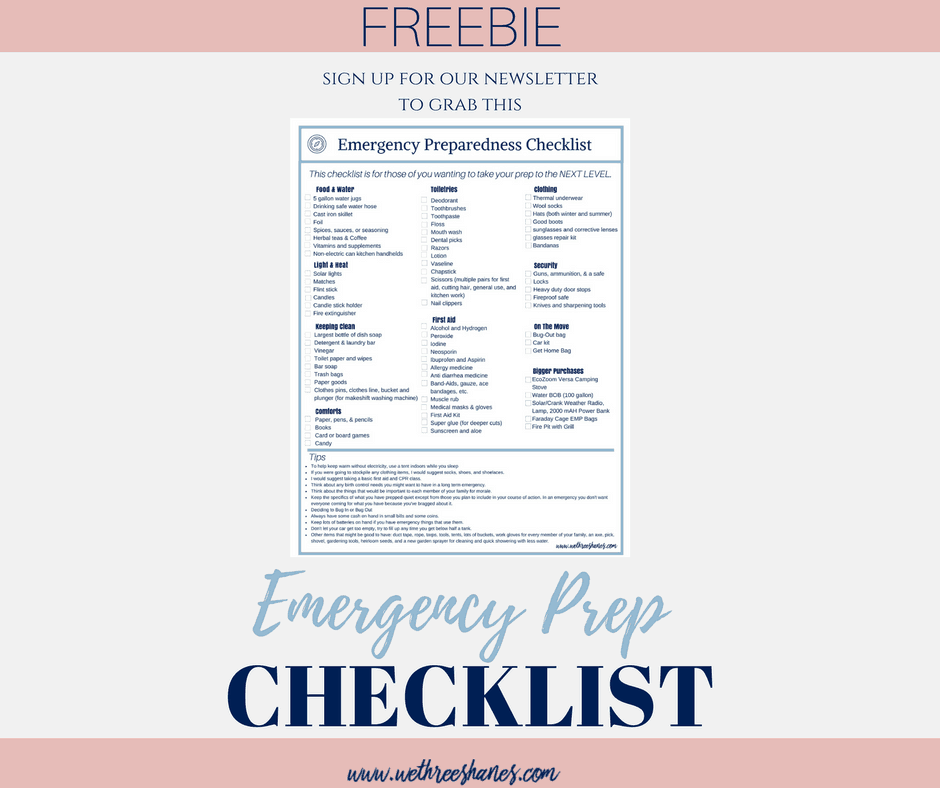 Food and Water
5 gallon water jugs (I prefer these to larger water storage because they are easier to rotate, drain, and carry around to the places you need them. Some people like THESE because they are more familiar with them. I prefer THESE because they have a spout and can be easily carried to where they are needed. Both will work).
Drinking safe water hose to fill your jugs with. A lot of regular garden hoses have lead in them, so you want to find ones that are made for drinking water.
Foil
Spices, sauces, or seasoning (food storage can get boring and repetitive)

Herbal teas (for stress, illness, upset stomach)

Coffee if you're a coffee drinker

Vitamins and supplements

Non-electric can opener, whisk, egg beater, potato masher, wheat grinder, etc.
Tip – Plan for the type of foods you will have in your food storage. If you need some help figuring out what food to store, check out my previous post on food storage.
Light and Heat
Solar lights

(no fire or electricity required)

Matches

Fire extinguisher

(lots of fires are started in emergencies by people not used to working with candles. Don't let one disaster turn into another!).
Tip – To help keep warm without electricity, use a tent indoors while you sleep.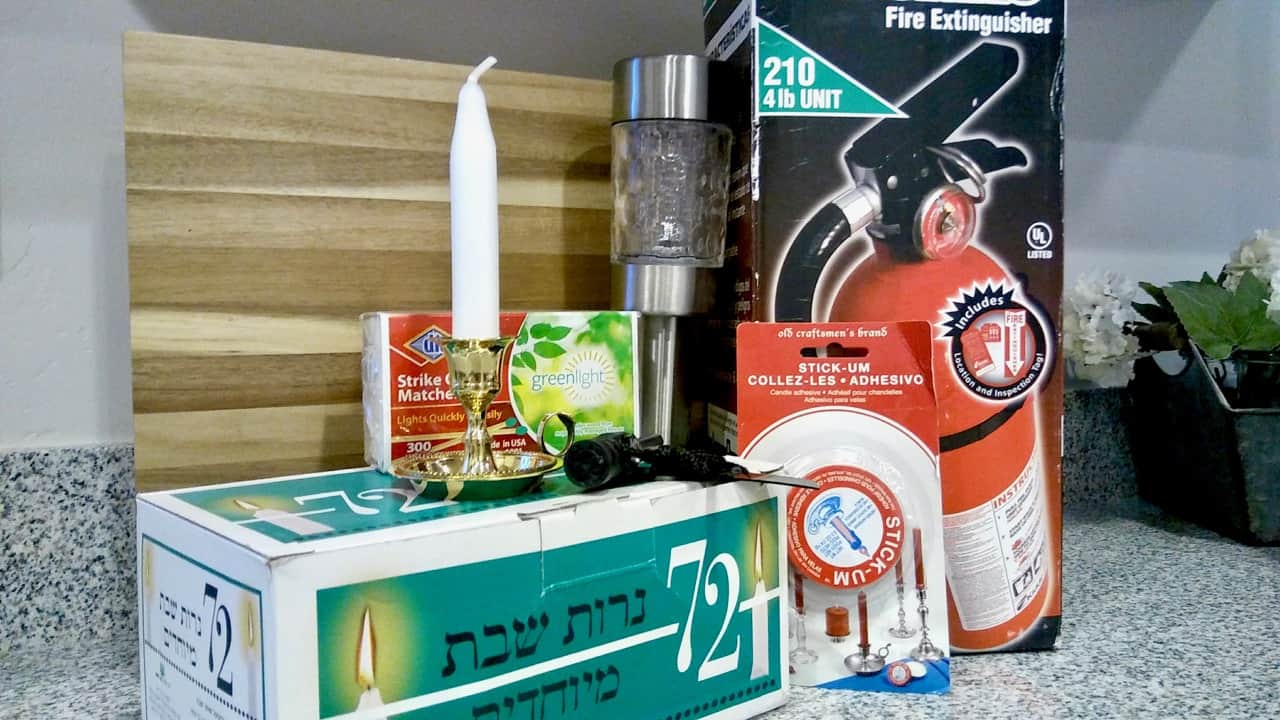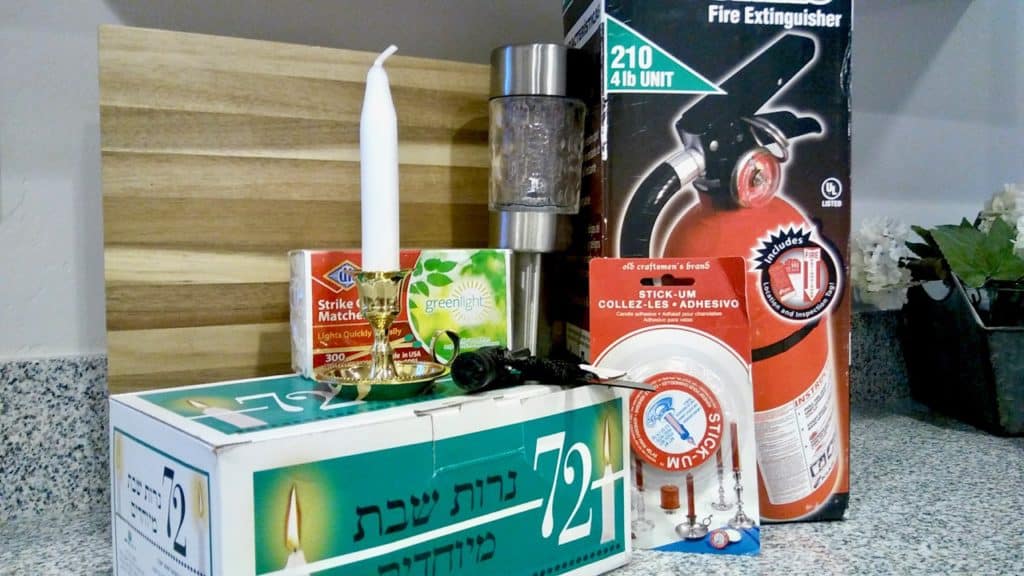 Pets, Babies, the Elderly, and Women
If you have pets, babies, elderly, or women in your group, you need to think about what special needs you might need to prep for. Pet food, baby formula, medications, or menstrual needs are all things you need to plan for.
I would suggest women use a menstrual cup because you won't have to stockpile pads or tampons. Personally, I think you should consider using one even in non-emergent times. It's eco-friendly and saves you money.
Both Kim and I use them on a regular basis. We use the Diva Cup brand and the Super Jeanni Menstrual Cup. They have different sizes so make sure you get the one that's right for you.
Similarly, if you use pads then consider buying some "period panties" like Thinx. Kim uses them and loves them. If you buy through our affiliate link you will save $10 on your purchase. These are great to keep in your prep kit instead of using pads, especially for someone who might not want to use a menstrual cup.
Clothing
Thermal underwear

Wool socks

Hats (for both winter and summer)

Good boots

Eye wear (both sunglasses and corrective lenses, and a glasses repair kit)

Bandanas
Tip – If you were going to stockpile any clothing items, I would suggest socks, shoes, and shoelaces.
Keeping Clean, Toiletries, and First Aid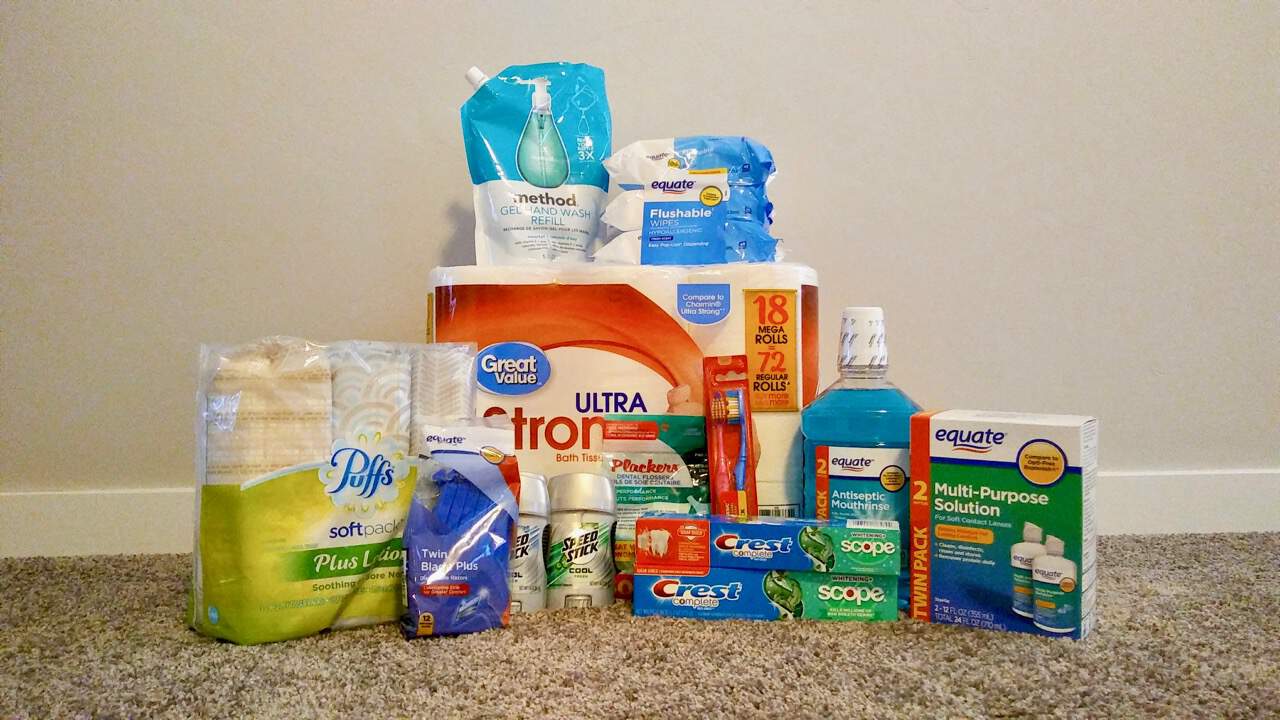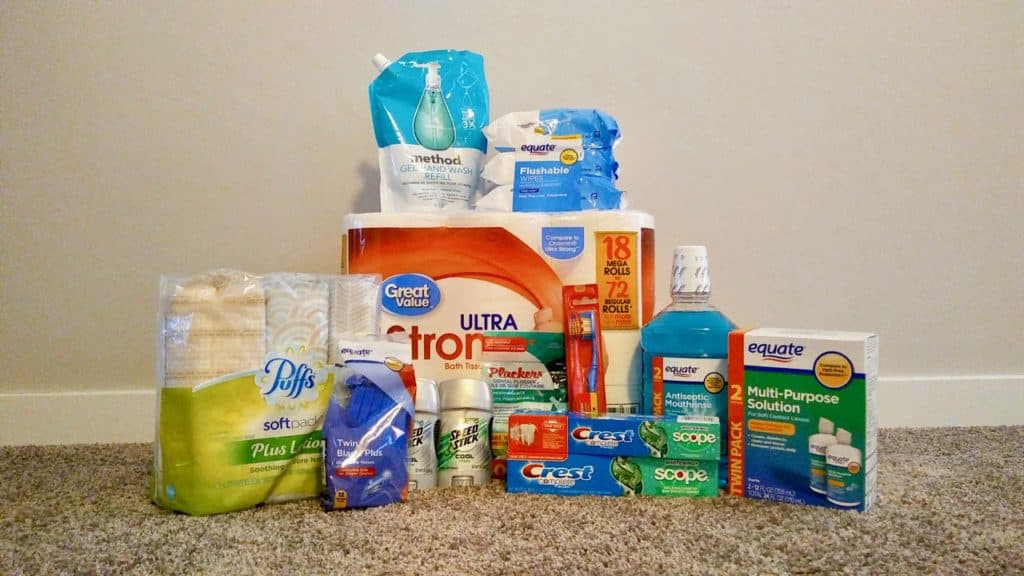 Largest bottle of Dawn dish soap you can find (I like Dawn because it is gentle, yet still works on grease.)

Detergent, laundry bar

Vinegar

Toilet paper and wipes

Soap (both hand soap and bar soap)

Trash bags

paper products (paper towels, paper plates and cups, etc.)

Clothes pins, clothes line, bucket and plunger (for makeshift washing machine)

Deodorant

Toothbrushes, toothpaste, floss, mouth wash, dental picks

Razors

Lotion, Vaseline, and Chapstick

Scissors (multiple pairs for first aid, cutting hair, general use, and kitchen work)

Nail clippers

Alcohol and Hydrogen Peroxide

Neosporin

Ibuprofen and Aspirin

Allergy medicine

Anti diarrhea medicine

Band-Aids, gauze, ace bandages, etc.

Muscle rub

Medical masks (I had no idea how important these could be. Cloth masks can work too) and gloves

Super glue (for deeper cuts)

Sunscreen and aloe
Tip – I would suggest taking a basic first aid and CPR class. Also, think about any birth control needs you might want to have in a long term emergency.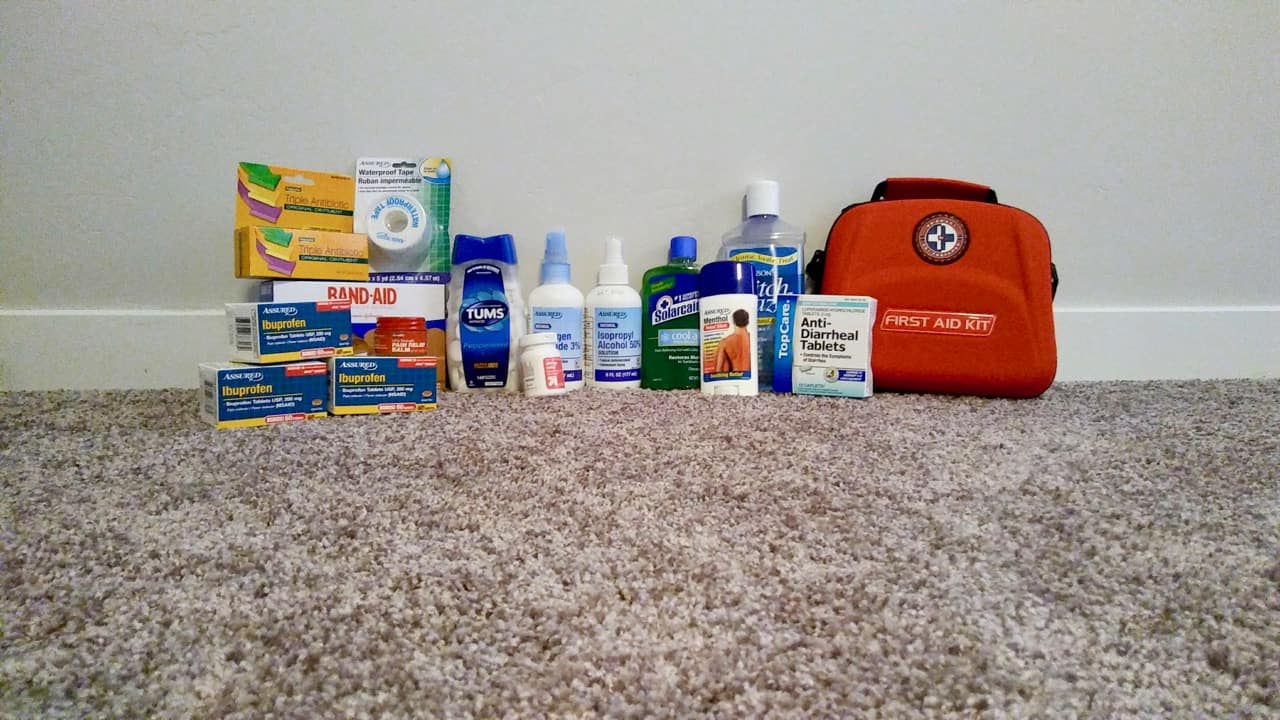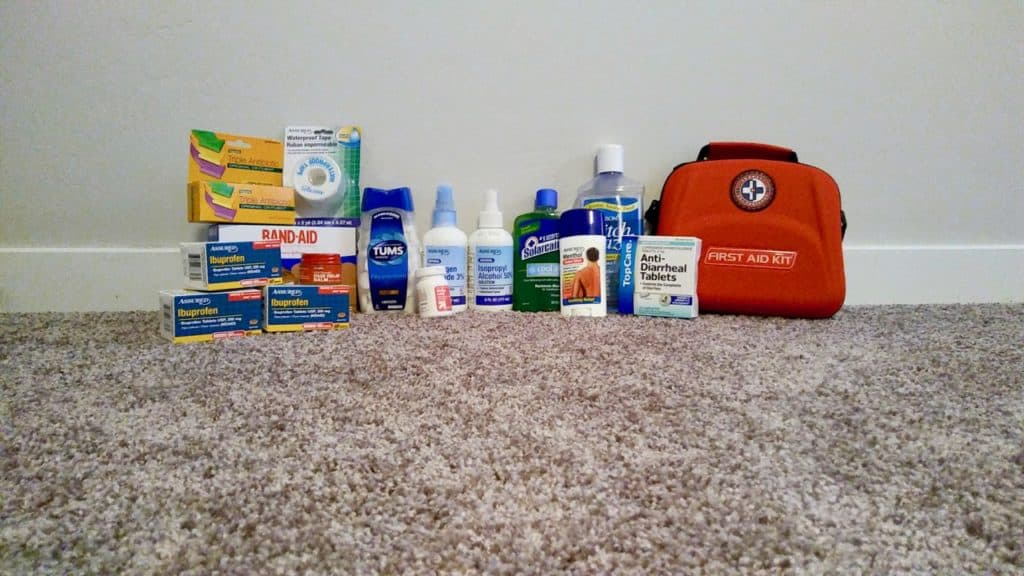 Comforts
Paper, pens, and pencils

Books

Card or board games

Candy
Tip – Think about the things that would be important to each member of your family for morale.
If you had an artist in the family, maybe you would want colored pencils and some adult coloring books. Maybe one of your kids is musical and would benefit from having an acoustic guitar or ukulele. I don't think I would last long without Chapstick so I stockpile the stuff just in case.
Think of games that will take up less space and have fewer parts for your Bug Out Bag. Some great games that are fun for the whole family are Five Crowns, Sushi Go, Spot It, Story Cubes, Farkle, Pass the Pigs, Guillotine, Bananagrams, exploding kittens, LCR, Phase Ten & Uno, and some regular old playing cards.
When choosing candy I would suggest using hard candy and gum. Some great options that are really flavorful are Jolly Ranchers, Atomic Fireballs, and Jawbreakers. Jolt Gum has caffeine in it so if you're a soda or coffee drinker going through withdrawals it might be helpful to have these on hand.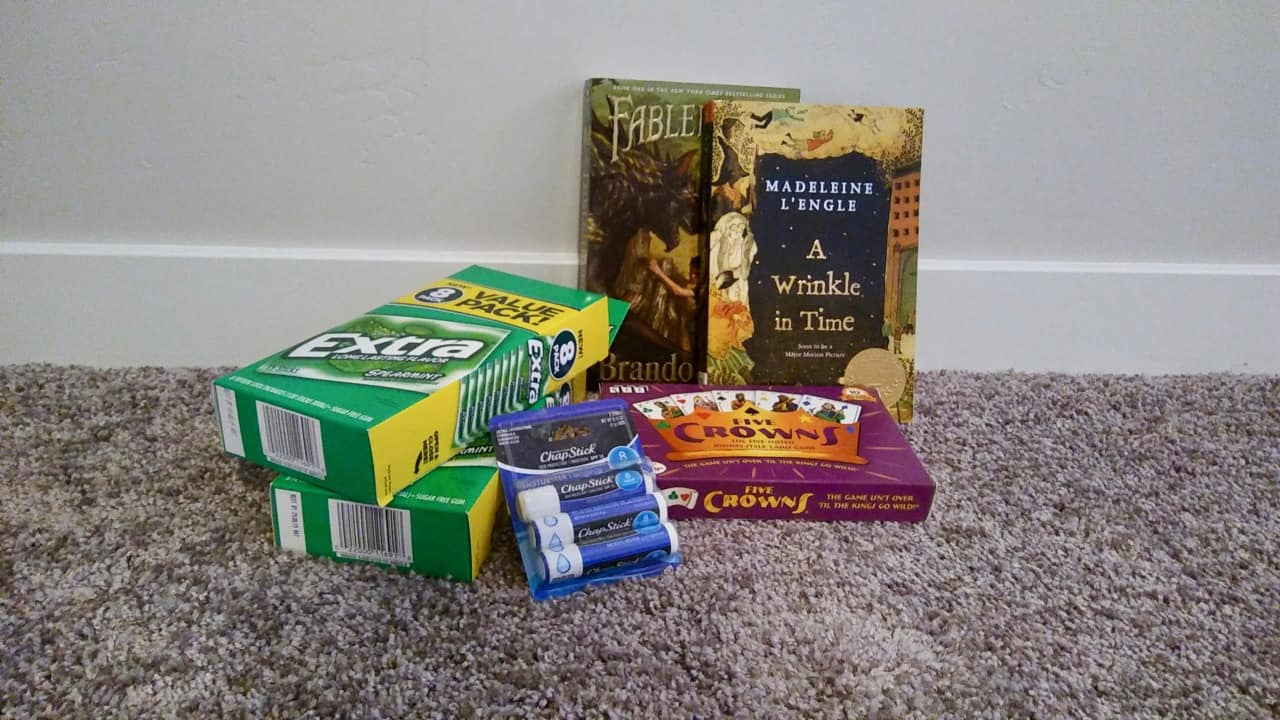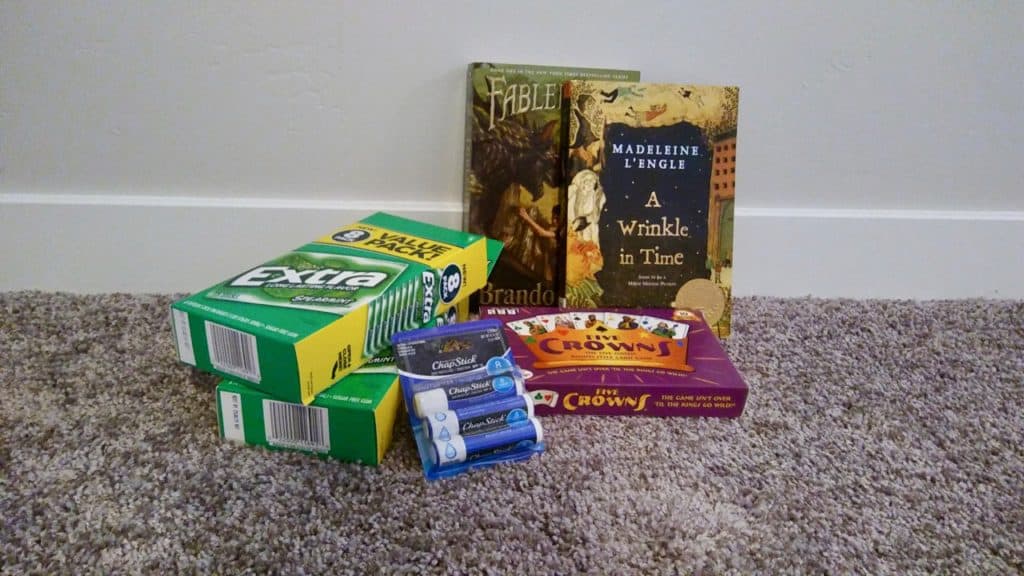 Security
Guns, ammunition, and a safe to keep them in

Locks (I have one to put on my garage door to keep looters out)

Knives and sharpening tools
Tip – Keep the specifics of what you have prepped quiet except from those you plan to include in your course of action. In an emergency, you don't want everyone coming for what you have because you've bragged about it.
On the Move
You should have a Bug-Out bag in case you have to leave your home. You can buy one or make one.

Basic emergency preps in your car

Have a "Get Home Bag" for anyone who regularly works miles from home who may have to walk a long way to get back in a major emergency.
My Next Purchases – What's in My Cart
I thought I would share with you the things I have planned to purchase next that are in my Amazon cart as I type this. I try to buy my preps a little at a time.
Books on Prepping
Of course everyone should do their own research on the topic of emergency preparedness. Don't just rely on what others have to say, myself included.
Every person and family is unique so doing your own research is best. In light of this, I've compiled a list of books with a wealth of knowledge on the topic.
If you're looking for Fictional Books to read about prepping then you should check out One Second After by William Forstchen and the follow ups One Year After and The Final Day. I want to warn though that these are a bit intense and very real about how devastating an EMP attack would be.
Miscellaneous
Besides the things that are on this list, you need to have plans and some basic training. You can check out THIS ARTICLE that provides a list of some top, online wilderness survival classes. If you want to get first aid certified you can do so through the American Red Cross. They have both in person and online classes. You can read more about their classes HERE.
Think things through before deciding to Bug In or Bug Out. Bug In means you stay put in your house and Bug Out means you leave your home. What you decide depends on your situation, so do your research.

Always have some cash on hand in small bills and some coins. Keep them in your fireproof safe and wrapped in ziplock bags. What if you couldn't go to an ATM, or if stores ran out of change because banks were closed? You don't want to try to buy something that's $5 but have to give up your $20 because the store doesn't have smaller bills to give you for change.

Keep lots of batteries on hand if you have emergency things that use them. It does no good to have a great flashlight if you don't have the batteries to run it.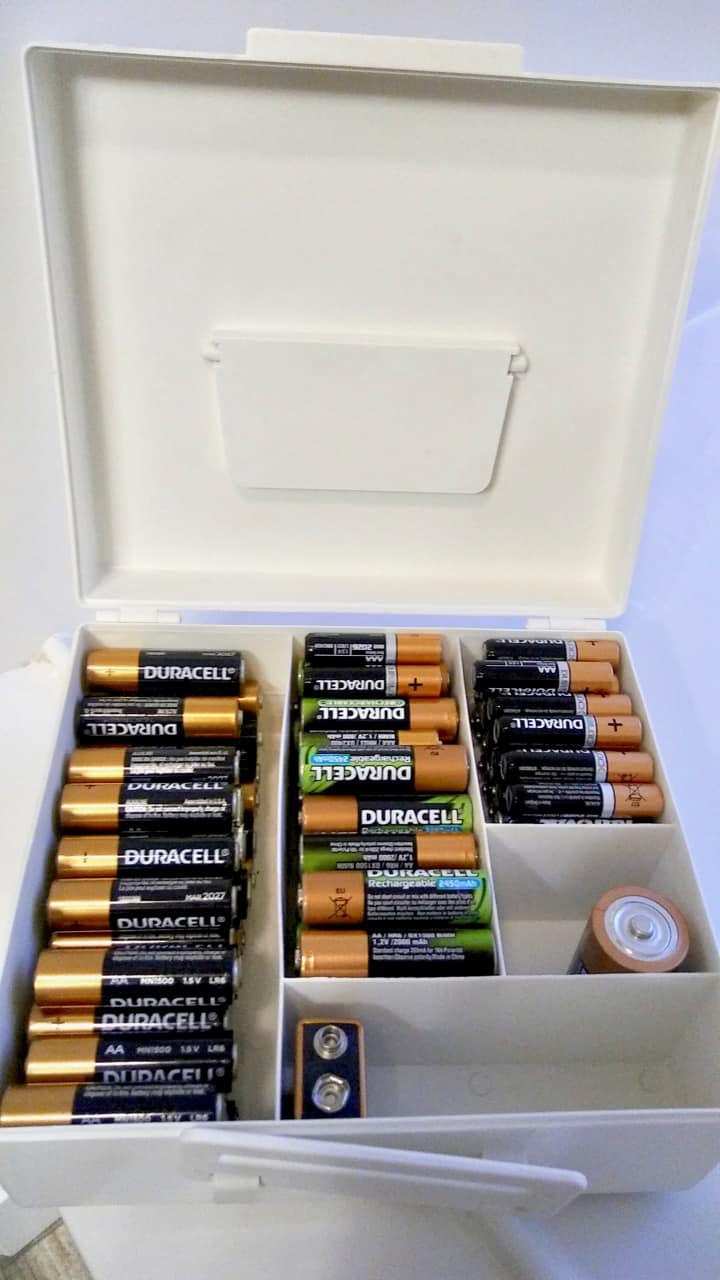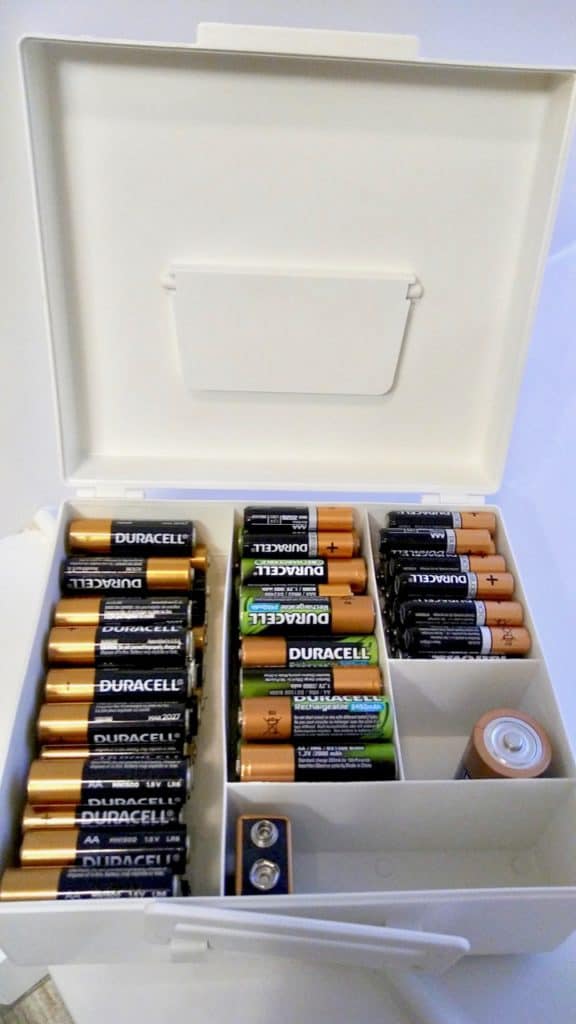 Don't let your car get too empty, try to fill up any time you get below half a tank.

Think about some extras that might be really valuable in an emergency situation to barter with.

Other items that might be good to have: duct tape, rope, tarps, tools, tents, lots of buckets, work gloves for every member of your family, an axe, pick, shovel, gardening tools, heirloom seeds, and a new garden sprayer for cleaning and quick showering with less water.
---
Final Thoughts
Of course there are always more items to add, and there are some amazing but often expensive, things that are made just for preppers. However, the items listed above will give you a solid start at being better prepared for emergencies.
I prep because I like to be in control and because I want to be self sufficient. I want to be calm in the storm. My family is important to me and I owe it to them to be prepared for the big things, so even when the little things come along, we can handle them.
Our government, the Red Cross, and (most important to me) even my church leaders have urged us to be prepared for emergency situations. I prep because when we are prepared we need not fear. I'm a prepper, and that's okay.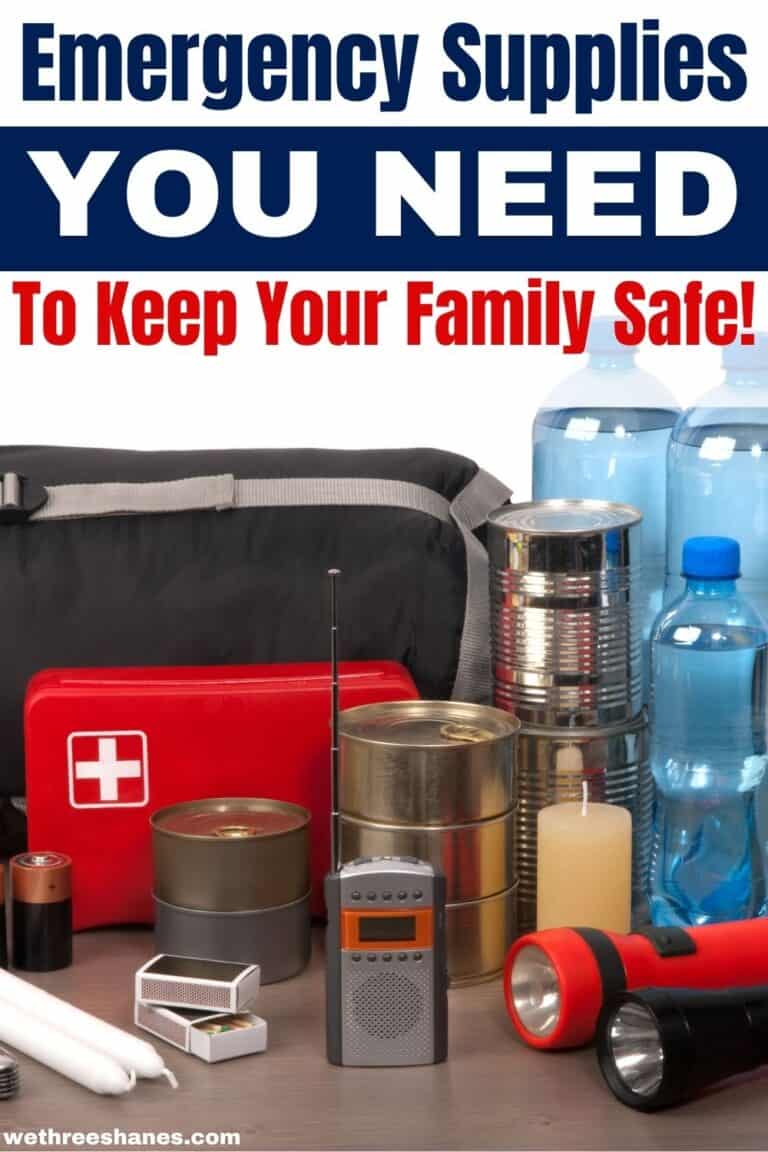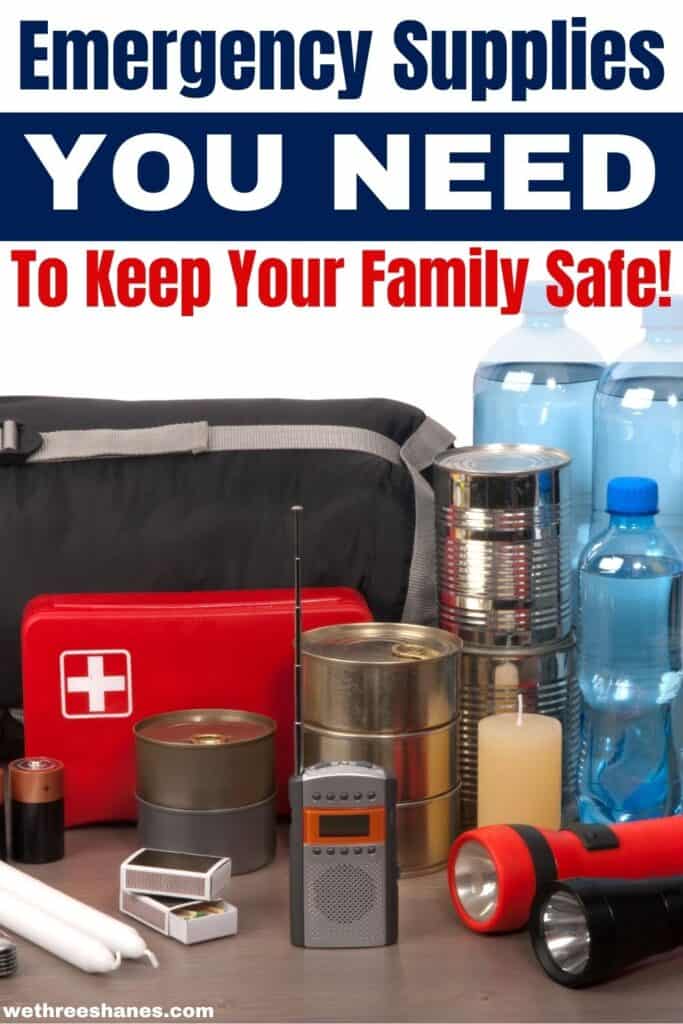 I hope this list will help those of you who want to be better prepared. What steps have you taken so far in your emergency preparedness? Is there anything you would add to my list?
Don't forget to sign up below for our newsletter to receive access to all our FREE Printables including the Emergency Prep Checklist from this post!
---
You Might Also Like:
---