How to Build a Minimalist Capsule Wardrobe in Your Style
The goal of a minimal wardrobe is to simplify your clothing choices, save time and money, and reduce your environmental footprint.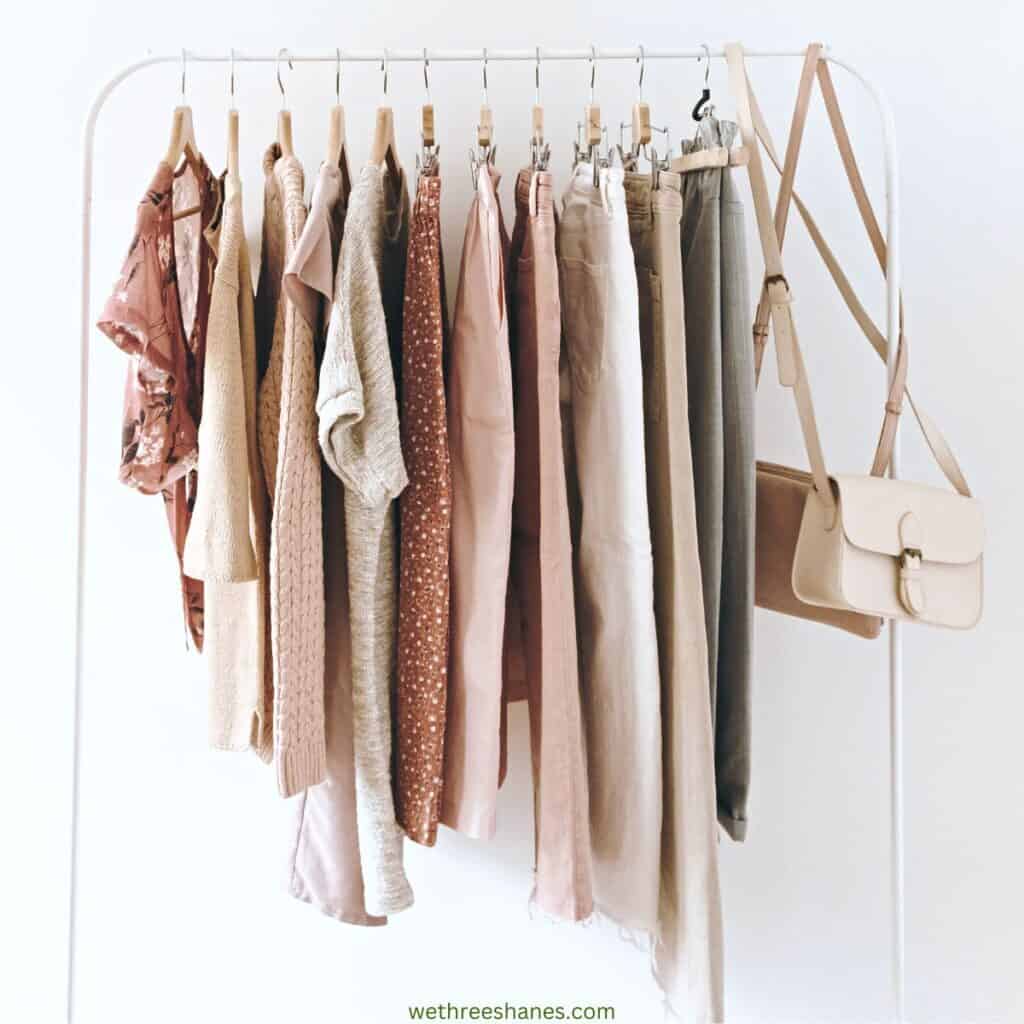 (THIS POST PROBABLY CONTAINS AFFILIATE LINKS. OUR FULL DISCLOSURE POLICY IS LONG & BORING BUT, YOU CAN FIND IT HERE.)
How to Create a Capsule Wardrobe for a Simpler Life
This post will be a bit long but creating a capsule wardrobe is a lot of fun and totally worth it.
A capsule wardrobe is a collection of clothing and accessories that consists of a limited number of pieces that can be mixed and matched to create multiple outfits. The idea behind a capsule wardrobe is to only include items that are versatile, high-quality, and you love wearing. This will allow you to create a functional, stylish, and sustainable wardrobe.
I'll be breaking down the steps of creating a more minimal wardrobe that works for your personal style and your daily routines. This is the best way to create outfits you love to wear.
You won't be getting a minimalist wardrobe checklist. Some people need copy and paste outfit ideas and a list of everything they need to buy to make it happen. And that's okay. We'll just save that for another blog post.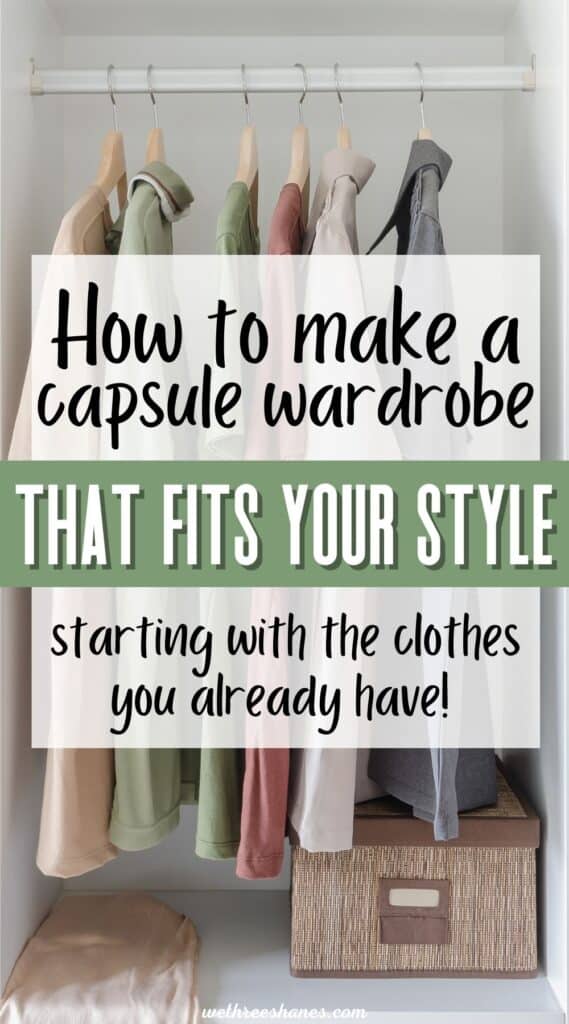 Why a Capsule Wardrobe is a Good Idea
This type of wardrobe is considered to be a good idea for several reasons:
First, a minimal capsule wardrobe can save you time and effort when getting dressed. Because you have fewer clothes to choose from, and most items can be mixed and matched, it's easier to decide what to wear each day. This reduces decision fatigue which means you spend less time getting ready.
Second, a capsule wardrobe can save you money. By only buying a limited number of high-quality pieces that can be worn in multiple ways, you can save money compared to buying a large number of cheap, low-quality items. These items are usually only worn a few times and will wear out quicker than high-quality items. Also, buying new pieces every couple of months as new fashion trends arrive is an easy way to burn through money faster.
Third, a capsule wardrobe can be more sustainable. By only buying a limited number of high-quality pieces that will last for a long time, you can reduce your environmental footprint and contribute to a more sustainable fashion industry. You also won't be contributing to the fast fashion industry by buying what's in style right now just because it's currently following fashion trends. Fast fashion doesn't stay in style for very long. Slow fashion stays in style for much longer which means you'll get more use out of your clothing for a much longer amount of time.
Overall, a capsule wardrobe is a good idea because it can save you time, money, and effort, and can also be more sustainable. By carefully selecting a limited number of versatile pieces, you can create a wardrobe that is functional, stylish, and sustainable.
What is a Capsule Wardrobe?
A minimalist wardrobe typically consists of a limited number of items that can be mixed and matched to create multiple outfits. The exact contents of a capsule wardrobe will vary depending on your personal style and needs, but it may include items such as:
Basic tops such as t-shirts, blouses, and a tank top or two
Basic bottoms like jeans, and skirts
Jackets and outerwear, such as coats, blazers, and cardigans
Shoes, such as boots, sneakers, and flats
Accessories, such as scarves, hats, and jewelry
By carefully selecting clothing items that works for you, you can create a functional, stylish, and sustainable wardrobe that gives you different options and plenty of outfit combinations. No more standing in front of your closet every day trying to decide what to wear because you love everything and it all works together.
A capsule wardrobe might sound boring to some but it's actually a ton of fun. You get to be creative as you try new outfit combinations with the clothes you have. I've become a bit more bold with my style and have found some new outfit combos that I love and had never tried before.
Seasonal Capsule Wardrobes
Before you start building your minimalist closet we need to talk about seasonal clothing. Some people might keep all their clothing out all year long. But people with smaller closets might store seasonal clothing like sweaters or shorts somewhere else so they don't take up room in a crowded closet when they aren't being used.
I'm currently in winter weather so I have all my sweaters and boots out. As warm weather hits I'll swap those for my summer clothing.
When you start decluttering your clothes, step one in building a capsule wardrobe, don't worry about getting out seasonal pieces that are currently packed away. You only need to go through the clothing you have in your closet right now. When the other season comes up and you're ready to swap items out then you can go through them once they're out of storage.
There are a couple of reasons to do this. First, you decluttering your clothing is a big project so there's no need to go through extra clothing items you're not currently wearing. Second, you haven't been wearing the tucked away items so you don't know how you feel about them yet.
I have pieces that I love one summer and then don't wear the next and vice versa. You'll want to wear your seasonal clothing for a couple of weeks before you know what you want to keep.
Third, you'll have some time with your new capsule wardrobe in one season before moving on to the next. This gives you a bit of time to tweak things that aren't working as well as you thought. It will make your next season easier to figure out.
I just want to mention that you won't have two whole separate capsules for all the seasons. Most of your wardrobe will stay the same. You'll only be swapping out some items like boots for sandals, maybe tank tops for sweaters, shorts for more pairs of pants. It shouldn't be too many items for you to store.
To create your own minimalist capsule wardrobe, follow these steps:
Step 1 – Start by decluttering your current wardrobe.
The first step is to go through all of your clothing and accessories, and get rid of anything you no longer wear, that doesn't fit well or any obvious duplicates. You don't need 3 types of white t-shirt in a capsule wardrobe when one works.
Remember we're going for a minimalist approach. This will help you make room for the new, good quality pieces that you will be adding to your capsule wardrobe.
You want to separate your clothing into four different piles: keep, hold, donate, and discard.
Keep are items that you know you love and have worn in the last couple of weeks.
The hold pile is for clothing that you like but don't wear as often. These might or might not go back into the closet.
Donate is pretty obvious. These clothes are still in good condition but you no longer want. You'll want to find a good place to donate these items.
Discard items are the ones that are stained, ripped, too old to donate. It would be great if you found a textile recycling program for these items so they don't end up sitting in a landfill. Goodwill will actually recycle worn-out fabrics. H&M also has a recycling program. They will take any fabric items and old clothes. It doesn't need to be their brand. And you'll get a coupon for the store as well.
Step 2 – Identify your style personality and needs.
The next step is to think about your personal style and the types of outfits you like to wear. Look for similar pieces of clothing that you tend to gravitate towards. Noticing what your favorite pieces are, and what you grab first will help you figure out your sense of style.
For example, I tend to wear sweaters and t-shirts most of the time. I pair them with jeans or joggers.
This is what you will find me in most of the time. I like to be comfy and this simple style works for me.
Do keep the seasons in mind. I'm currently writing this in March and it's still cold and snowy where I live so I have all my sweaters out. I automatically thought that my wardrobe consists of sweaters and t-shirts like I said.
But in the summer, the sweaters go away and I wear t-shirts and flowy button ups. I also add in flowy pants. Remember you don't need to do all seasons at once. I'm just giving you examples for later of how your outfit styles change based on seasons.
Try to find two or three outfits you tend to wear again and again. This is your personal uniform. It's what you like to wear and what you tend to wear the most. You are going to fill your closet with these outfit items when creating your capsule.
If you don't know what your personal uniforms are then you can write down or snap pics of what you wear for the next two weeks. Most people only wear 20% of the clothes in their closet. These two weeks will be a good show of what your 20 percent is.
Want to get started decluttering right away without looking at two weeks of outfits then turn to your loved ones? Ask friends and family what they think your favorite outfit is. I asked my son this question without an outfit in mind and he nailed it.
If you're getting a lot of jeans and chunky sweater or a flowy skirt and t-shirt then you'll start to get an idea of what you wear the most.
Also, consider what everyday life looks like for you and the types of activities that you do on a regular basis. Then make sure to include pieces that are suitable for these activities.
I work from home so I don't need a work wardrobe like some people might which means I can get away with fewer items. I do go to church on Sundays so I need some skirts and dresses.
You'll need to include all your needs into your own capsule wardrobe. This is why there is no magic number for how many single piece items you should have when it comes to a capsule closet. My needs aren't the same as your needs so a set number won't work.
After your lifestyle and wardrobe assessment you should have an idea of your favorite style combinations or "uniforms". Mine are:
T-shirts with skinny jeans and sneakers.
Button up shirts with skinny jeans and boots or sandals in the summer.
T-shirts and joggers is another one of mine.
Capri slacks that can go with both t-shirts, flowy shirts and sweaters.
I only wear short sleeve tees so I don't have any long sleeves in my capsule but you might. I also don't wear tank tops, leggings, oversized blazers but you might. Different people like different styles so your essential items of clothing won't be the same as mine.
This is the problem with copying someone else's capsule wardrobe. It might not be your style and your style is the most important part because that's when you are comfortable in what you wear.
Step 3 – Choose a color palette that you like.
Many people recommend using neutral colors in minimalist fashion but it's not an absolute. Neutral tones will give you more clothing items that mix and match easier giving you a variety of different looks with less clothes.
It's obviously easy to mix and match clothing when everything is black, white, and grey but it can get a bit boring. It's easiest to pick a handful of neutral colors that mix well with each other and a couple of bright colors that can be incorporated as well.
I like to keep bottoms mostly neutral and then use my tops as the fun pops of color.
I do the same thing with my shoes. I have a number of shoes in neutral colors like black, white, and beige and then a couple of fun ones to mix things up.
Also consider a print or two. I like stripes, plaids, and a little bit of cheetah. You might like polka dots, chevron, and florals. It's easy to match mix these around too when you stick to similar color choices.
Don't worry if you're not feeling the neutrals. This is where finding your unique style comes into play again. You might like to mix and match bright colors and prints in a fun way. You can still have a great capsule wardrobe this way as long as you know what you like.
Step 4 – Limit Your Number of Items
Now that you know your personal uniforms you'll build your wardrobe around them. This is where you can play a bit of a numbers game because you only need a set number of items for each uniform piece.
This will be based on how often you can do laundry because even that is different for everyone.
If you do laundry every week then you probably need less clothes. Looking at my uniforms I only really need a couple of t-shirts, couple of button ups and a few sweaters. If you do laundry every two weeks then you might need a few more of each to be able to get you through until laundry is done again.
For bottoms I have a couple of pairs of jeans in different styles and colors so I can get the most out of them. Plus some joggers in neutral colors.
Here's a quick look at my current everyday winter wardrobe. This doesn't include my Sunday skirts, dresses and shoes but I can mix and match them with the tops that I have here. (Also, not included are the two coats and snow boots I wear):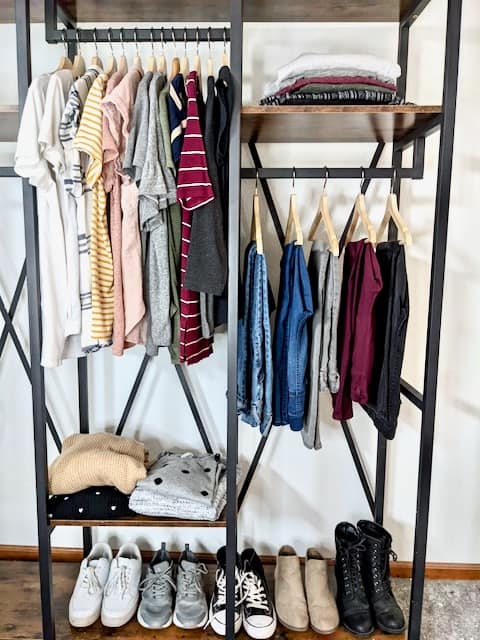 Step 5 – Choose high-quality, versatile pieces.
You should have a good amount of clothes left in your closet after your decluttering session. These are your favorite go-to pieces.
Once you have selected the items for your capsule wardrobe, you can also create a plan for how you will mix and match them to create a number of outfits. This can help you make the most of your limited number of pieces and ensure that you always have something to wear.
This will also help you see what is missing from your capsule. What do you still need to pull everything together?
Make yourself a list of the items. Then start shopping for them. You don't need to buy everything at once. Take your time to find the perfect pieces.
When selecting items for your capsule wardrobe, focus on choosing high-quality, versatile pieces that can be mixed and matched to create multiple outfits. Avoid buying cheap, low-quality items that you will only wear a few times.
Don't follow the trends. Fast fashion has new trends coming out every season and most of those pieces won't last into the next one.
Look for classic pieces that will stand the test of time. Classic never goes out of style and you can always use accessories, makeup, and hair styles to go with the trends.
I realize quality pieces can be expensive. Limiting the number of pieces in your wardrobe will help save money but it might still be too high a cost for some.
This is why I love to shop at thrift stores. Make sure you stick to your list and that you only buy pieces that you love. Don't fall for "close enough".
I do this too much when thrift store shopping. I see an item that's on my list but the fit is slightly off or it's the wrong color. I buy it anyway because the cost is low and figure I'll still wear it but 9 times out of 10 I don't.
If you're not wearing the piece then it's not worth the price. Stick to your list and make sure it's the perfect item before you buy.
If you love a certain item of clothing but can't afford the price tag then look for a dupe. There are usually some quality dupes out there just like these Chanel slingback dupes.
There are always ways to create a capsule that you love, that's your style and high quality so it lasts.
Step 6 – Revisit and adjust your capsule wardrobe.
Your personal style and needs may change over time, so it's important to revisit your capsule wardrobe periodically and adjust it as needed. This can help you keep your wardrobe current and ensure that it continues to serve you well.
Overall, creating a capsule wardrobe requires decluttering your existing wardrobe, identifying your personal style and needs, choosing high-quality, versatile pieces, creating a plan, and revisiting and adjusting your wardrobe regularly. By following these steps, you can create a functional, stylish, and sustainable wardrobe that is easy to manage and that saves you time and money.
To maintain a capsule wardrobe, follow these tips:
Revisit and adjust your capsule wardrobe more regularly at first. Once you know exactly what you like you'll be able to sit back and let your clothes work for you. Remember, your personal style and needs may change over time, so it's important to look over your capsule wardrobe periodically and adjust it as needed. This can help you keep your wardrobe current and ensure that it continues to serve you well.
Take care of your clothes. High-quality pieces are an important part of a capsule wardrobe, so it's important to take good care of them. Make sure to wash and store your clothes properly, and repair or replace any items that are damaged or worn out.
Be mindful of your purchases. Before buying something new, ask yourself if it will fit in with your existing capsule wardrobe and if you will wear it often. This can help you avoid buying items that are unnecessary or that don't fit well with your existing wardrobe.
Stay organized. A capsule wardrobe is easier to manage and maintain if it is organized, so make sure to keep your clothes and accessories organized and easy to access. This can help you make the most of your limited number of pieces and ensure that you always have something to wear.
Frequently Asked Questions About Capsule Wardrobes:
How many clothes should be in a capsule wardrobe?
Hopefully you know the answer to this one by now but there is no set number. No one can tell you how many clothes items you need because it's different for everyone. Your personal day to day activities will determine your number. Do try to keep items to a minimum for maximum results though.
You might need work clothing that I don't but that doesn't mean you should have 10 pair of slack and 10 skirts. Not when you can get away with just a few of each.
Remind yourself that minimalist living is about finding the least amount of items you can comfortably live with and even that is different for everyone. The more you practices living with less the more you'll find the balance you personally need.
What happens if you have a piece or two of clothing that you love but it doesn't fit in with your new capsule wardrobe?
Keep the items. Wear them until you no long love them or until they start to fall apart. These pieces might be harder to mix and match but if you love to wear them and feel good in them then there's no reason to get rid of them. Wear them out and then don't replace them.
What about special occasions?
I don't include formal dresses in my capsule. But I do keep them as basic as I can and limit them to a single item. I happen to have a little black dress that can be dressed up or down with to fit any occasion. I have one pair of black heels to go with them. If you tend to go to multiple formal events in a year you might need more items.
Do pajamas count in a capsule wardrobe?
Just like special occasions, pajamas don't get counted in a capsule. Neither does workout wear. But you still want to keep these items to a minimum, almost like creating separate capsules for pjs and workouts.
What are the cons of a capsule wardrobe?
When you first start with a capsule it can feel a bit constricted for some. You might feel like you don't have enough clothing in your closet because you're used to seeing much more. But remember, you weren't wearing most of it. You now have a closet full of items you actually wear and you'll soon find you love your capsule and have nothing bad to say about it.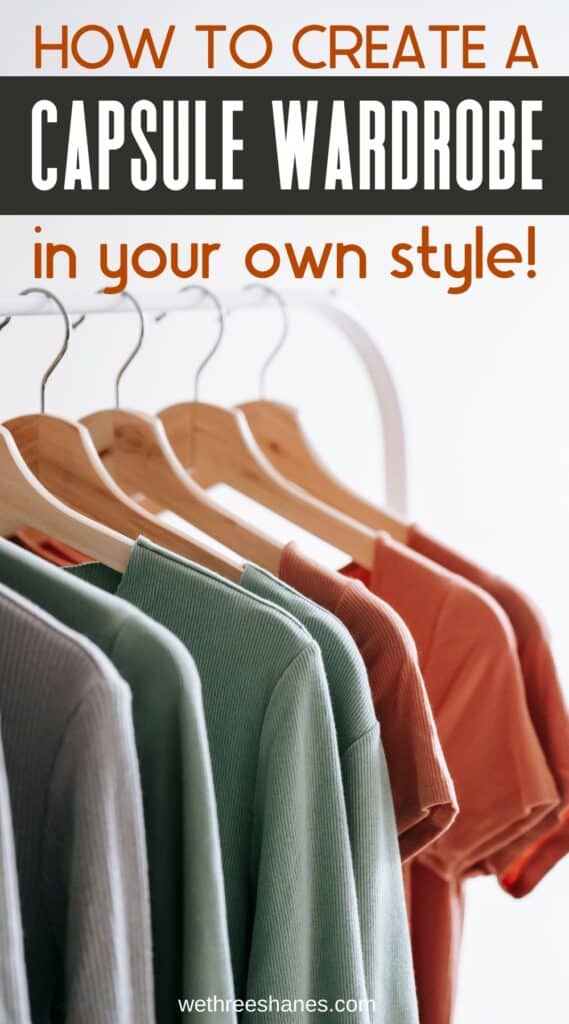 Is a Capsule Wardrobe Right For You?
A capsule works for everyone; women, men, and kids alike. It's basically a way to feel good about what you wear on a regular basis. That's really what it boils down to.
Finding your look and creating a perfect wardrobe based on it. You'll soon realize that a limited number of clothing options that you love and can create unlimited outfits from makes life simple and helps you feel more confident.
I hope you learned how to find your style and create a capsule wardrobe that works for you. If you have any questions then leave them in the comments below. I'm always happy to hear from you and answer questions if you have them.
You Might Also Like: