How to Create a Minimalist Wardrobe Checklist
What is a Minimalist Wardrobe, and can you make it work in your life? We give you easy steps to help you figure out how to make a minimalist wardrobe checklist that is perfect for your life and personal style.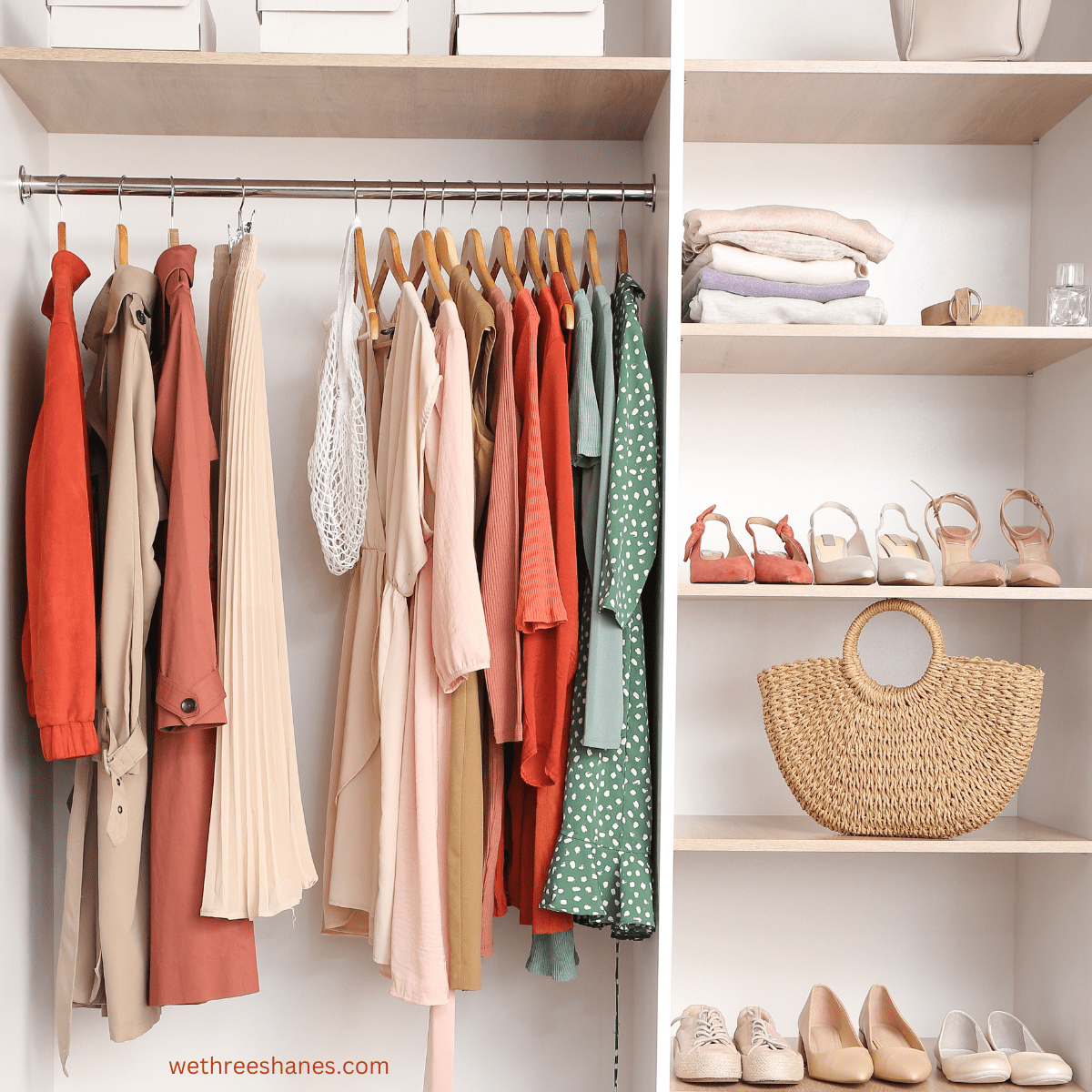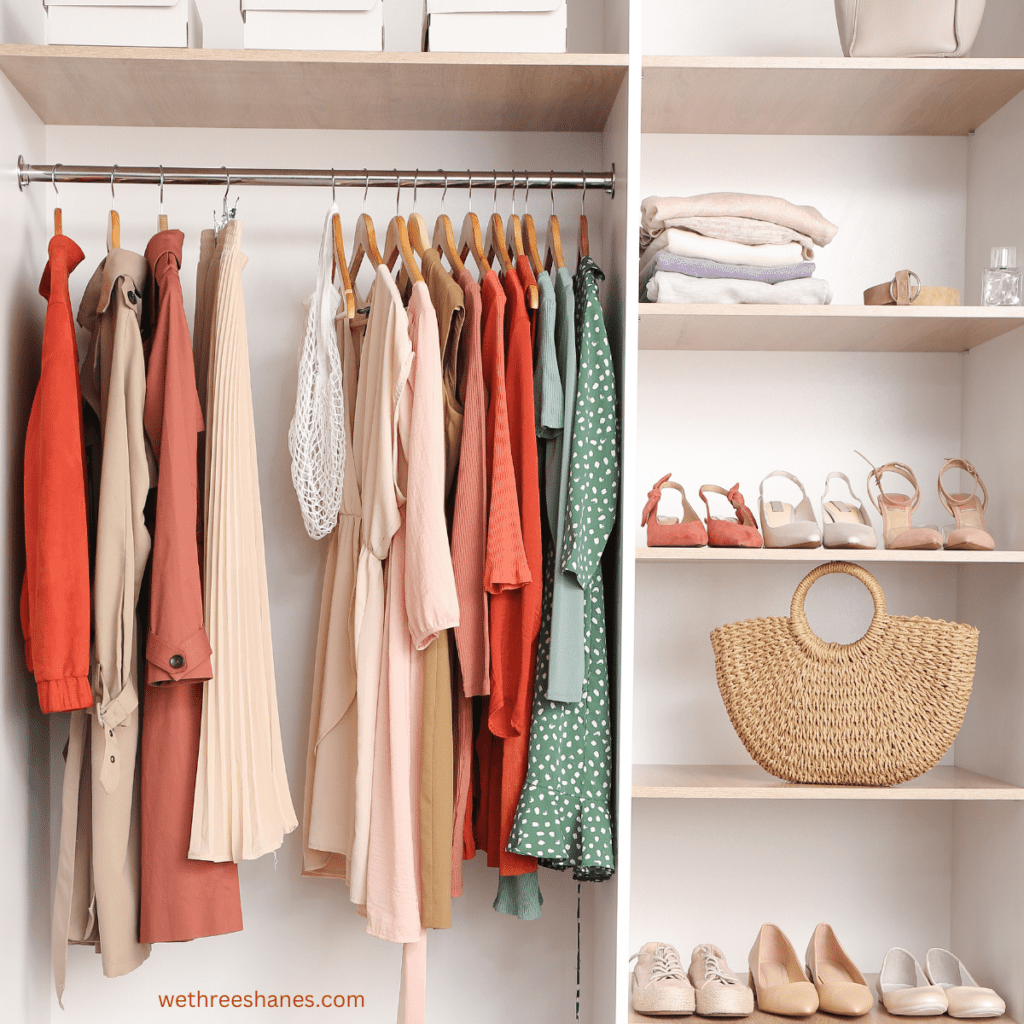 (THIS POST PROBABLY CONTAINS AFFILIATE LINKS. OUR FULL DISCLOSURE POLICY IS LONG & BORING BUT, YOU CAN FIND IT HERE.)
Minimalist Wardrobe Checklist.
In our last blog post, How to Build a Minimalist Capsule Wardrobe in Your Style, Kim taught us how to find your style, and use the clothes we already have to start a journey toward having a capsule wardrobe.
This post will expand on that idea and give us a basics list to use when we purchase new clothes for our capsules. These lists will be geared towards women, but you could make gender specific substitutions for a men's minimalist wardrobe. For example, when we talk about dresses, you would substitute those for dress shirts and slacks, or suits.
Now so we are all on the same page as we get started, lets do a quick review.
What is Minimalism?
I have written before that one of my favorite minimalist is Joshua Becker. He describes minimalism as, "…intentional living with only things I really need-those items that support my purpose. I am removing the distraction or excess possessions so I can focus more on those things that matter most."
You notice how he doesn't talk numbers here. Too many people have turned minimalism into a numbers game and that's not what it's about. It's about intention and purpose and then filling our homes and lives with things that support that life we want.
What is a Capsule Wardrobe?
A Capsule Wardrobe is a collection of timeless pieces of clothing. Pieces that have stood the test of time, and aren't trendy.
The fashion industry will tell you you need a closet packed full of items to be in style, but remember we are going for a minimalist approach. With a capsule wardrobe, you aren't going for quantity, instead you invest in clothing that is high quality.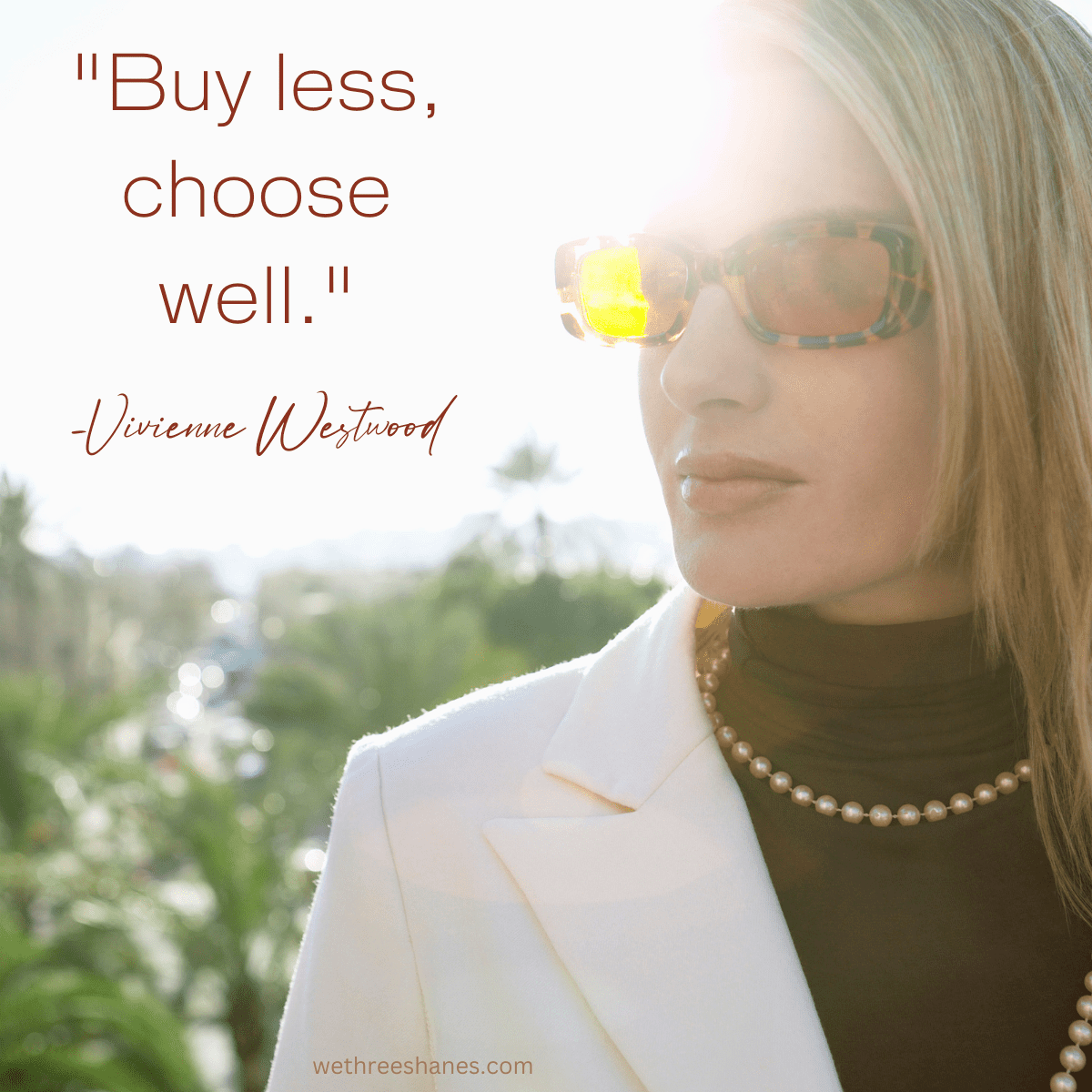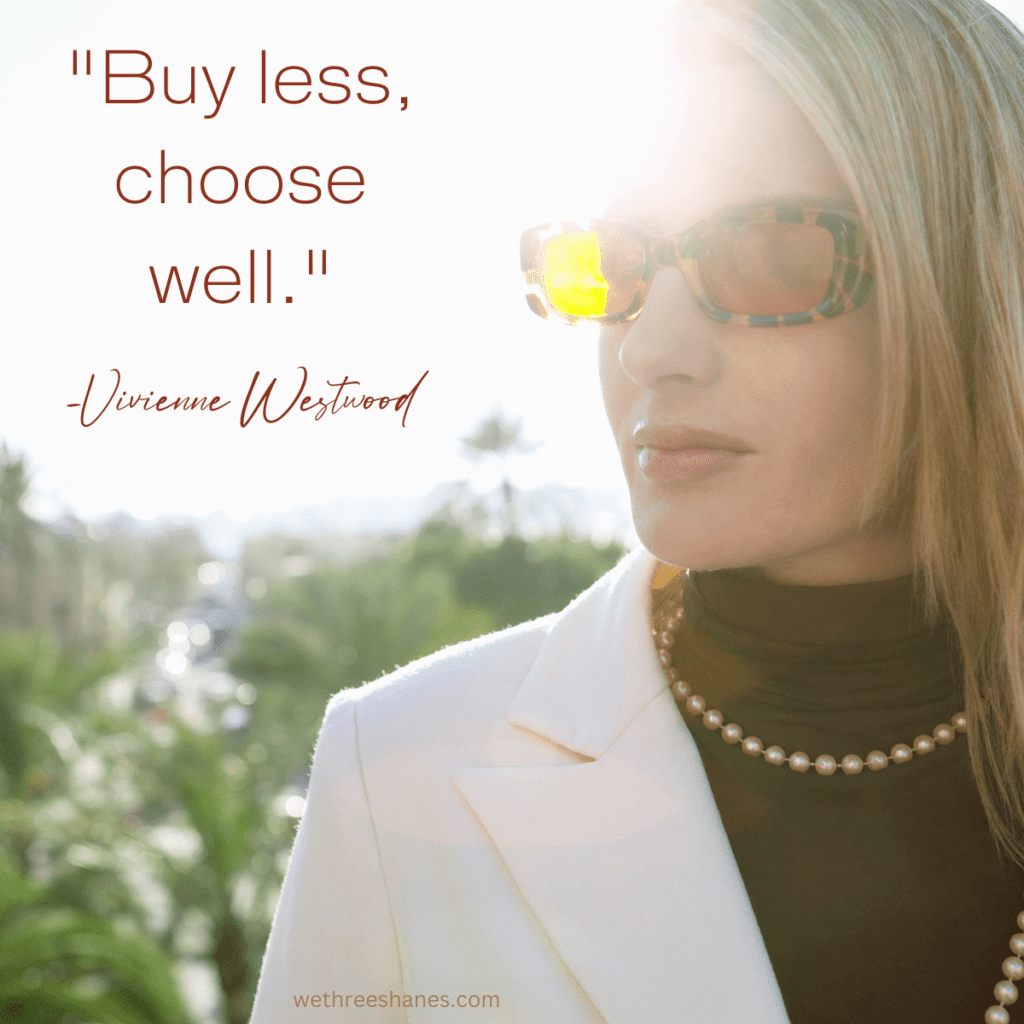 These staples are usually in complimentary or neutral colors. They are considered versatile pieces that you can wear in different outfit combinations. You should be able to make small adjustments to those quality items to make your wardrobe work throughout the seasons.
Kim said, "The goal of a minimal wardrobe is to simplify your clothing choices, save time and money, and reduce your environmental footprint."
I would add that a minimal wardrobe helps you adopt a signature style, so you feel comfortable in your clothes.
Practicing Minimalism with Your Clothing
The first step you want to take, is to choose to have a more minimalist closet. That you want to have fewer clothes, less stress, more time, more money, and that you want to help the environment by avoiding fast fashion.
Making the decision to do these things will keep you motivated to take the steps necessary to declutter, and make the changes you need to make to live a more minimalist lifestyle. There are a lot of ways to practice minimalism in your wardrobe, and you have to figure out what a minimalist wardrobe means to you.
Some people, like Joshua Becker want to take it to the extreme. His biggest focus is on spending less time picking out what to wear. He wears the same classic pieces, a black v-neck and jeans almost every single day. He likes the way this looks on his body type, and he enjoys not having to spend much time picking out clothing items.
Other people decide to allow themselves a certain number of items. They might follow exact plans to help them get started, like Project 333.
Project 333 is where you spend three months only wearing 33 articles of clothing. After the three months you evaluate whether you felt like you need to add items to you wardrobe, or what aspects did or didn't work for you.
Or there is the 10 x 10 challenge where you have only 10 items for 10 days, and try to make different outfits each of those 10 days. And then again, at the end of the 10 days you evaluate how to move forward. In one way this challenge is less extreme because you don't have to go as long without evaluating, but in another it is more challenging because you have fewer options during the challenge to work with.
These methods are a good way to jump in if you are the type of person who likes a challenge and wants some extra motivation. But if you are someone who works best with lists, then we are here to help you figure out your minimalist wardrobe essentials.
Getting started
The first thing you are going to need to do is declutter your current clothing. Again, go back to Kim's post from last week, How to Build a Minimalist Capsule Wardrobe in Your Style and she has a whole section on decluttering your clothes. It is a great post that includes step by step instructions on decluttering your clothing.
Kim wrote another post awhile ago, How I Cut My Wardrobe in Half and Why You Should Too, that would be very helpful to read to get you through this starting point. If you read these two posts, and follow her instructions you will be ready to move on to your list of basics to have in your capsule wardrobe.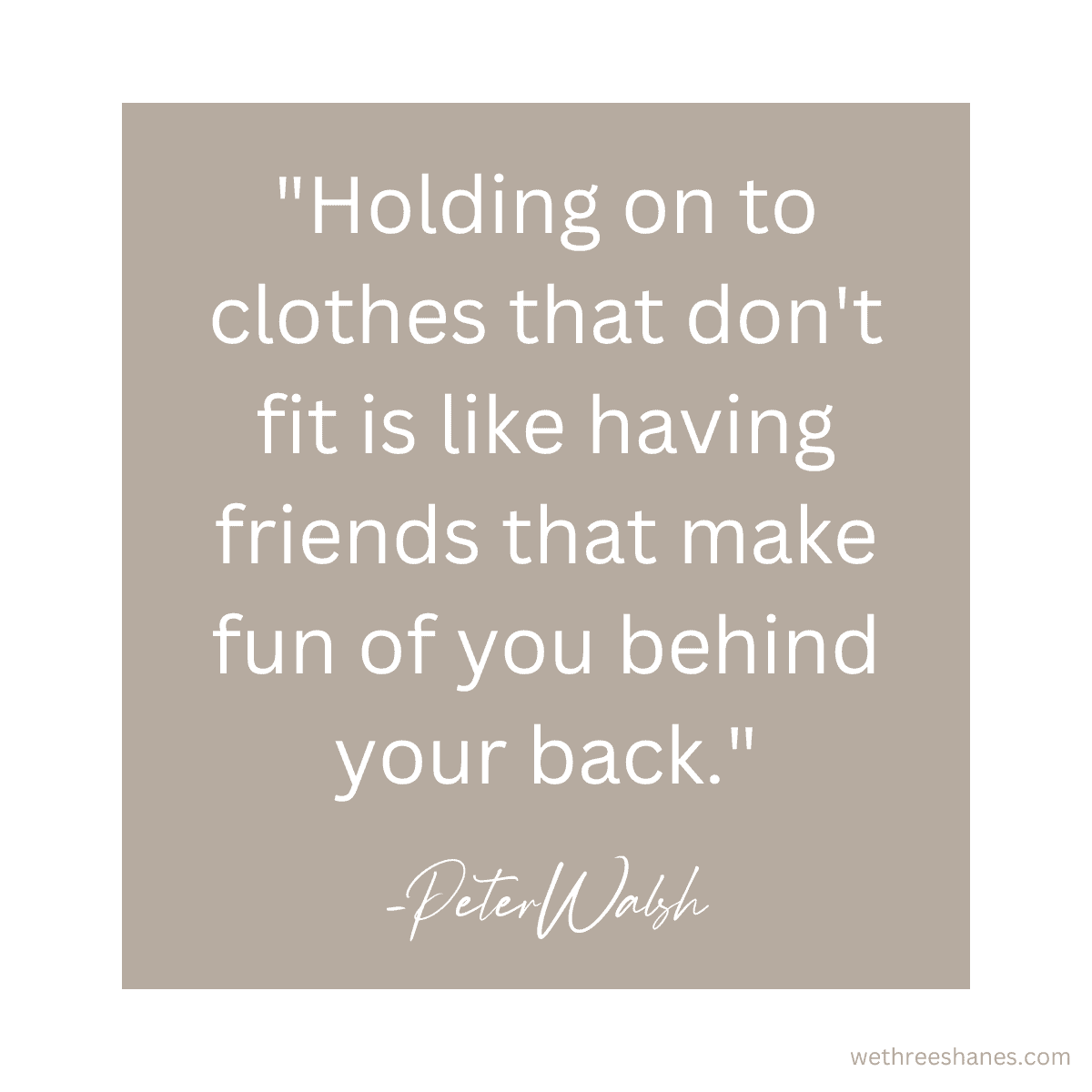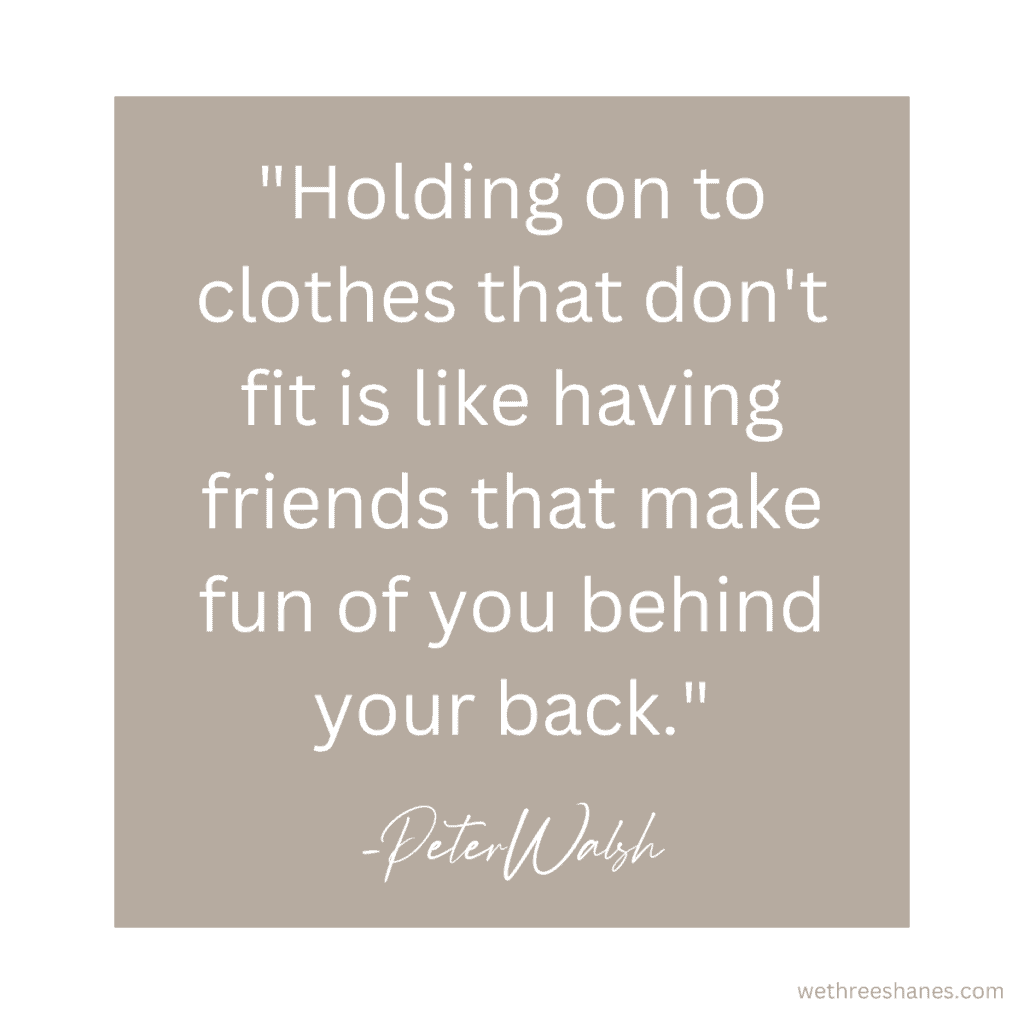 What is NOT Included In Your Capsule Wardrobe
Your capsule wardrobe is usually geared towards items you would keep in your closet, not your drawers. So we do not include things like underwear, socks, tights, gym wear, lounge wear, pajamas, or swim suits.
We also don't count things you would need once for a special occasion. These would be things you need for formal events, like a ball gown, or wedding dress.
But as always we suggest being as sustainable as possible when figuring out these special items. Can you rent them, or buy them used like from a thrift store or consignment shop? If not, just make sure you are getting high-quality materials so they can become items you can pass on to someone else after use.
However, you still want to keep your minimalism goals in mind when it comes to your drawers. You still want to use sustainable brands when you can.
Try to keep the number of items you have in check. Inspect and declutter these items regularly (I like to declutter my drawers at least twice a year).
Also not included on this list are uniforms, even though they usually are in your closet. You don't normally have much of a choice when it comes to workplaces that require uniforms. We do just suggest regularly inspecting your uniforms for wear and using the one in one out rule.
For example, once you know how many uniforms you like to have on hand (this will usually depend on how often you want to do laundry), when you buy a new piece, an older piece has to leave. This will keep the number of items you have in check.
How Basic Do You Want Your Minimalist Wardrobe Checklist to Be?
It is a good idea to figure out what kind of list you are looking for. Do you want just a general idea of items to have, or do you want specifics like color or pattern given to you? Either way, I got you!
The Very Basics Checklist
A very basic capsule wardrobe checklist, would be these items in very neutral colors. This would be a good starting point for anyone who hasn't yet figured out their minimalist style.
A pair of jeans
A white t-shirt that goes with everything
Blazer
Dresses that can be styled up or down
A classic pea coat or trench coat
Knitwear (like a classic cardigan sweater)
Sneakers
Flats
Heels
Boots
If you combine these basics, with your favorite pieces you kept after your declutter, you would have a small selection of clothes that would give you a good foundation for a capsule wardrobe. This is a minimalist wardrobe that you could adjust and grow as you figured out what your minimalist style is.
But if you already have a pretty good understanding of what you want your minimalist style to be and you want a more complete list to work with, you could move onto the next list.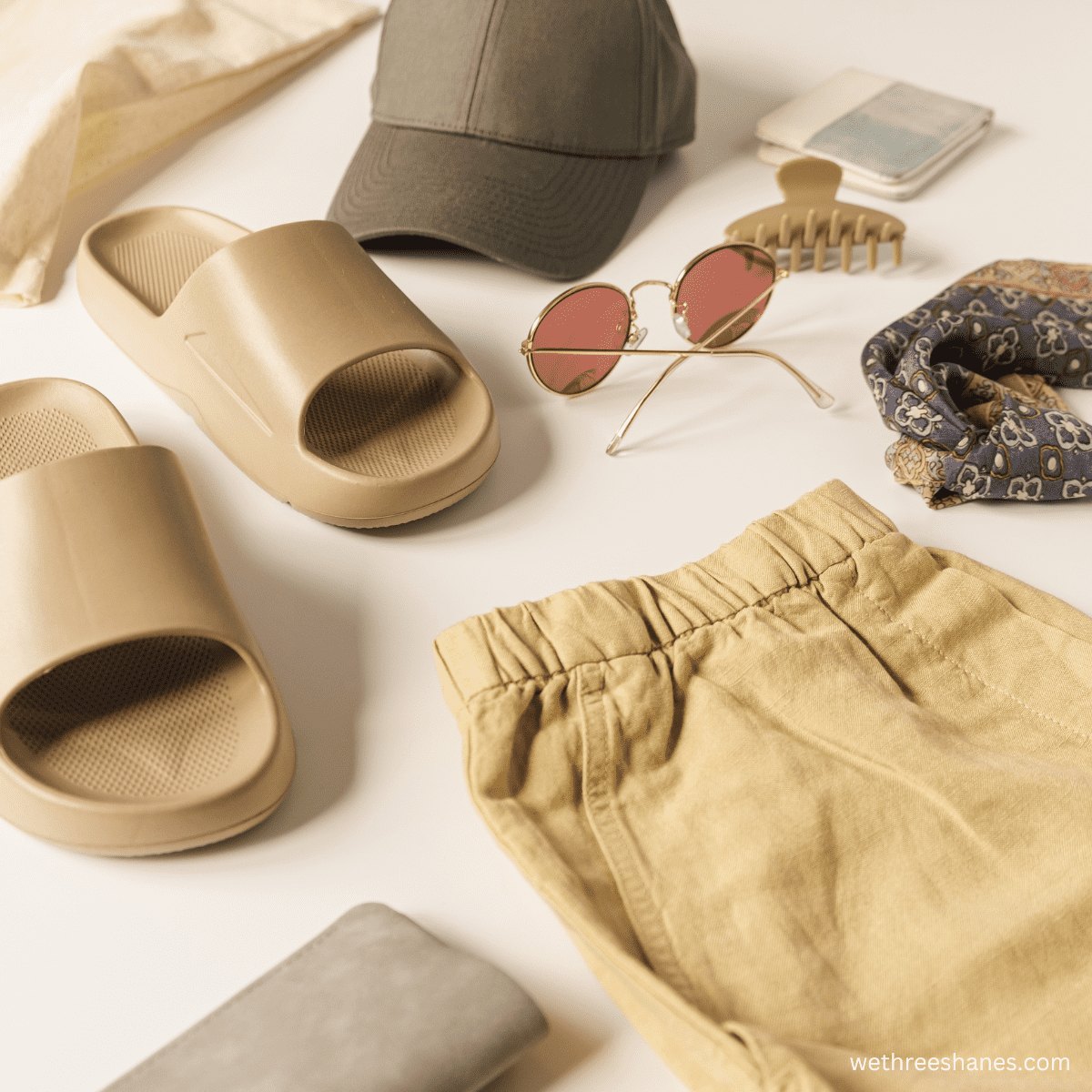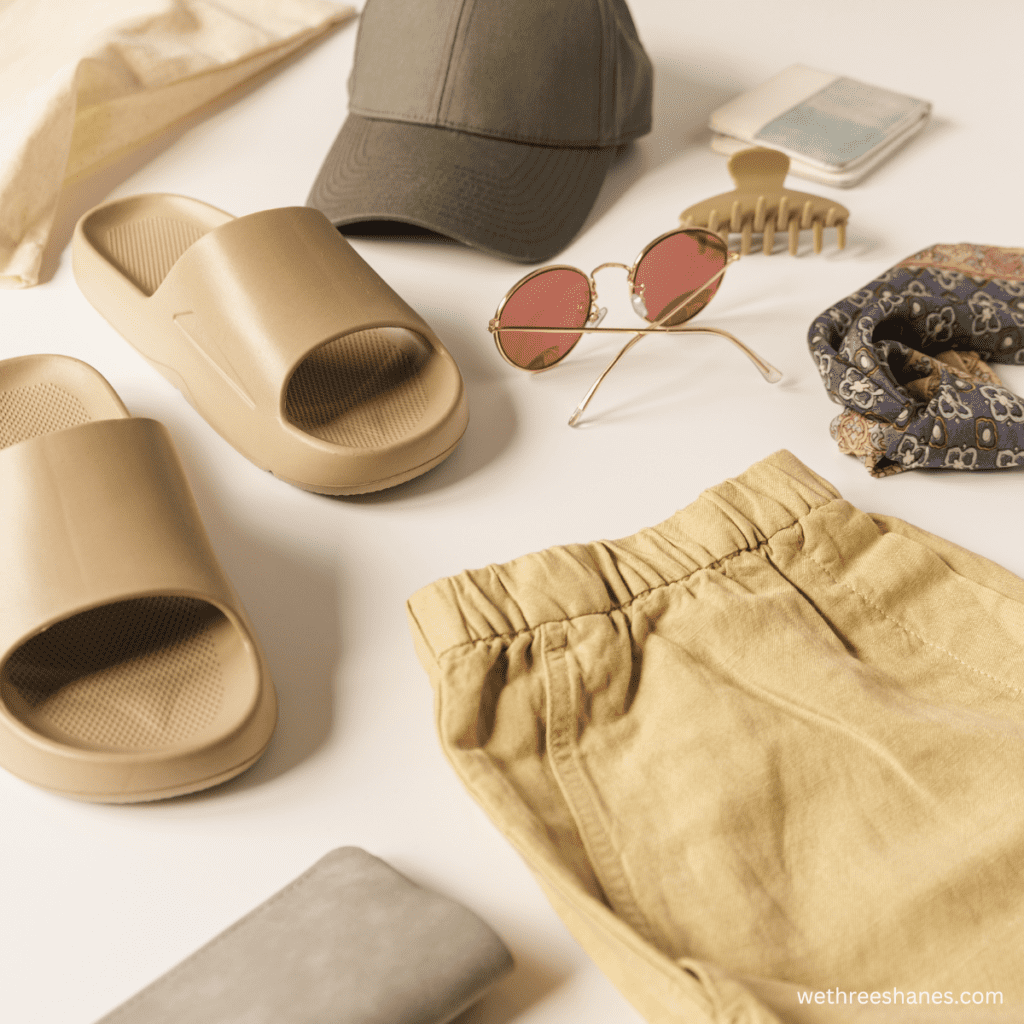 Beyond the Basics Capsule Wardrobe Checklist
This is the minimalist wardrobe shopping list to take you beyond the basics and give you more specifics for your staples. It will also include some suggestions for basic accessories and for the seasons.
Tops
White T-shirt, this can be any style, but I would get at least 2 in white.
Black T-shirt, again any style, but at least 2
Stripped T-shirt, I prefer white with black stripes, but you do what works for your style
Tank Tops for layering, white, black, tan, grey, or pink make it easiest to work with most outfits
One button up white shirt, amazing for layering, changing up your look, and can be dressed up or down
Sweaters, at least 2 pull over, and 2 cardigans
Hoodie, everyone needs at least one of these. I prefer the zip-up kind, but if you prefer the pull over type, go for it.
Blazer, to dress up trousers, or even a T-shirt and jeans
Bottoms
Staple jeans, at least 3 pairs of jeans. One pair of skinny jeans, one classic or bootleg, and one that is in a different color than blue
Trousers or Black Pants, 1 or 2, black or tan are the most versatile
Joggers or Leggings, that is if you are the type to wear these out of the house. If not, they can just be part of your lounge wear.
Dresses/Skirts
The LBD, the little black dress. This is just the easiest way to have a versatile dress. You can wear it with a cute pair of sandals and a sweater to make it casual. But you can also dress it up with a pair of amazing heels and a long necklace.
A casual dress, a summery style dress with some color or a floral pattern.
Pencil Skirt, black
Long Flowy Skirt, in a fun color or pattern
Outerwear
Jean jacket
Trench or pea coat, in black or tan is best
Puffer or Leather Jacket, for added style
Shoes
Sneaker, white or black
Pair of Sandles, tan or brown for contrast
Heels, at least one pair
Flats, 1 in black, 1 in brown or a fun print (like an animal print)
Pair of Boots, 1 black ankle boot, 1 taller pair
Accessories to Add to Your Minimalist Wardrobe Checklist
A lot of people don't count accessories in their capsules, and that is fine. I just wanted to make a few suggestions on some pieces that work well with a capsule wardrobe.
The Seasons
There are certain items that you might need to add to your regular capsule when the weather changes. These are some suggested items for both cold and warm weather you can seasonally add to your minimalist wardrobe checklist.
Minimalist summer wardrobe suggestions that you can get out for the season are shorts and capri pants.
Your winter wardrobe will depend on where you live. If you live in a place like California where you have relatively mild weather, you might not have to add anything to the items we have already suggested. However, if you live in a place that gets snow, you might have to add a snow jacket and snow boots.
No matter where you live though, scarfs are a great way to add some color and interest to any fall or winter weather. I would suggest at least one in a plaid, and one in a bright color or pattern.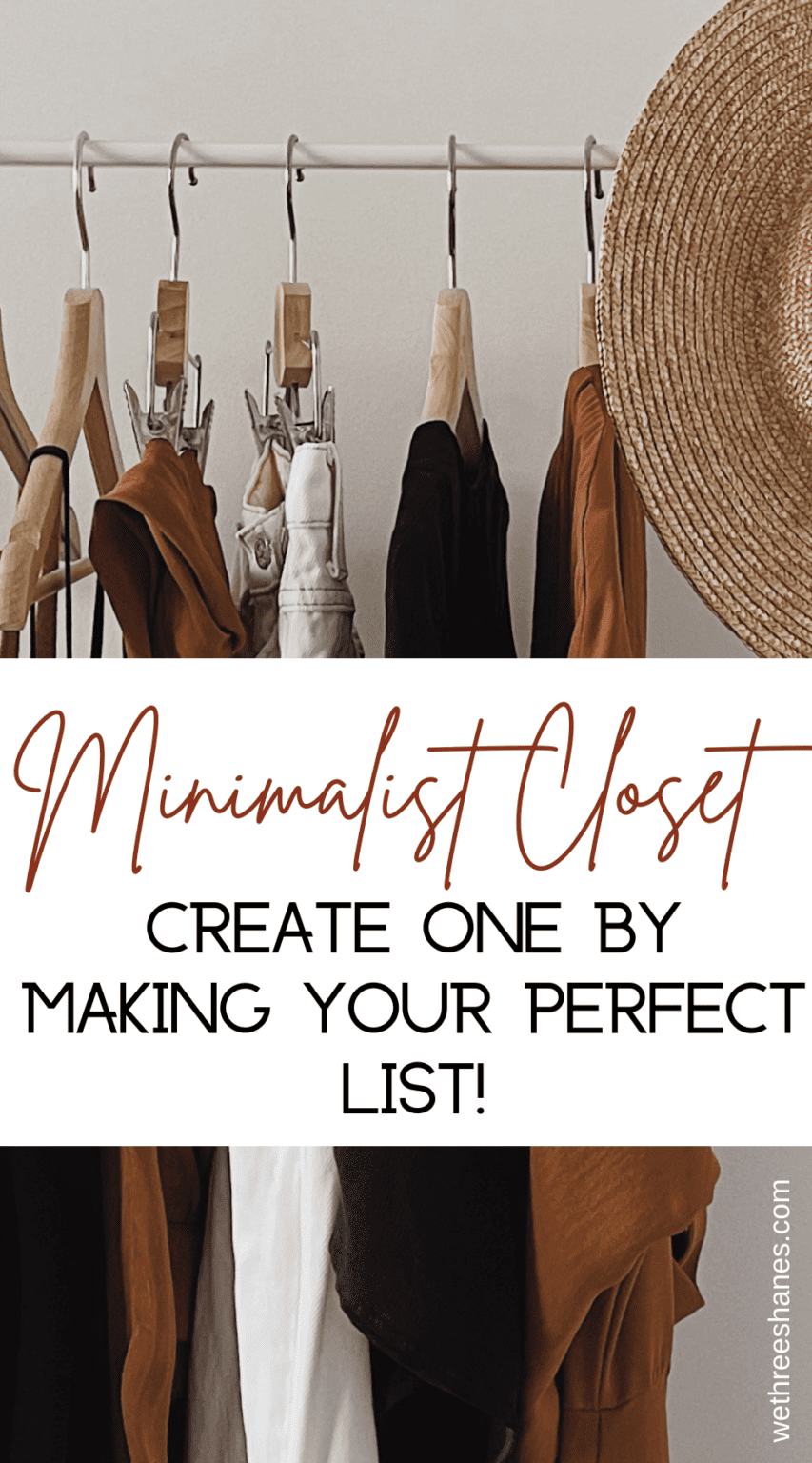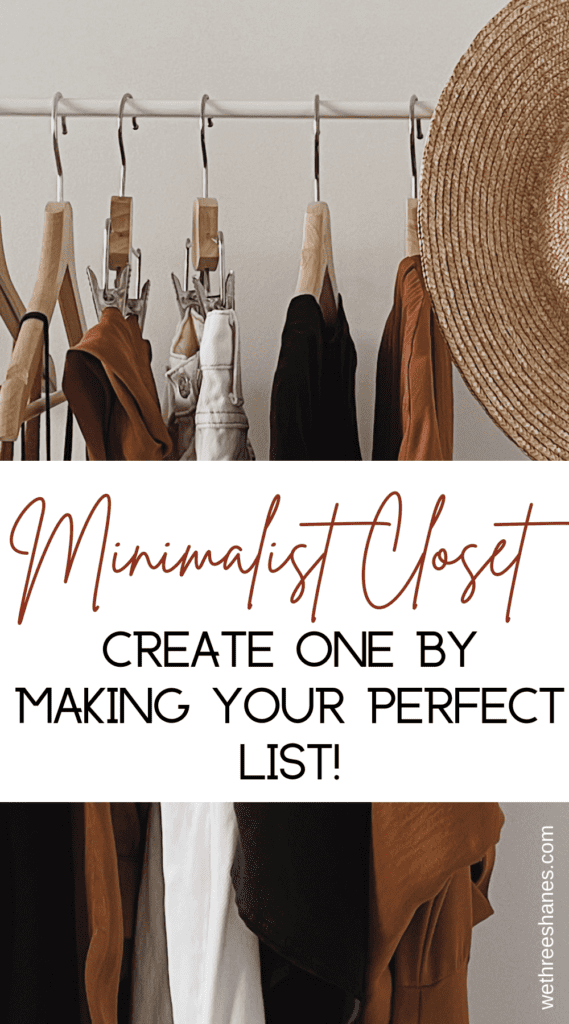 Your Personal Capsule and Your Minimalist Wardrobe Checklist
You can of course change this checklist as you use your capsule wardrobe and figure out what works best for you. But having a minimalist wardrobe is one of the best ways to practice minimalism and intentional living.
Carefully curating a timeless and concise wardrobe that works for you and your lifestyle will save money, time, frustration, and it can even help save the planet.
Have you ever thought of trying a minimalist or capsule wardrobe? With two Minimalist Wardrobe Checklists to choose from you have all the help you need to get started. So turn on some music, get ready to declutter your closet, and find out just how freeing it can be to have a capsule wardrobe!
And remember to let us know in the comments how it goes, we love to hear from you!
You Might Also Like: