Easy Set Up For Christmas Card Photos at Home
Easily set up a photoshoot for Christmas cards at home. Learn professional photography tips anyone can follow.
(THIS POST PROBABLY CONTAINS AFFILIATE LINKS. OUR FULL DISCLOSURE POLICY IS LONG & BORING BUT, YOU CAN FIND IT HERE.)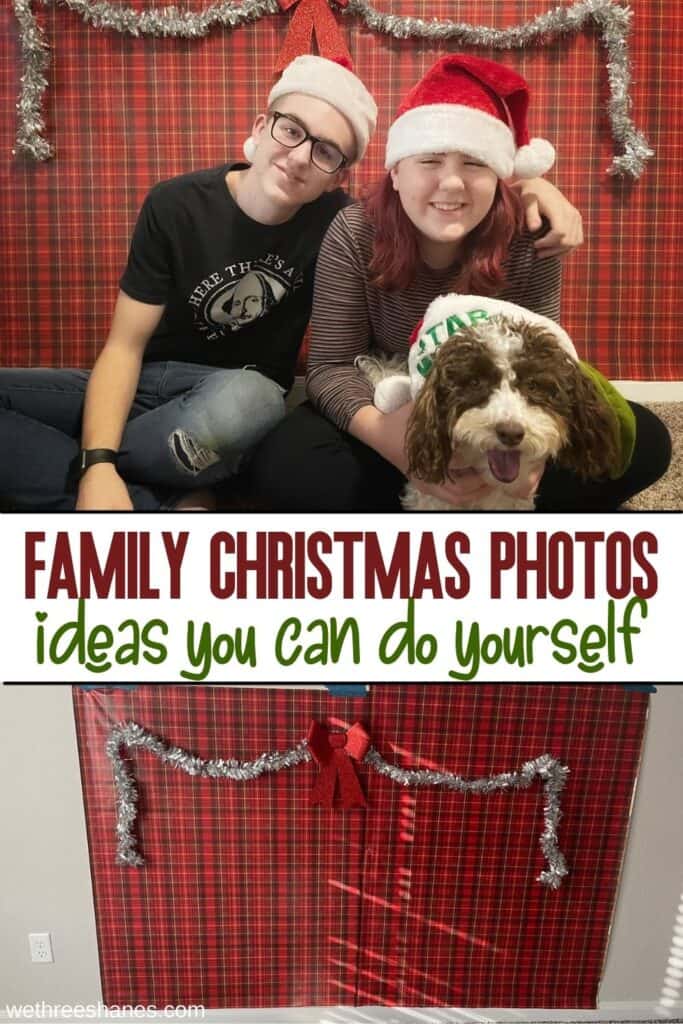 How to easily set up a photoshoot at home for Christmas cards even non professionals can do.
There are two types of people in the world. Those who love Christmas cards and those who don't.
Typically those who love Christmas cards are moms. Those who don't love Christmas cards are the kids and husbands because they HATE taking pictures.
Why not simplify that process and do an easy, at home set up for your Christmas cards? One that everyday, non professional photographers can do at home.
Sounds simple right?! Smart phones these days take amazing pictures. You don't have to have a SLR camera to pull off high quality. They are easy to use and even have free apps to help you edit pictures by yourself. Give it a try this year.
I'm going to give you:
A few easy set up ideas for taking pictures yourself at home just using your smart phone
Simple decorations that you probably already have on hand or can get at the dollar store
Some tips for taking better photos yourself
I'm starting with the fun holiday ideas like backdrops and props. The photography tips will be last so make sure you read until the end.
---
Tips For Taking Holiday Photos Inside Your Home
I'm going to give you photo ideas for both inside and outside, but we'll start with inside tips. First thing you need to do is figure out a space in your house that gets good natural light.
Natural lighting is your best friend when you want professional looking photos. This is usually right next to or adjacent to a big window. I call this my selfie corner.
I talk all about this tip and many others, in my How To Take Better Selfies post from a few years back. If you need a refresher, go check that blog post out for more tips and tricks.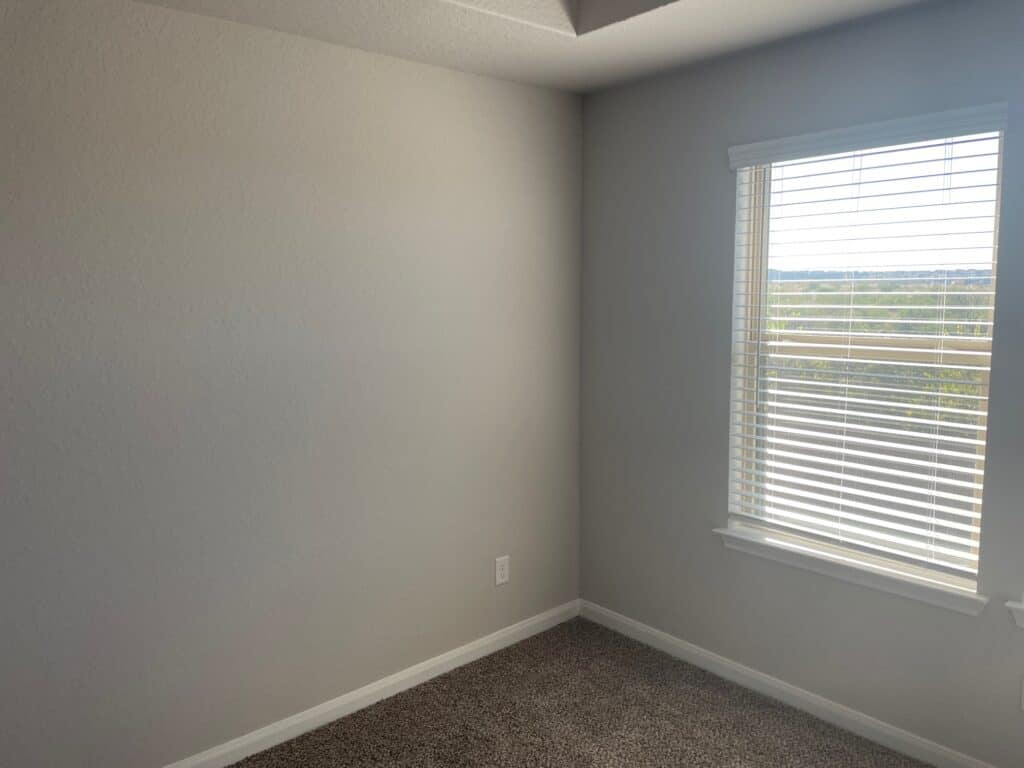 DIY Holiday Backdrops for Family Photos
If you are worried about making your holiday photos look festive then I've got you covered. There are plenty of easy and cheap things use can use as a backdrop to take your holiday photos up a huge notch.
Christmas Wrapping Paper s a Back Drop
I have Christmas wrapping paper on hand throughout the year. I buy a big pack for like $20 and it usually last 5 years.
Did you know you can tape some onto a wall and have a great back drop for pictures? Choose something simple that's not too busy or has too many colors. You can coordinate it with what colors you are wearing or just stick it simple Christmas colors like green and red.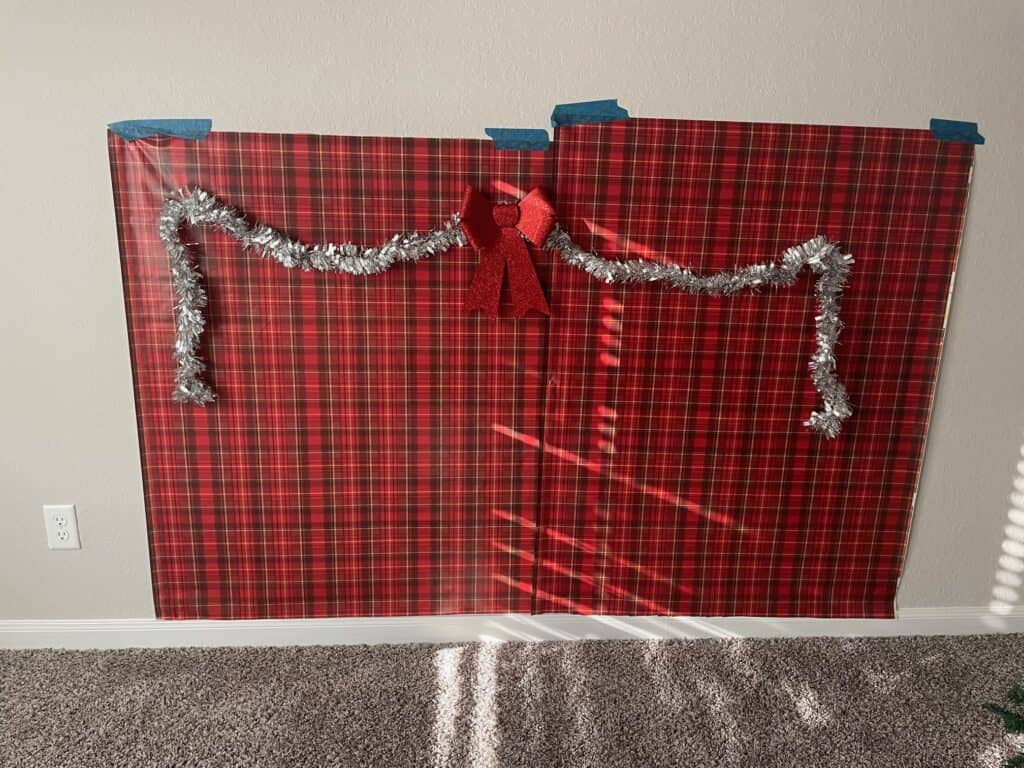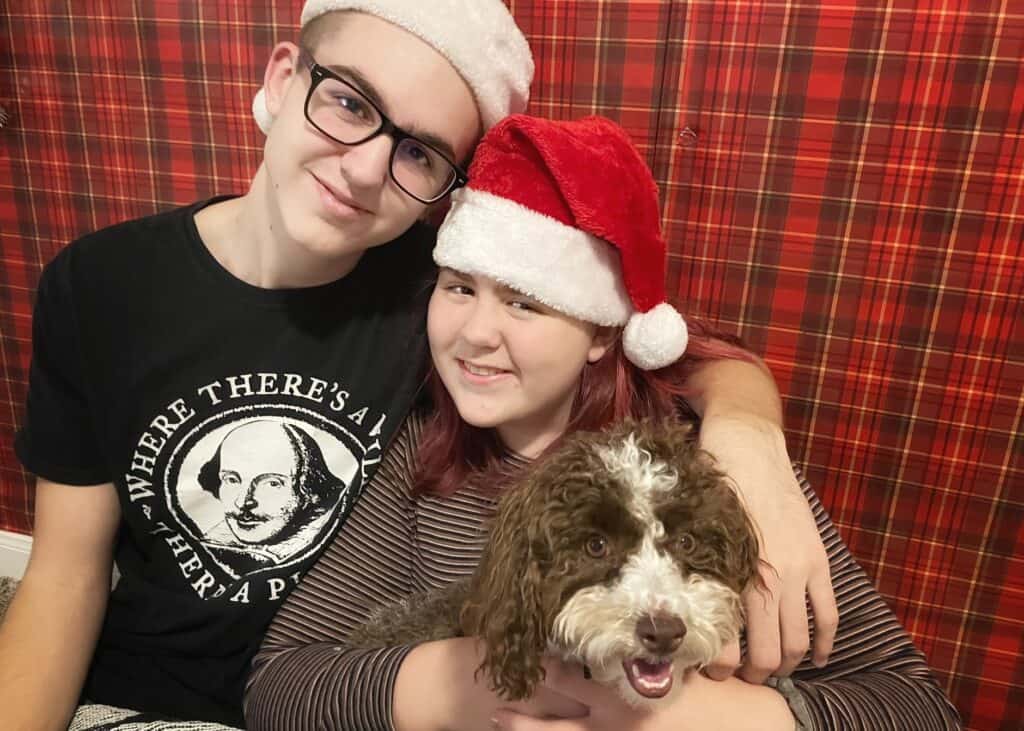 Christmas Lights as a Backdrop
Another thing you can use as a backdrop is Christmas lights. Tape them on the wall behind you.
If you get far enough away from the lights, your camera will focus on the people and blur the lights behind you. It's called Bokeh and it's beautiful.
Most phones these days have what is called a portrait mode in the camera. This will help give this effect.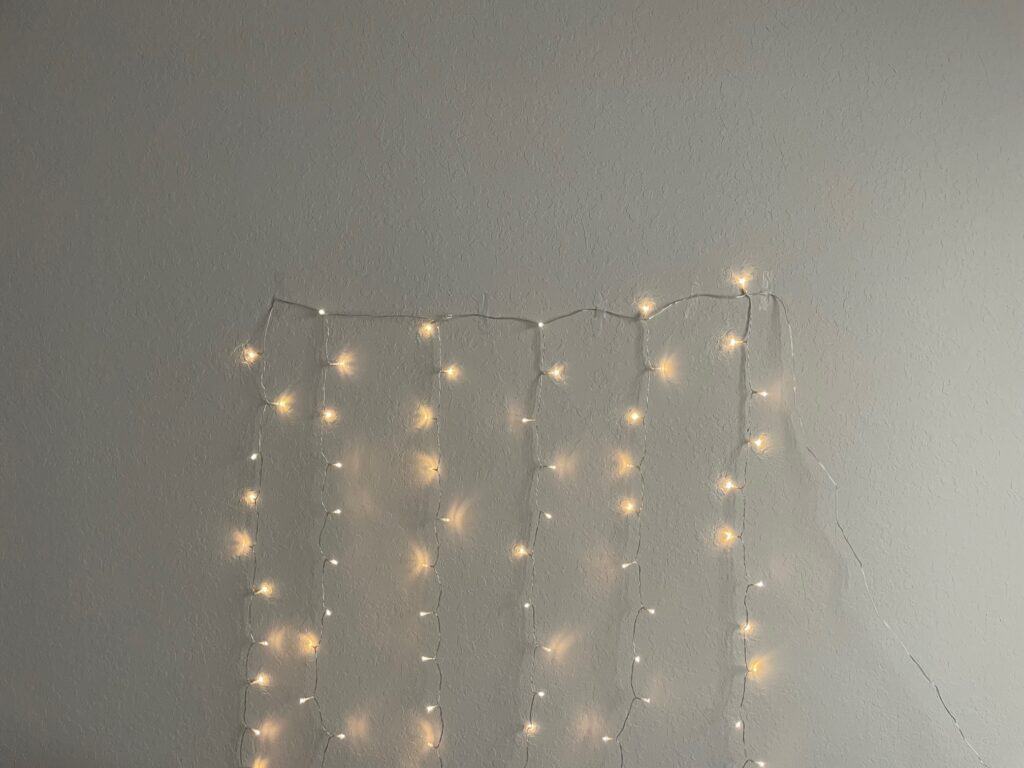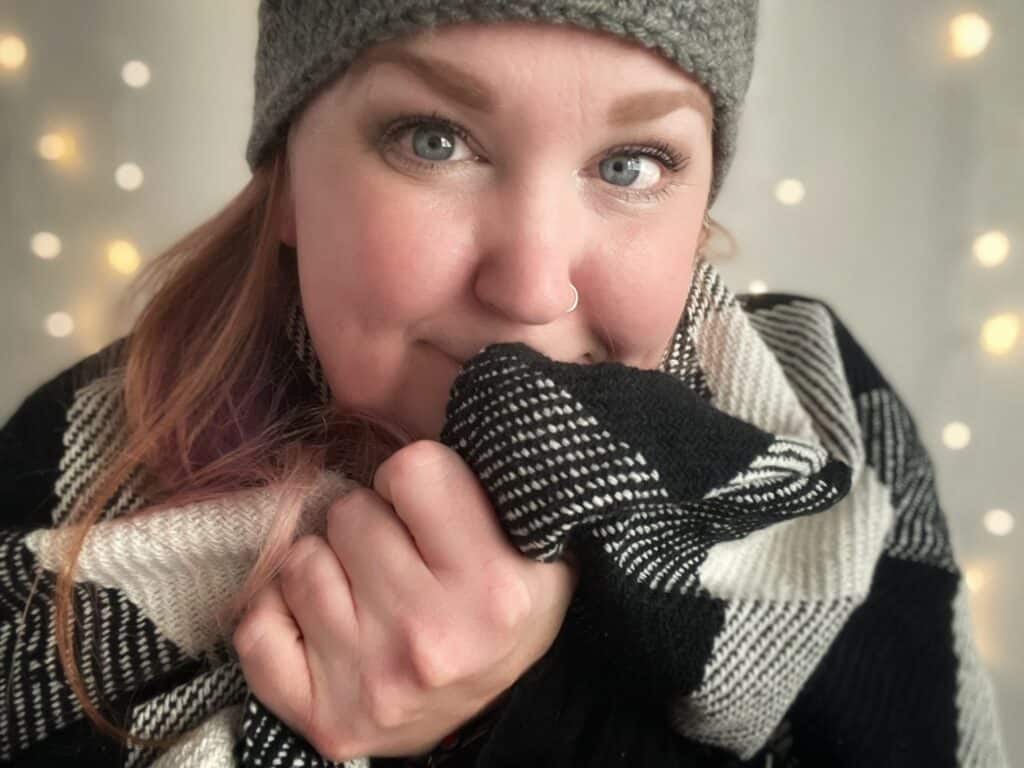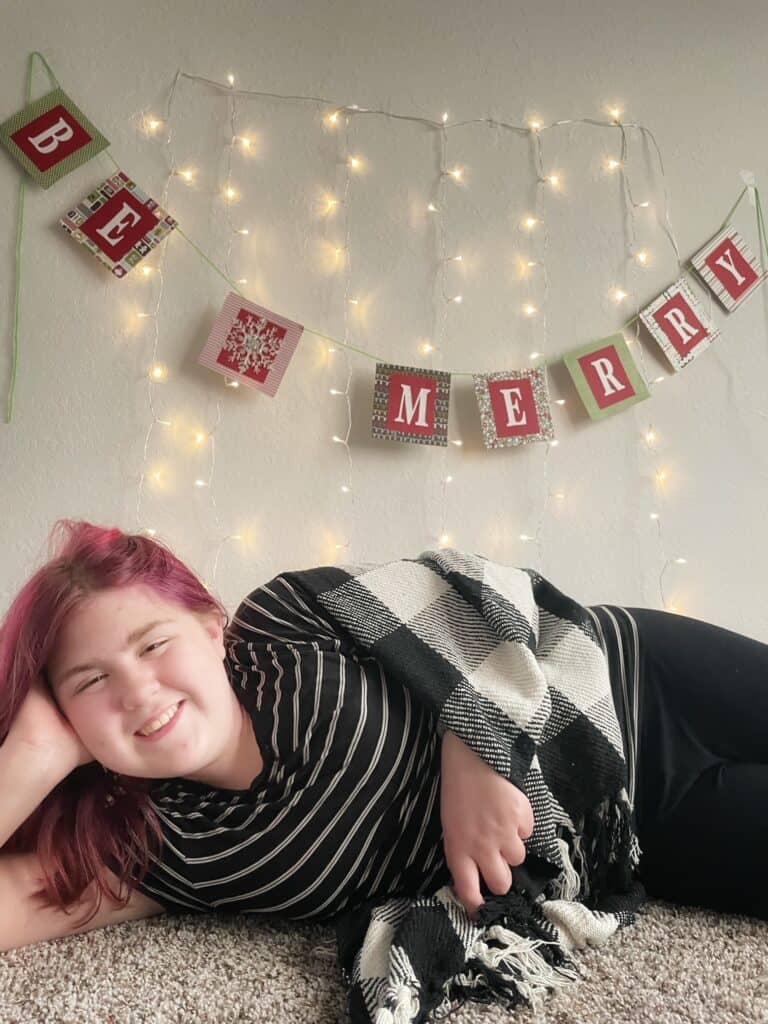 Christmas Tree or Fireplace Photos
Depending on when you take these pictures, your Christmas tree might be up in your house already. Christmas trees with all of their lights and ornaments make a fantastic back drop.
A fireplace is another choice. Hang your stockings, arrange your nativity scenes or leave it as is. Fireplaces make great back drops for pictures as well.
How to Dress for Holiday Photos
Dressing up in big coats, scarfs, gloves, boots and beanies make it look Christmasy even if the weather isn't cold yet. Also, covering yourselves up in a big, warm blanket while cuddling is super simple and effective for making it feel like Christmas.
Use a plaid blanket or one with Christmas colors and bundle up! Make some hot chocolate. Fake all the Christmas stuff!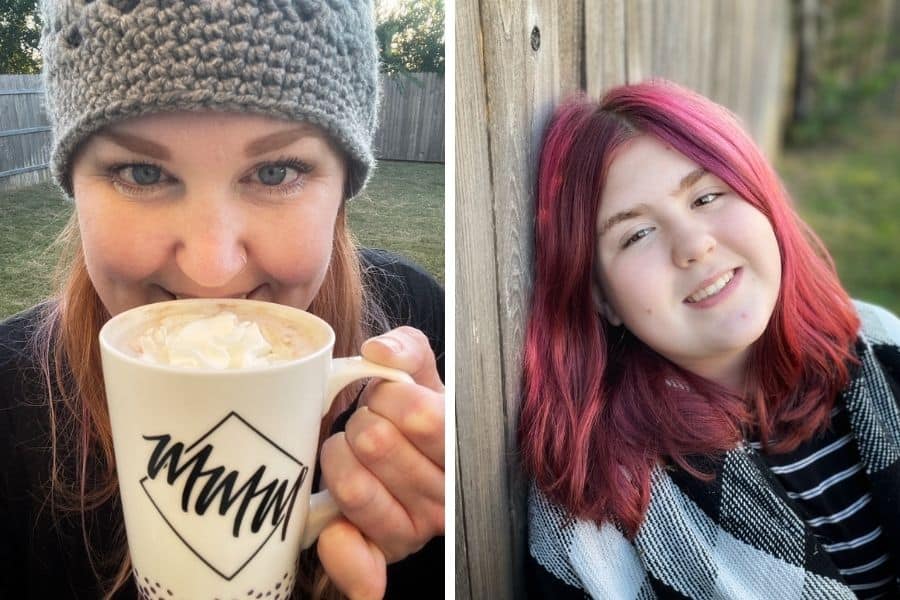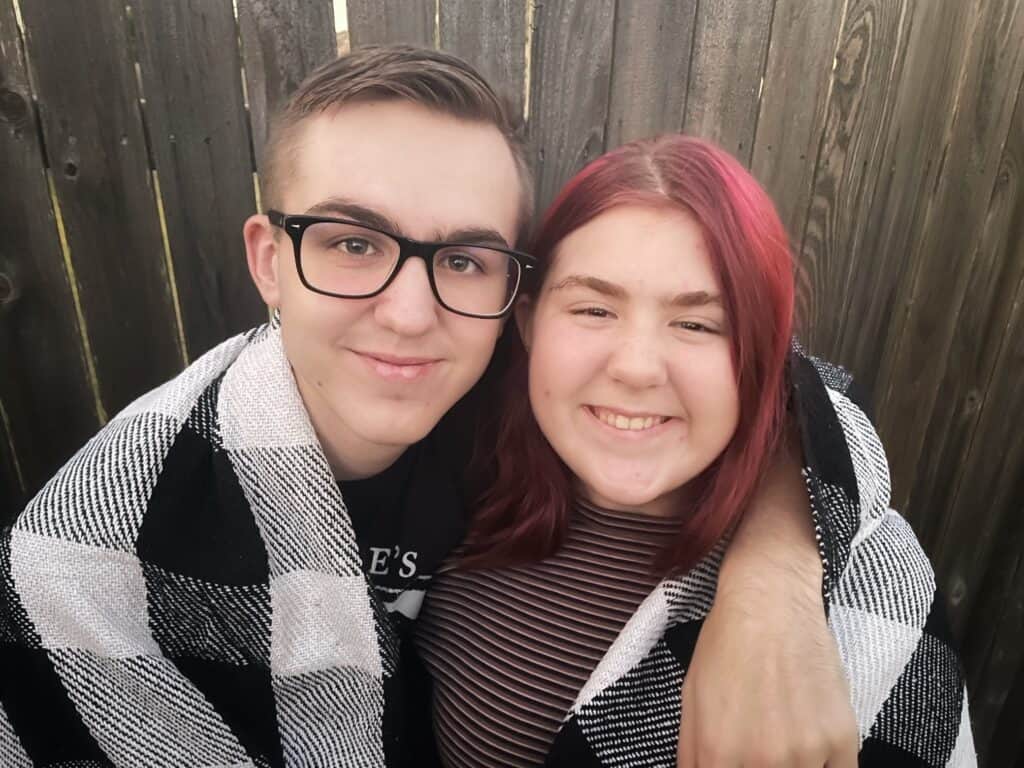 Easy Holiday Props for Photos
Props are a great way to bring some holiday spirit to your family photos. You can use them in the background, added decor, or you can wear or hold them.
Get a sign that says Merry Christmas or something like that and simply just hold it up.
Grab some Santa hats, everyone put one on and lay on the ground on your stomachs.
Hold a plate of cookies for Santa.
A popular one is to wrap Christmas lights around yourself.
Try one or try all and see what looks best.
Consider Your Family Vibe
There are several factors to think about when taking pictures. How many people are in your family? How old are your kids? And how goofy or serious are you?
Matching PJs might be a great options. Then have everyone posed on mom and dad's bed. This is a great one if you have little kids.
However, everyone in matching PJs on mom and dad's bed with a bunch of teenagers would be funny. It's all about your family vibe!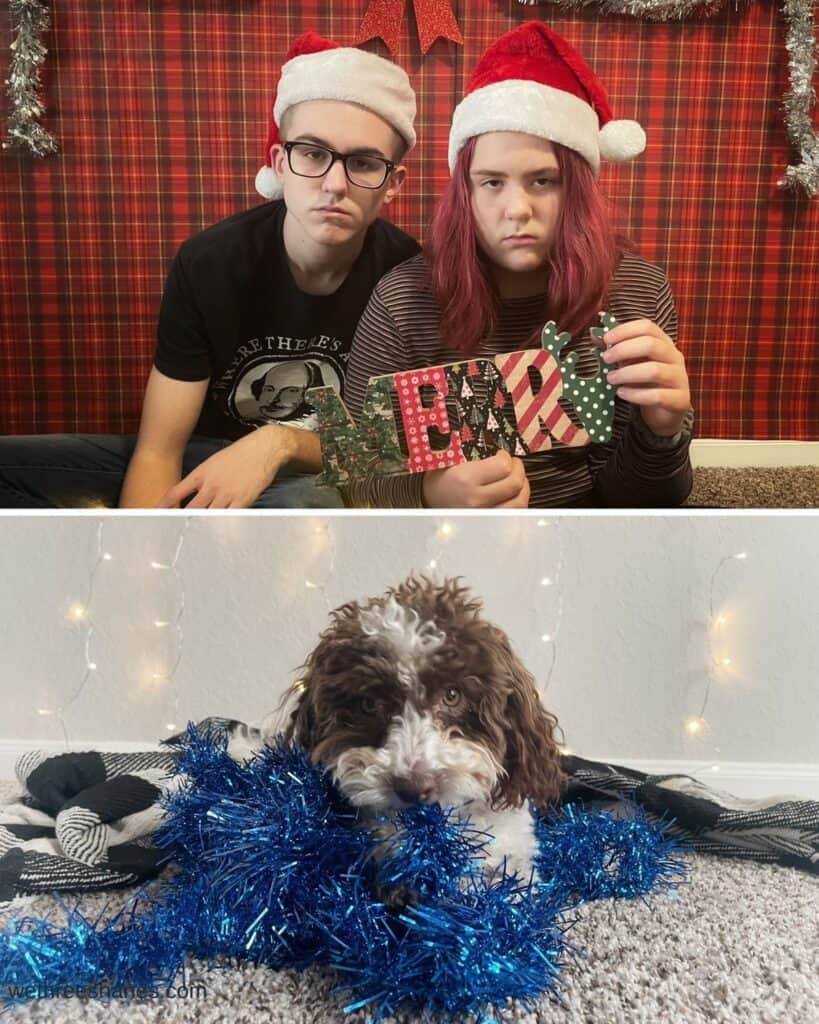 Fun Photos for Babies
If you have little babies there are a few cute picture ideas you can easily do. Put them in a stocking with a tiny Santa hat or beanie on. Wrap a bow up like a present and stick them in it if they can sit up.
I have seen a cute picture of a newborns by the plate of Santa cookies where it looks like they stole one and passed out. Be creative and have fun.
---
Taking Pictures Outside
There is something called the golden hour when taking pictures outside. It is typically one and a half hours before sunset, or after sunrise. This is when that natural light from the sun is a warm yellow color and will make you look fabulous.
The worst time for taking pictures is when the sun is at its highest point in the sky. Think noonish. So paying attention to the time is very important for taking professional pictures outdoors.
Outside Backdrop Ideas
A great idea for a backdrop is in a lot of peoples back yards and that is a wood fence. Wood fences make for a natural looking backdrop with a neutral color palette.
Fences are easy to dress up as well. Add some Christmas lights, a sign with words or even some tinsel. Place a blanket on the ground and some Christmas pillows and you've got yourself a great spot to take some family photos.
A backyard gives you plenty of privacy so no one will feel self conscious taking photos in a public area. Plus, you don't have to worry about people walking into the background of your family photo.
If you don't have a great spot in your yard for photos, a front porch would be another great option. Make sure to note what time of day the sun is in front of your house. That way you don't have pictures that are too dark OR that the sun isn't right in your eyes. Just watch the way the sun hits the area you want to take photos the day before your photo session.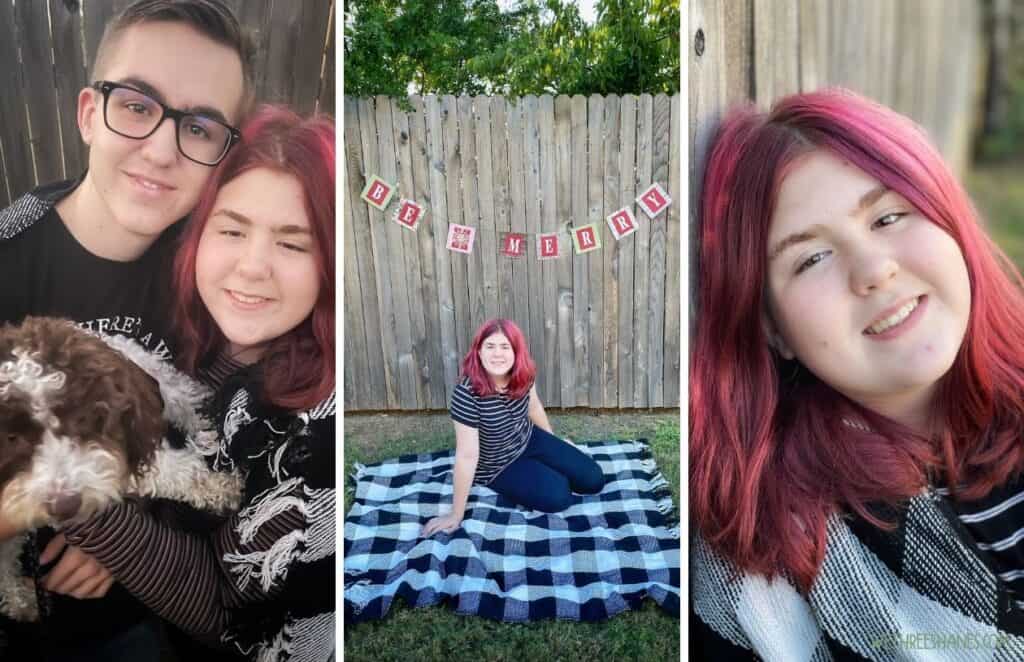 Have Fun
Lastly, HAVE FUN! This is SO important. Having a professional take pictures isn't always a good time. That's why kids and Dad's don't love doing it.
But what if I told you that you will get even better pictures of your family if you are goofing off, and having a good time?! It's the truth.
---
Some of My BEST Tips and Tricks For Taking Family Photos
I have done many photoshoots over the years and I'm going to let you in on some of my best tips.
Ask kids if there is a certain pose or picture they would like to take? They may have the best idea that you didn't even think of. And even if it's a terrible idea, it might make for a hilarious photo to look at later. It also helps loosen them up and makes them comfortable taking pictures. The more comfortable everyone is, the more natural everyone looks and the better the photos will be.
If taking pictures with babies, I like to use bubbles. Have someone stand behind the photographer and blow bubbles. It gets their attention exactly where it needs to be and usual gets an excited reaction out of them. You can also use jingle bells. But this tip comes with a warning. Do NOT have multiple people making noises. It gets them confused and they aren't sure which way to look and often leads to tears.
Bribes. Yup, I said it. I am NEVER above bribing. Have your family decide what reward they want for taking these pictures. Just don't forget that hungry people aren't happy people. Make it dessert and not dinner so tummy's are already full and then people can focus on smiling.
If someone seems uncomfortable I take a few pictures, then tell them how amazing they look, and SHOW them a few pictures. This does wonders for camera shy individuals. Another way to help shy kids or ones who just flat out refuse to have their picture taken is to ask if they want to take a few photos. This works like a charm.
Again, have fun! I like to tell funny stories to get natural smiles.
Making immature noises also works, especially when it's grumpy adults. Even adults can't resist fart noises….usually.
Ask kids to do things like jump, run, dance and whisper to each other. Faces don't always have to be looking directly into the camera. In fact, I prefer they don't most of the time. Don't be afraid to look silly. There is a delete button for a reason. If the picture didn't work it can be erased.
---
Some Last Things to Consider
I've given you a ton of info for taking your own family photos this holiday season but there are a couple more things to consider that will really help get those professional looking photos.
Tripod & Remote
If you want to have at least ONE picture with everyone in it, you have to either have a remote trigger for your camera or have a camera that has a timer. A trigger is my favorite because you don't have someone running to jump into the photo.
Remote triggers are actually pretty cheap. I got a tripod and trigger set for my iPhone for only $15. To me it's worth the money I'll save having a professional do the pictures.
My family does a lot of selfies so now I can bring my tripod and trigger along on vacations and different adventures. You don't need to rely on a stranger to take your family photo and you get better pictures.
Editing Photos
Most professional photographers can take amazing photos on their own but having the ability to edit them takes them to the next level. You don't need super fancy editing software to get the job done either.
An app on your phone will help you edit photos. My personal favorite free app is called Snapseed. It is user friendly and does quite a bit.
Creating Christmas Cards
Once you've taken all your awesome photos, it's time to turn them into cards to send to friends and family.
You can create these yourself too. A great place to do this is on Canva. It has a free version and a paid one. The free version is great and is more than enough to make your own holiday cards.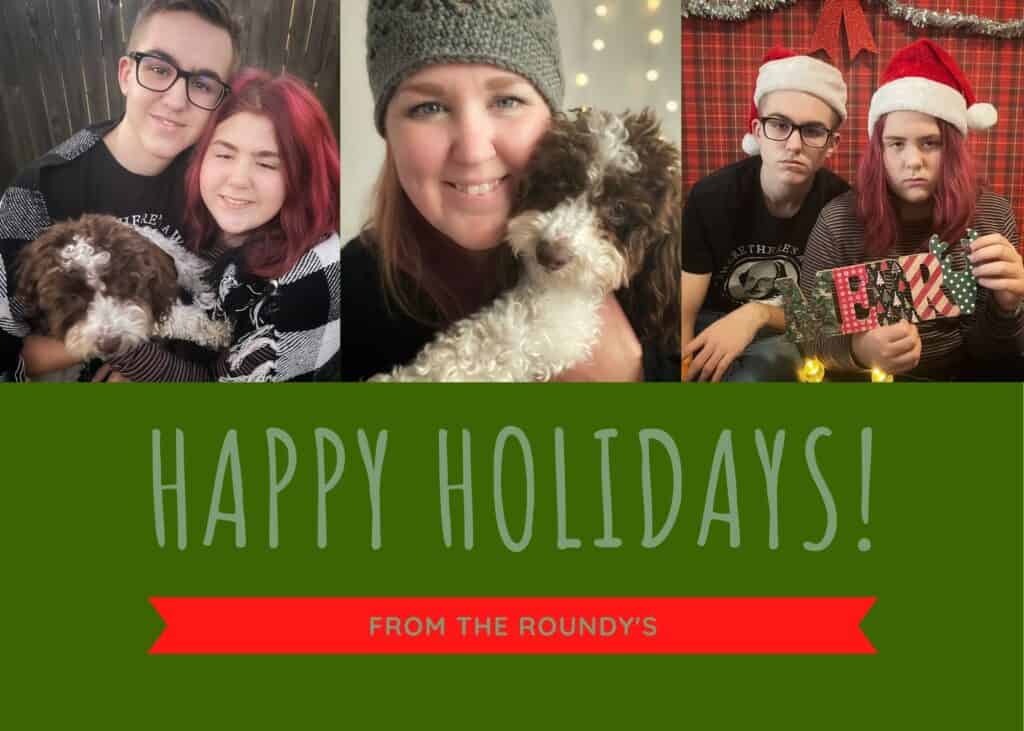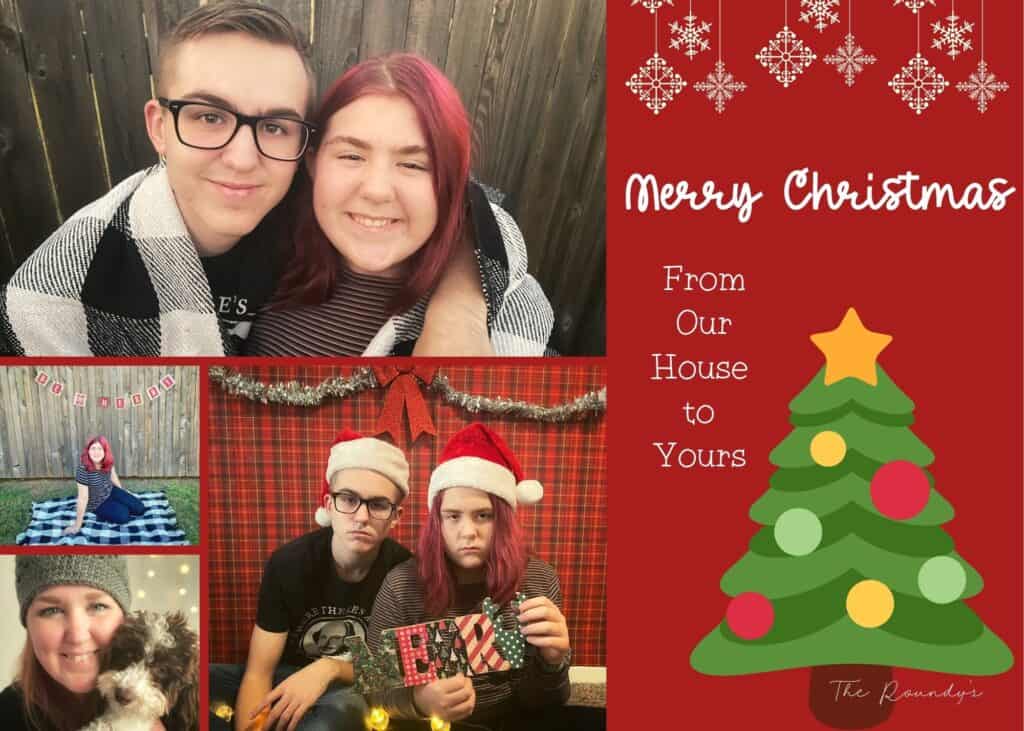 List of Possible Props and Necessities
I listed a lot of things that could be helpful when taking your own family holiday photos. You definitely don't need everything on the list so choose a couple of things that will work best for you and your family.
---
Holiday Family Photos at Home
I know that was a ton of info and you might be feeling a bit overwhelmed. Don't be! You can absolutely take your own family photos for your Christmas cards this year.
You'll save some money and will have fun. Just make sure to follow these tips and I promise you'll get great photos!
Will you be trying your own photos for Christmas cards at home this year? We would love to hear what ideas you had. Which photo set up did you decide on? Did you use any of our tips and tricks? Let us know in the comments how it all went.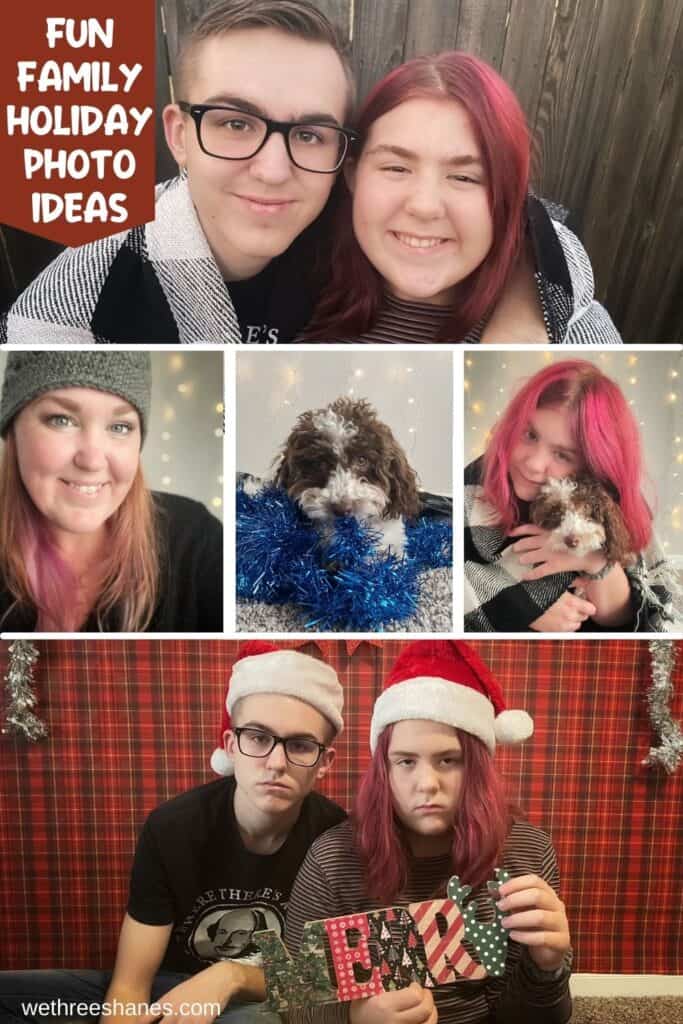 ---
You Also Might Like: