Keeping It Real | Our Closets
We want to show you the real in our lives not just the post perfect side of things. Our readers pick what they want to see. Are you curious to see what our closets usually look like? Just keep reading!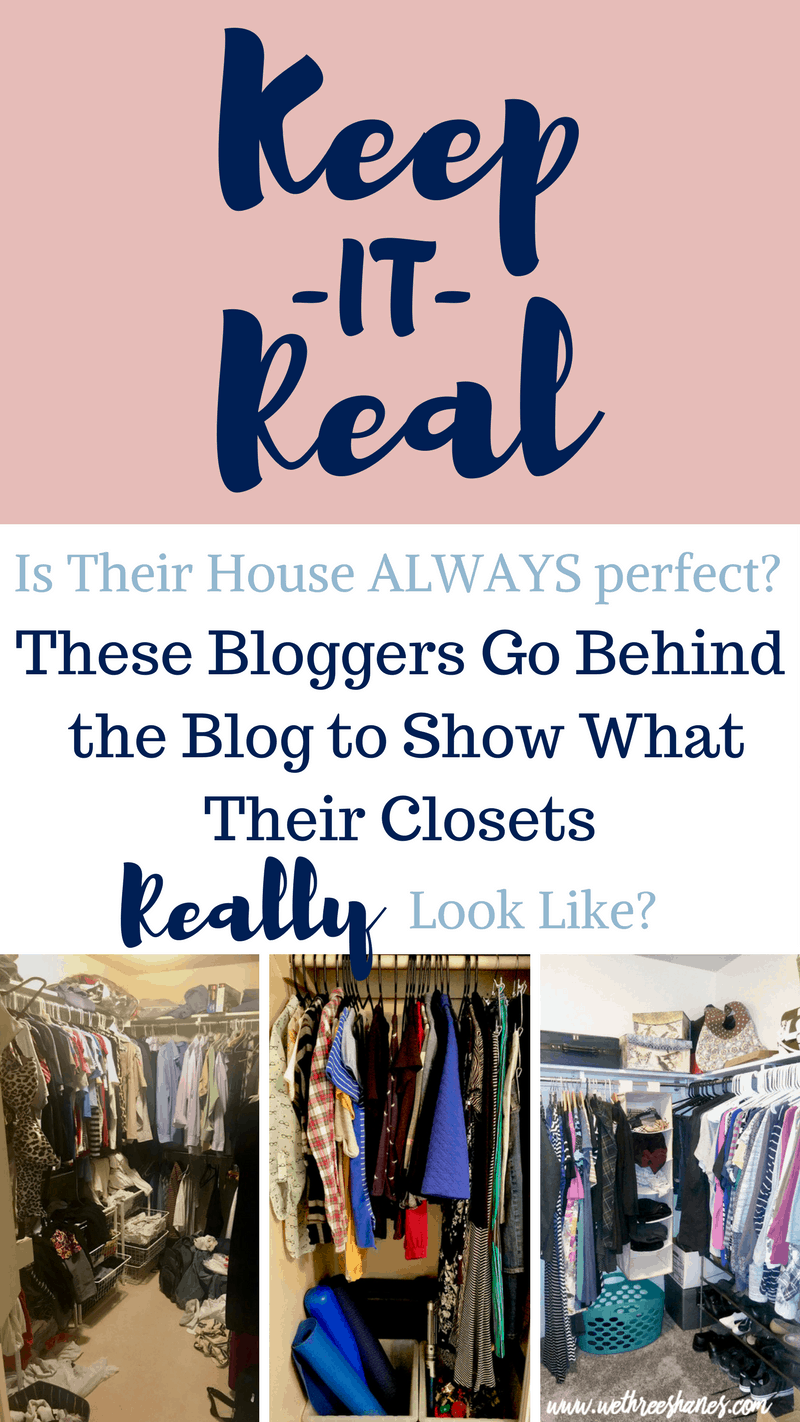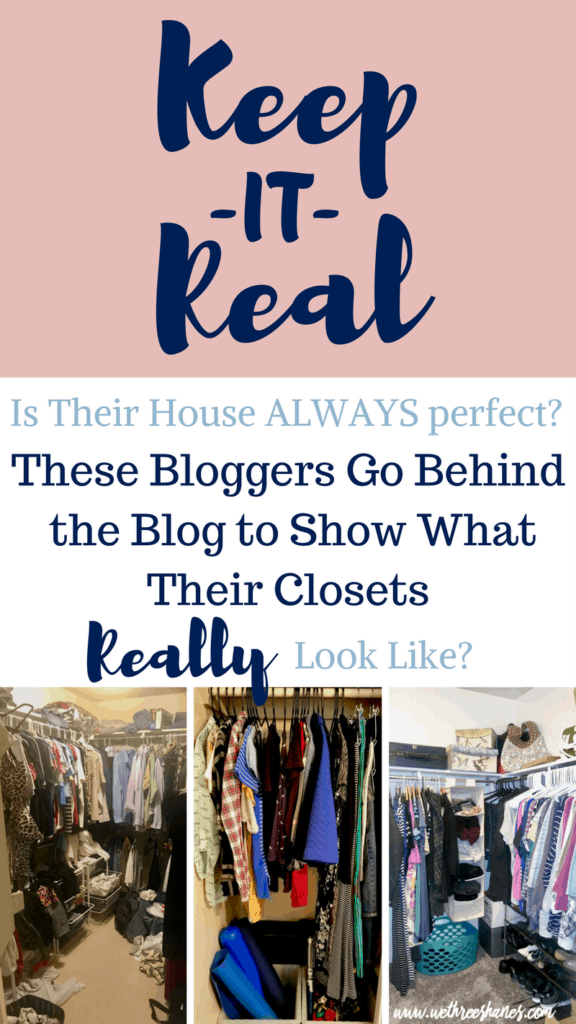 If you stay up to date on our blog then; 1) a big Thank You! and, 2) you know what these Keeping it Real posts are all about and can skip to the fun stuff if you want. However, if you have found yourself here for the first time you might be wondering what the deal is.
First of all, Welcome! We're glad you found us and we hope you stick around a bit.  When we sisters first began discussing a blog, we knew we wanted to be as honest as possible. This is actually a lot harder than it sounds. We want our blog to look professional and we want to help you in the best way possible. We will put our best foot forward and as we grow as a blog we hope to become more and more polished. 
We want to share the best of us with you because that is what we feel will be helpful. Our post have quality photos because dark and blurry pics hurt our eyes. We share our favorite recipes because we don't want to waste your time with mediocre ones. Never do we want you to read a post and think to yourself, 'Well that was a big waste of time' and if that happens tell us so we can do better! 
BUT, (and it a big but! Almost as big as Katie's ghetto booty.) Our BEST is not our EVERYDAY. We never want you to read our post and think we've got life completely figured out. We are here to help and hopefully inspire each other to live a life of intention but at no time do we want anyone to feel discouraged because our lives don't look the same. Thus, Keeping it Real post were created to show what our behind the blog selves really look like. 
Here's How it Works
We ask what you would like to see in future Keeping it Real post. If you have any ideas please leave them in the comments section. Then tune in at the first of the month to see if one of your ideas was chosen. We pick one idea at random and take photos right away so we have no time to change anything.  This is a fun opportunity to pull the curtain back and see what our lives are like on any given day. So without further ado, here is a legit look at what our CLOSETS really look like. 
Kristy's Closet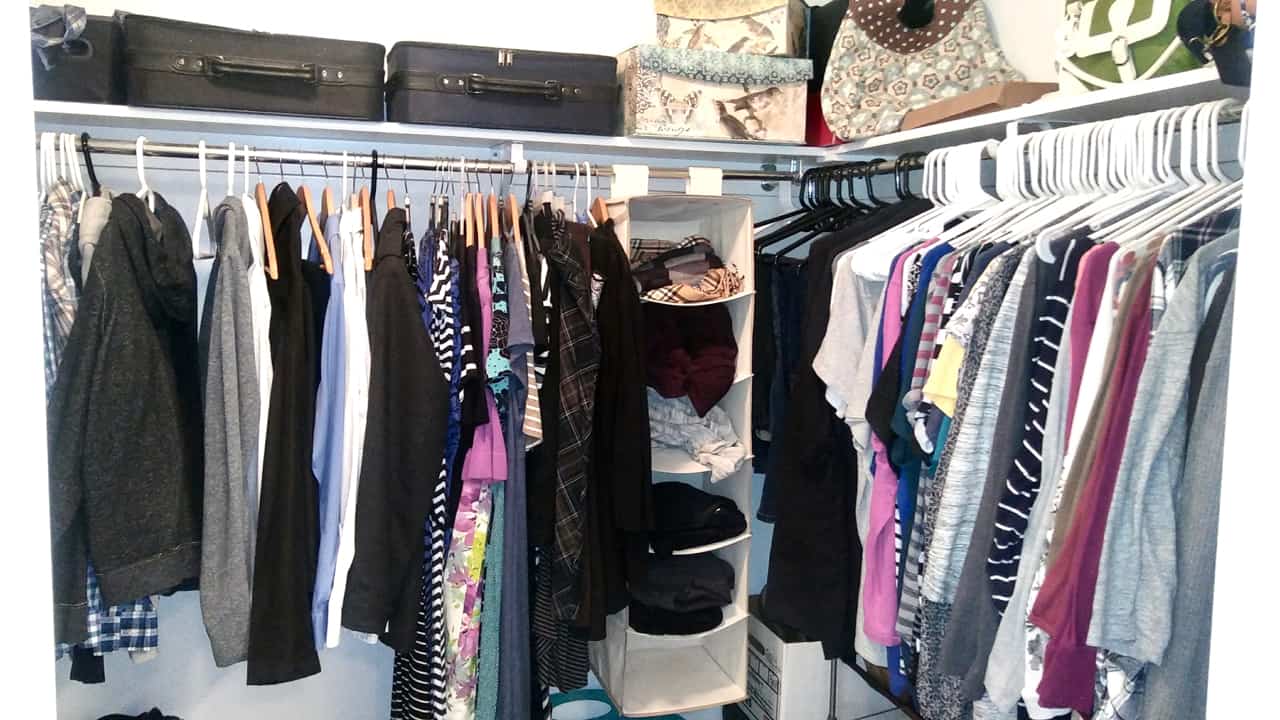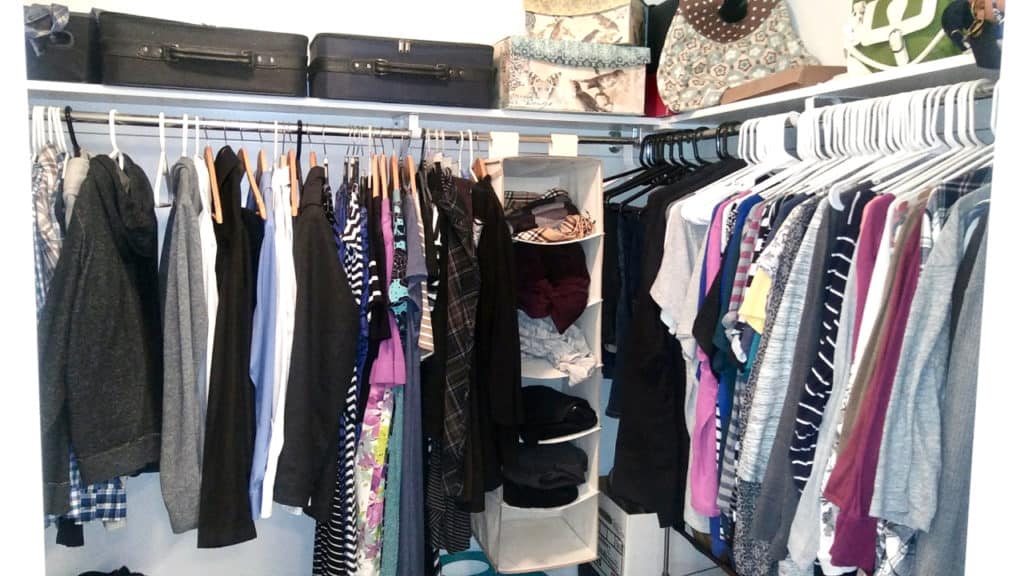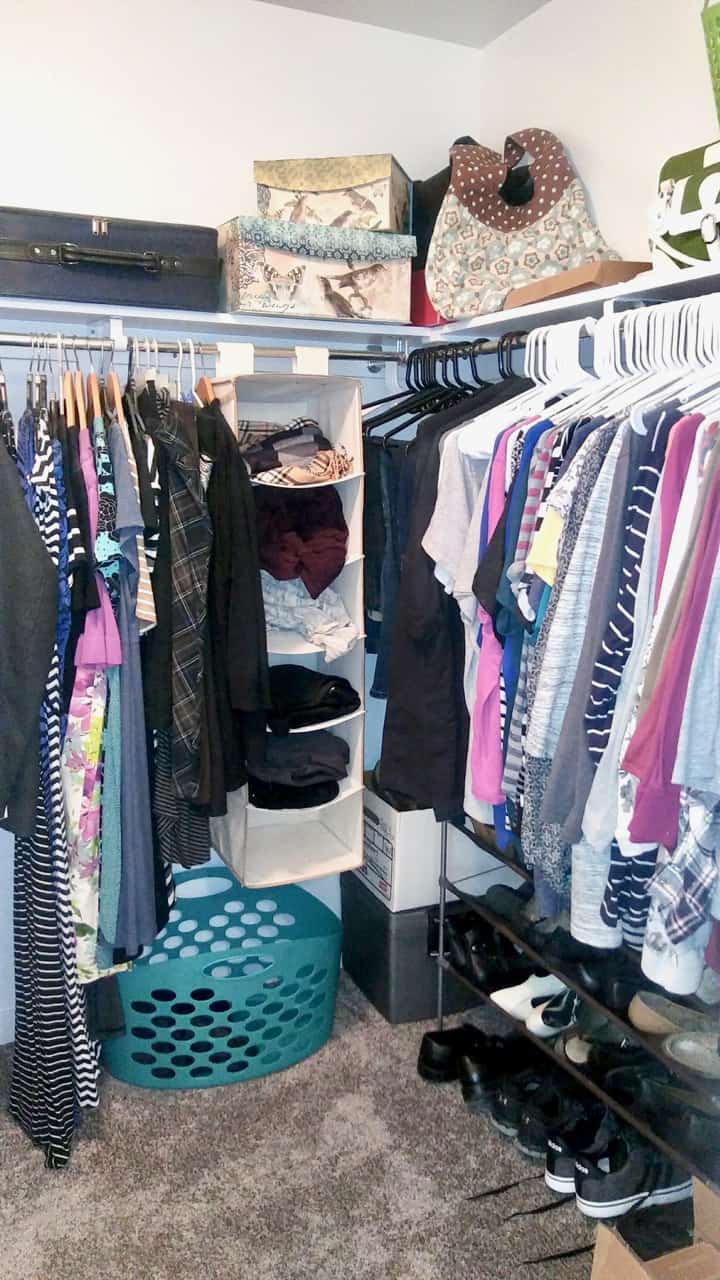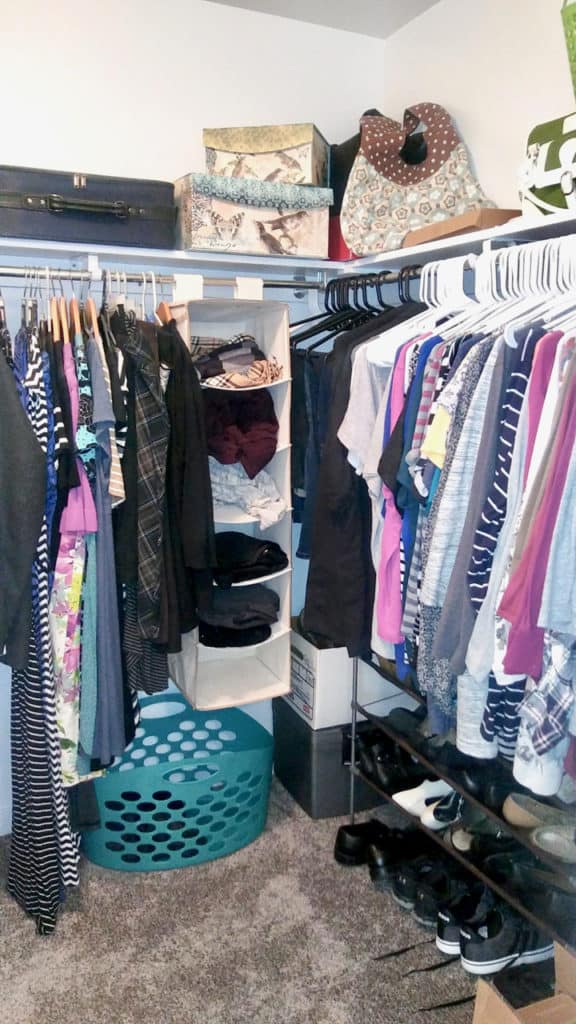 I like our closet in our new home because it gives us space for not only our clothes, but all of my husbands police gear and uniforms that take up A LOT of space. One of the smartest things we did while we were building our home was to add an outlet to our closet so my husband could charge his police gear (radios, flashlights, phones, etc).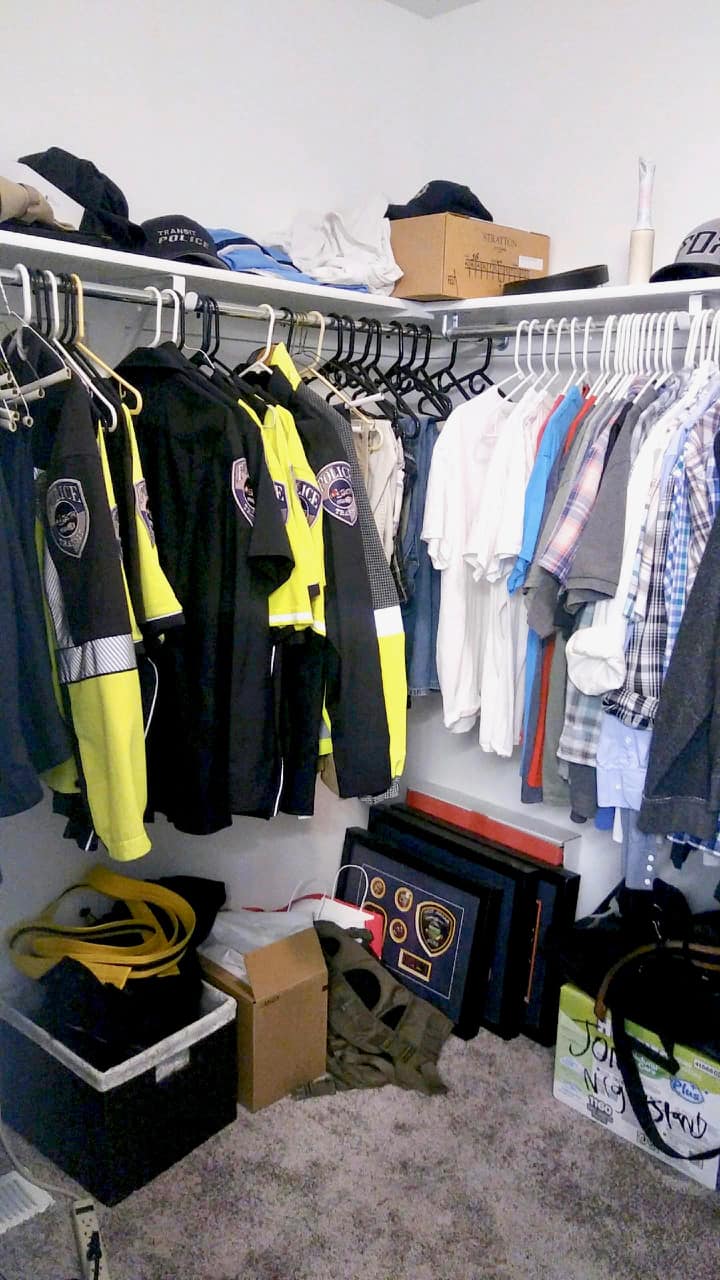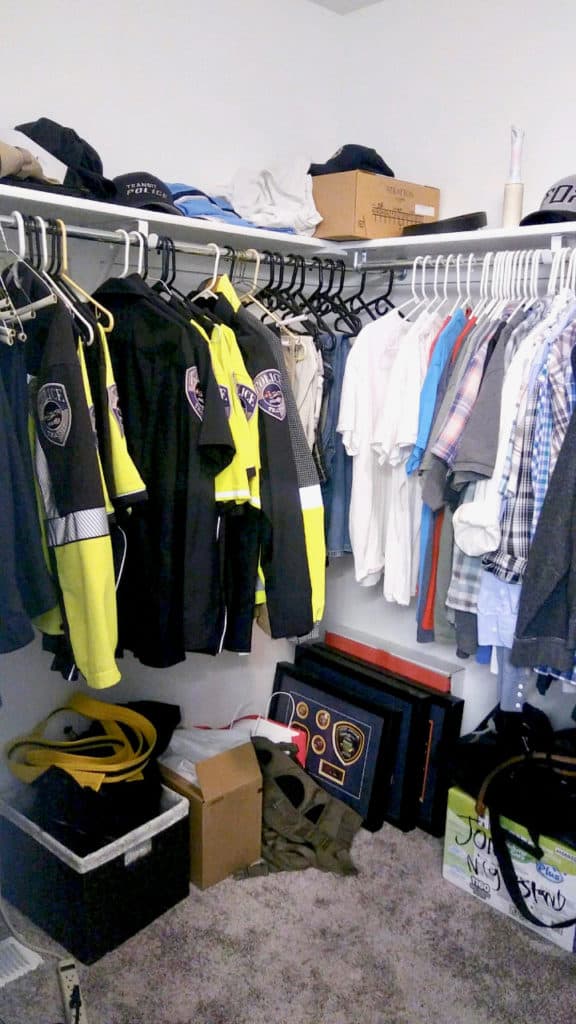 Before we were in this home he always had to find an outlet to charge his stuff, so it would end up on the nightstands, tables tops, counter tops…everywhere. Now it has it's own place were it can't be seen.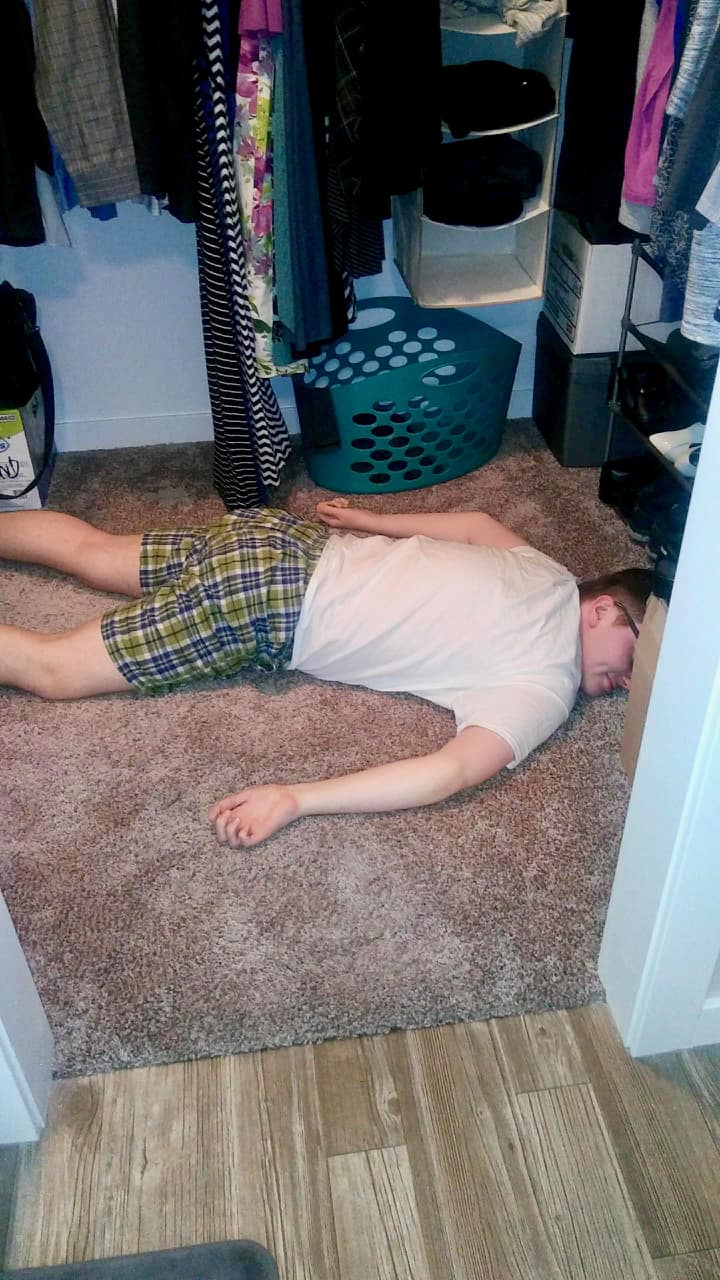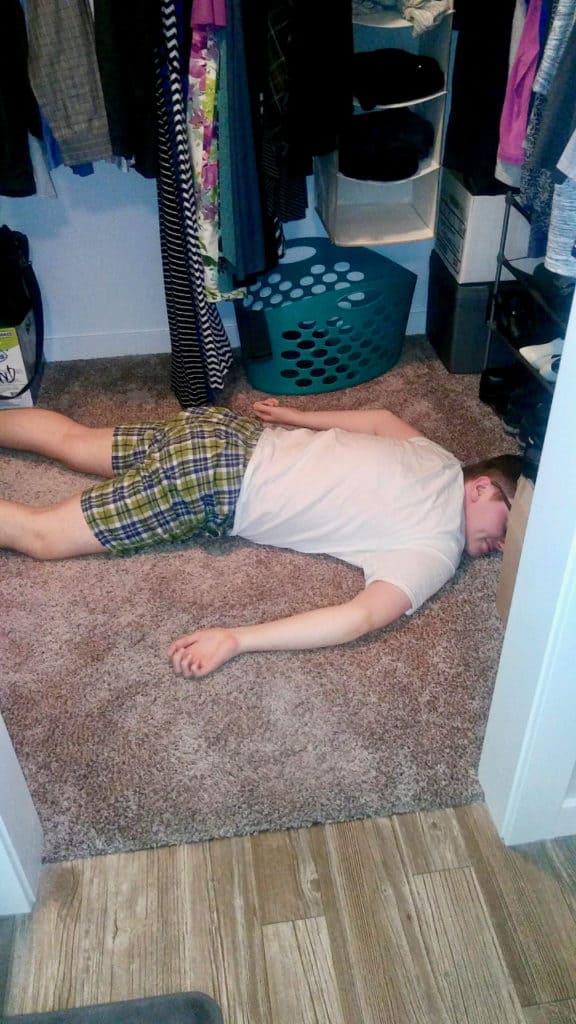 Noah also likes my closet and I find him there a lot. With his autism he likes little toys and little spaces, and he likes to just hang out there sometimes and play with them.
Kim's Closet
My closet is split between 2 rooms. I have anything that's hung up in one half of the closet in my kiddos room and folded stuff in the closet in my room. In our last place I used our tiny bedroom closet and my husband used the closet in my son's room.
When we moved we decided it was only fair to switch and have me take my turn using our son's closet. One day we hope to have a closet in our room that is big enough for us both to use. We don't have a ton of clothes either. In fact I just cut my wardrobe in half (I'll be writing a post about the why and how, in the near future).
UPDATE!
How I Cut My Wardrobe in Half and Why You Should Too!
has now become our
most popular post. You can check it out HERE!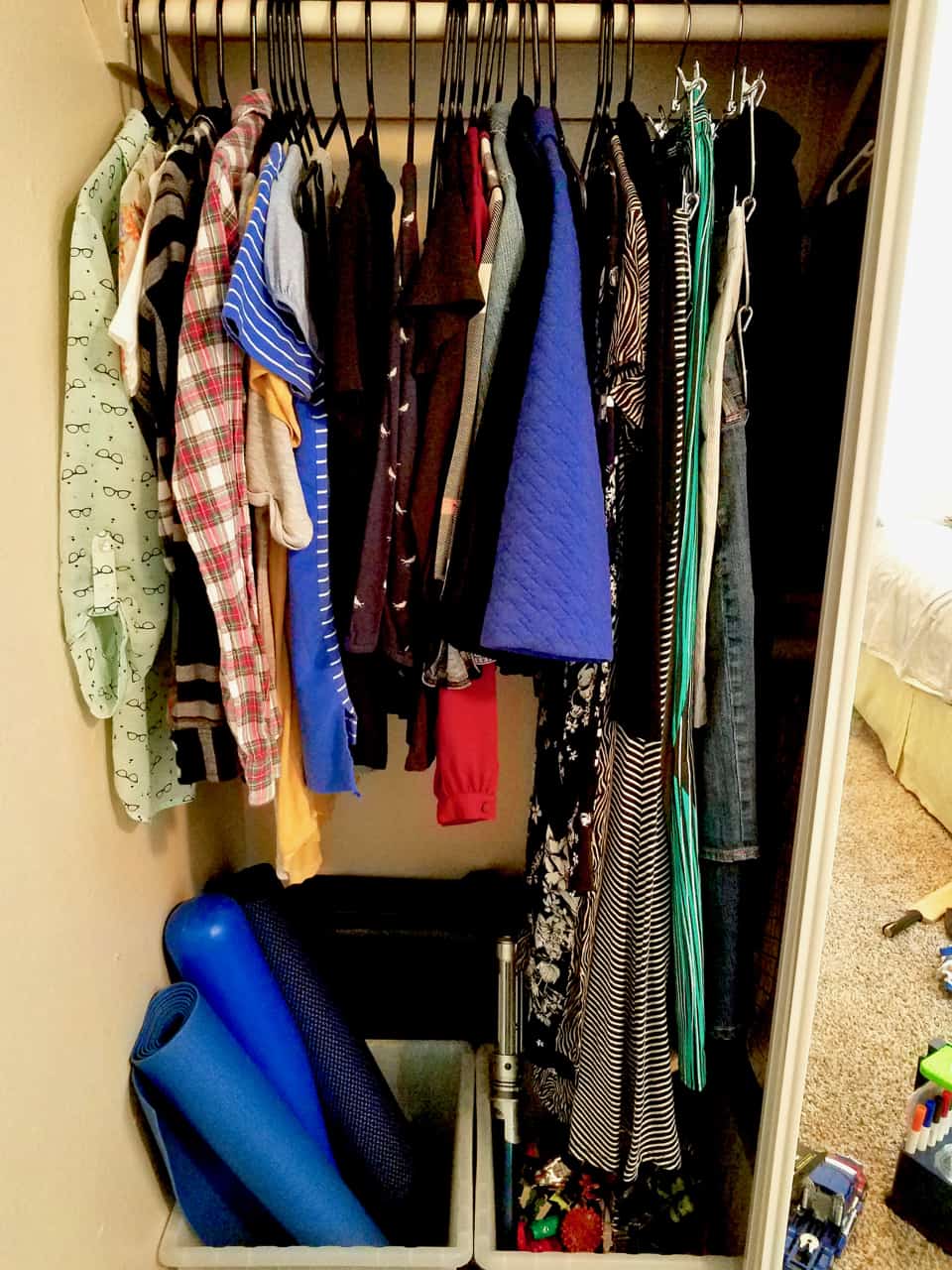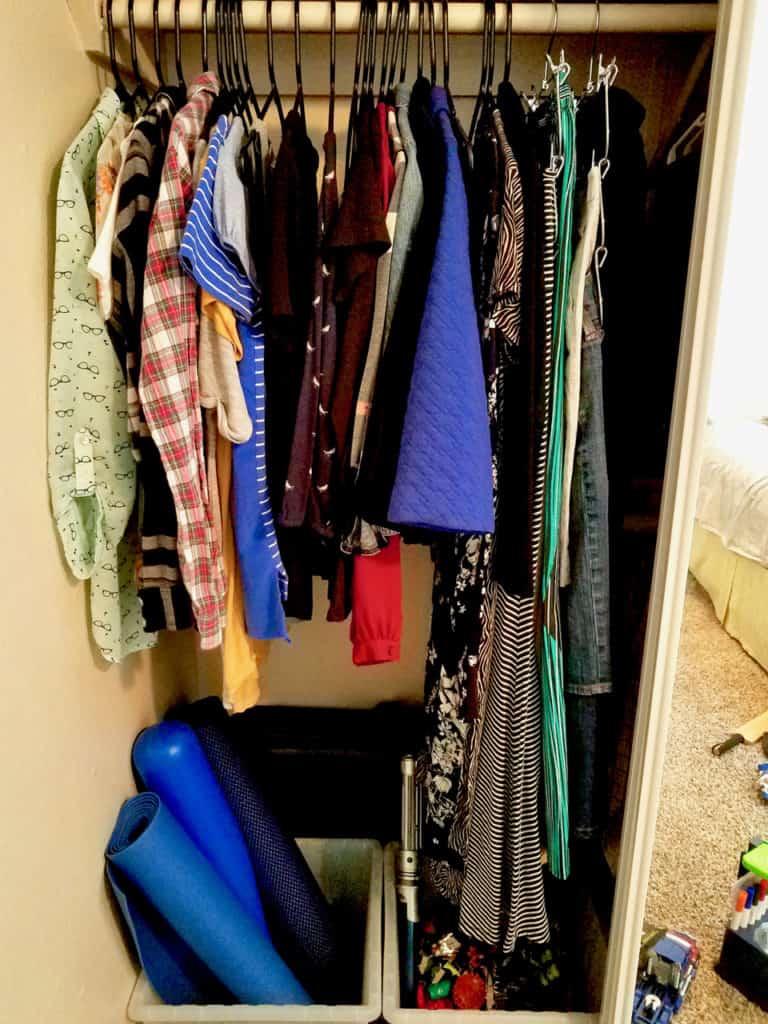 Shirts, jackets, skirts and dresses all get hung up. Check out the mess I have to walk through some times just to get to my clothes. Using the closet in my kiddo's room isn't very convenient but you gotta do what you gotta do.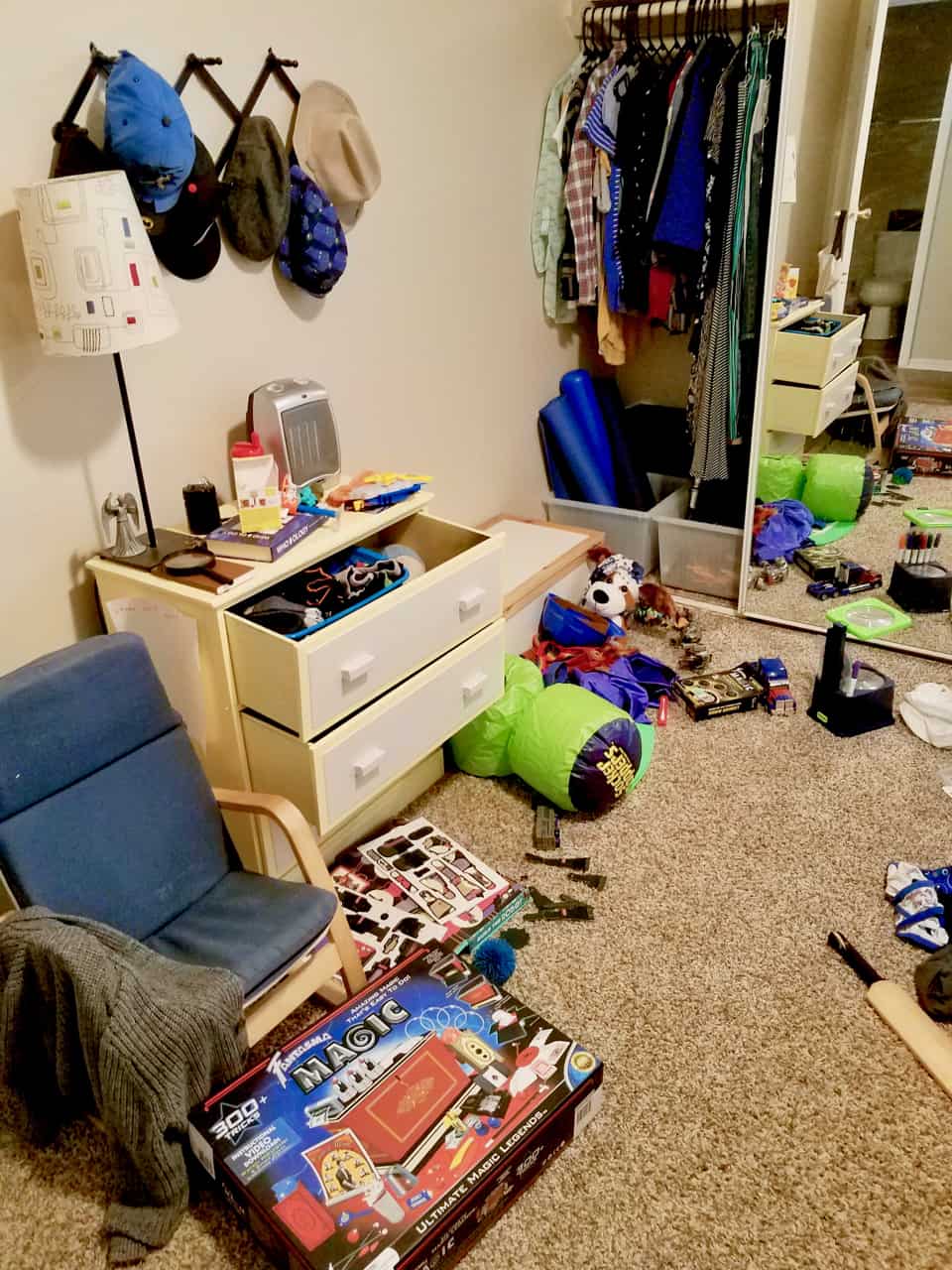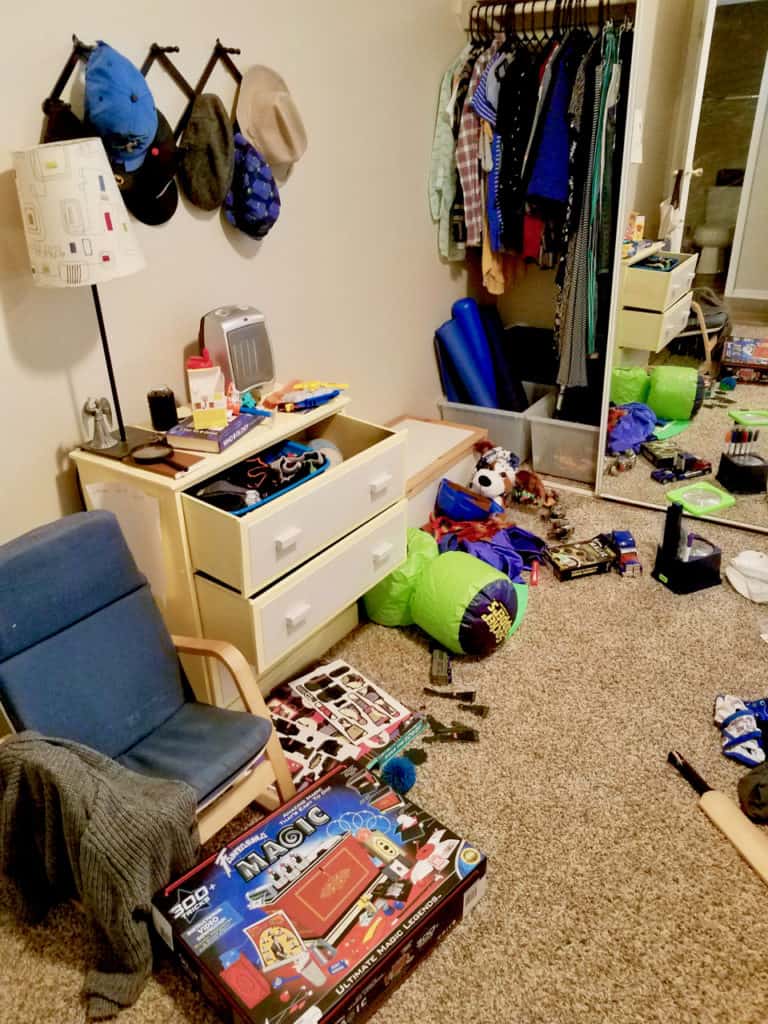 Normally his room isn't this bad but this is keeping it real so no cleaning up before photos. I've noticed that when Jacob's room is clean he doesn't play with his toys much. He needs them out where he can see them to perk his interest in play time. I've been trying to get him to play more with his toys so we've let him leave more things out. This photo show the remnants a really fun weekend he had so it makes me happy.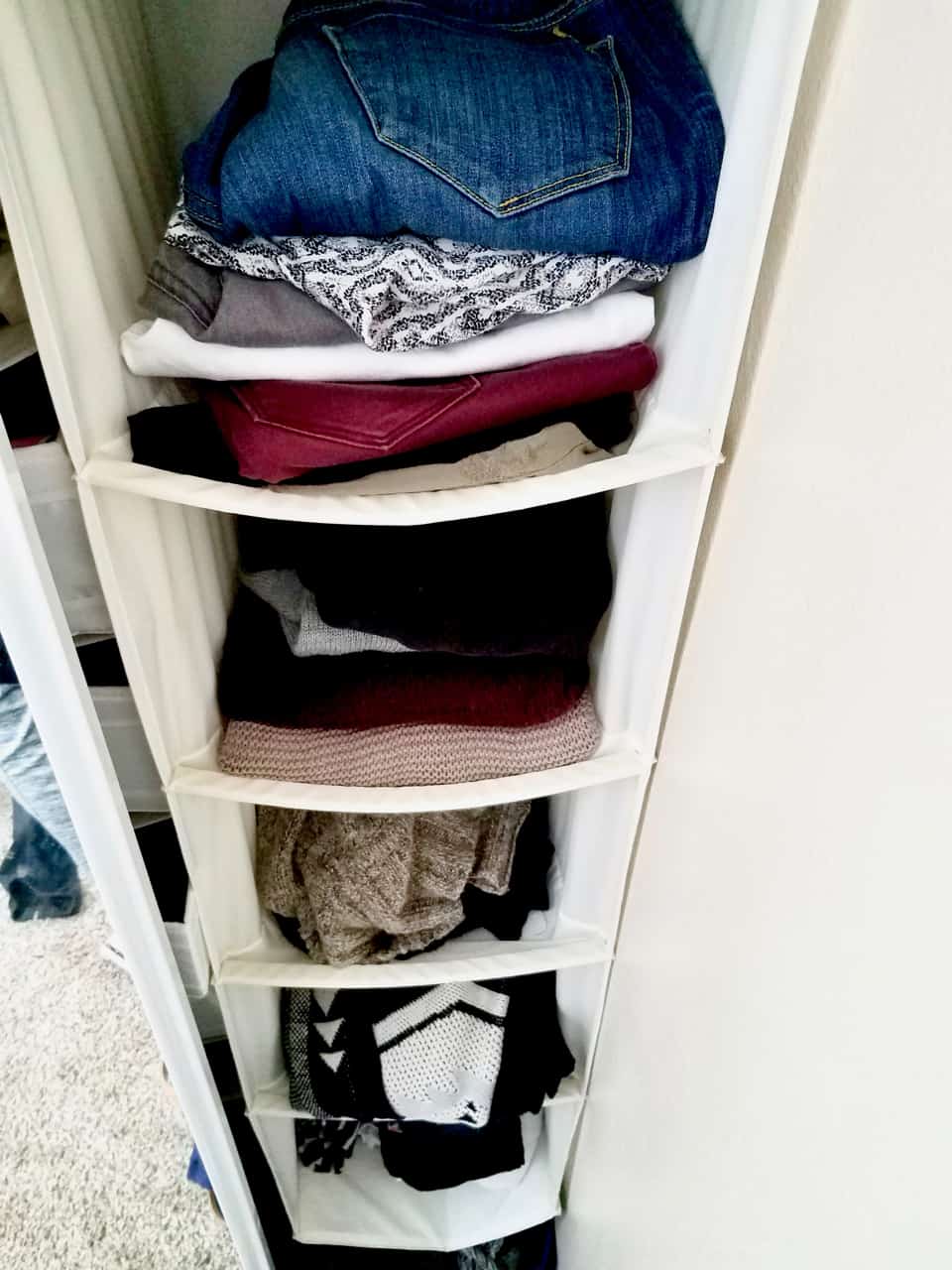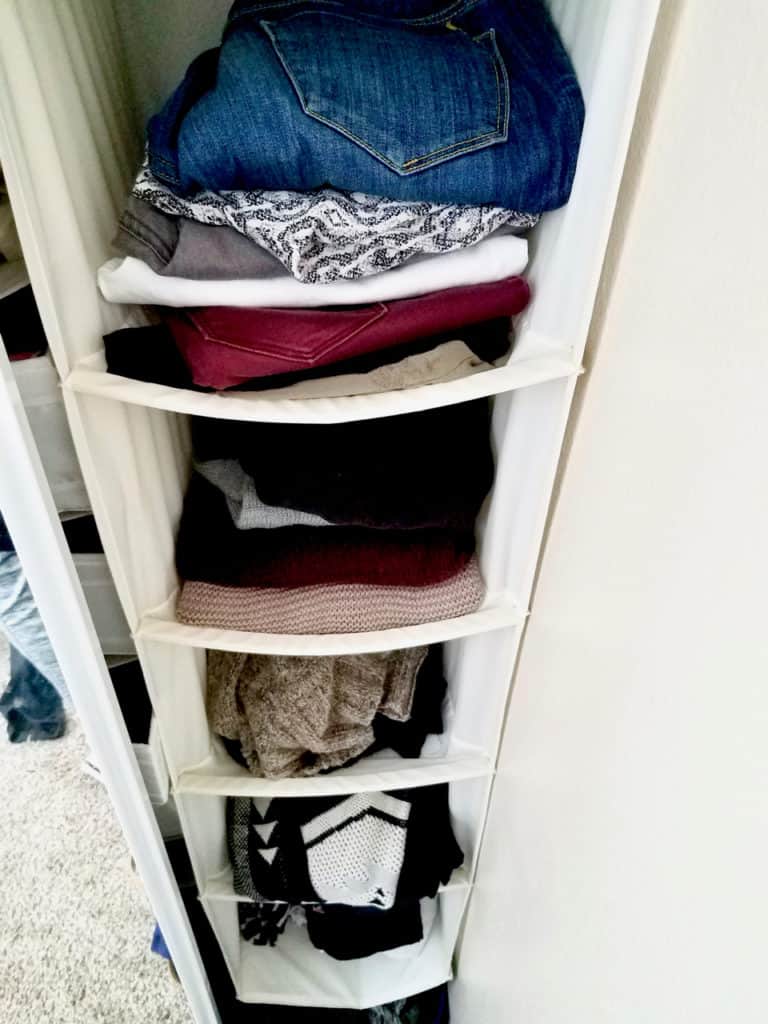 All things folded go in my room. This is pants, sweaters and some work out clothes in the very bottom. I tried to keep the rest of the closet closed because hubby's socks and underwear are in those boxes to the left and he didn't sign up for keeping it real. 
Katie's Closet
My closet works okay.  Really I would LOVE a closet with built ins.  We never bought a bedroom set when we got married so we have never had a dresser.  For now we have those metal wire drawers for our underwear, socks and my workout clothes.  Everything else gets hung up, including my bras which you might have noticed off to the left there.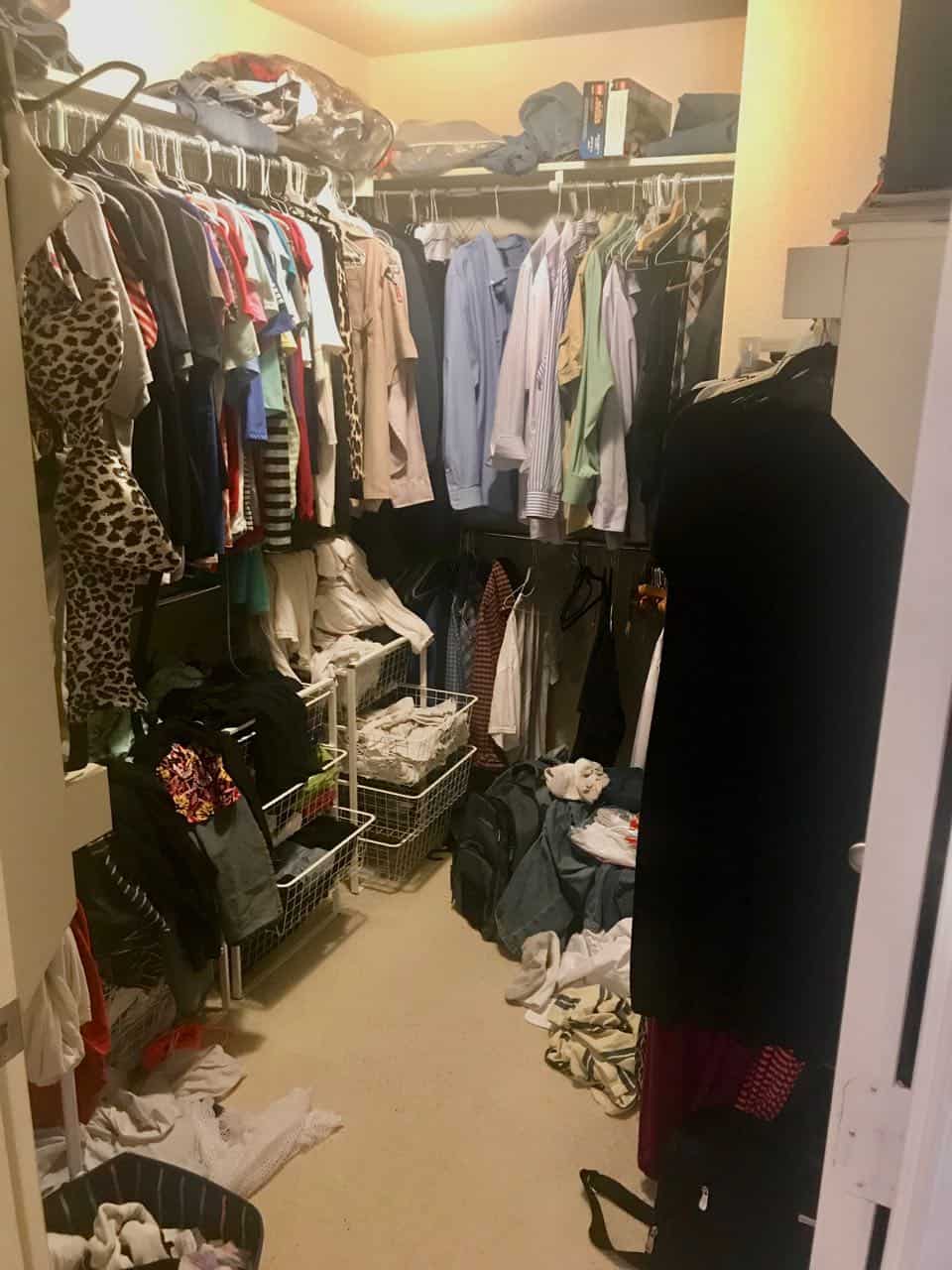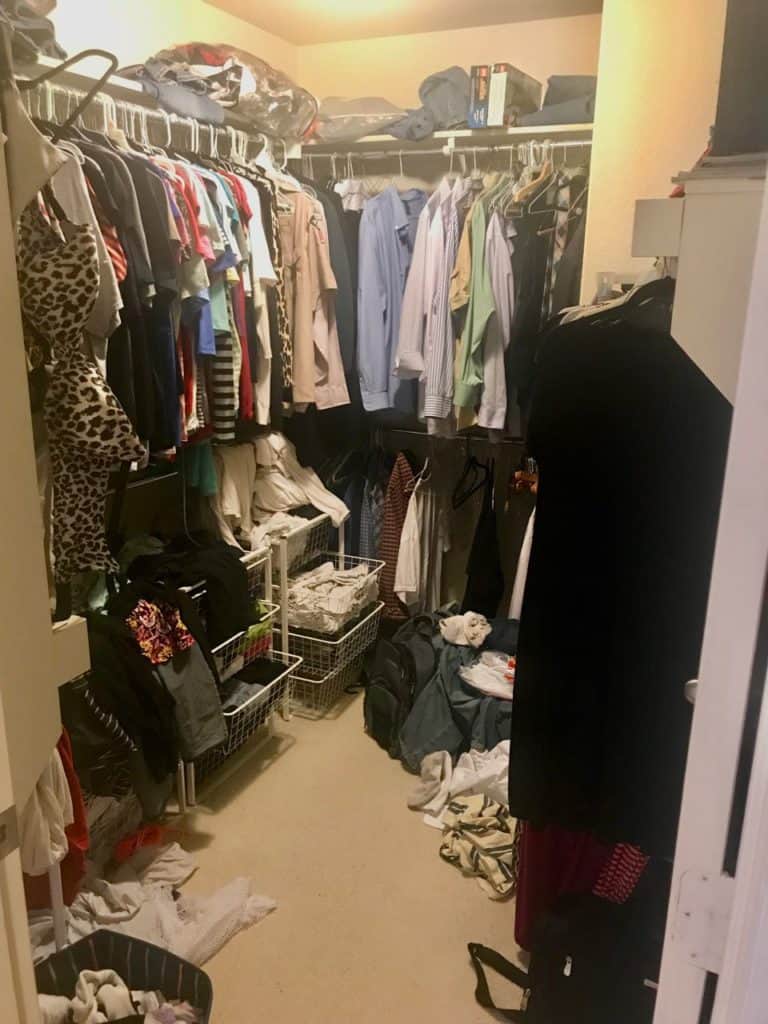 Yup!  I'm curious, what do you do with your bras?  How do you store yours?  Mine just go on the hook.  I only have 3.  Probably more then you ever wanted to know about me.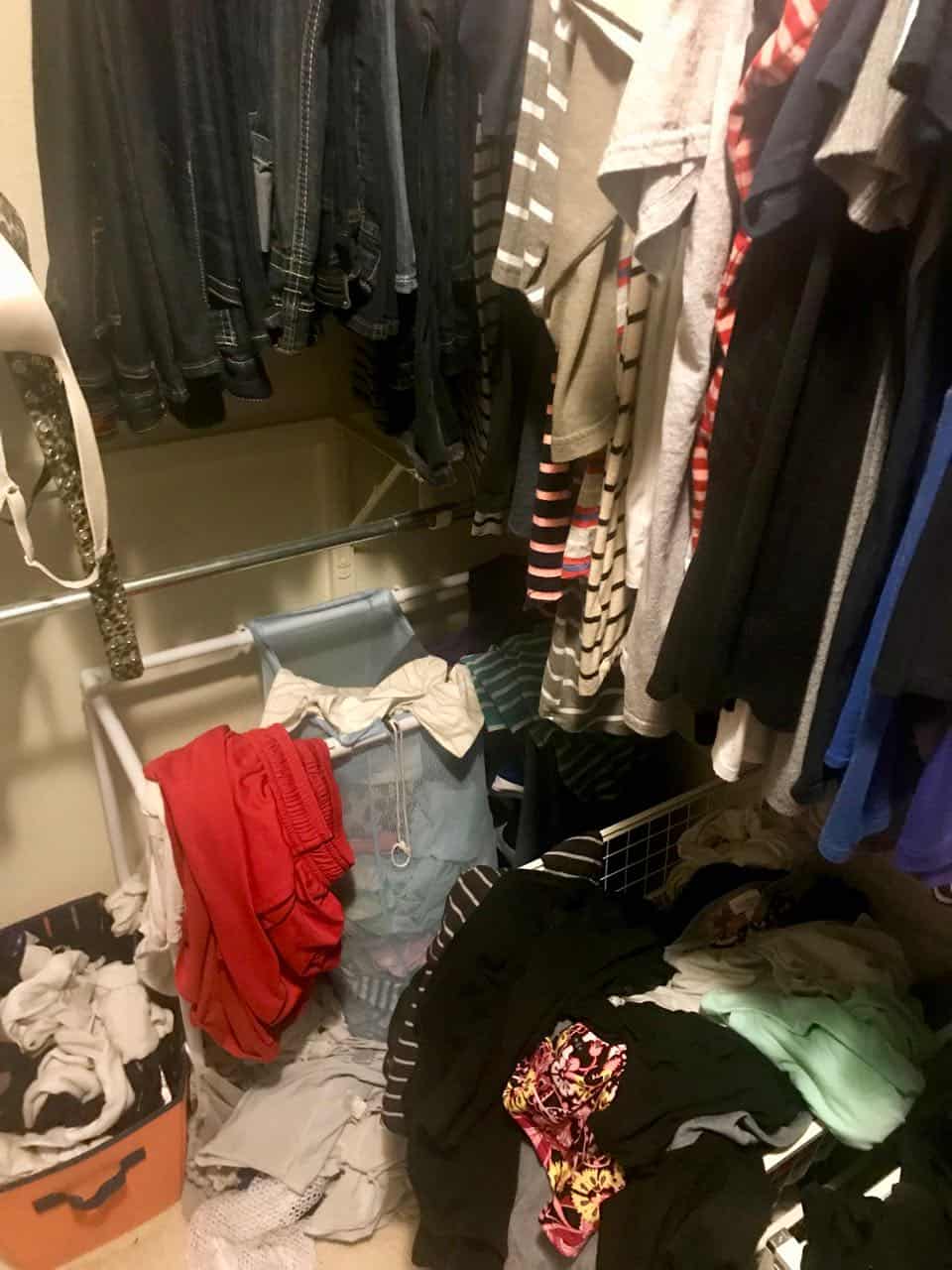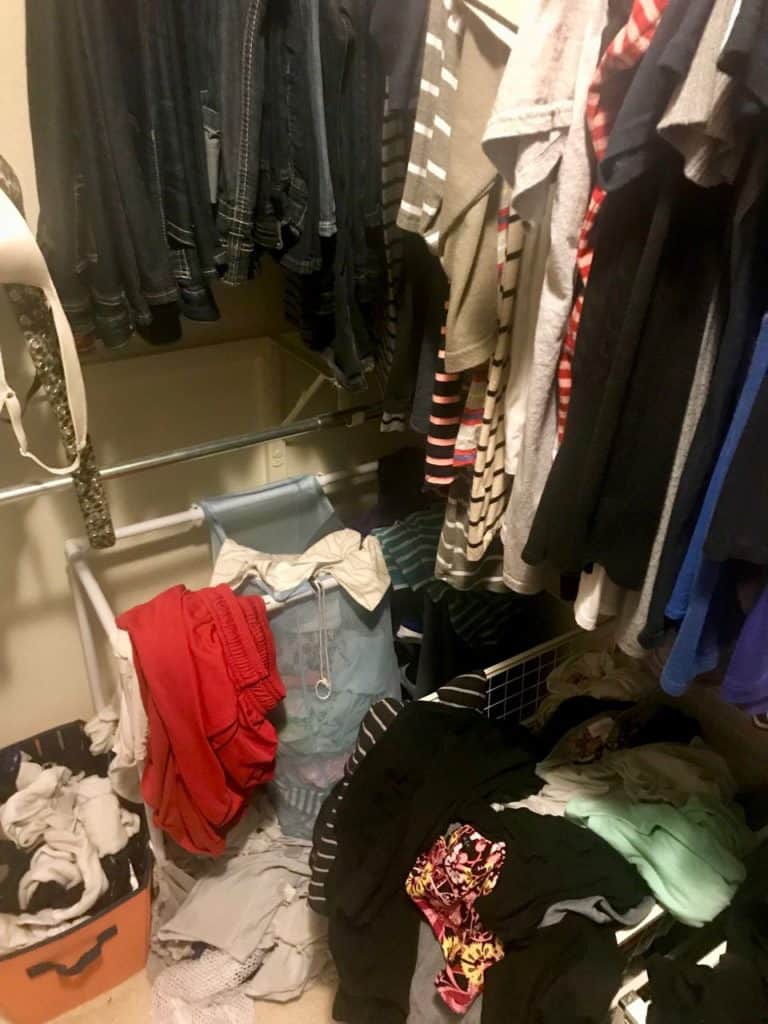 My closet is usually pretty messy.  This is pretty average.  Right now I am overweight and a lot of my shirts are kinda tight on me.  So I will put on a shirt, say oh no that's not going to work, and then throw it on top of the wire drawers to hang up later.  Sometimes later never comes.  Once again, I am a hot mess!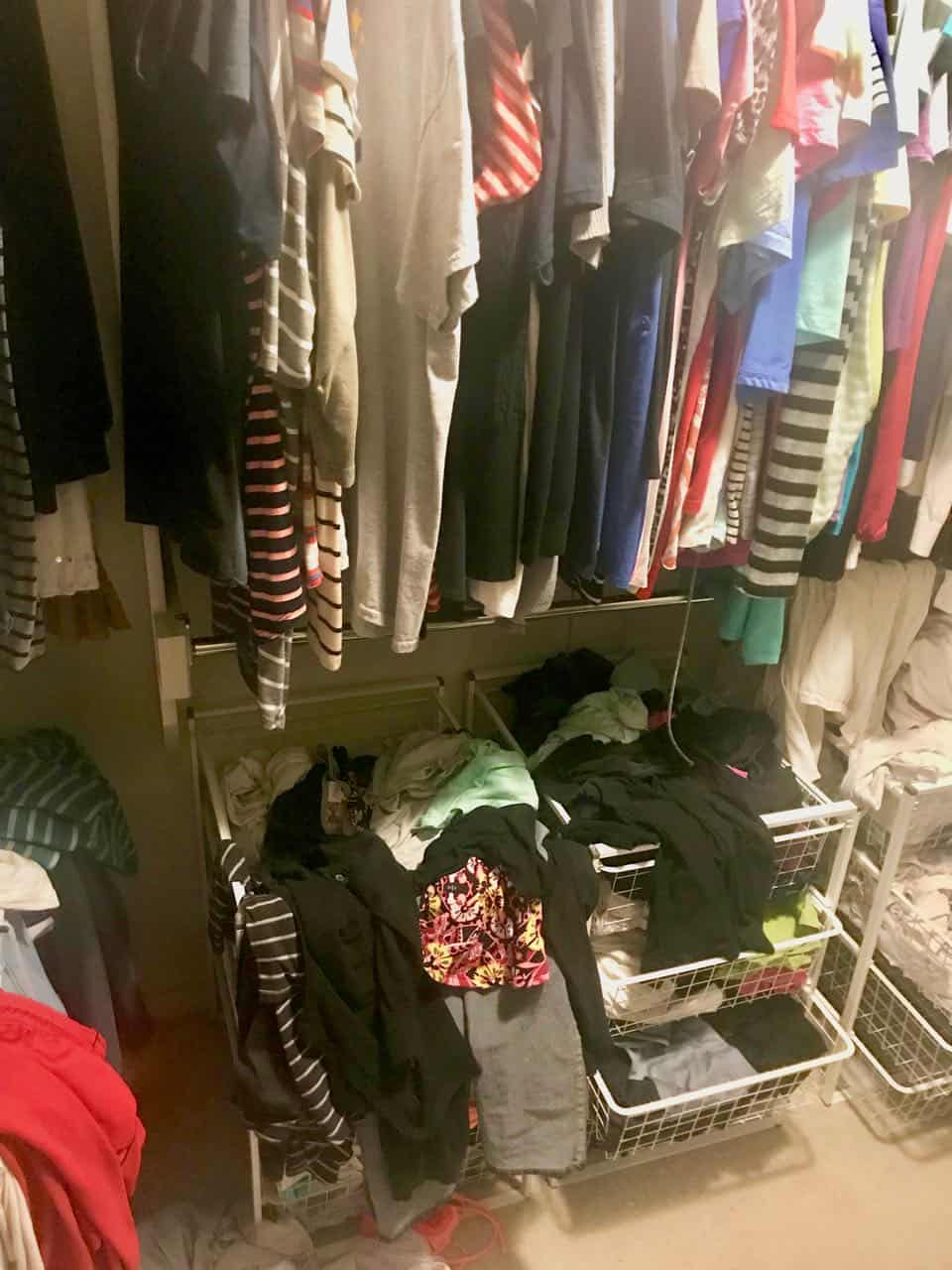 OK so there it is folks! Remember to leave your ideas for our next post in the comments. We're excited to see what you come up with!
---
You Might Also Like:
---