Minimalist Kitchen Essentials: The Basics for a Streamlined Space
This minimalist kitchen essentials list will help you create a simple kitchen that's super functional, easy to cook in, and quick to clean up! Focus on the things you need and ditch everything you don't.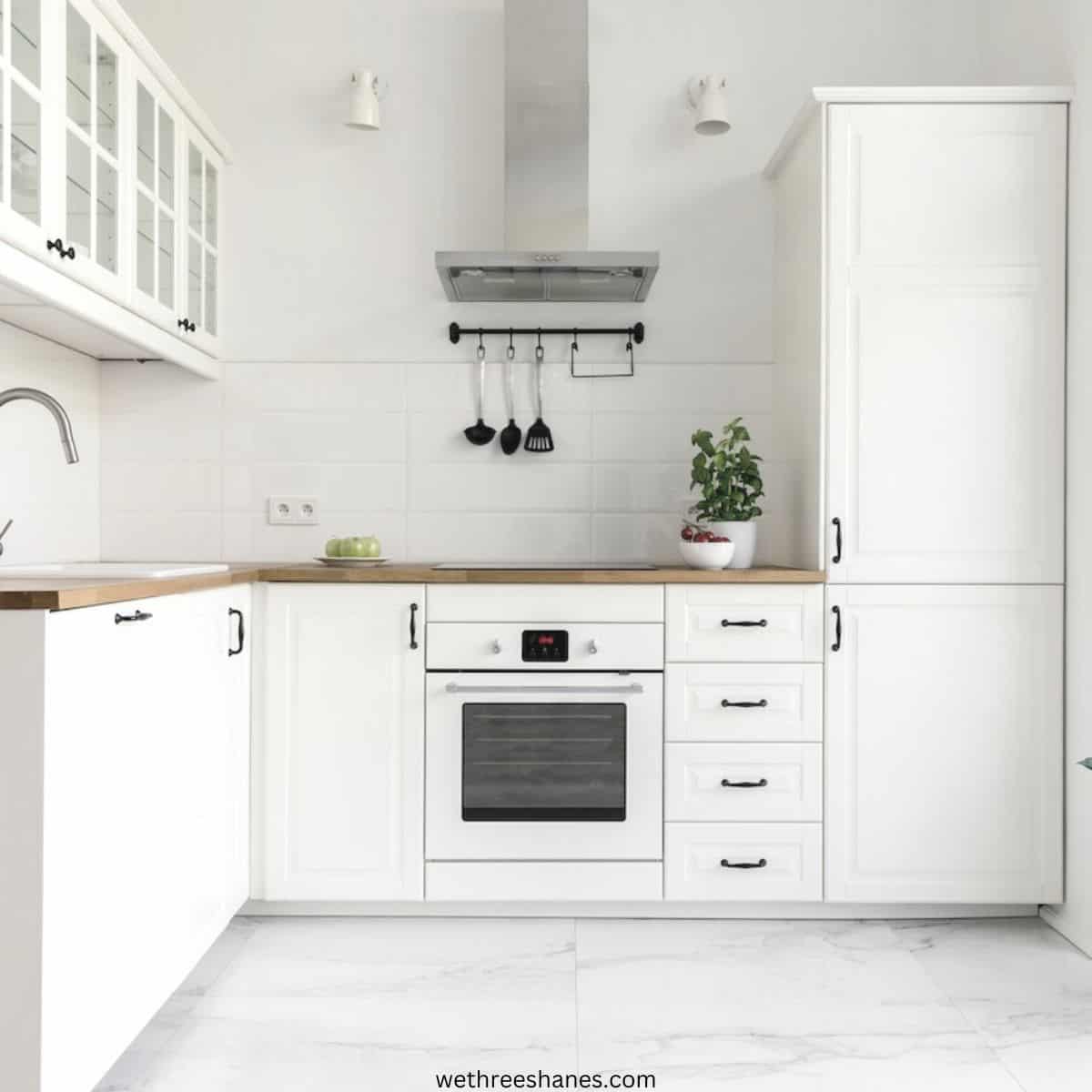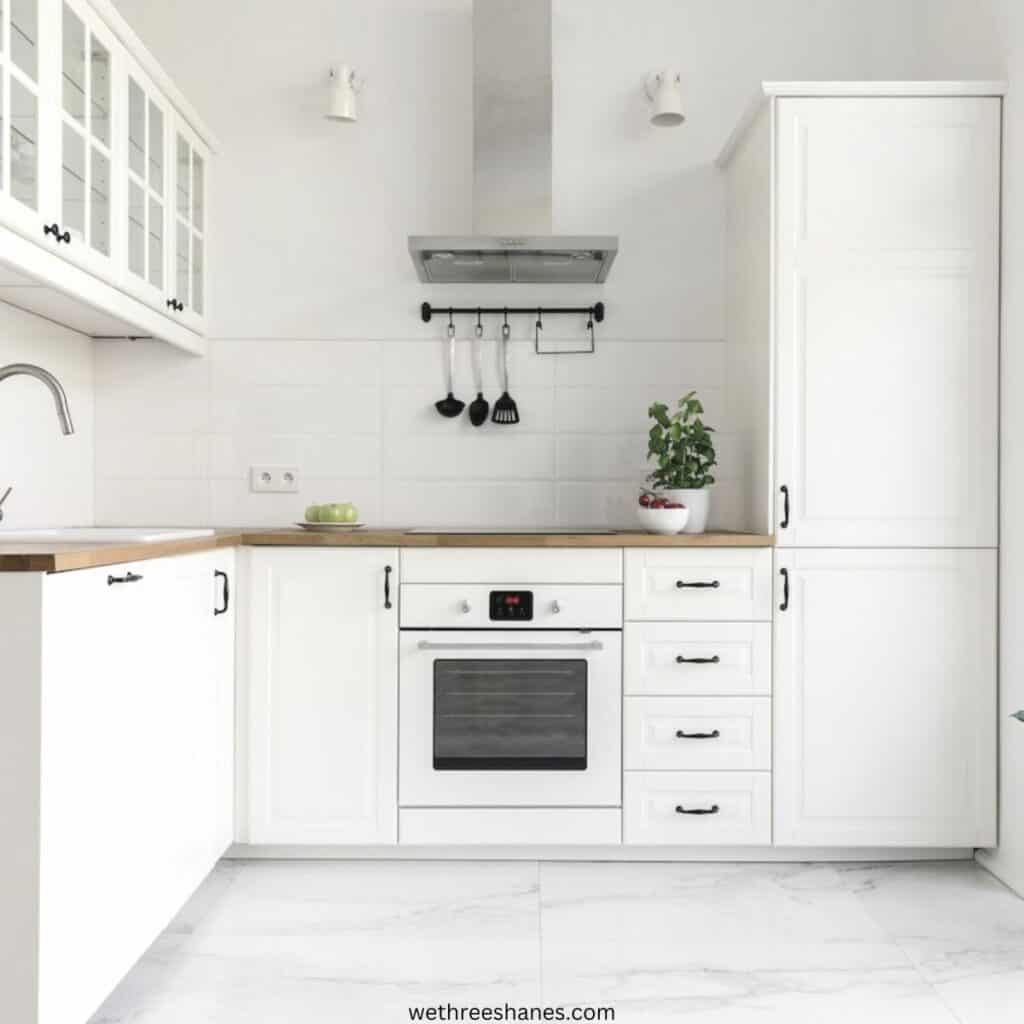 (THIS POST PROBABLY CONTAINS AFFILIATE LINKS. OUR FULL DISCLOSURE POLICY IS LONG & BORING BUT, YOU CAN FIND IT HERE.)
A Minimalist Kitchen
Minimalism has become a popular trend in recent years, not just in fashion and home design, but also in cooking and food preparation. A minimalist kitchen is a space that is free of clutter, with only the essentials required for cooking and eating.
Have you ever cooked a meal at home and then stepped back to see the mess you've made in the kitchen? I have. I love to cook but don't exactly like the clean up process.
There are so many kitchen items that are helpful but not necessary and in the end can add to the mess. Having a minimal kitchen makes cooking and cleaning up after so much easier because the less you use the less you have to wash.
If you're like me and have a small kitchen that doesn't have a ton of storage space then one of the best things you can do is have a good decluttering session until you're left with a kitchen that's a minimalist's dream.
A clutter-free kitchen is one of the best things you can do for your home and it has been a crucial step for me to keep a clean kitchen. These essentials will provide you with the tools you need to prepare meals with ease, without the clutter of unnecessary items.
But what exactly do you need in a minimalist kitchen? And what should you get rid of?
Here's a list of minimalist kitchen essentials that will save you a lot of time and make your everyday cooking routine a great way to unwind without leaving your kitchen a total disaster.
What Do You Need in a Minimalist Kitchen?
A minimalist kitchen is equipped with only the most essential items for cooking and eating. These items should be high-quality and durable, to ensure that they will last and perform well.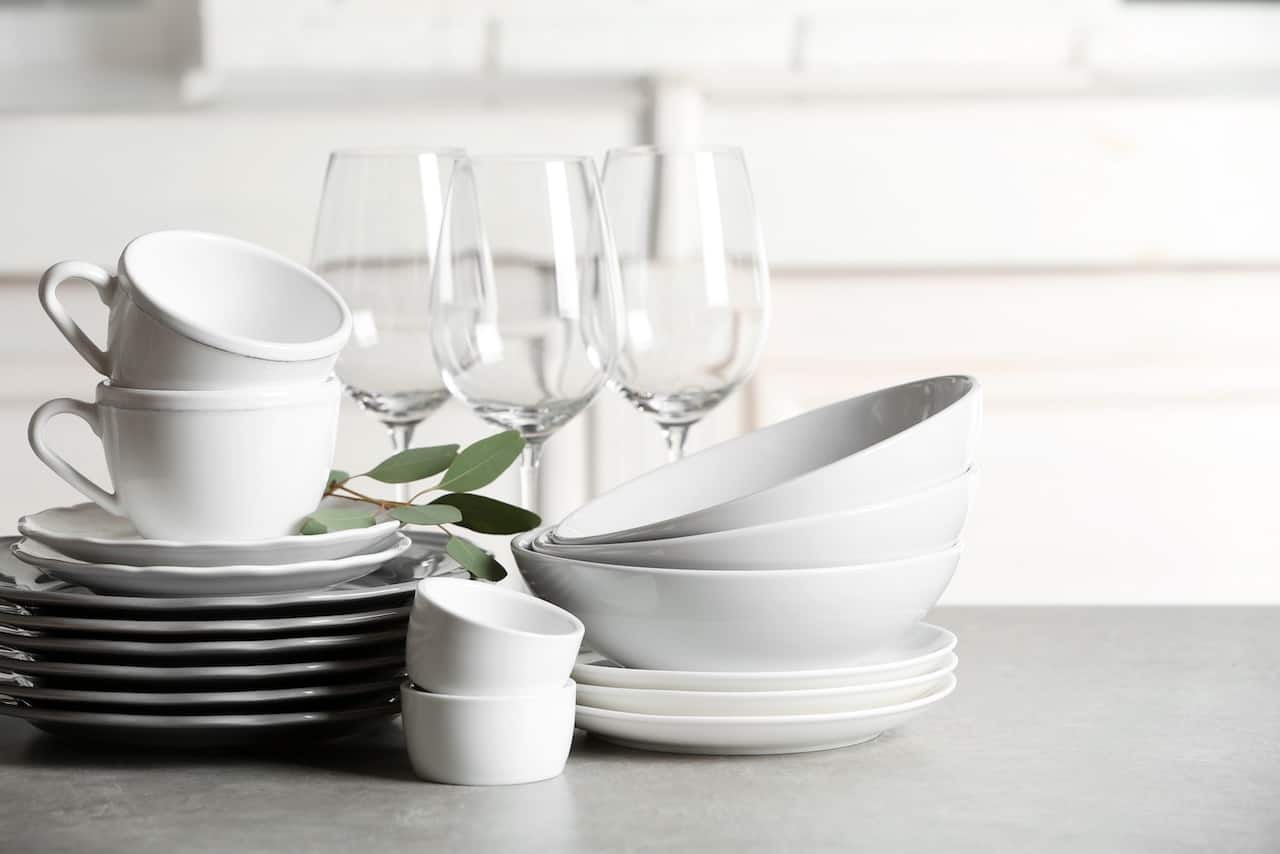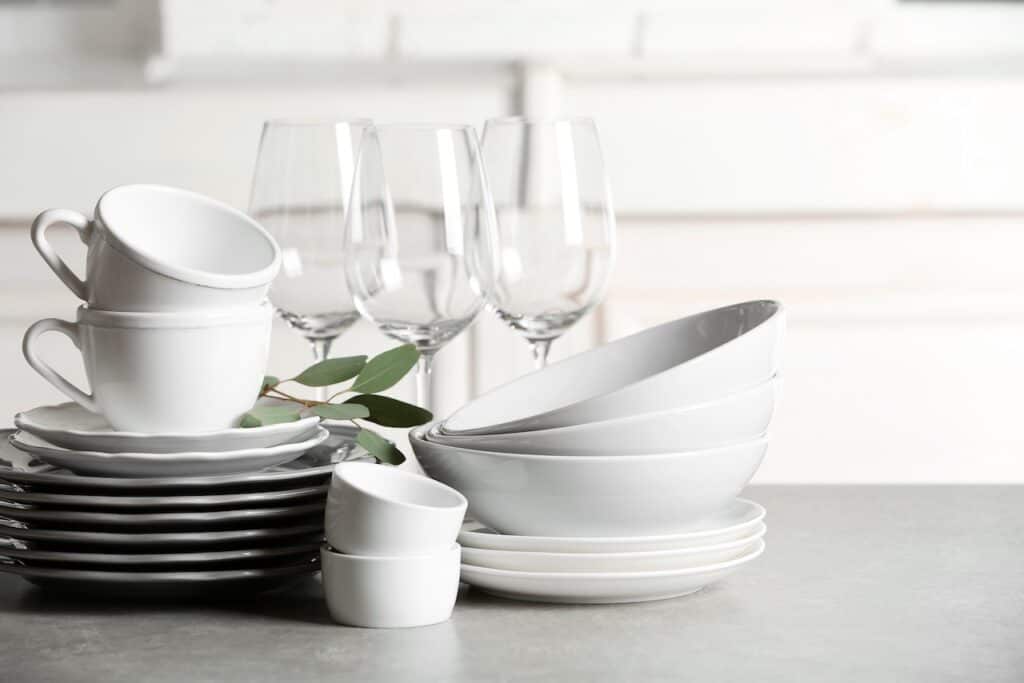 How many dishes do you need in a minimalist kitchen?
This question is a good one and can seriously be a whole post on it's own but let's do a quick version for now.
The number of dishes you need in a minimalist kitchen will depend on the size of your household and how often you cook and eat at home. A good starting point is to have at least one of each type of dish for every person living in the home: dinner plates, dessert plates, bowls, and cups and/or mugs.
Having only one of each dish means you have to wash your dishes right away or at the end of the day. This will keep dishes from piling up.
However, this really does depend on who is eating at home through out the day.
I'm the only one that eats lunch at home. My partner and kid eat at school and work. So, I might need an extra plate while they don't.
Start out with the smallest number of dishes and then add to them as you pay attention to your family's needs. One set of eating utensils is all you need unless you have a large family.
We do keep extra plates for when guests come over but we don't keep these accessible. They are tucked away in another area and can be brought out when needed. This saves space in the kitchen for other items that are being used more often and keep them out of sight so we aren't tempted to use them.
What are five things you consider essential in the kitchen?
If I had to choose only 5 things to put in a new kitchen they would be:
Pots and pans
Cutting board
Knives
Measuring cups and spoons
Mixing bowls
These are the items that get a lot of use and can be used to do pretty much everything you need to cook anything.
I love to cook so when I registered for wedding gifts I hit the kitchen items pretty hard. I just knew I'd use all of these cool new gadgets and I'd take my cooking to the next level.
Then we moved into a small apartment and had to fit everything in a very tiny kitchen. I soon learned that I wasn't reaching for the fancy tools because they were a pain to clean and the basic stuff worked just as well.
Here's the deal though. You're going to have to find out what works for you just like I did. I'm going to give you my list of my minimalist kitchen essentials and I hope it helps you come up with your own list but do keep your own cooking style in mind when downsizing your kitchen items.
Basic Kitchen Essentials List
Cast Iron or Stainless Steel Pots and Pans: A must-have in the kitchen is a set of high-quality pots and pans. These are essential for cooking all types of meals and should be made from durable materials, such as stainless steel or cast iron so they last you a long time. Don't fall for those large pan sets with tons of pans in multiple sizes. Get one sauce pan, one large stock pot or dutch oven, and a large frying pan. These three will cover everything you need to make.
Wooden Cutting Board: A large cutting board is a great way to prepare food, and it's a must-have in any kitchen. Look for a board that is made from a durable wood material such as maple, bamboo, walnut, or cherry. A wood cutting board is better than glass or plastic because it's durable, keeps knifes sharper, and is less likely to harbor bacteria.
Small Knife Set: A set of sharp knives, including a chef's knife, a paring knife and a bread knife, is crucial for any kitchen. Investing in high-quality knives, like the henckels I've been using for almost 20 years, is a great way to streamline your cooking process and save time. When you have a good knife then you don't need any other fancy tools like a food processor, garlic press, avocado slicer, or a mandoline. You will also want a knife sharpener to keep your knives in top condition.
Measuring Cups and Spoons: Accurate measurements are important in cooking, and having a set of measuring cups and spoons on hand will make it easier to follow recipes. Look for sets that can nest to save room.
Mixing Bowls: A set of mixing bowls is necessary for any kitchen, and is especially important in a minimalist kitchen. I prefer glass bowls because they work with all food and can double as food storage in the fridge but not everyone is a glass fan so stainless steel also works.
Cooking Utensils: A set of cooking utensils, such as tongs, a rubber spatula, and a wooden spoon, will make it easier to cook and serve food. Look for utensils made from durable materials, such as stainless steel or silicone. The material will depend on the type of pans you have so buy those first and then grab a set of utensils that is recommended for your pans.
Sheet Pans and Baking Sheet: Sheet pans and baking sheets are needed for roasting and baking. One large, high quality sheet pan is really all you need.
Can Opener: A can opener is a small but essential kitchen item that is used on a regular basis. Stick with a manual or a handheld electric. Don't go for the big, counter stand electric type.
Pot Holders: You really can't live without these if you plan on using your oven. I have seen people use a kitchen, hand towel before but I'd rather not go that route. I prefer pot holders over oven mitts because you can use them to take hot items out of the oven and to protect surfaces from hot pan bottoms.
Large Food Strainer: A food strainer is better than a colander because it can do more and that's what we're looking for when streamlining your kitchen. Just make sure it's made out of metal and not plastic. Plastic will melt away if you pour something hot through it. Now, some might argue that you don't need this on the list and that's fine. If you want to balance the lid of your pot over a hot pot of water while trying to drain it then go for it. I've messed that up too many times to go that route. Plus, a strainer can be used for so many other things.
Food Storage Containers: You will always need some good quality storage containers in the kitchen to store food prep and leftovers. You want to make sure the amount you have doesn't get out of control. I find that food storage containers are totally a personal preference but finding what you like can be a challenge. If you buy some that end up not working for your needs then don't keep them. Once you buy more, donate the old.
Cheese Grater: This is only necessary if you buy block cheese. I prefer block cheese because it melts better. If you buy pre-shredded cheese then you can skip this one. If you do buy a cheese grater then consider getting one with a small and large grating plate. You can use the small side for harder cheese like parmesan and also zesting.
Baking Dish: A baking dish or two is necessary for casseroles, side dishes, desserts. You can decide what you need based on what you bake.
Blender: A blender is useful for many things like soups, smoothies, purees, sauces. You can do more with a regular sized blender than you can an immersion blender so it goes on my needs list.
That's it! It sounds like a lot but it really isn't. These items won't take up too much room in your kitchen and they really are important for a minimalist design.
Now, if you love to bake then your list might need to be a little longer. You might need to add a rolling pin and a silicone pad to your list. But do consider what's necessary and what's extra.
Not Quite Essential but Super Helpful
As someone who does love to cook I have found a couple of items in my kitchen have landed on my essential list. This is why I said earlier that your list might look a bit different than mine. While these items aren't needed they make my life so much easier and that's worth it to me.
Crock Pot or Instant Pot: A slow cooker or pressure cooker, such as a crock pot or instant pot, is a great way to cook meals with ease. I consider these kitchen gadgets as a must-have for busy weeknights. While I do like both my crockpot and instant pot, I don't think you need both unless you have a hug kitchen and you have the space. Instant pots do so much these days that I would choose it over a slow cooker.
Immersion Blender: An immersion blender is a versatile kitchen tool that can be used for blending, pureeing, and emulsifying. It's a great way to save time and space in a small kitchen. I already said that I would choose a regular blender over one of these but I have both. It's so much easier to use a stick blender when making sauces and it doesn't take up too much extra space.
Mixer: A hand mixer or stand mixer, like a kitchen aid, is a great way to save time. While you can make bread or mix batters by hand, I personally won't bake much if I go that route. You decide what's best for you and your kitchen.
Food Processor: You can use a knife or blender to do most things that a food processor can do. However, if you food prep, like I do, then a food processor can be your best friend. You can get so much more done in less time with a food processor. You can even shred your block cheese ahead of time with it and then you can get rid of the cheese grater.
Air fryer: Clearly this isn't a necessity but I can't live with out mine so it's become one. I can do so much in my

air fryer/toaster oven

and I love using it in the summer when it's too hot to turn the stove on. It does take up a good amount of space so it's totally understandable if you don't want one taking up precious counter space.
Meat Thermometer: You can go without a meat thermometer but I find it to be so useful and it doesn't take up much room at all. I use this meat thermometer and I love that I can set it up and walk away. It beeps when the meat has reached its correct temp. I don't waste heat by opening the oven to check on things and the meat comes out perfect every time!
Salad Spinner: I went without a salad spinner for years so it can be done but I find it to be such a useful tool that I use all the time now. A salad spinner might take up a bit of space but it saves us money because I don't buy prepackaged salads which cost more than a head of lettuce.
Kitchen Shears: You don't need kitchen shears when you have knives but I reach for my shears more than my knife for so many things.
Waffle Maker: While I like to stay away from bulky items that only make one thing, a waffle maker is the only thing that makes waffles. You can't substitute it out for a pan. Now, you can choose to make pancakes or French toast instead but if you really like waffles then you might want one in your home.
What to Borrow
I find that it's easier to keep a minimal kitchen when you have a network of friends you can borrow from. There are a good amount of things you might use a couple times a year that you simply don't have room for so borrowing is ideal.
Things like, pie, cupcake, or round cake pans. It could be something like a chocolate fountain or fondue pot.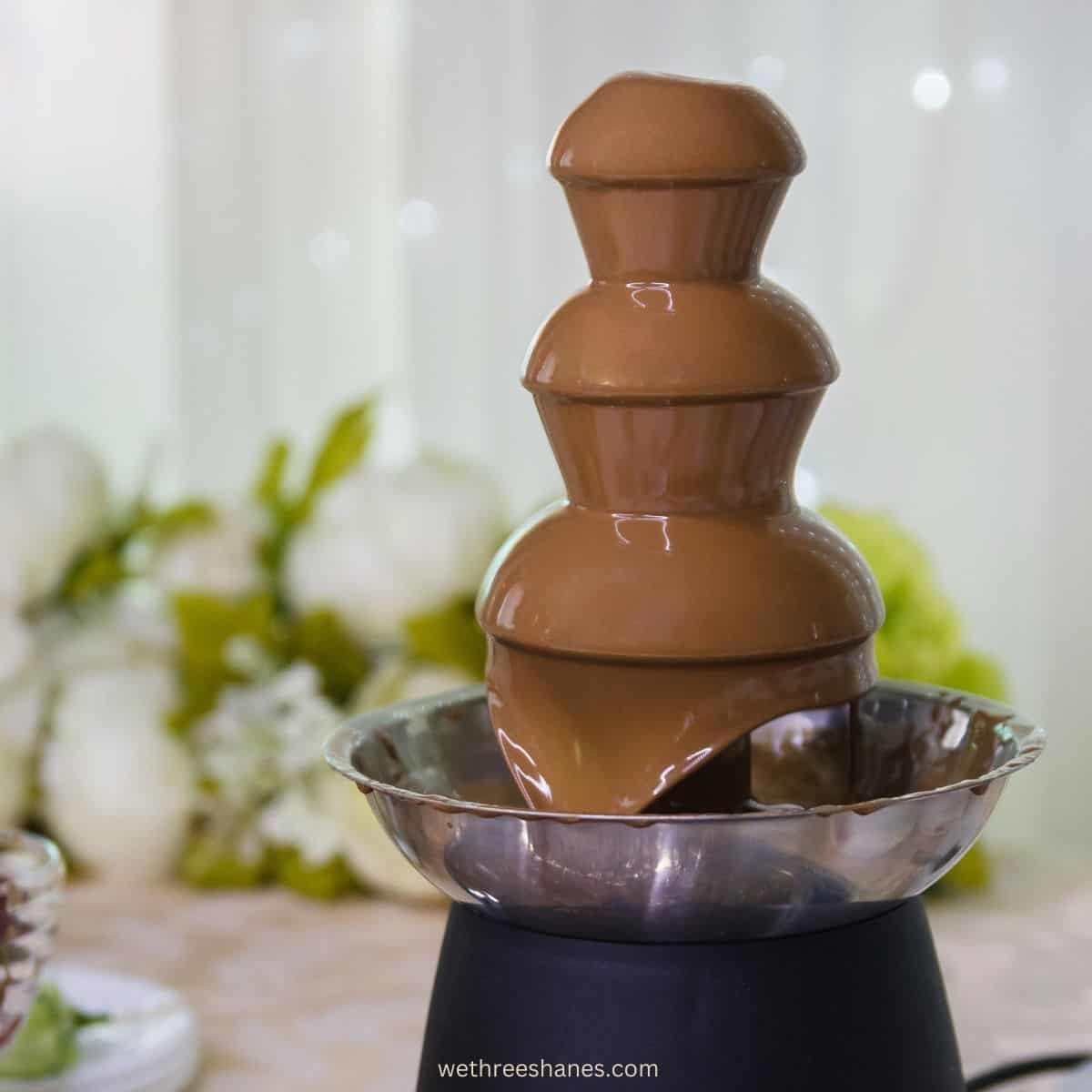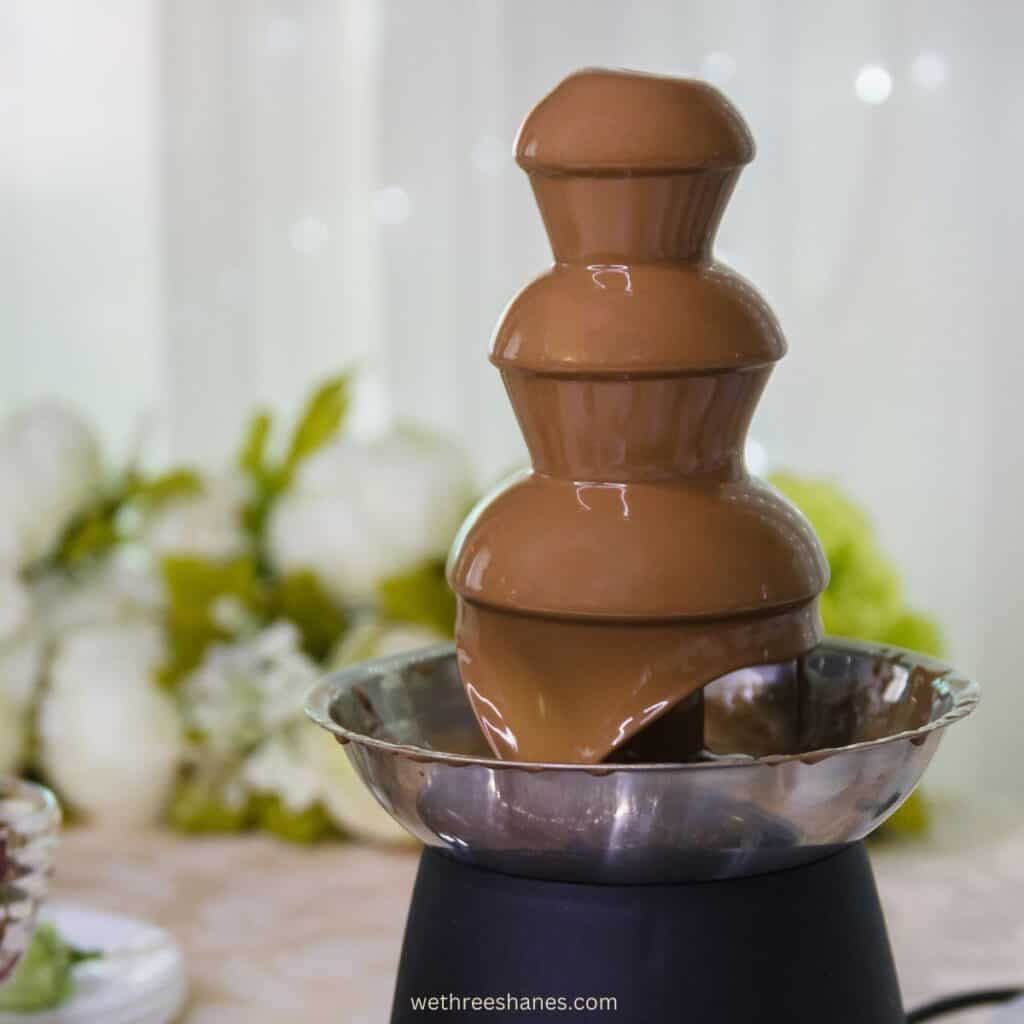 Definitely consider borrowing before you buy something you want to try out. For example, I want to try making my own pasta. My friend said she has a pasta maker I can borrow to try it out.
If I decide that I love it, then I can consider buying my own since I know I'll be using it regularly. I can also try making it by hand to see how that goes.
Just remember to always take great care of anything you borrow. Make sure it's cleaned well before giving it back and get it back in a timely manner. Don't make the owner hunt you down.
What I Steer Clear of
There are tons of specialty products out there that can be fun to have in the kitchen but most aren't necessary. I'm talking about your panini press (I've totally had one in the past and I always reached for the frying pan instead of lugging it out), breakfast sandwich maker, quesadilla press, electric egg cooker, etc.
It's up to you if you have the space and want to buy them but I have found these items tend to get in the way. Because they don't get used often, they get pushed to the back of the cupboards.
Then when it comes time to use them, you don't want to pull everything out to get to them so you end up not using them at all. I find that they don't get used nearly enough to be taking up space.
A Bread Maker: Use your oven.
Food Dehydrator: Use your oven.
Ice Cream Maker: Use your– no wait. Haha. My kid saw the ads going around on Hulu about the ninja ice cream maker and wanted it so bad. But honestly you don't need an ice cream maker. Follow our guide on how to make your own ice cream at home. It's super simple and you won't be taking up space in your kitchen.
Deep Fryer: I've had and used one in the past and it takes up way too much counter space. A big pan or dutch oven works just as well.
Rice Cooker: I've used a rice cooker for years and I love it but I can cook rice on the stove top or in the instant pot which makes a rice cooker redundant.
Duplicates are never needed. They take up space and using them creates more dishes to wash, leaving a bigger mess to clean up. Ditch the duplicates for a more organized kitchen.
Smaller gadgets are easier to get because they don't take up as much space but they can still take up precious space in your drawers. And drawers can become clutter quickly.
Juicer: It's just as easy to cut your citrus in half and squeeze it with your hands.
Garlic Press: I'm guilty of buying a garlic press on more than one occasion. Every time I do, it just sits in my drawer taking up space. It's easy to mince garlic with a knife with a bit of practice.
Garlic Peeler: You'll learn how to easily peel garlic when you learn how to mince garlic. Most videos will show you how to do the whole process.
Pickle fork: Have you seen these? Well we have one. My partner bought it with very good intentions. But the thing sits in a drawer most of the time instead of back on the pickle jar where it's supposed to be.
The point is, that while these gadgets look cool and don't cost much, they aren't needed and don't get used much.
Creating a Minimalist Kitchen
I hope you've learned a bit about how to create your own minimalist kitchen. Whether you're starting from scratch or need to do some kitchen decluttering, a simple kitchen can get you cooking at home more often and with less mess.
Be thoughtful about what you bring into your kitchen. You spend a ton of time in there so let's keep it a happy place for making wonderful memories and not a place full of stuff you don't need.
What do you think of this minimalist kitchen essentials list? Would you take something off or add an item? Let's chat about it in the comments section!
You Might Also Like: