Pumpkin Spice Ribs Recipe
Pumpkin Spice Ribs are the fall recipe you never knew you needed! Savory and flavorful, these delicious ribs will become a quick family favorite.
(THIS POST PROBABLY CONTAINS AFFILIATE LINKS. OUR FULL DISCLOSURE POLICY IS LONG & BORING BUT, YOU CAN FIND IT HERE.)
Pumpkin Spice Ribs Recipe
'Tis the season for pumpkin flavored EVERYTHING! From pumpkin bread to lattes. How about we add a new pumpkin recipe to the list?
Have you ever heard of pumpkin ribs? Neither had I. But a few years ago my husband was looking for a pumpkin flavored something to bring to his work potluck.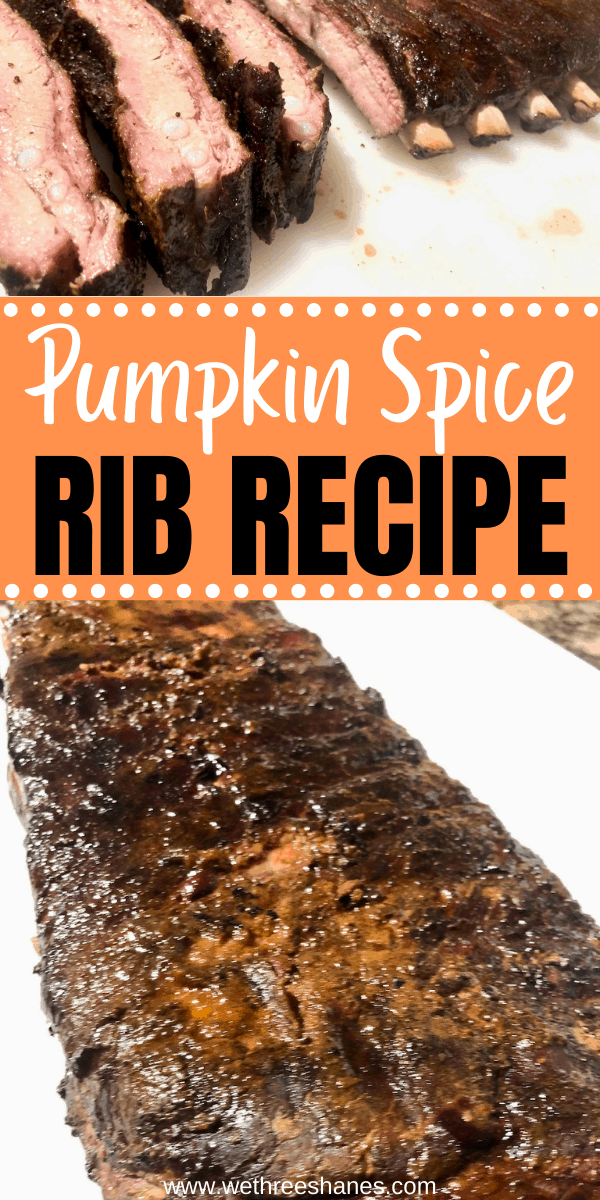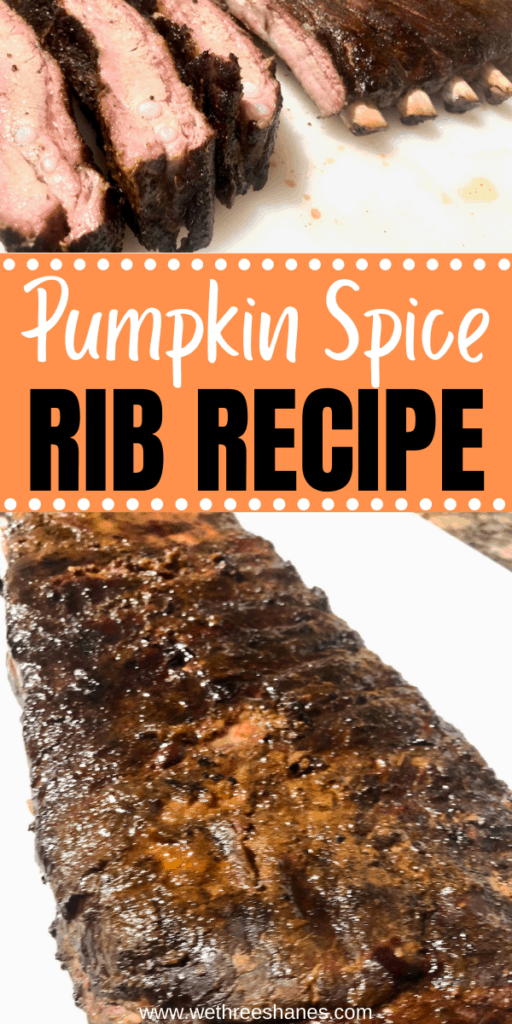 You see, his office had an annual pumpkin day in the fall where everyone brought a pumpkin flavored food to share.  He was a new employee so he had never participated before and wanted something off the wall to bring. 
This is where the pumpkin ribs come into play. My husband loves to smoke meat (we are Texans after all) and he thought some pumpkin flavored, smoked ribs might be pretty good. So why not try them?
HE. WAS. RIGHT. They were amazing!
Want to have pumpkin spiced ribs for your next dinner/cookout? Well, then you are in luck! It had been a few years since we made these so we had to experiment and we came up with two different versions of these amazing ribs.
We smoked our ribs but you can grill them or cook them in oven. I'll let you know how to adapt the recipe for both so there's no excuse not to try them.
Are you ready?? Let's get cooking.
---
Pumpkin Ribs with Pumpkin Puree
We made two sets of ribs. The first set of ribs uses pumpkin puree along with some seasonings. This pumpkin ribs recipe was the most moist of the two because of the pumpkin puree.
Surprisingly, we also found it to have less pumpkin flavor. If we made this version again we would for sure add on an even sprinkling of pumpkin pie spice along with the other ingredients because if you're going to make pumpkin ribs you want some of that savory pumpkin flavor to balance out the spices.
You also won't find exact measurements in this recipe. That's because the size of the rack of ribs makes a difference. Just make sure to cover the whole rack of ribs evenly and you'll be good.
Ingredients for Pumpkin Ribs With Pumpkin Puree
One rack of ribs – we used pork but beef will work too
14 oz can of Pumpkin Puree – we used about half of the can
Brown Sugar
Seasoning Salt
Pepper
Cinnamon
You also need foil for this recipe.
Set your ribs on a piece of foil that's big enough to wrap the ribs in. It's the perfect surface to season your ribs on and then wrap them right up. First and foremost, to get the ribs ready you need to remove the membrane from the back of the ribs and also trim up the fat (unless you like it).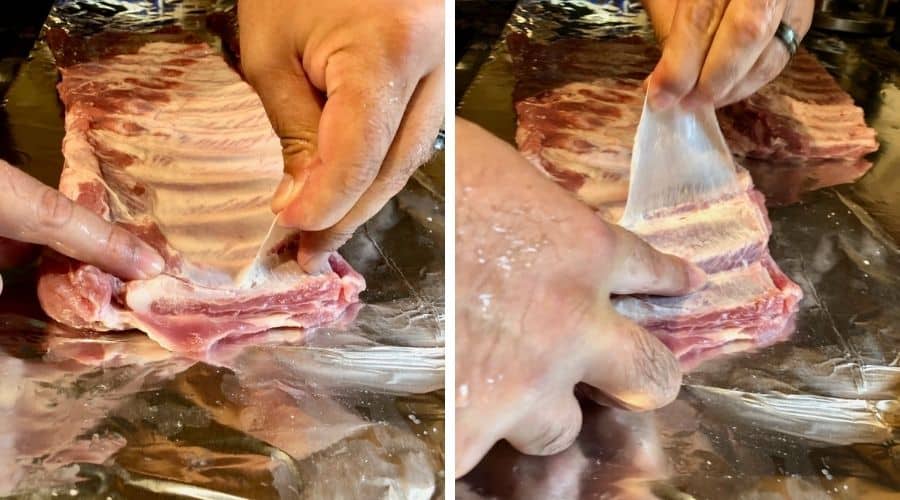 2. After you do those two steps, spread on the half a can of pumpkin puree. You need to season both sides of the ribs so that half a can of pumpkin puree is for both sides. You can fully season one side of the ribs and then flip them to do the other side.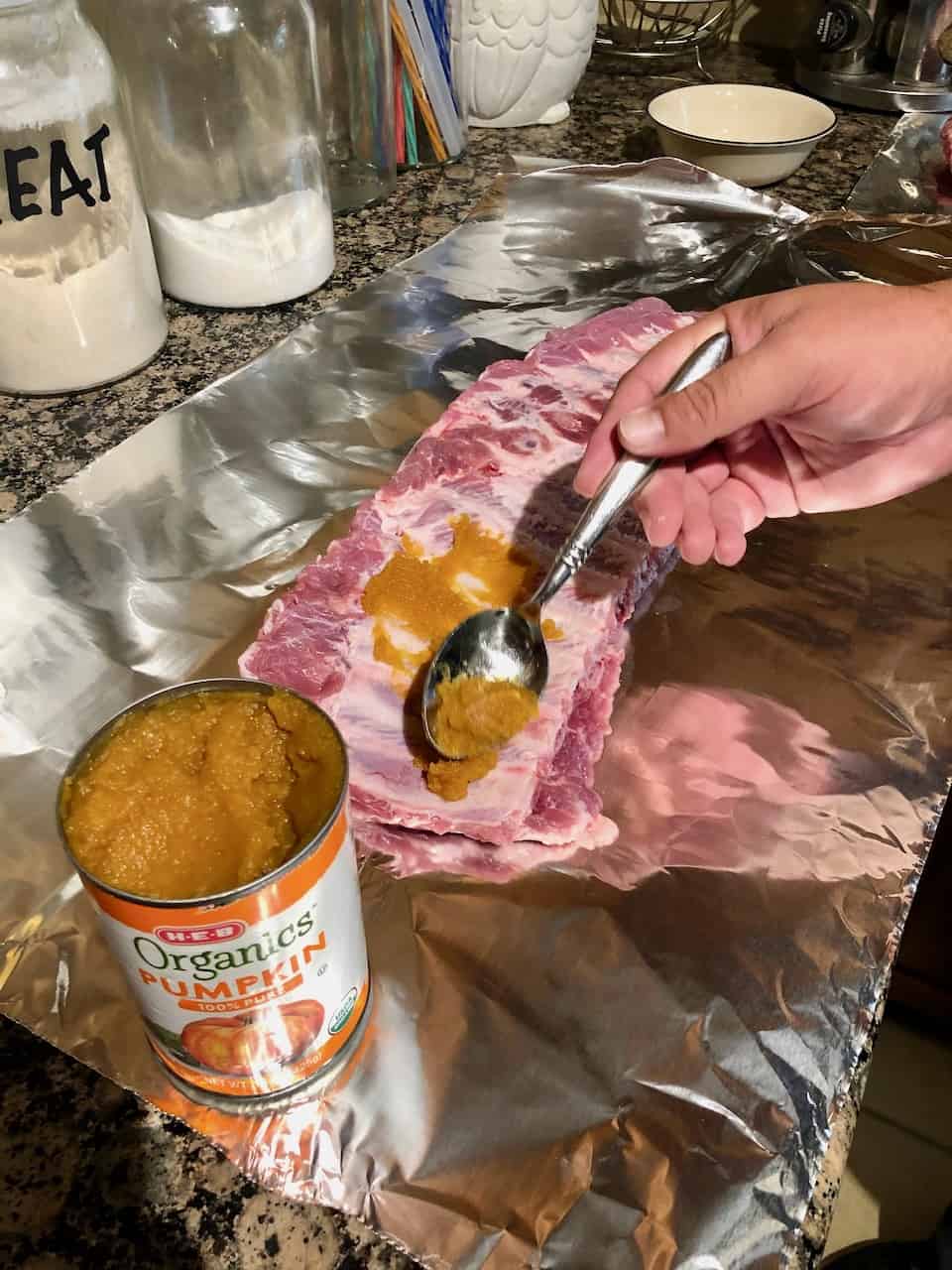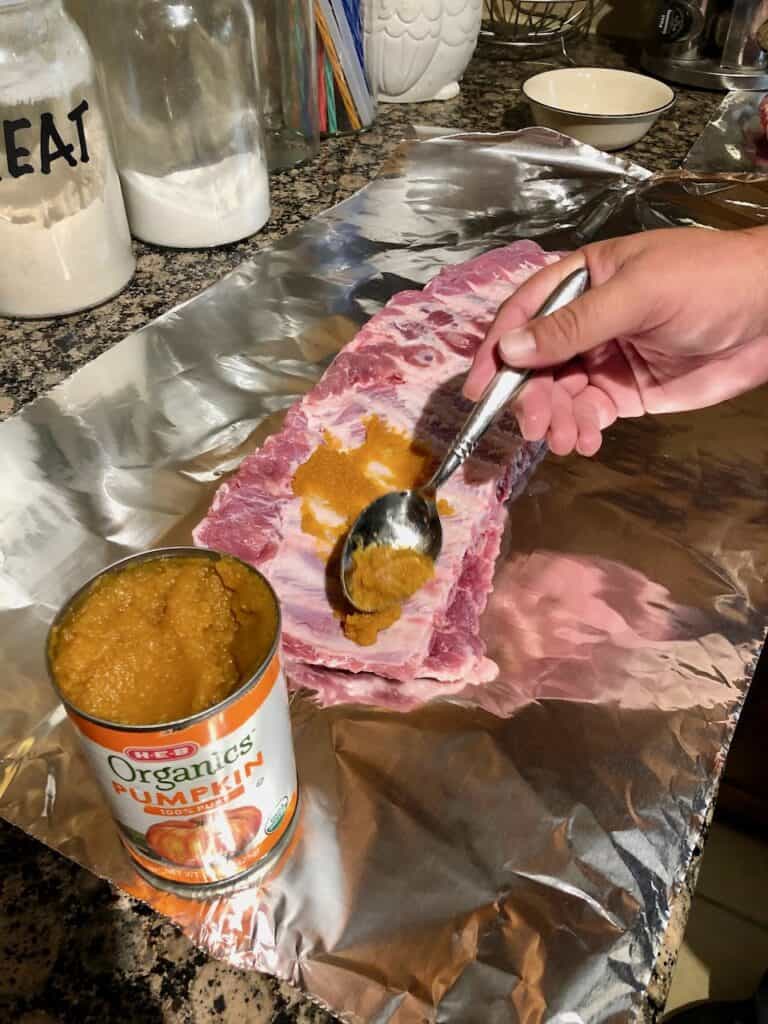 3. Then sprinkle on the brown sugar, then the seasoning salt, then the pepper and lastly the cinnamon. Make sure to use an even amount of all of the spices. Here's how it should look: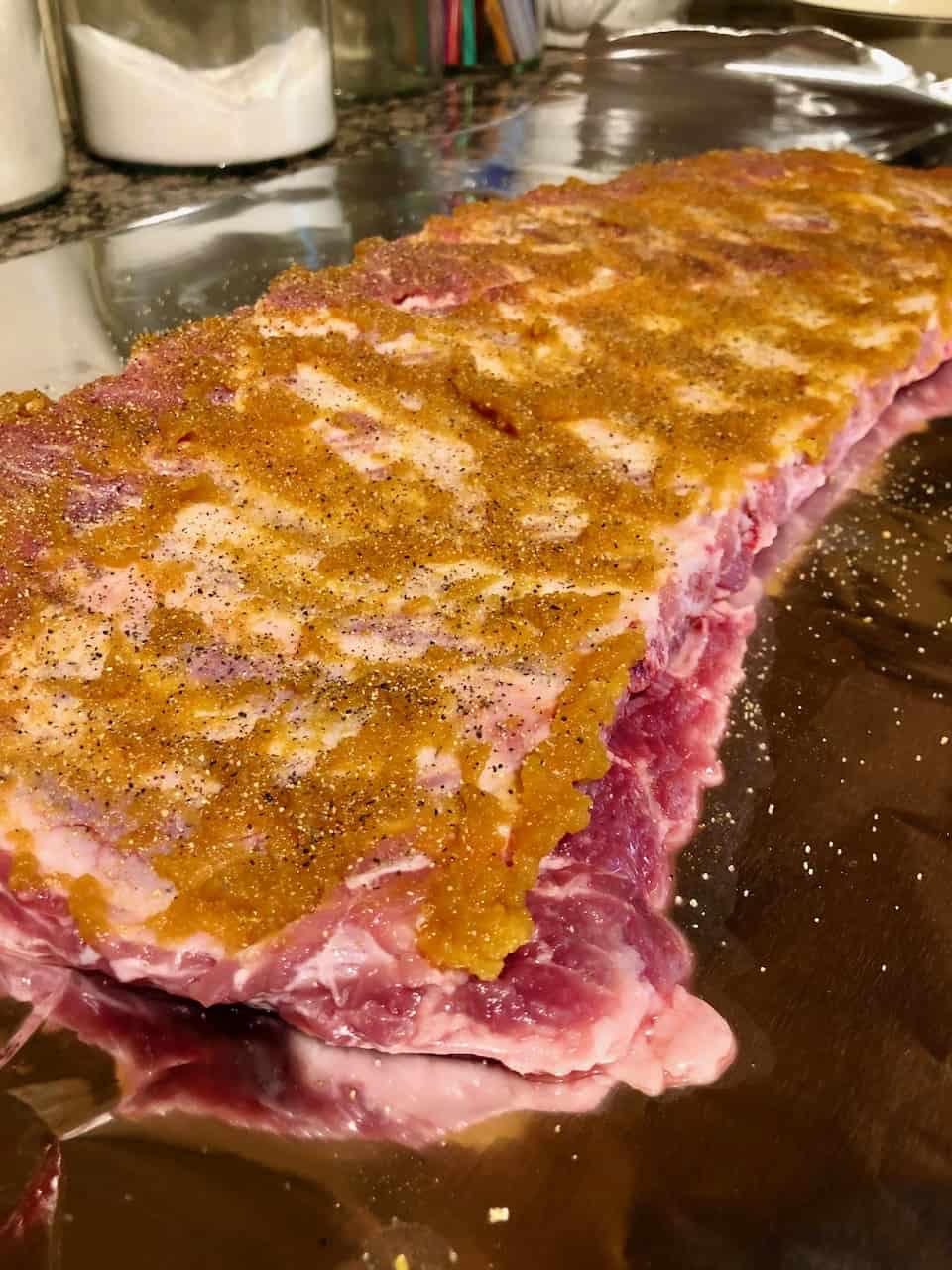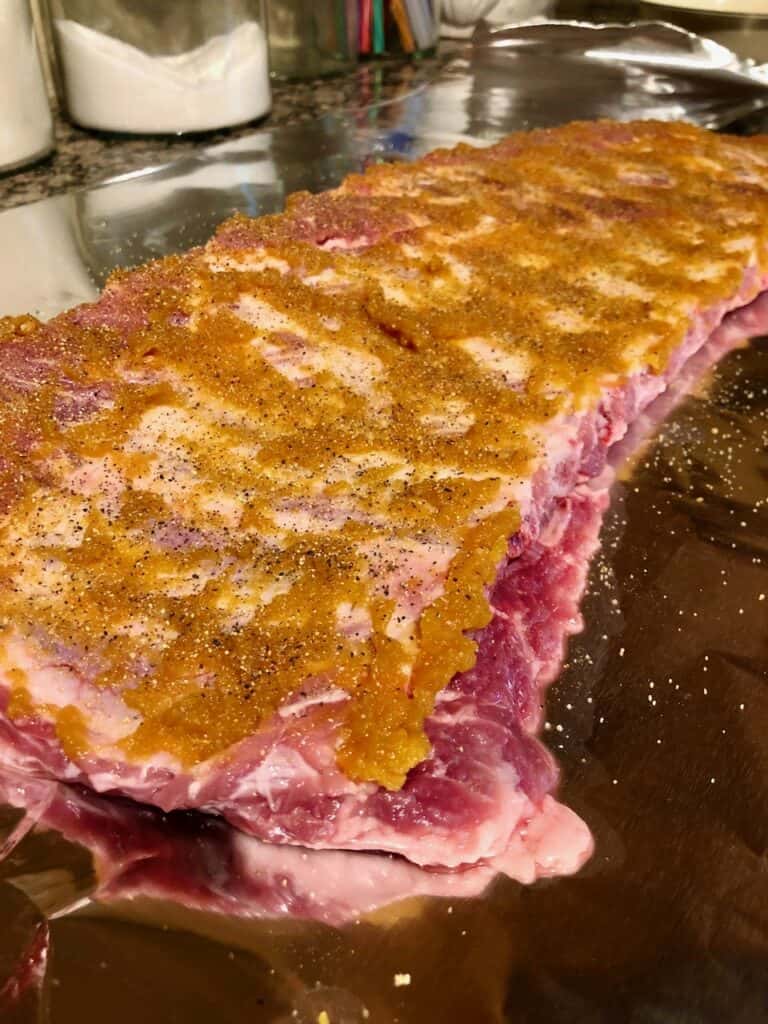 4. Once you've seasoned both sides, wrap the ribs in foil and stick them in the fridge overnight. You could marinate for longer, or less time in a pinch. Next day, we pull them out of the fridge and set them on the counter to bring them to room temperature while we get the fire started.
Don't let the second half of your pumpkin puree to go to waste! Make some of these Chewy Pumpkin Cookies with White Chocolate Chips. They'll be the perfect dessert to have after dinner.
---
Pumpkin Spice Ribs Recipe 2
For our next recipe we left out the pumpkin puree. It is ALL spices.
These tasted the best in our opinion, but like we said, the other ribs were definitely more moist. You'll have to try them both and see which recipe you like more and let us know what you think.
One Rack of Ribs
Pumpkin Pie Spice
Brown Sugar
Seasoning Salt
Pepper
Garlic powder
Onion Powder
In this version, we coated the ribs with the pumpkin pie spice first and did roughly 3 times as much as the rest of the spices to get that good pumpkin flavor. Don't forget to remove the membrane before the spices and make sure you do both sides of the ribs in an even coat of each seasoning. 
After the seasonings have been added, everything else instruction wise is the same. Wrap them in foil, marinate over night, and bring to room temp the next day before popping them in the smoker.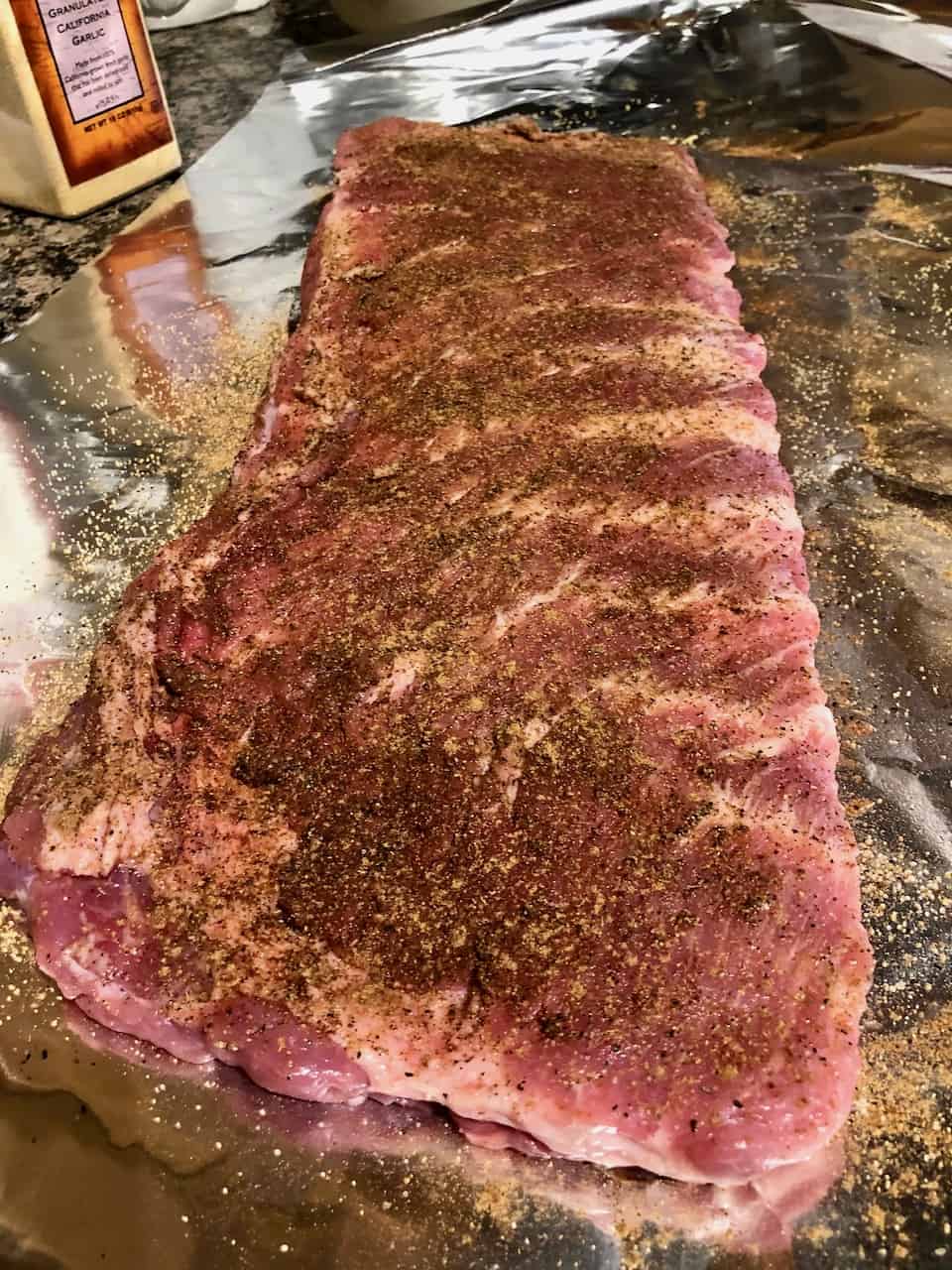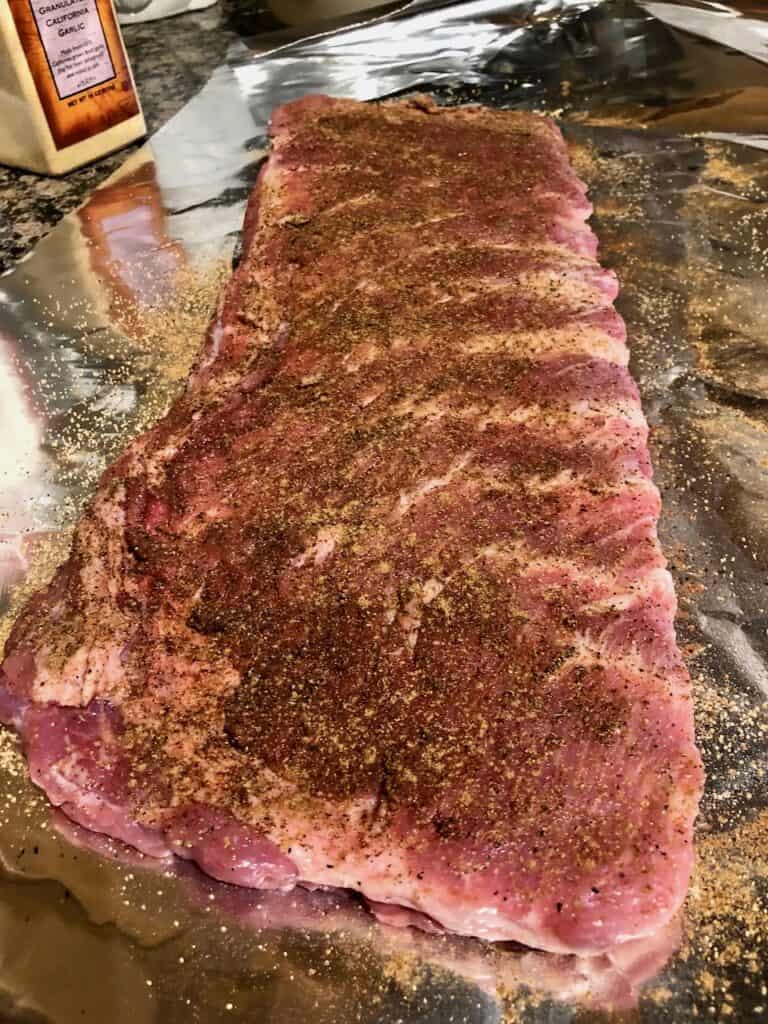 Cooking Pumpkin Ribs
The cooking instructions for both sets of pumpkin spice ribs are the same. We cooked ours side-by-side so they went through the exact same cooking process.
We cooked our pumpkin spiced ribs in a smoker with charcoal and apple wood chunks. The apple wood complements the pumpkin and adds in another familiar fall flavor but you can try another wood.
The ribs cook in the smoker at 200 degrees. One side cooks for an hour and 15 minutes, then flip the ribs over and smoke them for another hour and 15 minutes.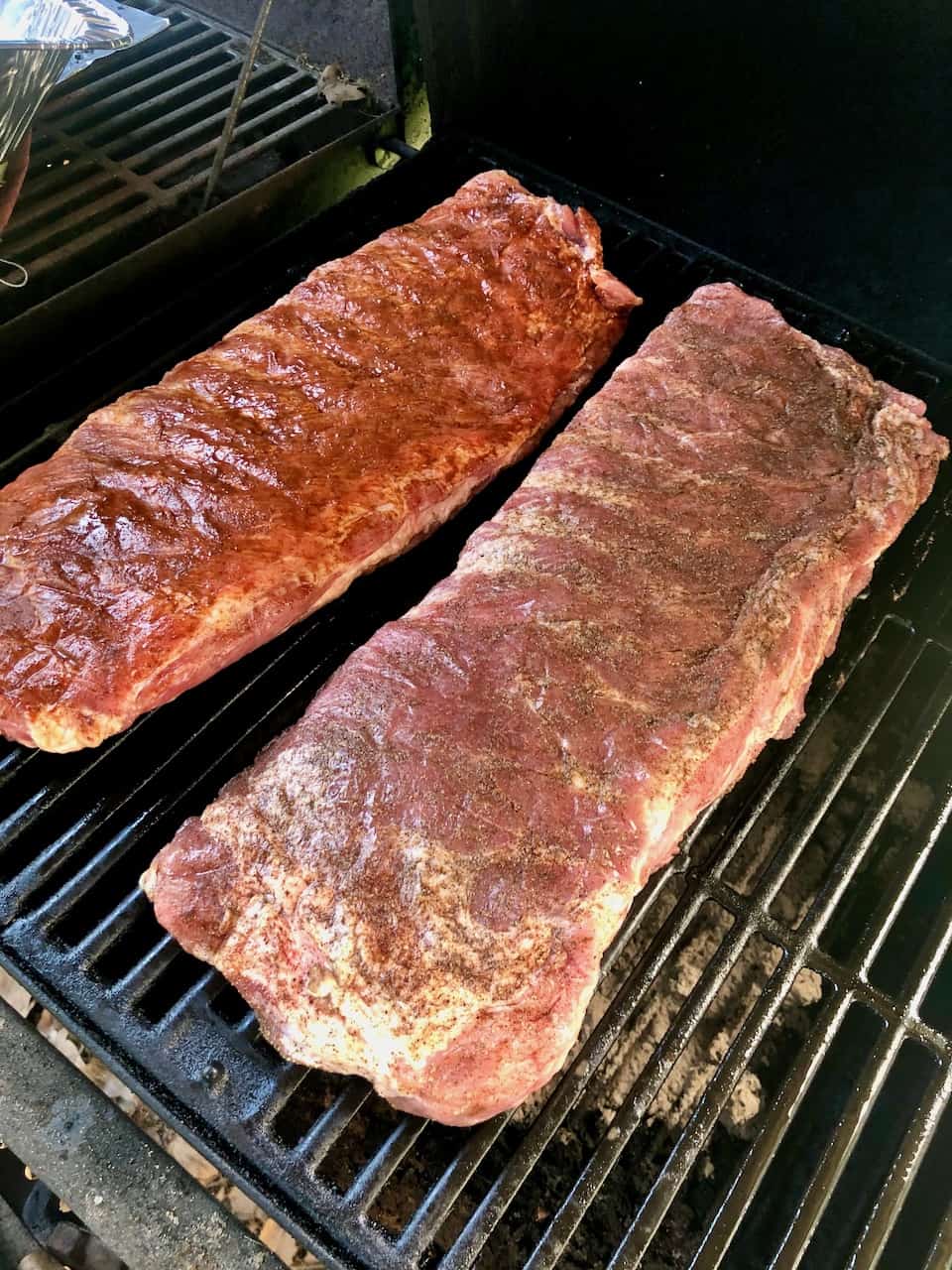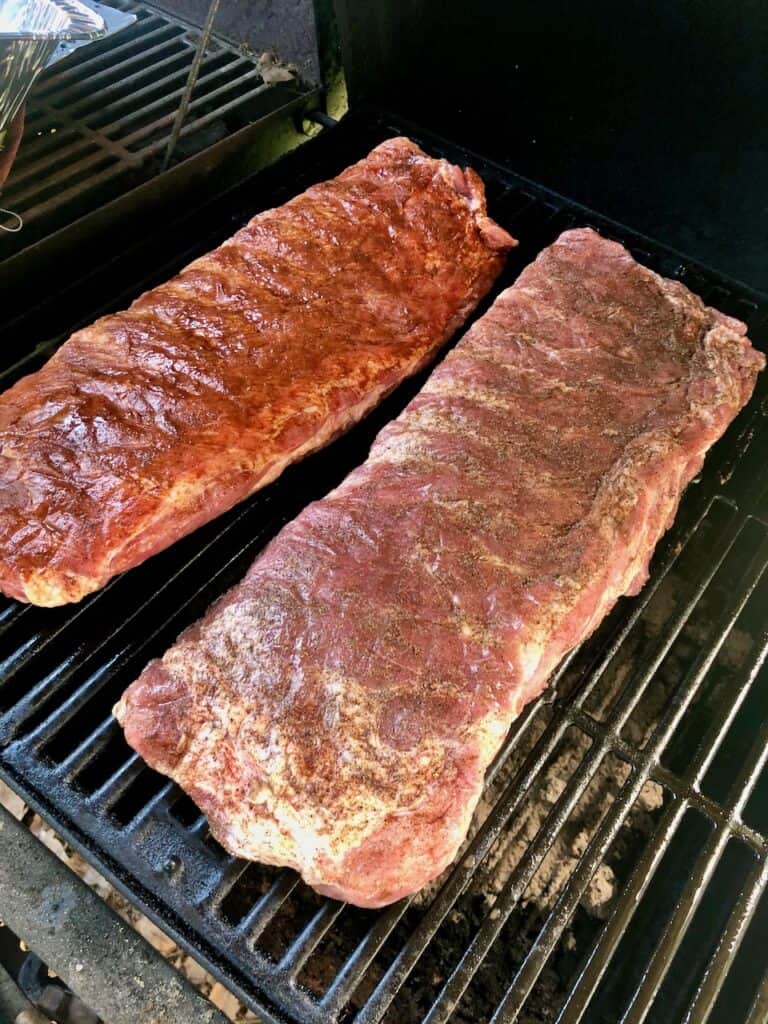 When the internal temperature of the ribs is 180 degrees, take them off the grill and place them upside down on foil. Then splash the entire length of ribs in apple juice.
The apple juice adds moisture into the ribs. We use apple juice because it's always in our fridge and, again, it goes well with the apple wood chunks. You can always place a couple slices of butter down the length of your ribs instead.
The ribs get wrapped in the foil this time and are placed back in the smoker for approximately 2 hours or until they reach an internal temperature of 200 degrees. Once they hit 200 degrees, pull them out of the smoker and let them rest on the counter, still in the foil, for at least 30 minutes. Then we sliced those bad boys and enjoyed them.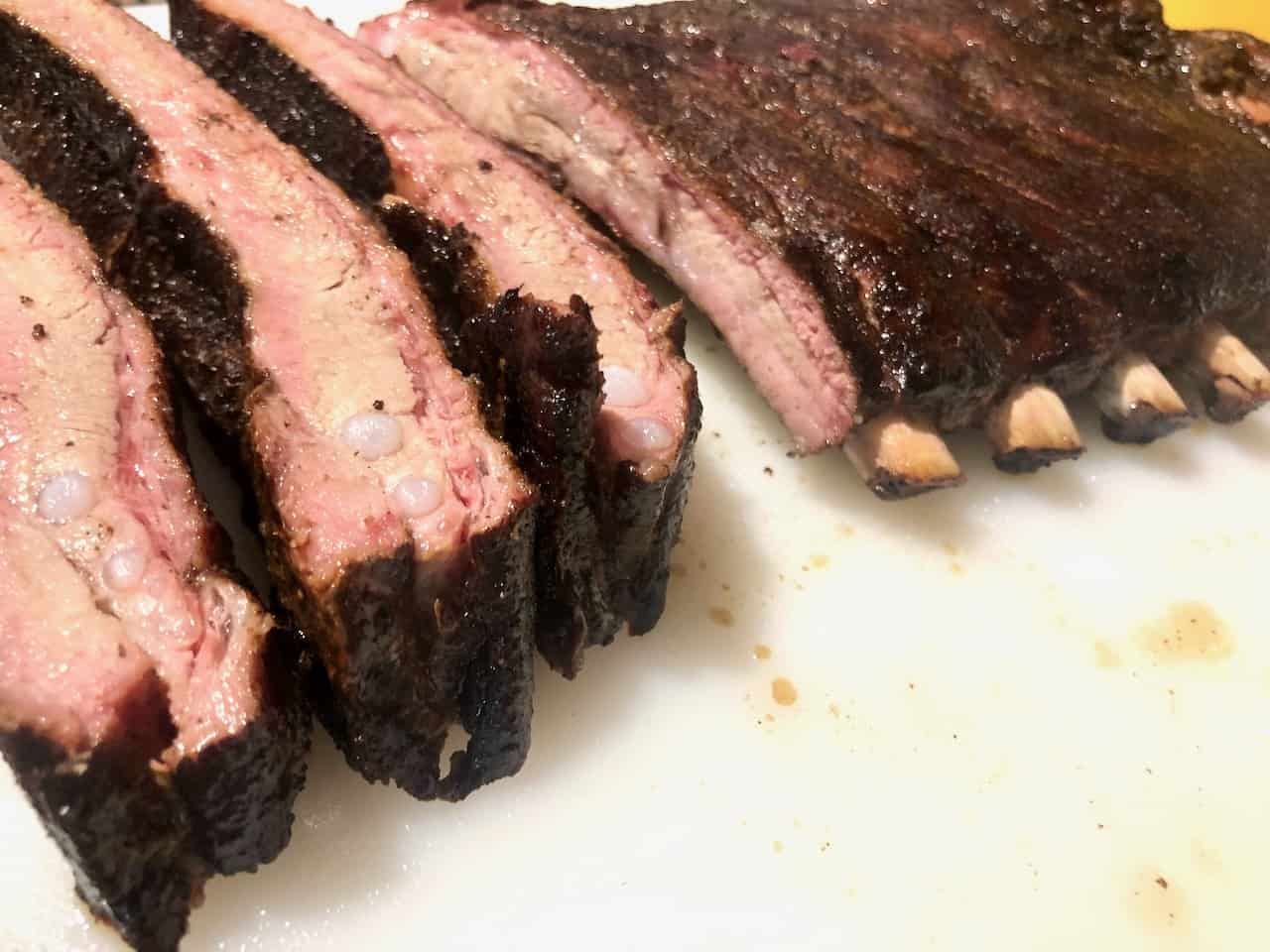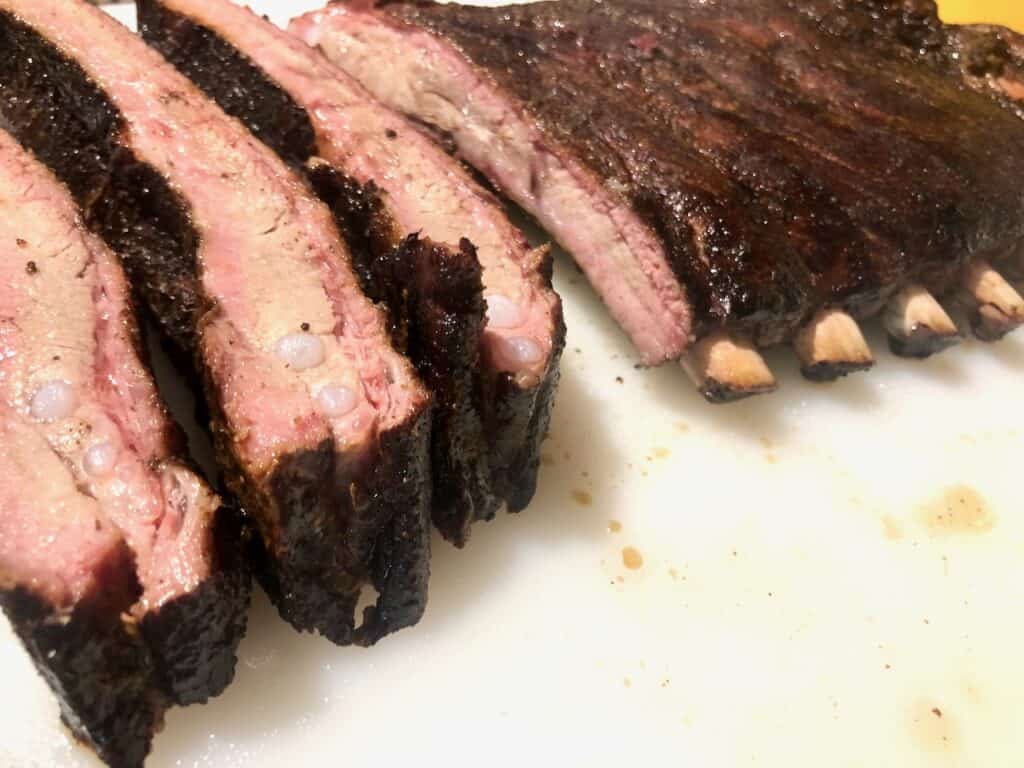 Other Ways to Cook Pumpkin Spice Ribs
Like I said before, you don't need a smoker to make these delicious pumpkin spice ribs. You can follow this exact recipe without a smoker. Whether you throw them on the grill or cook the ribs in the oven, you just need to make sure the internal temperature gets to be the same as we mentioned in each step.
Follow each step the same. The first temp should be 180 and the second temp should be 200. That's the most important part.
You will need a digital thermometer. One that has a steel mesh cable, like THIS ONE, is my favorite to use because you don't have to keep opening the grill lid or oven to check the temp.
---
Pumpkin Ribs
Here's a quick look at the pumpkin puree ribs. The pumpkin puree creates a caramelized glaze over the ribs which is really yummy and they were definitely more moist than the spice only ribs.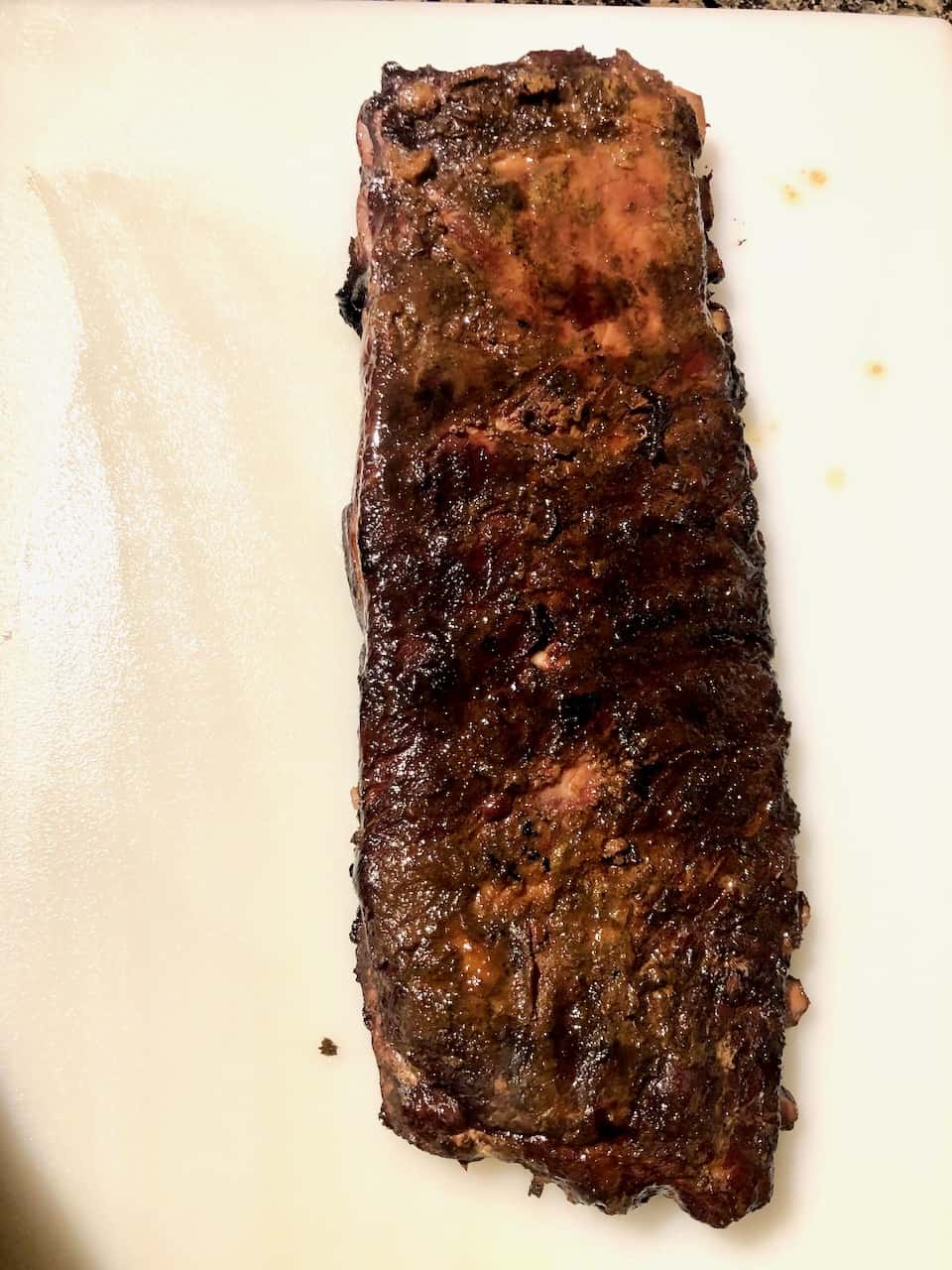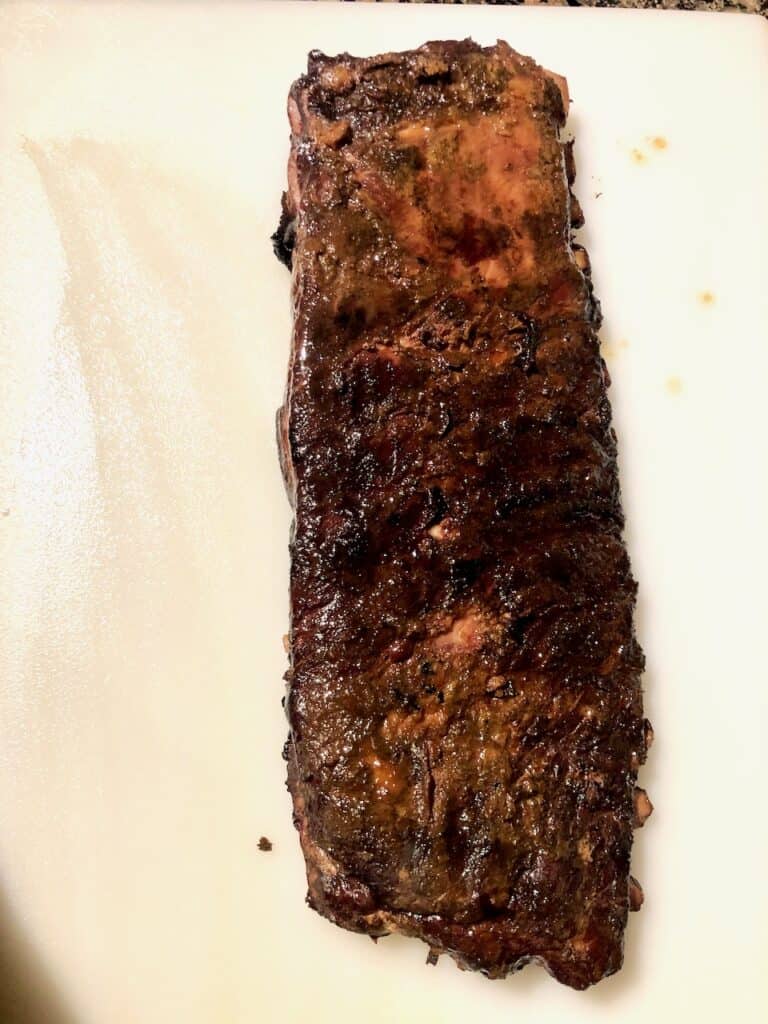 The pumpkin ribs with the seasoning was our family's favorite recipe. Even our picky eater loved them. We really liked the flavor but honestly, both were absolutely delicious!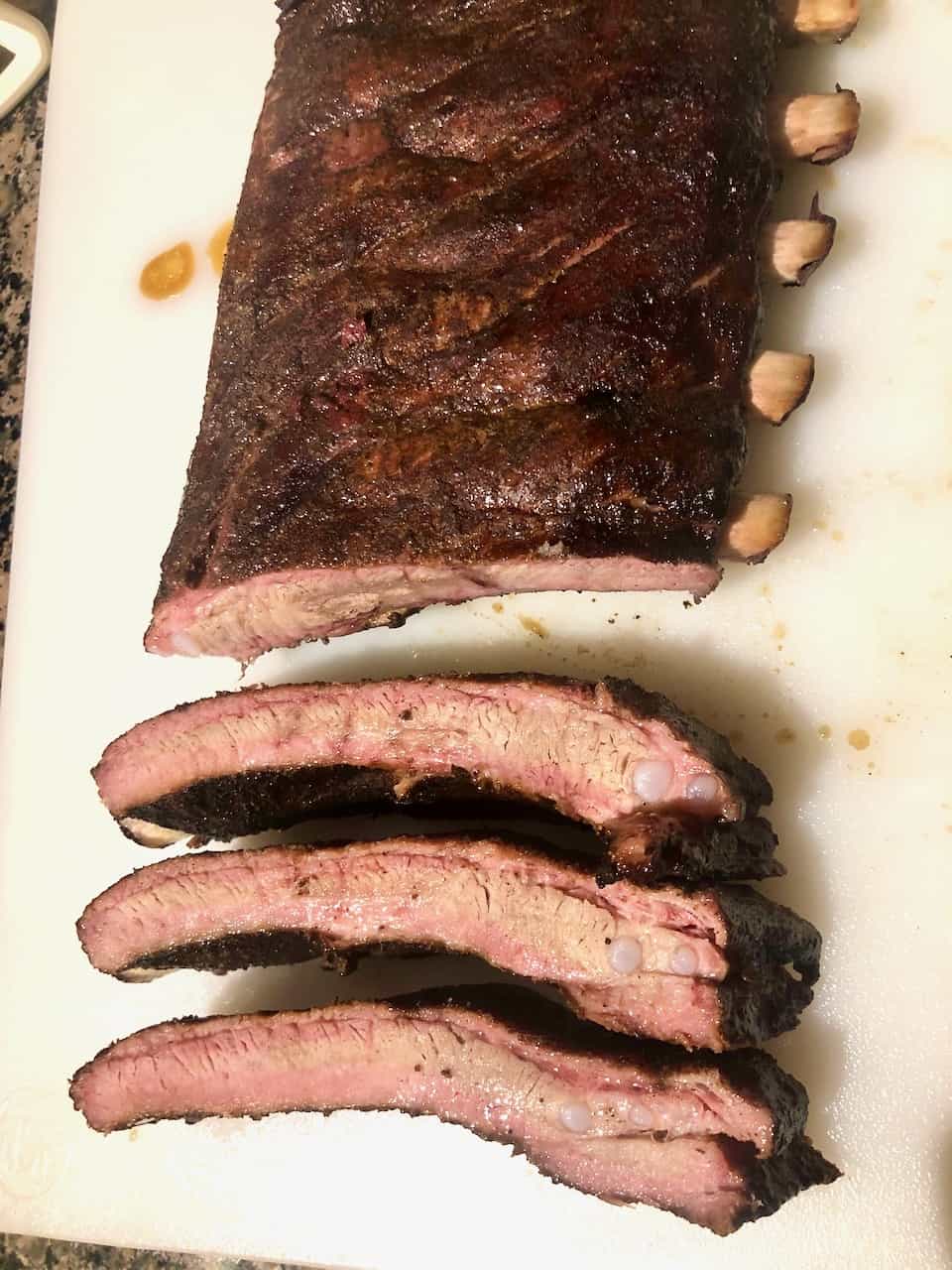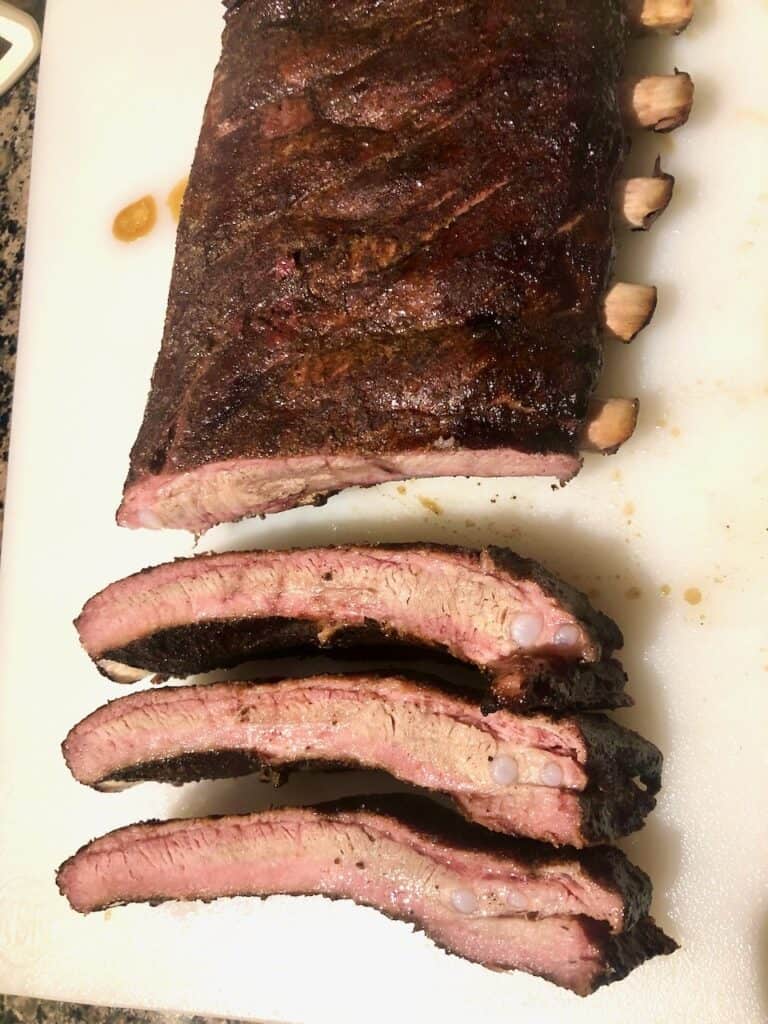 Now that it's fall and all of the pumpkin flavors are being cooked and baked, make sure you try these pumpkin flavored ribs. It sounds a bit out there, but believe me everyone will love them.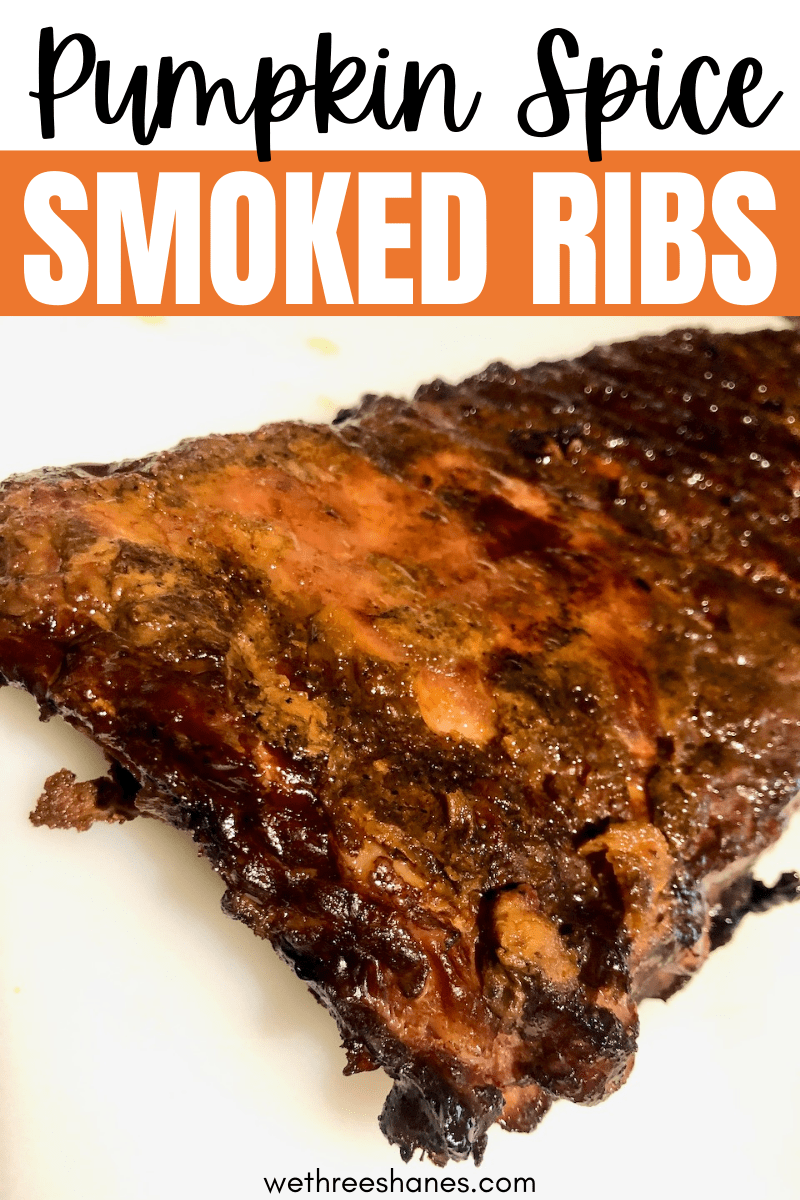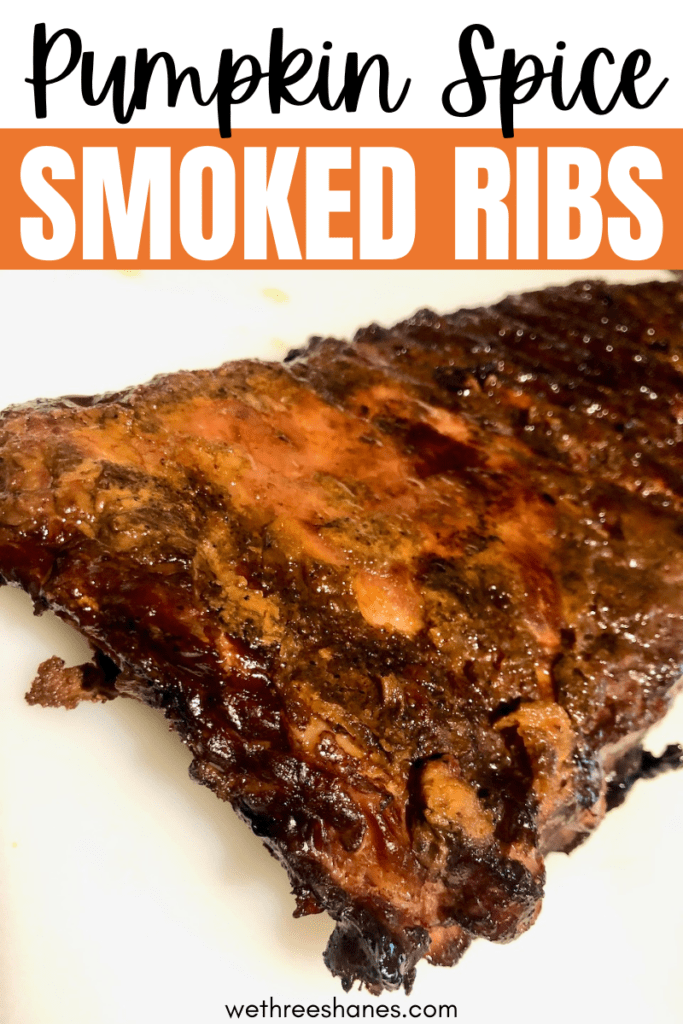 So what do you think?? Will you try pumpkin spiced ribs this fall?
If you do, let us know what you think about them in the comments. Did you try both recipes? If so, which one was your favorite?
---
You Might Also Like:
---