How to Make a Colorful Corn Husk Wreath
Learn how to make a DIY colorful corn husk wreath with this easy to follow, step-by-step tutorial, with photos. A beautiful DIY wreath that will look great on your front door this fall season!
(THIS POST PROBABLY CONTAINS AFFILIATE LINKS. OUR FULL DISCLOSURE POLICY IS LONG & BORING BUT, YOU CAN FIND IT HERE.)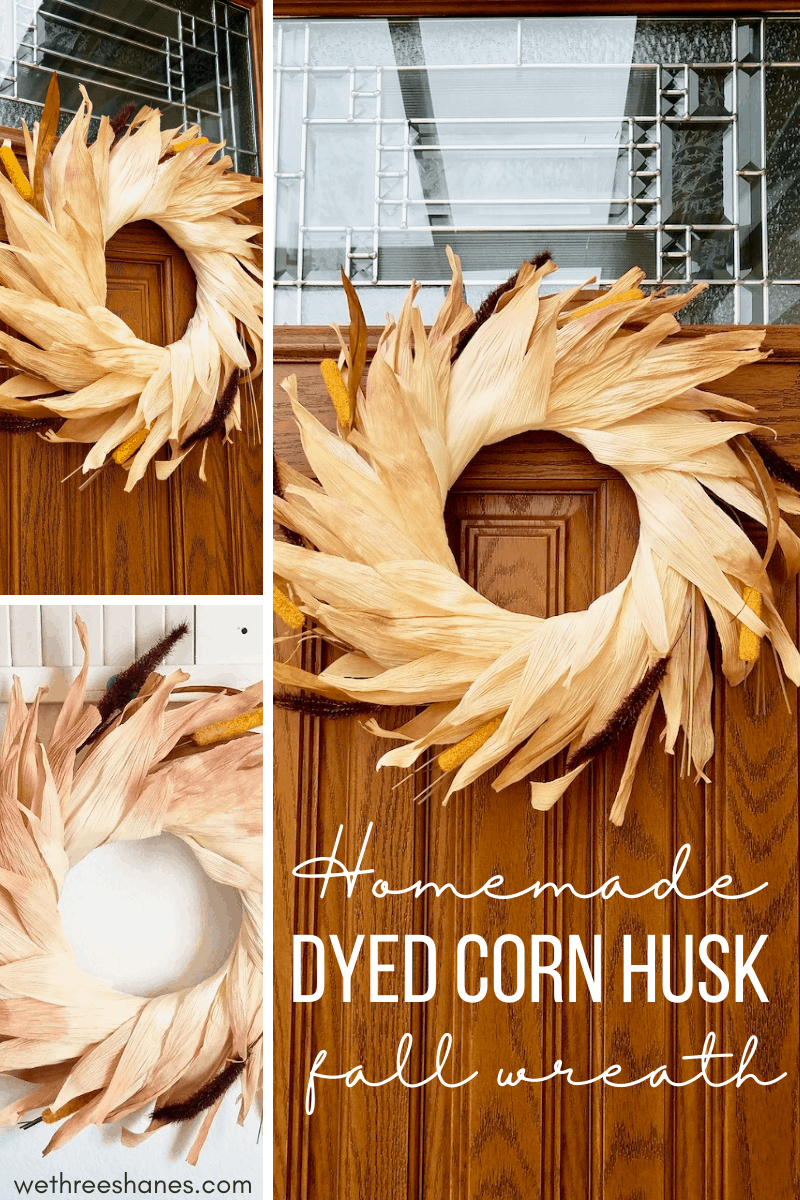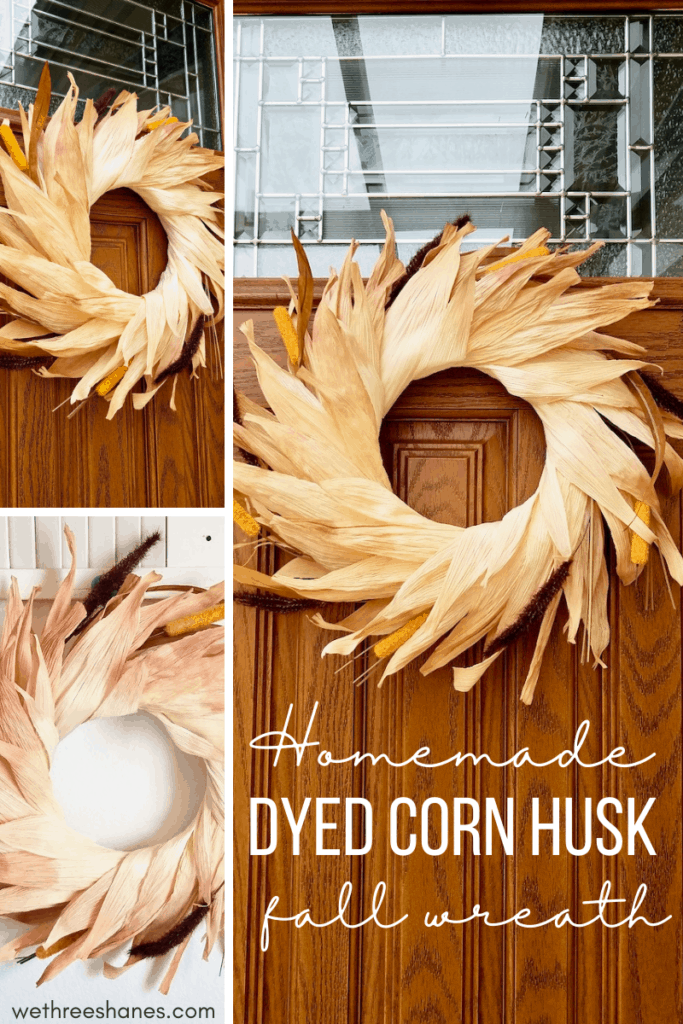 Make a Colorful Corn Husk Wreath This Fall
There are tons of cute crafts you can make with corn husks but I think my favorite has to be a corn husk wreath. It has such great natural, fall vibes. They look absolutely beautiful hanging on your front door and are a great addition to autumn front porch decor.
The downside is the crazy price! Good news is, you can make your own DIY colorful corn husk wreath for roughly 10 bucks and it's absolutely gorgeous. For reals! The photos don't do it justice. The color on this pops so much more in person.
Just follow the tutorial below and you'll have your own customized corn husk wreath in no time!
---
Supplies Needed
You only need three items to make this DIY colorful corn husk wreath in its simplest form. However, I'm doing a bit more to dress up my fall wreath. The first three items on the list are the must need items and the other two are for the fancier version.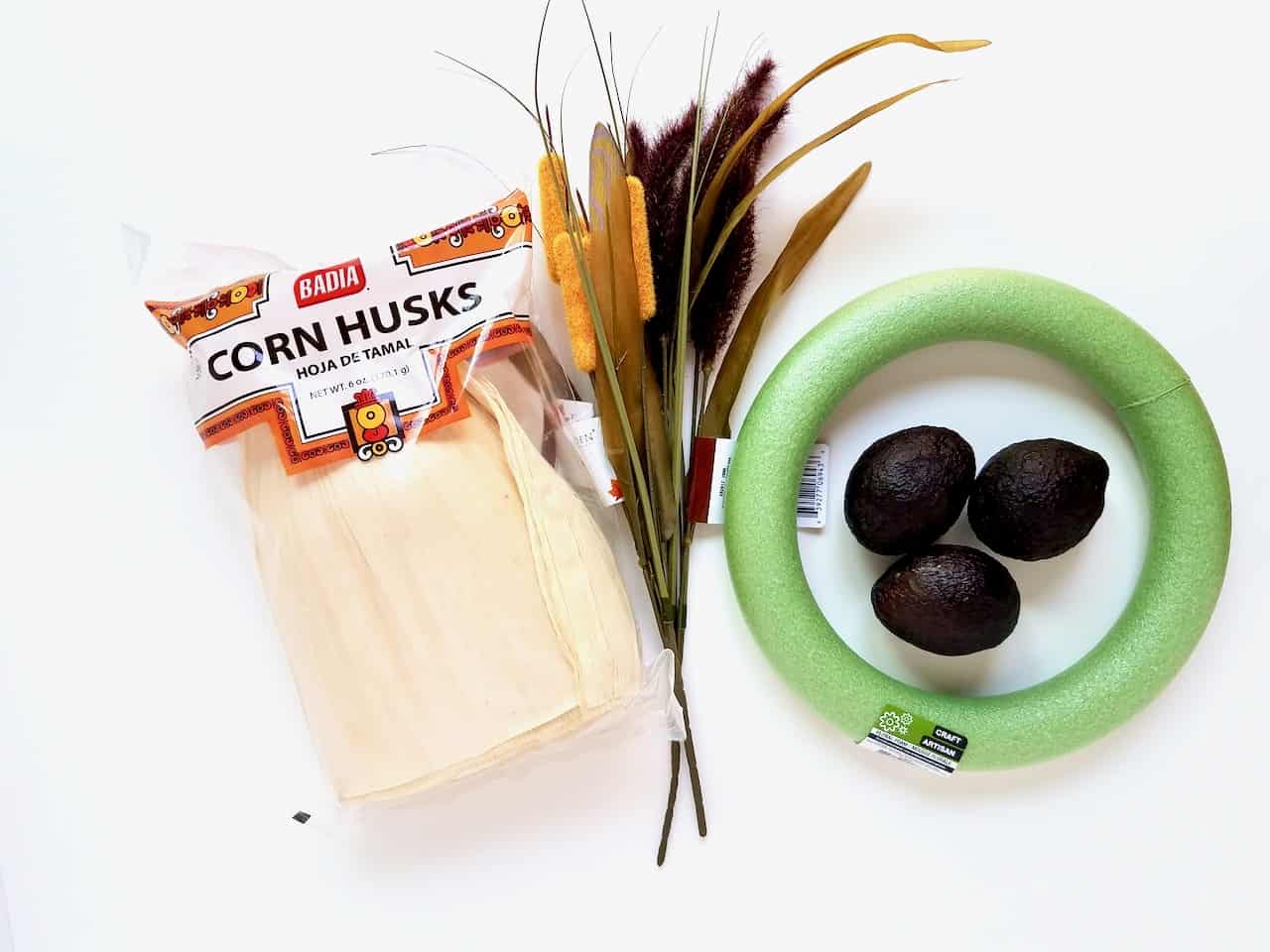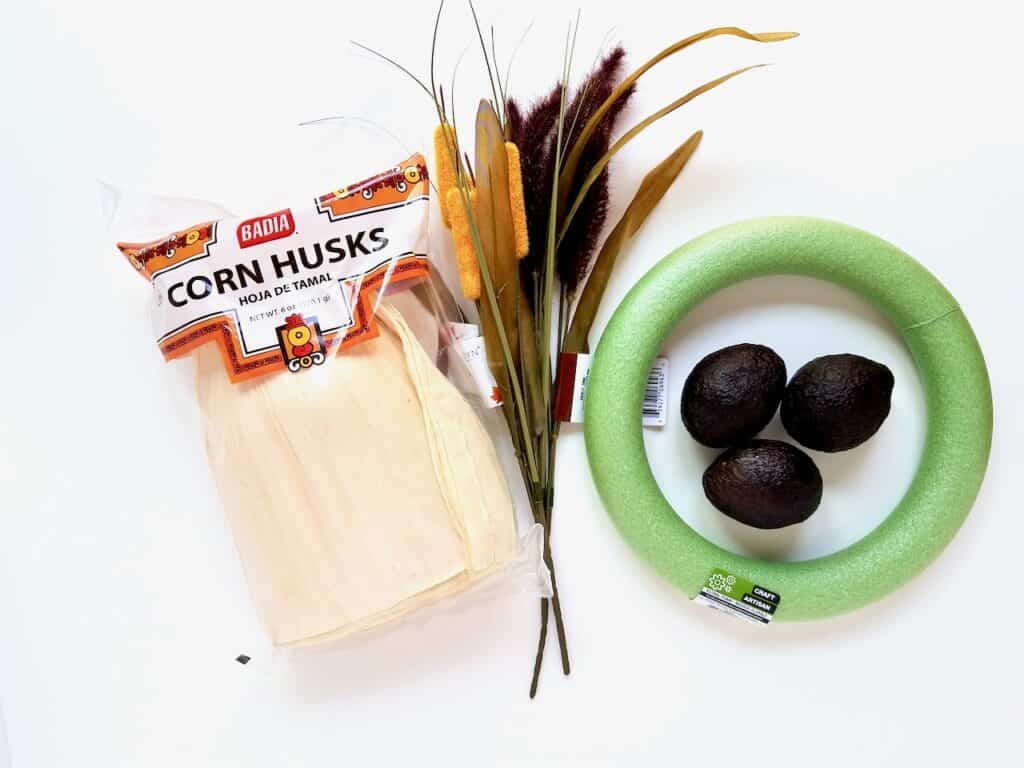 Corn Husks
Foam Wreath Form
Glue Gun
Avocados for natural dye
Extra floral pieces
If you don't plan on dyeing your corn husks you won't need the avocados. The wreath will still look great with just corn husks and nothing else.
Grab corn husks from the Mexican section of your local store. I found mine at Walmart for a little less than four dollars. The foam wreath form is from the Dollar Tree floral section. I also grabbed my extra floral from there too.
I spent a total of 10 dollars on this DIY Corn Husk Wreath. Prices will vary based on your area of course. That's pretty great considering a store bought one can run from $50-$100.
---
How to Naturally Dye Corn Husks
There are many ways to dye corn husks. You can use Rit dye to get the most color choices but a couple drops of food coloring in water also works. Wanting to go the natural dye route, I used avocados.
Using avocado skins and seeds makes a brownish/maroon or peachy color and I thought that would compliment the corn husks and fall colors beautifully. There are plenty of other foods you can use to get other colors if you prefer.
Black beans = blue
Red cabbage = purple
Turmeric = golden yellow
Spinach = green
Beets = bright pink
Yellow onion skins = yellowish orange
Natural Dye with Avocados
For the maroon-ish color I got, I used 5 cleaned avocado skins and seeds. I filled up a big pan until the avocado pieces where fully submerged in water, covered the pan, and brought it to boil. Reduce heat, and let the avocados simmer on the stove for at least 3 hours.
Once the avocados have cooked for the 3 hours, you can check the color of the water. Just keep checking the color of the water to see if it's where you want it. 3 hours made a peachy color so I let them simmer for longer because I wanted a deeper color. I'm pretty sure I did 4-5 hours.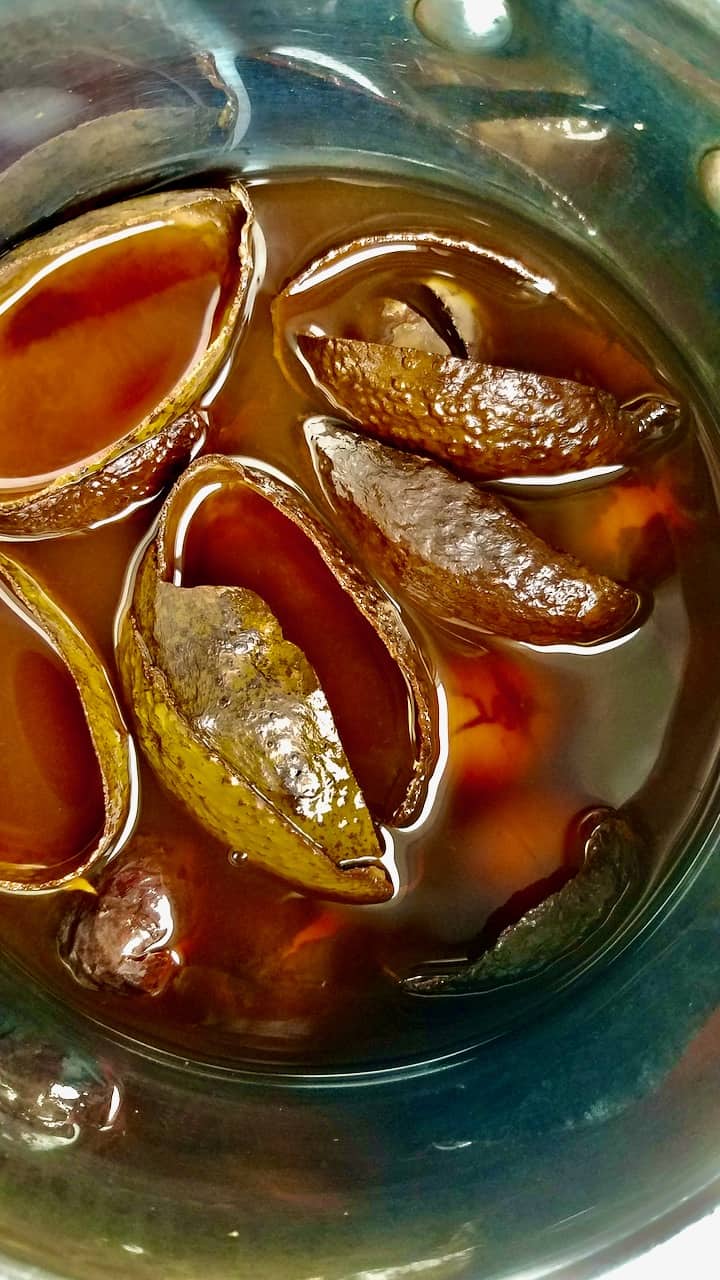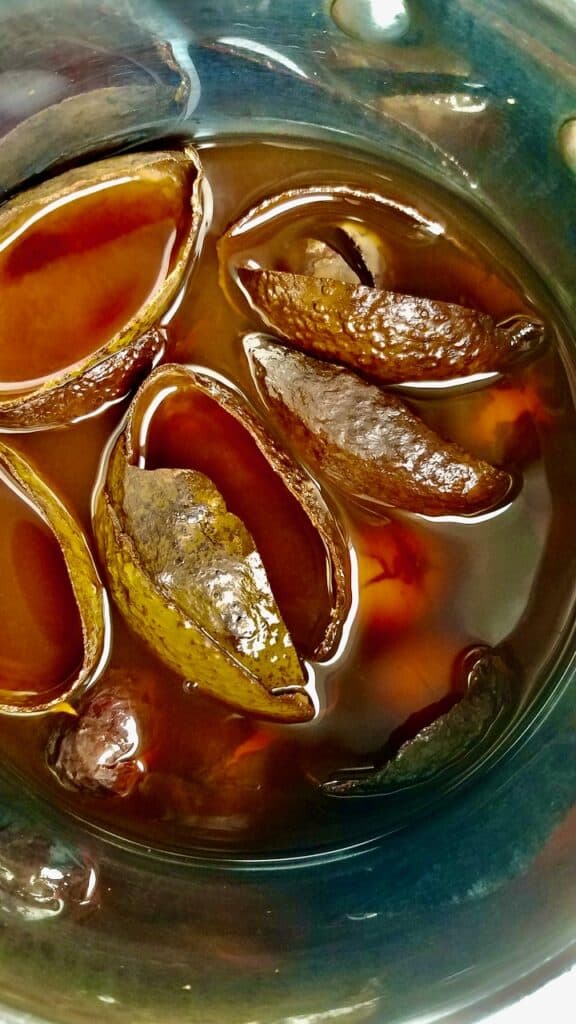 When you're satisfied with the color of the water, remove the avocado pieces and your dye is ready. If you can't quite get a color you like, you can always add a drop or two of food coloring to boost the water. I found the natural dye process to be rather fun and will definitely try it for other projects.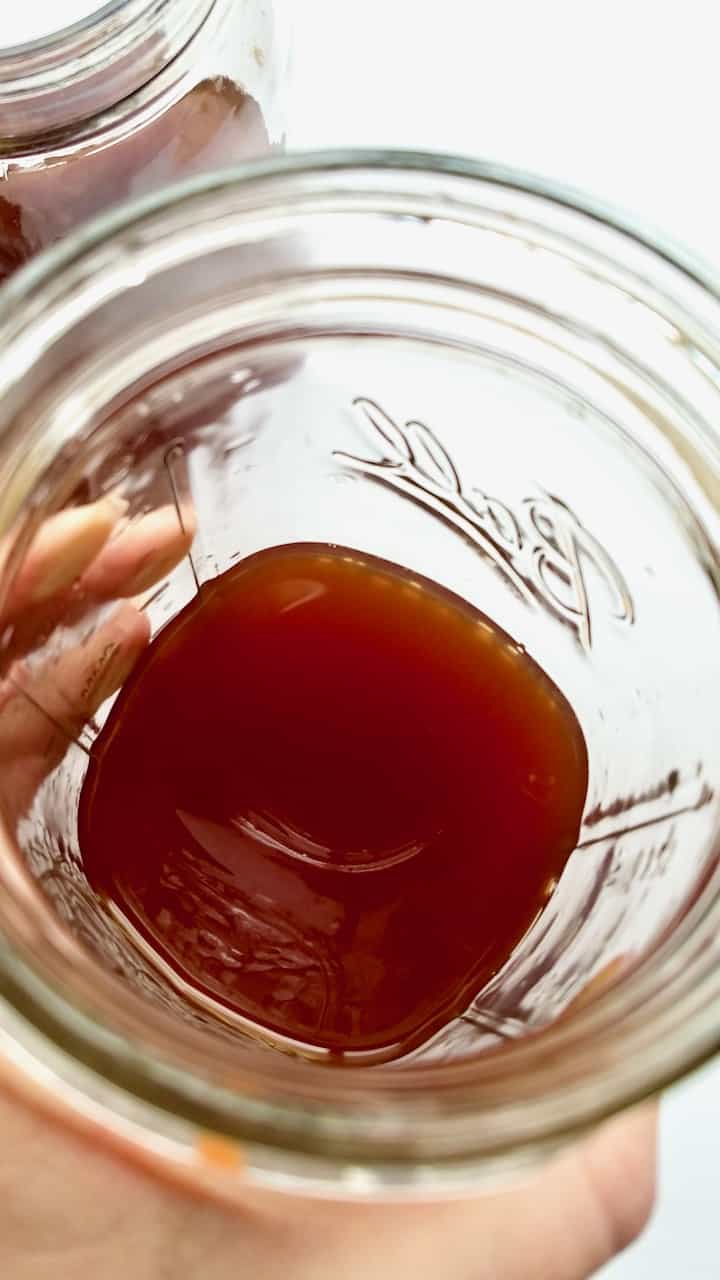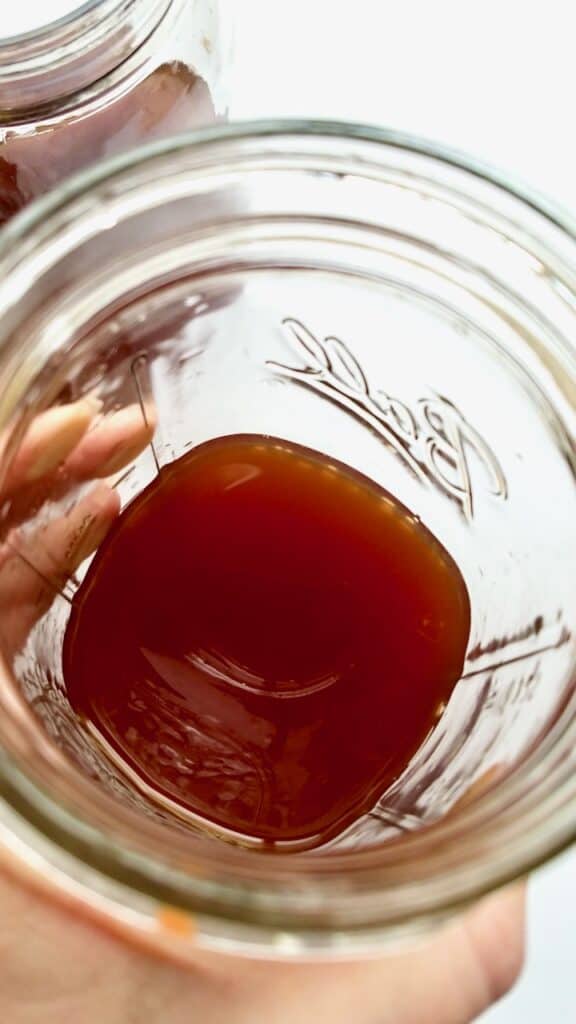 If I were doing this again, I'd probably use more avocado skins and seeds to see if that adds more color to the water in less time. Check your water through out the cooking process to make sure you don't lose too much. Keeping a lid on helps the water stay at a decent level so I never had to add more water into the pan.
How to Dye Corn Husks
Now that you have your natural dye ready, you'll need to pour it into some jars to dye the corn husks. I used 3 large ball jars to fit all of my corn husks in. You can use any glass containers you like.
I wanted to try an ombre effect so I started with a smaller amount of dye water in each jar. Then, I broke my corn husks into three groups and placed them pointy side down into the dye.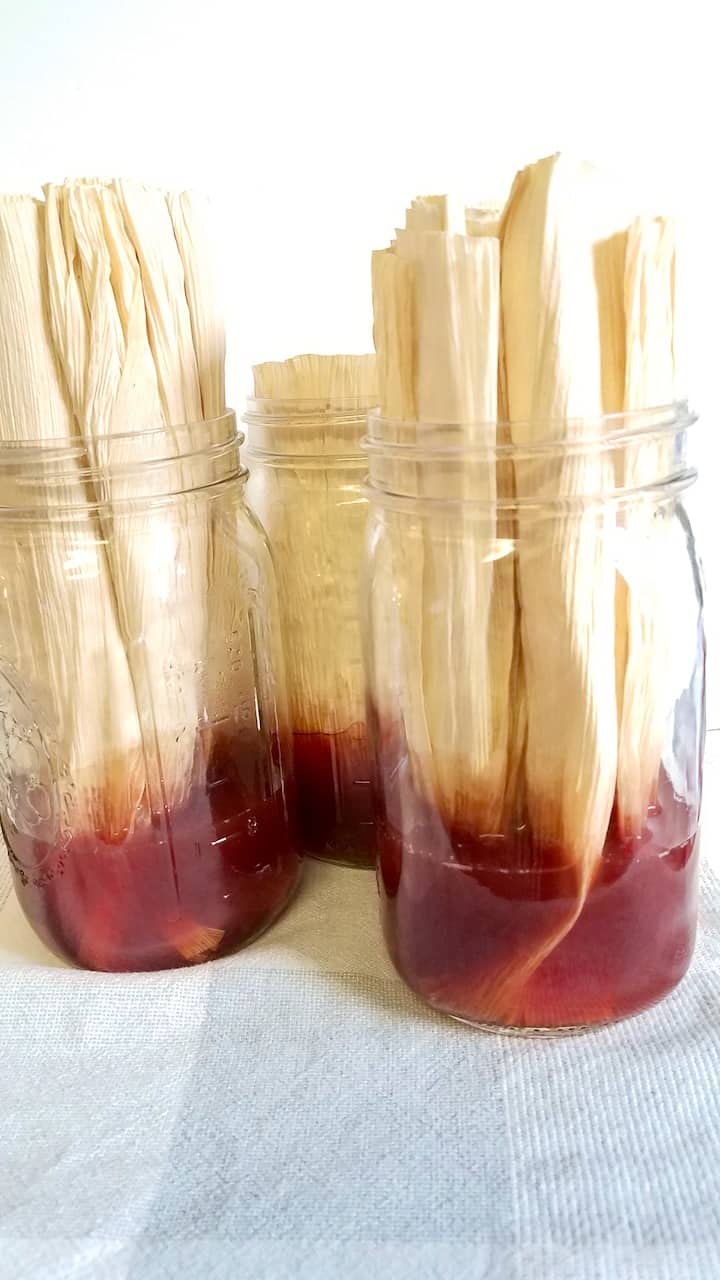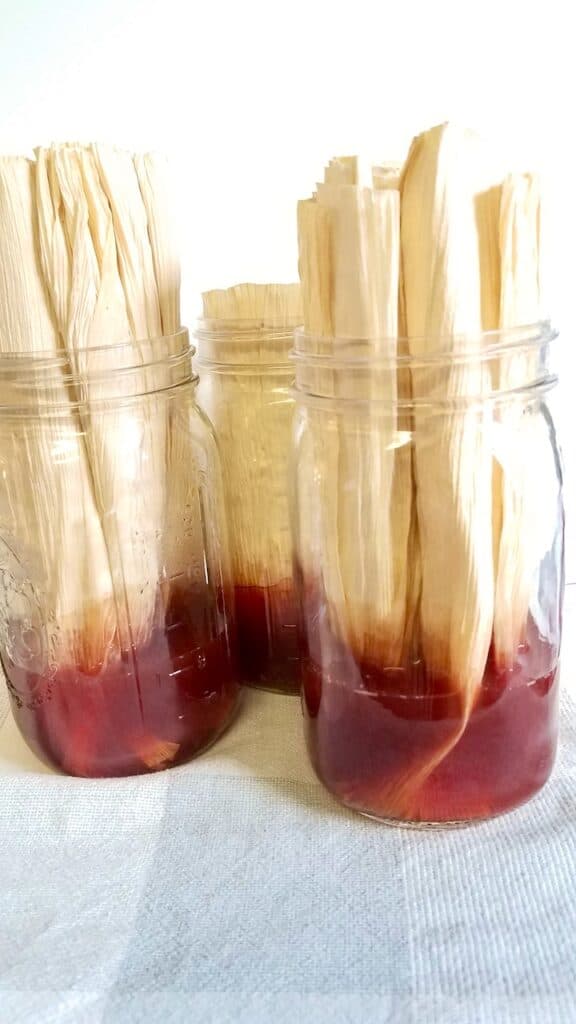 The longer the corn husks stay in the water, the more dye they'll pick up. I left my corn husks in the dye for 3 hours then I added more water to all three jars.
The added water will lighten the color and dye the middle section of the corn husks. This gives a slight ombre look and adds a natural flow from darker tips to the natural corn husk color at the end.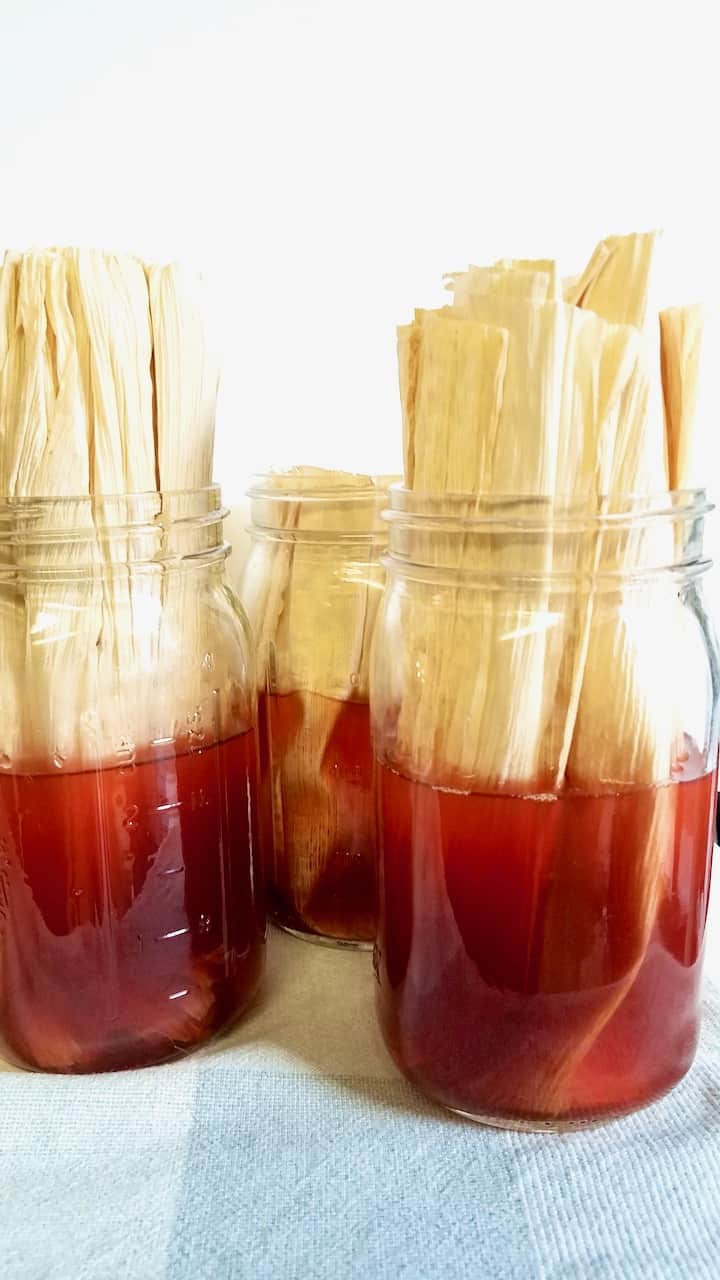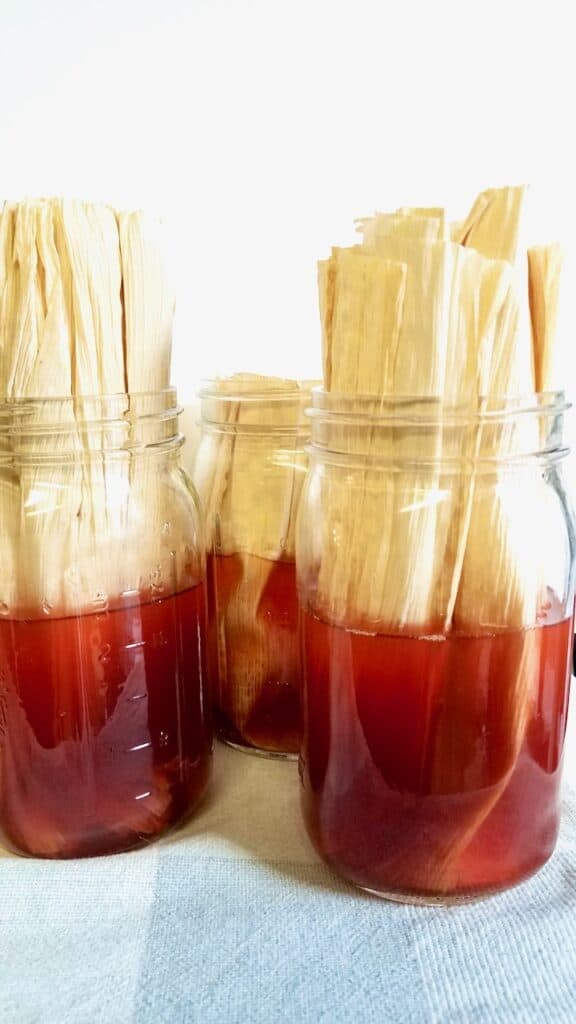 You can color the entire length of the corn husk for a more colorful corn husk wreath. More than one color could also look great.
Split the corn husks into sections and dye some black and some orange for a Halloween look. Or, skip the dye all together and use the corn husk in their natural color.
The dyeing process does take a while. I created my natural dye and let it sit out over night. Then, I dyed the corn husks the next morning and let them dry a bit so they weren't too wet to work with.
To dry them, take the corn husks out of the dye and set them on an old towel. The dye can drip a little which can dye the drying surface which is why an old towel works great.
If you start the whole process early in the morning, you can probably get the wreath done by that night. It was easier for me to split it up through out the weekend.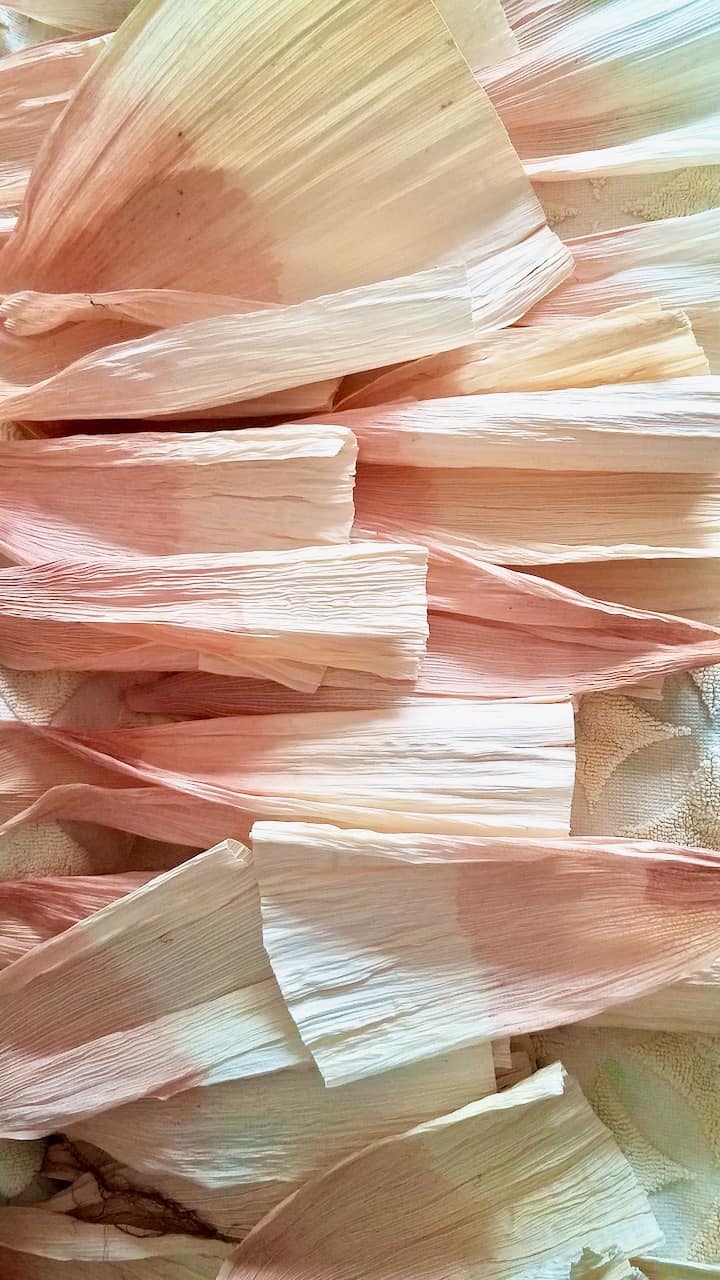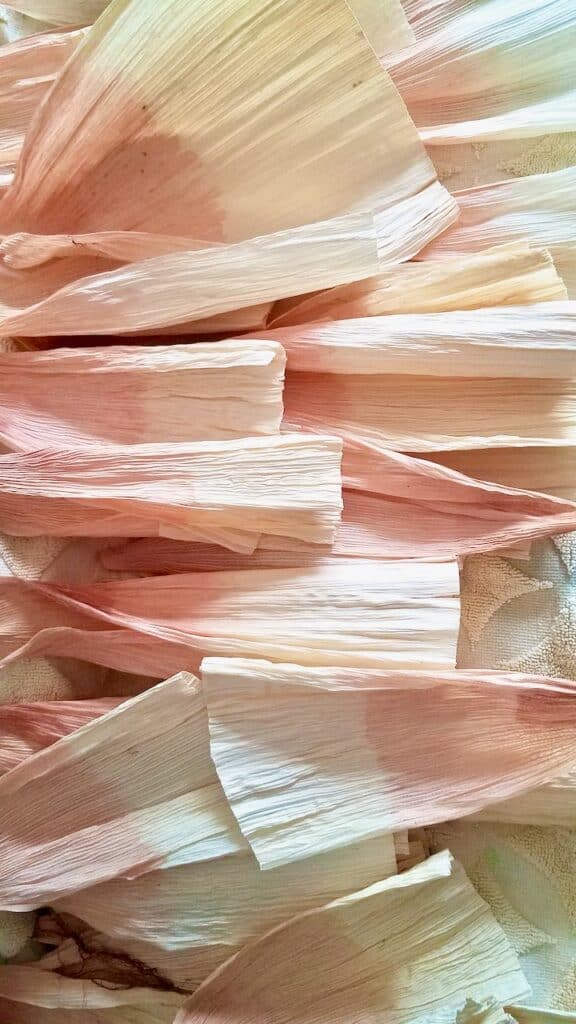 As the corn husks dry, they will take a slightly new form so you can let them dry completely to see what each piece looks like before putting them on the wreath. If you dye your whole corn husk then you will need to wait longer for the husk to be dry enough to glue down on the wreath form.
---
How to Make a Corn Husk Wreath
Now that your corn husks have been dye and dried, It's time to make the wreath.
Step 1 – Cut all the corn husks straight up them middle to make skinnier pieces. They will be easier to work with this way and give your wreath a fuller look.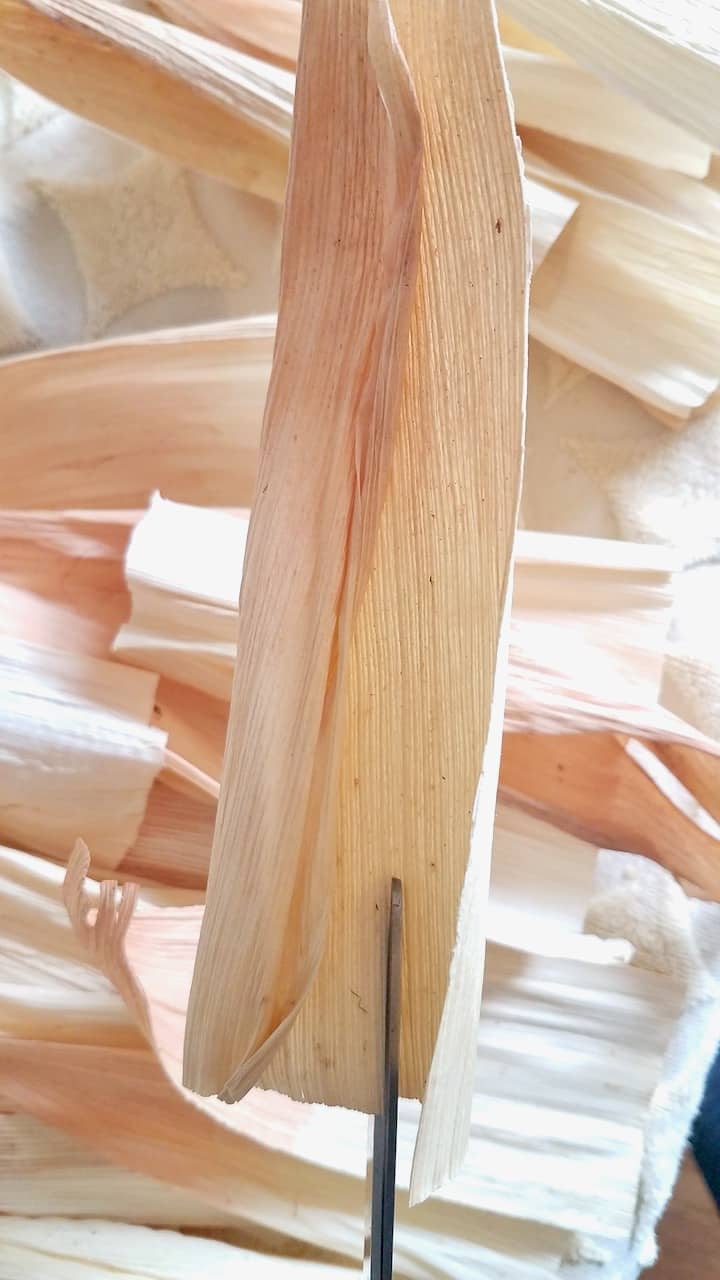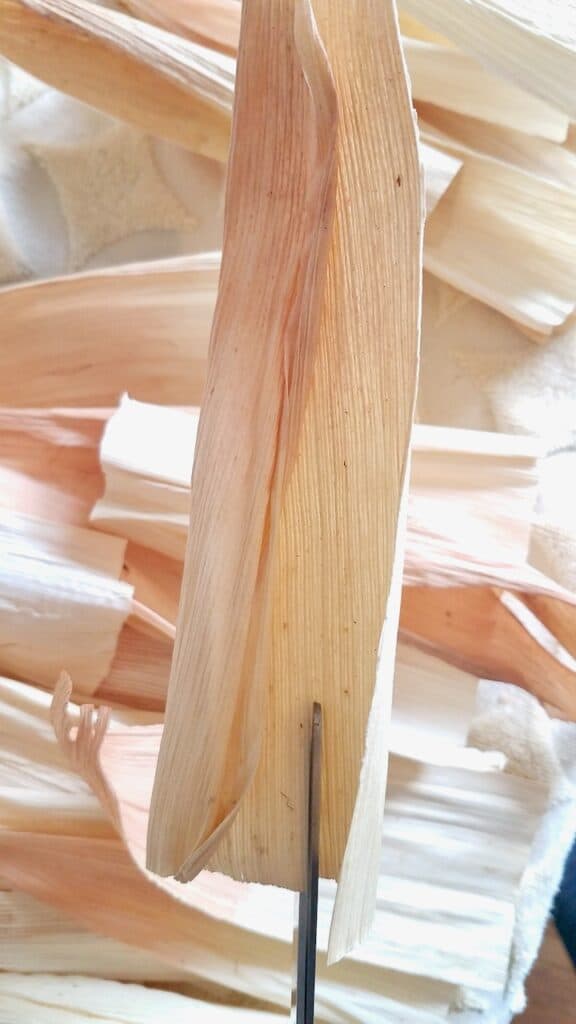 Step 2 – Lay out all your cut, dyed corn husks so you can see them. Plug in your glue gun and grab your wreath form.
Also, find a good podcast or show to watch while you do this part because it's gonna take a while. I'm currently listening to season 3 of the podcast, Someone Knows Something, which is pretty interesting if you like unsolved cases.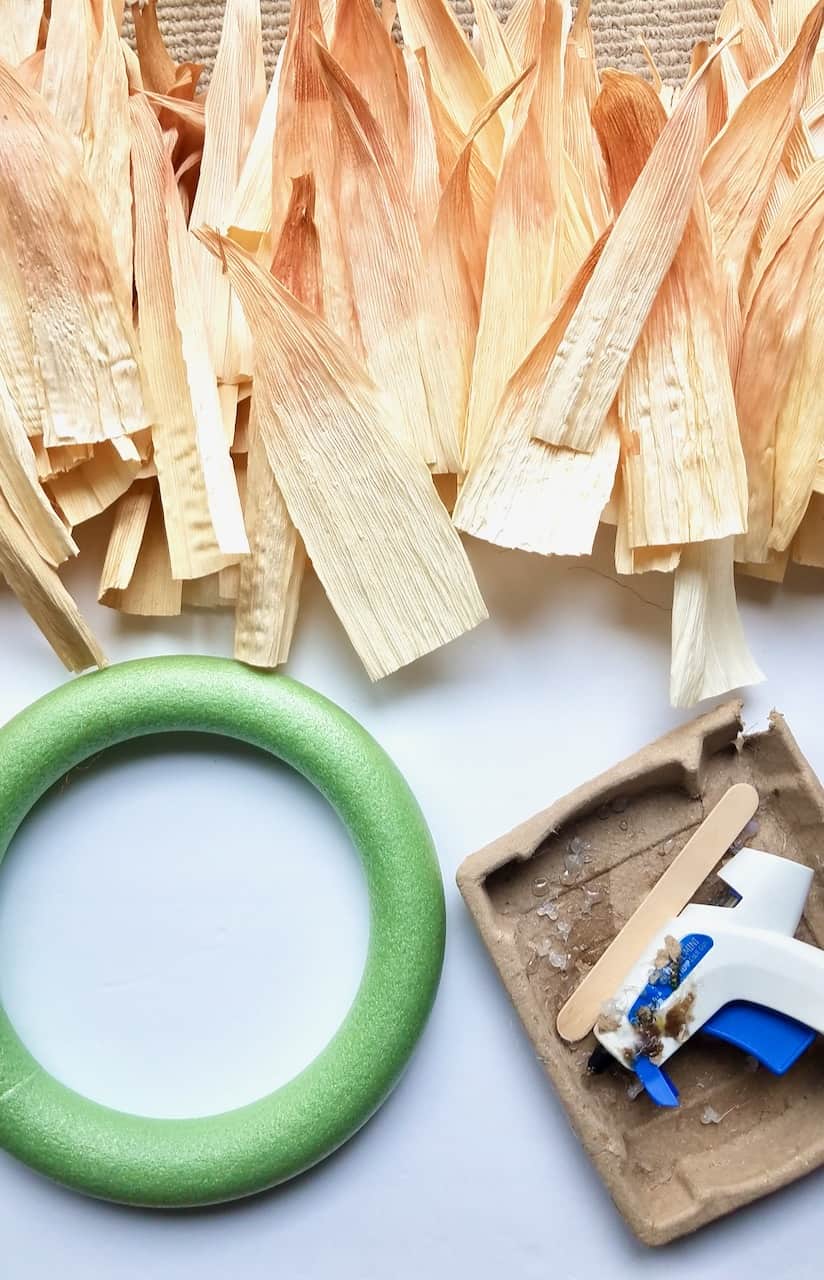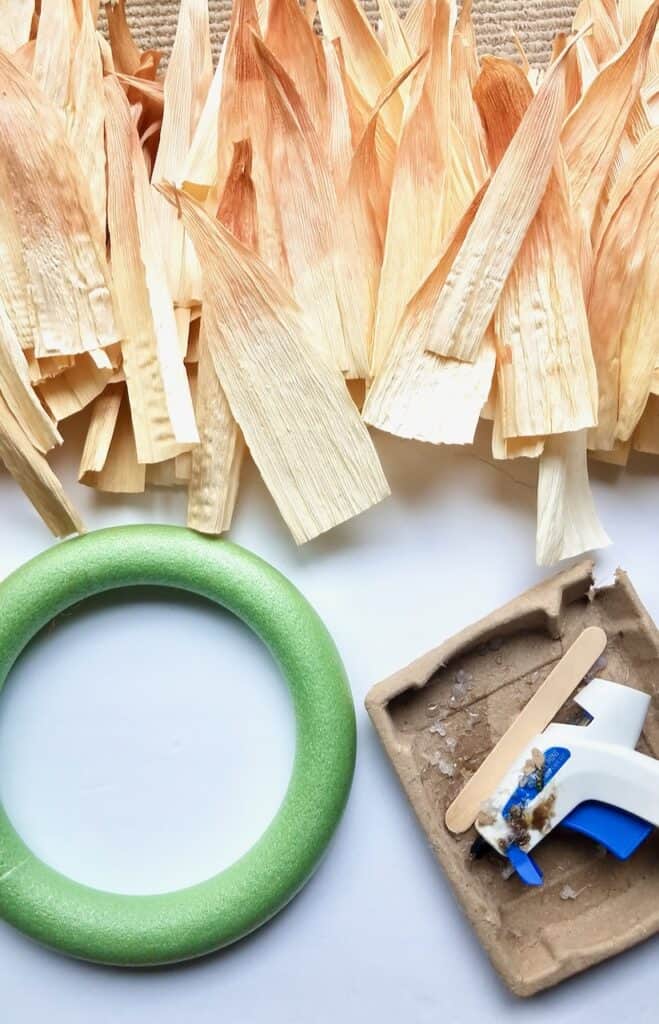 Step 3 – Grab your first piece of corn husk and run a line of glue along the bottom. Then, press that onto the wreath form, wrapping it to form with the wreath.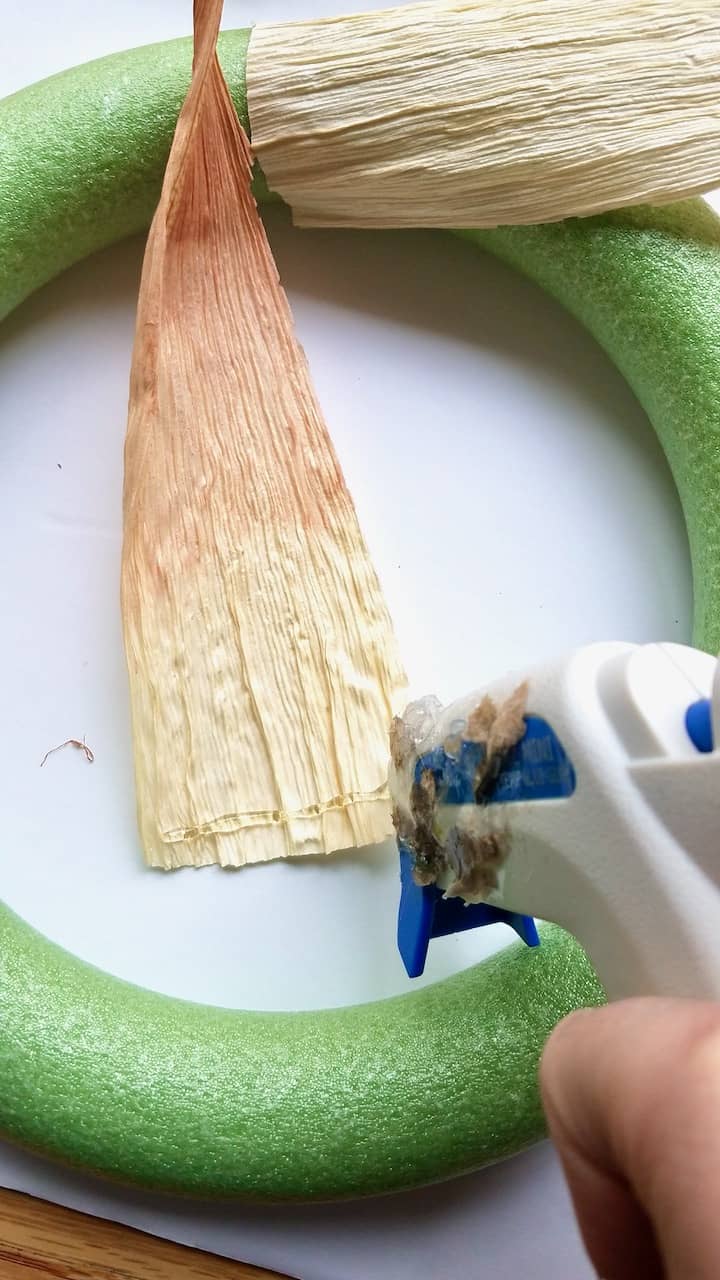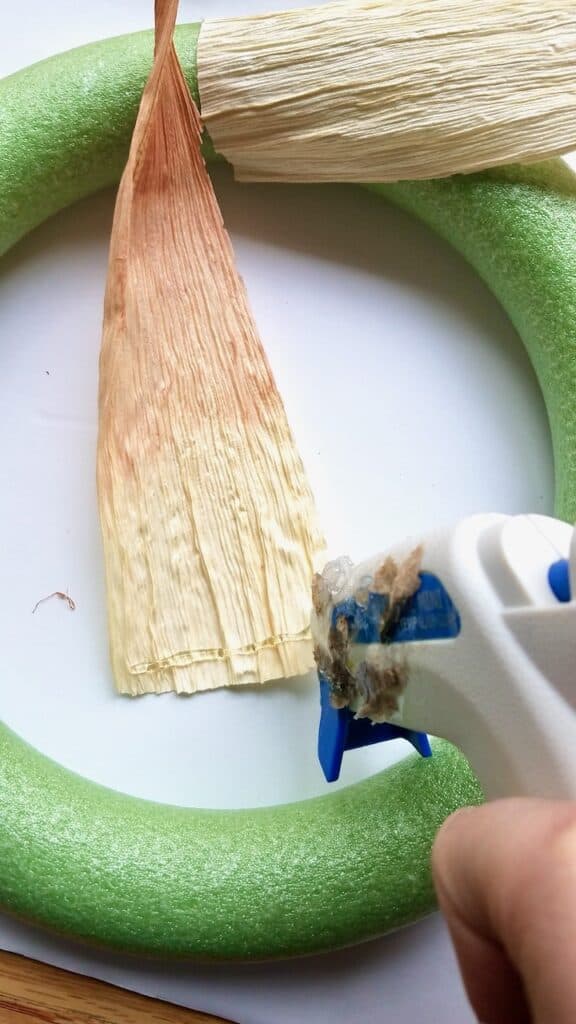 Step 4 – Grab your next piece of corn husk and glue it down over and up from the first piece. Then glue another piece the same way.
You're going up and around the wreath moving from front to back and right to left. This will create a bit of a step, diagonal pattern so the corn husks are being spread out.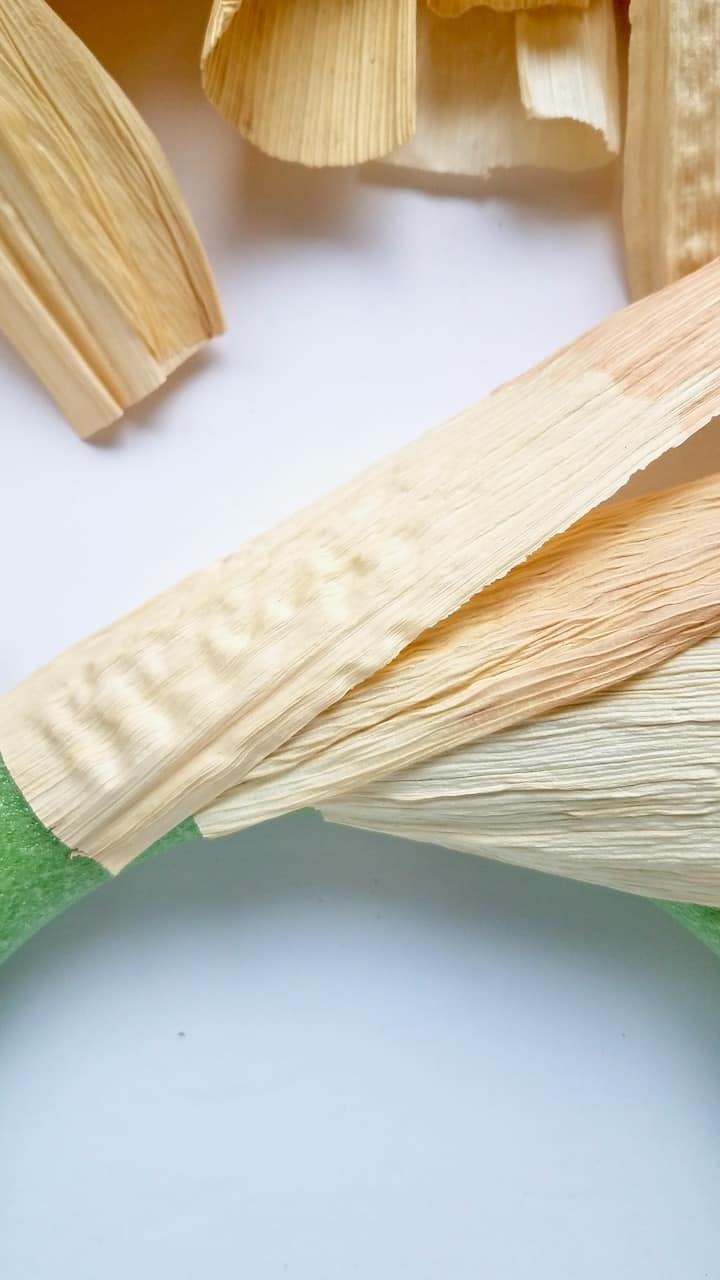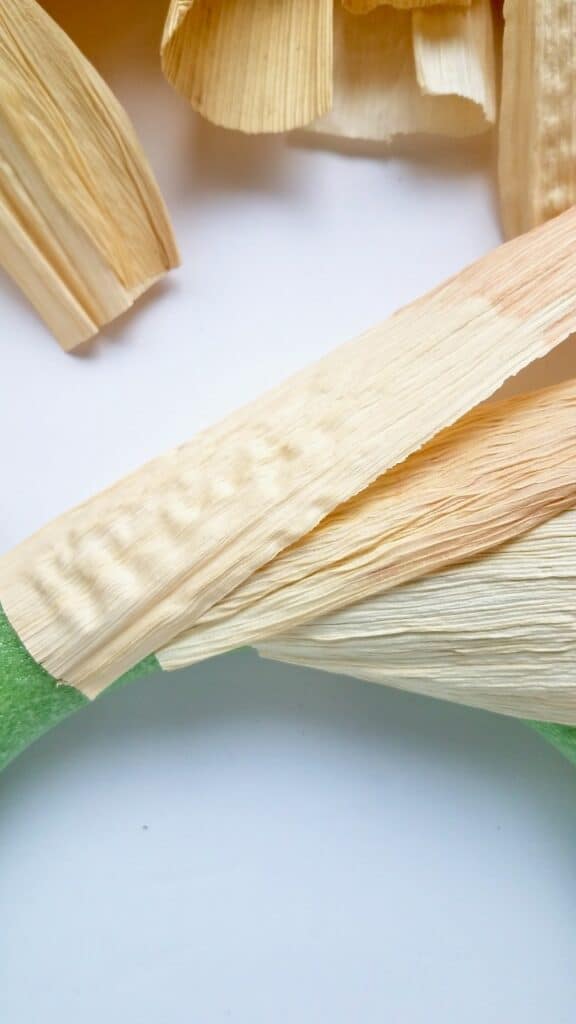 Step 5 – Continue to glue in this pattern until you've gone around the whole wreath. Each corn husk is shaped differently so look for the piece that will look best in that spot. I always check each piece to make sure it looks good next to the other corn husks before I glue it down.
Keep moving around your wreath with out stressing too much. You can always go back and add more pieces in if your not happy with a spot on your wreath.
Don't worry about covering every piece of your wreath form either. I had plenty of green spots peeking through on my wreath. I didn't worry about it until the very end.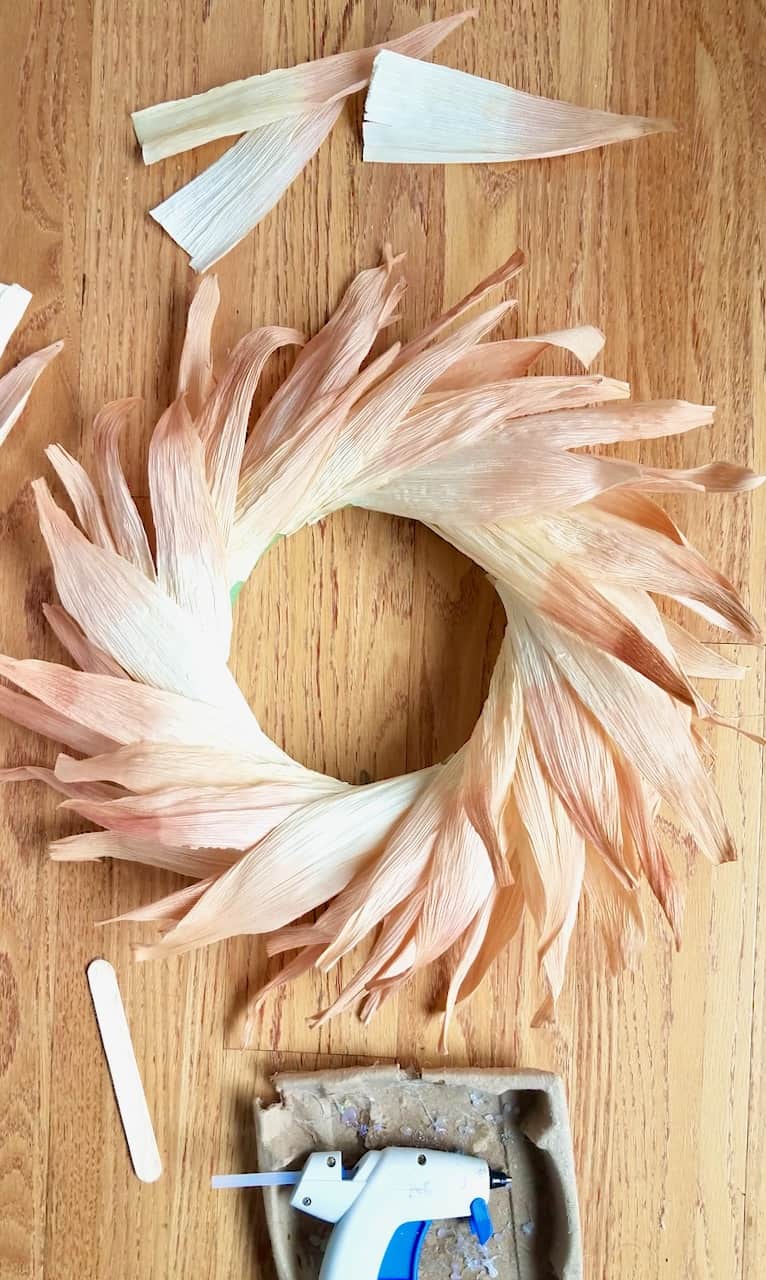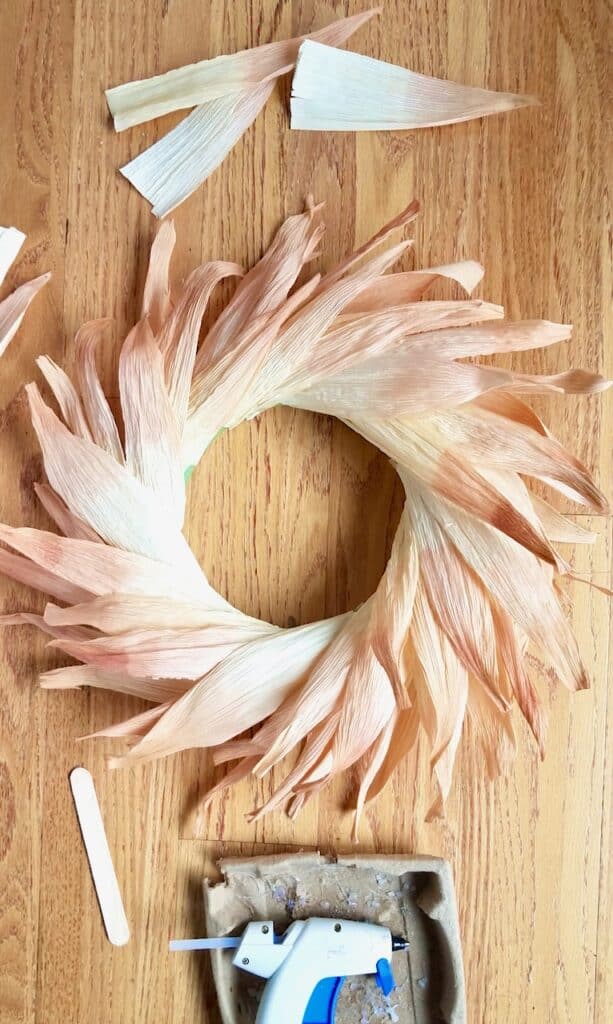 Here's how your wreath should be looking after your first pass. You'll notice a bit of green, wreath form showing and maybe some parts of the wreath that aren't as full. That's okay. We'll save that for the last part.
For now, I'm going to add in my extra floral pieces. I grabbed some faux reeds in fall colors from the dollar store. Faux wheat would look great in this wreath too.
Step 6 – Cut the extra floral into separate pieces. Then, set them around the wreath to see where they look best and glue them into place. The corn husks hold the stems in place pretty well and the glue gives them extra staying power.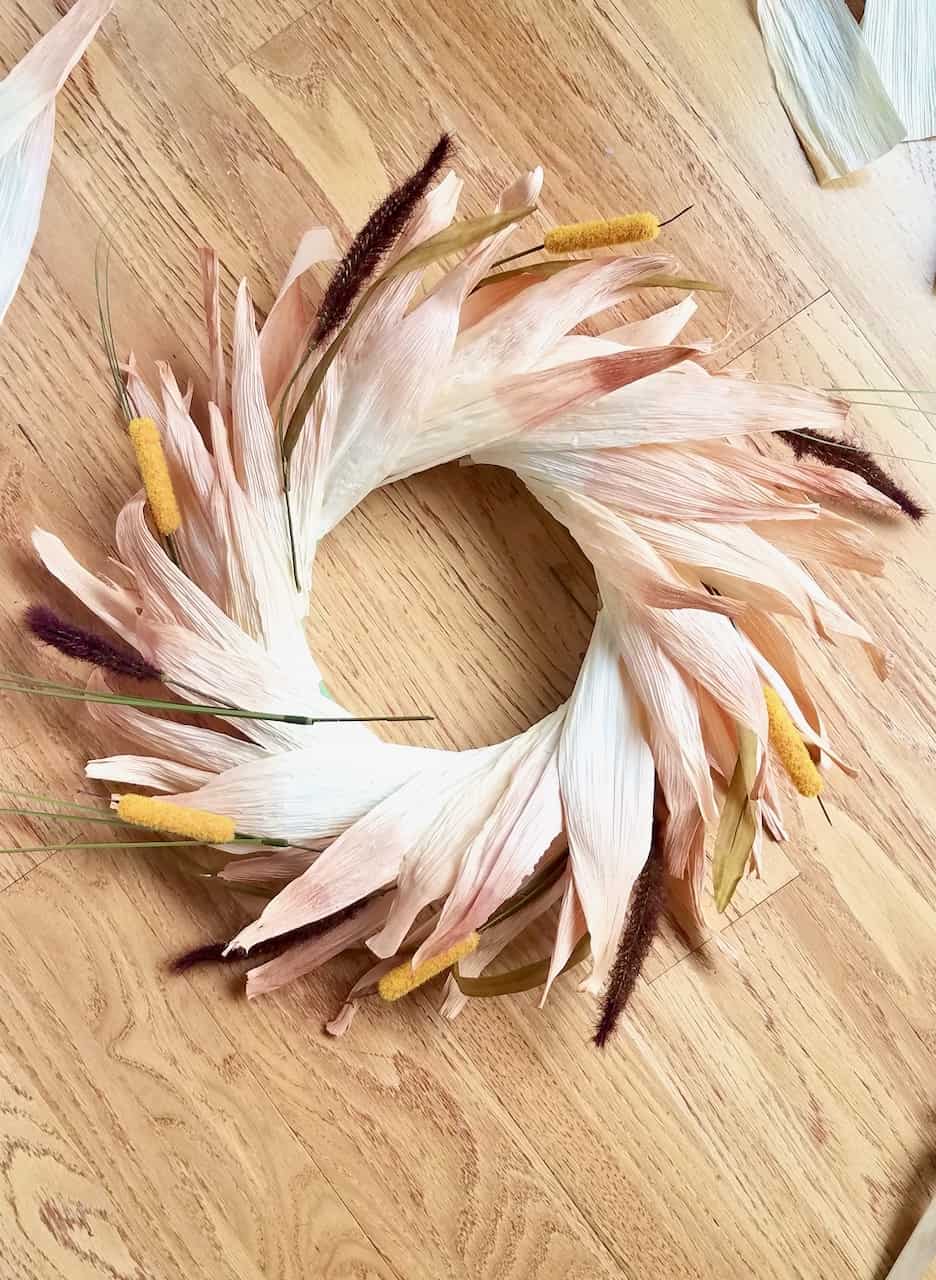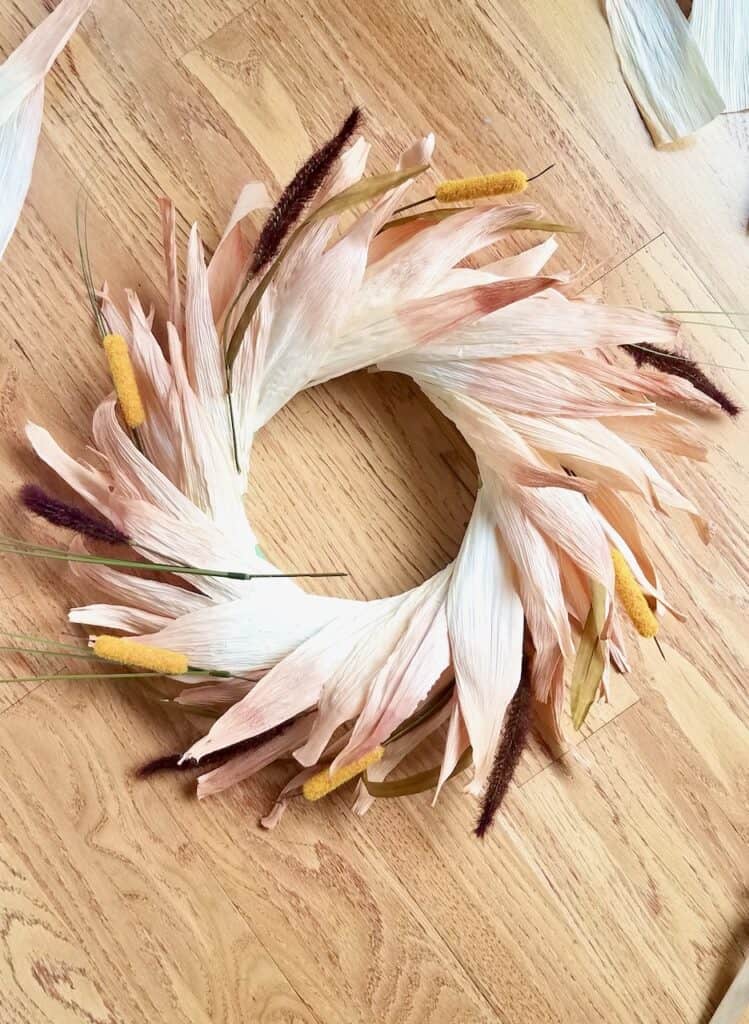 Step 7 – The last thing you're going to do is cover up any wreath form that's still showing. Cut the corn husks into even skinnier pieces. Then put glue on the entire bottom section of the husk, not just a straight line this time.
Reach the corn husk through the form, towards the back of the wreath, then press it down while wrapping it towards the front. Hold it in place until the glue sets. I used a thick popsicle stick to help me hold down the back piece.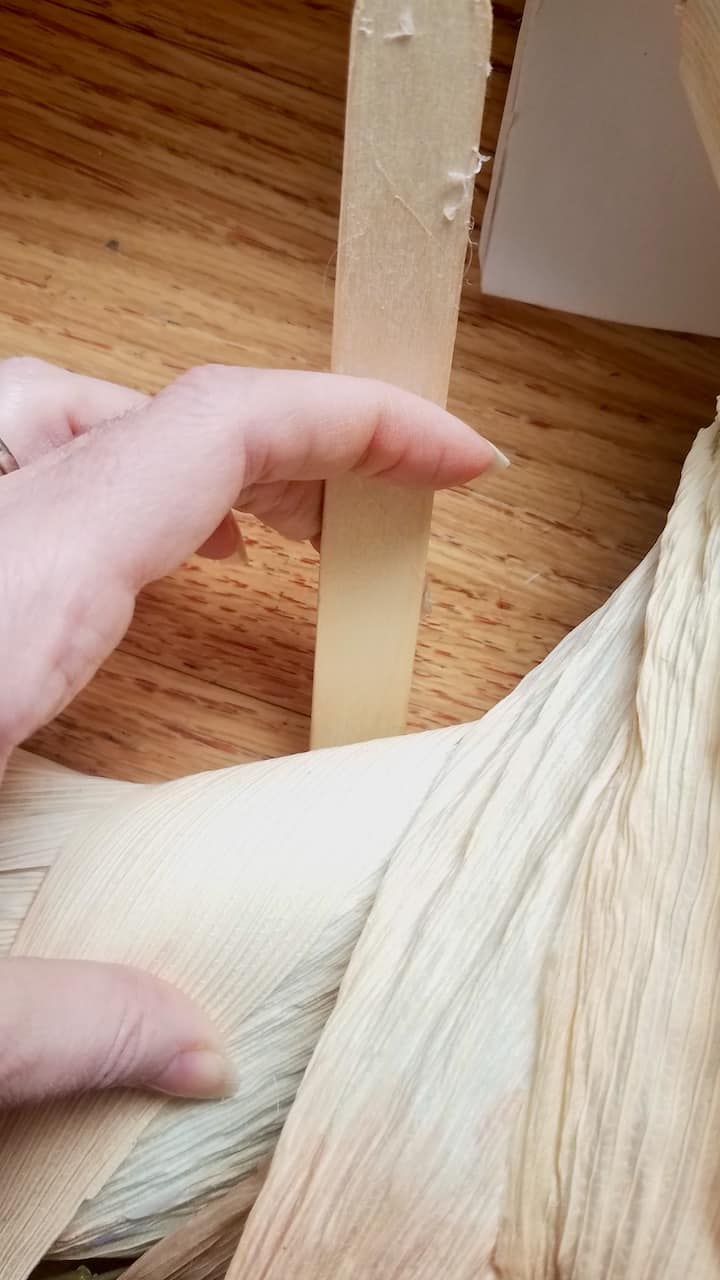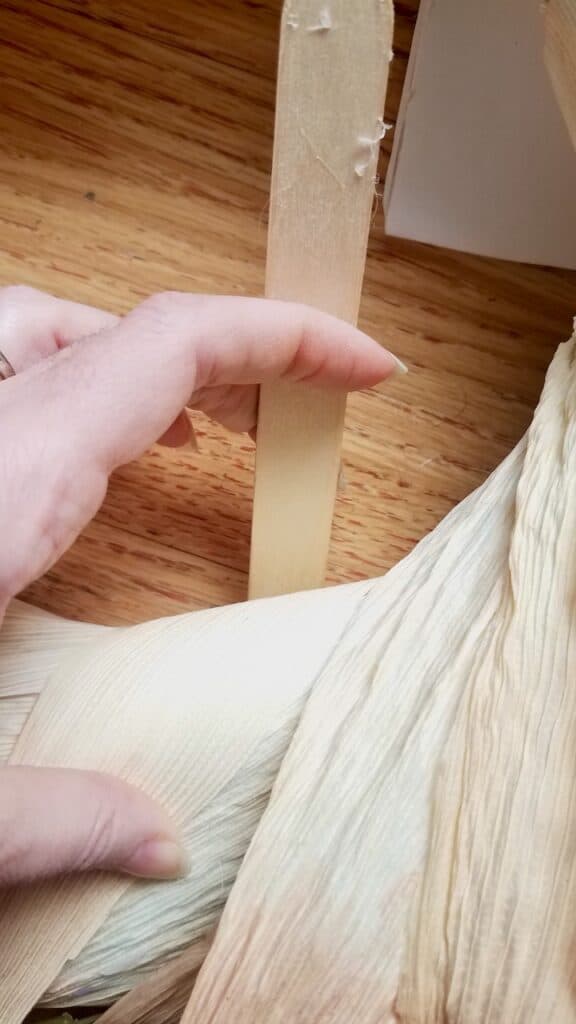 Be really careful not to burn your fingers during this whole process. The corn husks are thin and can break easily, letting hot glue ooze out onto your fingers. I used the popsicle stick when I could, to reach blind spots when holding the corn husks into place but I still burned myself pretty good once and it sucked!
Here's a tip – The corn husks can be reformed using a bit of water. My smaller pieces in the front weren't laying down as much as I'd like so I gave them a quick spritz of water from a spray bottle and then I carefully laid a towel over the wreath and set two heavy books on top. I let them sit for about 20 minutes and when I removed the books and towel, everything was sitting much nicer.
You're all done! The whole glueing process took about an hour.
---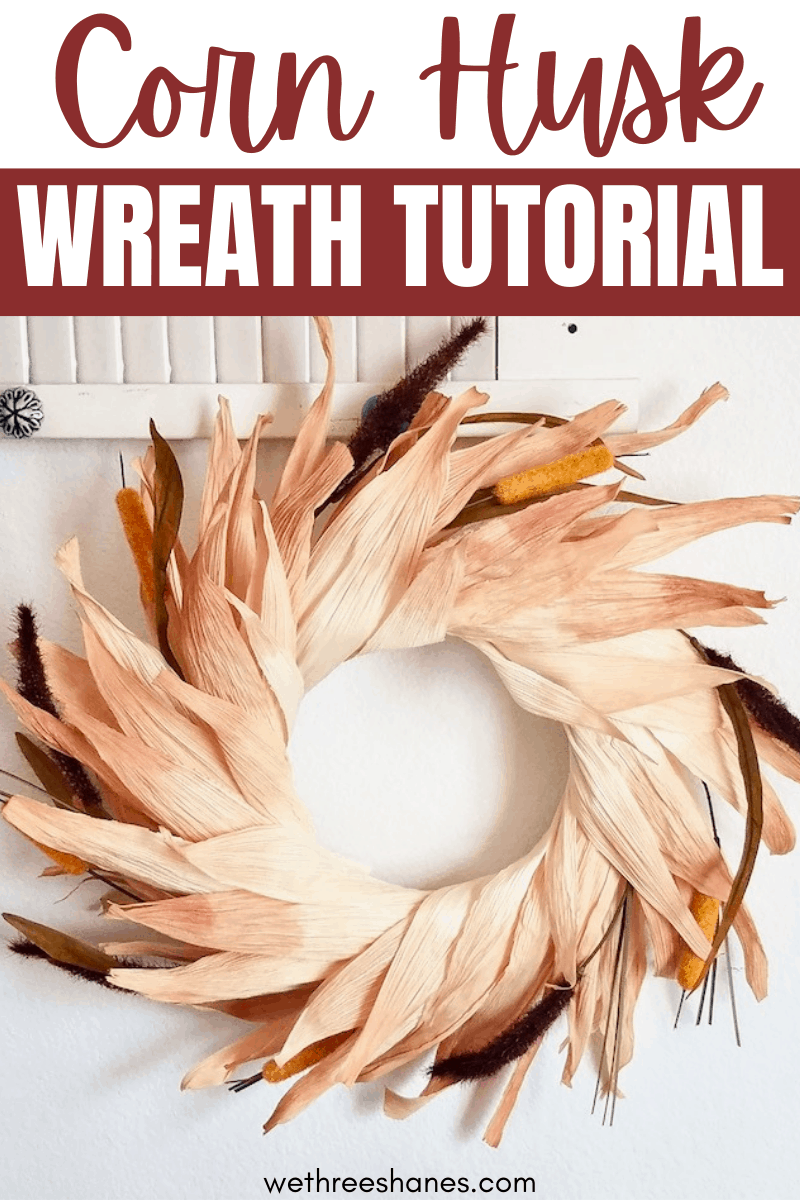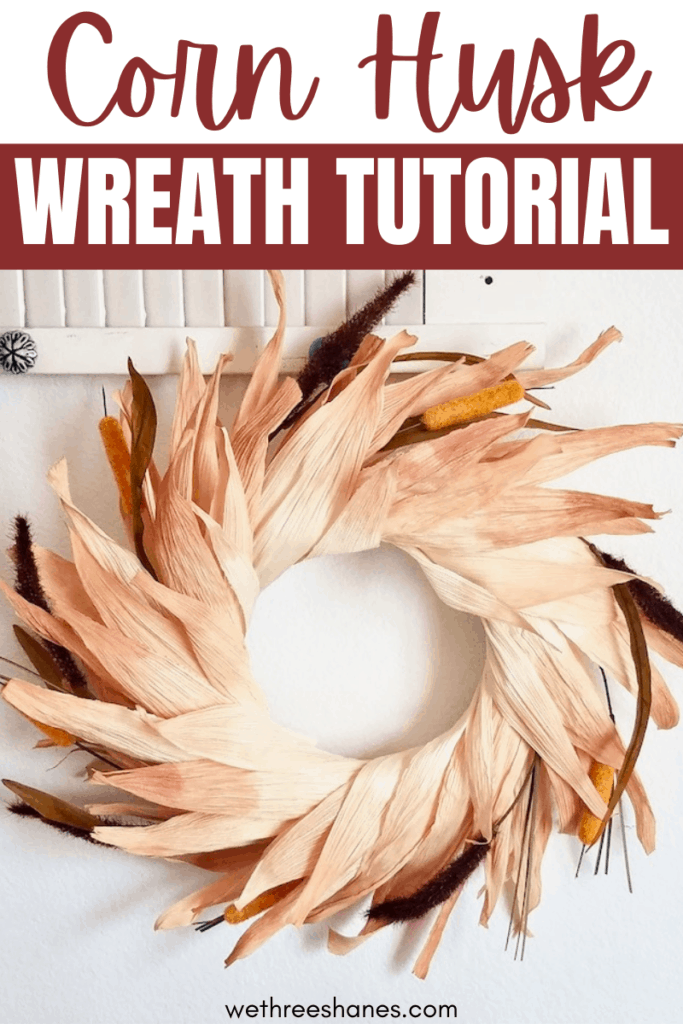 DIY Corn Husk Wreath
You are now ready to hang your colorful, fall Corn Husk Wreath. A wreath hanger works great if you have one but you can also use ribbon. Glue a small piece of ribbon to the back of the wreath and then place the hoop on a hook.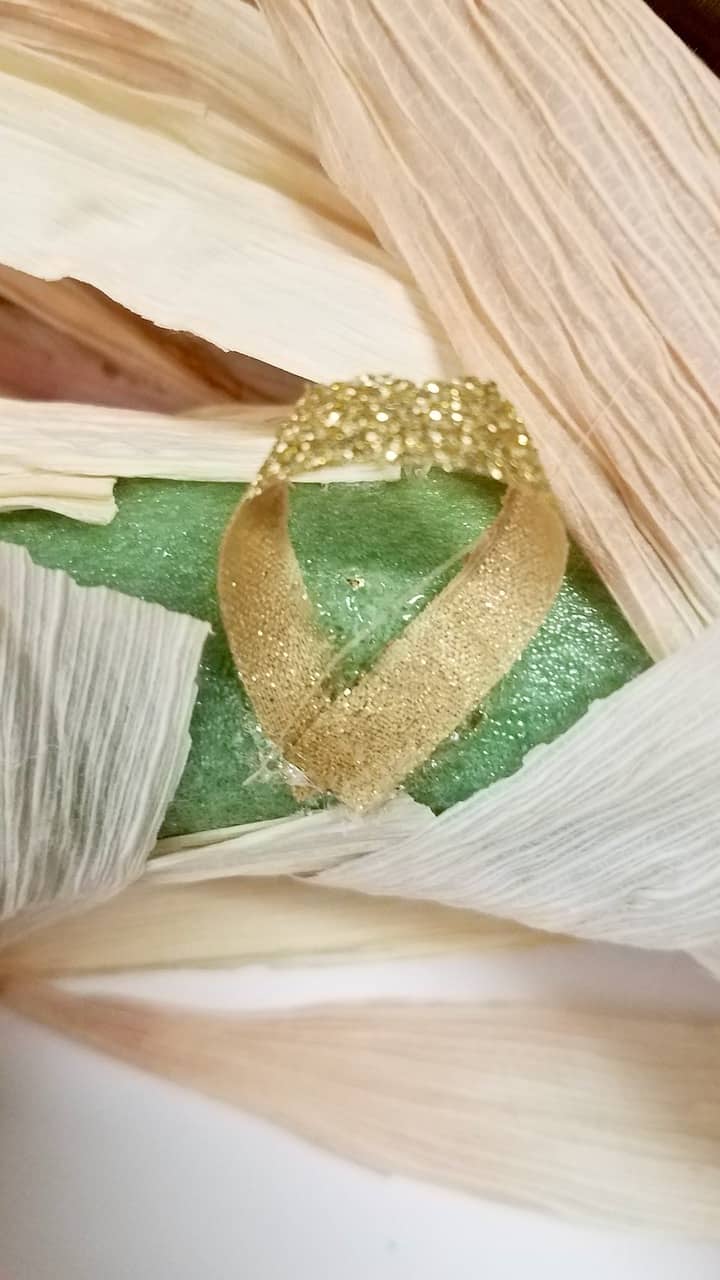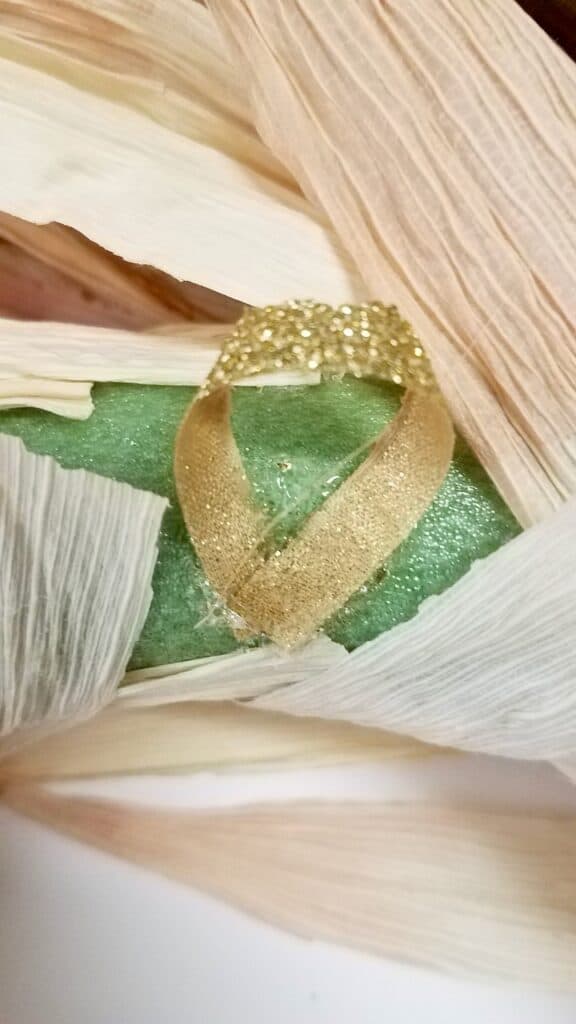 I use clear command hooks because they are easy to use and won't damage the door. My door closes better when I use a hook instead of a hanger.
Remember that corn husks will soak in water when they get wet which can ruin your beautiful DIY Colorful Corn Husk Wreath. You put in too much work to let that happen. There are a couple things you can do to keep your wreath safe.
Only put your corn husk wreath on your front door if you have a decent sized awning that will keep rain off of it.
Spray your entire wreath with an acrylic sealing spray to keep the corn husks from absorbing any water that comes into contact with it. Make sure you spray every inch of the wreath, including the back and all the nooks.
Hang your fall wreath inside your house. This corn husk wreath looks great hanging any where but I especially love it hanging in front of a window. The sun light shines through the corn husks and really brightens up the ombre colors.
Do you think you'll make a Dyed Corn Husk Wreath to add to your fall decor?
---
You Might Also Like:
---