DIY Spring Wreaths for Any Budget
Wreaths are a great way to add some color & beauty to your front door, but they can be expensive! A quick & easy project, these frugal DIY Spring Wreaths can be made on any budget. We've got step-by-step tutorials and shopping guides for a $5, $15, or $25 wreath. Get creative & make the one that's right for you!
This post contains affiliate links. You won't pay any extra for making a purchase through these links but we earn a commission for purchases made through links. This helps keep the blog running which we really appreciate! You can read more about it in our full disclosure.
DIY SPRING WREATHS FOR ANY BUDGET
Spring has been a bit drunk lately but we've had enough sunny days to get us in the Spring mood. We thought DIY wreaths would be a fun way to keep the warm, lush feeling alive and maybe coax Spring to stay.
We decided each sister would have a different budget when making our wreaths. Purchasing a wreath can be expensive but the same is true of making one yourself. Keeping our budgets under $25 seemed both reasonable and doable but we thought it would be even more fun to have three different price points since there are three of us.
Kim took on the challenge of a super frugal, five dollar wreath; Katie took on the fifteen dollar wreath; while Kristy is showing off the twenty-five dollar wreath. We're dishin' all the "deets" on where and how to buy supplies for less. Since we're DIY-ing these wreaths it's super easy to customize with our own flower, color, and wreath style choices.
We've got a great Pinterest Board full of wreath ideas so check it out for more wreath inspiration before making your own. Don't forget to follow the board because we are always adding more wreath ideas.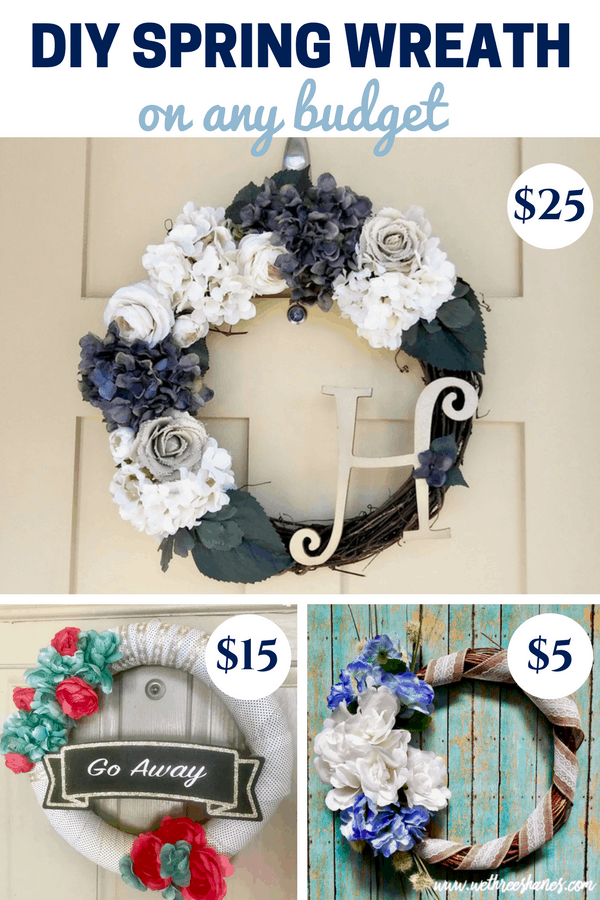 ---
$5 DIY SPRING WREATH
It's Kim here, showing off how I accomplished my $5 dollar wreath. I wanted to see if I could make a cute wreath for less, so I went to one of my favorite places, the Dollar Store.
We have a dollar store next to a JOANN Store that has amazing craft stuff. If you have a Dollar Store near any craft store I would go there first; they always have better-than-usual craft stuff. You can still find supplies for your wreath at other Dollar Stores but they'll probably have less to choose from.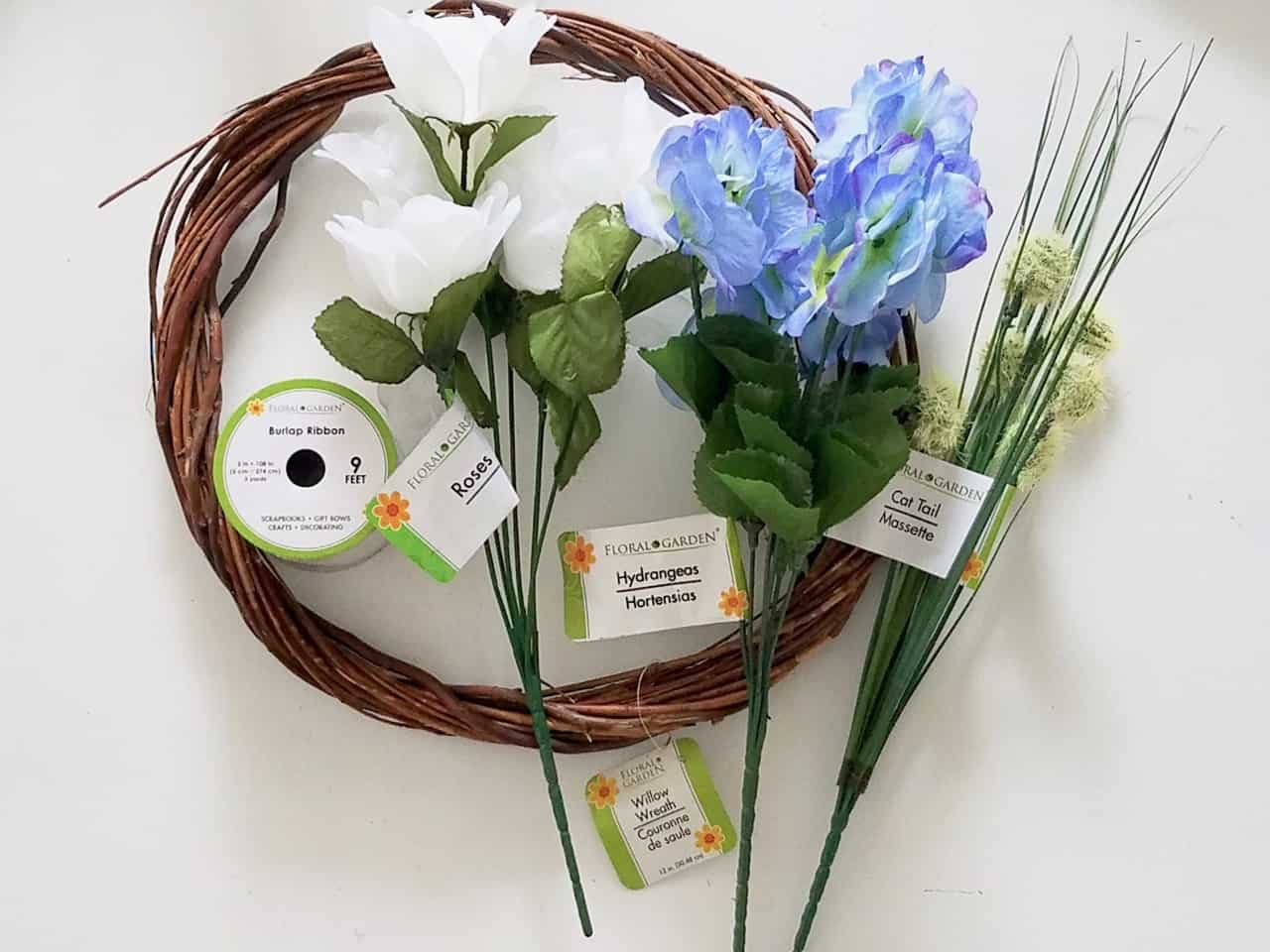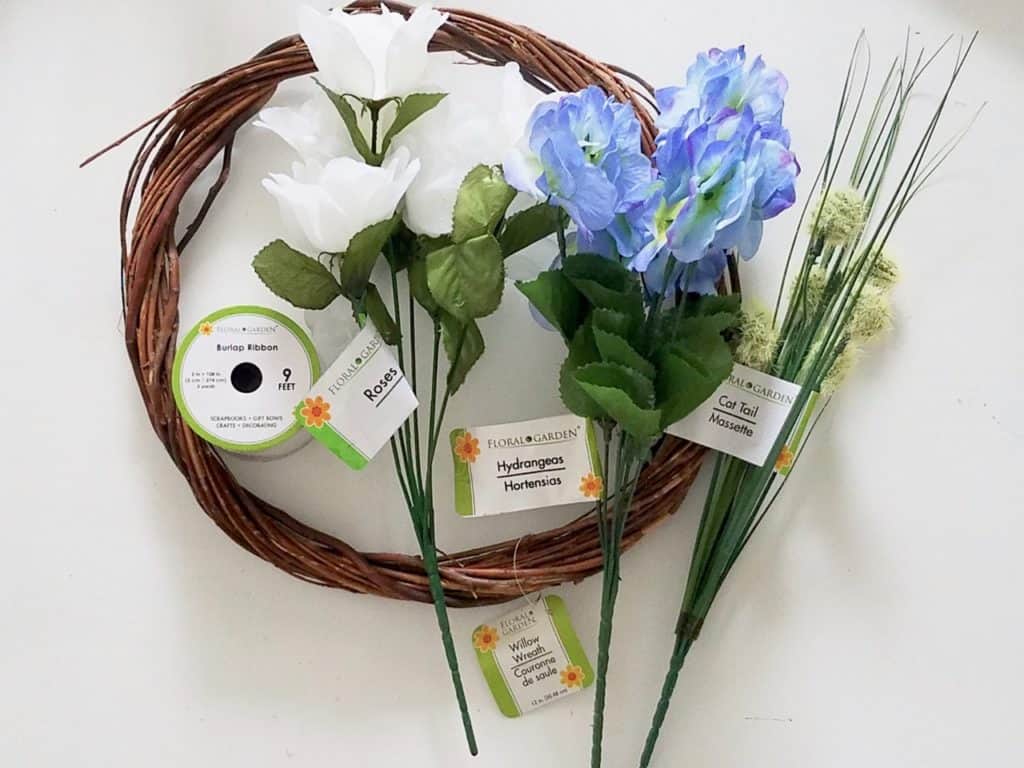 The entire cost of this wreath is only $5 (plus tax). I bought a wreath, burlap ribbon, and three sets of flowers to make my wreath, bringing my total to five dollars and some change. I had a hard time picking out flowers because they had so many I liked.
To begin, I snipped the stems of my flowers down to about half the original length. Then I began arranging the flowers on top of the wreath to get an idea of what I wanted my wreath to look like.
Once I had the layout I liked, I snapped a quick photo to reference later. I'm glad I had the photo because I looked at it quite a lot.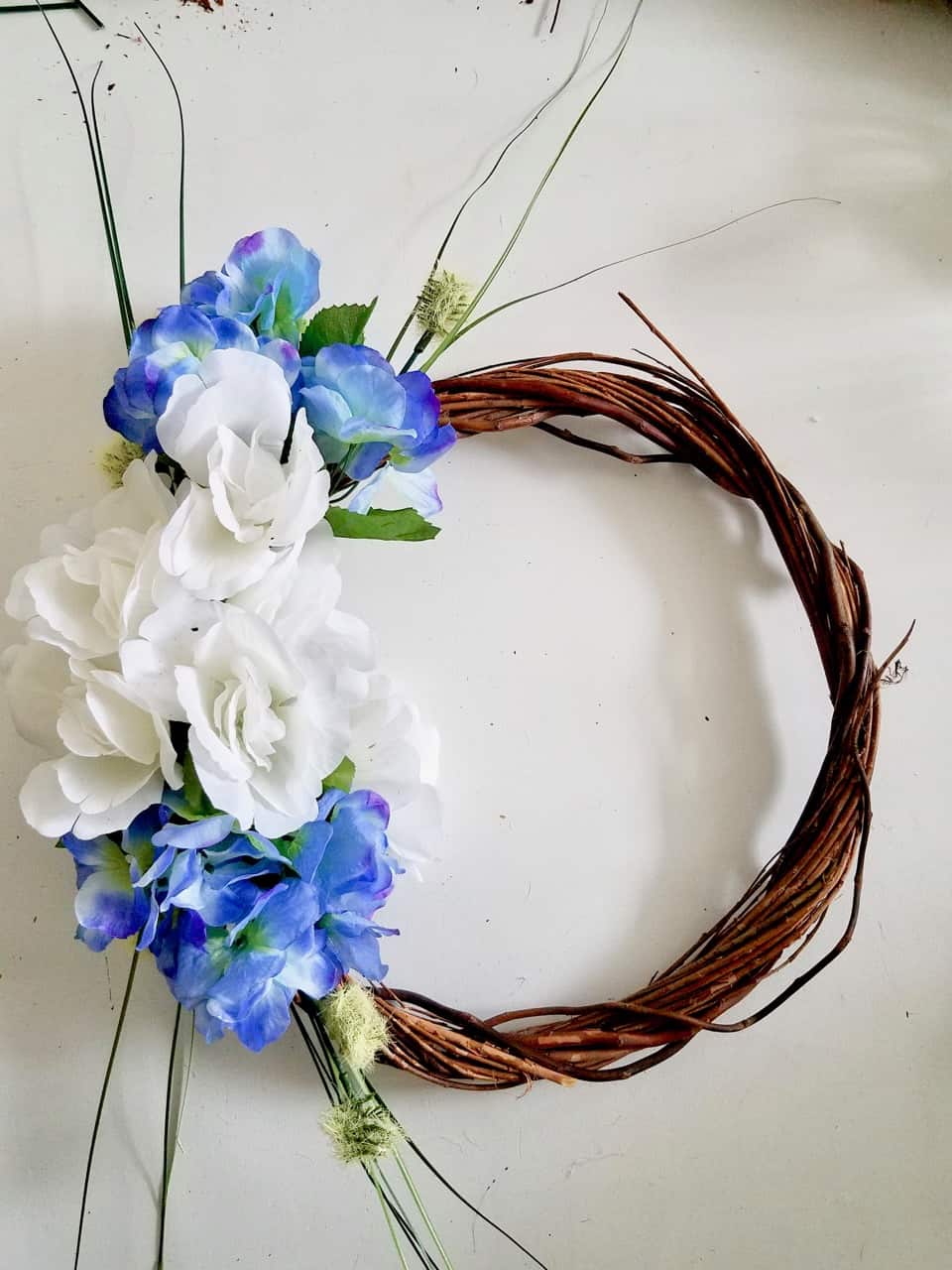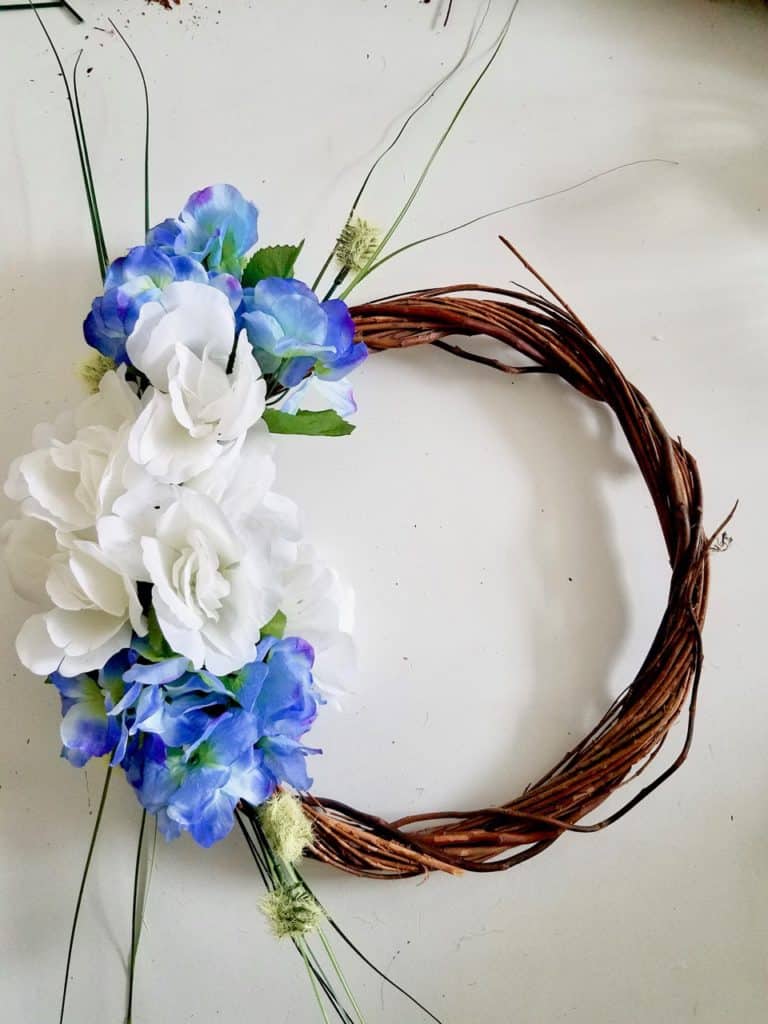 Next, I started weaving the flower stems into the wicker, and wrapped them around the wreath a bit, to help hold them in place. The stems have wire in them so they hold well.
I started in the middle of the wreath and worked out on both sides making sure to make the wreath even. When I added a flower I would place the next one above it and the following one below it and continue the process until my flowers were all used.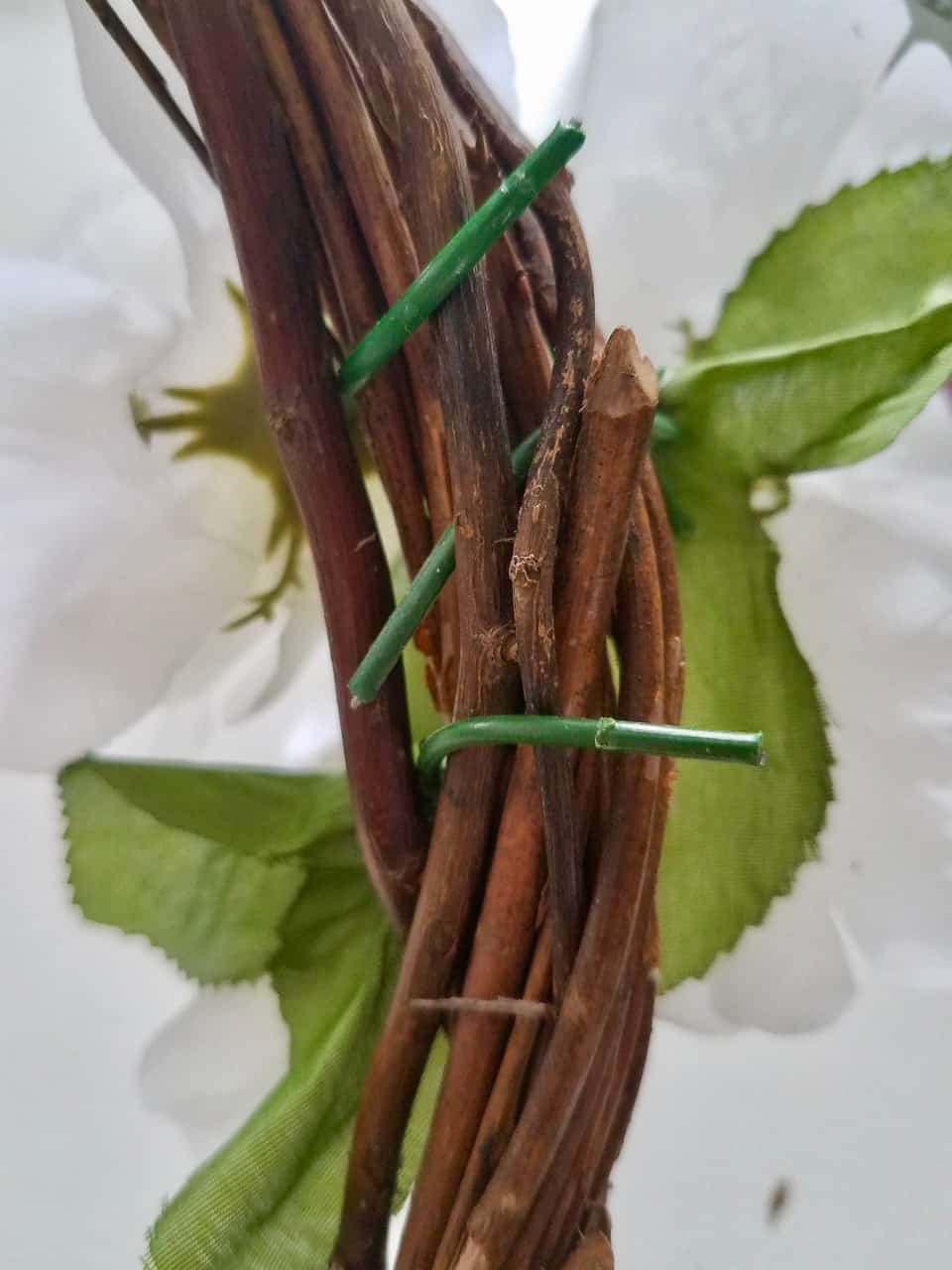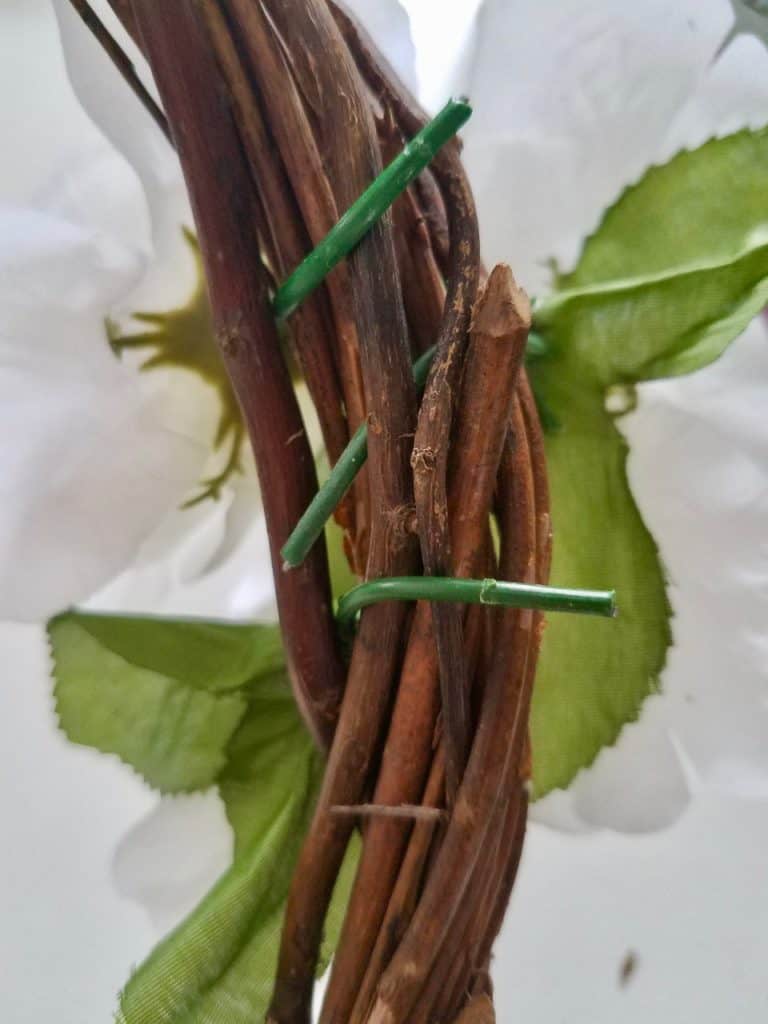 At first I planned to use my glue gun to stick everything onto the wreath but then I realized I could thread the flower stems through the wicker of the wreath and they would stay put. This made the process much faster and less messy. Plus, if I didn't like the spot I put a flower in, I could yank it out and try again.
You may feel more comfortable using glue. You can always get everything in place and then use glue to secure any pieces that are a little wobbly, if any.
Once the flowers were placed where I wanted them, I added the grass and willow pieces, again placing a set at the top and at the bottom so they would balance each other.
Last came the burlap ribbon. The dollar store wreath is pretty thin compared to craft store wreaths so I decided to wrap burlap around the naked part of the wreath to add some bulk.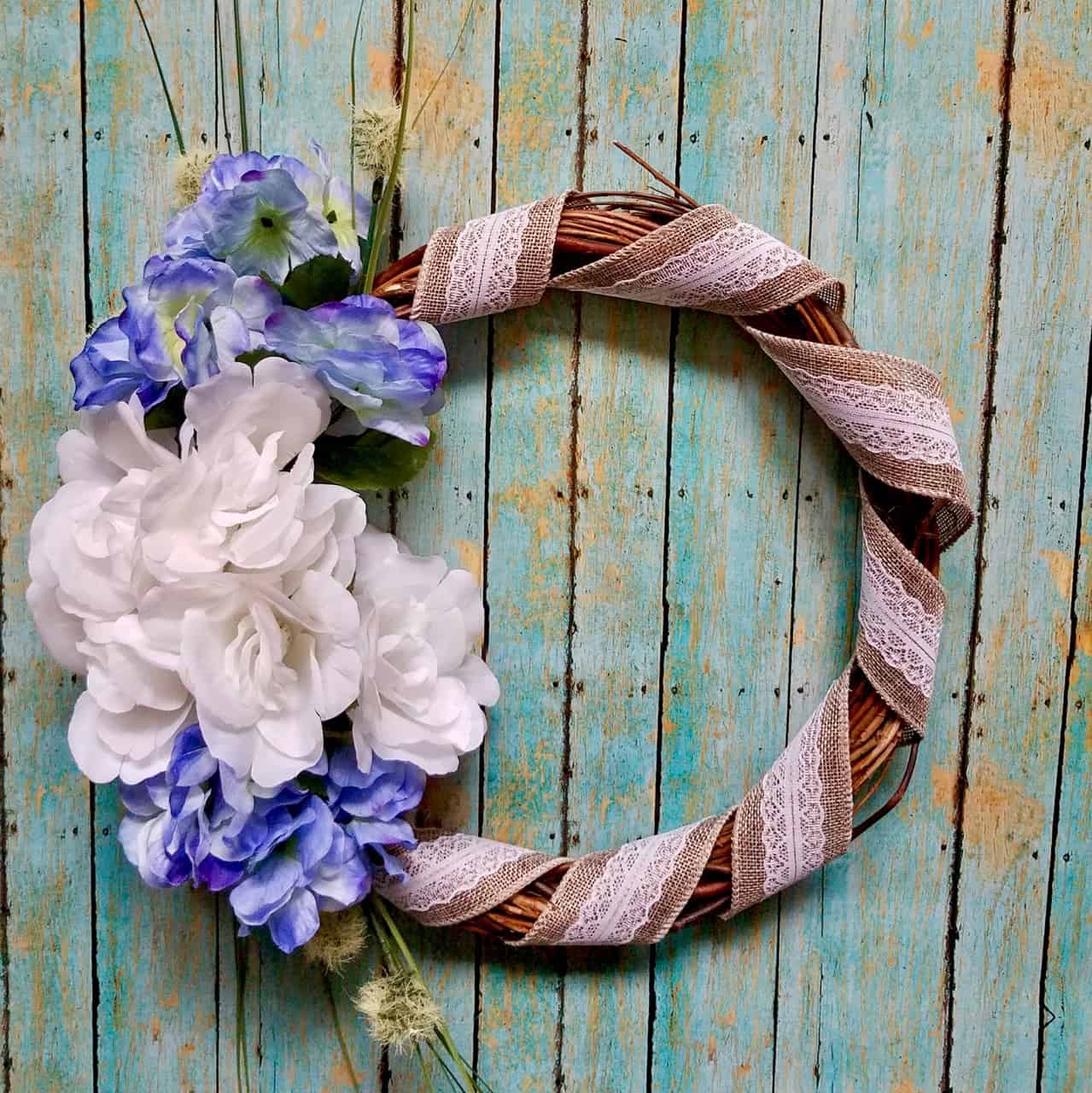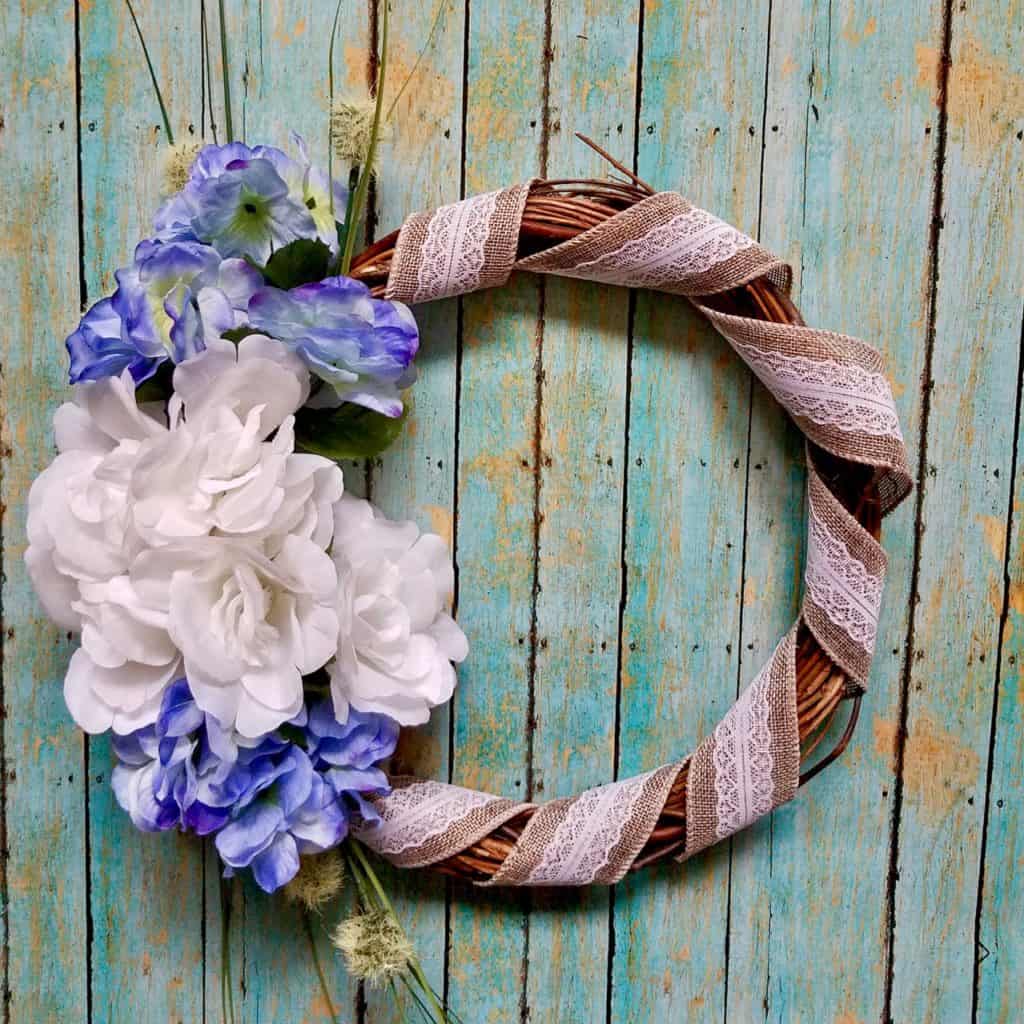 I love how my five dollar wreath turned out! Talk about a cheap and easy way to add some Spring decor to your home.
Cost Breakdown:
Wreath – $1
Flowers – $3
Burlap Ribbon – $1
Total – $5 plus tax
$15 DIY SPRING WREATH
Hey y'all! It's Katie, and my wreath needed to come in at $15 or under. I gotta say it was a fun challenge! Usually I don't spend a lot on one particular craft, especially on flowers for a craft. I allowed myself to buy the flowers I wanted instead of getting cheaper options.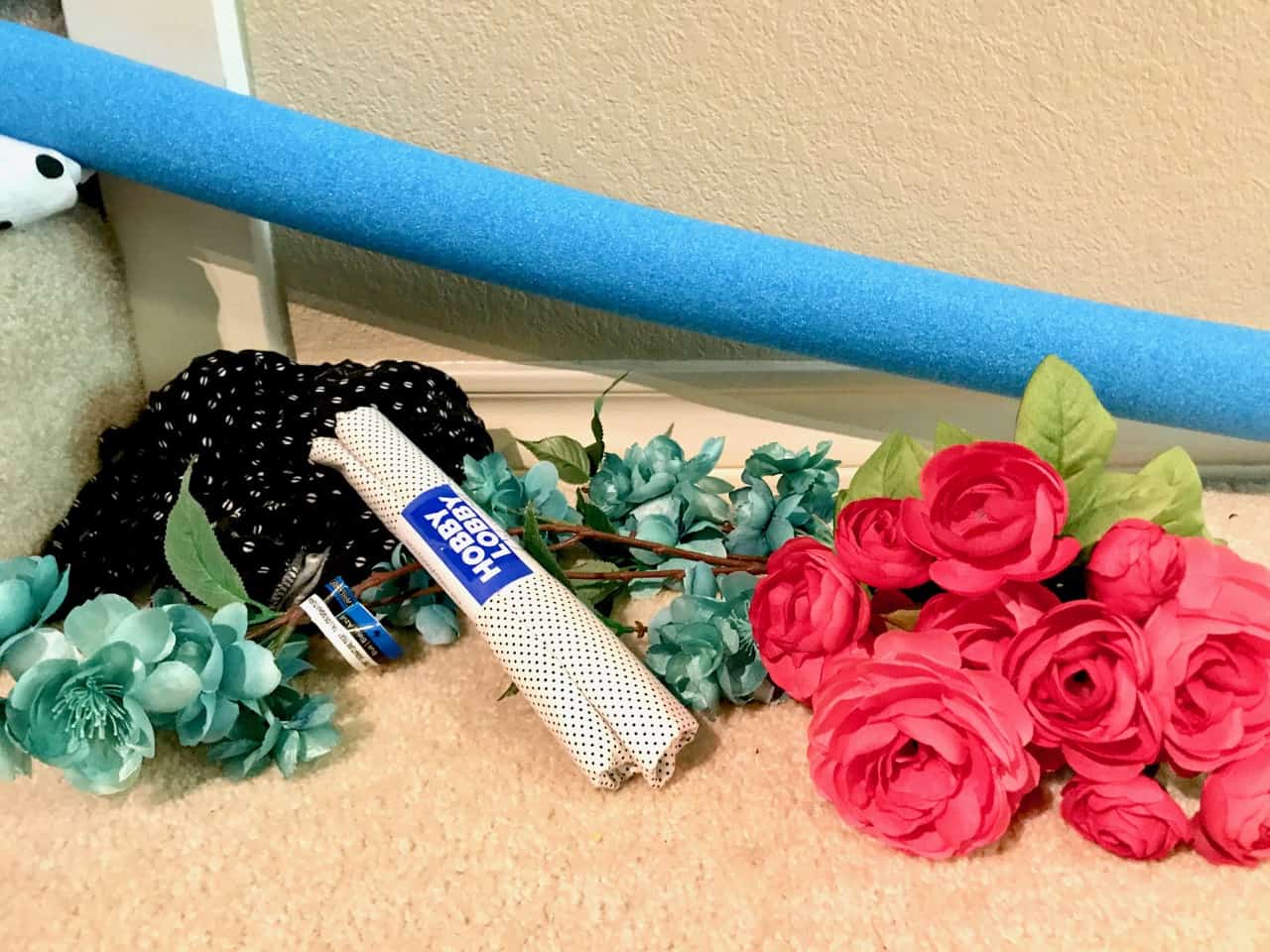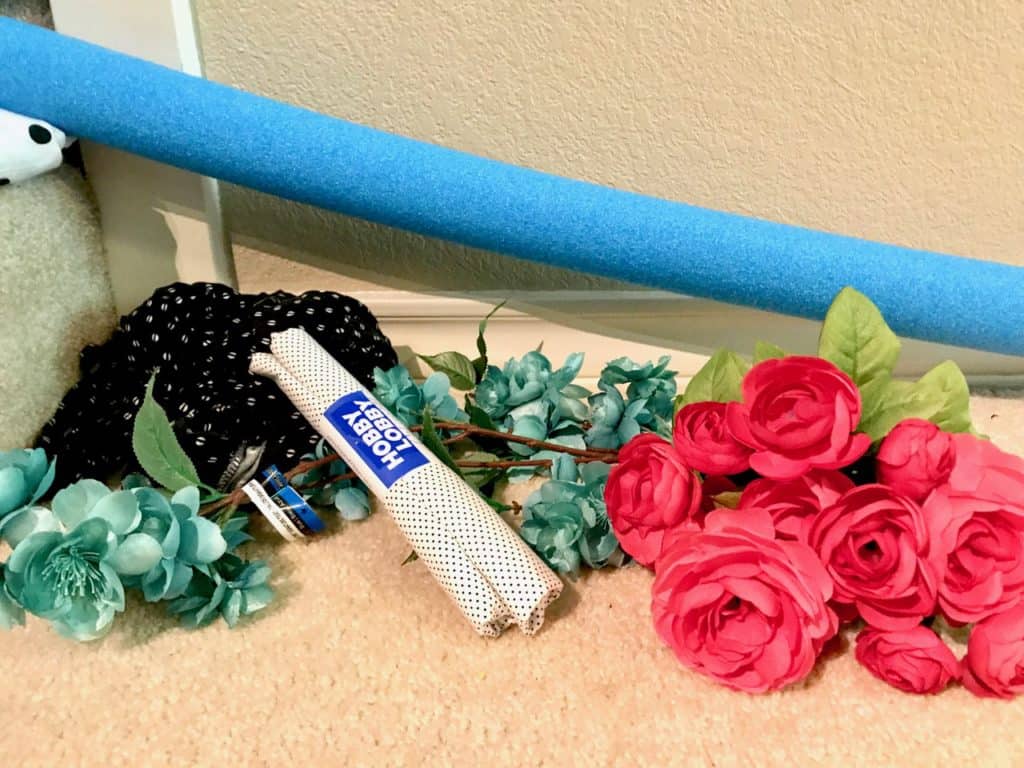 The flowers are from Michael's and they were 50% off, otherwise I would not have bought these particular ones.  Aren't they so pretty though?!
Most craft stores put their florals on sale every couple of weeks so keep an eye out for that. If you don't want to wait try to use coupons. Kris goes into more detail about coupons so I'll leave that to her.
To keep costs down I bought a pool noodle for my wreath base.  I always wanted to make a wreath from a pool noodle and it worked perfectly. 
The pool noodle was a dollar. After I cut it to the size I wanted it, the ends were hot glued together and tape was added for extra hold.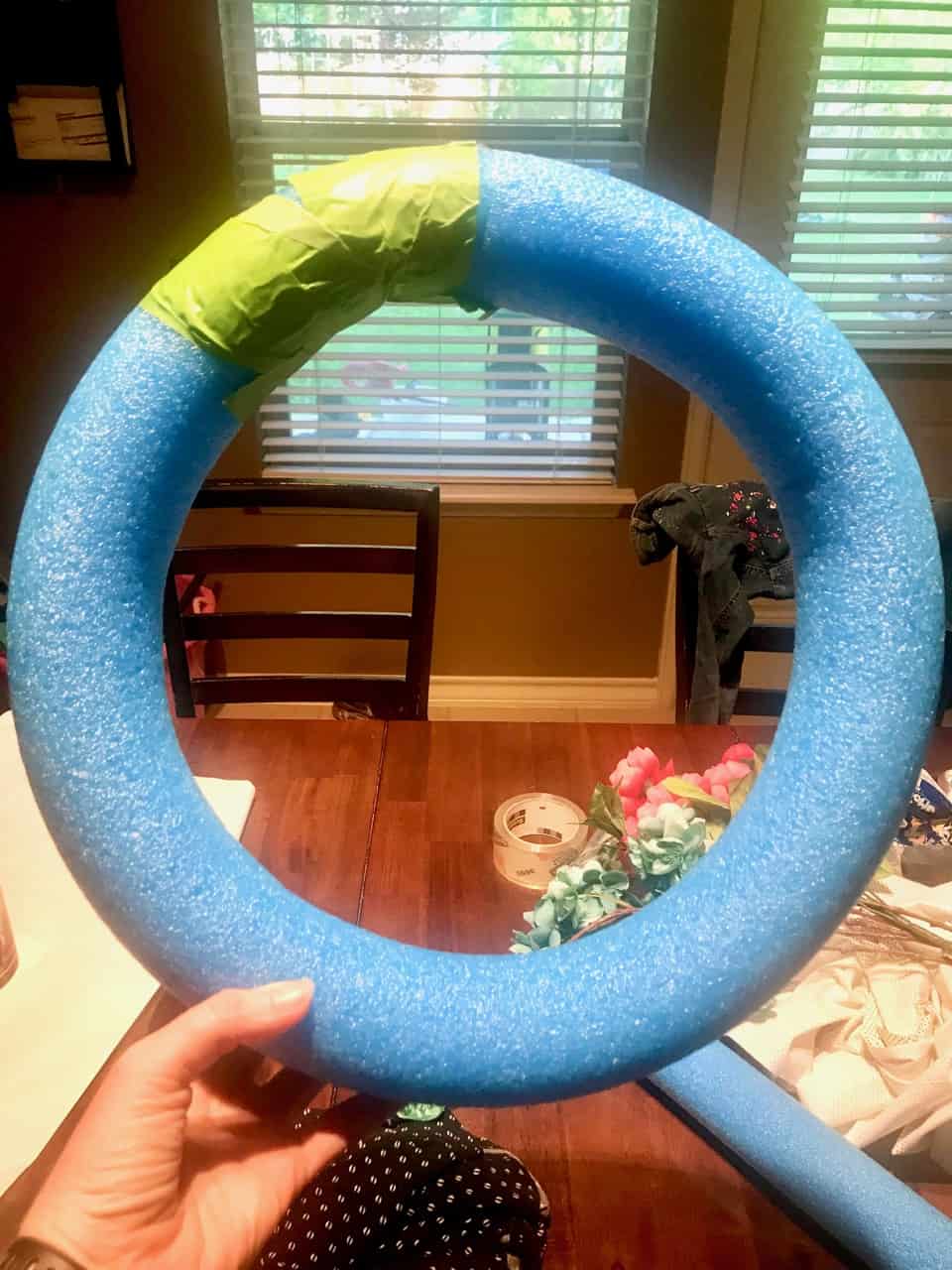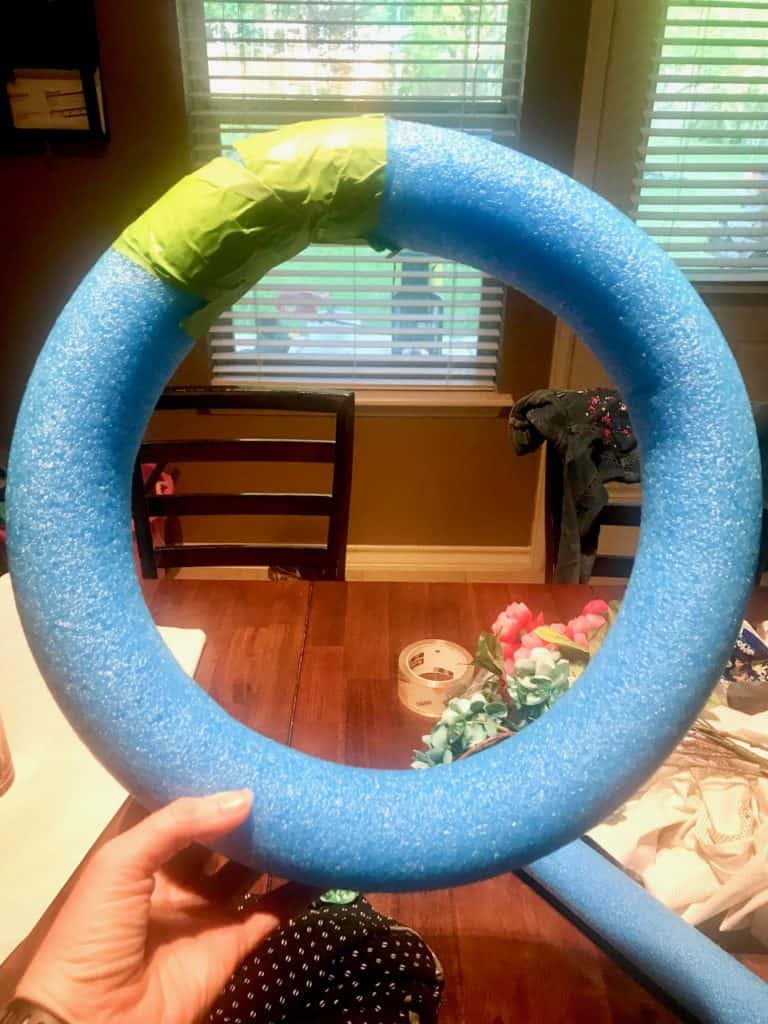 Once the pool noodle was in the shape of the wreath, I found the fabric I wanted, cut it into strips and started wrapping those around the noodle. I cut my strips to about two inches wide, but really it can be any size you would like. I used about 4 strips of fabric.
If you sew, you can sew the strips together but if you don't sew (or you're just lazy like me) glue the beginning and end of each strip on your wreath, making sure to overlap them so no pool noodle shows.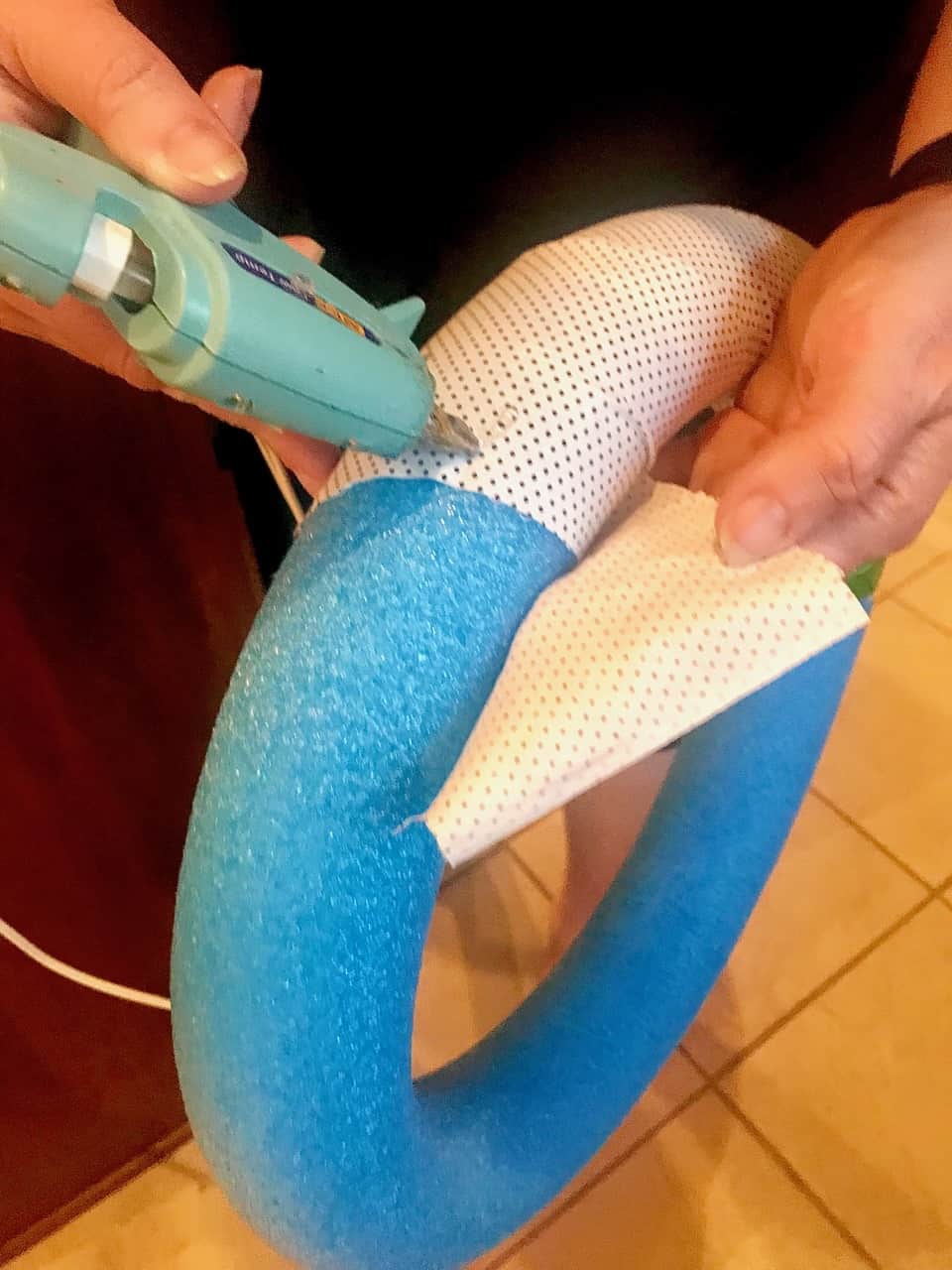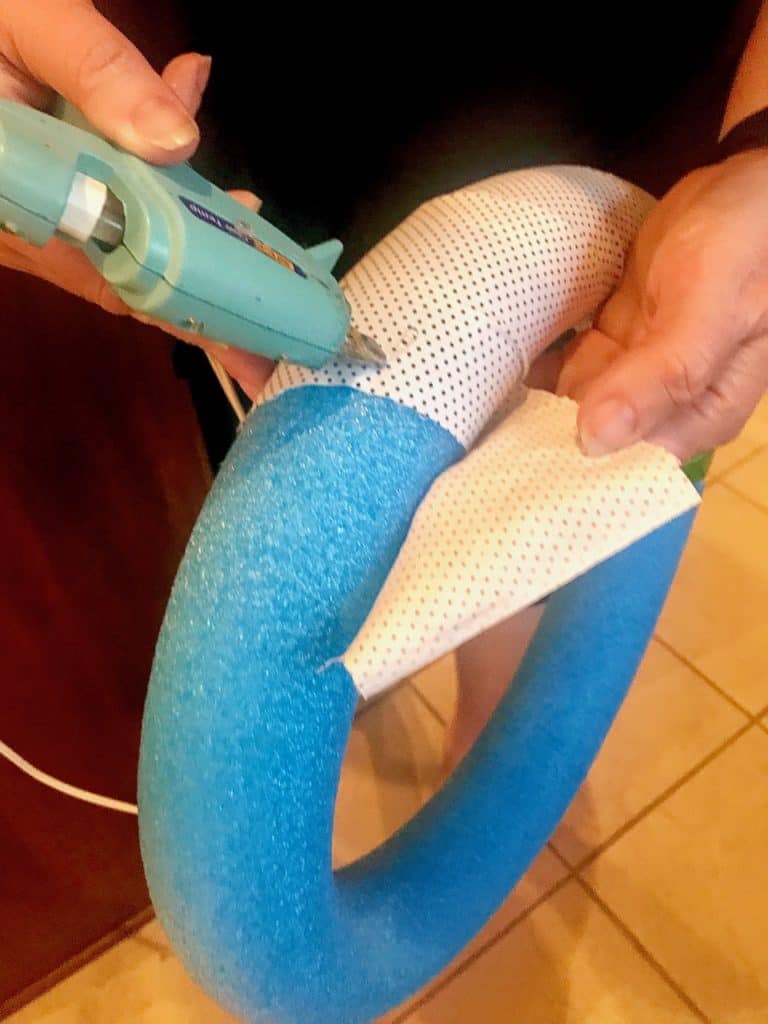 I wrapped part of the wreath with gold lace which I have had for years but never used (after I put the flowers on, I could barely see the lace so I added more to the top). Once my wreath was wrapped I started playing around with how I wanted the flowers it sit on it.
I took a flower and ripped it right off the stem, no cutting involved. I had to play with the placement a lot.
In fact, even after I decided I liked my placements, and glued them all down, I wasn't sure I liked it anymore. Haha! So I let it sit for a few days and would stare at it until finally I decided it was going to be just fine.
Next, I purchase a small chalk board at Walmart in the party section for only two dollars. Isn't it cute? Then I cut out the words "Go Away" in vinyl. I know not everyone can easily cut themselves vinyl so if you can't, try writing with chalk or a chalk marker.
My daughter was not happy I put "Go Away" on it. She says, "Moooooom. But it looks so pretty and it just seems weird for it to say that on it."
I told her that was why it was funny. She then rolled her eyes at me and walked away. She's nine by the way and thinks she is in charged!
Lastly, I glued the sign on and glued a soda tab on the back to use for hanging, and TADA!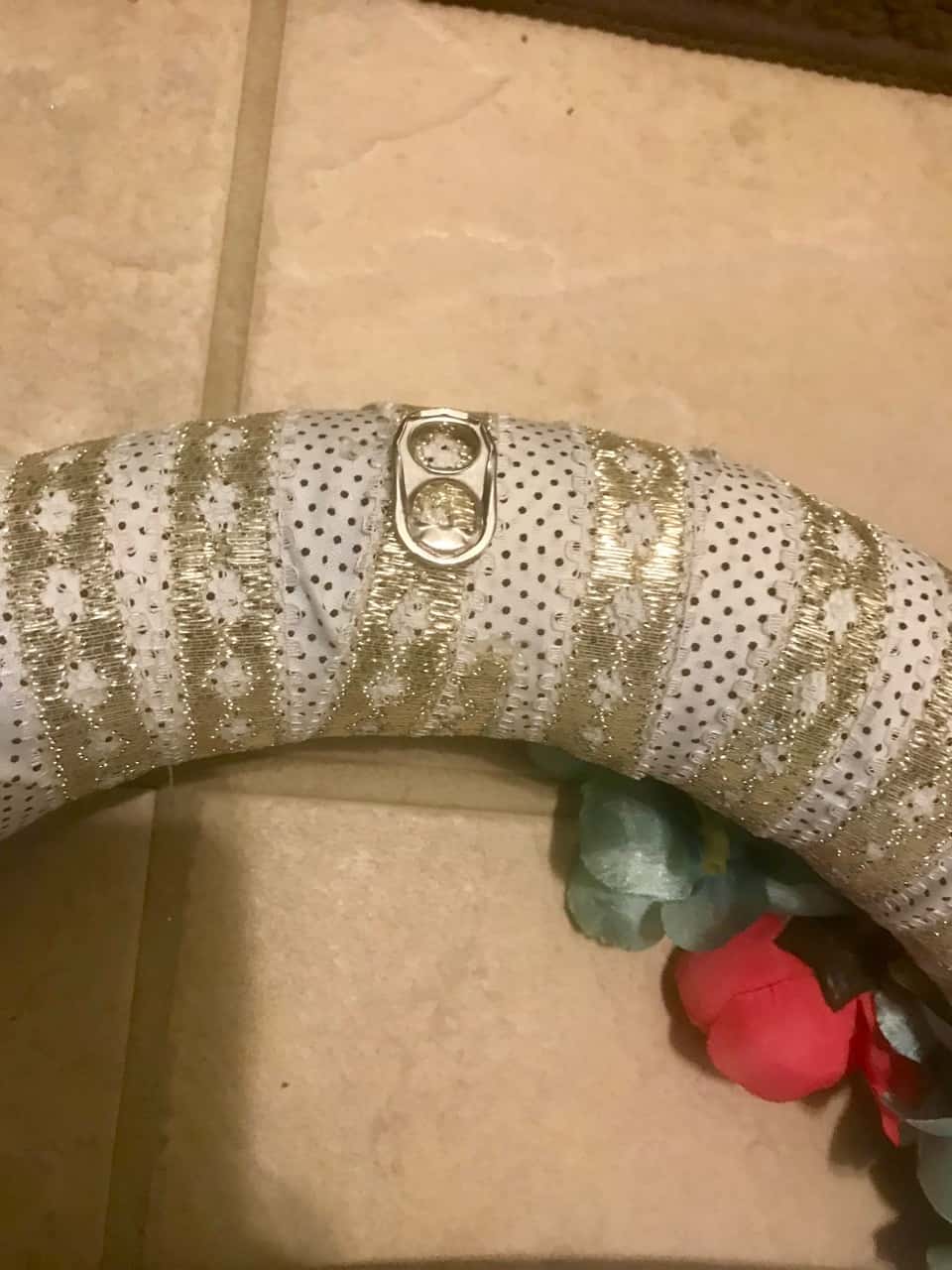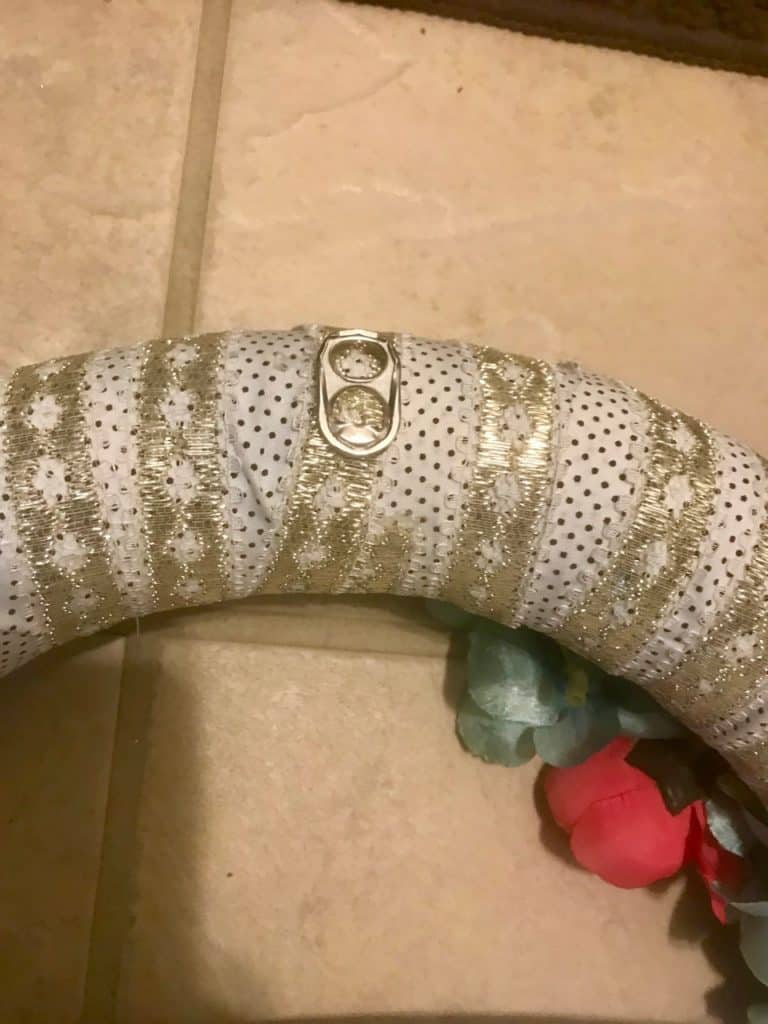 I'm enjoying the way it turned out.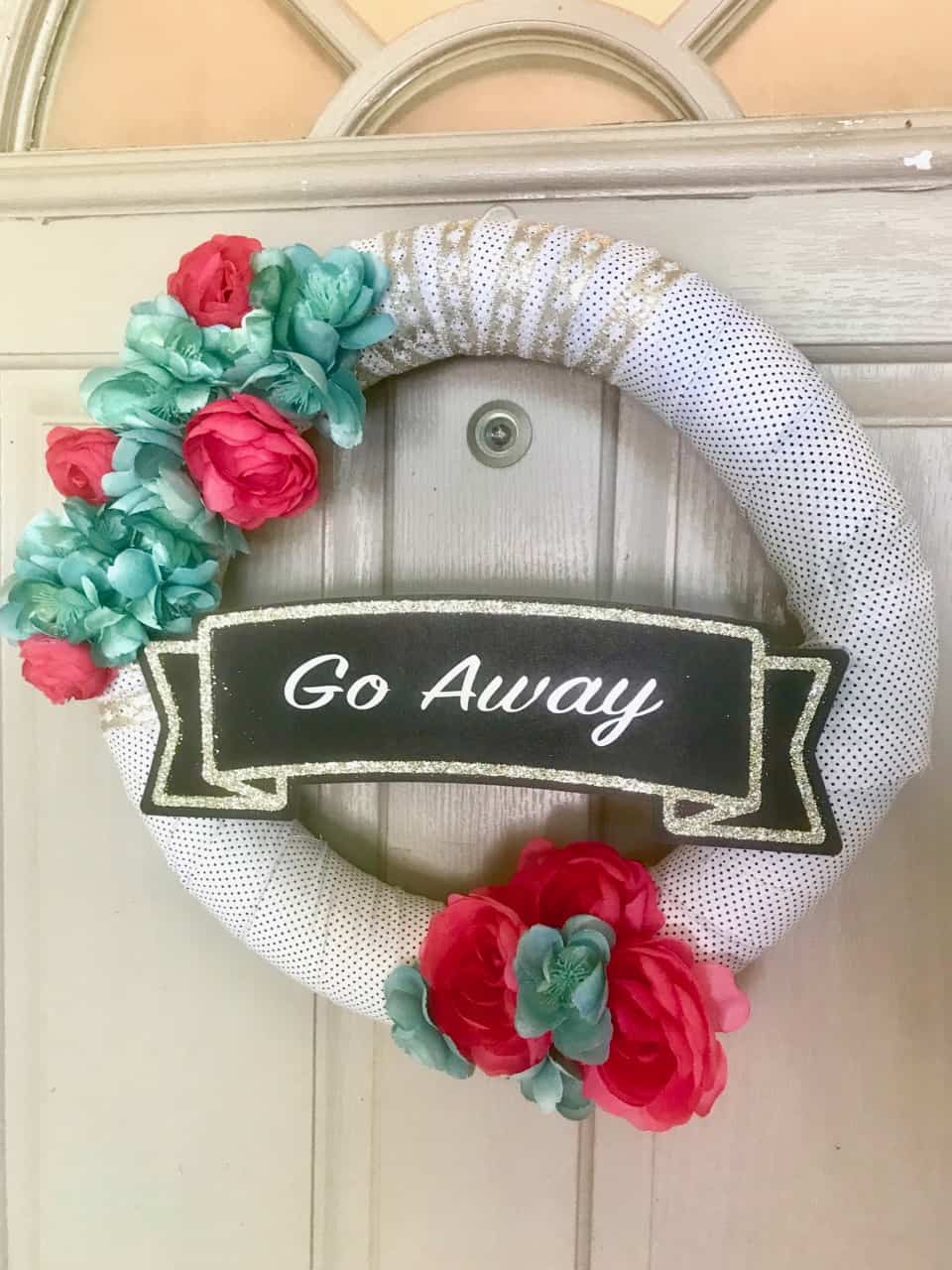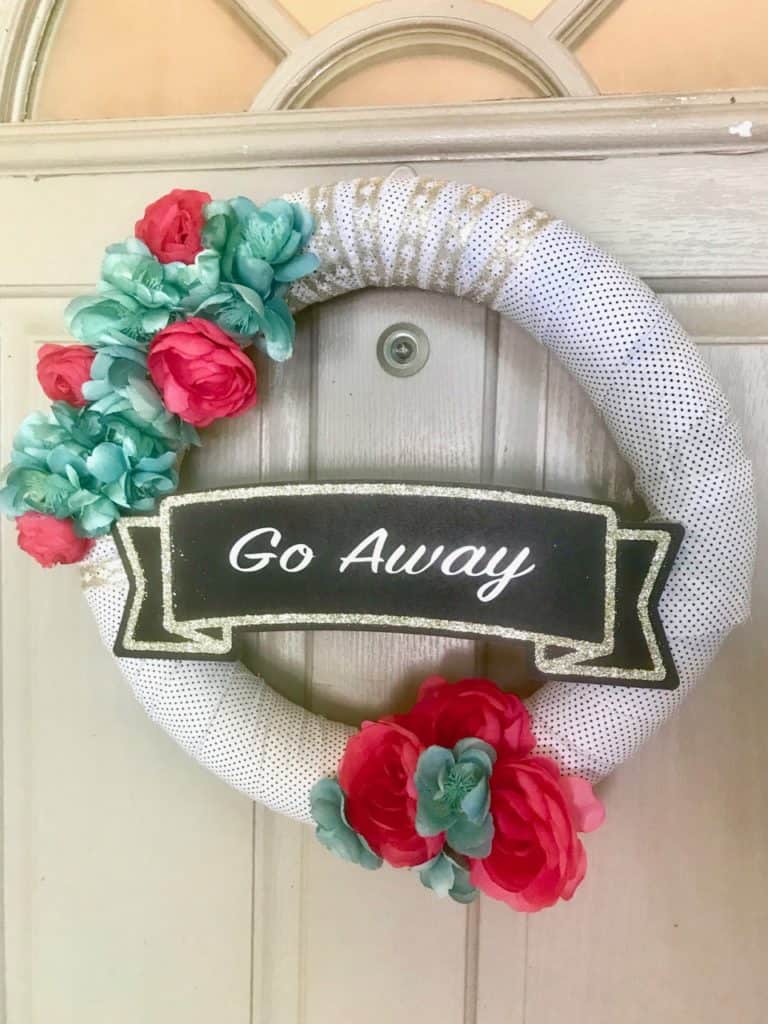 Cost Breakdown:
Pool noodle- $1
Flowers- $4 and $5
Fabric – I had mine on hand but it was $2.62 when I bought it
Chalk sign- $2
Total Cost $14.62 with tax
Not bad for a cute wreath in my opinion. I hope you enjoy it and make your own!
---
$25 DIY SPRING WREATH
Kristin here with my twenty-five dollar wreath. Like Katie, I also shopped the craft stores for my wreath. Buying the supplies for my wreath at full price could cost you close to $100, so I'm going to share how I made mine for a lot less.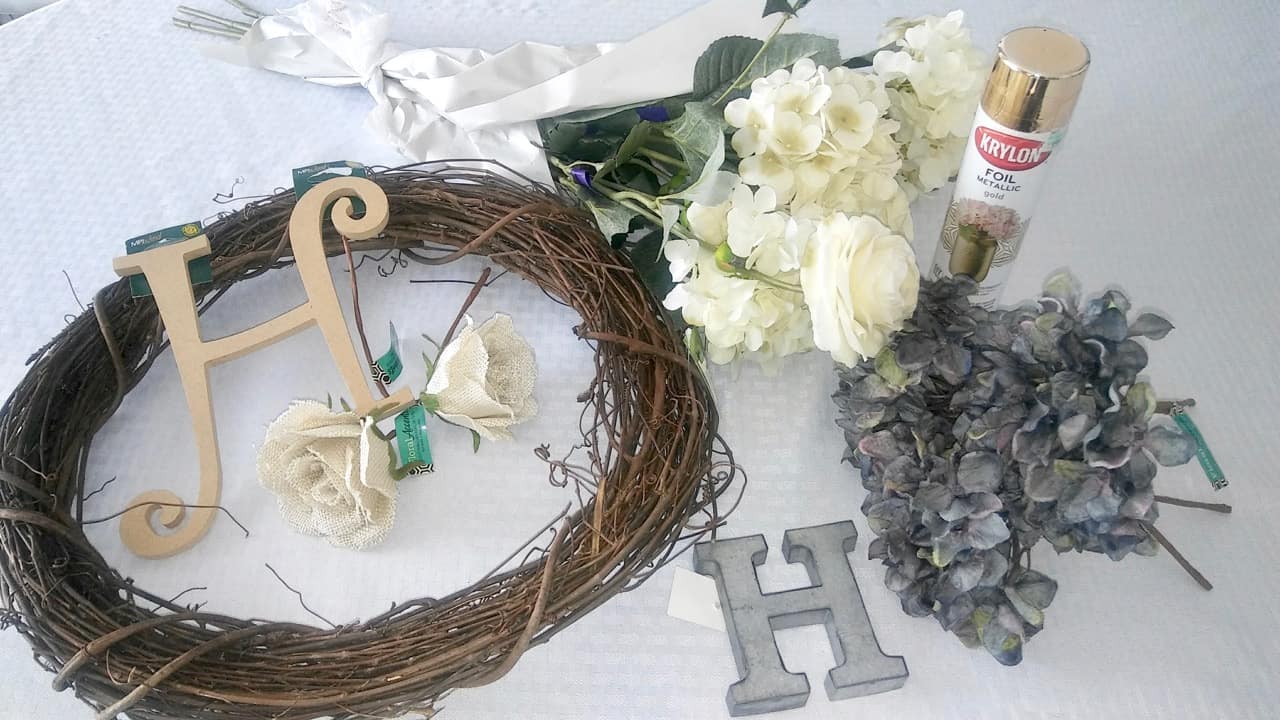 The two places I shopped were Michael's and Hobby Lobby. Both of these stores have apps you can load onto your phone that give you a weekly 40% off coupon for non-sale items. They also have programs that send special coupons to your email (sometimes for as much as 70% off!).
I had special coupons to use at both places which got me one non-sale item for 50% off. At Michael's I used it on the stick wreath, taking it from $5 to $2.50. At Hobby Lobby I used it to take the gold paint from $6 to $3.
I also waited until this week to shop for my flowers because both stores were doing a 50% off sale in their floral departments.
Always check ahead for sales before starting a craft project and plan accordingly. If there is no sale on flowers when you make your wreath then you can always space out item buying so you can use the coupons on more things. Like Katie said, craft stores are constantly rotating their sales so if you plan, you can get your florals at 50% off.
After using coupons, the only thing I paid full price for was the wooden letter H. Again, I could have waited a week and used a 40% off coupon from the app dropping the price even more.
I had ideas for my wreath design but wasn't entirely sure what I wanted it to look like until I could start to play with it. Because of this, I did buy an extra metal letter H that I didn't use, so I did not count that in my cost for the finished wreath as I will end up using that on another project.
Hobby Lobby sells some flowers as short stems without leaves that are cheaper than those with long stems. This saved me money as well. Since I wouldn't need as many leaves as flowers, I was able to buy less of the expensive long stems and more of the short cheaper ones.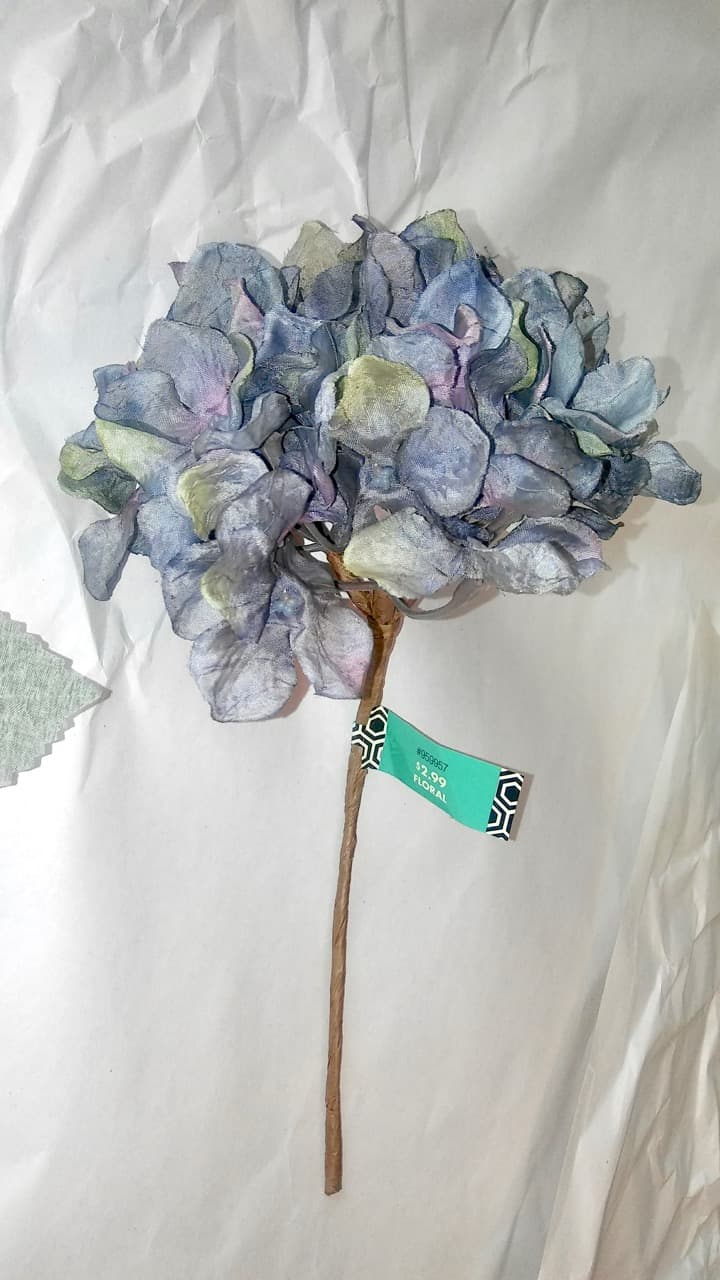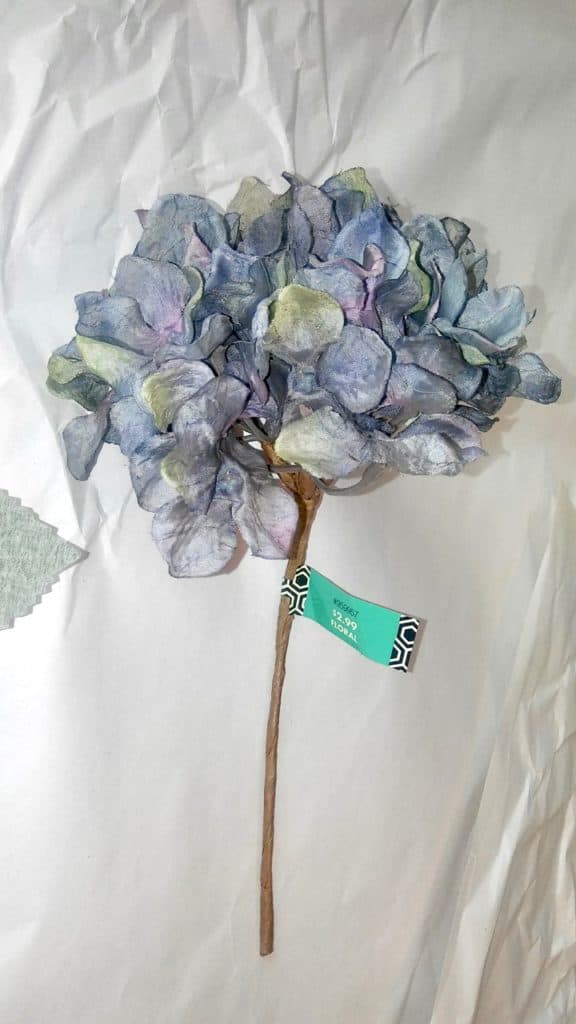 I put paper down on my table before starting. I used the paper they wrapped my flowers in at Hobby Lobby. The stick wreaths can leave a mess as you manipulate them and having paper down made for an easier cleanup.
Pinterest is great for wreath inspiration. It was a huge help when choosing a design.
I had some color choices in mind that would match my house but kept an open mind when shopping. Then I found out when the stores were having their floral sales, and went with my coupons ready for the few items not on sale.
Once I got everything home, I laid out the paper and got all my supplies together in one place. The one thing I didn't do at my kitchen table was spray paint my letter H. I sprayed that in a box in my garage so the fumes wouldn't stink up my house, and so I wouldn't get paint on anything.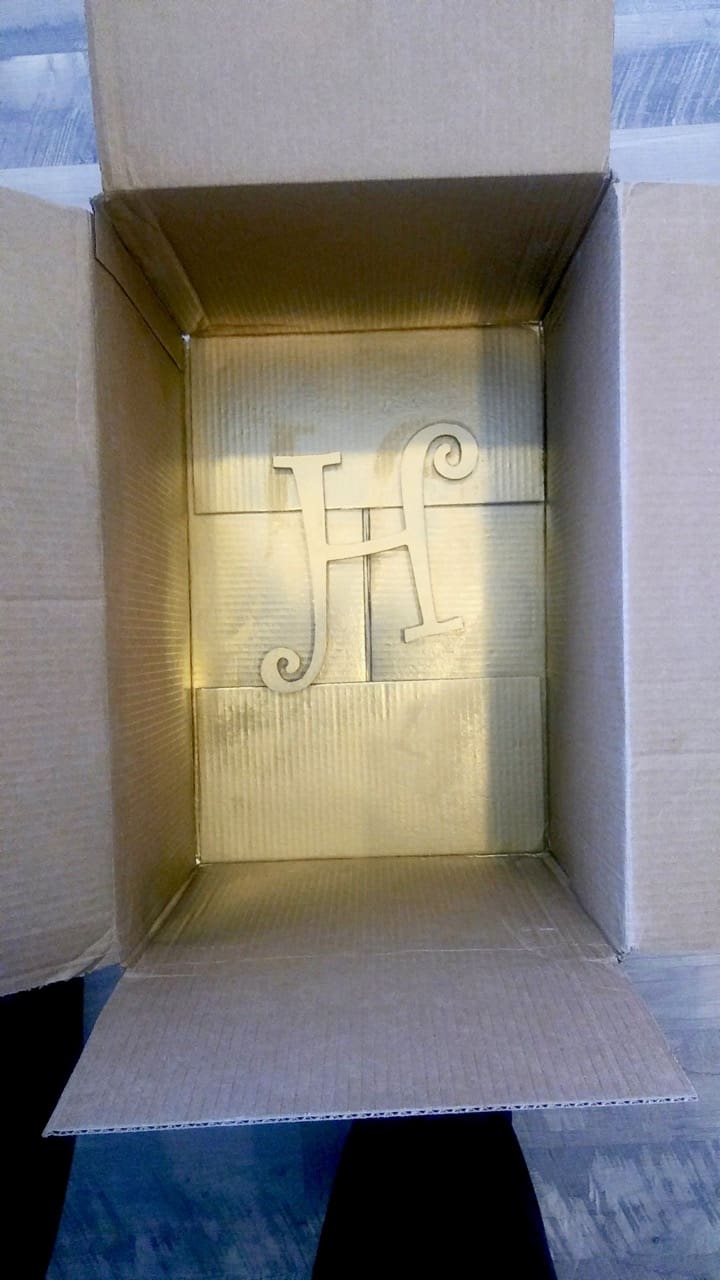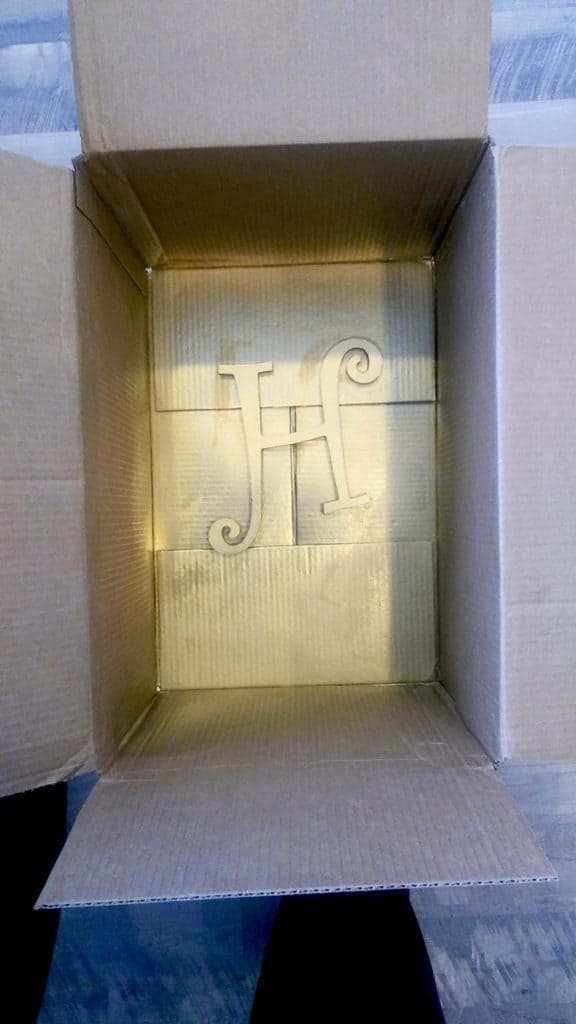 The H got sprayed first so it would have time to dry while I worked on the rest of the wreath. Next, just like Kim and Katie, I cut the flowers and leaves and started to position them where I thought I might want them but did not glue them down yet. This made it so I could move them if I didn't like the way something was looking.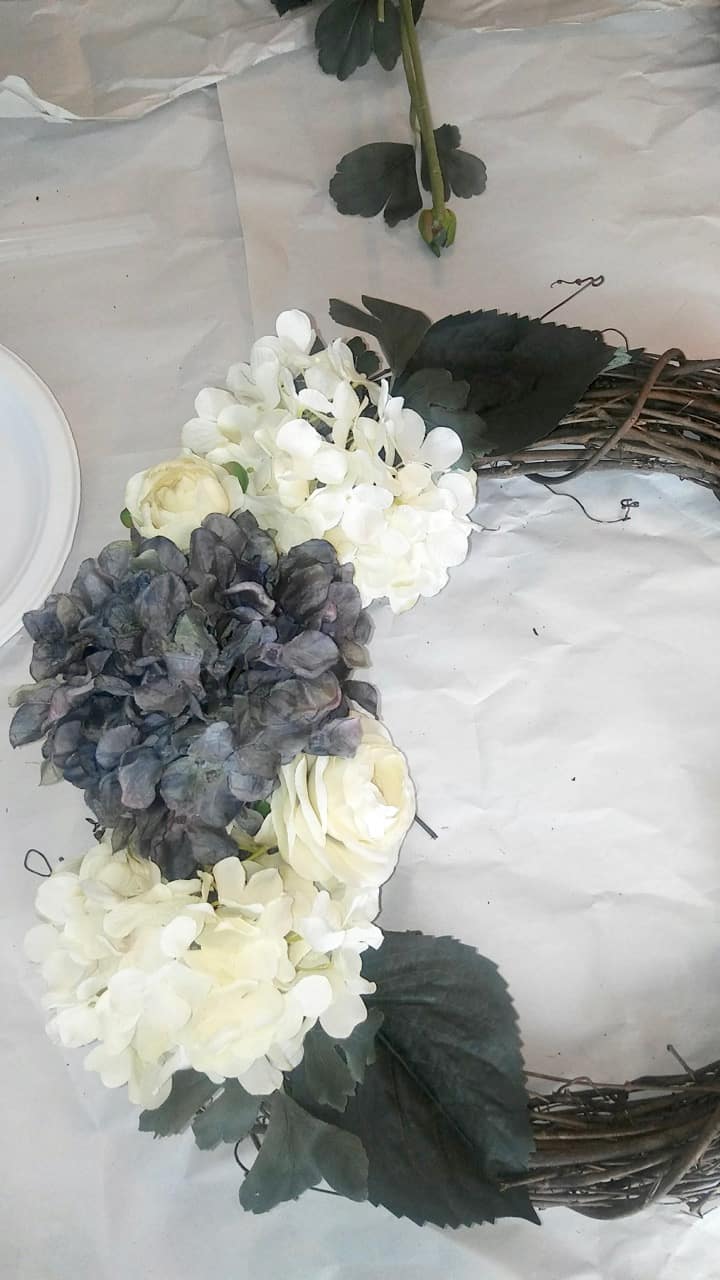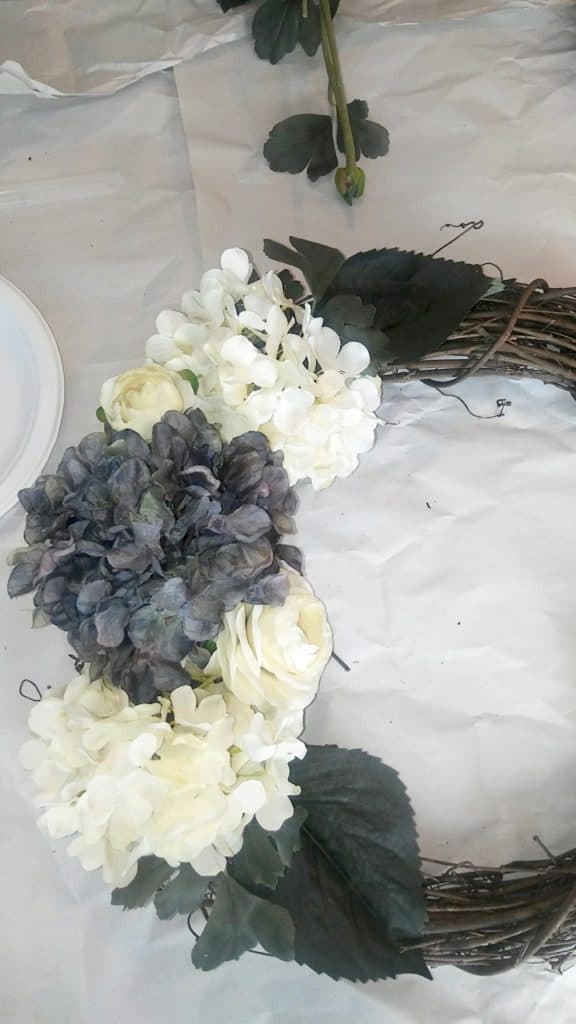 Once my H was dry, and I had staged all the flowers and leaves with it, I started to hot glue them down. Have LOTS of glue sticks and use them liberally so you don't have to worry about pieces falling off your wreath should there be a blustery day.
After everything was glued down and dried, I added wire to the back so I could hang my wreath on a door hook. You could always use Katie's soda tab method.
For my first wreath, I'm pleased with the outcome. It goes well with my style and house, plus I paid less for it than a lot of the pre-made wreaths you can buy. Bonus is getting to pick out exactly what I wanted.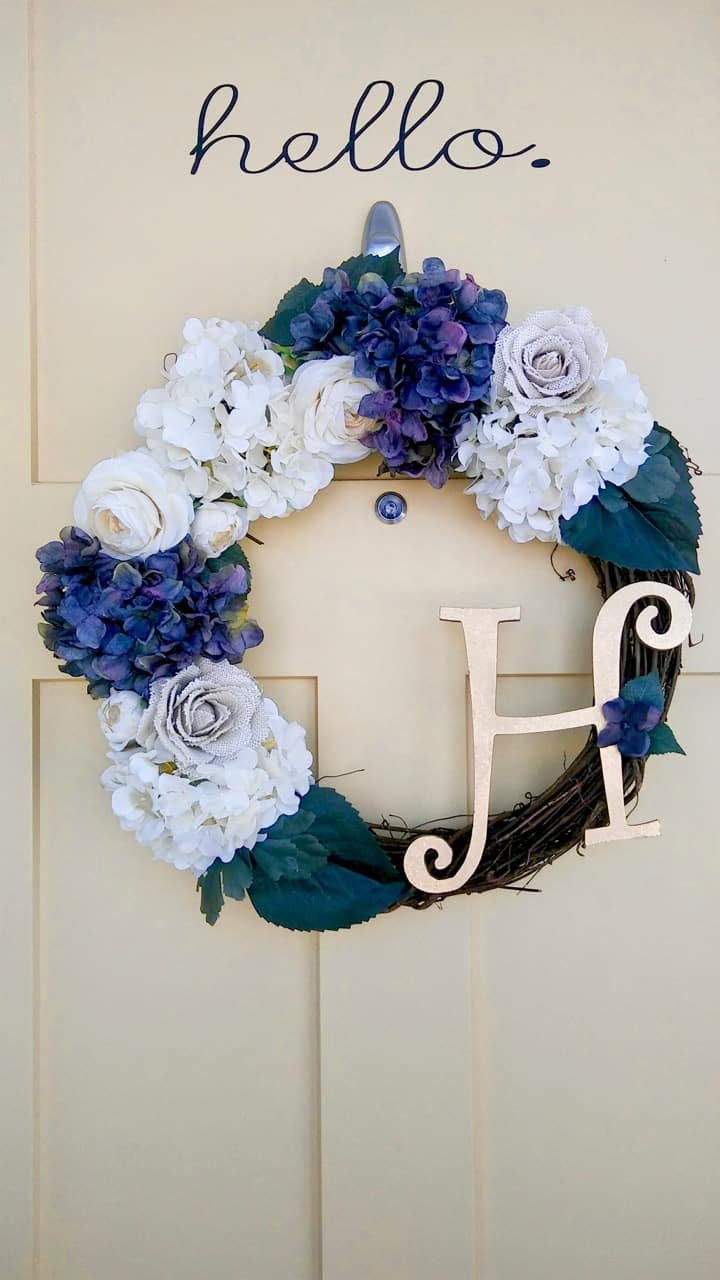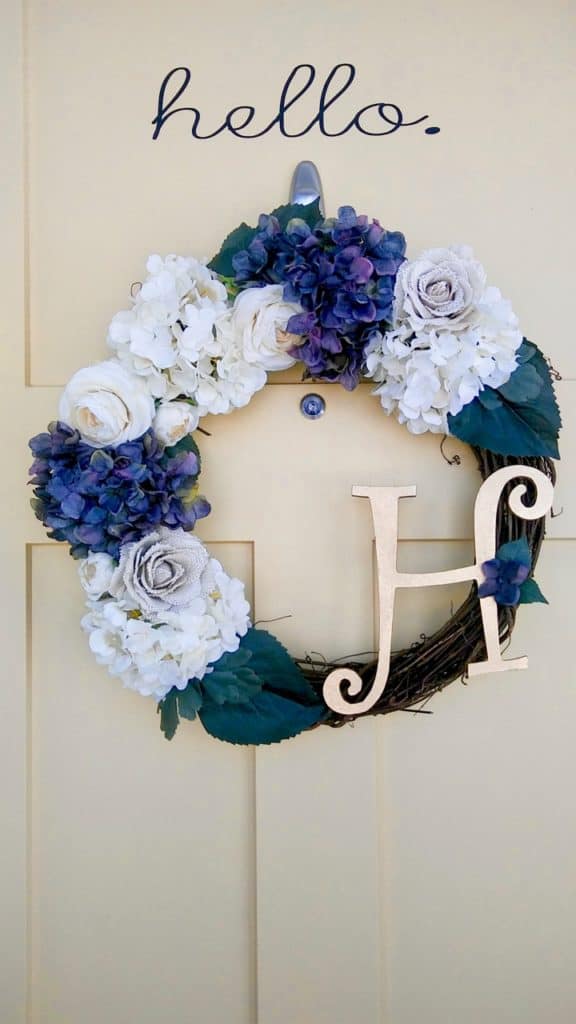 Cost Breakdown
Wreath – $2.50 with coupon
Spray Paint – $3 with coupon
Letter- 3.49
Flowers – $16
Total cost $25.91 with tax
With tax I came in just slightly over budget. I barely used any spray paint so I'll have plenty left over for another project.
---
If you love the look of our Spring wreaths but really don't want to make one or you need some more inspiration before making your own, check out this lovely collection of Spring wreaths. Click on each photo to view an individual wreath's details.
Check out those price points! I think we did pretty well on our budget friendly versions. What do you think? We hope we've given you some awesome frugal options when it comes to your own DIY Spring Wreath.
If you make one yourself we'd love to see it! You can email us a photo at [email protected]. We'd love to showcase some of our favorites on our

Facebook page

.
---
You Might Also Like: