DIY Dollar Tree Sun Hat Wreath
A wreath is an easy way to add character to your front porch. This inexpensive DIY Dollar Tree Sun Hat Wreath is perfect Spring and Summer door decor and sets the mood for happy thoughts before entering the home. Put a smile on visitor's faces by making your own today!
(THIS POST PROBABLY CONTAINS AFFILIATE LINKS. OUR FULL DISCLOSURE POLICY IS LONG & BORING BUT, YOU CAN FIND IT HERE.)
DIY Dollar Tree Sun Hat Wreath
Every year when the Spring season finally starts to show up I get crafty. Or at least in my mind I do. I walk into any store and see all the gorgeous floral decor everywhere and start redecorating my house, in thought form only. Everything is so light and bright, I just can't help being happy.
But then I look at prices and think, NOPE! I bet I can make something like this for less. That's where the crafting comes in. Again, only in my mind though. I'd say less than 5% of the projects actually get done.
Just yesterday I was out running errands. First, I was daydreaming at Target and then headed to the Dollar Tree because we were running low on school snacks. If you're not buying snacks at the Dollar Tree then you're just throwing money away but that's a whole different topic for another post.
They had the cutest sun hats there but I knew I wouldn't wear one if I bought it. I started thinking of a way I could maybe use it as Spring and Summer decor. Since I don't like to store tons of decor every season, I like to find ways to extend the decor through more seasons. A wreath made with a sun hat seemed like the perfect idea to cover both the Spring and Summer months.
This DIY Dollar Tree Sun Hat Wreath is super low cost and easy to make. It took me less than an hour to make and that's only because I had to rearrange the flowers a million times before I got them right. It's time to make your own and spruce up your front door.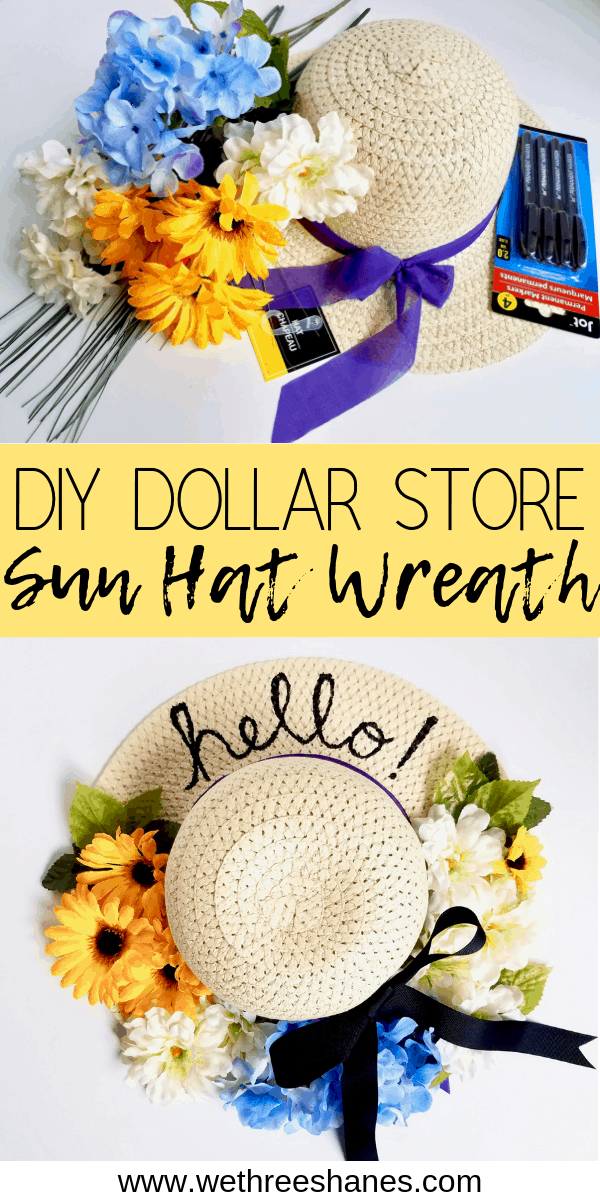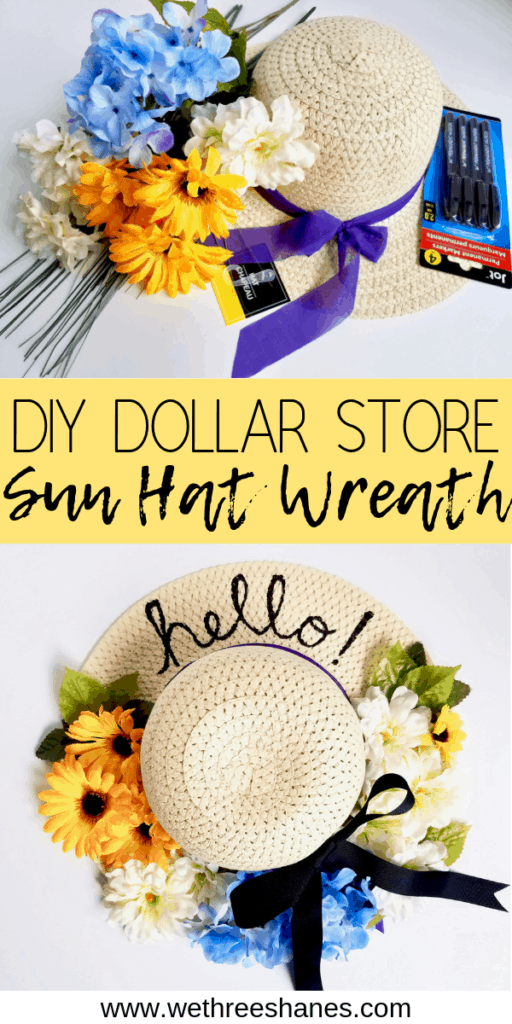 ---
Supplies You Need to Make a Sun Hat Wreath
I grabbed all my main supplies at the Dollar Tree.
Sun Hat
3 Sets of Flowers
Permanent Markers in black – but you can use any color you like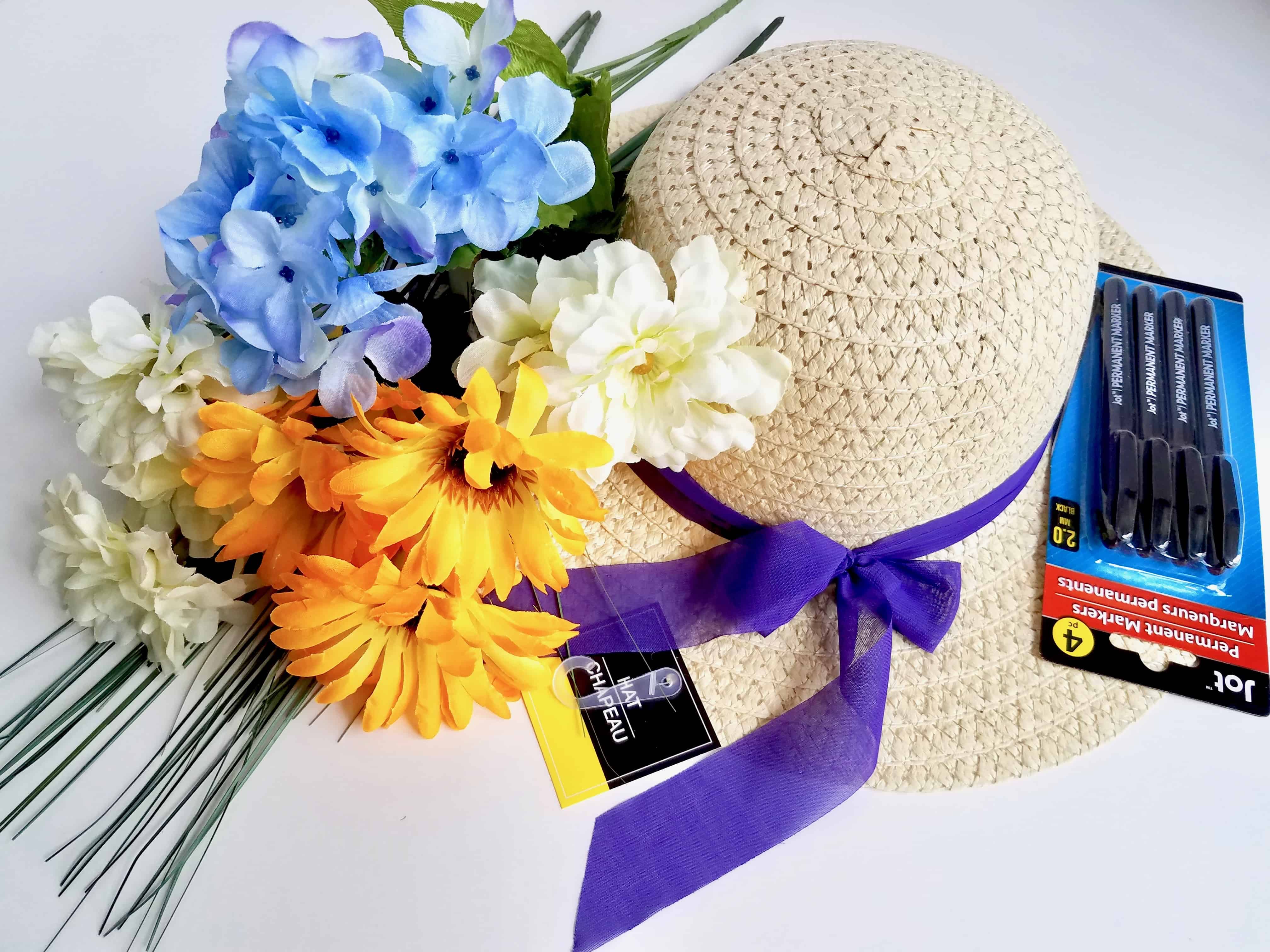 I have lots of different ribbon at home and wasn't sure if I was going to use it so I didn't buy any on this trip. If you need to buy some you can get it at the Dollar Tree. Permanent markers aren't necessary to buy if you already have sharpies at home.
You will also need a glue gun to glue flowers to the hat. You can't find that at the Dollar Tree but I do buy mini glue sticks there.
I only spent $5 plus tax on this wreath. The price can vary slightly depending on the amount of flowers you buy and if you need to get markers or ribbon. This DIY sun hat wreath is still cheaper than anything you can buy.
If you're not a fan of Dollar Tree flowers then you can grab them from Joanns, Michaels, or Hobby Lobby. This time of year the flowers are constantly going on sale so you can grab them for less. Kristy gives some great tips for spending less on silk flowers in another post on DIY Spring Wreaths.
Sun Hats are popping up at lots of stores now too so if you prefer a different style then go for it. I saw these cute sun hats in the bargain bins at the front of our local Target Store.
They were still only 5 bucks which is pretty inexpensive. The black and white stripes would really make flowers pop. The Do Not Disturb sun hat could be fun too. Keep those solicitors at bay with out an ugly sticker.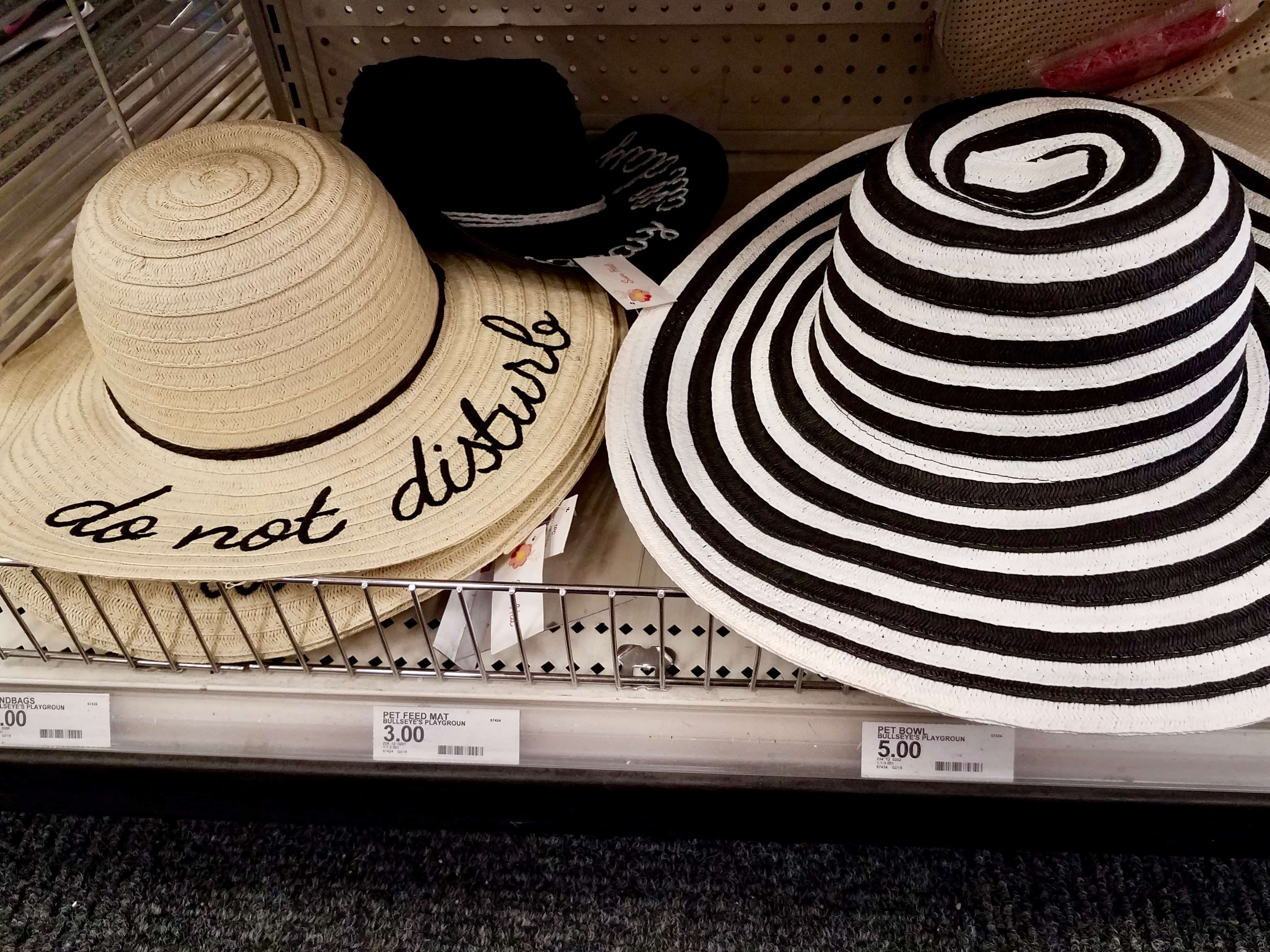 ---
How to Make Your Own Sun Hat Wreath
Making your own sun hat wreath is really easy and pretty fun. This is definitely a beginner craft.
Start by plugging in your glue gun. Make sure you've got a good surface to work on. The glue from the glue gun can seep through the hat a little so be aware.
2. Next pull the flower heads off of their stems. This is easily done. They should pop right off.
3. Pull some of the leaves off the stems too.
4. Start to arrange the leaves and then flowers on the bottom half of the sun hat's rim. Keep arranging and re-arranging until you've got a look you like. (This is always the most frustrating part for me. I'm never really satisfied with the look. Oh well!)
5. Snap a quick photo so you don't forget how it looks and then gently set the flowers to the side while trying to maintain the arrangement.
6. Alternatively, you can write your phrase on the brim of the hat at the top before arranging flowers. Then arrange flowers like in step four.
Personally I wanted to get the flowers the way I liked and then write the word in the space that's left. It's up to you how you make your wreath. If you do a longer phrase you might want to start with the words to make sure they'll fit and stay centered. (More on phrases in a minute.)
7. Start to glue your leaves and flowers back into their spots from before. Look at the photo you snapped for reference when needed.
8. If you haven't already, then write your phrase or word at the top of your sun hat. Start with a light hand and then add bulk to the letters as needed.
9. If you're using a bow you can now add that to finish of your adorable DIY Sun Hat Wreath!
You'll need something to hang the wreath with. You can use extra ribbon by glueing it to the back of the sun hat or the tab from a soda can works great too.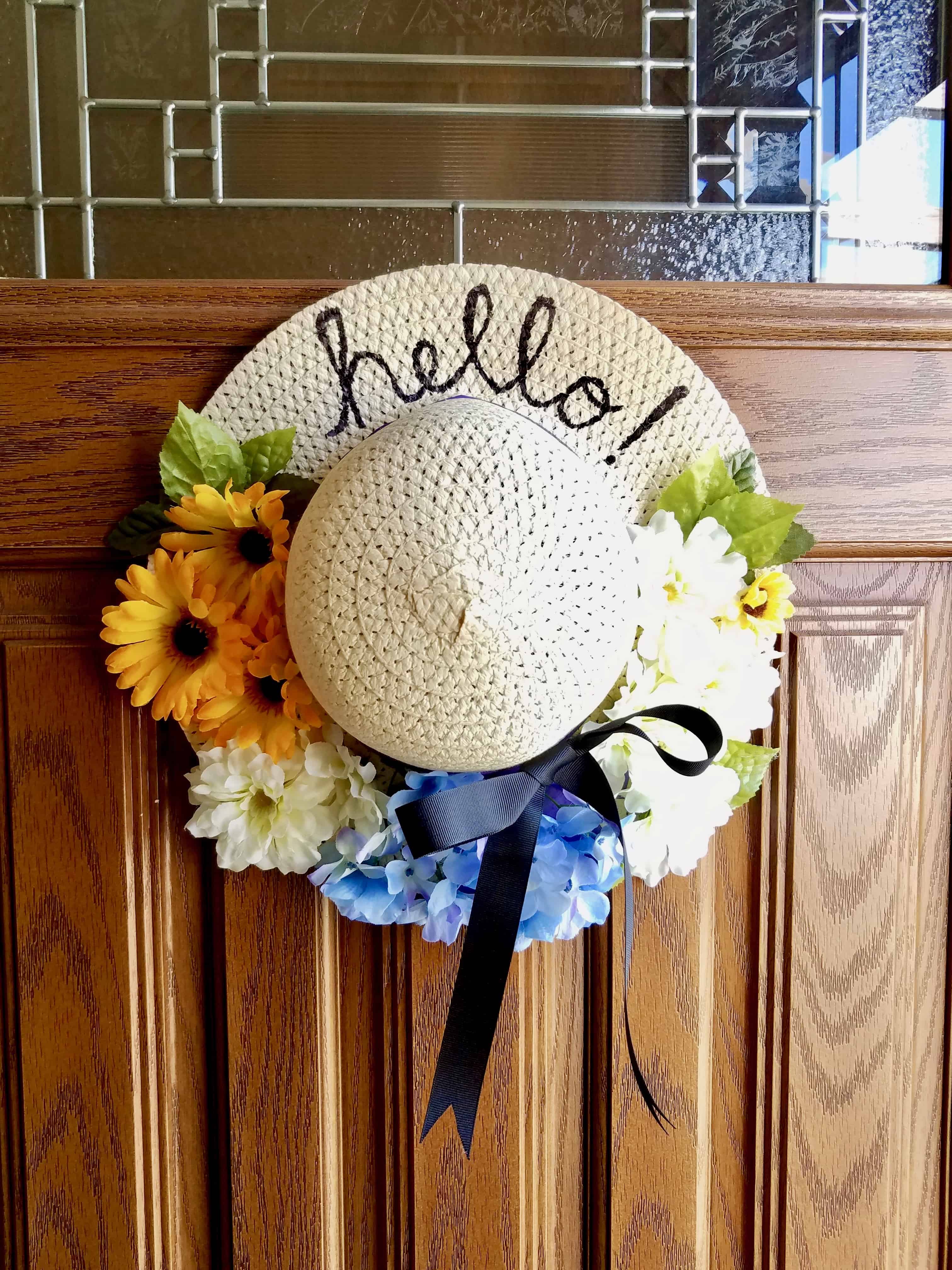 Here's my DIY Sun Hat Wreath hung up on my door. Sorry no cute porch set up on this new house yet. The door also needs some paint. But there it is anyway. A spring wreath definitely helps jazz it up a bit.
---
Phrases for Your Sun Hat Wreath
What I love most about DIY anything is making it your own. No one else will have your exact Spring wreath. One way you can personalize your wreath is to switch up the phrase you use. Here are a couple of ideas for you:
Hello Sunshine!
Blessed
Welcome
Give Thanks
Home Sweet Home
You can also change the look of your sun hat wreath by using different mediums for the letters. Instead of using a sharpie try puffy paint. You can shape the word with twine for a farm house feel. Sequin string can add some summer sparkle. Or try white rope for a nautical feel which is perfect for summer.
---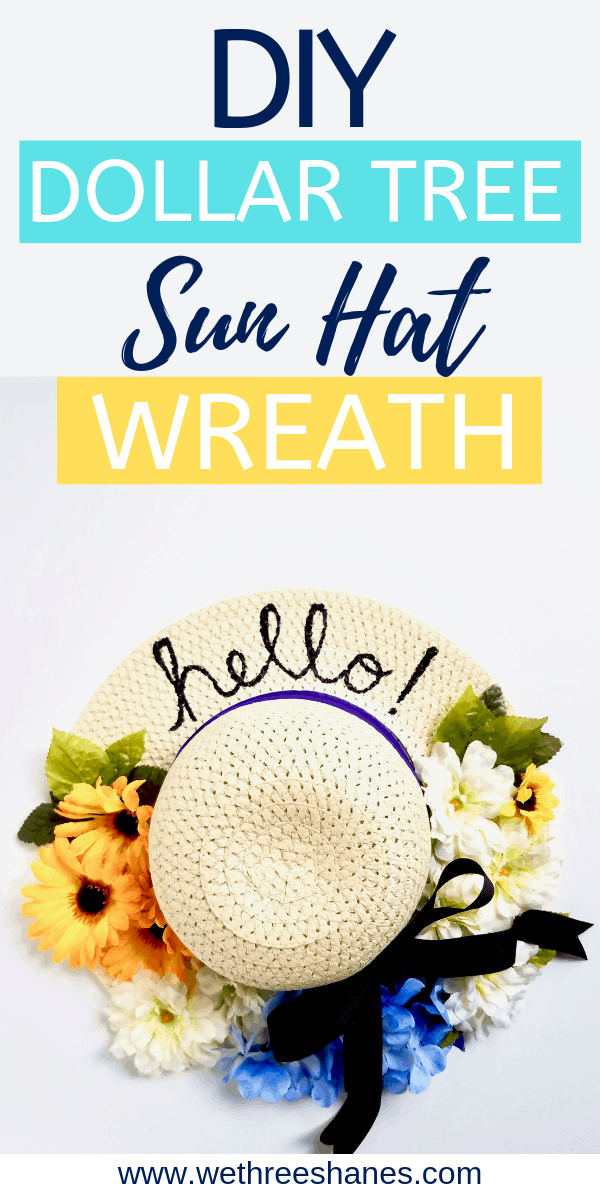 Half the fun of a DIY project is getting creative with the original idea. So get inspired and make your own DIY Sun Hat Wreath. It's an easy way to update to Spring and Summer decor without breaking the bank. Have fun!
---
You Might Also Like: