The Best Non-Candy Easter Basket Ideas for All Ages
Candy in the Easter basket is a must but sugar overload isn't. If you're looking for some Non-Candy Easter Basket Ideas for your kids then you've come to the right place. We have over 450 fun and unique ideas that will have kids of all ages singing the Easter bunnies praises!
(THIS POST PROBABLY CONTAINS AFFILIATE LINKS. OUR FULL DISCLOSURE POLICY IS LONG & BORING BUT, YOU CAN FIND IT HERE.)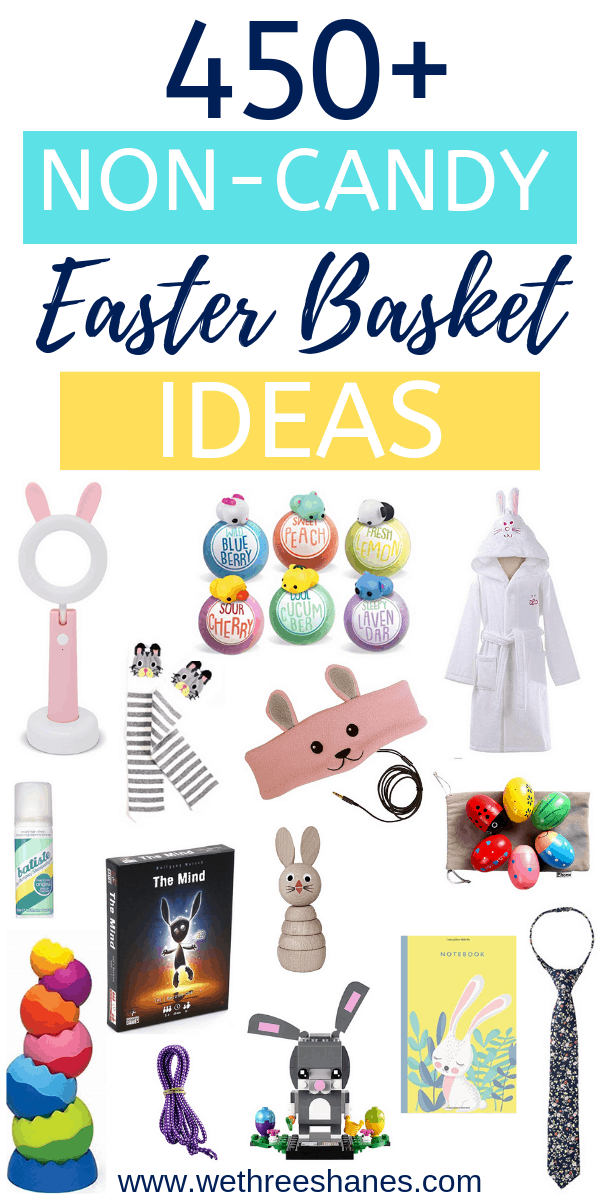 450+ Non-Candy Easter Basket Ideas
Easter is right around the corner and I just started thinking about my kiddo's Easter basket. Honestly, I never really plan ahead when it comes to Easter basket stuffers. This results in a much more candy filled basket than I'd like.
This year I really started to think hard about what else could go in the Easter basket. Once I started think about non-candy ideas, I couldn't stop. I'd have trouble falling asleep at night as I continued to run through all the fun things that can go in a basket.
I'd hate for you to loose as much sleep over this as I have, haha, so I figured I'd share the list of non-candy Easter basket fillers I came up with. My kiddo is 8 years old but once I started thinking of his age group I continued to brainstorm gifts for all age groups.
The prices do vary on all of these ideas. Personally, I try not to spend too much on Easter baskets. However, my son's birthday is in Nov so he gets all his presents in the colder months.
This means I tend to throw in some bigger Spring and Summer items to help keep him busy while schools out. Hopefully you'll find some ideas that will work for your personal budget.
---
Non-Candy Easter Basket Ideas by Category
It's not always easy to break up this many ideas into perfect categories. I decided to go by product type and not by age. So many of these Easter basket ideas cover a big range of ages. Hopefully you'll be able to find something for everyone on each list.
---
Learn and Creative Play Non-Candy Easter Basket Ideas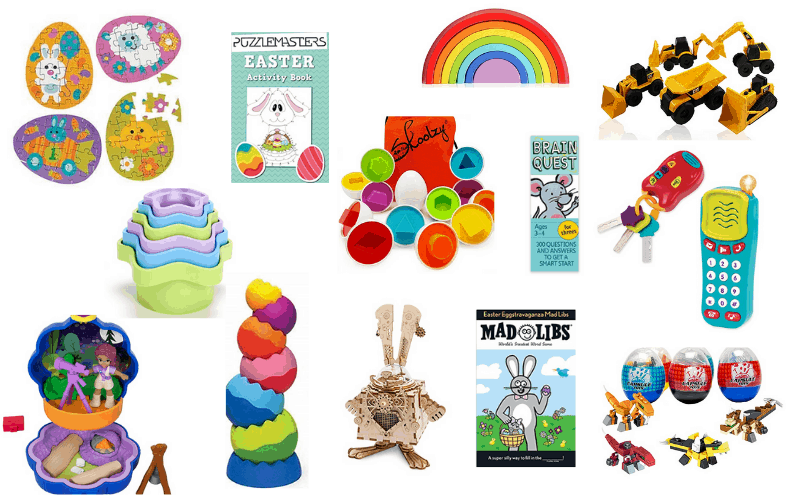 Toys that encourage growth and brain development through play are never a waste of money in my book. I do like to limit the amount of these toys because they tend to come with lots of parts. Lots of parts can cause storage and clutter problems but that's a topic for another post.
I used to work at a preschool so between that and having my own kid, I can say that all of these toys are a hit. They will absolutely get used over and over again. Adding one or two toys to the Easter basket is always fun for kids.
There are less items for tweens and teens in this list just because of the nature of the category. Don't worry! There's plenty of ideas for them in other groups.
Finger Puppets are always a big hit with the baby and toddler ages. They love to hear stories told using them, play a quick game of peek-a-boo using finger puppets, or wear them themselves. These adorable animal finger puppets are already packed in Easter eggs for your convenience.
What kid doesn't like to play with your keys and phone? Get them their own

combo set

so they can play all they want. If they are big remote control players too then consider getting them this

play remote

.
Small construction trucks were a favorite of my little guy. I love toys that can keep kids attention for years. He had

THIS SET

and loved them. They are great both indoors and outside, especially in a sandbox.
This

matching egg game

is perfect for Easter baskets and tons of fun for preschoolers.
If you want to stick with an Easter theme then try this wood bunny, Easter themed puzzle to fill Easter eggs or this traditional puzzle the whole family can have fun putting together.
Alphabet magnets

were always a great toy to keep my kid busy but near me. If I was doing something in the kitchen then he used them on the fridge. If I was doing laundry then he played with them on the washing machine or dryer. This made it easier for me to interact with him while still getting work done.
I first found a set of

Brain Quest cards

at a yard sale. My kid has outgrown that set and continues to ask for new cards. They have learning sets from preschool to 6th grade.
Dinosaurs are always a hit and there are lots of different dinosaur toys for Easter baskets.

These

large eggs

have little dinosaurs that transform. There are also

dino dig eggs

that let your little paleontologist excavate a dinosaur.

Lego like dinosaurs

also come in eggs and will keep kids busy both building and then playing with their new dinosaur.
Lets stick with the Lego theme for one more idea.

Brickstix

are reusable stickers that go on legos to turn bricks into customizable pieces.
Action Figures and Barbies are always classic free play toys that brings lots of creative thinking and imagination into kids extra time. There are so many different types of action figures and Barbies, you're sure to find something your kid will love.
Easter Mad Libs

will bring on the laughs while kids learn and sharpen their English skills.
A

Soda Geyser Tube

will get kids outside and experimenting. Don't forget to buy some mentos and a 2 liter of soda to make this one work.
Bring out the spy in your kiddos with these

Invisible Ink Pens

. I would have loved these as a kid! The ink dries invisible and you need the light on the pen cap to read the message.
Hot wheels are a great size toy for egg stuffing. This is another one of those toys that kids always love and can play with for years. Grab a

5 pack of cars

or get this really cool

Justice League set

.
My little boy was so into Thomas the Train from around 2 – 5 years old. He loved to collect all of the

Thomas Train characters

.
If you have a girl then

Hatchimals

might be more her speed. Inside each sparkly egg you'll find the cutest little animal collectables.
Nerf Darts

are always getting lost so it's never a bad idea to stock up.
---
Out Door Non-Candy Easter Stuffer Ideas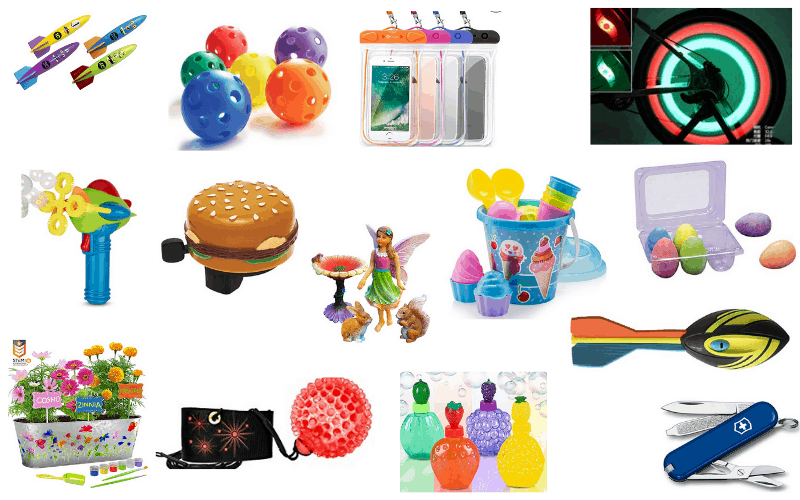 Spring is in the air and I can't wait to kick my kid out of the house! Filling his Easter basket with lots of fun out door things, encourages him to have fun outside.
Bubbles are a pretty obvious choice for Easter basket stuffers. There are so many different wands that make it fun to try something new. Animal bubble gloves are great for kids who can't blow bubbles on their own yet.
Dip Bubble Guns are also great for kids who can't blow bubbles yet but older kids love them too. I love that these guns don't attach a bottle of bubbles to them. Those always seems to make a big mess. Simply dip the wand in the solution and then pull the trigger to get lots of bubbles.
Bubble Wands are fun and easy to handle. These fruit bubbles would look so cute in Easter baskets.
This Giant Bubble Wand assortment is great for a group of kids to share. A friend brought them to the park last week and the kids played with them for over an hour. Or just grab a single wand for blowing giant bubbles.
There are a ton of balls that would be easy to throw in an Easter basket. Colorful wiffle balls are great for hitting and throwing around outside. A Nerf Vortex Football is perfect for young and old players because it's easy to throw. Zip-it Zoom Balls are a really fun take on throwing the ball around.
We just got back from Universal Studios Orlando and these Light Up Rebound Balls were the big hit. Everyone was playing with them. They are a little tricky at first which brings lots of laughs. Once you get the hang of it they are pretty addicting.
Beach toys are great for the beach but also playing in the yard or sandbox. Grab this 18 Set of beach toys with bucket or this Ice Cream Cake Sand Mold Set and use the buckets as the Easter basket. If you're always looking to save space then use these collapsible buckets as Easter baskets. The kids will have fun with them at the beach and when the summer is done you can fold them down for easier storage.
A good pair of swim googles are a great buy if your kid doesn't already own some.
Sidewalk chalk is a inexpensive but useful gift. I usually stock up at the Dollar Tree but these egg shaped chalks would be cute in an Easter basket. Chalk Grippers are also useful.
My kid loves to take a simple magnifying glass outside to check things out. THIS ONE can handle anything your kid can throw at it. If your kid really loves to inspect the outdoors then you might want to think about getting them a whole exploration set.
Fairy gardens are very popular right now so supplies to make your own backyard fairy garden would be a huge hit. Some will even fit inside a plastic egg.
This really cool Tickle Me Plant, that's leaves curl in when touched, would also be cool to grow.
---
Easter Basket Ideas for Creative Types
Easter basket fillers that develop talents and foster creativity are a great non-candy source.
Percussion eggs are an easy instrument for younger age kids. They are already shaped like eggs so they look perfect in an Easter basket. These wood percussion eggs are sturdy and painted with Spring details.
Triangle Crayons are great for younger kids who are still working on their grip. They are also perfect for travel because the triangle shape keeps them from rolling around.
Water Wow reusable activity books are awesome quiet time activities. They're also great for travel since all you need is water for kids to paint. They have so many themes it's easy to pick one your child will love. There's even a Water Wow Bible Stories book which is great if you want more religious items in your kid's Easter baskets.
Pipe cleaners are always great to have in the arts and craft supplies. This set of pipe cleaners also comes with pom poms and googlie eyes.
Color by Numbers lets kids be an artist while working on their cognitive skills. There are plenty of skill levels when it comes to color by numbers so it's easy to find something for all ages. Younger kids can start with a Melissa & Doug on-the-go coloring pad.
Wild Wonders books have gorgeous animal prints for kids to fill in and leaves some space unlettered/numbered so kids can develop their own creativity as well. If your kid would rather paint then grab a Paint by Numbers kit instead.
Egg stampers look great in an Easter basket and kids love stamps.

Stickers. I don't think this one needs any explaining. Emoji bunny stickers would go great in Easter eggs. Kids would have fun playing with Easter Foam Stickers.
Rock Painting would be an easy art project on Easter or any other day. I've seen lots of community rock gardens popping in front of houses.
Stencils were always a big hit at the preschool I worked at. Kids love to draw with them.
Scratch pads are really cool. My kid brought home a scratch Valentine's card and he absolutely loved it. I really like the scratch notebook because all the pages stay together but these note cards would be fun too. Of course Mellisa & Doug have scratch pads too that would be easier for littles.
Sun Art Paper brings art and science together. Kids can learn about the photographic printing process called cyanotypes. It's fun for all ages.
Mini Spirographs would also be a great fit and travel sized makes it great for the car.
My kid loves modeling clay and so do I. It's non-toxic and less messy than play-doh. THIS SET comes with 24 colors plus tools to help kids create. This clay is air dry so you can keep it out to dry or keep it stored in an air tight container for continued play . If you want to make things like ornaments or charms then you'll simply leave your shaped clay out to air dry.
Keyboard Stickers are great for beginners who are learning how to play the piano or want to learn more on their keyboard.
Cookie Cutters are great for your baker or for littles who like to play with clay or play-doh. These Easter cookie cutters are super cute. Or you can go with this grippy cutter set for younger kids.
If your kids like to cook then these chef apron and hat combo are the perfect gift. If your child is more of the artist type then a smock might be more appropriate.
I hadn't heard about Plastic Looms until my niece got a kit. Now she obsessed with them. She makes the cutest projects all the time. Buy a loom kit or stuff eggs with more band supplies.
Fuse beads were my thang when I was younger. This Easter set is great for your little crafter.
I also had a Face Painting Set when I was a tween and loved it. I always had a fun time painting my siblings faces.

A Balloon Animal Kit was another gift I got when I was younger and loved. It was tons of fun to learn how to make balloon animals and I can still make some of them which is fun at parties.
Click Pens – we all had them growing up right? One pen comes with 10 ink colors and you click the lever to change them.
If your kiddos like to draw then a How to Draw book might be fun for them. Younger kids will love learning how to draw with THIS BOOK and older kids might appreciate the How to Draw Cute Stuff book.
Finish This Book is another creative book. Kids of all ages can use a Drawing Prompt Notebook. My husband has one of these and after our son kept taking it over we decided to get him his own. Finish the Drawing type books are also a big hit with our son.
Watercolor Markers are fun for those that like adult coloring books, drawing, or hand lettering.
A clip on phone lens is a great gift for your photographer. It comes with a micro and wide angle lens and clips right onto a smart phone. I have my own set of these and they are really fun to play around with.
Tweens and teens might be more interested in MasterChef Junior Cookbook: Bold Recipes and Essential Techniques to Inspire Young Cooks which shares unique dishes that require a little more skill.
Teens need to acquire some cooking skills and recipes before going off to college. Picky eaters might like Teens Cook: How to Cook What You Want to Eat. Developing healthy habits before leaving the house is really important. The Healthy Teen Cookbook: Around the World In 80 Fantastic Recipes will help teens learn to cook healthy meals at home.
---
Non-Candy Easter Basket Ideas for Readers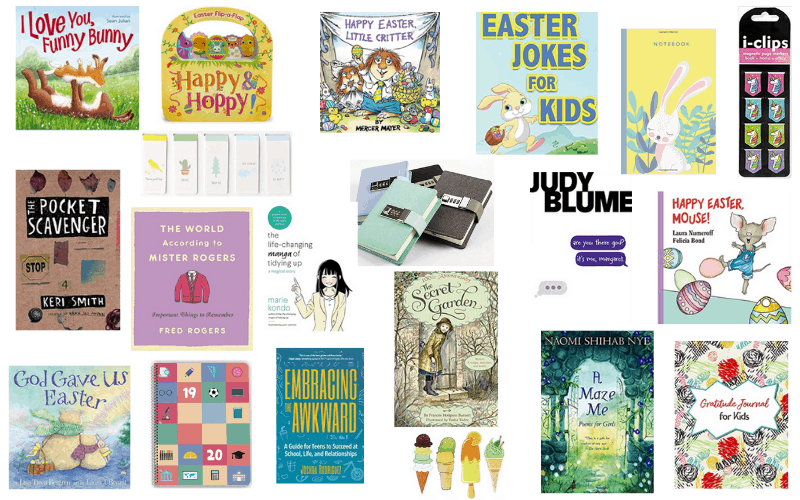 There are many different types of books you can buy this Easter season. It's easy to find Easter themed books for younger kids. When it comes to older kids I look for classics and page turners that will encourage them to read more this summer.
Also, there are lots of great self-help books to get tweens and teen through the awkward and sometimes difficult school years. Joke, riddle, and notebooks are also fun non-candy options.
---
Perfect Games for Easter Basket Fillers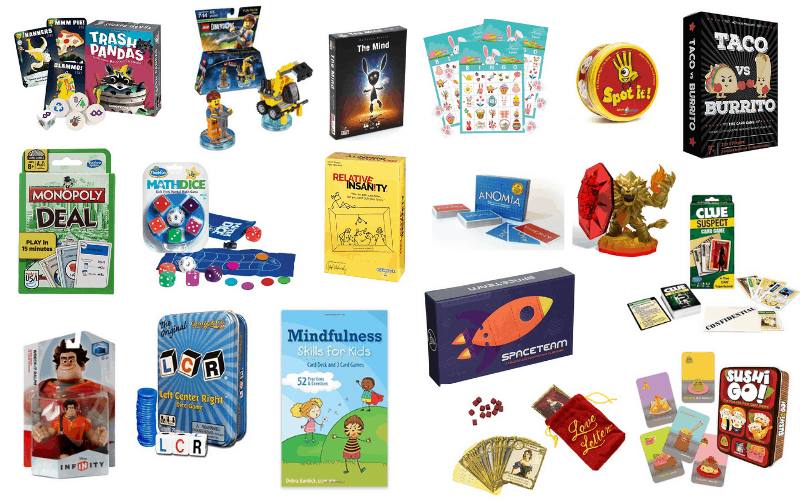 When choosing games for an Easter basket, it's nice to stick to smaller containers so the game actually fits in the basket. I would consider most of these games fun for the whole family not just the kids.
Spoons is an easy card game with a sneaky component. The set isn't necessary but is helpful if you've never played before.
I hate the game Monopoly but my kid loves it. My husband bought Monopoly Deal after seeing all the great reviews and I'm so happy he did. This is much faster to play, and in my opinion, more fun than Monopoly.
Clue Suspect is similar to Monopoly Deal in that it's a much faster version of the original game but still tons of fun.
Spot It is an award winning game that helps develop focus and works on visual perception. It's great for kids but the whole family can play.
ThinkFun Math Dice is a fun math game for young learners. It can be played with 2 or more players.
Taco vs Burrito is a popular strategy game that was created by a 7 year old. It's fun for the whole family.
Apples to Apples Junior is the same game as the adult version but with words kids will know. Some words can still be tricky for kids but that just means they learn more while playing.
Love Letter is a family favorite. It's short rounds so the game play is quick, giving everyone another chance to win the next round. It's a game of deduction, risk and luck.
Sushi Go is another strategy game with quick rounds. You collect cards to see who can get the highest score but the cards are continuously passed so you don't always know what you'll end up with. It's fun for the whole family.
Trash Panda is a card and dice game. You are trying to collect cards and rolling the dice means more action for each turn. It's a game of probability where you try to press your luck.
Anomia is a fast paced game where you race to come up with an answer to the question on the card before another player. There's a bit more to it but that's the easy explanation. It's kind of like the game 5 Second Rule but your competing against other players.
The Mind is a cooperative game so you all win or lose together. There is no talking so you really have to be in sync with other players to win. It's great for family bonding.
Relative Insanity is very similar to Say Anything. Both are so much fun. Someone picks a card and reads the scenario and everyone comes up with an answer. The best one wins.
Spaceteam is another cooperative game that only lasts 5 minutes. Everyone has a job to do while trying to build a spaceship but everyone has the cards you need. There's a lot of shouting out to find the correct cards. It's lots of chaotic fun.
LRC stands for left, right, center. It's a fast paced dice game where you pass your chips to the left, right or center depending on the dice roll. Last one with a chip wins. You really can't be sure who will win until the very end.
---
Bath & Body Basket Ideas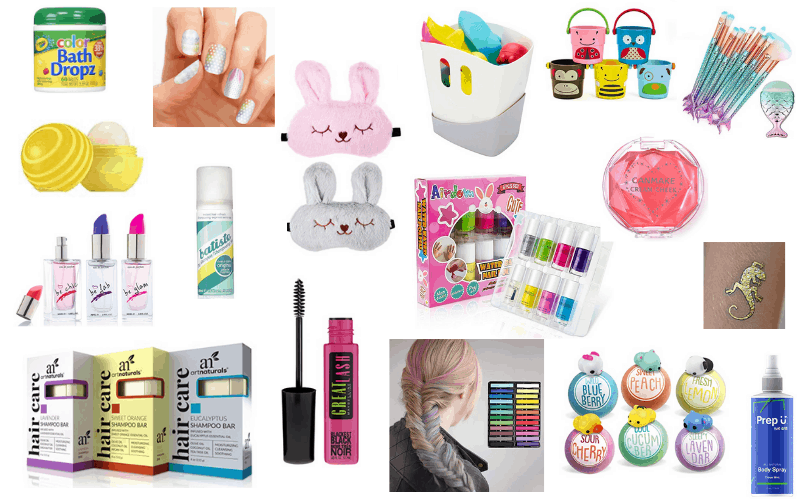 Who doesn't need a little pampering in their life? Bath & body products make any age happy. These are the types of gifts that always get used and their size makes them perfect for Easter baskets. We start off with the younger kids and then work our way up to tweens and teens.
Fishing Game Bath Toys set is great for keeping kids busy in the bathtub or pool. The colorful marine animals float and kids can use the fishing pole to catch them or net to scoop them up making them great for hand eye coordination. Use the Freestanding Bath Toy Organizer as an Easter basket and later to keep all bath toys organized and dry.
Color Bath Drops are a fun way to change up bath time. Kids love to see the water change colors.
Grow toys bring math and excitement to bath time.

Magic Grow Capsules are quick to expand once they hit the water and kids love to see what is in each capsule. Because the capsules are small, they make great egg stuffers. Water Growing Sea Creatures expand up to 300% when left in water. Kids can play with them in the bath or pool. A Magic Towel expands in water just like the toys above but can then be used as a washcloth which is convenient.
Consider getting a fun set of Color Street real nail polish strips instead of nail polish. It's like going to the nail salon but cheaper and can be done at home for a bit of mother daughter bonding. They have the cutest Easter and spring nails. If you don't know what Color Street is then check out Kristy's review on the product.
Hair chalk is a fun non-permanent way to add color to hair for both boys and girls, young and old. Colorful hair clips are another way to add color by just clipping it into hair. Your tweens will love this Unicorn Ponytail clip in.
CANMAKE Cream Cheek comes in an adorable container and gives cheeks a natural glow. NYX PROFESSIONAL MAKEUP Butter Gloss in Angel Food Cake lip gloss looks good on everyone. If you want to go the makeup route but don't want to buy makeup then try this 11 Pieces Mermaid Makeup Brushes set.
I'm not much of a perfume wearer now but as a tween and teen I loved it. Kids and tween girls will like this Body Mist Perfume Gift Set while teens will appreciate the light floral/vanilla scent of Katy Perry's Purr. A sample set gives tweens and teens many fragrance choices.
Boy tweens and teens will like the lime & pine needle scent of Marmol & Son G.I. Joe Spray. If your worried about your teen not liking a Batman cologne then try Adidas Pure Game.
If your not sure you're ready for your kids to wear perfume or cologne then try a body spray. Bath & Body Works Mad About You is great for girls while Prep U Body Spray or Nautica Blue Sail Deodorizing Body Spray is great for boys.
---
Non-Candy Easter Basket Ideas to Wear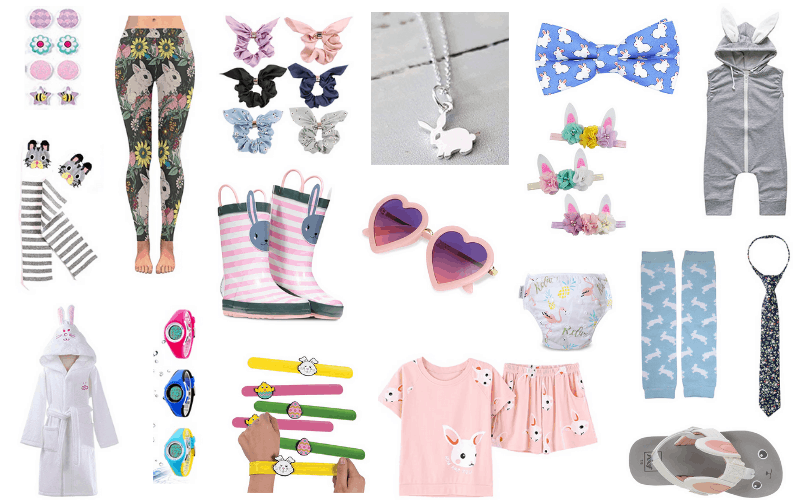 Can I just tell you about how many cute things have bunnies on them. It's a lot! You don't have to stick with an Easter theme when it comes to non-candy gifts that kids can wear but there are so many Spring and bunny items that are the cutest.
Pajamas are a great addition to Easter baskets because it's a an opportunity to get kids new spring/summer jammies that won't be so warm to wear. Babies will look dreamy in these bunny pjs.
Toddler to tweens will look cool and stay cool in these jammies for girls or boys. This tween/teen pajama set for girls is perfect for an Easter basket. A pajama shirt might work best for teen boys. A comfy bunny robe will fit toddlers up to teens.
Sunglasses are a must now that the sun is showing it's face. Babies will look adorable in Retro Sunglasses that come in many colors. Boys and girls aged 2-10 will love these Classic Sunglasses that also come in many colors.
Heart Shapes Shades will keep your girls and tweens looking fresh all summer long. Vintage Round Sunglasses will look good on teen girls. All teens can wear Polarized Sunglasses. They come in different colors but the clear are super popular right now.
This floral swimsuit is adorable for girls and this UPF 50+ Sun Protection Suit with matching hat, is perfect for boys. You can go the family route and buy matching mommy and me swim suits from Zaxarra or get the whole family matching with Family Swimwear. Consider buying a swim diaper as well. It's always great to be thinking reusable and in the end it saves you money.
If your kids are rocking the crocs this summer then consider getting them some new shoe charms. There are tons of different styles so you're sure to find some for kid.
Rain Boots can be used as an Easter Basket so grab your kiddos a pair and stuff. Apakowa has the most adorable rabbit rain boots but they have other styles too.
Mood rings could definitely go under the retro category below but will stick them with the rest of the jewelry items. I loved these growing up and kids still do. You can go with a traditional mood ring or this fun looking eye mood ring.
I know I already put earrings on the list but I just love how simple these Bunny Earrings are. This Vintage Handmade Bunny Rabbit Animal Wrap Ring is perfect for any ring lover.
Watches are still a popular gift even if so many people have a phone. This sleek Digital Sport Watch is great for kids still learning how to tell time with hands. Older kids will like this Time Teach Watch. Both are water resistant and come in many colors. Teens will like the stylish, multi-functional Pasnew-445 Sports Digital Watches which come in many colors and is water proof.
---
Non-Candy Easter Basket Ideas that are Useful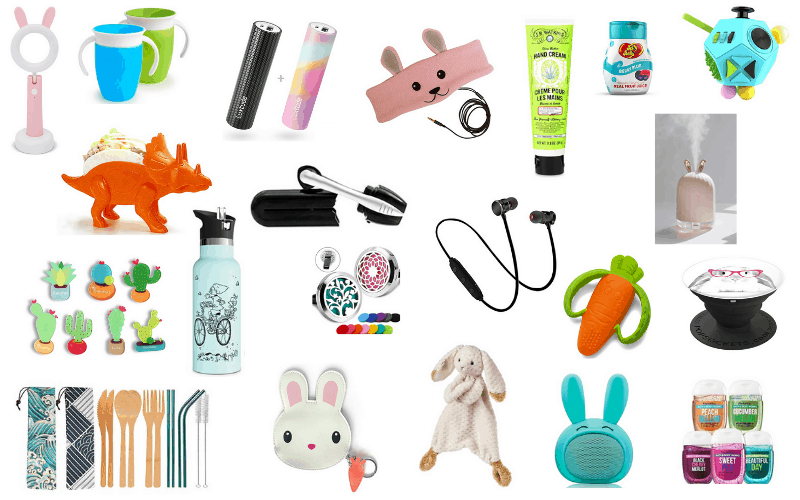 There are plenty of non-candy Easter basket fillers that are useful gifts. Stuff that has a purpose is always a favorite of mine because I know it will get used. Not everything on this list will have kids jumping for joy but I think it's important to get necessity items and not just fun stuff. There are tons of things for older kids on this list.
Sippy Cups are definitely useful and you can store other fun Easter items in them. Munchkin Miracle 360 Trainer Cups are my favorite because they train babies/toddlers how to drink properly and they're easy to clean.
Ok. Lets talk reusable items for a minute. It's important to start teaching kids while they're young that reusable is the way to go. The more they see these things in the house the more conscious they will be about wastefulness. Reusable Water Bottles are a huge way to reduce plastic waste in the world.

WaterWeek Classic Reusable Water Bottle Set is my favorite set of water bottles.
The pack comes with 5 – 16 oz, BPA Free, colorful water bottles and a fridge tray organizer. Put the tray in the fridge, fill the bottles and they're ready to go. Put a different water bottle in each kids Easter Basket and they can keep track of which one's theirs.
Younger kids might prefer a water bottle that's easier to open and close. Double Insulated Water Bottle with BPA Free Straw Lid & Sports Cap have interchangeable lids to fit all kids needs.
We recently had friends over for dinner and got out our truck taco holders for the kids. They LOVED them! They had so much fun with them and they really are helpful to use.

Fred TACO TRUCK Taco Holders hold two tacos and come in a set of two. The Cat Taco Holder comes in both red and green or get Dino Taco Holder in red, orange, or green.
Fidget toys can be a really helpful gift for those who need them. A

TANGLE Set is great for kids who need to sit for a long time making it great for the car, doctors office, or church. This 12-Side Fidget Cube comes in tons of colors and is sure to keep kids occupied. Monkey Noodles are stretchy strings that can be pulled, tied, squeezed, or wrapped. They can be used as a sensory toy or fidget toy. Pop bubble stress relief toys are great for tweens and teens. Teens will enjoy a Fidget Edamame Keychain that they can pop beans in and out of until their hearts content.
Locker magnets will fit in Easter eggs and are helpful for hanging stuff in tweens and teens lockers.

Steel Magnetic Push Pins are industrial strength so teens can hang anything in their locker without worrying about it falling. These Cactus Magnets are adorable and have great strength too. Magnetic Locker Mirror is always useful.
Travel Tissues are another need when kids are gone for so many hours a day.
I hate when I break a nail when I'm out and I keep snagging everything until I can get home and file it. Rotus 5 PCS Glass Nail File Set is great for throwing in purses, bags, lockers, or the glove compartment . It comes in a 5 pack so give one to your girls and keep one or two for yourself.
Get kids some

Mounting Tacky Putty and let them redesign their room 'till they're blue in the face meanwhile walls will stay safe.
Gift cards can make anyone happy. All kids will like gift cards to the movie theater, Target or Walmart, Amazon, Xbox, Barnes & Noble, iTunes, Visa Gift Card. In addition to those gift cards, older kids like gift cards to their favorite fast food or restaurant especially if it's close to their school and of course don't forget Starbucks.
---
Retro Non-Candy Easter Basket Ideas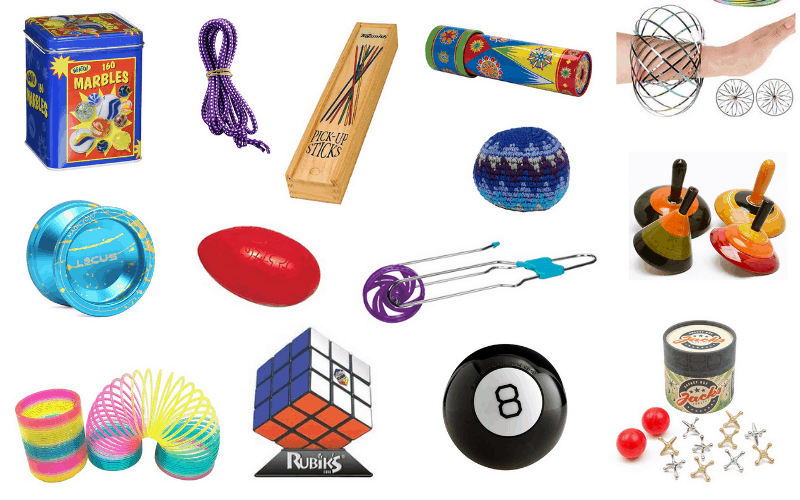 My parents were just in town and we were talking about the game Jacks. It was my mom's game back in the day and it made me start to think about my favorite things when I was little. Old school toys and games are just as fun today as they always were and helps get kids away from electronics. Here's a short list of some fun oldies your kids will still enjoy:
A Tin Kaleidoscope is a classic toy. Just turn the end to see the colored patterns change.
Tops are always fun to see how long you can get them to spin for. This set of 6 sturdy wooden tops are handcrafted and are absolutely beautiful.
Slinkys are still a lot of fun but don't expect them to be built like they used to. None of the "original" metal Slinkys have great reviews. Your best bet is to go with this plastic Slinky in pastel Spring colors.
If your not feeling a Slinky then consider the Flow Ring Magic Bracelet. My niece has one of these and we all have a great time playing with it.
Silly Putty is one of those toys that is so simple but packs a big punch. It's fun to squish, tear, shape, is quiet to play with and comes in it's egg shaped container so perfect for the kids Easter basket. If you have more than one kid then consider getting a 6 pack of them.
Jacks are a fun game that helps kids with their hand-eye coordination. Just bounce the ball and see how many jacks you can scoop up before catching the ball again.
Jacks was my mom's game but Pick-Up Sticks was mine. I loved playing this game when I was younger.
Yo-Yo's are still a popular toy but can be tricky to get the hang of. Starting out with a beginner yo-yo might be your best bet. If your not sure about a yo-yo try a Magic Rail Twirler.
Magic 8 balls were the center of all slumber parties growing up so when my son got one for his 6th birthday I wasn't sure what he'd think about it. He loves it and him and his friends still love asking it silly questions 2 years later. I'm sure the fun will last for years to come.
Cat's Cradle needs to be passed down to the next generation. So much time was spent at recess playing with a piece of string and it was so much fun. This Cat's Cradle Kit comes with the string and a book that teaches all the fun finger shapes.
Speaking of how much fun you can have with a string, Chinese Jump Ropes were life in elementary school. This fun and versatile game is sure to still be a hit. With summer coming up this game is an easy way to get kids off the couch and outside playing. Look at some youtube videos if you can't remember how to play.
Rubix Cubes are still a classic. Kids can impress their friends as they show how quickly they can solve it. Youtube is also helpful when looking for tips on how to solve the cube.
As we got older we graduated from Chinese jump ropes to Hacky Sacks. You could always find groups of friends standing in circles at lunch passing the hacky sack around.
---
Adding Religion into Easter Baskets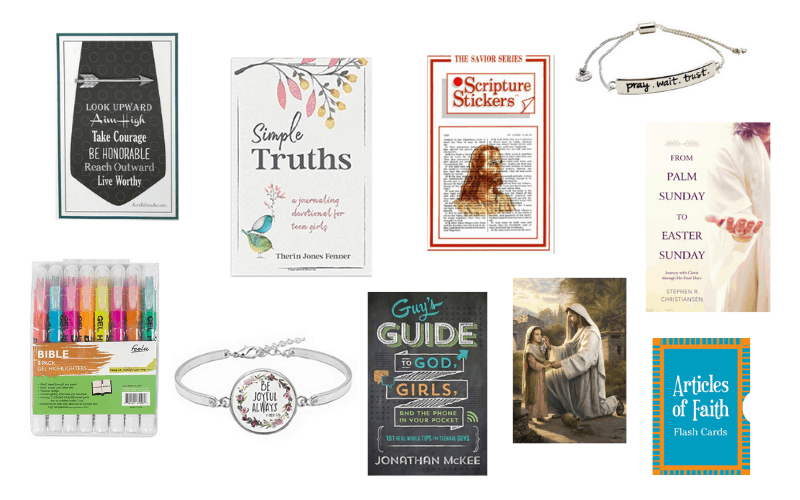 Easter has become a fairly commercialized holiday. As someone who tries to keep religion in the holiday I always find at least one religious item to add to Easter baskets. Us 3 sisters are members of The Church of Jesus Christ of Latter Day Saints. I'll be adding some items that go specifically with our religion but I did try to find some general Christian items as well.
I found one of the easiest things to add to an Easter Basket is a photo a Christ. I usually try to make it a photo of Jesus with children.
For those who are Latter Day Saints these Article of Faith cards are really great. My kid got them as a gift when he was baptized and he loves to read them during Sacrament.
Books to read on Easter Sunday are a always a good investment.
He Is Risen: Rocks Tell the Story of Easter is a beautiful book visually that tells the Easter story is a simple way.
My First Story of the First Easter is a book for kids that explains everything on their level.
Celebrating a Christ-Centered Easter: Seven Traditions to Lead Us Closer to Jesus Christ gets the whole family involved in celebrating Easter together with Christ filled traditions.
From Palm Sunday to Easter Sunday: Journey with Christ through His Final Days is great for teens who want more understanding of what Christ went through in his last week before his crucifixion.
Devotional books for kids and teens can be a huge help in these tough years. I know I already had a book section but I wanted to put more religious ones in this section.
Kids can connect daily with the scriptures and who they are by following Our Daily Bread for Kids: 365 Meaningful Moments with God or Jesus Calling: 365 Devotions For Kids.
Teen Girls can find the light in their daily lives with Live in Light: 5-Minute Devotions for Teen Girls or Simple Truths: A Journaling Devotional for Teen Girls.
Teen boys can get real-life advice from a faithful perspective in The Guy's Guide to God, Girls, and the Phone in Your Pocket: 101 Real-World Tips for Teenaged Guys or 3-Minute Devotions for Guys: 180 Encouraging Readings for Teens.
Any teen who plays sports can gain some wisdom from reading Heart of an Athlete a spiritual training for athletes.
---
Non-Candy Easter Basket Padding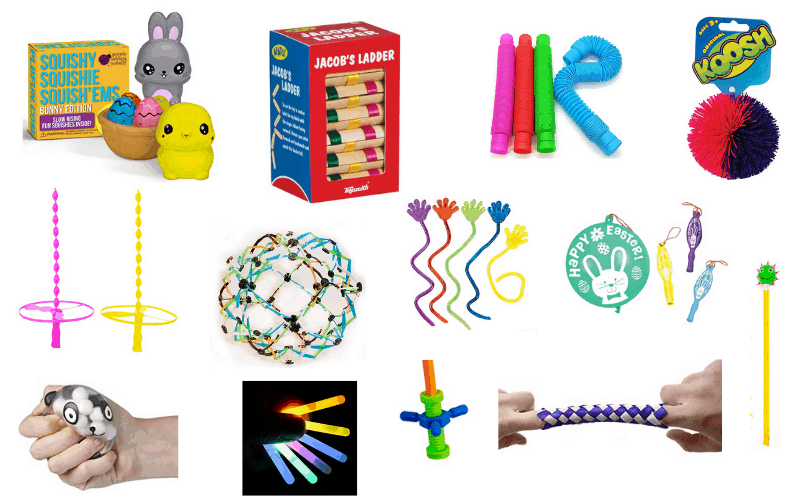 Some people might consider padding as the junk category. These are inexpensive, small gifts that are easy to throw in a basket to bulk it up. These goodies will definitely be played with but maybe for only a day or two. They will add to the clutter in your home and are not very eco friendly.
You might be wondering why I'm including this list after talking it up so much. Ha. While I would never fill a basket entirely with products from this category, they are great when only buying one or two. Why? Kid's freaking love them.
Spending a couple bucks to provide my kid with hours of fun is totally worth it to me. If you're not into it then cool. There are plenty of other things to choose from the list above.
Finger Traps are also one of the toys that trips kids out so they are fun to play with but the novelty does eventually wear off.
Pop tubes are like the equivalent of popping bubble wrap. Ok maybe not quite as satisfying but pretty close. One is fun but if you have more then you can connect them to make all kinds of shapes.
Sticky Hands – Kids love sticky hands and they fit well in plastic eggs.
Glow Sticks – I really love these small glow sticks because they fit inside Easter eggs. Kids can break the sticks to make them glow and put them back in the eggs. Then have fun taking turns hiding and finding them all through the house come nightfall.
Big Mo's Toys Flying Discs seem like a simple toy but they are lots of fun. Kids can spend hours flying the discs around. Plus they are pretty light weight so they can be played with in the house with out too much worry.
My kid goes crazy for an Expanding Ball and always wants to get one when ever we see them.
Koosh Balls are another ball my son goes straight to in a store. I must admit I still like to play with them too.
Wildlife Stress Balls have little balls inside so when you squish them you can feel and see the other balls. Easter Squishies can be smushed down and then will slowly rise back up. They are great for kids who need to calm down.
---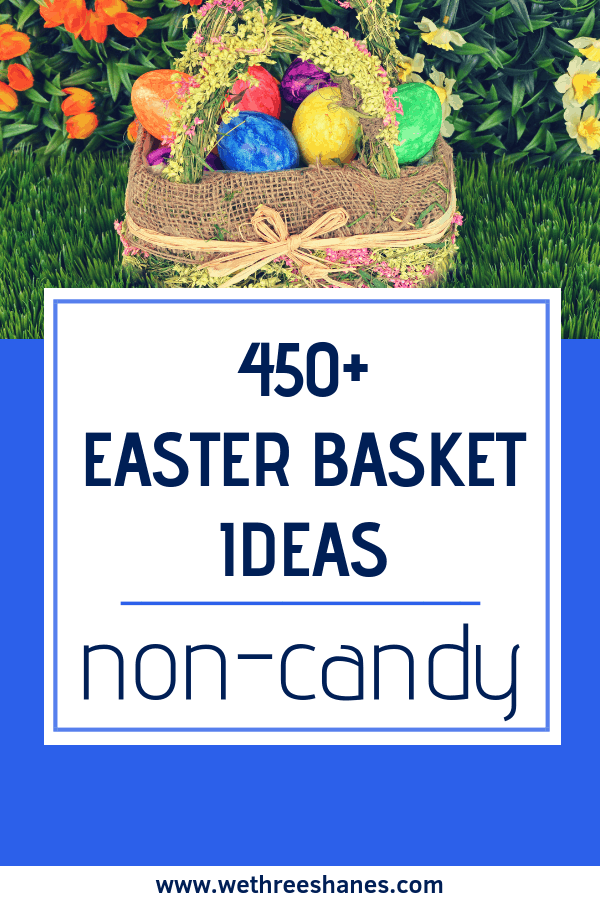 That was a long list! If you actually made it to the end to read this then I'm pretty impressed. I truly tried to think about everything that could be used as a Non-Candy Easter Basket Filler. While all items on this list aren't for everyone, I hope you were able to find some new ideas to fill those Easter baskets with.
When it comes to non-candy items, is there anything that goes into your kids Easter baskets that I didn't think of? I'd love to hear about it in the comments section!
---
You Might Also Like: