Wood Bead and Pipe Cleaner Bunny
Make this easy Wood Bead and Pipe Cleaner Bunny in less than 5 minutes! This simple Easter craft is great for kids but also makes cute spring decor.
(THIS POST PROBABLY CONTAINS AFFILIATE LINKS. OUR FULL DISCLOSURE POLICY IS LONG & BORING BUT, YOU CAN FIND IT HERE.)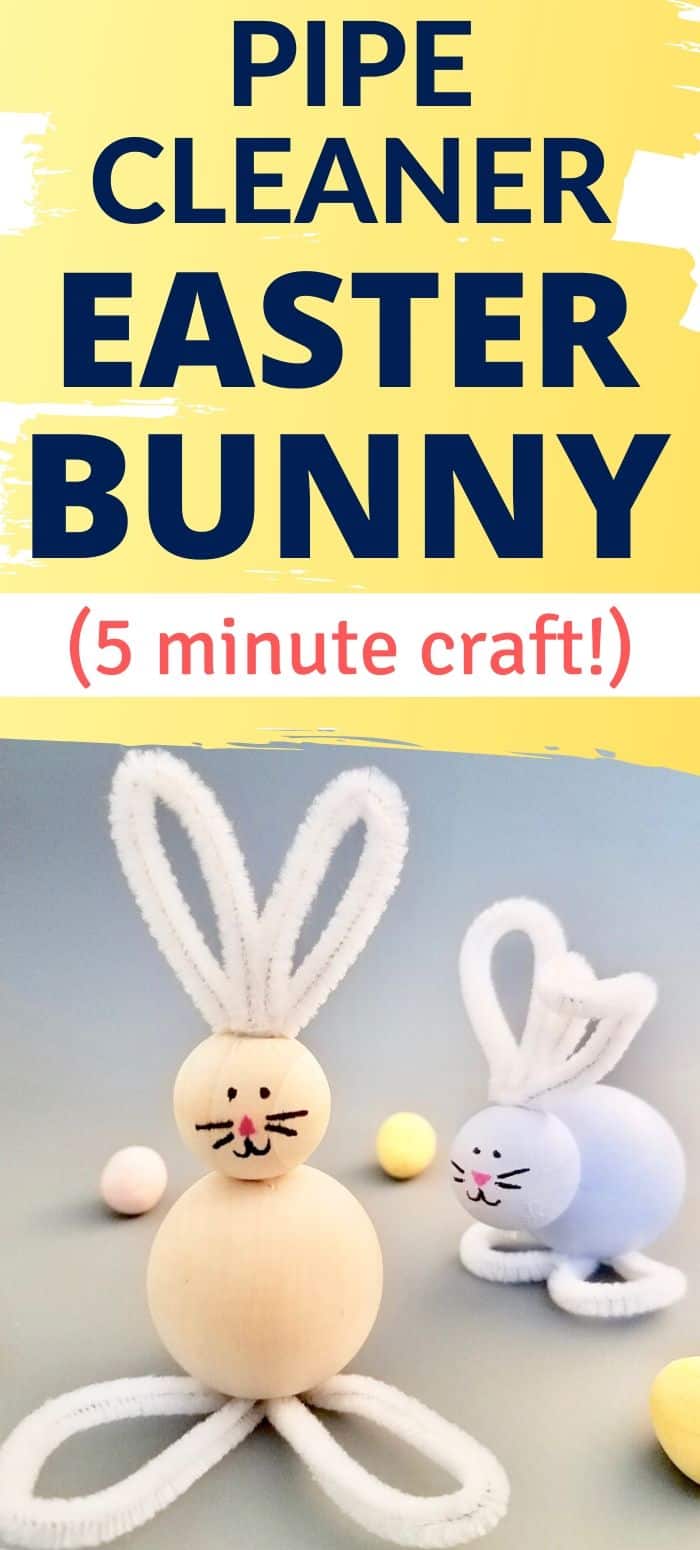 Wood Bead and Pipe Cleaner Bunny
We've been hitting pretty hard with the decluttering and organizing posts lately so I decided to throw a craft at ya. This charming little bunny is a great spring or Easter craft. Pipe cleaner bunnies come together in under 5 minutes with no glueing necessary! It's a great project for kids and adults to make together.
Learn how to make your own wood bead bunny by following the tutorial with pictures, below!
---
Materials Needed to Make Wood Bead and Pipe Cleaner Bunny
You really don't need much to make this adorable little bunny craft.
You Might Also Need:
You can make your pipe cleaner bunnies in any colors you want. I made a white and natural one and then I painted one a lavender color. Consider colors before buying your pipe cleaners, pom poms, and paint.
Both pipe cleaners and pom poms can usually be found at the dollar store but if you craft a ton or are making multiple bunnies, then it might be smarter to buy a multi-pack like <THIS ONE>. It could definitely save you money in the end.
When buying wood beads, make sure they have holes in them. Double check this before buying. Wood beads can be a bit pricey so buying the wrong kind would be a bummer.
---
How to Make a Pipe Cleaner Bunny
Step 1. Grab two pipe cleaners in the same color. I used white but any spring colors work. Bend each pipe cleaner down about two inches. These bends will form your bunny's ears.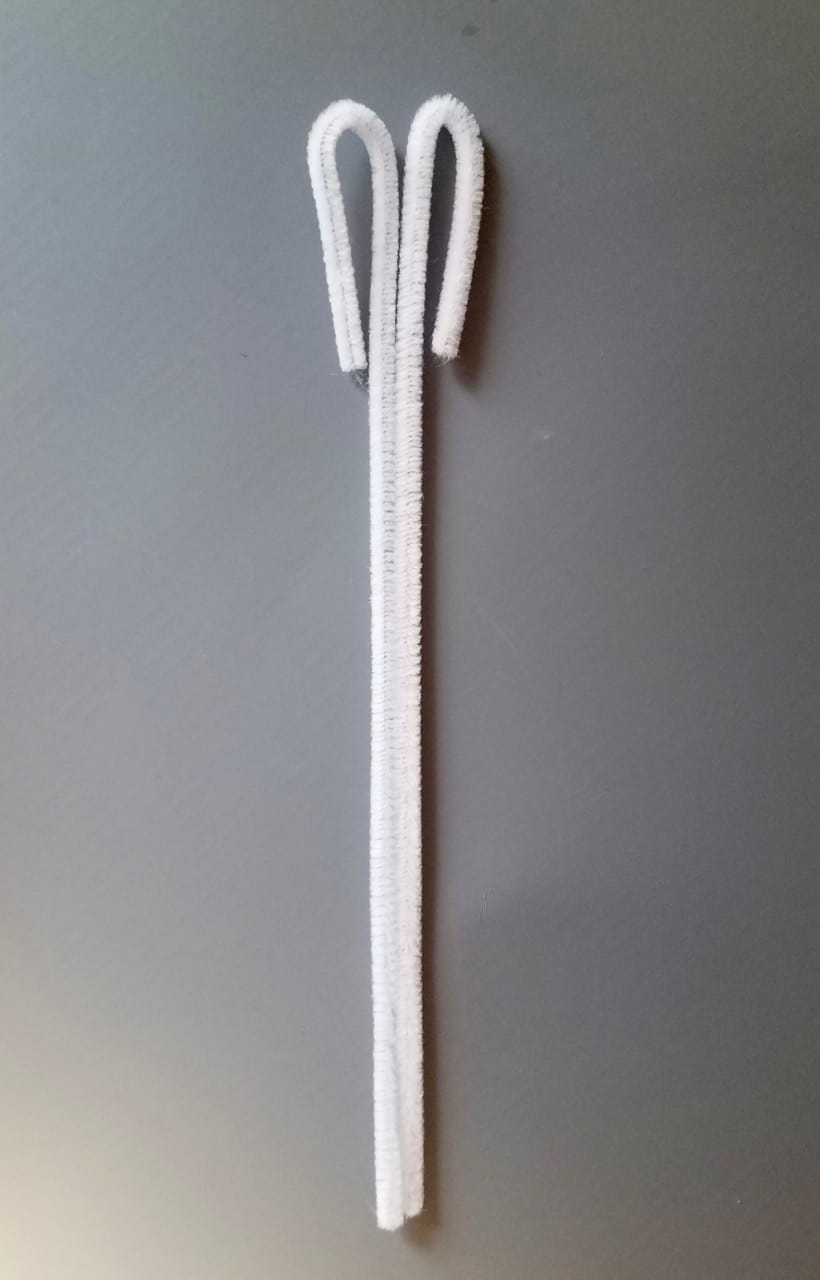 Step 2. Twist the pipe cleaners together at the bottom of the ears and then thread the two pipe cleaners through the small bead first and then through the bigger wood bead.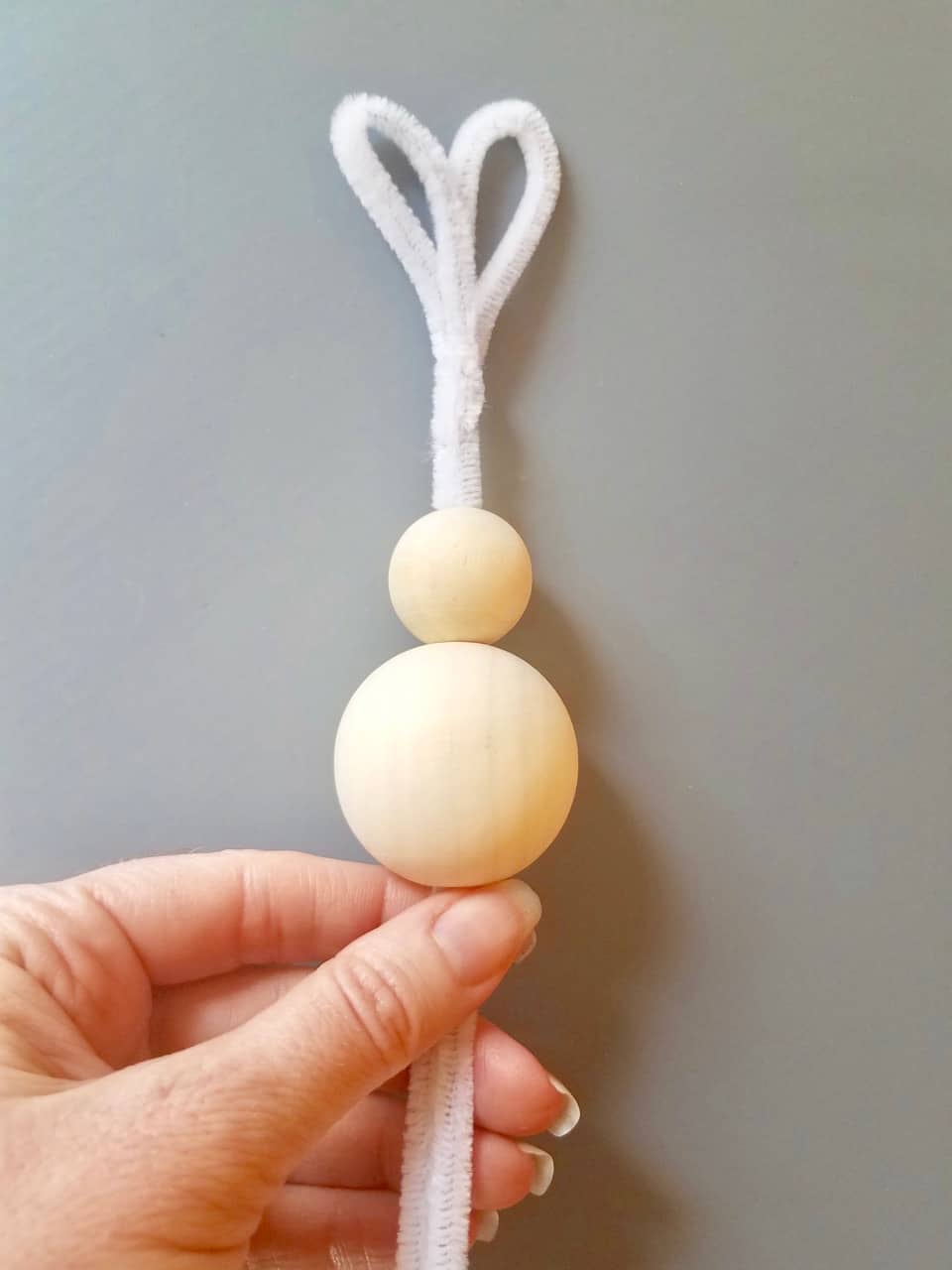 Step 3. Bend what's left of the two pipe cleaners into loops and tuck the loose ends back into the large wood bead. Now your pipe cleaner bunny has feet.
Step 4. Stand your wood bead bunny up to find the best place to glue on your bunny's tail. The fluffy little pom pom will help your bunny stand so you don't want it up too high.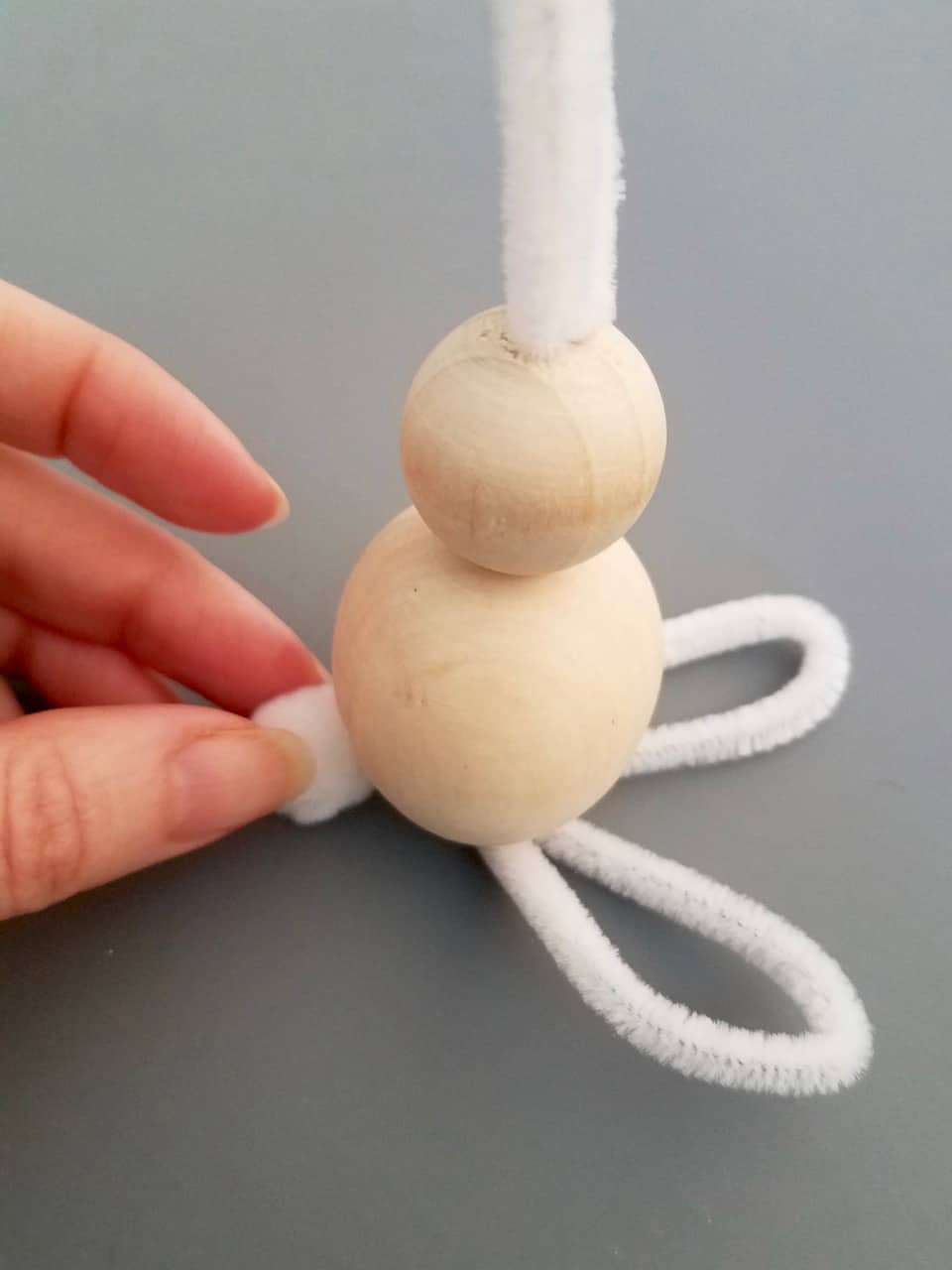 Step 5. Using a sharp point marker or pen, draw on your bunny face.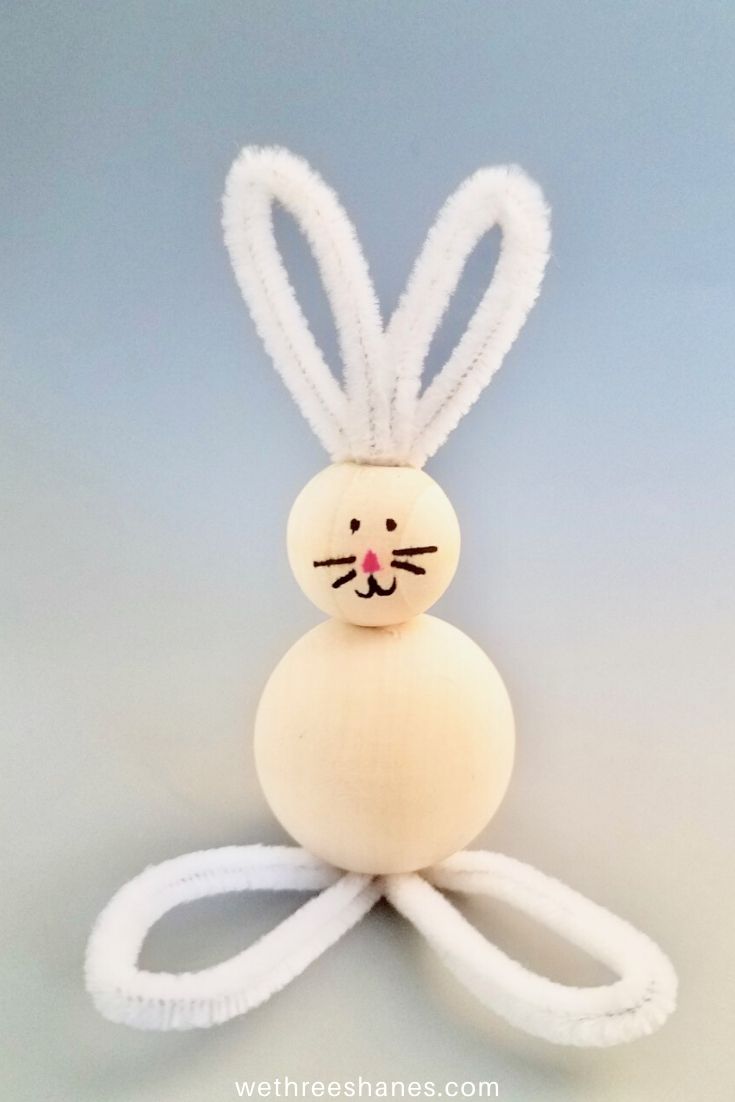 And you're done! I told you it was easy! Now, there are a couple of extra steps you can throw in when making a pipe cleaner bunny.
Optional Step 1.
Adding glue is optional because the pipe cleaner does keep the bunny together pretty well all by itself. If you do want to make extra sure your pipe cleaner bunny stays intact then you can secure it with a bit of glue.
I like to drip glue into both wood bead holes before I thread the pipe cleaner through in step 2. When you push the pipe cleaners through the beads, they will help distribute the glue into the wood beads and get caught in the fuzzy pipe cleaners.
When the glue dries your bunny will be really sturdy. This might be a good option if you are making these pipe cleaner bunnies as a school project and the bunnies might get thrown in a backpack or jostled a bunch on the way home.
Optional Step 2.
You can also paint your wood beads to add color to your bunny. The easiest way to paint the wood beads is to thread them onto a wood skewer. If an adult is doing this Easter bunny craft then you can simply use your finger tip to keep the beads secure while you paint.
However, if this bunny project is being made by a kid then you'll want to secure the wood beads on one side so they don't slip down the skewer while the beads are being painted. Just wrap a bit of duct tape around the skewer on the side with the small bead and have the kids hold their skewer with that small bead down.
Next, set the skewer with the painted beads over a bowl to dry. Once the beads are dry then start with step one to create your colorful pipe cleaner bunny.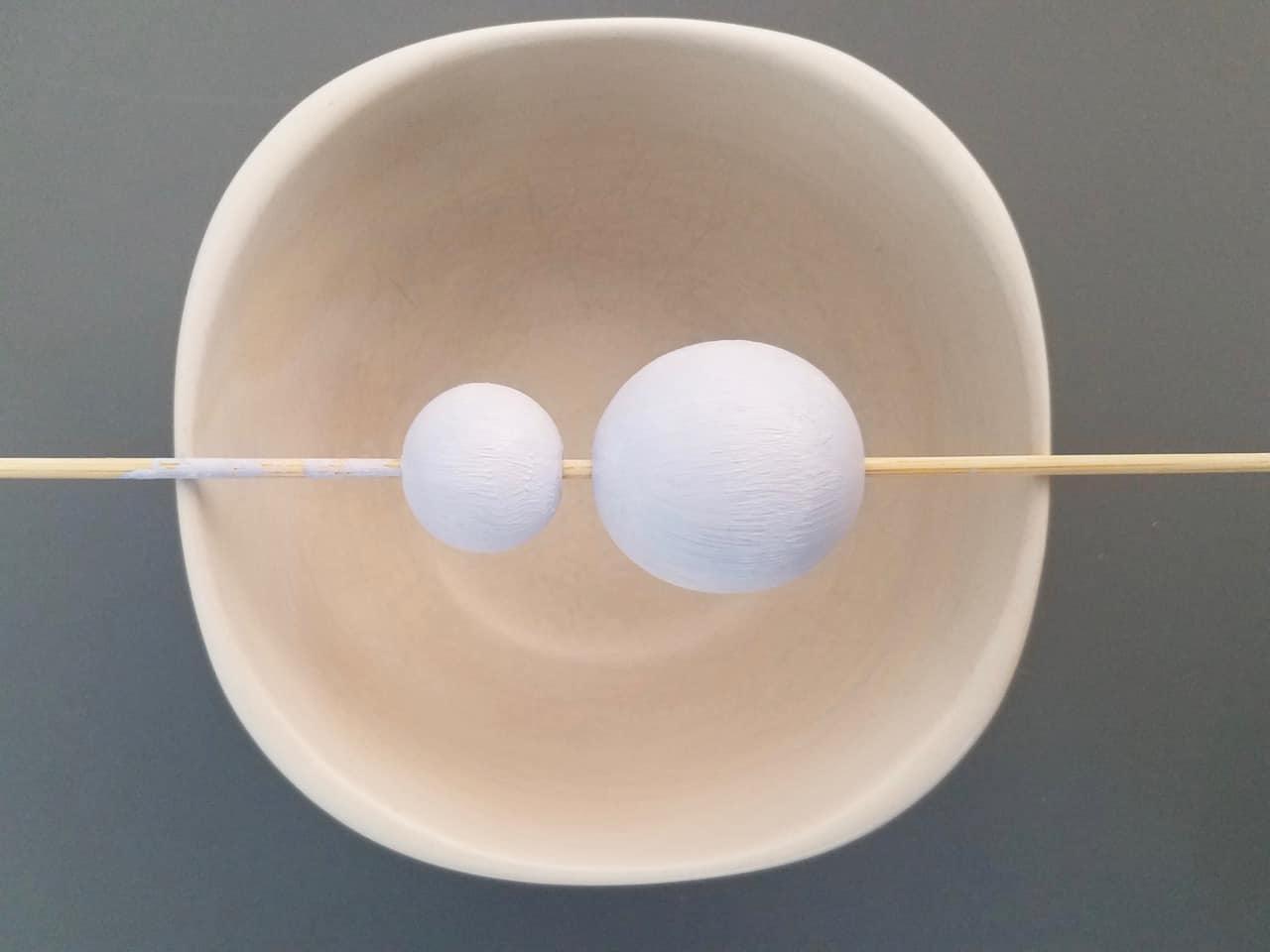 ---
Pipe Cleaner Bunny Style 2
The first pipe cleaner bunny turned out so cute that I wanted to make another one. The first bunny needed a friend. This wood bead bunny is glued together using a hot glue gun so it's probably not the best kids craft.
This bunny uses all the same materials as the first pipe cleaner bunny but you'll only need one pipe cleaner this time.
Step 1. Glue the small wood bead to the large bead. You want the hole on the small wood bead facing up and the hole on the bigger bead facing the back.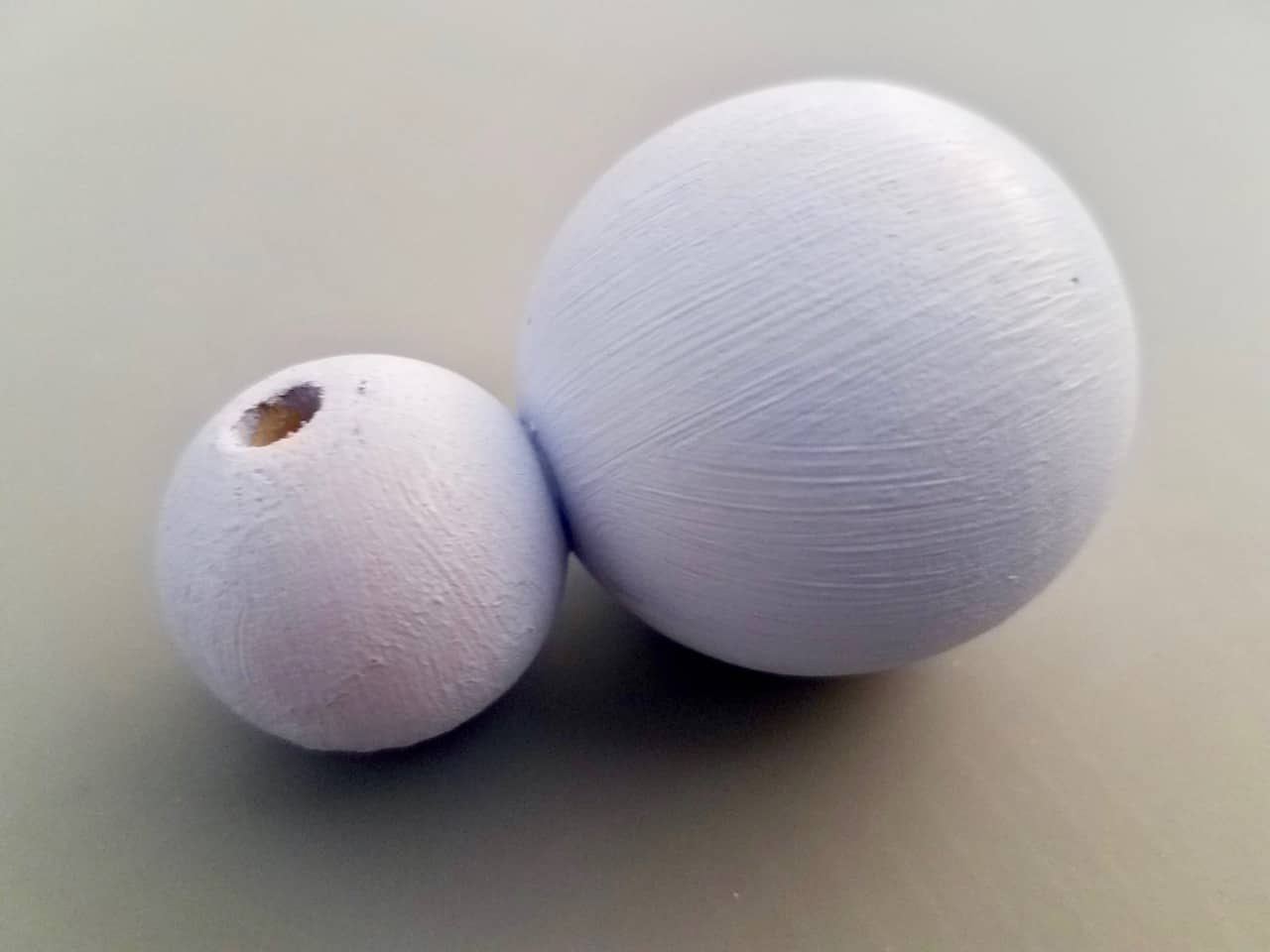 Step 2. Glue the pom pom over the hole on the big bead.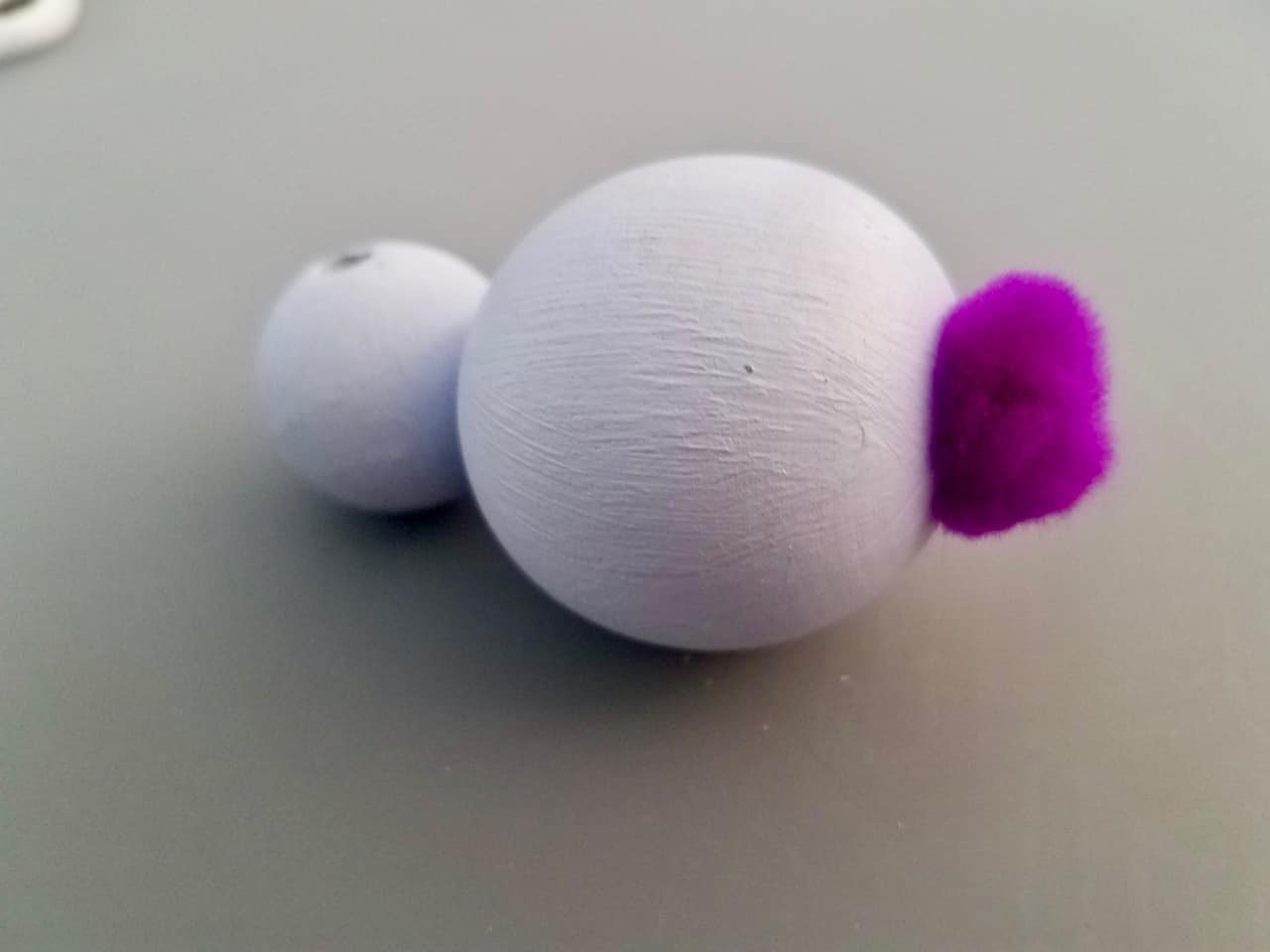 Step 3. Cut your pipe cleaner in half. Take one of the pipe cleaners and bend it in half. Then while holding the loose ends of the pipe cleaner, push the bend down towards your fingers. This will create two loops for the bunny ears. Twist the ends together and then insert the ears into the small bead hole. Feel free to add glue before you insert the ears.
Step 4. Do the same step as above to create the two loops that will be your bunny's feet. You can trim the length of the pipe cleaners if you want smaller feet. Glue the feet to the bottom of the big wood bead.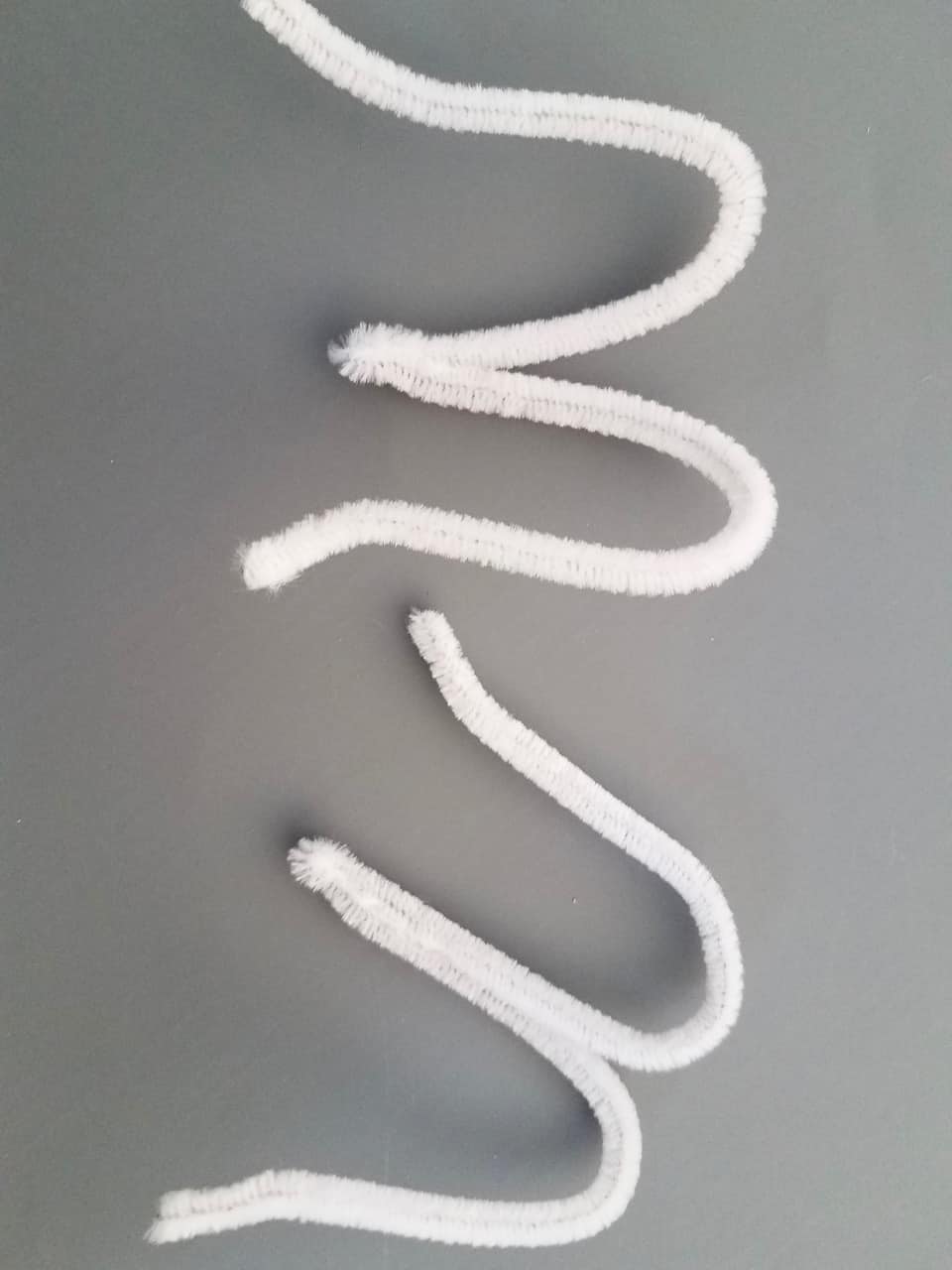 Step. 5 Draw the face on your bunny.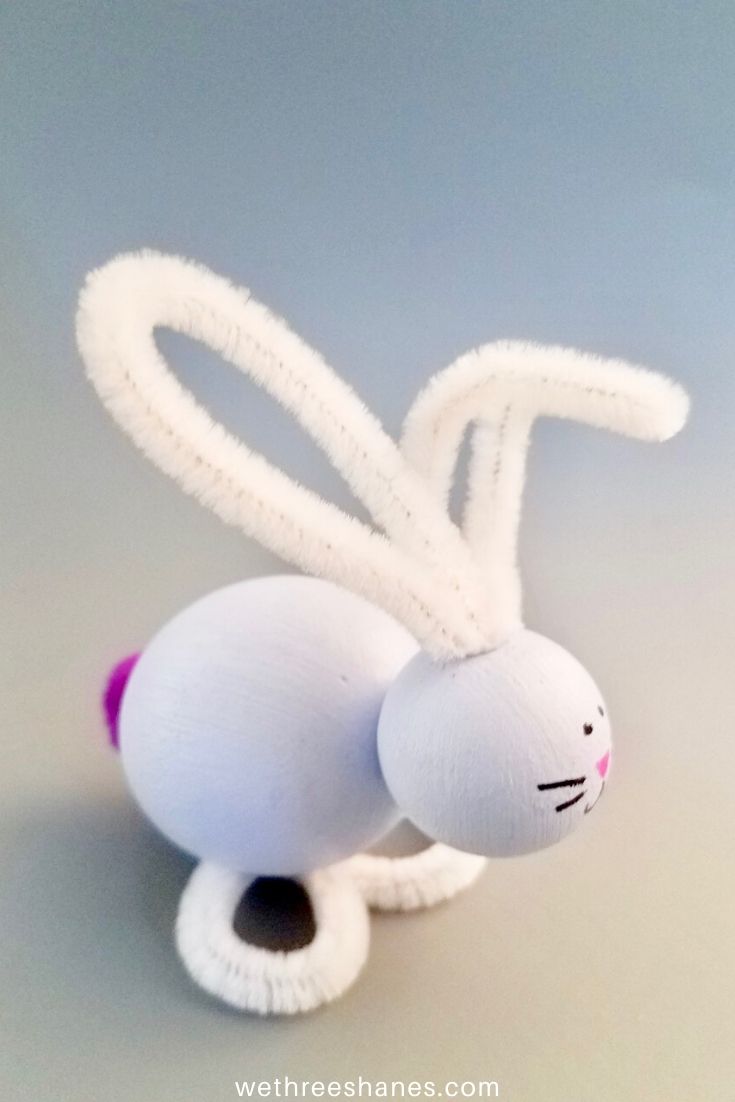 ---
What to Do With Your Pipe Cleaner Bunny
Your wood bead bunny can be used as spring and Easter decor any where in your home. They aren't very big so you want to place them where they won't get over powered.
Pipe cleaner bunnies would also make really cute name card holders for Easter dinner. Then every guest can take home their little bunny at the end of the night as a gift.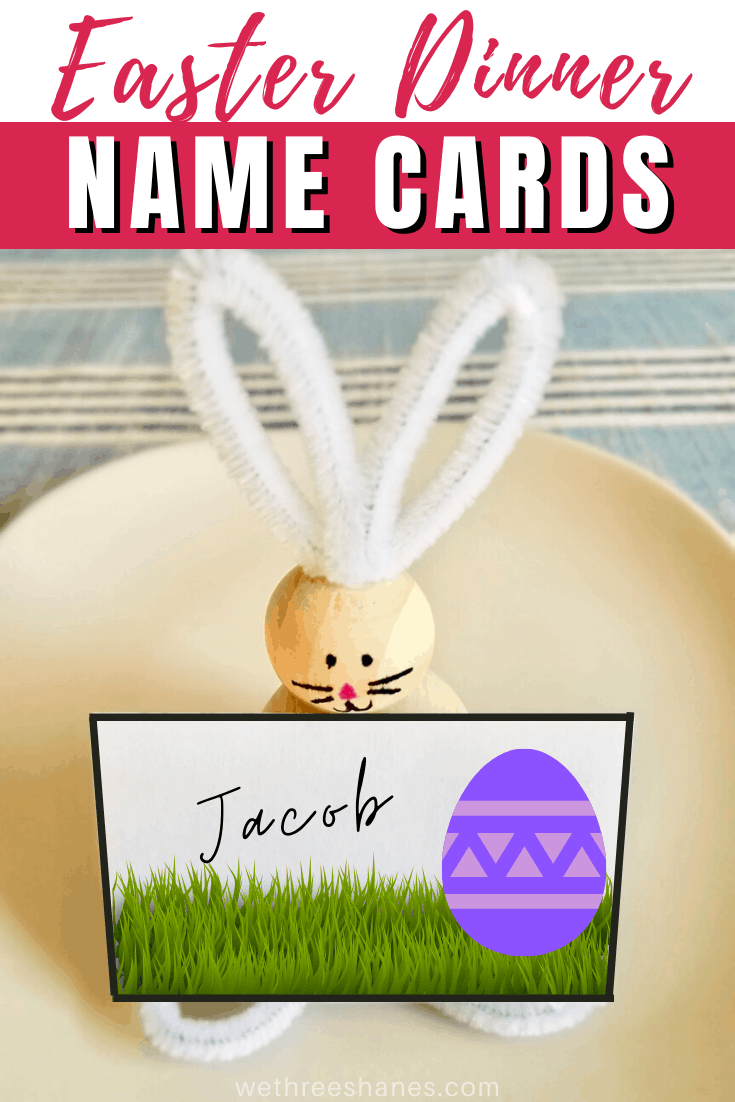 ---
No matter what you do with your cute Wood Bead and Pipe Cleaner Bunny it's sure to brighten your house this spring. It's a simple craft but I love that you can change it up by using different colors. I hope you have fun make one or two of your own!
---
You Might Also Like:
---