DIY Clay Diffuser Necklace for Essential Oils
This stylish DIY Clay Diffuser Necklace for essential oils makes the perfect custom gift. It's incredibly frugal and easy to create so make one for yourself while your at it! Bring your favorite essential oils with you everywhere. Who doesn't need a little aroma therapy on the go?
This post contains affiliate links. You won't pay any extra for making a purchase through these links but we earn a commission for purchases made through links. This helps keep the blog running which we really appreciate! You can read more about it in our full disclosure.
DIY Clay Diffuser Necklace for Essential Oils
Teacher appreciation week is coming up and I love to have my kids make things for their teachers. This DIY Clay Diffuser Necklace for Essential Oils is the perfect gift for your child/ren to help out with.
I love teacher appreciate week. I'm one of those crazy people who goes all out. The truth of the matter is, teachers don't get paid enough! As time goes on, there is more and more they have to deal with that makes their jobs harder. I like to spoil them when I can and teacher appreciation week is the perfect time.
I am an over achiever and I like to give them a present EVERY day that week. One present is to always bring them lunch one day that week. I also try and include their PE teacher, art teacher and music teacher with ONE gift that week. I do not do one everyday for them. I'm not THAT crazy.
I also like to include my kids. I think the teachers like it when the kid can help because let's face it, that's why they are teachers! It's about the kids. It is also a plus if the gift my kiddo makes them isn't something they are just going to throw away.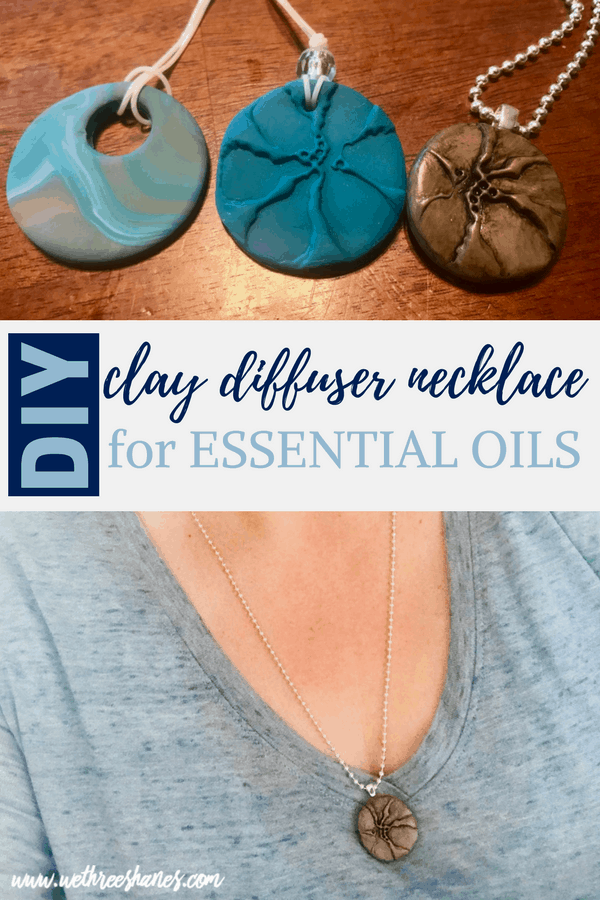 Some Gift Ideas
There are so many sugar scrubs, bath salts and bath bombs that are so easy for kids to throw together and still tell the teacher they made it (or at least helped). I also have the kids write their teachers cards or notes to go with each gift. This is just me of course, but I think MOST teachers deserve it.
If you need some more ideas check out our Gift Guide board on Pinterest. We've gathered a ton of great ideas for teacher gifts. Some are buy while others are DIY.
Every year I go nuts trying to come up with presents and wait until the last minute to do this. Not this year, folks! We have three weeks or so to get some things worked on.
I like to try and keep things original too. This time around I decided on something non-traditional. Hopefully it's not something teachers get many of, if any at all. This year I choose a DIY Clay Diffuser Necklaces.
I know what some of you are thinking: a what?!? This is a clay medallion daubed with essential oils. It's great aroma therapy and they are pretty! It's a win, win. Plus they are SO easy to make. If I haven't lost you by now, STAY WITH ME! I promise you they are so easy a kindergartener can make them and still turn out cute so the teacher will love them.
---
DIY Clay Diffuser Necklace: SUPPLIES
clay – air dry or bake works
necklace piece  (leather, chain, plastic)
accent pieces optional  (beads, charms)
stamps, lace, jewelry to make impressions
toothpick or pen cap for creating your hole
essential oils
What Type of Clay to Use
First thing's first, you need clay. There are SO many different kinds of clay, people. You can buy little color packs of clay at any craft store or Walmart starting at a dollar.
Some clays need to be baked when done but, again, it's super easy. If you can bake a frozen burrito in the oven, you can bake clay.
This set of Oven Bake Clay Kit is great because it comes with 24 colors that are easily blend-able to give you lots of color possibilities. Plus, it's non-toxic which is great since your kids will be working with it
Air Dry Clay
is another option. These are cool because once you have made your piece you simply leave it to dry for 1 to 3 days and it's done! So this one requires planning ahead.
There are also plenty of recipes online for homemade clay. It's really up to you which one you want to try. I used some oven bake clay I picked up at Walmart.
Homemade Clay Necklace
The clay takes care of the charm but you need something to hang it from. Use what ever you like for this. You can see from my photos below that I used both
Rexlace Cord
and a
Ball Chain Necklace
because I had it on hand.
Leather cord or jewelry chain are also great options for your necklace. There are so many options and it's a chance to really make something unique.
Using Stamps To Create a Pattern
You can use all sorts of things to put a design in the clay. I have used jewelry or rubber stamps; both turn out great! Anything that has a pattern in it can be used, even lace.
You can stamp a design, word, or initials. This is why a DIY Clay Diffuser Necklace is so fun to make! It's so versatile. The kids can get really creative and the necklace can be made for each teacher's interests in mind.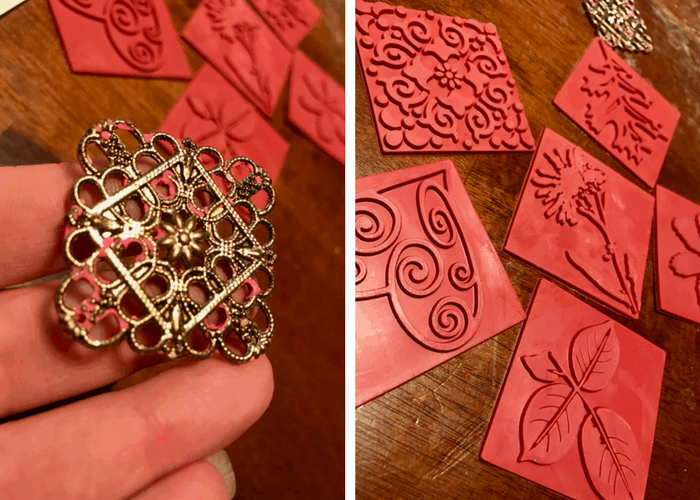 ---
DIY Clay Diffuser Necklace: HOW TO
1. You want to break a piece of clay off and play with it until it's warm and moldable. Different colored clay pieces can also be mixed together to create a marbled look. These can turn out really pretty.
Then I like to flatten it out with my hand or a rolling pin if you have one. Nothing has to be perfect, especially if this is your first time doing these. You can use an object to cut out a perfect shape or just shape it to how you like it. I did not use anything but my hands. A pizza cutter works great for shapes with a straight edge.
2. Next, stamp your clay shape with the pattern you want. If you don't like how it looks just re-roll it and start over. Nothing's set yet.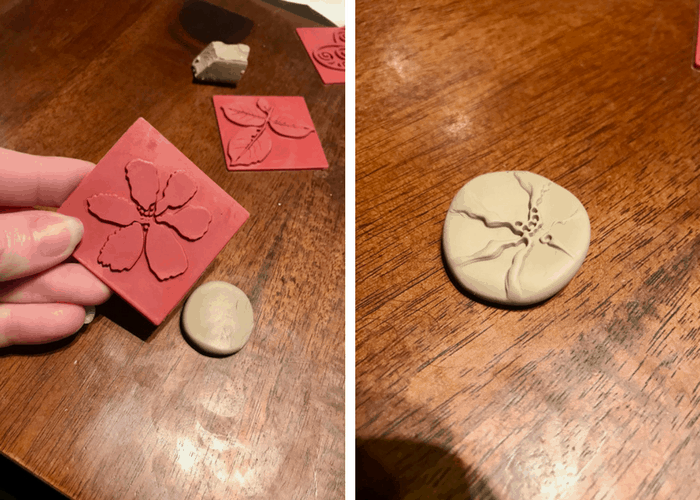 3. Once you have the look you want you'll need to decided how the pendent will go on the necklace.
If you are a first timer, I suggest taking a toothpick and poking a hole towards the top and moving it around a bit to open it up a little. This is super easy and after it is baked or air dried, you can thread something through it.
I also happen to be a craft addict and had necklace backs on hand so I planned on glueing one to the back of the grey medallion I made.
A pen cap can be used to create a much larger hole. This is for decorative purposely only.
I did all three choice so you can see what they look like. Check out the photos below. Which ever way you think looks better or easier, DO IT THAT WAY! HaHa! I just wanted to give you a variety of options.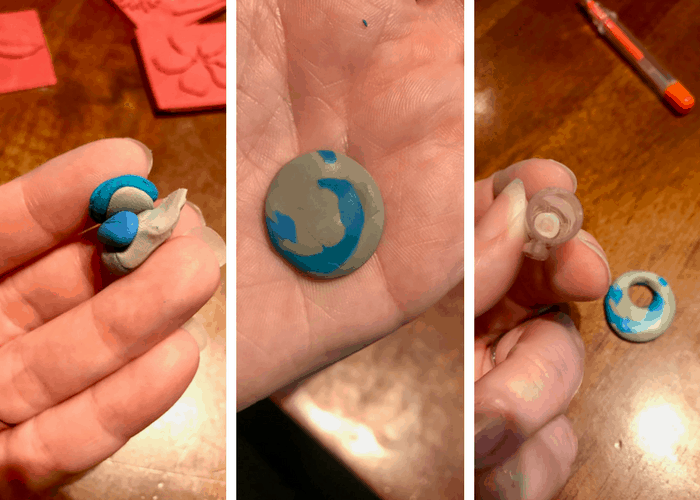 4. Air dry or cook your clay according to directions. My clay had none (go figure), so I had to look some up online. I lined a pan with parchment paper and cooked my clay for 35 minutes at 275.
5. The grey one I wanted to paint just to give it a different look. I grabbed my metallic black paint, put some on it, and then wiped it back off just so the paint got in the crevices and what not. I did this a few times until I liked how it looked and then let it dry. Once that one was dry, I glued on the necklace back.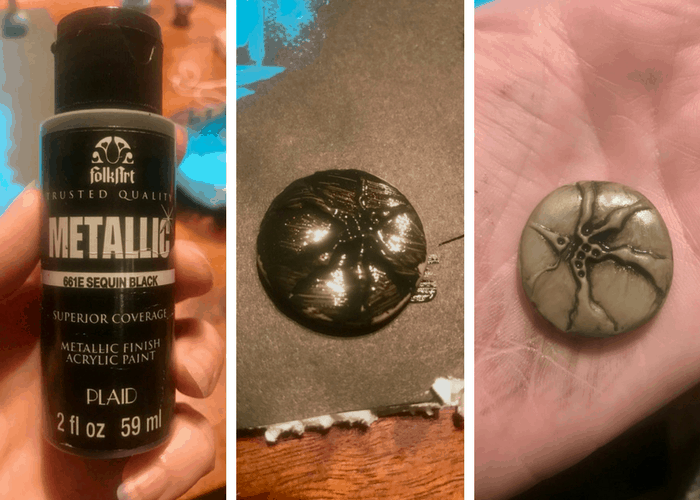 6. Now choose your necklace material and cut to length. You can measure on yourself. Think about where you would want it to hang. Make it long enough so it can be slipped over the head easily.
---
DIY Clay Diffuser Necklace: THE RESULTS
What do you think? Don't they look pretty!?! I can't decided which one I like more because they are all so cute! One of the best things about this project is there are SO many options!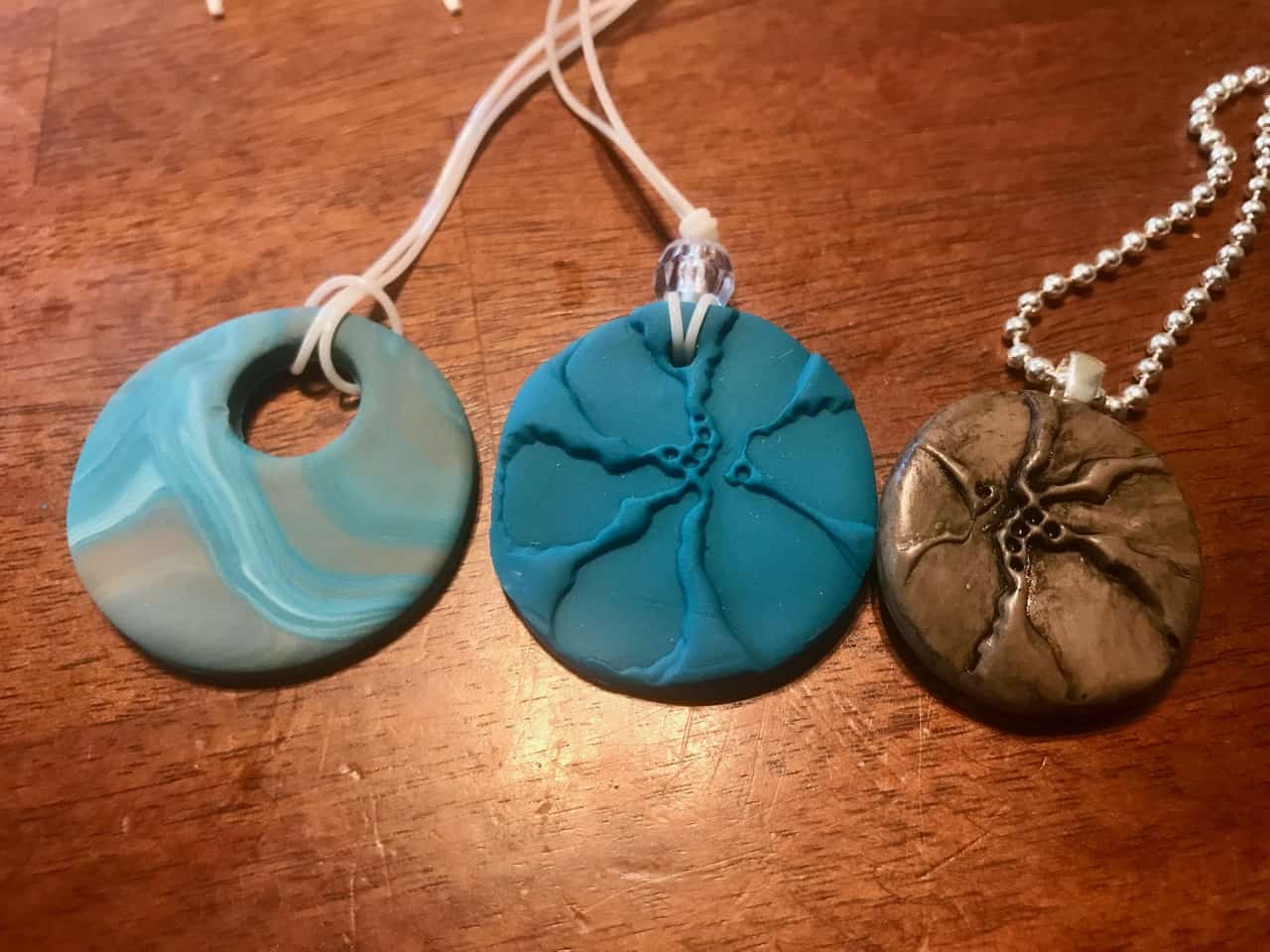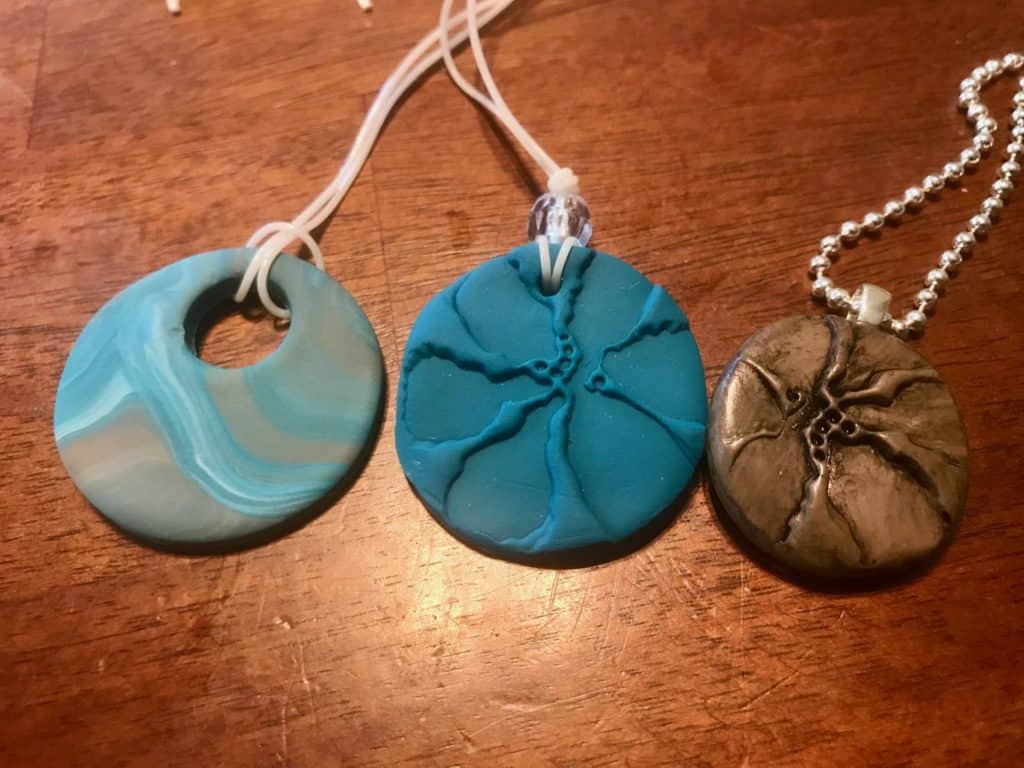 Now what makes this a diffuser necklace? The clay on the back holds essential oils very well. Turn the necklace around, put a drop or two of oil on and smell it ALL day long!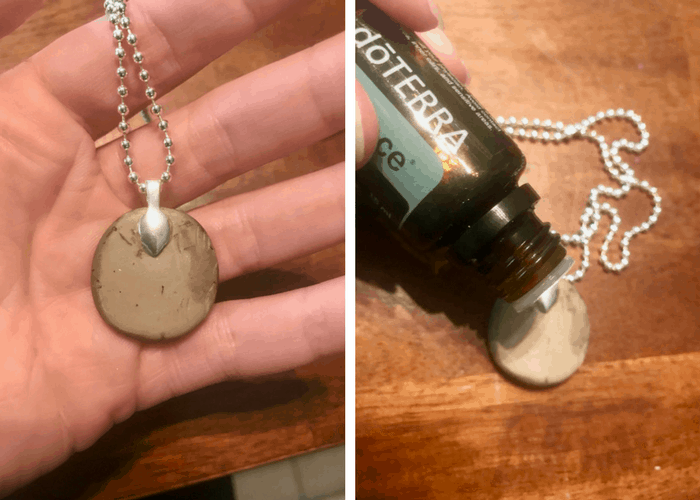 ---
DIY Clay Diffuser Necklace: ESSENTIAL OILS TO USE
This is where oil blends comes in handy. The NOW brand has it's own blends just like most brands. They are around $10 and they have a good variety. It would be great to buy the teacher one of the blends and gift it with the necklace.
Essential Oil Blends
Here are some of my favorite NOW blends that are perfect for teachers:
How cute are those bottles? Any teacher would love to get one with their beautiful necklace.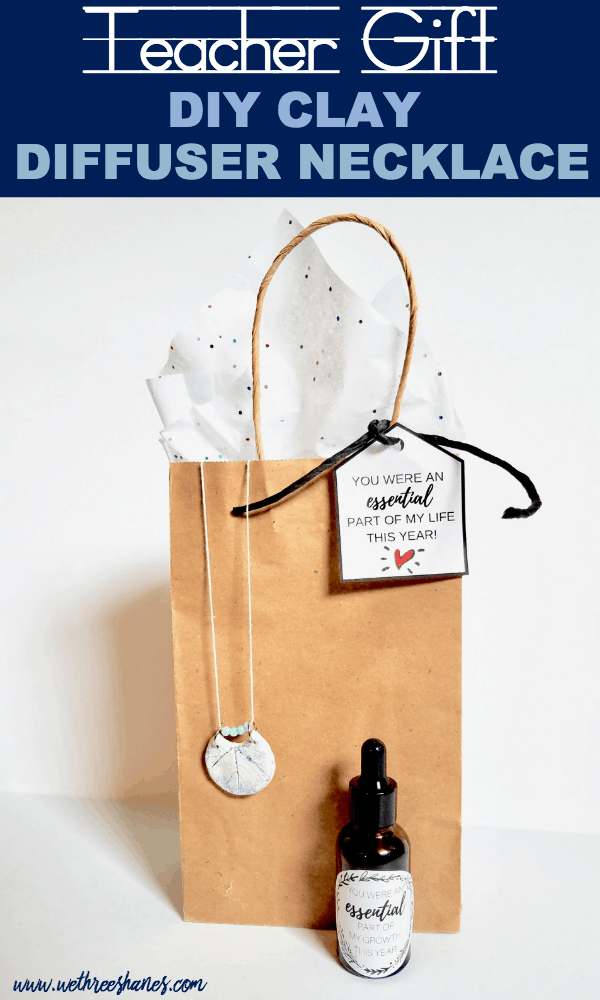 If you already have essential oils you can always make your own blends. One of my favorite blends is lavender, lemon and peppermint. It smells AMAZING!
You'd need to buy bottles if you want to make your own blend to give to a teacher. Then you could use these adorable labels for each bottle giving even more personal touches to the gift.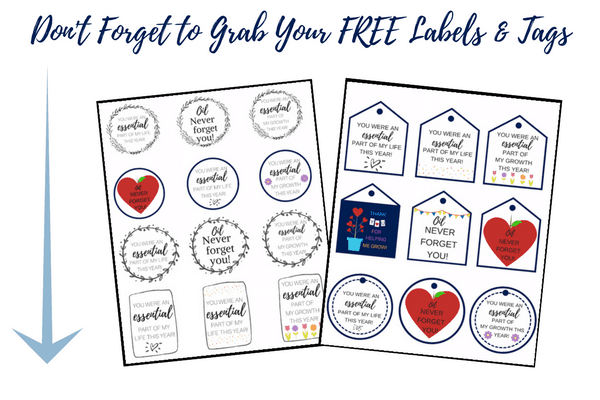 Get to Making a Clay Necklace!
I hope you really have fun with this one. The DIY Clay Diffuser Necklace turns out so cute! It's a gift that is sure to be enjoyed by the teacher and ACTUALLY USED! Plus, your kid will be so excited when their teacher wears it during class which I am betting most teachers will do at least once if not more.
Today I am going to wear the grey necklace and since I am about ready to start my period any day now (I know, TMI), I opted for a
Balance blend
. My necklace smells amazing AND looks cute. Can't beat that!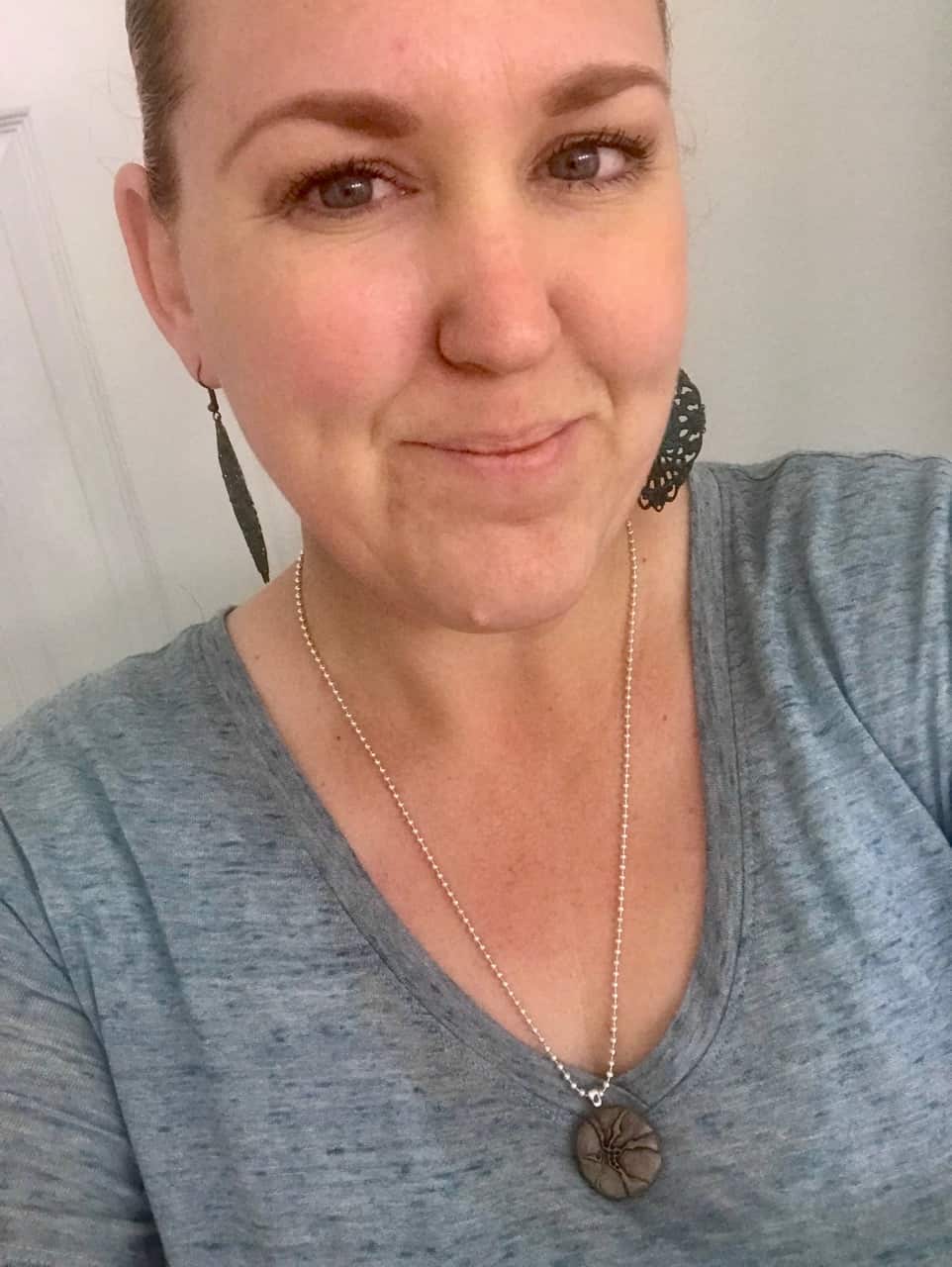 I can't wait to see what y'all make! Do you think your child's teacher would appreciate one?
---
You Might Also Like:
---