Color Street Nails, An Honest Review From A Non-Seller
Nail polish strips aren't really a fresh idea but Color Street nails are one of the most popular forms to appear on the market. People are raving about these stylish, 100% nail polish strips so I thought I'd share my honest Color Street review as a non-seller.
*This post is kept up to date and was last updated in 2022.
(THIS POST PROBABLY CONTAINS AFFILIATE LINKS. OUR FULL DISCLOSURE POLICY IS LONG & BORING BUT, YOU CAN FIND IT HERE.)
Color Street Nails, An Honest Review From A Non-Seller
I love having my nails done, I always have. It just makes me feel more put together. The problem I have had is that I am always running and so the dry-time for my nails drives me crazy.
I usually touch something too soon and smudge my freshly painted nails and have to redo one or two…every time. Patience is not my thing.
The effort that goes into painting my nails, only to have my polish chipping off with in a day or two is also aggravating. I am constantly using my hands, and have them in water a lot, and the polish just doesn't hold up.
My sister-in-law started to have really cute nails all the time. So, I finally asked her about them. She said they were Color Street nails. I had never heard of Color Street.
I had tried another brand of nail strips that I really liked when they were on, but the application was such a pain and took me too long. I hardly ever took the time to put them on, which defeated the purpose.
My sister-in-law told me Color Street nails are much easier and didn't require the heat and tweezer dance that the other popular brand required. Just like the other type, Color Street nails still lasted longer than polish.
I decided to give them a try. Now, that I know the ends and outs of Color Street nail strips I'm going to share my honest thoughts about the product. You'll get the pros and the cons in this Color Street nails review.
I haven't been paid or given free products in return for this post. I honestly love Color Street. Since I am so happy with my Color Street nails I wanted to share them with you! I am grateful to my SIL for sharing them with me and I wanted to pass that along to you.
---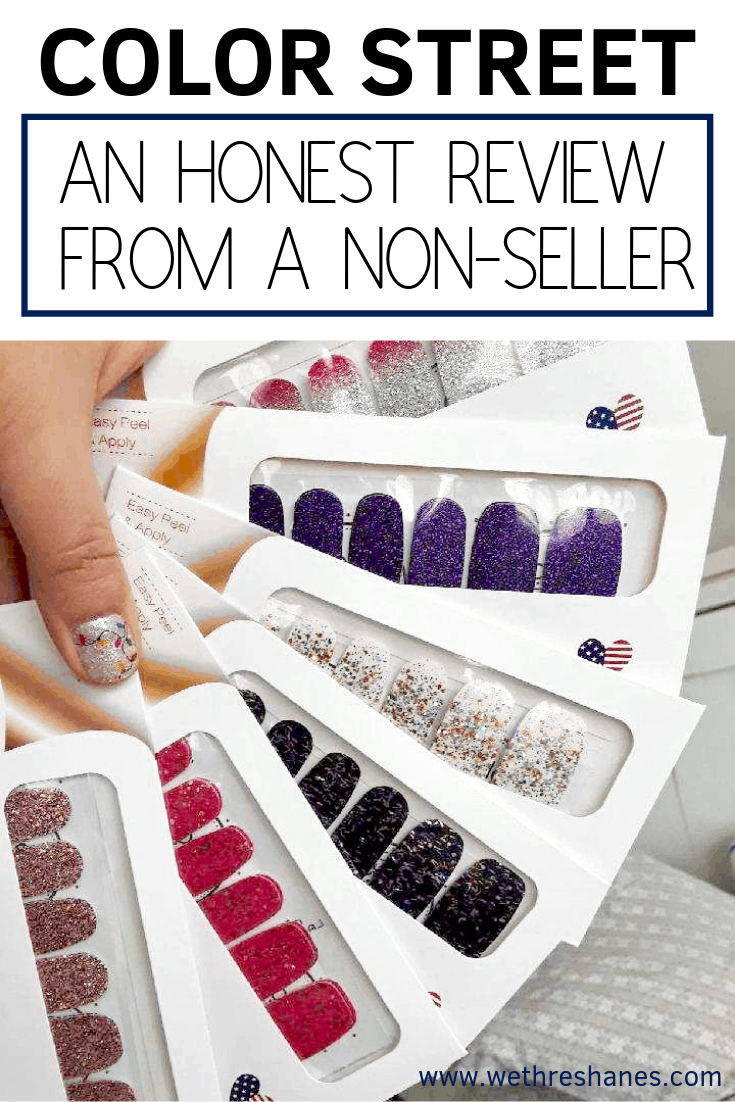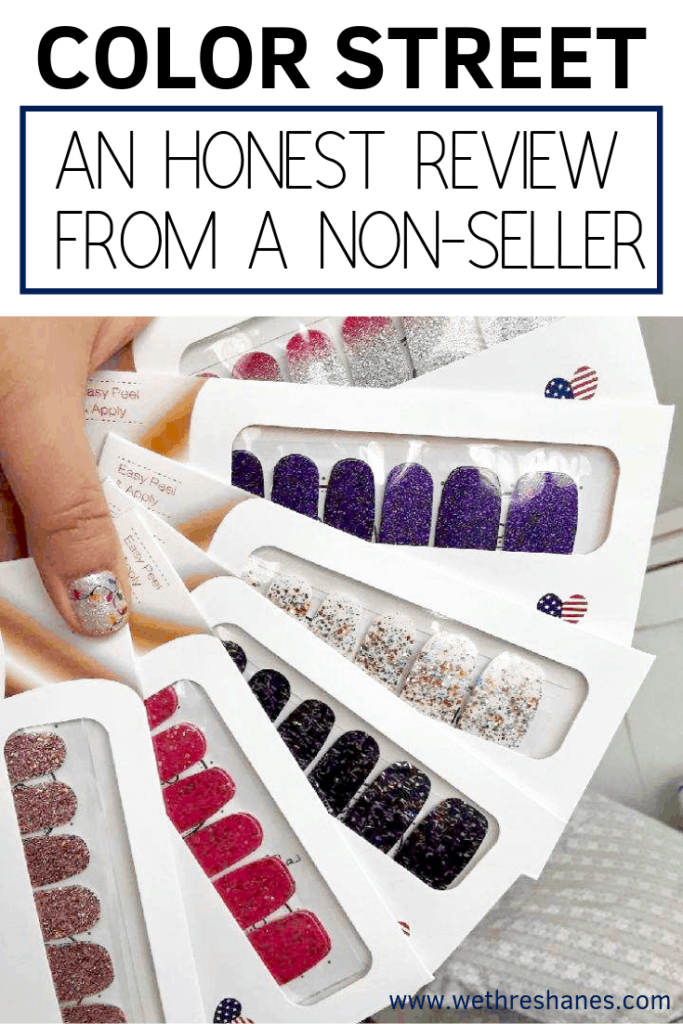 What Are Color Street Nails?
Color Street nails are 100% real nail polish strips. It's mess free nail polish that lasts on average, 10 days.
No dry time means you can put them on and go. There are tons of styles to please everyone. Basically, you get a professional manicure and/or pedicure from the comfort of your own home, for less than salon prices.
The Color Street Company
Color Street's birth place is NYC in 1984. Their creator, Fa Park, saw a woman struggling to polish her nails in a New York City cab. He thought that there has to be an easier way.
Upon discovering there wasn't, he decided to make a better way. He experimented with lots of different techniques of putting polish on surfaces until he found his formula.
The Color Street nail strips are made with 100% real nail polish. They are not vinyl like other old school brands. This means they can be removed with nail polish remover. When done properly (with remover and they aren't just pulled off) Color Street does not damage the nail like acrylics do.
Fa started his company trying to make direct sales. He eventually realized to get them to the public the way he wanted he was going to have to go to the "party sale" platform. Yep, It's an MLM. More on that in a bit.
One of the companies goals is to celebrate entrepreneurs. Those that decide to sell the nails are called Stylist. The nails are also manufactured in the USA.
Color Street Foundation
I really could talk about the Color Street Foundation in the pros section of this post but it deserves some real attention. Color Street Foundation supports multiple worthy organizations like the Gary Sinise Foundation, The Autism Society of America, The Fisher Center for Alzheimer's Research Foundation, Alex's Lemonade Stand Foundation for Childhood Cancer, and The Breast Cancer Research Center.
Since its inception in July of 2018, The Color Street Foundation has donated over $310,000 with a pledge of $1 million in future donations. Knowing that Color Street is a company that gives back makes me want to support them even more.
Color Street Sets
Here's a look at what you get in each Color Street set.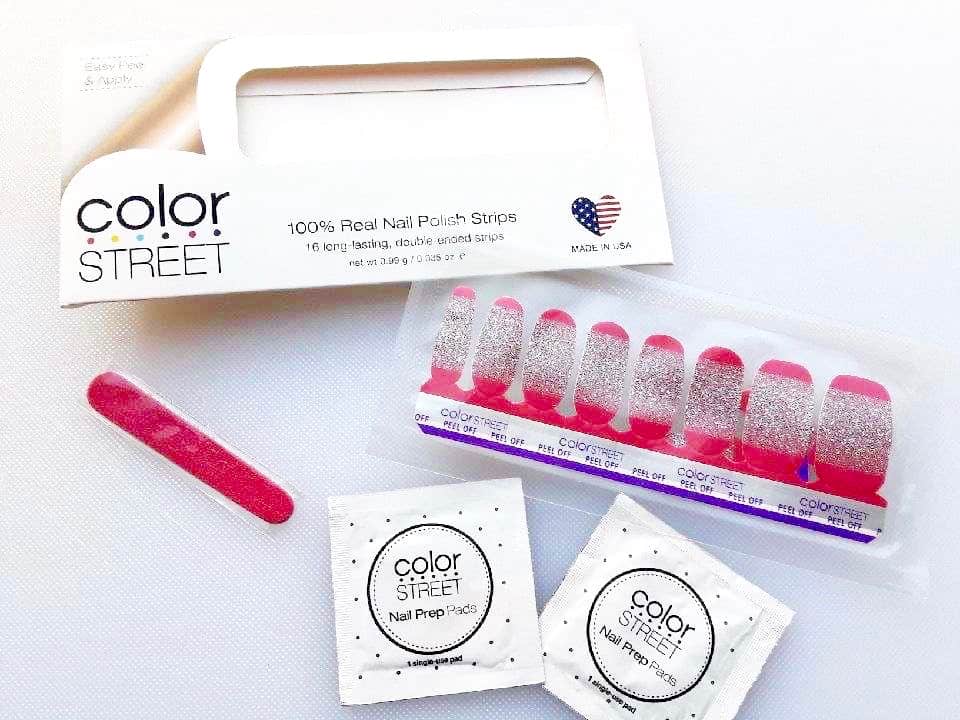 Each set has 16 double-edge strips (there is only one strip in the above photo because my SIL had already used the other strip).
Each set comes with a mini file and prep pads.
The prices range from $11-$15. They can be applied to fingernails and toenails.
There are a wide range of solid colors, glitters, French tip, art designs, sports themed, seasonal and holiday styles.
They do have pedicure sets now but the selection is extremely limited.
---
How to Apply Color Street Nails
I want to give you just a brief description of application process for Color Street nails so you know a bit about how they work. Then, I'll get to the pros and cons.
There is a slight learning curve when applying nail strips for the first time but I promise you'll get the hang of it.
Clean and prep nails before application. File nails and push cuticles back. Color Street makes this step easy by including alcohol wipes and a mini file in each Color Street set you order.
Once nails are prepped you'll need to size your nail strips to fit your nails. Finding the correct size for each nail is important for a better, lasting look.
Once you know which strip is going on your nail you will remove the plastic covering the strip

.
Start with your pinky and move your way across your hand, finishing with the thumb.
The strips are sticky and slightly stretchy. Stick the nail polish strip onto your nail as close to your cuticle as possible and then smooth the polish onto your nail, working your way up and out.
Crease the strip over the edge of your nail, then use your thumb or file to remove the excess nail.
7. If you have enough left over then you'll use the rest of the strip on the same nail but on the opposite hand.
These are just the basic steps for application. If you want a more detailed explanation then check out Color Streets instruction page. There are plenty of tips and tricks for applying Color Street to your nails. My Color Street stylist shares things like that on her Color Street Facebook page if you want to check it out.
---
How Long Do Color Street Nails Really Last?
Color Street nails are made to last and they really do shine in that department. The Color Street website says they will last 10 days depending on your lifestyle. I find this to be mostly true.
I do mention this in the cons section below but, the glitters last way longer than the other nail strips. The glitter strips are a bit thicker so they are tough and hold up the longest.
Also, the way you make the nail strips last longer is by filing down the edges of your nails where the nail strips have started to wear. It's easy to do and it works but it's an extra little step.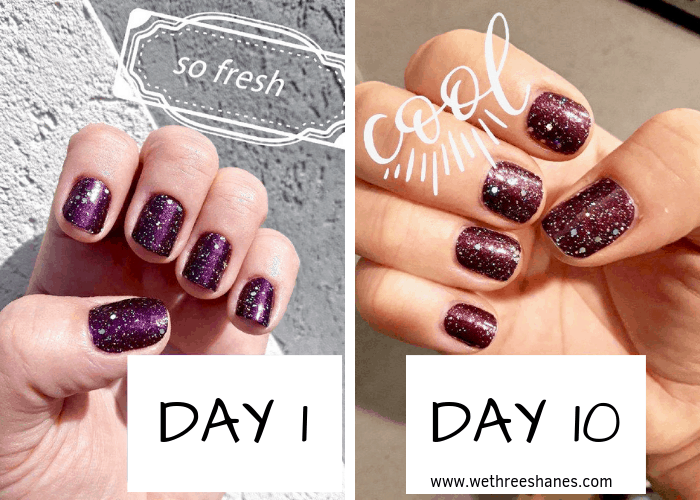 Want your Color Street nails to last? Check out our tips page for getting the best, long lasting application and keep nails healthy while using nail strips.
---
My Experience With Color Street Nails
Now I'll tell you about my experience with the nails. I honestly love them. They make me feel more put together and professional without the much higher cost of having gels or acrylics put on.
Now, I don't believe any product is perfect so I'll do a breakdown of both the good and bad. I'll start with my least favorite parts:
Color Street Cons
While the Color Street website says their nails can last for up to 10 days I have noticed a big difference in the lasting time depending on the type of polish. For me, I can get away with wearing the glitter nails way longer than the solids. You just notice imperfections more with a solid nail.
As I mentioned above, the way to make the Color Street nails last is by buffing the nail edges as they wear. I will usually buff that down a little and they look pretty good. It's a tiny bit of extra work.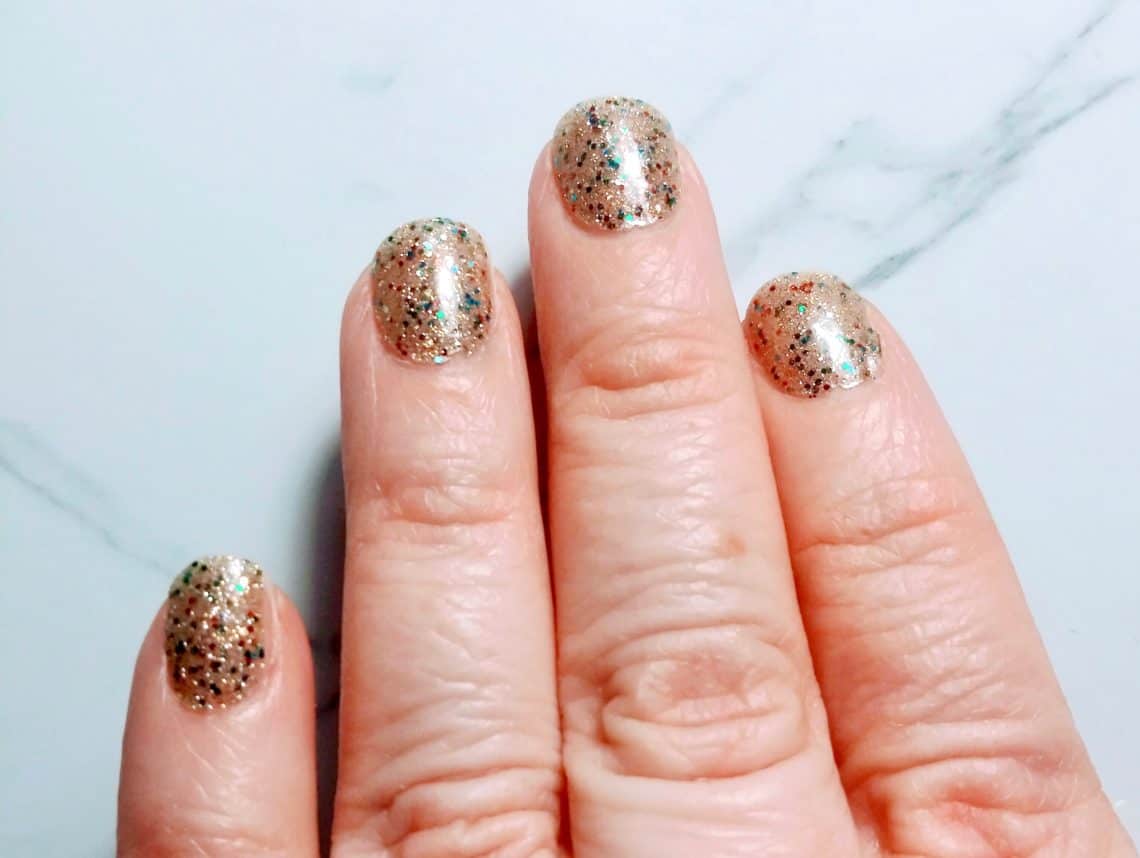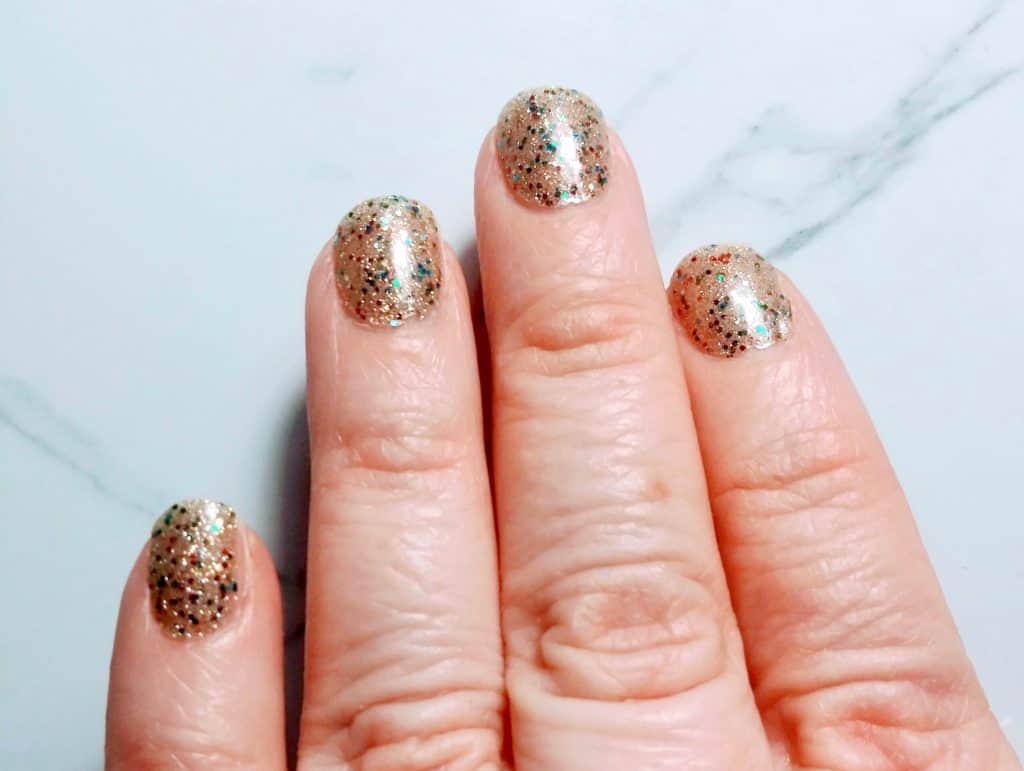 2. The first couple applications are tricky, so you won't be saving time just yet. Once you have done it a few times, you do get faster.
3. While you do just remove Color Street with nail polish remover, I have found cheap removers don't get the job done (especially with the glitter nails which are the hardest to remove).
A lot of women buy professional strength nail polish remover from a beauty supply store. If you want to go the drug store route, I have found this remover by Cutex called Ultra-Powerful. It works if you really soak the cotton pad.
My SIL uses Onyx Professional to take off her Color Street Nails. Both are great options and neither are very expensive.
If you're having problems with brittle nails after using Color Street it could actually be a problem with the acetone remover. We've had a couple of readers mention they switched to a mineral nail polish remover and the brittle nails went away. Try Mineral Fusion Nail Polish remover if you have this problem.
One of readers recently mentioned the use of nail clips to help in the removal process, especially with those pretty but pesky glitter nails. If you only wear nail strips occasionally then you probably won't need them but if you wear them regularly then they could be very helpful.
4. Here is the one thing I am in the middle about: the price. The nails typically run between $11-$14 depending on the style. While using Color Street is much cheaper than going to a salon for nails and fills, it's still more expensive than a bottle of polish, that will, of course, cover your nails for longer. For me, the price is worth it for really stinking cute, professional looking nails…but will it be worth it for you?
There are a couple of hacks that can help with the pricing that I'll talk about a little later. As mentioned above you can save more money when taking advantage of Color Street deals.
5. I should also note that there are a ton more nail polish strips on the market these days. Most are cheaper than Color Street. Some people prefer Color Street. Others don't.
Lily and Fox are only $2.99. Nails Mailed strips range from $1.99-$6.99. Both have free shipping.
Dashing Diva are nail strips you can buy in stores like Target, Walmart, & Ulta. They are also sold online.
You can check out our review posts for Lily & Fox, Dashing Diva, Dashing Diva Gels, and Nails Mailed and see what we think.
6. The nail strips will dry out once they've been opened. There are tricks you can use to close them back up to keep them fresh but that can be a pain. Check the readers tips section of this post for some of the helpful tips our awesome readers have given for this particular problem.
7. Some people have a problem with their nails becoming brittle and cracked from using Color Street. Others have said using Color Street made it possible to grow their nails out for the first time in years because with out the nail strips their nails would break easily.
I can't speak to other people's experiences. I haven't had any problems with nail breakage from using Color Street but I wanted to at least address it because it's such a big discussion with these nail strips.
I think this is just one of those things you'll have to try for yourself to see how your nails handle them. Remember that acrylic and gels can also damage nails so I'm not surprised that some people have trouble with Color Street too.
Make sure to give nails a little breather in between sets and consider getting a good cuticle oil to strengthen nails.
8. Color Street is a MLM, multilevel marketing company. This means they use Stylist to sell their nail strips. It does give a lot of stay at home moms a chance to make some money but a lot of people don't love the way MLMs work for the people at the bottom of the pyramid.
Not all MLMs are created equal and I have found that a good amount of women selling Color Street do enjoy it. Sometimes it's nice to be able to buy a product you love and know it's helping a friend make some extra money.
Here's a little about how Color Street stylist make money. Once you know this you can decide for yourself if Color Street is a company you want to support.
Color Street are a higher price than most other nail strips on the market because their Stylist make a commission of 25% off every set they sell. The extra cost cover that commission plus the higher ups need to get paid too.
Color Street also uses bonuses as incentive to get Stylists to sell more sets. Some of these bonuses include:
a jump start bonus – sell a certain amount when you first start, get a bonus
enroller jump start bonus – enroll someone who hits their jump start bonus, get a bonus
Leadership level bonus – 3% commission from the sells of your recruits
Leadership depth bonus – Did your recruits recuit? 1.5% bonus of their sells for you!
Team bonuses – 1.5% bonus from your team sales
There are more bonuses but that gives you a good view of how the company runs. Some people can't shake the ick factor of MLM companies. Some can. It's up to you to decide.
That might seem like a lot of cons but some of them are such small details that most people don't even blink at them. But, in a review post I think it's good to cover everything so there are no surprises. Even the tiniest of ones.
Color Street Pros
There's a ton of good that comes from using Color Street nail stickers. I really do love them.
Color street nails are BEAUTIFUL! They have lots of styles and colors to choose from. My favorites are the glitter and design nails. While I could do a decent job painting plain nails using polish, I flat out sucked at trying to do things like Ombre, or designs.
Color Street takes care of that problem for me. They even have different designs for all major holidays. I had two different Christmas sets I wore during December that were fun and festive. I got loads of compliments.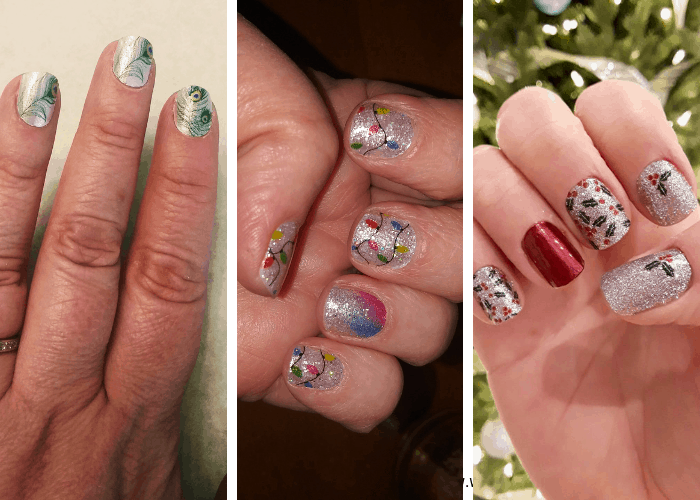 2. They do last way longer than polish for me. I am not a person who has the time or patience for a base coat, regular coat, and top coat of polish. I am a one-coat girl.
This meant the polish really only looked good for about 2 days. I reminded myself of this the hard way.
My sister-in-law, who I used to get Color Street from, went on vacation and I forgot to get a new set of nails before she left. I had a work retreat that came up during the time she was gone so I had to use polish. It didn't even last for the weekend retreat and looked a hot mess by the last day.
3. There is no drying time. After getting the application process down, you can get a pair of nails on pretty fast. Once they are on, that's it…no waiting time. You can immediately make dinner, do your hair, even take a shower and your nails are good to go. No smudges or streaks because you didn't wait long enough for them to dry.
4. I have shorter nails so I can usually get two complete sets from one package of Color Street. My nails are short enough that I can use both sides of one nail strip, so the second set of strips can be saved for another whole manicure.
This actually brings the price down. If you can't get a second manicure out of the strips you can get a pedicure out of them. That means your really getting a matching mani and pedi for $11- $14.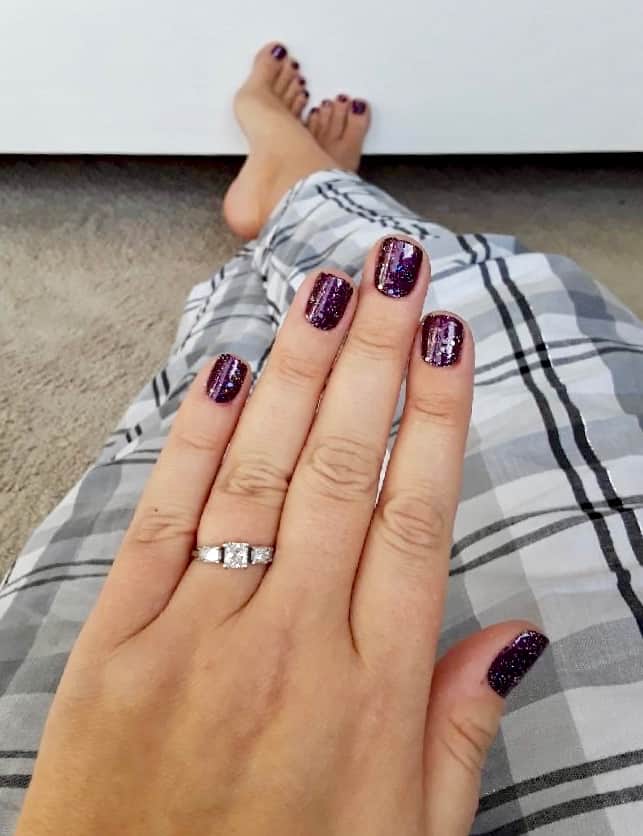 5. Speaking of a pedicure, Color Street lasts FOREVER on your toes. Normally toes take less abuse than your hands so they don't wear as fast. If you use a glitter set on your toes, they look fabulous, but also they can usually last more than a month!
Remember this when summer roles around. Cute, shimmery toes in sandals that you don't have to worry about for a whole month.
6. Color Street does have wider nail strips compared to other nail trip companies. If you've tried another brand and found the strips to be too skinny for your nails then Color Street is a good bet for you.
7. I know I've mentioned this but I do consider it a pro. Each set comes with alcohol wipes and a file so you can prep your nails properly. We don't realize how much residue our soaps and lotions leave on our nails. The alcohol wipes take all that off so you get a great application and those nails really stick. I love that Color Street thinks of this. They really want you to get the best application.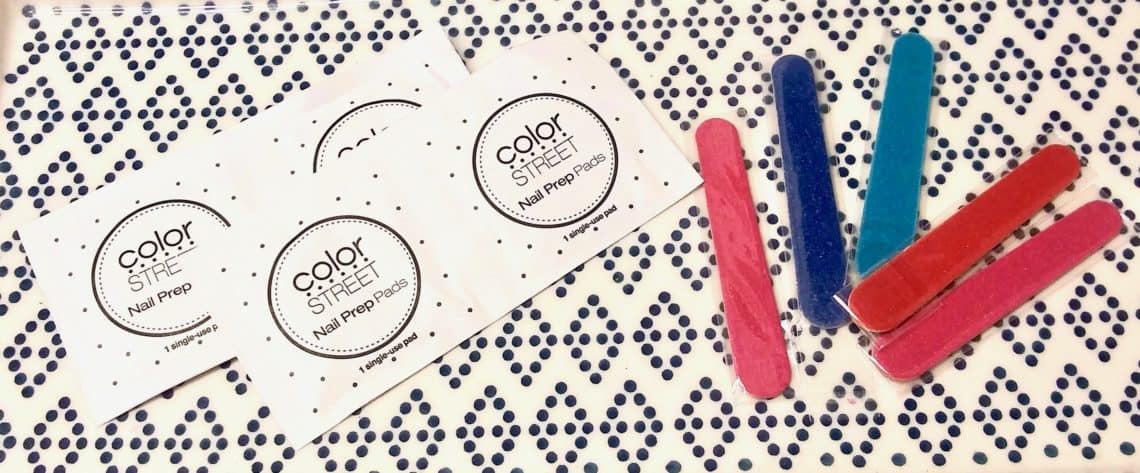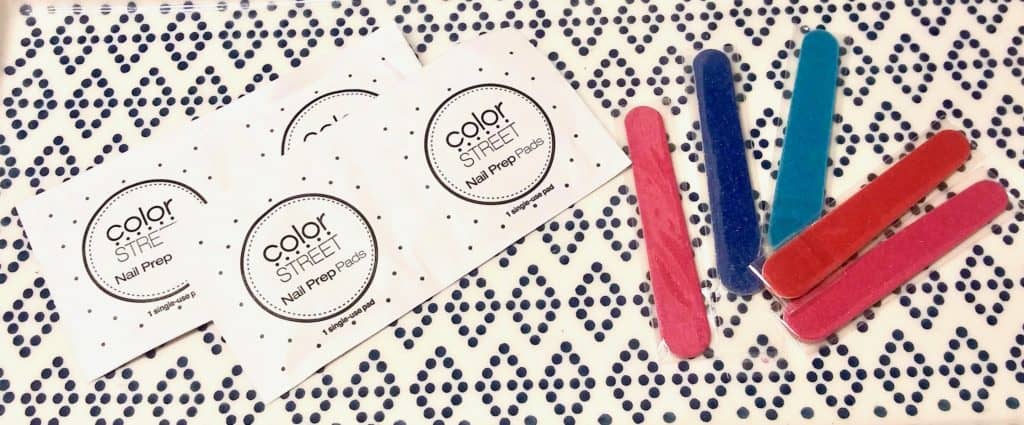 Some Color Street Tips From Our Readers
Connie says: A tip that helps me to remove my CS nails, especially for glitters, is to saturate a cotton ball in polish remover and place it on the nail and use aluminum foil strips over the cotton ball to keep it in place. Leave for about 10 minutes and twist the foil with the cotton ball inside and nearly all of the CS nail strip will remove easily. I use a fresh cotton ball with polish remover to clean up the remaining polish. So much easier.
Kim says: I started using a nail strengthener base coat before applying color street and it has helped a lot. (talking about brittles nails)
Robbielynn says: I ONLY shop the deals! I stock up at that time. Buy 3 get 1. Check your local craft fairs and farmer markets.. I have gotten them as low as $4 a set again I stock up.. I had a colorstreet FB party we left it open for about a month.. I scored 23 free sets of nails!! Also 2 ladies booked from my party I got 2 sets free from each of those. Try those overlays with a solid nail polish. No stylist wants to be stuck with inventory… the few I know always throw in one from their stash if you buy 3 get 1 so I get 5 sets for 3. Also join their mega sale parties.. get to know MANY stylists….
Monica says: I've been using CS for over a year now and just throw my leftovers in a ziplock in the freezer. I've gotten several "mixed manis" just using leftovers.
Jessie says: I fold the top of the bag over and tape it completely. Then when I use the left overs, if they are a bit dry I hit them with a hair dryer and that softens them up.
Karen says: I just wanted to mention that the problem with splitting and peeling nails could be caused by the "filing" of the extra length of the strip off. When we file the nails down from the top of the nail, it actually separates the layers of the nails themselves. Think sanding a piece of wood against the grain. If you seam the edges against the nail with your finger to sort of score them and then pull the excess off in a downward motion you don't have to file the edges much if at all. I hope that explanation is clear and helpful to someone.
Color Street Promotions and Discounts
Color Street has some great deals. French manicures are buy 1 get 1 free and everything else is buy 3 get 1 free. This really drops the price of the nails when you take advantage. Shipping is $3 for your entire order.
You can also get some good deals through a Color Street Stylist. They usually carry a good selection of Color Street sets and at times run their own personal promotions.
Most people can also get more than one manicure, or a mani & pedi, from one set of Color Street nails. Like I said, Color Street has come out with pedicure sets but I haven't tried those yet because the selection is so small. I just use the regular sets and get a manicure and pedicure out of them. It takes a little bit more work but it saves money.
When compared to other nails strips like, Nails Mailed or Lily & Fox, using one set for multiple applications doesn't save you any money because you can do the same thing with the other sets. However, if you are comparing Color Street nails to salon prices then doubling up on the set makes prices much lower.
Is Color Street Really Worth It?
The ultimate question is are Color Street nails good? Would I recommend them to a friend? My answer is, absolutely!
Getting a fun manicure and pedicure, in the comfort of my own home for around $13, that lasts around 10 days, is great. Is everyone going to become an addict like me? Maybe not.
If you don't get your nails done professionally or if you use nail polish regularly then the price might not be right for you. However, if you're a "get your nails done" person then I think you really should consider giving Color Street a try.
Who Should Try Color Street?
If you like to have pretty nails in fun designs on a regular basis then you'll love them.
Maybe you don't want to spend money for cute nails everyday but they are also great for special things like holidays, work events, or even a hot date.
Mommy daughter nails are really fun too. Because little girls nails are smaller you can usually get their nails done with the leftovers from your set.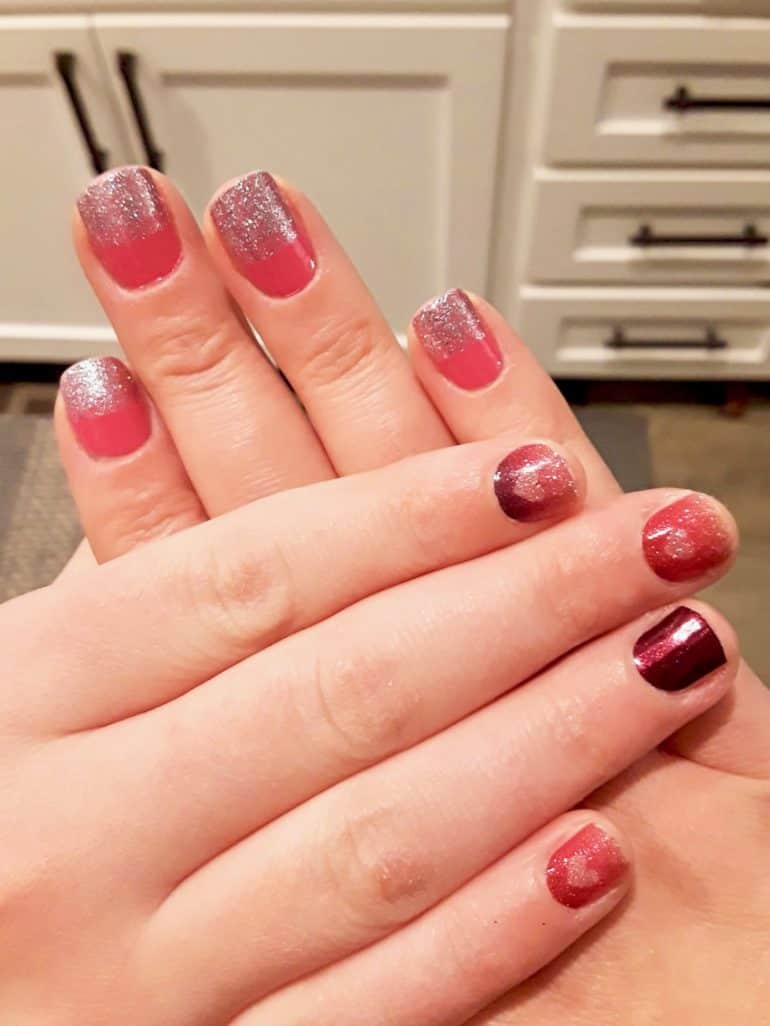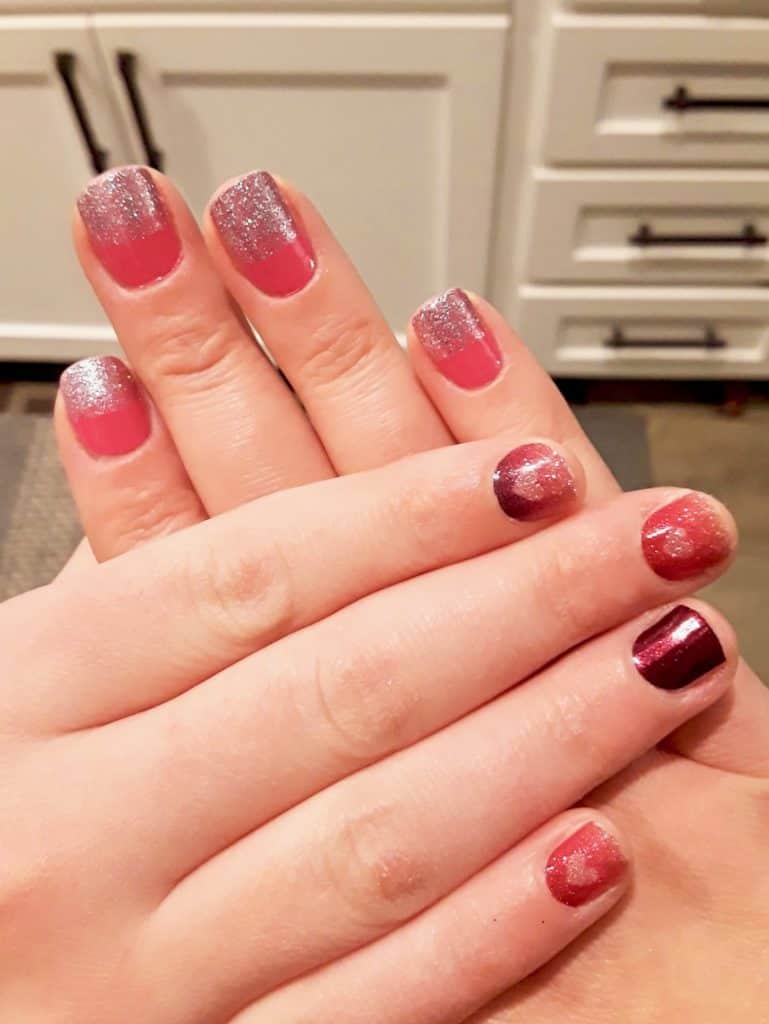 Color Street would be ideal for vacation because the nails would last the entire trip. You wouldn't have to worrying about bringing polish with you or buying some on vacation when your nails chip and crack.
Color Street even makes a fun gift for a family member or friend. Think thank you gifts, bridesmaid presents, stocking stuffers or teacher appreciation gifts. There are lots of things that make Color Street a great product to try.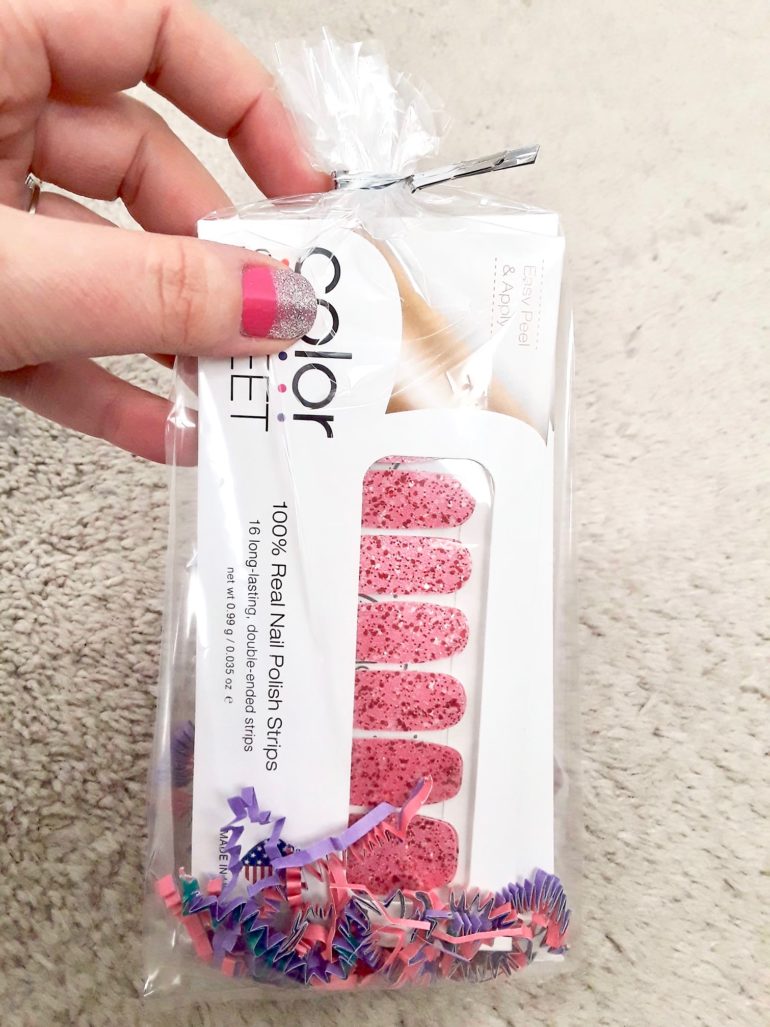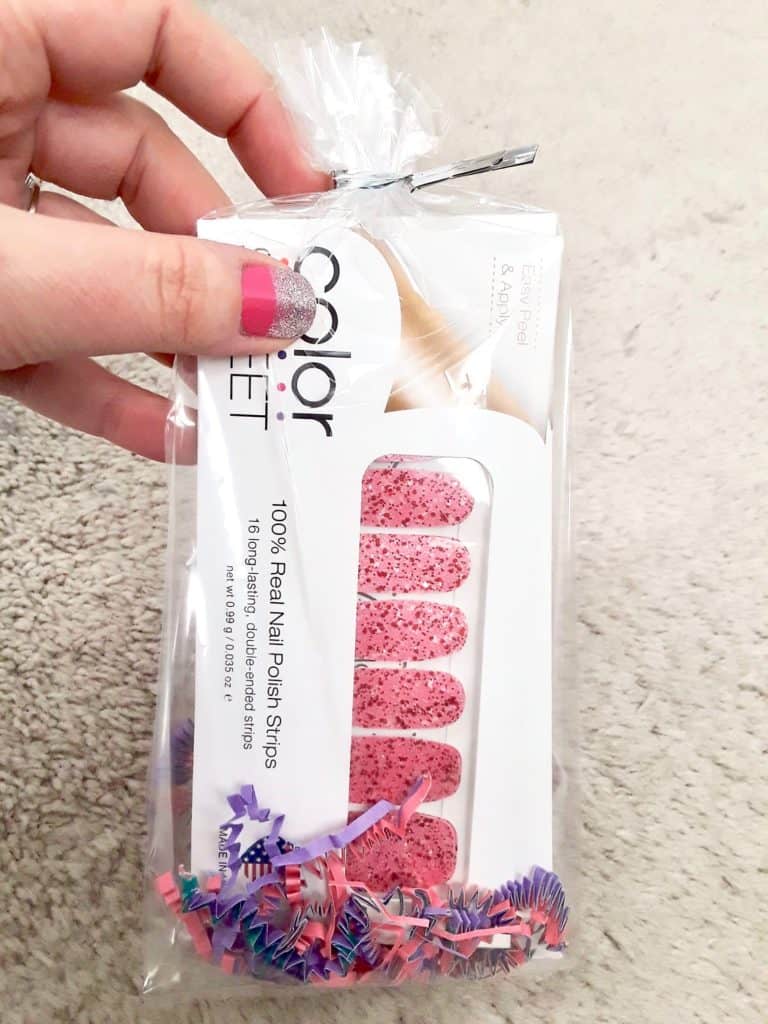 Final Thoughts on Color Street
I personally love Color Street nails. To me they are worth the price. When I was using regular polish, my nails were rarely done because it was such a pain for only 2 days of good looking polish. Now, it's VERY RARE that I don't have my nails done.
I write in front of clients a lot, so they are constantly looking at my hands. I like that my hands always look nice and put together now. I love having the designs I could never do myself on my nails. I like the fact that I can put the nails on and just go. No waiting for them to dry…and then smudging them because I didn't quite wait long enough.
My stylist is a great friend of mine. If you would like to try Color Street out for yourself you can buy them at her website mycolorstreet.com/glamgeordan.  Even if you aren't ready to buy yet, go to her site and see all the styles you have to choose from. There really is something for everyone and every occasion.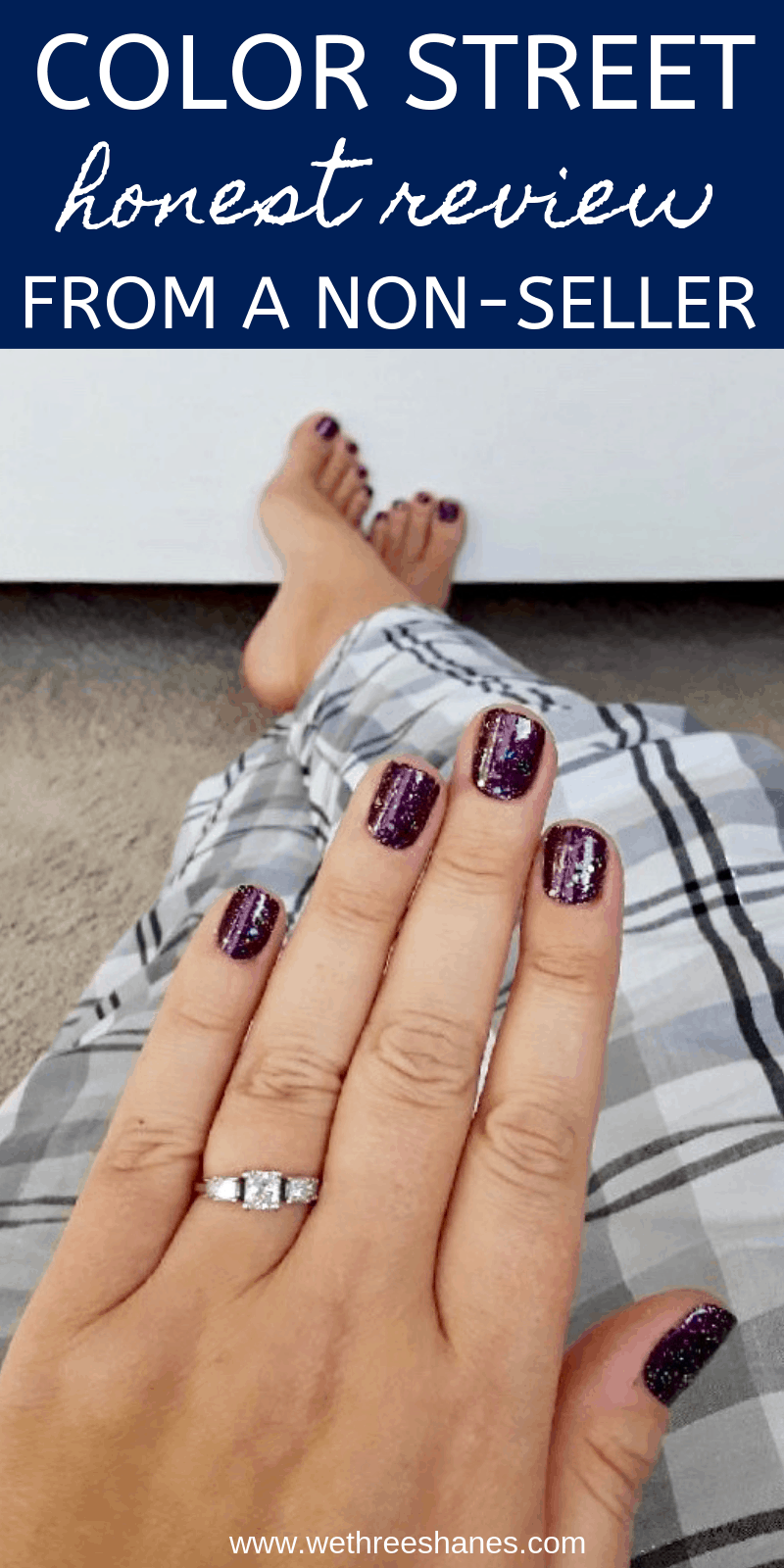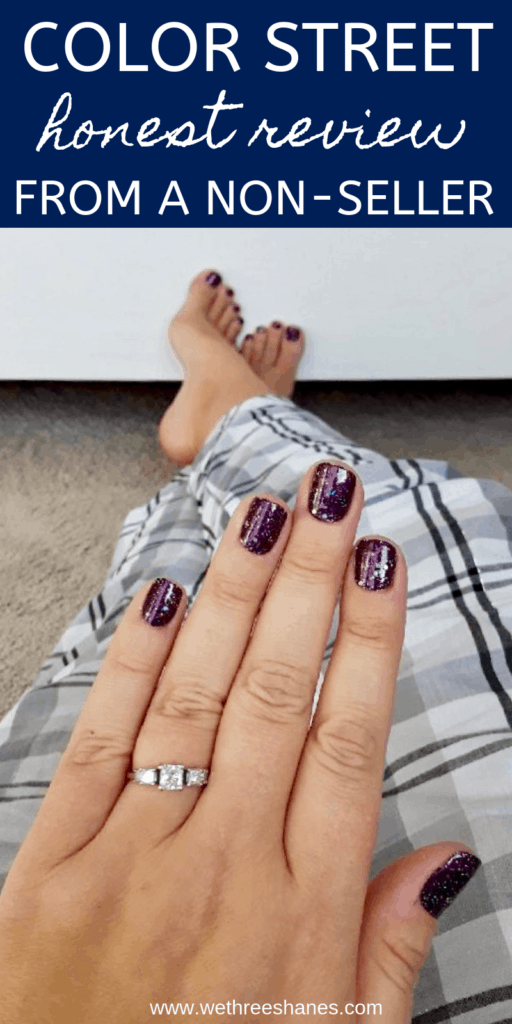 If you're looking for the best quick manicure around then Color Street nail strips are a must try! Easy application and stunning, long lasting designs give you everything you could want in nail color. Save yourself some money and enjoy salon style nails in the comfort of your own home.
Have you tried Color Street nails? What did you think of them?
---
You Might Also Like: