Lily and Fox Review: Are They Better Than Color Street?
Not only will you get my honest review of Lily and Fox Nail Polish Wraps, I will also compare them to Color Street to see who comes out on top. Is Lily and Fox a great Color Street Alternative? Keep reading to find out!
(THIS POST PROBABLY CONTAINS AFFILIATE LINKS. OUR FULL DISCLOSURE POLICY IS LONG & BORING BUT, YOU CAN FIND IT HERE.)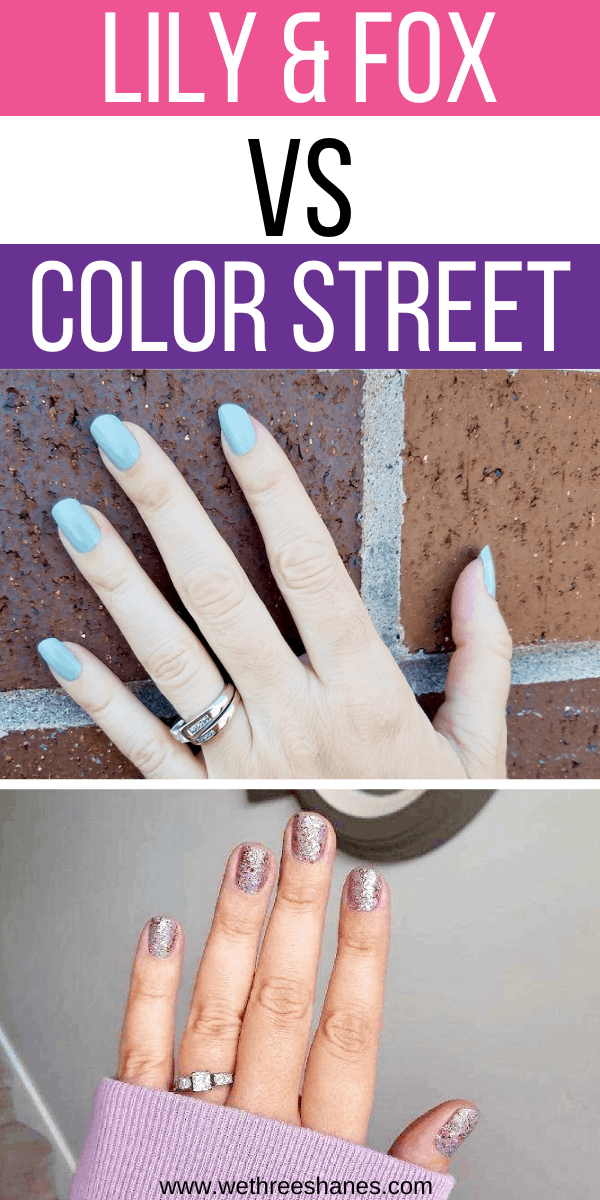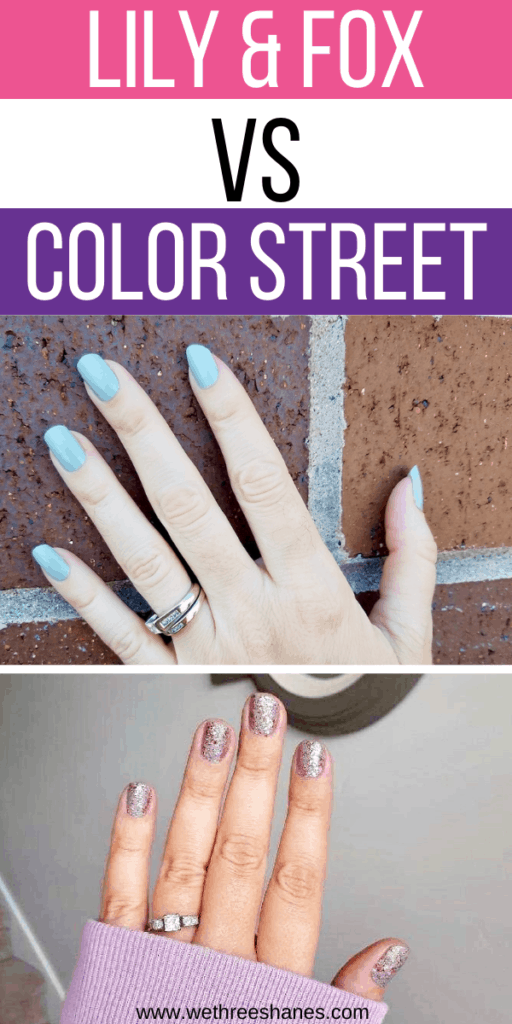 Lily and Fox Review: Are They Better than Color Street
Lily and Fox is a newer nail strip company that's giving Color Street a run for their money. Today, I'm sharing all the pros and cons in this Lily and Fox review so you can decide if their nail wraps are something you'd like to try.
I feel like everyone has heard about nail strips but just in case you haven't they are nail polish appliqués. They smooth out on top of the finger nail to give you the perfect manicure. Nail strips come pre-made in nail shape and different sizes so you can find the right fit for your nails.
Nail polish strips have become super popular because of the easy of doing your own salon quality nails at home with out the higher cost. Now with salons temporarily closed (Salons are now opened but many people found out they prefer the comfort of their home when doing their nails.) People are looking for the best manicure they can do at home. Nail polish strips provide many colors and styles, no dry time, etc.
---
Lily and Fox Review
I heard about Lily & Fox from someone on Pinterest. They left a comment on one of the pins that leads to our Color Street post saying that Lily & Fox was better than Color Street nails. I try my best to follow up on all comments so I told them I'd check them out and now, here we are.
I tried two different sets from Lily and Fox a solid, neutral color and a glitter design. I know Color Street's glitter designs always last longer for me so I really wanted to compare the two glitters.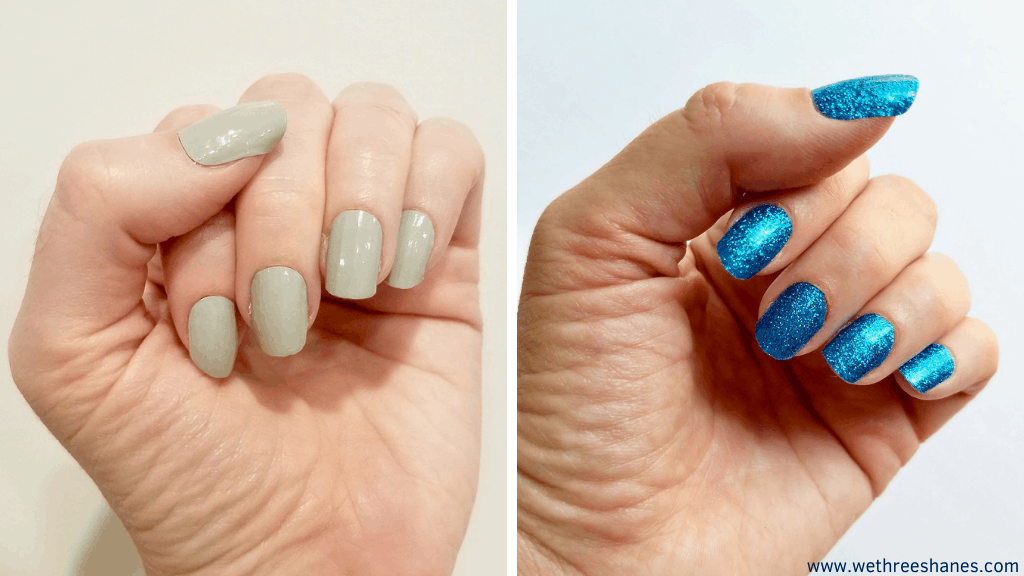 Now that I've tried out Lily & Fox, I'm ready to share my honest review with all of you. I'll tell you all about Lily and Fox and compare their nail strips to Color Street's. We'll see who comes out on top.
---
Lily and Fox vs Color Street
Color Street seems like the top dog of nail polish strips. They are the first to come out with a much easier application process while still keeping manicures and pedicures lasting for 10-14 days. They really changed the game of nail polish strips.
But just because they were the first, doesn't necessarily make them the best. More and more companies are coming out with their own nail wraps. Today, we'll be comparing newer company, Lily and Fox to Color Street.
Lily and Fox
Lily and Fox doesn't share much info on their site when it comes to the company itself. They talk about wanting to find a better way to get salon quality nails at home with out the time waste, poking and prodding, and dollars spent at a nail salon.
After lots of testing and research, they were able to combine "age-old art with new-age technology" to create beautiful nail strips that are easy to put on and last for weeks. That's all the info they share about who they are as a company.
I did email the company and found out some more info. Lily and Fox was started in 2018. There are parts from around the world that go into making their nail wraps but everything ends up in Australia for final processing. They have an office and warehouse in Perth, Western Australia and another warehouse in Elk Grove, Illinois.
There are a lot of rumors and assumptions in other articles about Lily and Fox nails. Some claim that Lily and Fox buys discontinued or misprinted nails from other companies and that's why the price is so cheap. This isn't true. Lily and Fox makes their nail strips and plans on keeping their $2.99 sale price for the foreseeable future.
Lily and Fox nails are 100% vegan, non-toxic and cruelty free! They are 10 free which means they don't include the ten most toxic ingredients that are found in nail polish. You won't find dibutyl phthalate, TPHP, toluene, xylene, ethyl tosylamide, camphor, formaldehyde, formaldehyde resin, parabens, and tert-butyl hydroperoxide in Lily and Fox nails which I think is pretty amazing.
---
Color Street
Color Street was created by Fa Park when he saw a woman struggling to polish her nails in a NYC taxi in 1984. He started working on finding the right formula for a real nail polish strip and eventually came out with Color Street, Incoco, and Coconut.
Incoco headquarters is in Clifton, New Jersey and it's where Color Street and its sister companies are manufactured. All products are made in the USA which means a lot to Park because this is where he made his "American dream a reality". You can read all about the company on their website.
---
Pricing
Let's start with a pricing comparison. This is where Lily and Fox really shines. As of right now all nails are only $2.99 for a set of 16 nail strips. For reals!
It's written as a sales price. The actual price is listed at $9.99 which is still better than Color Street prices. Plus, they have free shipping.
The thing is though, Lily and Fox nail wraps have been at that sale price of $2.99 for ever. They've never not used that sales price. Will they eventually stop using the promotional price? I can't say. But for now, take advantage of that price because it's amazing!
Check out the photo below to see what comes with your order. How cute is everything?! You don't get alcohol wipes like you do with Color Street, but you do get a cuticle pusher which is really helpful when applying the nail wraps.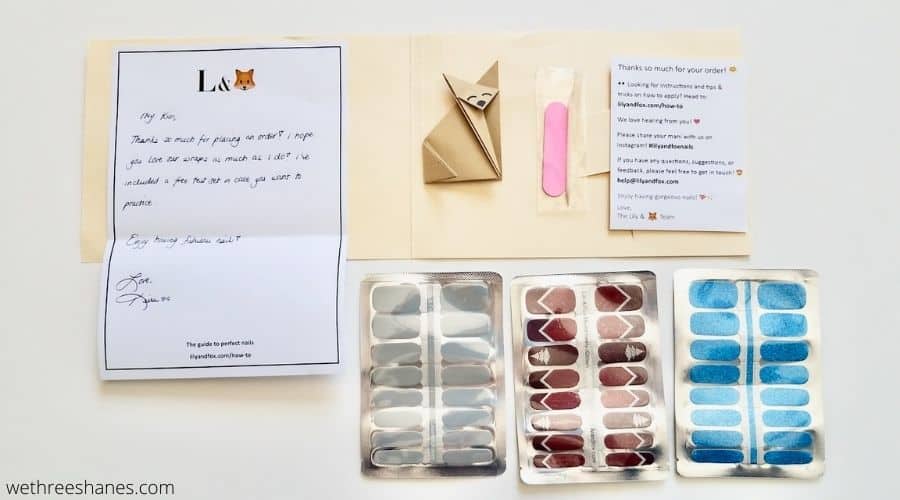 They also gave me an old Christmas set to practice with which is super awesome. I'm not sure if they do this for all first time buyers but it was a nice surprise for me.
The nails themselves come in a foil packaging. It's not possible to seal them up again but because of the nail ingredients, you can use any extras again without them drying out. That's a nice bonus. Color Street nail strips will dry out if you don't do a whole song and dance to reseal them and even then it's not guaranteed.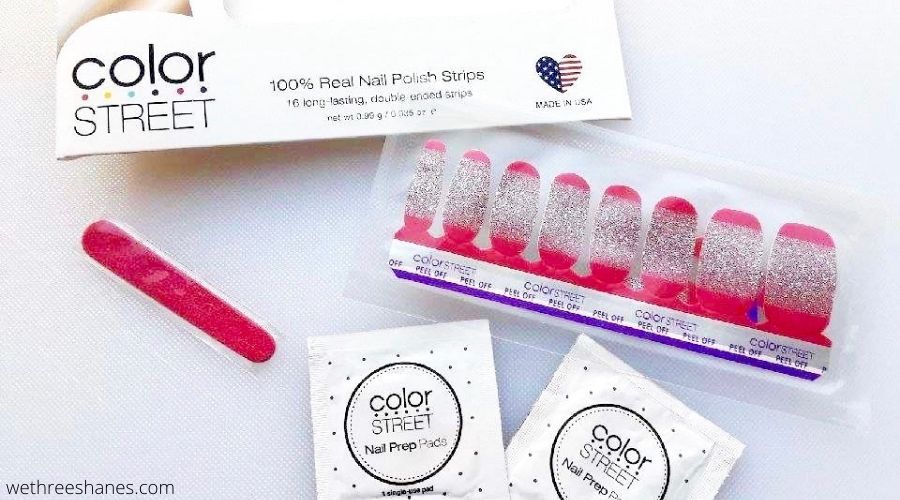 Color Street nail strips range in price from $11 – 14 for 16 nail strips and shipping is a flat rate of $3. They do have some deals that drop the prices.
Buy three get one free for colors, glitters, and nail art designs makes prices closer to $8.25 – 9.75. Buy one get one free for French manicures makes them $7 plus the $3 for shipping so if you plan ahead and buy more then you do get a better price. But it doesn't compare to $2.99.
---
How to Purchase
Both Lily and Fox and Color Street have websites you can order from and get your nail wraps shipped to your home. You can't buy either one in stores all though you can get Incoco and Coconut, Color Street's sister companies, in some stores. Read more about them HERE!
Color Street does have the option of purchasing nails from a stylist. There are some benefits that come from this.
Support for a friend that is trying to earn some extra money for herself/family.
Stylist can have a good stock of nails at home which means you can sometimes avoid shipping cost when you buy from them. They can also have retired designs in their stash which means you can nab them when people ordering straight from the site can't.
Stylist love to get the word out through parties. In home parties are always fun but not super safe right now but most stylist are great at hosting online parties and making it fun. Hosting an online Color Street party could be a great way to have fun with friends and family while social distancing. Plus, you can earn yourself some free nails.
If people keep complimenting you on your Color Street nails then you might make a good stylist which gets you discounts on nail strips and could turn into a good little side hustle for you.
None of this is possible with Lilly and Fox. They only have purchasing through their website available.
---
Designs
Both Lily and Fox and Color Street have some great designs. Personally, I think Color Streets designs look a bit nicer and higher quality. Some of Lily and Fox designs look a little off to me. They just aren't as crisp. It's like there's a slight blur to them.
This doesn't happen on all their designs but I definitely see it in some, especially the holiday designs. I do think Lily and Fox nail designs are getting better though. When I first checked them out a couple of months ago, I only found a handful of designs I liked. Now, they have a lot more cute ones.
Color Street, usually, has a much better selection of nail designs. They are currently running low on designs because of the pandemic and are out of stock on many popular styles.
For example, right now Color Street has 24 solid nail choices that are in stock and Lily and Fox only has 13. Color Street has pages and pages of nail designs and Lily and Fox only has 2. It does make it harder to find nail styles you like but it's not impossible.
Both have holiday designs. Lily and Fox, however, has already sold out of their Halloween designs. Where as, Color Street, hasn't even stocked theirs yet. I'm not sure if Lily and Fox will restock theirs. It seems like once they're out of a design, that's it. They're done.
Color Street keeps the same nail designs for seasons. They let you know when they will retire a design so you have a chance to stock up on your favorites before they go away.
Lily and Fox, on the other hand, seems to rotate through designs on a regular basis. I loved the light grey set I got but by the time I got back on the site to think about reordering, they were gone. That's a total bummer in my book. I want to know my favorite designs will be there so I can reorder them anytime I want.
---
Application Process
The application process between the two nail strips was very similar but Color Street is easier to apply.
Lily and Fox nail wraps go on really well and you can take them off and reposition them if you need to which is pretty helpful. But, the wraps are thicker and more plastic-y which makes them much harder to rip/pull away the excess polish strip you don't need. You really need to file the extra away which is a bit harder to do. It does get easier with practice.
Lily and Fox nail polish strips are a bit stretchier which makes them go on the nail well but I think this contributes to a bubble problem I'll talk about in the next section. This is also why most people have said they can only get one manicure out of each Lily and Fox set.
However, I did find a way to get a full manicure and pedicure from one set and still have some nail strips left over. Enough to get another pedicure or manicure for a younger daughter out of them. $2.99 for a full mani/pedi plus another pedi is a crazy good deal. I'll let you know that process in another post next week so be sure to check back.
How to Get a Mani and Pedi from One Lily and Fox Nail Set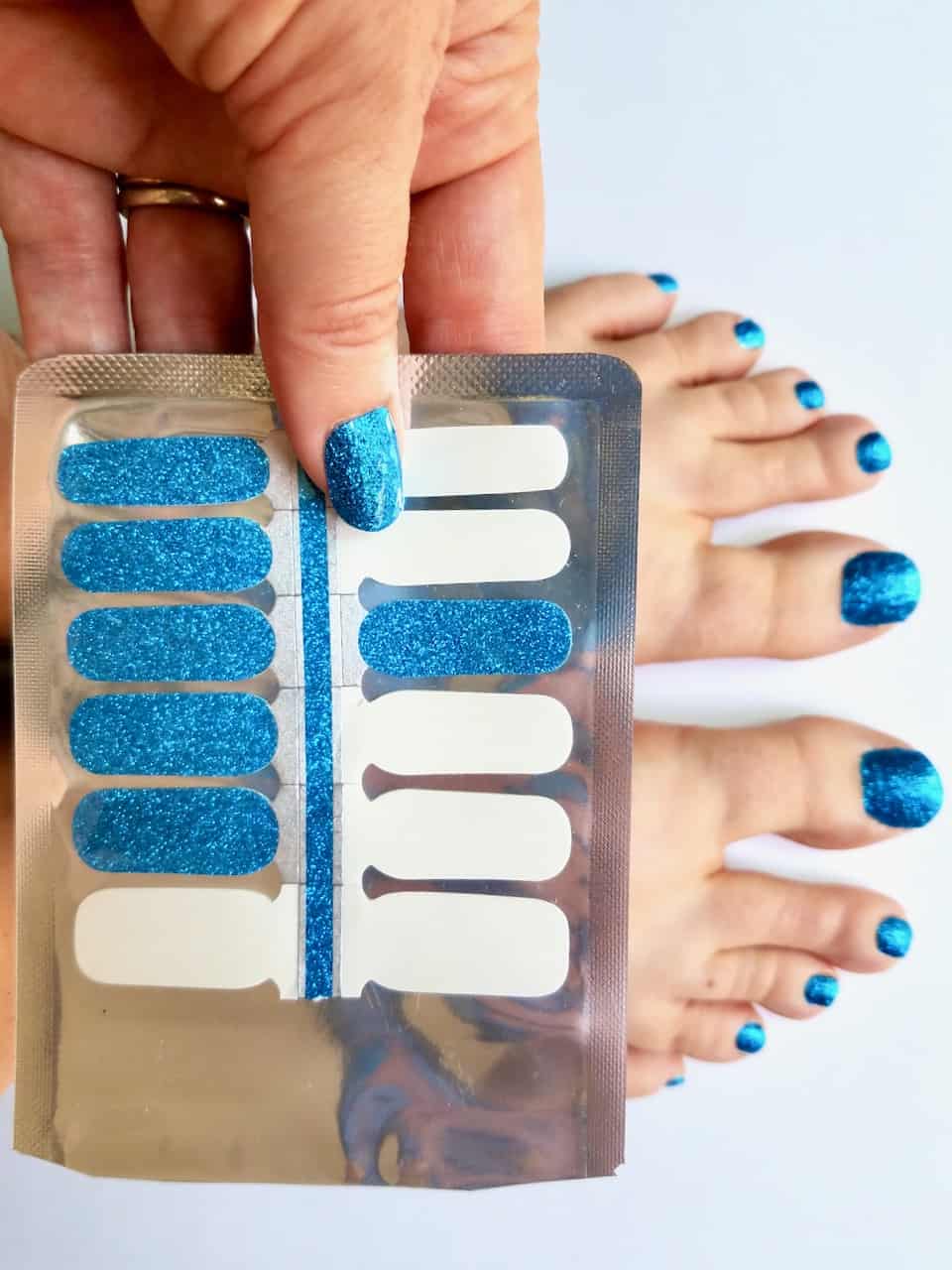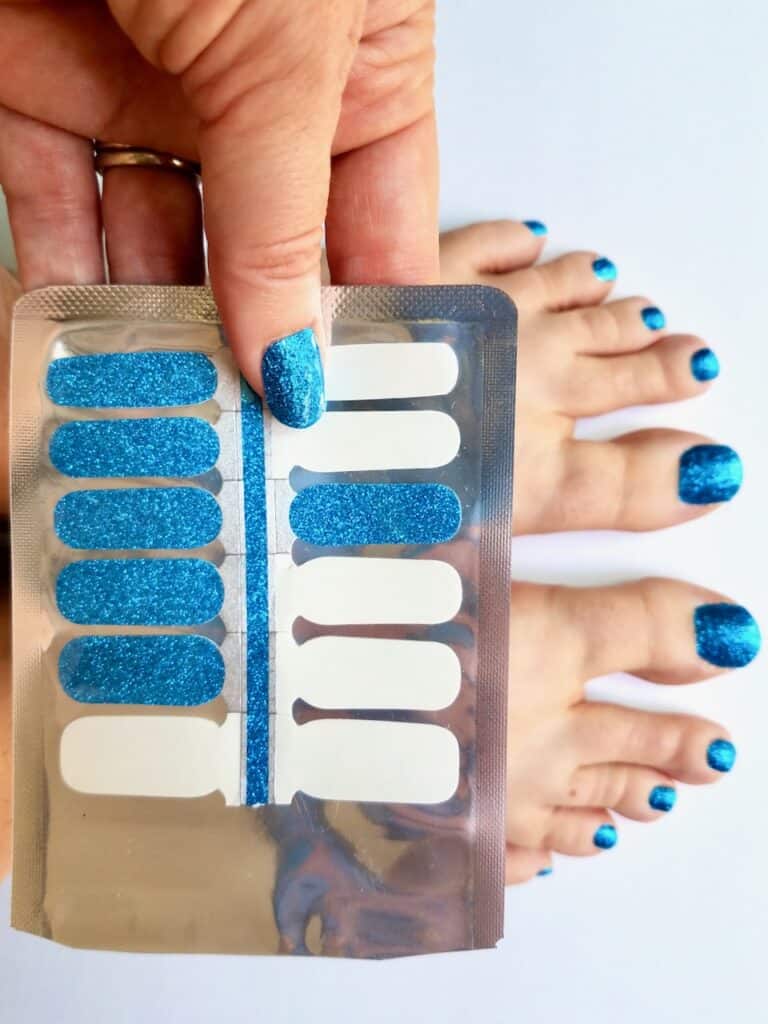 ---
Look and Feel
Again, I think the look and feel of both Color Street and Lily and Fox is similar. They both look great when first applied. Color Street nails do have a smoother feel though. The Lily and Fox nail strips never feel completely dry. They have a sticky feeling to them that I don't love.
Color Street nail strips last up to 2 weeks. I find the glitter polish has the best staying power. There is no wait time once your nails are on. You can immediately wash dishes or jump in the shower with no negative consequences.
Lily and Fox wants you to wait at least 6 hours before submerging your hands in hot water. I put my nail wraps on before bed so I don't have to play a waiting game. Lily and Fox also suggests using a base coat to help their nail strips adhere better to your nails and a top coat to make them last longer. Sally Hansen's Mega Shine top coat is one they recommend.
This is a total negative in my opinion. I don't like the idea of extra work but for $2.99 it could be worth the extra effort.
The first set of Lily and Fox nails I put on my bare nails and did not do a top coat. I don't have to do that for Color Street nails and I wanted a real comparison.
Within a couple of days my nail polish wraps had started to bubble up and pull away from the edges. I think this is partially because of that stretch that happens when you first apply the nail strips. It feels like they shrink back down which creates those bubbles and exposed tips.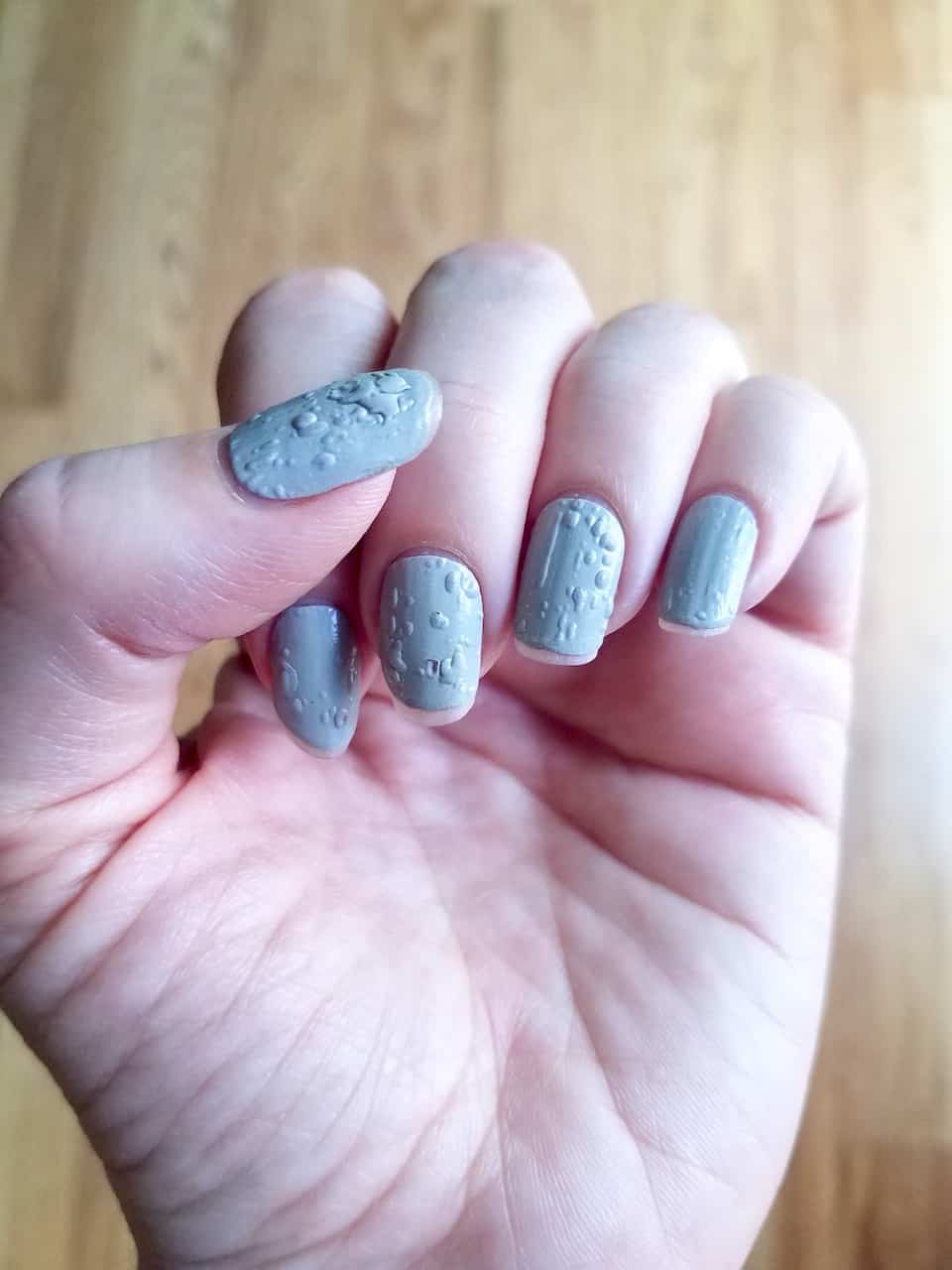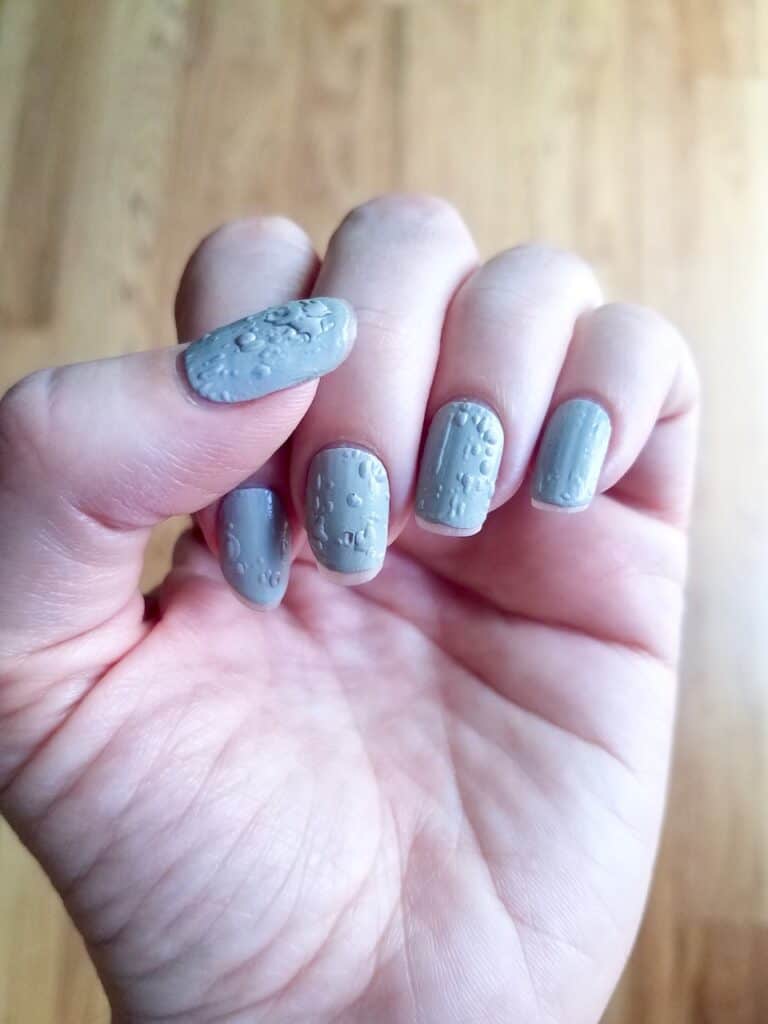 I had to remove the Lily and Fox nail wraps by the end of the week because they looked awful. If you stick to an application with no bottom or top coat then these nails will only last about 3 days.
(Update) From my interactions with the company, they seem like a helpful group who wants you to have the best experience when using their product. After seeing how my grey nail wraps bubbled up they got in touch with me to let me know that it wasn't normal and I must have gotten a bad set. They no longer have that design so they had me pick two other ones to try out. They have sent me them free of charge.
They do offer a 100% guarantee so if you experience a similar problem or are unhappy with your nail polish strips in any way you should reach out to them. I plan on trying the new sets they send to see if I have a similar bubbling problem and will update this post again with my results.
Lily & Fox Glitter Set
The next set I tried from Lily and Fox was a glitter set because I wanted to see how they compared to Color Street's glitter designs. For this set, I left my right hand top coat free but I applied a layer of fast dry top coat to the left hand to see if it helped.
The right hand bubbled up just like the first Lily and Fox set I tried, but it bubbled way less than the solid set. I think the glitter holds up better just like Color Street glitter does.
The side with the top coat never bubbled up. It lasted the two full weeks with the only noticeable wear being growth at the nail bed and a tiny bit of nail showing on the tips. You can see there is a lot of nail showing on the set that didn't have a top coat on. The bubbles are not as noticeable on the glitter nails but you can really see it on that thumb nail.
I'm still wearing the Lily and Fox glitters on my toes and it's been over a month. Just like Color Street the pedicure last much longer than the manicure.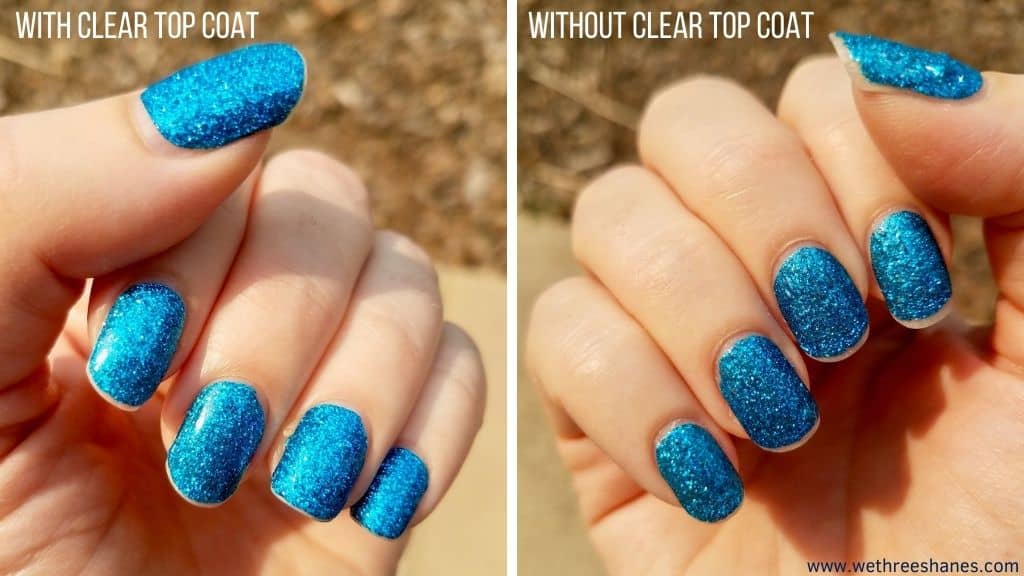 Nail Strip Removal
Even though Color Street is made from real nail polish, there are a couple of layers in there. Therefore, cheap, 99 cent nail polish remover doesn't really cut it. I use the coconut scented ONYX professional nail polish remover and it works great and still comes in at a good price.
Lily and Fox nails has a protective layer built into their nails to prevent nail damage. Because of this layer, the nail wraps simply pull off of the nail with out the need of polish remover. I was able to peel the nails right off. It does leave a bit of residue on the nails but that washes off with soap and warm water.
If you use a base coat or top coat then you will need to use a nail polish remover. I tried to see if Lily and Fox nail wraps would peel of with the top coat and it did but it damaged my nail so that's not good. A good nail polish remover was easily able to remove the top coat and strip.
---
Do They Damage Nails?
There is some debate on whether or not Color Street ruins your nails. Some people's nails crack and split after too much Color Street use. Other people don't have a problem with them at all.
Like I said above, Lily and Fox nail polish strips are made with real nail polish but they have a backing on them that prevents nail damage. If your nails have been damaged by other nail strips you should definitely give Lily and Fox a try.
---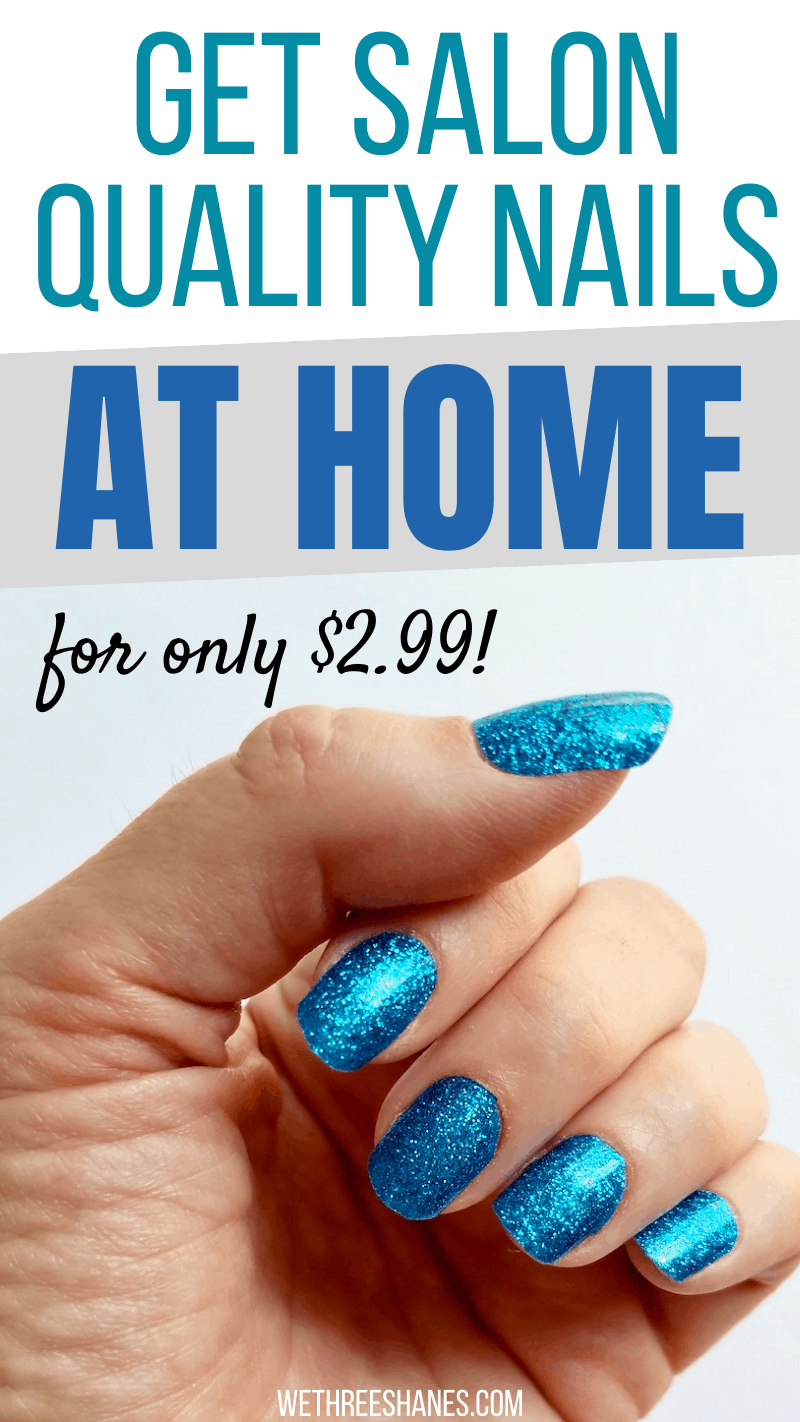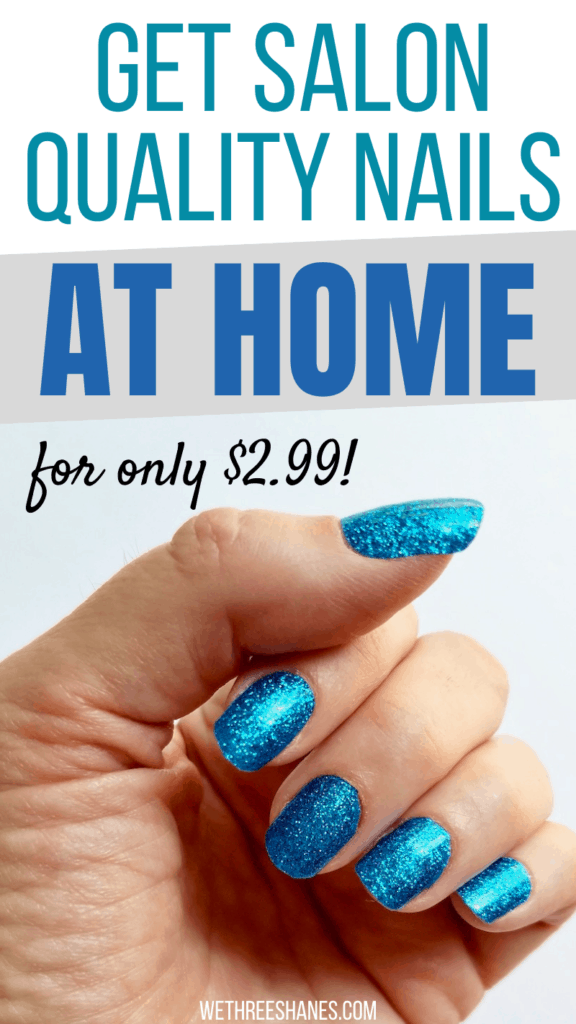 So Which Nail Strip is the Winner?
So, now that I've gone over all the pros and cons of Lily and Fox and compared them to Color Street, which one do I recommend? With a price of $2.99, the winner for me is Lily and Fox. 🦊 While they do have some problems with their nail wraps, the price more than makes up for them.
I would much rather spend 3 bucks on a mani and pedi that I have to paint a top coat on. It's a very small, extra effort and if you use a fast dry, top coat it's dry in less than a minute. The application is slightly more annoying than Color Street's process but again the price makes up for that.
If Lily and Fox ever stops the $2.99 sale price and starts selling their nail wraps at the listed $9.99 then I would switch back to Color Street. The've got more designs that will stick around. Their nail strips last longer on their own, no top coat needed. Plus, the application process is easier, even if only by a little bit.
Have you tried Lily and Fox nail wraps? We'd love to hear about your experience with them in the comments!
---
You Might Also Like:
---