How to Get a Mani and Pedi from One Lily and Fox Nail Set
Do you struggle to get a mani and pedi from one Lily and Fox nail set? You're not alone! Check out my tips for getting 2 manis and a pedi from just one set for only $2.99. It's easier than you think.
(THIS POST PROBABLY CONTAINS AFFILIATE LINKS. OUR FULL DISCLOSURE POLICY IS LONG & BORING BUT, YOU CAN FIND IT HERE.)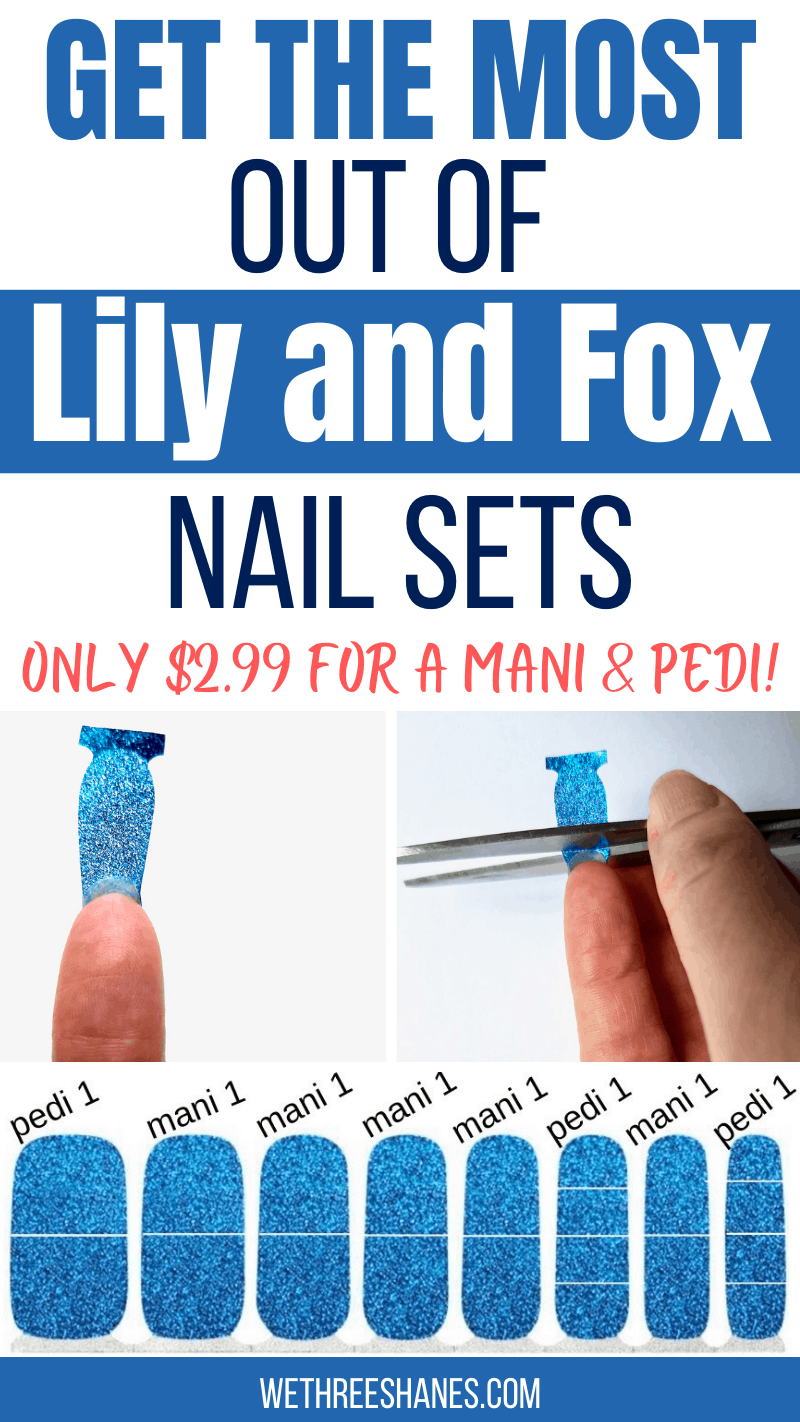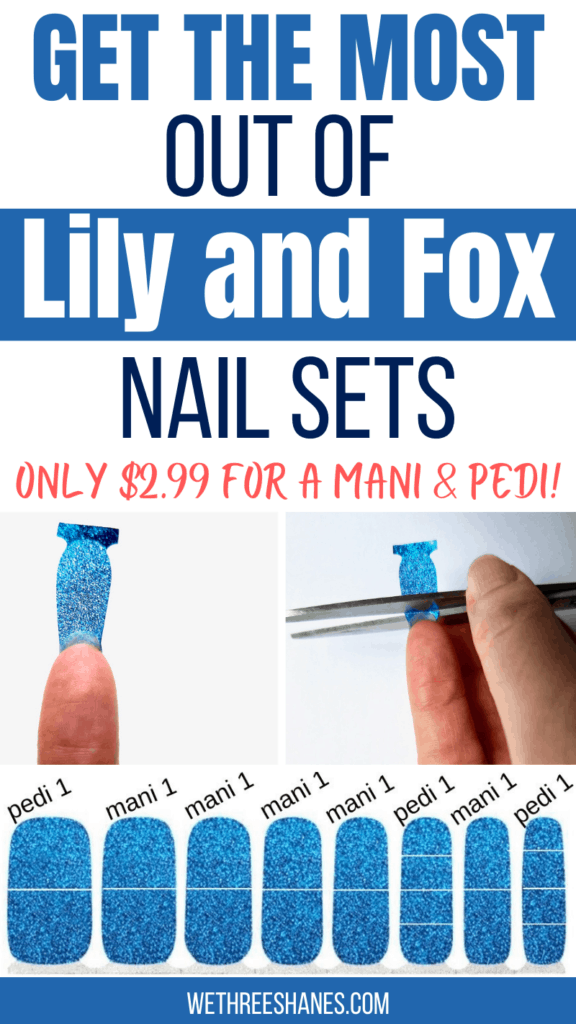 Get 2 Manis and a Pedi From One Lily and Fox Set
Last week I shared my Lily and Fox review with everyone. You can read my honest opinion of them HERE. Today I'm going to show you how to get a full mani and pedi from one Lily and Fox nail set. You might even be able to get two manicures and pedicures with one set depending on how long your nails are.
When I was looking into Lily and Fox nail strips, I read a lot of people saying they could only get one manicure from the set. The first time Kris helped me put a set on, we were thinking the same thing.
Lily and Fox nail wraps are pretty stretchy so they don't tear off like Color Street nail strips do. This really warped the remainder of the nail strips making them pretty useless, so I only got a manicure out of that set with a couple of strips left over.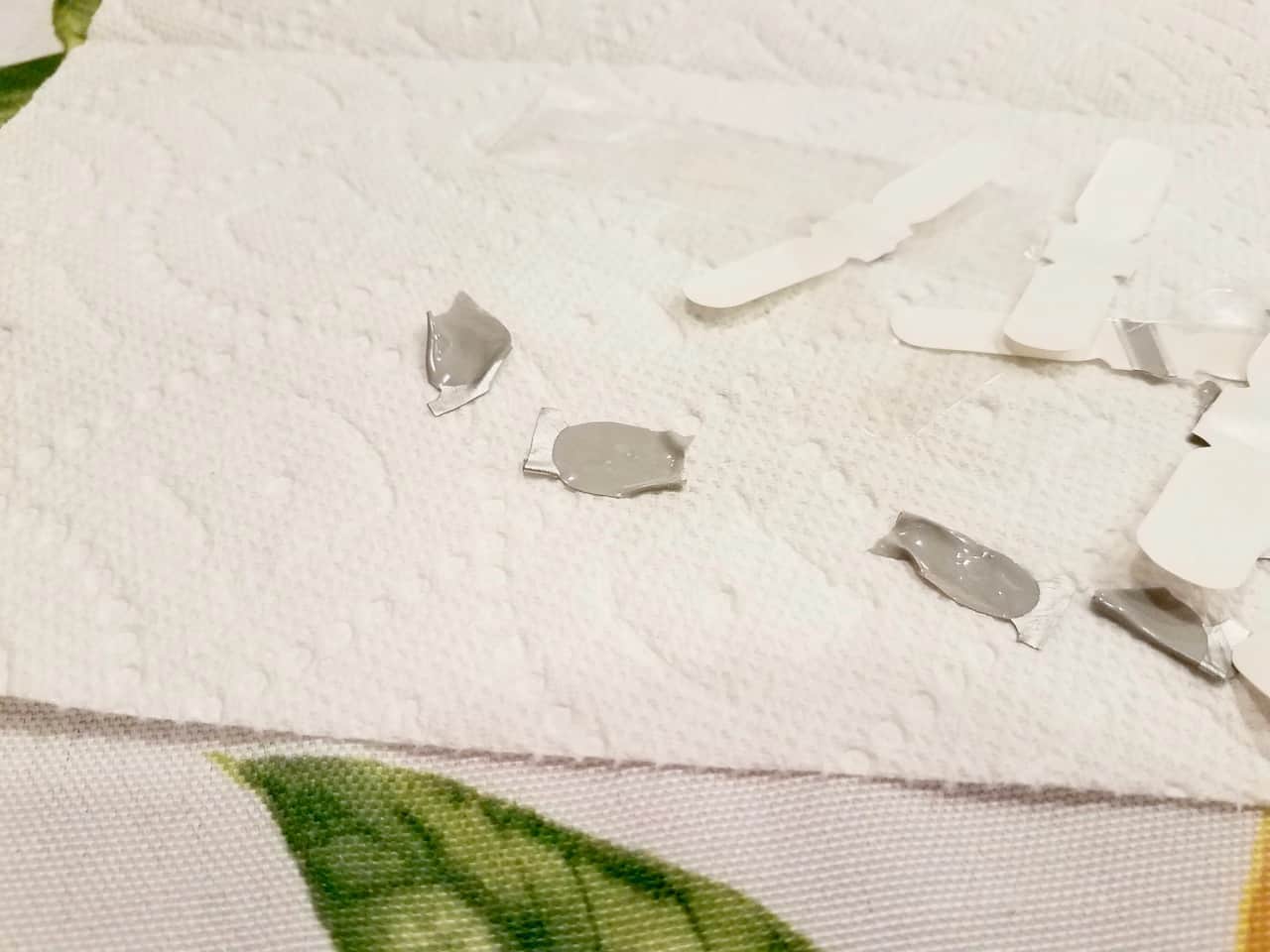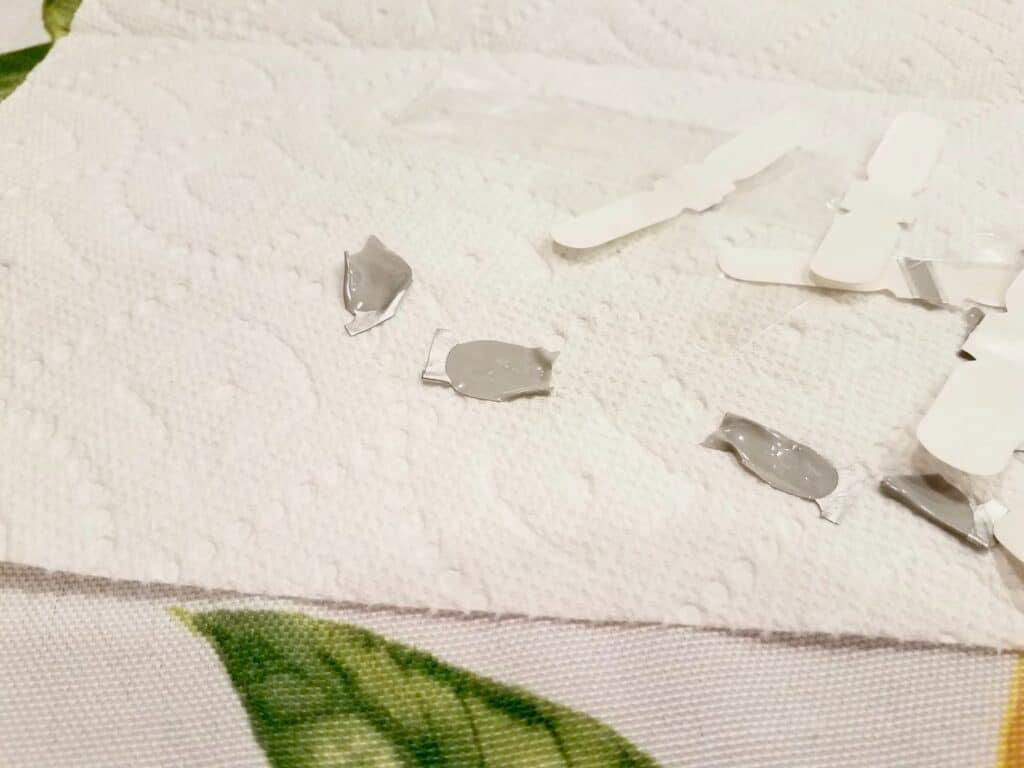 The second time I tried Lily and Fox I was determined to get a mani and pedi from the set. I grabbed a pair of scissors to see what I could do. Scissors are the key here. Because Lily and Fox nail wraps don't tear easily you need to cut them. Turns out it's pretty easy to do.
---
How to Get the Most out of Your Lily and Fox Nail Set
Definitely check out the photos I'm adding to this post. It's helpful to see what I'm talking about as I walk you through the process of cutting the Lily and Fox nail strips. If you've ever used Color Street nails to get a mani and a pedi then you'll be pretty familiar with this process. Needing scissors adds an extra element but it's not too tricky.
You'll need to use the scissors twice while working with Lily and Fox nail wraps.
First, you'll use them to cut off the excess nail strip after it's been applied to the first nail.
You need scissors again to cut off the tab at the curve because the Lily and Fox tab doesn't pull away like Color Street's does.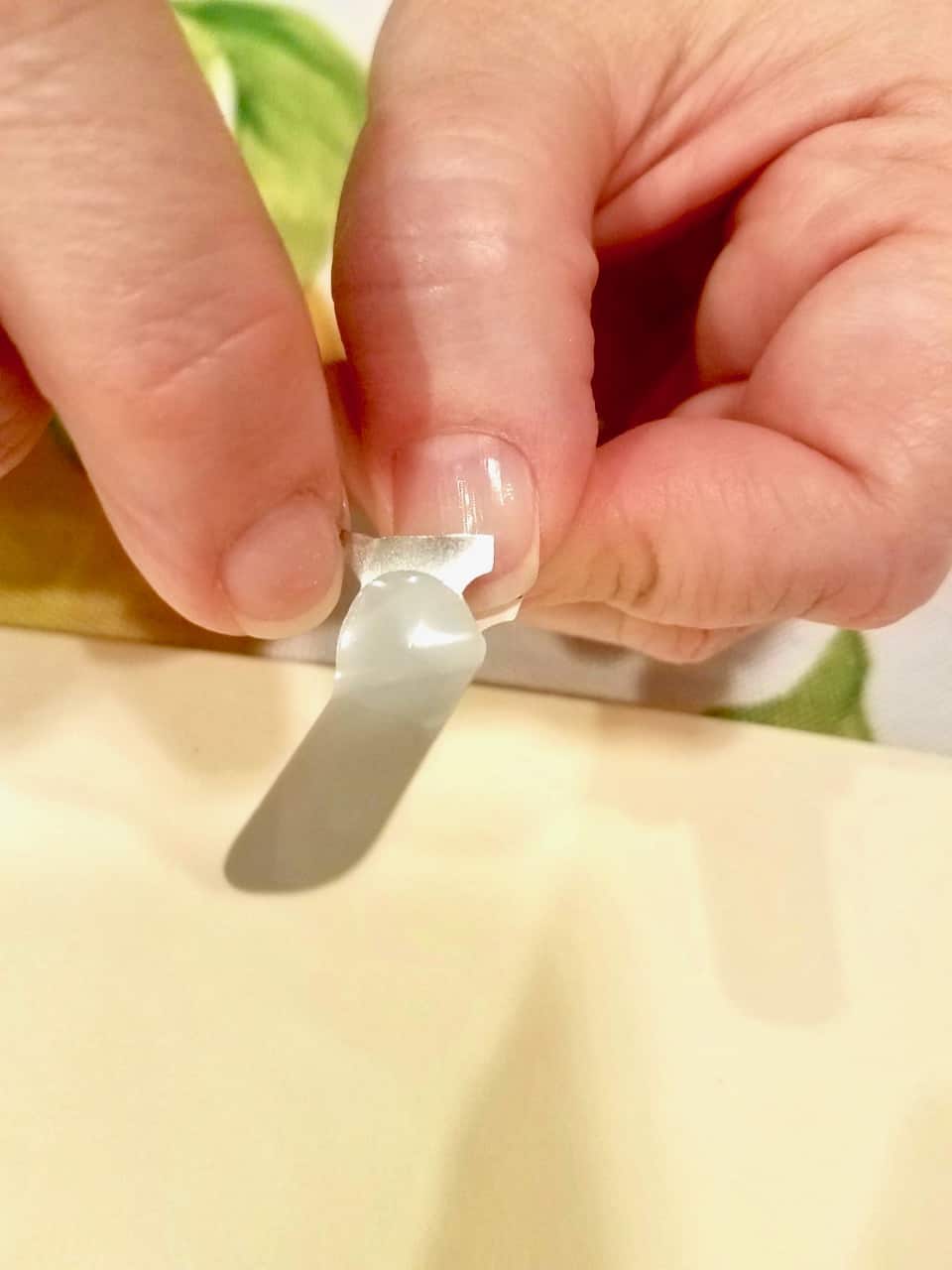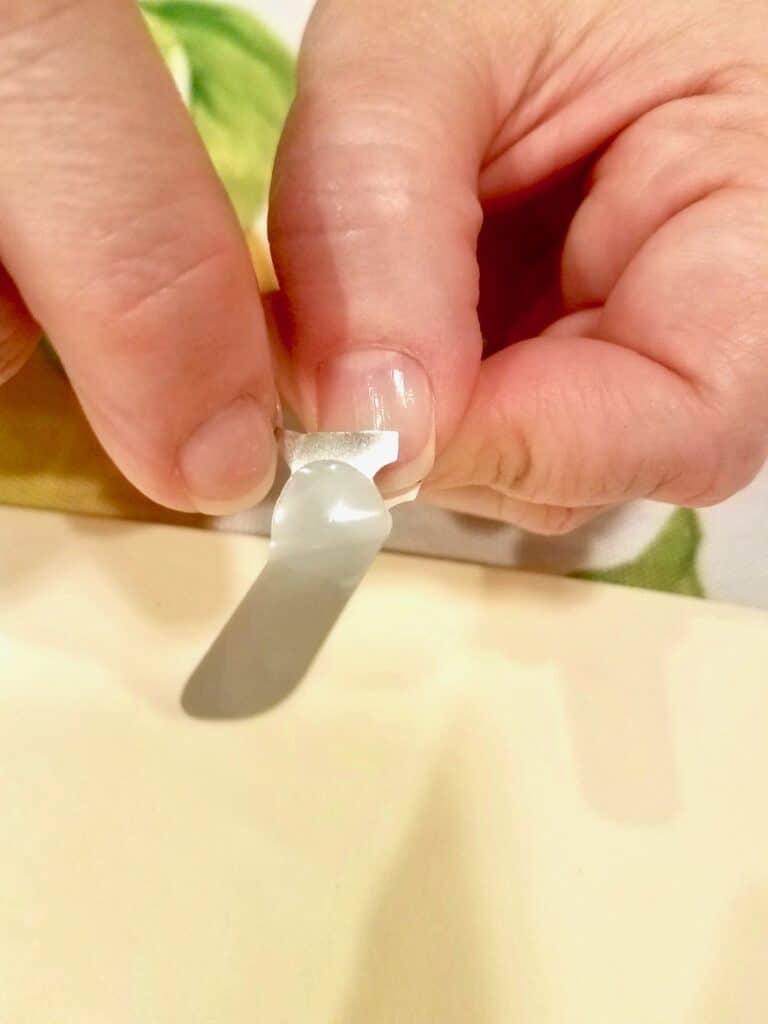 How to Apply the Manicure
It's not easy to take photos of yourself while doing a manicure and cutting so make sure you read and check out the photos so you know exactly what to do.
Start your manicure by finding the correct size nail strip for your first nail.
Pull the clear protective layer off and smooth the nail strip on the right nail. Your nail should now look like the photo below.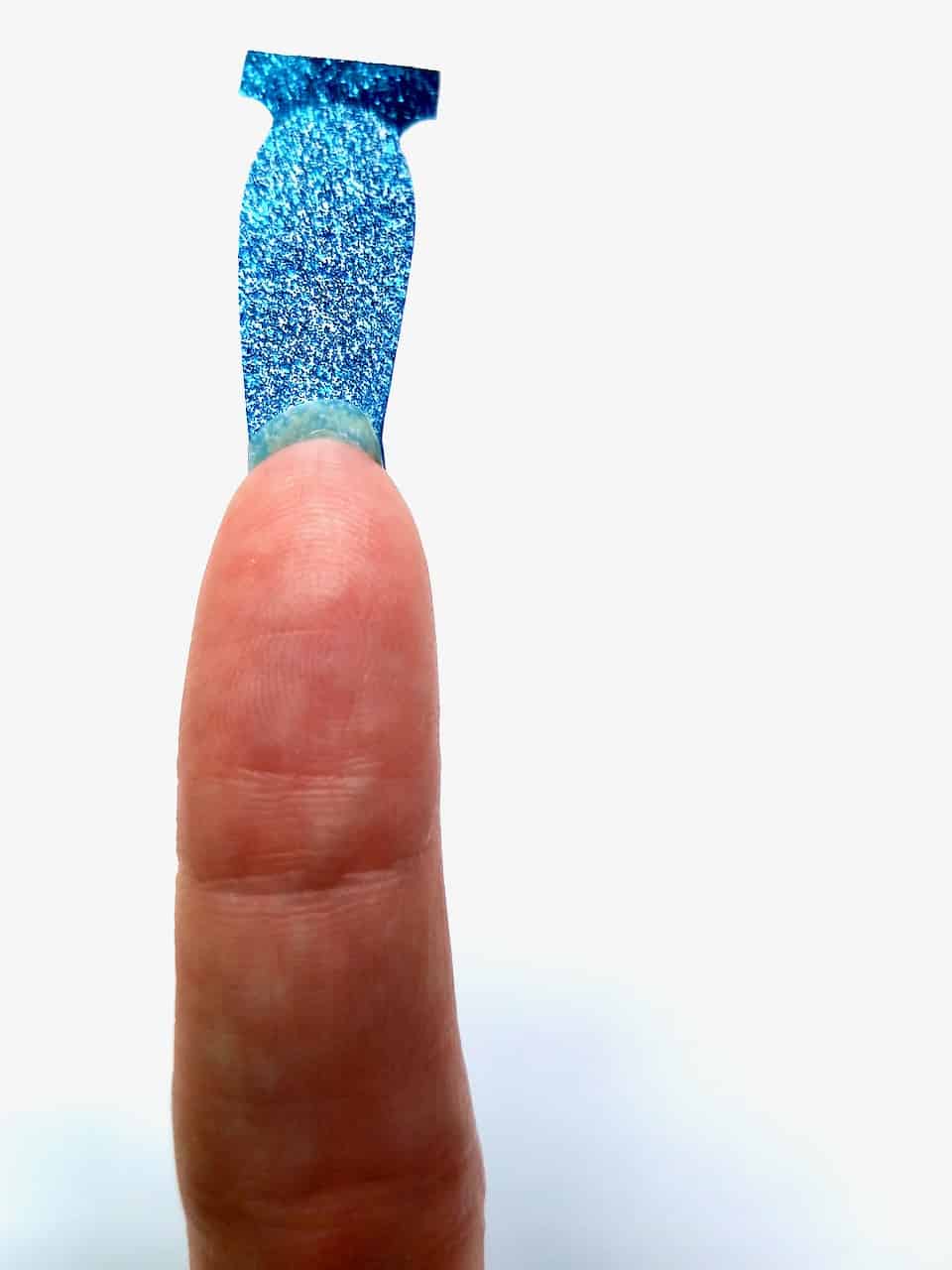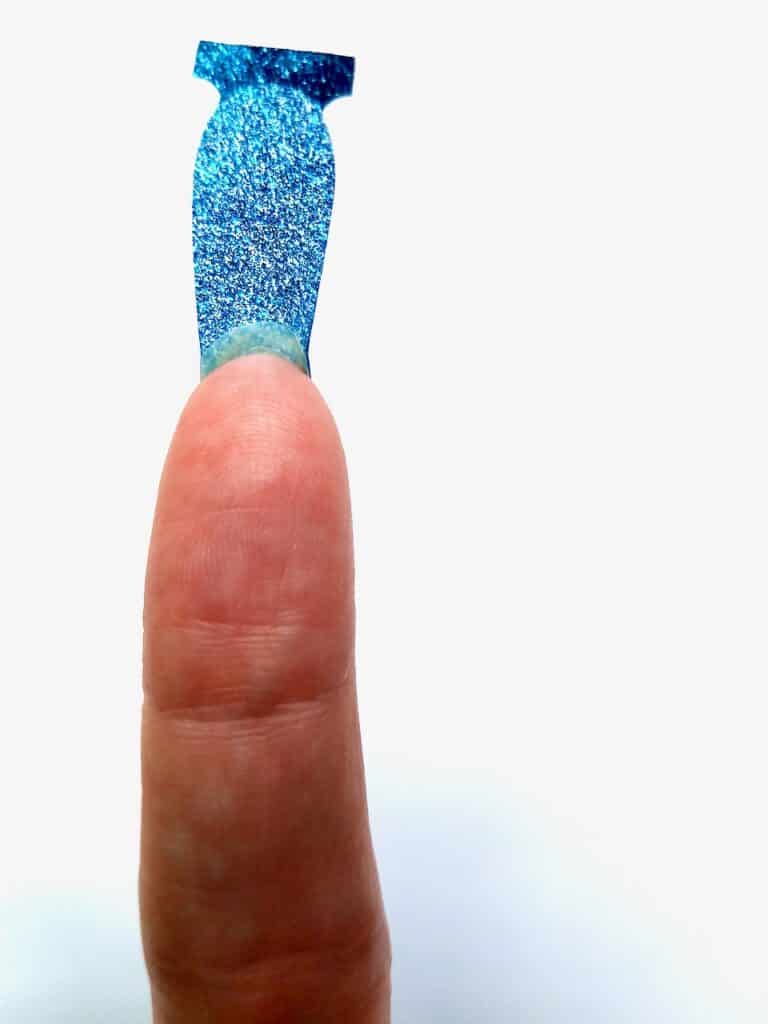 3. Use your scissors to carefully cut off the excess nail strip.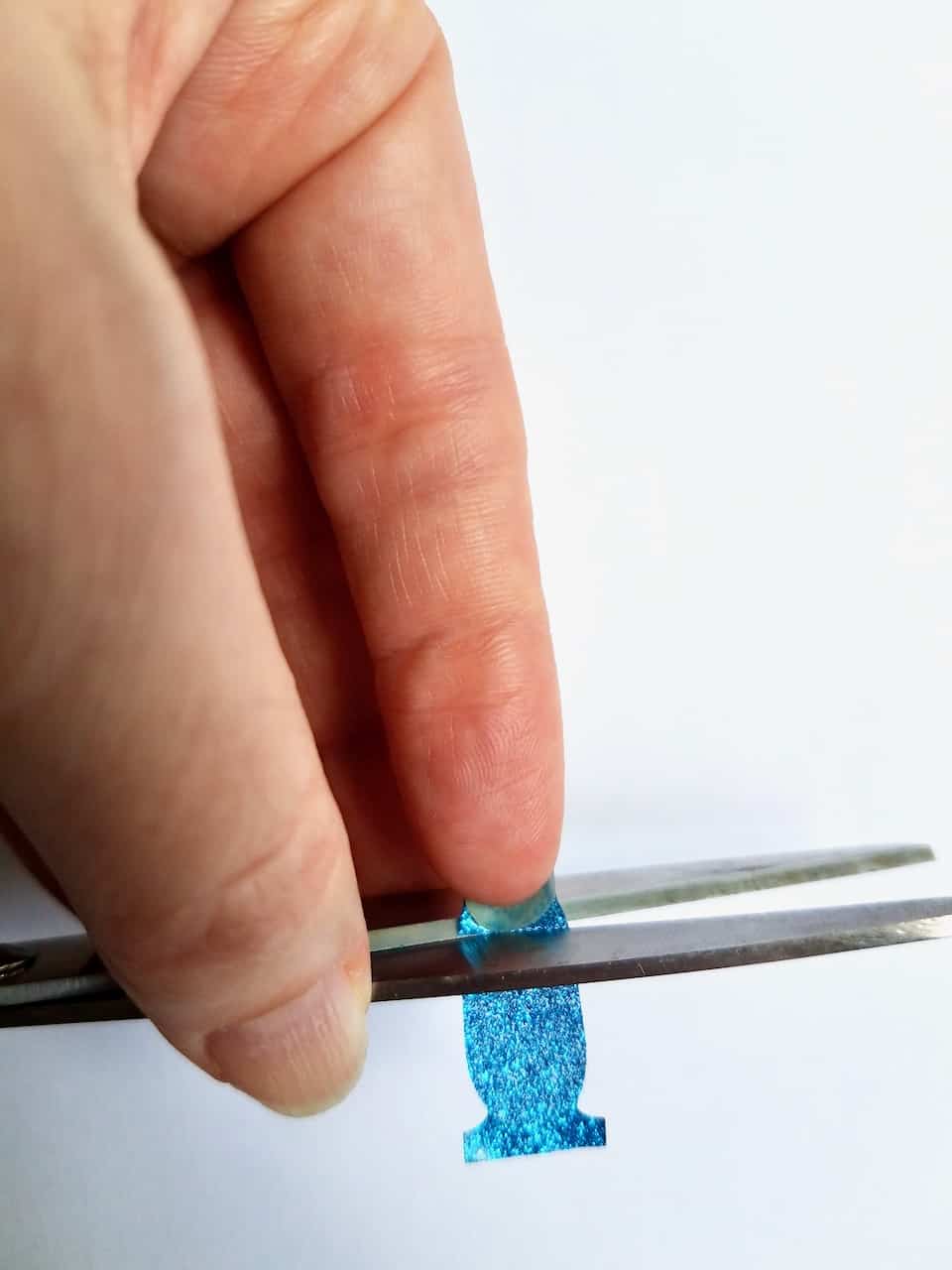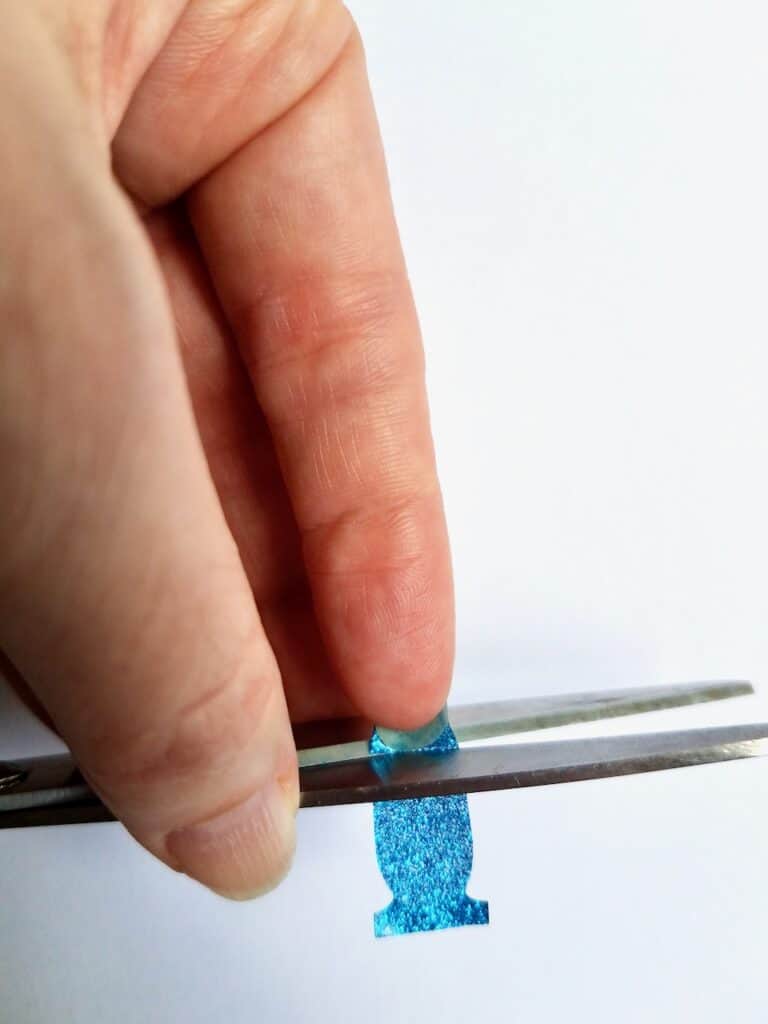 4. Then use the scissors again to cut off the tab, making sure to follow the curve. It's hard to tell I'm following the curve but again, that's because it's hard to cut and take pics at the same time.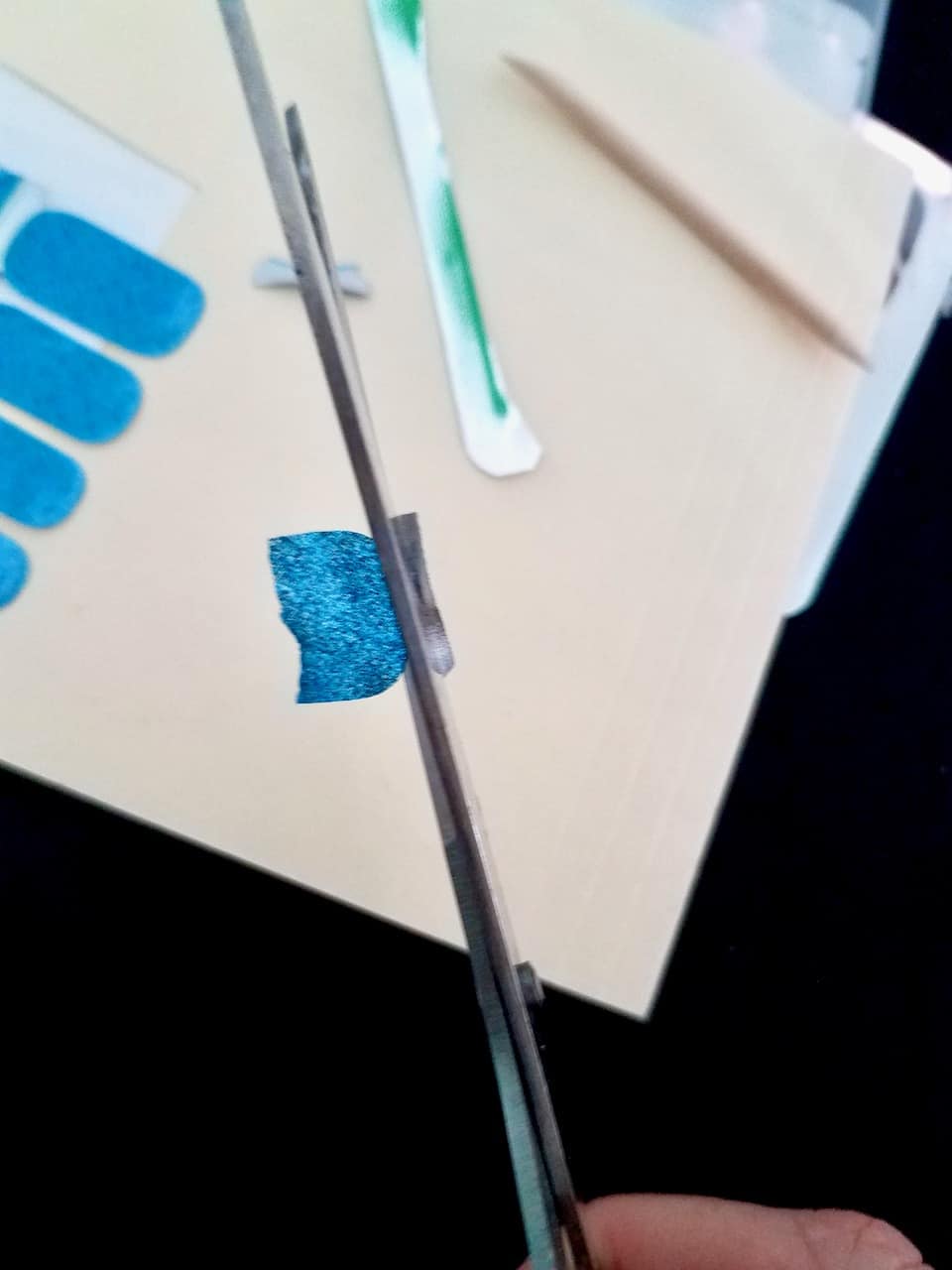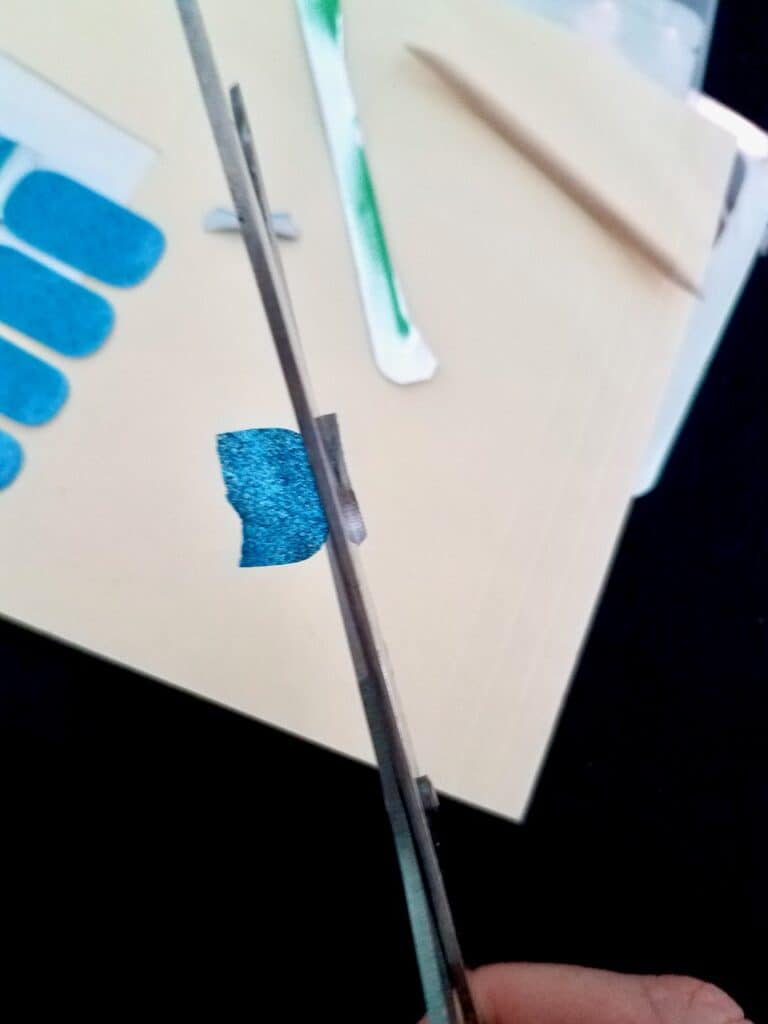 5. Now, use the trimmed nail strip to cover the left nail of the same size. Then continue using this process until all the nails on both hands are covered.
6. Use a nail file to remove any extra nail strip at the top of your nails. Now you have plenty of wraps left to start your pedicure.
Add a top coat to make your Lily and Fox nails last even longer. I wait until my mani and pedi are done then I add a fast drying clear coat to the top of everything.
---
How to Do a Pedicure with the Same Lily and Fox Set
I actually did my pedicure first so I didn't mess up my manicure when working on my toes. Just make sure you measure your nails with the strips so you know which ones you need for your finger nails. Then use the leftovers on your toes. Here's how things broke down for me.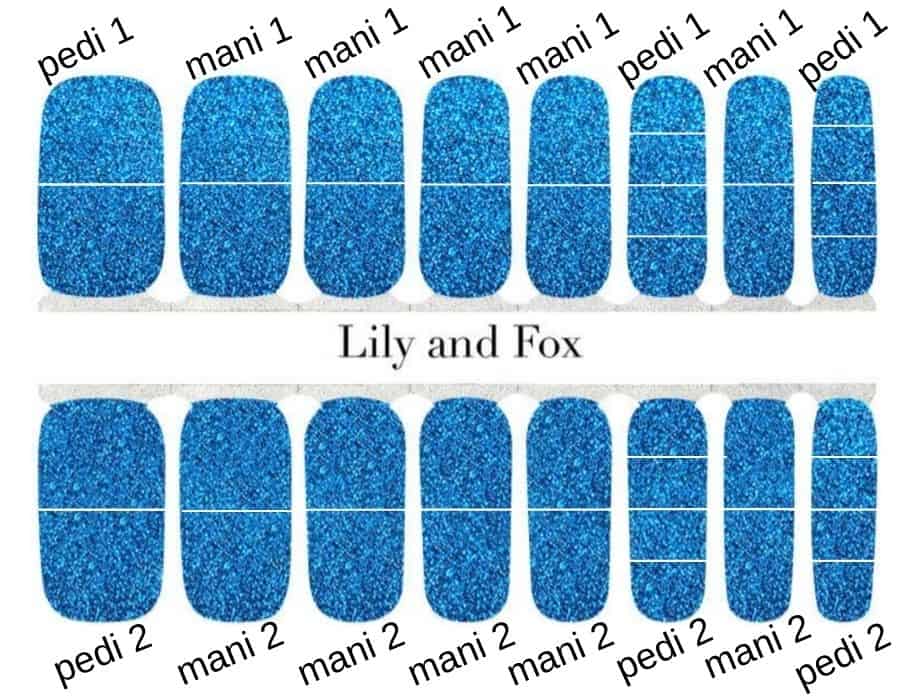 Nail strips might fit differently for your nails so make sure to measure them. Don't just decided based on what worked best for me. You might need to turn the biggest strip sideways to get full coverage on your big toes.
This means you won't get two pedicures out of one set. You'll get two manicures and one pedicure with two extra nail strips left over. You can save these for an accent nail or use them with a complimentary design to add stripes or some other fun art. That's still pretty amazing for only 3 bucks!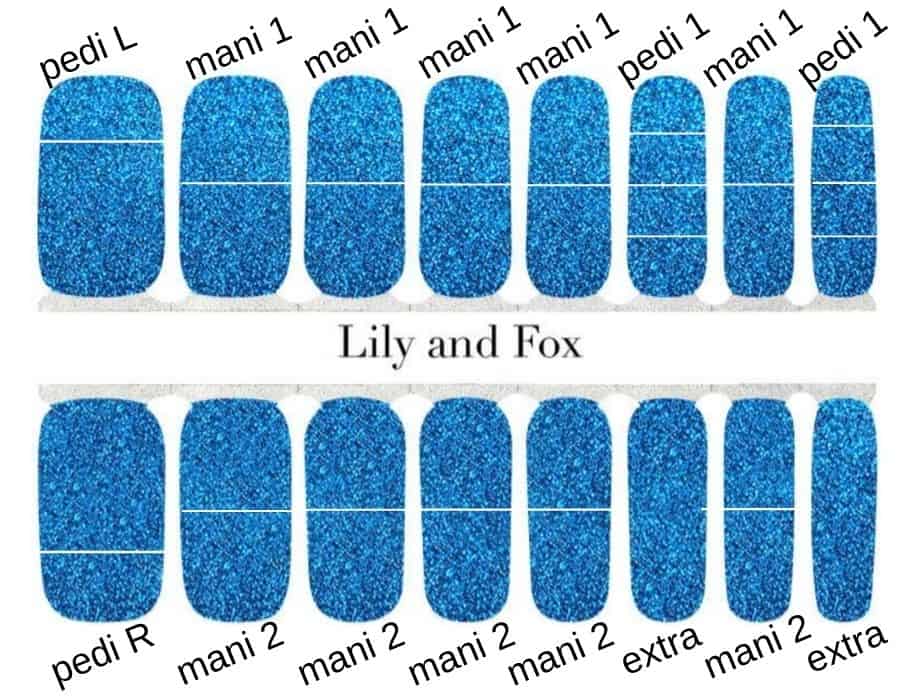 Normally, I keep my toe nails on the short side but for this tutorial I kept them a bit longer so you could see the pedicure better. I don't know if that was really necessary but whateva. This ate up a bit more of the nail strips but I still got a full manicure and pedicure with enough left over for another manicure.
Also, my feet were definitely not ready for a pedicure. I should have soaked them in our detox foot soak or our DIY Mermaid Sugar Scrub first to make sure they were camera ready. So, sorry you have to look at my sad, dry feet.
You need to use the biggest size nail strip on your big toe nail. You should be able to get both toe nails covered with the one strip. If you can then you'll be able to get two full mani and pedis out of one set of nail strips. Since Lily and Fox sets only cost $2.99, you'll be getting two manicures and pedicures for a pretty unbelievable price.
If you can't get two nails done with one wrap then you'll still be able to get a second manicure out of the set. You will also have a couple of strips left for another manicure or your baby toes so you can always do an accent nail on your big toes if you want to try that.
2. Find the strip that doesn't work for your nails and cut it to fit your other 4 small toe nails. If you cut them like I show in the photo above then two will already have a curve to them. Line that curve up with the natural curve of your nail, along the cuticles. The other two pieces will need a curve added with the scissors.
3. You might have a bit of excess nail strip on the side of your toe nails. Use your finger nail or the wood cuticle stick that came with the set to create a really good dent that follows the natural nail line. Keep pressing until the nail strip starts to break and you can carefully pull the extra off.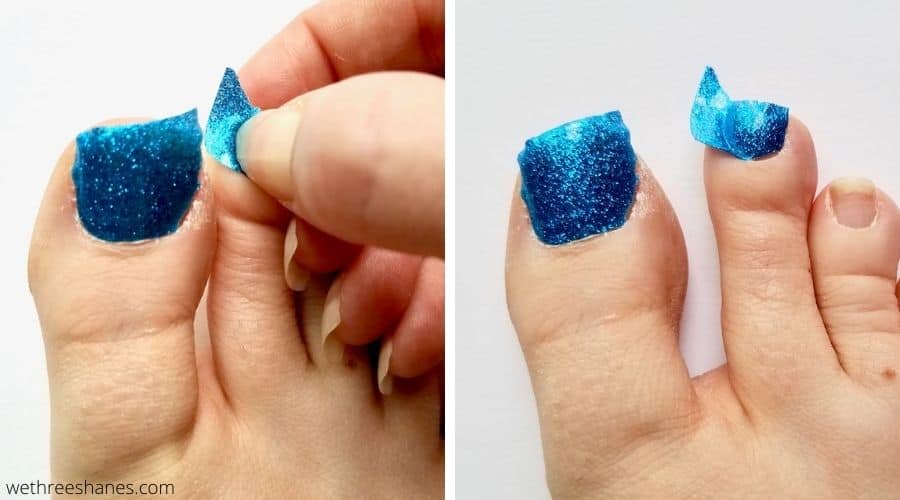 4. Once your toe nails are covered simply file away the excess nail wrap using downward strokes. I like to keep moving along with all of my toes and then file away all at once. It seems to go faster that way.
My pedicure lasted forever! There was some obvious regrowth on the big toes so they had to eventually come off but otherwise they still looked great. You can always add a top coat for extra staying power.
---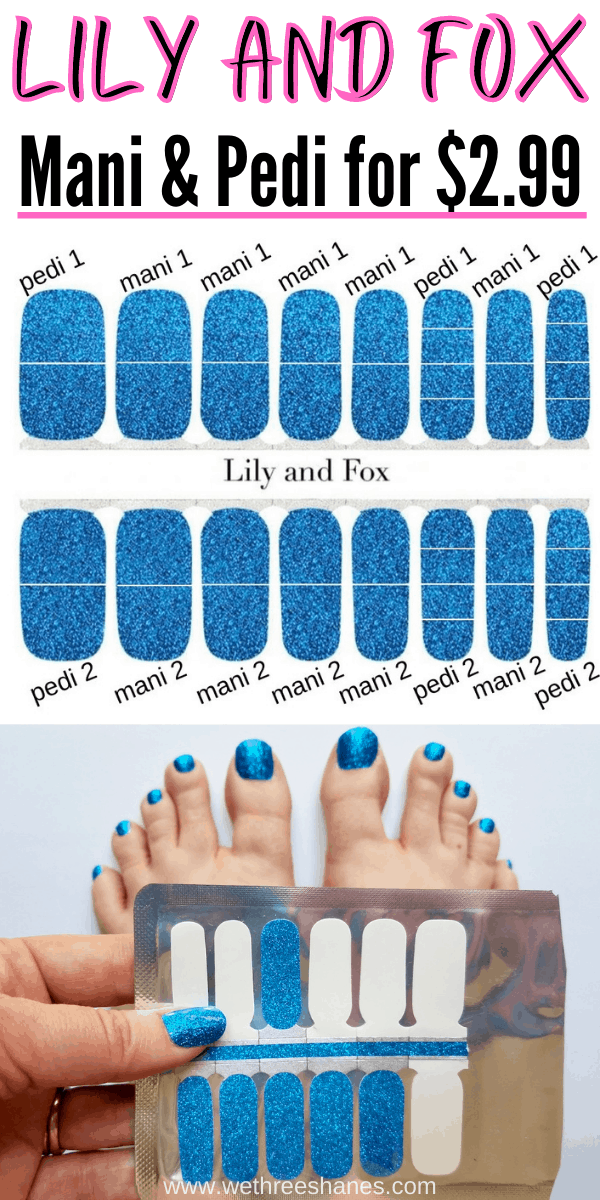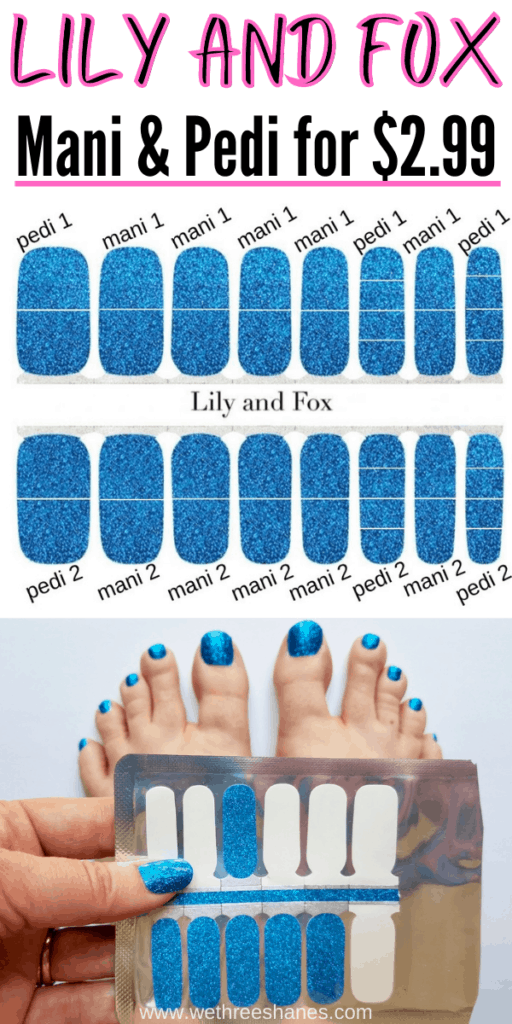 Mani and Pedi for $2.99? Yes, Please!
Lily and Fox nails have a promotional price of $2.99. As of right now, they don't have any plans to change that, but you never know. I plan on taking advantage of that price as long as it's around.
If Lily and Fox ever charges the full price listed on their site, I'll be going back to Color Street Nail Strips. They are definitely easier to put on. You can read more about Color Street in this REVIEW.
Do you use nail strips at home? What's your favorite brand? Tell us about it in the comments below.
---
You Might Also Like:
---