Easy Reversible Table Runner Using Fat Quarters
Add some holiday cheer to your dining room with a fun reversible table runner. This easy sew project uses fat quarters to create seasonal table decor that can be used for two holidays.
(THIS POST PROBABLY CONTAINS AFFILIATE LINKS. OUR FULL DISCLOSURE POLICY IS LONG & BORING BUT, YOU CAN FIND IT HERE.)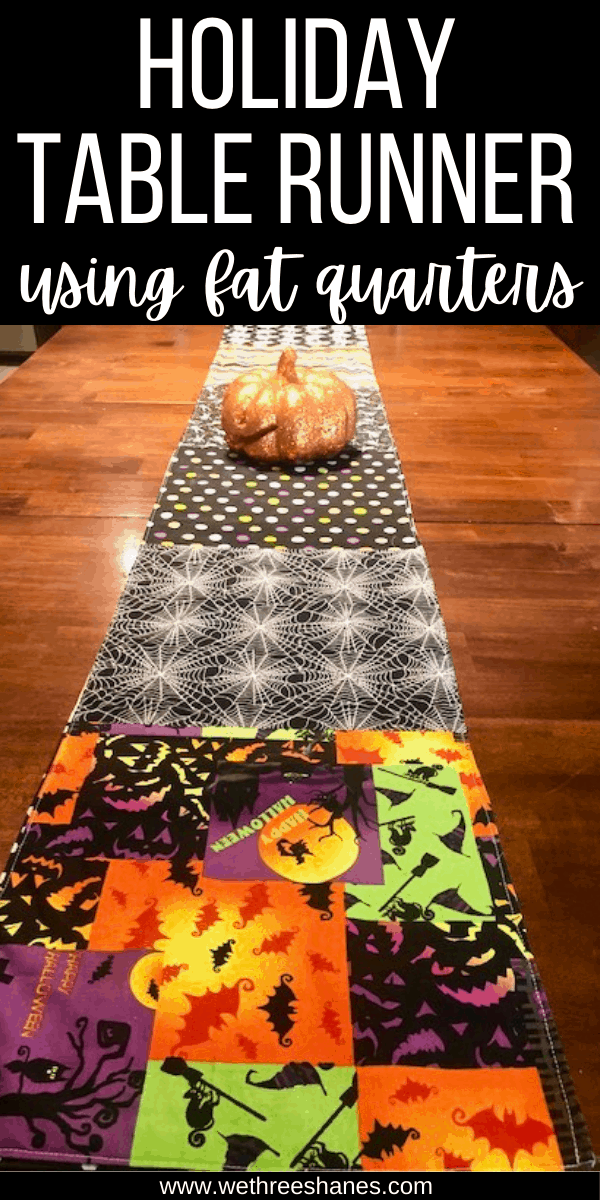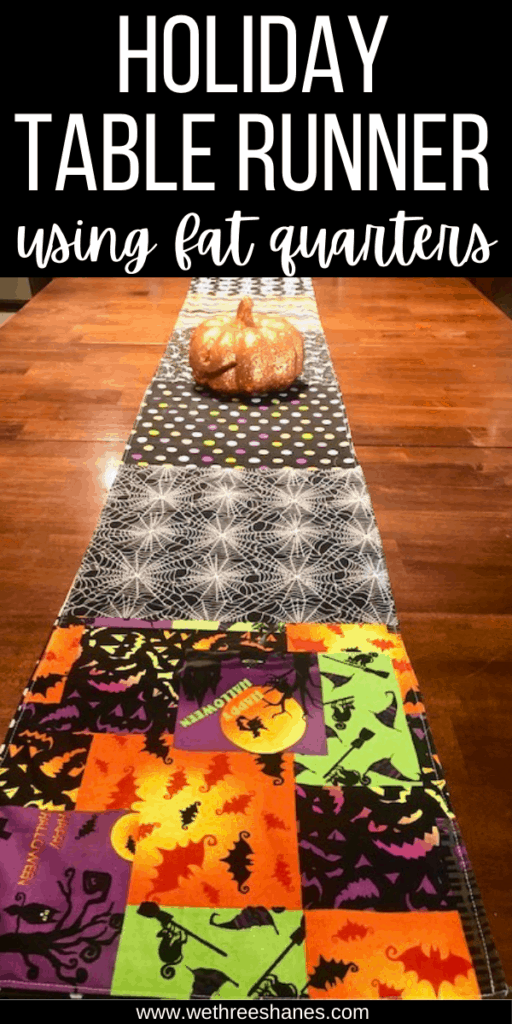 DIY Reversible Table Runner
I love an easy but cute sewing project. This table runner definitely fits both of those categories. If you are not a great sewer, or you have been wanting to start sewing and need an easy project, this is perfect for you.
The best part of this table runner is that it is double sided which means one side can be for a holiday and the other side can be for everyday use. Or you can do fall patterns on one side and winter on the other. Make 3 different ones and be set for all the holidays or seasons. So let's get started.
---
How to Sew a Reversible Table Runner
Like I said before, you can make your reversible table runners for use during the holidays , seasons, or every day life. You can make two runners to cover the 4 seasons. Using spring and summer fabrics for one table runner and then fall and winter fabrics for the next table runner.
You could have lots more fun and make them for every holiday. Make reversible table runners for Valentine's Day/St. Patrick's Day, Easter/Fourth of July, Halloween/Thanksgiving, Christmas/Winter/New Years/Birthday/Every day. These are so easy to make you'll want to make more than one.
Theses double sided runners would look just as good on a smaller table like a console or coffee table. Just measure fabric accordingly. See how in step one.
Step 1: Measure, Buy, and Cut Fabric
Start by measuring your table to see how long it is. Mine is about 70 inches with the leaf in the middle. Yours may vary.
Next, decide if you want your table runner to be shorter than the table or if you would like it to hang off the sides. I wanted mine to hang slightly off the sides.
You will need to buy 6 to 7 fat quarters per side. So for instance, I did a Halloween side and a regular everyday side. All though, it's a little hard to tell since my everyday side has skulls in it. Haha! That's just me.
For my table length, I used 6 Halloween fat quarters and 6 normal fabric fat quarters. If you already have fabric you can of course use that.
Not sure what a fat quarter is? It's a pre-cut piece of fabric that measures 22 inches by 18 inches. I love using them because they always have really cute fabric choices and they are easy to grab and go. No waiting in line to get them cut. Treasurie goes into what they are in a lot more detail if you want to learn more.
You will need to cut your pieces to 13 by 13 inches. Once you have them all cut, it is time to start sewing.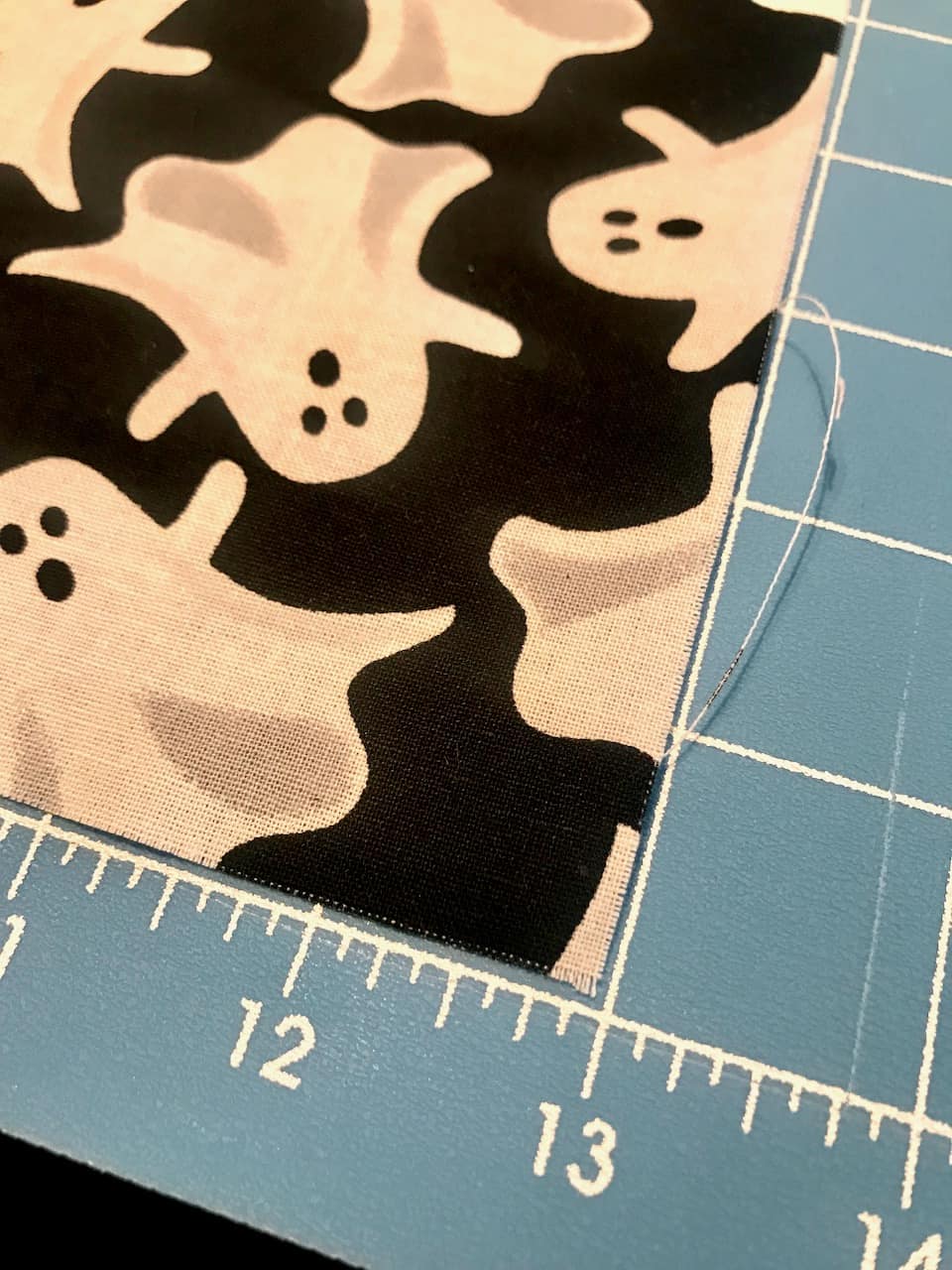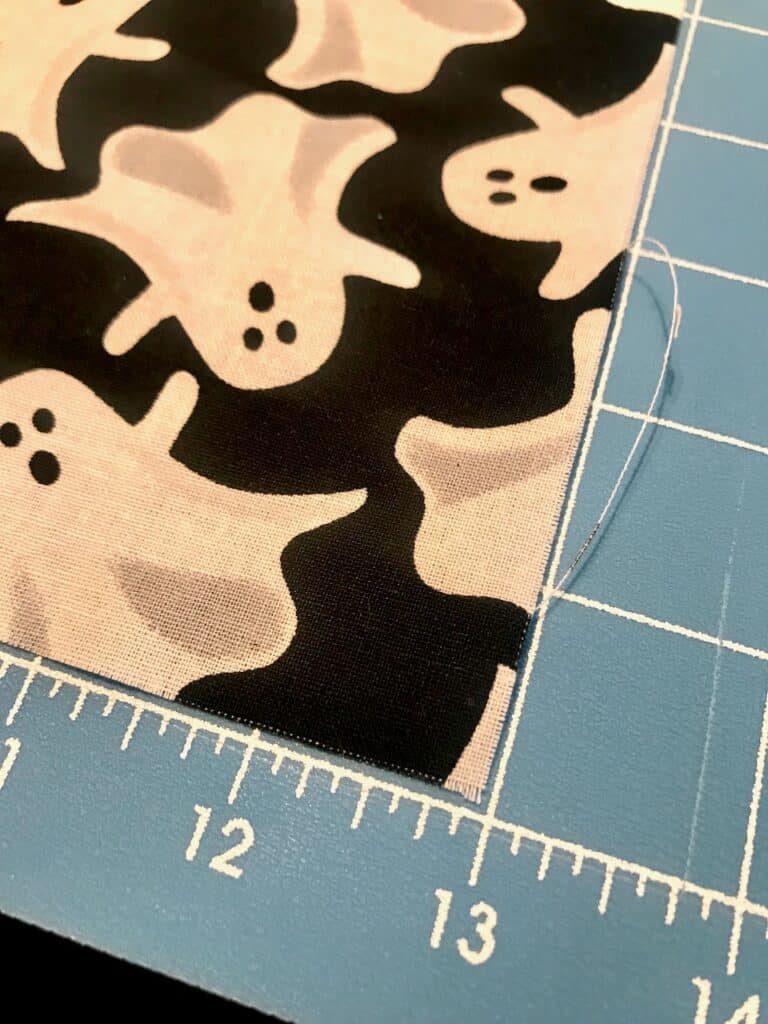 Step 2: Pinning and Sewing Each Fabric Side
Gather all fabric squares for the first side of your table runner. Pin two pieces of fabric, right sides together and sew along one side. Once you have that sewn, keep adding squares by pinning right sides together and sewing along the one seam.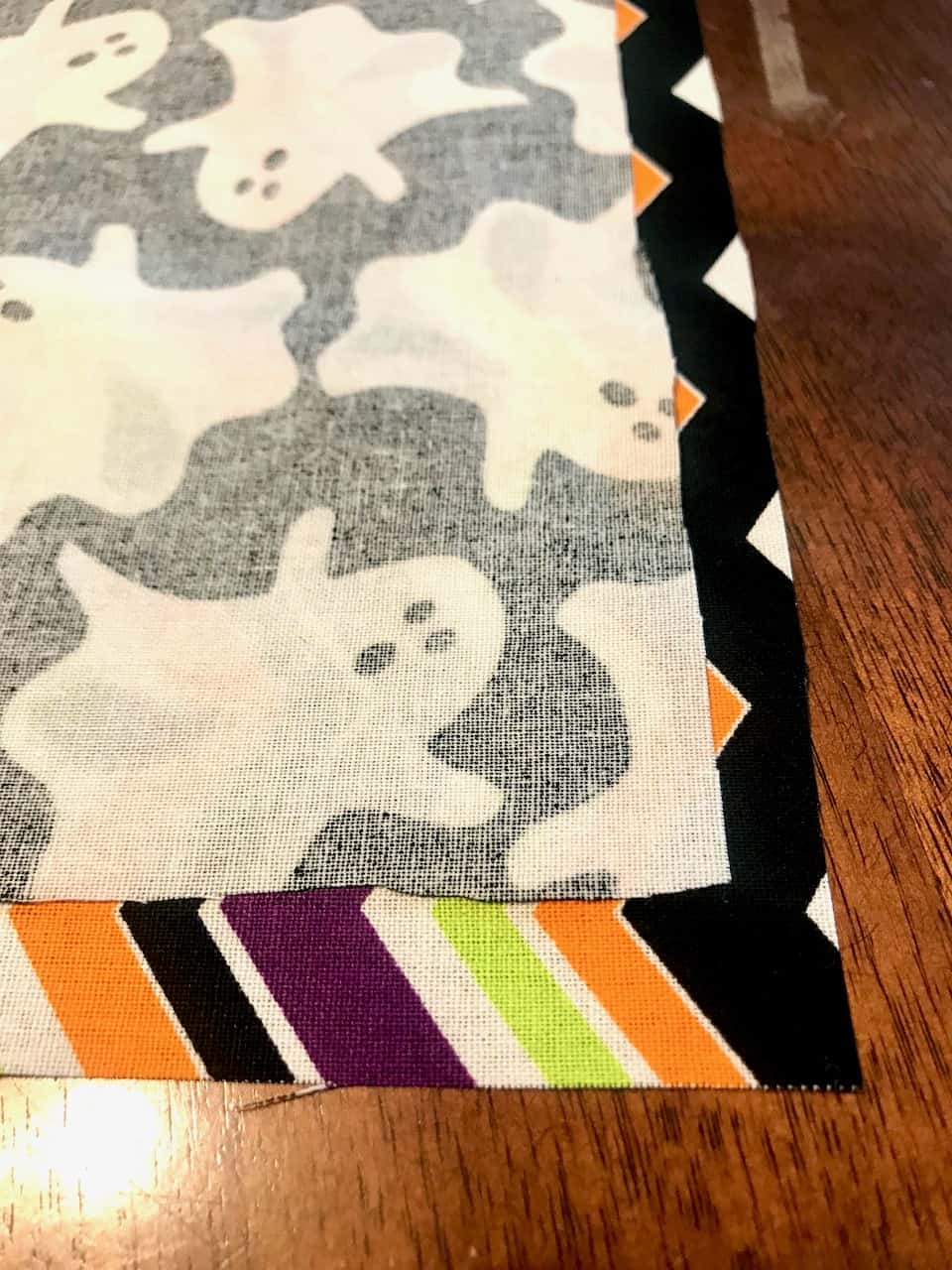 When you are done with all 6 pieces, you should have a long strip of fabric. This will end up being one side of your table runner. Isn't it looking cute already?!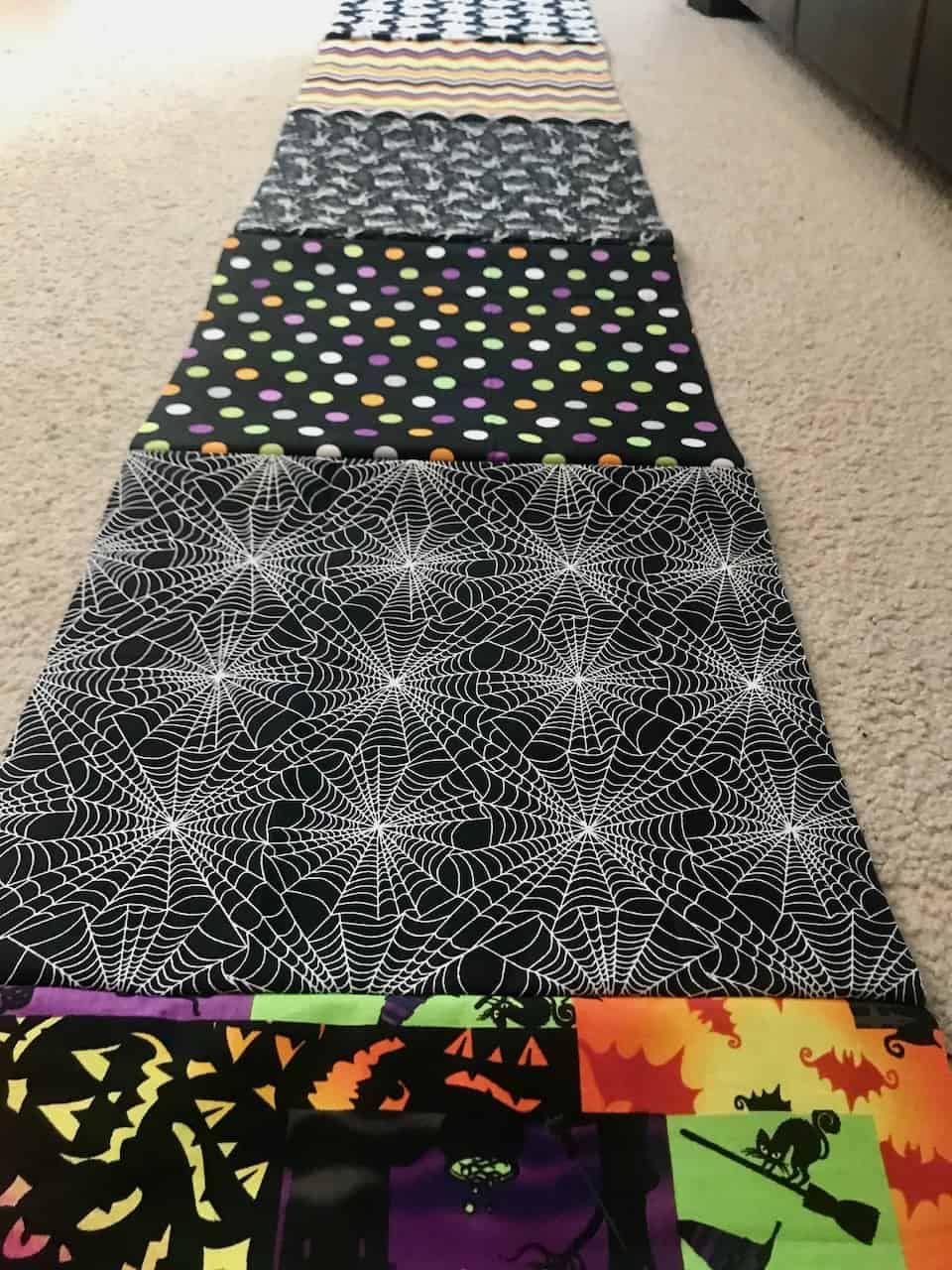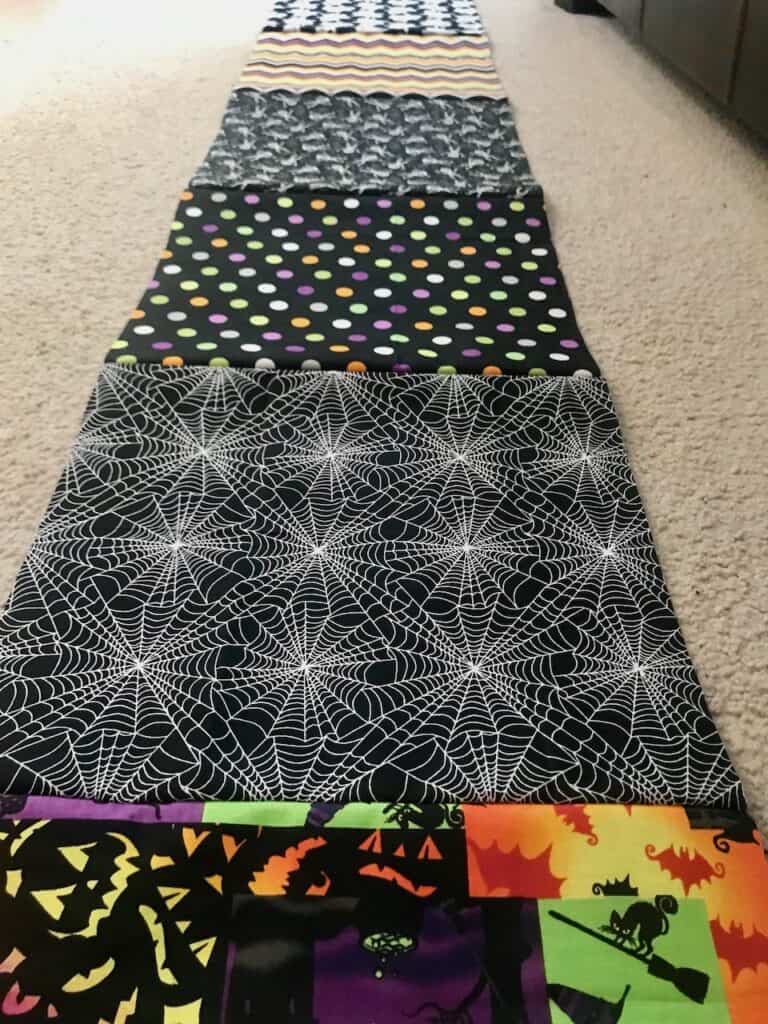 Next, you're going to do the exact same thing for the other side. Make sure you don't mix up the fabrics. Halloween, for mine, all got sewn together. Then the regular day fabric got sewn together.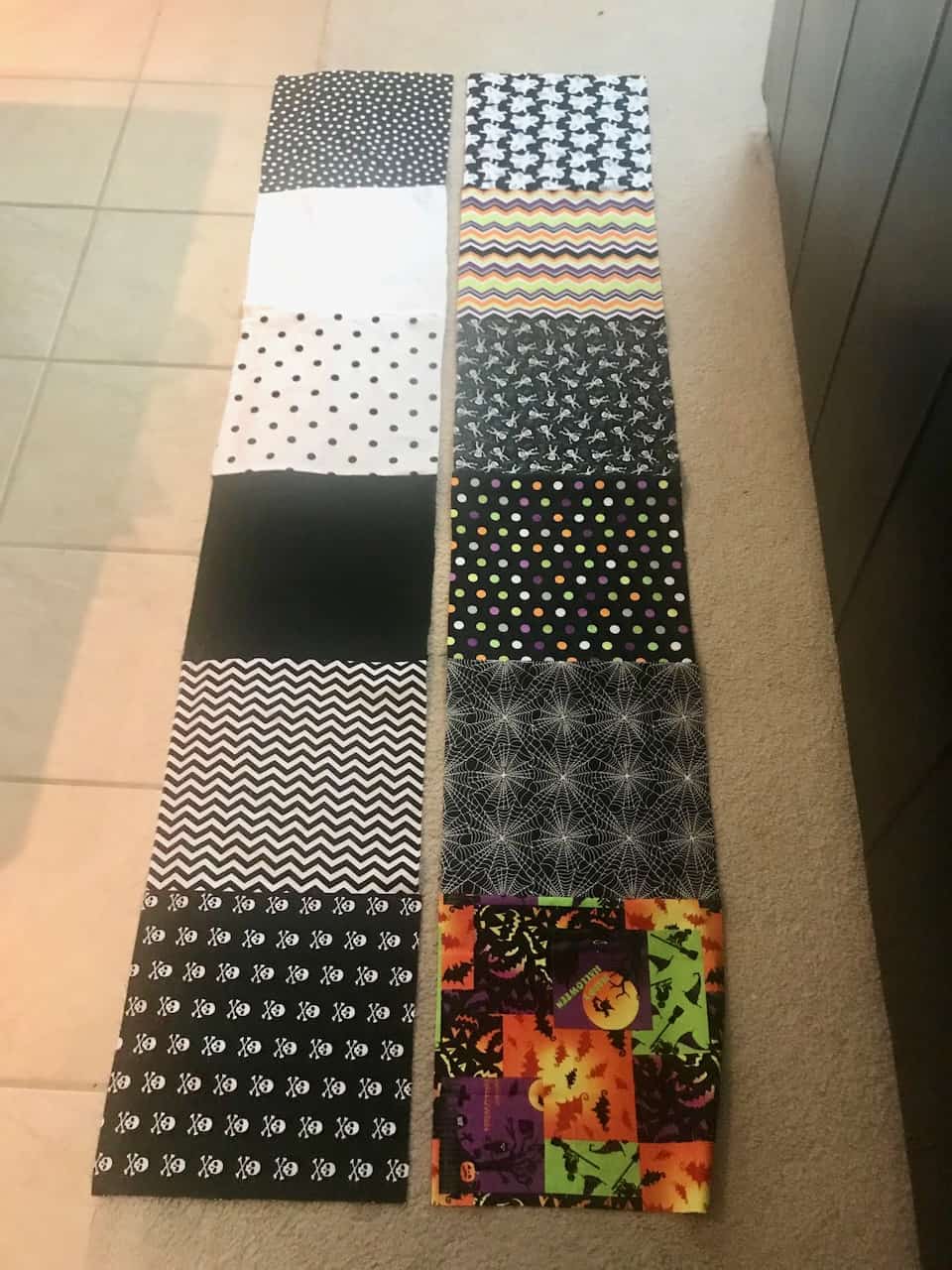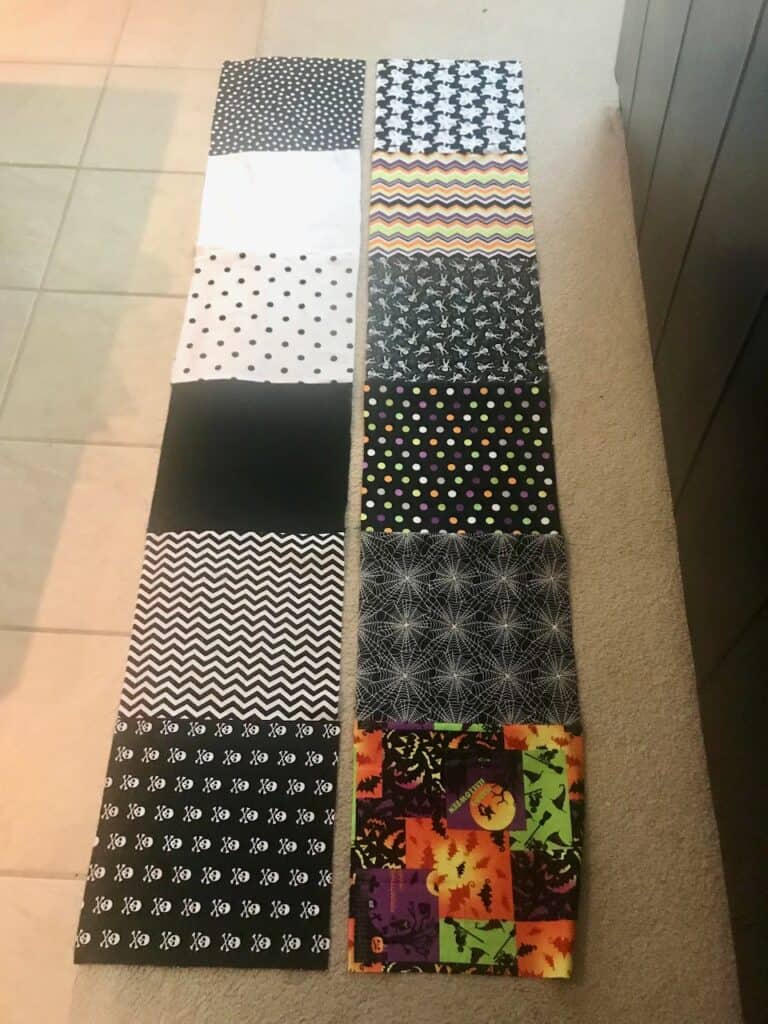 Step 3: Iron Seams and Sew Together
Once you have both sides sewn, you need to iron down all the seems. You can see how this should look in the photo below.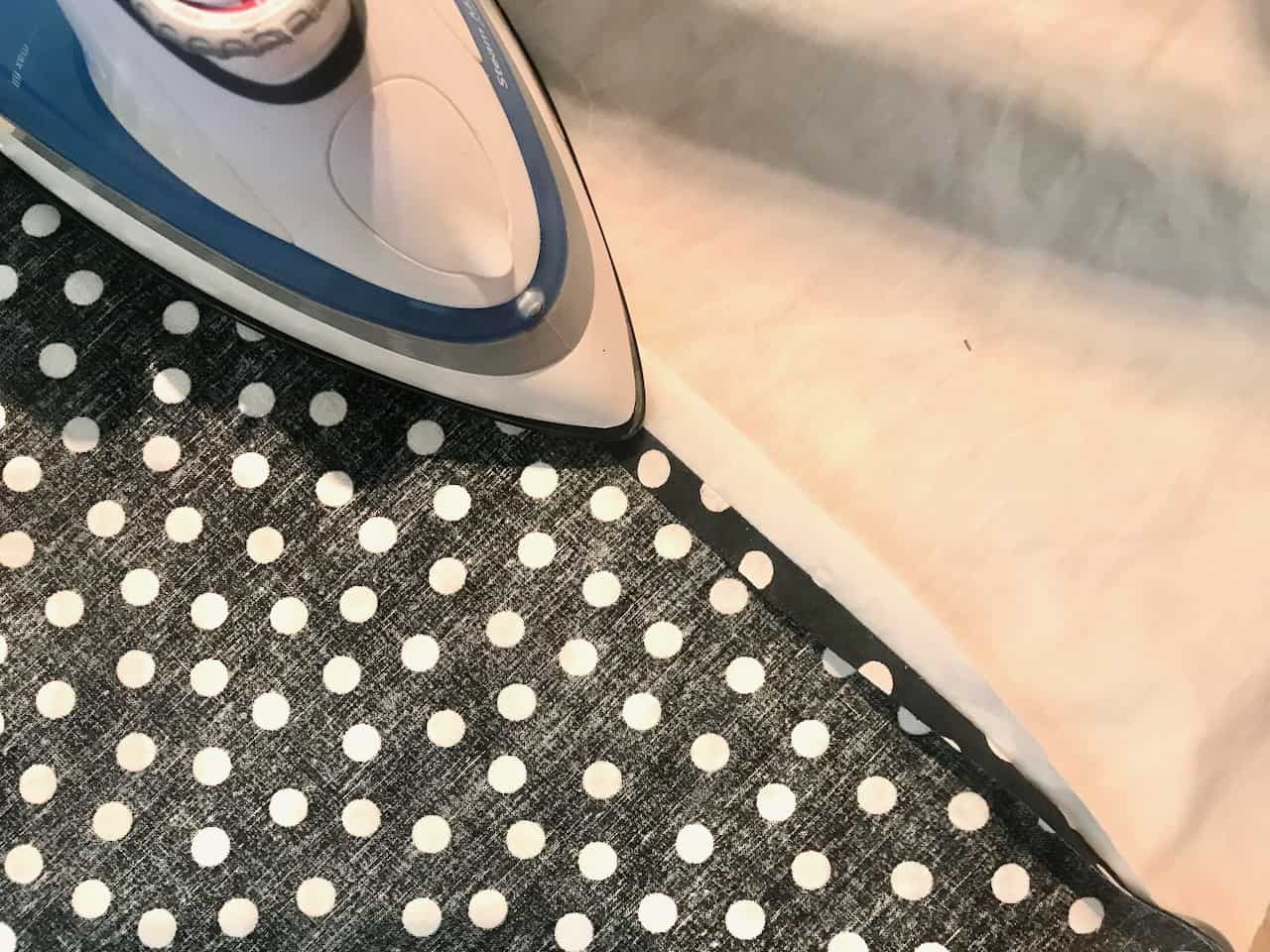 Then it's time to pin the two sides together. Again, you pin right sides together so that the wrong sides of the fabric are facing outward.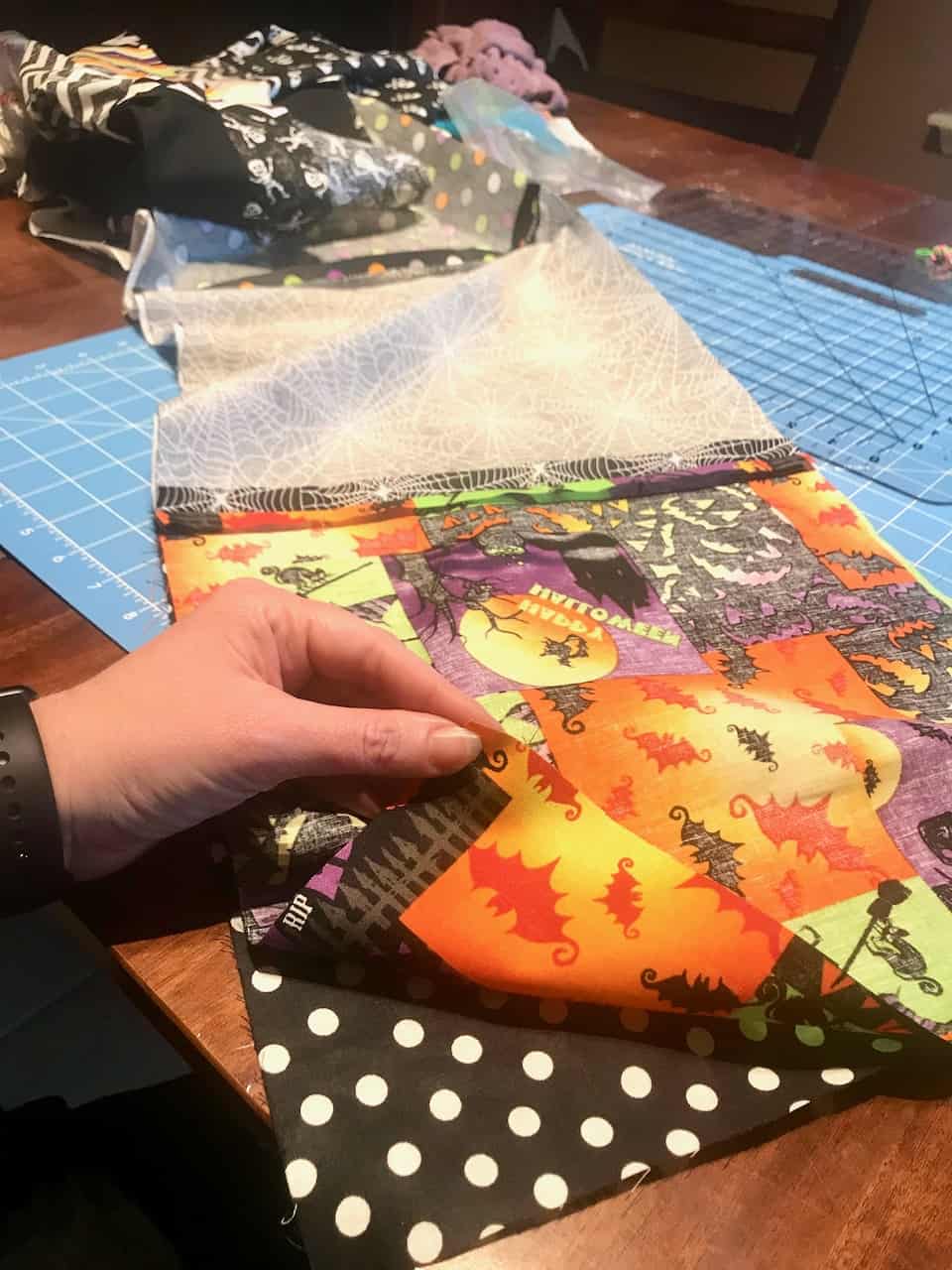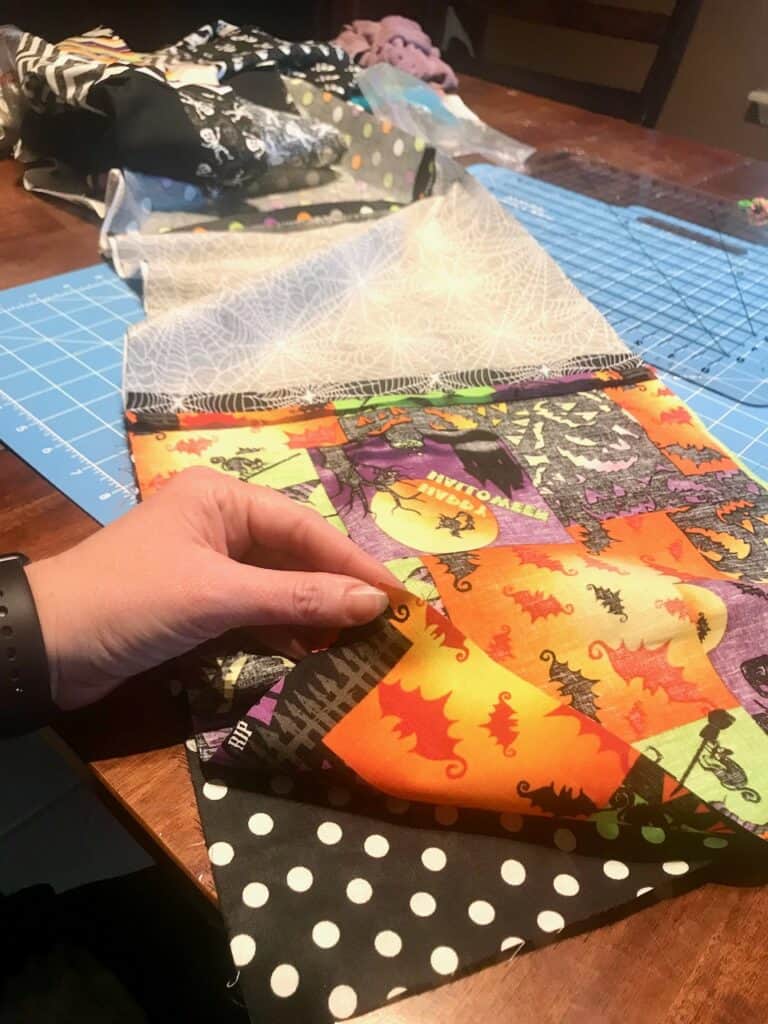 We are going to sew all the way around the outside leaving a 3 to 4 inch gap on one side. The reason for this is so you can turn your reversible table runner right side out later.
Just a tip for anyone who is new to sewing: place two pins right next to each other where you're supposed to STOP sewing. This is a good reminder so you don't keep sewing and then have to use a seam ripper later.

Sew all the way around except the 3 to 4 inch gap. Then turn the fabric right side out.
---
Step 4: Finish Sewing
Your reversible table runner should be looking pretty good at this point. It's time to add the finishing touches!
Iron the table runner, with extra focus on the sides, to give it a clean, crisp edge. You should still have that 3 or 4 inch seam open. Make sure you push the sides in and iron it so it looks just like the rest of the table runner.
The last step is to top stitch a 1/4″ seam around the whole runner. This will close up that gap and give your reversible table runner a clean, finished look.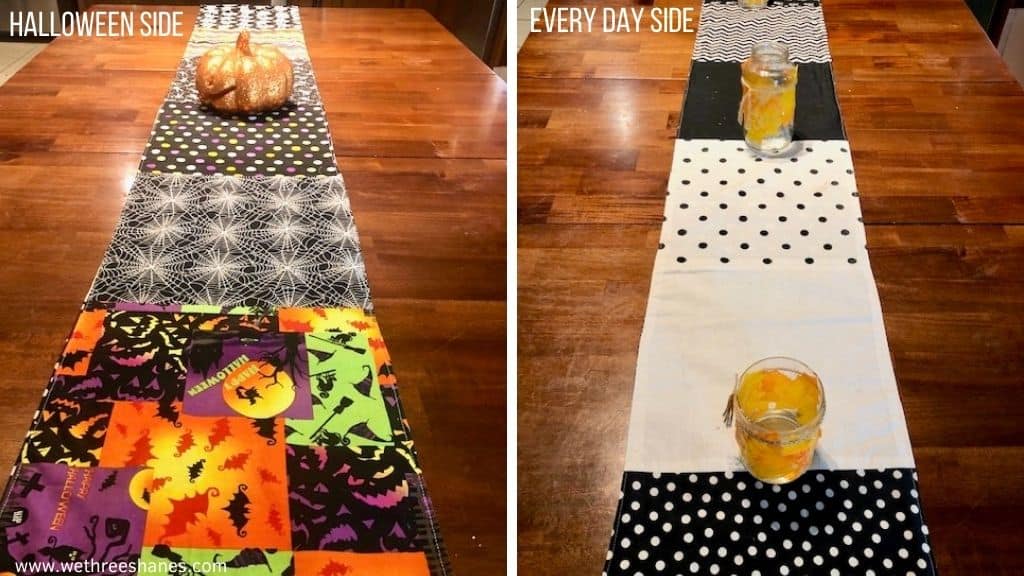 ---
Easy Reversible Table Runner
Ta-da!! You now have a super cute and super easy table runner with two sides to it. I love this project because the possibilities are endless and the project is fairly cheap.
When you are doing the holiday runners, look for holiday fat quarters at fabric stores in the holiday prints. Prices range anywhere from $1 to $2 a piece. Not too bad if you ask me.
So what kind of reversible table runner are you going to make? Halloween is coming up and after that is fall/Thanksgiving. Or maybe you will want to go straight to a Christmas side after that.
Halloween, Thanksgiving, fall, Christmas, winter, Easter, Valentine's Day, spring, summer, 4th of July…You have your work cut out for you!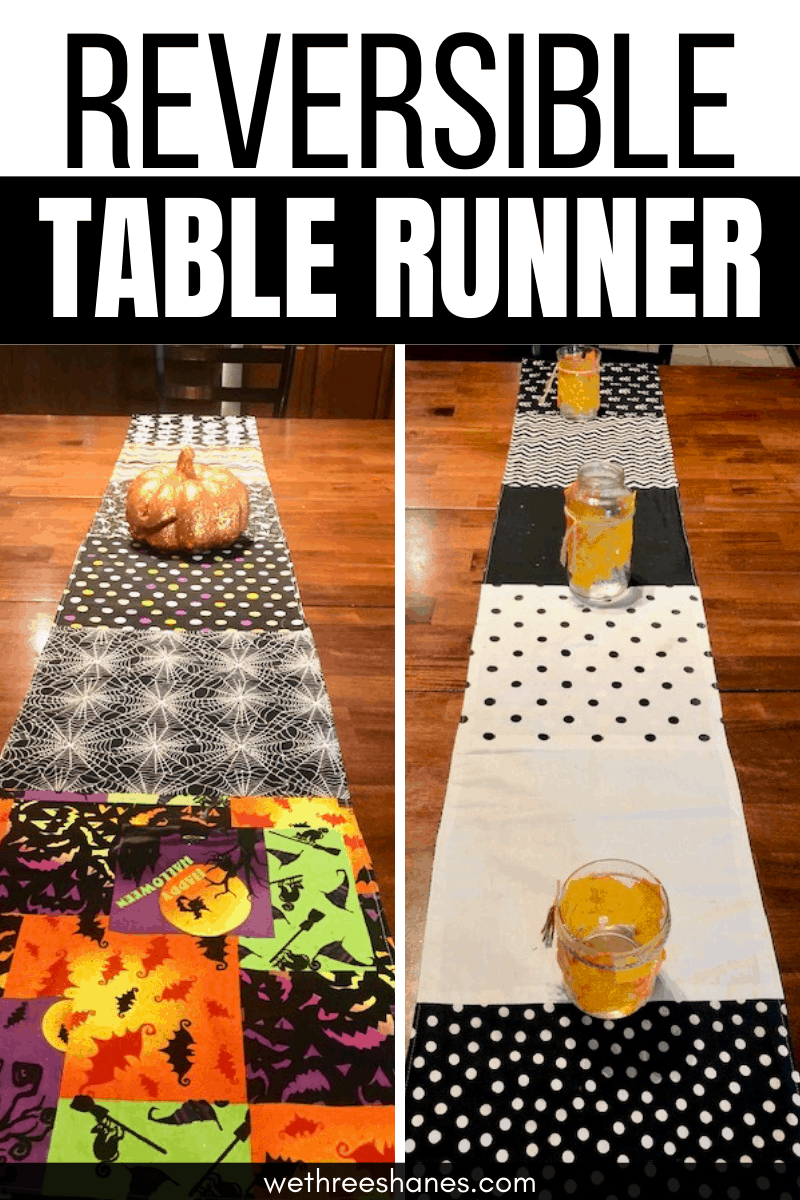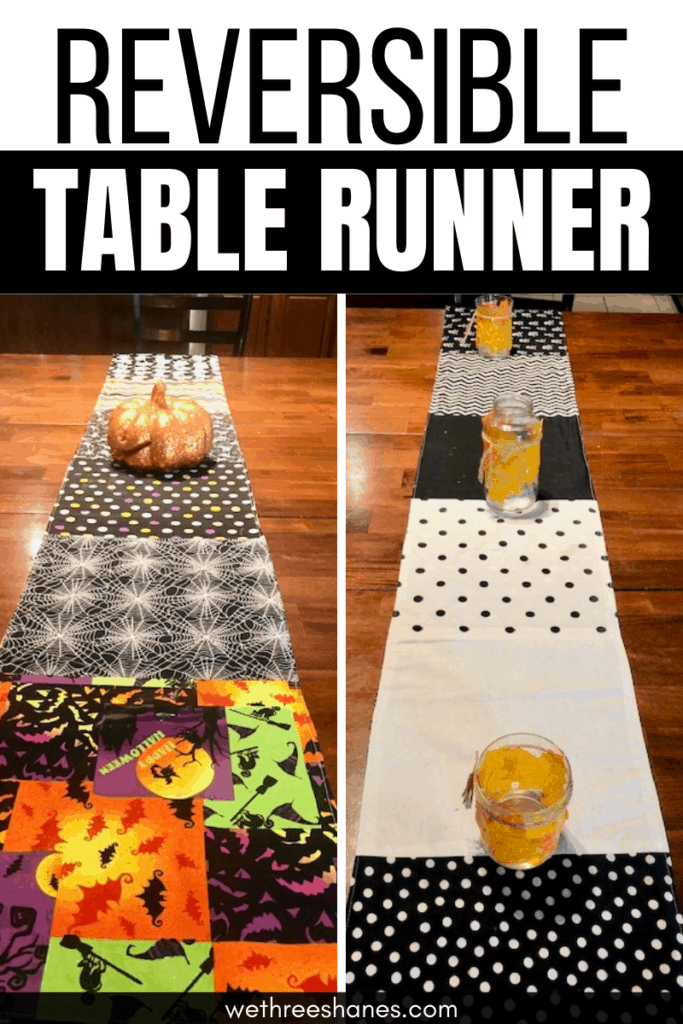 Now go make a reversible table runner and don't forget to send us pictures of your projects. We would love to see them. Just email them to [email protected]. We'd love to add some finished projects to this post for everyone to see!
---
You Might Also Like:
---