DIY No Sew Ear Warmers – 3 Ways
Want to make yourself some adorable ear warmers but don't sew? No worries! Learn how to make these cute DIY No Sew Ear Warmers and keep those ears warm during the colder months. It's an easy project with 3 styles to choose from! They make great DIY gifts and are a fun mommy and me project.
(THIS POST PROBABLY CONTAINS AFFILIATE LINKS. OUR FULL DISCLOSURE POLICY IS LONG & BORING BUT, YOU CAN FIND IT HERE.)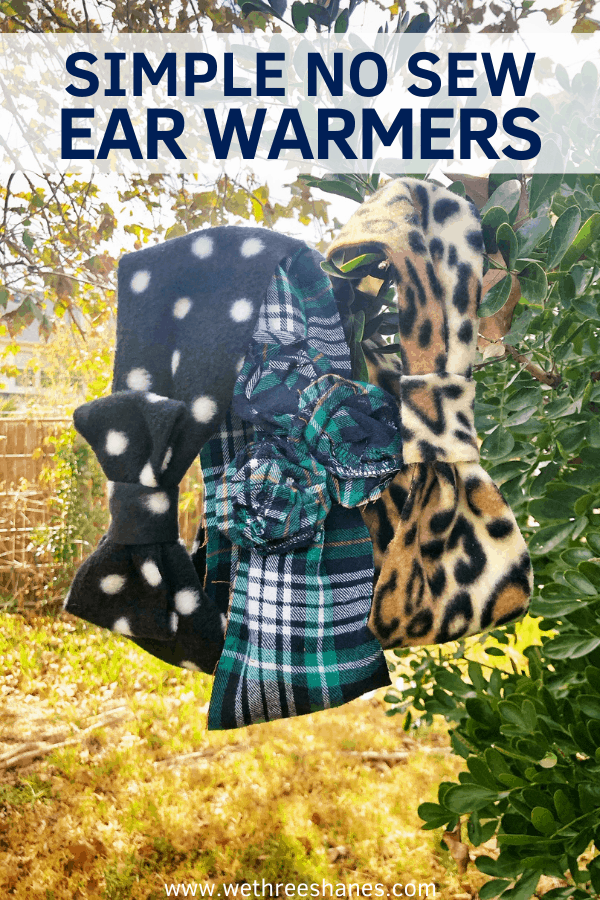 DIY No Sew Ear Warmer

– 3 Patterns

I am in Texas and currently it is 95 degrees outside. Kim lives in Colorado and sent me a picture of snow on her grass. I am DYING for cooler weather. What better way to make me feel better then to make cute and simple ear warmers?! And even better, they are no sew.

If you are not a sewer then this is the perfect project for you. However, I will include a sew version at the end as well in case you'd rather sew yours, but really there is no need to. Now let's get started!
---
Supplies Need to Make a No Sew Ear Warmer
Fleece
Scissors
Measuring tape
Glue gun
Glue sticks
Fleece is your warmest option when it comes to fabric to make your ear warmers with but you'll see that I used a flannel for my last headband. Homemade ear warmers are great because you get to choose your fabric, prints, and style.
I'm going to show you three different ear warmer patterns but once you see how easy they are to make you'll be able to design your own ear warmers if you want. Let's learn how to make them.
---
How to Make No Sew Ear Warmers
Start by measuring the circumference of your head. Mine was about 22 inches around and then I added another inch so there's room to glue. I cut my fleece headband 4 inches thick so you will cut the fleece in a long rectangle that's 23 inches by 4 inches long.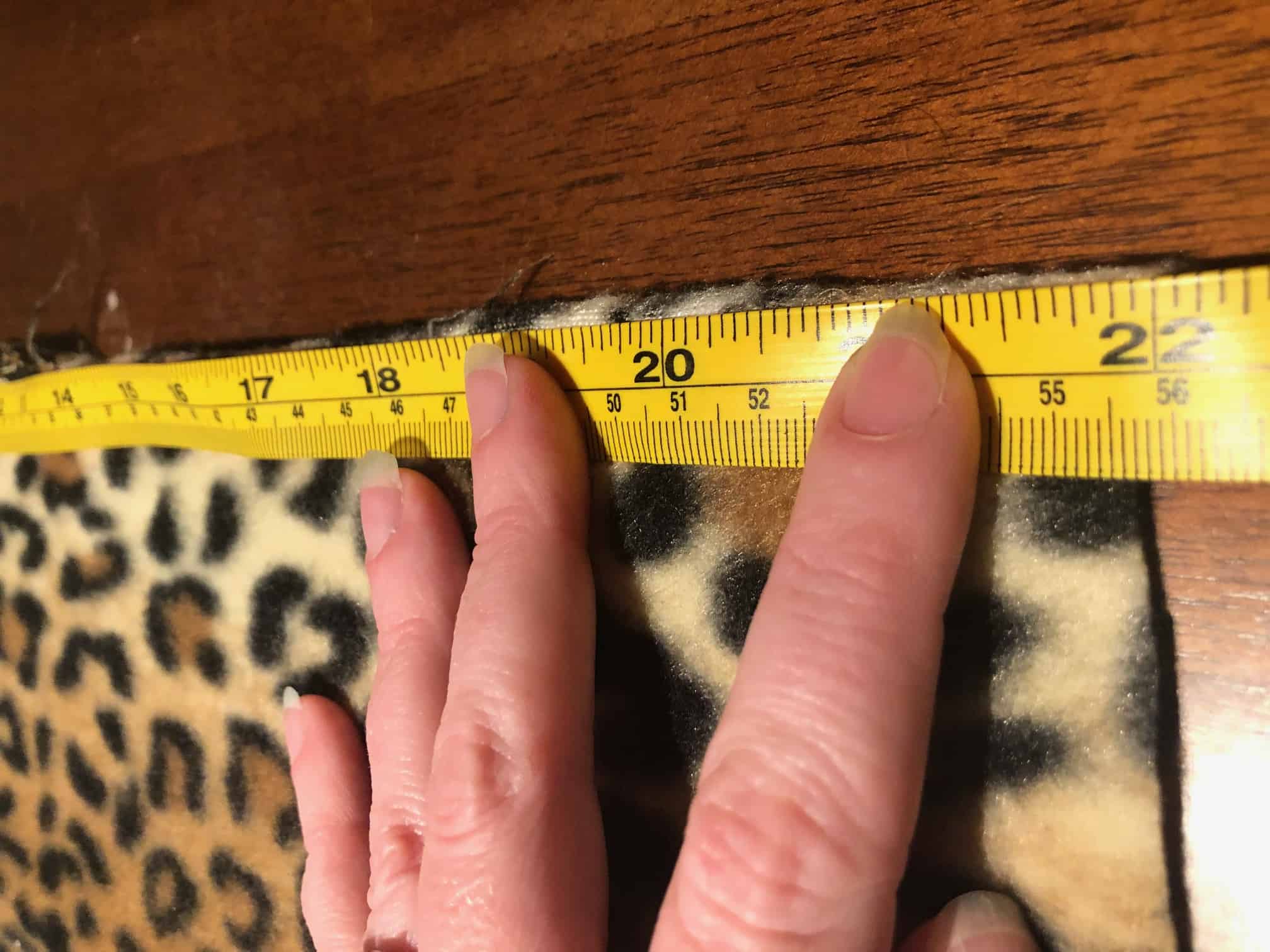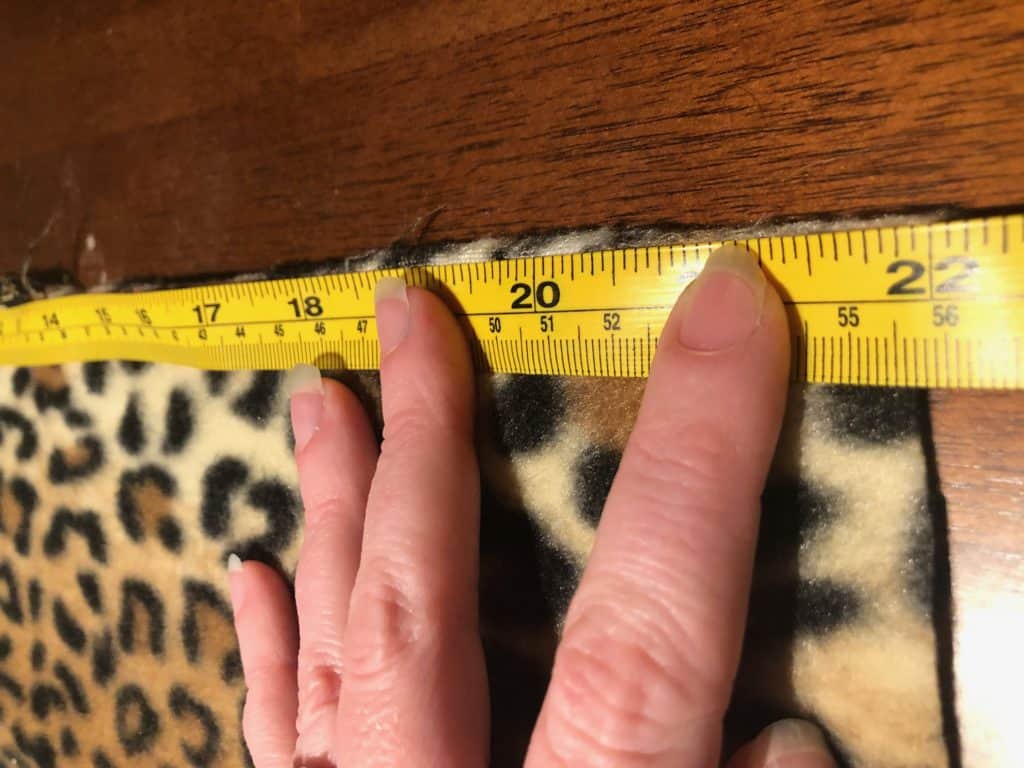 Next, you want to glue the two end pieces together. First, I like to scrunch or fold the edges of each end piece towards the middle and glue them down. This narrows each end making it easier to attach the center piece.
Once both ends are scrunched and glued down, I cut another strip of fleece 4 inches by 2 inches for the center piece. Bring the two end piece together and line them up. Glue the end pieces to the center piece and then add a bit more hot glue to secure and close the flap.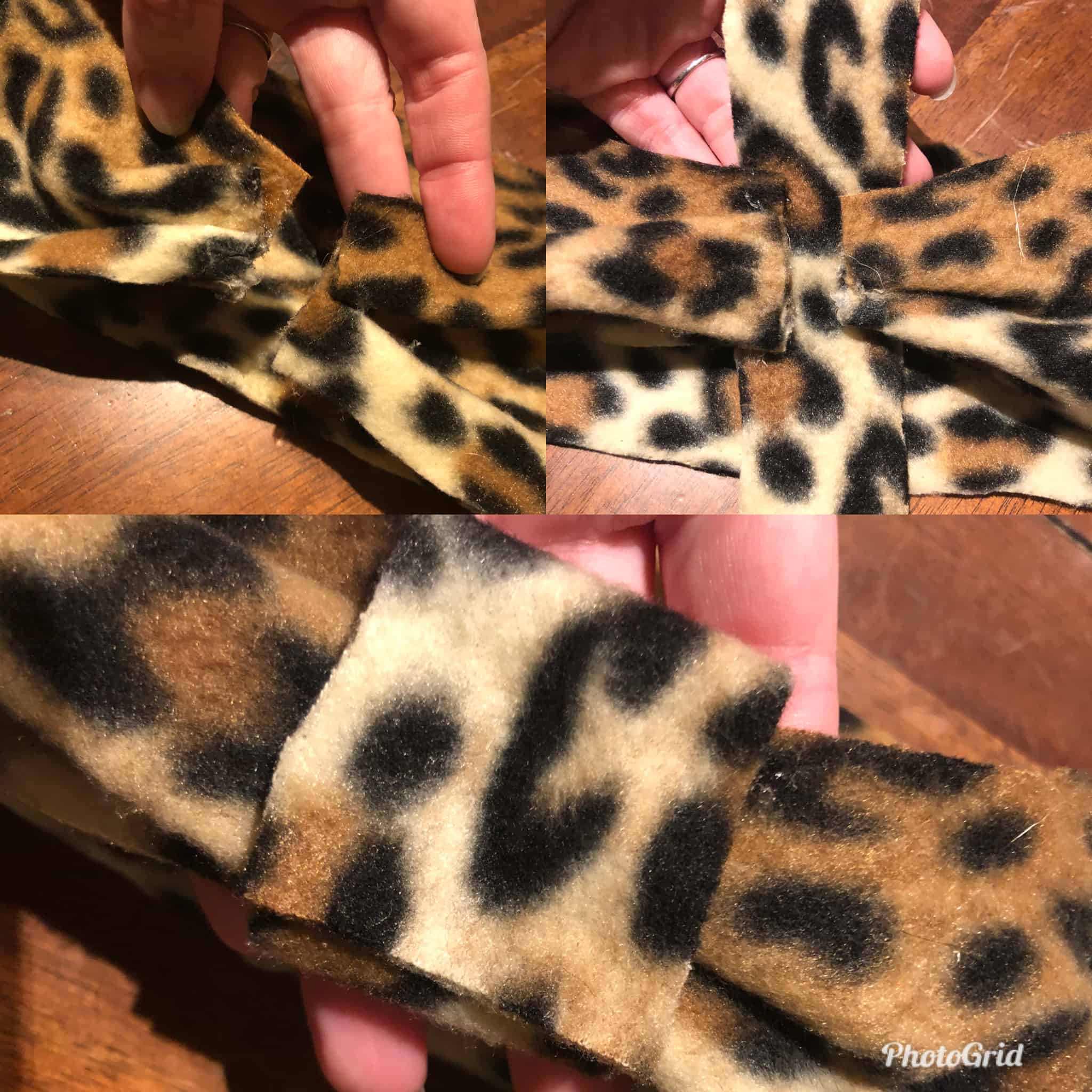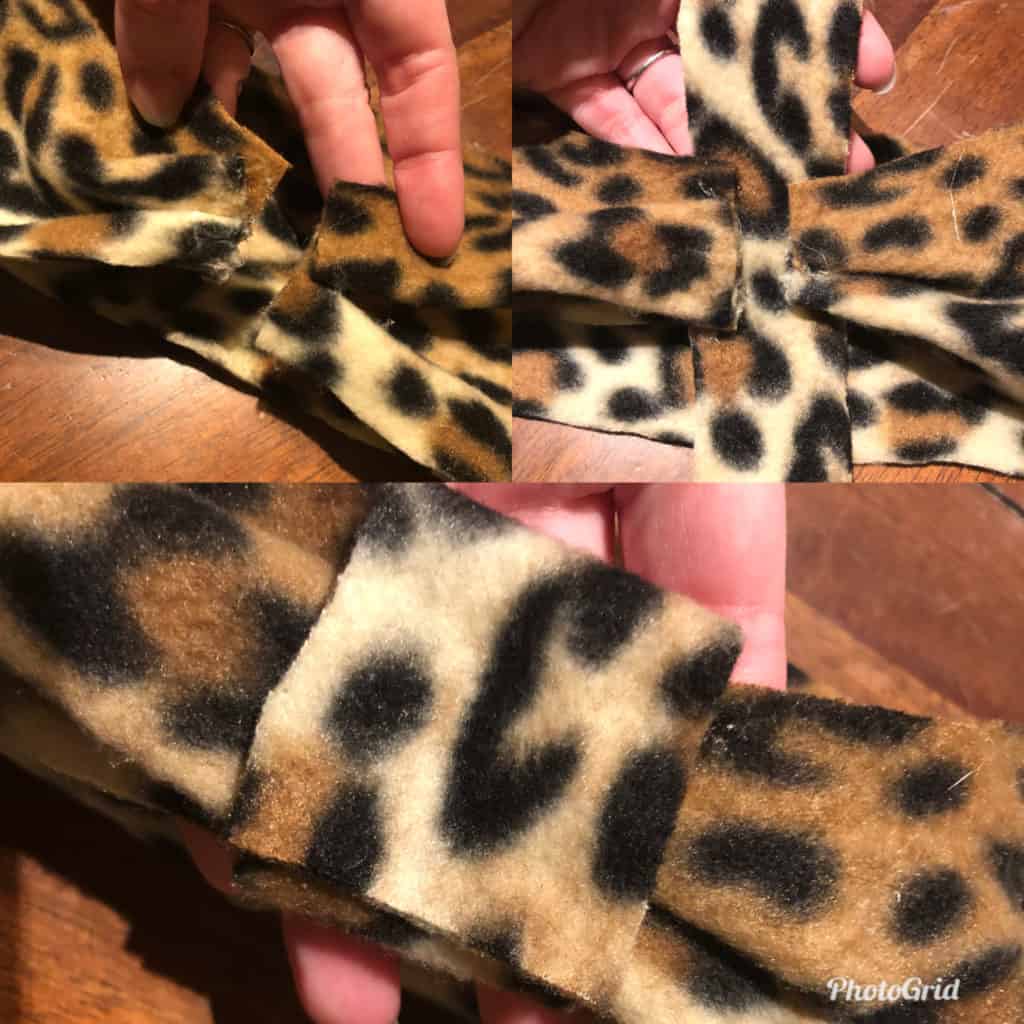 Isn't it cute?! It took a whole 5 minutes to make. I told you it was super easy!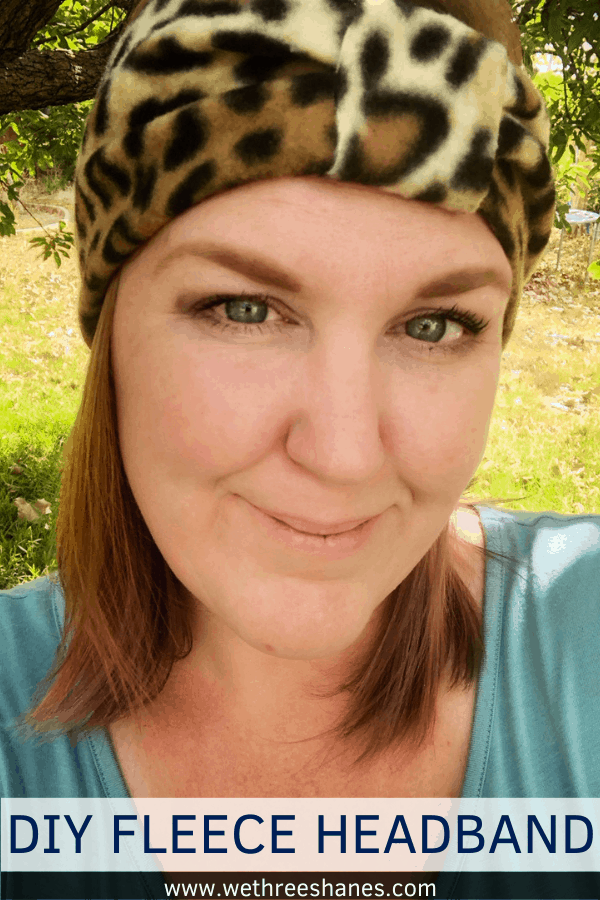 ---
More Ear Warmer Patterns
What's better than one ear warmer? Why, 3 of course. The next one I made a bow for the middle instead of just a plain flap and the last flannel ear warmer has cute flower embellishments.
On all three of these designs, I cover the middle seam that we glued together with more fabric. That way it looks better and no one will ever know you used hot glue.
Bow Style Ear Warmer
We're going to make this fleece headband using the same tutorial as above. The basic steps are the same but we're adding a bow. Making a bow is really easy!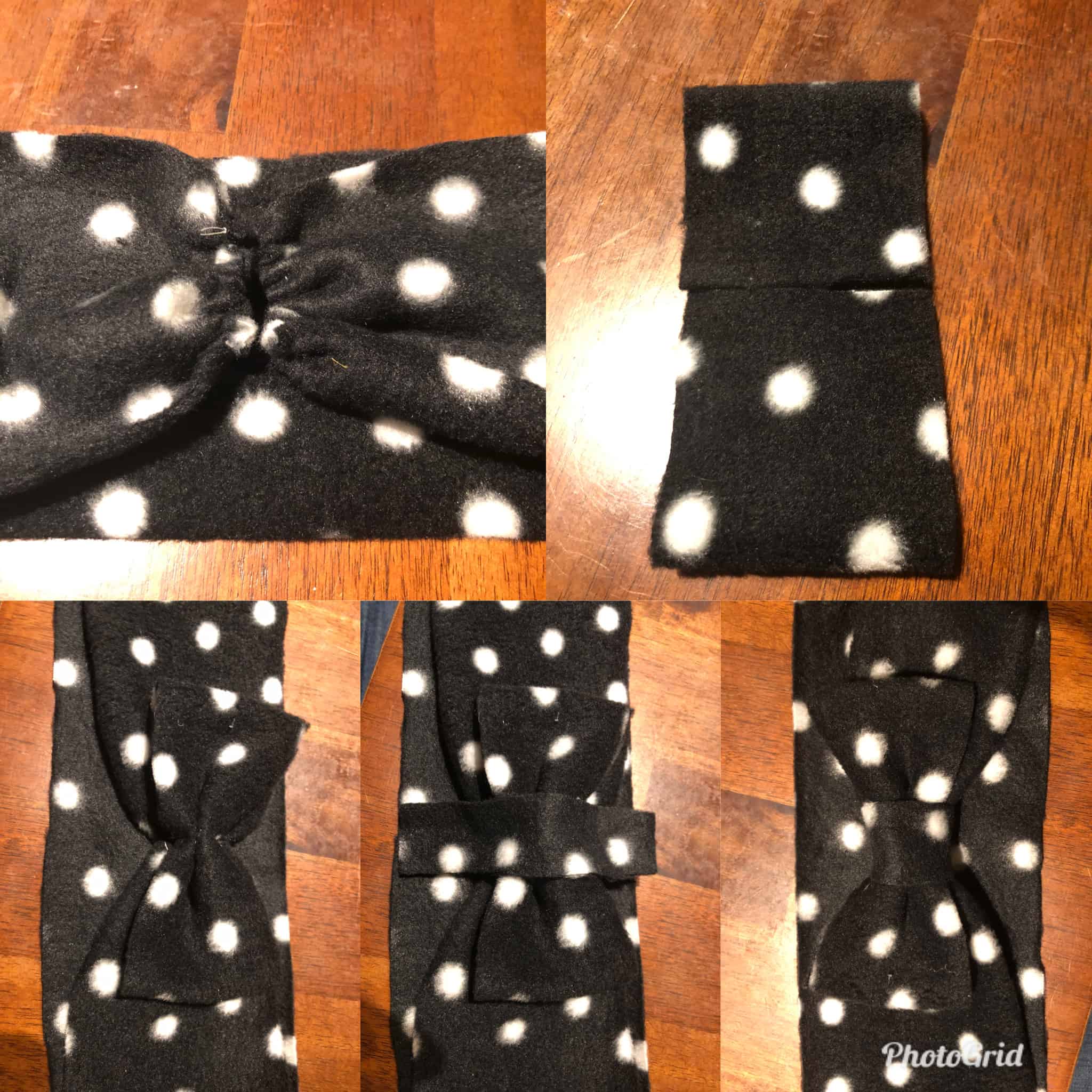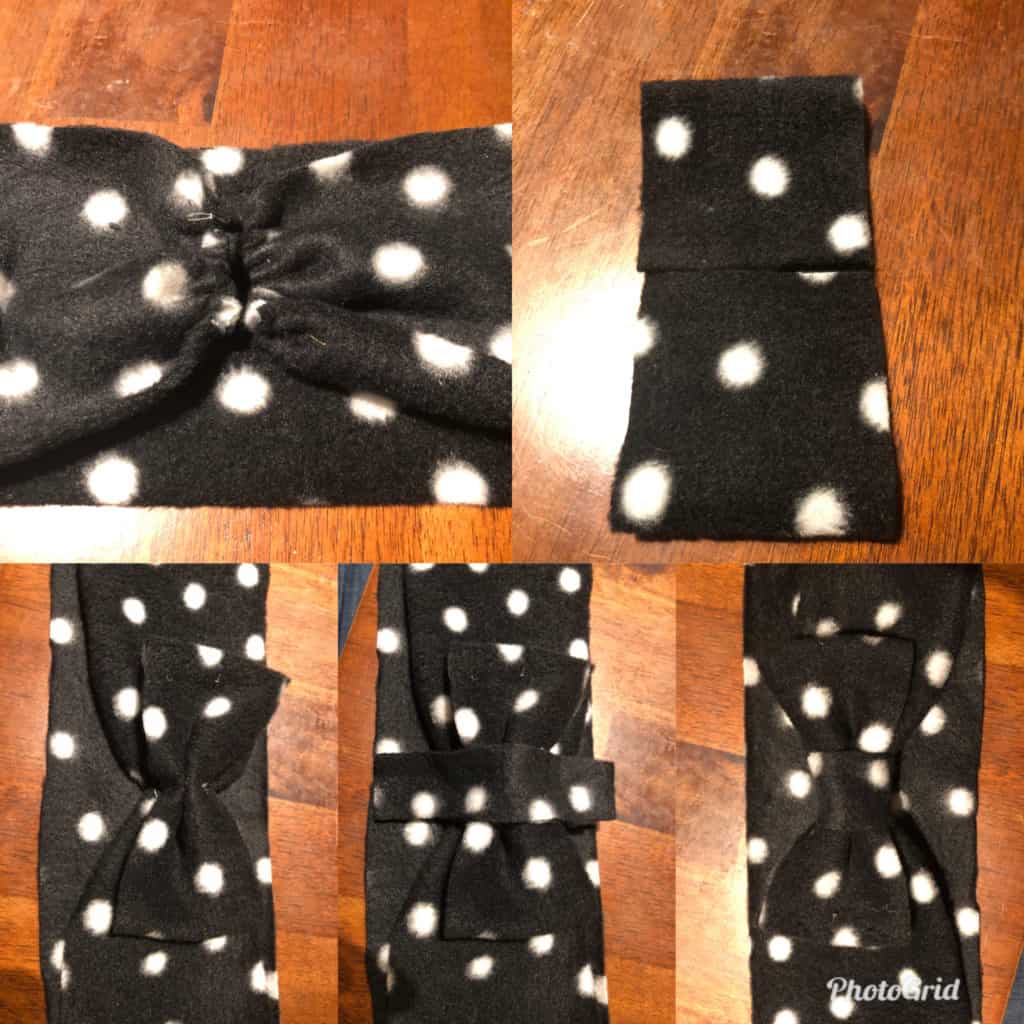 First, I cut a 10 inch by 2 1/2 inch piece of fleece. I glued the two end pieces together just like when I made the ear warmer band.
Use the same measurements as above to make the bigger part of your ear warmer. Once the end pieces are glued together, just like before, add the little version of the ear warmer on top of the seam. The seams should line up.
Then cut a piece of 1 inch by 4 1/2 inch piece of fleece for the middle. Wrap it around and flip it over to the back and secure with hot glue. You can make the bow any size you want. I'm not really into super big bows but you can seriously make it ANY size you want.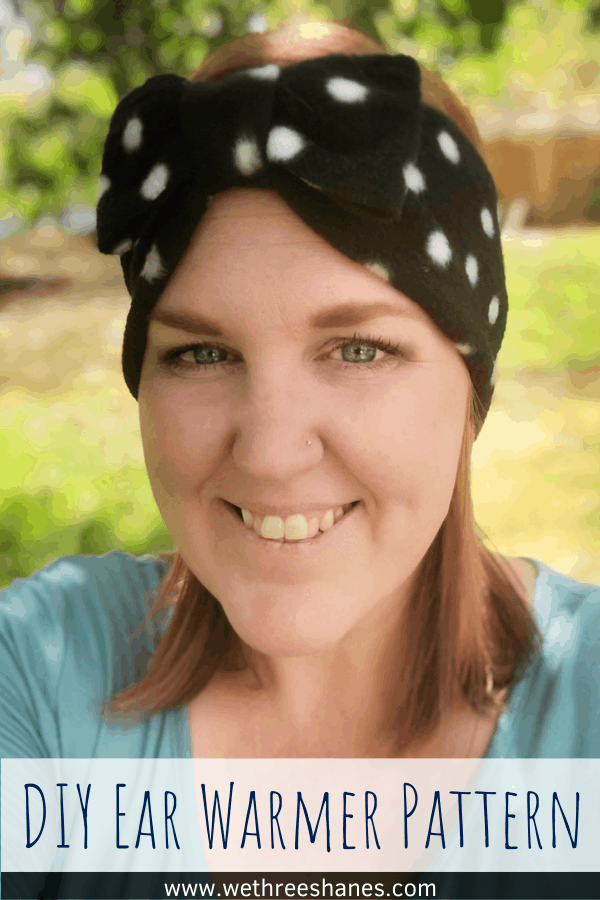 How cute would this be on a baby or toddler? Since this is a DIY ear warmer you can make it any size you want. Just measure your little ones head instead of yours.
---
Flower Ear Warmer Pattern
FLOWERS! I love homemade flowers. They are simple and easy to make and I feel like they are so cute when added to just about anything.
To make your flowers, cut a 15 inch by 1 inch strip of fabric. It can match the ear warmer or be a different color if you want. Like I said before, that is one of the best parts of this project, you get to customize it however you like.
Take one end of your fabric and fold it over then glue it in place. Then pull that piece of fabric over to the other side and glue. You pretty much just keep folding and tucking back fabric and glueing as you go. Just make sure to curve the material as you go like in the pictures below.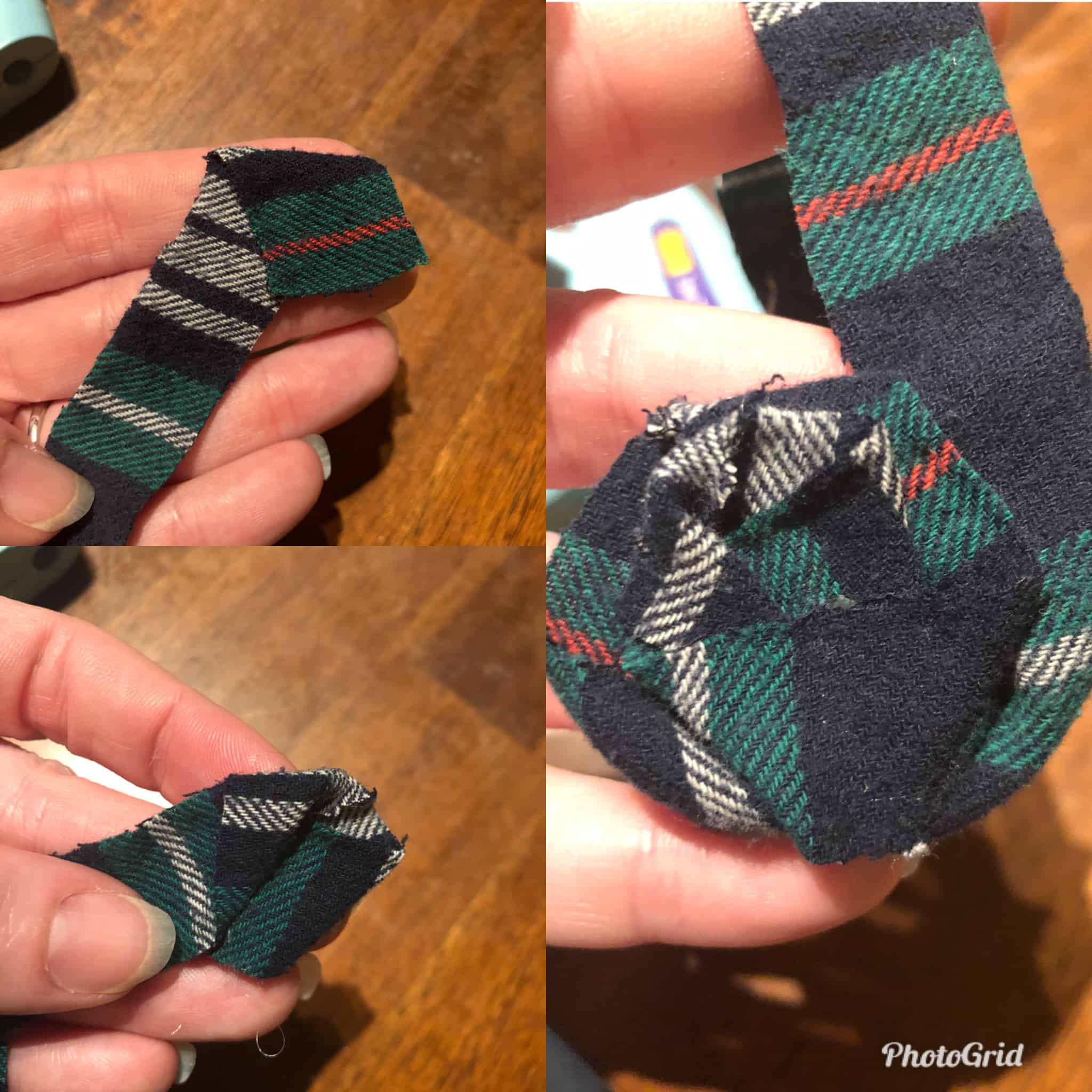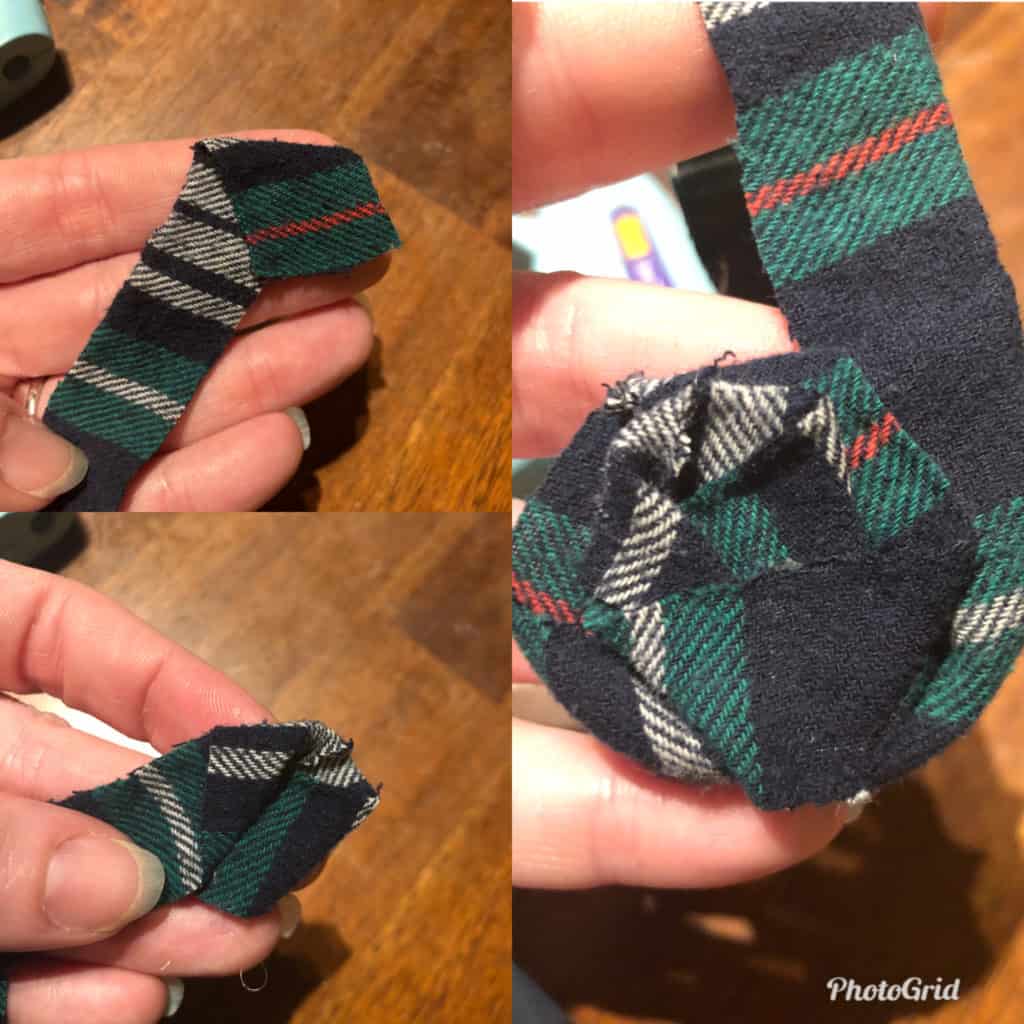 Sometimes I try it a few ways before I glue a section down. I love these flowers because even though I made three of them (two smaller and one bigger), they turn out somewhat different each time. They look the same but are also unique.
This time you don't wrap anything around the center of your headband. You simply glue the end pieces together and then covered up the middle seam by glueing the flowers over the seam. Just play around until you find the flower pattern you like and then glue. You should be good to go.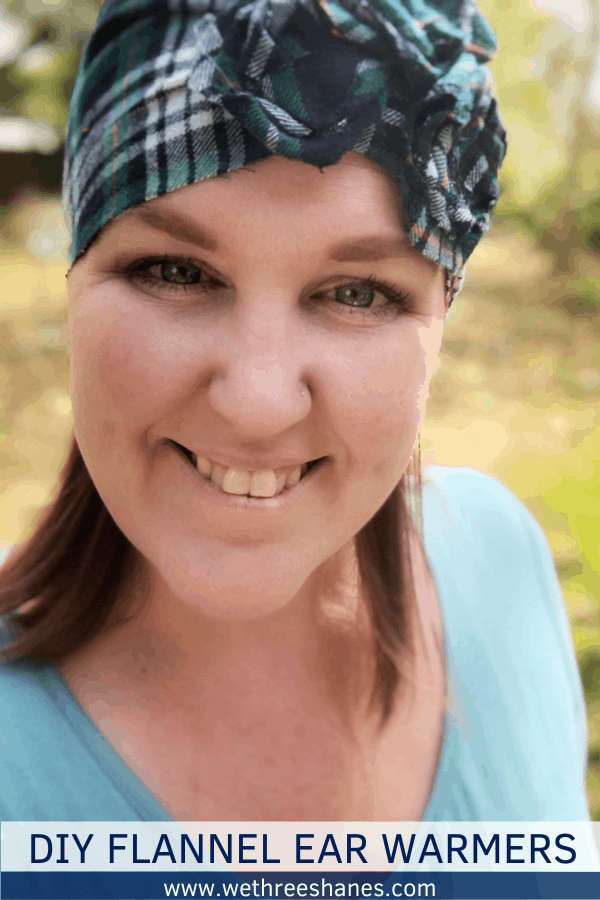 ---
How to Sew Your Ear Warmers
If you prefer to sew your ear warmer together it is super simple. I actually hand sewed the polka dot one. Cut it out following the instructions above, then hand stitch the two ends together and pull the thread to gather the ends a bit.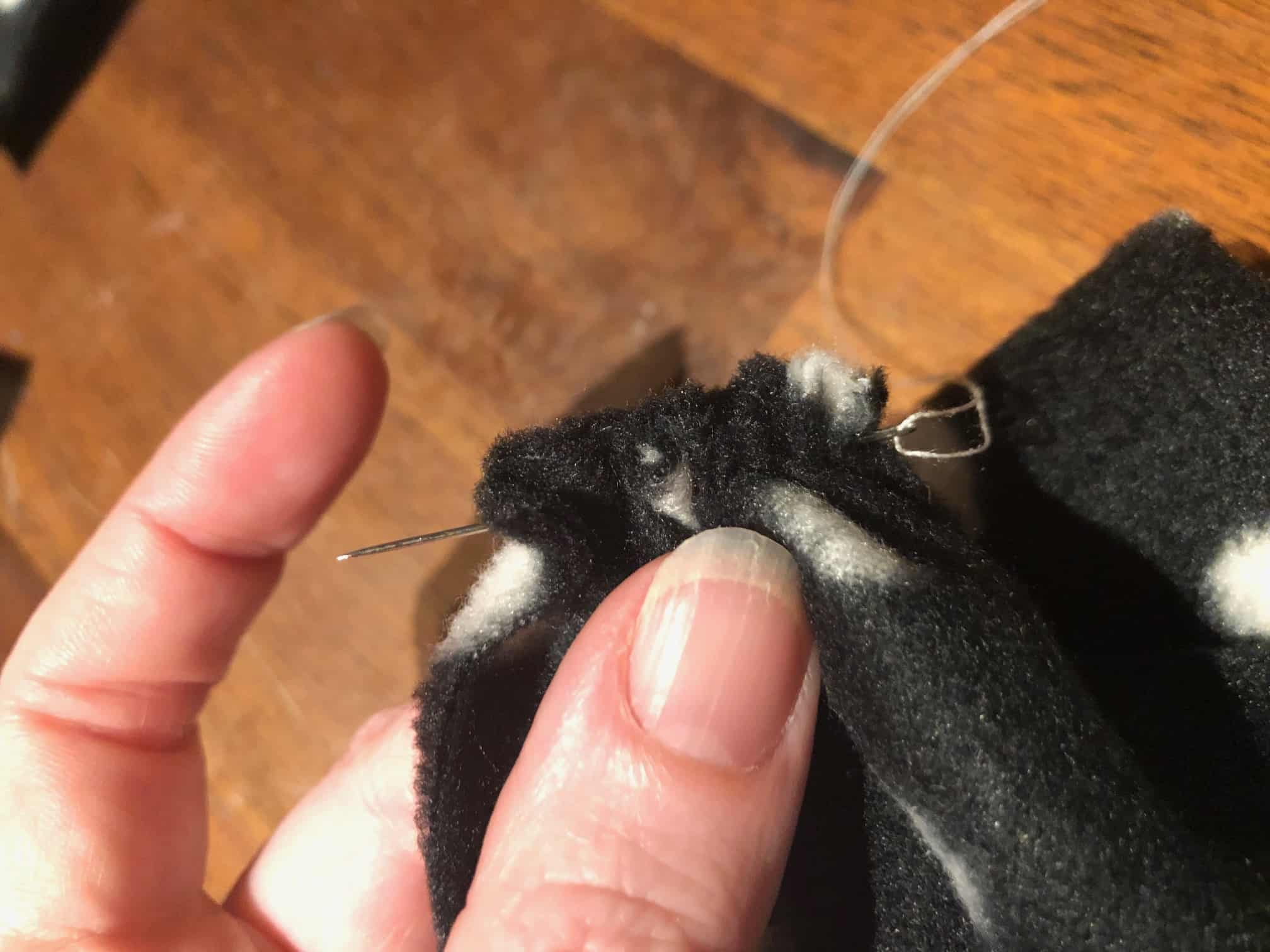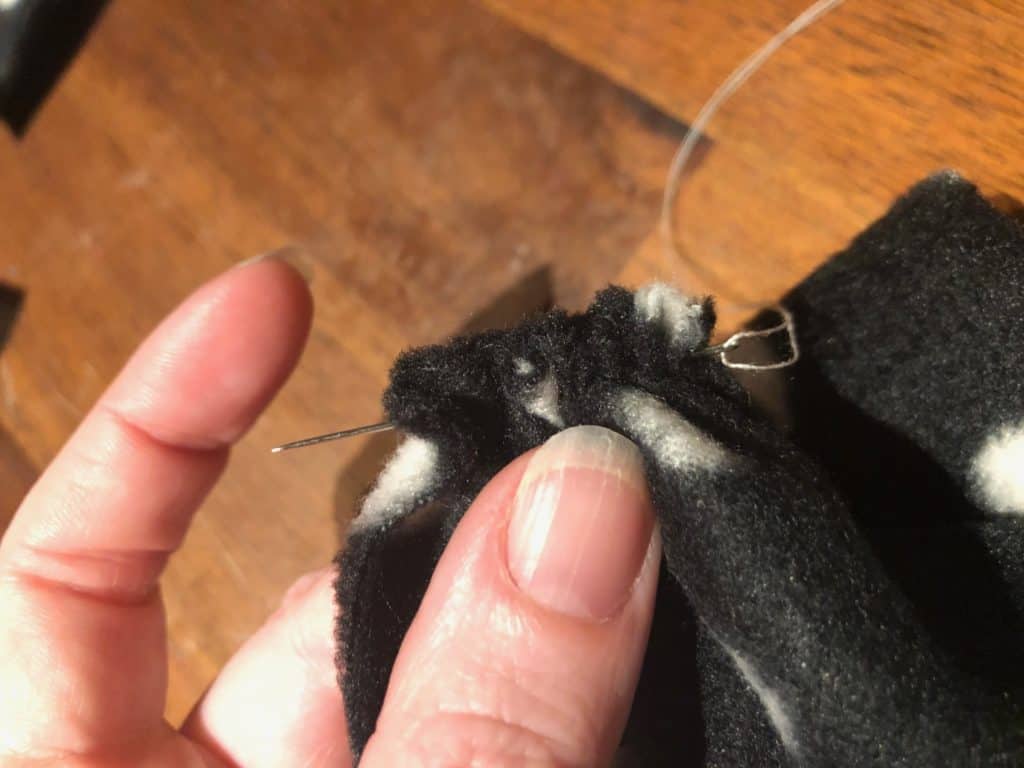 I still glued the bow down but you can stitch it by hand also. It's just so easy to glue. Sewing the two ends together was the only sewing I did. Anyone could do it. You do not need a sewing machine. Just a needle and thread.
These would even be a great project to do with a younger person. I would say 8 and up could handle this project with adult supervision. It could be a really fun mommy and me activity. Matching headbands would be so cute if your girl's at that age where they have no say or still want to dress like mom.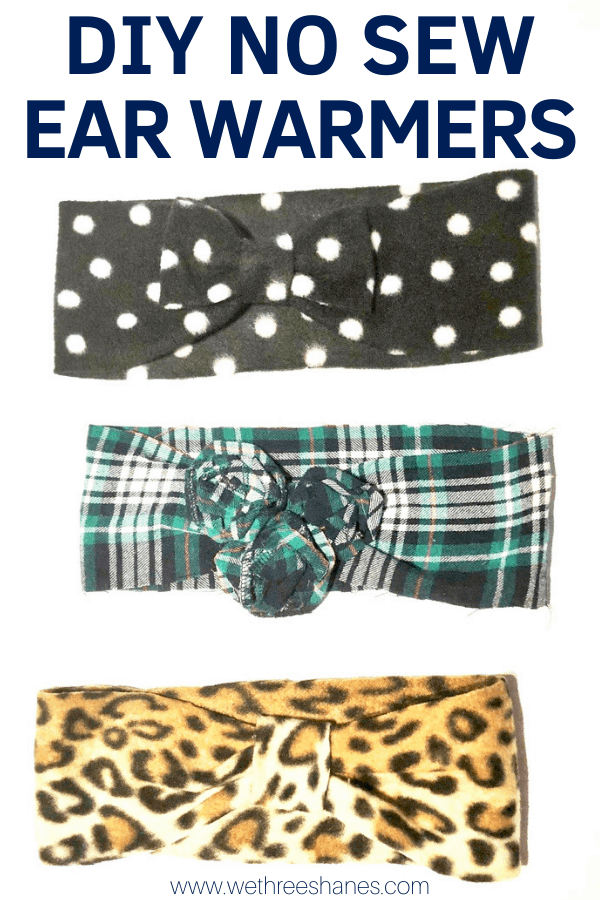 So what do you think? Will you be making yourself some new no sew ear warmers soon? Which one is your favorite? I really love the cheetah one but that's because I am a cheetah lover!
---
You Might Also Like:
---