All Natural Cleaning Products, the Ultimate Guide to Making Your Own
Want to ditch the chemicals found in commercial cleaners and save some cash? Check out how easy it is to make natural cleaning products using eco-friendly items you most likely have at home. Save some green while going green!
(THIS POST PROBABLY CONTAINS AFFILIATE LINKS. OUR FULL DISCLOSURE POLICY IS LONG & BORING BUT, YOU CAN FIND IT HERE.)
Why Should I Make My Own Natural Cleaning Products?
It's easy to run to the store and grab your cleaning supplies right off the shelf. It's quick and convenient. So why make the switch to making your own all-natural cleaning products? I'm going to cover all of that plus give you 6 cleaning solution recipes to get you started on your healthier green home journey.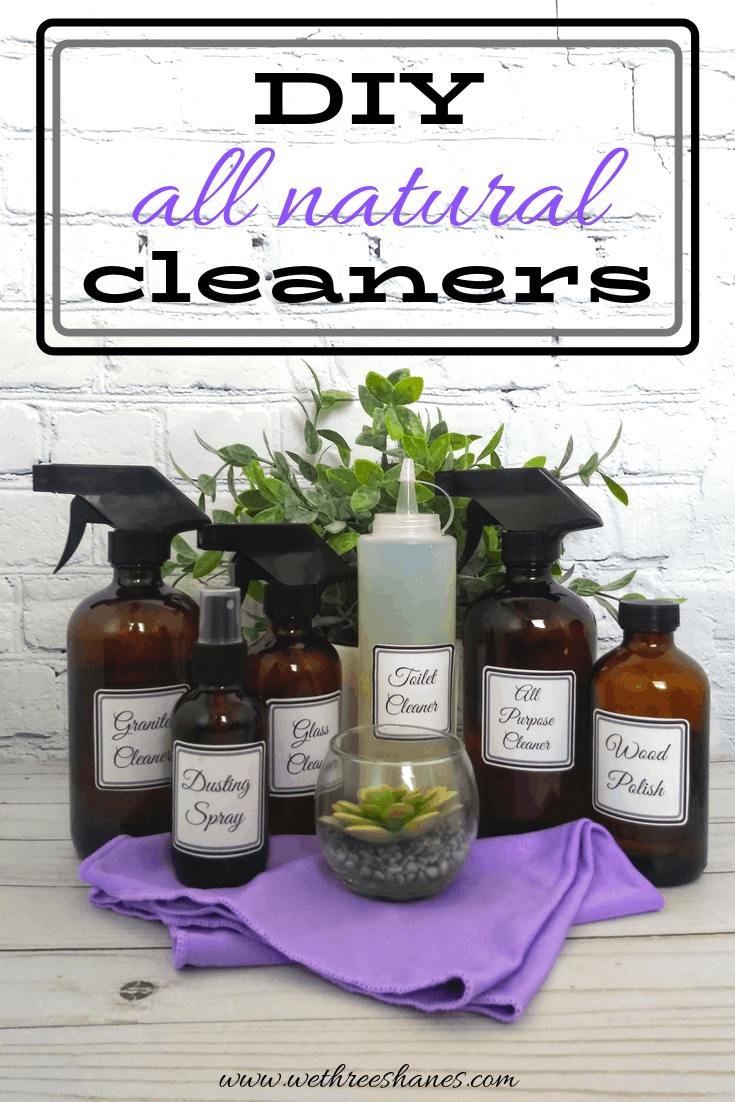 Get Rid of Nasty Chemicals in your Home
First of all, making natural cleaning products is important because, chemicals in your store bought cleaning products could be harmful to you and your family.
When you go to the store there are shelves and shelves of cleaning products. Most store bought cleaners contain tons of chemicals. Some of these are known to cause skin, eye, or respiratory irritation. Others are known carcinogens or endocrine disruptors.
A carcinogen is a substance capable of causing cancer in living tissue, while an endocrine disruptor is a hormonal disruption that can cause cancerous tumors, birth defects, and other developmental disorders. For obvious reasons we want to avoid these as much as possible.
Other problems that can be caused by chemicals in store bought products include headaches, the triggering of asthma symptoms, and the release of VOC's into your home. Those with anti-bacterial chemicals can even cause drug resistant super bugs.
---
Natural Cleaners are Eco Friendly
Homemade natural cleaning products produce less single use plastic waste.
Most cleaning products come in single use plastic. You use them, and then toss them out. When you start making your own, you reuse the same bottles over and over again.
Some of the natural ingredients used to make cleaning products do come in their own plastic bottle so unfortunately, you're not cutting out all plastic. You are reducing the amount of plastic you use and that's a good start. Buying eco friendly items in bulk will also cut back on the amount of plastic you use.
---
Homemade Cleaning Products are Cost Effective
Making your own all natural cleaning products can save you money.
How many cleaning products does one really need? Why are there shelves and shelves of cleaning products at the store? It's simple really…companies want your money. So not only are these companies willing to harm you for the all mighty dollar, but they will sell you products that are redundant.
If you start making your own products, not only will you be avoiding all of those potentially harmful chemicals (and the packaging they come in) but you will be able to use a lot of inexpensive items (you most likely already have) to clean your home. Some of these items are so cheap, you will spend pennies on the dollar for the same amount of product you get at the store.
---
What you need to know before making your own all natural cleaning products.
There are a couple of things you need to know before you make your own natural cleaning products.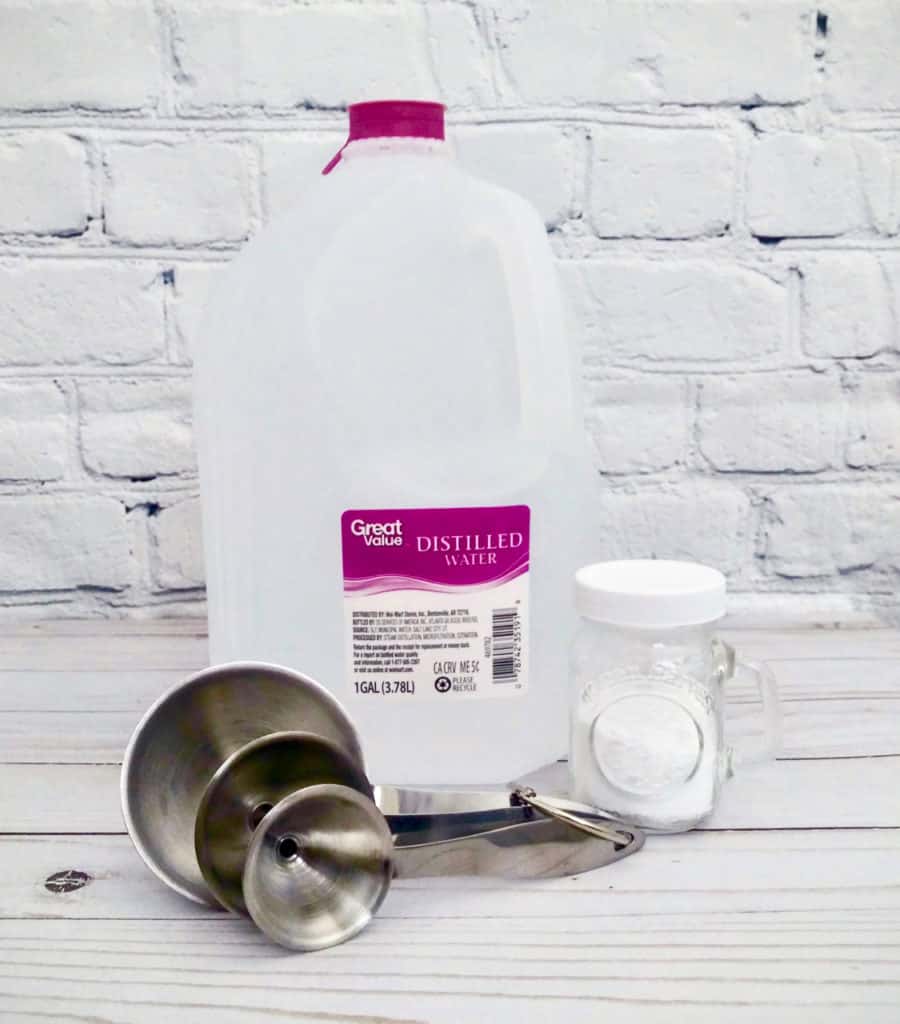 Natural cleaning products have a shorter shelf life
Cleaning products in the store have added chemicals to make them more shelf stable. Your cleaning recipes won't have these but there are some things you can still do to extend their life and keep them form spoiling.
1. Most post about making your own products just tell you to use water. Our suggestion would be to use distilled water so your products don't contain whatever chemicals or minerals might be hiding in your tap water.
2. Because I want to avoid plastic, and don't want to make huge amounts of each cleaner that will go bad, I bought this set of different sized glass bottles. Simply choose the right size bottle for each product. Even though they are different sizes, they are still similar enough to give a nice clean, cohesive look to my linen closet. It's a one time expense, that will pay off as you use the bottles over and over again.
Having the right products makes things easier.
Another product that is super helpful when making your own all natural cleaning products is a set of funnels. You will be dealing with pouring lots of liquids into little bottles, so funnels help you with accuracy and keep you from making a mess.
Cleaning is always easier when you have the right tools. I often use baking soda when cleaning my stainless steel sink, my toilet bowl, or while freshening my carpets. It helps to keep some in a small shaker jar, so it's always accessible.
---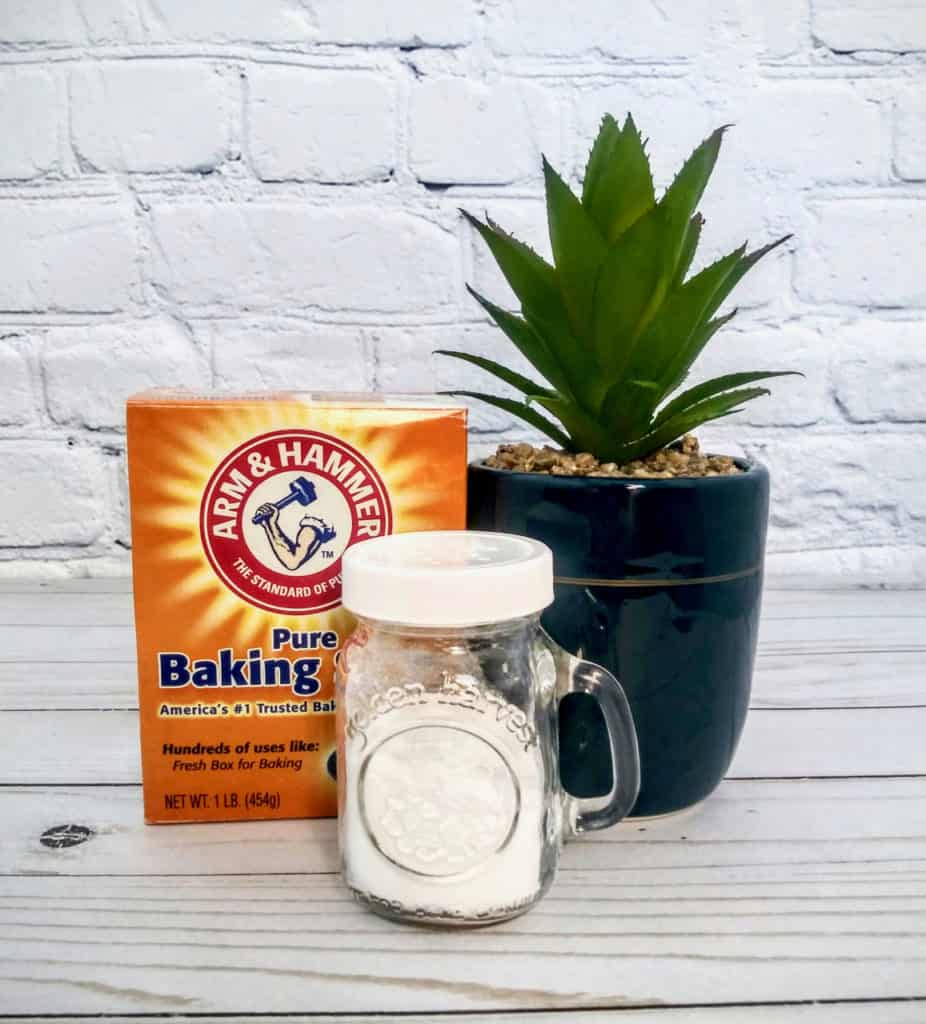 Ingredients Needed to Make Natural Cleaning Products
Here is a list of ingredients you will need to make every cleaning product in this post. You might not need them all, so you can of course purchase just the ingredients for the cleaners you want to make.
Water (again distilled is best for purity)
White Vinegar
Baking Soda
Rubbing Alcohol
Castile Soap (Dr. Bronner's unscented would be my suggestion so you can add whatever scents you want to each cleaner with essential oils)
Extra Vigin Olive Oil
Cornstarch
Essential Oils – You can use the oils you prefer. I use Doterra oils. Some people don't like to use Doterra because they think of them as an MLM, but as I've stated in previous post of mine, I like to use my buying power to vote. Doterra is different than oils you just get from the grocery store, not only in purity, but also in sourcing and in paying fair wages. Would you like to purchase some Doterra oils? You can get them from my good friend Stephne at GoodHealthOils.com. If your preference is to oils off Amazon, I would recommend these over some of the others.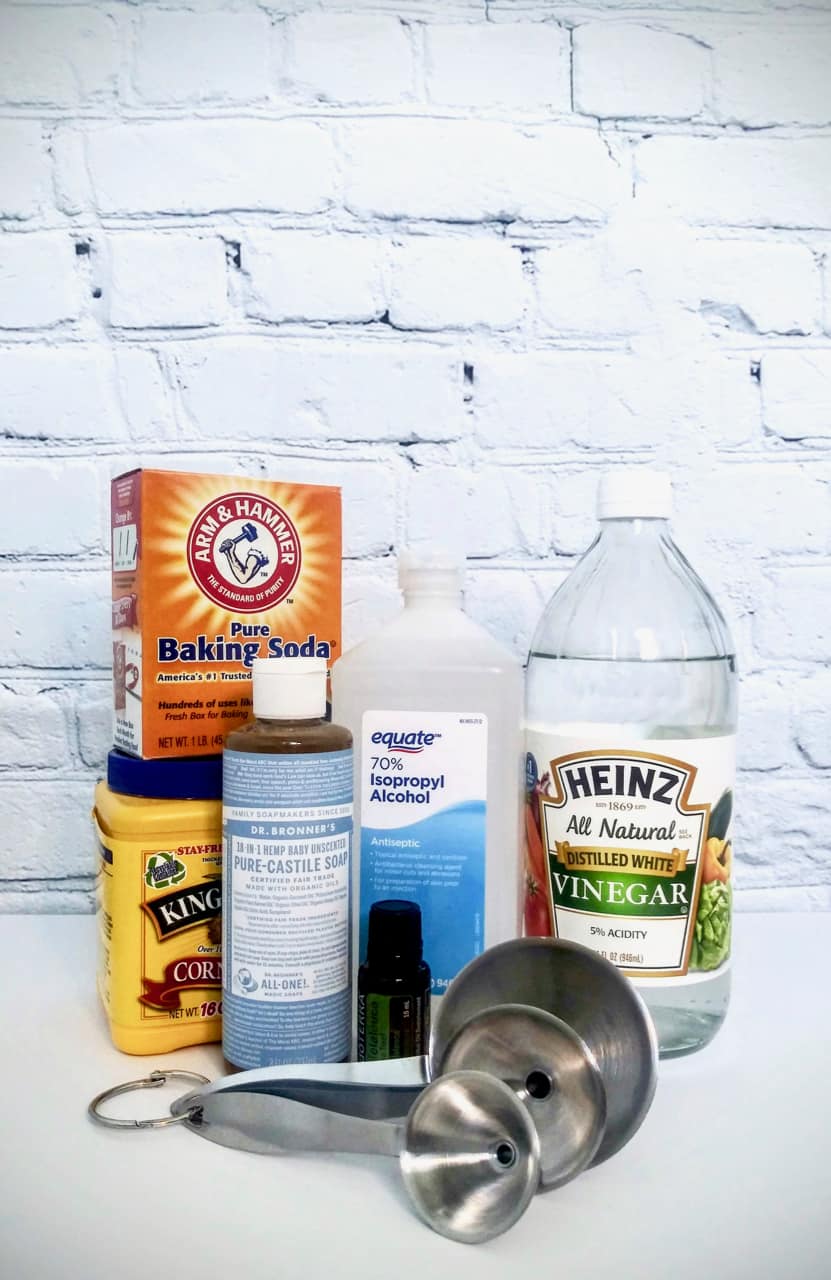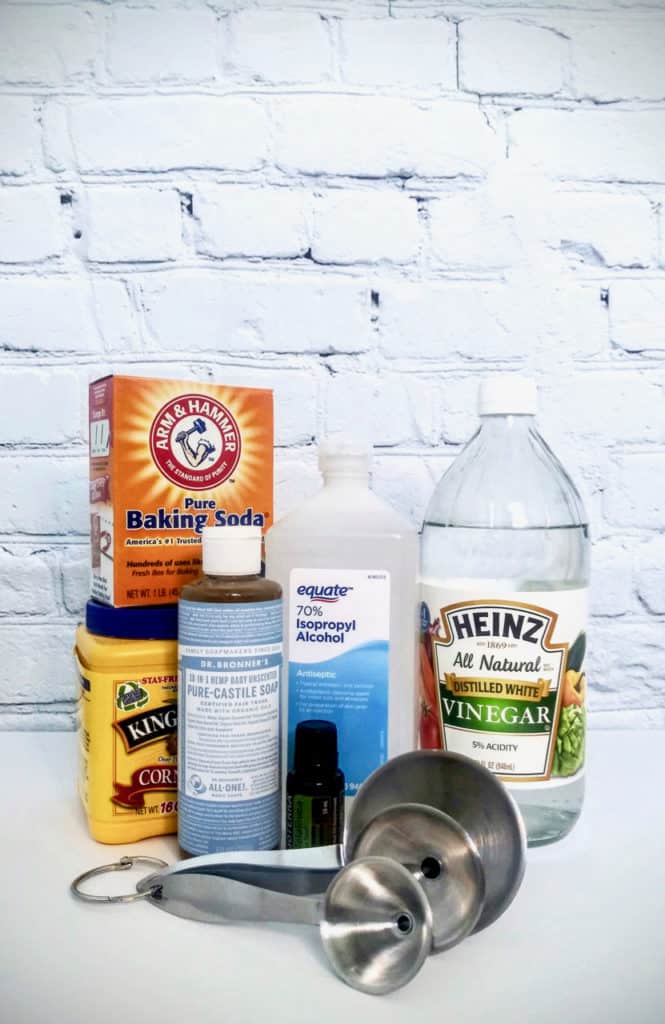 ---
Natural Cleaning Product Recipes
Enough talking about DIY cleaning products let's start making some. I've got 6 homemade cleaning solution recipes for you to make. There are tons of natural cleaning recipes out there but these are the ones I use in my house. They're tested so I can tell you I know they work well.
These 6 eco-friendly cleaner recipes are all you need to get your whole home sparkling.
All Purpose Cleaner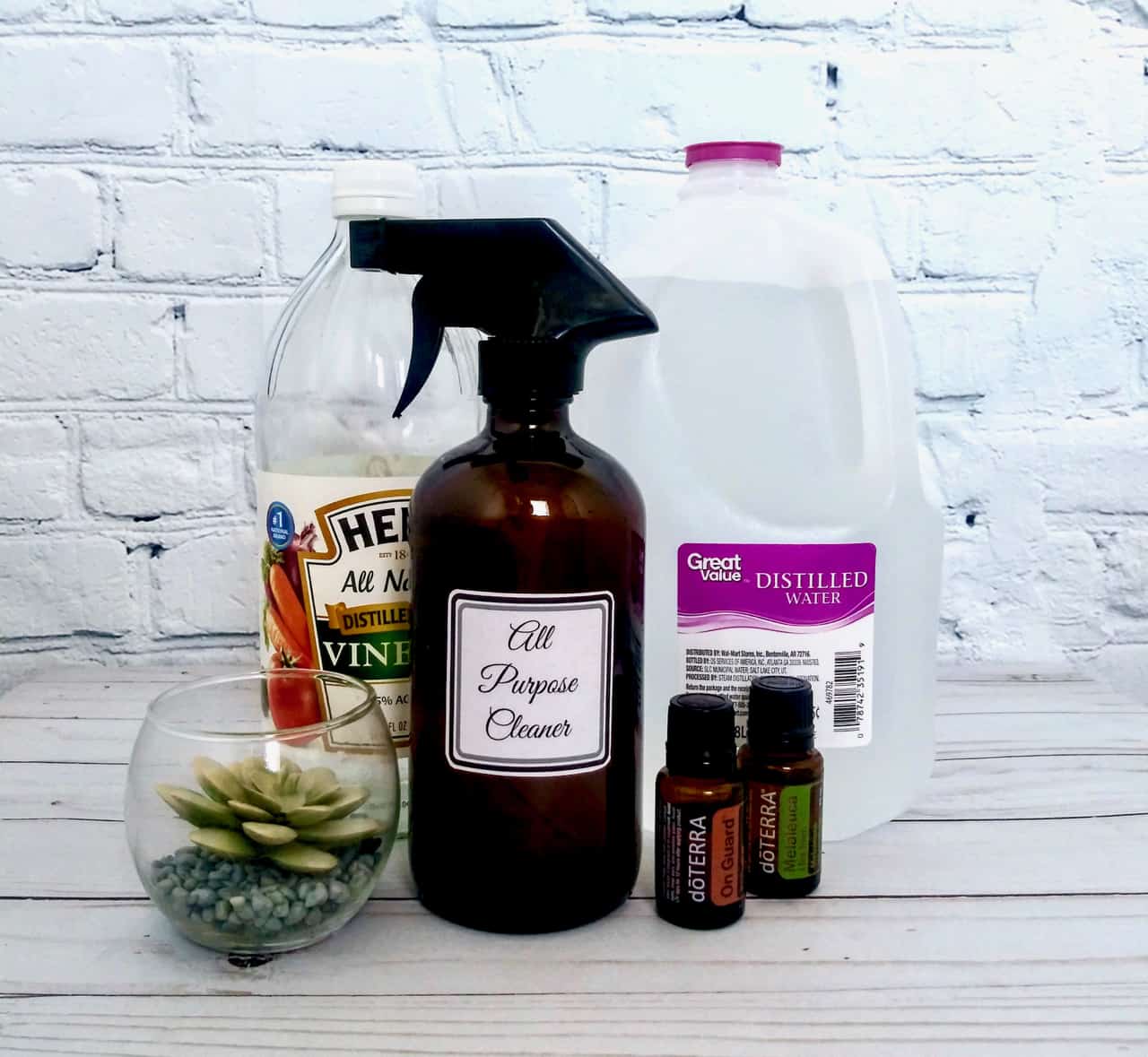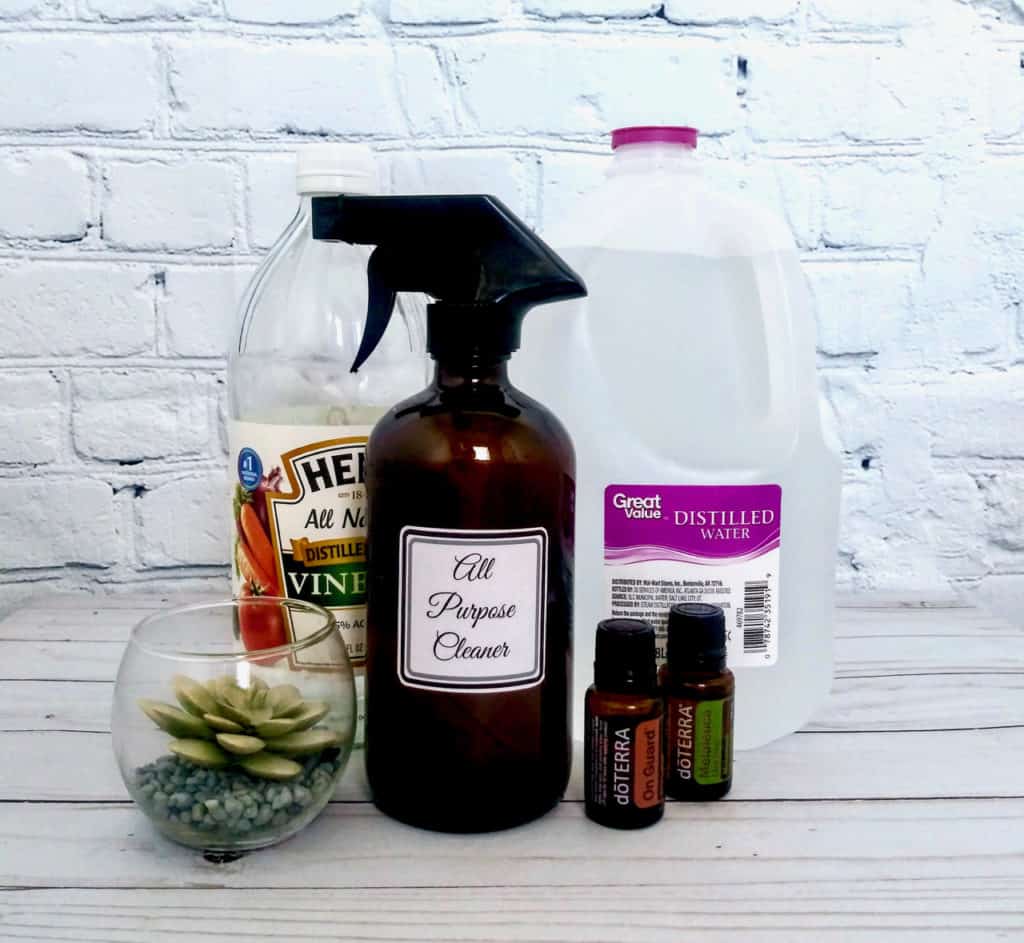 Let's start with a cleaner everyone needs, an all purpose cleaner. However it should not be used on porous surfaces such as, natural stone counter tops or marble showers. For those you'll use the granite cleaner that's coming up next.
This cleaner gets used the most so I make a big batch in the largest spray bottle. You will need:
3/4 cup Distilled water
3/4 cup white vinegar
10 drops of essential oils, these are not necessary, but can be added for fragrance or extra anti-bacterial properties.
Add the ingredients to a spray bottle and shake well before each use.
Vinegar is a great all natural cleaner because it is acidic. This acidity makes it good at cutting through grease, grime and mineral deposits. If you don't like the smell, adding essential oils will help with that, or you can infuse the vinegar with orange or lemon rind before adding it to the cleaner (for two weeks in a glass jar). The good thing is once the vinegar dries the smell will dissipate pretty quickly.
Bonus Tip- To clean a stainless steel sink, first sprinkle it with baking soda. Then spray with this All Purpose Cleaner and give it a light scrub. Rinse well. To add extra shine and keep water marks at bay, put some Olive Oil on a cloth and rub all over the inside of the sink.
---
Homemade Granite Cleaner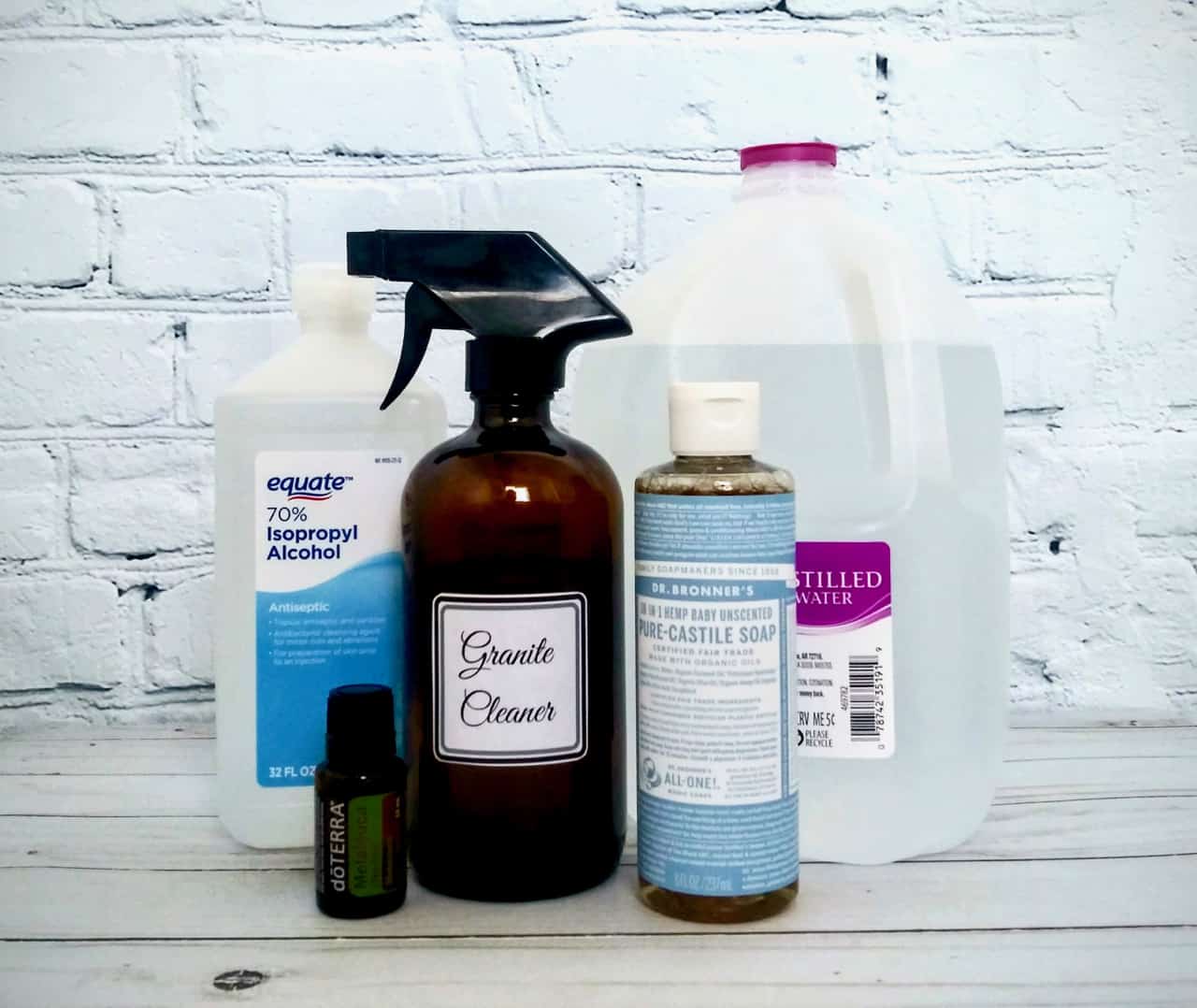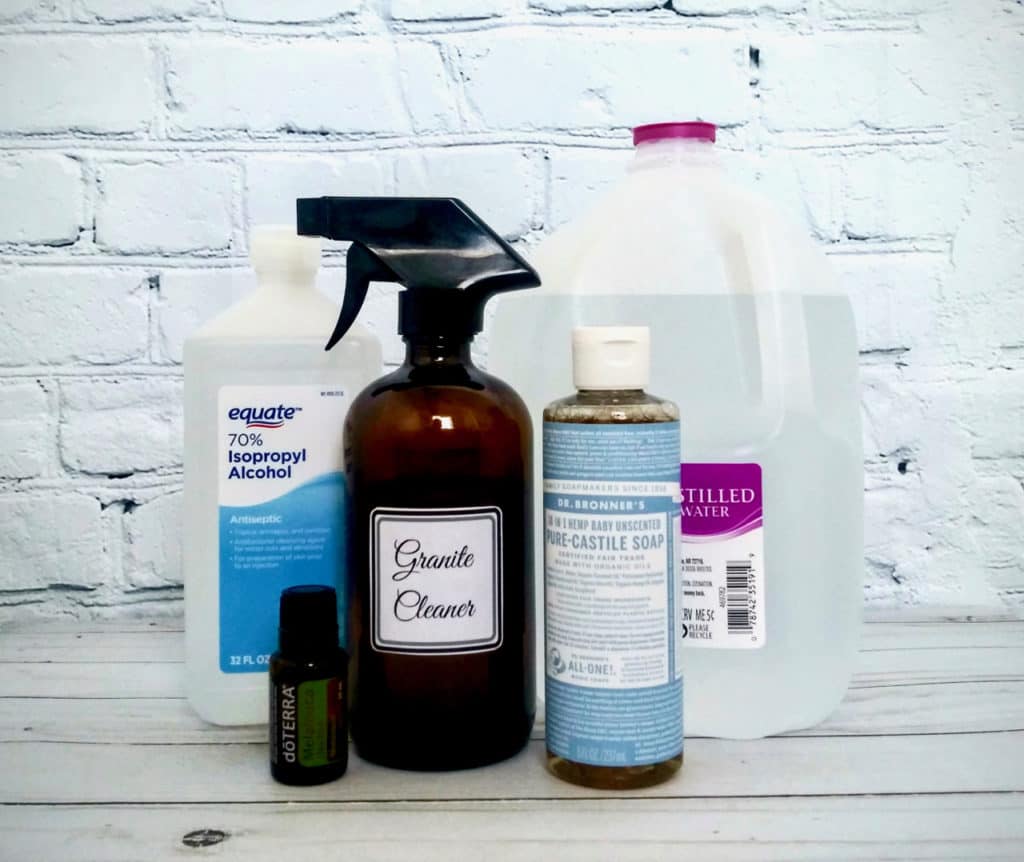 Even though this is called Granite cleaner, it can be used on all your natural stone surfaces. There is no vinegar in this cleaner because the acidity that makes it a great on other surfaces, can erode your natural stone. Also, don't use any citrus essential oils in this cleaner for the same reason. Melaleuca (Tea Tree) oil is used in this DIY cleaner because it's safe for natural stone and has great germ-fighting and mold killing properties. You will need;
1 1/2 cups distilled water
1/4 cups rubbing alcohol
1 Tbsp Castile Soap
10 drops Essential Oil (again if desired for smell or extra properties)
Add all ingredients to a spray bottle. Shake well before each use.
---
Homemade Glass Cleaner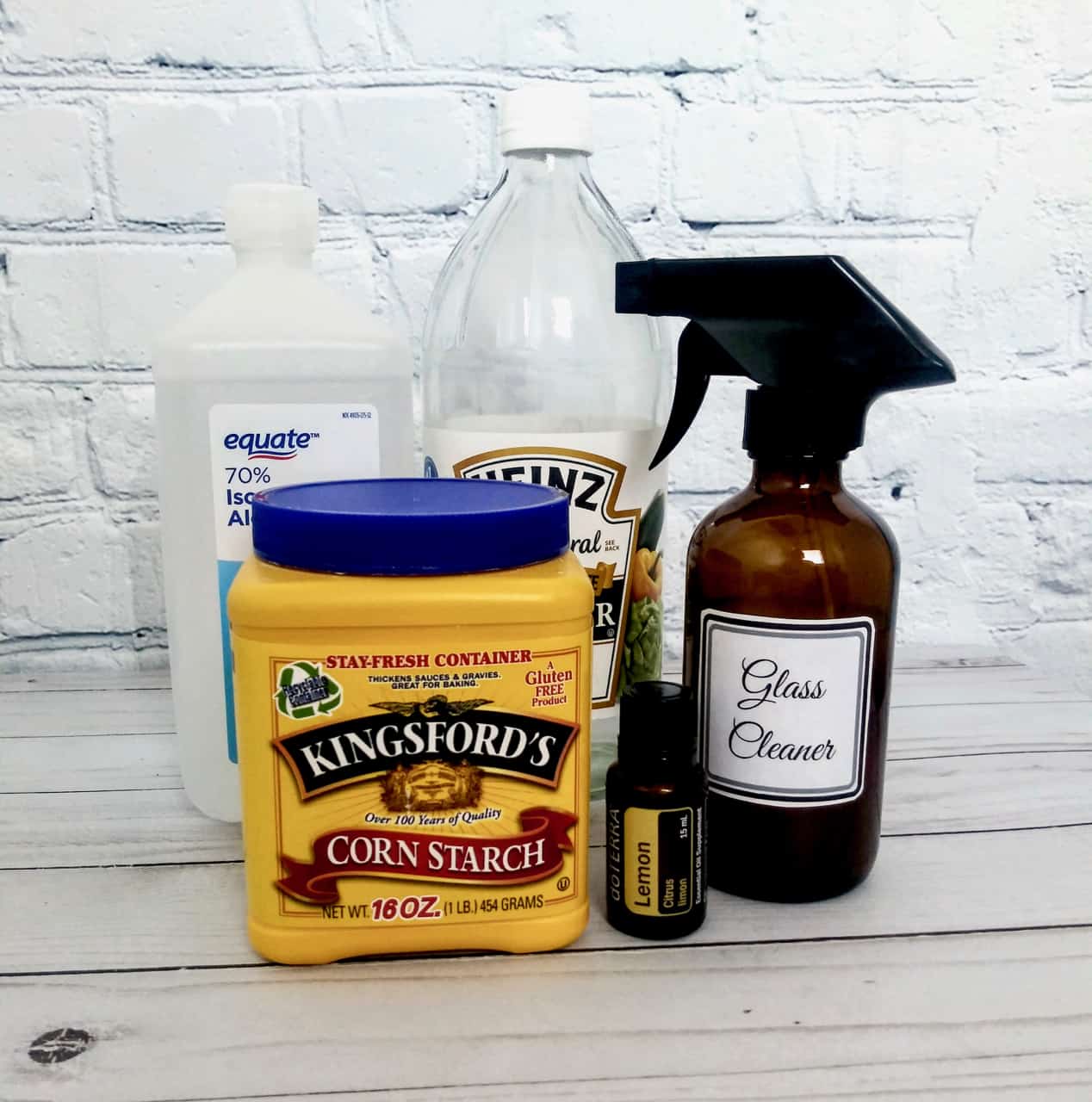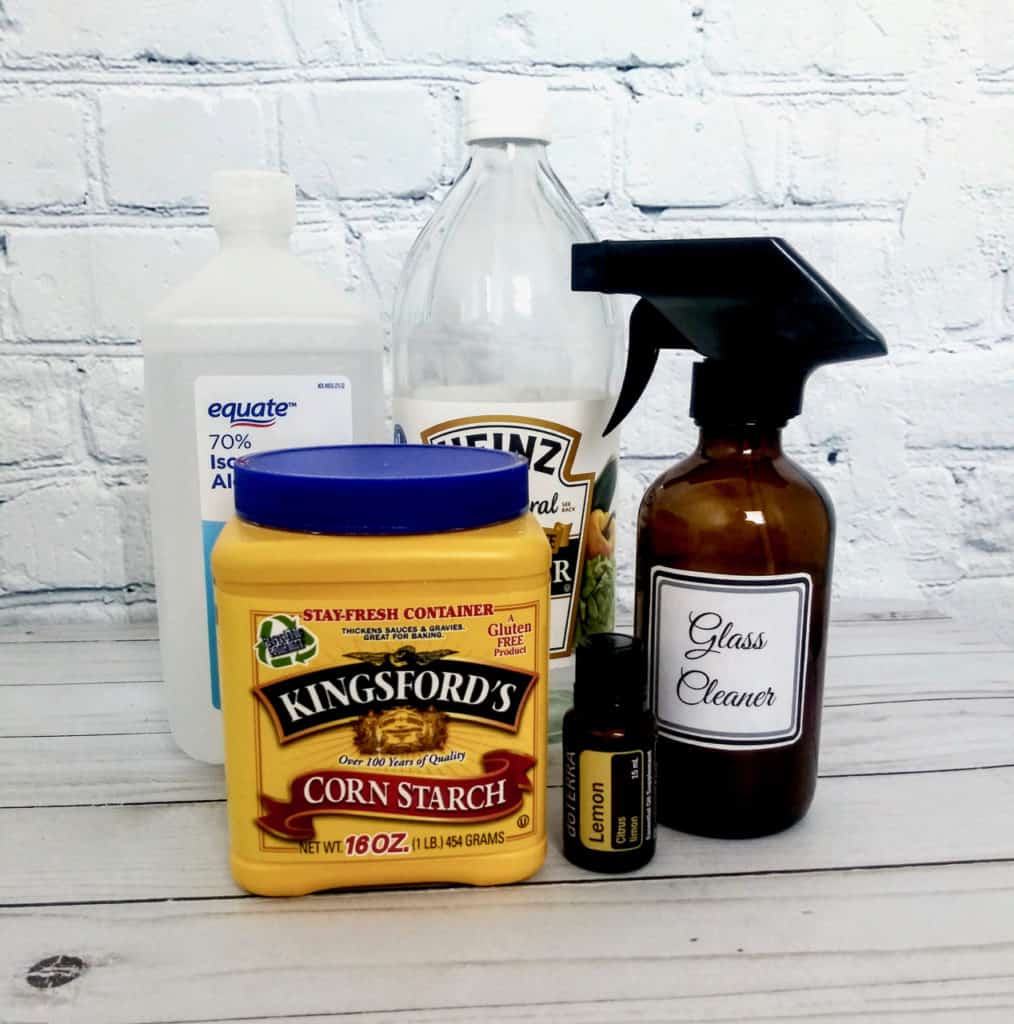 DIY glass cleaner is one you really want to make using natural ingredients. Store bought glass cleaners can contain not only lots of irritants, but neurotoxins and endocrine disruptors as well.
Natural glass cleaners tend to leave streaks, but this one has a secret weapon…cornstarch. I know that seems like a weird thing to put in a cleaner, but it's amazing at keeping those streaks at bay. You will need:
1/2 cup white vinegar
1/2 cup rubbing alcohol
1 Tbsp cornstarch
10 drops Essential Oil (again optional to help with the smell of the vinegar)
Add all ingredients to a spray bottle. Because of the cornstarch, it is especially important for you to shake well before each use. This will make sure the cornstarch doesn't clog up your sprayer. Also, for best results, use with a lint free cloth.
---
Toilet Bowl Cleaner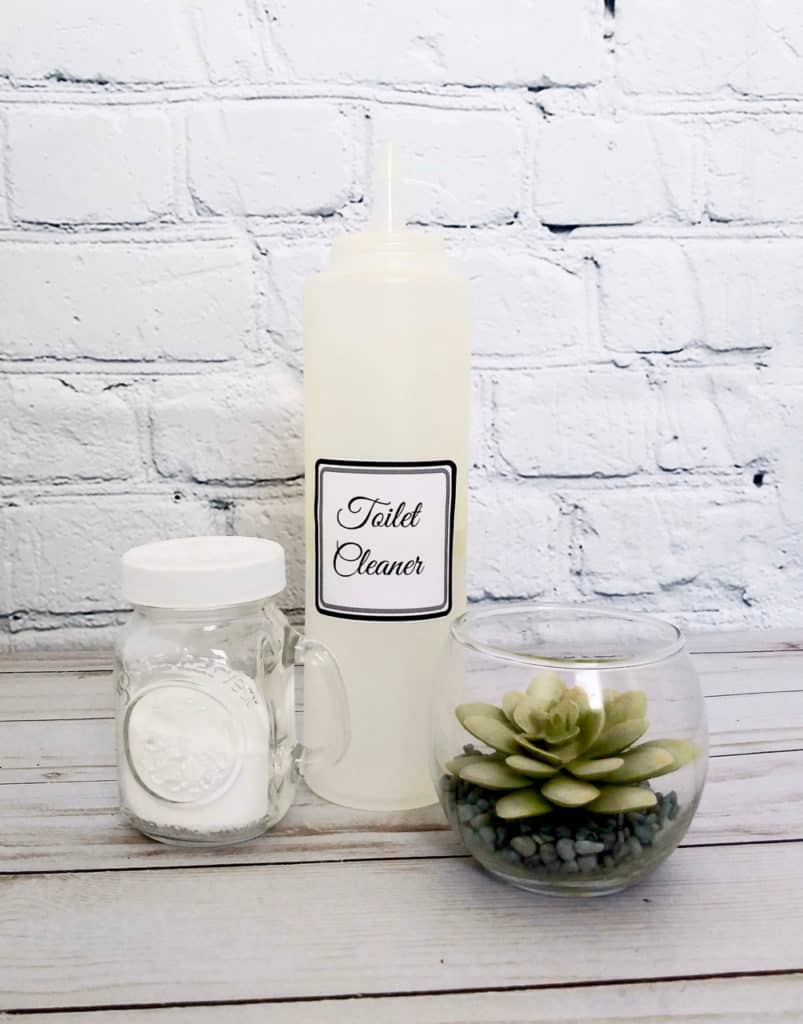 This is a really simple cleaner. It's just good ol' baking soda and vinegar. While you can use a spray bottle for the vinegar, my preference is a squeeze bottle. Most spray bottles don't work well when held on their side or upside down, and I like to get my cleaner right up under the rim. That's why the squeeze bottle is great.
I did add essential oils to the vinegar for extra germ fighting properties. Doterra's Melaleuca and On Guard were used.
With this method, I flush my toilet and then wait about a minute. Next, sprinkle baking soda all over inside the bowl. Then use the squeeze bottle with the vinegar and essential oil mix to cover the whole bowl. Let this sit for about 10 minutes and then use the bowl brush to give it a good scrub. Then use the all purpose spray for the outside of the bowl.
---
DIY Dusting Spray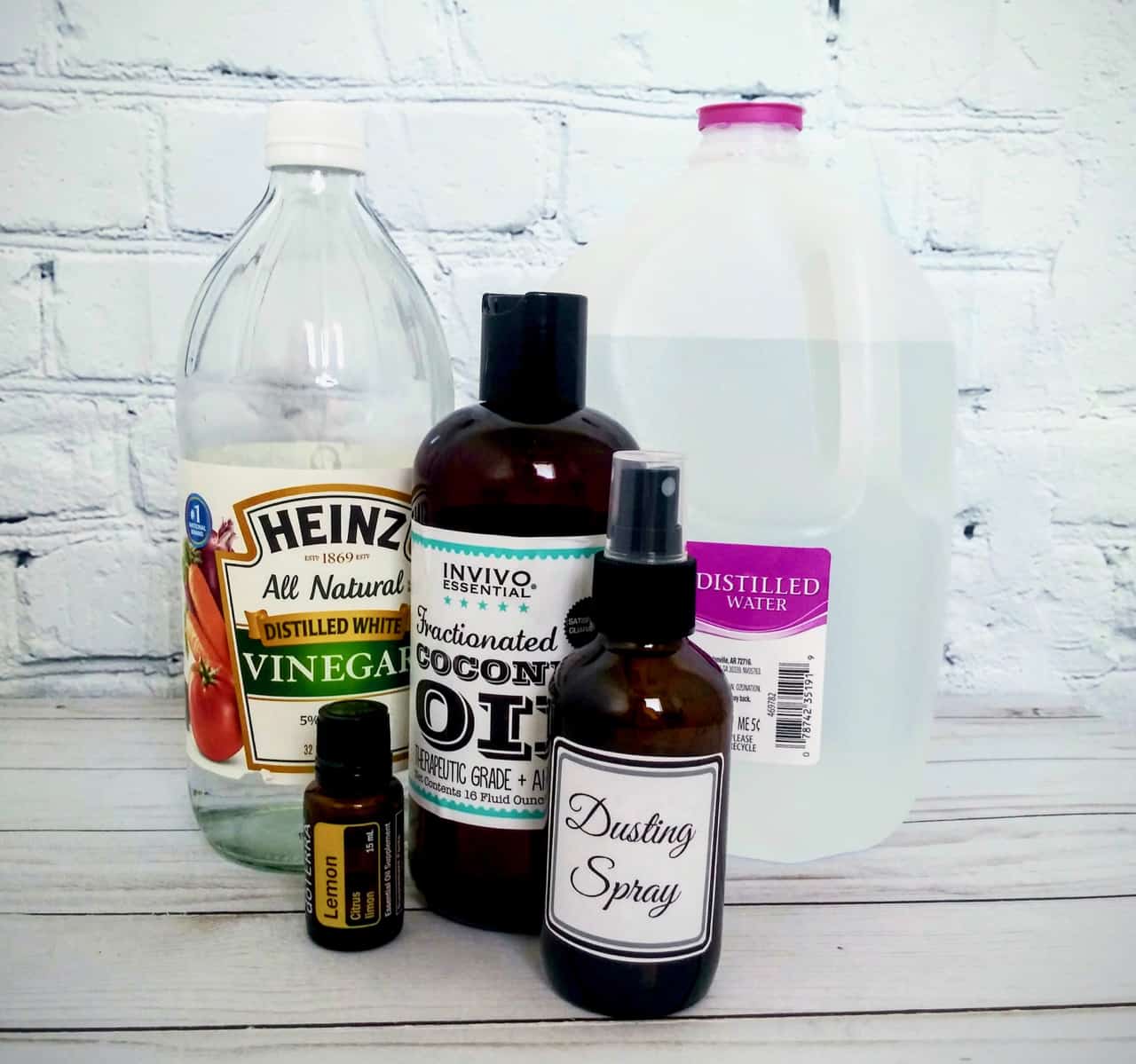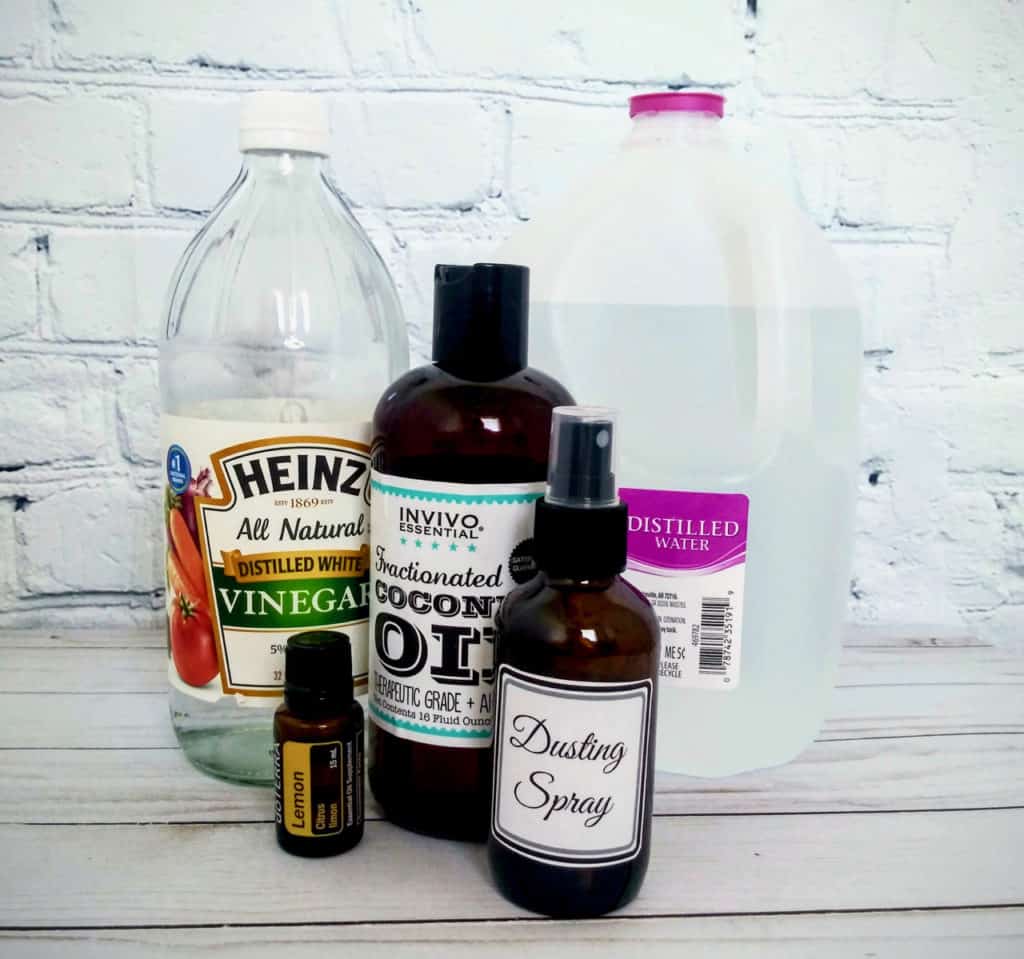 Here is a dusting spray to use instead of those awful aerosol sprays full of propellant and chemicals. This is a smaller recipe because I don't tend to go through this spray as fast. If you use a lot of dusting spray, you could of course just double the ingredient amounts. You will need:
1/2 cup distilled water
1/4 cup vinegar
1/8 cup Fractionated Coconut Oil (I use this oil because if stored correctly, it doesn't go rancid like other oils can)
A few drops Essential Oil (I used lemon to lessen the vinegar smell)
Add all the ingredients to a spray bottle. Shake well before each use. Works best if used with a lint free cloth.
---
Natural Wood Polish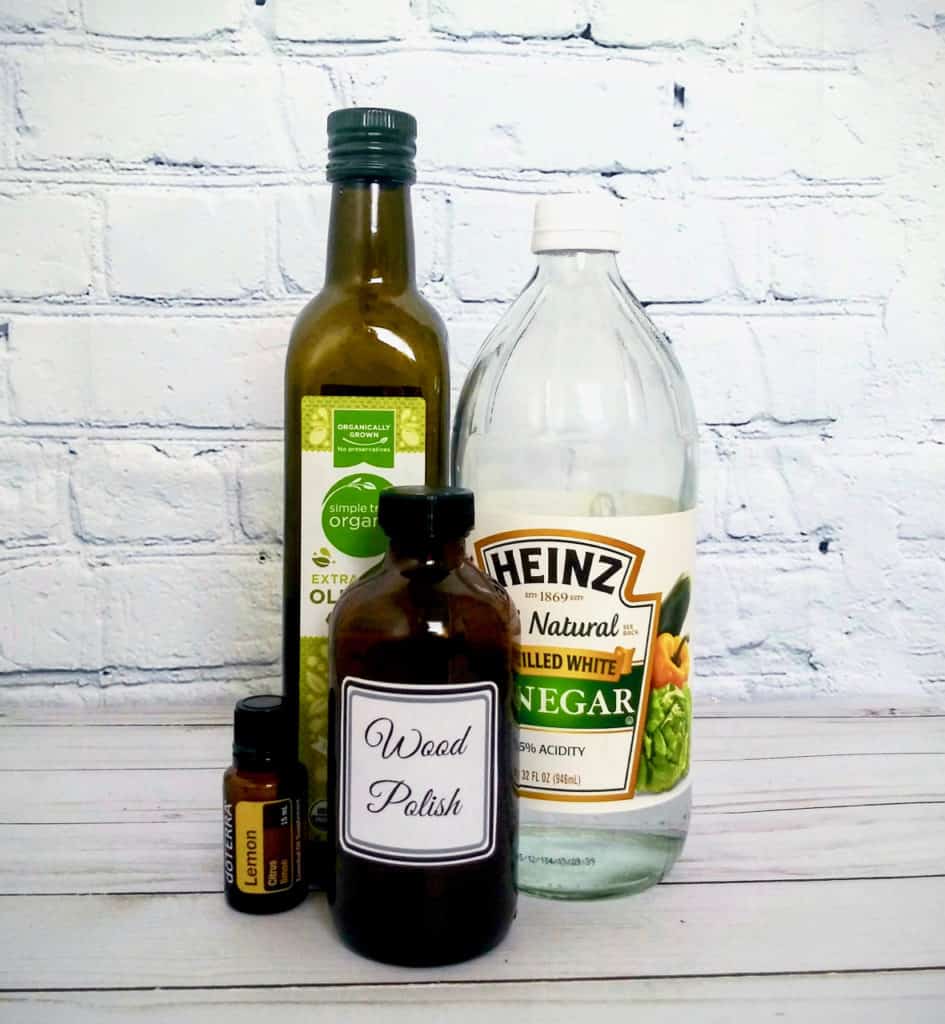 This wood polish uses the power of vinegar and essential oils to cut through the grease, so please test this cleaner on a small inconspicuous part of your wood first to make sure your finish holds up under that acidity. You will need;
1/4 cup vinegar
3/4 cup olive oil
10 drops lemon essential oil
Add to a bottle with a lid. Shake well and put directly onto a lint free cloth, then rub on wood.
---
It's incredible how just a couple of household ingredients can make 6 different natural cleaning products. These cleaning recipes don't take much time to make, save you money, minimize the amount of cleaning products you need to store, and most importantly, in my opinion, are so much safer for you to use in the home. So what are you waiting for?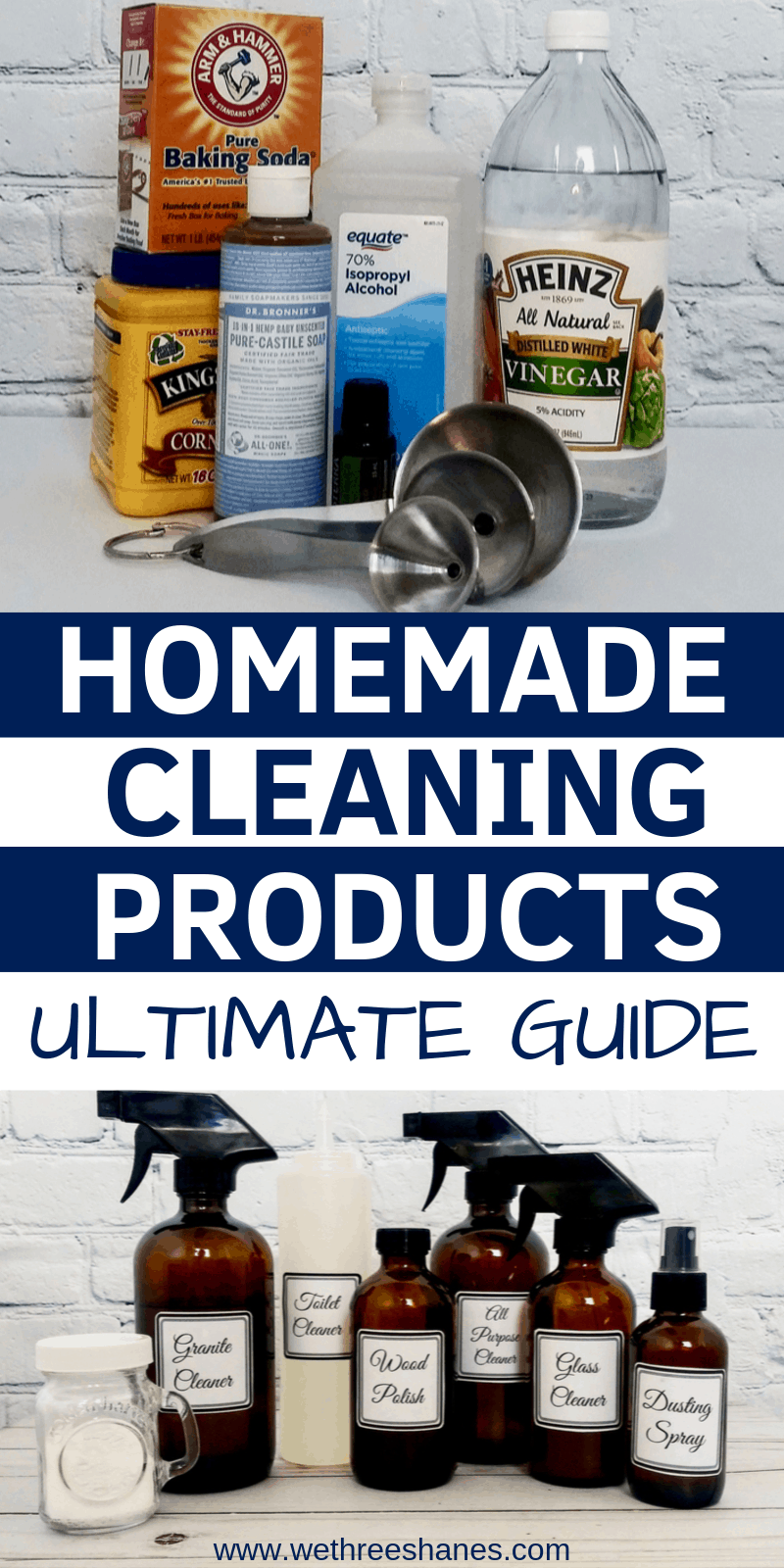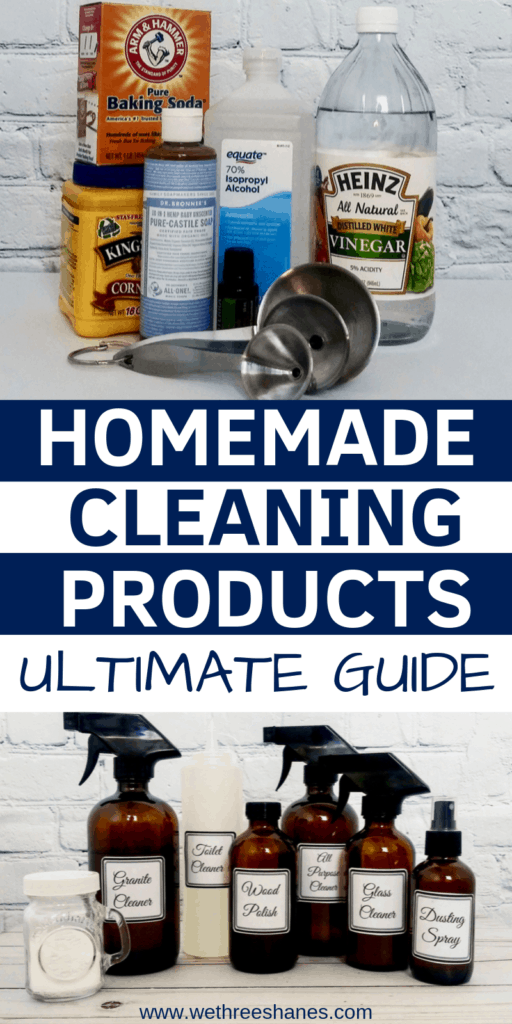 You have now learned how to keep money in your pocket and some dangerous chemicals out of your home by making your own all natural cleaners. Have you tried natural cleaners before? Now that you have learned how to make your own all natural cleaners, which one are you excited to make first?
---
You might also like: