Money Saving DIY Stainless Steel Cleaner
Ditch the chemicals and expense of store bought stainless steel cleaner & easily make your own. DIY Stainless Steel Cleaner cost pennies and works great!
When I got my first stainless steel appliances the sales person really pushed having a stainless steel cleaner. They made it sound like normal cleaner would melt my appliance and ruin it. But steel cleaner is SO expensive!
Not only did I avoid using it much, because it was precious, when the bottle was gone it took me forever to buy a new one. I didn't want to spend that much! Haha
Fast forward several years and I am trying to DIY as much stuff as possible to keep chemicals in our house to a minimum. I decided to search for a homemade stainless steel cleaner.
After looking through many different recipes I finally made my own. I wanted to kick myself because it is SO easy to make y'all! Not to mention the money I'm saving. For me it's a no-brainer.
Are you ready to make your own stainless steel cleaner and save some cash?!?
This post contains affiliate links. You won't pay any extra for making a purchase through these links but we earn a commission for purchases made through links. This helps keep the blog running which we really appreciate! You can read more about it in our full disclosure.
---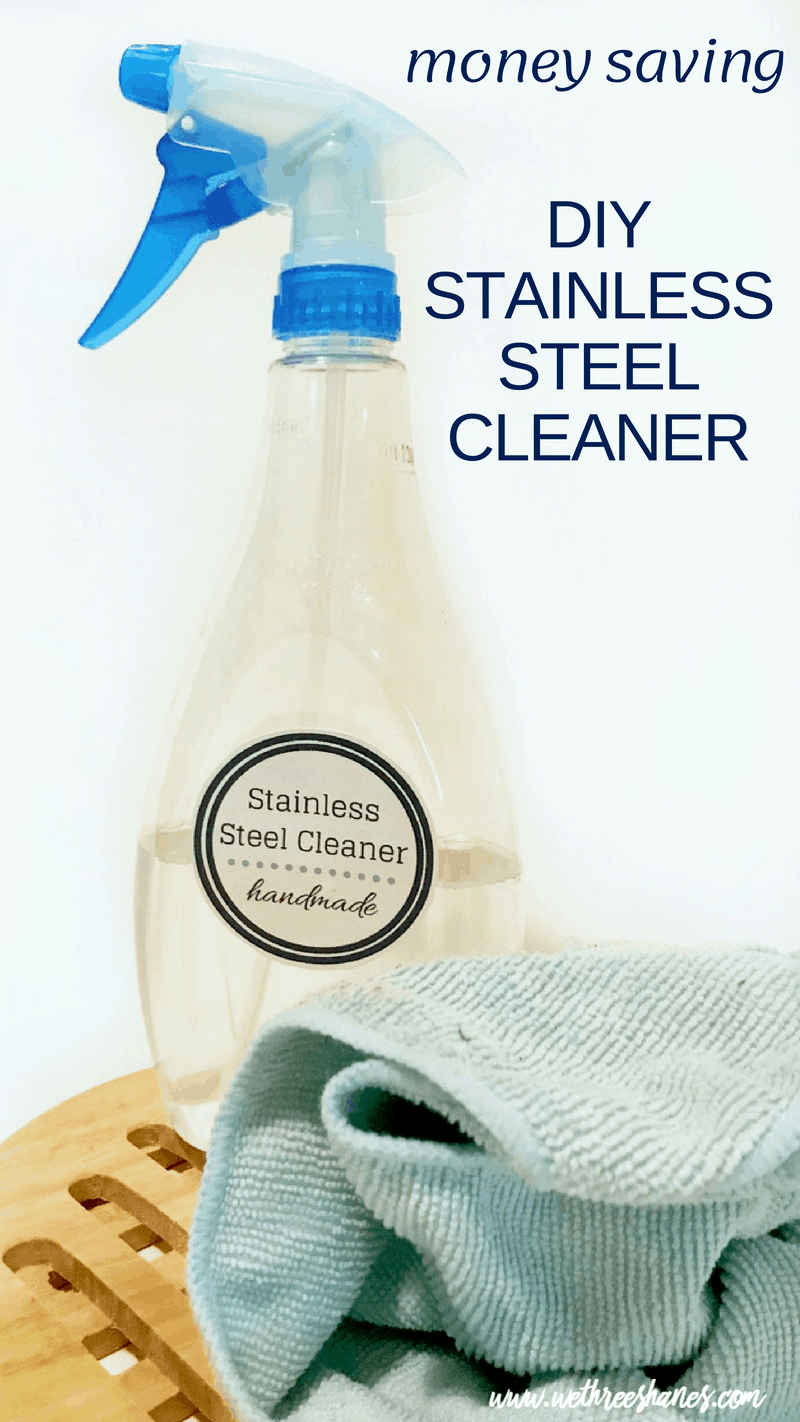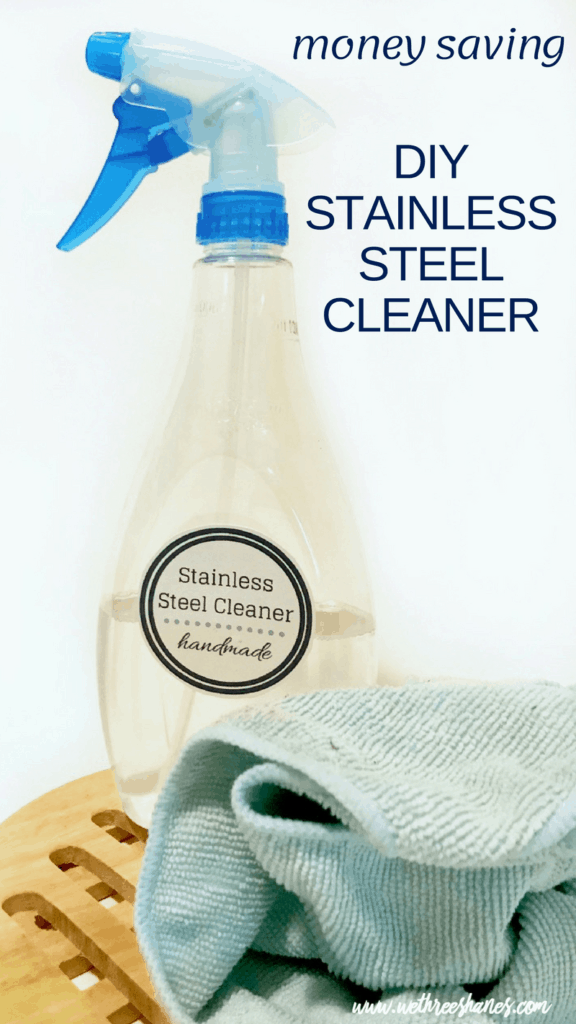 Why Should I Make Homemade Cleaners?
We spend a lot of time in our homes, especially in our kitchens. There are a ton of surfaces to keep clean, all with their own surface types; think wood, stainless steel, granite, slate, laminate and more.
Most surfaces have a cleaning solution that's made specifically for it. When you add them all up, it's a lot and you need to buy and store them all.
Plus each one is made up of its own chemical filled solution. Usually when you clean the kitchen you do it all at once. This means you could be spraying 3-4 types of cleaner in the area at once. That's a lot of chemicals floating around the room, combining.
When you make your own cleaning products you save money, space, your health and the environment. You can clean most of your home with only a handful of natural ingredients. Most of them don't cost much at all and clean as well as the harsh store bought stuff.
You will also, reuse the bottles when you run out of homemade cleaner which means less plastics being used. And the cleaner itself can be rinsed down the sink with out causing any harm to our water systems.
Want to learn more about making your own cleaning products like this homemade stainless steel cleaner? Check out our DIY Natural Cleaning Products Ultimate Guide.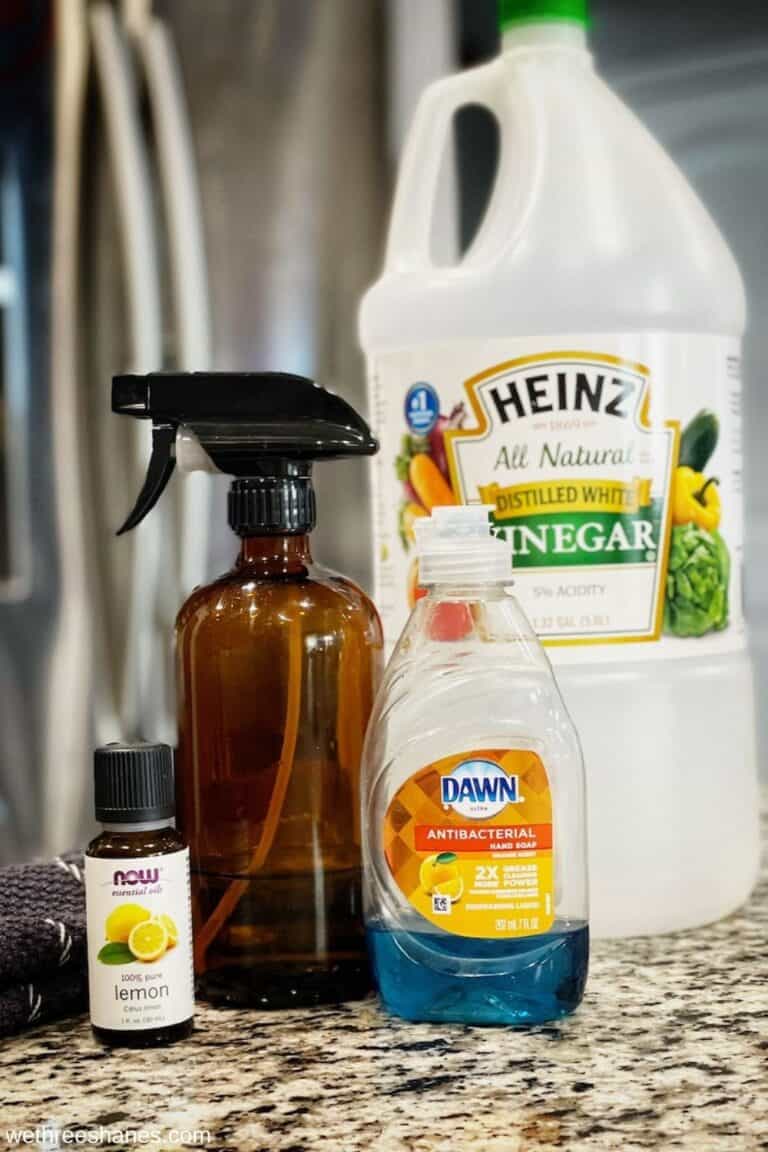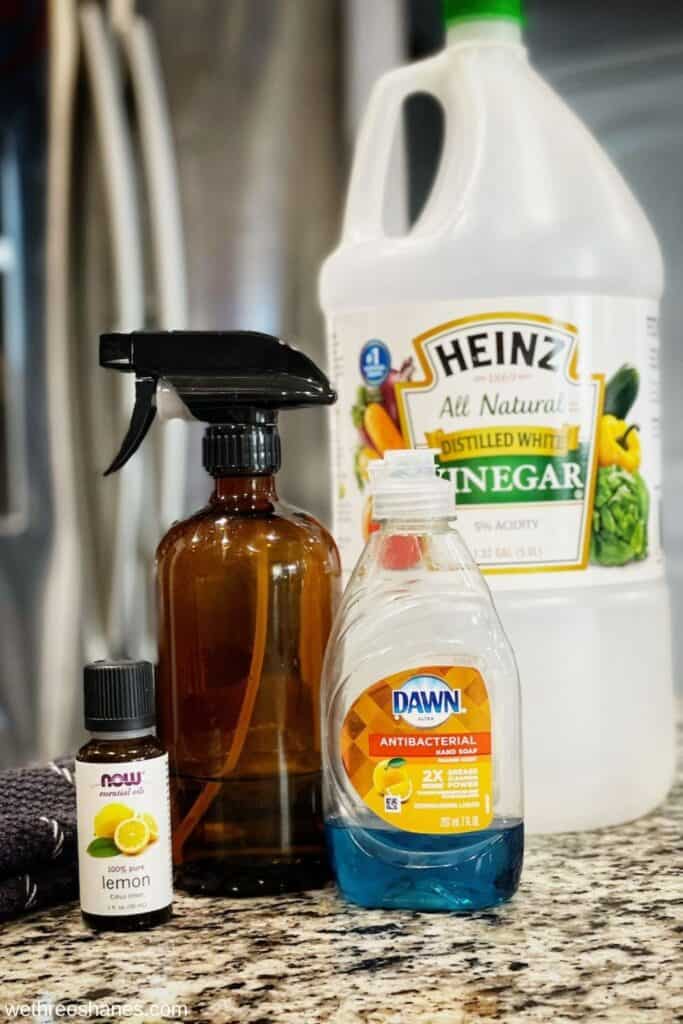 Supplies & Ingredients Needed for DIY Stainless Steel Cleaner
You only need a few ingredients and supplies to make your own stainless steel cleaner. The good news is you most likely have them on hand.
You might need to purchase a spray bottle but you only have to purchase it once. After that you keep refilling the same bottle when you run out of cleaner. Saving you more money in the long run.
Water
Distilled white vinegar
Dish soap
Essential oils (optional)
Funnel (optional but helpful)
Water – Always used distilled water when making homemade products. Not tap. Tap water can introduce bacteria into your cleaner making it well, gross, considering you are using it to clean surfaces but also it can make your products spoil faster.
Vinegar – Does vinegar harm stainless steel? No. Well, not when used properly. You should never leave something acidic, like vinegar, sitting on stainless steel for a long time. Since we are spraying this cleaner on and wiping it off, it won't do any harm.
Water and Vinegar combine to make a very effective stainless steel cleaner. I promise!
Dish Soap – You can use your favorite dish soap. You can also use Castile soap for a greener version. We're only using a drop or two. This gives just a bit more cleaning power.
Essential oils – They aren't essential. Ha. But they do provide their own cleaning properties depending on the ones you choose to use. Citrus essential oils smell nice and fresh, plus they help with shine so they are my go-to for this cleaner recipe.
If you don't use essential oils in your cleaner it will still work. No worries!
Spray Bottle – Let's talk about spray bottles real quick before we make our cleaner. If you decide to put essential oils in your steel cleaner then you should use a glass spray bottle. Essential oils are strong enough to gradually break down a plastic bottle.
If you are worried about your glass bottle breaking consider getting one with a silicone sleeve. The silicone will help protect the glass. If you already have a glass bottle, you can purchase just the silicone sleeve to add to the bottle.
I'm not gonna lie though, I totally use a plastic bottle for my cleaner even with oils in it. I'm too afraid of breaking the glass spray bottle. Try to find one that is BPA free if you want to use plastic. But ultimately, you do you.
How to Make Stainless Steel Cleaner
A funnel comes in very handy when you make your own cleaning products but it's not necessary. If you have one then screw off the top of the spray bottle and nestle that funnel in. If you don't have one then pour carefully.
I don't like to give exact measurements here. Some people will prefer to make a large bottle of cleaner. Others might want to go with a smaller bottle. It all depends on how often you clean and how fast you'll go through your homemade stainless steel cleaner.
First you want to use equal parts water and white vinegar. The amount used will depend on the size of your bottle. If you have a smaller bottle start with 1/2 cup of each and add more if necessary. If your bottle is larger, start with a cup of each. Just make sure to add equal amounts.
Next, add in one drop of dish soap for a small bottle. Two drops for a large bottle.
If you are adding essential oils you can add them now. I used 3 drops of lavender and 3 drops of lemon. Lavender and lemon smell great together. I use them all the time so they are a great investment. Adjust the essential oils to your smell preference. Like a strong scent them add more. Too much smell gives you a headache? Use less.
Put the lid back on and give the bottle a little shake to distribute everything evenly.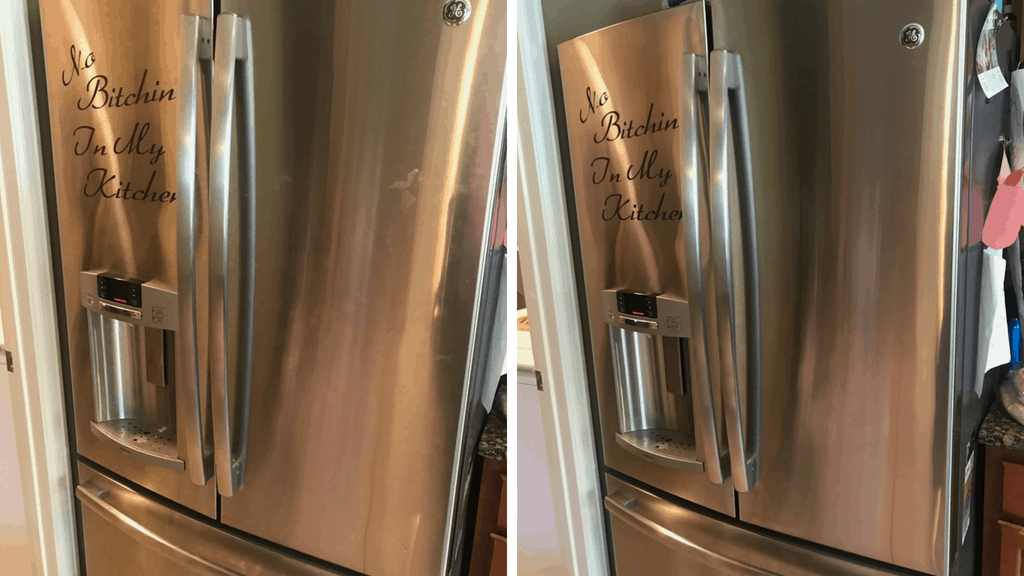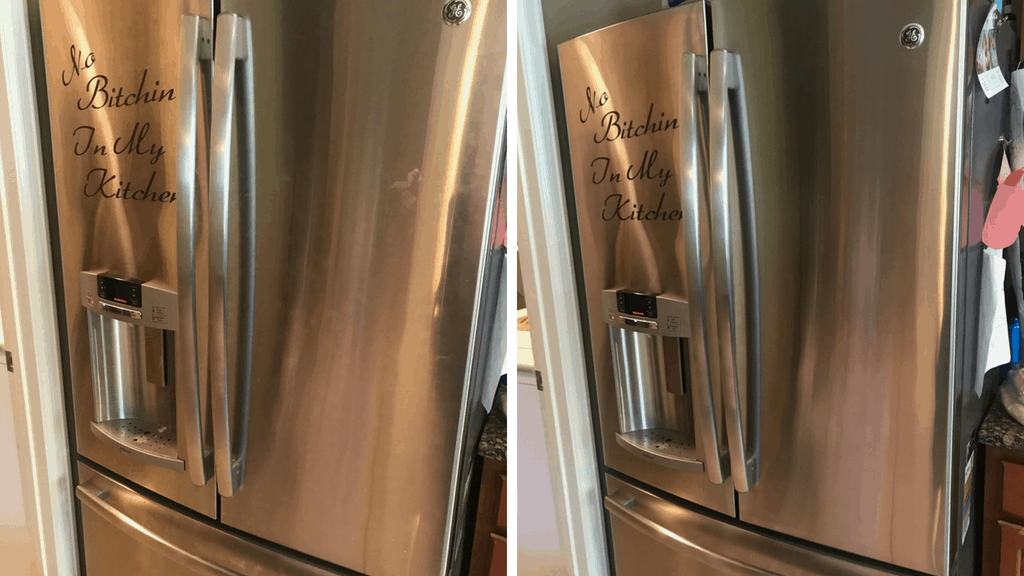 How to Use Homemade Stainless Steel Cleaner
Give the bottle a shake before each use. Then, spray the homemade cleaner liberally on your stainless steel appliances and rub. A microfiber cloth does a good job, but anything will work.
This DIY stainless steel cleaner may require slightly more elbow grease than a store bought cleaner. But, it literally costs pennies to make so I'm okay with that! Check out the before and afters and see for yourself how awesome it works.
Homemade Stainless Steel Cleaner Before and After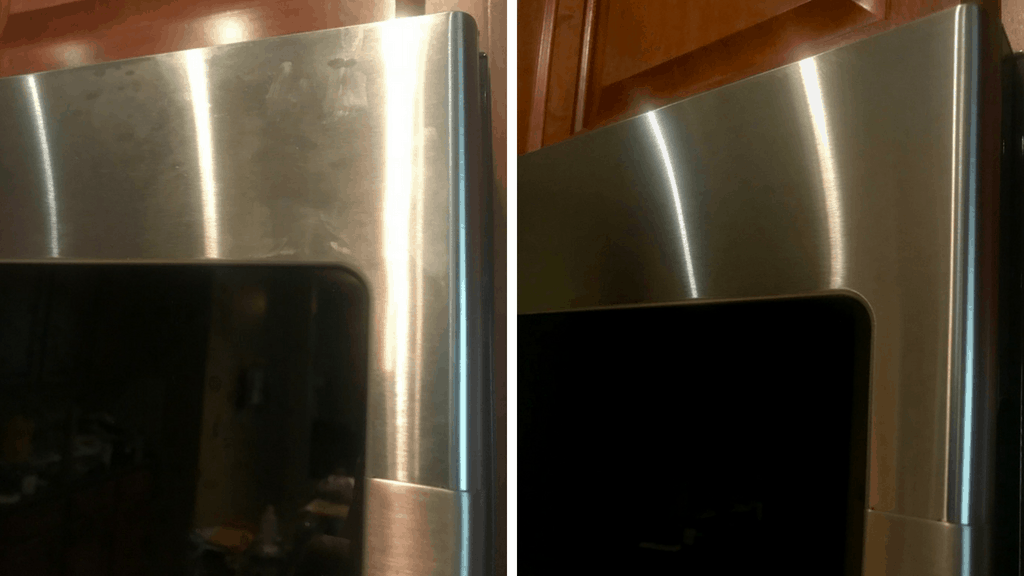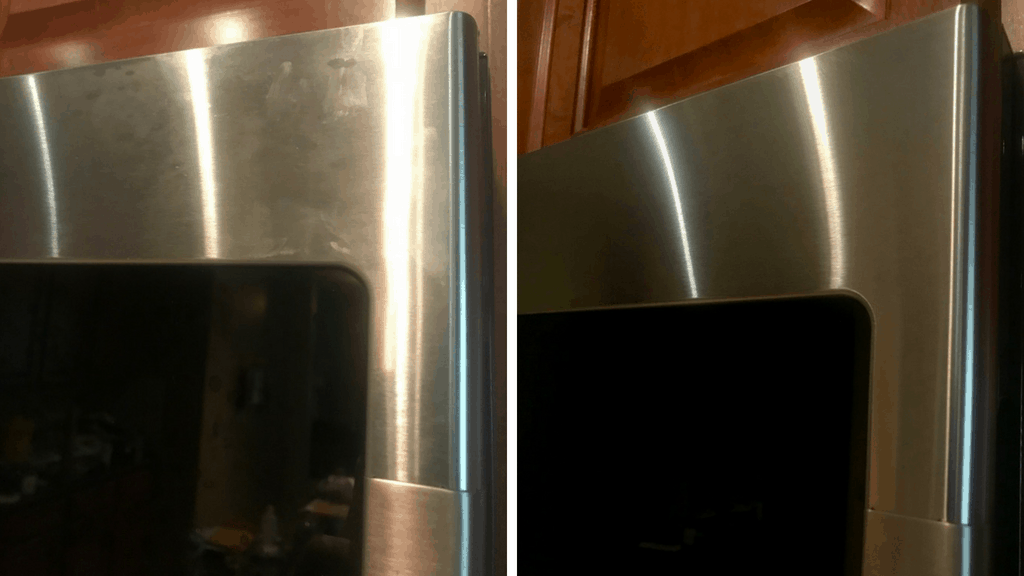 Because this homemade steel cleaner is mostly water and vinegar it will also work on glass. Which is great for cleaning the fronts of microwaves.
I sprayed it on my stainless steel microwave and it cleaned both the steel and the glass front. Pro tip: Spray it on mirrors and windows, then wipe them down with crumpled newspaper for a streak free shine.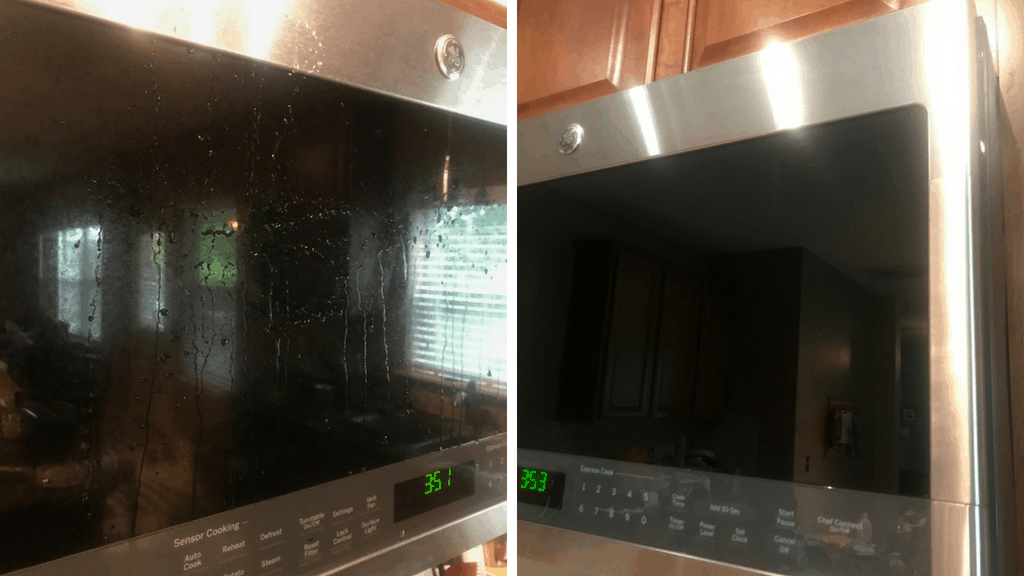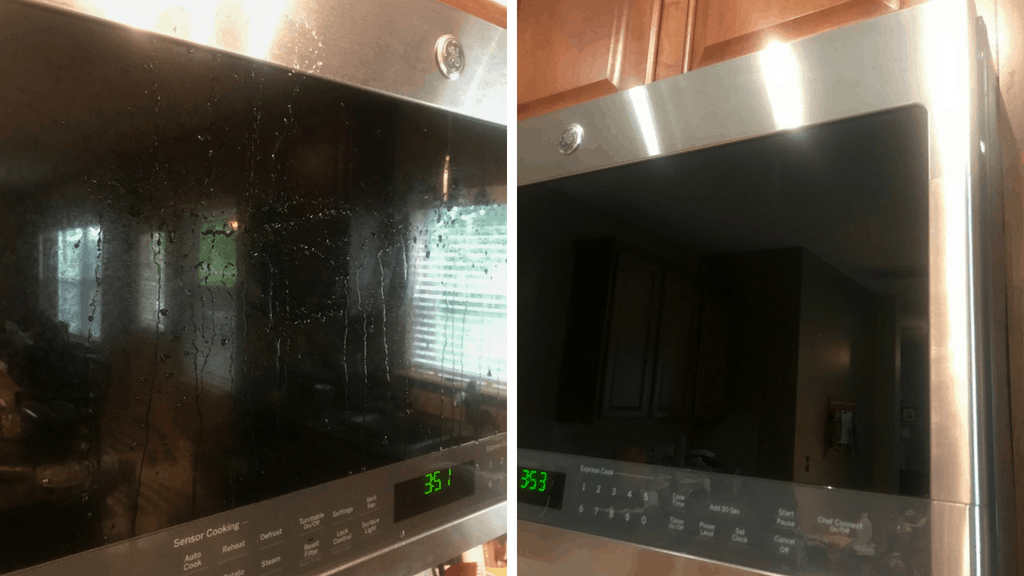 How to Polish Stainless Steel
This cleaner does a great job of cleaning and shining stainless steel appliances. But, if you're looking for a stainless steel polish, you can use straight olive oil to shine up all your steel appliances!
Some DIY stainless steel recipes put olive oil directly into the cleaner. I do not recommend this because it doesn't take long for oil to go rancid. Your cleaner will go bad fast. If you put olive oil in your cleaner and it smells, it needs to be tossed.
Avoid the situation entirely by polishing with olive oil after cleaning. Just put a small amount of oil on a cloth and rub it around!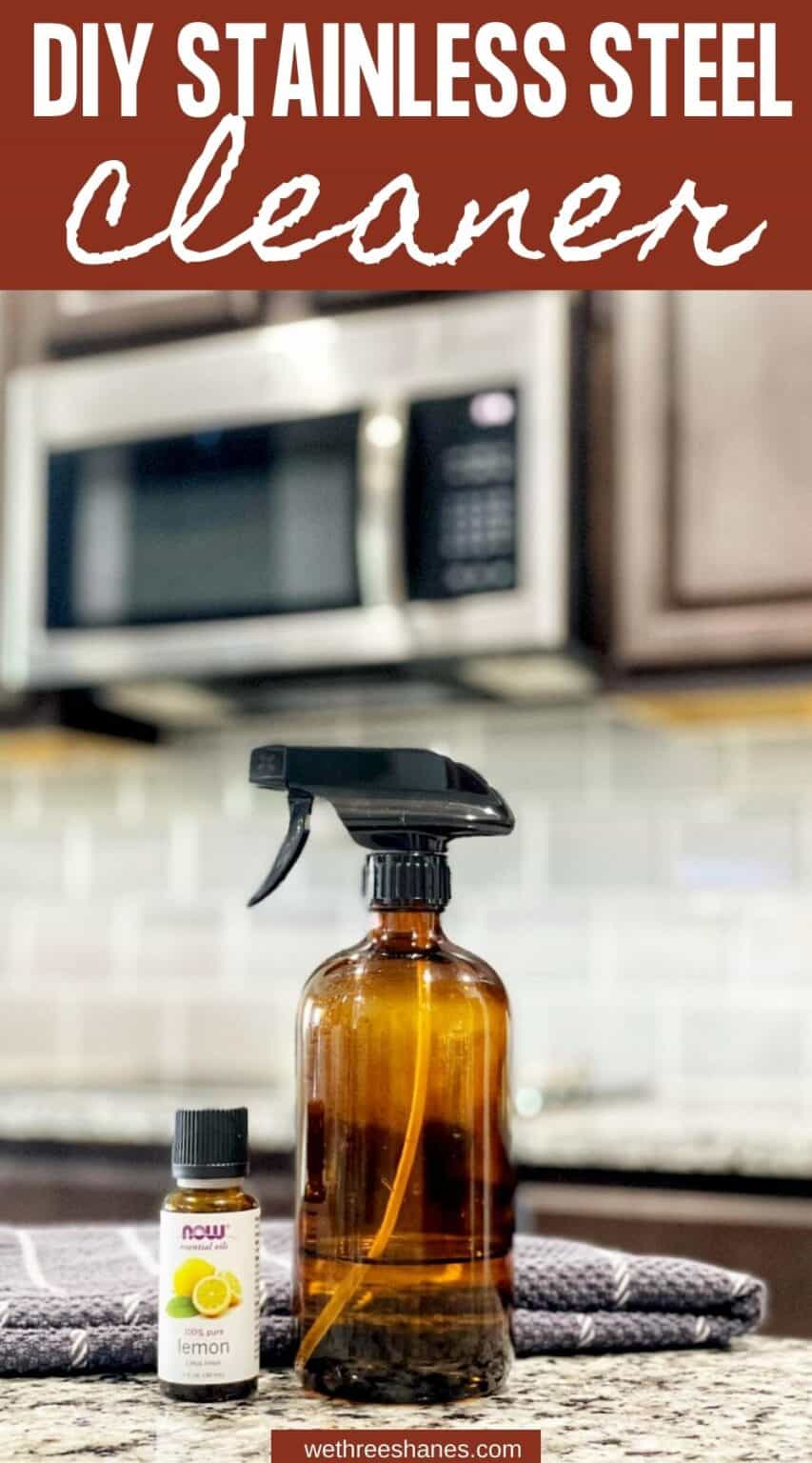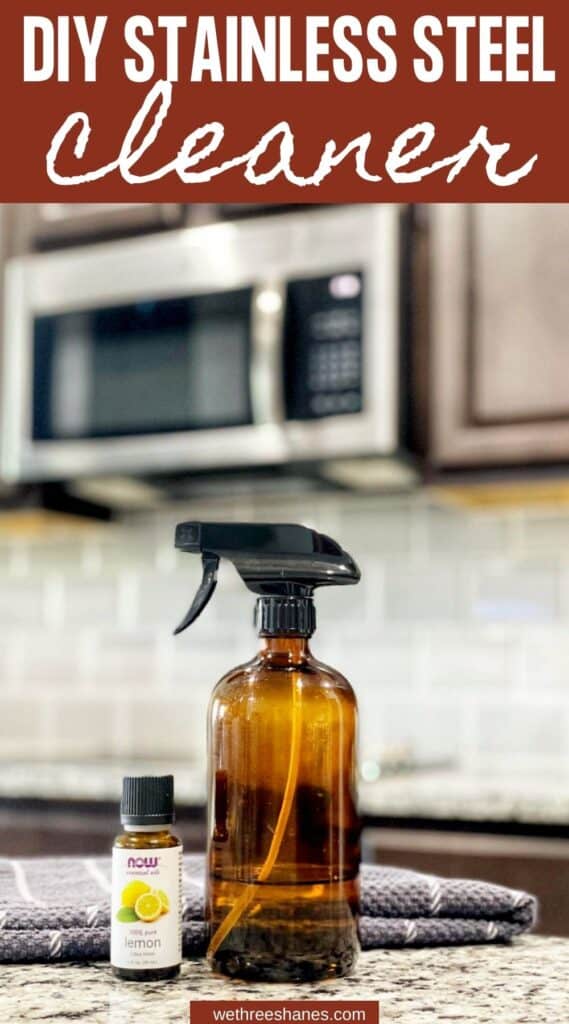 Are you ready to start saving money and creating a healthier home for your family? Start by making the stainless steel cleaner. I promise you won't be sorry.
Let us know if you make some of this DIY Stainless Steel Cleaner. It's seriously so easy and cheap. You'll thank yourself.
---
You Might Also Like:
All-Natural Cleaning Products | The Ultimate Guide