Amazing DIY Glass Cleaner
Store bought glass cleaners are full of ingredients that are potentially harmful for you and your family. Why buy them when you can make your own glass cleaner? Not only is our Amazing DIY Glass Cleaner safer to use, but so easy and cheap to make!
(THIS POST PROBABLY CONTAINS AFFILIATE LINKS. OUR FULL DISCLOSURE POLICY IS LONG & BORING BUT, YOU CAN FIND IT HERE.)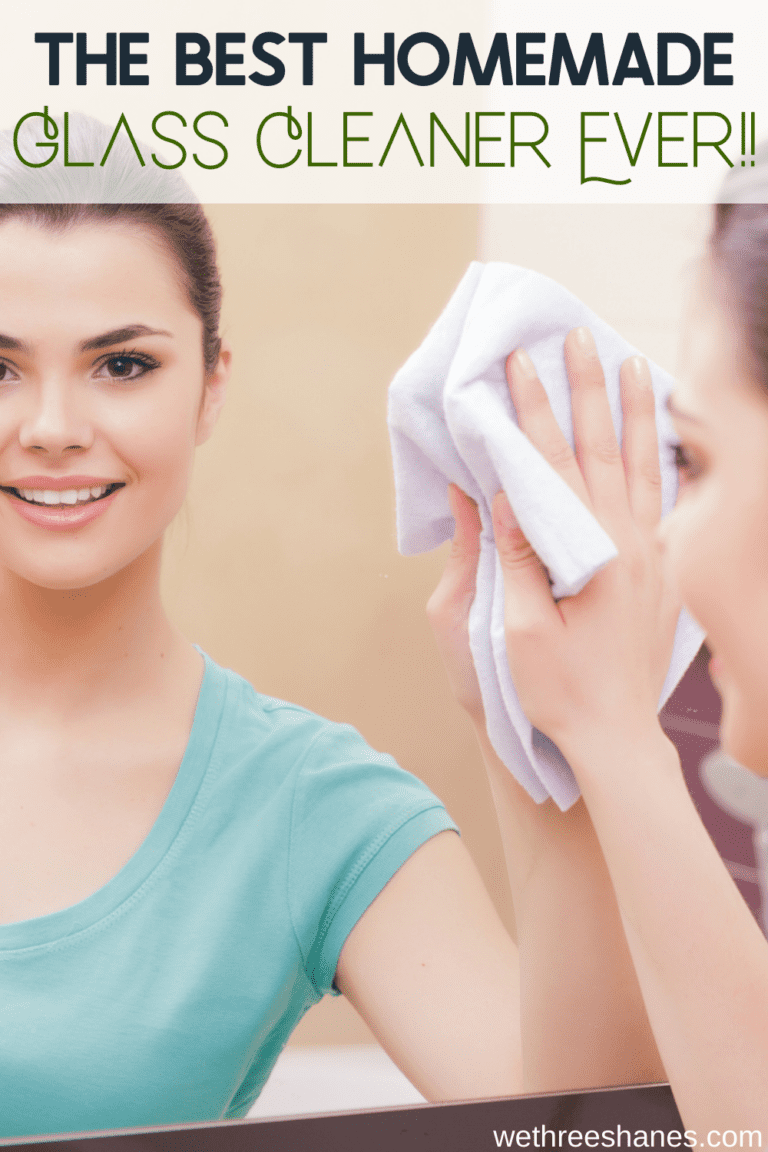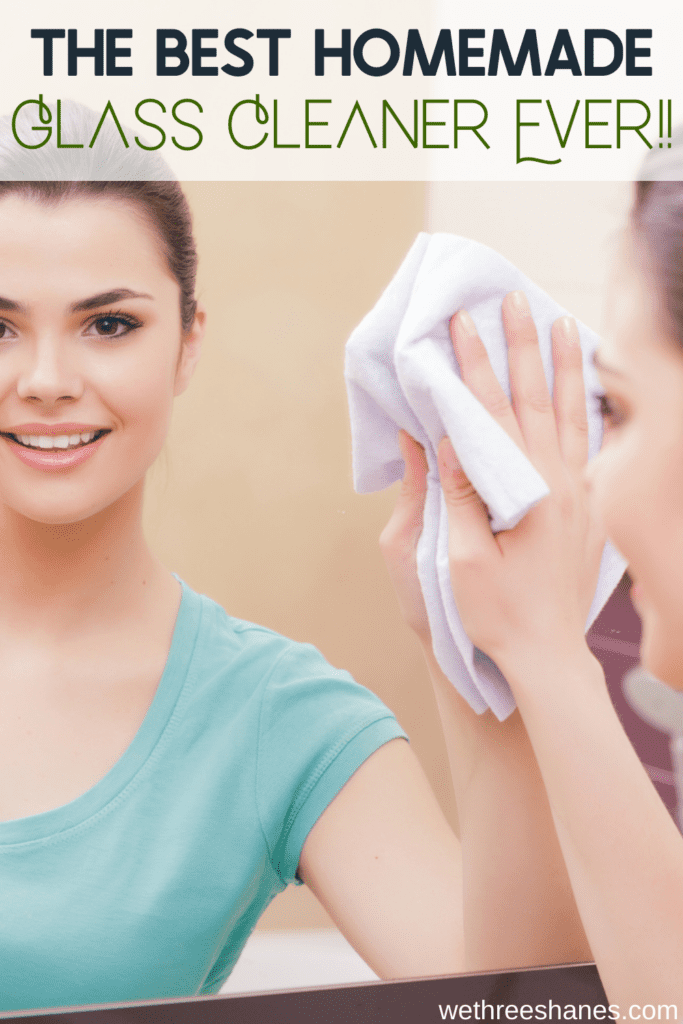 Amazing DIY Glass Cleaner
You might think that an inexpensive, DIY glass cleaner that's also easy to make couldn't possibly be amazing…but it is! This homemade glass cleaner is my ride or die, and I have less problems with streaks on my mirrors when I use it.
Keep reading to find out why our amazing DIY glass cleaner works so well.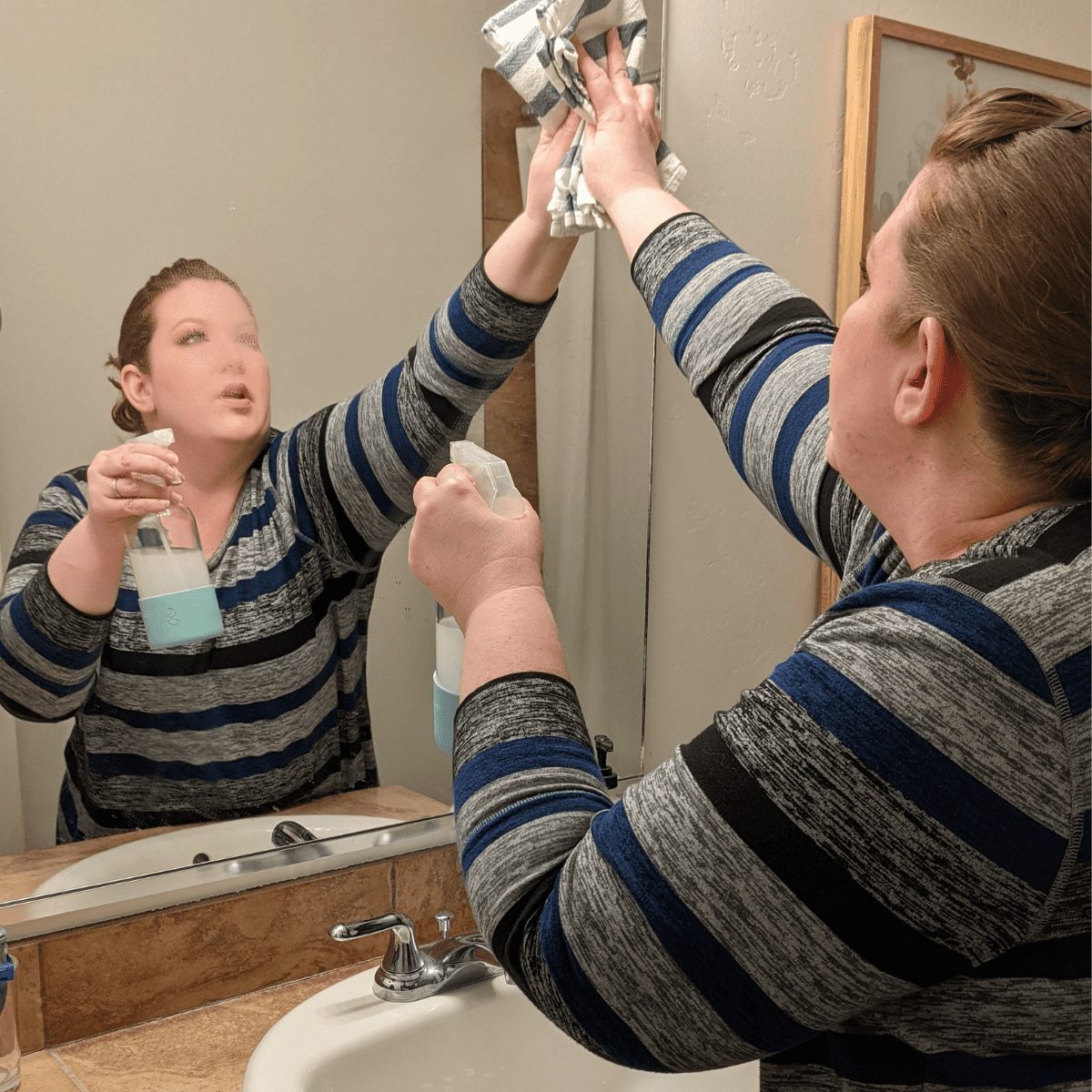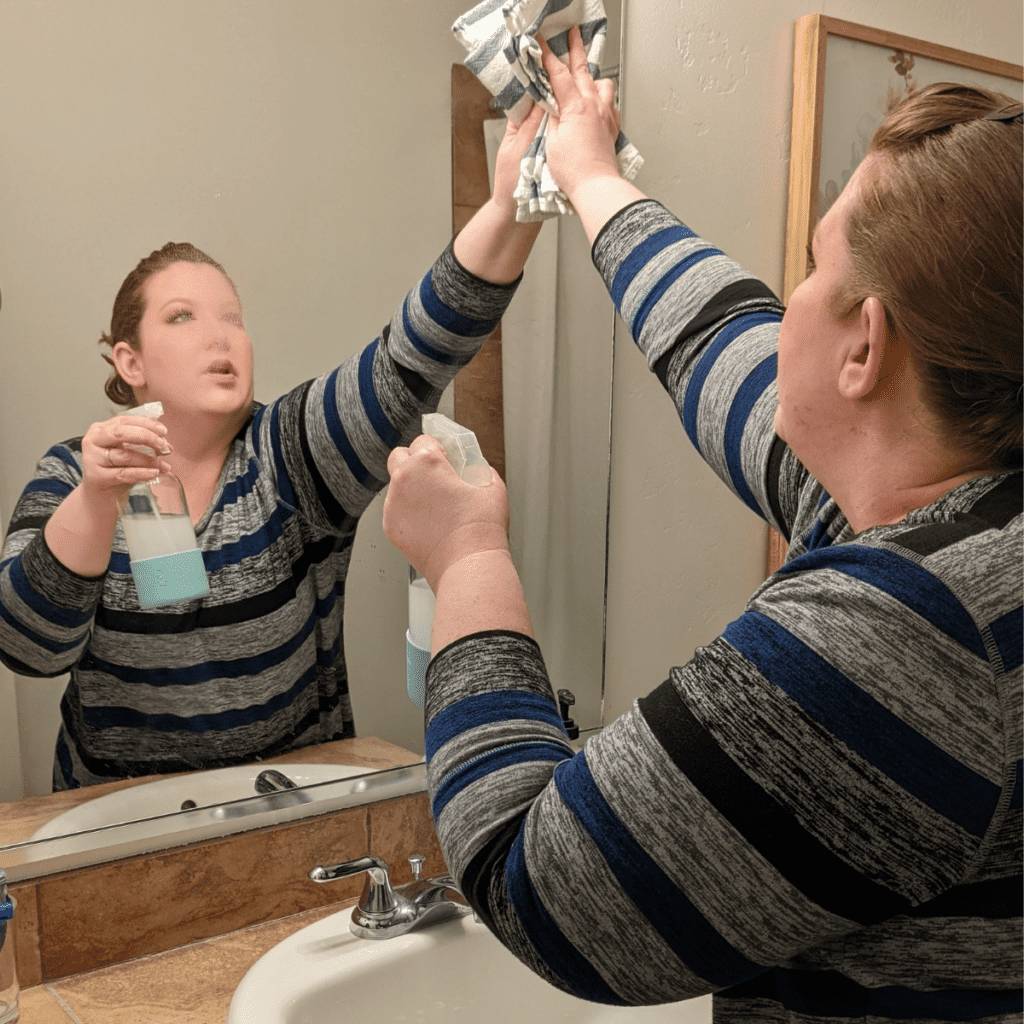 ---
Why Should You Make Our Amazing DIY Glass Cleaner?
There are many reasons why you should make glass cleaner at home instead of buying it from the store.
Avoiding Harmful Ingredients
People do not realize how many potentially harmful ingredients are in the cleaning products that are sold in stores. These chemicals can harm our families.
Glass cleaners can be some of the worst offenders when it comes to harmful ingredients. They often have Ammonia, Butyl Cellosolve, and Phthalates. Why should you avoid these ingredients?
Ammonia– is found in most store bought glass/window cleaners. It is an irritant to the skin, eyes, throat and lungs. This can be especially hard on those with asthma. If too much exposure occurs it can cause damage to mucus membranes and the esophagus.
Butyl Cellosolve– is linked to reduced fertility, anemia, chronic fatigue syndrome, autism, liver and kidney damage, and more.
Phthalates– are carriers for fragrance that have been linked to: lower sperm counts in men, increased allergic symptoms, and asthma in children.
Lower Costs
Prices are on the rise at the grocery store, and cleaning products are not exempt to those increases. Our amazing DIY glass cleaner can be made from inexpensive ingredients often already found in homes.
Ease and Availiblity
No need to take time out of your busy day to make an extra trip to the grocery store, when you can make this glass cleaner at home. And when you run out, another batch is just minutes away.
---
What You Will Need to Make Our Amazing DIY Glass Cleaner
You really do not need a lot to make this glass cleaner, just a few household tools and ingredients.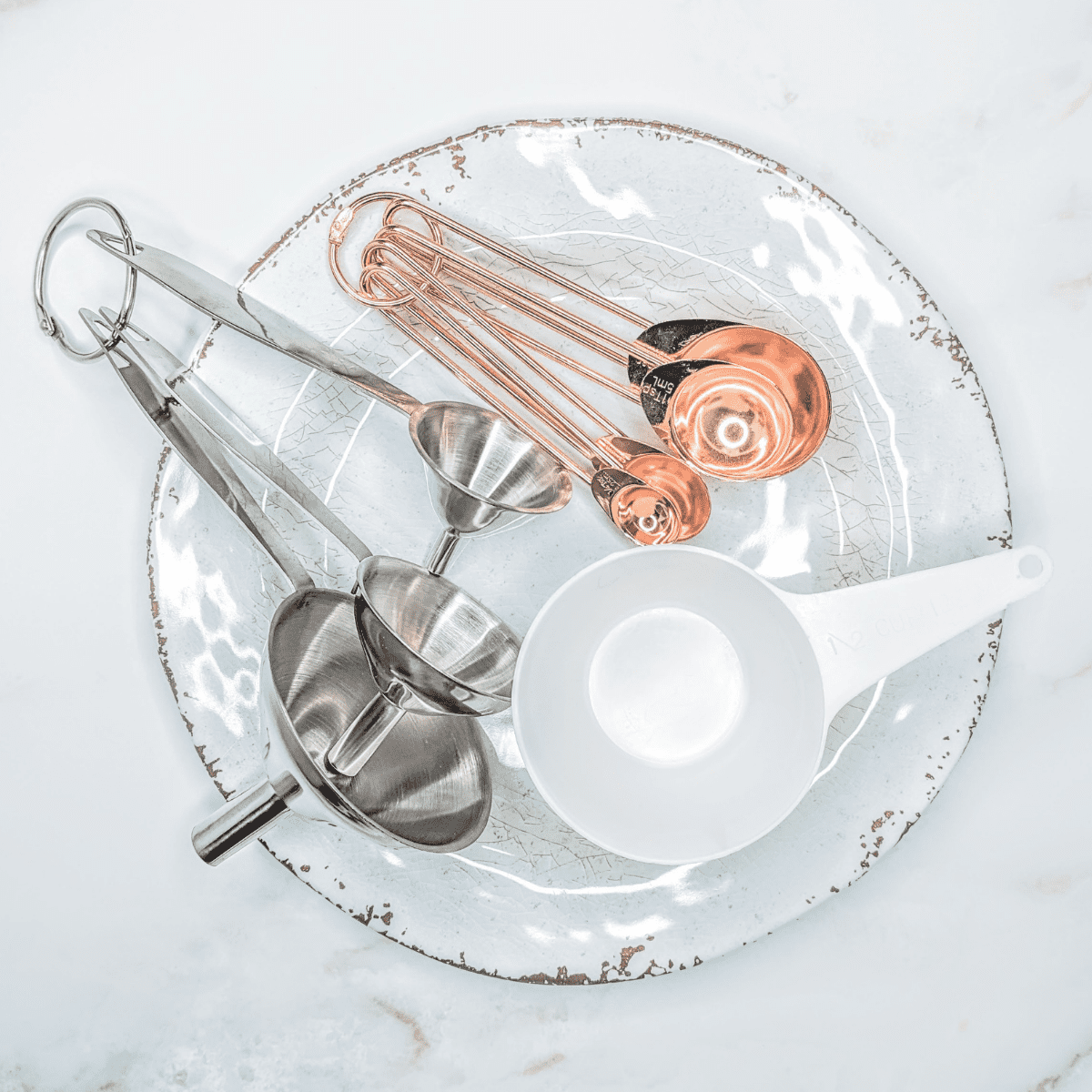 Tools
When you are making any DIY cleaner you should start with a reusable bottle. This way you use less plastic which is of course better for the planet. Once you have the one time cost of a reusable bottle out of the way, it is so affordable each time you make a refill batch of cleaner; sometimes pennies on the dollar.
While you can reuse an old plastic bottle, I like to use a glass bottle. Then I never have to worry about the bottle leaching chemicals into my natural cleaners.
When making this glass cleaner, I also make sure to use a glass spray bottle that has a silicon sleeve because I'm a bit of a klutz. This set is awesome because it comes with 3 bottles for different cleaners, that each have a different color sleeve. It even comes with a funnel.
But if you want to start with just a single spray bottle with no protective silicon sleeve you can find one of those here.
Next, you will need some basic measuring cups and spoons. If you would like more decorative ones like the rose gold measuring spoons in the photo above you can find them here.
And if you don't get the spray bottles that come with the funnel, and you don't already have a set of small funnels, you should definitely get some. They make it so much easier to make your own products without making a huge mess!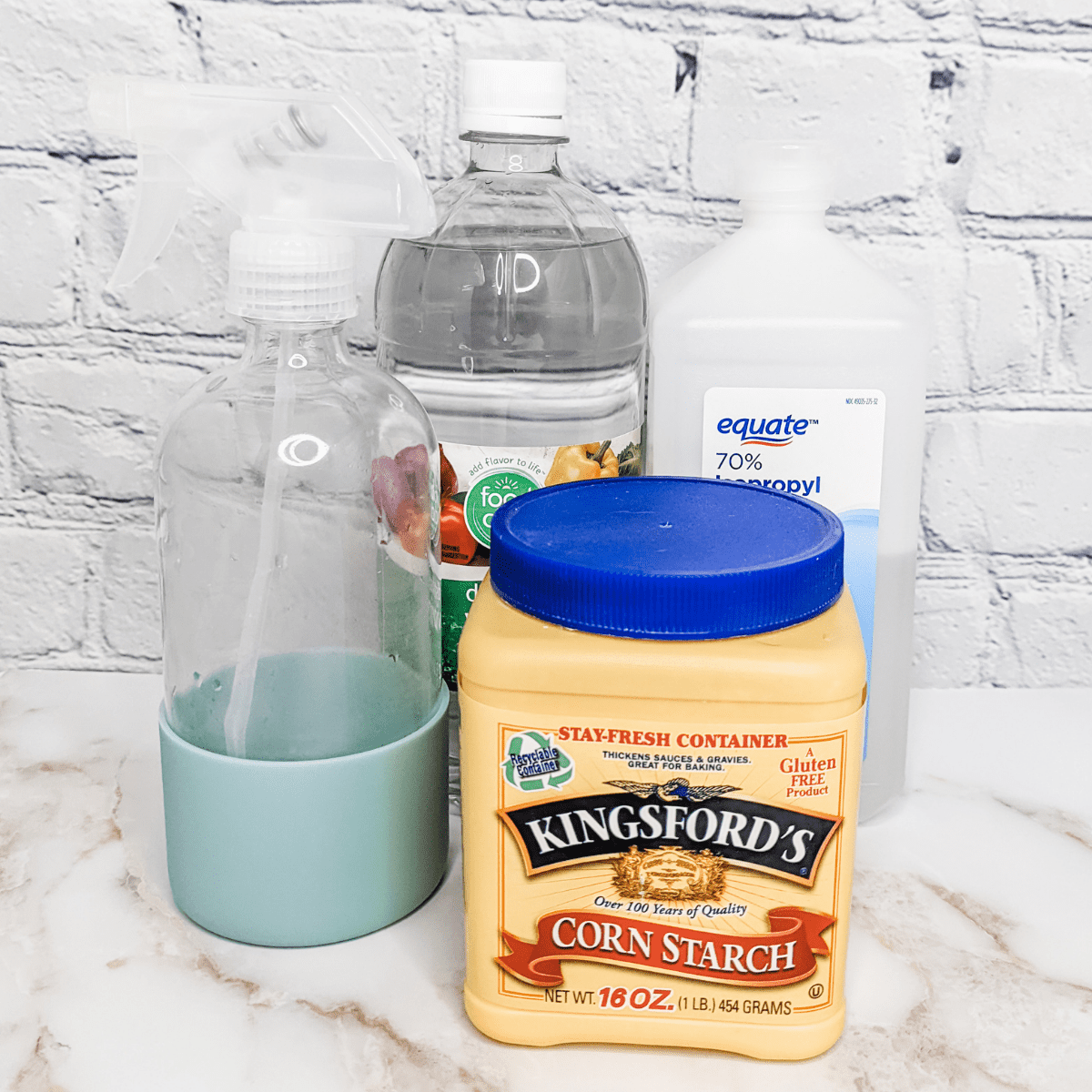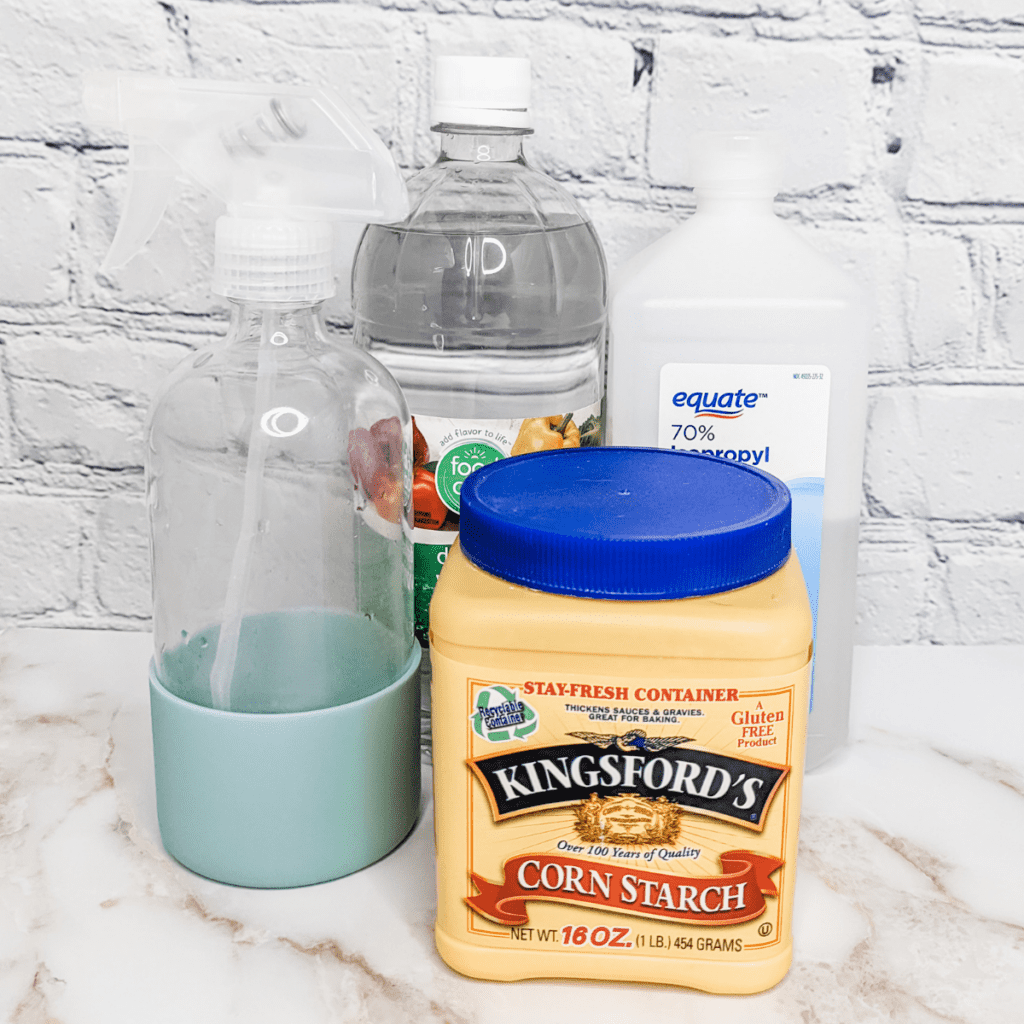 Homemade Glass Cleaner Ingredients
Now let's talk about ingredients, There are only 3 in this glass cleaner recipe.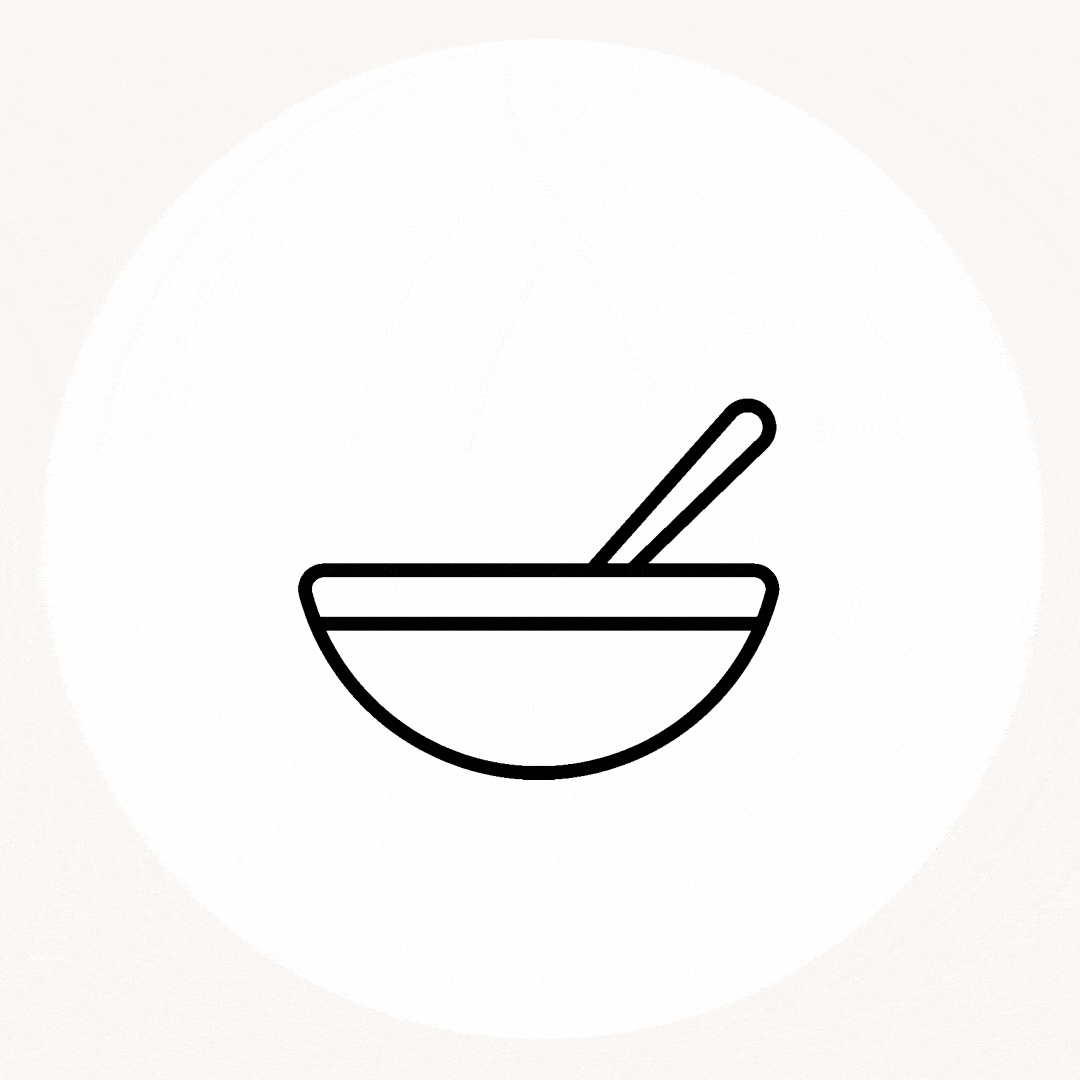 Amazing DIY Glass Cleaner Ingredients
1 cup of distilled white vinegar
1 cup rubbing alcohol
1 teaspoon cornstarch
A lot of other DIY glass cleaners include distilled water, and don't include cornstarch. That is why they often have a problem with streaks.
The liquid ingredients in our glass cleaner are very fast drying which helps keep your glass streak free. And our "secret ingredient" cornstarch gives you some scrubbing power. It also helps the cleaner work on the uneven surface that is glass, which also helps keep streaks at bay.
How to Make Glass Cleaner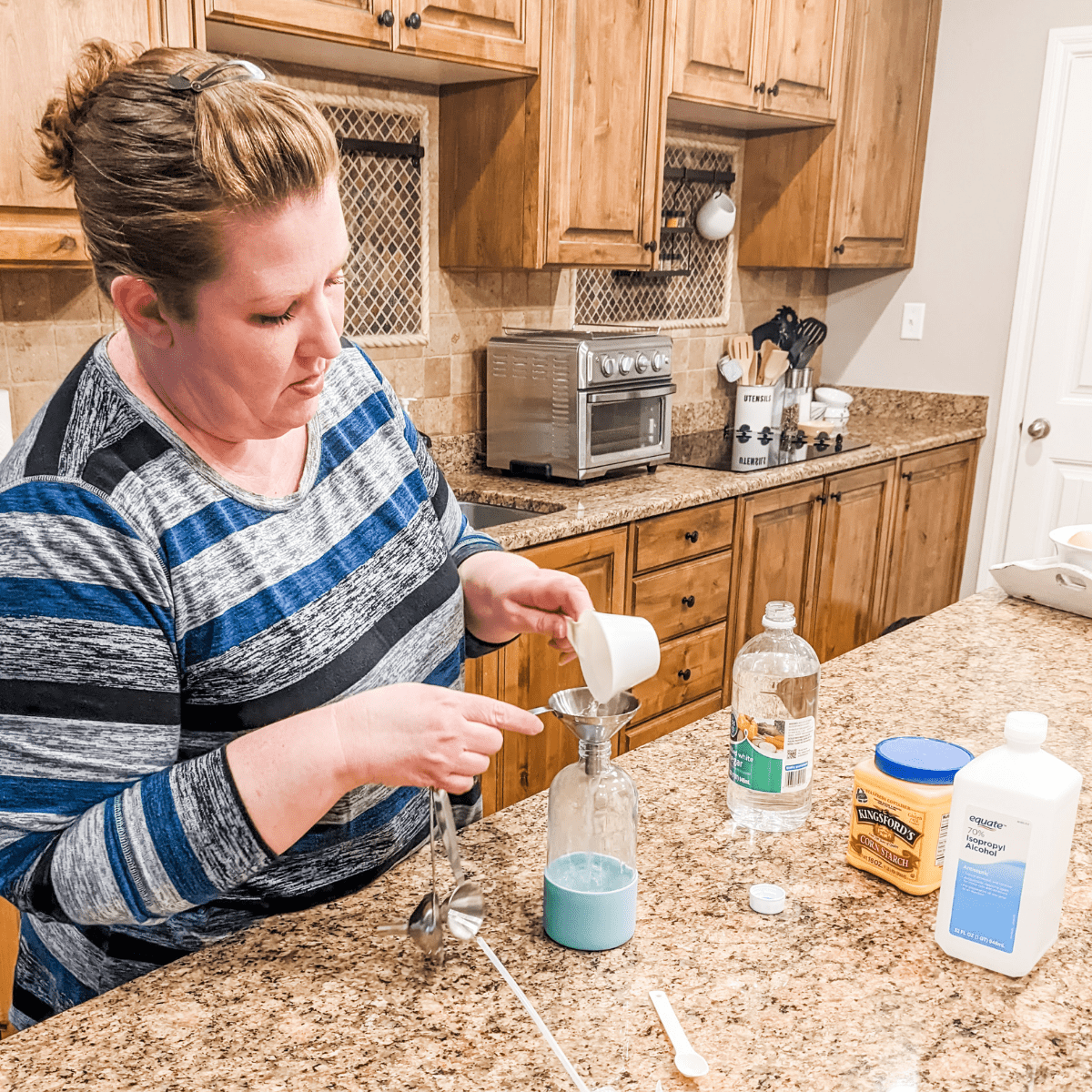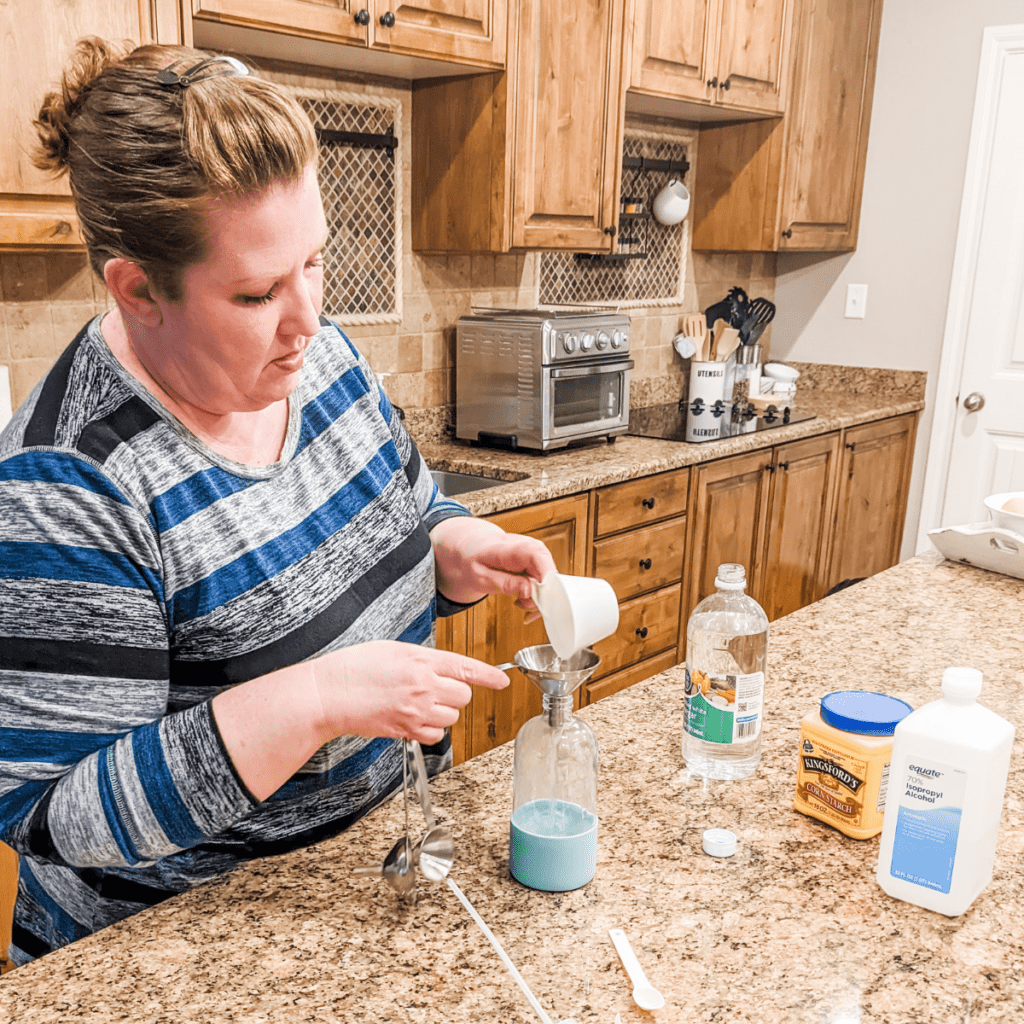 Funnel the 3 ingredients, one at a time, into your reusable spray bottle. Then put the sprayer back in, and shake the mixture really well.
Shake the mixture again before each use. This will keep the cornstarch from clogging your sprayer.
Use this cleaner on windows and mirrors for a super clean, streak free finish.
---
Tips and Tricks to Remember When Using DIY Glass Cleaner
Obviously, you'll use this glass cleaner just like you would any other but here are a couple of simple tips I think will help you out just a little.
Pour only 1/2 a cup of liquid at a time through the funnel. This keeps you from over filling the funnel and spilling.
Make sure you use a lint free cloth when you are cleaning glass. Lint can make your glass look streaky no matter what cleaner you are using.
I love to use old dish towels from Ikea to clean with, once I retire them from kitchen use. But I also like these cloths from Amazon, especially if they job needs a little elbow grease. They are meant to be dish cloths, so they can really take a beating, and they produce little lint.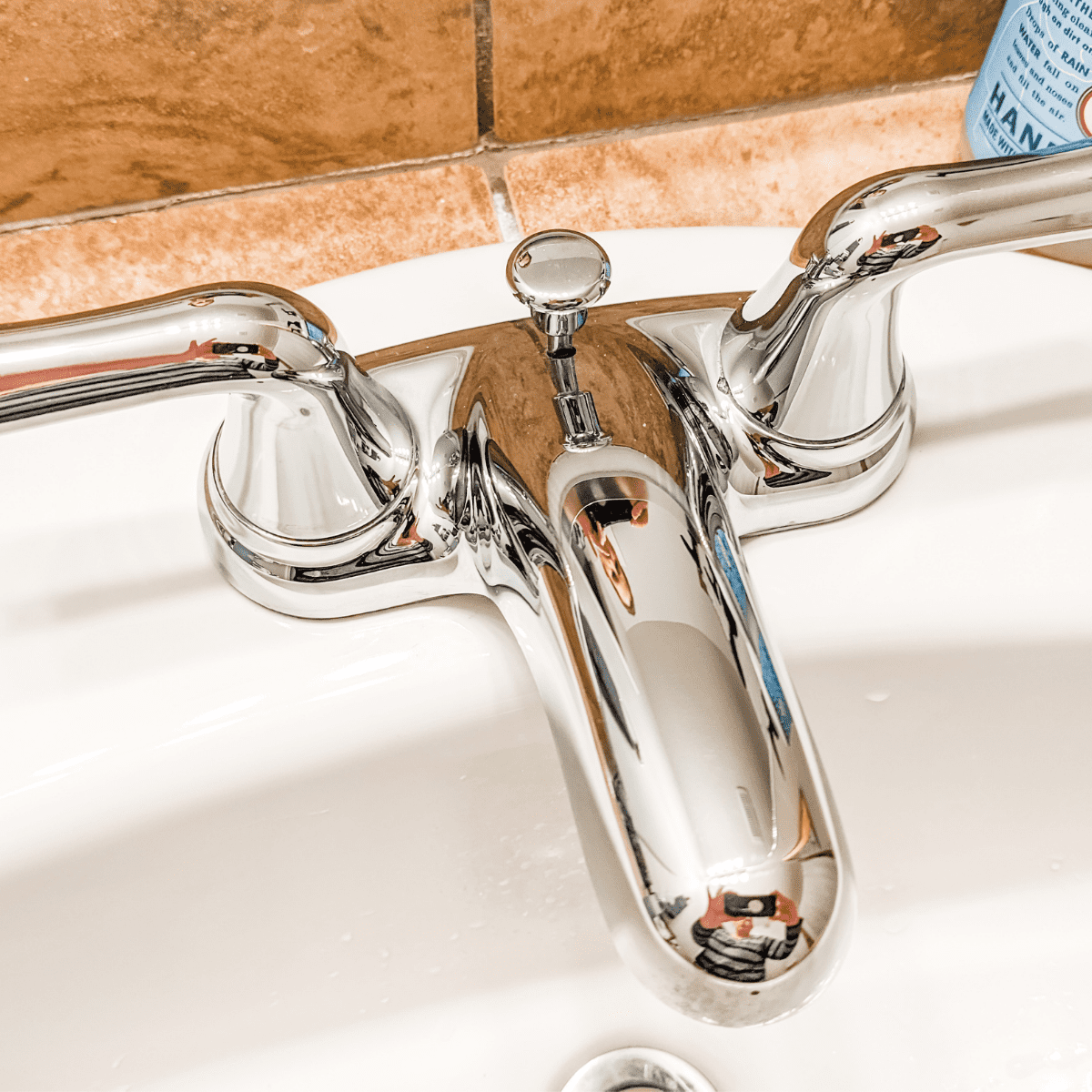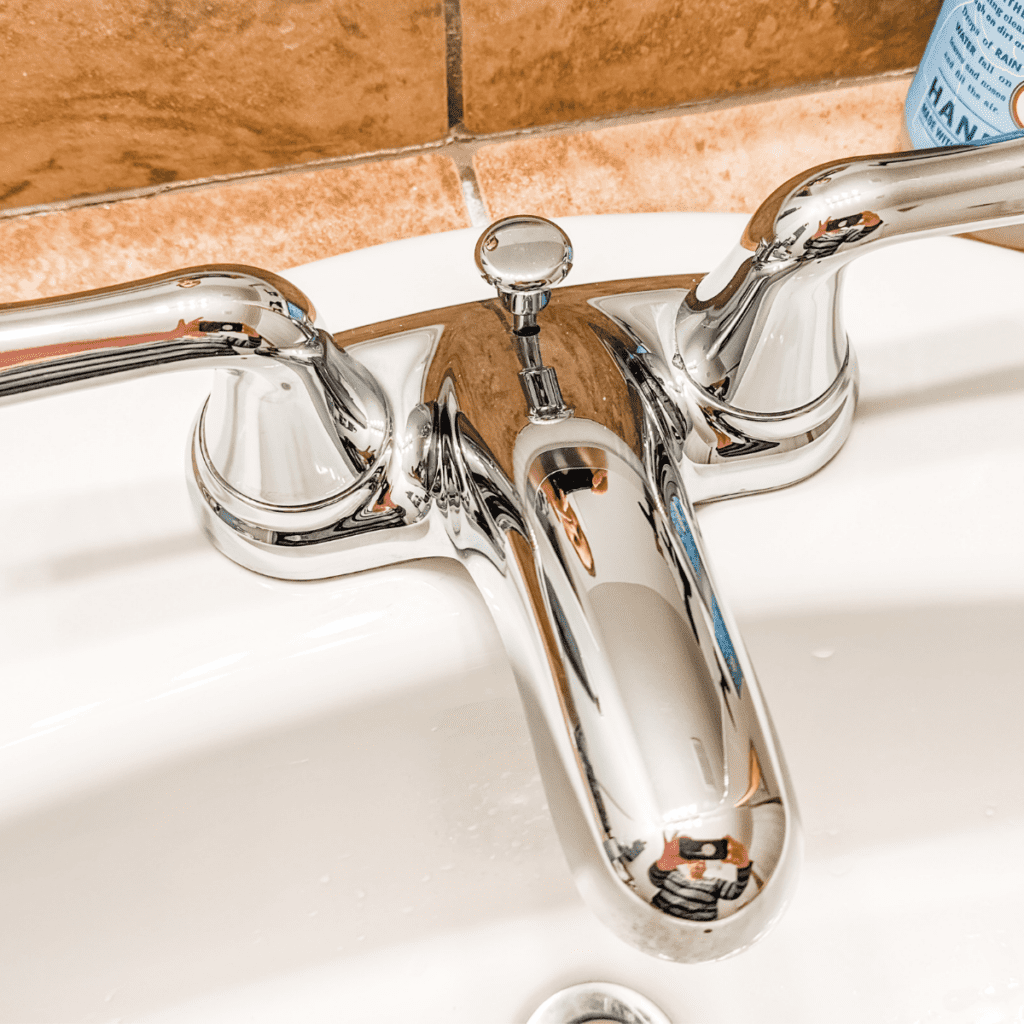 This Amazing DIY Glass Cleaner can be used on your chrome faucets and porcelain sinks too. It makes them beautiful and shiny. Finish cleaning the mirror, and just move that same cloth down to get your faucet and sink.
---
Clean Glass, Clean Conscience
Making your own glass cleaner is a great way to have a clean home and clean conscience. You have a home with less chemicals, less waste, but that is still easy to clean. Bonus, you're able to save some time and money too. It is a win-win!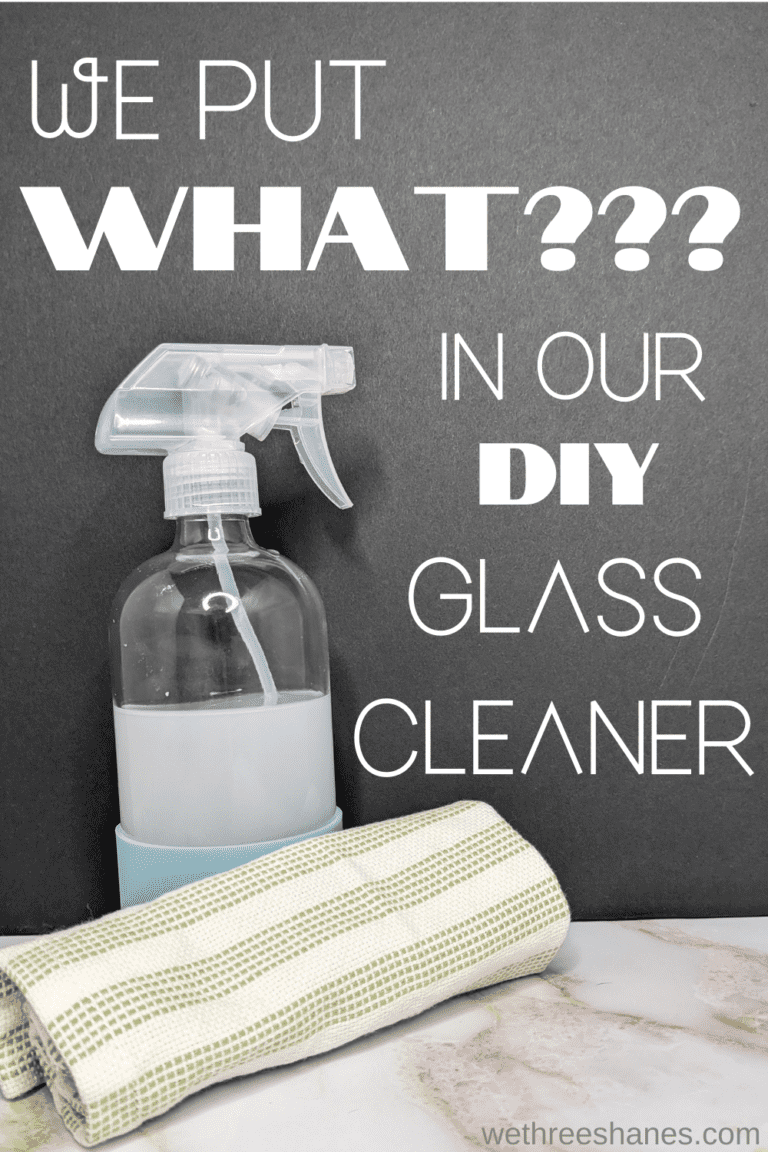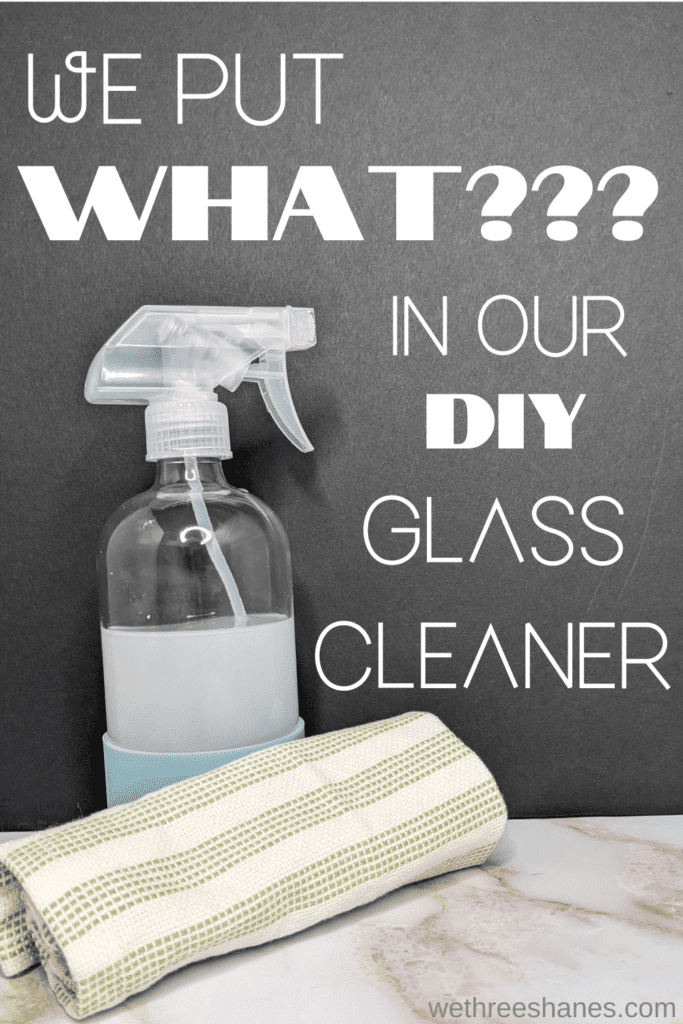 Making this Amazing DIY Glass Cleaner is healthier for your home, and easy to do. Best of all, it's fantastic! You likely already have most of what you need to get started making your own, so try it soon. It will surprise you how well it works.
---
You Might Also Like: