A Realistic Cleaning Schedule Anyone Can Keep
Have you always wanted to be one of those people that have a house that is always clean? Tried those one size fits all cleaning schedules online, and realize they don't work with your real life? This post will cover our secrets for keeping a clean house, and give you a realistic cleaning schedule that works for you.
(THIS POST PROBABLY CONTAINS AFFILIATE LINKS. OUR FULL DISCLOSURE POLICY IS LONG & BORING BUT, YOU CAN FIND IT HERE.)
Realistic Weekly Cleaning Schedule
Do you have a person in your life that always has a clean house? You wonder how they do it, but think that with your schedule, you can't. You can!
The problem most of us run into is we try to do exactly what our "clean friend" is doing. Instead, we need to find out what works best for us.
While looking up a cleaning schedule that works for someone else seems like a good idea at first, most of us have busier days and less busy days. If they have their longest task listed on your busiest day, it won't work. The task will get postponed and you are back to being behind.
That is why we made ours customizable so you can make cleaning fit around your schedule. We still include a separate list with suggestions to help you fill your schedule out, but you can make sure more time consuming task aren't scheduled for the same day you have a lot already on your plate.
---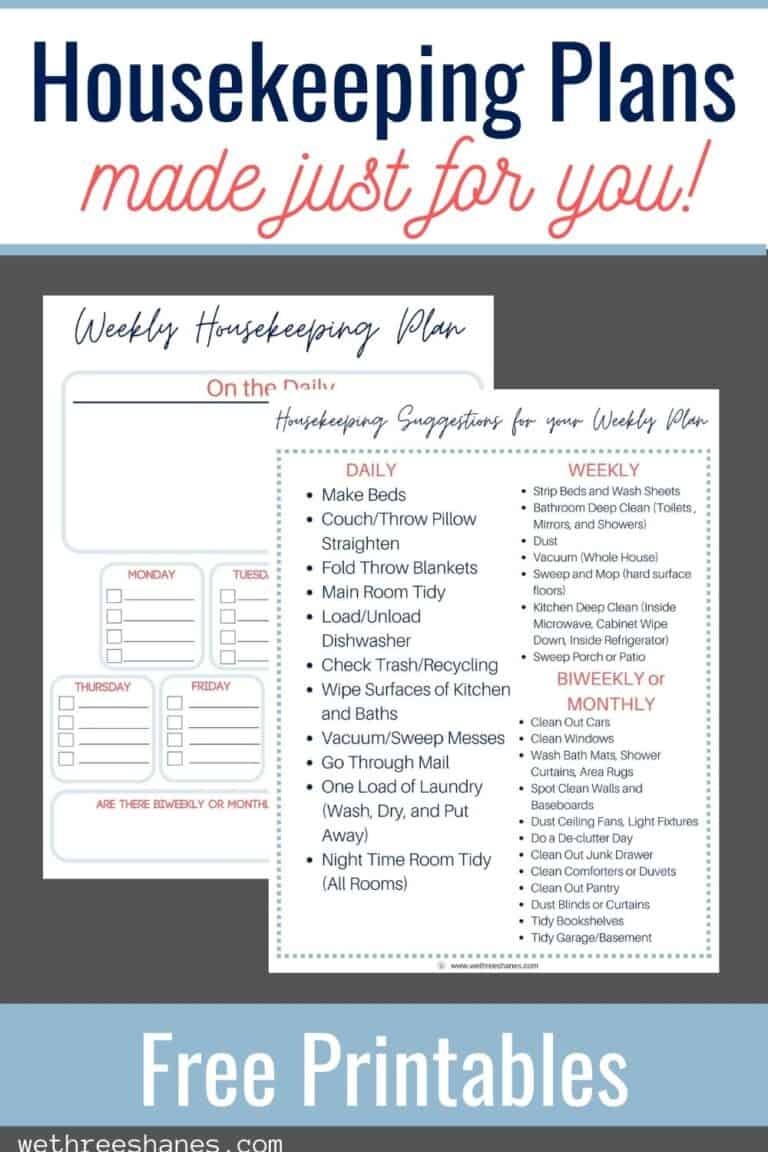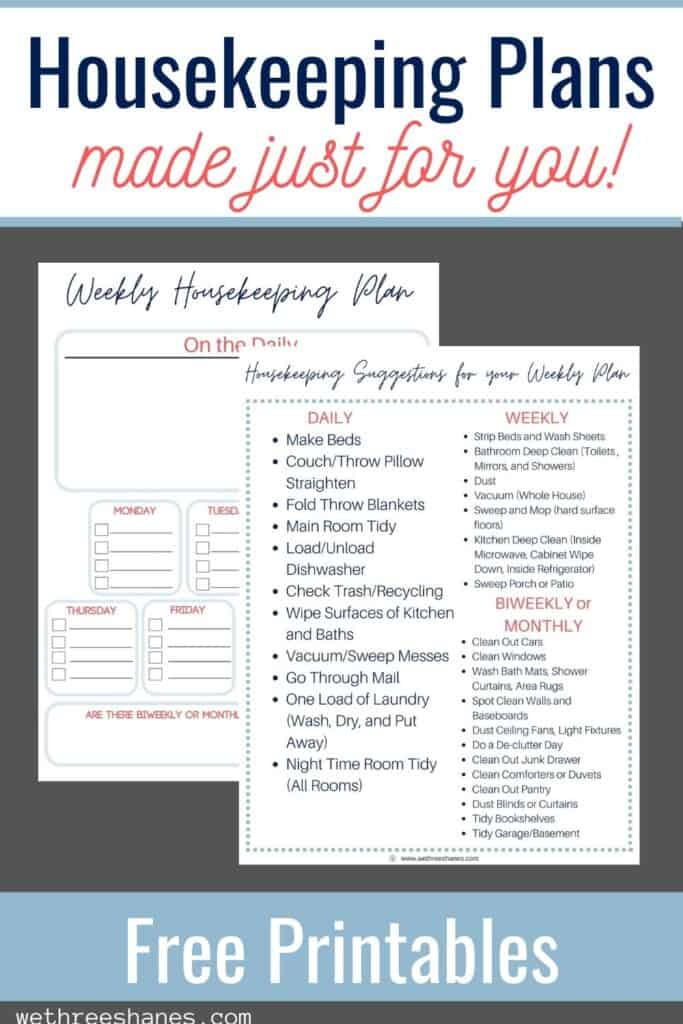 Secrets, Tips, and Tricks that Help with your Realistic Clean House Schedule
The star of this post is of course the realistic cleaning schedule you can customize to your needs. secrets, tips, and tricks will also be included.
You know the person with the always clean house we talked about at the beginning? Well, that person is me, and I want to share all the information I have gained through the years with you. Because having a clean organized home has been a blessing in our lives, and I want it to be a blessing in your life as well.
If you are a regular follower of this blog you will notice that some of these tips may seem familiar. That is because some of them are repeats from my other post, 10 Manageable Tips for a Tidy Home.
I find if a home is already tidy, it is much easier to keep clean. So if you like this post, and want even more ideas that align with having a clean, organized home, make sure you check out that post as well.
---
Going Over Your Realistic Cleaning Schedule
We have two free printables for you to put together your easy cleaning routine. The first is the actual schedule that you can use every day. The second is a suggestion page.
Here at We Three Shane's, we try to be conscious of our impact on the environment, so for the first page of your realistic cleaning schedule, we suggest you print out your schedule and laminate it. This makes it so you can write on it with a fine tipped erasable marker, instead of having to print a new schedule out each week.
How to Fill Out Your Cleaning Schedule Printable
On your realistic cleaning schedule, the top portion will be for the task you want to complete every single day. The Monday-Sunday individual sections will be for your weekly task.
This way you can write in your longer tasks on the days you have more time, and the shorter tasks when you have less time. And if you have an exceptionally busy day, you can make sure all tasks are scheduled around different days.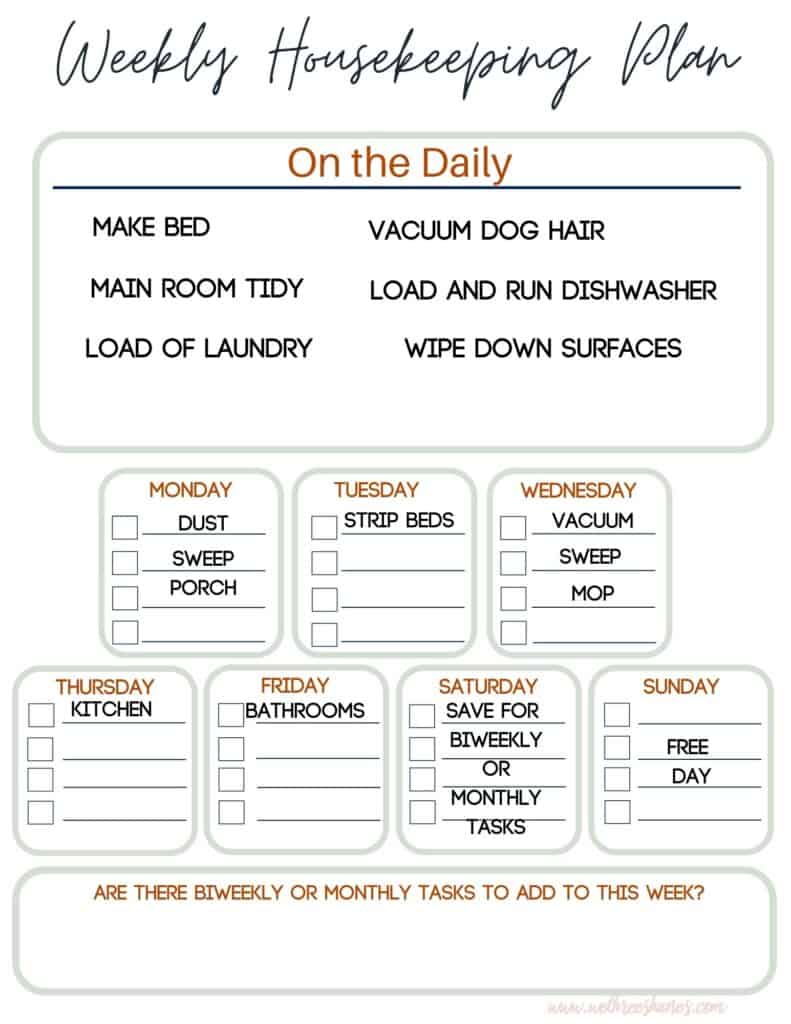 On the last section of your schedule, you would write the bi-weekly or monthly task you would like to accomplish that week. That way as you fill out your weekly task, you know which random tasks you want to fit into your week. Being able to move things were you need, based on your own availability each week, is the part that makes this a more realistic schedule that is custom to you.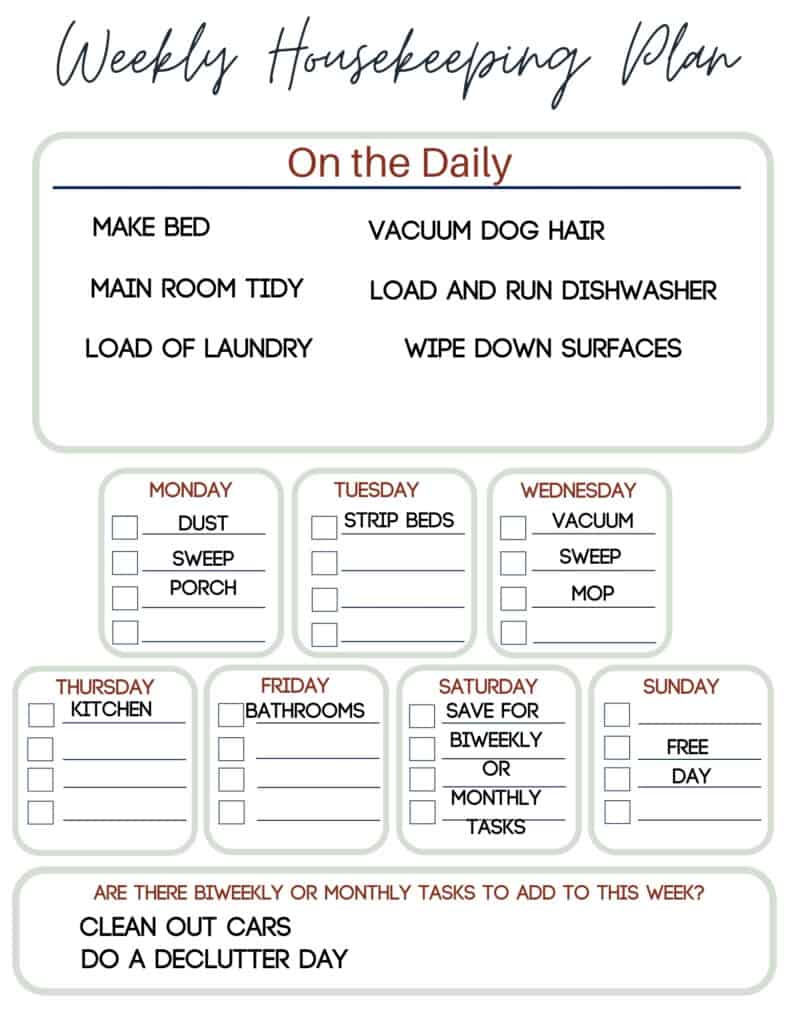 If you're not sure what cleaning tasks need to be done then check out the cleaning suggestions printable. There are plenty of ideas for what to clean daily, weekly, and monthly. Look it over and then fill out your personalized cleaning plan to fit your schedule.
You'll be surprised how quickly you get the hang of this. Pick a day to look over your schedule for the week and month. Having a calendar open will help you see which days are busiest so you won't add too much cleaning to your plate that day. Fill out your cleaning schedule and stick with it that week.
If things didn't go as planned that first week, that's totally okay. New things take time to master. Reevaluate what worked for you and what didn't and then take that knowledge with you as you plan the next week. You've got this!
---
Grab Your Free Cleaning Schedule Printables Here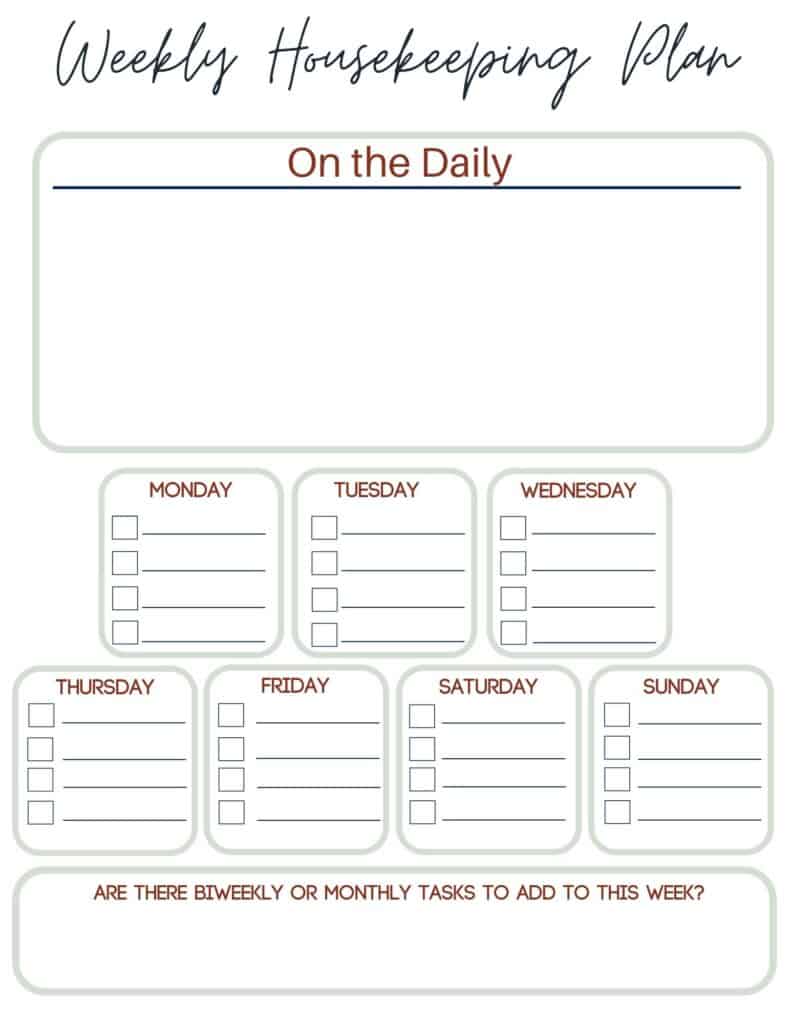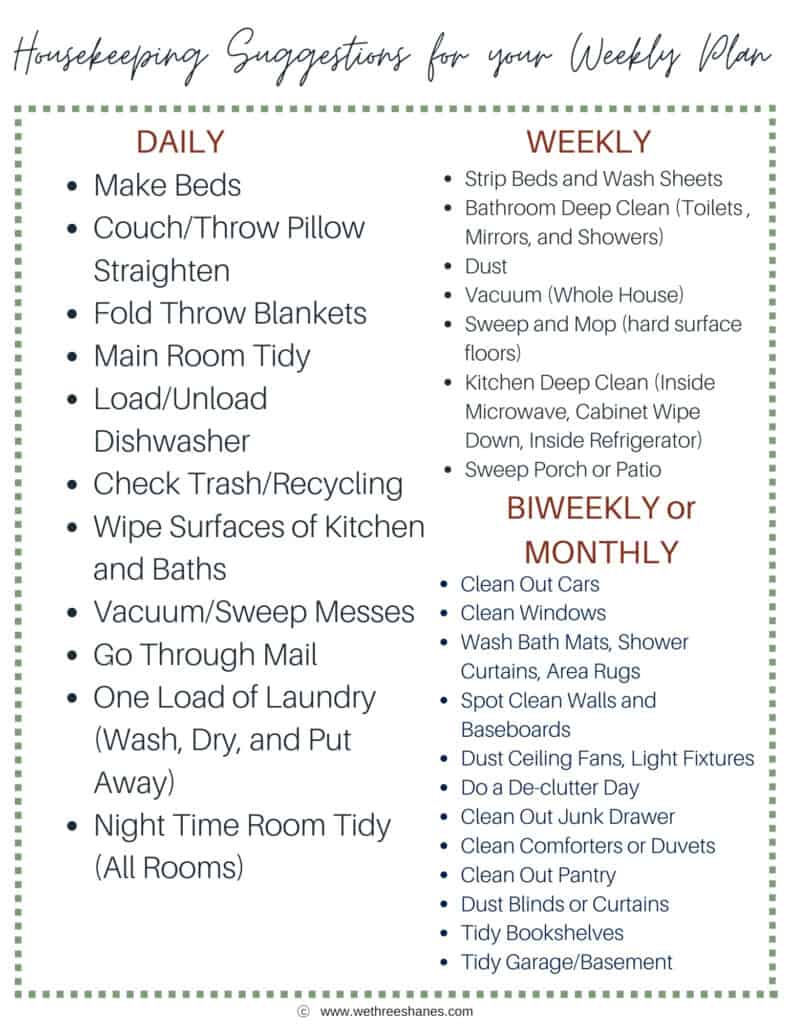 Secrets to Use in Combination with Your Realistic Cleaning Schedule
I promised secrets, tips, suggestions and tricks to use in conjunction with your realistic cleaning schedule to make keeping a clean house even easier. In no particular order, here they are.
Make it a priority to always make your bed every morning. This one step will give you a sense of accomplishment early in your day to keep you motivated. Plus, even if the rest of your room is clean, with a messy bed, you will look like you have a messy room, so make that bed!
Declutter. If your house is full to the brim, it will be hard for it to ever look clean. If you know you are a little overstuffed, make it a priority to add decluttering time every week for the first few weeks of your schedule.
Everything needs a home. If you don't know where something goes, it gets set aside for "later".
Keep cleaning supplies accessible and where they make sense. Keep all cleaning supplies in areas that are easy to reach, and in the rooms where they will be used. Sometimes this will mean getting duplicates, but it is worth it.
An example is, if you have more than one bathroom, you need more than one toilet brush. When things are easy to access, it makes it much quicker and easier to take care of messes in a flash.
Take care of dishes and a counter wipe down every night before bed. If making your bed is the #1 rule for the morning, dishes and clean counters is the #1 rule at night. Before bed every night, make sure there are no dishes in the sink and the counters are wiped down. Your morning self will thank you.
15 minutes, morning and night. Take 15 minutes every morning and night to straighten your main living area. We often leave messes because they seem overwhelming in the moment. But 15 minutes, doesn't sound like an overwhelming thing, right?
Laundry Secrets
Laundry, start to finish. If you are a household that goes through a lot of laundry, I would suggest a load a day on most days. This keeps you from feeling like you are drowning in it. But when you do a load, make sure you go from start to finish. Wash, Dry, and Put Away in the same day.
Towels and sheets in the same color. If your towels and sheets are in the same color, it makes it easier to get them done in one load. If you want to stream line even more, I make my sheets and towels white. I do this because I do whites more frequently than other loads, so they are easy to just throw in a load. It also means they can be bleached when there is illness in the home.
A Family Affair
Don't wear shoes in the house. I put this under family affair because everyone has to do it to be effective. Not wearing shoes in the house means your floor (and therefore your whole house) will stay cleaner, longer.
Make the kids responsible for their own beds and rooms. Once your kids are old enough, make them responsible for their own spaces. They need to make their beds in the morning, and have a picked up room before bed.
Teach this young if you can, so it is not even a question, but a habit. My son is autistic and was low-verbal until 7, but he's been putting his toys away every night since he was one and a half. I showed him how, and made it a routine.
The one exception I made was if he had friends over and they made a mess, then it was not theirs to clean alone. This way my son would still share and not worry about the clean up after.
Use music and mini sessions to motivate. If there is cleaning to be done and you want some help, use fun music and mini sessions to motivate the whole family. Set a timer, play favorite songs, and see how much can be done in 15 minutes.
You can even make it a game. I usually use our Echo for this because I can ask Alexa to play 90's music, and set a timer for me.
YouTube for the win. Did you know there are cleaning motivation videos on YouTube? If you want some company while you clean, but no one else is home, put on one of these videos and let your YouTube channel host be your family/friend for your cleaning session.
For cleaning motivation vlogs I have so many I enjoy, but to get you started, I would suggest you check out: Amanda with This Crazy Life, Megan with Love Meg, Amy Darley, Brianna K, and Natalie Bennett. I don't like to pick favorites, but these ladies have very well put together channels.
---
Here are some of my FAVORITE Cleaning Supplies
Having good quality cleaning supplies can go a long way when keeping a clean home. Here are a couple of my favorite and helpful cleaning products that I recommend.
---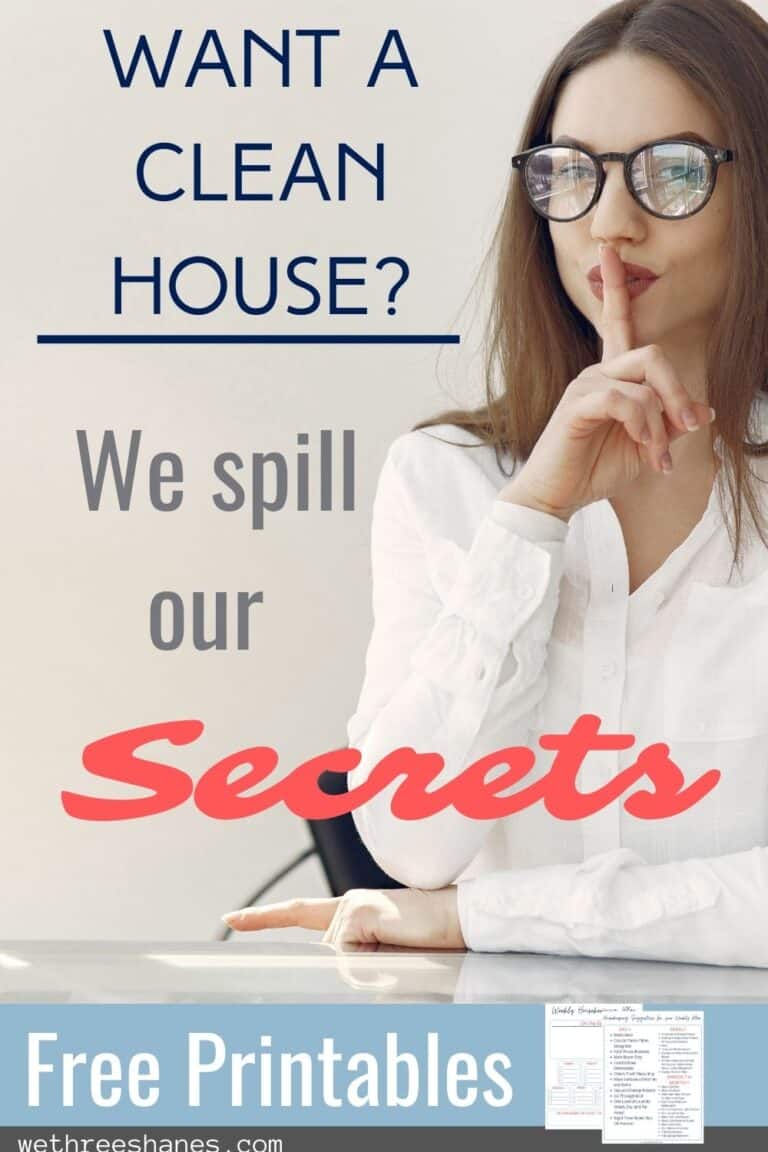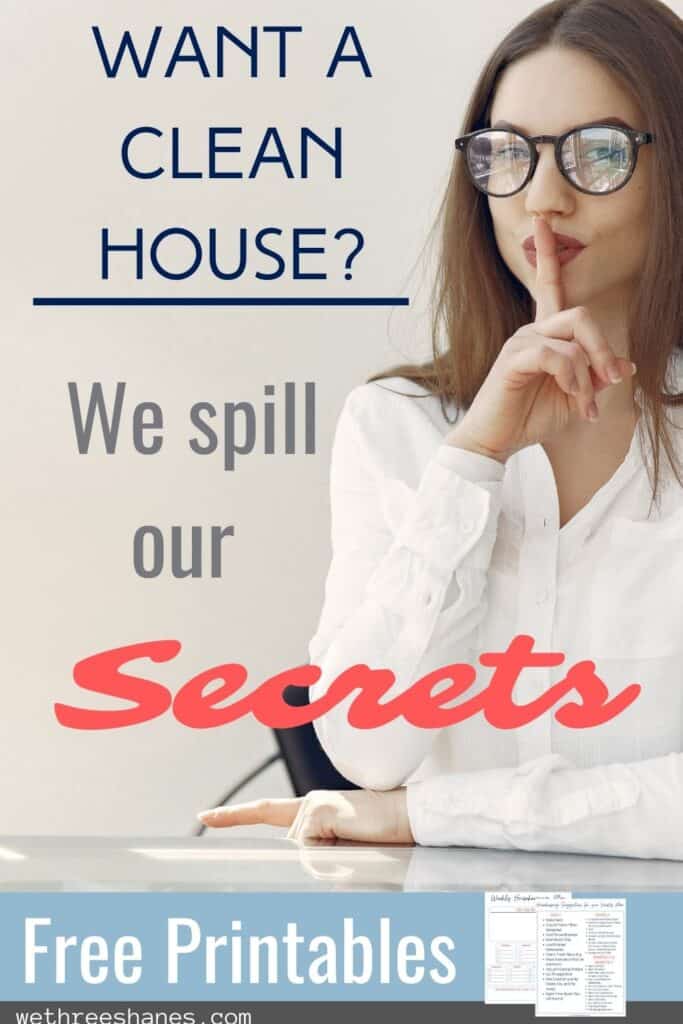 The Realistic Cleaning Schedule Plus Our Secrets Are the Combo You Need.
If you combine this realistic cleaning schedule with the cleaning secrets, I really believe you will be on your way to having a home that is more frequently clean and maintained, without having to clean constantly.
I know a one size fits all approach doesn't work for most people. We are all different, so why would they work? I hope this post gives you the motivation you need to get started on your goals of having a clean home, and that it will be easier and more fun for you to maintain it.
Do you have a goal to be more clean and organized in the new year? Hoping to have a home where company can stop by unannounced and you're not embarrassed? Print off our realistic cleaning schedule and give it a try.
Let us know in the comments which of our clean house secrets you want to try first. Or if you have any secrets of your own. Happy Cleaning!
---
You Might Also Like:
---