How to Keep Those Whites White
Love the look of crisp whites in your home but not sure how to keep those whites white? Maintaining whites is easy when you follow these few simple tips.
This post contains affiliate links. You won't pay any extra for making a purchase through these links but we earn a commission for purchases made through links. This helps keep the blog running which we really appreciate! You can read more about it in our full disclosure.
How to Keep Those Whites White
In a previous post about keeping a tidy house, I gave a tip about having only white sheets and towels so they can be easily thrown in with other laundry loads throughout the week. Read more about it HERE.
There's been some feedback that it's a great idea, but there is some worry about keeping the sheets and towels nice and white. While anything will eventually wear out or get dingy, there are ways to keep things looking good longer. I'm letting you in on my top tips for how to keep those whites white for as long as possible.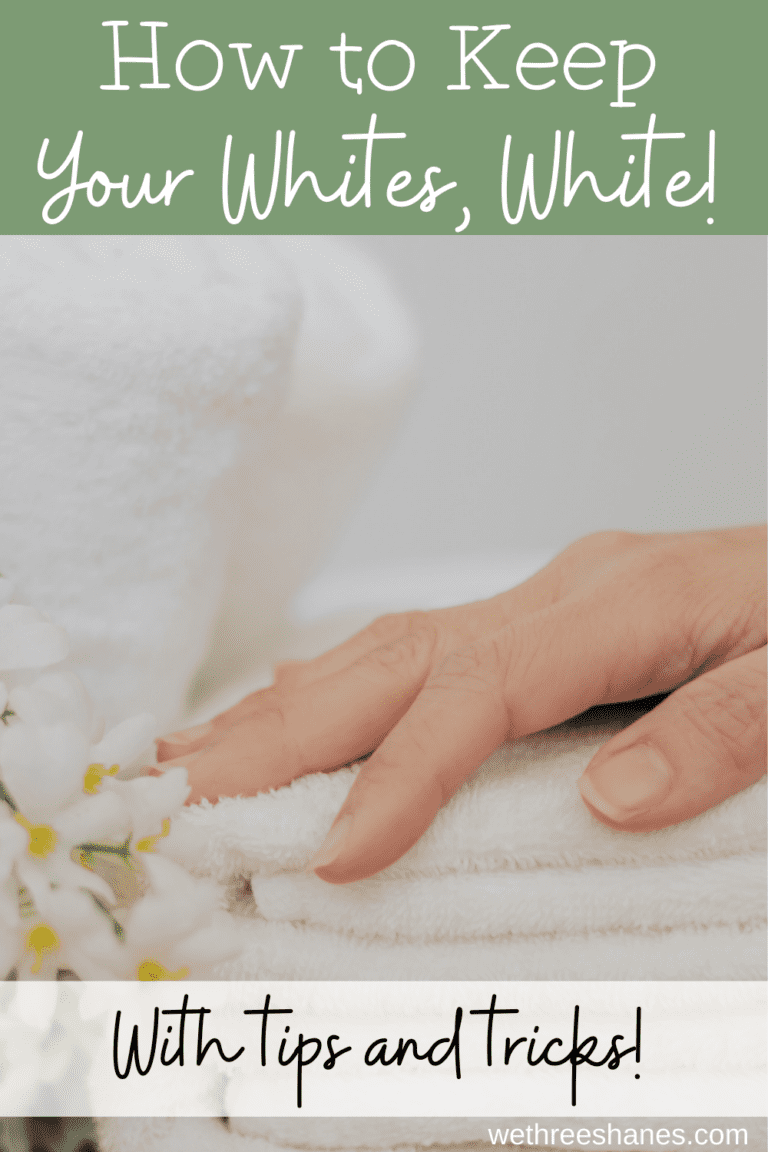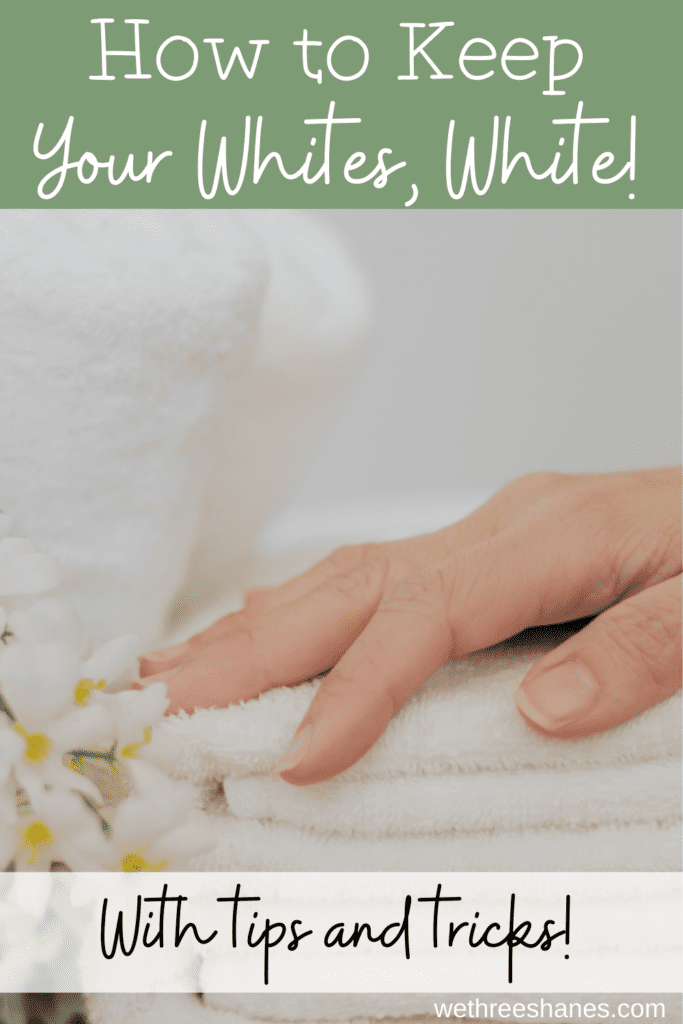 ---
Tip #1 – If possible have more than one of each item.
This one can be a little harder on the budget than some of the other tips, but it does help. If you have two sets of whites, they are easier to keep clean because they can be thrown in the wash at any time.
For example, if you want to throw your white pillowcases in the wash, and it's late in the evening, you don't have to worry about getting them back on the bed. You just put on the second pair.
If you want to throw in your kid's white towels, but one might shower soon, just hang the extra towels. Not having a backup set means there will be excuses to not wash whites as often as needed…and whites need to be washed regularly to stay white.
To keep my budget in check while following this tip, I don't spend a lot on my white items. They do need to be replaced from time to time because they will get dingy, so my white items are not where I go luxury.
I tend to get our white pillowcases and sheets at Target because you can buy them separate from each other and they are relatively inexpensive.
I can usually find good deals on white towels at HomeGoods. I buy them from there instead of Target or Walmart because you can usually get nicer name brand ones, but at discount prices. The towels I got for my boys when I re-did their bathroom are Tommy Hilfiger from HomeGoods, and they are really nice.
---
Tip #2 – Wash your whites in HOT water.
Hot water is just better at getting out the body's oils which are usually what make whites dingy. Wash your whites with the hottest water the fabric can handle. If you're going to go white with your towels and bedding just know hot water is necessary.
---
Tip #3 – Pre-wash soak in OxyClean White Revive.
If my whites are starting to look a little sad, I like to use OxiClean White Revive. It gets my whites whiter without the harshness of bleach. While I think bleach has its place, I have never liked the way my laundry felt after washing a whole load in bleach. The White Revive gives me a similar result, without the stiffness and chemical smell.
When I'm going to use some OxiClean White Revive in a load, I also use the pre-soak option on my washer. I give the whites a good 30 minute soak in hot water before running my hottest, longest wash cycle. It really helps with the "dingys".
---
Tip #4 – Shout Advanced with the brush top.
This is actually a tip for all of your laundry, not just your whites. I have found for treating spots and stains, Shout Advanced with the brush top is far superior to stain sprays.
The gel is thicker and with that brush top you can really scrub out stains and get that treatment deep into the fabric. If I use this stuff pretty quick after getting a stain, there are VERY FEW I can't get out.
---
Tip #5 – Hydrogen Peroxide is great on whites.
I buy my Hydrogen Peroxide from the Dollar Store. I do this for two reasons:
It's cheap
I can find it in spray form.
I buy it in the spray form so I can spray it directly onto our white T shirts. I will spray it right on the armpit areas of my boys shirts, and rub it in. It really helps with armpit dinginess.
---
Bonus Tip – Buy detergent and scent beads in the same scent.
This doesn't just apply to whites, so it's a bonus laundry tip. I like to buy a good detergent and scent beads in the same scent.
I don't use scent beads in every load because large amounts of anything can cause buildup. I only use them occasionally when I feel my bedding or towels need a little freshness. Having the beads and detergent in the same scent makes the scent last longer. Plus, you don't have two competing scents that throw off the smell.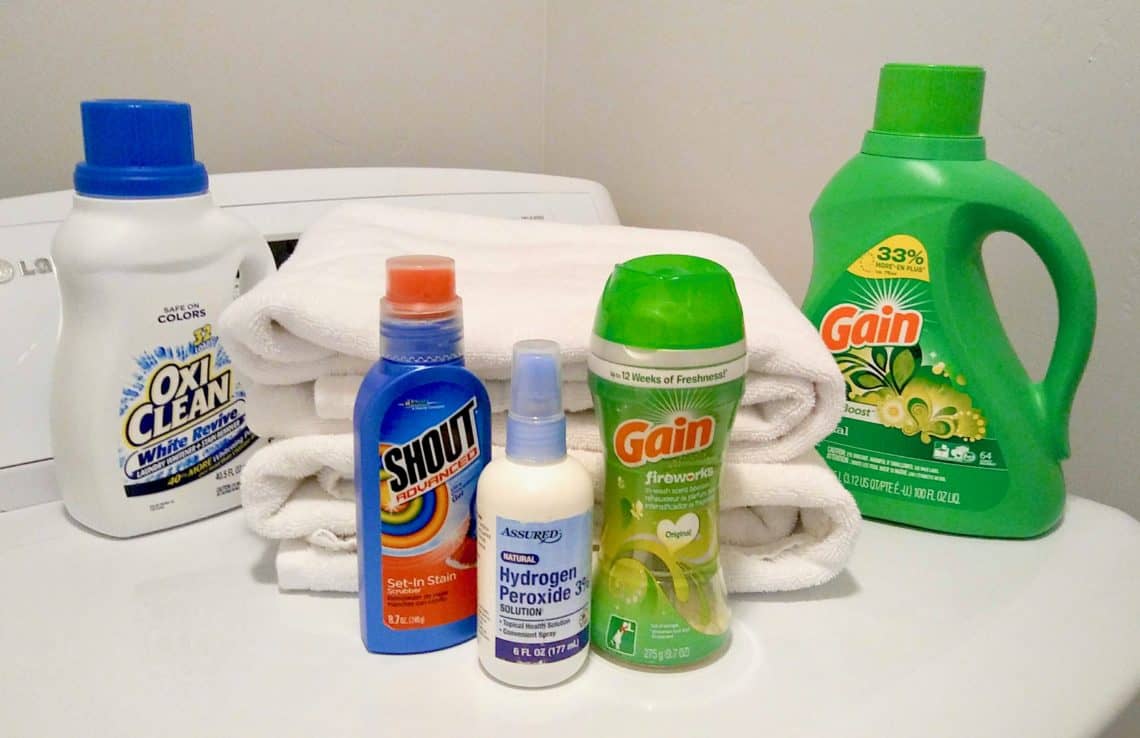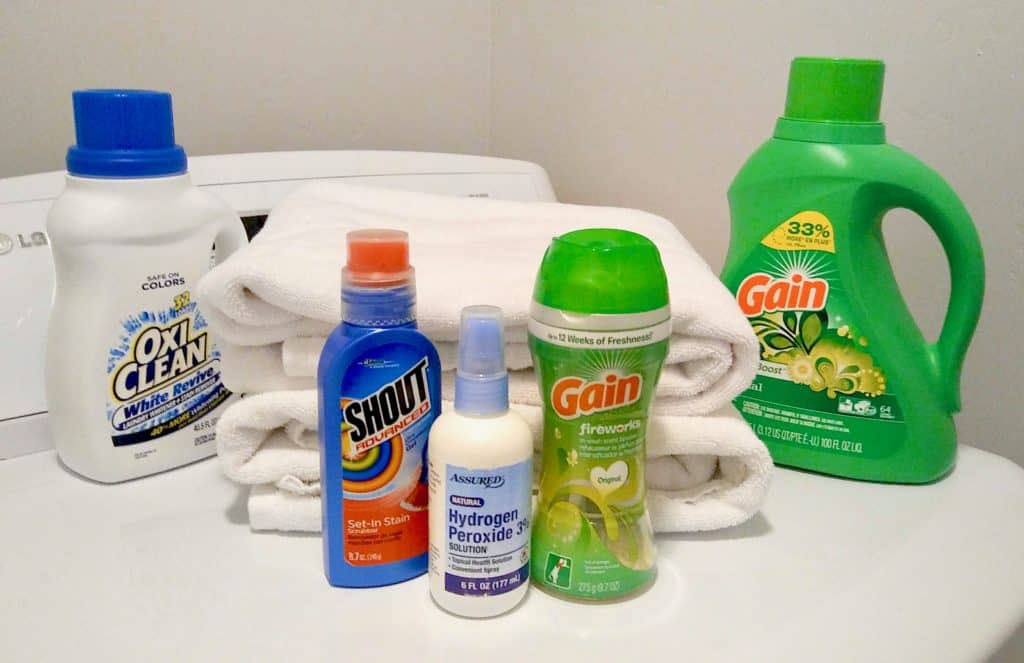 ---
Hope this helps any of you who wanted to try the tidy tip about white laundry, but were apprehensive about keeping your whites bright. If I can keep my whites white, you can do it! I promise.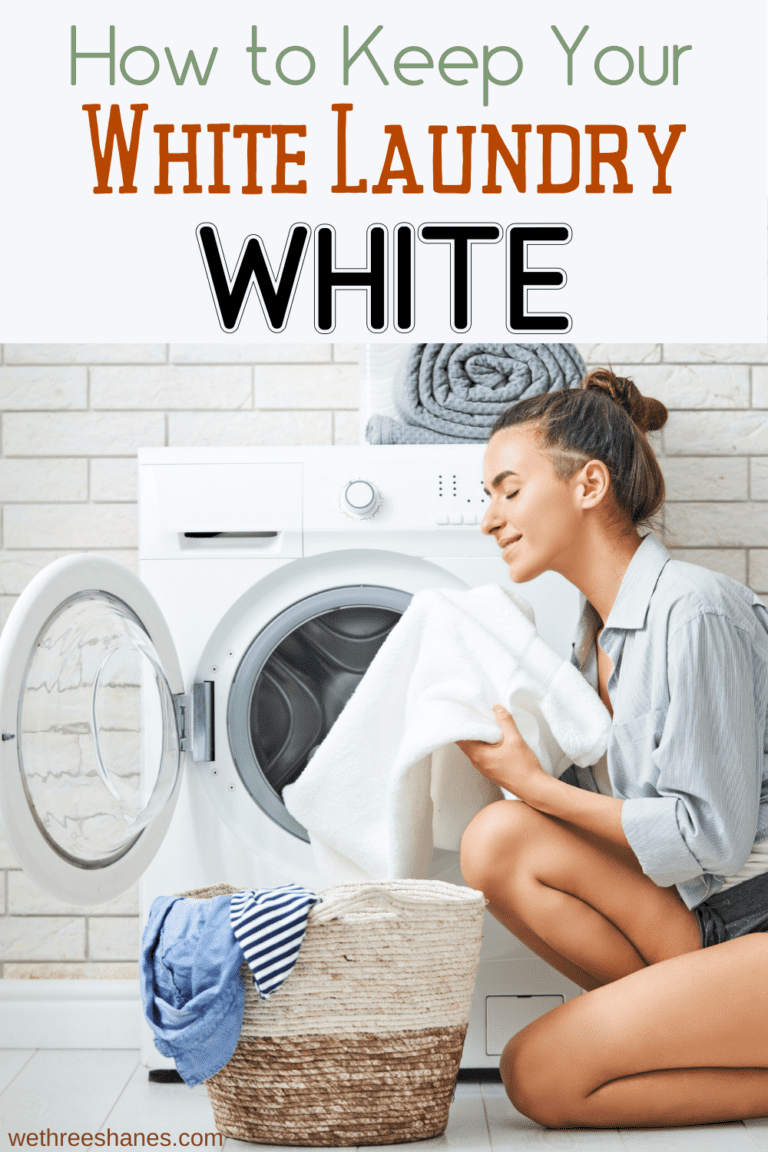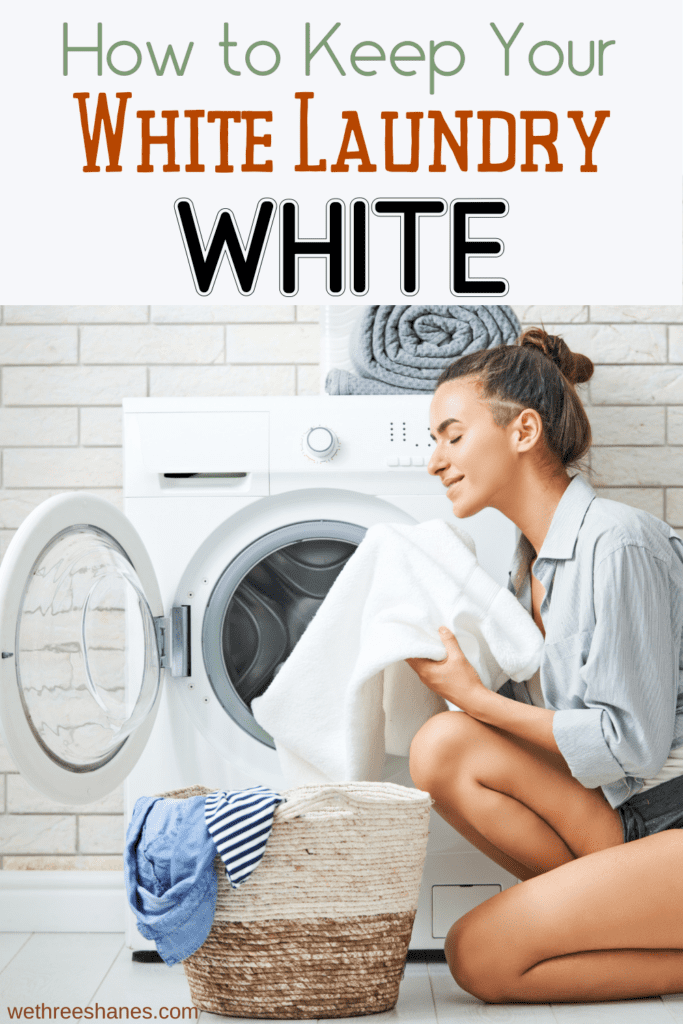 Do you have any favorite tips on How to Keep Those Whites White? Have you tried switching your bedding or towels to white to make less loads laundry? Do you have a ride or die product for white laundry? Let us know in the comments. We love to hear from you!
---
You Might Also Like: