10 Manageable Tips for a Tidy Home
If you struggle to keep a tidy and clutter-free home, these 10 Manageable Tips for a Tidy Home are perfect for you! A well-kept house is possible. I promise!
This post contains affiliate links. You won't pay any extra for making a purchase through these links but we earn a commission for purchases made through links. This helps keep the blog running which we really appreciate! You can read more about it in our full disclosure.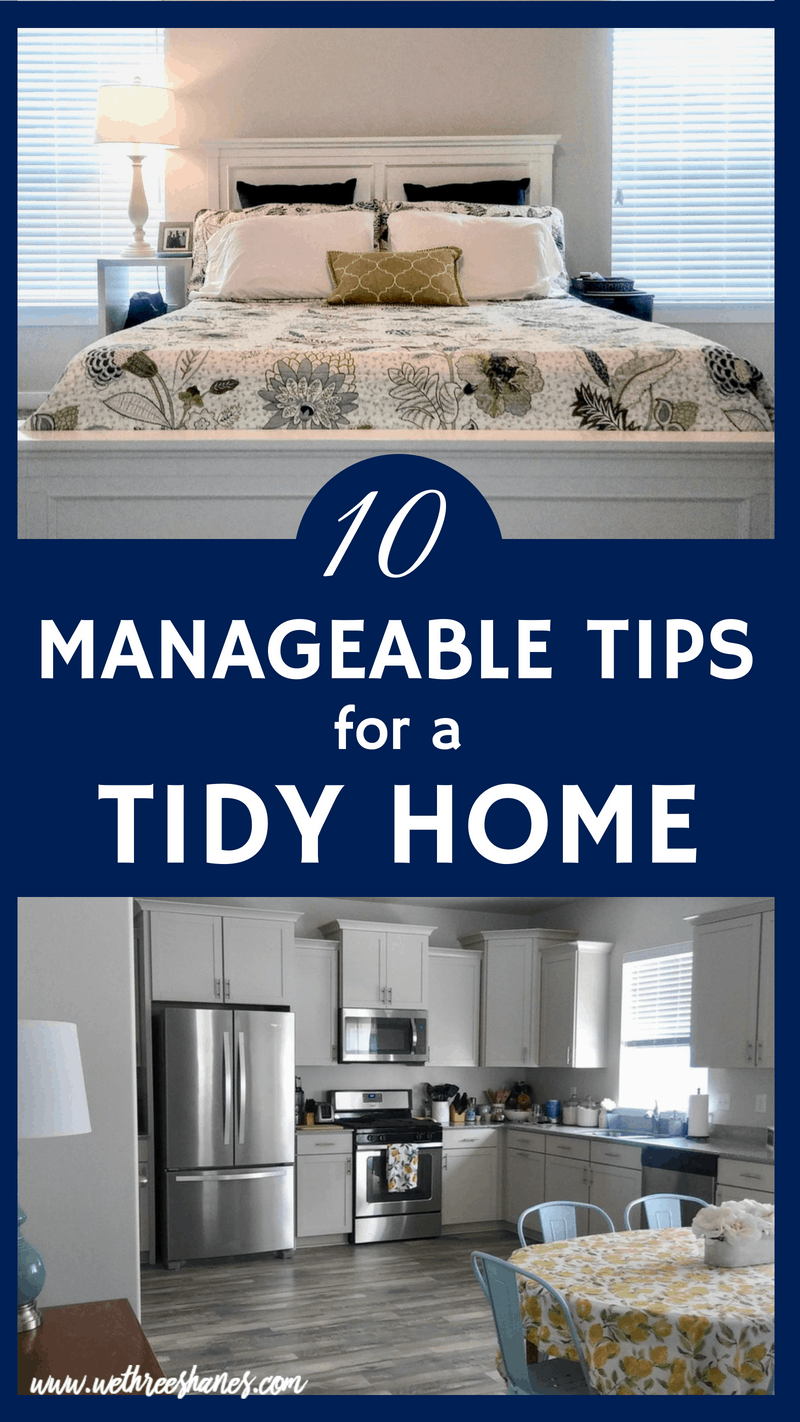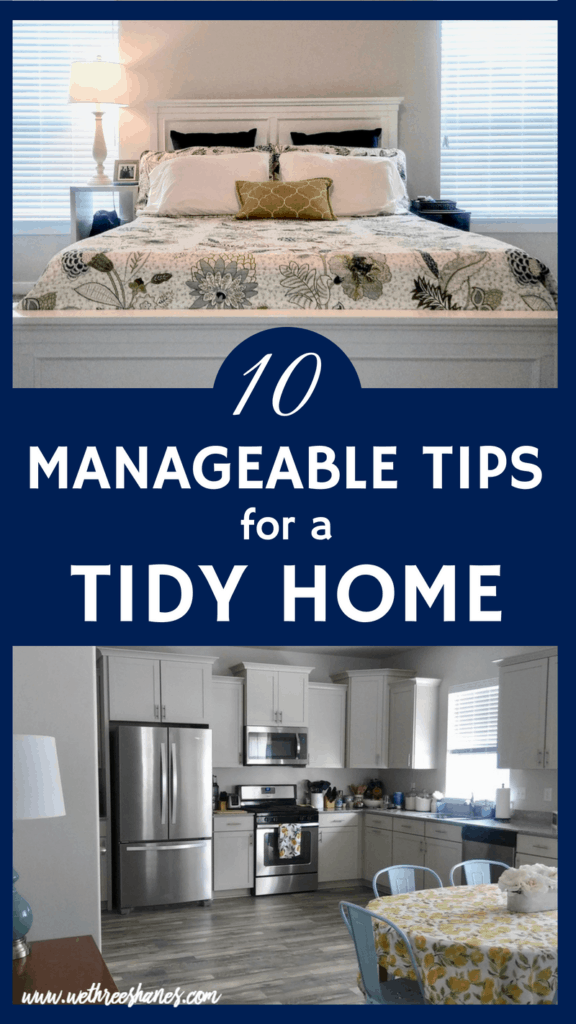 10 Manageable Tips for a Tidy Home
If you have checked out any of our Keeping It Real posts you might have noticed that I like to keep a tidy house. It honestly is important to my well being. If my house is clean and organized I am happier and less stressed. I thought I would share my top 10 Manageable Tips for a Tidy Home so you too can have a place continually put together.
Related Post: 15 MUST READ Books to Help You Declutter and Organize Your Home
---
Tidy Tip#1 | Everything in your home should have a place.
Clutter happens when the possessions in your home don't have a designated place to be put away. If you are going to bring something new into your home, give it a home of its own. Your stuff that doesn't have a place are the things that end up on counters, on the floor, or shoved into a junk drawer.
Even my purse has a place, both upstairs and downstairs. Downstairs it goes on this cute little rack and upstairs it sits on my nightstand.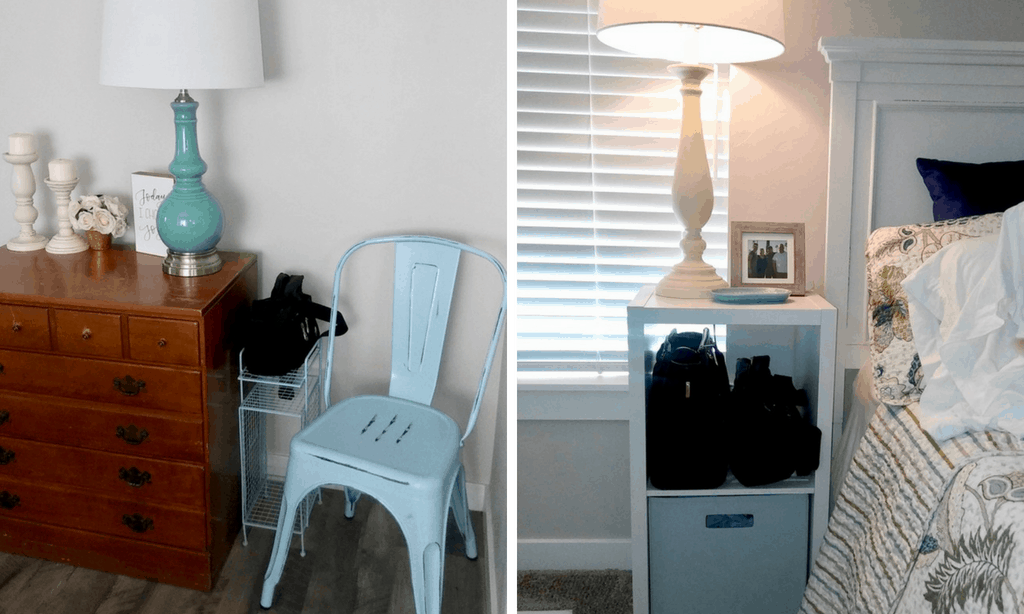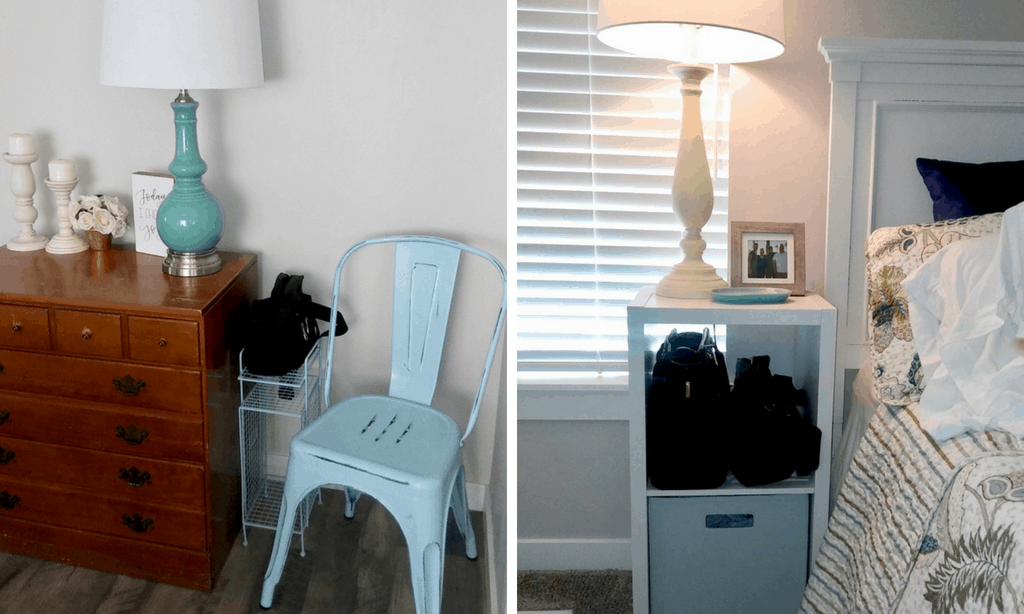 ---
Tidy Tip #2 | Make your bed everyday.
This tip may sound too simple, but I'm telling you, it's one of the quickest and easiest ways to make a real difference in the look and feel of your home. It's also one of the best ways to quick start the tidy process. Making your bed every morning helps you develop a little more discipline when it comes to keeping house.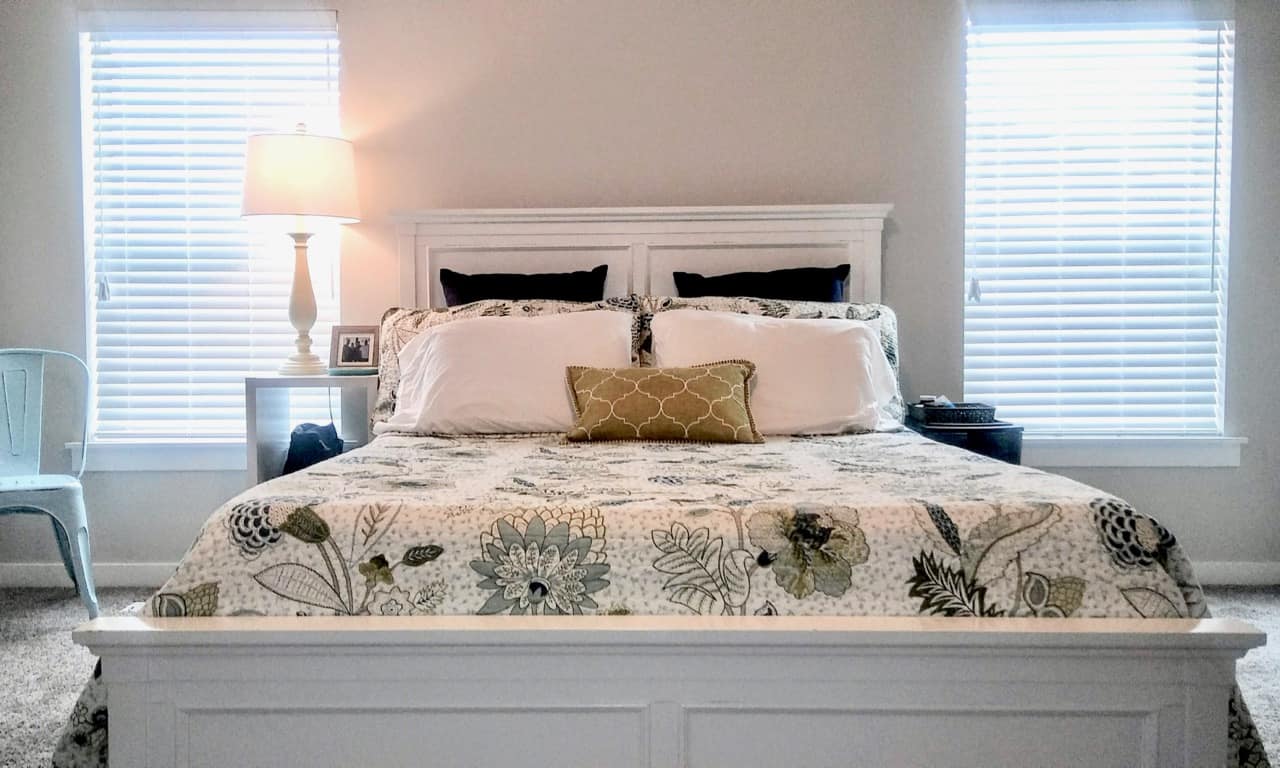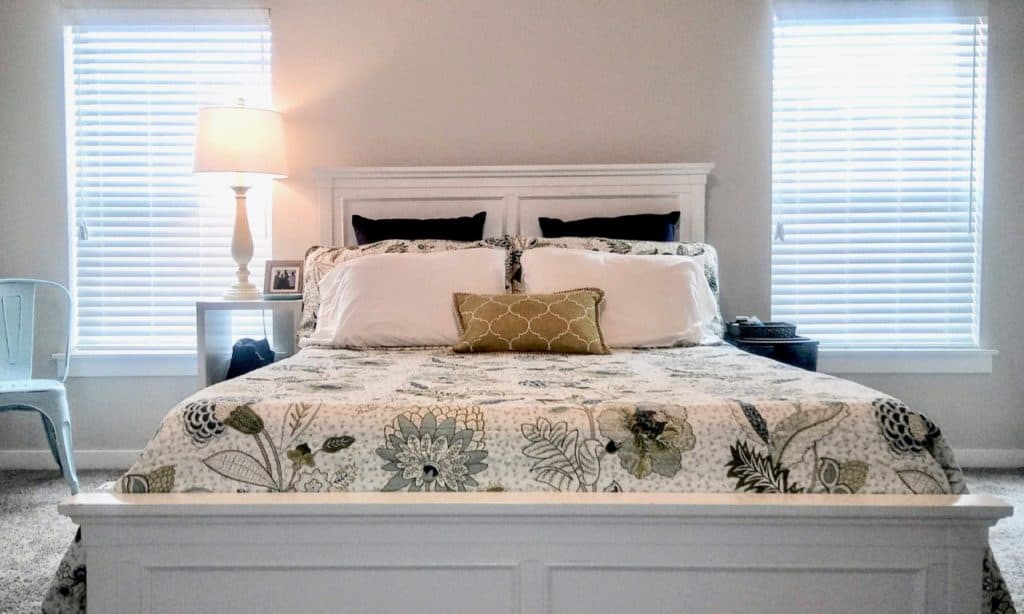 ---
Tidy Tip #3 | Teach your kids that they must have a made bed in the morning, and a clean room before they go to bed every night. (The younger you can start this habit, the better.)
Make your kids part of the process of keeping your home tidy. I trained my son from the time he was 1 year old that toys were to be put away at the end of each day. It was just the way it was. He could get out whatever he wanted all day, but he was always aware that he would be responsible for putting it all away at the end of all the fun.
Once he was old enough, we added making his own bed. If kids are doing these two things daily it will keep the room from getting so messy that it's overwhelming. It's also teaching them good habits that they will carry into their teen years and hopefully go with them into adulthood as well.
---
Tidy Tip #4 | Buy sheets and towels that can be thrown in with other laundry loads (white is my #1 choice).
I like to buy white sheets and towels. I do this for a few reasons. First, we tend to go through a lot of white laundry in a week. This means I usually wash more than one load of whites. If I have white sheets and towels they are easy to throw into those loads.
When you have dark or bright sheets and towels, you often have to wash them separately. This adds more loads of laundry, which takes more time and effort.
I also like to wash sheets and towels in warm or hot water. It's better at getting out the smells and body oils that come with things you use on your body every day. Buying sheets and towels in white also makes it possible to bleach them from time to time when needed.
Related Post How to Keep Those Whites White.
---
Tidy Tip #5 | Only do laundry when have time to put it away.
Do not let laundry sit in the dryer after it's done. Once you hear that signal, put it away immediately. I really dislike ironing. Making sure I have time to put away my clothes means I rarely have to.
I always keep hangers in my laundry room and I hang or fold everything fresh from the dryer. It not only keeps the wrinkles at bay, but the mountains of laundry as well. When laundry sits in the dryer until you need more laundry done, it often gets thrown in a pile on the floor or on a bed.
---
Tidy Tip #6 | Do the dishes and wipe down counters after every meal. Also wipe off bathroom counters when there's a mess made.
I know this is not the thing you want to do after cooking a large meal for your family, but a sink full of dishes makes for a messy kitchen. When there are dishes already in the sink it invites others to pile them in as well. It also makes it harder to have access to washing bigger items. This means dirty pots and pans end up on stoves and counter tops.
Once the meal is done get those dishes into the dishwasher and give your counters a quick wipe down. (*Bonus Tip* I like to have more than one washable sponge so that I can throw at least one of them in the dishwasher every cycle. It keeps them clean and smelling fresh.)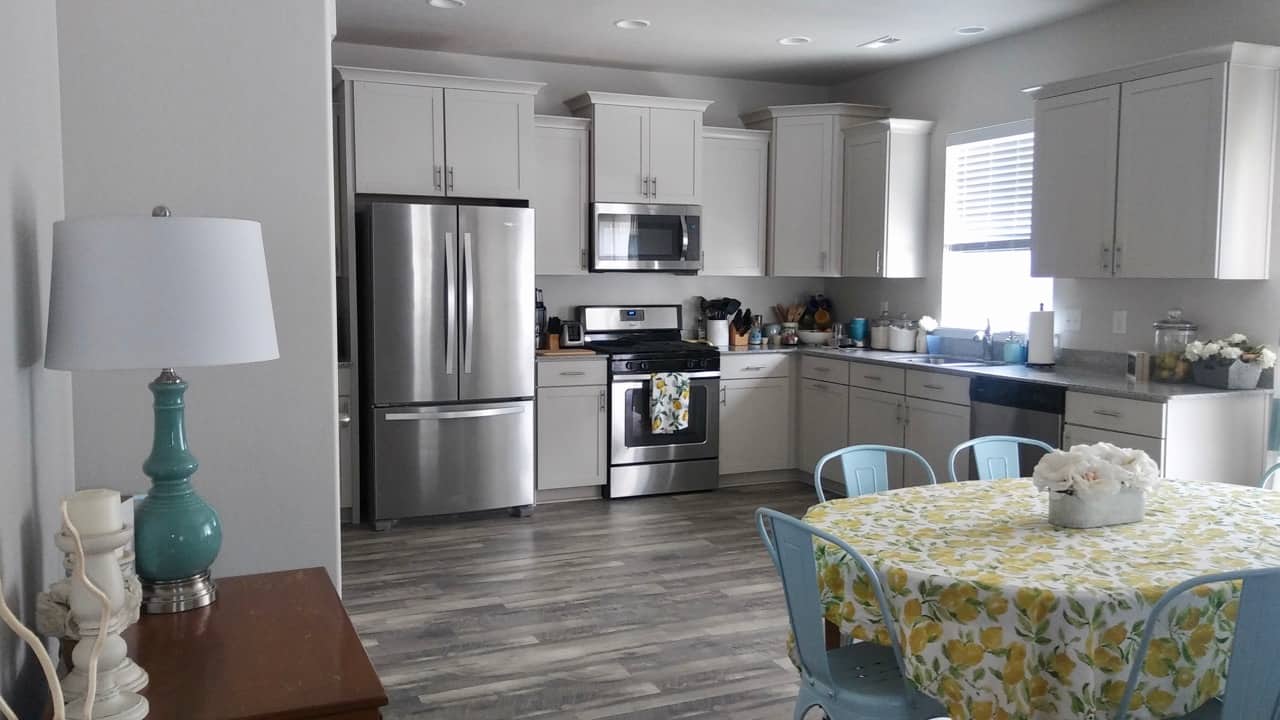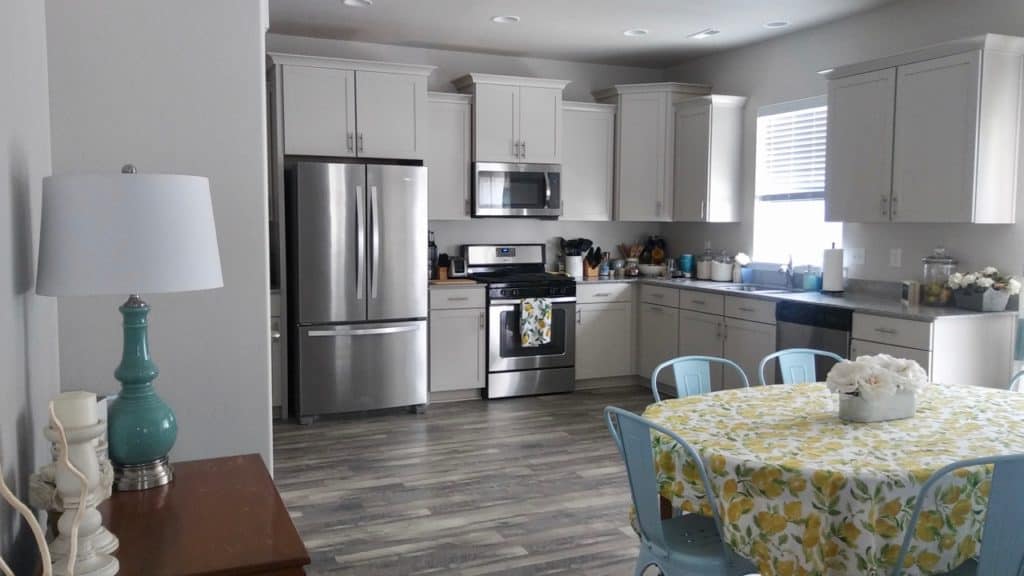 In the bathroom we wipe up toothpaste or spills before they become hard or sticky. We rinse out sinks right after use.
Once your kids are old enough they can rinse off and add their own dishes and even help with unloading the dishwasher. They can also be taught to rinse the sink when they are done getting ready for their day or bed.
---
Tidy Tip #7 | Think of simple changes you can do in your home to make things easier to keep clean.
One way we did this in our home was by taking out the towel bar in the boys bathroom and adding hooks instead. The boys easily hang their towels now on their own hook without them needing to be folded or sit on the same bar. This also helps the towels dry faster which in turn keeps them from smelling like mildew. If anything just isn't working in your home, try to think of a way to change that.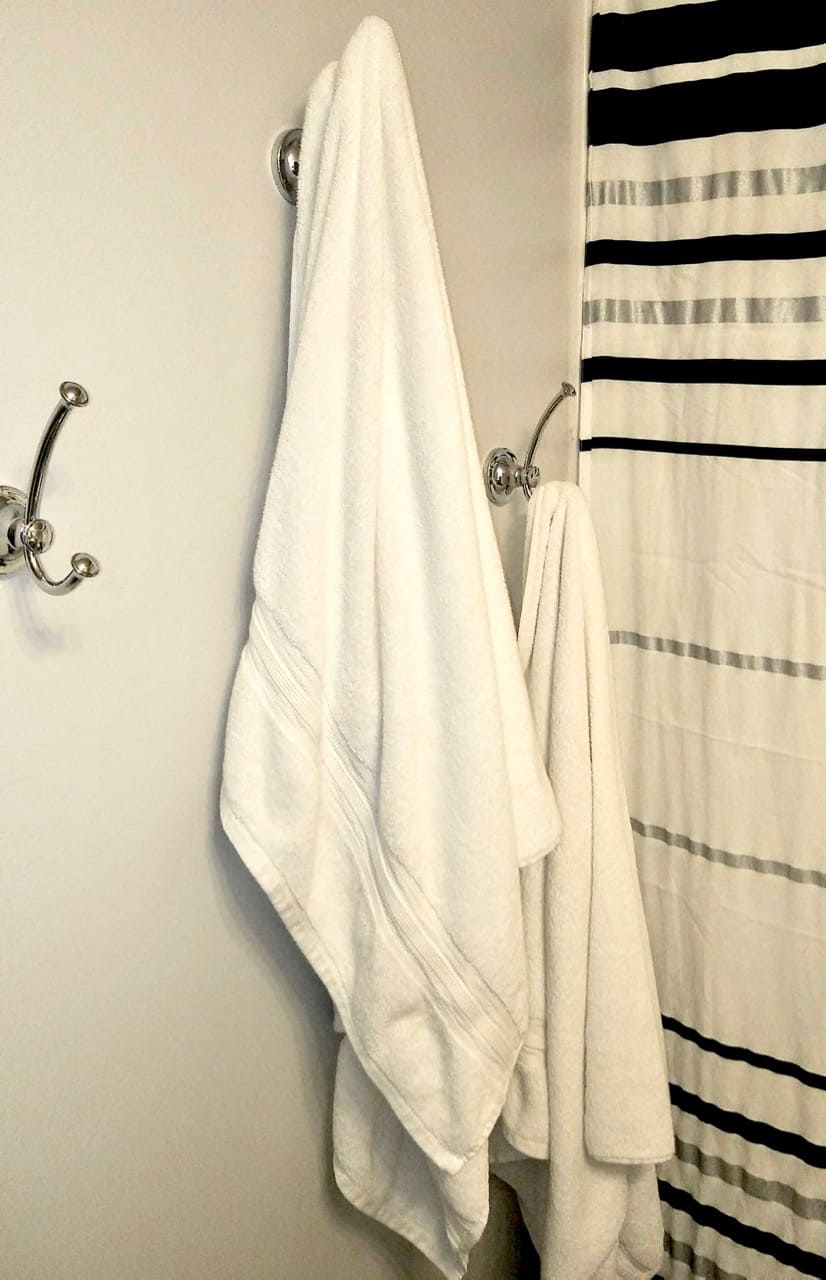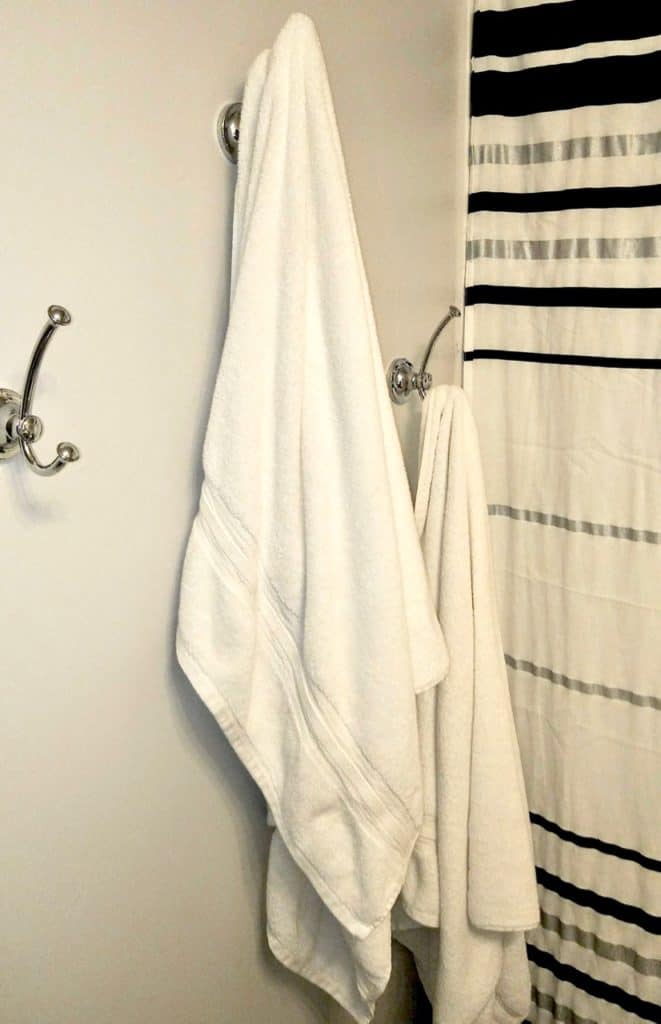 ---
Tidy Tip #8 | Get rid of ugly prints or labels that take up "visual space".
This tidy tip may seem really silly, but I swear it makes a huge difference. I like things to have a clean minimalist look.  Through the years, I have learned of ways to better achieve that look, with the products I buy every day.
There are never paper towels with prints on them in my home. If I like a product, but think the label takes away from my space, I remove the label. If I am going to buy something to display on my counter that has a label that can't be removed, it will be so beautiful that I love looking at it.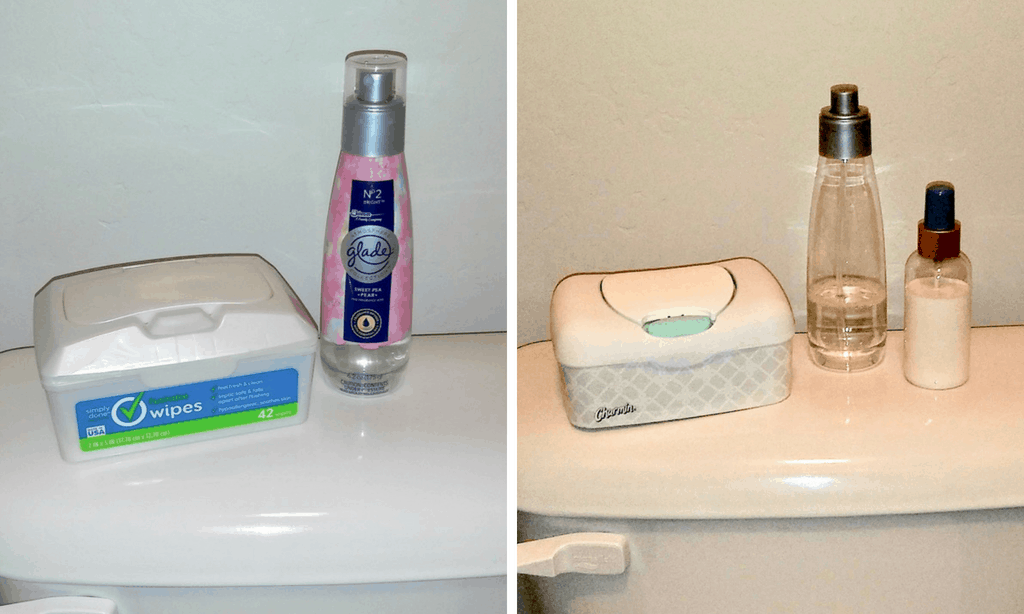 You can see what a huge difference taking the labels off of products really makes.  The bottles on the right are the original bottles for Glade Spray and Unicorn Gold Toilet Spray with the labels removed.
---
Tidy Tip #9 | Empty trash cans throughout the home, clean up after pets, and discard old food in your fridge the night before trash day.
Make a habit of doing these things before you take the trash out every week. It keeps trash and old food from building up, and you are getting rid of them before they cause smelly issues in your home or trash can.
---
Tidy Tip #10 | Some things only need to be deep cleaned once a week.
If you are following the steps above, your home will only need some deep cleaning about once a week. I sweep, vacuum, and deep clean the kitchen and bathrooms once a week under normal use. There will always be exceptions to the rule (like company staying over, a party, etc.), but if you are doing daily wipe downs and cleaning up messes throughout the week, a deep clean doesn't have to happen every day, and your home will still be tidy.
---
Please don't overwhelm yourself with all of these tidy tips at once. Learn a new habit, and then build from there. You can do it, you will get there, and then one day soon, having a tidy house won't be such a chore but will just be a way of life.
Do you have any favorite tips for a tidy home you are willing to share? Pop them in the comments!
---
You Might Also Like: 
---