15 Must Read Books to Help You Declutter and Organize Your Home
Tired of living with the stress of a cluttered home? There are plenty of great books out there to help you become a more organized person with a clutter free home you love.
Check out the list of 15 Must Read Books to Help You Declutter and Organize Your Home! I'm sure you'll find the one that works best for you.
This post contains affiliate links. You won't pay any extra for making a purchase through these links but we earn a commission for purchases made through links. This helps keep the blog running which we really appreciate! You can read more about it in our

 full disclosure.
The Life-Changing Magic of Tidying Up was the first book I read in an effort to get my house on track from the cluttered and unorganized mess it was. I can't tell you how much the book changed the way our family lives. It started us on the path to a more organized and clutter free home. It has been a long process for sure and we're not quite where we want to be yet. But we're getting close and that's really exciting.
If you live on the planet and want to be more tidy then you've most likely heard of Marie Kondo's book. It's not new news. However, it's still one of the books I always recommend to family and friends who are struggling in this area.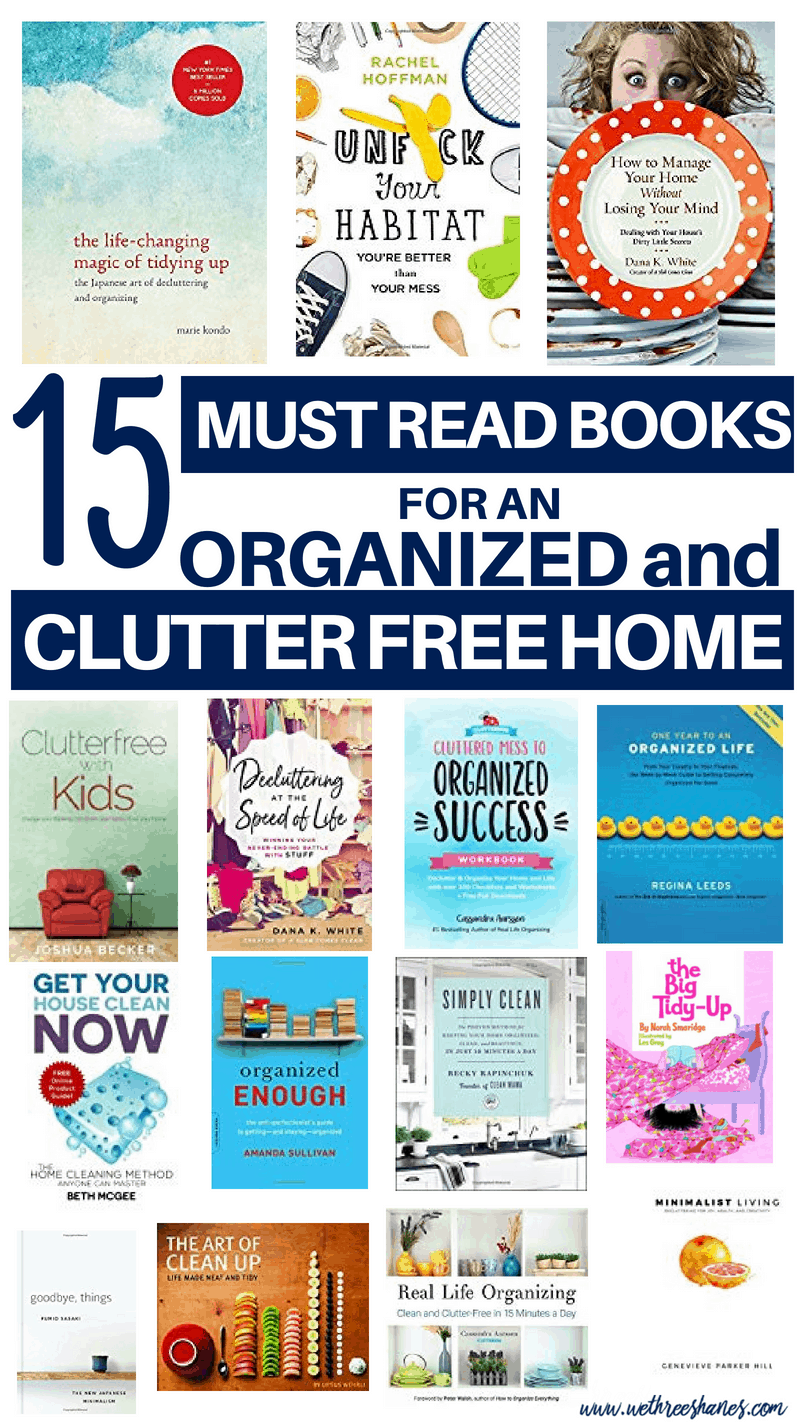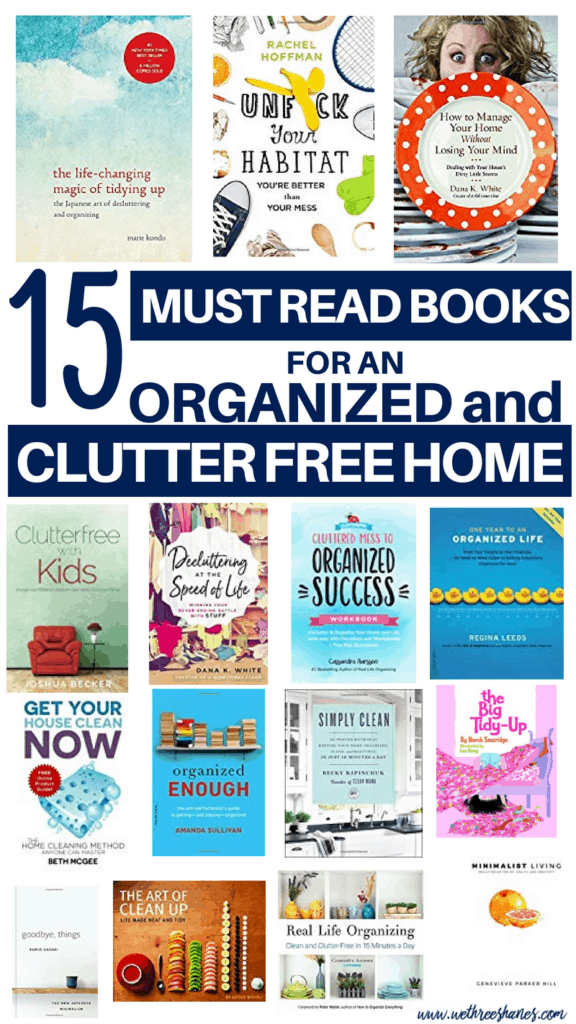 There are many different decluttering styles out there and it's best to find one that works for you. You're sure to find a style that suits your needs in one of these books. Let's get on with the list of 15 Must Read Books to Help You Declutter and Organize Your Home!
---
15 Must Read Books to Help You Declutter and Organize Your Home
I still lend this book out to friends on a regular basis. Just about everyone who's borrowed it ended up buying their own copy. This #1 New York Times best-selling guide to decluttering your home from Japanese cleaning consultant Marie Kondo takes readers step-by-step through her revolutionary KonMari Method for simplifying, organizing, and storing.
---
Unf*ck Your Habitat is for anyone who has been left behind by traditional aspirational systems. The ones that ignore single people with full-time jobs; people without kids but living with roommates; and people with mental illnesses or physical limitations. Interspersed with lists and challenges, this practical, no-nonsense advice relies on a 20/10 system (20 minutes of cleaning followed by a 10-minute break. This book is perfect if you're looking to develop lifelong habits.
---
From the cleaning and home-keeping expert and creator of the wildly popular Clean Mama blog comes a simple and accessible cleaning guide with a proven step-by-step schedule for tidying a home in just ten minutes a day. Simply Clean will help you effortlessly keep a tidy house and build habits to become a neat person—no matter how messy you may naturally be!
---
In Decluttering at the Speed of Life, decluttering expert and author Dana White identifies the mindsets and emotional challenges that make it difficult to declutter. Then, in her signature humorous approach, she provides workable solutions to break through these struggles and get clutter out–for good!
---
Real Life Organizing offers clutter free storage solutions and advice that can help you create a Pinterest-worthy home on a small budget: Learn how to organize your home, simplify life and have more time for the things you love.
---
Do you dream of getting organized, but have no idea where to start? Cluttered Mess to Organized Success: Declutter and Organize your Home and Life with over 100 Checklists and Worksheets offers you everything you need to organize your home, family and your time. This book not only provides helpful tips and advice, but it's packed with over 100 worksheets, forms, labels, schedules and everything else you need to organize your life.
---
One Year to an Organized Life is a unique week-by-week approach that you can begin at any time of year. Regina, the professional named "Best Organizer in Los Angeles," helps you break down tasks and build routines over time so that life becomes simple, not overwhelming. Whether you're living in chaos or just looking for new ways to simplify, this essential book will help you get the whole household organized-and stay that way.
---
If you're looking to clean up but not clean out, if you want to declutter but don't want to throw out eighty percent of your stuff, if you want to be able to find matching socks in the morning but don't want a color-coded sock drawer, you've come to the right place.
---
A clean home is within your reach… You can become an expert at cleaning your home. All you need are the right tools and supplies, a little motivation, and the method that Beth McGee has perfected over 20 years as a home cleaning professional. You will learn how to clean, declutter, and organize your home as a simple and rewarding habit, not a chore.
---
From About.com Reader's Choice Award-winning author Genevieve Parker Hill comes a fresh new minimalism guide for everyone. If your garage, attic, closets, and surfaces are filled with clutter, all that extra stuff can get in the way of a full experience of life as it was meant to be lived. Minimalist Living covers not only techniques for decluttering, but how to fill your new found space with meaningful activities that add joy to your life and support your goals.
---
Children add joy, purpose, and meaning to our lives. They bring smiles, laughter, and energy into our homes. They also add clutter. As parents, balancing life and managing clutter may appear impossible—or at the very least, never-ending. But what if there was a better way to live? Clutterfree with Kids offers a new perspective and fresh approach to overcoming clutter.
---
"The dirty little secret about most organizing advice is that it's written by organized people," says blogger, speaker, and decluttering expert Dana K. White. "But that's not how my brain works. I'm lost on page three." Dana blogs at A Slob Comes Clean, chronicling her successes and failures with her self-described "de-slobification process." She has learned what it takes to bring a home out of Disaster Status, which habits make the biggest and most lasting impact, and how to keep clutter under control.
---
If you want to get your kids on board for a clutter free house then this re-released, kindle edition, childhood FAVORITE from the early 70's is the book for you. Jennifer's mother has refused to touch Jennifer's messy room until after Christmas Day. Free to let her room go, Jennifer turns a blind eye to the fustiness, the dustiness, and the spider's webby empire up in the corner! Finally, one day, she can stand her own mess no longer, and gets to work— on the big tidy-up!
---
This fun coffee table book by Swiss artist Ursus Wehrli, humorously categorizes everyday objects and situations by color, size, and shape. He arranges alphabet soup into alphabetical order, sorts the night sky by star size, and aligns sunbathers' accoutrements—all captured in bright photographs sure to astonish even the pickiest of neat freaks. It's not going to help you get organized but it's a fun eye candy book.
---
Fumio Sasaki is not an enlightened minimalism expert or organizing guru like Marie Kondo―he's just a regular guy who was stressed out and constantly comparing himself to others, until one day he decided to change his life by saying goodbye to everything he didn't absolutely need.
---
I really do hope this list of books to help you declutter and organize your home will get you started on a decluttering journey that you're looking for. Don't forget to pin the list for safe keeping!
Do you have a favorite decluttering or organizing book that's not on this list? We'd love to hear about it in the comments.
---
You Might Also Like: