How to Sew a Cloth Napkin
Cloth napkins are a great way to decorate your table in an eco-friendly way and you can make them yourself. This DIY is quick, easy and fairly inexpensive. What's not to love about that?!
(THIS POST PROBABLY CONTAINS AFFILIATE LINKS. OUR FULL DISCLOSURE POLICY IS LONG & BORING BUT, YOU CAN FIND IT HERE.)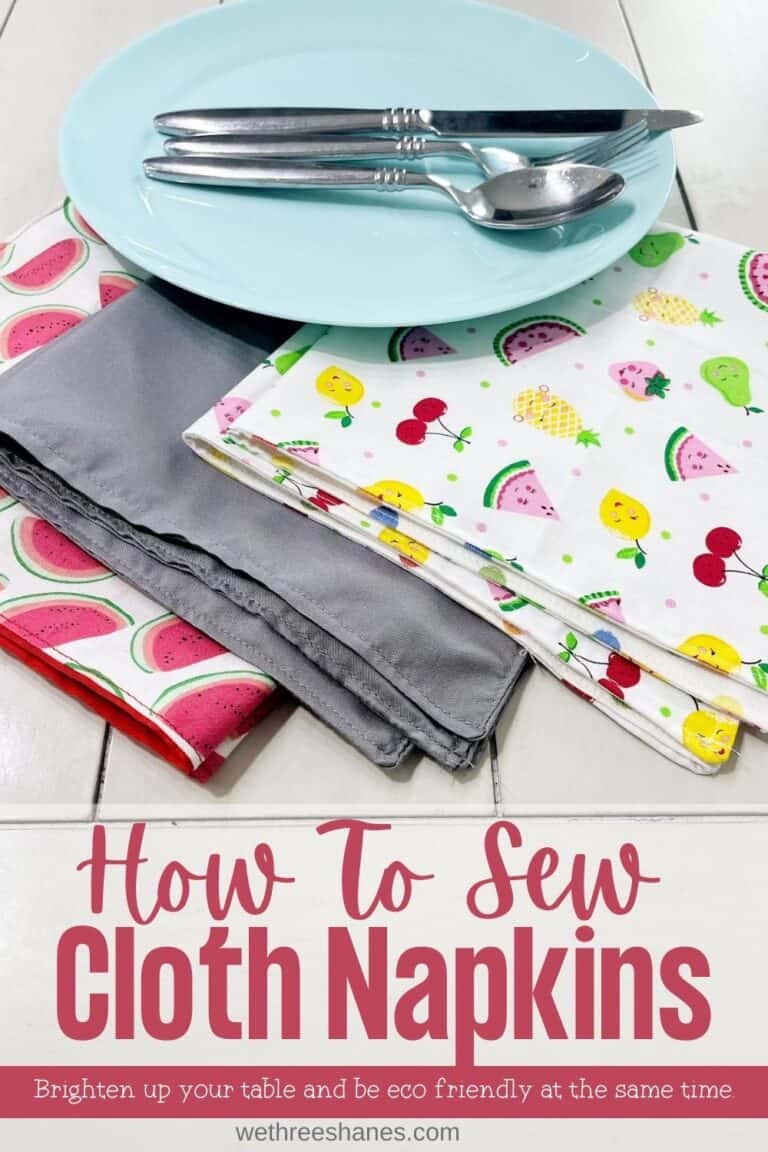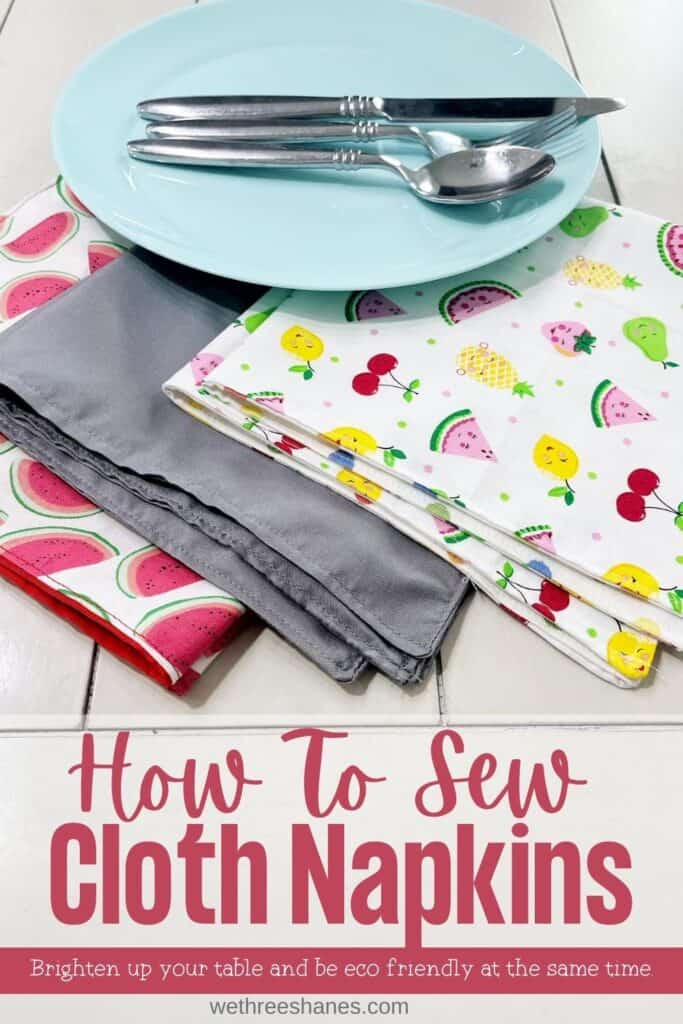 Easy And Cute DIY Cloth Napkins
I have been wanting to make the switch from paper towels to cloth in my kitchen. It can be hard to make that transition.
When I was shopping for cloth napkins, I found they were quite expensive! I'm very frugal (okay I'm cheap) and try not to spend too much money on most things. This is where making my own napkins came into play.
One of the best things about this project is the endless possibilities as far as colors and dressing your table up for different holidays and seasons. I'm not great at table scapes.
In fact, my kitchen table often has my lap top and a few random items on it. For me, cute cloth napkins might help keep my table looking like an actual table instead of a craft or work space.
---
What Fabrics Work Best For Cloth Napkins
Really this comes down to personal preference. You obviously want something that is going to wash well. Napkins are for wiping faces and cleaning up food so something like silk would not be a good option.
You also want them to be soft. Burlap would not be a good choice because who wants to rub that on their face? Best options are going to be some kind of cotton blend. Linen would be a great options as well.
Fabric to Buy
If you are looking for some cute patterns, Fat Quarters are a great option for this project. Two fat quarters would sew one napkin. Depending on where you buy them you can get them for as cheap as $1 per fat quarter.
That's only $2 a napkin. Many napkin sets I saw at various home good stores were $20 for a set of 4 napkins.
Another cloth option is to buy by the yard if you are wanting to make a bunch of cloth napkins and have them all to look the same. A yard of fabric varies in price but a lot of cotton fabrics are any where from $5 to $10 a yard.
The cloth napkins I make are double sided which means you can make them all the same fabric or you can have one side vary from the other side.
Upcycle Fabric Napkins
You don't have to buy fabric from a store. There are plenty of ways you can upcycle fabrics into homemade napkins.
Did you know that most thrift stores sell flat and fitted sheets? I found a flat sheet for $3 at my thrift store in a pretty grey color. I'm using it to make my cloth napkins. You really can't beat $3 for that big of a piece of fabric.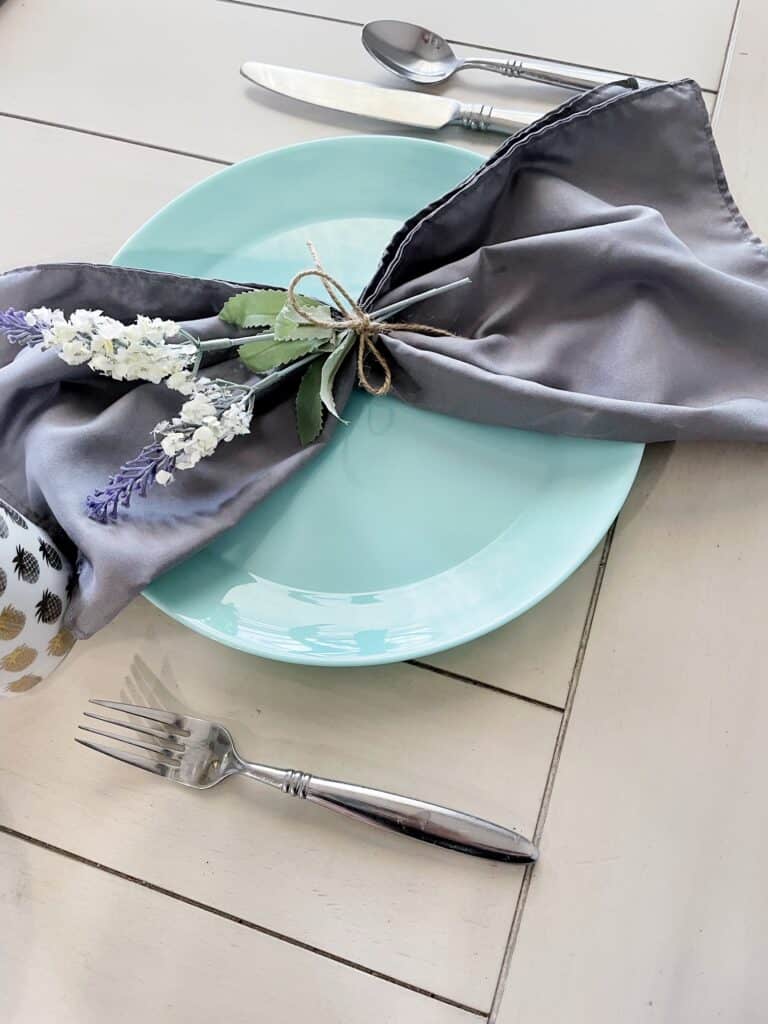 My mother one time made cloth napkins out of an old table cloth she wasn't going to use any more. You could also use old curtains or a cloth shower curtain.
So think outside the box. Upcycling makes the project cheaper and even more eco friendly.
---
What You Will Need to Make Your Own Cloth Napkins
You only need a couple of items to sew these cloth napkins. If you sew then you have most or all on hand.
Fabric – you'll need to decide how many cloth napkins you want to make and what size. Then calculate how much fabric you need.
Fabric scissors
Thread that matches your fabric
Sewing machine
For this pattern you will need two fabrics. One for the front of the napkin and one for the back. These fabrics can be the SAME or you can choose two different patterns.
Next, you will need some thread, scissors and a sewing machine. These could easily be sewn by hand but it would not be a quick process.
The sewing machine makes this an easy 30 minute project per napkin from start to finish. Even quicker if you are an experienced sewer.
Sizing is really whatever you want it to be. Most napkins are square and can be any where from 12×12 to 24×24. I went with 18×18. There is not a correct size, just whatever you would like it to be.
---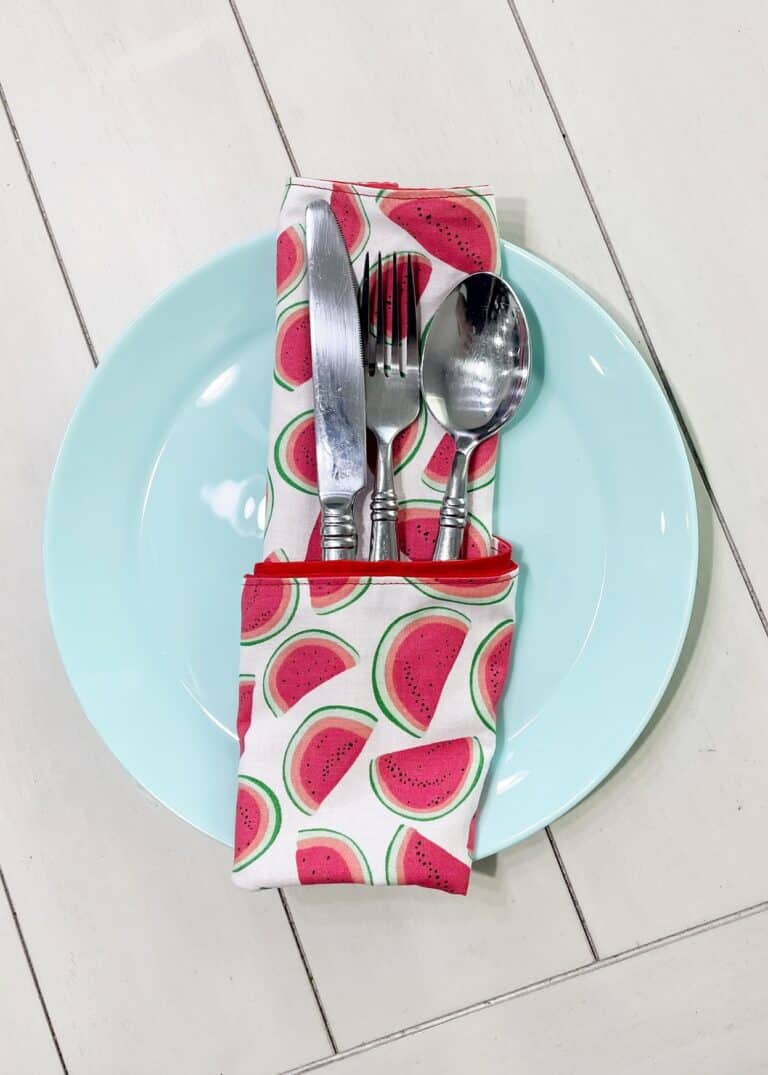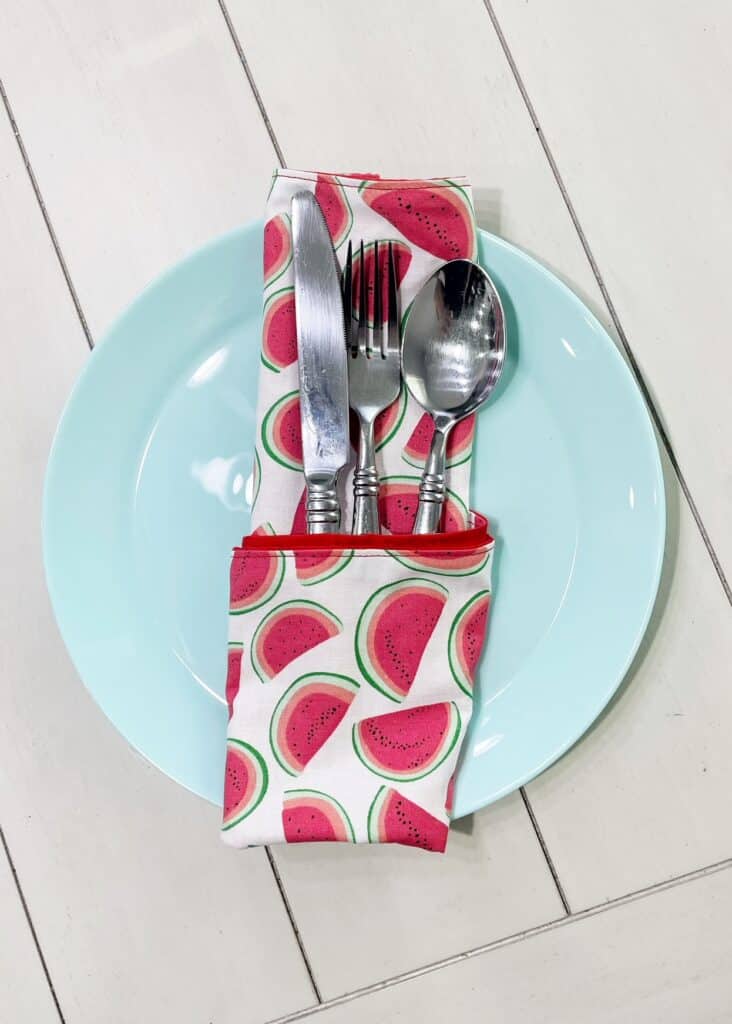 How to Sew A Cloth Napkin
Decide what size you would like your napkin to be. You will loose some of your fabric. If you want 18×18 inch napkins, you will want to cut your fabric 19×19 inches.
Step 1 – Cut two squares. One for the back and one for the front. Make sure your fabric is ironed and straight.
Step 2 – Next, you will put right sides together (the sides you want showing) and then sew about a 1/4 of an inch seam allowance. You want to go all the way around but leave a 3 to 4 inch gap for turning.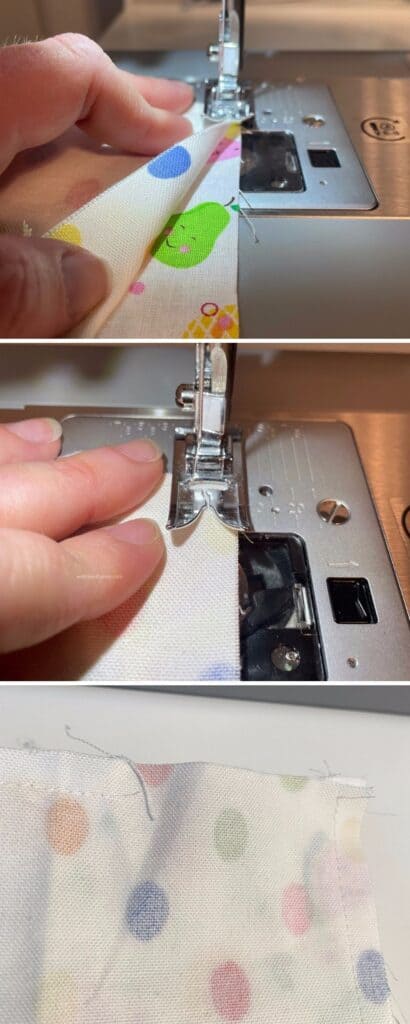 Step 3 – Turn right side out. You might want to smooth out and iron the sides down. It will make it much easier to sew. Take the opening we left for turning and tuck it down inside of the opening like the picture below.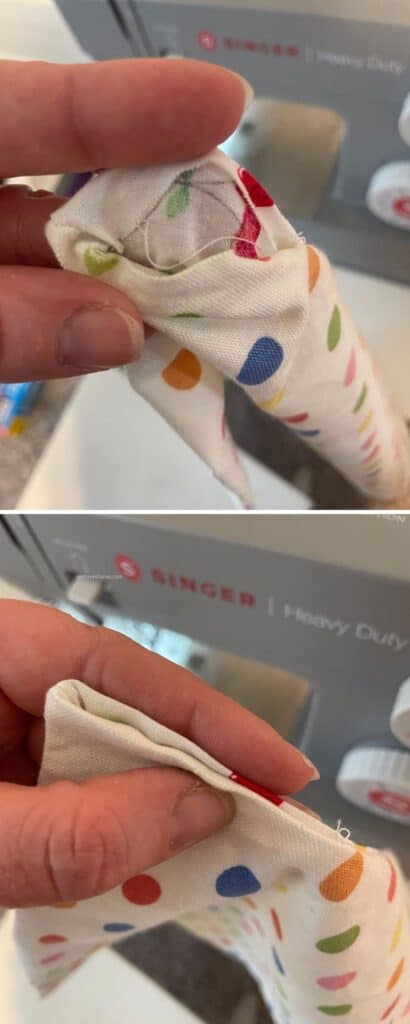 Step 4 – Then you will want to sew ALL the way around to close the hole and complete the napkin.
That is it! Easy peasy right?! I plan on making a few different sets for my family. It's fun to play with colors and patterns. However, I love my plain grey ones too. It gives a more elegant look whereas the colorful ones add playfulness.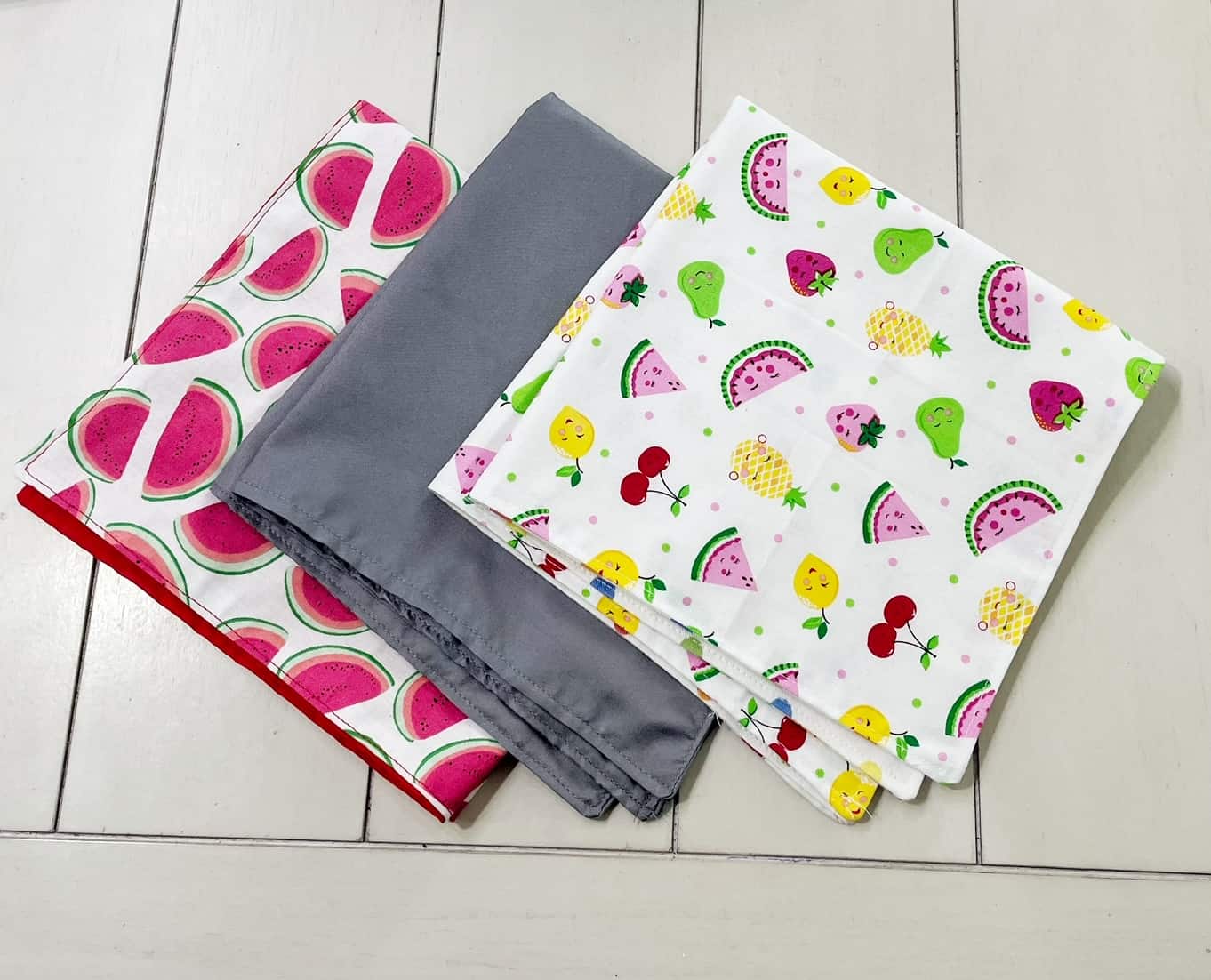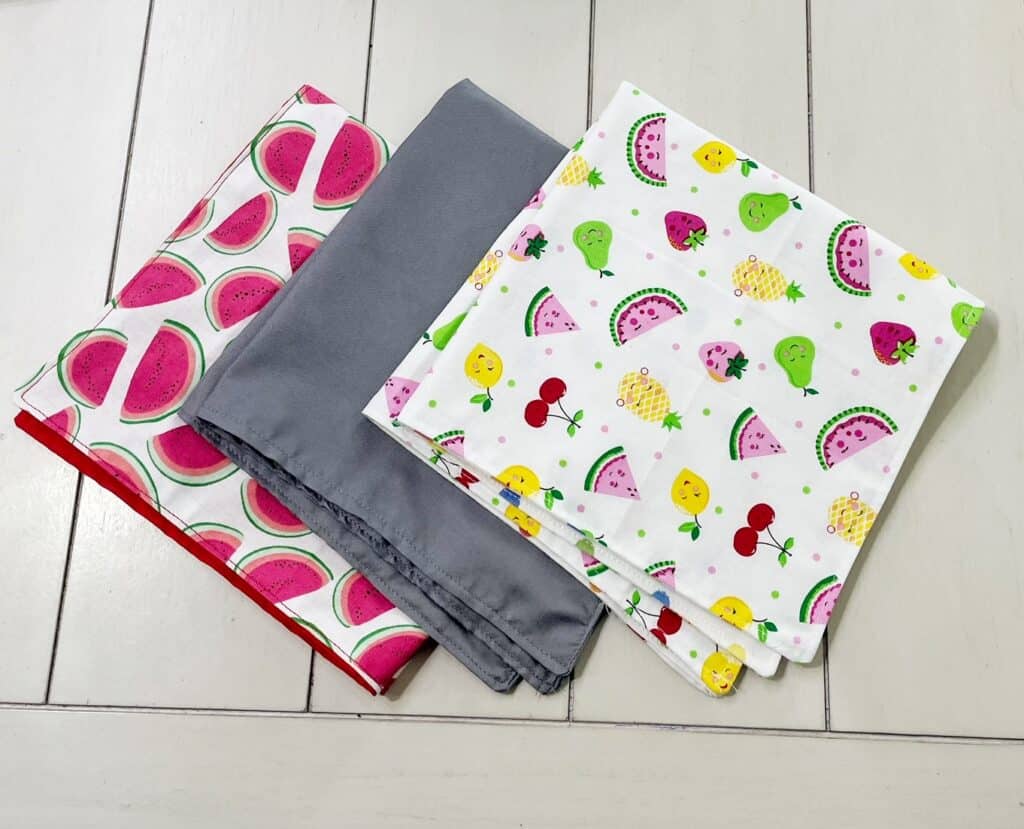 Homemade cloth napkins are a fun, easy-sew project that helps the environment. I call that a win-win. Plus, they are so easy to customize to fit your home colors and style. You can even make different sets for holidays and seasons.
What kind of cloth napkins do you plan on making? We can't wait to hear about them in the comments below.
---
You May Also Like:
---