Dashing Diva Gloss Nail Strip Review
Nail strips are no longer a new thing and there are a ton of them on the market these days. Dashing Diva Gloss strips are cute, affordable, and can be picked up at many stores, making them a great option. Keep reading to find out if they are worth a try.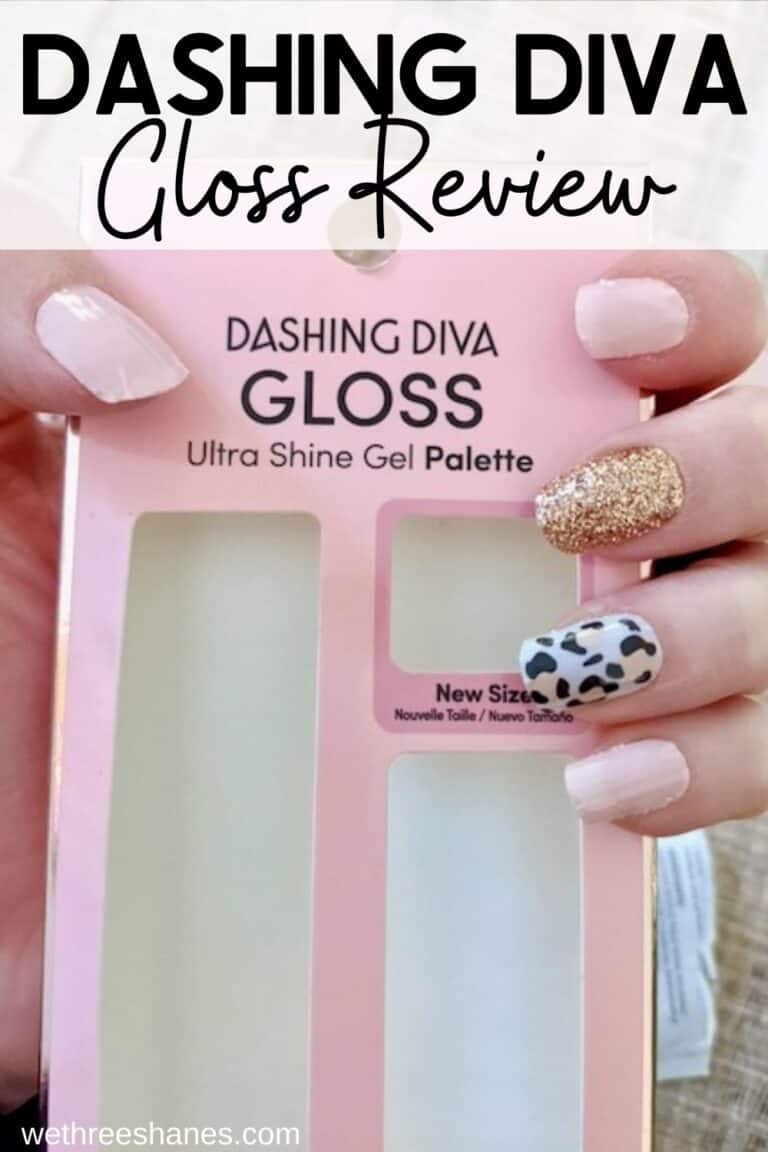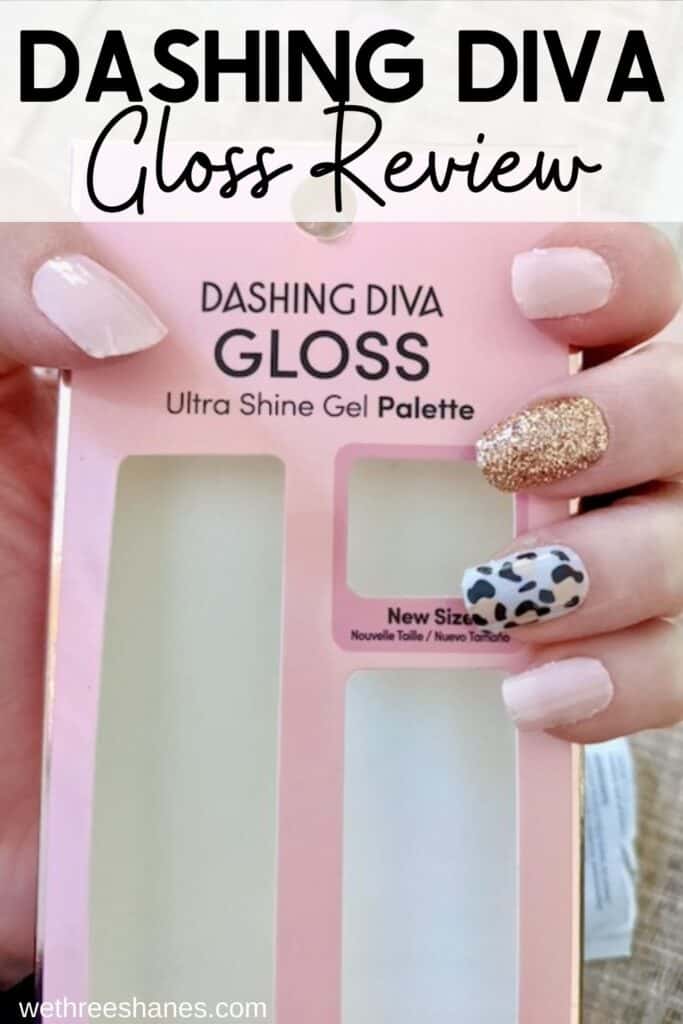 Dashing Diva Gloss Nail Strips
Looking for the best way to get a mani and pedi at home that looks amazing? Nail strips are definitely the answer. We've covered lots of popular brands of nail polish strips before. I have been really wanting to try Dashing Diva ever since they replaced Coconut Nail Strips in Walmart.
I love the idea of being able to pick out a set of cute nails while doing some grocery shopping. In fact, I picked up the Dashing Diva gloss set I'm using for this review at my local Walmart months ago and am just finally using it.
Dashing Diva has been around since 2003 when they opened their first salon. By 2007, they had become an international franchise with over 20 locations around the world. Gloss nails debuted in 2018 and expanded to stores in 2019.
Here's a brief summary of what I'll cover:
Where to purchase
What comes with each set
Application
Pros & Cons
Comparison to other popular nail strip brands, such as Color Street.
---
Where to Buy Dashing Diva
Like I said before, I've been wanting to try Dashing Diva nail strips for a while now. They have small selection in a handful of stores and they have a site you can order from. Personally, I like the idea of being able to pick them up at nearby store any time I need but they do have a much wider selection of nail strips on their site.
Right now you can find Dashing Diva Gloss strips at Walmart, Target, H-E-B, CVS, Walgreens, Ulta, Sally's Beauty, & Harmon Face Values. I have not visited each store to see the selection but they do vary. My Walmart only has about 8 sets of nail strips to choose from but my Ulta has a lot more sets, including pedicure sets.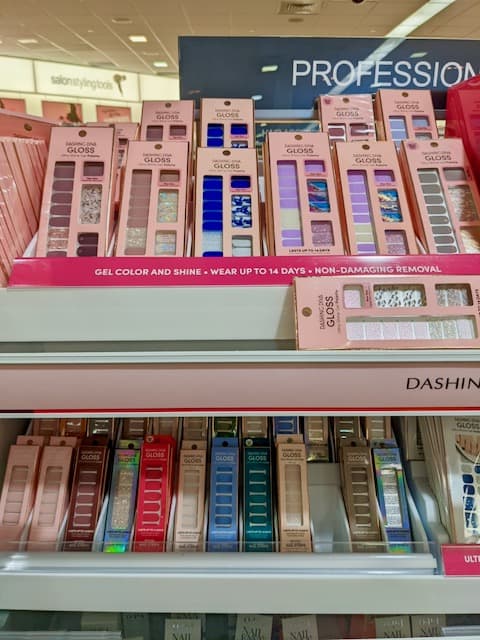 Prices may vary slightly by store as well. My Walmart had them for $6.97 but Ulta had the same sets for $7.99. It could be worth it to check out a couple of stores near you to see what the options & prices are or it might be more convenient to stick to one store you're already going to.
You can also purchase Dashing Diva sets on their website. They have a much bigger selection on their website and they have more types of sets to buy like press on nails and glaze sets.
When you order online there will be shipping fees of $5 but all orders over $15 have FREE standard shipping. Personally, I would buy one set from a store to try Dashing Diva out. Then if you like them you can order more sets online for a larger selection and free shipping.
Everything ships from Port Washington, NY, USA and takes 1-3 business days to process before shipping. You can spend more for faster shipping but why bother when you can go to the store and pick up a set same day.
What Comes In a Set?
Dashing Diva gloss sets include:
32 gel manicure strips
1 prep pad
1 nail file
Instruction booklet
That's it. It doesn't come with a cuticle pusher which is a bit of a bummer because you need one to remove the nail strips. It's still a great price for what you do get.
The 32 strips break down to 20 solid, base colors and 12 accent colors. All in different sizes. I love that Dashing Diva sets always come with accent colors. It makes it really easy to customize your nails.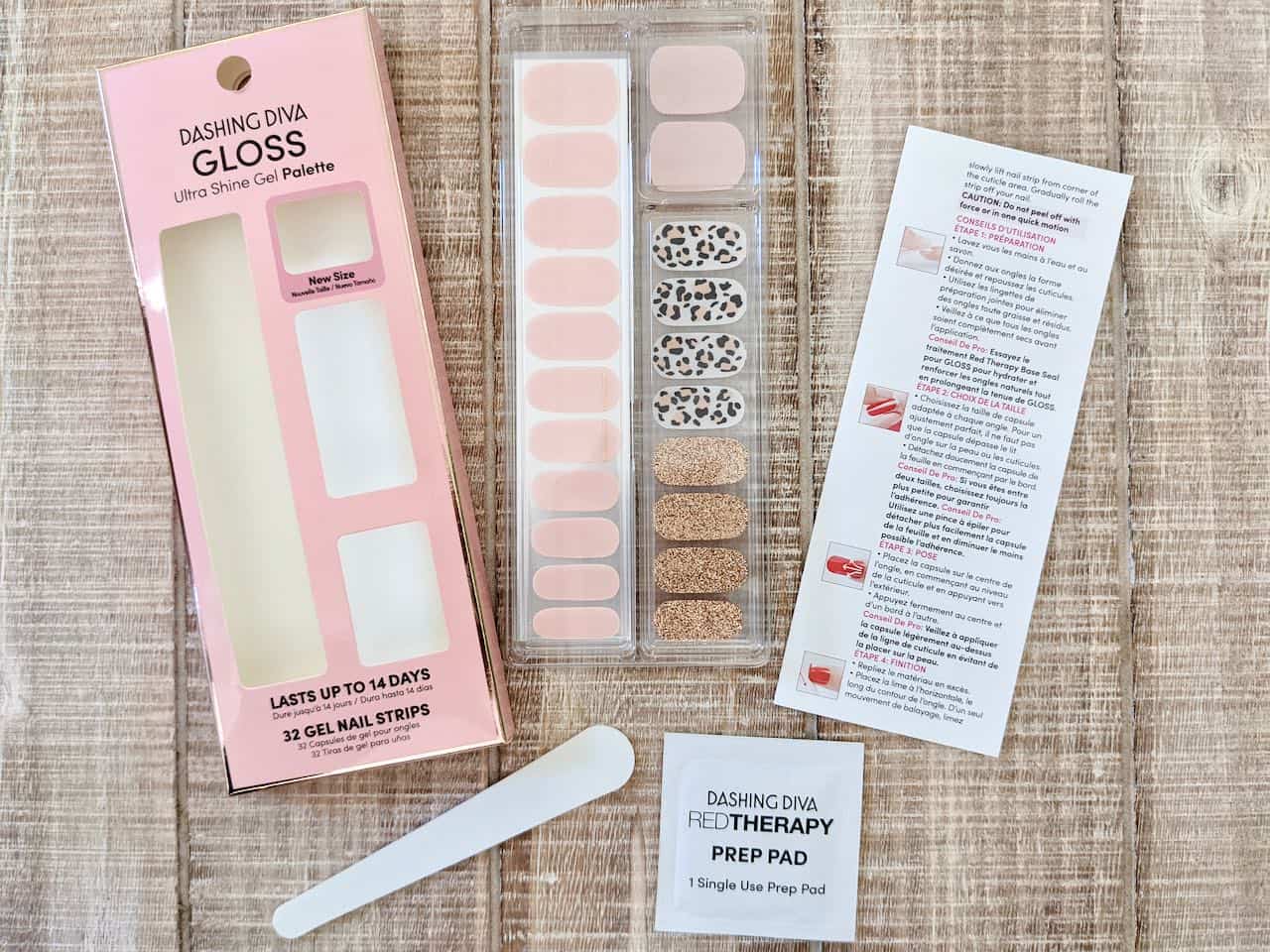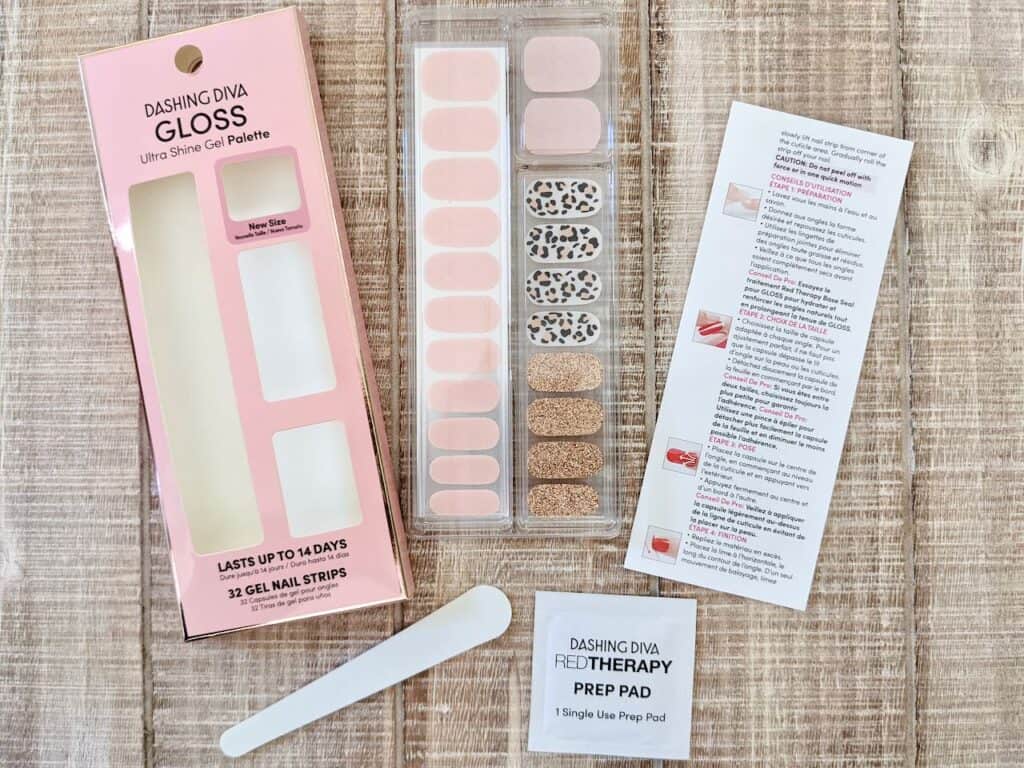 How to Apply Dashing Diva Gloss Strips
The application process is super similar to other nail strips. So, if you've used other brands before then these should go on in a similar fashion.
You start with clean, dry hands.
Shape your nails and push cuticles back.
Use the prep pad that comes in the package to make sure nails are free from oils.
Once nails are completely dry, choose the correct nail strip size for your nail.
Gently peel the strip off, touching as little of the strip as possible.
Line the strip up on your nail. Starting at the cuticle, press down and out to smooth the nail strip onto the nail.
Fold the excess nail strip down and use the file to buff it away. I found that to be too difficult so I used my nail clippers to cut the extra off and then filed any small pieces that were left. This worked best for me.
How to Remove Dashing Diva Gloss Strips
Removal process is a bit different from other nail strips. You can use a cuticle oil or acetone nail polish remover.
Apply a drop of either acetone or oil to your nail.
Use a manicure stick/cuticle pusher to push the nail strip away from the corner of the cuticle area.
Then, gently roll the nail strip off of the nail.
I used our Homemade Cuticle Oil to remove my nail strips. Honestly, it made me a bit nervous to peel the Dashing Diva nails off.
First, I dropped some cuticle oil on and rubbed it into the nail. Then I used the cuticle pusher to get under the nail strip and slowly peeled it up. If I felt like the strip wasn't coming up very well then I added another drop of oil onto the nail to help the oil get under the nail strip more.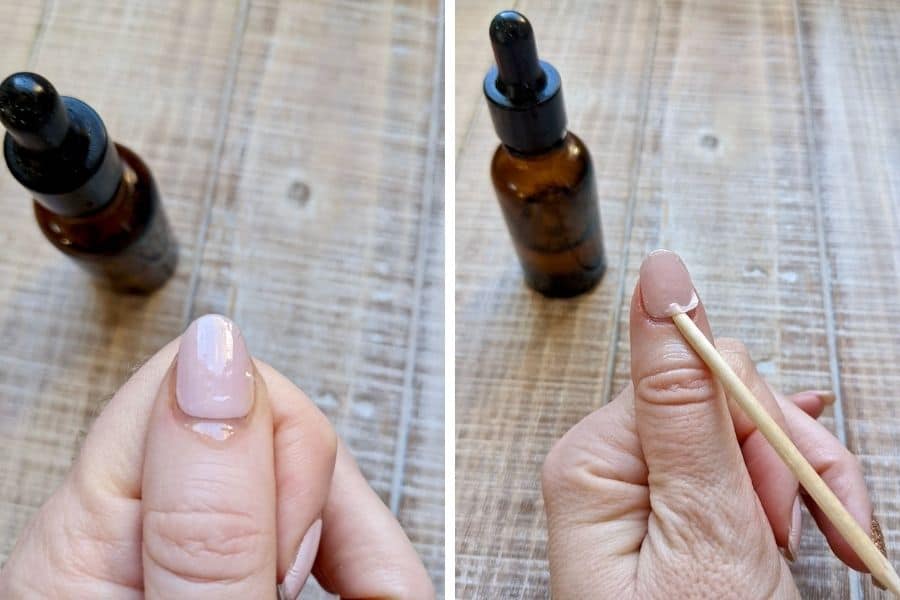 My nails came away mostly damage-free but I did notice a very small spot or two where the nail looks peeled away. I will try the acetone remover next time to see if it works better. However, I like the idea of using the cuticle oil more because acetone itself can be damaging to the nails.
---
Pros & Cons
Now that we've gotten the basics out of the way, let's talk about the actual nail strips and what I thought about my first wear.
When I first opened the box up, I was really impressed with the nail strips. They feel nice and strong so I was excited to put them on.
The strips can be readjusted a bit if you don't line them up quite right the first time. But, I struggled to get a really smooth finish on the nail.
The ripple was subtle but there. It wasn't on every nail but the texture of the nail strip made it difficult to get a completely smooth finish. This bummed me out. However, it wasn't super noticeable when just looking at the finished nails and it actually smoothed out a little as the day went on.
I do think Dashing Divas are pretty easy to apply in general and I think the smoothness of the application will depend on the shape of your nail. I have long nails that tend to curve. Your nail might have less of a curve and you'll find the application easier.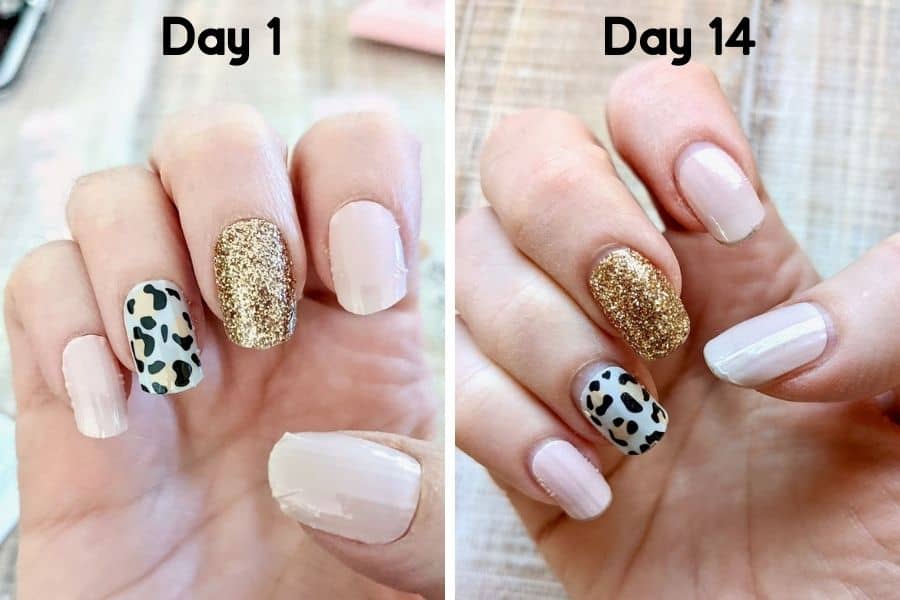 The nails lasted a full two weeks without much upkeep and I was hard on them. They could have gone on longer but the growth was getting noticeable on some nails. If you took a close look at them you'd notice some wear on the tips but from a normal distance you really couldn't notice much.
Dashing Diva Pros
Here's a breakdown of what I like about Dashing Divas:
You can get them at the store or online.
Each set comes with a good amount of nail strips so you can definitely get a mani and a pedi from one set. You can see in the photo below how many strips I started with and how many I have left after my manicure.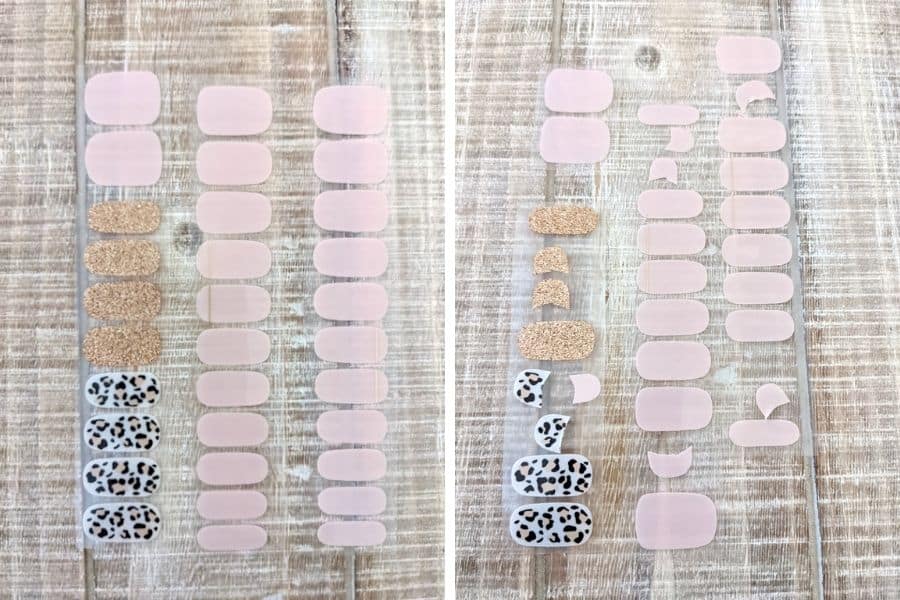 Dashing Diva Gloss strips are not made out of real nail polish like a lot of other brands. They're made of polyurethane (PU), and coated with a layer of real gel. This means they don't dry out quickly. They will last a year after opening. This means you can save the nail strips you don't use up for a later manicure or pedicure. It's still best to save them in an airtight container but you don't have to worry about sealing things shut with a flat iron like some brands.
No base or top coat is necessary. You really can put Dashing Divas on and go.
You can reposition nail strips with no problem.
They were very easy to work with.
There are many sizes so you're sure to find the right size for each of your nails without too much trouble.
These lasted a full 2 weeks without much issue.
Dashing Diva Cons
There wasn't too much I didn't like about Dashing Diva.
Dashing Divas doesn't say much about how they make their products so I don't know if the are cruelty free. I like when companies are proud of their cruelty free status and say it proudly on their site.
Like I said before, these were easy to apply but not to get a perfect, smooth finish. I definitely get a smoother finish with other nail strip brands.
I did have a tiny bit of damage to a fingernail or two even after removing them as gently as I could.
---
How Do Dashing Divas Compare to Other Nail Strip Brands?
The big question is how do Dashing Divas compare to other nail strips? It's always hard to choose one nail strip brand over another one because they all have pros and cons.
I think Dashing Diva is the most like Color Street nails in how they hold up. Neither Color Street or Dashing Diva need a base or top coat to really last a full two weeks. Color Street is easier to get a smooth application but they cost more. I think if money isn't the issue then I'd choose Color Street over Dashing Divas.
If you like the convenience of picking up a set of nails at the store then Dashing Diva is totally worth a try. I will definitely use them again.
Both Nails Mailed and Lily and Fox give you a smoother finish and are less money but I have to use a top coat to get both brands to last a full two weeks. If you don't want the hassle of that extra step then Dashing Divas is a great choice for you.
---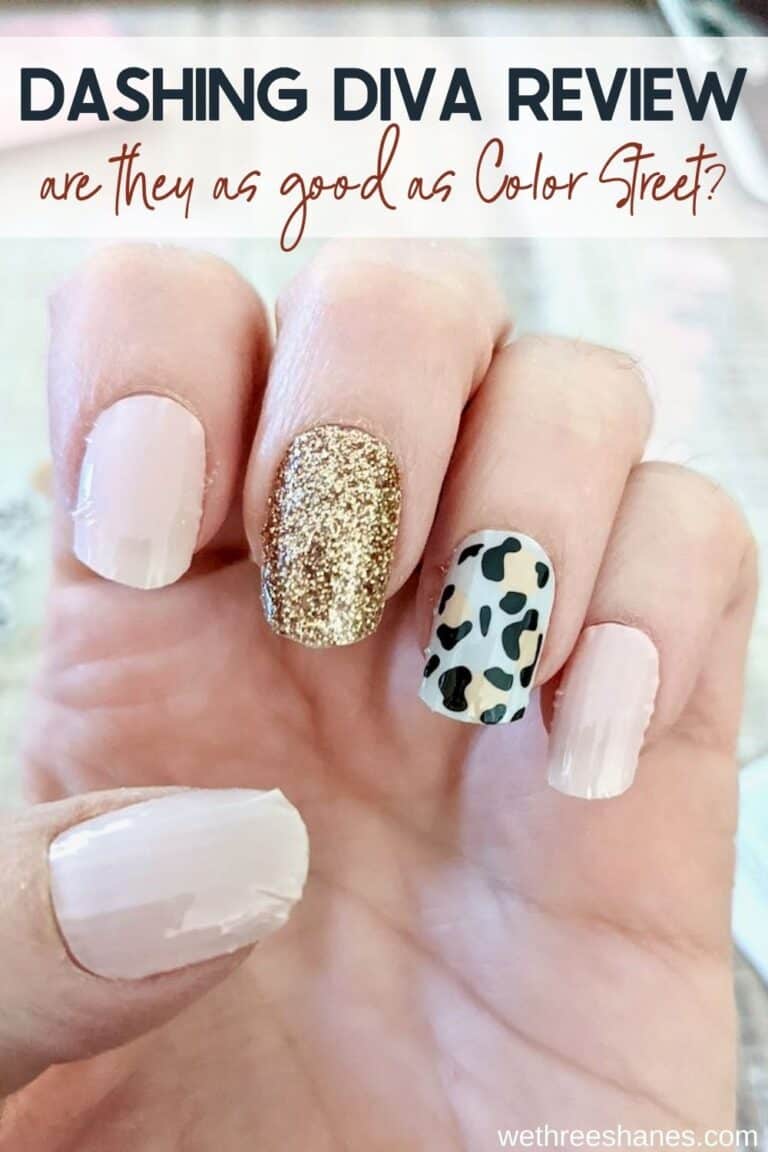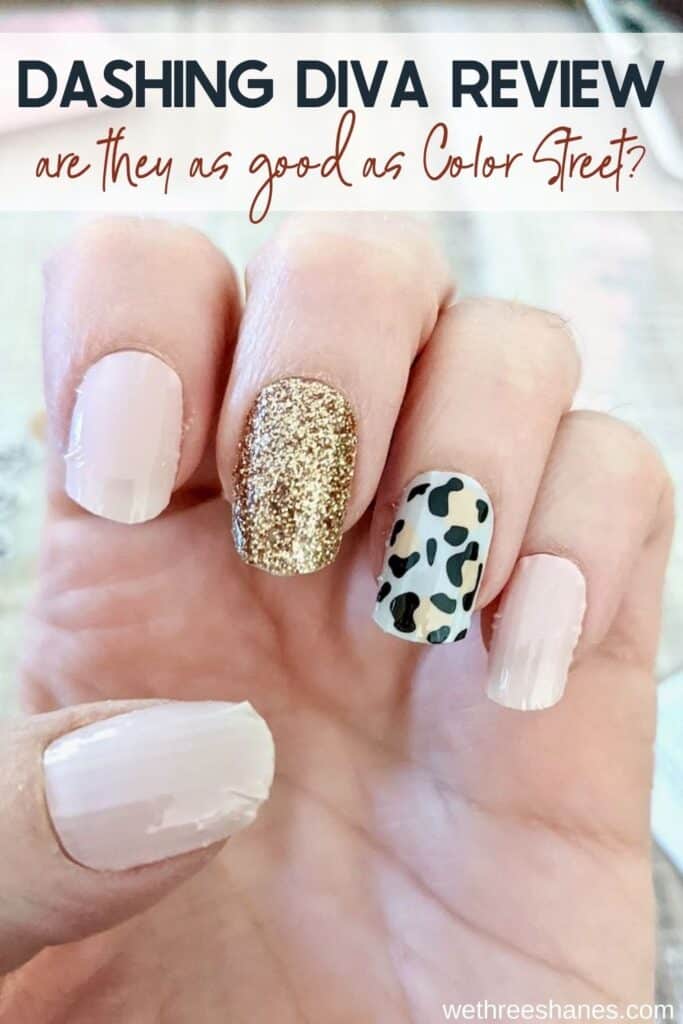 Overall Opinion
I think Dashing Diva Gloss Nail Strips are definitely worth a try. They come in tons of cute styles. The price is great. They last a full two weeks with out having to try hard.
I still have many nail strips left from my set that I plan on using for a pedicure and some mix and match manicure fun. These are easy to pick up at stores so I will definitely be doing that again soon.
Have you tried Dashing Diva before? Please leave a comment at the end of the post to let us know what you think. It's always helpful for readers to get more opinions before trying them for the first time.
---
You Might Also Like: