Nails Mailed Affordable, But Are They Right For You?
Nails Mailed are yet another real nail polish strip company that mails cute nail designs straight to you. You get salon quality nails at home for much less than salon prices. But are they any good? Keep reading to find out!
After trying out 5 sets of Nails Mailed nail polish strips on 5 different people, we will be giving you a full review of what we think of the product. We'll look at price, application, removal, how they hold up and more. While we'll tell you what we think of Nails Mailed on their own we'll also compare them to the original nail wraps from Color Street.
Full disclosure, after seeing some of our other nail polish strip reviews, Nails Mailed reached out to us to see if we'd try their nail strips out. We were happy to receive some nail sets for free in exchange for some social media posts.
However, this review was not a requirement. We will be giving you an absolutely honest review just like in our other nail strip reviews:
Color Street Nails, An Honest Review From a Non-Seller
Color Street vs Incoco and Coconut: What's the Difference
Lily and Fox Review: Are They Better Than Color Street?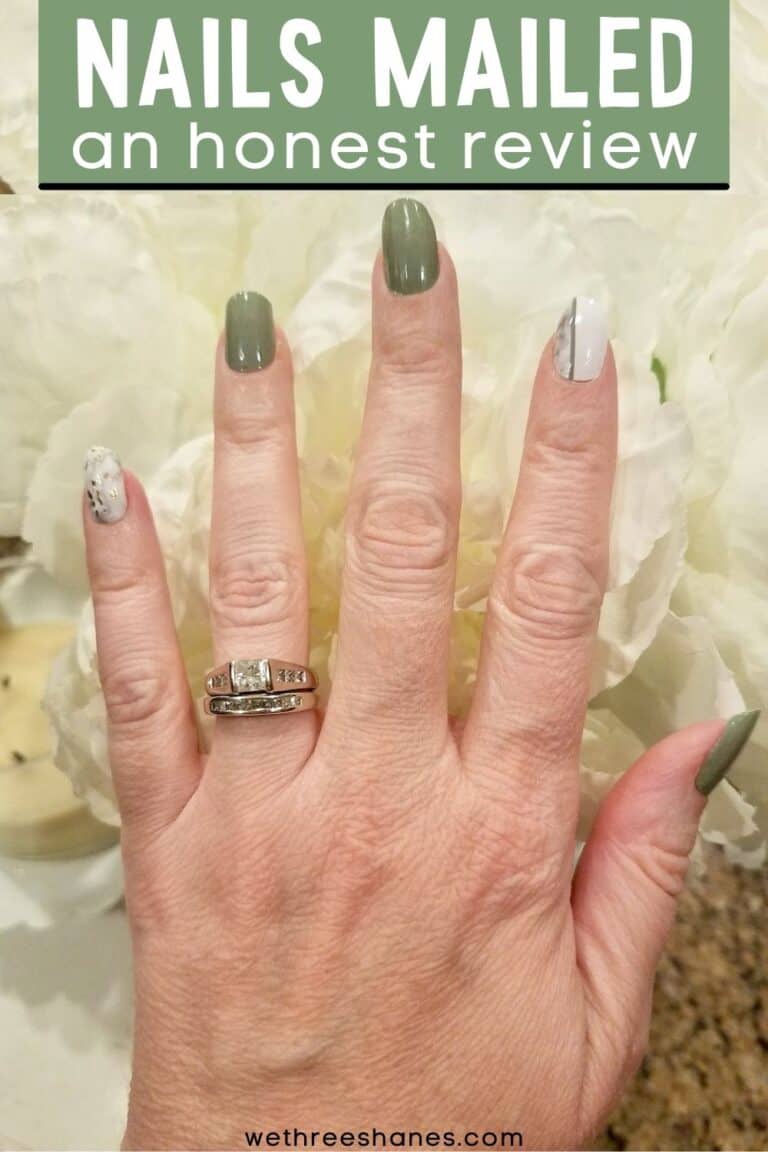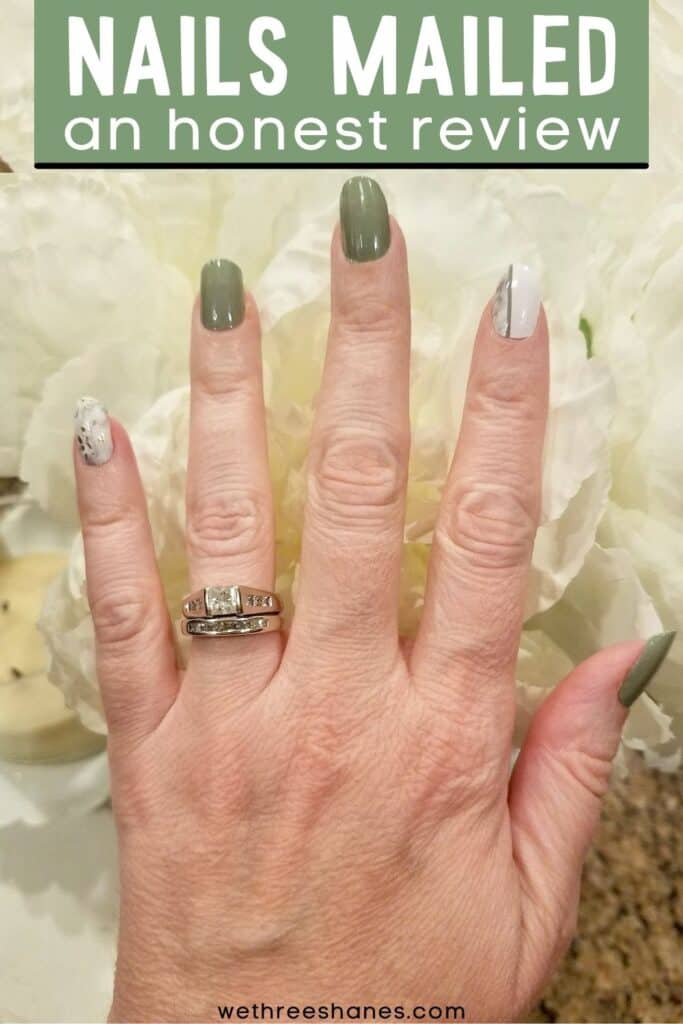 (THIS POST PROBABLY CONTAINS AFFILIATE LINKS. OUR FULL DISCLOSURE POLICY IS LONG & BORING BUT, YOU CAN FIND IT HERE.)
Nails Mailed Review at a Glance
Just to warn you, this post will be long. We use headers to break up the post into section. You can use those to scan through to find the info you are looking for if you'd rather not read the whole post.
Personally, when I'm reading a review post I want all the info so I tend to pass on short reviews. I realize not everyone likes that so here's a rapid review for those of you who don't want to read the whole post:
I would compare Nails Mailed's polish strips to Lily and Fox. They are stretchier than Color Street nail strips and have that slightly sticky or tacky feeling to them. If you want them to last then they need a top coat.

The application process is a little trickier than Color Street's but not bad once you get the hang of it. Nails Mailed strips don't dry out once opened like Color Street's strips do which is great.

Nails Mailed strips are a little skinnier than Color Streets so it's a little trickier to find a size that fits perfectly for all your nails. This can be extra hard when you're using a set of nails that have different patterns for each nail, like I did. But, I was able to get a mani and pedi out of one set of nail polish strips.

Nails Mailed are more expensive than Lily and Fox unless you get one of the bigger subscription plans with Nails Mailed where they automatically ship nails to you every month. They are less expensive than Color Street. You can basically get two Nails Mailed sets for the price of one Color Street set. Plus Nails Mailed ships for free!

I would say Nails Mailed are worth a try. They have a huge selection of really cute nail polish strips for a good price. They have other nail products as well but we only tried the strips.

We do have a discount code if you want to try them out. I honestly think you should give them a try to see how they work for you. If you're like me, you'll have a hard time picking out just one set of nail strips because there are so many adorable styles.

Go to the Nails Mailed site and select your favorite nail styles. Then use the code WETHREESHANES at check out to get 10% off.
There you have it. That's the quick version. I'll be going into much more detail in this Nails Mailed review now.
If you read the short version and then ask me questions that I covered in the rest of the review, which I totally know will happen, then I'm going to tell you to read the rest of the review. You've been warned (if you even read this far, haha!)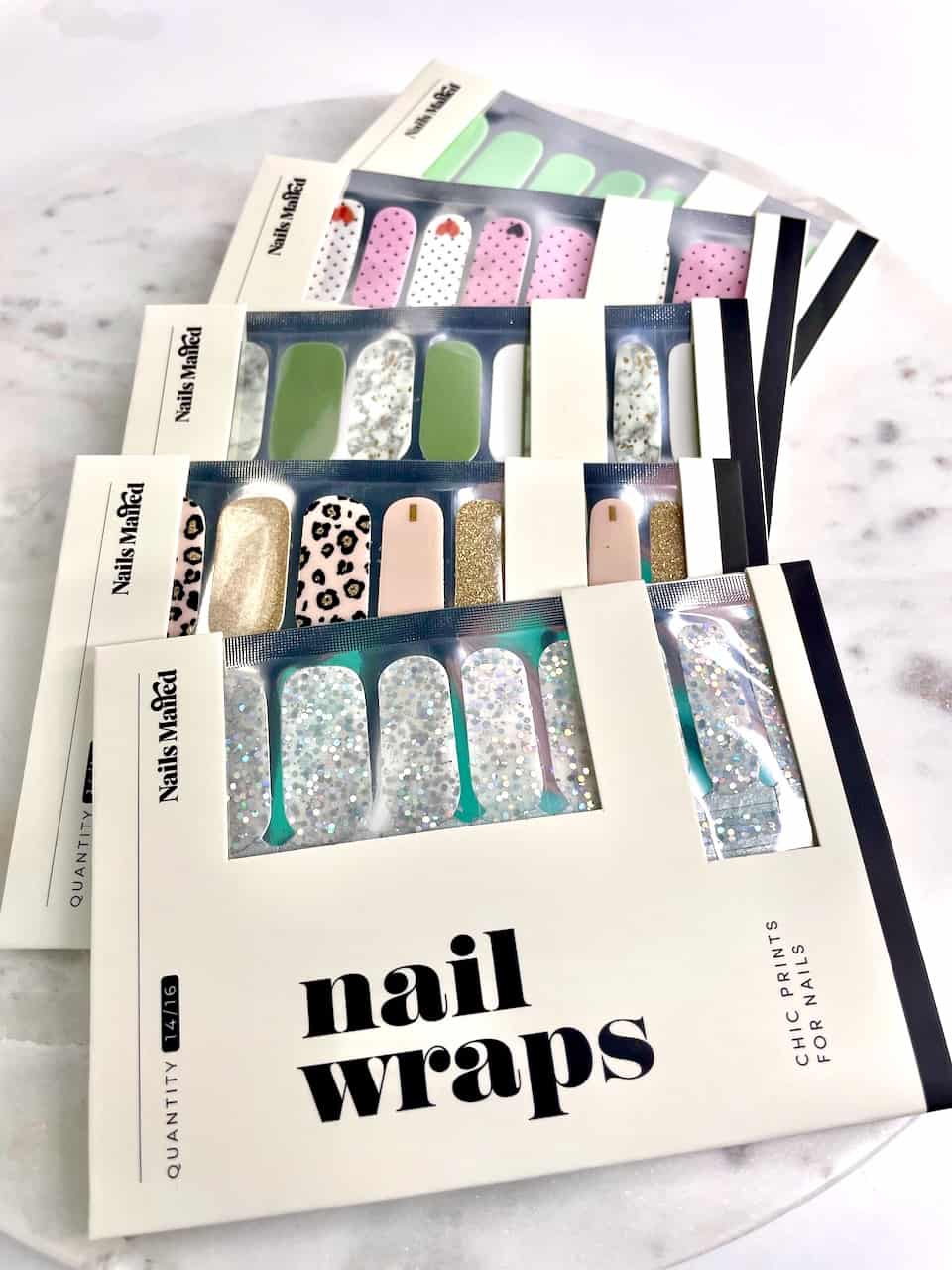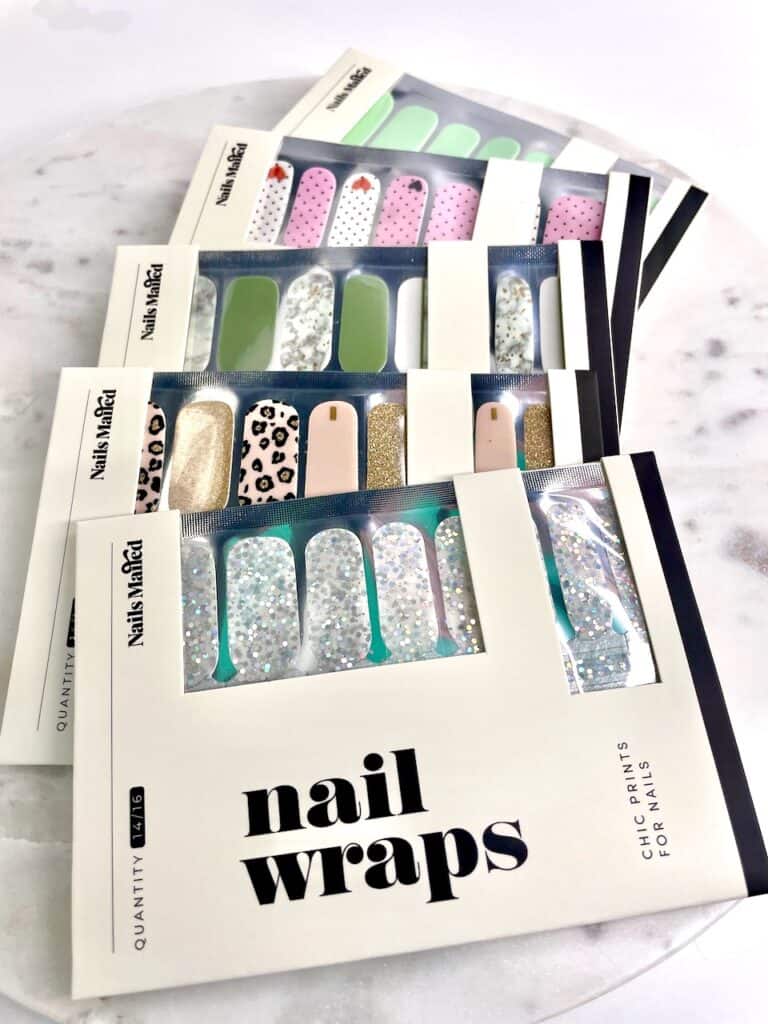 ---
Nails Mailed Review
Nails Mailed is another real nail polish strip company that's come into the game. The strips are made of real nail polish. They are 7-free, vegan, and cruelty-free.
The company is based in Utah, in the United States but they don't reveal on their site where the nail strips are manufactured.
If you've used nail polish strips before then you'll notice how similar they are to other companies. You order through their website only, no reps to deal with like Color Street. Some people find that nice and others like working with a rep for a more personalized experience.
Shipping is free on all orders which is super nice. They ship within 48 hours of ordering and you always get a notice when your items have shipped. A tracking number is provided when you've ordered more than two regular priced wraps.
Nails Mailed gives you 16 nail polish strips in varied sizes. One strip is meant for one nail. You can get two nails out of one strips but your nails have to be on the shorter side and you have to use scissors to cut away the tab.
Using scissors is the only way to get a mani and pedi from one set of nail polish strips. It's an easy enough process once you get the hang of it. You can check out my tutorial if you want to see how the process is done.
Nails Mailed does sell more than just nail polish strips. They also have regular nail polish, gel polish, gel wraps, pedicure wraps, cuticle oils, and tools. It's nice to have so many nail options on one site.
How To Apply Nails Mailed
As with all nail polish strips, proper nail prep before applying nails will give you the best lasting power. It always seems like a ton of steps when writing them down but it's pretty simple once you learn the process.
Like everything else in this world, practice helps. The first time you put nail wraps on can be a bit tricky but it will get easier and faster the more times you go through the process.
I like to start by cleaning up my cuticles. Thick cuticles can get in the way of nail stickers being applied properly so push cuticles back really well and scrape away any debris that's left on nails.
Next, clean hands and fingernails really well.
Use rubbing alcohol to remove excess oil and unseen debris. Nails Mailed provides you with one prep wipe and a file.
Nails Mailed recommends a base coat if you tend to have oily nails or if you're having a hard time getting the nails to stick. I didn't need a base coat for mine.
Measure the nail strips against your nail to find the right size. These do have a little give so you can stretch the strips just a bit to cover an area if you need to.
Once you find the right size for your nail you need to pull of the clear protective layer and then the nail strip. Don't forget to peel the clear layer off first. It can be pulled off after but is a little trickier.
Place the nail strip on your nail just above the cuticle and press hard in a smoothing motion to remove any bubbles and to get a clean look. Try not to place the wraps on the cuticle or skin. They won't stick well and will result in peeling nail wraps.
Fold the excess nail wrap over the tip of your nail. Now you can use the provide file to remove the extra wrap or use scissors and use the rest of the wrap on the same nail on the opposite hand.
Using a top coat is key for keeping Nails Mailed wraps looking good for longer than a couple of days. I used a top coat on one hand and not on the other to see how long the nail wraps lasts. The nail strips without a top coat didn't last long at all. In fact, the top layer of the strip peeled off within a couple of days and the color quickly began to wear off so don't skip the top coat step. Nails Mailed instructions even recommend reapplying a top coat every couple of days.
We had a nail party while on vacation so Kris, Katie, and I were joined by our mom and Katie's 12 year-old daughter. My niece did her nails without any help but they were a bit tricky for her. She got some on her cuticles which made them not last as long.
My mom struggled with her nails. Haha! She definitely doesn't do nail strips on a regular basis so I think this was the first time she tried putting them on herself. She needed lots of help but we all had a lot of laughs at her expense, including her. Us Shanes don't have a problem laughing at ourselves.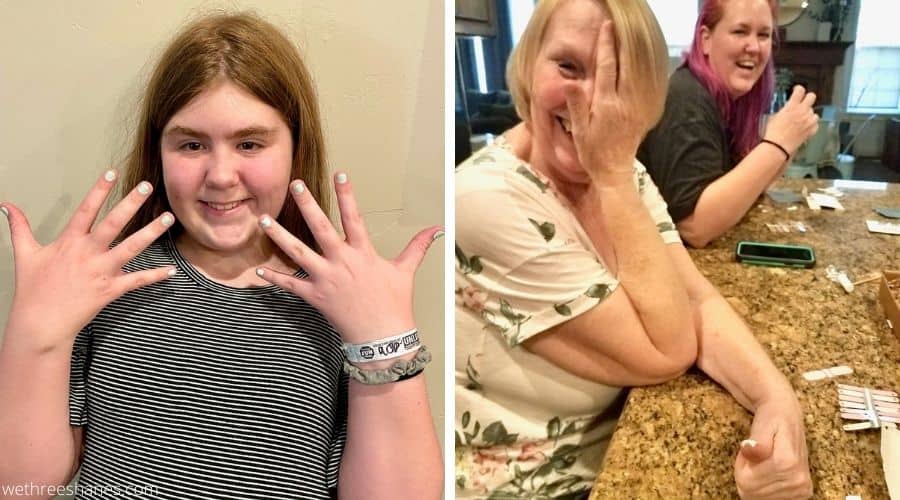 Nails Mailed How to Remove
Removing nail polish strips can be a pain but I found Nails Mailed to be super easy to remove. Nails Mailed recommends soaking nails in warm water for 8 minutes and then simply peeling the nail wrap off.
Then "wash" your nails with hand sanitizer. I'm guessing this is to remove any sticky residue that stays on finger nails. I rubbed a little olive oil on my nails and the residue came right off with a swipe from a washcloth.
I didn't bother with the soaking part and just peeled the nail polish strips away with no problems. This was only with the side I didn't use a top coat on. Katie used the top coat on her nails and when she peeled the strips away without soaking them she did get some nail damage.
The side that had a top coat on came of super easily with nail polish remover. I'm talking really easily. It practically melted away with the mineral polish remover. I didn't have glitter nails so I'm not sure if those are harder to remove like other brands can be.
How Did Our Nails Stand Up?
Like I said above, we had a nail party so five of us tried out Nails Mailed. It's nice to hear how they work on more than one person. It's why we love when readers put their own review in the comments section at the end of the post.
Everyone's nails are different so their experience is different. Plus, the way you apply the nails and how you treat your nails/hands while wearing nail wraps can affect how long they last. So, here's what we each have to say about our experience with Nails Mailed:
Kristy's Review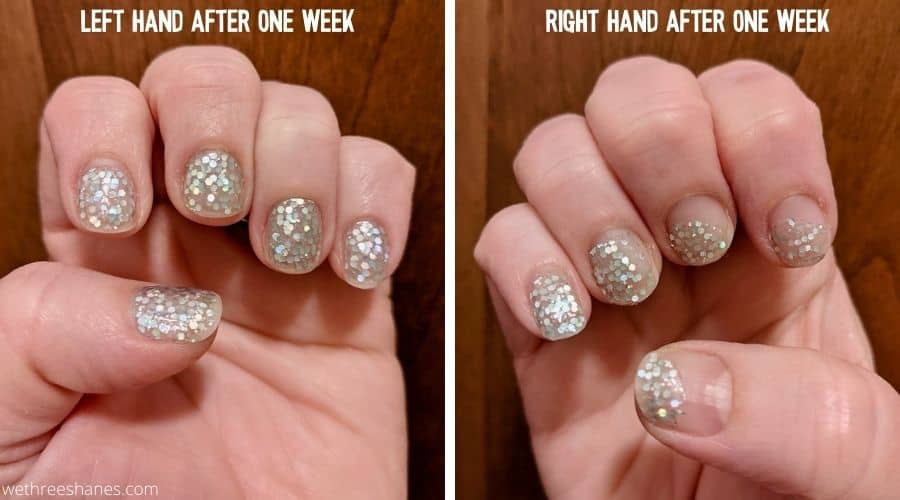 Pros:
Mailed directly to you without a middle man, cheaper, did remove without doing damage to my nails (but did leave a lot of residue I had to work hard to get off.)
Toe nails are staying put so far (day 4)
Cons:
Nails moved on me while I slept (seemed to heat up when I held hands under my face as I slept).
Application was harder than other nail strips. Because nail strips were thicker and stickier, I had residue that got "dirty" looking, as stuff stuck to it.
If I was going to use these again, I would probably only get bold glitters to use on my toes. I think at the affordable price, this would be worth it. I don't see it being worth the work to put these on my fingers again.
Katie's Review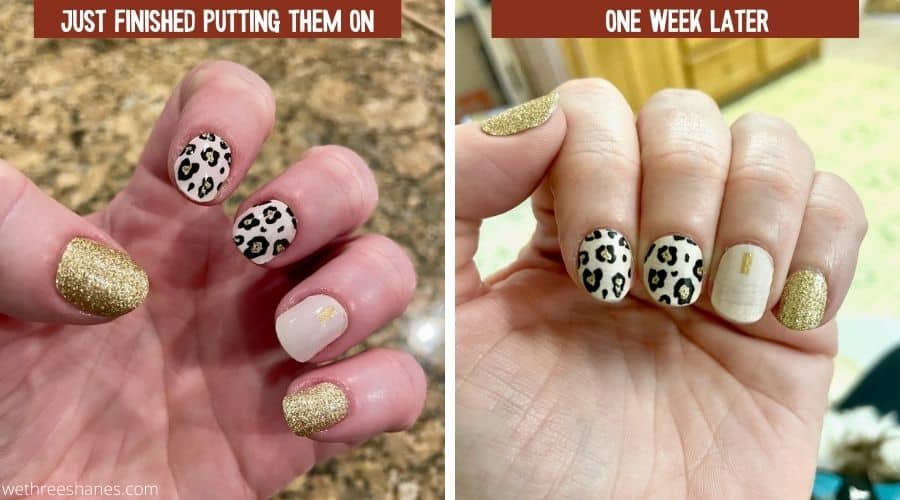 I was pretty impressed with my nail wraps from Nails Mailed.  They are super thin which for me is a plus. 
The only thing I didn't love when putting them on, is that after you put them on you have to put a clear coat of nail polish on them. However, do not get lazy and skip this step.
My daughter skipped the top coat because we were running late for something.  At first it was fine but then within 2 days they became very sticky and everything stuck to them and they started peeling off. 
Mine however, lasted a good week and a half before they started coming off at all. For me that was really good. I was also on vacation so I was washing my hands a lot, but I was not at home washing dishes. Not sure if that would have made a big difference or not.
Pros:
The thinness of them (Kristy and I consider them to be thick so you can see how different people have different opinions).
The ease of putting them on and how quick the process was.
They also lasted a week and a half before they started peeling at all.

Cons:
I had mixed colored nails. The light colored ones started cracking pretty quickly. My glitter ones were great though and if they were cracked, you could not tell at all. So maybe get darker nails or glitter ones for a better, more professional look that last a while.
I didn't follow their removal process. I was actually at a party and a nailed came off and so I just peeled the rest of them off while I was there. That was a dumb idea because it did peel some off my natural nails with it. So do not do this! haha! Follow the removal instructions and your nails should be fine.

Overall I was super happy with my Nails Mailed experience. I think Color Street is still better but Nails Mailed has much better pricing and there wasn't too big of a difference for me in the quality. Color Street is still my number one but Nails Mailed are a close second!
Kim's Review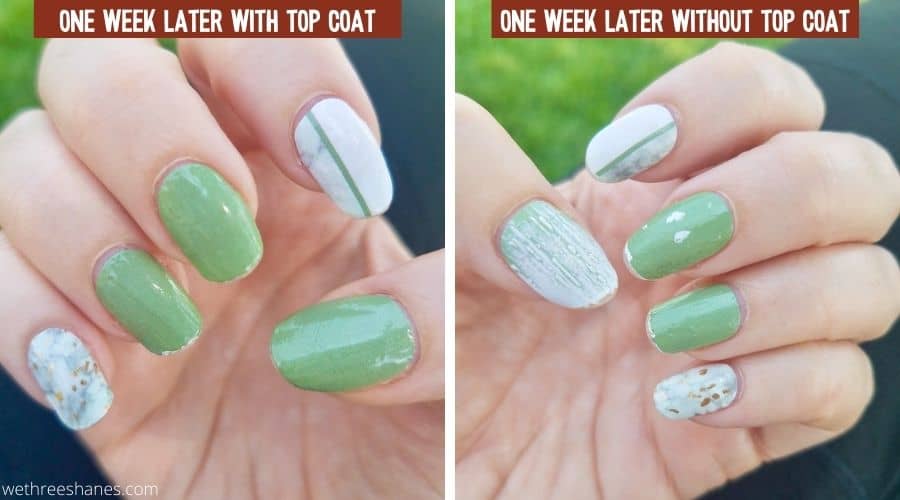 I would definitely give Nails Mailed a try again. I think they are worth the price for cute nails at home. I'm not much of a nail polish wearer but I do like cute toe nails when the weather is nice so I'll definitely use them for my toes again. I could see using them on my finger nails for special occasions.
My nails lasted a week with the top coat. I got another week out of them by trimming the tips of the nails where the nail polish strips had worn off and then applying another layer of top coat.
Pros:
Nails Mailed has a huge selection of nails which means there's something for everyone! Super cute designs make it hard to choose just one set so if you like to change your nails often you won't have a problem finding different designs you like.
The removal process is a breeze and these nail strips don't damage nails in the removal process. I didn't have any problems with my nails feeling brittle after using these nail wraps.
Free shipping, mailed to you, and the price make it all worth it.
You can get a mani and pedi from one set but it takes a little bit of work.
They do last forever on your toes so a pedicure can last 3-4 weeks.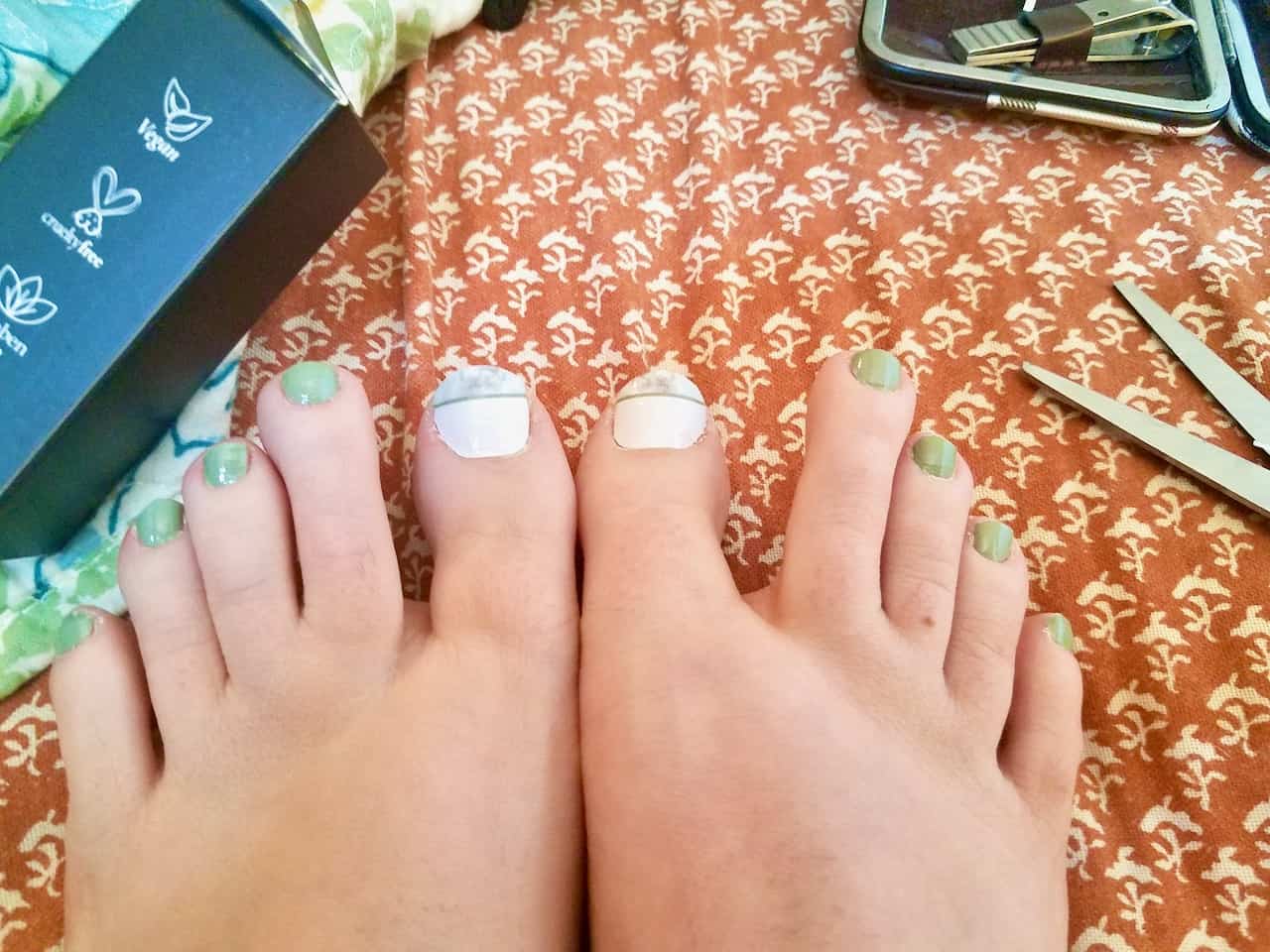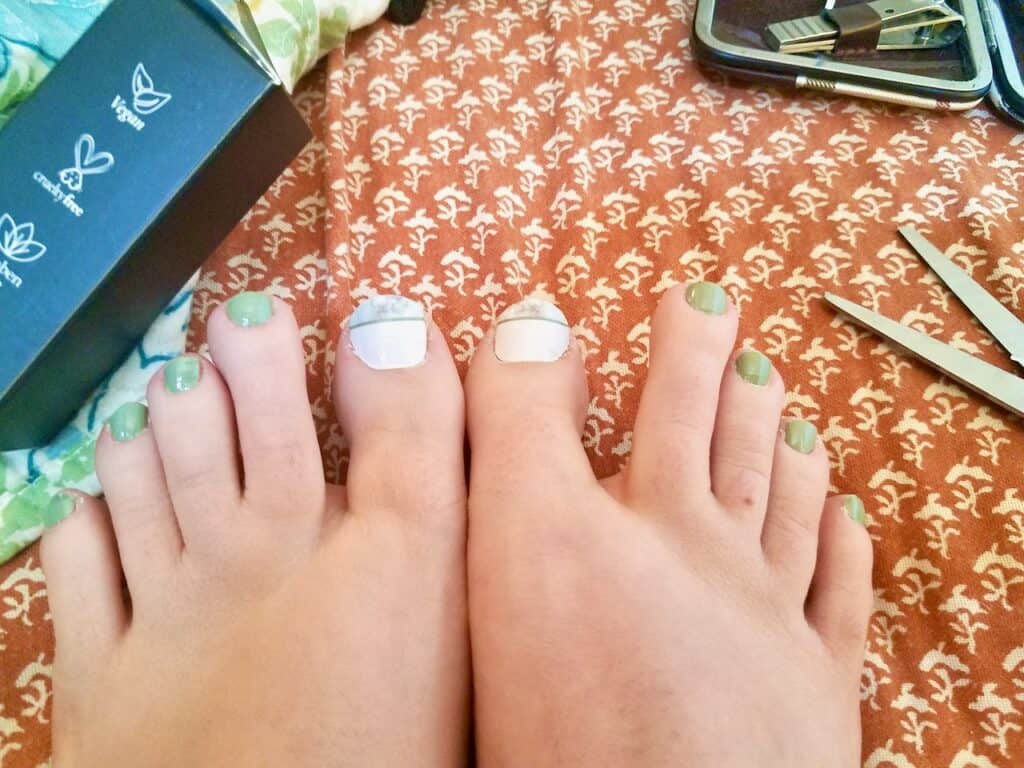 Cons:
The application process can be a bit tricky and tedious but I do think it's worth it for cheap nails at home.
A top coat is definitely needed to make the nail strips last. That's an extra step you don't seem to need with Color Street.
It's a bit hard to find a good fit for all the nails. If you have long nails then you'll need to use a whole strip for each nail but that's pretty standard.
Even with the top coat, the nails are very pliable for the first couple of hours after you put them on. I kept scratching my legs and this made the tips of the nails peel up. I could smooth them back down but I do think this made the tips break off easier throughout the week.
Mom's Review
We don't have any before and after photos of mom's nails but here's what she thought about them.
Pros:
I really enjoyed the design I had and I got compliments on them from strangers.
Cons:
One of my nail strips came off on the first night only an hour or two after application. I looked down and it was gone so that was a waste of a nail strip.
I got so frustrated with application, didn't finish toes half way through.
Largest nail is still not large enough for the biggest toe (and she has smaller nails). Because of the smaller size, there is no way to get both toes and fingers in same set. (I did get a mani and pedi from one set but you need to use the biggest nail strip turned sideways for each big toe.)
---
Mail Your Nails vs Color Street
You can't do a review without comparing Nails Mailed to Color Street. Color Street was the first on the block so most people have tried them and always want a comparison.
Nails Mailed cost less than Color Street. Nails Mailed average cost per set is $5.49 but you can find some sets for less. Color Street nails range from $11-$14. Nails Mailed also has subscription plans which gives you a further discount on nail wraps. Color Street does have some deals but they still cost more by about double.
Nails Mailed has free shipping on all products. Color Street has a flat rate of $3 for shipping.
Color Street wins when it comes to the application process. Their nail strips are less rubbery which makes them easy to pull the excess tips off. Their nail strips also have a perforated tab that pulls off so you don't have to use scissors at all in the application process. Plus there nail strips are wider which seems to make a difference when finding a size to fit your nail.
Color Street is manufactured and sold in the USA. I can't say the same for Nails Mailed because they don't disclose where the nail strips are made.
Color Street nail strips are harder to remove so a lot of people have struggled with damaged nails after prolonged use. Nails Mailed removes so easily that I can't see that being a problem but I've only used them once so far so I can't say for sure if long term wear will damage nails.
Honestly, Color Street is the better nail strip but they cost more. For some the cost is worth it. For me it's not. I'd rather save some money and go with Nails Mailed even though they are a bit harder to apply and need a top coat to make them really last.
Nails Mailed Subscription
I mentioned before that Nails Mailed has subscription plans which is pretty cool. You don't have to have a subscription to buy. You can order nail strips anytime.
The subscription is worth it if you like to change your nails often or if you have a house full of girls. Nails mailed has 3 plans.
The Value Plan gets you two sets of nail polish strips for $8.99 a month. This saves you two bucks.
Right now the Premium Plan gets you four sets for $10.50. That's a savings of 11.46 a month and is currently the best deal.
The Classic Plan is $11.99 and gets you 3 sets of nails so you pay more for less nails compared to the Premium plan. This isn't always the case but it's how the prices are right now.
You let Nails Mailed know what wraps you'd like each month and you can stretch the plan out from every 30 days to 60 or even 90. Canceling is a simple as an email.
---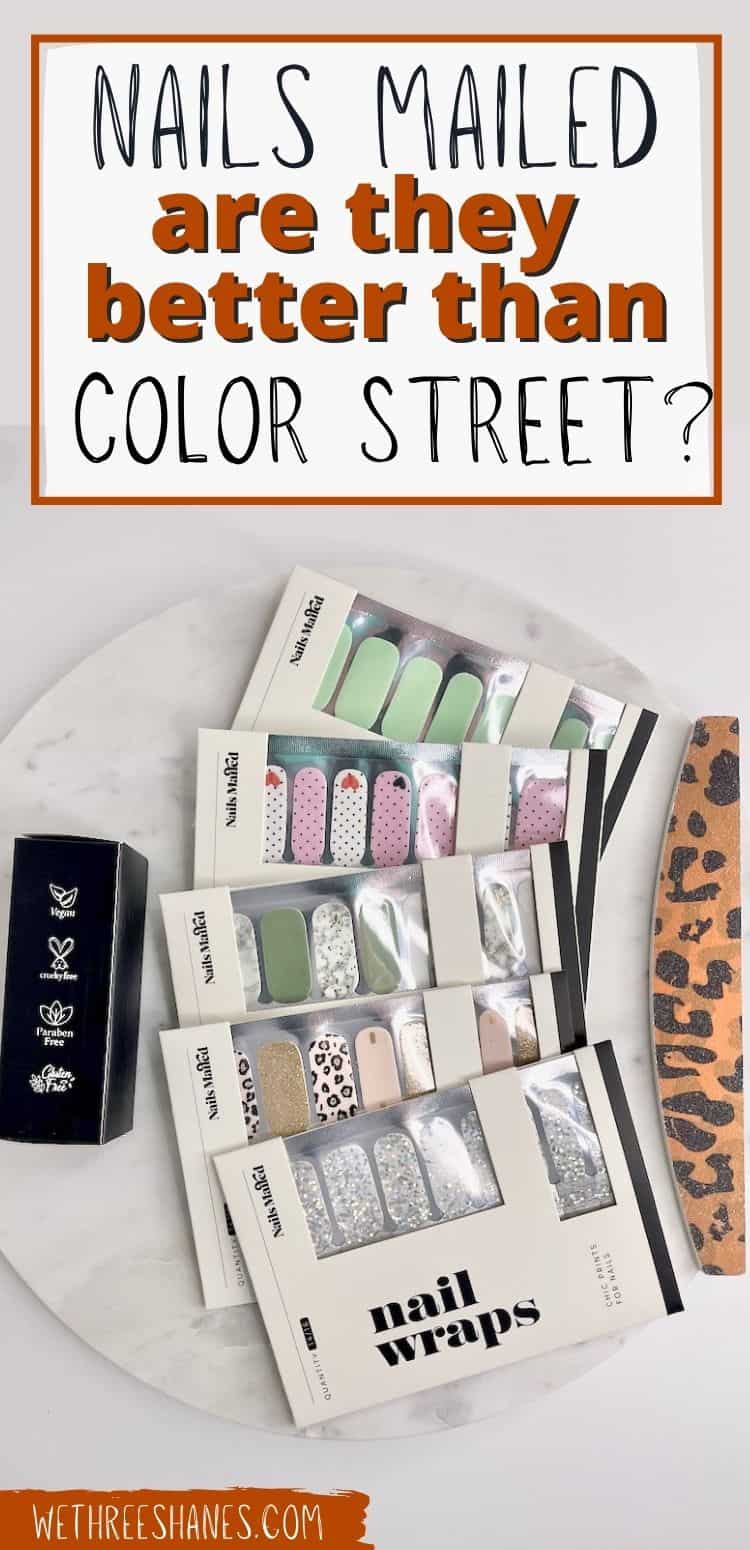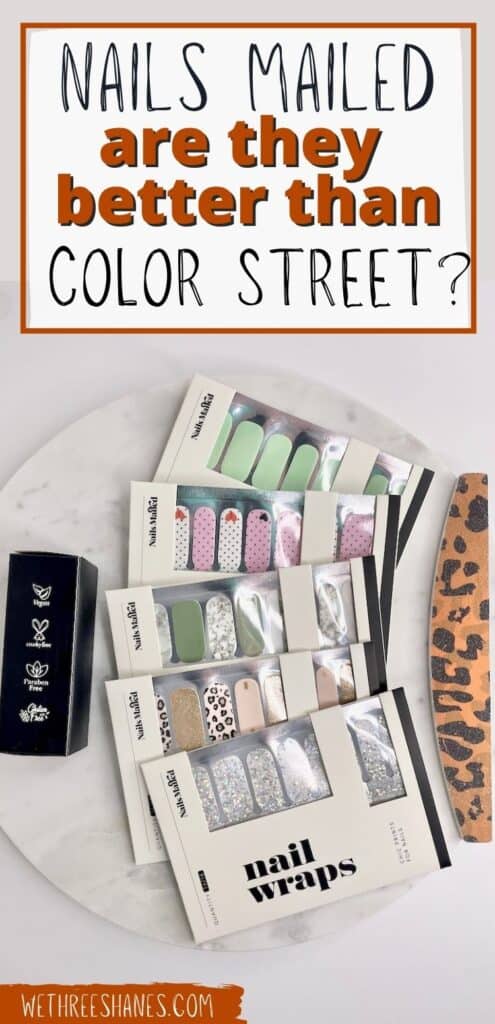 Are Nails Mailed Worth It?
I think Nails Mailed are definitely worth it. If you like to use nail strips then I think they are worth a try to see how they work for you.
With fall and Halloween coming up, I'm super excited to get some Halloween sets for my nails. I'm dying over all the skull and spider designs they have and will be stocking up on some for later in the year for regular wear.
Check out all the fun styles of nail wraps plus other supplies Nails Mailed has and don't forget to use our coupon code WETHREESHANES at check out for 10% off.
Have you tried Nails Mailed before? What did you think? We'd love to hear about your experience in the comments.
---
You Might Also Like: