The Best Home Pedicure Kits for Perfect Feet
Make professional pedicures at home a simple task with these must have tools for silky smooth feet and perfectly painted toes.
Getting a salon quality pedicure at home is totally possible. You just need the right tools. Today I'm sharing the best pedicure kits that will help you get soft feet and pretty toes from the comfort of your own home!
I don't know about you but the thought of going to a salon to get a pedicure gives me anxiety. Someone else touching my feet makes me squirm. Even though I know they are a professional and have definitely seen feet in worse condition than mine, I can't get over the feeling that I'm being judged.
An at home pedicure is a better option for me. I have more control over a pedicure at home so it's my personal preference. If you're more like me and want that salon experience at home then you're going to need some quality pedicure supplies.
(THIS POST PROBABLY CONTAINS AFFILIATE LINKS. OUR FULL DISCLOSURE POLICY IS LONG & BORING BUT, YOU CAN FIND IT HERE.)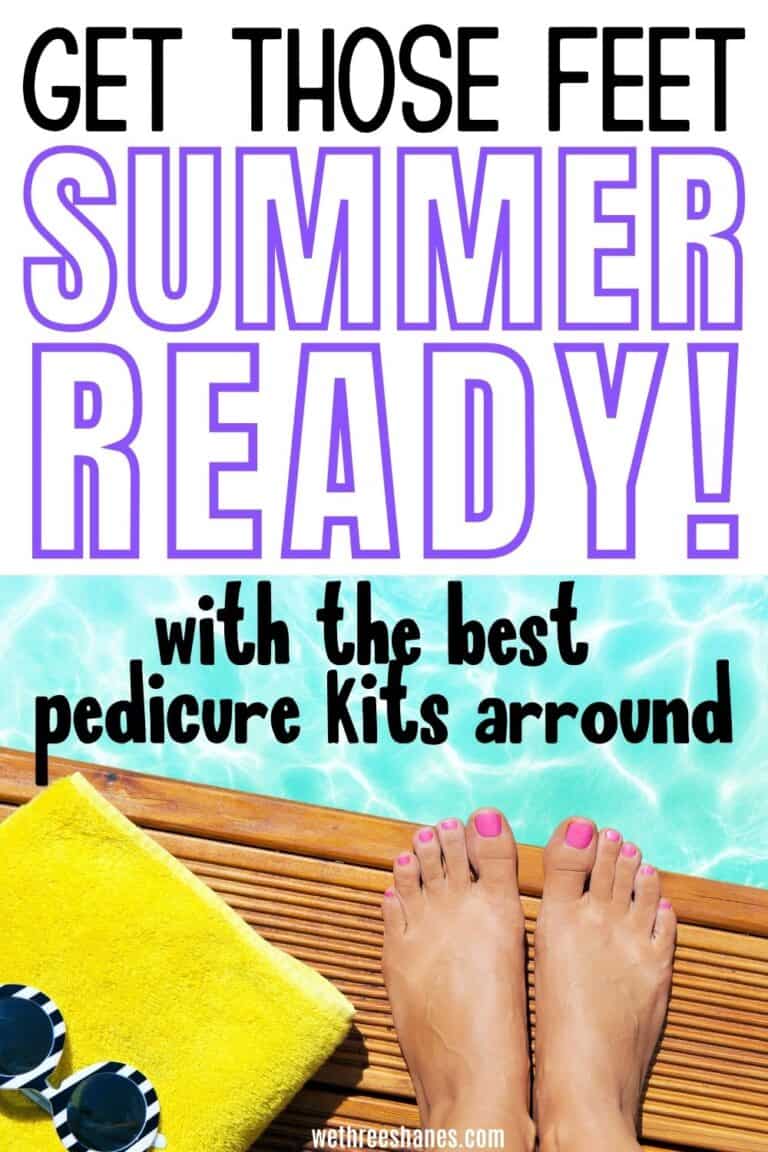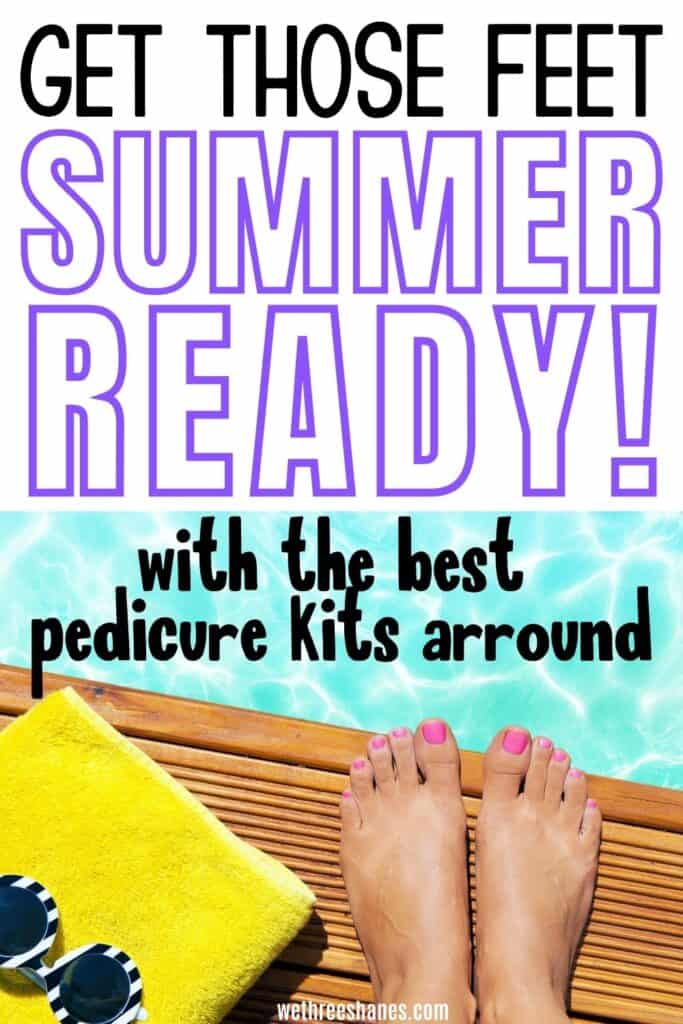 What is a Pedicure?
A classic pedicure is a cosmetic treatment that takes care of your feet and toe nails. It's basically a manicure but for your feet. There are different types of pedicures and salons may have their own special foot treatments they offer.
A basic pedicure will usually get you a couple of things:
a nice foot soak in warm water to help you relax and soften things up
a foot scrub to remove callouses
a moisturizer applied to keep skin soft
a toe nail clean up – trim nails and cuticle push back or trim
polished toes to top it all off
If you're the type of person who can handle your feet being touched then a pedicure is quiet a relaxing experience. Going a couple times a year won't break the bank and can be a nice way to pamper yourself, which you totally deserve.
---
Professional Pedicure vs At Home Pedicure
So what are the big differences between a pedicure at a salon or one at home? Let's go over a couple of things.
At the salon you can sit back and unwind without extra distractions that home can bring. If you don't mind someone else handling your feet then you'll also have a pretty relaxing experience. Have you ever had someone massage your feet before? It's pretty amazing!
When you get a professional pedicure you know you'll walk away with beautiful feet and toes. They know what they are doing and have tons of pedicure hours under their belt. If you're new to doing your own pedicure it can take some practice to do a good pedicure at first.
At home you can control how much scrubbing is done to your feet. Skin that's been scrubbed too much at salon can leave you with sore feet. Plus broken skin can lead to bacteria or fungus getting in.
Speaking of bacteria, while I'm sure most salons do a great job of following safety guidelines, you never really know how well pedicure tools have been cleaned between sessions. Also, solutions being used can contain harmful chemicals at a salon. You can chose the ingredients you use at home for your pedicure.
I prefer doing my own pedicure at home because I'm in charge of what I use on my feet. I decide how much scrubbing gets done. Supplies are picked out by me so I can keep things natural if I want. Plus, I'll be cleaning tools properly which comes with peace of mind.
However, I totally get that worrying about all that stuff can take away from the experience. You choose what's best for you.
How Much Will a Professional Pedicure Cost vs a Home Pedicure?
While salon prices can range, especially based on area, a basic pedicure costs between $25-35. That's not a bad price at all. If you want extras, which can be very tempting, then prices can go up to $65 or higher depending on what the salon has to offer.
Depending on how often you get a professional pedicure is where the price really adds up. If you go a couple times a year then you could end up spending 75 to 195 dollars a year. Over the years that can really add up.
If you want to get a proper pedicure at home then you'll need to spend some money on pedicure supplies. How much you spend depends on you. You can start with a basic pedicure kit to save money or you could go all out trying to create a real at-home experience which could also add up.
Either way the cost could be anywhere from 20 bucks to a couple hundred. The good news is you only need to buy products once for them to last years. Meaning, a pedicure at home can save you a good amount of cash.
---
What Products Do Professionals Use for Pedicures?
Let's quickly run down the list of supplies that professionals use when giving a pedicure so you can determine what you'll need at home.
Towel to dry feet
Basin to soak feet in
Foot scrubbing tools like salt or sugar scrubs, callous removers, heel scrapers
Moisturizer
Nail maintenance – clippers and files plus cuticle pushers and trimmers
Toe separators, buffers or polish/nail polish strips
Extras – masks, massages, and more
Obviously you won't need all of these to create a spa experience at home. You can decide what is necessary and what to spend your money on.
---
The Best Home Pedicure Kits
There are two pedicure kits that I recommend. They come with almost all the tools you'll need to do your pedicure at home and both cost less than one pedicure.
First up is your basic all-in-one professional kit. You'll get everything you need to do a basic pedicure at home with this set.
Just like the kit above but this one comes with an electric callous remover instead of a manual scraper. You'll also get all the other tools you need so it's a great all-in-one started pedicure set.
More Pedicure Tools to Take Things Up a Notch
All you really need are a couple of sturdy tools to do your pedicure at home. An all-in-one pedicure kit is great because you get all the basics in one buy but not everyone wants to do that. You can buy things separately to build the perfect kit that fits your needs.
Let's work our way through the steps of a pedicure to see what supplies we actually need. I'm going to give you a simple version and a fancy version of some items and you can decide how bougie you want to get. I'm going to assume you have towels at home so we'll skip that on the pedicure kit list and start with basins.
1. Best Foot Basins
I know a basin isn't a kit but a good foot soak can make or break a perfect pedicure. You can do your pedicure after a soak in the bath so a basin isn't totally necessary. But, not everyone has a tub in their house, I'm looking at me, or maybe you don't want to fill a bathtub just for a pedicure.
That's when a basin comes in handy. Personally, I think a basin is helpful for other projects around the house so I like to have one around. You can go the simple route or the fancy one when it's comes to using a basin for a pedicure at home.
This simple plastic basin is made for pedicures. It's got arch support so feet fit in comfortably. The raised dots give a light massage. High walls give you plenty of height for more water without worrying about spilling. It's basic but get's the job done nicely.
This foot soak tub folds completely flat so it's great for small spaces with less storage. Even though it's collapsable, it's completely sturdy. It's quiet large so it holds plenty of water and has wiggle room for bigger feet. It comes with massage bumbs and rolls for extra foot care.
This foot spa is a whole experience. It heats the water for you and keeps it at the right temperature which is fantastic for long foot soaks. Like the one above, it has massage rollers but it also vibrates and has bubbles for a real spa effect. If you're looking for a salon experience at home then this is the basin for you.
No matter which basin you choose you can up the experience with this tea tree oil foot soak. Adding a small amount to the water will sooth tired feet and help soften the skin to help slough off dead skin during the next step of the pedicure process.
---
2. Scrubs and Callous Removers
Now that your feet are soft they're ready for scrubbing. A good pedicure leaves feet silky smooth but you can't get that with out some help from a couple of tools. We'll start with the necessary supplies and then move on to the 'extras' list.
Want a professional pedicure at home then use what the professionals use. This callus remover is used at salons to remove stubborn callouses the easy way. It's strong stuff so you'll need to follow directions carefully but when used correctly it's absolutely astonishing how well it works.
Man, I love a good scrub. We've got a great homemade foot scrub recipe if you want to go the DIY route. We also have a facial sugar scrub, lip scrub, and a mermaid scrub recipe too if you want to check them out.
If you're like me and love the feeling and benefits of a good scrub, but don't want to make your own, then you'll definitely want to get some of this foot scrub. It's got tea tree oil and peppermint to sooth skin while taking off layers of skin.
This is a much gentler scrub so it won't remove callouses but it's great for maintaining smooth skin on your feet and gives tired feet a nice boost.
Have you ever seen those mask that make all the skin on your feet peel away? It looks a little creepy to see the photos but you're left with baby soft feet in about a weeks time. This peeling mask uses natural ingredients to get deep into the skin and slough off the dead layer. Basically, it's gross magic.
This natural lava pumice stone will easily scrape away dead skin and callous leaving feet silky smooth. It's easy to use after a good foot soak or in the shower for easy, weekly maintenance.
Lava stones are great for natural skin scraping but some might prefer a foot file because they last longer. This file might look a little scary but they are perfectly safe and are easy to use at home. Don't be scared to start off with the bigger file first which will take care of bad callouses in minutes. Finish off with the smaller file to smooth out the rest of the skin.
Take your home pedicure up a level with this rechargeable callous remover. It has three exchangeable heads with varying degrees of coarseness. It's completely waterproof so you can use it in the shower. It has an automatic shutoff when too much pressure is applied so you don't have to worry about doing damage to your feet.
---
3. Clippers, Files, and Other Toe Nail Tools
It's time to take care of our cuticles and toe nails. It's a pedicure so we can't leave them out. Here are a couple of our favorite tools to keep toes looking good.
Every home should have a basic nail grooming kit. It comes with all the tools you need for a manicure or pedicure. Everything fits nicely in a little carrying case. If you don't get one of the all-in-one kits above then you should consider this nice clipper set.
You'll definitely get a salon quality pedicure at home with this nail drill kit. It takes care of all your nail needs. It's great for anyone but especially helpful for people with toe nail problems like thick nails or ingrown toe nails.
4. Finish Off Your Professional Pedicure
You can finish your pedicure with clipped and buffed toes or add some polish. Nail polish strips are my favorite for a long lasting pedicure.
Color Street nail polish strips are a favorite of mine. If you've never used them before you can check out our post that tells you everything you need to know about them.
Lily and Fox is another nail strip company that I currently use the most often. To get them to last they need a clear top coat which is a little extra work but they only cost $2.99! Plus, you can get a mani and pedi from one set. You can read about Lily and Fox HERE and see how to get a manicure and pedicure from one set HERE.
Want to pick up real nail polish strips at the store? It's pretty convenient. Then you'll want to try Dashing Divas. Find out if they are the right choice for you.
Once your done with your pedicure you'll want to finish the whole process off with a good moisturizer to keep feet looking good after all that hard work you've done. O'Keeffe's Healthy Feet Foot Cream will keep cracked heels at bay so you can wear those sandals with pride.
If you tend to have foot problem's like fungus and athlete's foot then I'd recommend this tea tree oil foot cream. It helps sooth irritated feet and keep fungus away.
---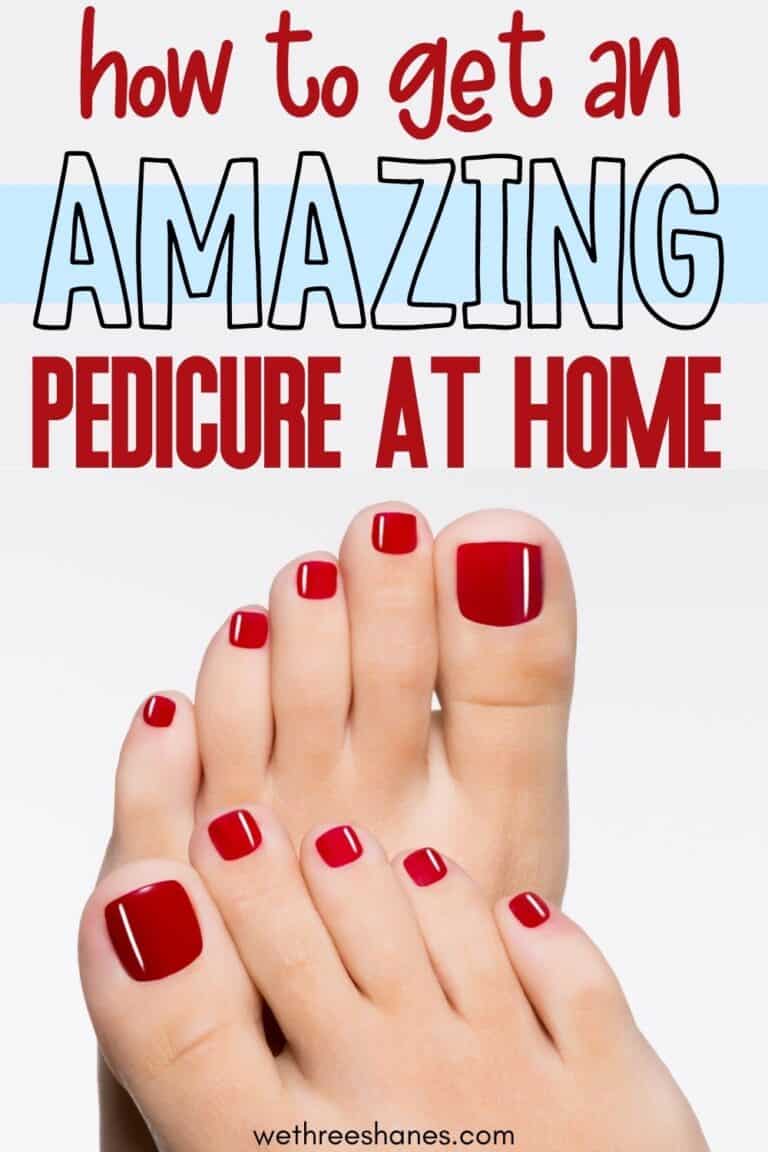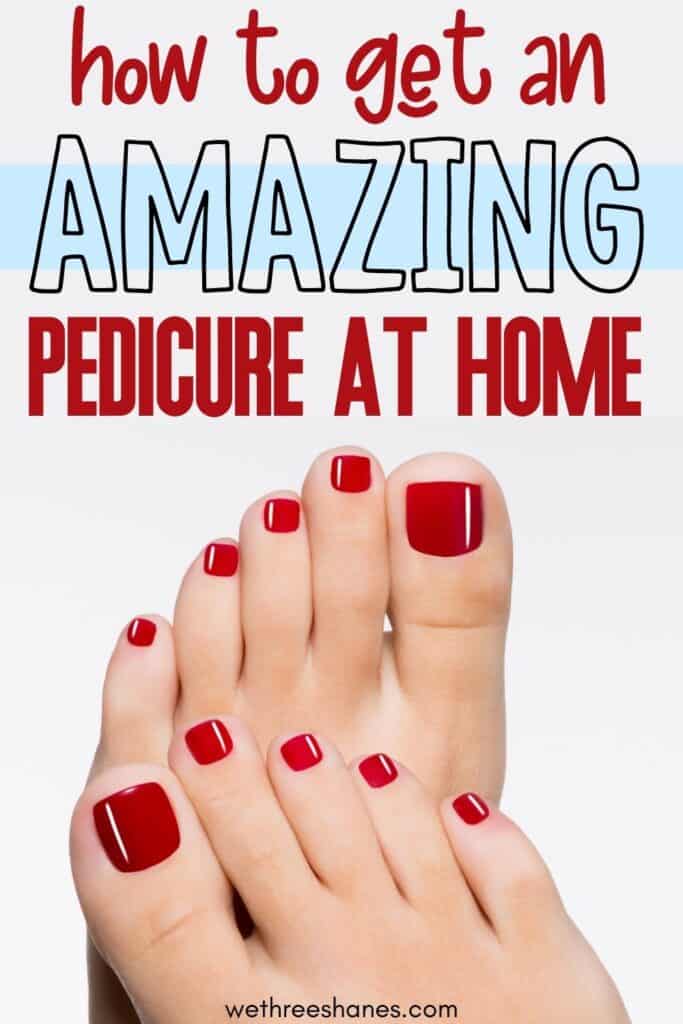 Show Off Those Silky Smooth Feet
Now that all the hard work is done, it's time to show off those fine feet in your favorite sandals and flip flops. You've now got everything you need to get a professional pedicure at home and probably saved some money too.
Getting a salon pedicure at home is especially easy when you have the correct tools. The home pedicure kits make it easy to go the basic route or spend a little more to give yourself a full spa experience. Either way you'll feel good knowing you did it yourself in the comfort of your own home.
You Might Also Like: