Easy DIY Facial Sugar Scrub For Glowing Skin
Don't waste your hard earned cash on expensive sugar scrubs when you can easily make them at home. This DIY Facial Sugar Scrub for Glowing Skin will give you amazing results for way less.
(THIS POST PROBABLY CONTAINS AFFILIATE LINKS. OUR FULL DISCLOSURE POLICY IS LONG & BORING BUT, YOU CAN FIND IT HERE.)
Easy DIY Facial Sugar Scrub For Glowing Skin
I have said this before when I wrote my post on homemade astringent but I REALLY do not like washing my face. I almost never wash it with soap. My poor face gets the astringent and that's pretty much it.
But when I am in need of some pampering I LOVE a good face scrub! Your face just feel so soft afterwards that it is amazing.
One of the easiest and quickest scrubs is to just grab some baking soda and coconut oil and mix them in your have hand and rub them all over your face. Simple and affective.
But what about when you need more? I have just the scrub for you. It is still very simple, fast and easy, with a few added ingredients to help your skin love you. Keep reading to learn more about why this facial sugar scrub is so great!
RELATED POST: Looking for another way to clean out those pores? Try this

DIY Peel-Off Charcoal Mask

. It's easy to make and super effective out pulling junk out of pores. Leaving behind soft, radiant skin!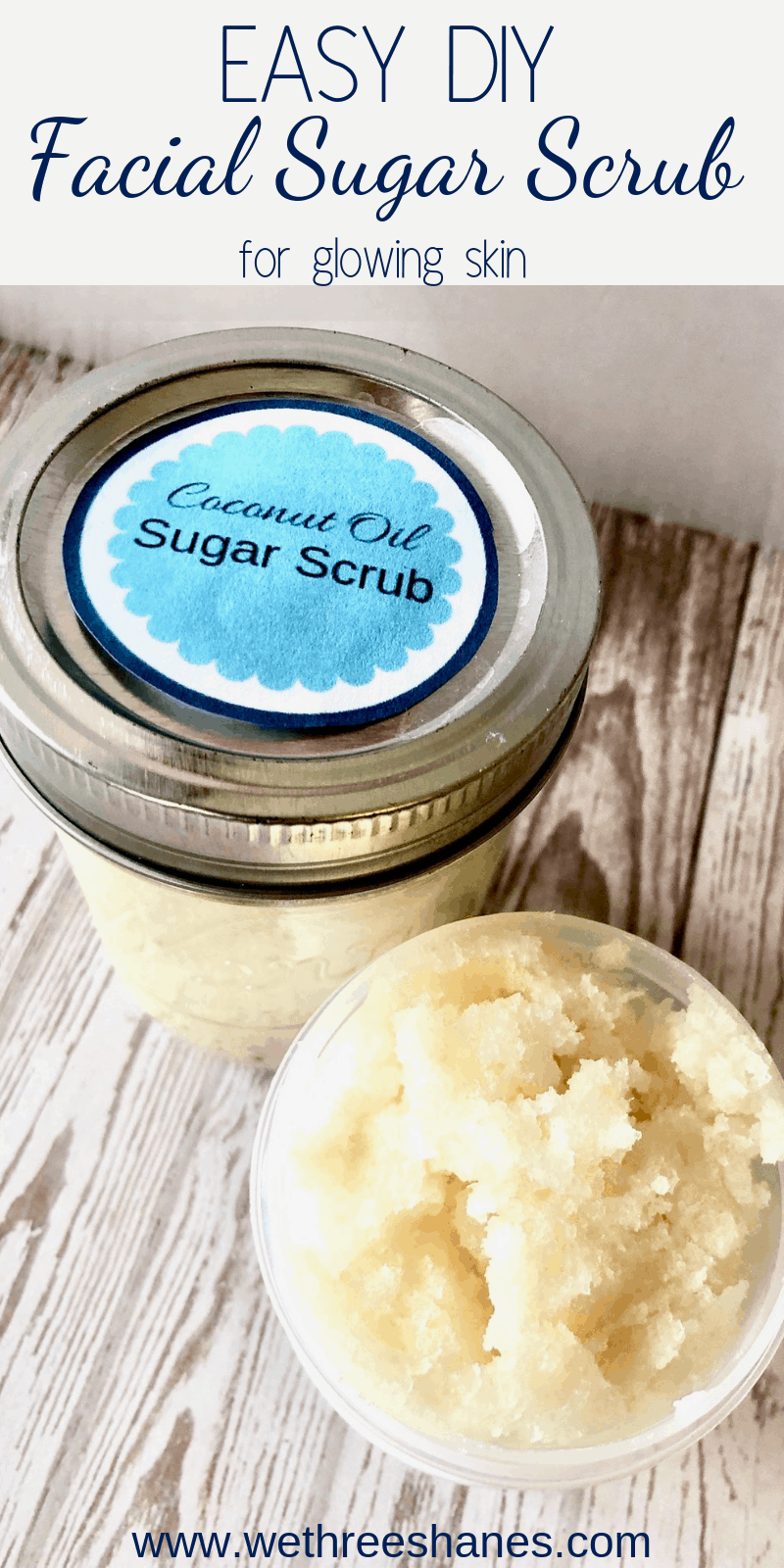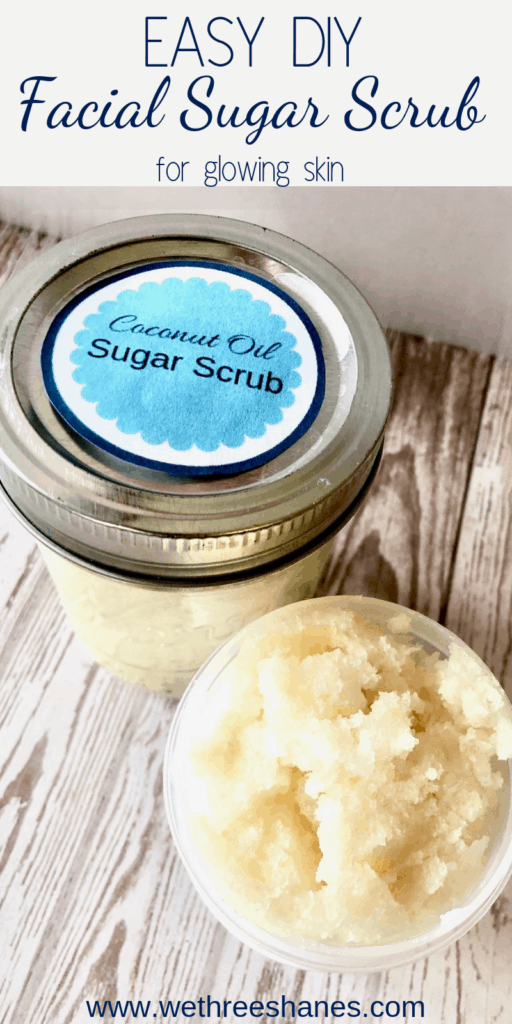 ---
Ingredients for Facial Sugar Scrub
You should recognize all of these ingredients. That's the best part of homemade products. Ingredients you recognize and can pronounce. Let's talk about these elements for a minute and why they are so great for the skin on your face.
Sugar is an excellent exfoliant. It's small grains slough off dead skin and unclog pores. Brown sugar is finer than white sugar so it's best to use for sensitive skin.
Tea tree oil is great for skin. It helps with acne because it is antibacterial and anti fungal.
Just like Tea tree oil, coconut oil is also antibacterial and anti fungal. Plus coconut oil is a light moisturizer so it soaks into skin quickly and helps reduce wrinkles.
Lemon is another ingredient you find in many facial products. It reduces acne, removes blemishes and brightens the skin.
Honey diminishes wrinkles, fights acne, treats dry skin and cleanses it.
Combine all of these ingredients together and you have one powerhouse facial treatment. Let's get started!
---
Making Facial Sugar Scrub
Put ingredients in a bowl and mix together. That's literally all you have to do. Scoop the sugar scrub into a small, air-tight
jar
or
container
and you're all set.
This makes enough face sugar scrub for 3 or 4 uses. When it's time to apply, simply wet your face with warm water. Take a finger full of scrub and rub it on your face in circular motions. Then rinse your face well.
I like to put it every where on my face except my eyes for what I hope are obvious reasons. Also avoid getting too close to your nostrils. You don't want sugar inside your nose because nobody has time to deal with that.
---
Storing Facial Sugar Scrub
You don't need to keep sugar scrub in the fridge. It can sit on the counter, in the shower, or in your bathroom cabinet. The amounts I used for this recipe will only make enough sugar scrub for 3 or 4 face washes.
Depending on how often you use your scrub means this will last for 2 – 4 weeks. You can double the recipe if you prefer because the scrub will stay good for 2 months.
Try not to get water mixed in as the water can break down the sugar and cause the scrub to be less impressive.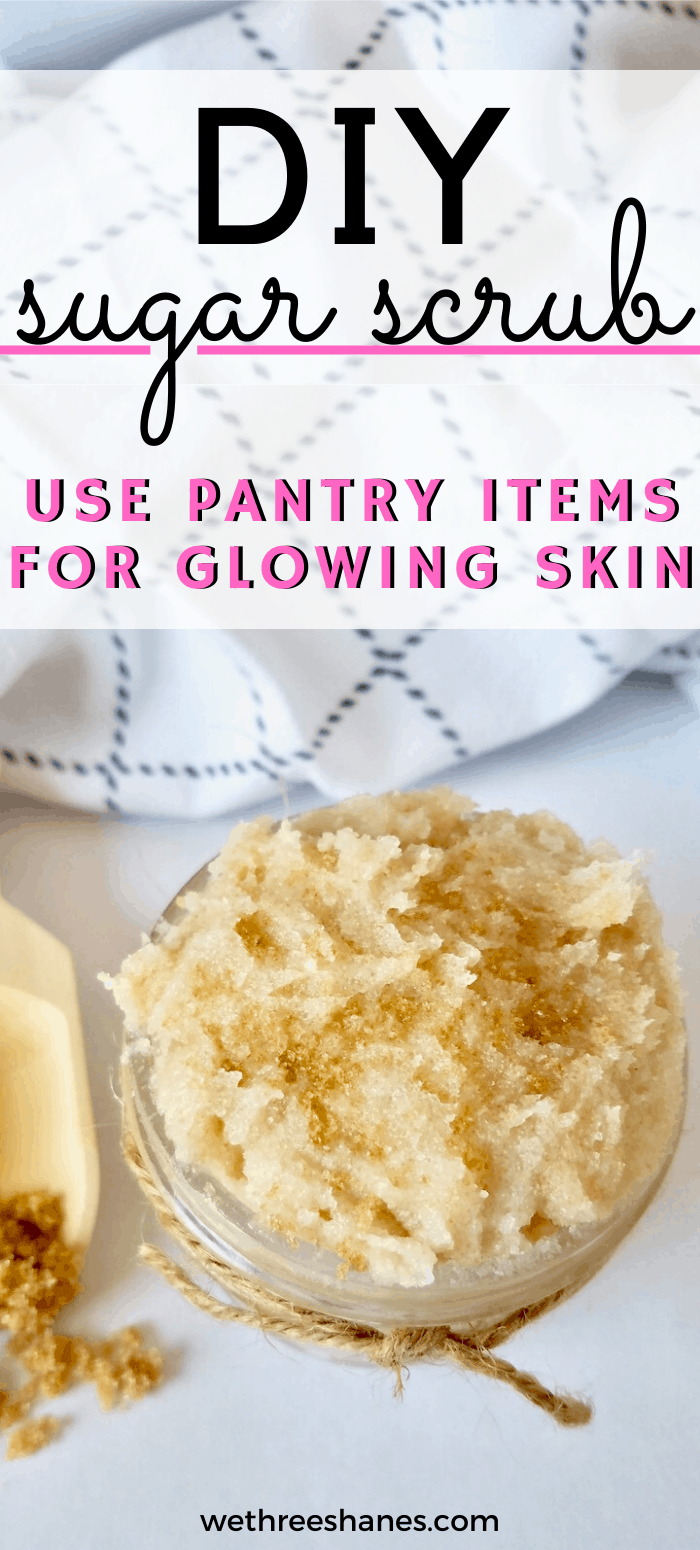 ---
Benefits of Using A Facial Sugar Scrub
Besides being fun to make and use, there a many reasons you should throw together your own face scrub.
Great for Your Skin
If you read all about the ingredients above then it's easy to start seeing the benefits of using a sugar scrub on your face. Each ingredient was chosen for this facial scrub because they each contribute to many skin issues people deal with.
When used accordingly, this facial sugar scrub will leave you with smooth and silky skin. It will help knock out acne by clearing out pores and using all those antibacterial and anti fungal properties.
Rubbing the sugar scrub on your face exfoliates the skin and increases blood flow, which helps bring about healthy, glowing skin. Who doesn't want that? It also just feels amazing going on, giving you a mini pampering session. I'm all about finding ways to treat yo' self through out the week.
Do keep in mind that this power packed sugar scrub should only be used once or twice a week. If you overuse the scrub it can be too much for your sensitive facial skin and actually cause damage. This could lead to inflammation and breakouts which is the opposite reaction we want.
Great for Your Wallet
Buying sugar scrubs can get expensive. A couple ounces of facial scrub for over ten bucks! Really? Making your own sugar scrub is a fraction of the cost of buying them online and in stores. There's no point buying skin care products that you can easily make yourself for much less.
These also make GREAT gifts! Let's be honest, they are easy and cheap but have meaning. I love gifts like this. I have given face scrubs for teacher appreciation gifts, random gifts, thank you gifts, Mother's Day, Christmas….you name it!
It is also great because you make one face scrub and give it to someone and they will run out eventually and need a new one. Or you can switch up the ingredients and make the next one slightly different.
My daughter's teacher this year was also my son's teacher a few years before. I made her dry shampoo when she taught him. Well, when she started teaching my daughter she requested more! I was so thrilled to make her some. Homemade, practical gifts are always a hit!
Gifts can also get expensive. Giving sugar scrub as gifts is a great way to save some cash. So make a huge batch and break it down into small containers and make everyone in your life ridiculously happy!
---
I really can't say enough about this Easy DIY Facial Sugar Scrub for glowing skin. This scrub smells and feels amazing! It's a great way to spoil yourself or someone else. The best part is how cheap it is to make. Hurry up and prepare your own so you can start enjoying the benefits today.
Have you ever made a sugar scrub for your face? What did you think?
---
You Might Also Like: