DIY Mermaid Sugar Scrub Recipe with Free Printables
Create your own silky skin magic with this DIY Mermaid sugar scrub. This easy recipe gently exfoliates and moisturizes for soft summer skin.
(THIS POST PROBABLY CONTAINS AFFILIATE LINKS. OUR FULL DISCLOSURE POLICY IS LONG & BORING BUT, YOU CAN FIND IT HERE.)
DIY Mermaid Sugar Scrub
We love to make our own natural products and share the recipes with you. This DIY Sugar Scrub for Glowing Skin is the most popular DIY beauty tutorial on the blog. So, why not make another one?
This Homemade Mermaid Sugar Scrub is just as easy to make as the first one but way cuter. Use up some of the shells you've collected this summer and add one of the free labels to dress up your sugar scrub. It makes a great, inexpensive gift so get your kids to help make some and surprise their teacher.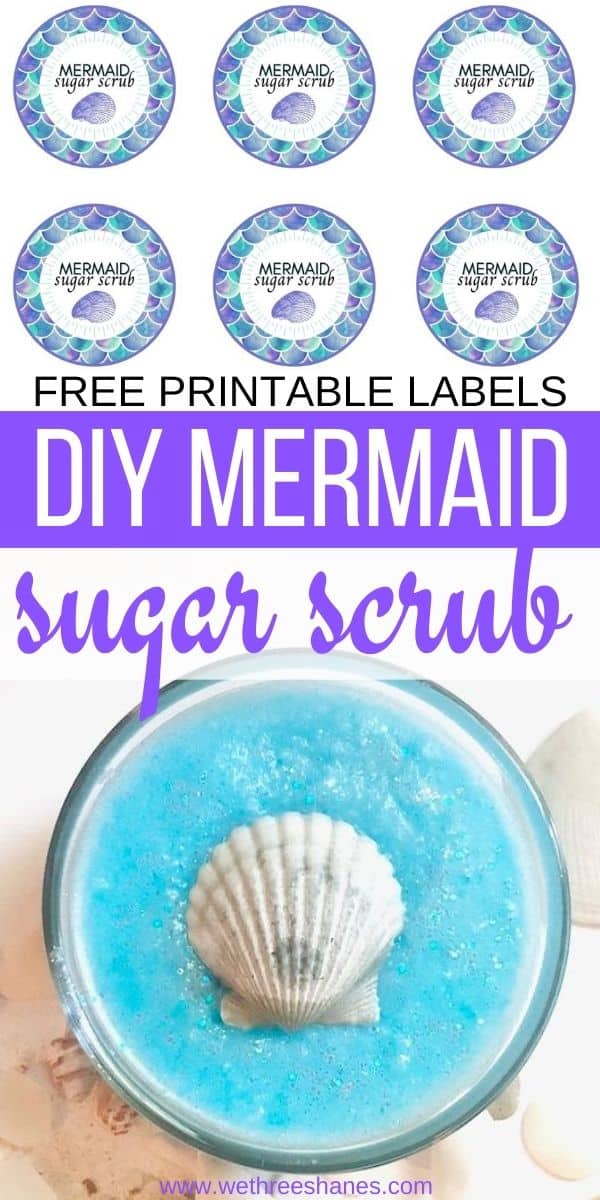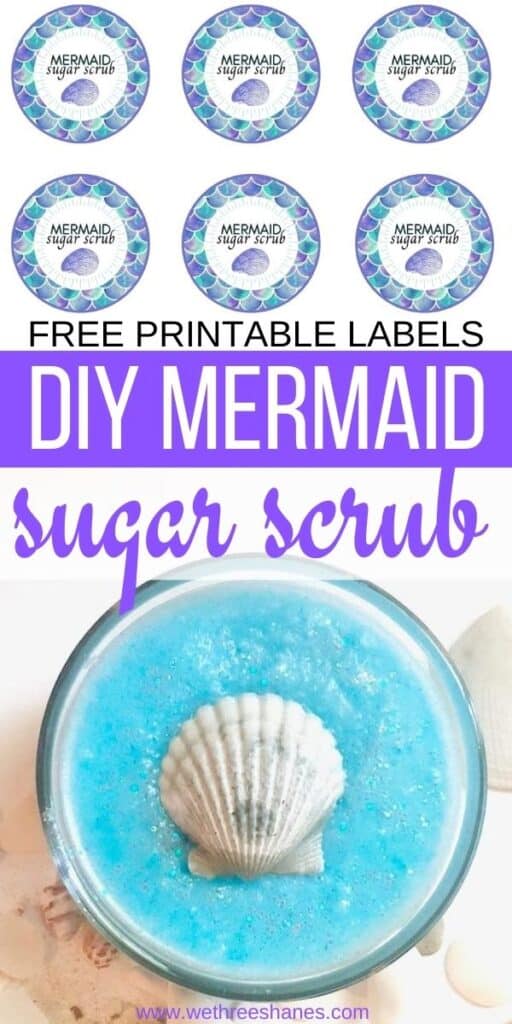 ---
Here's What You'll Need
You only need a couple of ingredients to make this exfoliating mermaid scrub.
White sugar
Coconut Oil
Food Coloring
Cute jar for storing. I love to use the 4 oz jelly jars.
Shells, brown sugar, glitter, free labels to dress up your sugar scrub.
Essential oils – optional
---
Mermaid Sugar Scrub Recipe
There is not a perfect recipe for sugar scrub because people have different preferences. I like to start with a smaller amount of sugar and keep adding more in until I get the consistency I like.
1/2 cup Coconut Oil
1/4 -1/2 Cup Sugar
Blue, Green, Red Food Coloring
Essential Oil Beach Blend (keep scrolling for blend ideas if you prefer to go the DIY route.)
Shells, Glitter, or Brown Sugar for decorations
Printable Mermaid Label
Start by melting the coconut oil in the microwave until liquid.
Now, stir in the food coloring, essential oils and then sugar.
You can do a couple of things when it comes to the food coloring. I used one color. Blue. This is the easiest because you can mix everything in one bowl. You can also mix more than one color for an ombre effect. You need to separate your sugar scrub into 2 or 3 bowls before you mix in the food coloring. You can do 1 drop for blue, 1 drop blue and one drop green = turquoise, and/or 1 drop blue and 1 drop red for purple.
Once your colors are where you want them you'll scoop an even amount of each into one container. Then give it a little stir to slightly combine the colors.
Top off your mermaid sugar scrub with some brown sugar to create a sand look, some glitter for a bit of shimmer, and/or a shell.
Print off a label and either glue it to the top of the jar or tie it around the jar with some twine.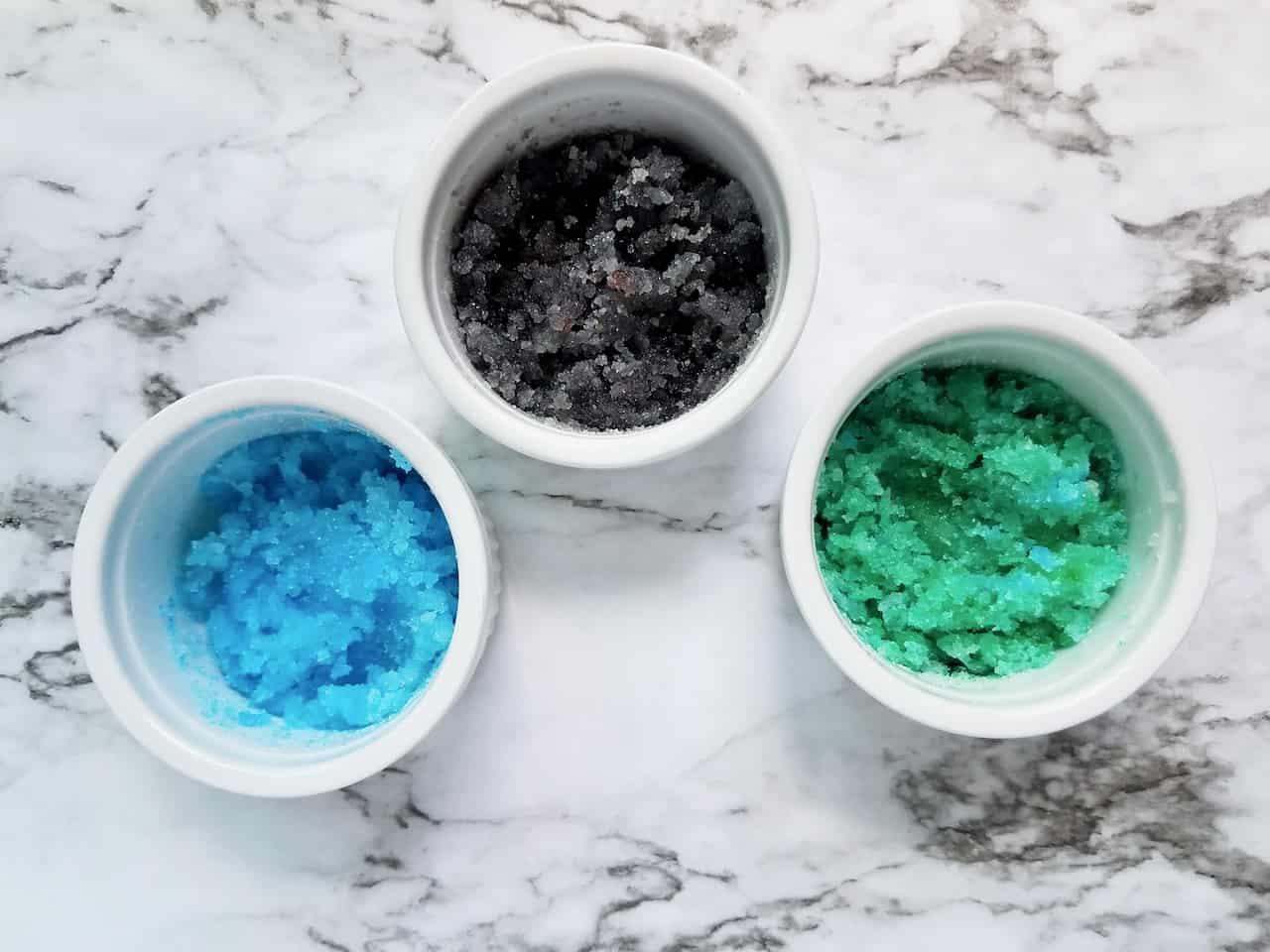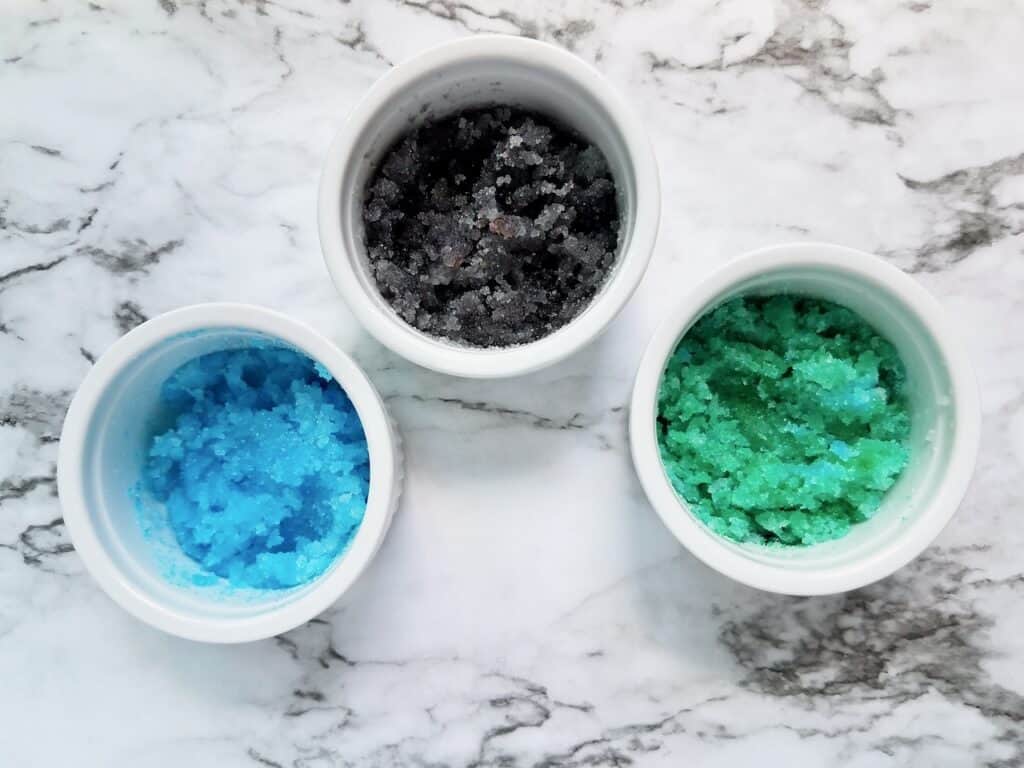 You can see that my purple came out really dark. In person it looks like dark purple. In the photos it looks black. Adding more sugar and coconut oil to the mix would have lightened it up but I was almost out of coconut oil. Oh well. I guess my mermaid has a dark side.
If you are thinking about adding glitter to your sugar scrub you'll want to use one that's safe for the environment. Most glitters are made from plastic which eventually ends up in oceans. Once there, glitter creates a huge problem for plankton, fish, and birds.
Since we're making mermaid sugar scrub I feel like it's pretty important to use ingredients that are safe for the ocean. It's a great teaching moment for kids if they're making the scrub with you. Try using glitter that's food safe like this Brew Glitter in teal that's kosher, vegan, gluten, and nut free.
You can see in the photo below that the brown sugar really pops when you use it to top off the sugar scrub.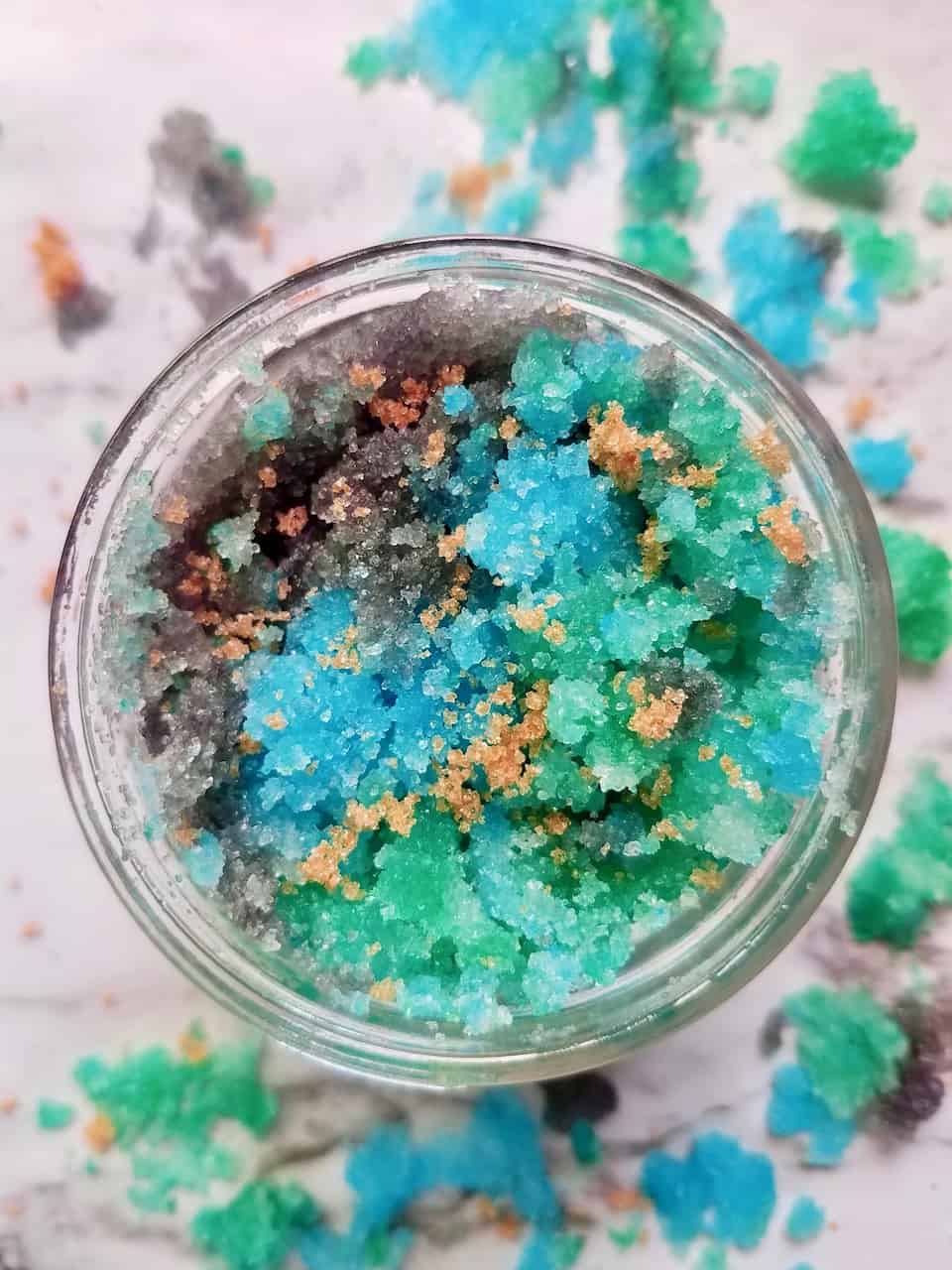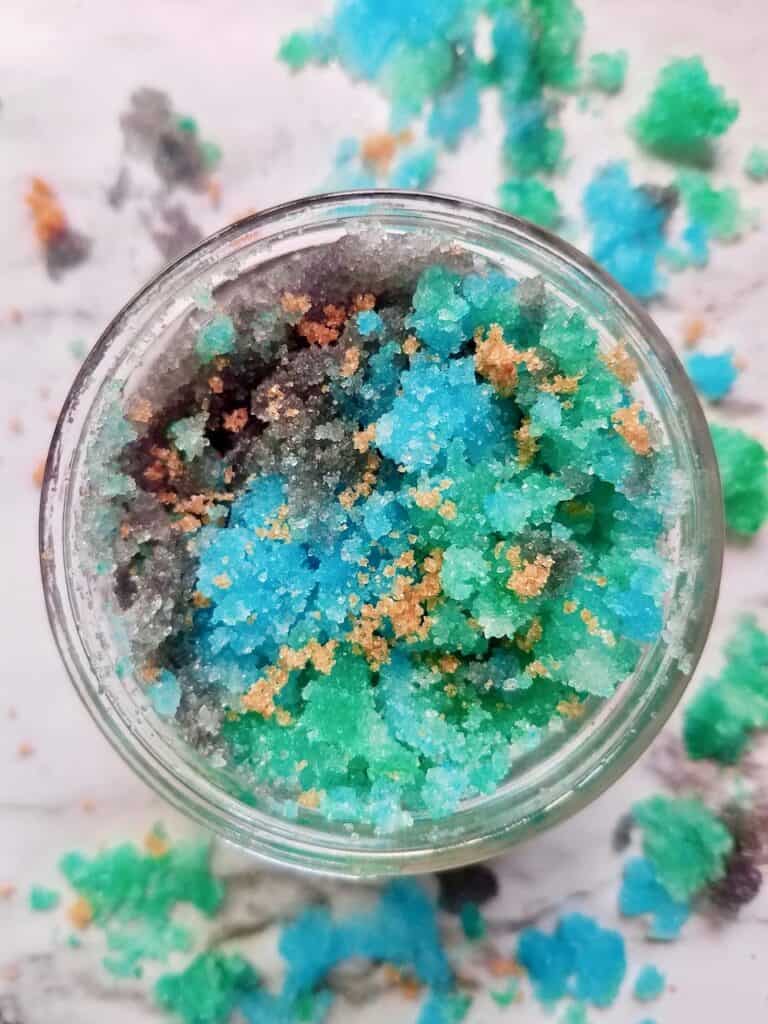 ---
Beachy Essential Oil Blends
The coconut oil used in this mermaid scrub gives you a nice tropical smell but you can always add in some essential oils to take your scrub to the next level. Here are a couple of beach blends you can you in your mermaid sugar scrub:
---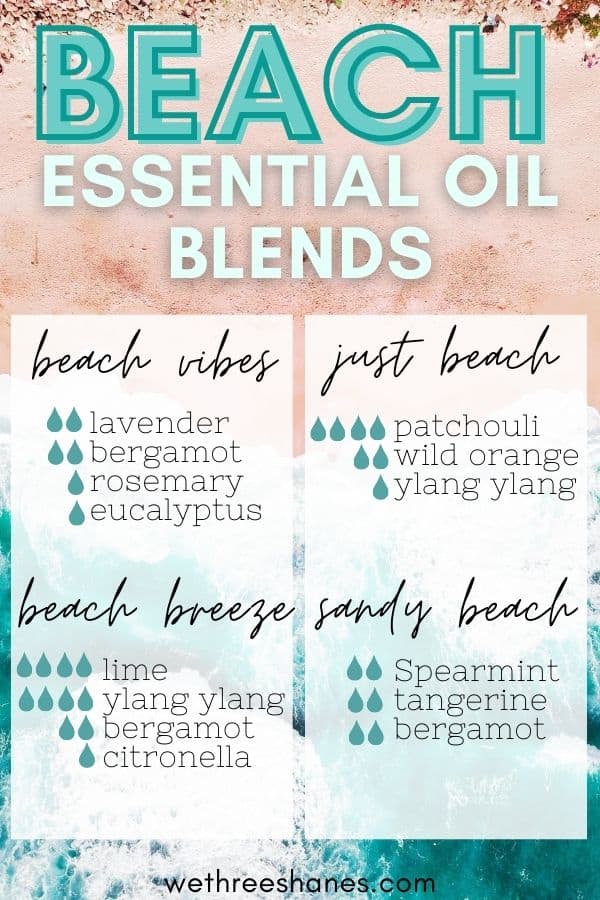 How to Use Your Sugar Scrub
Sugar scrub can be used on your face, legs, bikini area, or feet. Since the mermaid scrub has a summer vibe, I tend to use it on my legs for smooth, silky stems. You can use this on your legs anytime you want.
Sugar scrub should be used less often on your face because the skin is more sensitive. Try using your mermaid scrub just once a week.
Sugar scrub can be stored in the shower or in the cupboard. It does not need to be refrigerated. Make sure to keep the water out of the scrub because it will start to break down the sugar which kind of defeats the purpose of the scrub.
---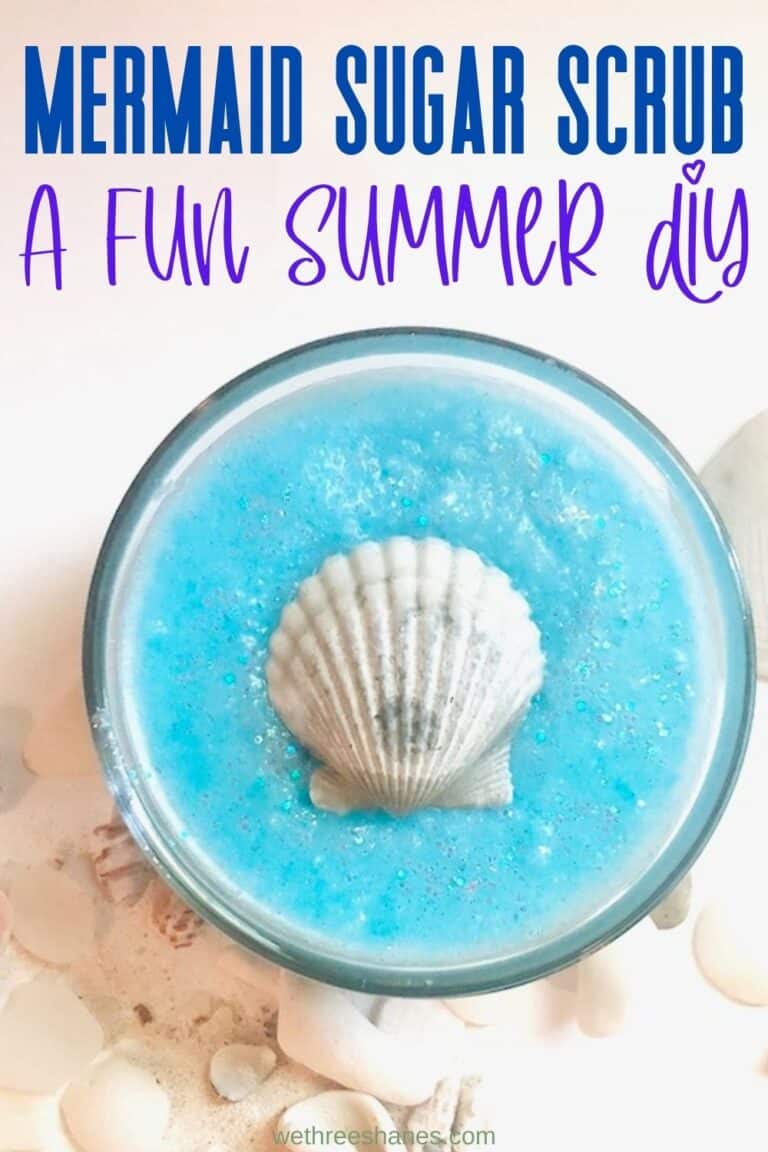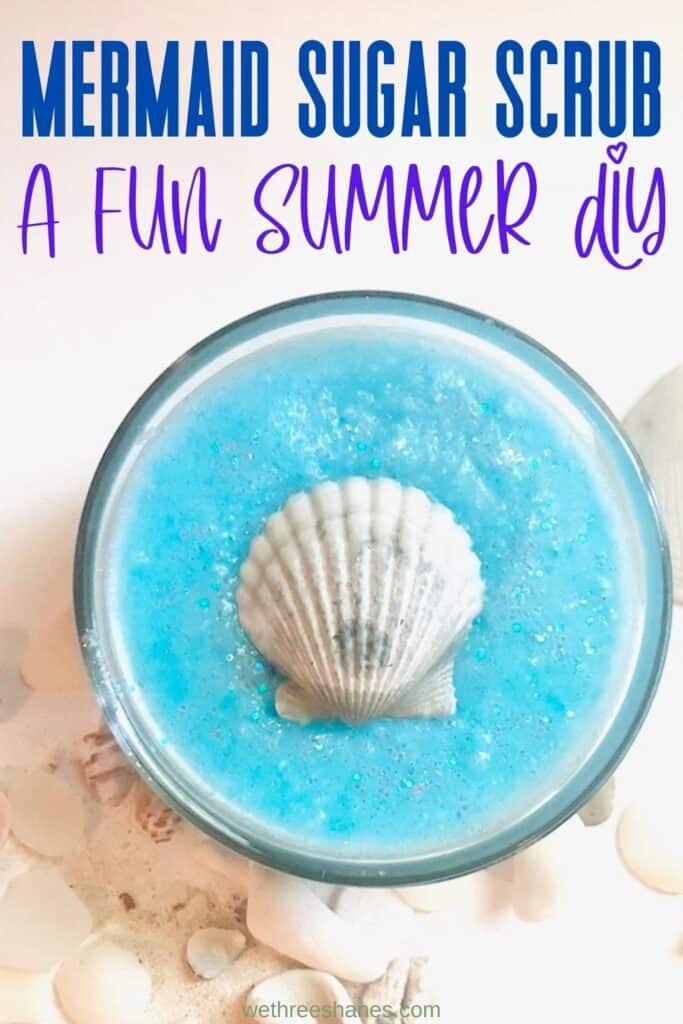 Enjoy Homemade Mermaid Scrub
This Mermaid Sugar Scrub is fun and easy to make. It's great for exfoliating and moisturizing skin and is super cost effective to make your own.
Make a double batch so you can keep a jar for yourself and have some left over to give away. Your friends will be super excited to receive their own. Don't forget to grab those labels!
Have you ever made your own sugar scrub before? Let us know what you think of it in the comments below!
---
You Might Also Like: