DIY Beach Memory Jar with Photo
Create your own DIY Beach Memory Jar with sand, shells, and a favorite picture from your last beach trip and keep those fun summer memories alive!
(THIS POST PROBABLY CONTAINS AFFILIATE LINKS. OUR FULL DISCLOSURE POLICY IS LONG & BORING BUT, YOU CAN FIND IT HERE.)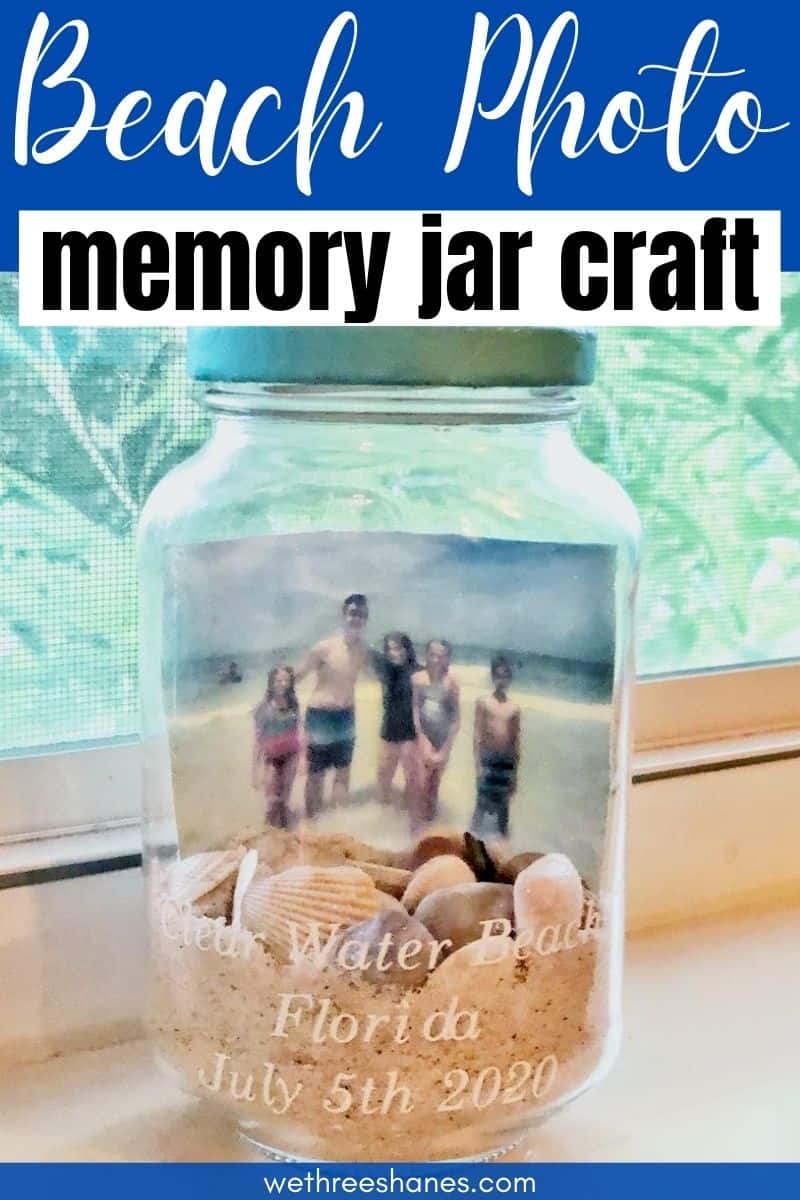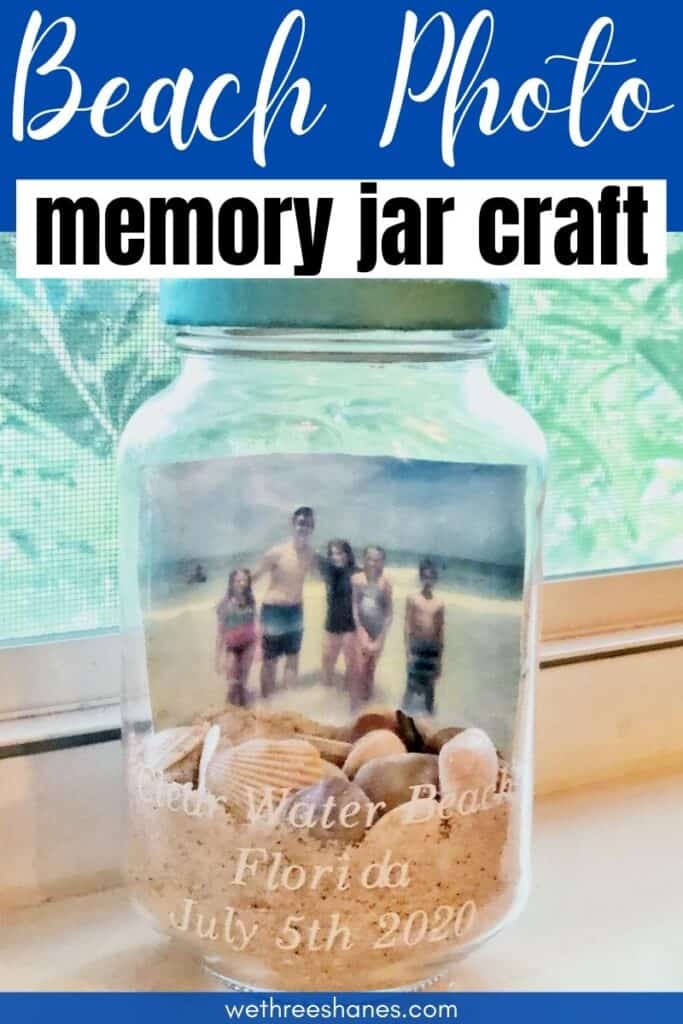 Create Your Own DIY Beach Memory Jar
I love the beach so much! Even though I am almost 40, I still have to collect shells when I am there. It's like it's ingrained in my DNA or something.
My daughter has picked up on this and also has to collect shells now. It's a fun thing we do together on our beach trips. Because we are both shell collectors, we end up with a LOT of bags of shells laying around the house and garage.
Shells do you no good sitting around in bags so I have discovered a lot of fun DIY projects to do with them, like the DIY mermaid sugar scrub post I helped Kim with last week. Now, I have another awesome shell craft for fellow collectors like myself, a Beach Memory Jar.
We recently went to Florida on vacation and our friends were there with us. I decided to collect some sand from the beach in a water bottle because I knew I wanted to make a sand memory jar.
All the girls got to work finding shells. We love finding the tiny ones but also the pretty and colorful ones. Any shells will work for this project so collect the ones that catch your eye. Once I got home, I went to work on my photo jar.
---
How to Clean Shells
First things first, when you get home you need to clean those shells off. They can be covered in bacteria and algae and can start to smell bad. If you stick shells in your memory jar without cleaning them, things can start to grow in them making everything yucky.
There are two popular methods for cleaning shells. The first method for cleaning shells has you soak them for several hours in bleach water. The second method has shells soaking in baking soda and salt water. I decided to try both.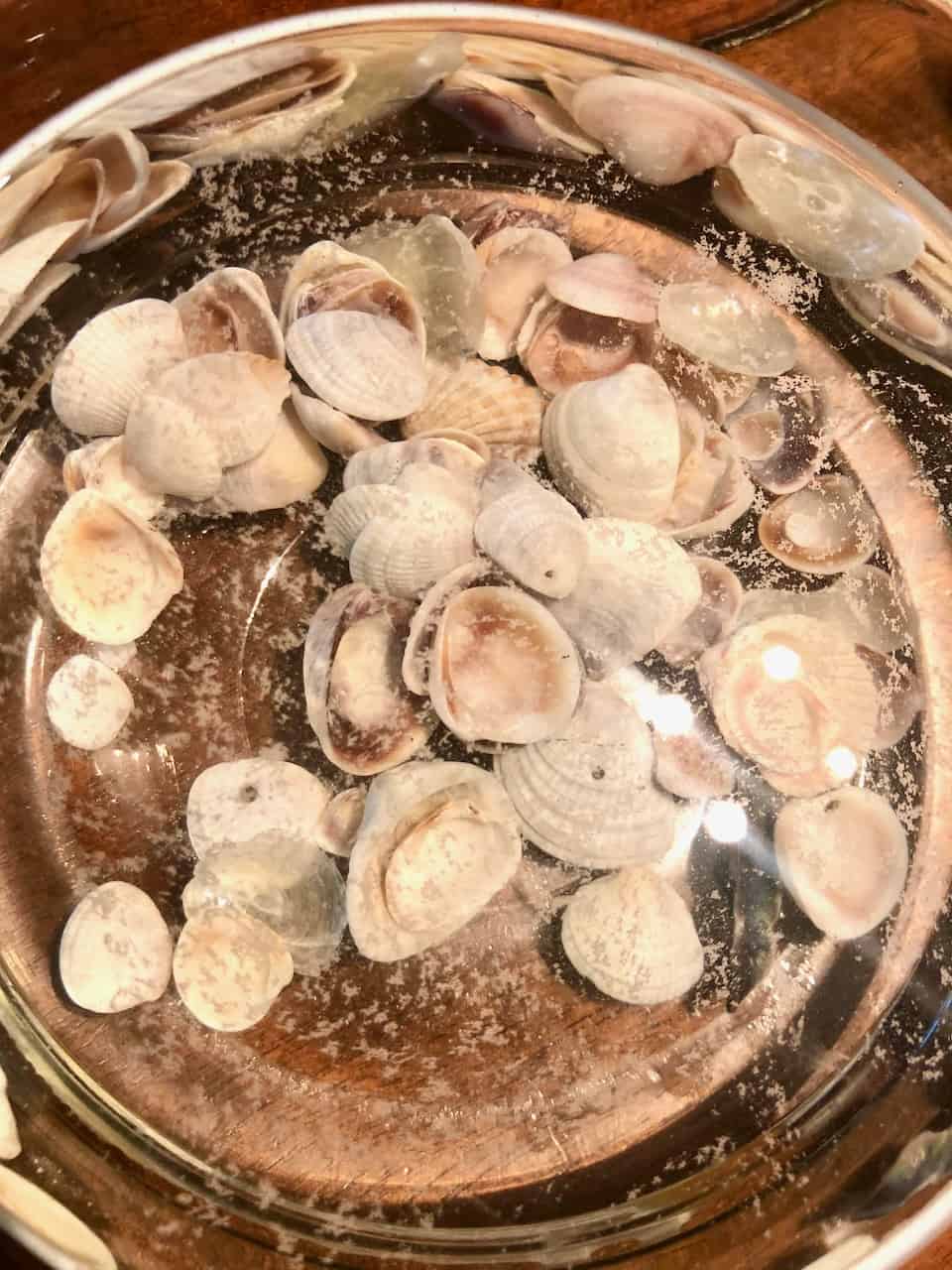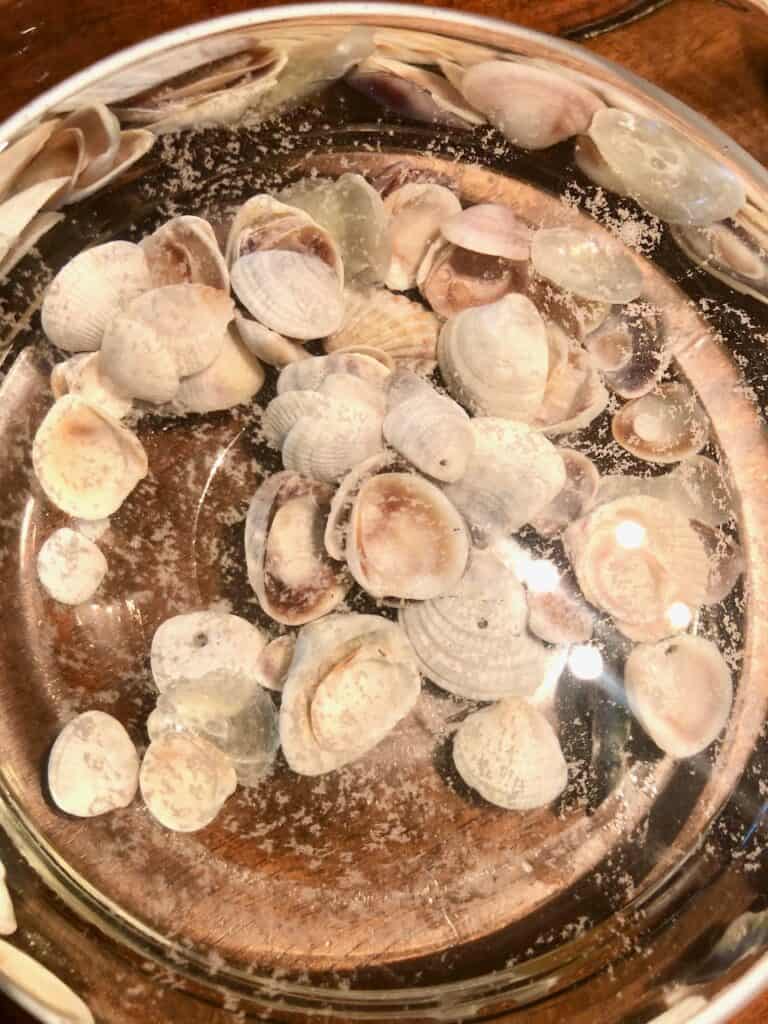 Baking Soda and Salt Method
Put warmish tap water in a glass dish and add a tablespoon of baking soda and a pinch or two of salt and stir. Then I dumped my shells in and let them sit for 30 minutes. The water was pretty gross after so I think this method worked well.
Once I pulled the shells out I rubbed them really good in a rag to get anything off that was still stuck. The amount of time this takes depends on how many shells you are cleaning and how big they are.
Bleach and Water Method
After trying the baking soda method for cleaning shells, I tried the bleach one. I started a new bowl of water and added a couple of splashes of bleach. I'm not big on measuring people, but you want it to be about 2/3 water and 1/3 bleach.
You can let them soak anywhere from an hour to two days. I am kind of a lazy crafter. I set mine in the bowl and ran to Costco to shop and then came home and rinsed them off. I ain't got time to let them soak for three days.
I ran fresh water over them for a minute or two and then laid them out on a towel to dry. Both methods worked great so you can decided which one you'd rather try.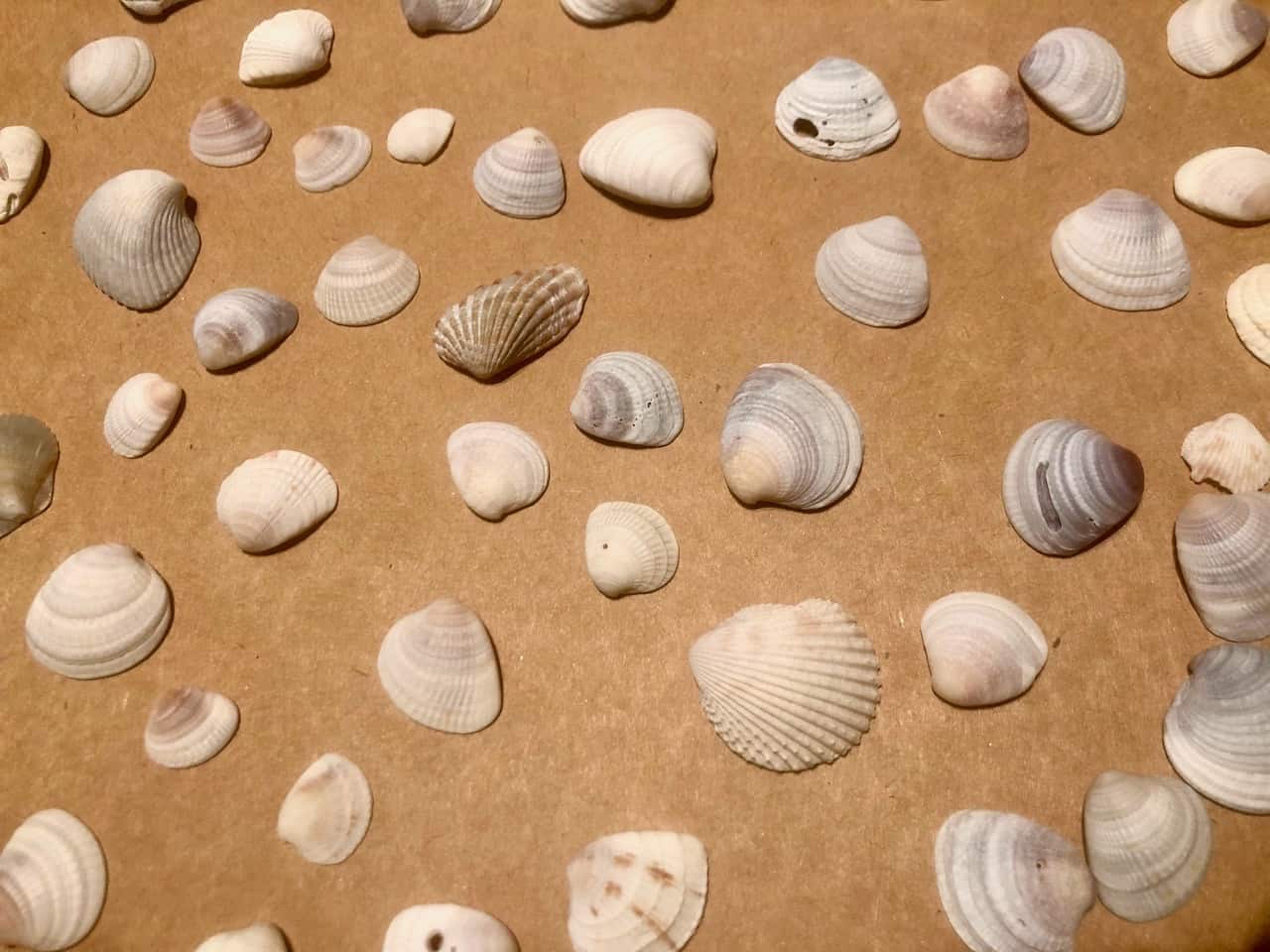 After the shells were all dry, I put the pretty ones I wanted to use on a piece of cardboard. Then, I sprayed them with a clear gloss to give them a shine.
The brand I used was Mod Podge Acrylic Sealer. I always have a can of this lying around the house for crafts. Let those dry and now you are good to start your beach memory jar!
---
Assembling Your DIY Beach Memory Jar
Grab a glass jar. Any jar will do. Keep in mind the size of your photo and the shells you want to use. Make sure they will all fit nicely in the jar.
I go through a lot of jalapeños and pickles at my house so I often wash out the jars and re-use them. I love a good upcycle craft! This particular jar is oval shaped which I thought would be perfect for seeing the picture really well.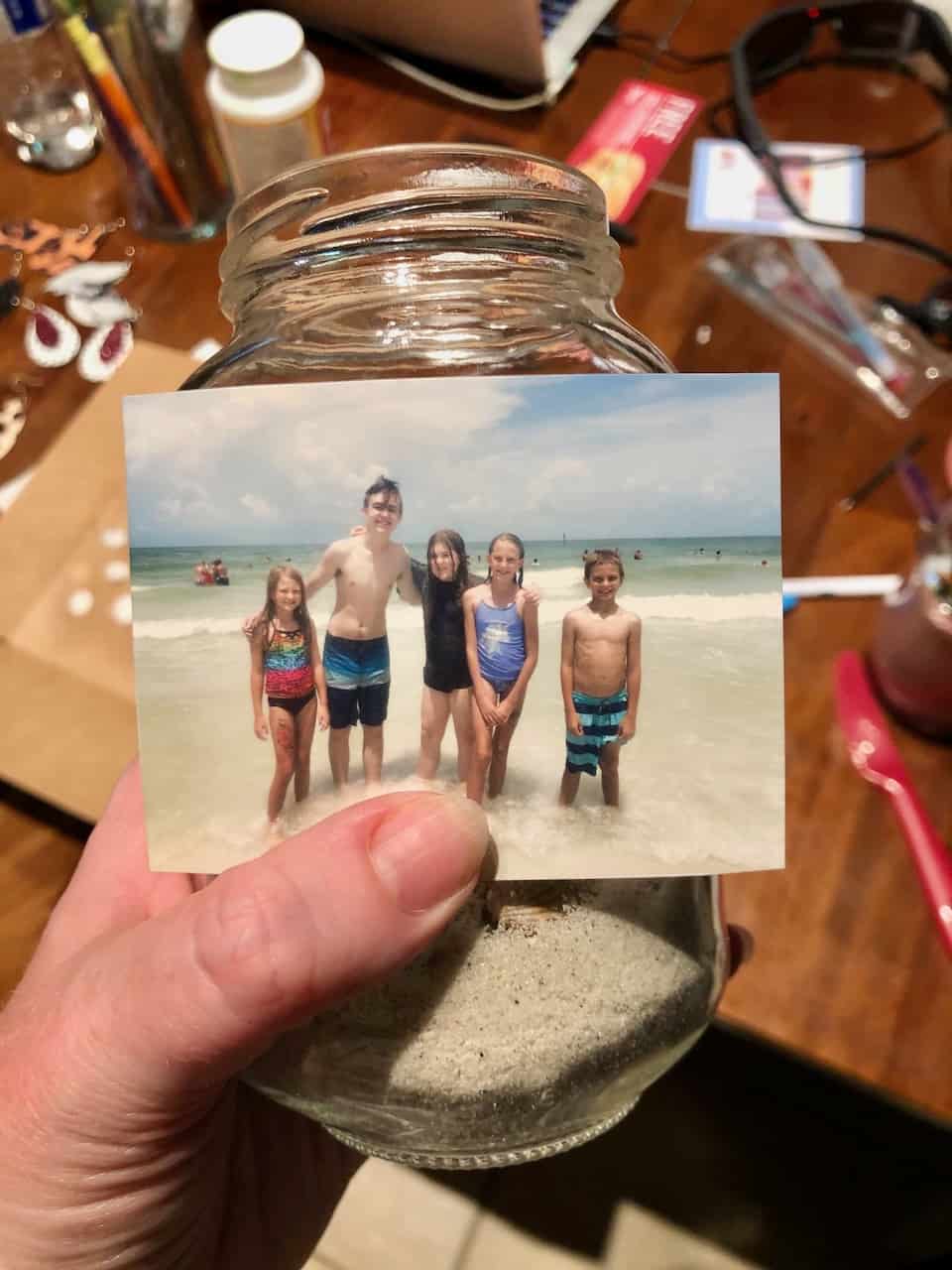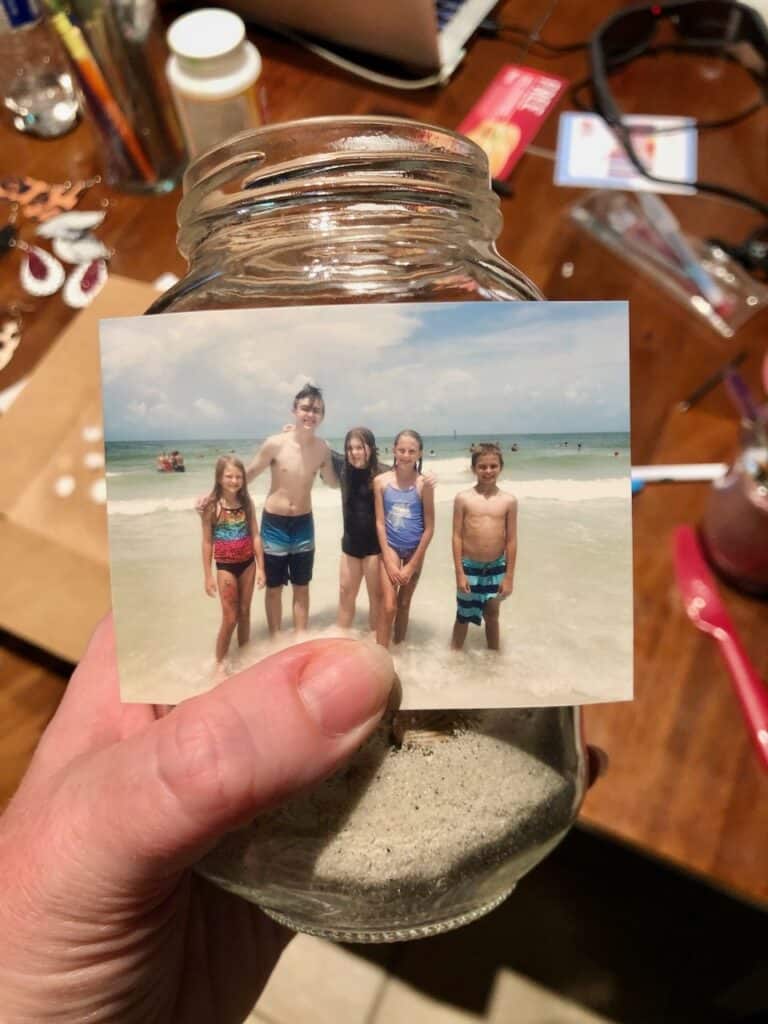 Start by filling the bottom of the jar with sand.
Then grab your printed out picture and push it down into the sand right where you want it.
Next, place the shells in the jar where you want them. Add as many or as little as you want. I tried to push the shells into the sand in a particular order so you could see certain shells better.
Once you have everything in place the way you like, put the lid on.
Lastly, I used my Silhouette, which I freaking love, to cut out vinyl for the state, date, and name of the beach. If you do not have a Cricut or Silhouette machine, you can use a permanent marker, or maybe a paint pen instead.
And voilà! I love this simple project.
How to Make Your Jar Look Extra Pretty
I love this project because it is very versatile. I painted the lid to my jar a nice beachy blue color but you can do whatever you want. You can also glue a shell, star fish, or silver dollar to the top of the lid.
Tying some twine or white rope around the neck of the jar can also add some texture and a nice nautical touch. You can even add some beach colored beads to the twine or a shell charm or keychain from the trip.
I know not everyone collects sand from a beach trip so you can just as easily fill the whole bottom with shells and leave the sand part out. Beach glass would also make a beautiful addition to your photo jar.
Save Memories with a Photo Jar
What do you think? Aren't these beach jars adorable?! I just love them.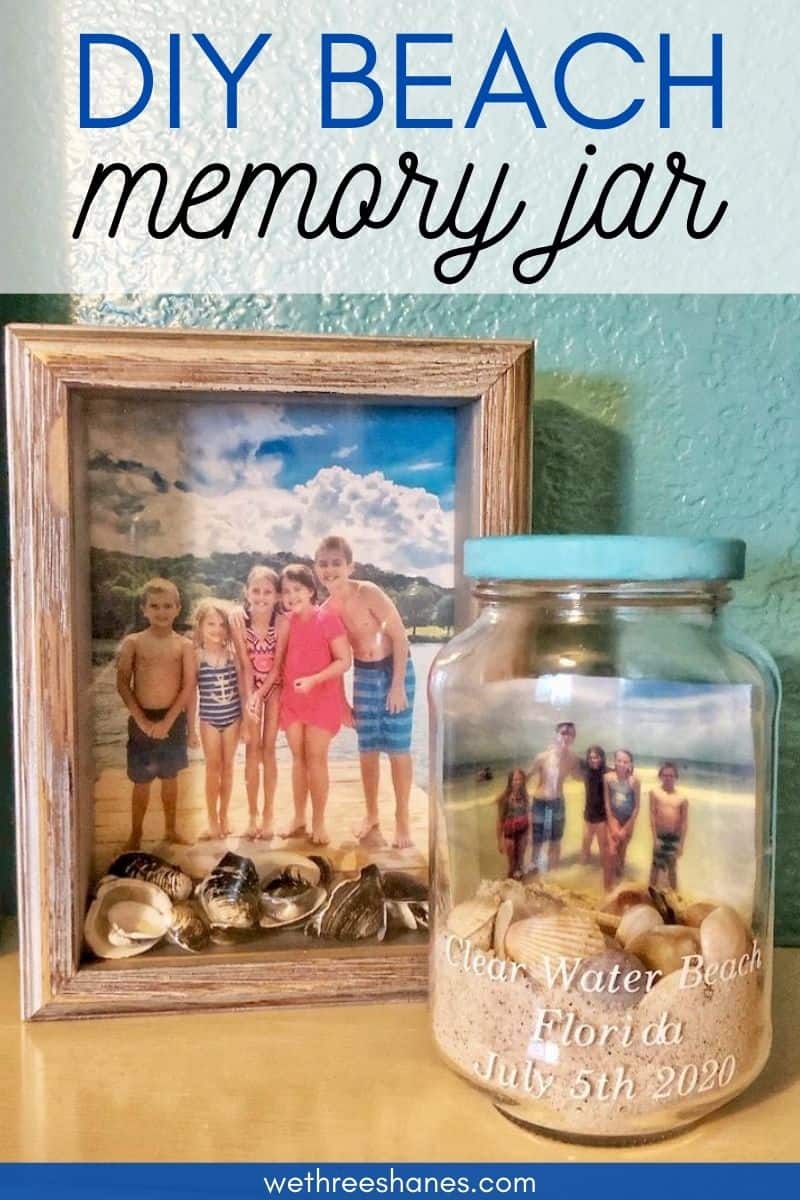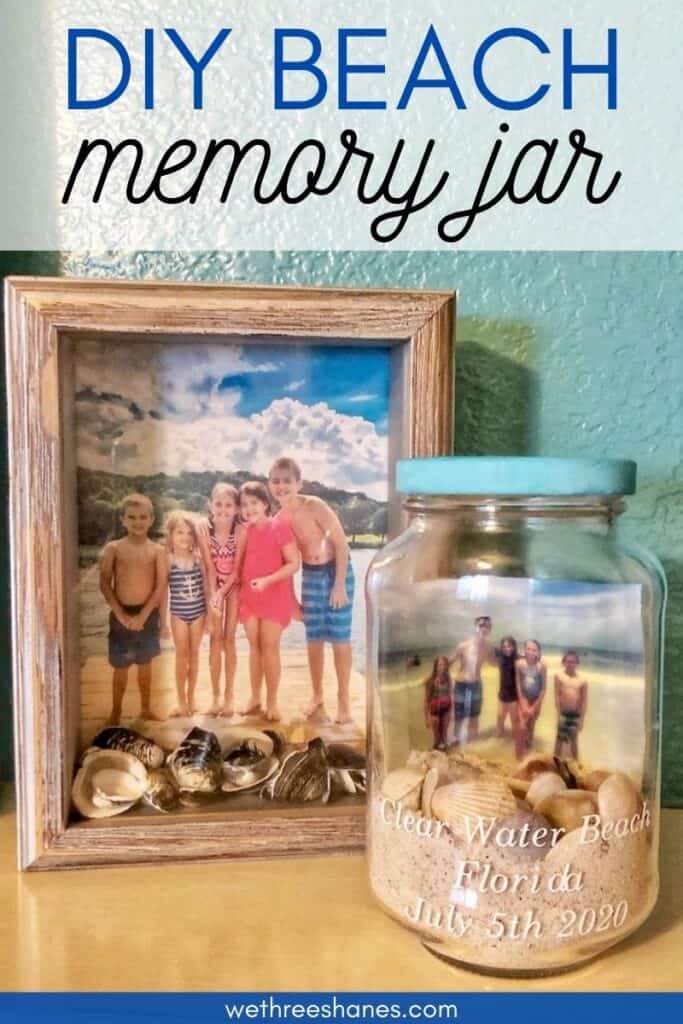 Don't forget that this memory jar is glass so you'll want to be careful where you put it. My memory jar is up on my mantle above the fireplace so it can't be accidentally knocked over.
I plan on making another jar for my friends as well. I have plenty of shells and I feel like this would make a great gift for them.
What do you think? Would you make a DIY Beach Memory Jar with shells you've collected?
What other things can you think of to add to this craft? If you think of something, let us know in the comments. We love hearing feedback.
---
You Might Also Like:
---