DIY We Can/Can't Play Sign +Free Printables
Let the neighborhood kids know when it's time to play with this DIY We Can/Can't Play sign for your front door. No more early weekend morning doorbells or remote learning interruptions!
(THIS POST PROBABLY CONTAINS AFFILIATE LINKS. OUR FULL DISCLOSURE POLICY IS LONG & BORING BUT, YOU CAN FIND IT HERE.)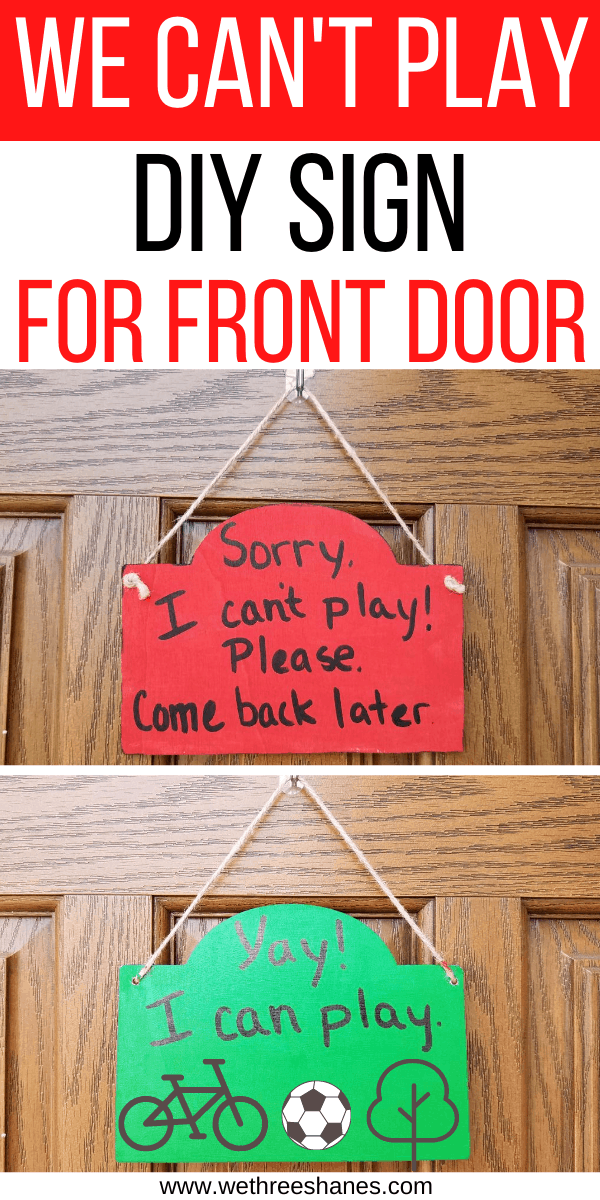 DIY We Can't Play Sign
It seems like school is in for most kids now. Some schools are meeting in person while others are doing remote learning. My son's school district decided to start the year off with remote learning in the hopes they'll go back in person after the first quarter.
Having to do school at home comes with its challenges. A couple hours into my kiddo's second day of school and the doorbell rang. Then the dogs started barking. It wasn't exactly the quite learning environment he needs.
Turns out the little boy across the street was already done with school and wanted to play. Ugg. I realized this could be a daily thing so I decided to make an I Can't Play sign for our front door to let the neighborhood kids know when school was in session.
My Dollar Tree always has wood signs so I ran over and grabbed one that would make a great Don't Knock sign. This project didn't take long at all. Most of the time was spent waiting for paint to dry.
Since it was such a simple but necessary craft for me, I figured I'd share it in case anyone else was in need of their own We Can't Play sign inspiration. I used paint and a sharpie to get one done and on the door as quickly as possible but I also made some cute and funny Do Not Knock signs that you can print out as well.
---
How to Make a We Can't Play Sign
There are tons of ways to make a We Can't Play sign for your front door. I'll show you how I made mine with just a couple of basic supplies. Then, I'll explain how to make a cuter one using the free printables I made.
Supplies:
Wood Sign from the Dollar Store
Red Paint
Green Paint
Black Sharpie or Black Letter Stickers
Cute Design – optional
Mod Podge – optional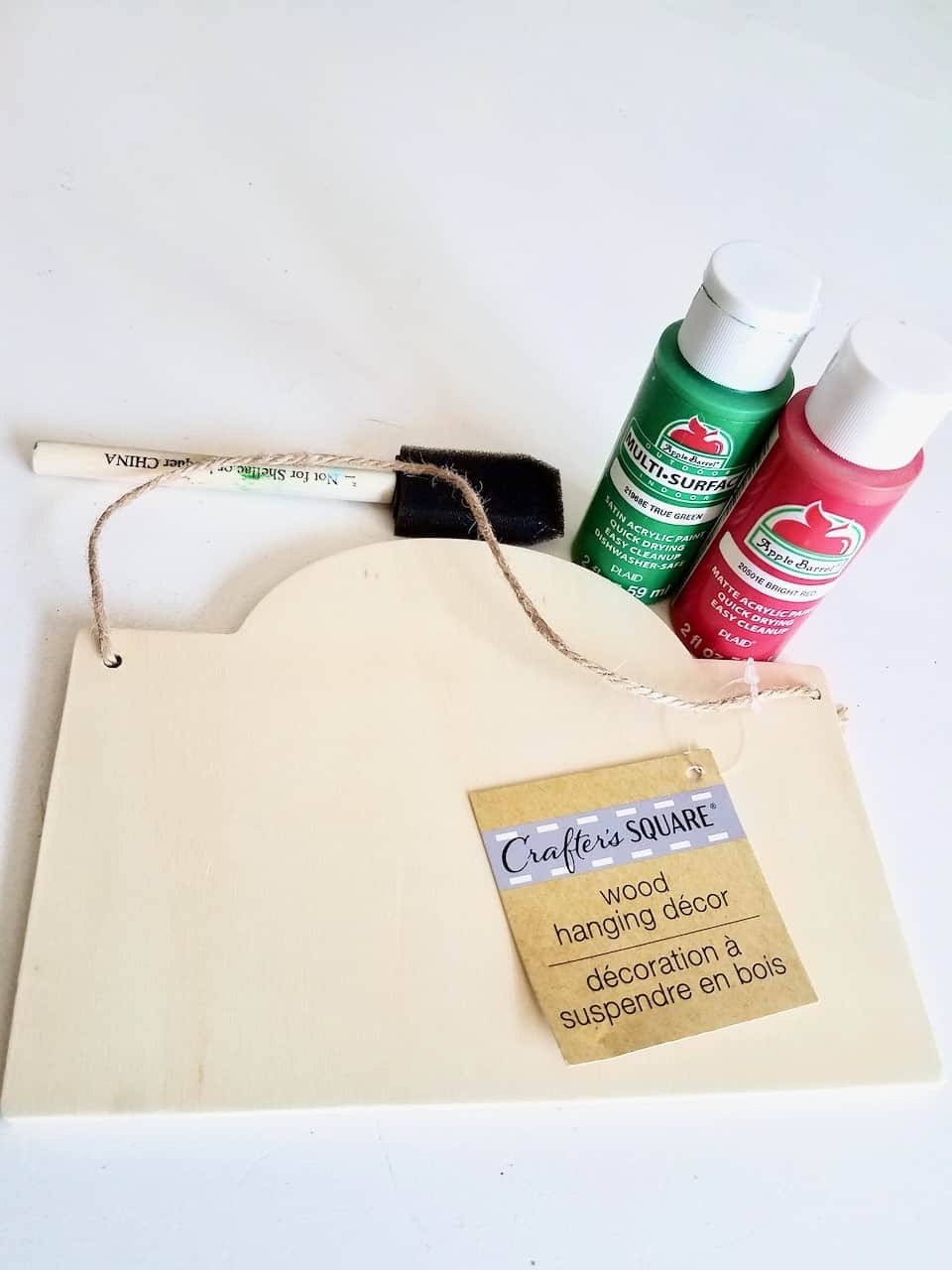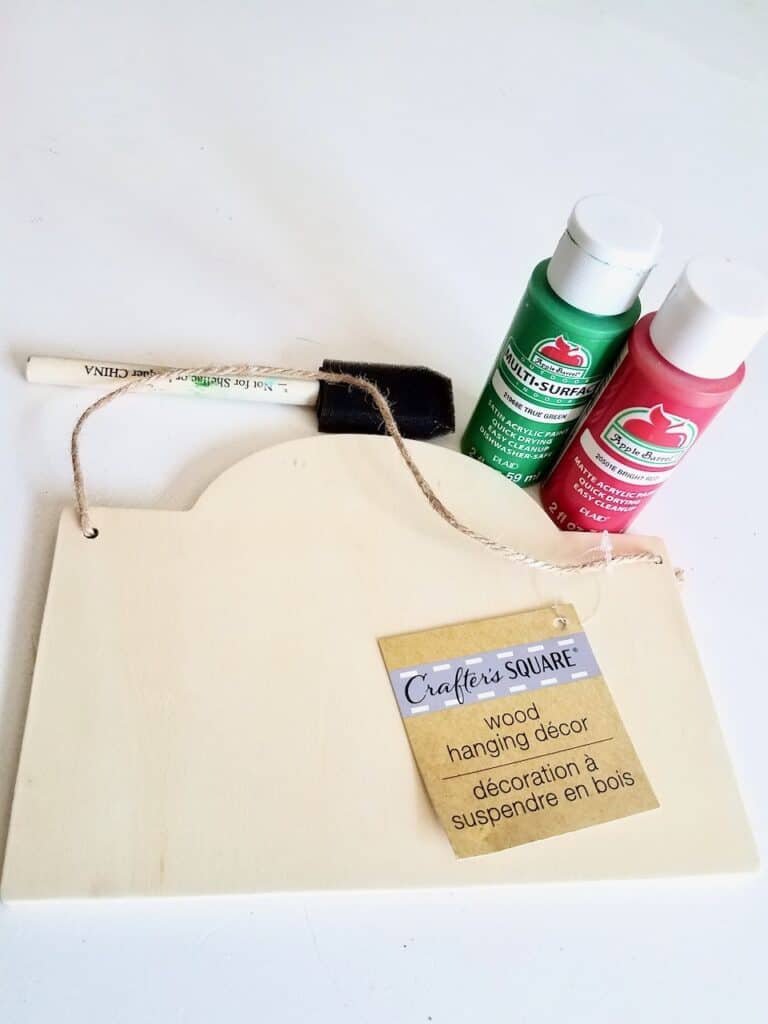 Because the boy across the street is a bit younger, I wasn't sure if he'd be able to read the sign. I wanted to make it pretty obvious when my son could and couldn't play so I made one side of the sign red for stop and the other side green for go.
The neighborhood kids should all be able to understand those colors even if they can't read. I also like the fact that the colors can be seen from across the street so the kids don't have to come up to house to know when play time is okay.
Instructions
Start by painting one side of your board red and wait for it to dry.
Then, paint the other side green and wait for it to dry.
Once the paint is dry, run the black sharpie around the edge of the board to give it a clean look.
Use the black sticker letters or a sharpie to write, "Sorry. I/We Can't Play! Please Come Back Later." on the red side of the sign.
Then flip the board over to the green side and write, "Yay! I/We Can Play."
Now, these next two steps are optional. I had a little more room on the green side so I looked up some cute play time clip art and added it to the bottom of my sign to jazz it up a bit. I used some mod podge to put the cut out pieces on the sign. Once that dried, I put another layer of mod podge on the whole sign to give it a bit more lasting power against the elements outside.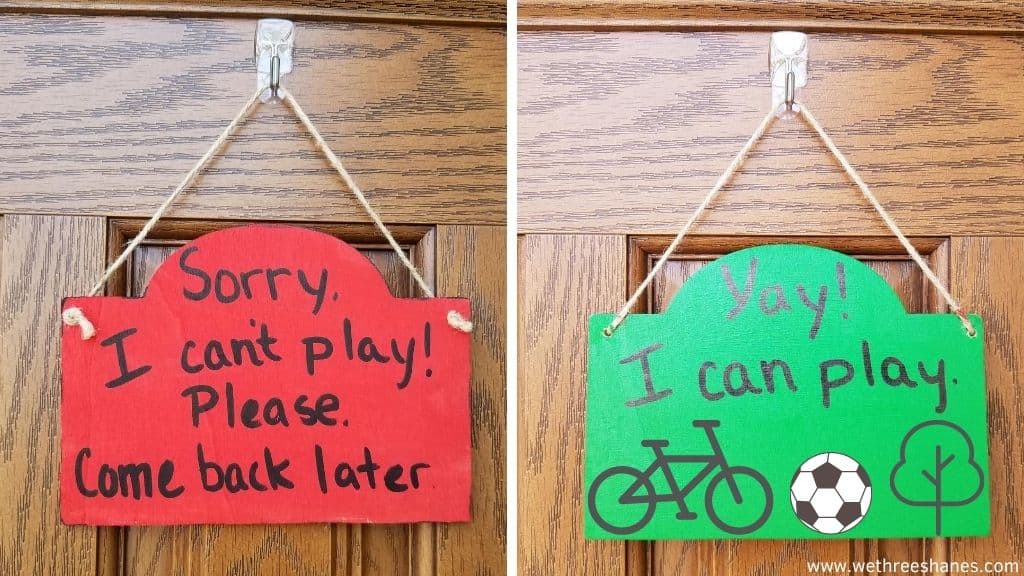 If you have a Cricut or Silhouette machine you could easily cut out some vinyl for this project. Sadly, I don't have one so a marker worked for me. I think mine turned out cute enough and more importantly it works!
I did show my son's friends the I Can't Play sign and explained it to them. This helped them know what to look for when checking our door. It's also been great for Sat mornings when the kids ring the door bell way too early and on Sunday's when the kids forget that my kiddo can't play because it's a day we spend together as a family.
---
Free Printable Door Sign
I did make some signs that are easy to print out if you'd like to go that route. Sometimes you need to have a sense of humor in these situation so I made some funny Don't Knock signs for your front door. These will work for anyone who comes to your door, not just the neighborhood kids.
I've made a set that works for the same sign I picked up at the dollar store. You need to print, cut it out, and mod podge it to the sign or simply print it, cut it, laminate it, then stick it it to your door instead of hanging it. There's also a door knob sign you can print and laminate if that seems easier.
Us Shane girls love our Flamin' Hots and Dr. Pepper so I had to use that in a sign. Tacos and Tequila sounded good together so I went with that as well. Who doesn't love tacos. Pick the sign that works best for you.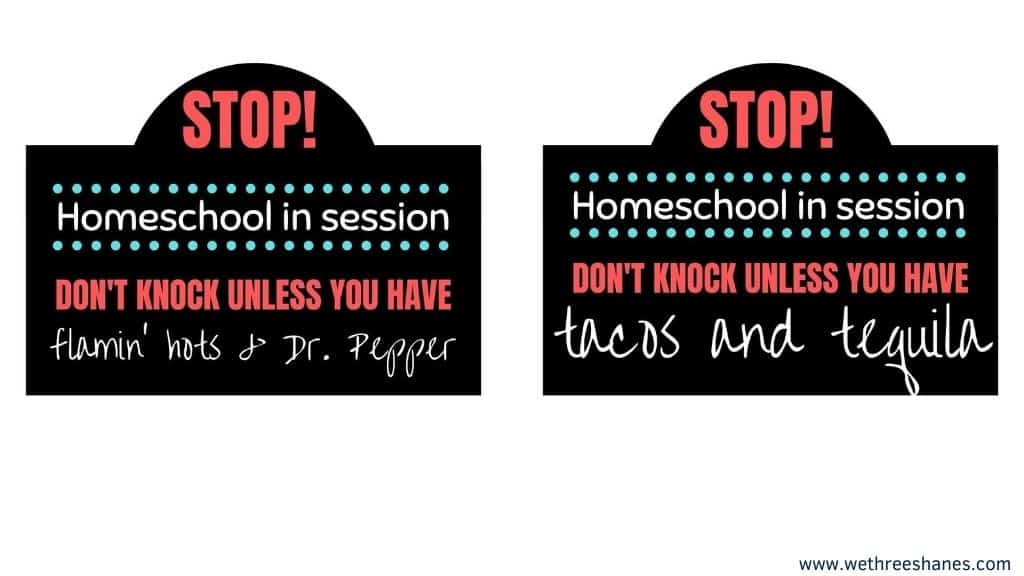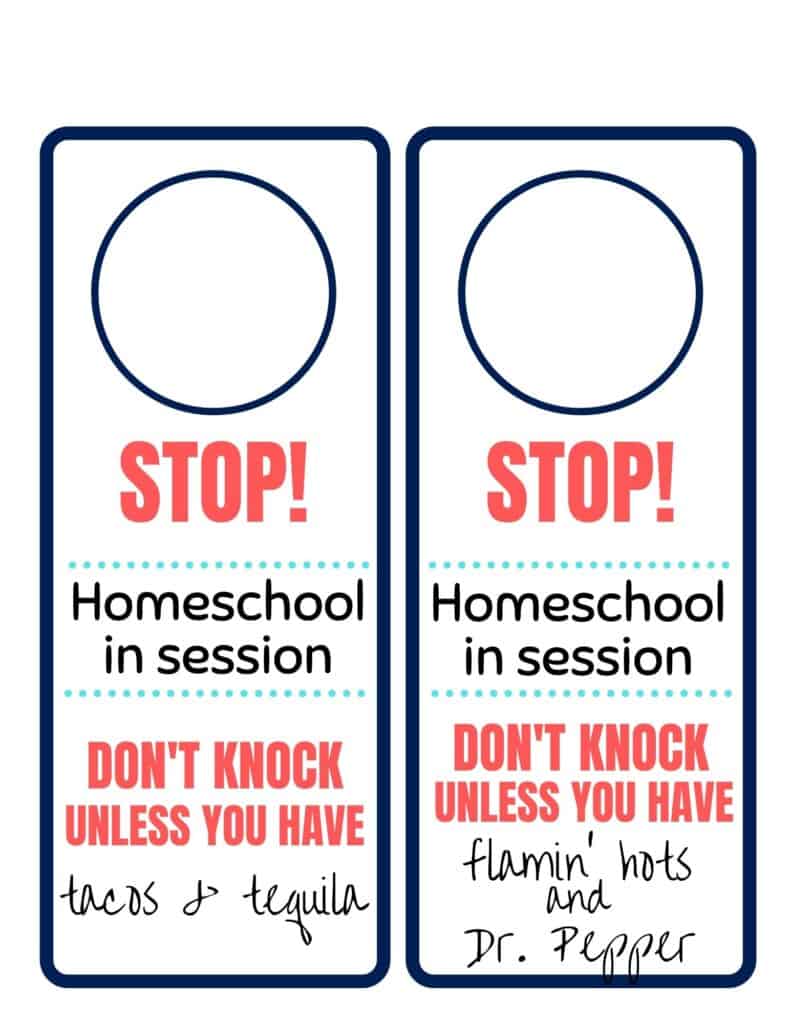 ---
Door Knob Hanger for Kids Rooms
While talking to Katie, it seemed like another necessary sign is one for each kid's door. Apparently, sister walked in on her brother while he was in the middle of a zoom session. So here are some cute door knob Keep Out signs that could be helpful.
Simply, print them out on card stock or paper and laminate them. Then kids can hang them on their bedroom door knobs before they start a virtual class.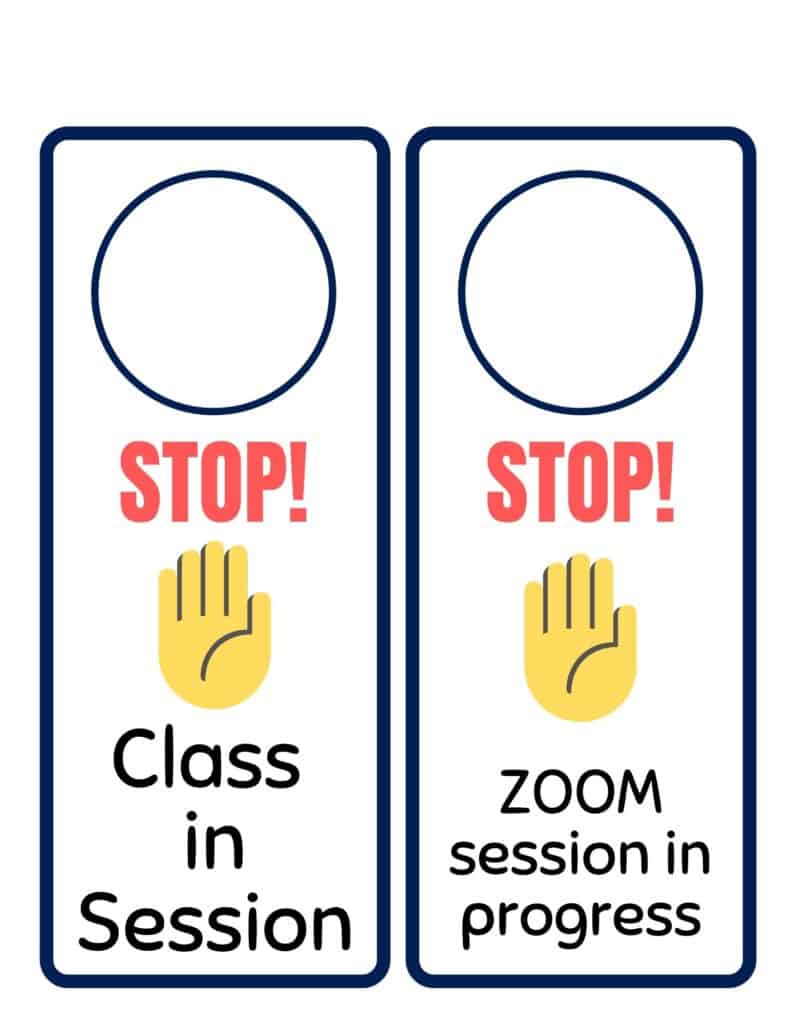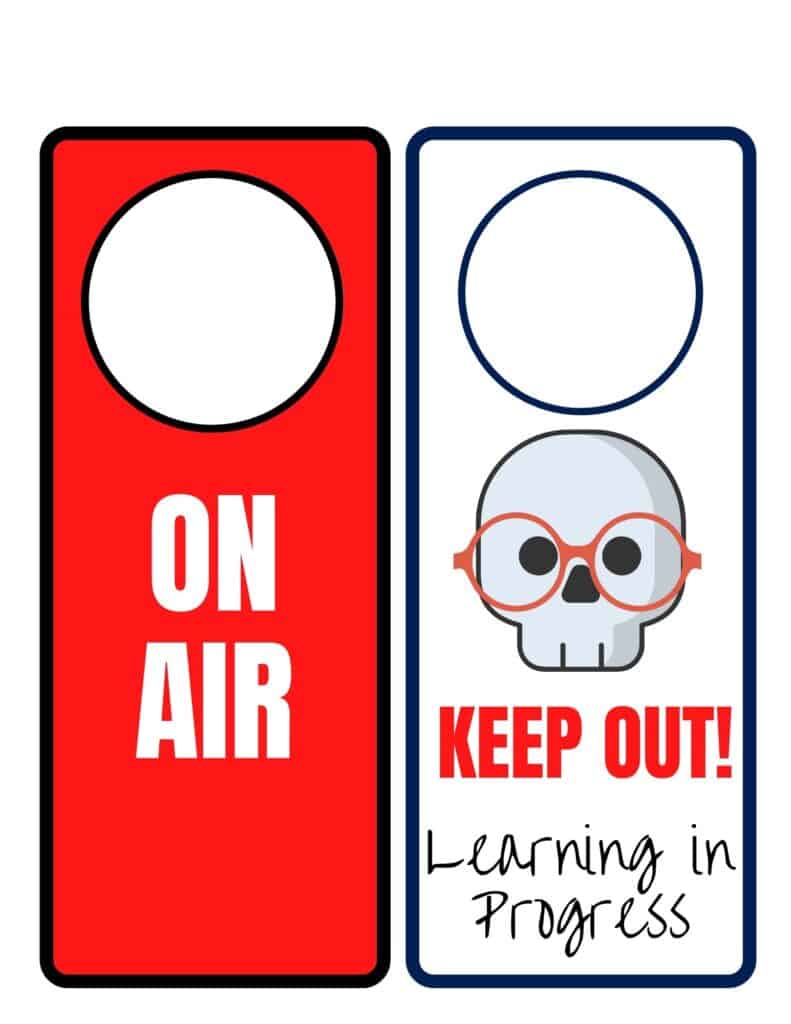 ---
DIY We Can't Play Signs
As you can see, there are tons of ways you can make your own DIY We Can't Play door sign or Don't Knock sign that will help with virtual learning. Hopefully, I've given you some ideas so you can make your own signs or you can print one of the free ones we've got for you.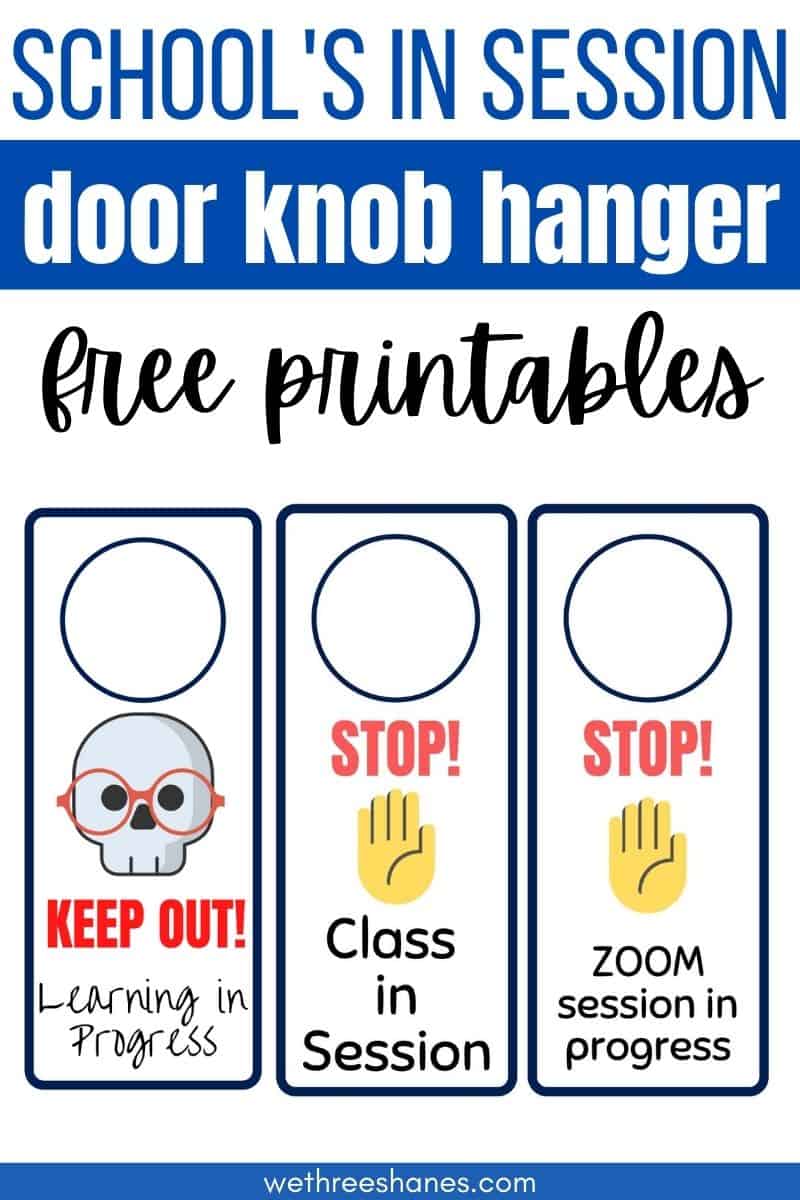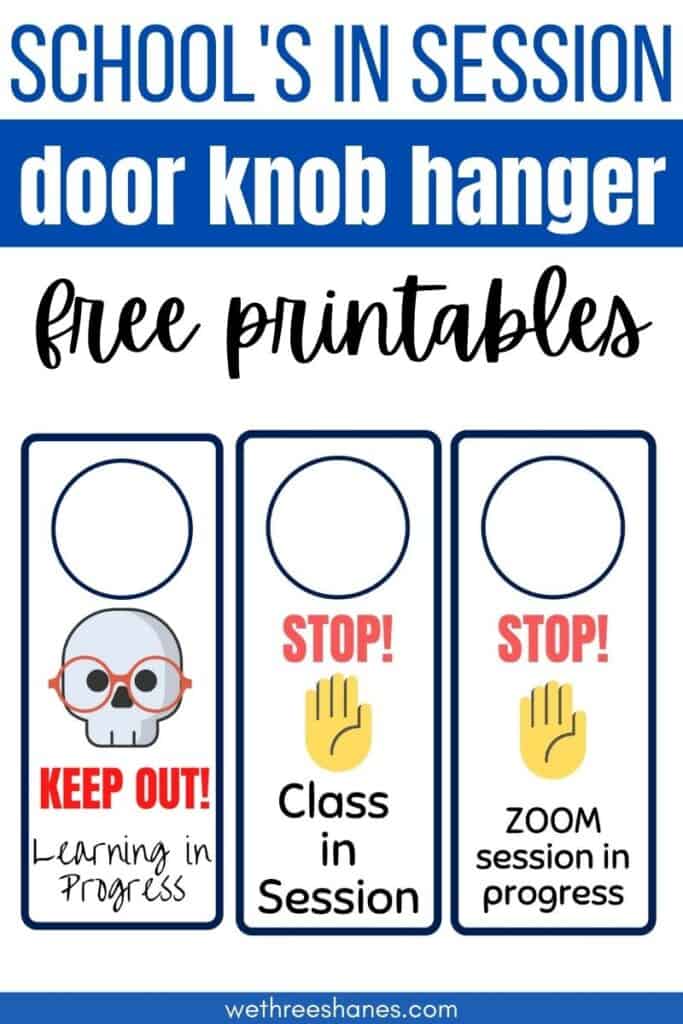 Fingers crossed these signs won't be necessary for too long and kids will be able to safely go back to school soon. Until then, know that we're in a similar place as you and we wish you all the luck in the world!
---
You Might Also Like:
---