Reusable Face Scrubbies | Free Crochet Pattern
Reusable Face Scrubbies are the perfect cotton ball replacement. These eco friendly face pads effectively remove makeup and are great for applying astringent. Save money by washing and reusing them again and again. Facial Scrubbies are easy to make so grab your FREE crochet pattern and have one finished in under 30 minutes.
This post contains affiliate links. You won't pay any extra for making a purchase through these links but we earn a commission for purchases made through links. This helps keep the blog running which we really appreciate! You can read more about it in our

 full disclosure

.

Reusable Face Scrubbies | Free Crochet Pattern
I hate throwing things away. Especially things I use all the time like napkins, cotton balls, packaging, plastic, etc. It feels horrible to know how much we waste. According to an article by Land of Waste, the average American throws away 4.4 pounds of trash a day. That means an average family of 4 throws away 17.6 pounds of garbage a day, 123.2 pounds a week, and 6,406.4 pounds every year. That's a lot of freaking waste. There are so many things we can do to reduce this.
My family is big on recycling and reusing. I try to use reusable shopping bags and water bottles. We wash out glass jars and repurpose them. In fact the jar I use to store my face scrubbies in is a rinsed out food jar. Cans and paper are recycled through the city but I often reuse things like toilet paper rolls for crafts.
There are certain things I refuse to make reusable though, like toilet paper. Um, gross. And my husband would probably not think twice about divorcing me if I tried to force him to use reusable toilet paper. You are laughing at me now but I promise I have read several blogs about it. Pretty much every time, a wife insisted and a husband refused. And I DON'T BLAME THEM!
Sorry. Tangent over. Anyway…a simple thing you can do to help lower your trash waste is make your own reusable face scrubbies. Even if you have never crocheted in your life, these are SUPER simple.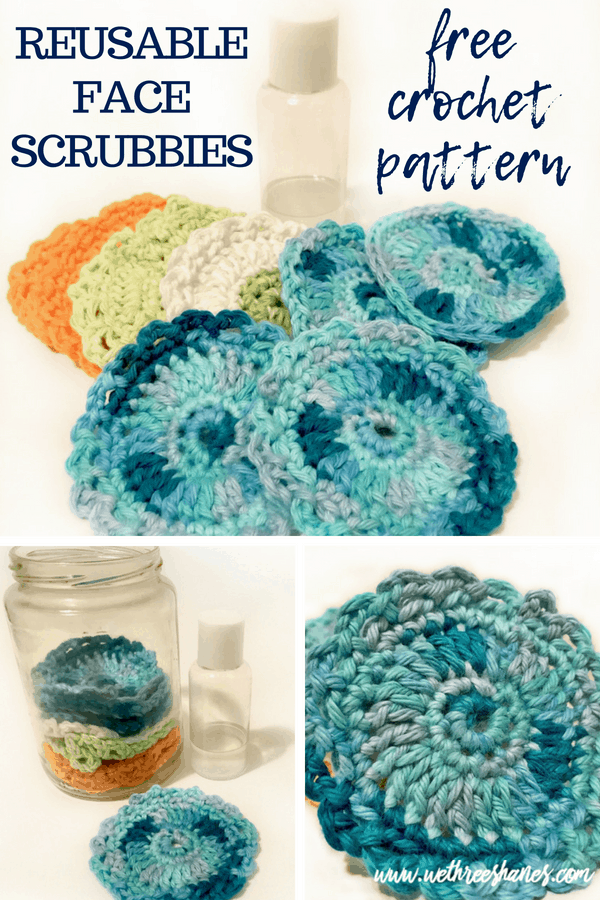 ---
Supplies Needed to Make Reusable Face Scrubbies
Here's what you need to make your reusable face pads:
100% cotton yarn
crochet hook ( I used a 5mm )
Yarn needle
Scissors
Use 100% cotton yarn when making your facial scrubbies. It's more expensive and it doesn't feel as soft at first, but it make's it possible to wash your scrubbies over and over again without them shrinking or breaking apart. Think of all the money you'll eventually save by never buying cotton balls again.
I used THIS YARN to make my face scrubbies. One spool makes roughly 8 scrubbies using the free pattern below.
---
Pattern for Reusable Face Scrubbies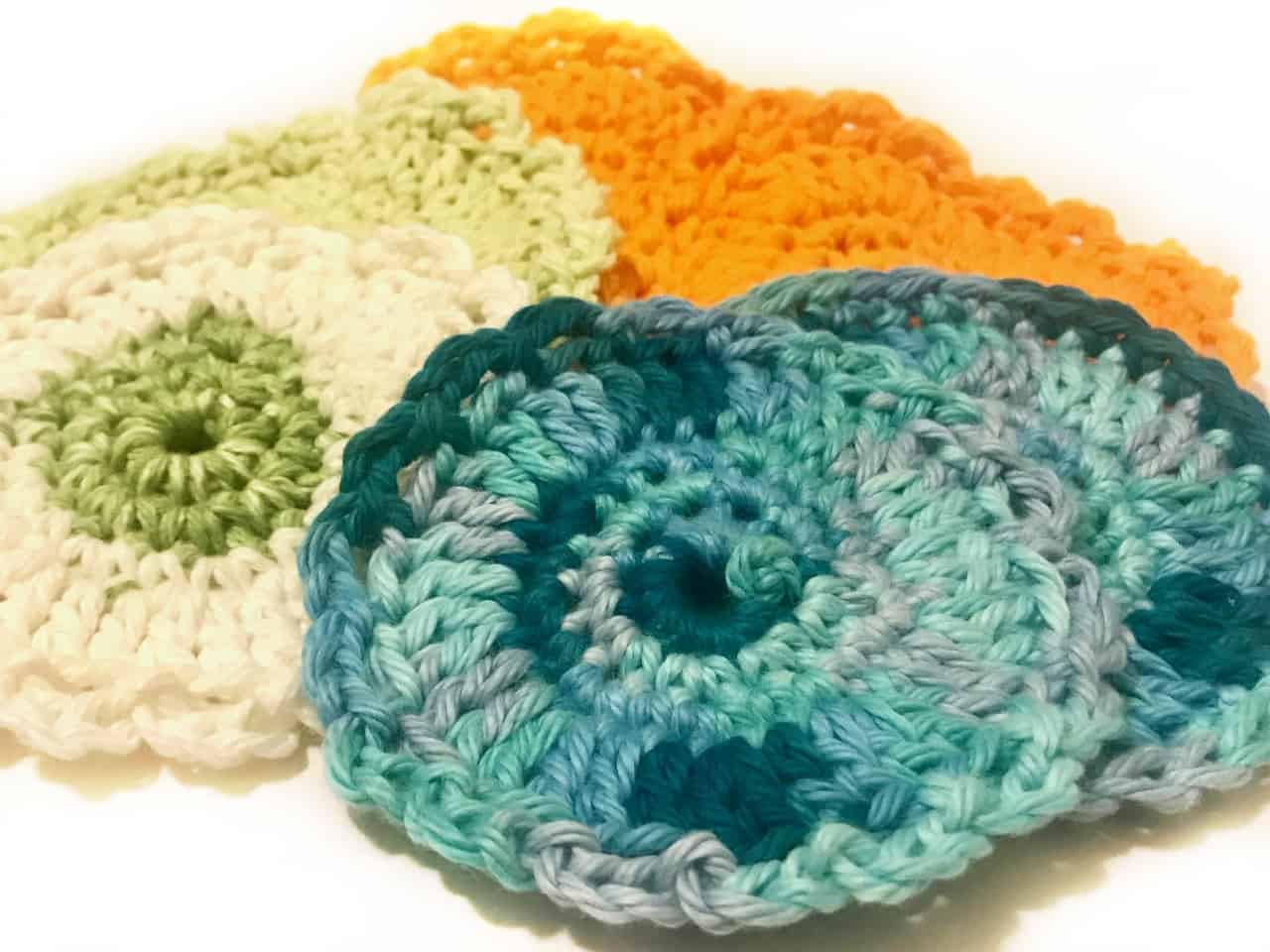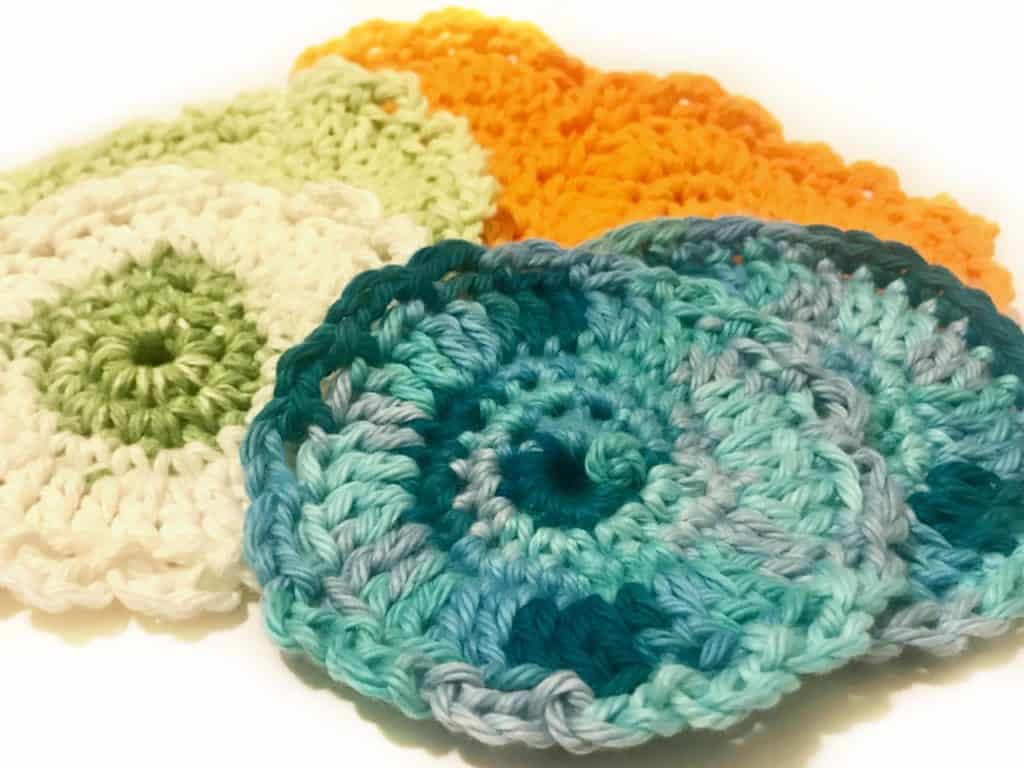 Crochet abbreviations
Ch=chain
Sl St= slip stitch
sc= single crochet
DC= double crochet
Ch 5 and then join together into a circle with a sl st
Sc 8 times into the circle and join with a sl st
Round 1: Ch 1 and then put 2 SC into that stitch and in each stitch around and sl st to join
Round 2: Ch 2 and then put one DC into that stitch and 2 DC into the next. Repeat this process of 1 DC and then 2 DC all the way around and then finish with a sl st
Round 3: Ch 1 and then SC into same st, 1 SC into the next stitch and then 2 SC into third stitch. Repeat this all the way until the end of the round ending with a sl st.
Now at this point you have a cute circle and can be done. However, I added a decorative border around mine. If you would like the adorable border, follow this last step.
Ch 3, skip one chain and then sl st into 2nd chain. Repeat Ch 3, skip one chain, and sl st until the end.
Fasten off and weave in the ends and you've got yourself a replacement cotton ball. Plus, they are way cuter than the average cotton ball and will save you money.
How to Use Your Face Scrubbie
You can use your reusable face scrubby for many things. I use one to take off makeup and another one to apply astringent. Don't forget to try our easy
DIY Lavender and Lemon Astringent
recipe. I use it every day.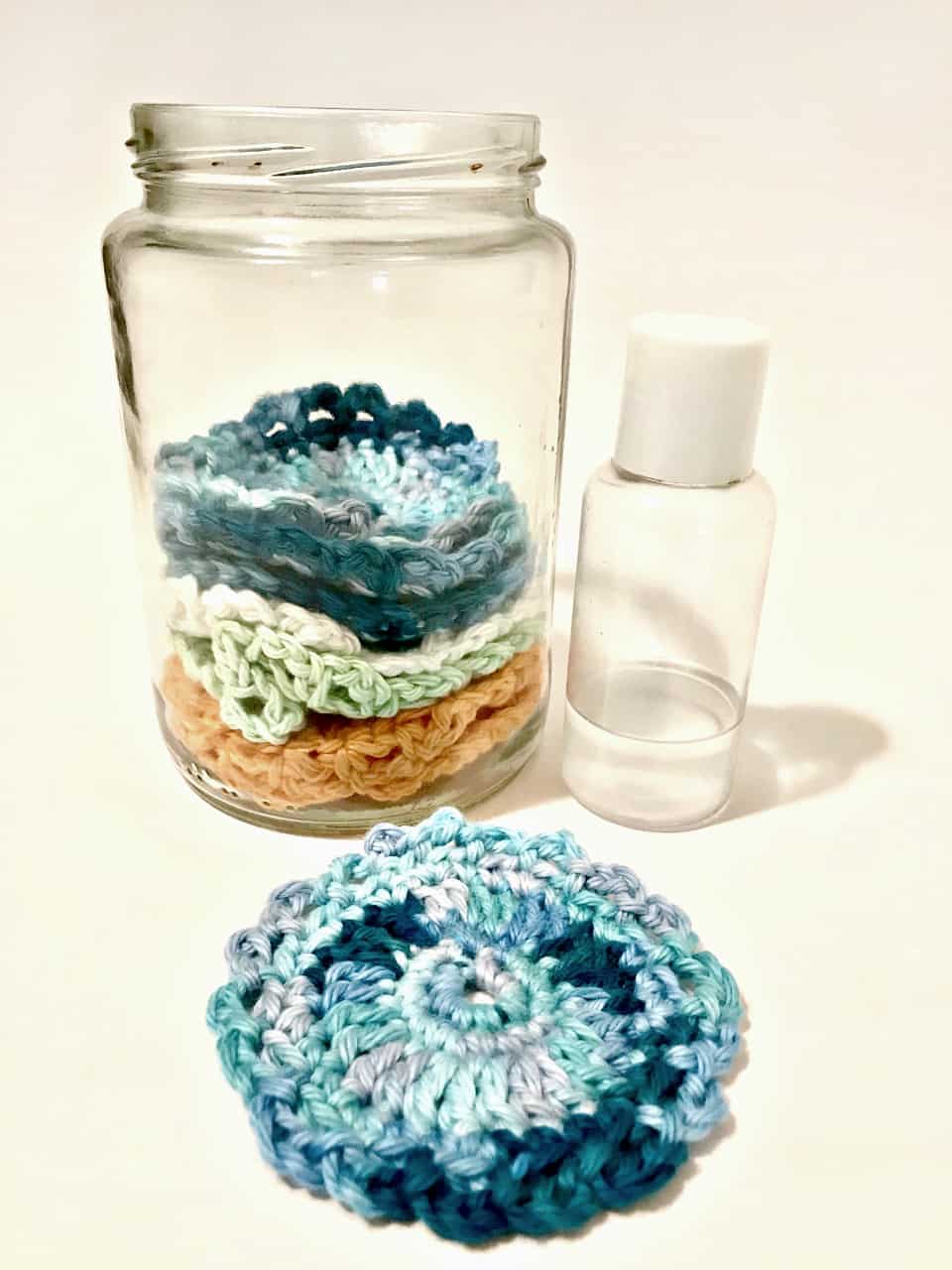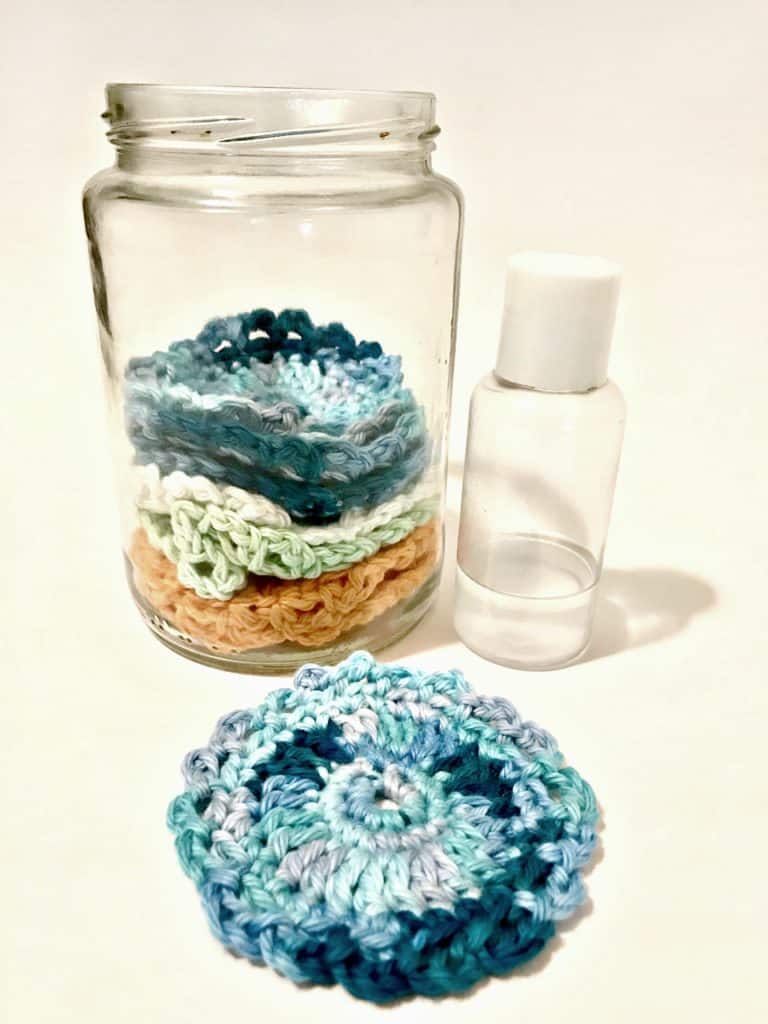 Normally I need two face srcubbies but make as many as you need. They really are so easy to make that you can make a ton once you get the hang of it. You may want a third scrubbie to take off your mascara. Some people even use their scrubbies to take off nail polish. The nail polish stains more than makeup so you might pick a darker color for nail polish removing scrubbies. There are so many uses for these so get creative. They also make fun gifts.
You can apply your soap, makeup remover, or astringent directly to the scrubbie and then use it accordingly. Then rinse your scrubbie in warm water and set it somewhere to dry out. Reuse your face scrubbie the next day. At the end of the week throw it in the wash. Then you're all set to reuse it again for the next week.
Have fun making your reusable face srubbies. You are on your way to helping the environment and yourself!
Do you think you can make the switch from cotton balls to reusable face scrubbies? Let us know what you think in the comments. We love to hear from you!
---
You Might Also Like: