How to Cook Black Beans in the Crockpot
Learn how to cook black beans in the crockpot for a super simple, frugal, and incredibly flavorful side dish or main meal component.
I have been cooking black beans in the crockpot for over 15 years. The flavor of these black beans when you cook them from scratch is just so much better.
This black bean recipe could not be easier to make. It's only 3 ingredients and requires no chopping. Just throw things in the slow cooker, give it a little stir, and let the crockpot do the work.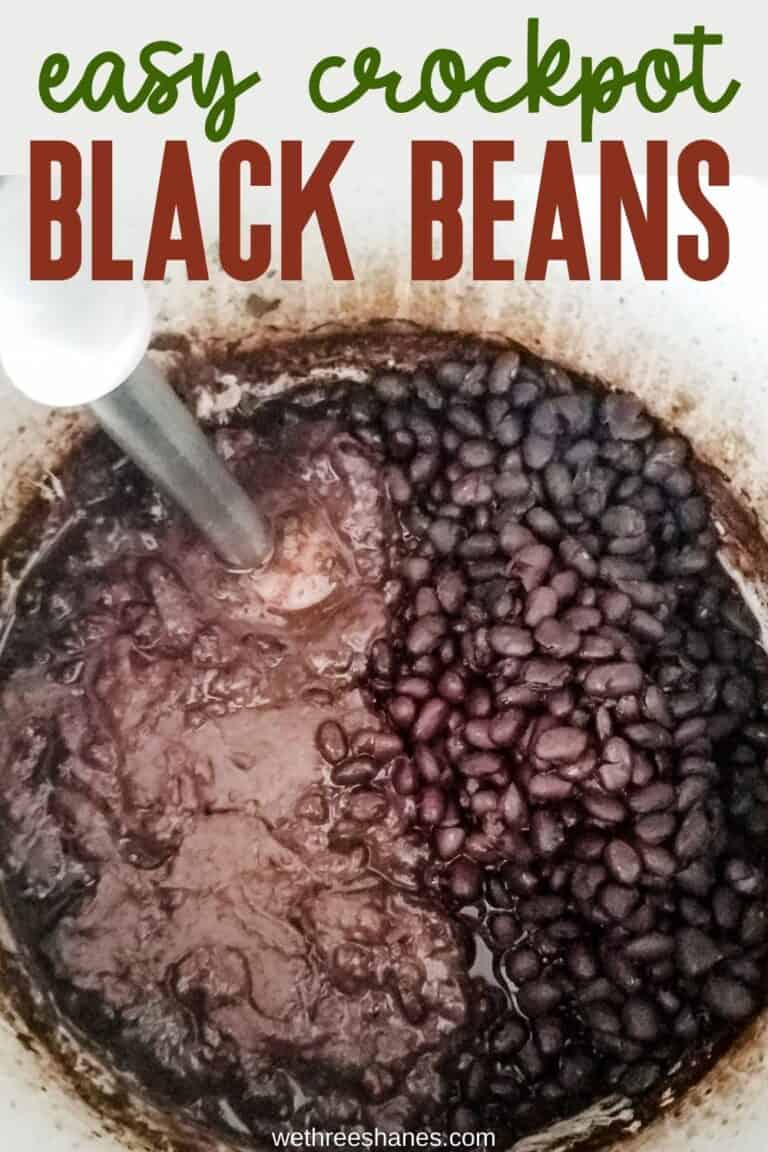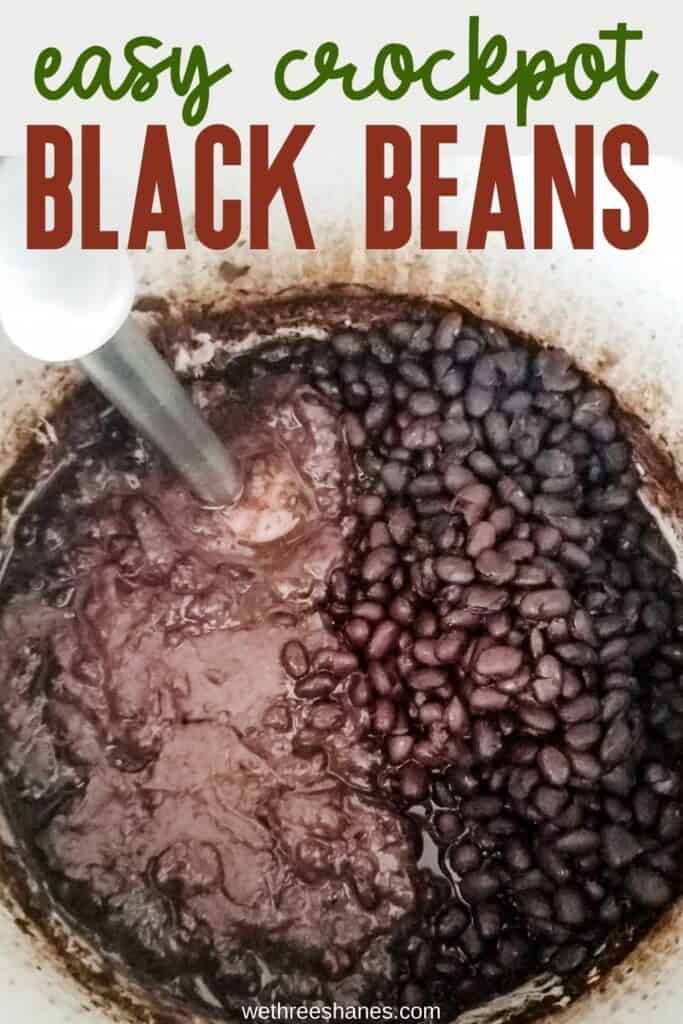 Here's why I love to make my own black beans:
super simple
budget-friendly
extremely versatile
easy to freeze for later
mostly hands-off cooking
can be made vegan friendly
great to make in hot summer months
dried beans are great for food storage
Let's talk about that last one for a second. If you read Kristy's post last week then you'll know that food prices are going to keep rising so it's smart to stock up on some staples now while they are in stock and prices are lower.
We realize that while dried beans are great for food storage because the shelf life is pretty awesome, if you don't know how to cook them then they are no good to you. Hence, this post. Once you see how easy dried beans are to make, and how delicious they are, you'll be cooking with dried beans all the time.
---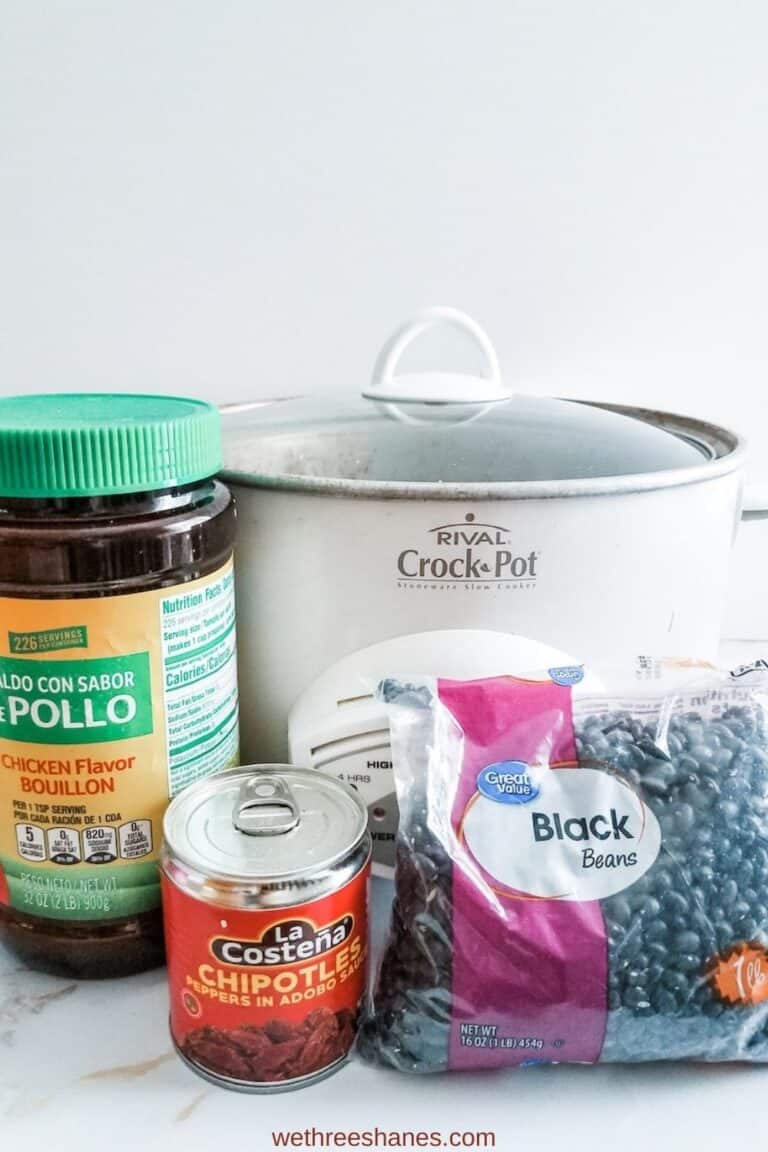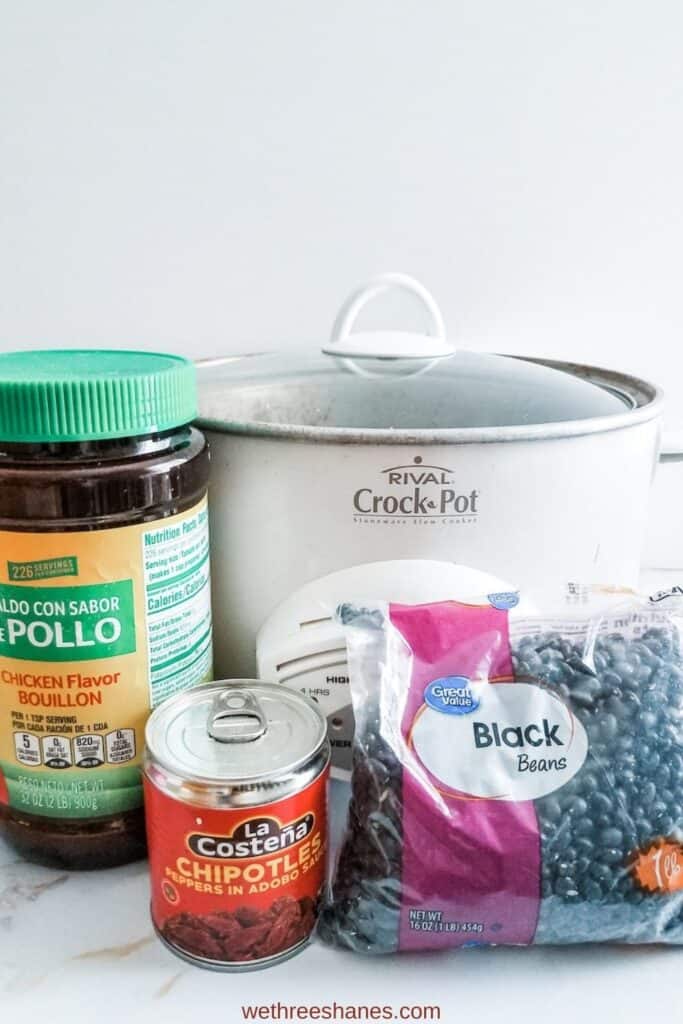 Ingredients for Crockpot Black Beans
There are so many ingredients you can use to make your black beans flavorful but technically you only need dried beans and water. I also like to use a bit of chicken bouillon and chipotle peppers to add awesome flavor.
Will minced garlic, chopped onions and peppers and carefully measured spices add flavor to black beans? Yep! But I like less prep work and less dishes to clean. Between the chicken broth and the chipotle peppers in this recipe, your black beans will have plenty of smokey flavor that taste way better than canned beans.
Here's what you'll need:
Black beans
1-2 chipotle peppers
chicken stock or chicken bouillon
water
crockpot
I use chicken bouillon because it's easy to keep on hand but you can use chicken broth instead. In fact, make your slow cooker black beans with homemade veggie or chicken broth for a really healthy option.
Since you'll only use one or two chipotle peppers, you can freeze the rest to use later. Or, make some tortilla soup later in the week. This is another one of our super simple recipes that you'll die over. It's honestly that good!
Ugh. Now I want tortilla soup.
---
How to Make Black Beans in the Crockpot
Here's the deal people, I'm not going to give you exact measurements for this black bean recipe. There are too many things that can go wrong that way. But, I am going to give you instructions that are easy to follow with some options.
Why do I not give exact measurements? Because this recipe will let you make as many or as little black beans as you want. It's easy for me to grab a one pound bag of black beans from Walmart and cook them up because I can get at least two meals out of them for my 3 person family.
You might want to make a much larger pot of beans for a bigger family or to freeze some for later. Knowing how to cook the beans correctly in the slow cooker means you can adjust things easier than trying to half or multiply a recipe.
Step 1 – Rinse your beans and look for any small stones that got thrown in with them during the packing process. Don't skip this step. It's no fun to bite down on a stone or crunch a hard clump of dirt while enjoying your beans.
It's definitely happened to me when I was too lazy to look for them. Honestly, it's the most work you'll have to do in this whole process so just do it.
Step 2 – Pour the beans into the crockpot and cover with water or broth. You want your liquid line to end about 1-1 1/2 inches above the bean line.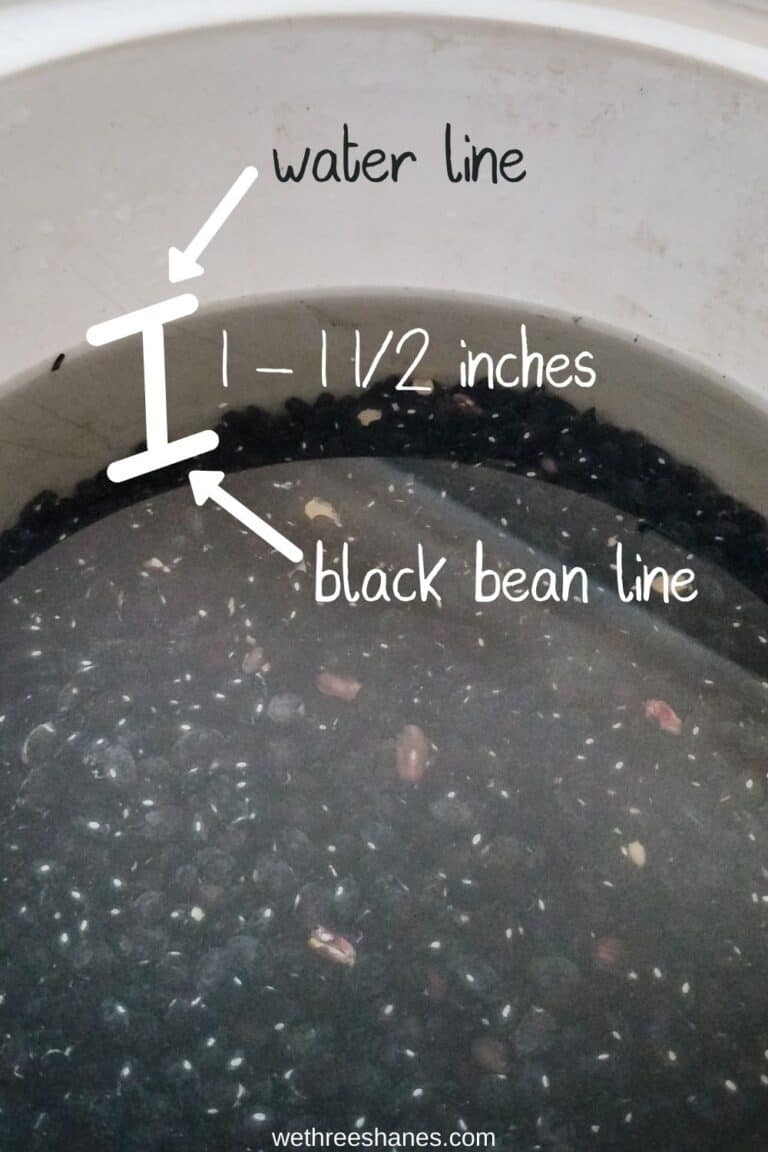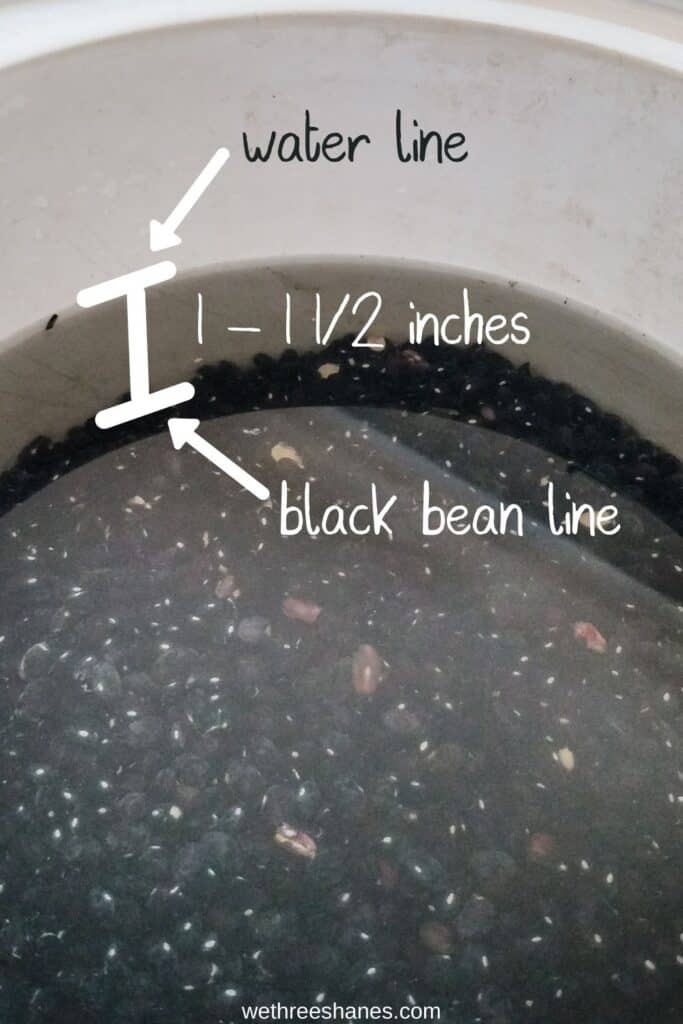 I like to use this water line method because you don't have to have an exact measure for dried beans. It's especially nice when you buy a large amount of black beans in bulk. You can just pour some in the crockpot and then put enough liquid in to cover the beans by 1 1/2 inches and you're set.
More liquid is better than less liquid. You don't want to run out of liquid because the beans will burn and not fully cook at the same time. Extra liquid can be drained and saved for more black bean recipes.
If you use bouillon then you'll want to keep track of how much water you poured in to cover the beans. Then sprinkle in some bouillon.
You don't have to match the bouillon to the water perfectly. Bouillon tends to be pretty salty so I tend to use about a 3-4 ration. For example, if I pour in 5 cups of water then I throw in roughly 3 1/2 tsp of bouillon.
If I'm using a broth then I don't use water. I go for the full broth so it's not watered down.
Step 3 – Add in your chipotle pepper. Use one pepper if you just want a hint of spice and two if you like a little more kick. Canned chipotles are pretty mild and have a smokey flavor which is great in the black beans.
Step 4 – Give everything a stir and then cook your black beans. You can cook these on high for about 3-4 hours or on low for 5-6. I seem to always forget to start my beans so I end up cooking them on high a lot. But, I would recommend the low setting if you have the time. They tend to cook more evenly that way.
You do need to keep an eye on the water level when cooking dried beans. An inch and a half of water should be enough to cook the beans without drying things out or burning them. However, everyone's crockpot is different and if your's runs extra hot then you should definitely keep an eye on things.
Step 5 – It's okay to start stirring and checking on the texture of your beans during that last hour of cook time. It's easy to undercook the beans but it's even easier to overcook them.
The more you make the beans from scratch the better you'll get at them. If you need to check more often the first couple times you make them then that's okay.
---
What to Do Once Your Black Beans Are Done
Once your black beans are done you've got tons of options on what to do with them.
First, I take some of the whole beans out and save them for later. These are great for tossing into salads, on top of nachos, or turning into black bean salsa.
Second, I use my immersion blender to blend about half of the black beans, a chipotle, and some of the leftover liquid, into a creamier consistency. Then, I use that mix like I would refried beans.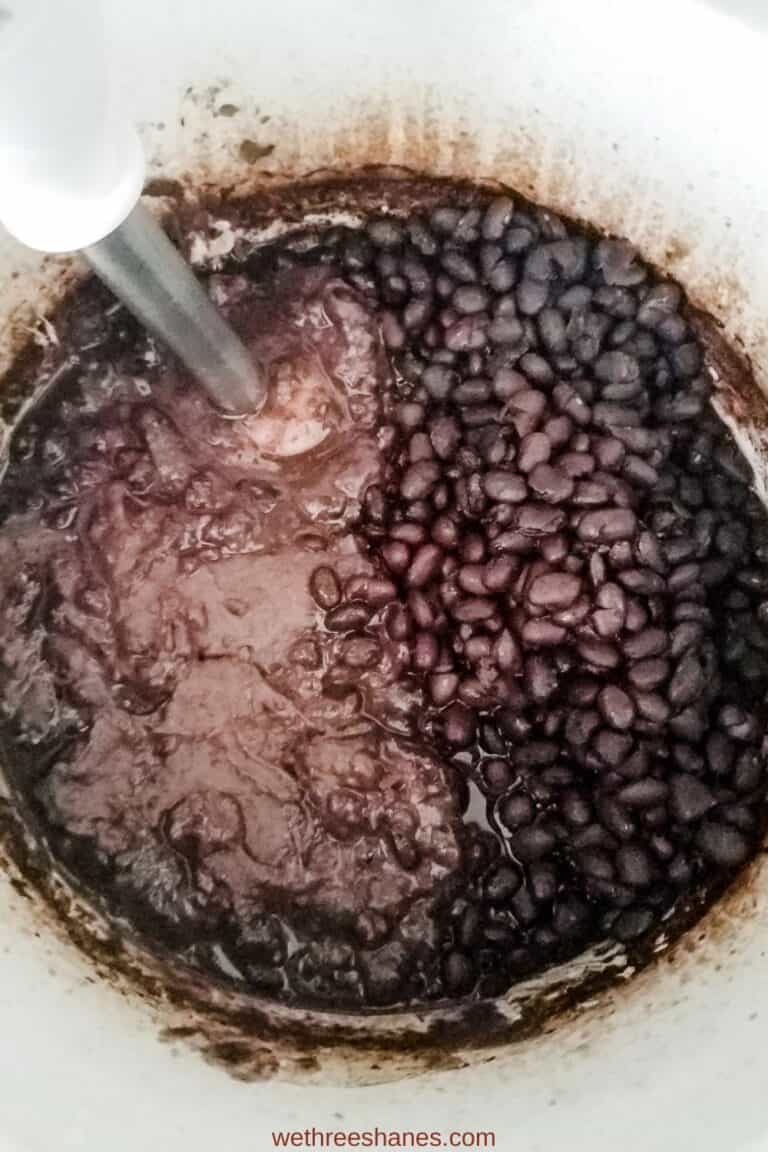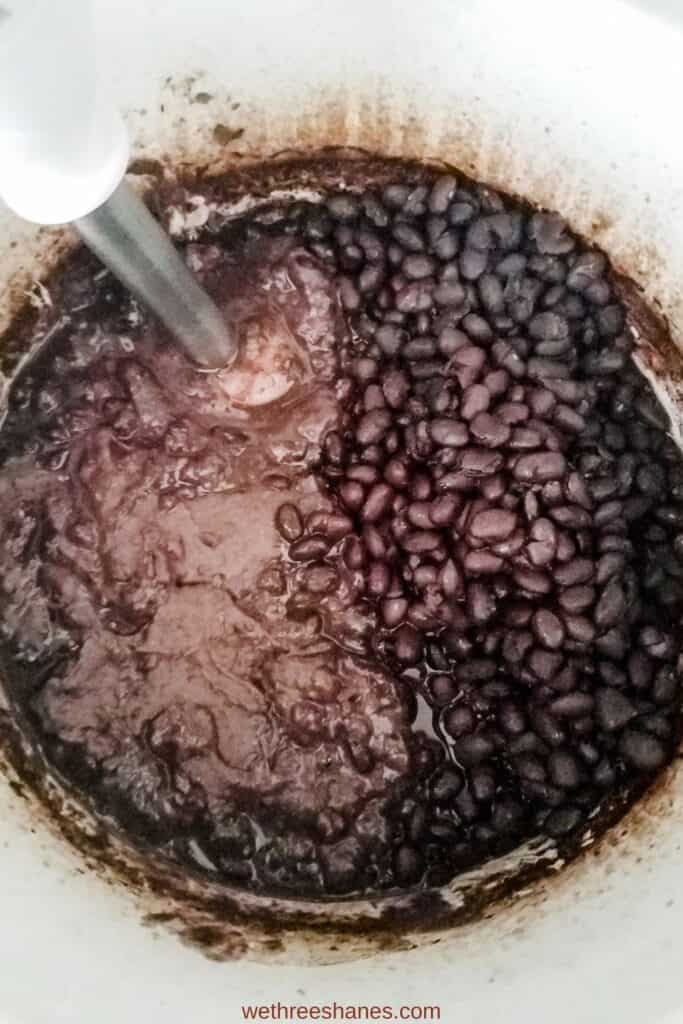 We always serve this over rice with yummy toppings for dinner that first night and then save the rest for another dinner, like burritos or tostadas, later in the week.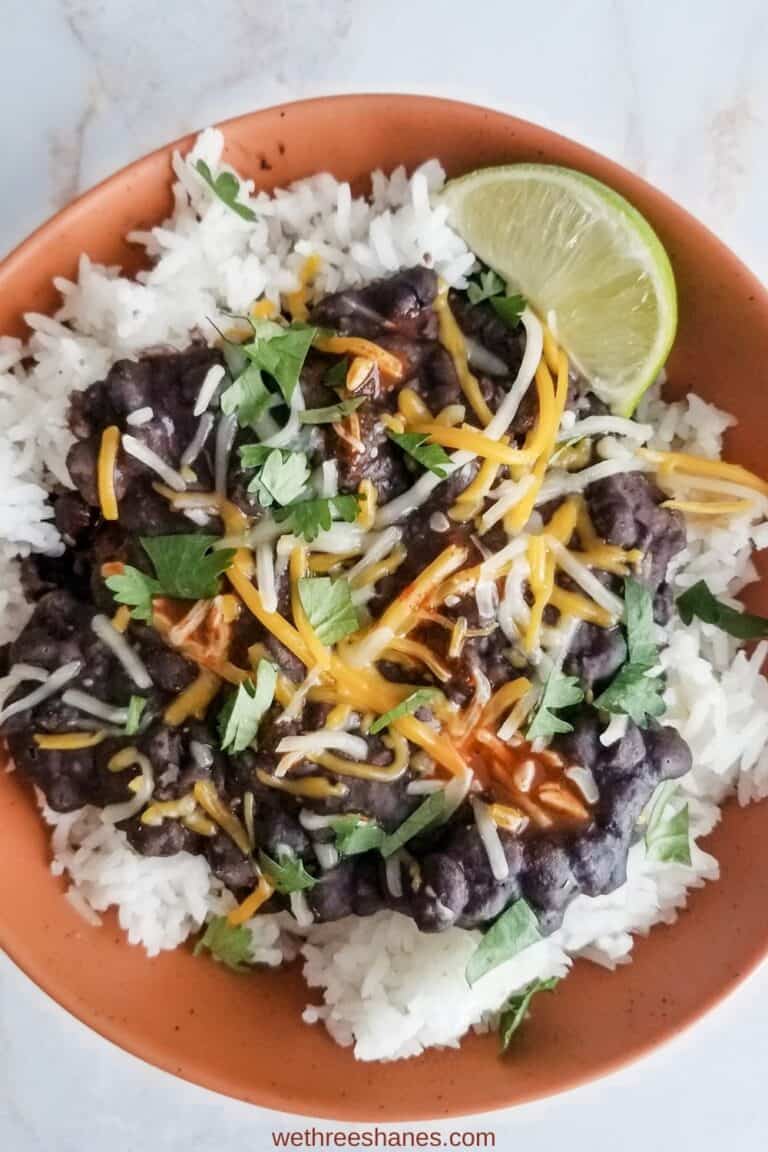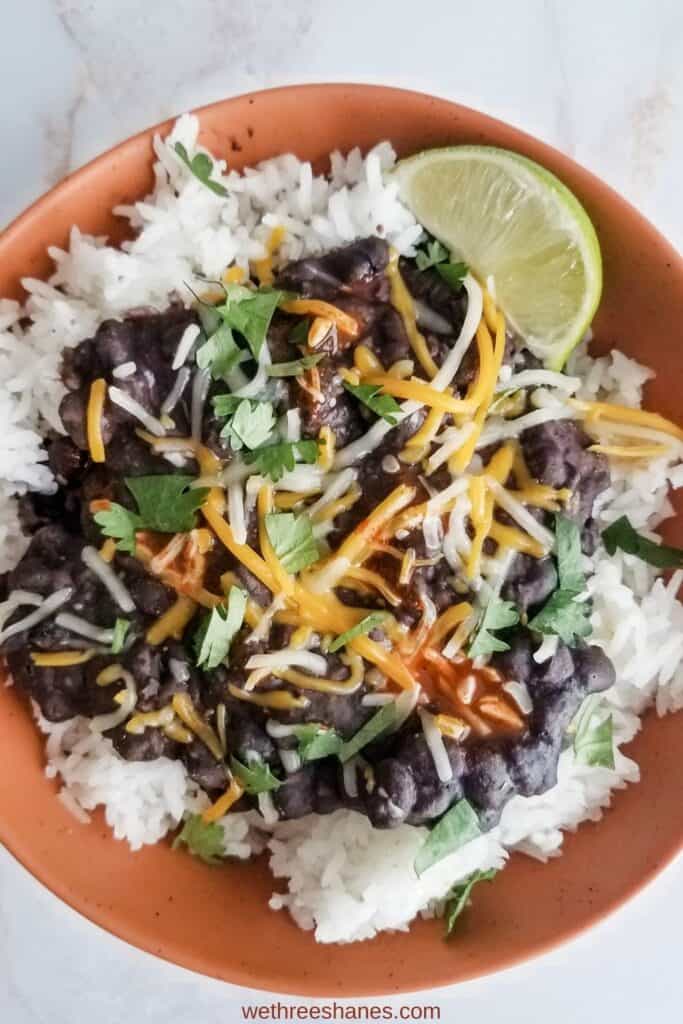 Obviously, you'll have your own favorite family recipes to use these black beans in. You don't need to blend them at all. You can keep them all whole if you prefer.
Any leftover beans go into the freezer for later. You can always consider making a bigger batch so that you have lots of beans to freeze. You just need to defrost the beans and then reheat them.
I like to pull a bag of them out of the freezer and put it in the fridge the night before I plan on using them. Then, I simply reheat in the microwave but you can reheat on the stove top as well. A little liquid can be mixed in if the beans look too dry when reheating.
Tips for Cooking Black Beans in the Crock Pot
You don't need to soak your black beans overnight before you cook them in the crockpot. You can if you want. If you do then remember that the beans will cook faster.
If you want to try this recipe with a bigger bean then soaking them can help speed up the cook time. I use this exact recipe for cooking refried beans but they have a longer cook time so soaking them could be helpful but still not necessary.
Leave the lid closed until that last hour unless you see your liquid level dropping too low. If you can no longer see any liquid then you can lift the lid to add more water or broth. Lifting the lid will release the built up heat and cause the beans to take longer to cook. If you start with 1 1/2 inches of liquid above the beans then you shouldn't have to worry about adding more water.
Drain your cooked beans over a bowl to save that cooking liquid. You'll need some of it if you're going to blend your beans. If you don't seem to have enough then you can add a little more water or broth in. You can also use the extra liquid to make black bean soup with the leftover beans.
If you end up with runny beans once you've blended them don't worry. Runny beans are great for serving over rice. Plus, blended black beans will thicken up in the fridge so you won't have runny beans the next day.
---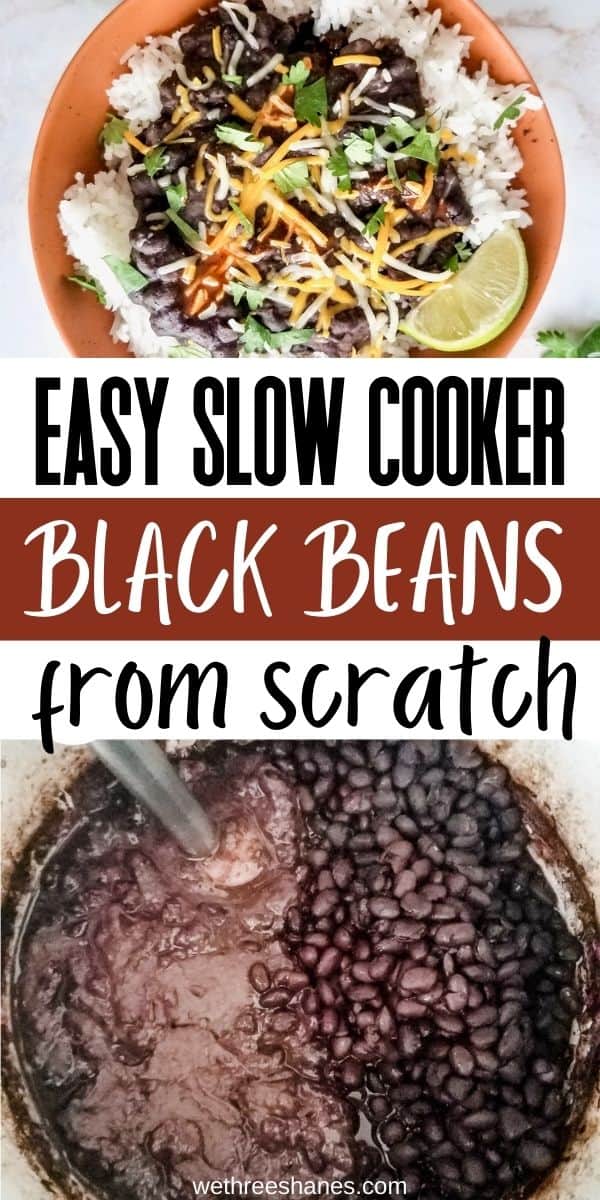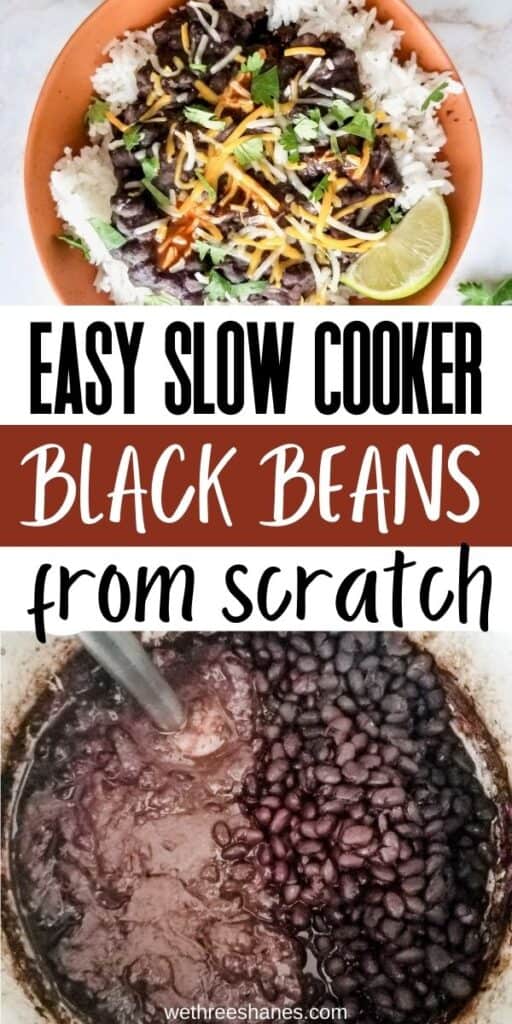 Slow Cooker Black Beans
The slow cooker method is my favorite for cooking dried black beans. I've tried multiple recipes for cooking them in the Instant Pot and they never turn out right. I end up with some mushy beans and some that haven't been cooked all the way.
I'll have to keep experimenting with the Instant Pot (feel free to give me tips in the comments) but until then I love cooking black beans in the crockpot. That first meal of black beans over rice is delicious and cost less than a dollar a person to make. Talk about frugal!
With the uncertainty of food availability and higher prices, food budgets aren't going to stretch as far so learning how to cook dried beans is a skill everyone should learn now.
Plus, black beans are super healthy. Most people, including kids, will eat them so they're a great meat substitute for Meatless Monday meals.
Do you cook with black beans? Do you buy them canned or dried and cook your own? These super easy to make crockpot black beans are too good not to try them out at least once. But be warned, once you try them you won't want to go back to the flavorless canned kind.
---