Dashing Diva Glaze Nails, an Unbiased Review
Dashing Diva Nails have been reviewed on the blog before. But now Dashing Diva has something new to offer with Glaze. Glaze is a nail kit that promises gel-like quality nails at home. But can Dashing Diva Glaze Nails deliver? Two of the three sisters get together to try them out, and give you their unbiased opinion.
(THIS POST PROBABLY CONTAINS AFFILIATE LINKS. OUR FULL DISCLOSURE POLICY IS LONG & BORING BUT, YOU CAN FIND IT HERE.)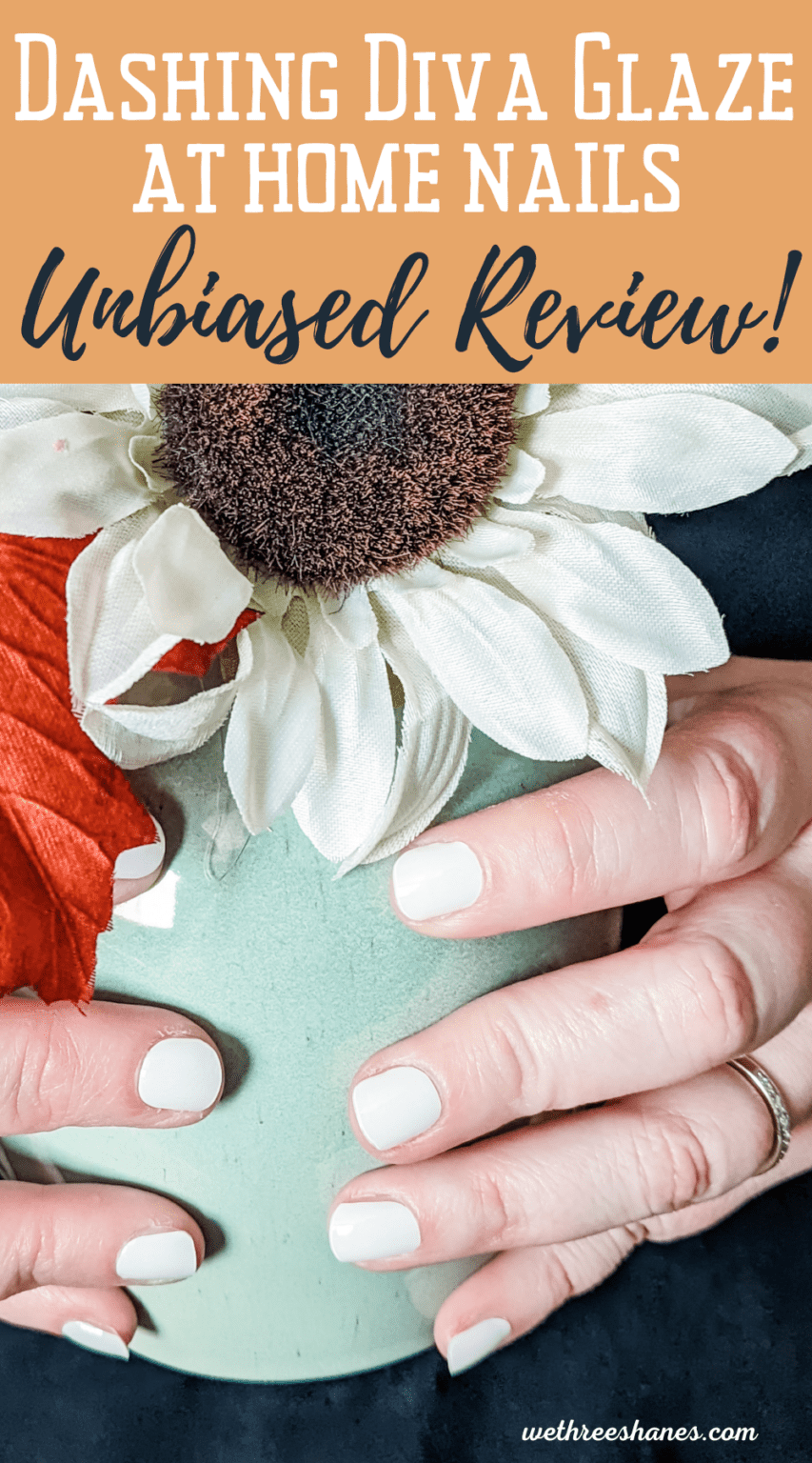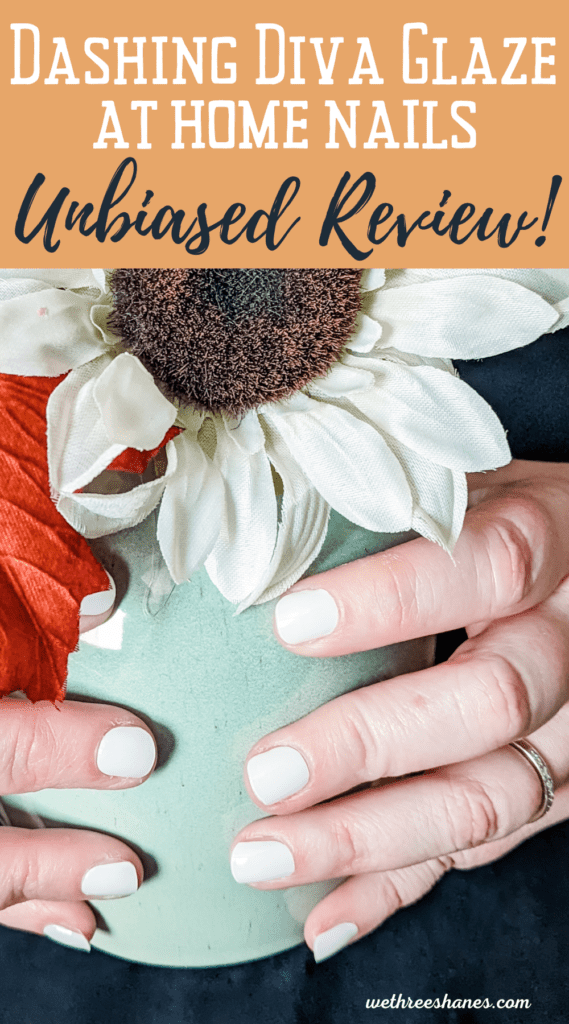 Dashing Diva Glaze Nails
Here at WeThreeShanes we are simple girls. Even though we like having nice nails, we don't like the cost or upkeep of having nails done at the salon. We are all about what works for our pocketbooks and schedules.
Dashing Diva nail strips are something we have reviewed on the blog before, and we liked them a lot. So when I saw a new product put out by Dashing Diva, I was intrigued. Especially when I saw they were a semi-cured gel that came with their own mini LED lamp.
While I have liked most of the nail strips we have tried, I liked the idea of a stronger, harder finish. I knew Kim was coming to visit soon, so I asked if she wanted to try them with me. So this review will be from not just one, but two Shane sisters.
What You Get in the Kit
When purchasing, Dashing Diva Glaze nails come in two packages. For your first time, you want to get the starter kit, because it comes with a mini LED lamp, which you need to harden Glaze nails. It also has 34 semi-cured gel nail strips, manicure stick, nail file, and 2 prep pads.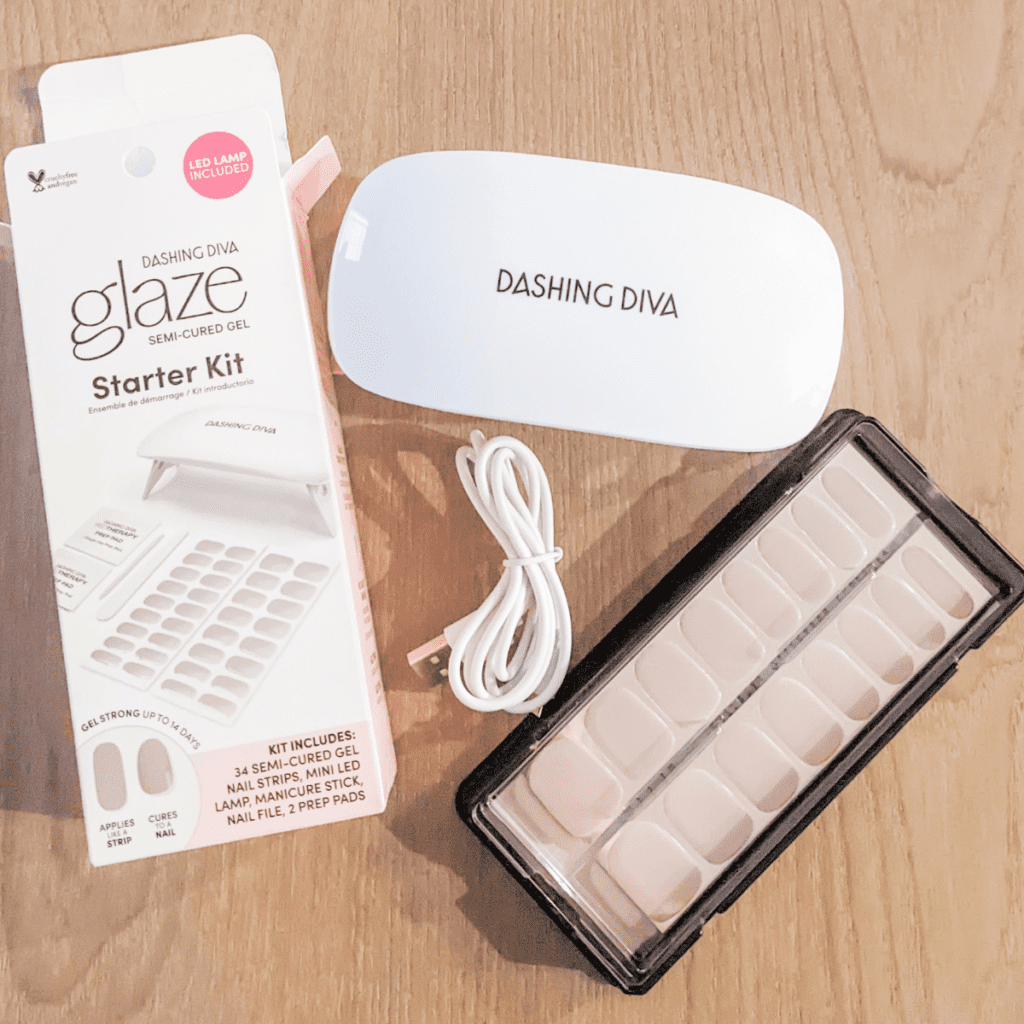 After that you can just buy a set of Glaze nail strips. They contain everything except for the lamp.
One of the things we really love about Dashing Diva is they are not an MLM set-up, so you don't need to find a representative to order them. You can find them at stores like Target while you are doing your regular shopping, or at Ulta (and then you don't have to pay for shipping).
But if you want way more choices in colors and designs you can order them directly from the Dashing Diva website. Online they have tons of solids, glitters, designs, and even Glaze nails just for your toes.
---
How to Use Dashing Diva Glaze Nails
Both Kim and I found the Glaze nail strips to be very easy to use. We honestly thought their thicker consistency meant they were easier to apply compared to Dashing Divas regular Gloss nail strips or other brand nails for that matter.
Nail Prep
Just like with regular strips, you are going to want to start with clean dry hands. The kit comes with prep pads, make sure you use them to get any extra oils off your nails.
Application of your Glaze Nails
Then you just apply the strip like you would a regular nail strip. Make sure to smooth it out really well.
Next, you cut the strip to the length you want it. Kim preferred to cut her strip before applying the next one, while I did one whole hand, and then cut them down.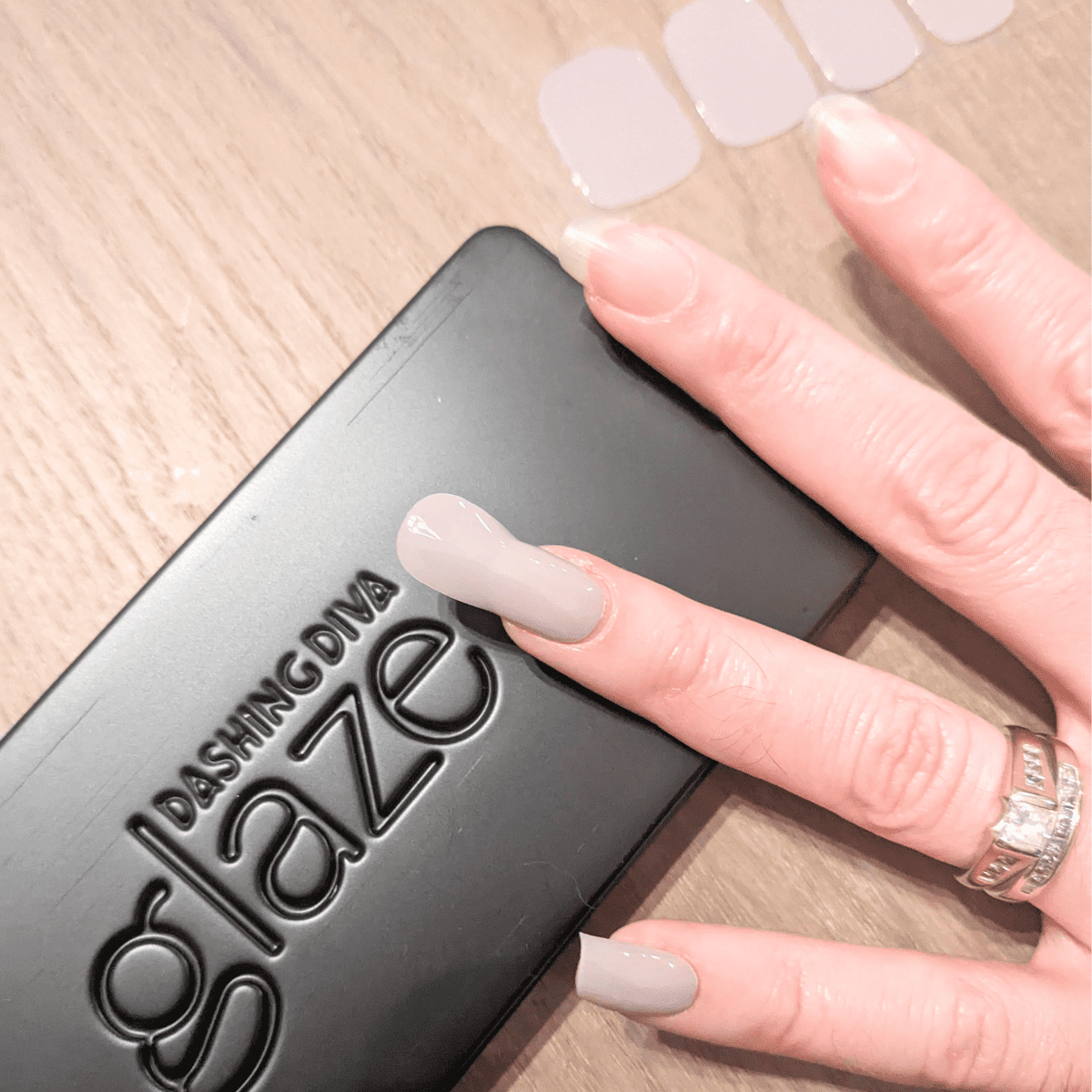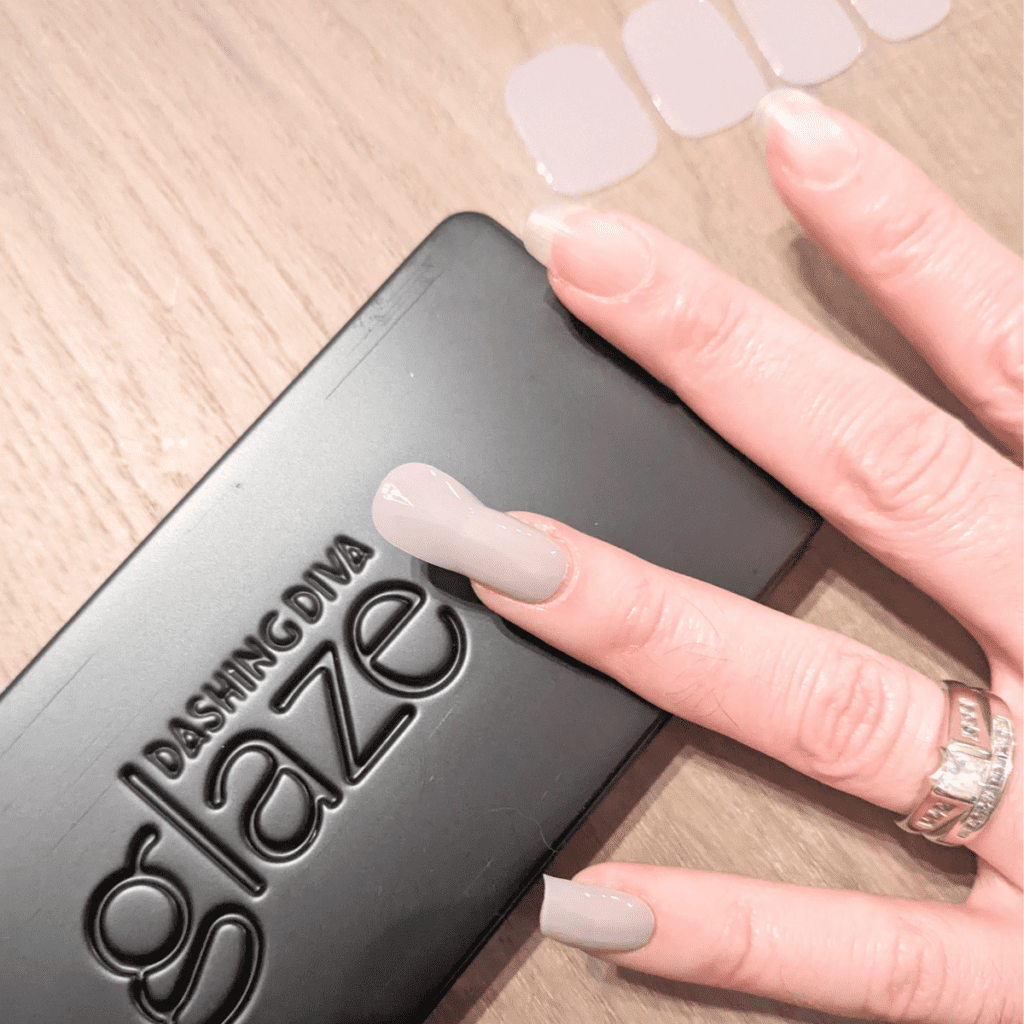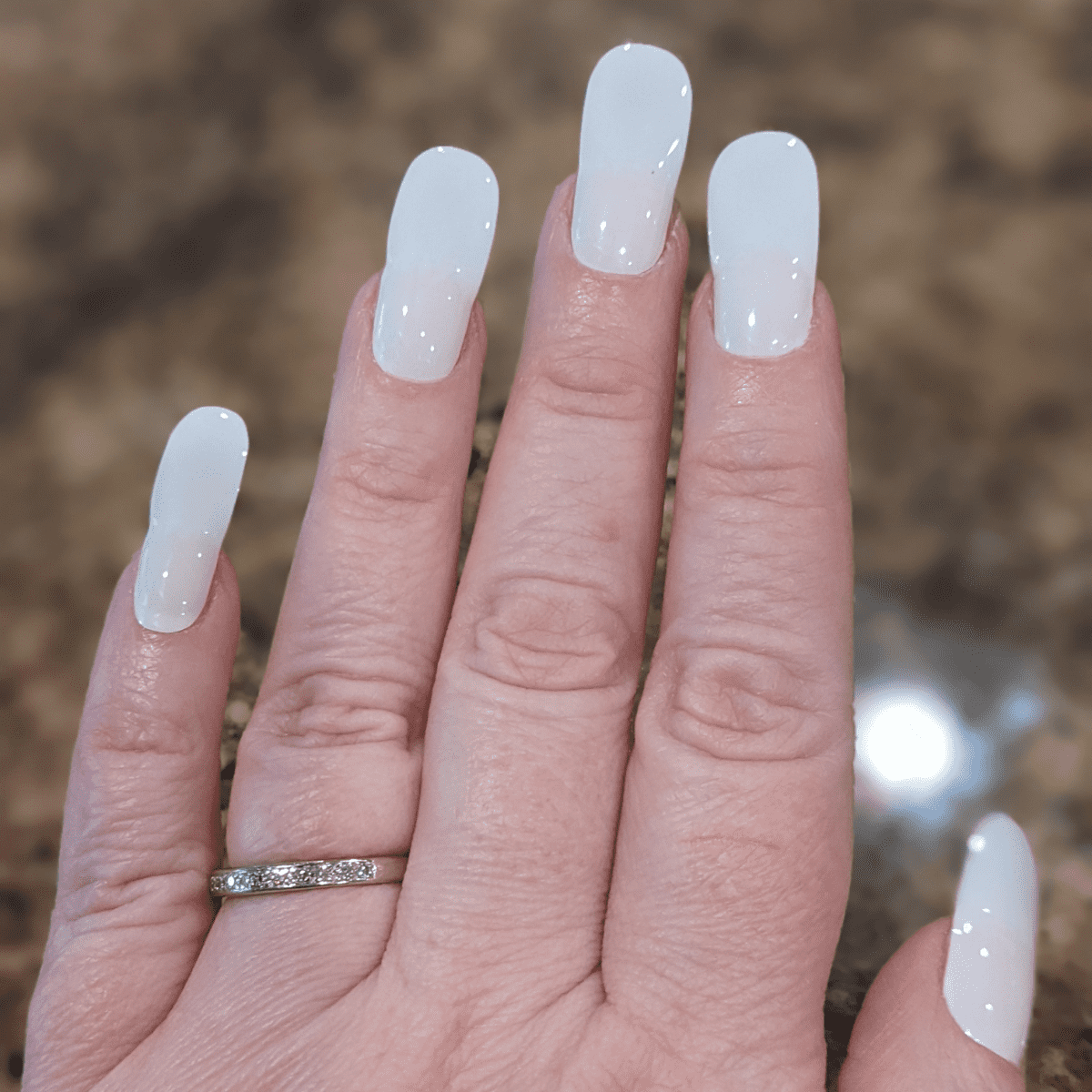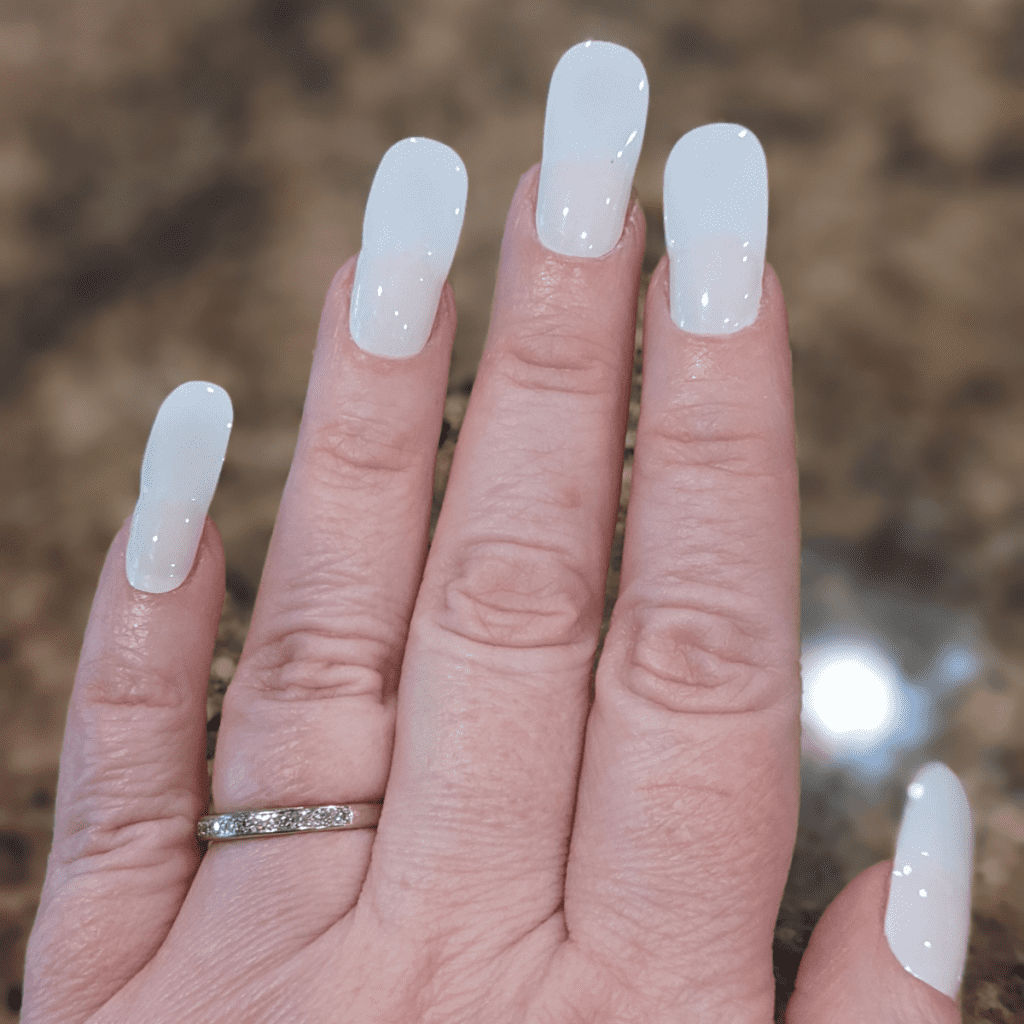 The instructions say to cut the strips with nail clippers, but we also used nail scissors and found them both helpful.
Curing Glaze Nails
Once the nail strips are cut down on your hand you are going to place them under the mini LED lamp to cure. The lamp has its own timer and will shut itself off after a session. I did two sessions on each hand just to be sure the nails were nice and hard.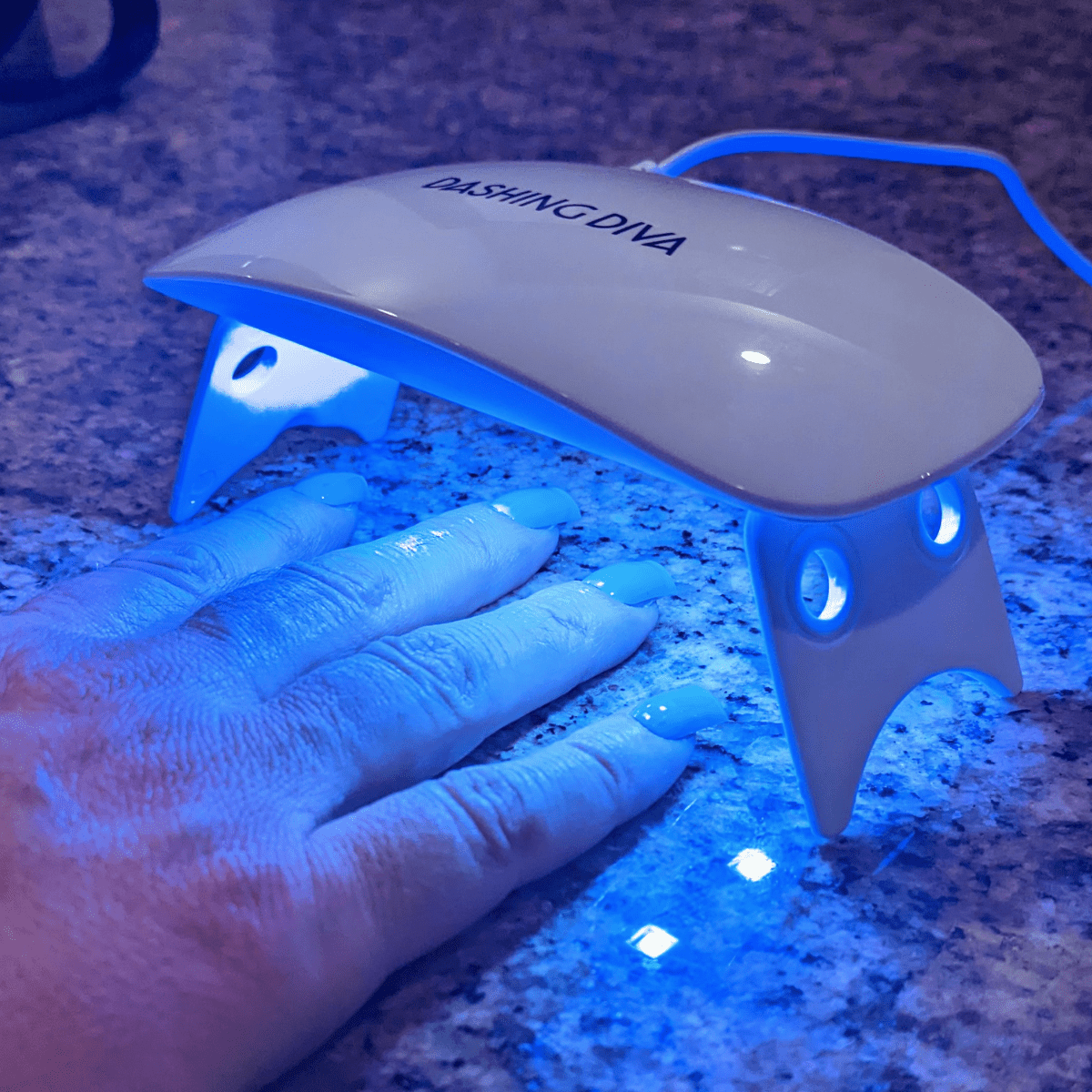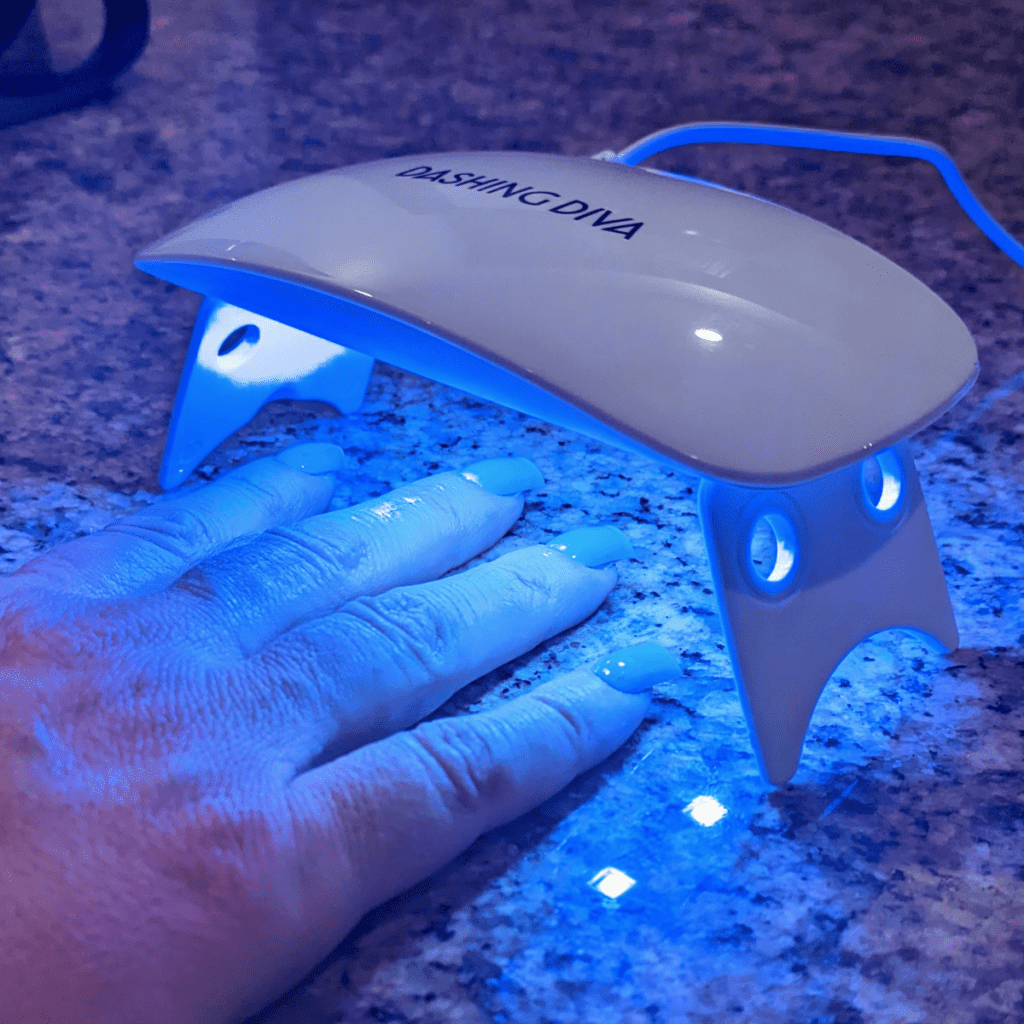 Finishing
Once your nails are fully cured you just file the edge to a smooth finish using a downward motion. We tried using both metal and glass files, but the small, regular file that came with the kit actually worked the best on these nail strips.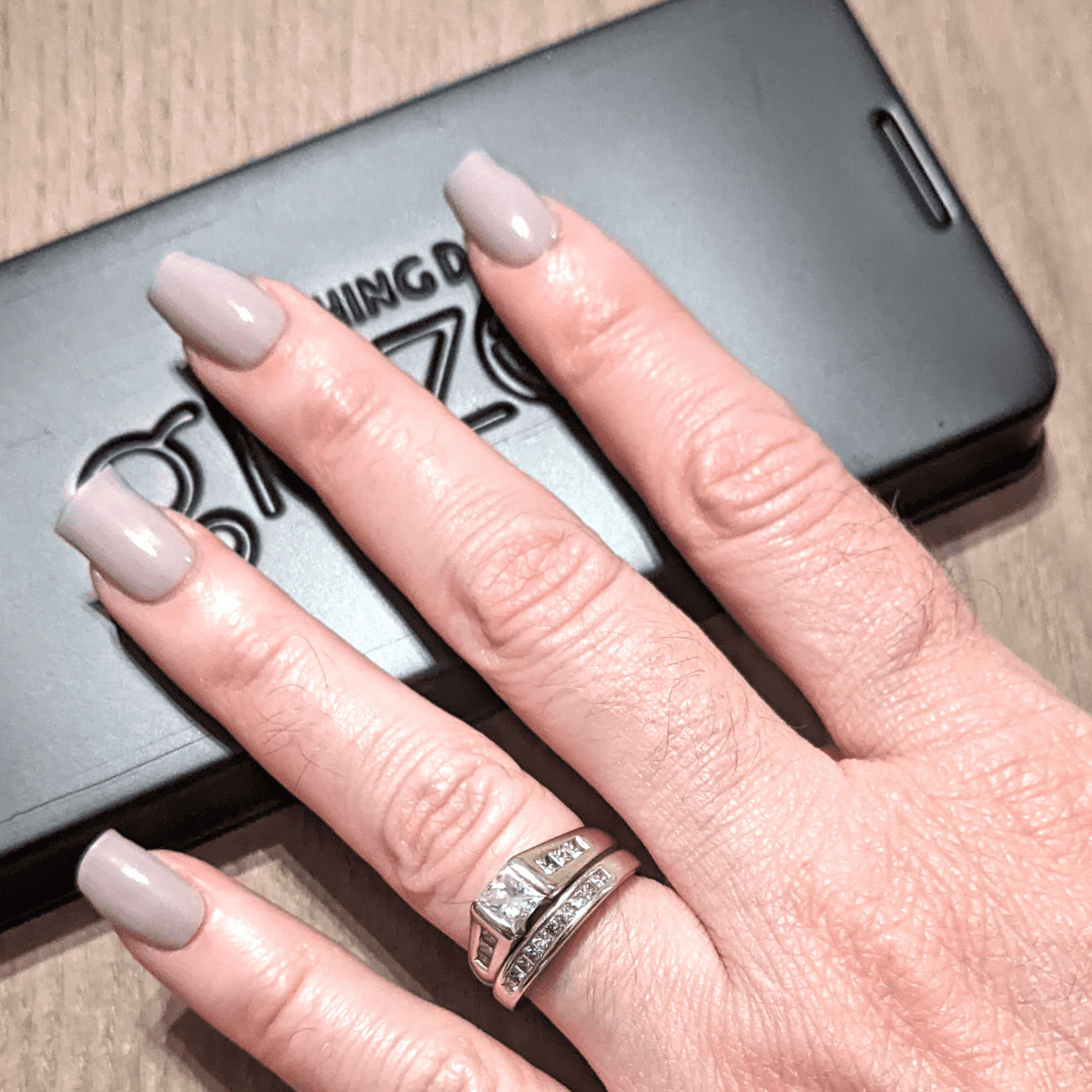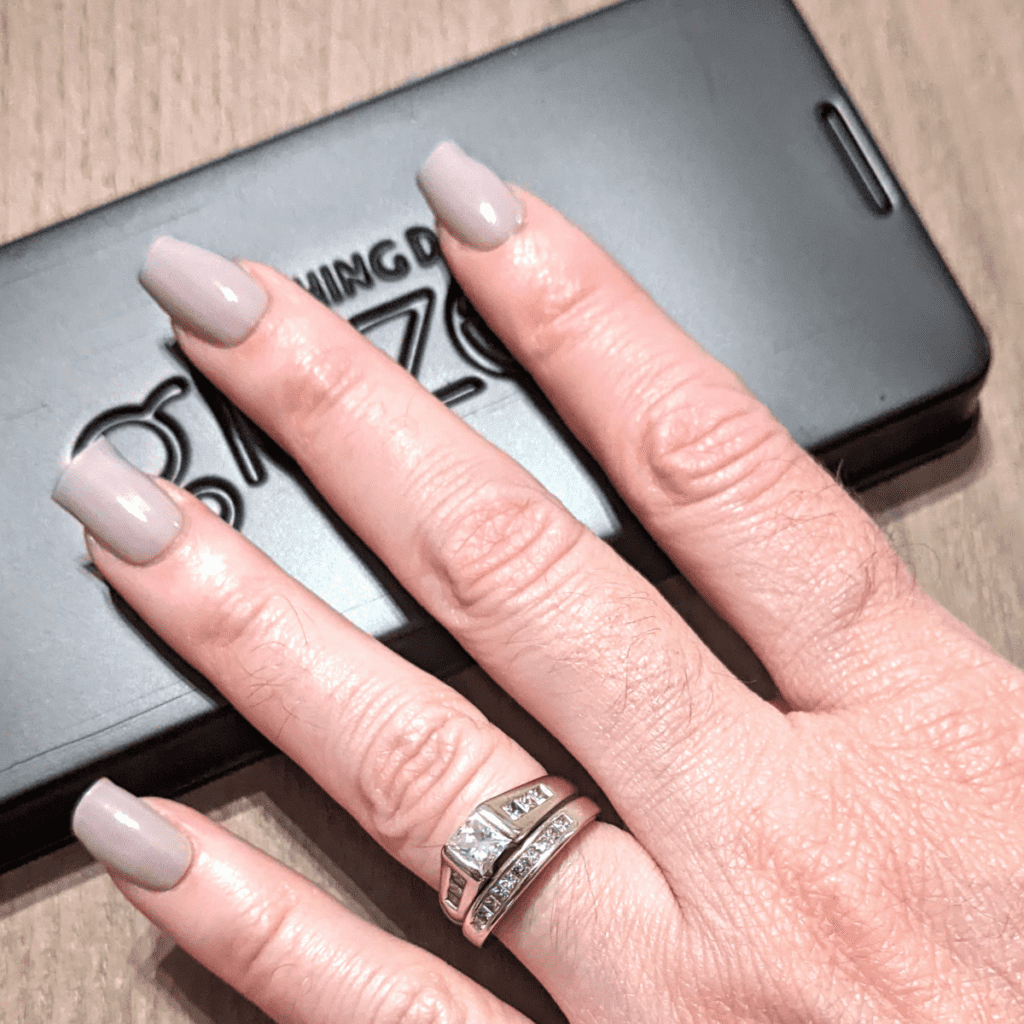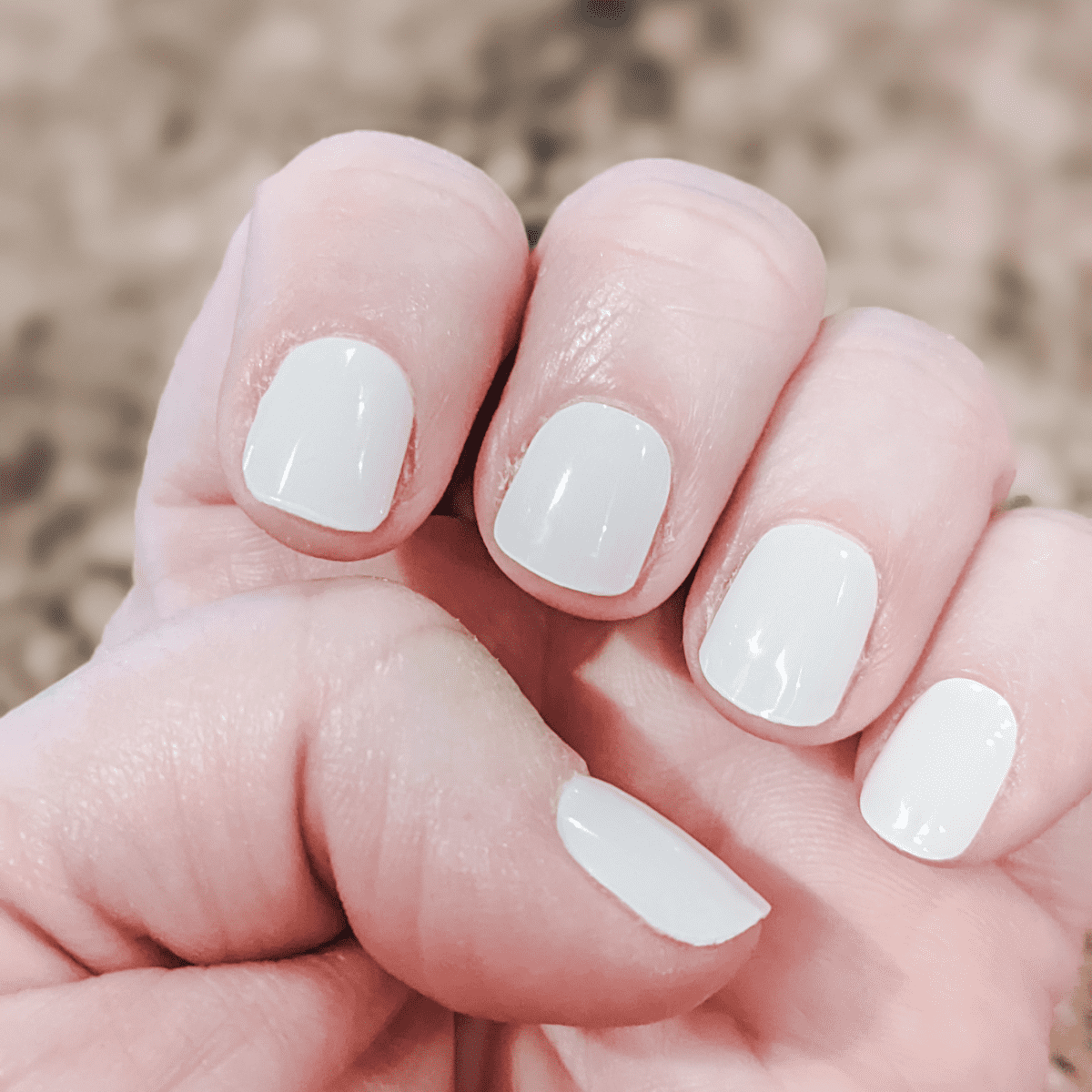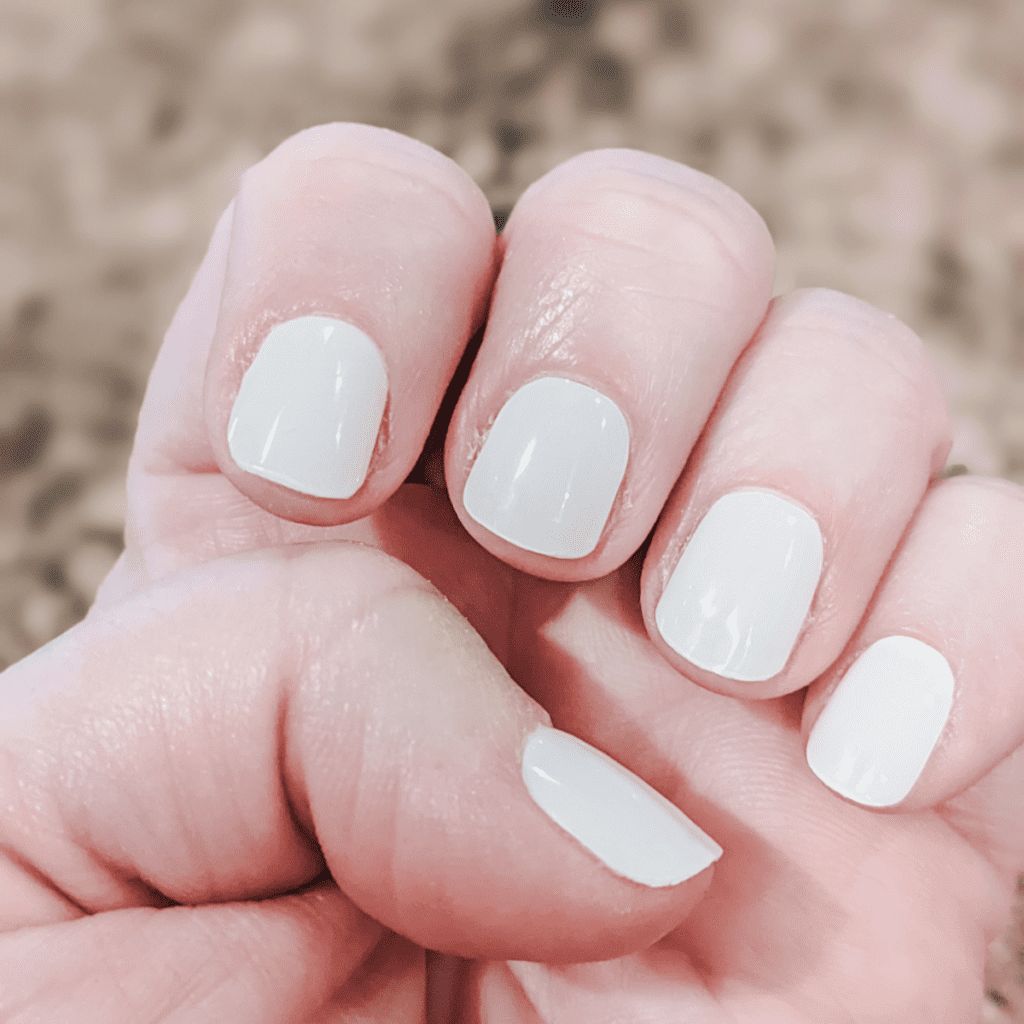 Removing Dashing Diva Gel Nails
The nails were easier to remove than I thought they would be. You just soak the nail bed with cuticle oil, and then use the cuticle stick that came with your nails to push up the nail, adding more oil if needed.
Our homemade cuticle oil recipe works great for removing these nails and leaves cuticles and nails looking their best.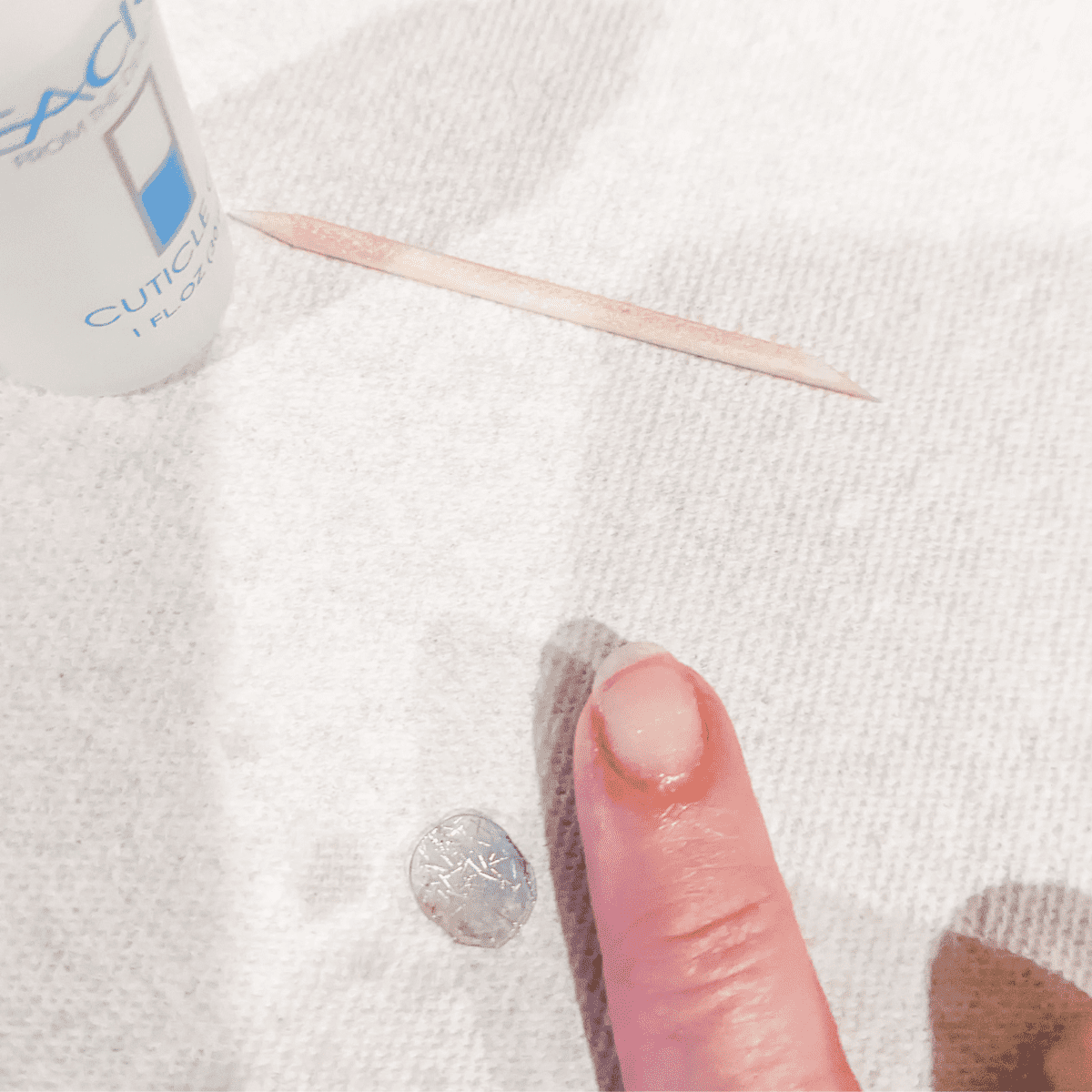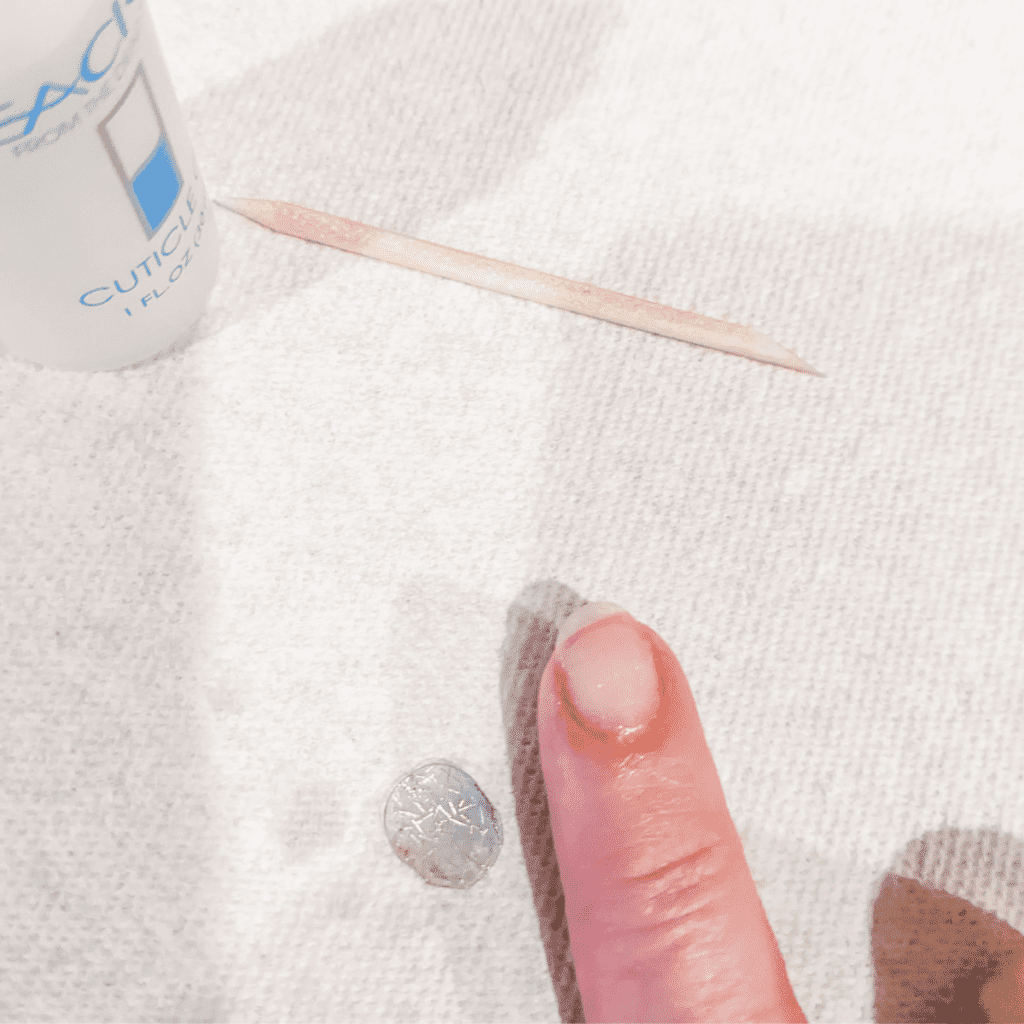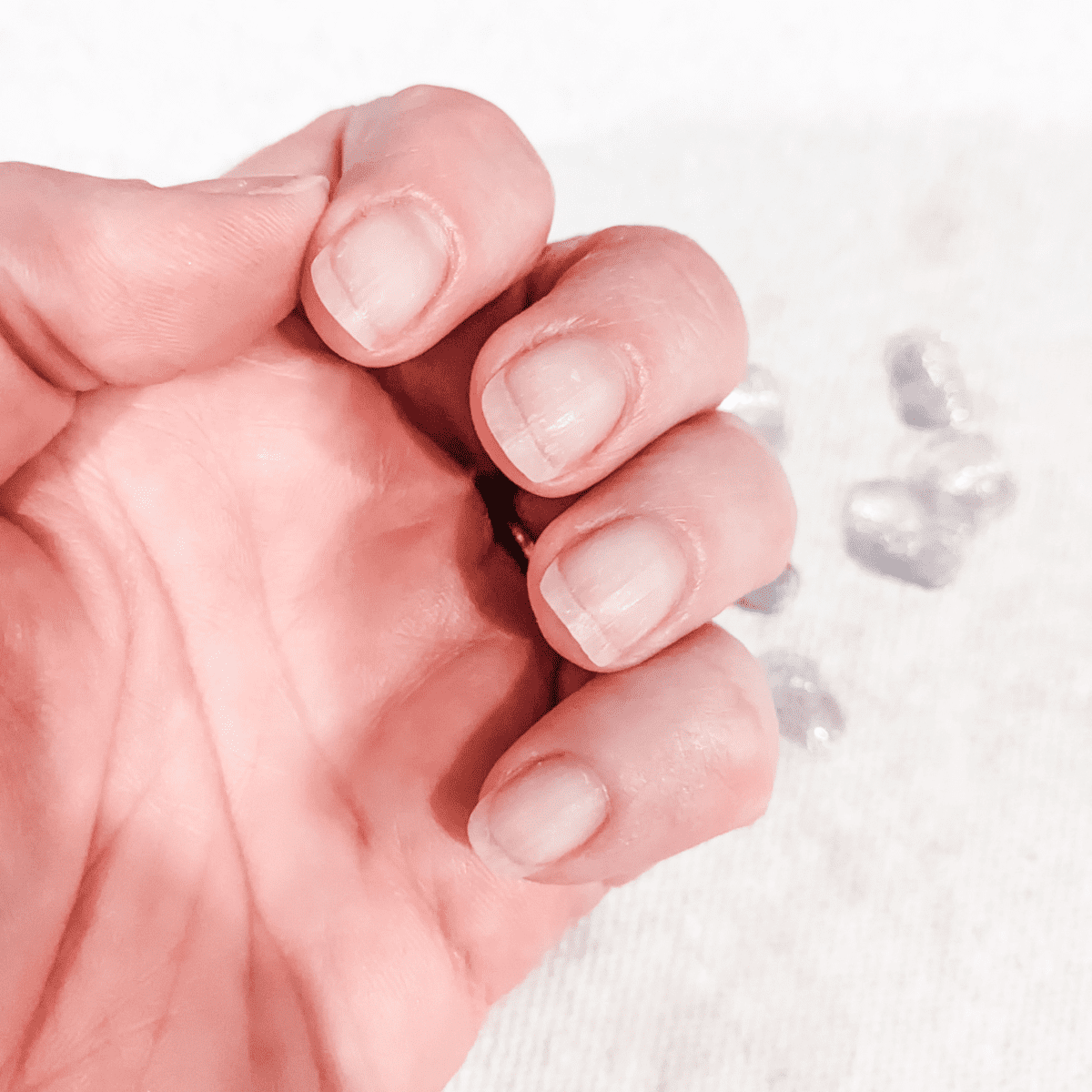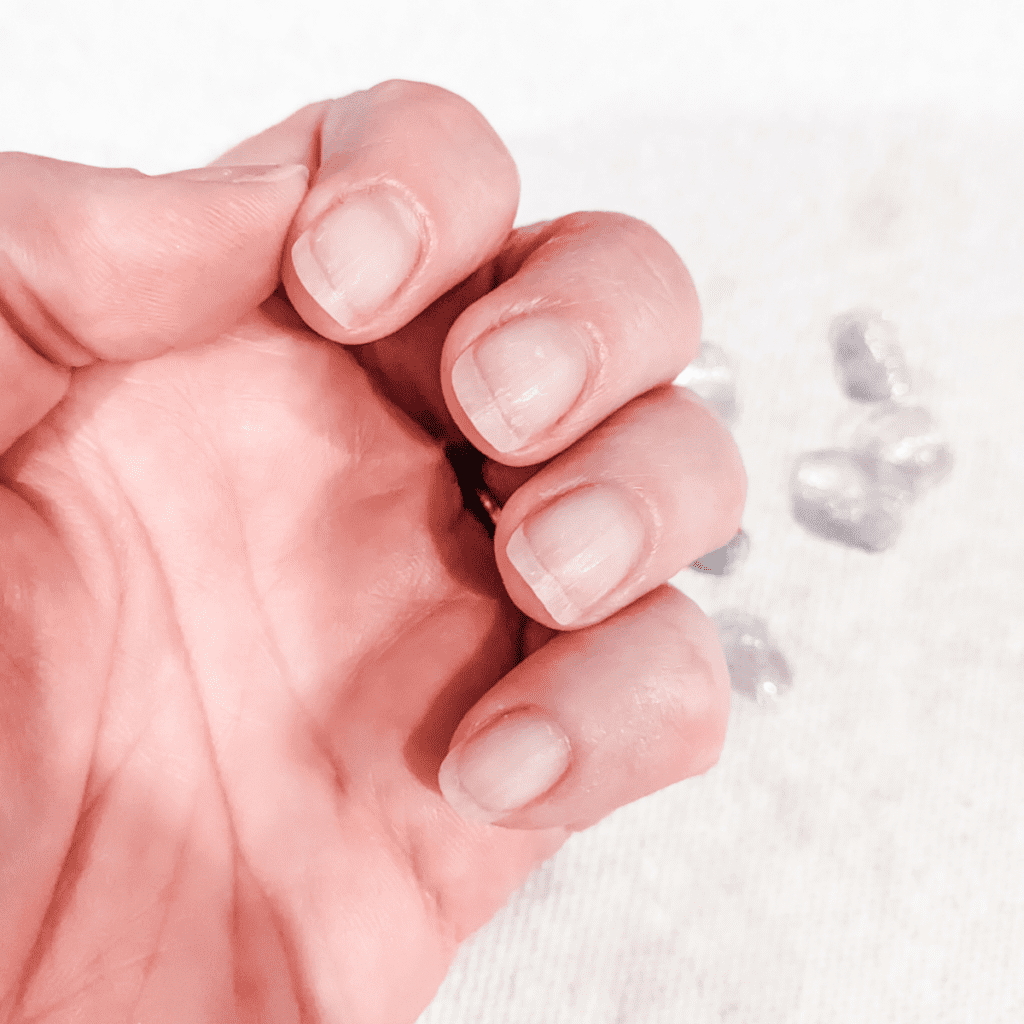 The nails just kind of pop off as long as you have enough oil on them. And once they were off, I added a little oil to the top of my care nails to moisturize them.
---
What Did We Think About the Dashing Diva Glaze Nails?
Kim and I both really, really liked the Dashing Diva Glaze nails. They were sturdy, and professional looking. The box says that they are, "Gel strong up to 14 days", and we found this to be true. Both of us had our nails last for over 14 days.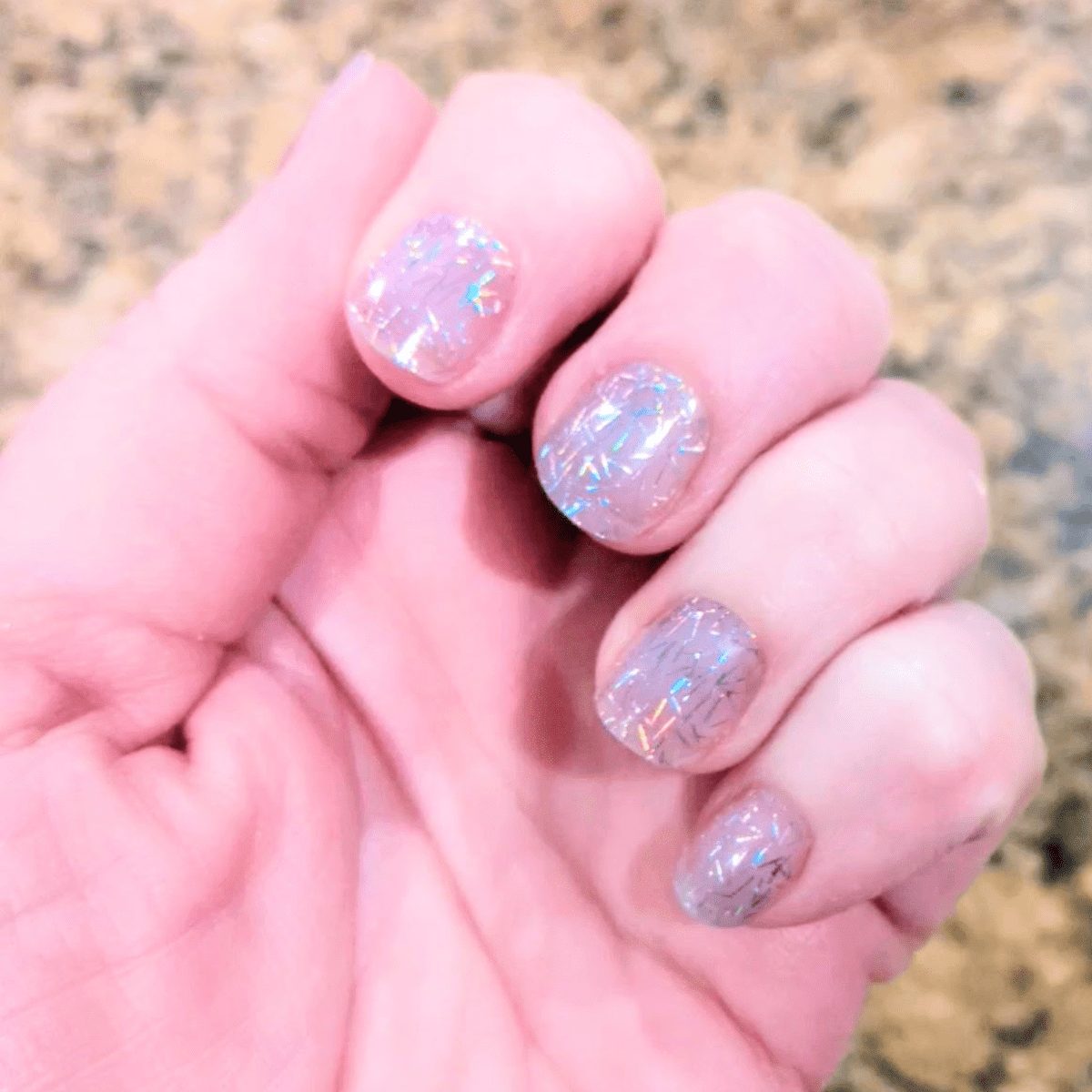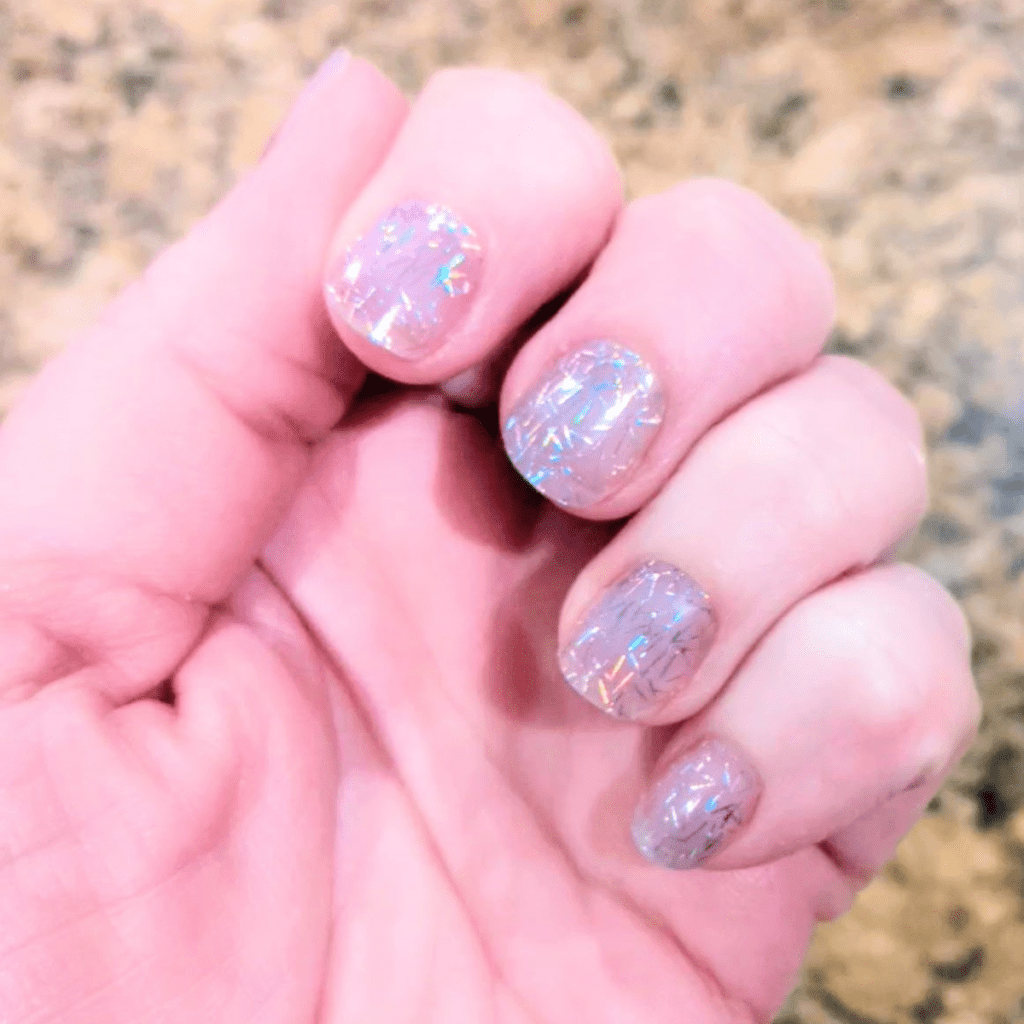 And let me tell you, I was not easy on these nails. I cleaned a ton, did dishes, took baths, played with my dogs, and washed my hands a ton. The one thing that finally took them down was a crack that appeared in my pointer finger on day 16, and again, I had put them through A LOT!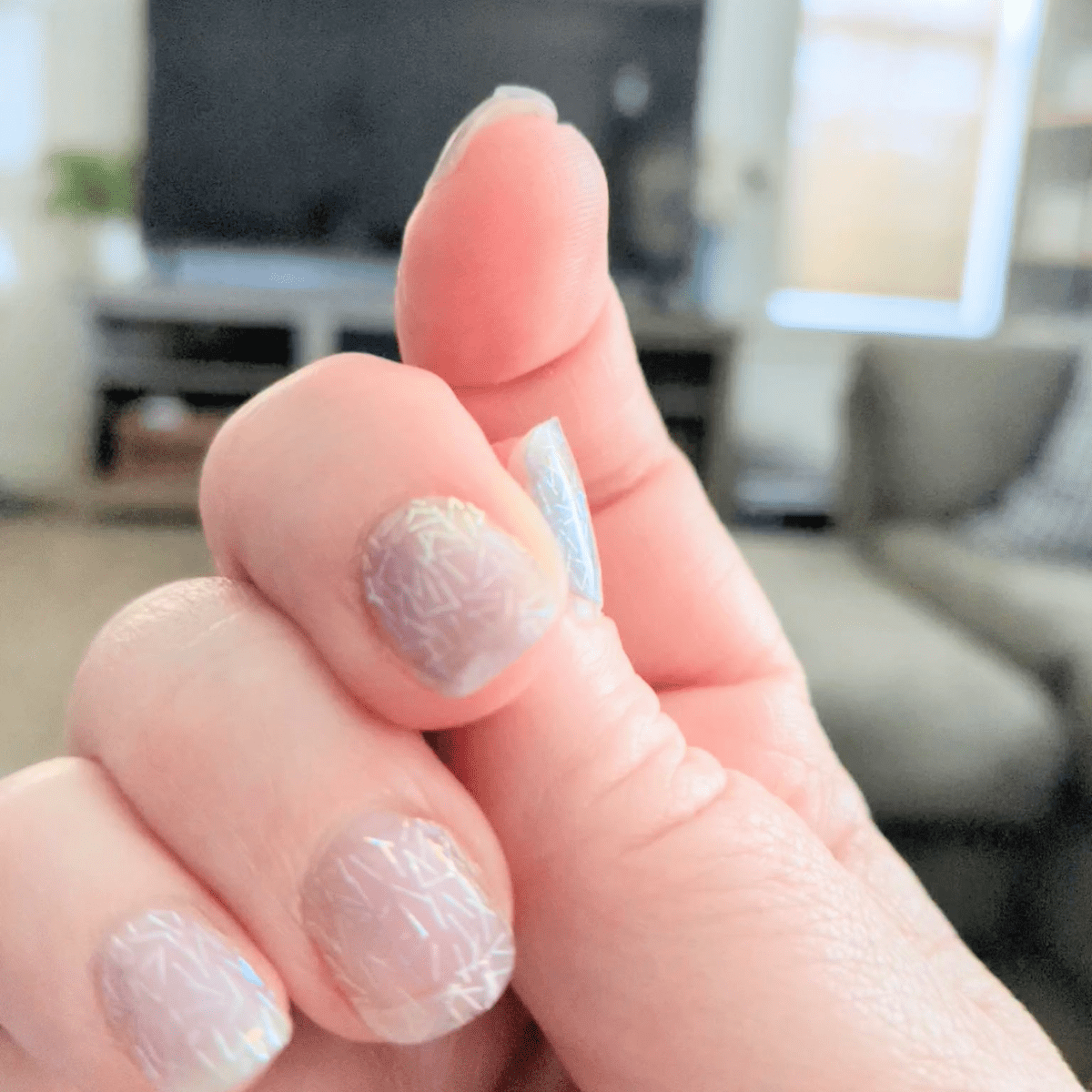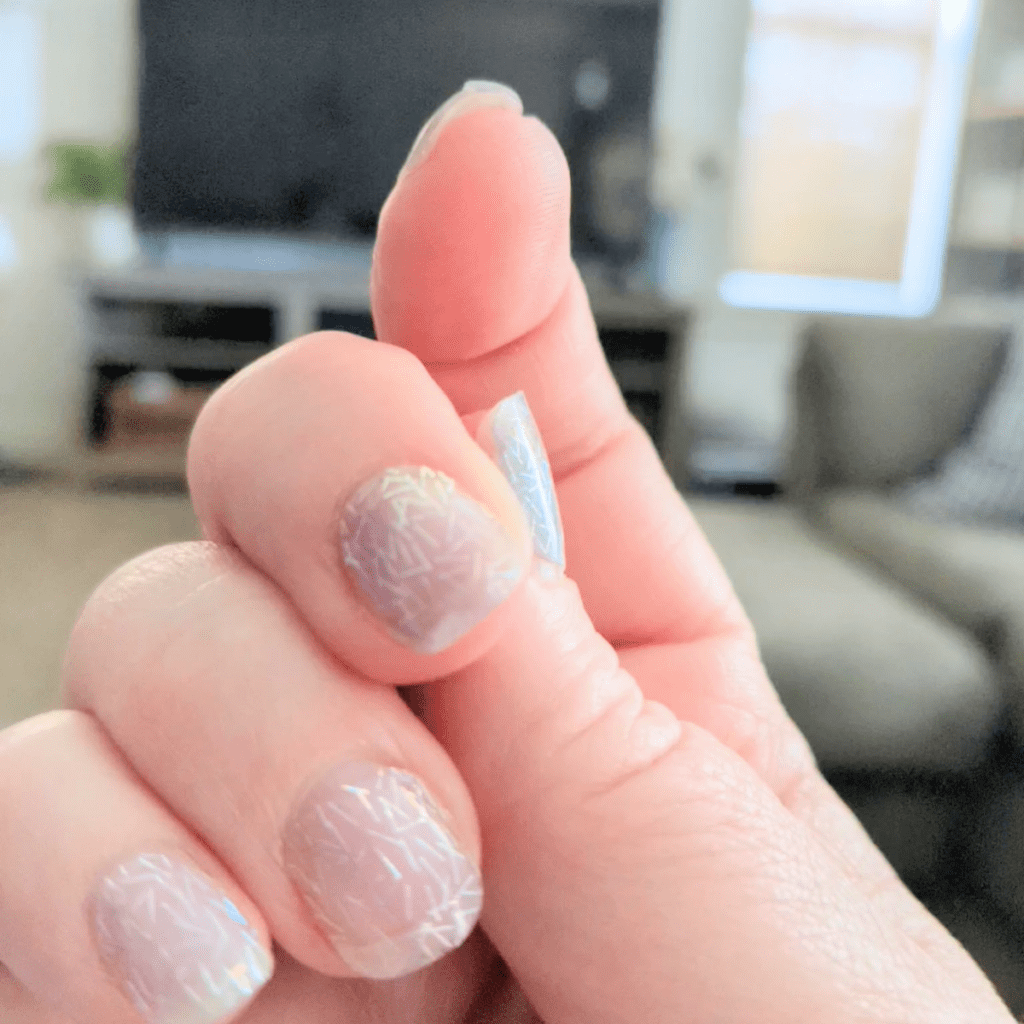 You can see in the picture above that they were growing out, but still staying put on my finger nails. I was very, very impressed. After talking to Kim, she was too.
The Pros
Like being able to pick up from Target
Easier to put on than regular nail strips
Lasted longer than regular strips
Had a harder, thicker, sturdier finish
Were pretty inexpensive (starting at $11.99 from Target at the time this was published)
No more damage than a regular nail strip
The Cons
Cost more than the regular Dashing Diva Glossy Strips (but still way cheaper than salon nails)
Would get caught in our hair a little as they grew out away from the cuticle (didn't bother us enough to keep us from wanting to use the product again)
---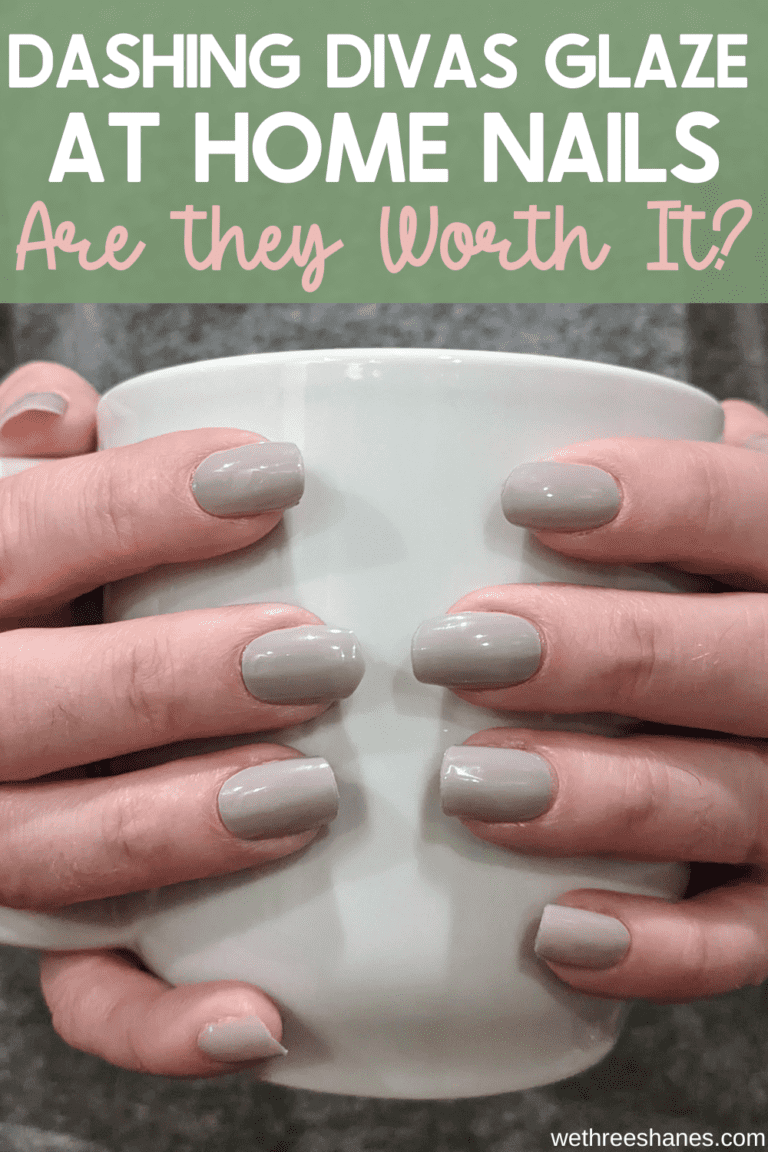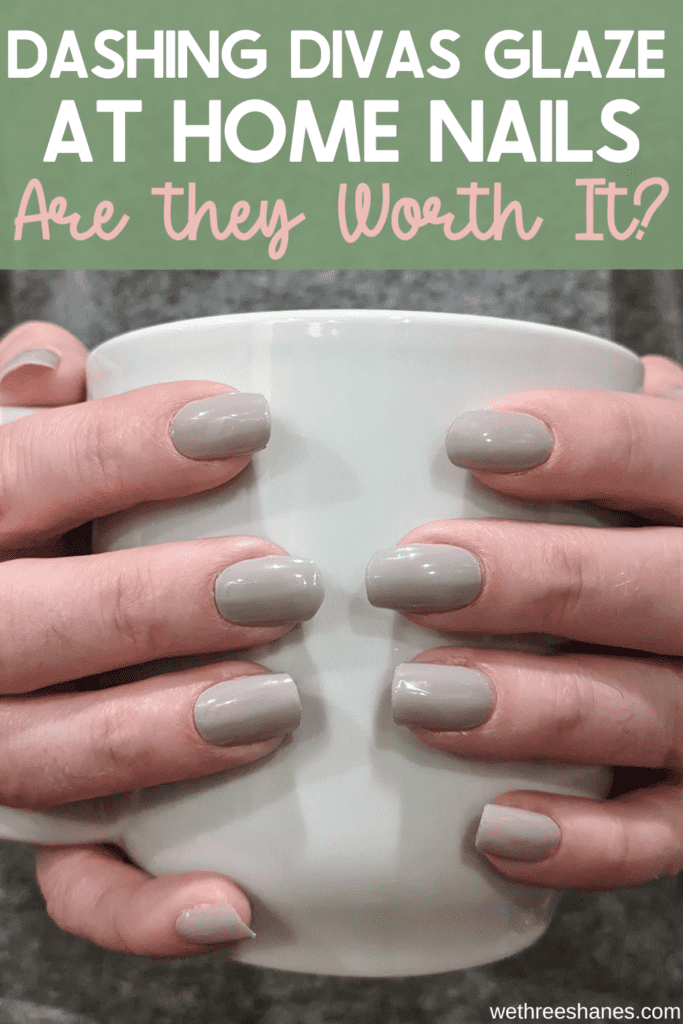 Final Thoughts on Dashing Diva Glaze Nail Strips
Kim and I were both very happy with our Glaze manicures. They looked really good, and stayed on for a long time without having to "baby them". We both found their application to be easier than the regular nail strips, but with a sturdier result.
Would we use them again? A resounding yes! I have done two manicures already and plan to keep using Glaze manicures in the future.
Kim even tried some of the finger nails on her toes and got a great result. In our opinion, while regular nail strips would be a substitute for nail polish, Glaze strips would be closer to a substitute for salon gels and acrylics.
---
Have you tried at home nail strips before? If you have and thought you would like a sturdier finish, then the Dashing Diva Glaze nails might be exactly what you are looking for. Check them out on your next trip to Target or Ulta and see if you think they might work for you.
If you do try them, or have tried them, let us know what you thought in the comments. We love hearing from you!
---
You Might Also Like: