Homemade Easter Egg Bath Bombs for kids
Learn how to make homemade bath bombs in the shape of Easter eggs for your kid's Easter baskets. With all natural ingredients that you most likely have on hand. Completely customizable, cheaper then buying pre-made ones, fun and did I mention easy?!
(THIS POST PROBABLY CONTAINS AFFILIATE LINKS. OUR FULL DISCLOSURE POLICY IS LONG & BORING BUT, YOU CAN FIND IT HERE.)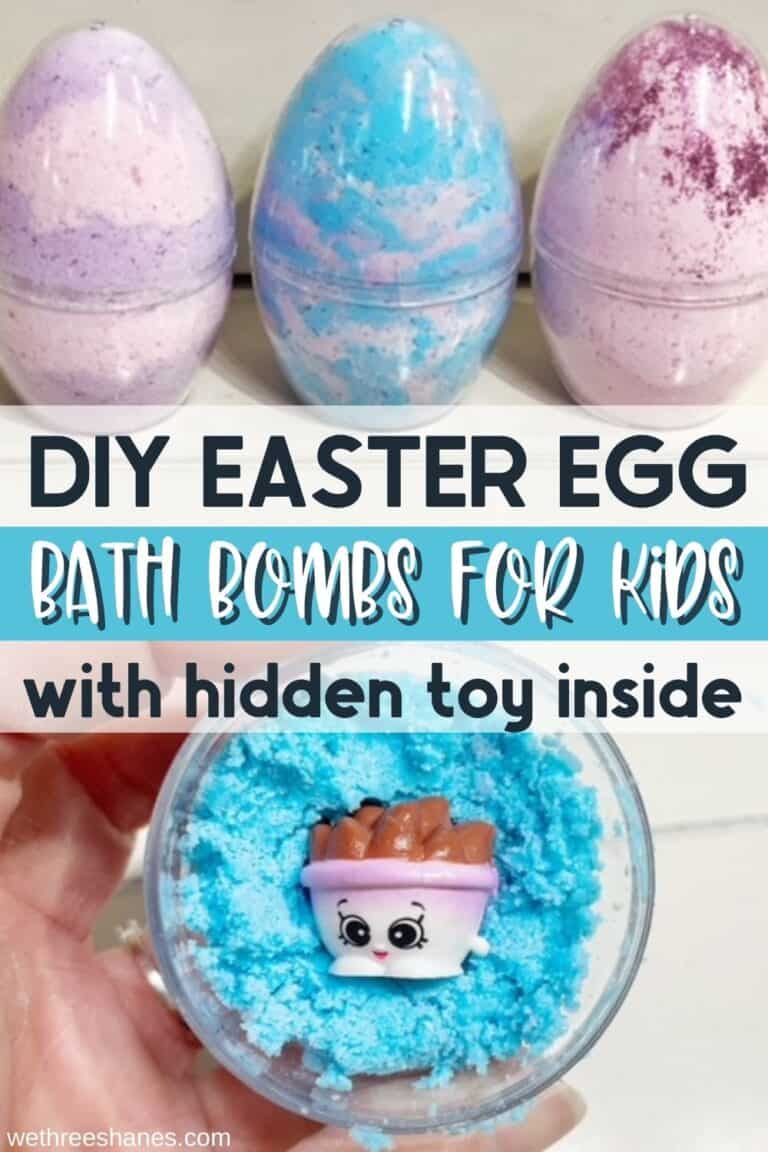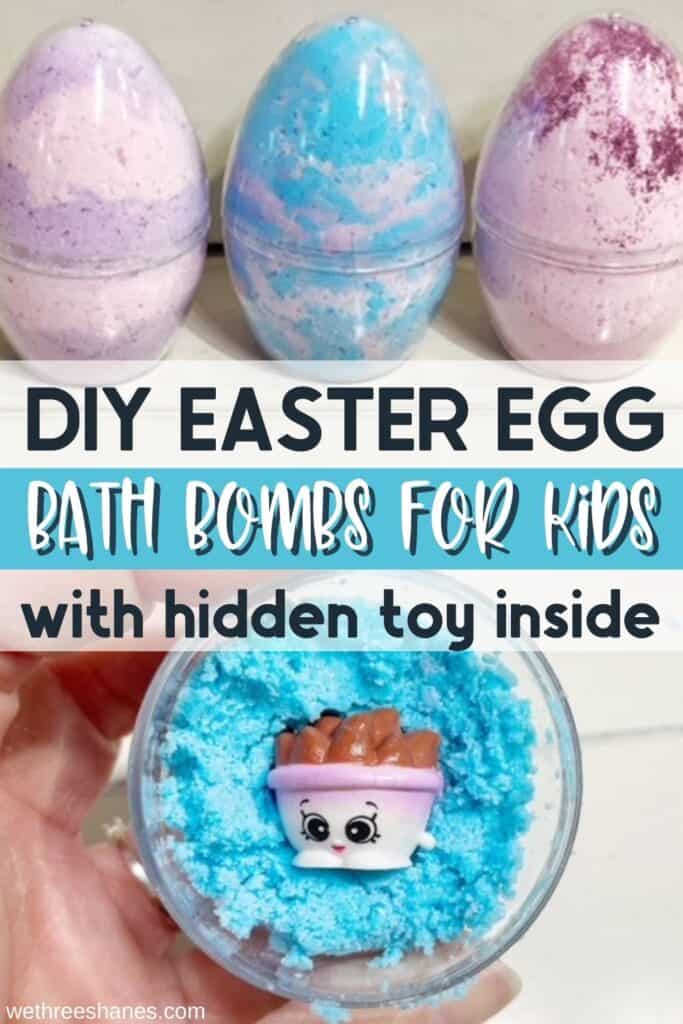 Homemade Easter Egg Bath Bombs For Kids
Bath bombs have become so popular over the last several years but boy can they be expensive. Sometimes one bath bomb can be $6 or more.
Cut the cost and make them yourself. Making them can be really fun too.
My daughter was having a blast helping me make these. She loved mixing the colors and making the molds almost as much as she loved actually using the bath bomb and seeing it fizz up in water.
If you want these to be a surprise for your kid's Easter baskets, you can do it alone. I actually enjoyed making these too. Either way it is a fun and cheap gift to make for any occasion.
---
Can You Put Toys Inside of a Bath Bomb?
The short answer is YES! Absolutely.
I am sure everyone has seen the ads for the adult bath bombs with a pretty ring inside of it. Can you imagine a kid putting in a bath bomb and finding a favorite toy inside?!
How exciting that would be. Just keep in mind that depending on the size of your toy, you need to make sure your mold will be big enough to encase the toy.
We bought some egg molds because I wanted to use some bigger toys like Lego Mini Figures. But you can also use a regular plastic Easter egg to save on cost. Just make sure you use a smaller toy so it will fit.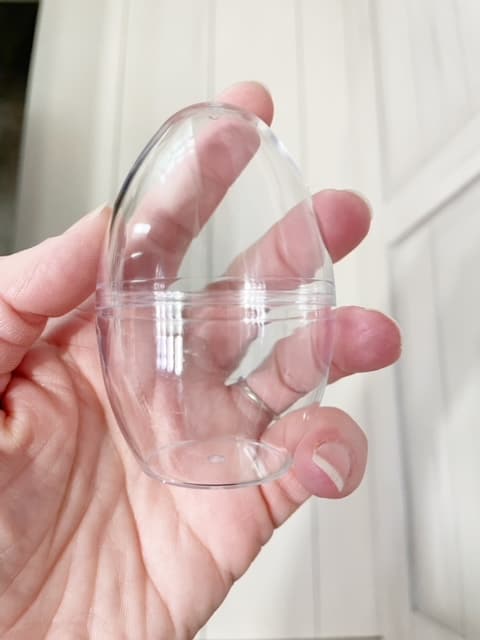 ---
What Are The Benefits of Making My Own Bath Bomb?
The first big difference for me when making my own products at home is that I get to control what goes inside of them. I can make sure all of the ingredients are safe for me and, more importantly, my kids.
My second reason for making my own products at home is always the cost. Chances are you'll have most, if not all of these ingredients at your home already.
Even if you have to buy something, it won't cost much as store bought bath bombs. Plus, you will be making a lot of bath bombs for basically the same cost of only one or two from the store.
Another benefit for making your own bath bombs is that you have control over size, shape and color. If your son loves green and purple, make his green and purple. If you have a little girl who loves pink and glitter, make hers pink and sprinkle glitter in with it. The possibilities are endless here.
Easter Egg Bath Bomb With Toy Inside
If adding a toy inside of your bath bomb, you can add anything that will fit. Here's a short list of ideas that should work in kid's bath bomb.
Bouncy Ball
Cute shaped erasers or pencil toppers
Shopkins
Lego mini figures
Plastic dinosaurs or cars
Kid friendly jewelry
Grow toys ( you know, the ones that you put in water and they grow into something bigger )
Mini My Little Pony characters
The list goes on and on.
---
Essential Oils and Kids
Did you know that not all essential oils are safe for kids? Not everyone is aware of this. Here is a list of some essential oils that are okay to use for kids 2 years of age and older.
Basil
bergamot
black pepper
cassia
clove
cedar wood
cinnamon
frankincense
ginger
juniper
lemongrass
lime
lavender
myrrh
oregano
spearmint
tea tree
thyme
lemon
vetiver
ylang ylang
This is not a complete list but some of the more popular ones people use often. If there is a different one you like that you want to use and you don't see it on the list, make sure to research it and see what you can find.
---
Is Citric Acid Safe For Kids?
The short answer is yes. The FDA says that citric acid is generally recognized as a safe substance in food and skin products.
However, people with sensitive skin might react to it. One way to avoid that is to not use bath bombs a lot. Also, I would limit the amount of time you let your child spend soaking in the tub to 20 minutes.
If you still aren't sure if citric acid is for you and your family, do a little more research. Bath bombs can be made without it but they don't fizz and expand as much when placed in the bath water.
---
Bath Bomb Ingredients
Baking soda and citric acid combined together are what causes the fizzing when placed in water. When they get wet they have a chemical reaction where harmless gas is released causing a fizz.
Corn Starch is a binding agent that will help everything stick together.
Epsom salt is great for soaking in baths. Not only does it sooth sore muscles but it also when dissolving in the water, it releases magnesium which helps calm our bodies so we can sleep better. What kid doesn't need that?!
Coconut Oil is added to help moisturize the skin and help everything stick together and combined the dry ingredients.
Essential oils are not necessary for this recipe but most people like things to smell good. Add some lavender to help calm your child and get them ready for bed time. Lavender is safe to use and smells great.
Check our list for some other essential oils you might want to add as well. Because these bath bombs aren't super big, I would stick to only 4 drops or so of each oil you add.
Witch Hazel is really good for soothing skin. I use it as a toner on my face and also on bug bites to get take the sting away. You can use witch hazel OR plain water. I personally liked the witch hazel better.
Food coloring can be used to make these bath bombs. However, depending on the kind you use, it could stain your bath tub. Instead of food coloring I used mica powder because I already had some on hand for other projects. If you don't have some and you are trying to make these bath bombs as low cost as possible, food coloring will totally do.
---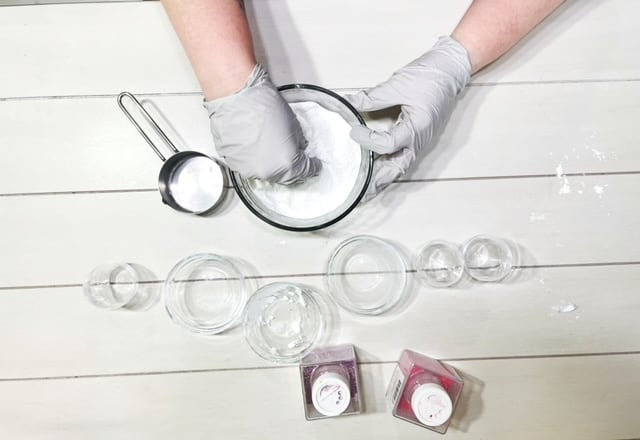 How To Make Bath Bombs
You'll need 2 glass bowls, bath bomb mold and a spray bottle
Step 1 – Place dry ingredients in a glass bowl and use your hands to mix it. You could also use a whisk but I feel using my hands created less floating up in the air. Once the dry ingredients have been well mixed together put the bowl to the side.
Step 2 – In another small glass bowl, pour your coconut oil ( I used fractionated so it was liquid already. if yours is in a solid state you will want to melt it into a liquid first or it won't work. ) and essential oils and stir to combined.
Step 3 – Next, you want to slowly add that wet mixture to your dry. Mix with your hands. Squeezing it all around together in gentle motions.
Step 4 – Once that is mixed thoroughly we need to add our water or witch hazel. Whichever one you are using, you need to place it in a small spray bottle. This seems trivial but trust me, it is SO easy to add too much liquid and then your bath bombs won't stay together and they might not work when put in your bath water.
Spray a few spritz of your liquid and then gently mix with your hands. Keep doing this until your mixture begins to stick together a bit in clumps. I have to admit, my first batch I added too much and had to start over with fresh ingredients. My daughter had a great time playing with my messed up batch any ways so for us it wasn't a huge deal.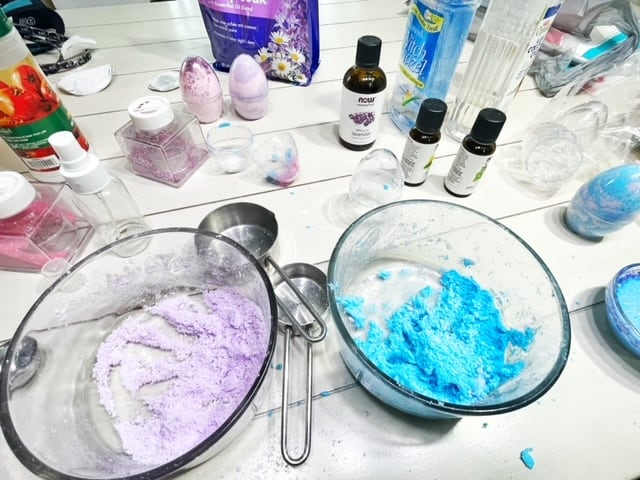 Step 5 – Now it's time to start packing the mixture into the eggs. If wanting to add glitter for a little flair, I added that to the inside of the egg first before packing it with the bath bomb ingredients. Pack both sides of your mold and then snap them in place together.
This is when I realized my first batch was too wet because it started expanding and popped the top off of my first egg mold.
If you are placing a toy inside of your bath bomb you want to do that before closing it up. If it is a bigger toy, like a lego figure, you probably don't want to put too much bath bomb stuff in each side of the mold before trying to stuff the toy inside.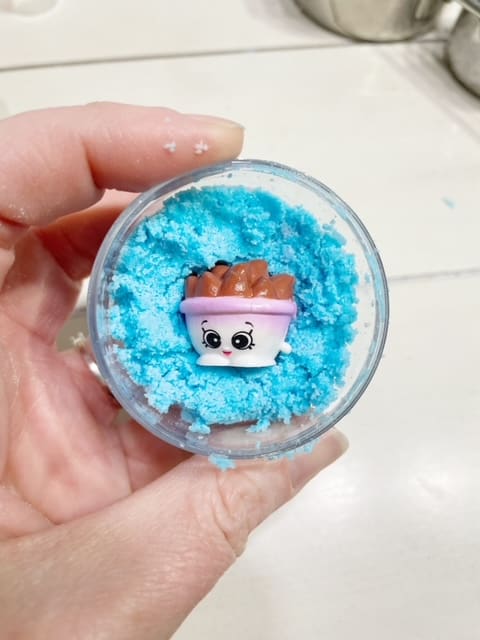 These need to sit overnight to dry so they do not crumble and fall part when you try and take them out of the mold. We waited 24 hours and ours worked out perfect.
These bath bombs should probably be used within 6 months. Store in a cool, dry place.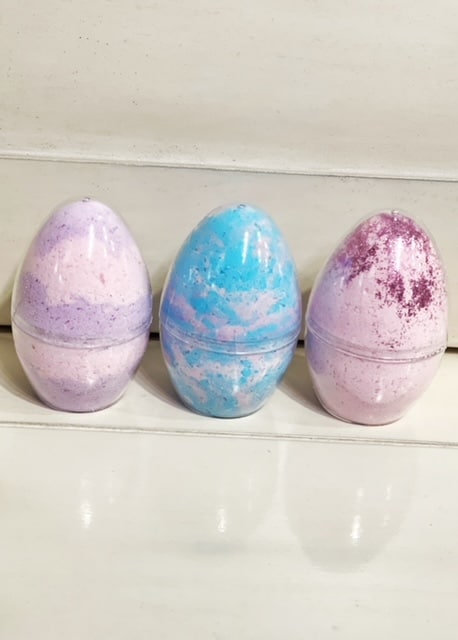 You do not have to use an egg shaped bath bomb mold. Like I mentioned before, you can just use a plastic easter egg or you can get a round mold like this one here.
This recipe works for any type of bath bomb. So you can also use ice cube trays or any other shaped mold. I made some smaller heart shaped ones that turned out really cute as well.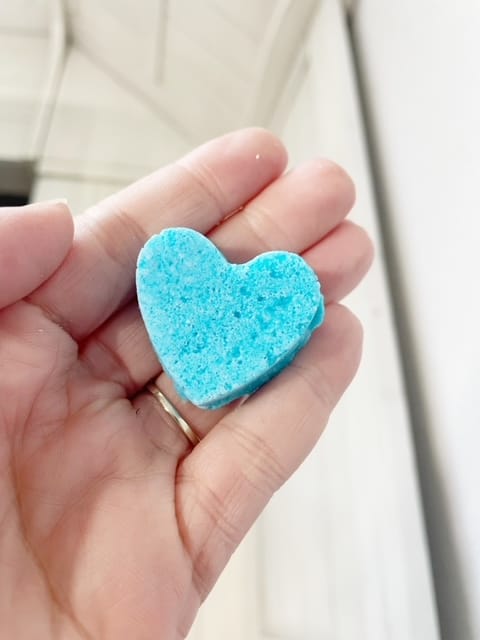 ---
Homemade Bath Bomb
Easy right? Hopefully, if you make these with your kid/s they will have a ball doing so. Mine did. My daughter had a friend come over the next day and they ended up making a bunch more and has tons of fun creating colors and patterns.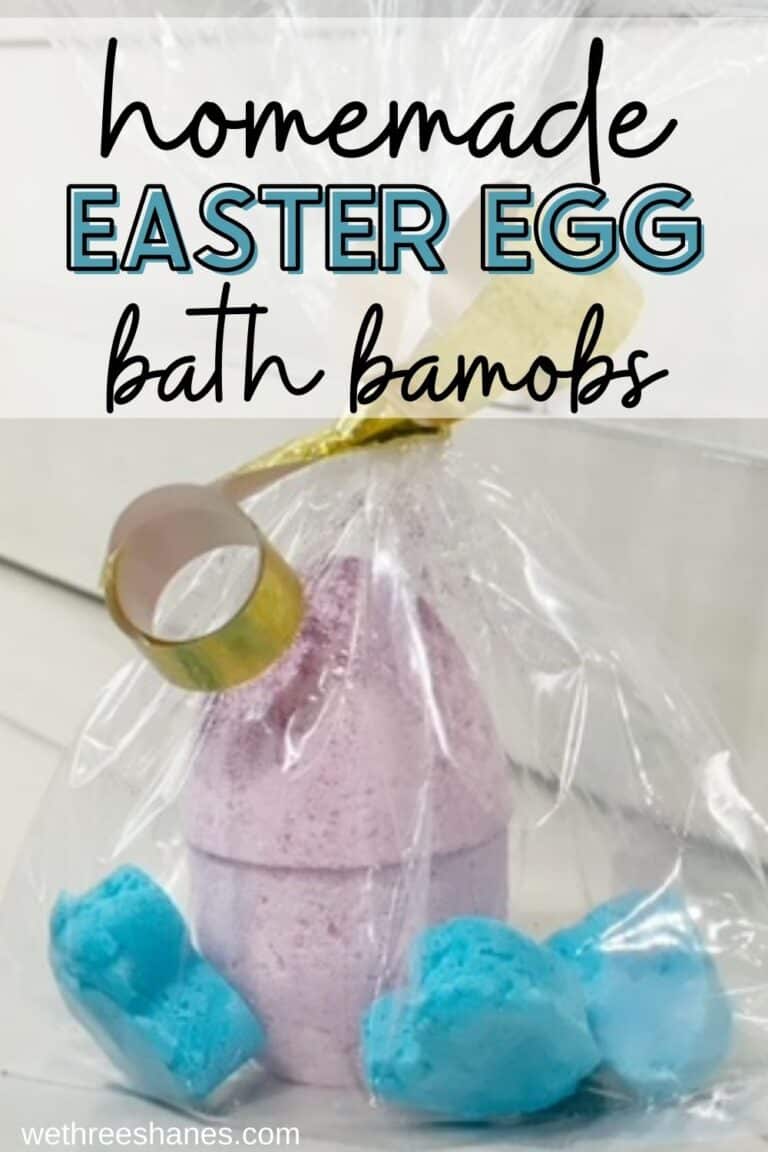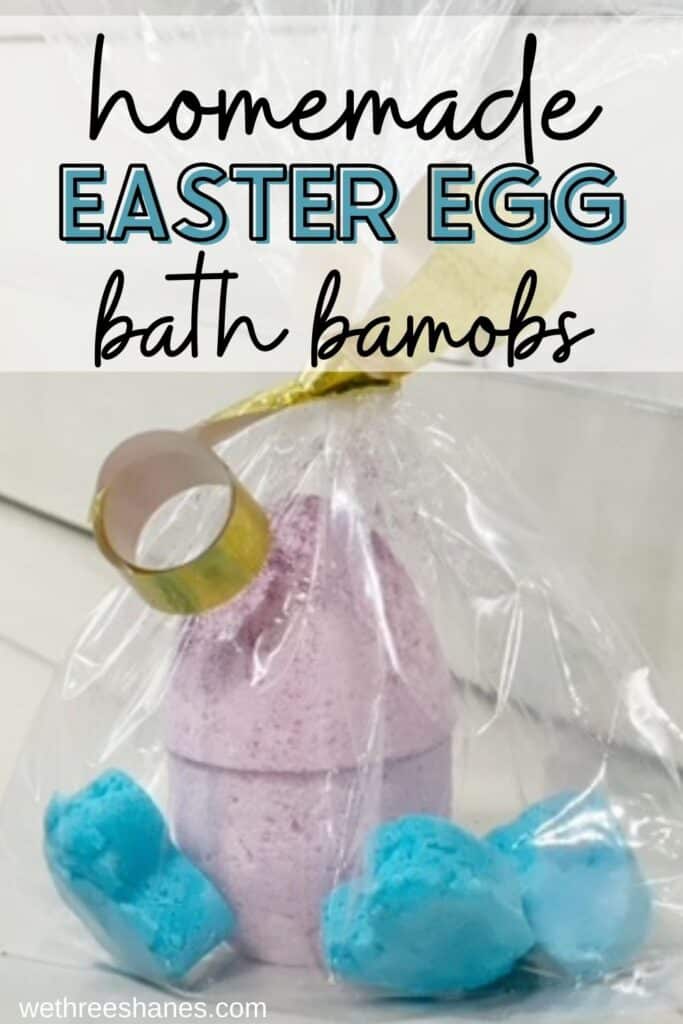 What color combinations will you make? What toy would you put inside for your little one? Let us know in the comments. We love hearing about what you do with our recipes and suggestions.
---
You Might Also Like: