Natural DIY Detox Bath Recipe
Use this DIY Detox Bath Recipe when you need to de-stress and detox. Naturally flush out toxins while you relax with simple ingredients you have at home.
(THIS POST PROBABLY CONTAINS AFFILIATE LINKS. OUR FULL DISCLOSURE POLICY IS LONG & BORING BUT, YOU CAN FIND IT HERE.)
Natural DIY Detox Bath Recipe
Baths are so relaxing. When I am having trouble sleeping, baths are one of my go-to's. A detox bath is a great way to get rid of built up toxins in our body, lower stress related hormones, and balance your PH levels.
A detox bath is not that hard to make either. It only requires a few ingredients, most you already have on hand.
RELATED POST: Don't want to take a bath? Try this DIY Detox Clay Foot Mask & Soak. It will help detox the body and leave you with soft, summer ready feet.
---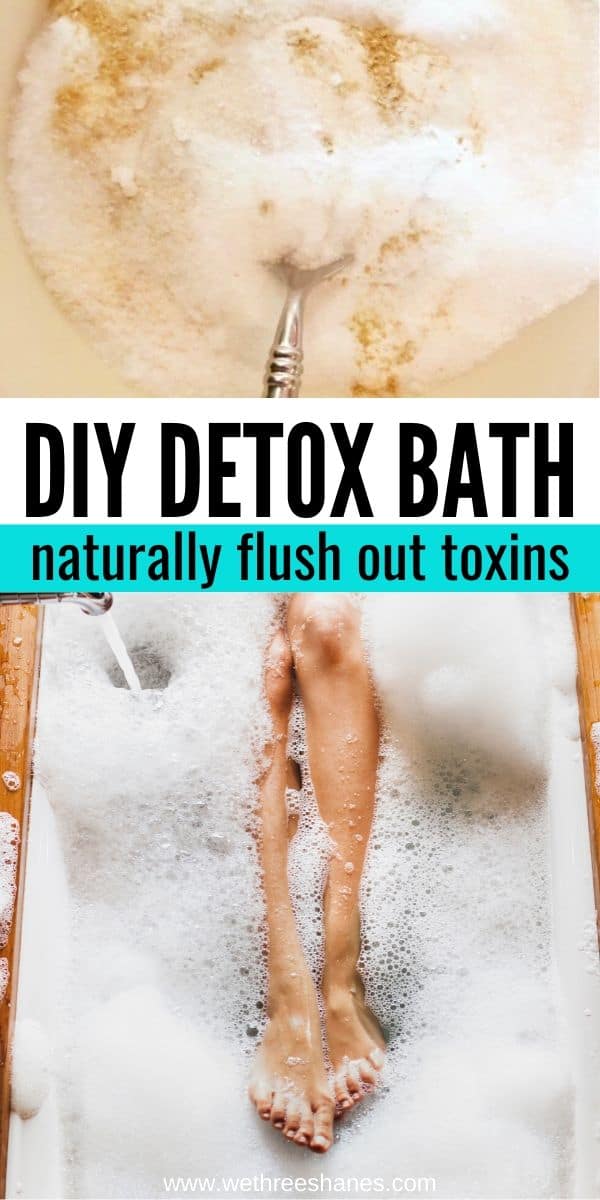 What to Use in a Detox Bath
There are a couple of different ingredients you can use to make a detox bath.
Epsom Salt is a great source of magnesium which the body needs and many people are low on. Epsom salt also helps reduce inflammation, relax muscles, and removes heavy metals and toxins from the body.
Baking Soda can help balance pH levels in the body and can improve circulation.
Ginger added to the detox bath recipe will increase the amount you sweat which is how the body releases toxins and heavy metals.
Apple Cider Vinegar will also induce sweating which again makes it possible for the body to rid itself of toxins. It also restores body alkalinity and relieve aches & pains.
You can use anyone of these ingredients when making a detox bath but we're going to use all 4 for an ultimate body detox.
3 cups of epsom salt
2 cups baking soda
3 tablespoon of ground ginger
Apple Cider Vinegar
10-20 total drops of essential oils (if desired). If using more than one essential oil then break up the amount you put in. 3-5 drops of each scent.
---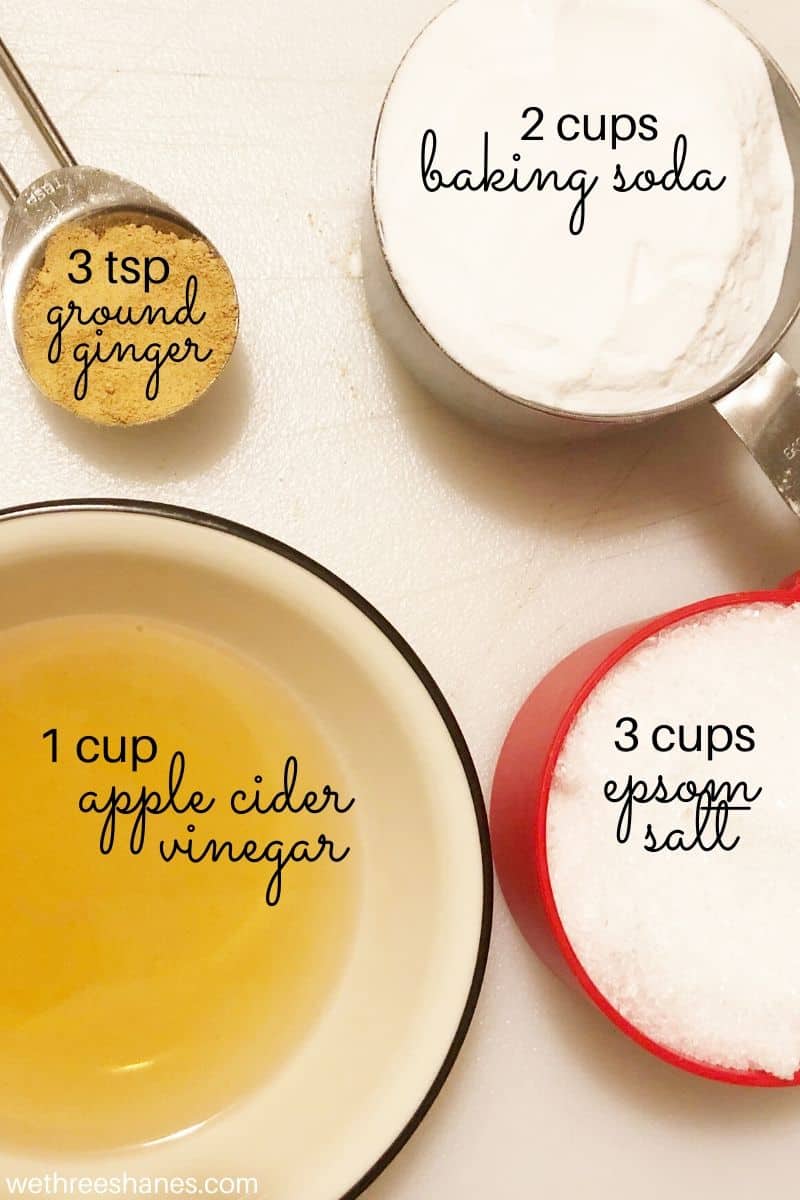 How to Make a Detox Bath
Take dry ingredients and mix them together. Add them to a jar.
You can add essential oil into the salt mix now or if you want to customize each bath you'll add the drops directly into the bath water.
When you are ready to have a bath, fill the bath tub with warm/hot water. The hotter the water the more you will sweat which is great for getting toxins out of the body. Make sure to test your water before stepping in. You don't want anything so hot that it will burn you.
Add one cup of detox bath mix and one cup of apple cider vinegar. If you add it in while the tub is filling up, the detox mix will be more evenly distributed.
Soak in bath for at least 20 minutes for toxins to release from your body.
*It is very important when getting out of the bath tub to not get out too quickly. You can become light headed so please be aware of this.
---
Tips For Making the Most of Your Detox Bath
Because you are sweating a lot during your detox bath you'll need to replenish the body of all that water loss. Make sure to drink at least one cup of water before and after the bath.
It's fun to make some infused water to drink during your bath as well. You can find some great flavored water recipes HERE! The lemon, ginger, mint flavored water or the grapefruit, cucumber, cilantro infused water would be delicious to drink while relaxing in the bath.
Create a relaxing atmosphere with low lights, candles, and soft, soothing music.
Some great essential oils to try in your detox bath recipe are lavender, ylang ylang, jasmine, cedarwood, orange, or lemongrass. These scents are perfect for relaxation and stress relief.
Rinse with mild soap and clean water to make sure toxins and residue are washed off the body after your detox bath.
Hot water can dry out the skin so make sure to moisturize after your detox bath.
---
Detox Bath Safety
Not everyone should take a detox bath. Don't take a detox bath if you are:
Pregnant or breast feeding
Have high blood pressure
Under the influence of drugs or alcohol
Kids can use this detox recipe but you'll want to decrease the amount of ingredients you put in the bath. The younger the child the less you need to put in the bath. Try 1/4 cup for toddlers and 1/2 cup for older children. Also, remember to use cooler water for kids. Warm water should be good but don't use hot.
---
Detox Bath Gift
This makes a great gift! Teacher appreciation, other's day, birthdays, mother's day; pretty much any occasion.
Put the detox mix in a glass jar and add a cute label or tag. Include instructions for adding the vinegar in but since you can get a good detox with out it you can leave that part out. Add a cute candle and you're all set!
A bath can be such a great way to relax and relive stress. Why not help rid the body of chemicals and heavy metals while you're at it. It's important to take care of your body, spirit, and mind so take some time to yourself and enjoy your bath. You deserve it!
---
You Might Also Like:
---