Playful DIY Valentine's Day Gift He'll Love
Need a Valentine's Day Gift your significant other will Flip Over? Help a lover out with this DIY pillow to let them know when you're in the mood. This is one handmade gift they'll LOVE!
(THIS POST PROBABLY CONTAINS AFFILIATE LINKS. OUR FULL DISCLOSURE POLICY IS LONG & BORING BUT, YOU CAN FIND IT HERE.)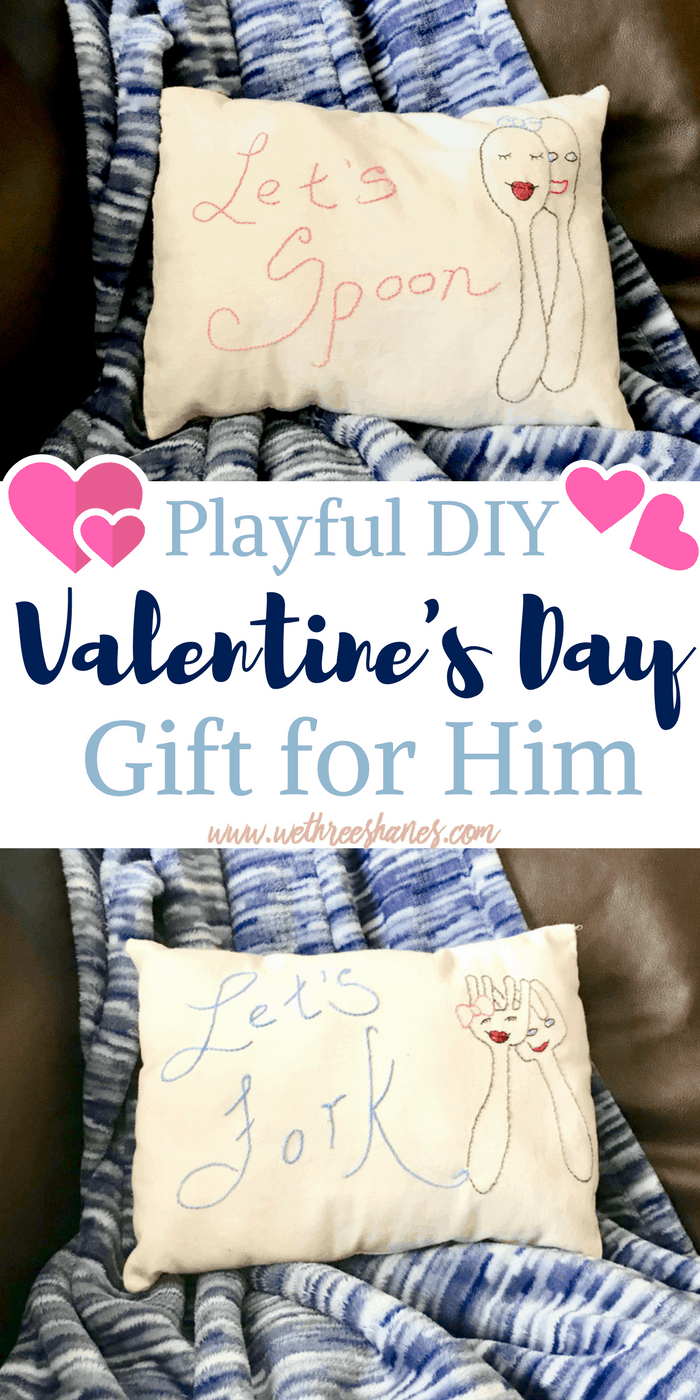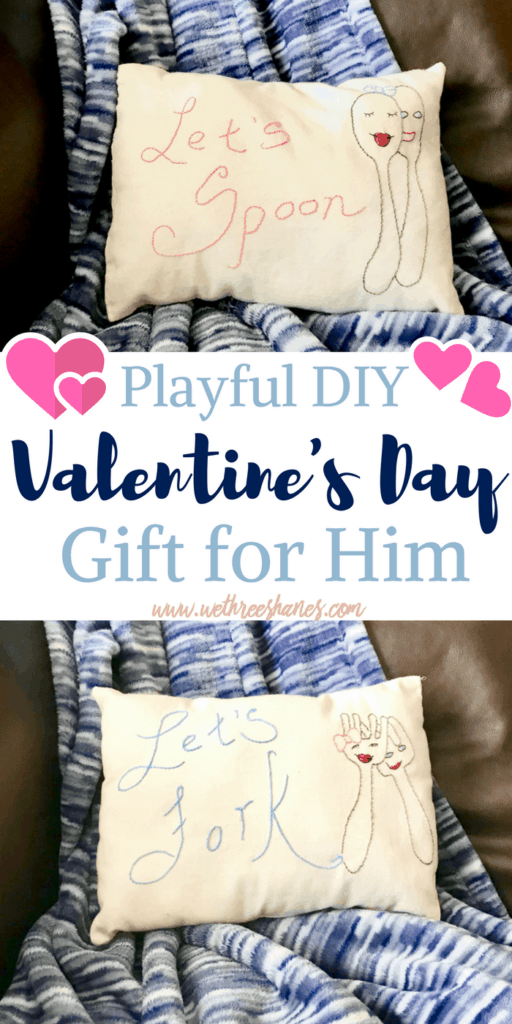 DIY Valentine's Gift He'll Love
Valentine's day is one of those holidays I dread. I told my husband about 10 years ago that I never wanted flowers on Valentine's day. It's too cliché for me. Plus I hate that they jack up price so much in February.
In fact, I told him if he REALLY wanted to get me flowers, to wait until February 15th when they are half price. Now the poor guy has a daughter that thinks flowers are the greatest thing in the world. Being the best daddy, he makes sure to get her flowers on Valentine's day.
I would much rather get a card and kiss, so for me and my husband we don't really do Valentine's day. Sometimes I will come up with a fun, original present though.
A few years ago I really wanted to design a gift that is fun but practical. I was trying to think of something I could do to let him know (or for him to let me know) when I was in the "mood" for some lovin'.
At first I considered a Do Not Disturb sign for the door but that wasn't creative enough for me. I finally decided to make him a pillow. I LOVE the way it turned out! Check it out!
One side is for Spooning…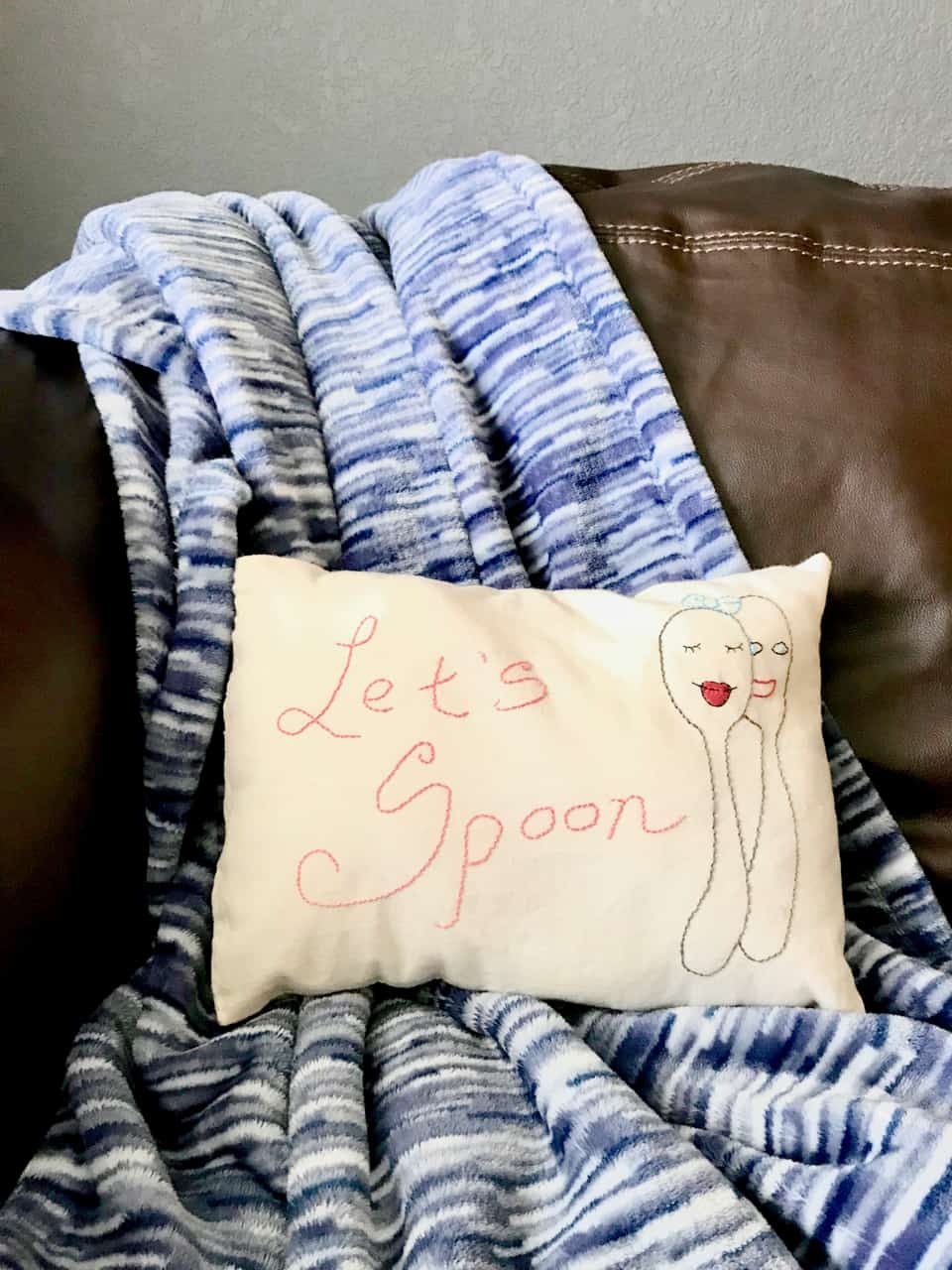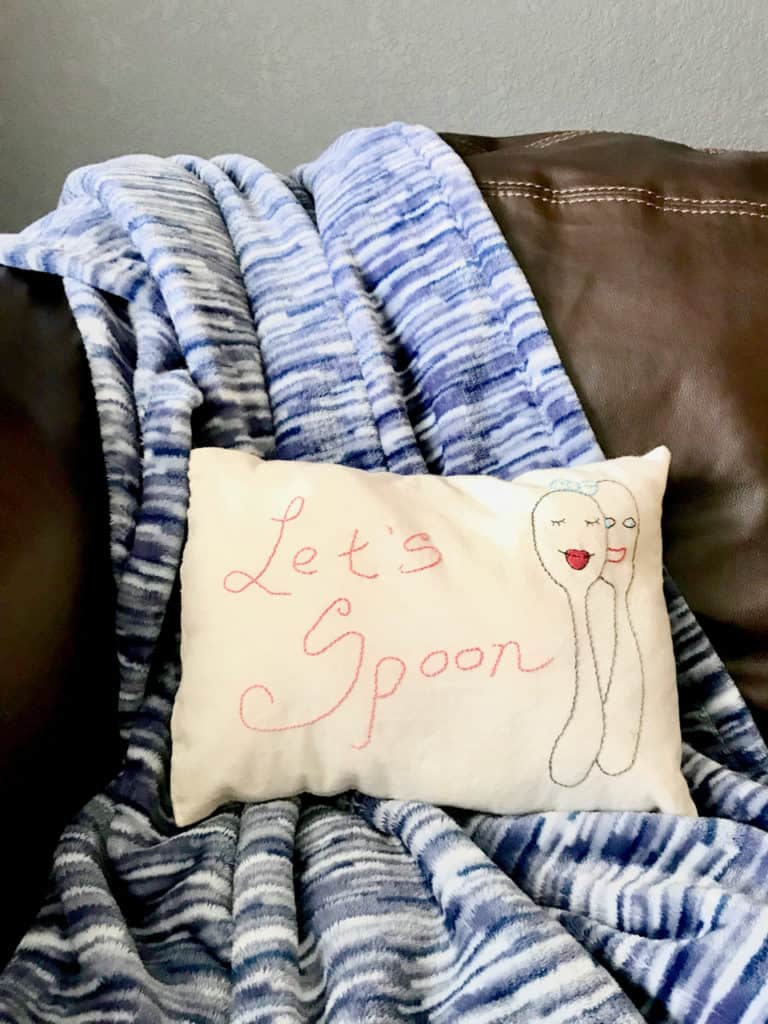 and one side is for Forking!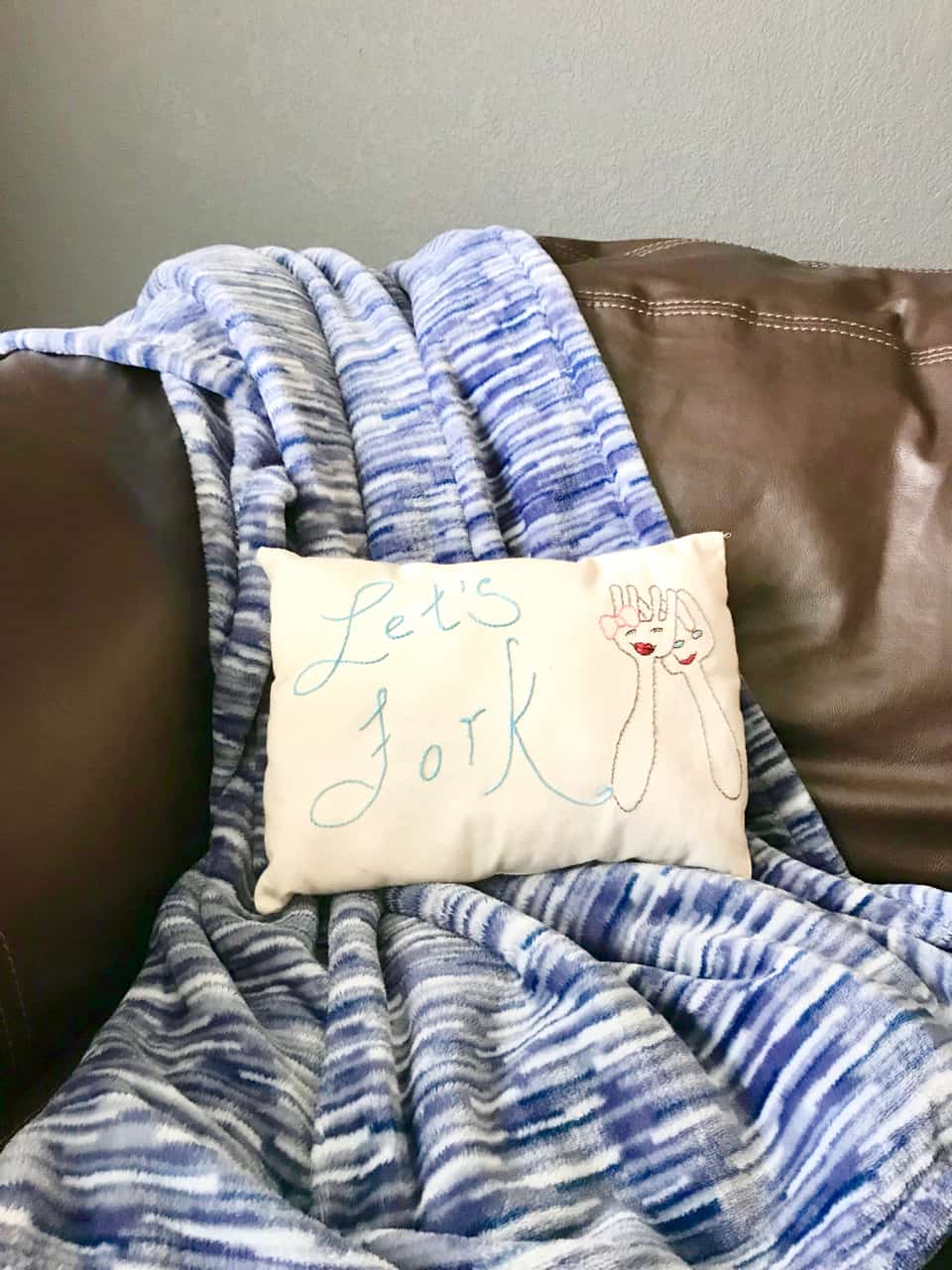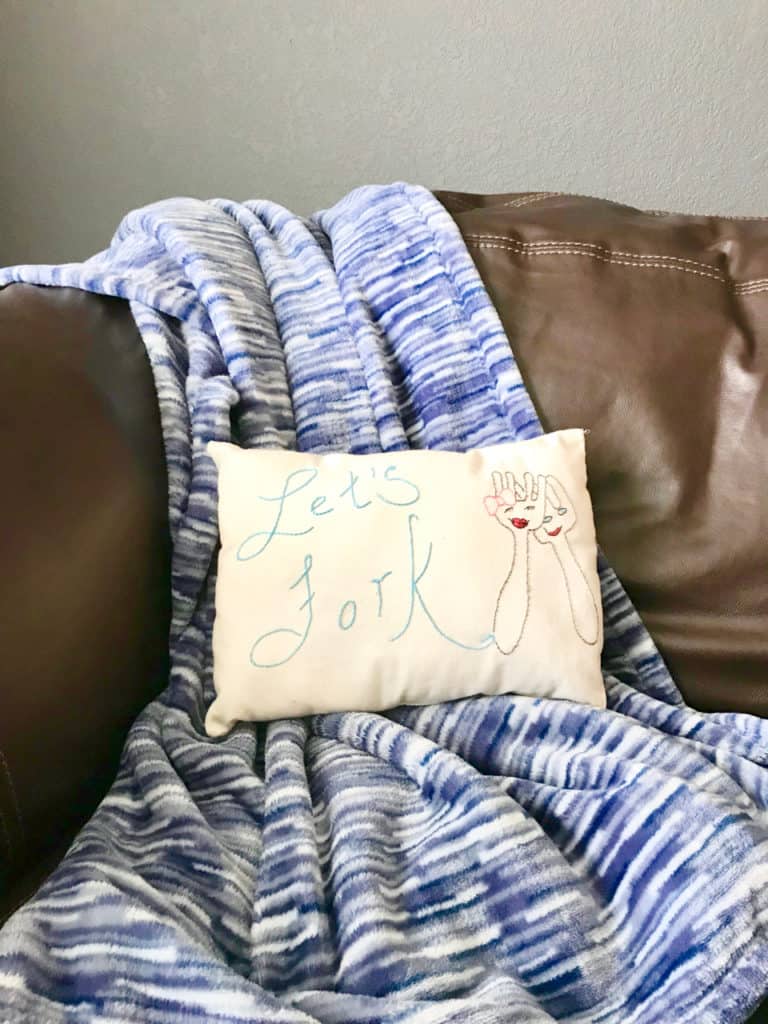 Haha! I think it's adorable and useful. Wanna make one for yourself?
---
Materials Need for DIY Valentine's Day Gift
You only really need two or three things for this project which is why I love it so much. Easy DIYs make great gifts. They're thoughtful but don't take up too much of your time or money.
You will want to think about colors for this so you will be buying more than two colors of embroidery thread, HTV, or fabric markers.
If you are using the embroidery or HVT method you might want to start with a pillow cover. If you are using fabric markers you could probably just write on a pre-made pillow.  It's up to you. 
---
How to Make Your Own Playful Couples Pillow
If you have a cutting machine like a circuit or silhouette you can easily make this with HTV. I love my silhouette cameo and my power heat press. These are a great option for making this gift if you already own them. (Or if you want to buy yourself a really awesome Valentine's present.)
Fabric Markers are probably the easiest option if you don't have a cutting machine. Anyone can draw the simple pattern and words on a pillow.
I stitched/embroidered my pillow but really you could use fabric markers or even HTV (heat transfer vinyl). Embroidery is easier than you think. There is a quick tutorial, with photos, you can read HERE or if you'd rather watch a video you can check this one out on youtube HERE.
Feel free to use my pattern, although I am NO artist and you may be able to draw it better.
Let's Spoon Pattern Let's Fork Pattern
Just trace your pattern on your pillow, cover or HTV and then trace with fabric markers, embroider, or transfer the image.
---
If you make one, please let us know. We would love to see how yours turns out. Email us your pic at [email protected] and we'll feature it on the blog! (If you want. We'd love to see it regardless!)
Got any other creative ideas for Valentine's day? Share them with us in the comments below.
---
You Might Also Like:
---