Truly Free Dishwasher Detergent Review
When it comes to doing the dishes, there's one easy step that can have a big impact on the environment – switching to eco-friendly dishwasher detergent.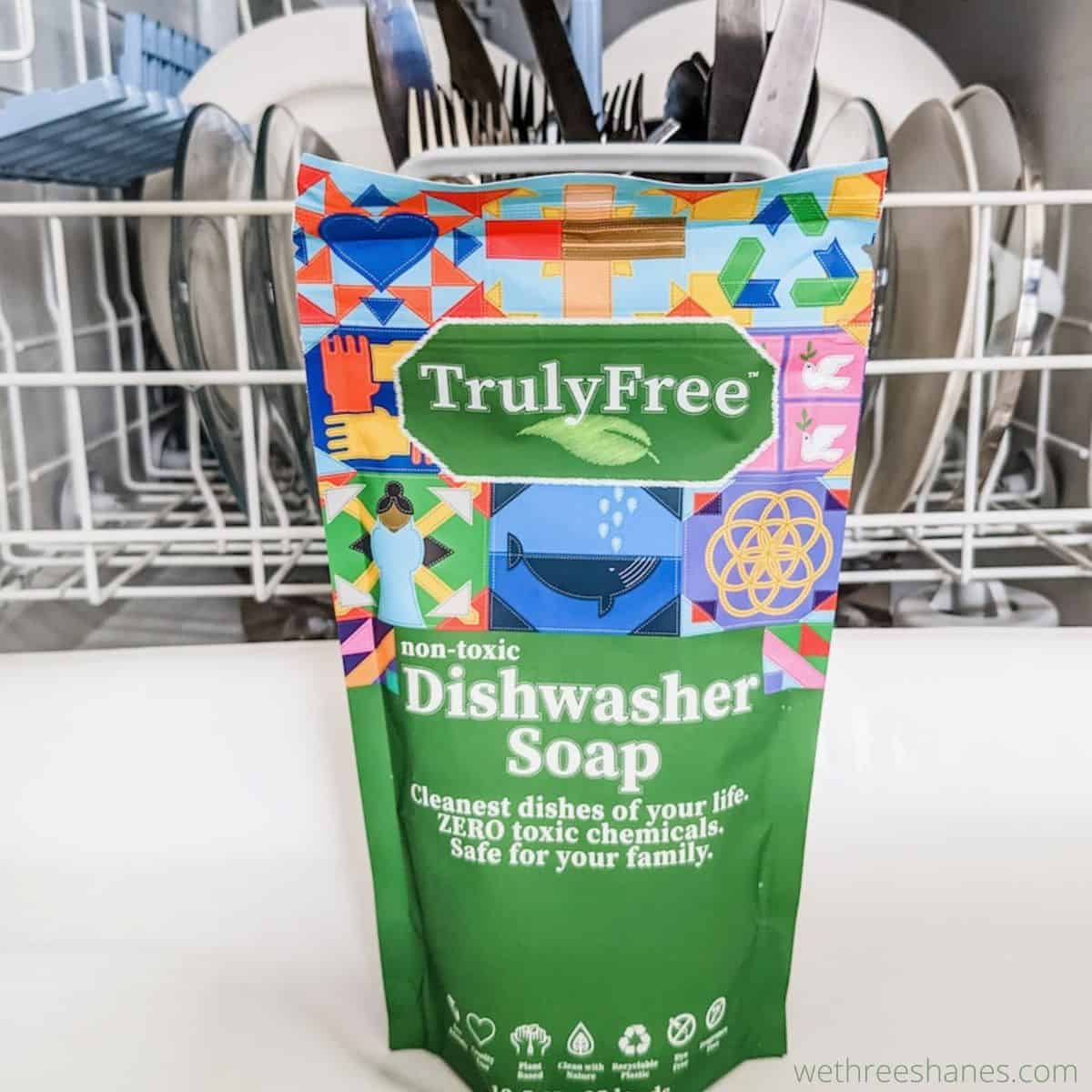 (THIS POST PROBABLY CONTAINS AFFILIATE LINKS. OUR FULL DISCLOSURE POLICY IS LONG & BORING BUT, YOU CAN FIND IT HERE.)
Eco-Friendly Dishwasher Detergent
So you've made the switch to all-natural, eco-friendly cleaning products in your house. (If you haven't then you should check out our full eco-friendly, homemade cleaning recipe guide.) Good for you! But are you still using conventional dishwasher detergent?
Conventional detergents can contain ingredients that harm aquatic life and contribute to water pollution. On top of that, many popular brands rely on packaging made from plastic, creating even more waste.
Eco-friendly detergents, on the other hand, use biodegradable ingredients and minimal or recyclable packaging which means less waste ending up in landfills. And hey, it's not just good for the planet -it's also better for you and your family, since you won't be exposing yourselves to harmful chemicals on a daily basis.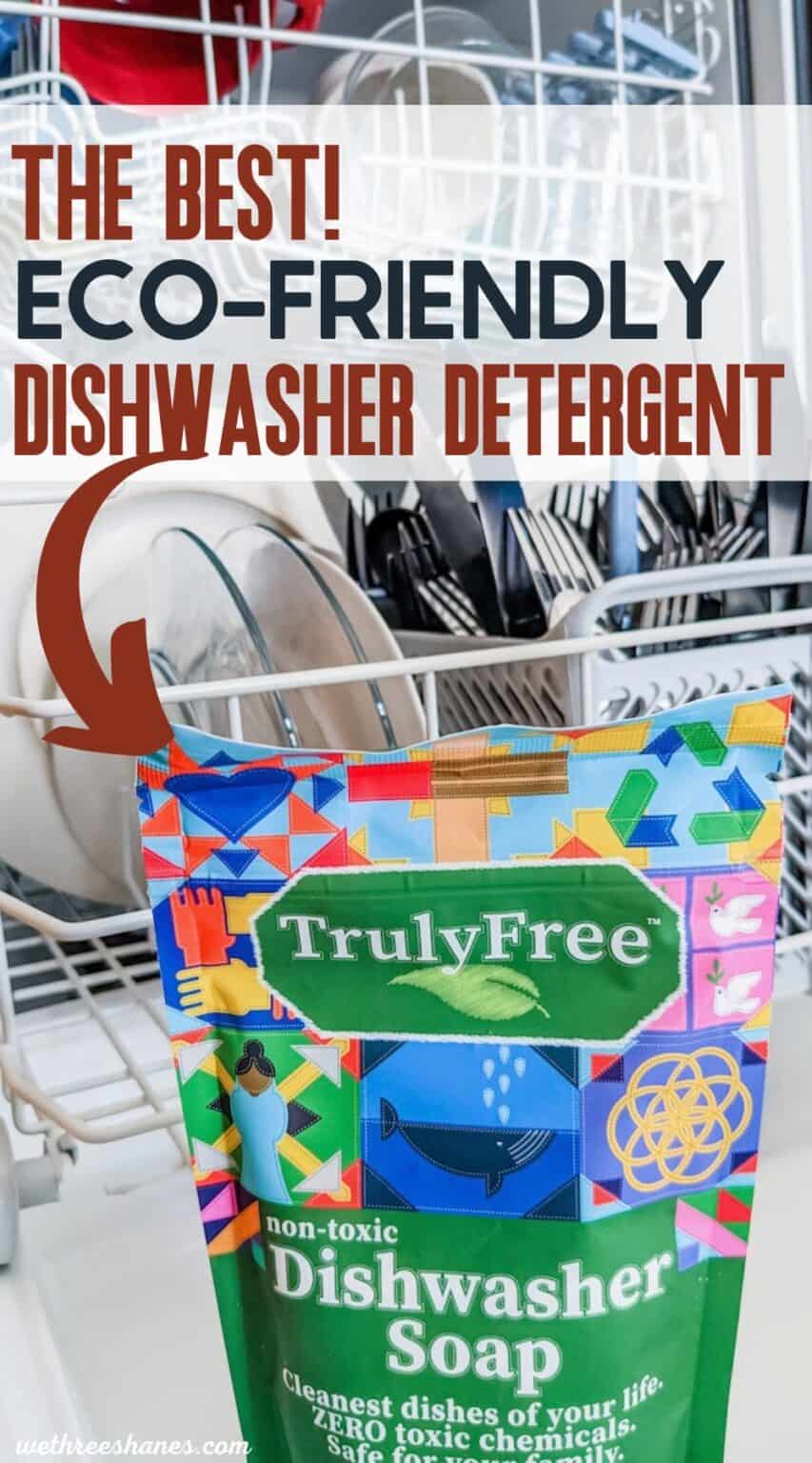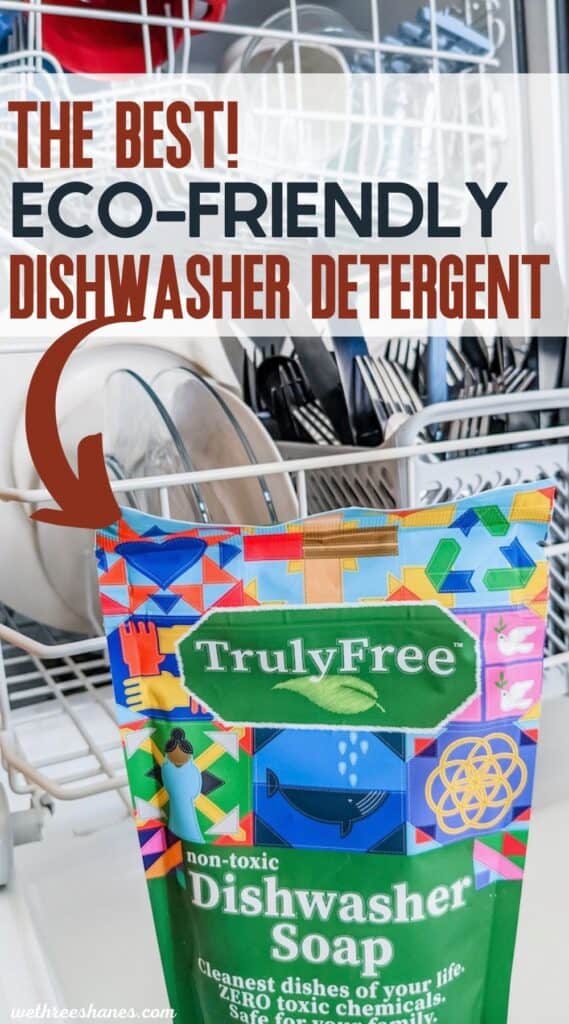 Truly Free Dishwasher Detergent Review
I must admit that I have been using the Great Value brand dishwasher detergent for years. It's cheap, easy to pick up on a grocery run, and works well enough.
I've tried homemade dishwasher detergents and I haven't found one that I like. None of them seem to work well for me so I always go back to the store bought stuff.
Recently, Truly Free reached out to us and asked if we wanted to try out and review one of their products. I jumped at the chance to try out their eco-friendly dishwasher detergent.
Eco-friendly dishwasher soap is usually more expensive than regular brands. So, spending more money on them to find out they don't work is always a bummer. Truly Free gave me the chance to try their's for free so of course I said yes.
As always, I will be giving you my honest feedback on the product. It's important to all three of us sisters to give honest reviews so that when you read a review we've written you know you can trust us. We also encourage readers to post about their experience with the reviewed product in the comments section.
Now that all that's out of the way, let's get on with the review.
Truly Free the Company
I always like to give a brief review of the company we're reviewing. Truly Free came about after the owners baby got a rash from the laundry detergent the family was using. They did a deep dive and found that so many household cleaning products contain toxic chemicals that can harm their family.
They teamed up with woman who was selling chemical free laundry detergent at a local farmers market and Truly Free was born.
The company is based out of Traverse City, Michigan, USA.
They are mission oriented by supporting a deaf community in Jamaica; the rescue of hundreds of women from sex-trafficking; providing food, shelter, and education to hundreds of orphans.
Their refill system was one of the first our there and has saved over 11,000,000 singled use plastics from being produced.
It's a good company to support which is always nice. But how do the products hold up? Let's get into the pros and cons.
Truly Free Cons
Let's get the bad stuff out of the way. These cons are subjective.
Subscription Boxes – some might list this as a pro but I'm not a fan of subscription boxes. I find them to be a pain. Yes, having things directly delivered to me is convenient but I don't always need refills on a set schedule. I'd rather go to a site and order what I want when I want it. Truly Free boxes have a 30 or 60 day shipping frequency however you can postpone shipping if you need to and cancel anytime. They do send you an email 4 days before your order ships so you can choose your free item/s if applicable or to postpone or cancel the shipment. Personally, I find it all to be a pain. You might love it.
Pricing is based off of how many items are in your box. You can order 1-5+ items. The more you add to the box the less the products cost. For example the dishwasher detergent is normally $24.99 for 50 loads. However, it can get as low as $14.97 with 5 items in your box. If you only want to buy on product then the cost can be pretty high.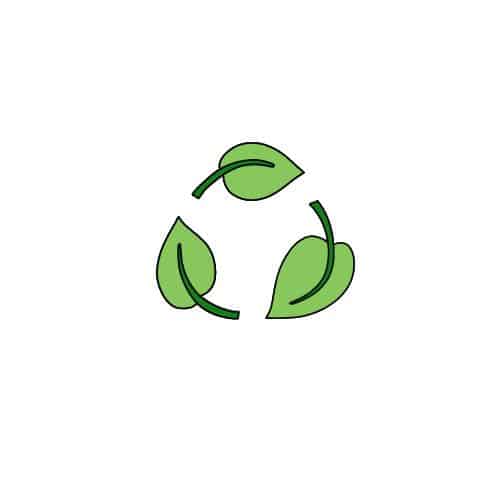 Truly Free Box System
Note: The More You Buy, The More You Save
Buy 1 Item: save 10%
Buy 3+ Items: save 20%, get one item free
Buy 5+ Items: save 40%, get two items free
Truly Free Pros
Just a reminder, I have only tried the dishwasher detergent but Truly Free has many highly rated products.
The most obvious benefit of using Truly Free's dishwasher detergent is the positive impact the product has on your family and the environment. Let's do a quick list:
The ingredients are eco-friendly meaning no Fragrance, Ammonia, Bleach, Dyes, Thickeners, Formaldehyde, Fillers, Parabens, Phosphates, Monoethanolamine, SLS, isopropanol, Phthalates, Perchloroethylene or PERC, Triclosan, Quaternary Ammonium Compounds, or QUATS.
Plant-based
Cruelty free
Made with recyclable plastic
Other Truly Free products have a refill system so your first shipment comes with the bottle and the rest come with refill packs that use less plastic and packaging. Because the dishwasher detergent is in powder form this system doesn't apply.
That's all fantastic but does the stuff work? YES! This stuff is awesome! Let me show you.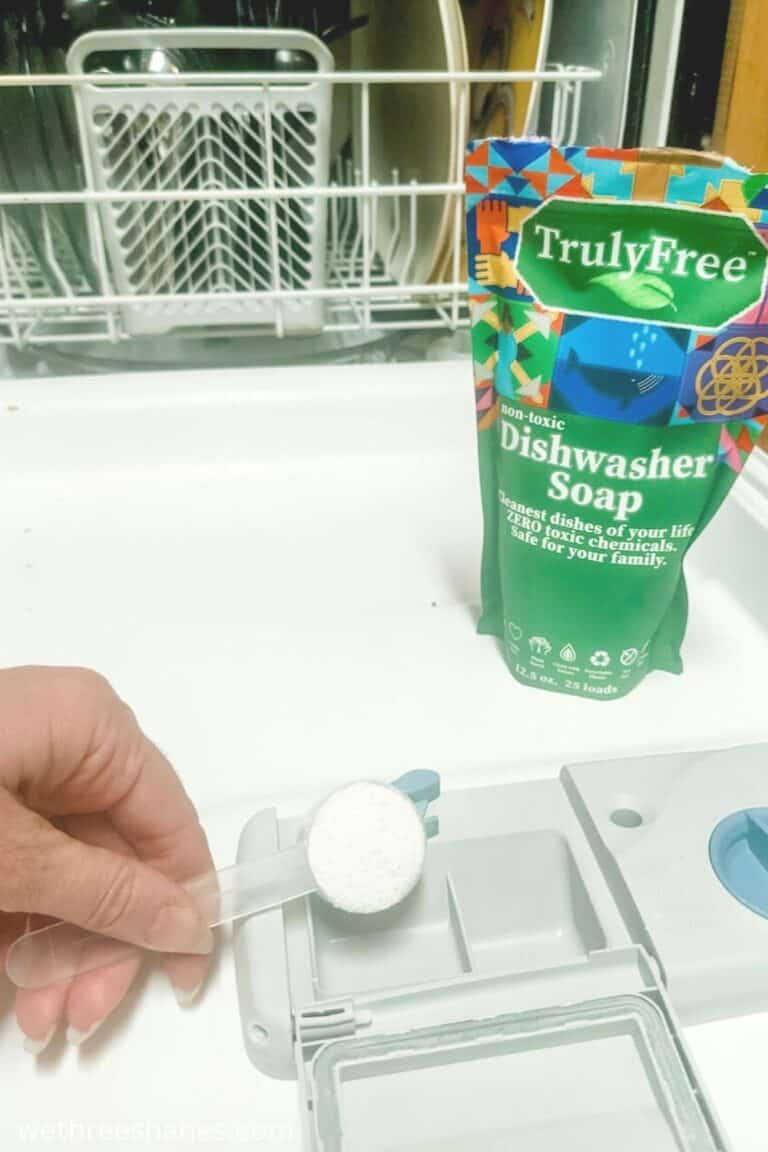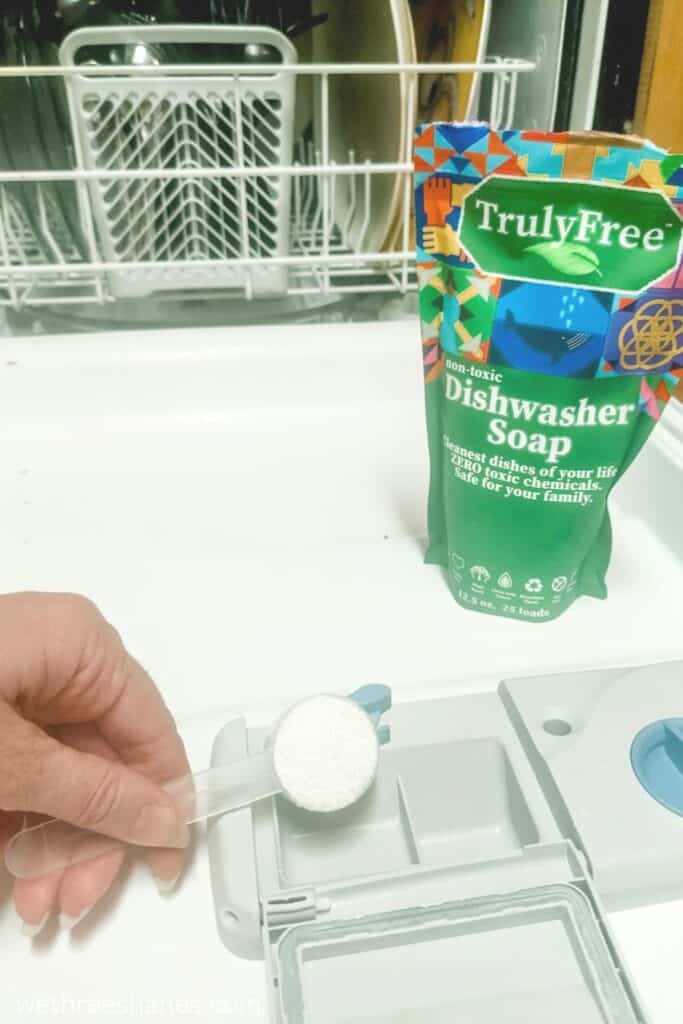 Let's Put Truly Free to The Test
I've got a pretty old dishwasher so I really have to rinse my dishes before they go in the dishwasher in order to really get them clean. It's a big waste of water and time.
I also have to use a ton of the cheap detergent to get dishes clean so yes it's cheaper but I have to use a ton to get it to work. There is always a dish or two that didn't get completely clean that I have to wash by hand.
To really tryout Truly Free's dishwasher detergent I wanted to try some stuck on stuff so I used food that my old dishwasher has a bit of trouble with. The photo below shows a dried on macaroni bowl, peanut butter bar mixing bowl, crusted on homemade ranch dressing jar, quinoa and egg yolk fork and knife.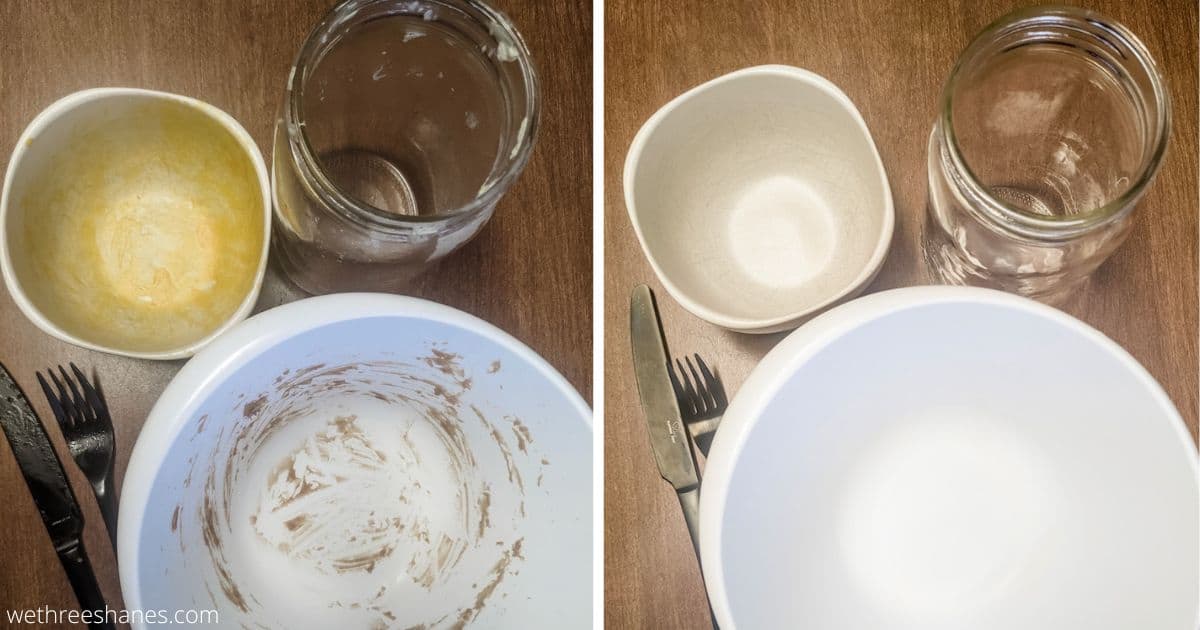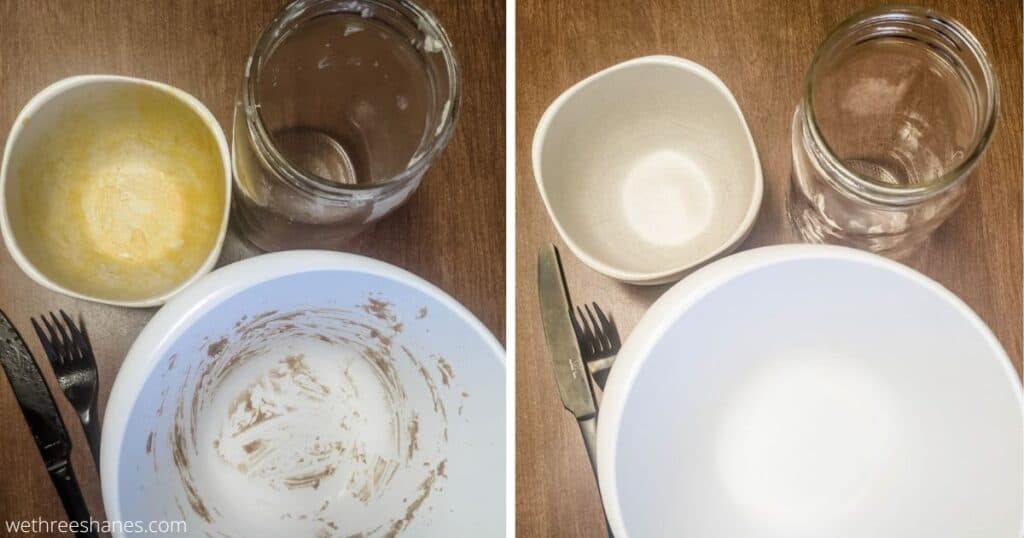 I let the dishes sit for a couple of days with no rinsing at all. The dishwasher detergent had no problem getting everything sparkling clean. I wasn't using any rinse aid either.
All the dishes came out spotless, with no streaks or residue. I was very impressed.
I've run a couple of other loads since this first trial run and I get the same results every time. No rinsing necessary. Just scrape any leftover food into the trash and put the dishes directly into the dishwasher.
We are a family of three so we don't run the dishwasher every day. We wait until it's full and sometimes that can take three days. Even with caked on food sitting for three days the dishes came out clean when using Truly Free detergent.
Here are a couple more before and afters: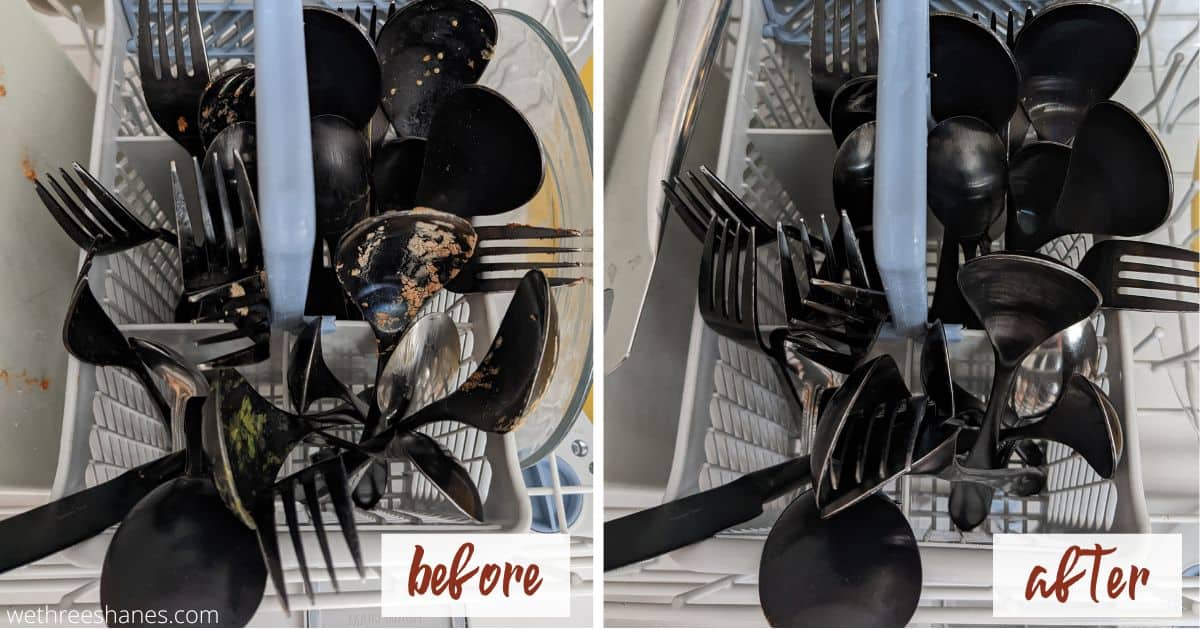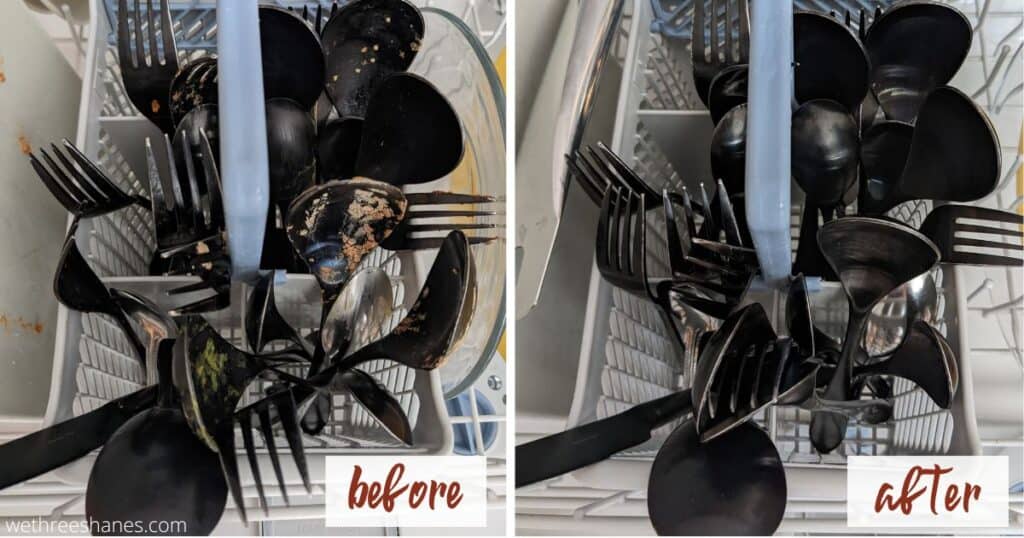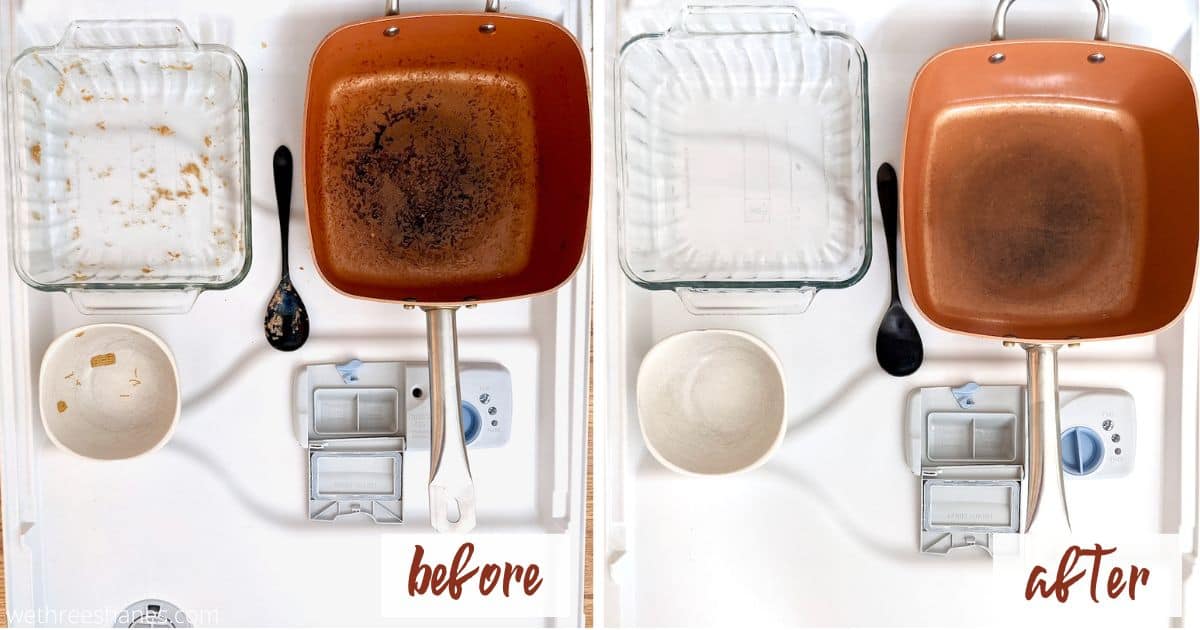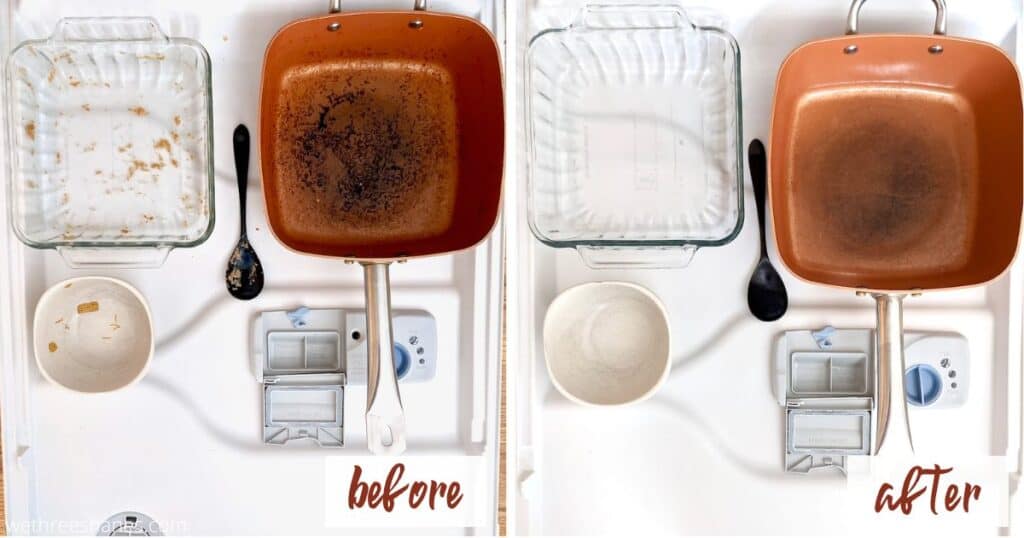 I give this stuff a big two thumbs up. It's amazing that such a small scoop can produce such amazing results.
The fact that this dishwasher detergent is eco-friendly and saves me time is all I need to know.
Right now Truly Free has a kitchen detox deal that gets you 50 FREE dishwasher loads if you want to try out the dishwasher detergent. They also have a non-toxic starter kit that is really popular. Of course, you can check out all of their eco-friendly products by starting HERE.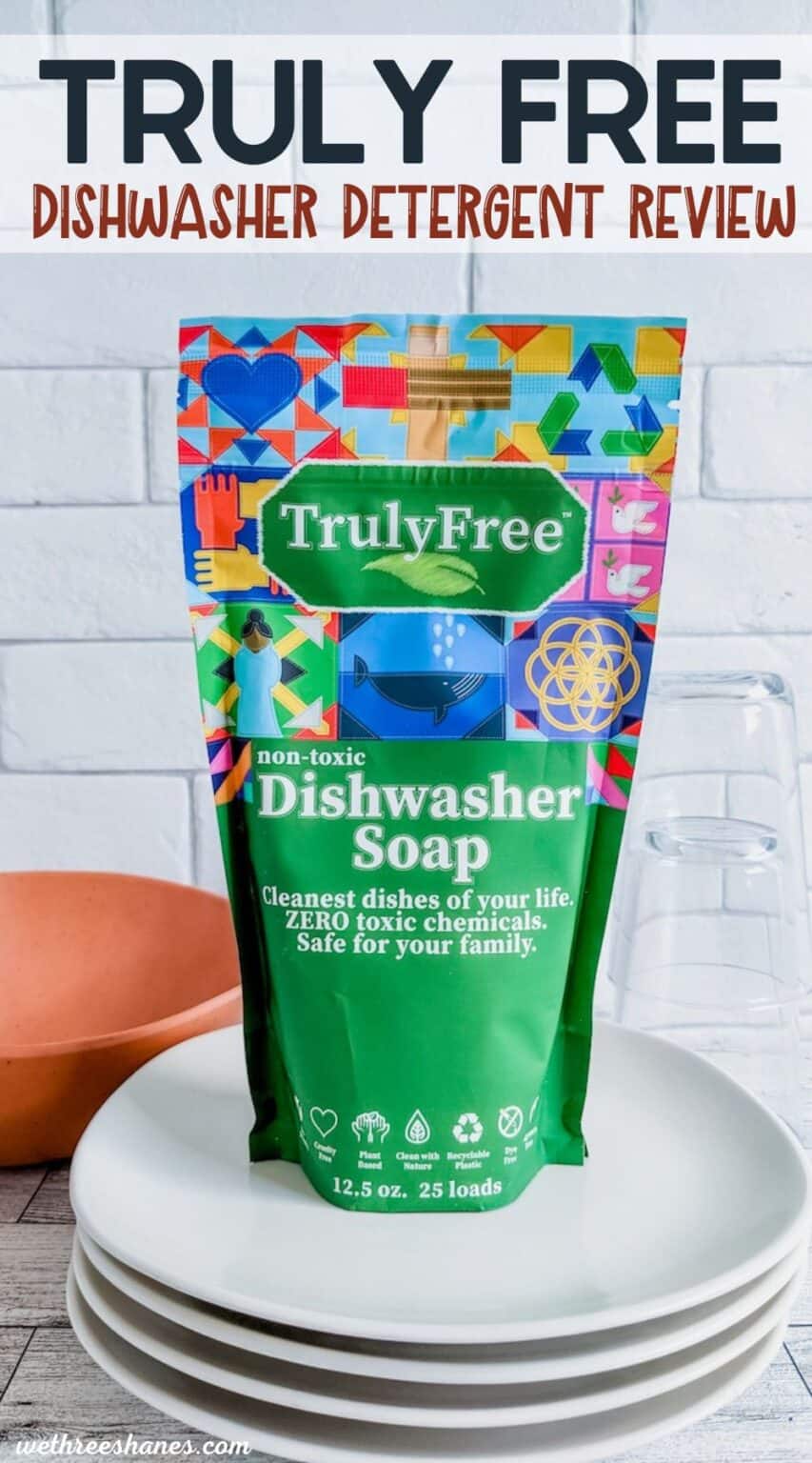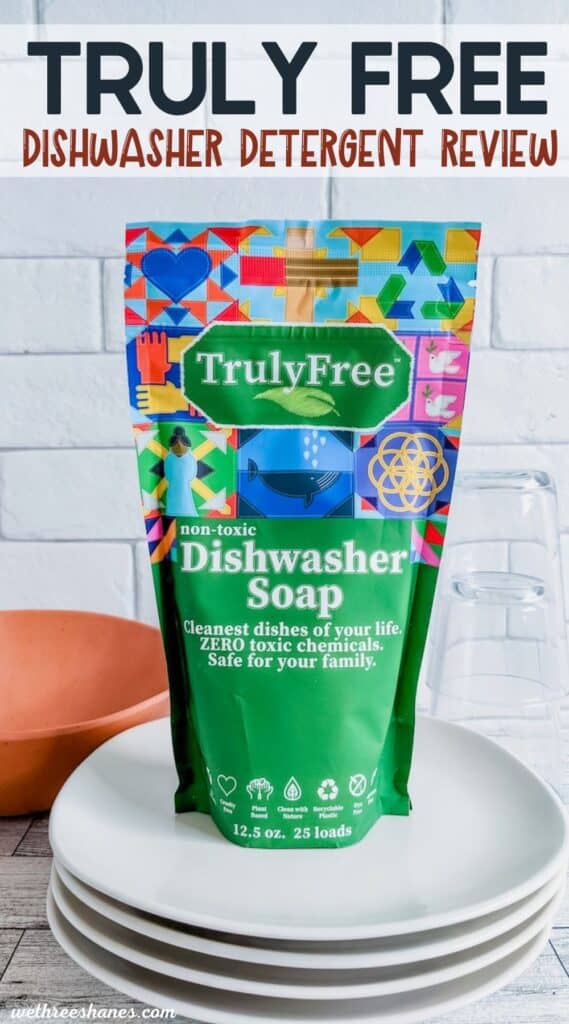 Truly Free Eco Friendly Cleaning Products
If you can't tell, I'm pretty much sold on this dishwasher detergent and I can't wait to try more of Truly Free's products. I definitely recommend the detergent if you're looking for an eco-friendly dishwasher soap that is good for your family and the environment and works great.
Have you used Truly Free products before? Please tell us about your experience in the comments below. It's always helpful to hear about other peoples experience with products we recommend.