Winter Soup Recipe Roundup
There's nothing like some homemade soup to warm you up while waiting for spring to arrive. We're bringing you 3 of our favorite soup recipes to add a bit of variety and comfort to your lunch or dinner.
This is always a hard time of year for lots of us; the hustle and bustle of the holidays is over, it's still getting dark early, there are no more beautiful Christmas lights to make up for it, and it's cold. I thought it would be a good time to do a group post to bring you something warm and delish for those dark, cold days until Spring. Here's our Winter Soup Recipe Roundup so you can warm-up. We've got three easy soup recipes to warm your soul while still keeping it simple.
---
White Bean Chicken Soup/Chili by Kristy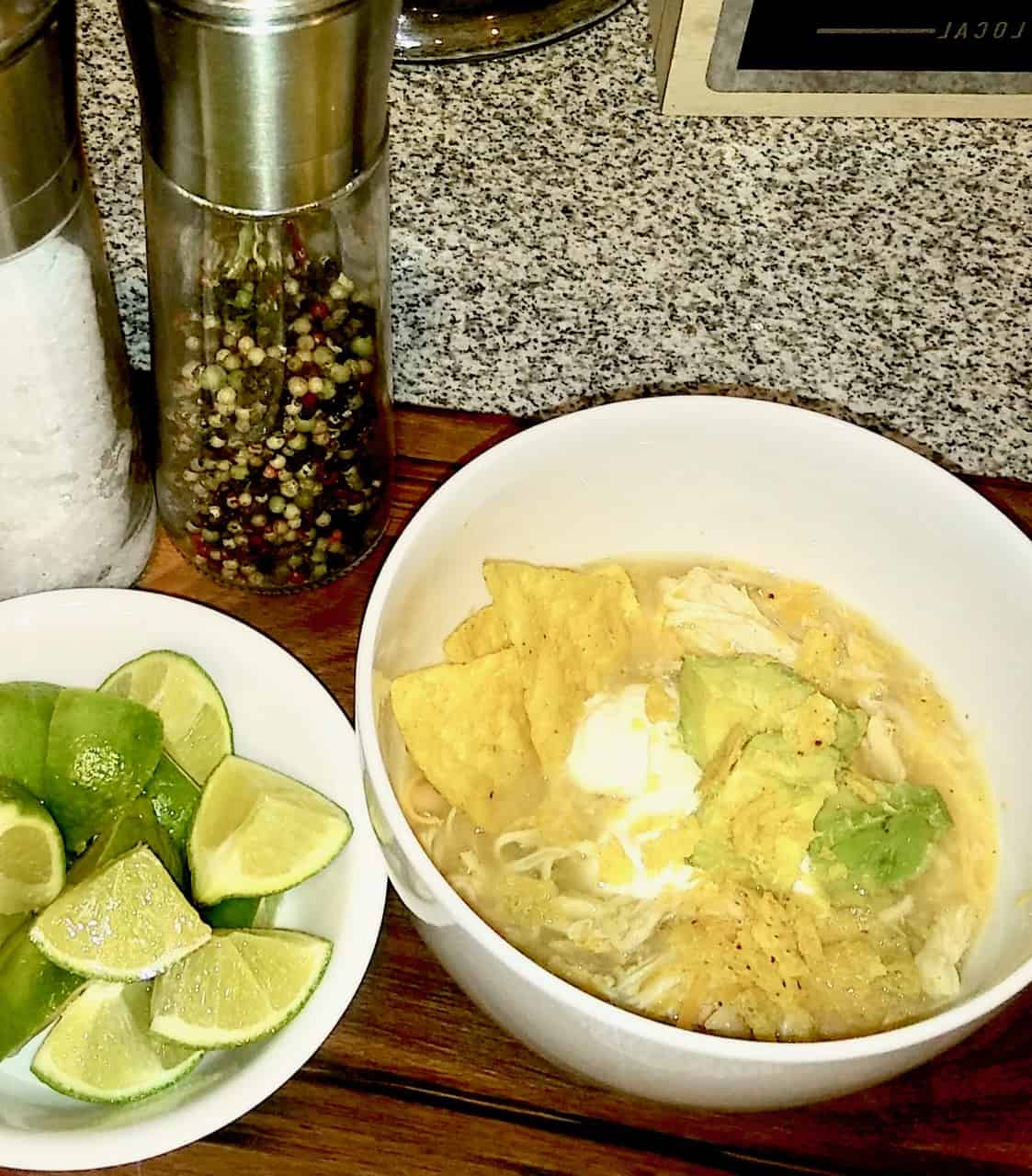 I love this crockpot soup recipe because it is simple comfort food that can be made with items most of us have on hand (with maybe just an addition or two).
Ingredients
2 teaspoons chicken bullion
1 – 7 oz can of green chilis – do not drain, use it all.
1 yellow onion chopped – I use about half, but you can use it all if you really like onions.
2 teaspoons cumin – I love cumin, so I sometimes use a bit more.
Add-ins
Things we like as add-ins, once the soup is done, include tortilla chips or strips, avocado, cheese, limes (for fresh squeezed lime juice), sour cream, fresh cilantro or oregano.
Directions
I start by putting 2 cups of water and two teaspoons of chicken bullion in my crockpot (you can do two cups of chicken broth, but I often use chicken bullion because it's cheaper and I almost always already have it in my pantry).
Next, put the 4 frozen chicken breasts right in. After adding the chicken, I put everything right on top, except for the beans and the add-ins.
Cook it on high until the chicken shreds apart easily (usually at least 4 hours). Take the chicken out and shred it (and remove any fatty pieces), then put it back in to the broth.
Next, open one can of beans and pour them in. Then open the second can of beans and drain them, put them in a blender and blend until creamy.
Once they are creamy, add them to the soup (this gives the soup a little more texture so it's less watery).
Cook this for an additional 30 minutes to heat everything through.
That's it. You can then ladle the soup into bowls and have fun adding your favorite toppings. We tend to set the add-ins up in individual bowls so everyone can add what and how much they want of each. Serve and enjoy.
---
Chicken Noodle Soup by Kim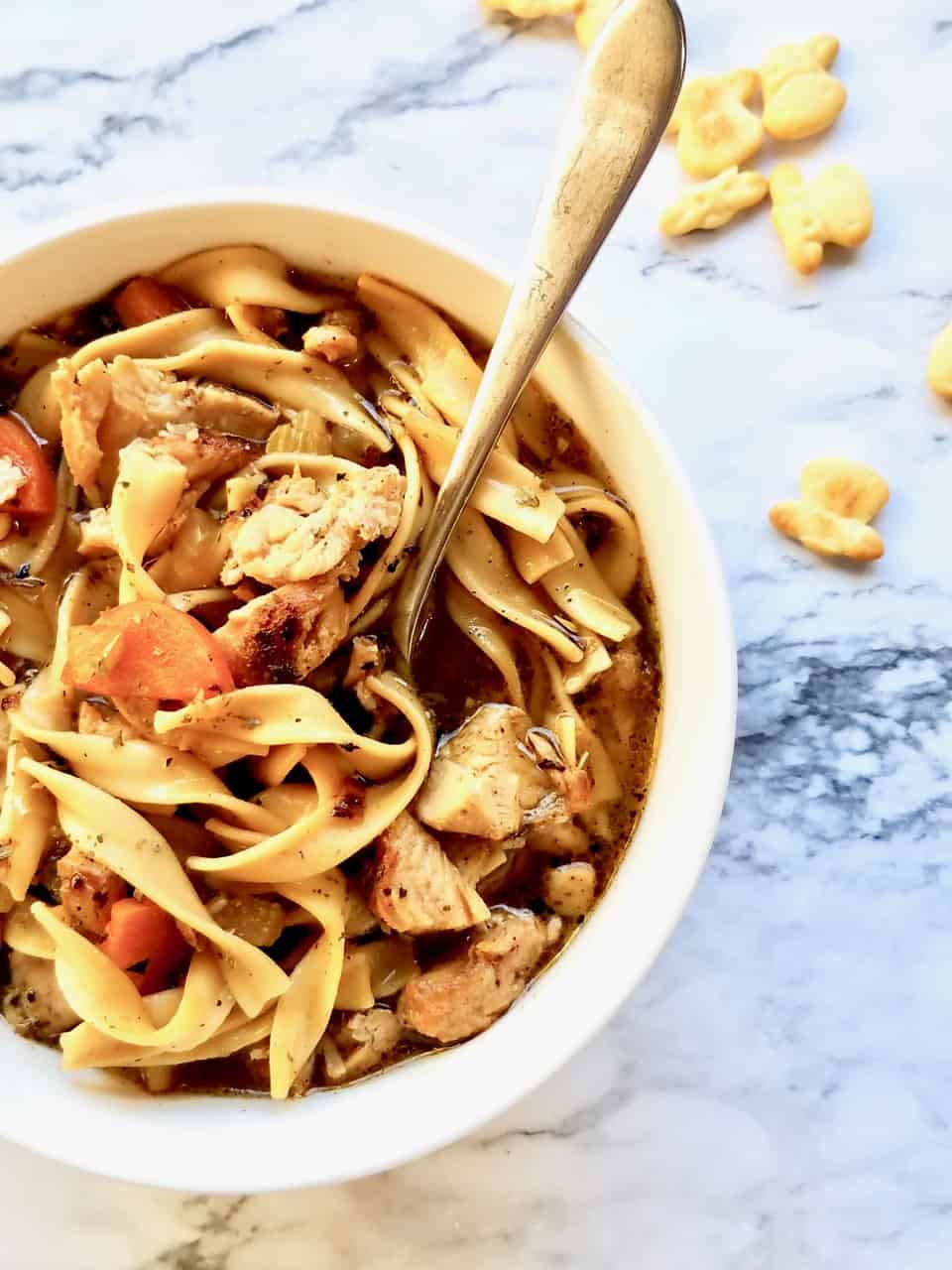 This chicken noodle soup recipe is one I started making when I worked as the cook at a pre-school. I love a good homemade chicken noodle soup because everyone in the family loves it and it's such a warming, comfort food. This is not the easiest chicken noodle soup recipe you'll find but it's freaking delicious and worth that extra work. Some times you need to work a little harder to make something that tastes better (and honestly it's not that much more work).
Ingredients
8 cups of chicken broth or 8 cups of water and 8 tsp chicken bouillon
2 cloves of garlic minced
1 small bag of egg noodles or your favorite noodles/pasta. Our family loves to use orzo.
Directions
Start by chopping the carrots, onion, and celery. Set aside and mince your garlic. You can do this while the chicken is cooking but I like to get it done before I start cooking so I can keep an eye on everything. I find that when I'm trying to chop while cooking I tend to burn stuff and that's no good.
Next melt 2 tbsp of butter in a big pot on medium heat.
Place your chicken breast facing down on a plate. Sprinkle each chicken breast only on the side that's facing up, with the spices until they are covered. The measurement for the spices are estimates. I just sprinkle the spices straight from the canister, one at a time, until the chicken breasts are covered. A teaspoon for each spice is my guess, but it could be a little more.
Place the chicken breasts season side down in the melted butter.
Next season the tops of the chicken the same way as before. Sprinkle straight from the jars until the chicken is covered well. I like to season the chicken this way because all the seasoning that doesn't land on the chicken ends up in the butter and will give the broth amazing flavor. Keep an eye on your seasoning to make sure they don't burn. Adjust the heat and add more butter if necessary.
Cook the chicken for about 4-5 minutes on each side. I like to cook my chicken on one side until there's only a small circle of pink left on top, then I flip. I also always slice the chicken in the middle to make sure there's no more pink before I take it out of the pan. Check your smallest piece first. There's no rule that says you have to leave all the chicken in your pan. If you have a piece that's smaller check it first and take it out if it's done before your bigger, fatter pieces are.
When it's done, lay your cooked chicken on a cutting board. Personally I like to place the chicken on a cheap or old cookie sheet. I have one I use that I got from the dollar store. I do this because the cookie sheet will catch all the juice that seeps from the chicken. Then I can easily add that juice into the pan when I scrape the chicken back in.
Let your chicken rest for a couple of minutes and then dice it up and set aside.
While your chicken is resting, add the 2 other tsps of butter.
Once it's melted add your carrots, onions, and celery into all that seasoned butter goodness. Sauté for 10 minutes. Your veggies will soften up as they cook in the broth with the noodles so if you don't want them to be super soft only sauté for a couple of minutes.
Pour in your chicken broth and add the bay leaf, then bring to a boil.
Add your noodles and cook until aldente.
Add chicken back in and cook for another minute or two just to warm the chicken back up.
Enjoy!
---
Chicken Tortilla Soup by Katie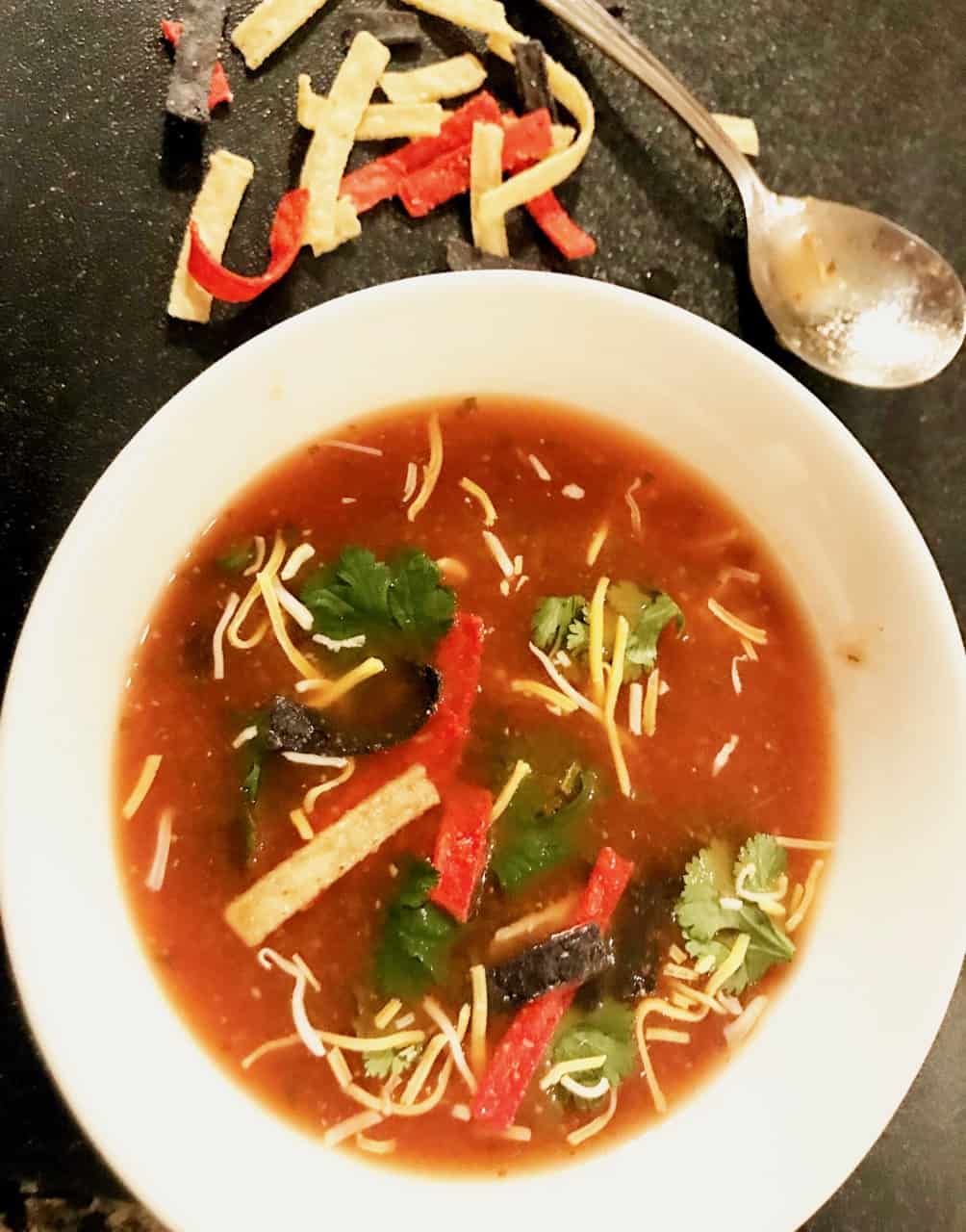 This recipe is actually one Kim created years ago but I'm sharing because it's become a favorite of the whole Shane family. It's simple to make, easy to customize, and bursting with smokey chipotle flavor. It is by far the BEST tortilla soup!
Ingredients
2 – 14 oz cans diced tomatoes – you can use plain or fire roasted. You could even do one can of diced tomatoes and one can of tomato sauce if that's what you have on hand.
4 tbsp cilantro – this doesn't need to be exact. Just rip off what looks like 4 tbsp.
1-3 chipotle peppers in adobo sauce. 1 for mild, 2 for medium and 3 for spicy.
8 cups chicken broth, or 8 cups water with 8 tsp chicken bouillon
Add-ins
Here's where you can do some customizing. You can add shredded chicken, rice, corn, or black beans to your soup. It all goes really well with it. On top we always add shredded cheese, diced avocado, tortilla strips or crushed tortilla chips and fresh squeezed lime juice.
Directions
Start by bringing your chicken broth to a boil.
While it's coming to a boil, throw the tomatoes, chipotle adobo sauce, onion, garlic and cilantro in a blender and blend until smooth. You can add one of the chipotle peppers in the blender too. That's what Kimmie does but if you want your soup mild don't throw it in.
Once your broth has started to boil, carefully pour the tomato mix from the blender into the broth.
Mix to combine and drop in your chipotle pepper/s.
Once the soup is back up to a boil lower the heat and simmer for 20 mins.
Add in anything you want from the add-ins during the last couple minutes of cooking.
Serve in bowls and throw on your favorite toppings.
This makes a pretty big pot so there are usually left-overs for lunch the next day. You can either leave your chipotle peppers in or take them out before storing your soup. If you leave the peppers in, the soup will get spicier.
Hopefully you get a chance to try all three soup recipes before it gets warm but honestly we won't be too sad if it warms up before that.
Do you have a favorite soup recipe? Let us know in the comments!
---
You Might Also Like: