DIY Reusable Craft Stick Gift Tags
An easy to follow tutorial for making these simple yet elegant DIY craft stick gift tags that add a personal touch to gifts.
(THIS POST PROBABLY CONTAINS AFFILIATE LINKS. OUR FULL DISCLOSURE POLICY IS LONG & BORING BUT, YOU CAN FIND IT HERE.)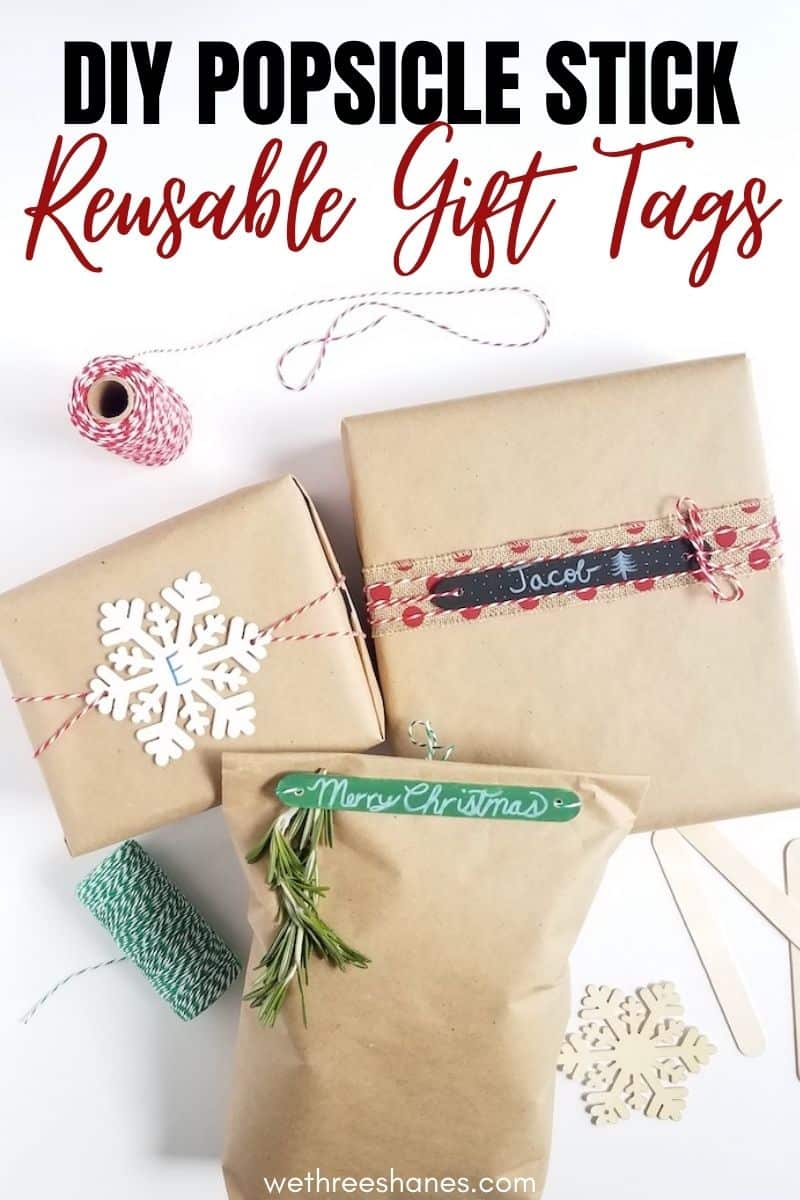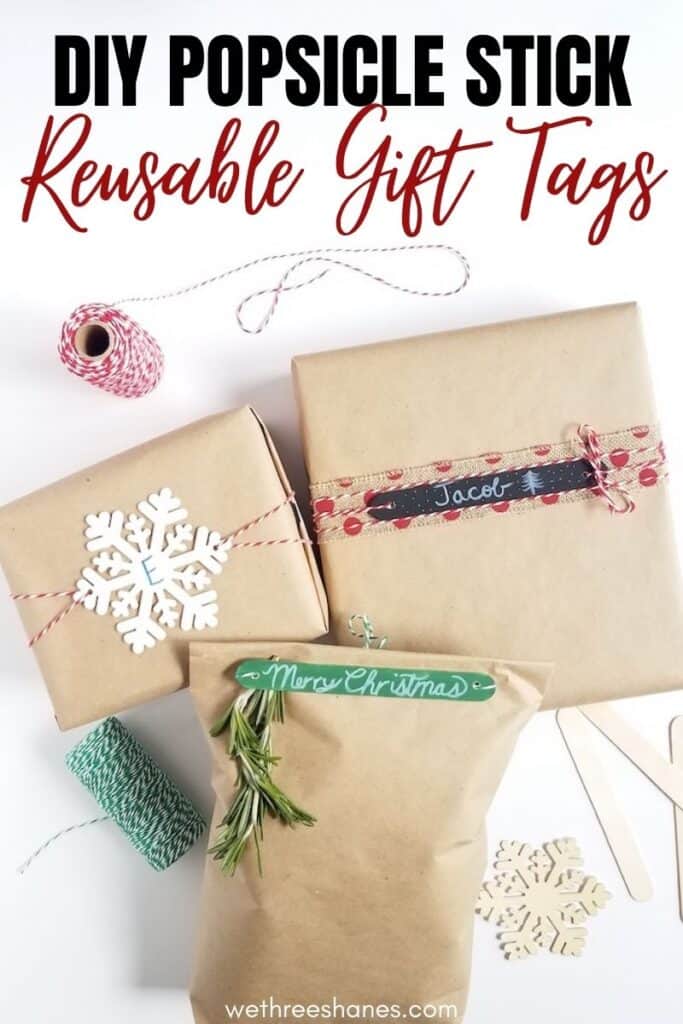 DIY Craft Stick Gift Tags
Today's Christmas craft could not be any easier. It's literally two steps and they are ready to use. I'm talking about these DIY craft stick gift tags that are super cute and reusable.
Natural gift wrapping has become pretty popular over the last couple of years. I jumped on the band wagon last year and could not be happier.
I love having neutral wrapping paper because it can be used for any holiday or birthday. If you are tired of having tons of rolls of wrapping paper or running out of a certain type in the middle of wrapping, then you should consider making a switch.
Plain white or brown wrapping paper can look a little boring but there are plenty of ways you can dress it up. That's where these popsicle stick gift tags come in.
---
How to Make Popsicle Stick Gift Tags
You only need a couple of supplies to make these reusable gift tags.
Craft sticks/popsicle sticks
Paint
A drill
The wide craft sticks work best because they give you more room to write on and they are easier to drill holes in without the wood splitting. The Dollar Tree has them in the craft section. You get 75 in one package for a dollar. Pretty great price for a ton of gift tags.
Step 1. Paint the Craft Sticks
First, decide how many popsicle stick tags you want to make. If you are using them to put on gifts you're giving away then you'll want to make some to keep at home too.
I focused on Christmas colors this time around and plan on making some later in more colors for birthdays and other occasions. For now, I stuck with red, green, and black. Why black you ask? Because it looks like chalkboard paint which I really like.
Choose your favorite colors and then paint your sticks. If you are giving them away on gifts then you should paint both sides so they have a finished look. If you are using them for home purposes then you can do one side if you want.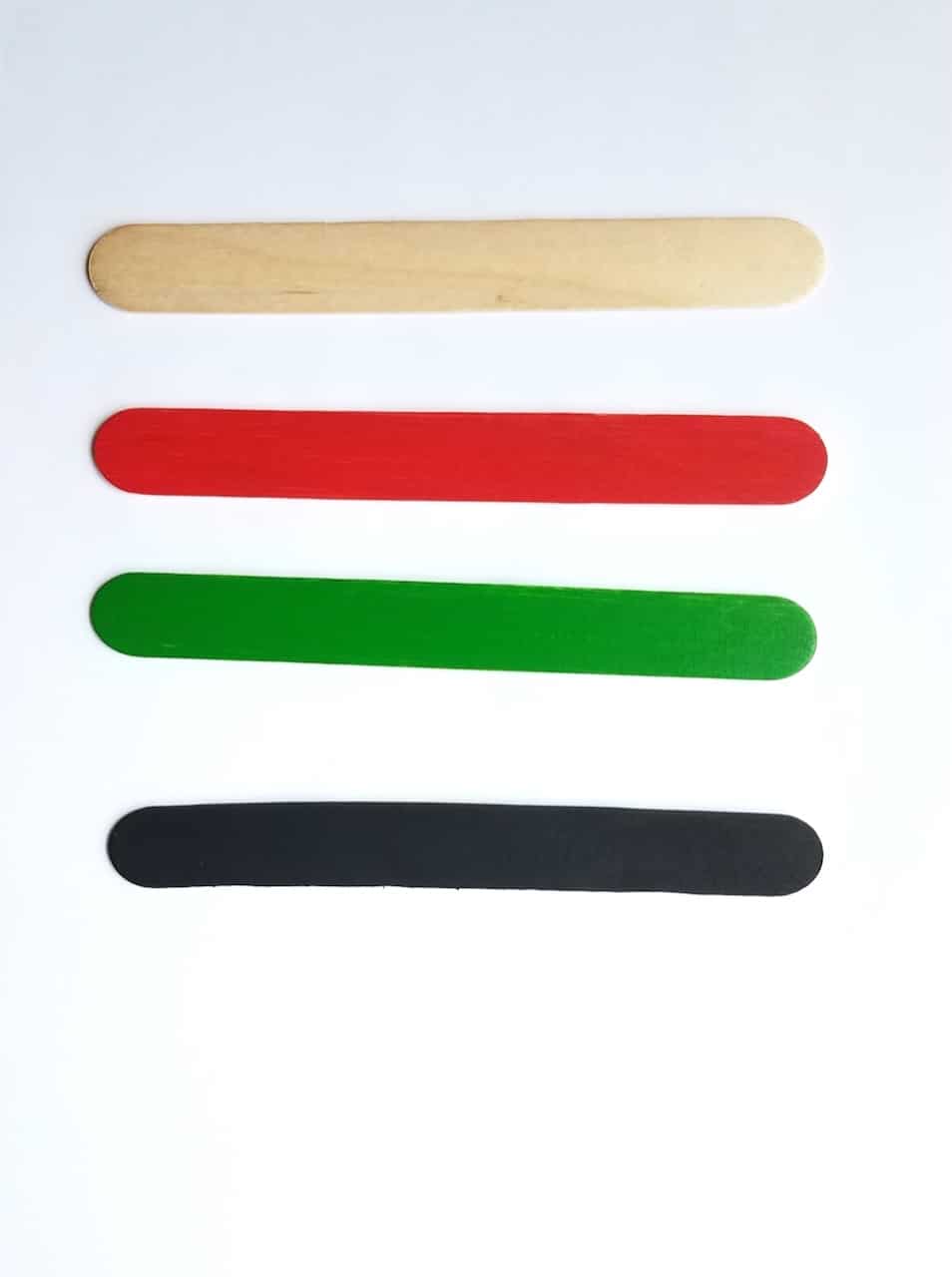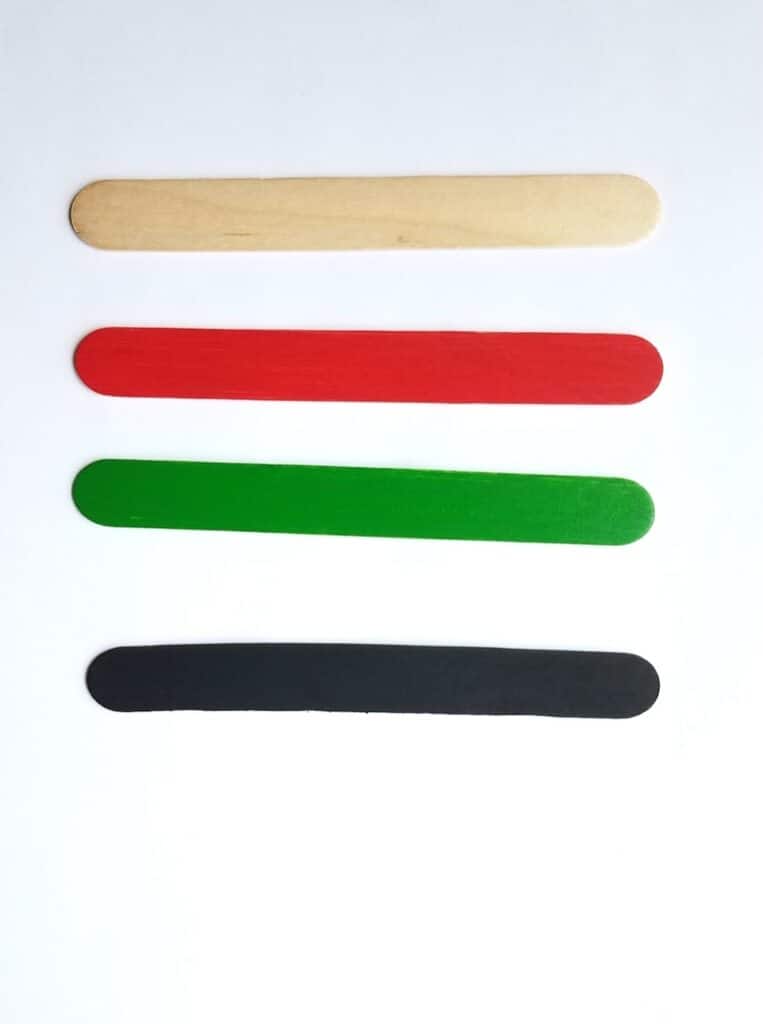 Step 2 – Drill Holes
Once your popsicle sticks have dried, you are ready to drill the holes. Set your sticks on a cardboard box. Then eyeball where you want the holes to be on each end. Line the drill up and go.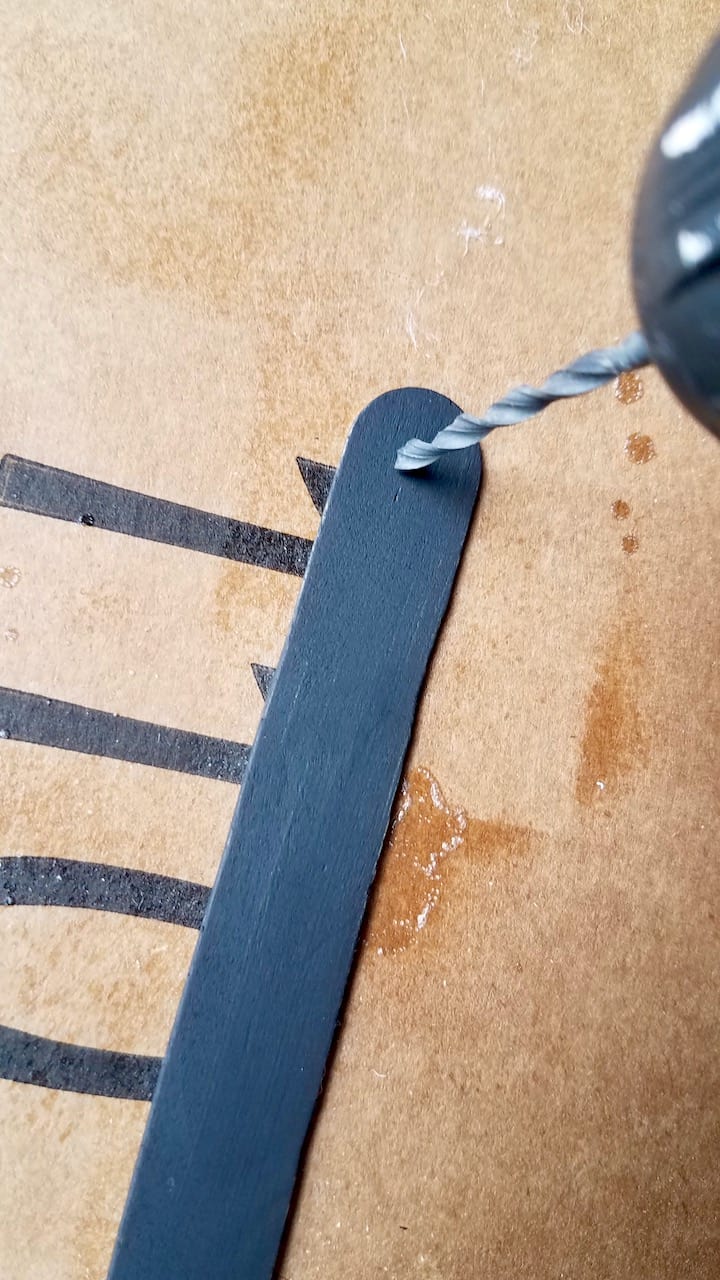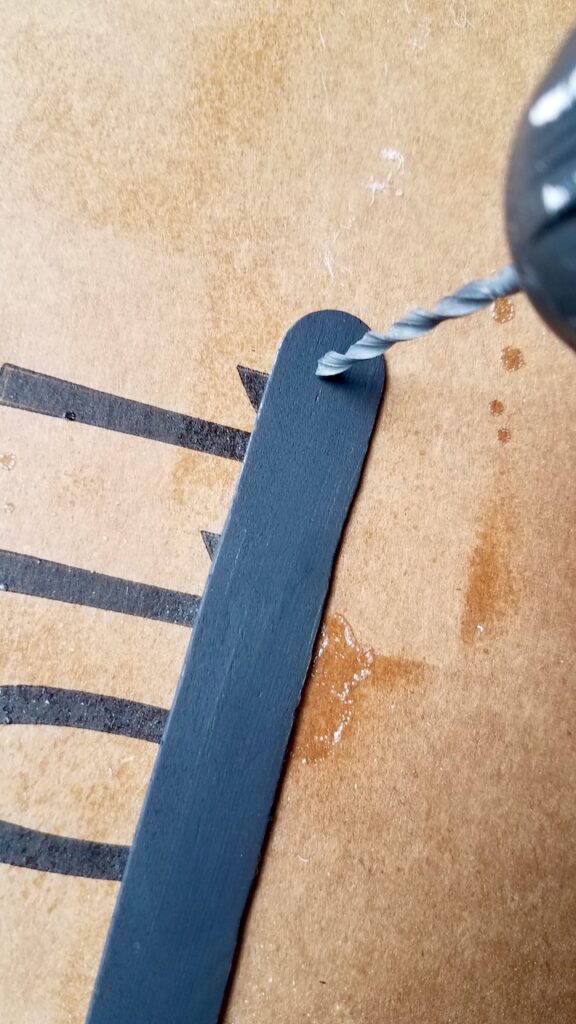 If you are using smaller popsicle sticks it can be tricky to drill the holes with out the sticks cracking. You can try two things to help prevent that.
Wrap the end of the popsicle stick in painters or masking tape before you drill. This will help hold the stick together as you drill and should prevent it from splitting.
Or, you can start with the smallest drill bit and then keep changing out for the next size up until you have a hole in the size you want.
Once all the holes are drilled, you can run a piece of sand paper gently over the holes to get rid of any sharp pieces. Rub gently so you don't get rid of too much paint.
You can drill the holes first, then sand, and then paint the sticks but then you'll get paint in the holes and that can be a bit harder to clear out. It's up to you if you want to try it that way.
---
What Makes These Gift Tags Reusable?
That's it. You're pretty much done. Now, you might be wondering what makes these reusable. Well, I like to use chalk markers on them to write out the names or a message. Once every things been unwrapped and the party's over, collect all the sticks and give them a quick wipe to erase everything. They're all set for the next use.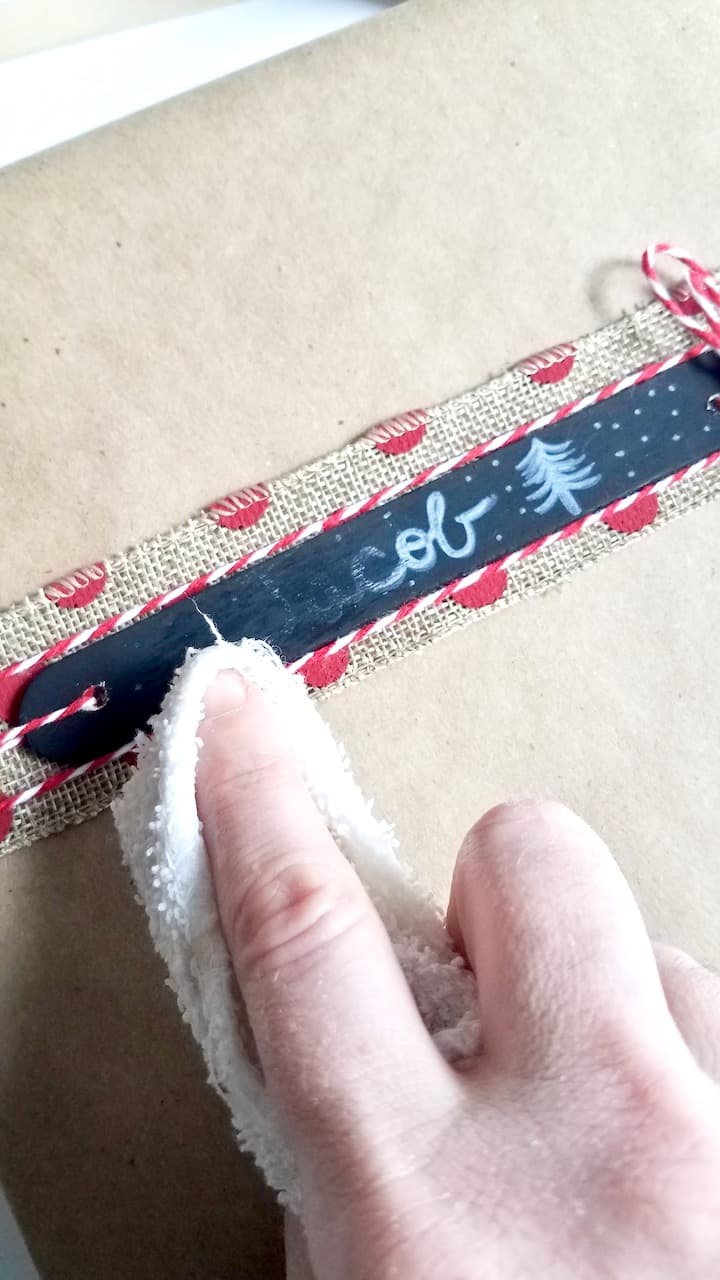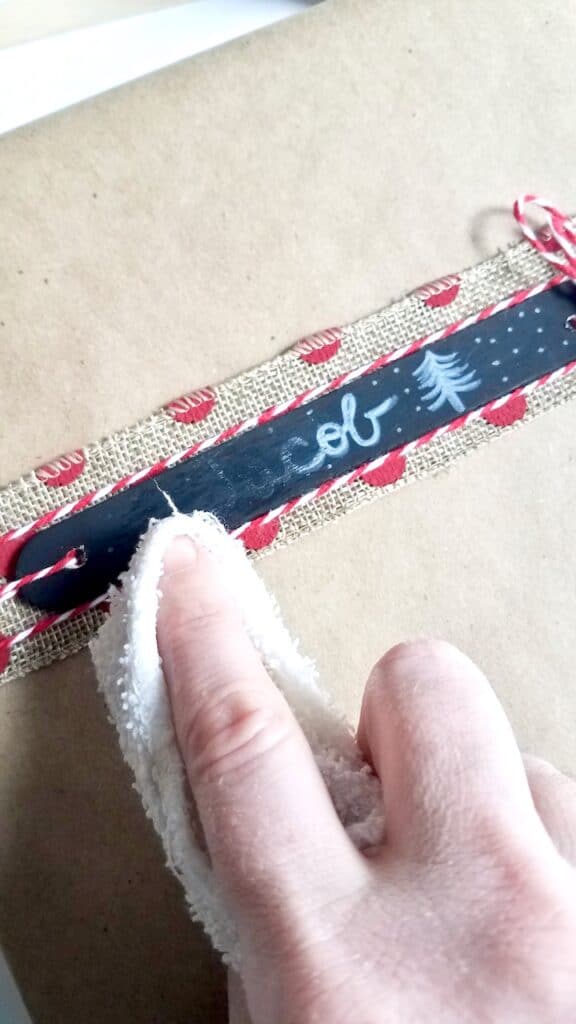 If you use them on gifts that are given away then you can always let friends know how to reuse them. We all keep gift bags to reuse anyway. Now, we can keep the tags too.
---
Gift Wrap Using Craft Stick Tags
Using these stick tags to wrap with is the extra fun part. There are tons of ideas you can find on Pinterest. Bakers twine is great to use when tying the wood tags on gifts because it's skinny enough to fit in the hole you drilled and they come in so many fun colors.
You can use more things to add embellishments, like ribbon, fresh cuttings from the yard, photos. It's fun to let your creativity flow when going the natural wrapping route.
You don't have to stick to popsicle sticks either. Any wood piece will work if they are big enough. The Dollar Tree always has small wood cut-outs for the holidays. I had some snowflakes left over from another craft and decided to use those too.
The snowflake already had one hole so I had to drill a second one but I think it makes a great gift tag.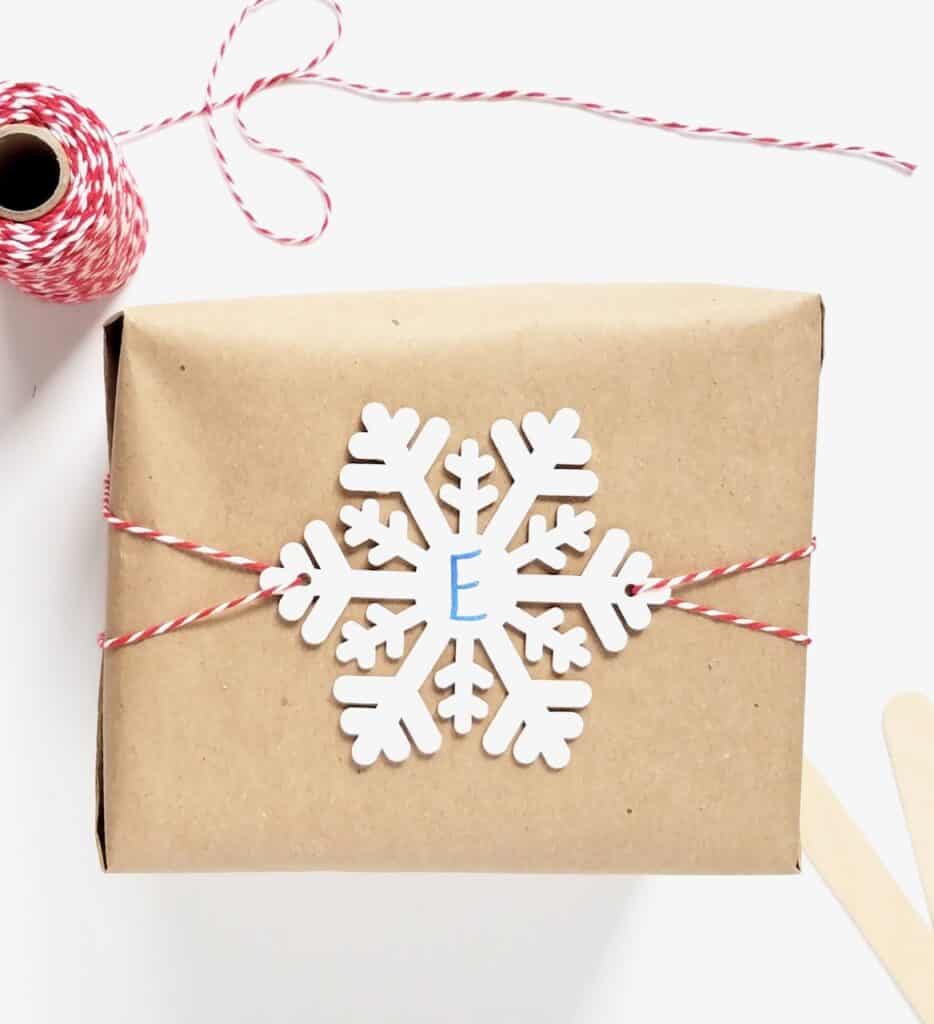 All three of us Shane sisters like to keep thing eco-friendly as much as we can and wrapping paper is one more swap that I think is pretty easy to make. Not all wrapping paper can be recycled but the natural brown and white paper can be.
Plus, you can customize the paper and how you wrap gifts any way you want which can be a lot of fun. These DIY Craft Stick Gift Tags are an easy way to add some flare to gift wrapping and it has a purpose which is always a plus!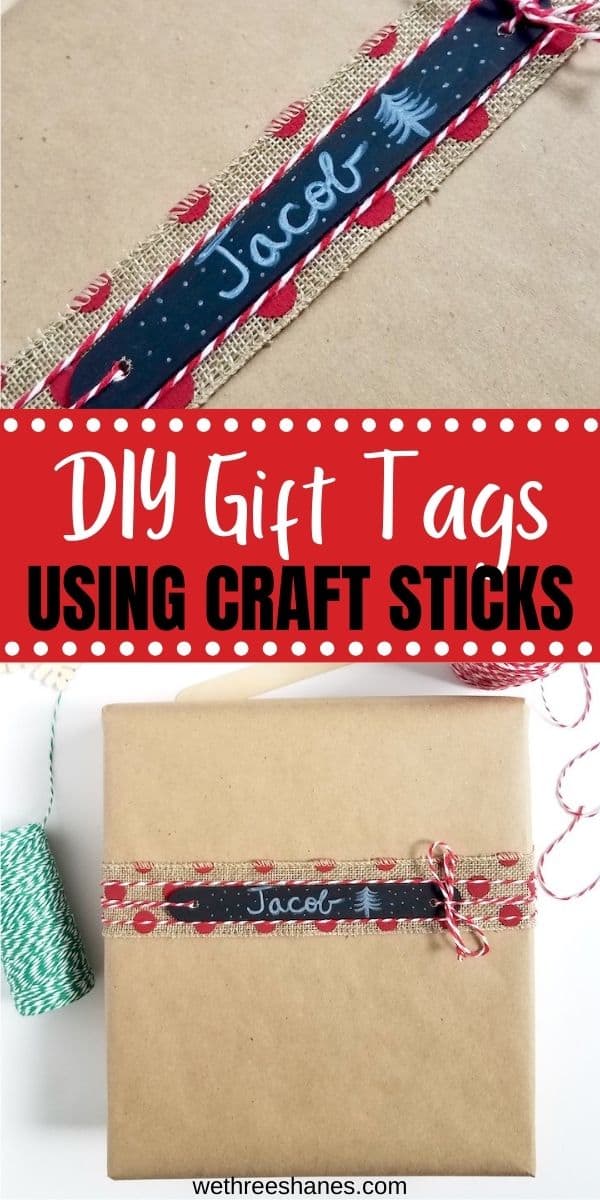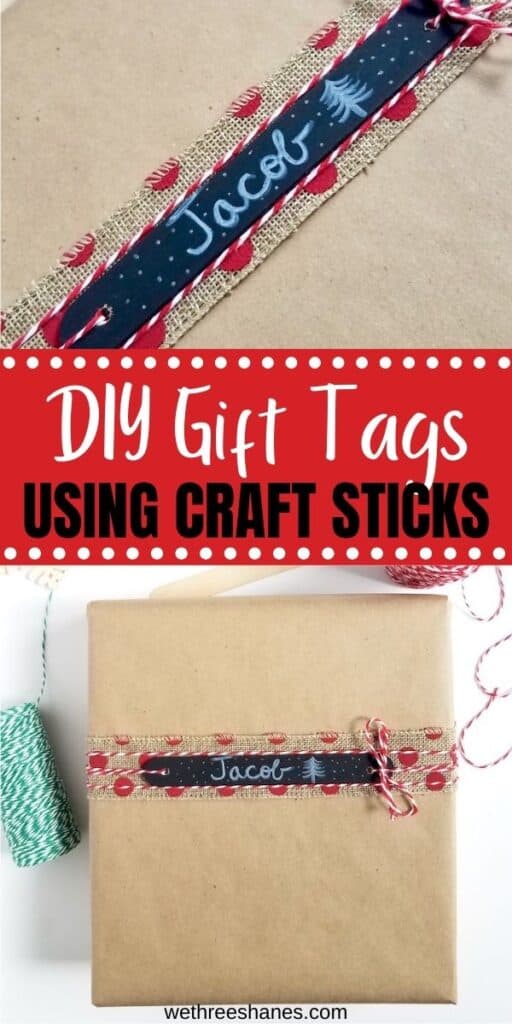 Have you tried neutral wrapping paper or do you stick with the original stuff?
---
You Might Also Like: