DIY Dollar Store Tin Christmas Candles
Learn how to make Christmas Tin Candles using supplies from the Dollar Tree. They make a great addition to holiday decor or give them away for a fun DIY gift.
(THIS POST PROBABLY CONTAINS AFFILIATE LINKS. OUR FULL DISCLOSURE POLICY IS LONG & BORING BUT, YOU CAN FIND IT HERE.)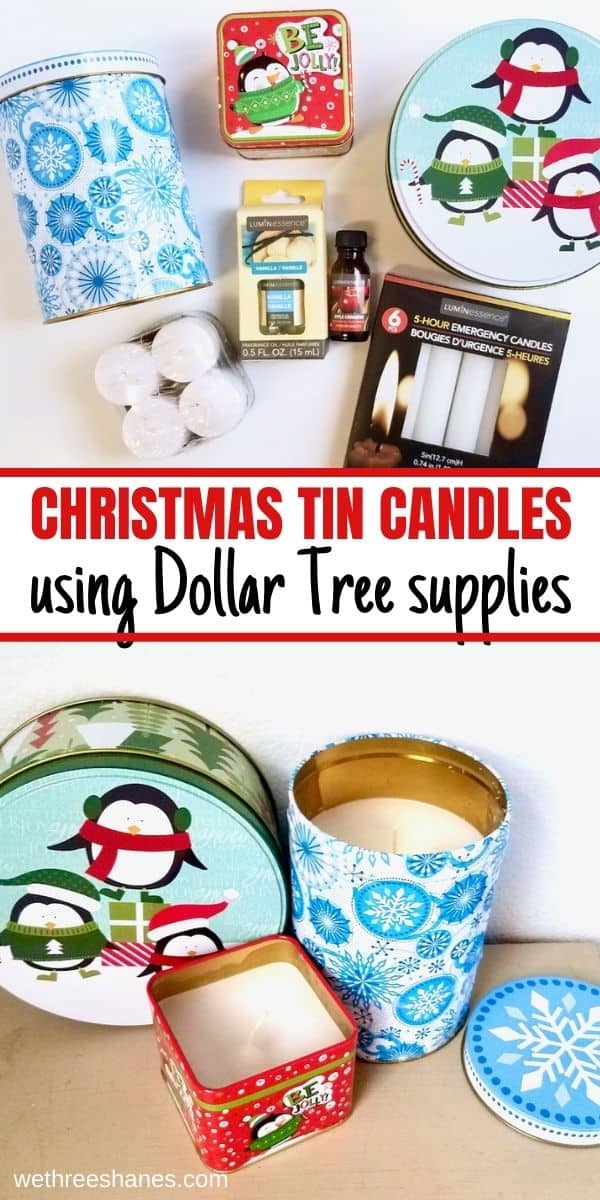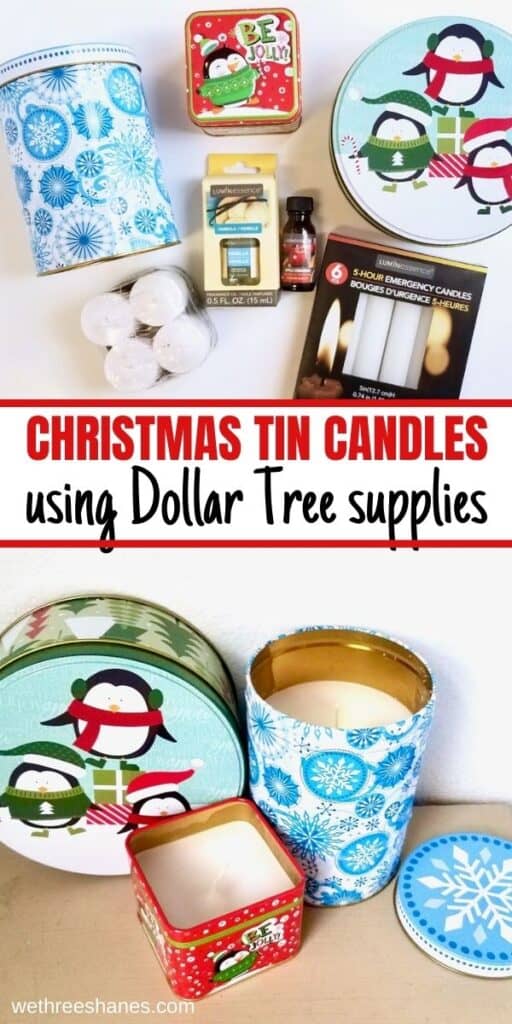 DIY Christmas Tin Candles
The Dollar Tree always has cute Christmas tins. They seem to get more and more options each year. Check out how many they have this year.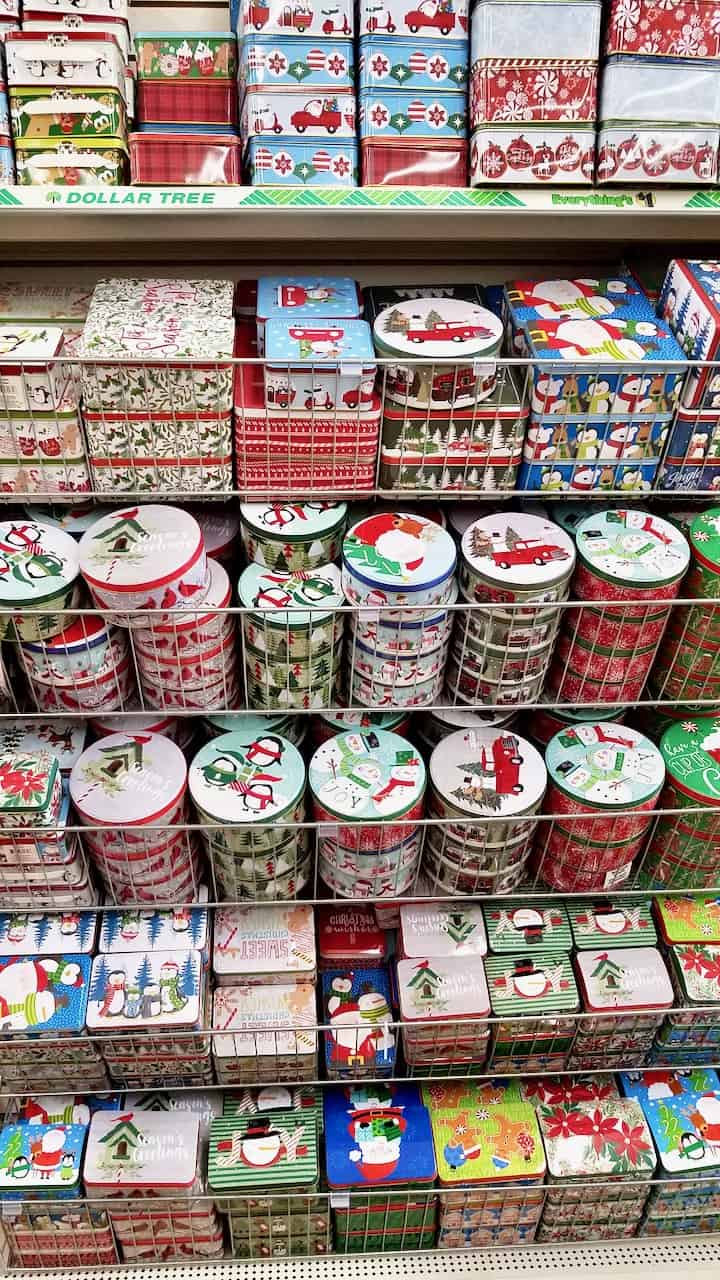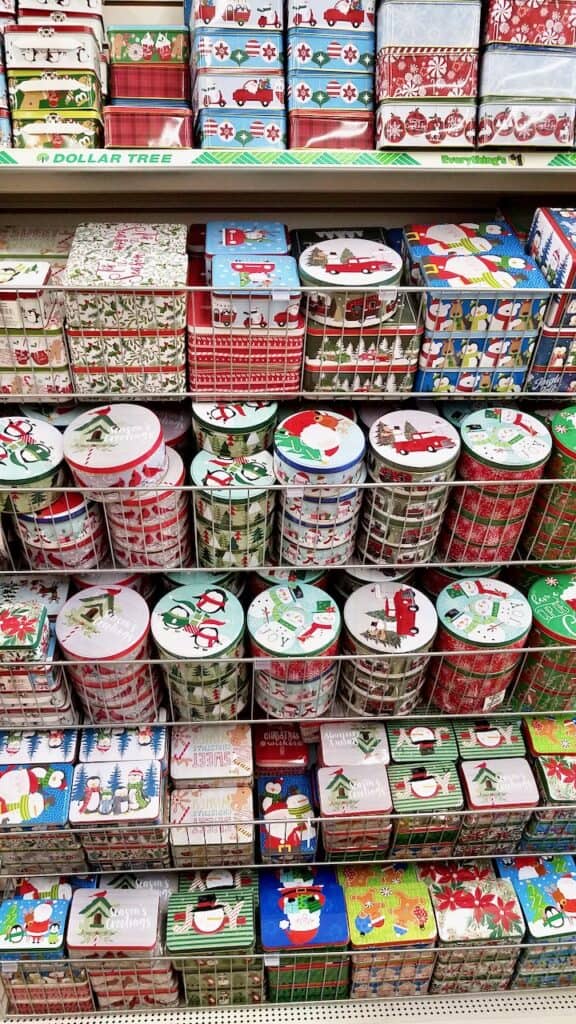 I'm sure people love to fill them with candy or baked goods and gift them to teachers, neighbors, friends, and family. However, I immediately thought they would make adorable candles you can give as gifts or use as holiday decor. I love the look of tin candles and always burn Christmas scented candles during the holidays.
While treats are always fun to receive as a gift, our family always eats too many of them so I really enjoy getting something different. Candles are always a welcome gift in our home so it's the perfect DIY gift in my opinion.
---
Supplies for Making Tin Candles
Today, I'm going to be showing you how to make candles using only Dollar Store supplies. Getting your supplies from the Dollar Tree cuts down on costs so this is a pretty budget friendly craft. Spending money during the holidays can get pretty crazy so we like to find fun ways to make cute stuff for less.
Here's what you'll need:
Candles
Fragrance oil
Christmas Tins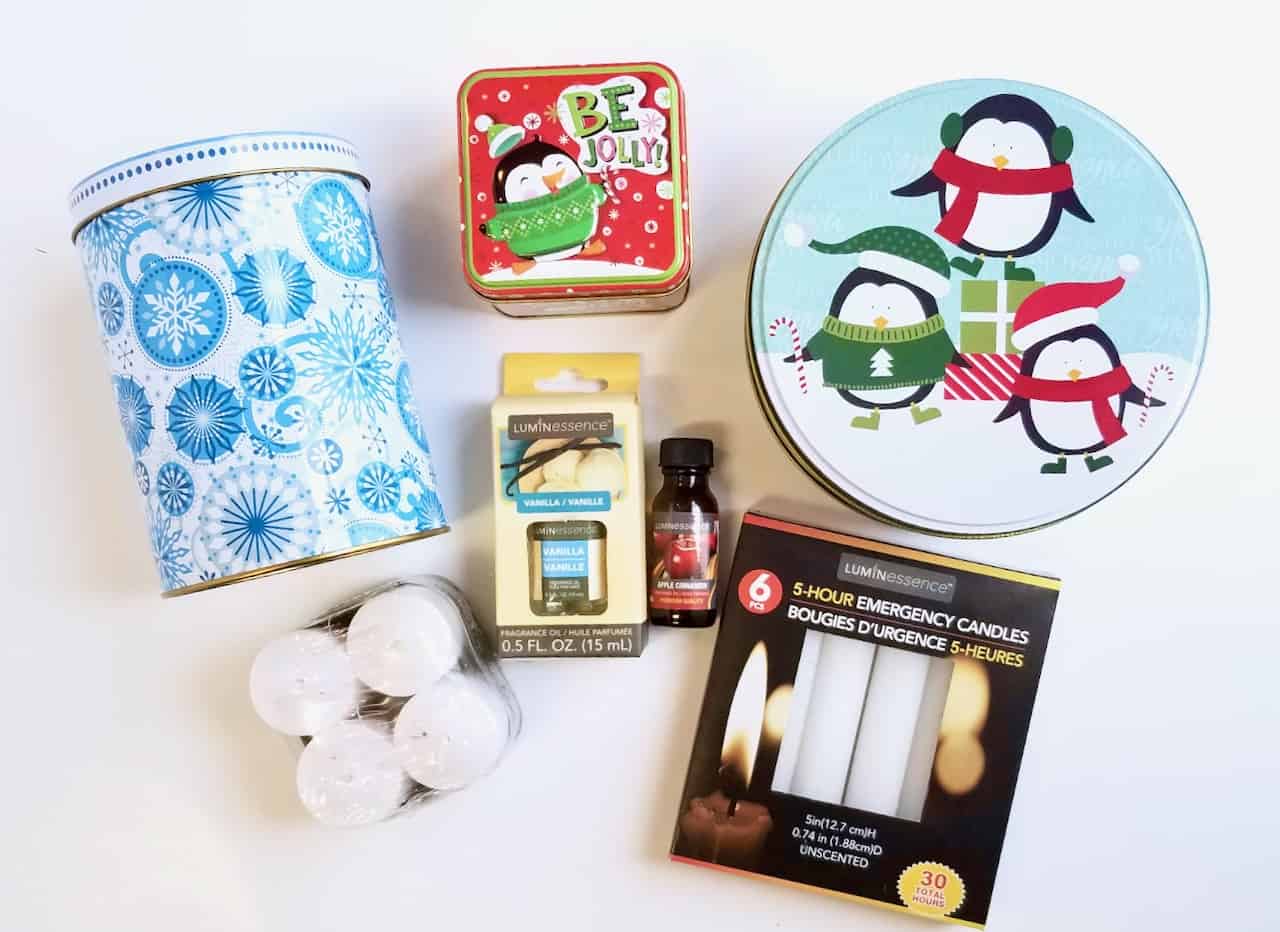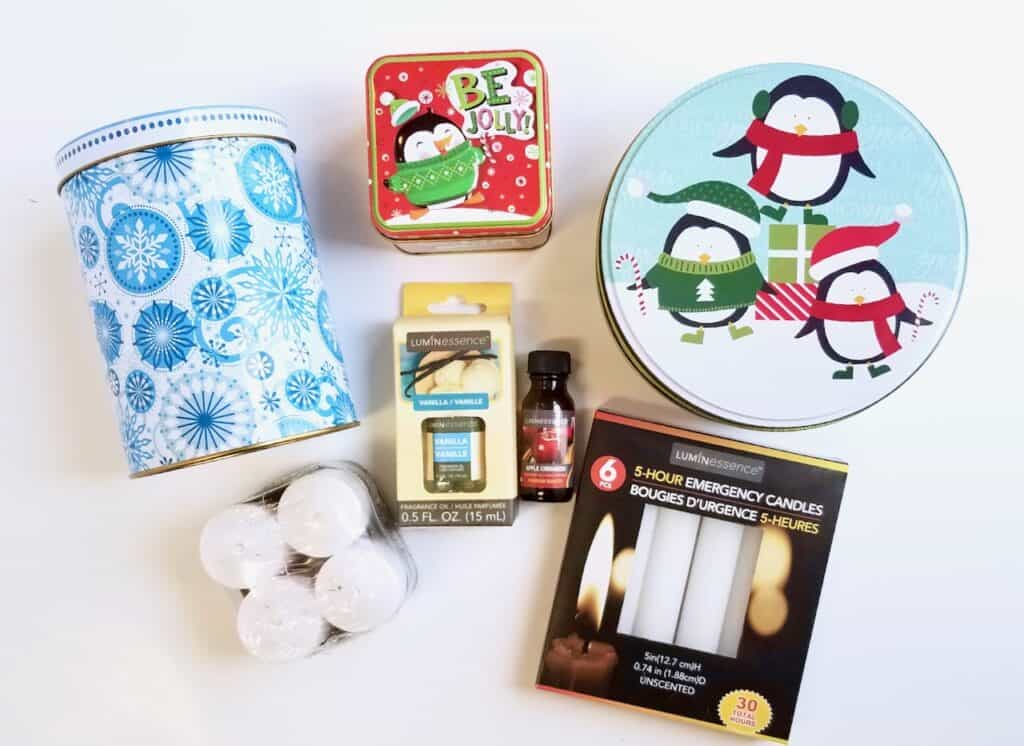 It's a pretty basic list but lets get into some of the details.
What Candles Work Best?
Personally, I like to use the small white votive candles and the emergency candles for this project. They are white and easy to work with.
You can use candles that come in glass if you want. To me it's more wasteful because once you melt and use the wax, you're left with the container and what are you going to do with it?
The amount of candles you buy depends on the amount of Christmas tin candles you plan on making. A pack of 4 votives makes one small candle. The emergency candles give you a little more wax but not much more.
To fill the tall Christmas tin I had to melt 3 packs of the emergency candles. That means the small tins only cost $3 to make if using a Dollar Tree fragrance oil and the larger tin cost $5. Not bad considering candles can get crazy expensive.
What Scents Work Best?
The Dollar Tree does have some fragrance oils you can use but they don't have a huge selection. This did not come as a surprise to me. Since these are Christmas candles, I decided to go with a vanilla scent and an apple cinnamon.
Not the most Christmasy of smells but better then no smell at all. I do have essential oils at home and decided to mix some of them in too. Peppermint can be strong on it's own so I used the vanilla fragrance and then mixed in a couple drops of peppermint too.
The apple cinnamon smelled great on it's own but you can add nutmeg, clove or frankincense for extra Christmas scents. Spruce or pine could be added for a more woodsy, Christmas tree smell.
Matching the tins to the smell would be a cute idea. There were some tins with gingerbread men on them. You could combine ginger, clove and cinnamon for that candle.
Christmas Tins
There are tons of Christmas tins to choose from at the Dollar Tree. The bigger the can the more wax you'll need. This makes the price of each candle rise.
If you plan on making a lot of these as gifts then I suggest you go with the small square tins they have. They make a really cute candle and will only cost 3 dollars to make.
The tall cylinder tin with blue snowflakes was my favorite. I couldn't pass it up. I think it has an elegant look to it and will look so pretty lit at night.
---
How to Make Candles Using Dollar Tree Supplies
This is a pretty easy process but you do have a couple of options when making these Christmas Tin candles.
Start with the candles. You will be saving and reusing the wicks from the candles so the candle height is important. For smaller tins the votive candles work best but they are too short for the taller tins. For those you need to use the emergency candles.
Remove the wicks from the all the votive candles. The wicks on the votives should pull right out from the bottom of each candle.
If they don't then you'll need to cut the votive slightly off center. Line a sharp knife up next to the wick and cut straight down. This will reveal the wick and you can pull it out and set it aside.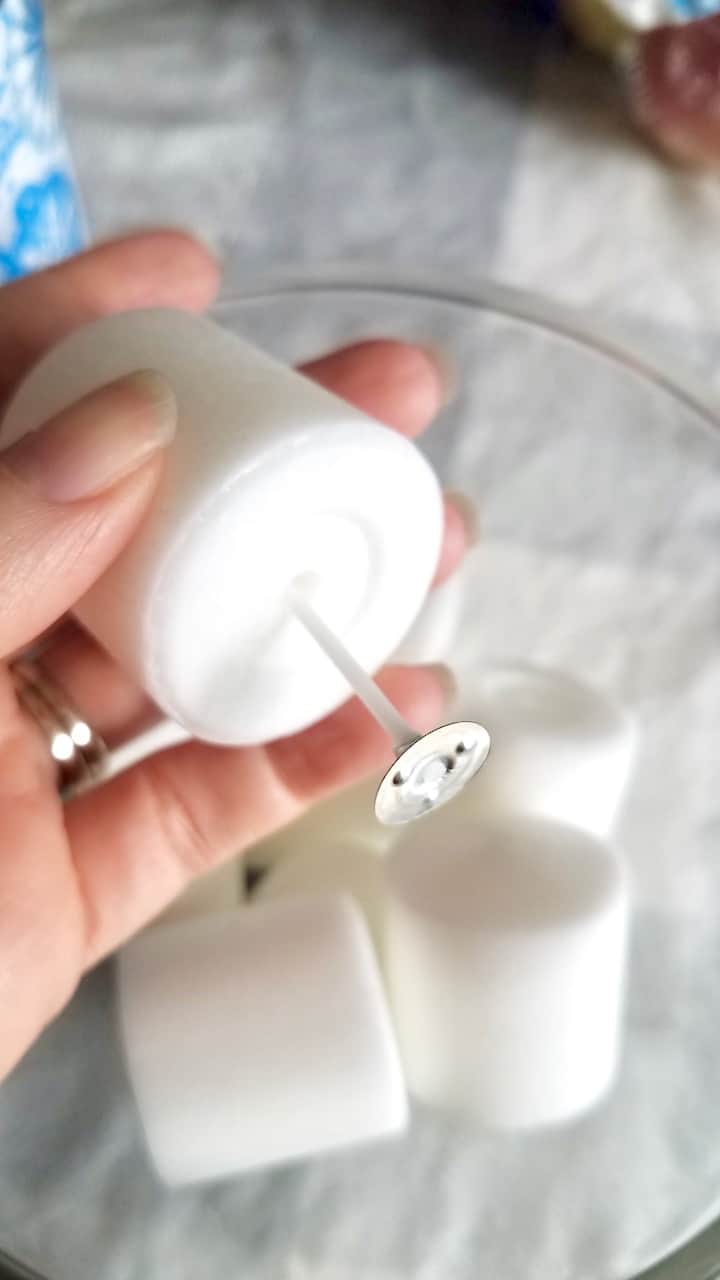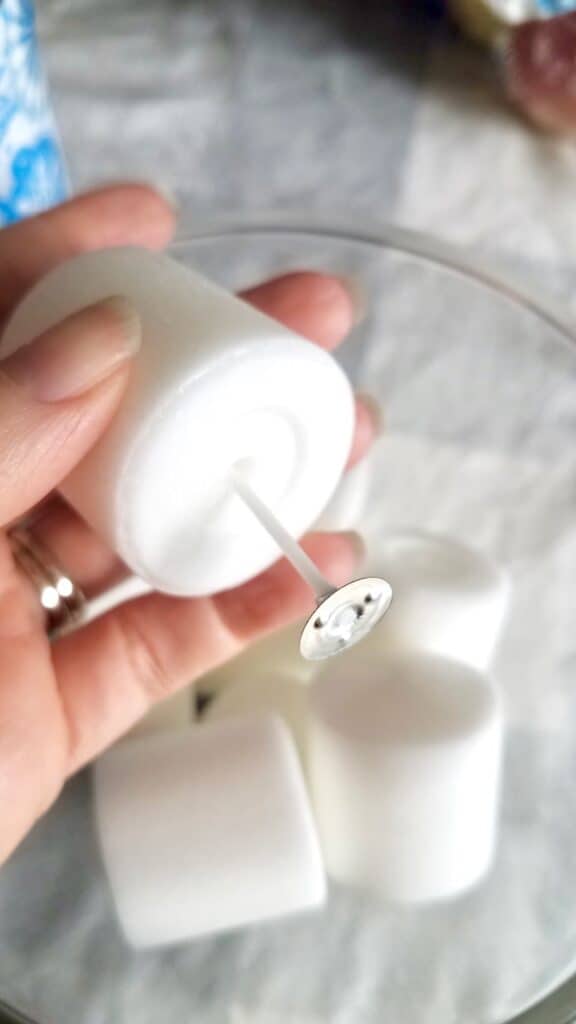 The emergency candles are not so easy to expose the wick but you only need to do this on one candle per tall tin. You have to carefully cut the candle away from the wick until half of the wick is exposed.
To do this, run your knife around a section of the candle until it reaches the wick. Then cut away pieces of the candle until the wick is exposed.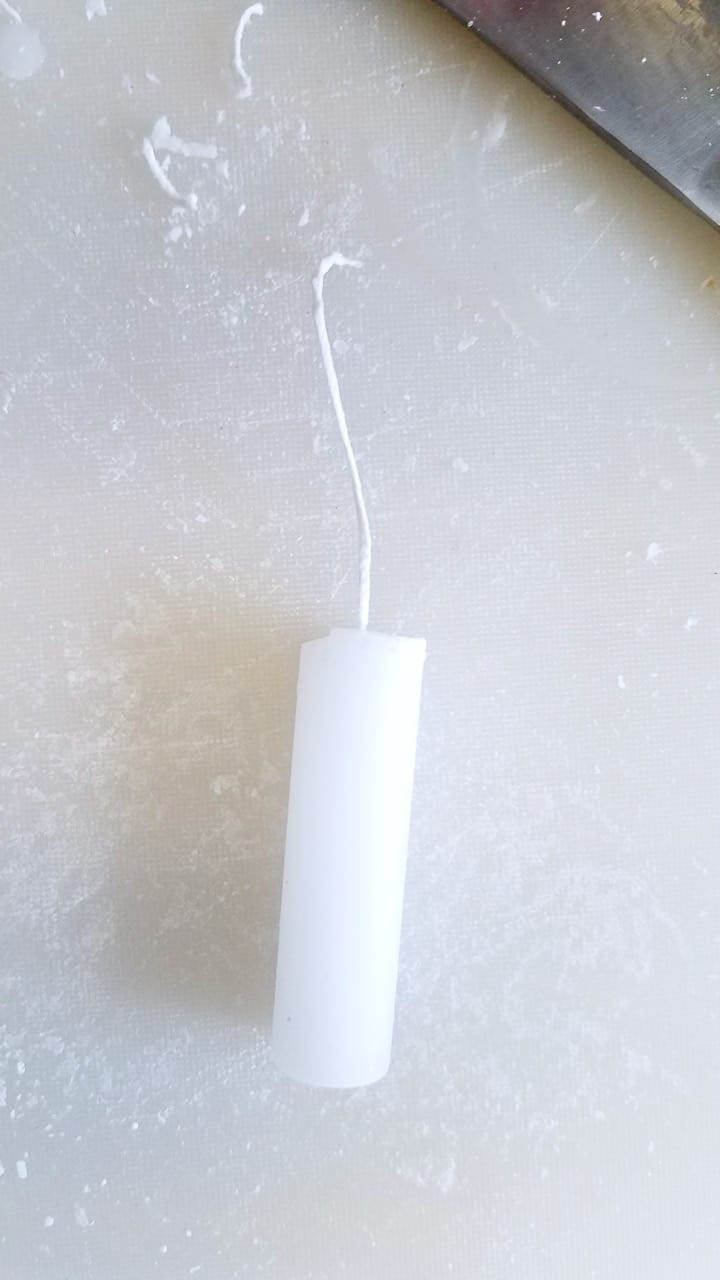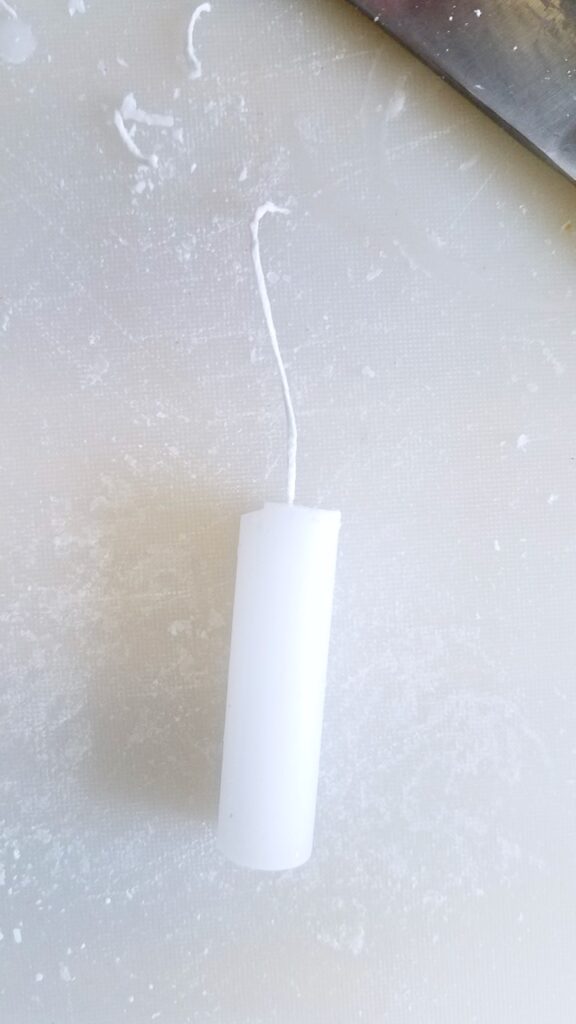 Keep the wax you've cut away because we're going to melt it down to make our new tin candle. We're keeping some of the candle because these don't have a base plate to hold the wick in place so the candle itself will be the base.
The rest of the wicks can be taken out once the wax has been melted. Just scoop them out with a fork.
Chop the candles or not. There are two ways you can do this. One, you can continue to chop up the candles into smaller pieces so the wax melts quicker. This can be tiring and takes a bit of time to do. I did this when making the small tin candle because I wasn't sure if the wax would melt in the bigger chunks.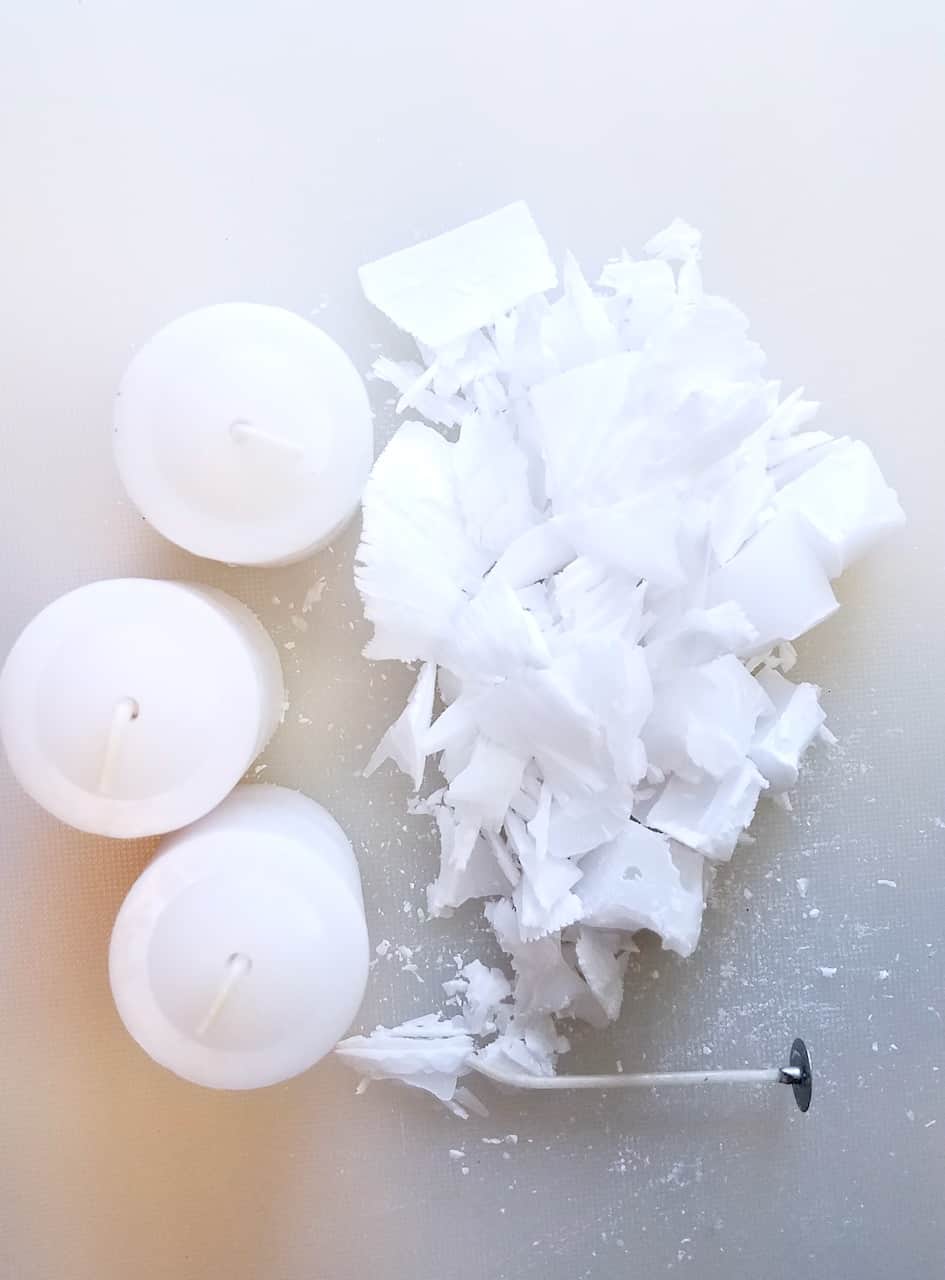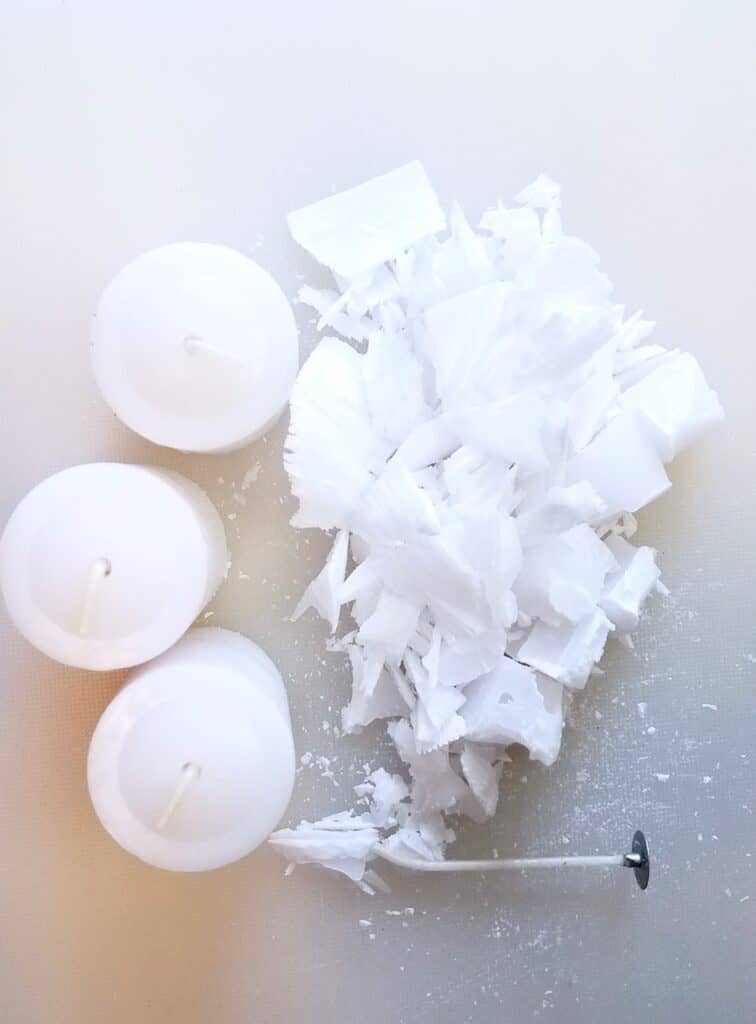 The second candle was going to need much more wax than the first one and the chopping process was going to take much longer. So, this time I didn't chop the candles and they still melted. They will take longer to melt but it's easier than chopping up the candles which took time and arm strength.
Melt the wax. Use a double broiler or two pans to melt the wax. I always do the double pan method. Grab a pan and fill the bottom with water. Take a slightly smaller pan and set it on top of the larger pan. Place the stack on the stove and bring the water to a low boil. Then put the candle pieces into the top pan.
Some how I missed getting a photo of this but here's one of me melting bees wax this same way.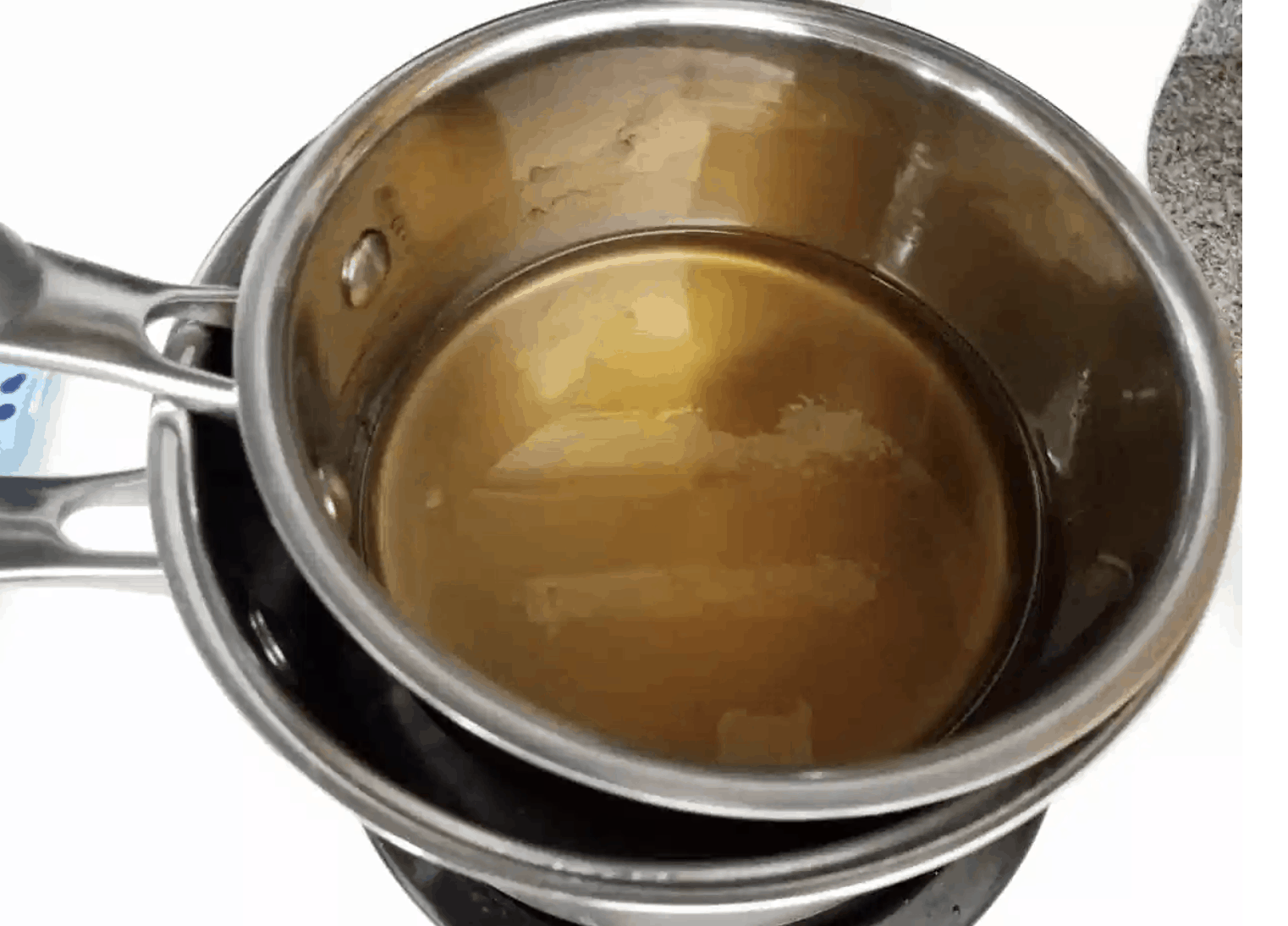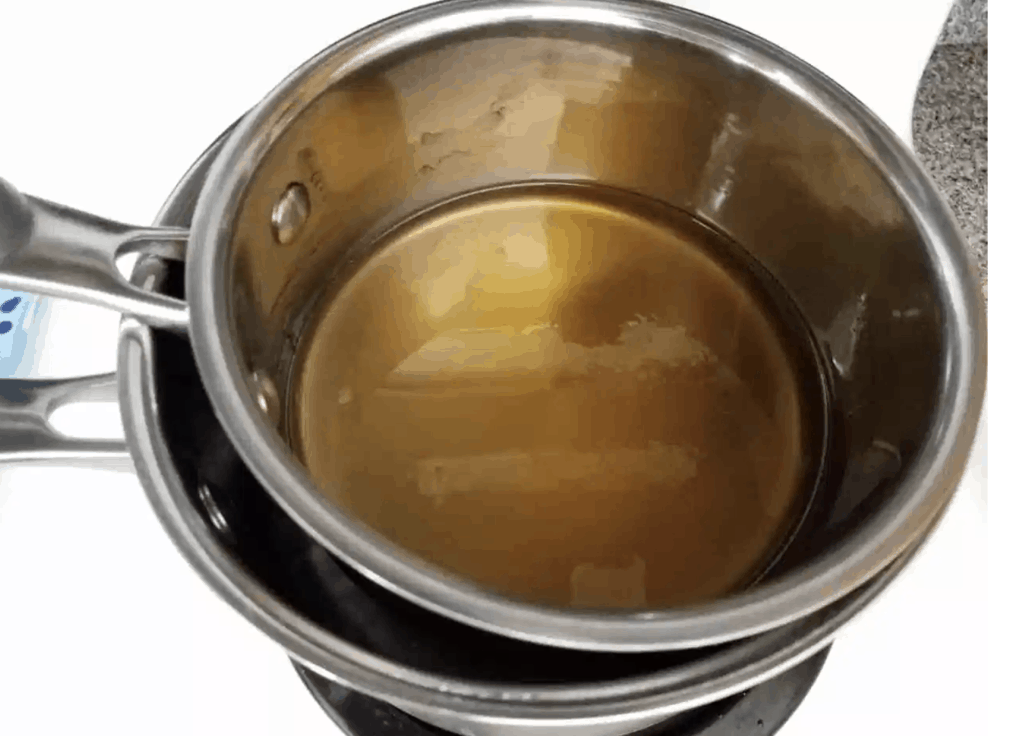 Make sure you keep an eye on the wax as it melts. Wax is flammable and while I've never had any catch fire, it's always best to stay close just in case.
Prep the tins. While your wax is melting you can prepare your tins. Take the wick and dip it in a bit of melted wax and then stick it to the center, bottom of the tin. You can do the same for the prepared emergency candle that's half cut. This will help the wick stay in place.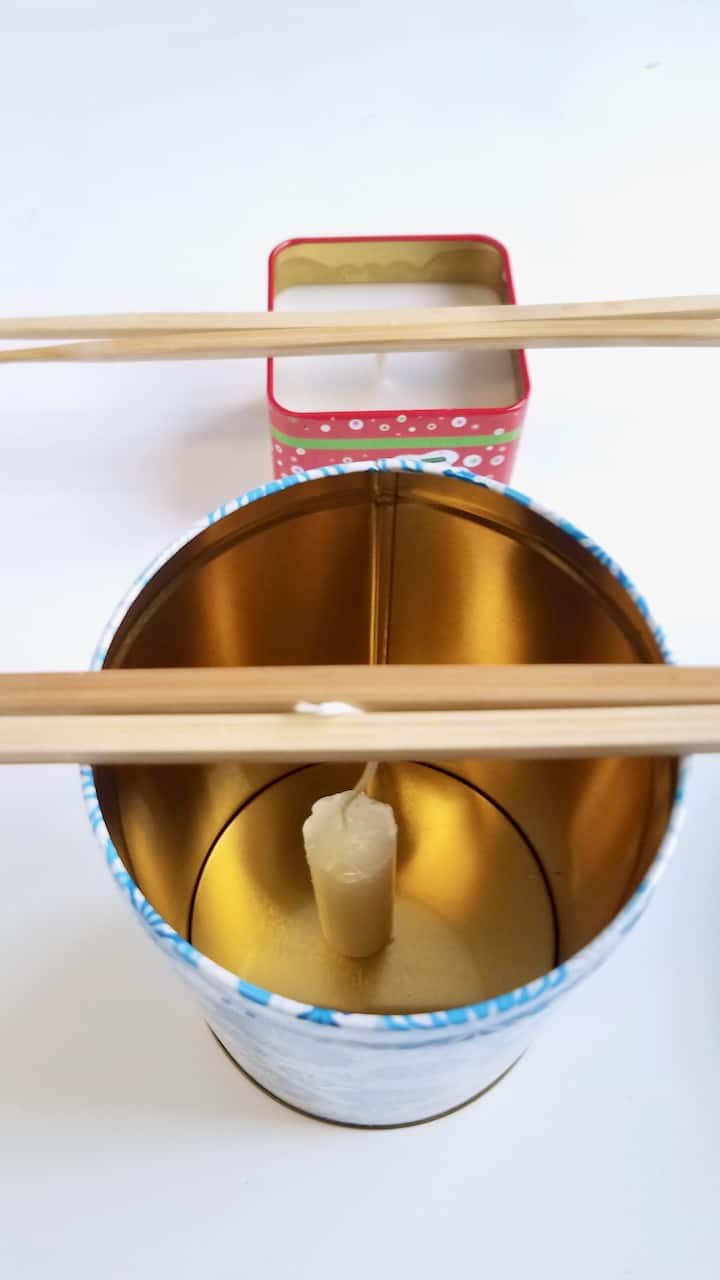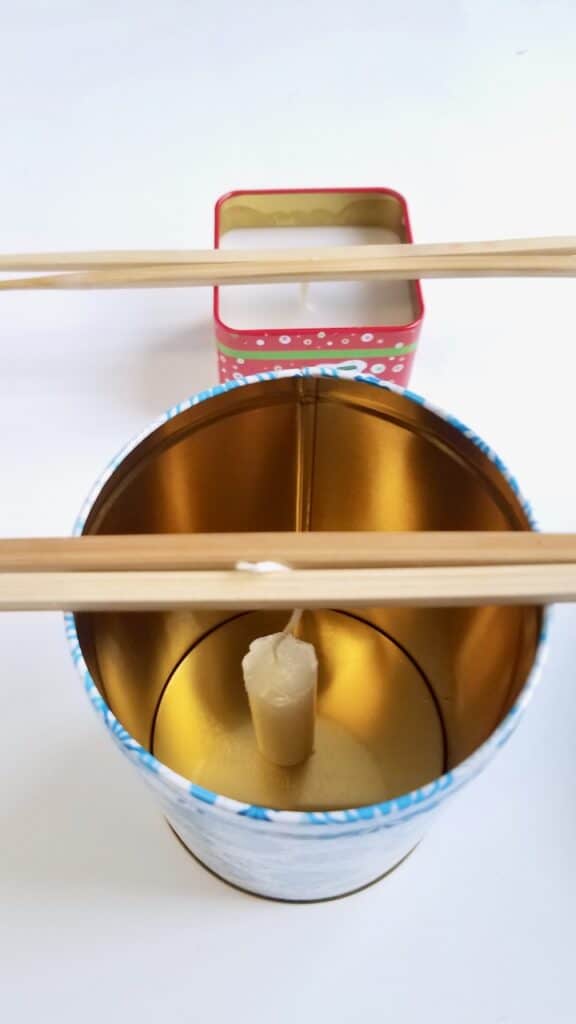 Normally, when making candles you will wrap or drape the top of a long wick on a chop stick or something similar to hold the wick in place when pouring the wax in. Since we're reusing wicks, they won't be long enough to wrap. You'll need to keep the wick in place by pinching it between two chopsticks.
Add the fragrance. Once, the wax is completely melted you'll add the fragrance. Pour a little in at a time and stir. Give it a smell. If it's too subtle then add a bit more. The smell will be stronger than you think once the candles have set.
If you are making candles with more than one scent then you'll need to make separate batches. Otherwise, you can melt all of your wax at the same time and then add the yummy smells.
If you put too much fragrance oil in then your candles might sweat. The normal ratio is 0.5 ounces of fragrance to one pound of wax. The fragrance oil from the Dollar Tree is 0.5 ounces and you need roughly 3 packages of candles to make one pound so you shouldn't have a problem with sweating but I did want to mention it.
Pour the wax. Pour the wax into the Christmas tins and wait for them to set. These will set pretty fast but exact time will depend on the size of each candle tin and how warm it is in your house. It's best to let them sit for 24 hours.
Trim the wick if you need to and you're all set!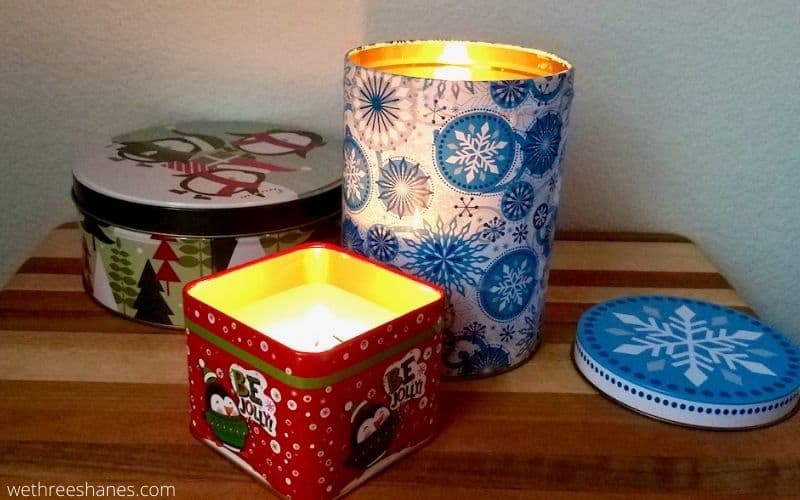 ---
Tin Christmas Candles
These candles turned out so well. I love how cute the small tin is and love how elegant the taller, snowflake candle looks. These Christmas tin candles are versatile which I always love because you can customize them to anyone's preference.
If you know your friend decorates with traditional Christmas colors of red and green then pick a fun Christmas tin that will match that style. However, if they have more of a winter theme, then a blue tin candle might work better. There are so many Christmas tin choices that you're sure to find the ones that fit your need.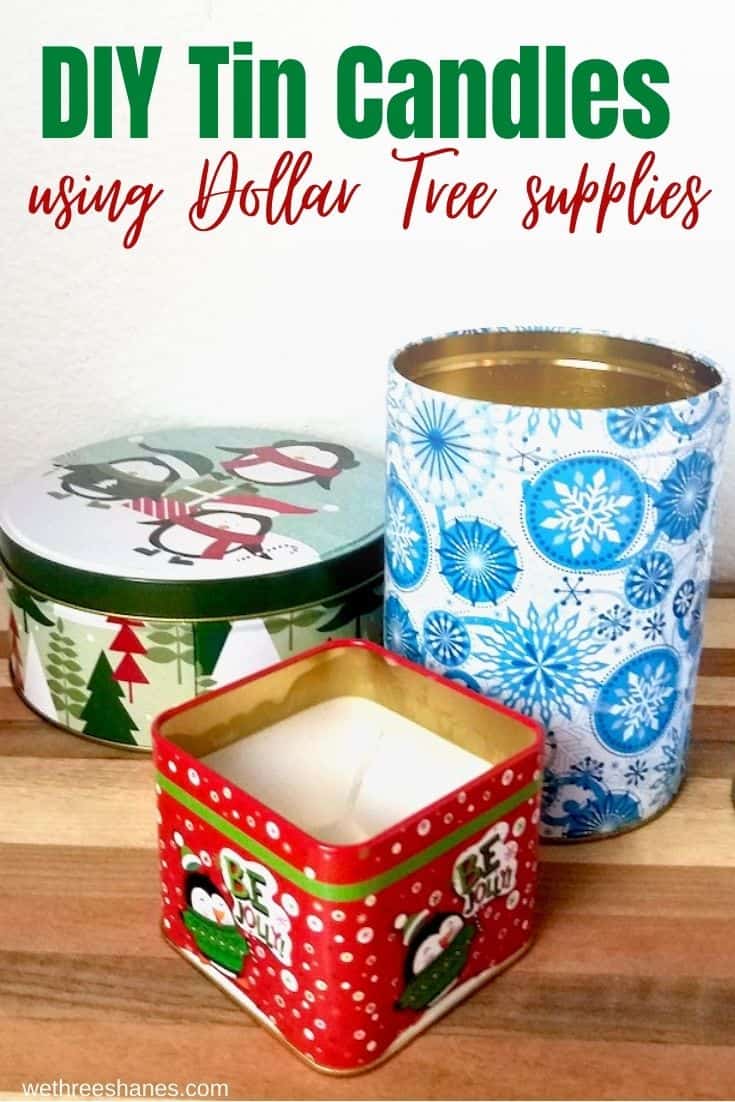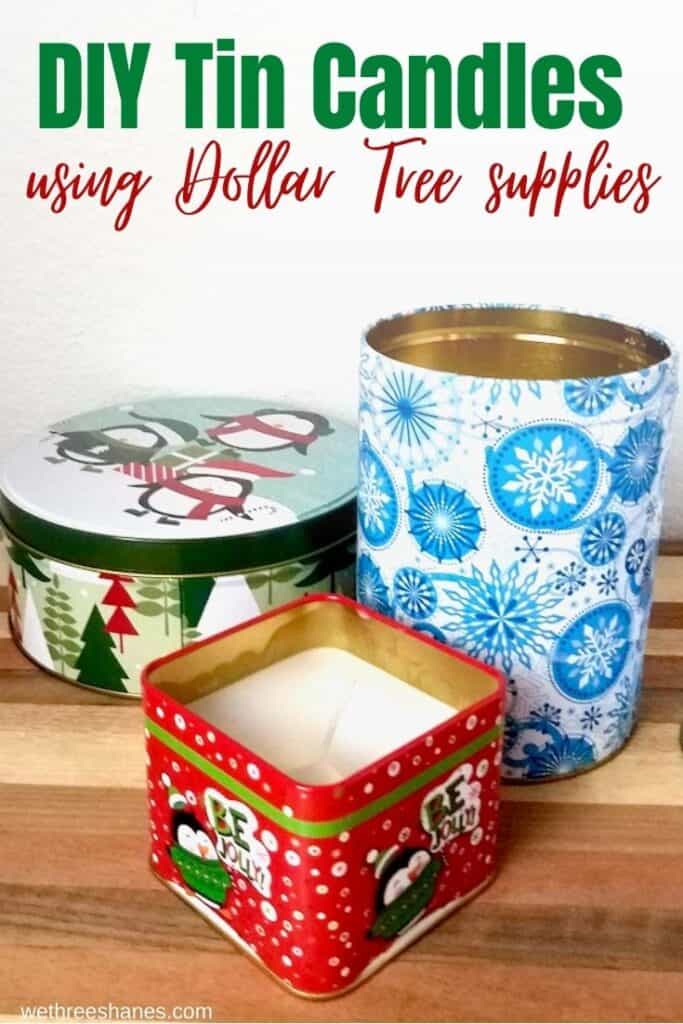 I love the cozy feel that lighted candles bring to my home. With the dark nights coming on so early in the winter, it's great to fill the home with a lovely candle glow. Add in delicious smells and I'm all set. These Christmas Tin candles are so much fun and add more textures to our decorated home.
Do you fill your home with more candles during the holiday or is it just me? What are your favorite Christmas candle scents? Let us know in the comments section!
---
You Might Also Like: