DIY Room Spray with Essential Oils
Learn how to make room spray three different ways using Vodka, which hazel or baking soda.

Enjoy a wonderful smelling house year round with 6 room spray recipes.
(THIS POST PROBABLY CONTAINS AFFILIATE LINKS. OUR FULL DISCLOSURE POLICY IS LONG & BORING BUT, YOU CAN FIND IT HERE.)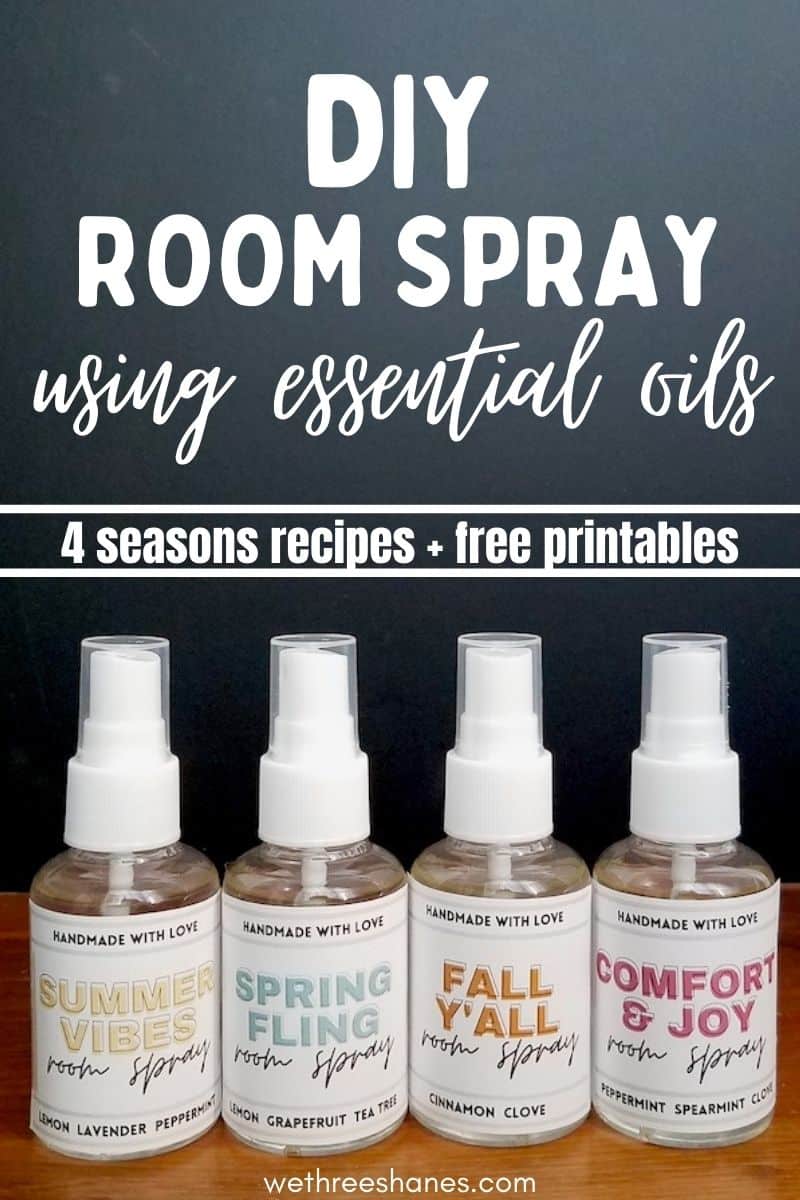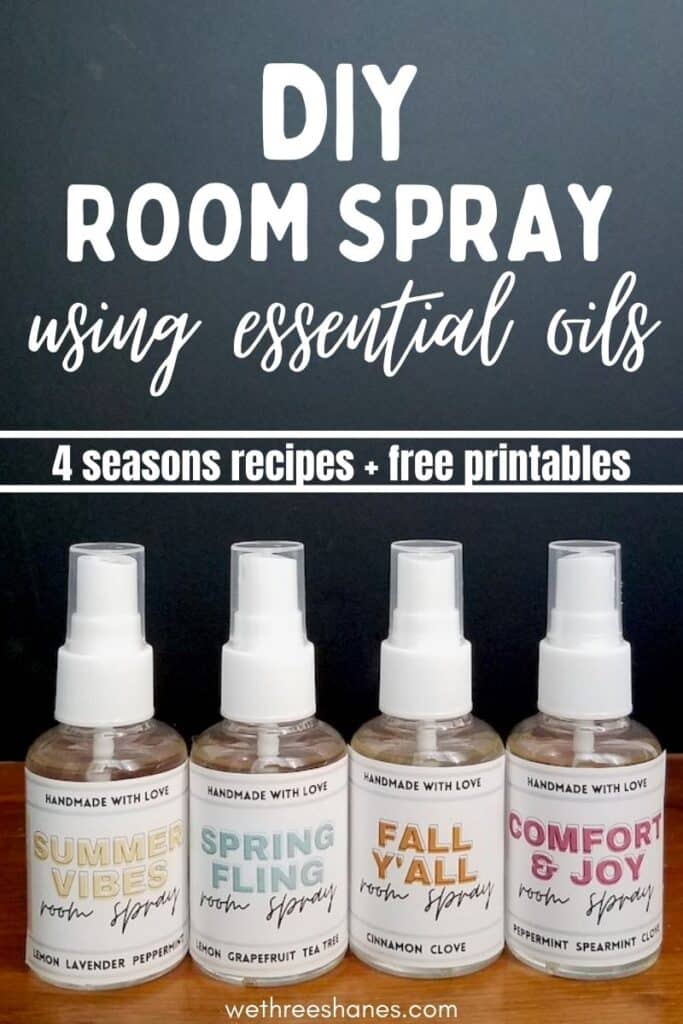 DIY Room Spray with Three Different Recipe Options
Room spray is SO easy to make and the variations are unending when it comes to scents. Don't worry though. I'll give you a few recipe ideas to choose from but do not be afraid to make your own.
These make great gifts! Especially for teachers. I remember when my son was in 5th grade his poor teacher sent an email home at least once a week reminding parents that the kids were starting puberty and might need to start wearing deodorant or shower more. She wasn't allowed to have plug ins or candles so I made her some room spray.
It also helps at bed time for people who have trouble turning their brains off to sleep. Use soothing scents like lavender and spray directly on your pillow. I work at a preschool and we spray their nap mats while the kids are getting ready to take naps. I also did this with my own kids when they were younger because they both have trouble winding down at bed time.
---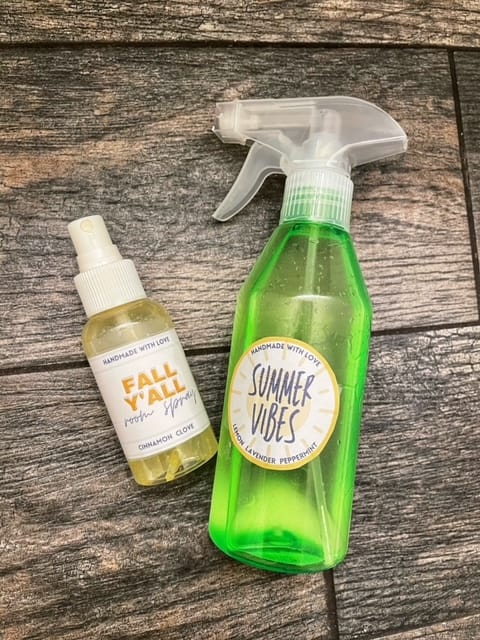 DIY Room Spray Main Ingredient Choices
Now, let's talk really quick about ingredients. Room spray is essentially just a liquid and a fragrance. But depending on what you put in your liquid can help the spray last longer both in the squirt bottle and help the scent last longer in the air or on material. You have a few options.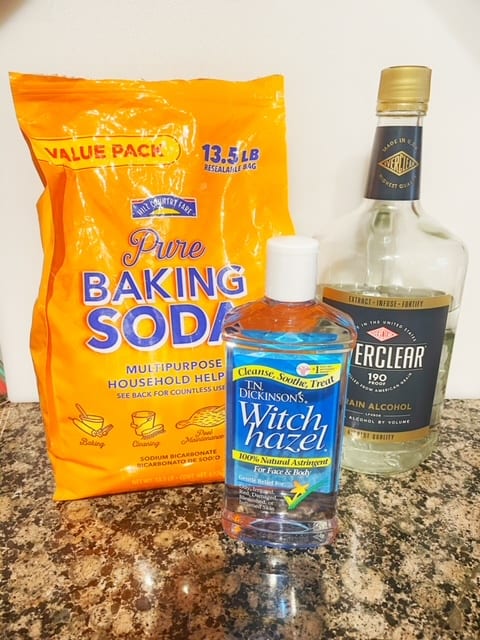 Vodka (has to be at least 40 percent but the higher the better.) Or really you can use any high grain alcohol.
Witch Hazel
Baking Soda
You want one of those three ingredients because the essential oils stick to the molecules and therefore the scent last longer in the air. You can totally make a room spray with just water and essential oils. But it just won't be as effective. If you are going to make room spray, you may as well make it correctly and have it work better and last longer.
I choose Everclear for my room spray because I already had it on hand. I also have witch hazel but I use it in TONS of my home made products so I figured I'd mix things up a bit. I also choose to add a little baking soda for good measure, but both are not necessary.
---
How to Make Room Spray
It's so easy to make room spray using essential oils. Once you get the basic recipe down then you can change up the essential oils to make all kinds of amazing smell combinations. The size of the bottle will change the amount of ingredients that go in.
Because of that, these recipes aren't exact measurements but instead how much to fill your size bottle with. This makes it easy to make room spray bottles any size you want.
Fill half of your spray bottle with distilled water. If you do not have distilled water on hand, boil regular water and then let it sit until cool.
Now, fill the bottle up almost to the top with the alcohol or witch hazel. If using baking soda only, fill 3/4 of the way with distilled water and then add 1/2 teaspoon for baking soda and then shake or stir it to help it dissolve.
Next, add essential oils
Put on lid, shake, spray, smell and smile.
Add a lovely printable for an extra complete look. This step is optional of course but is great for keeping track of the scent and looks good when giving these as gifts.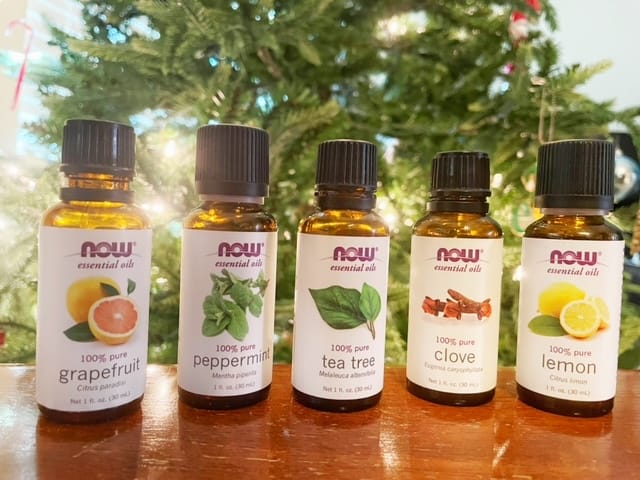 Wasn't that easy?! I have two different sizes of spray bottles I used for this. I have small ones and then medium size ones. I got them at the Dollar store. The little one comes in a pack of three. I use these A LOT. They come in handy for when I need a last minute gift or if I just need to make something and wasn't planning ahead.
---
DIY Room Spray Recipes
In case you do not want to have to come up with your own blends I have some for you. One for each season, a night time spray, and an everyday spray.
Kim was kind enough to make y'all some free labels to print. They are adorable so don't forget to print them out and stick them on your spray bottle.
You can print on normal printer paper and use some packing tape or glue to attach it to the spray bottles. But, the best way to put the labels on your bottles is to buy some sticker label papers to print on and then cut out. This will give you a professional look.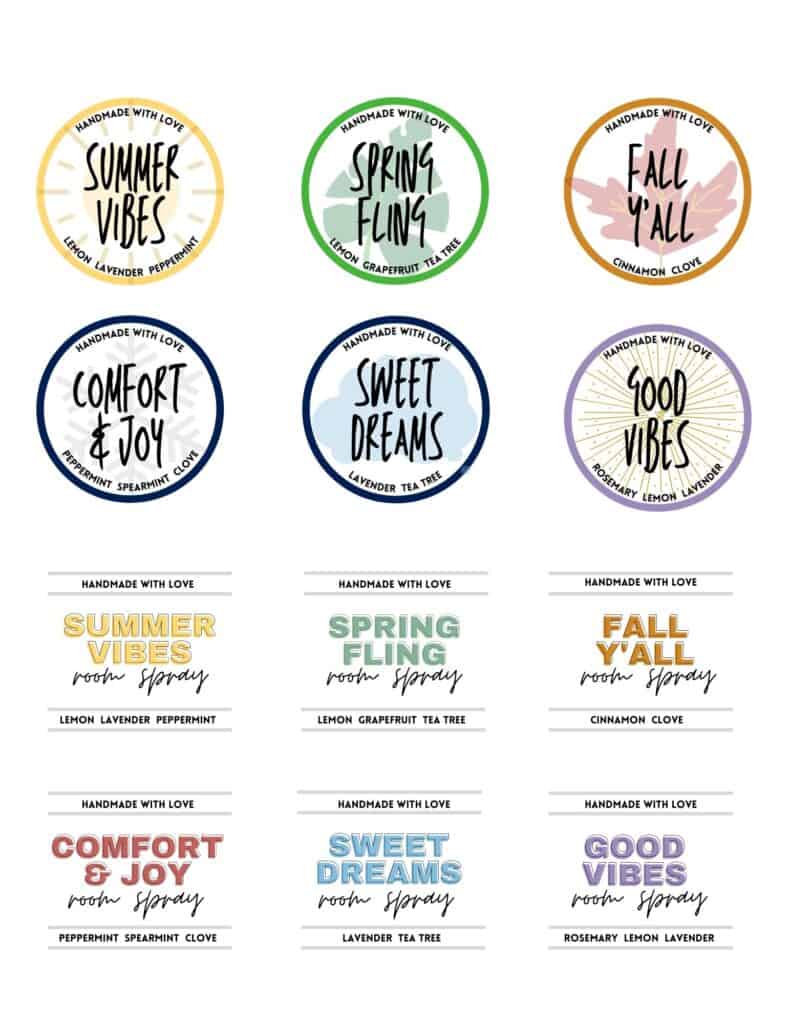 Fall Y'all
15 Drops Cinnamon essential oil
15 drops of Clove essential oil
Comfort and Joy
Peppermint essential oil
Spearmint essential oil
Clove essential oil
10 drops of each essential oil for a large bottle, 5 drops for a small bottle.
Spring Fling
Tea Tree essential oil
Grapefruit essential oil
Lemon essential oil
10 drops of each essential oil for a large bottle, 5 drops for a small bottle.
Summer Vibes
Lemon essential oil
Lavender essential oil
Peppermint essential oil
10 drops of each essential oil for a large bottle, 5 drops for a small bottle.
Sweet Dreams
Lavender essential oil – 20 drops for large bottle, 10 for small bottle
Tea Tree essential oil – 10 drops for large bottle, 5 drops for small bottle
Good Vibes
Rosemary essential oil
Lemon essential oil
Lavender essential oil
10 drops of each essential oil for a large bottle, 5 drops for a small bottle.
The size of your bottle can determine how many drops of essential oils you use for these room spray recipes so pay attention to that. A small bottle and a medium sized bottle will need different amounts to have a good scent.
---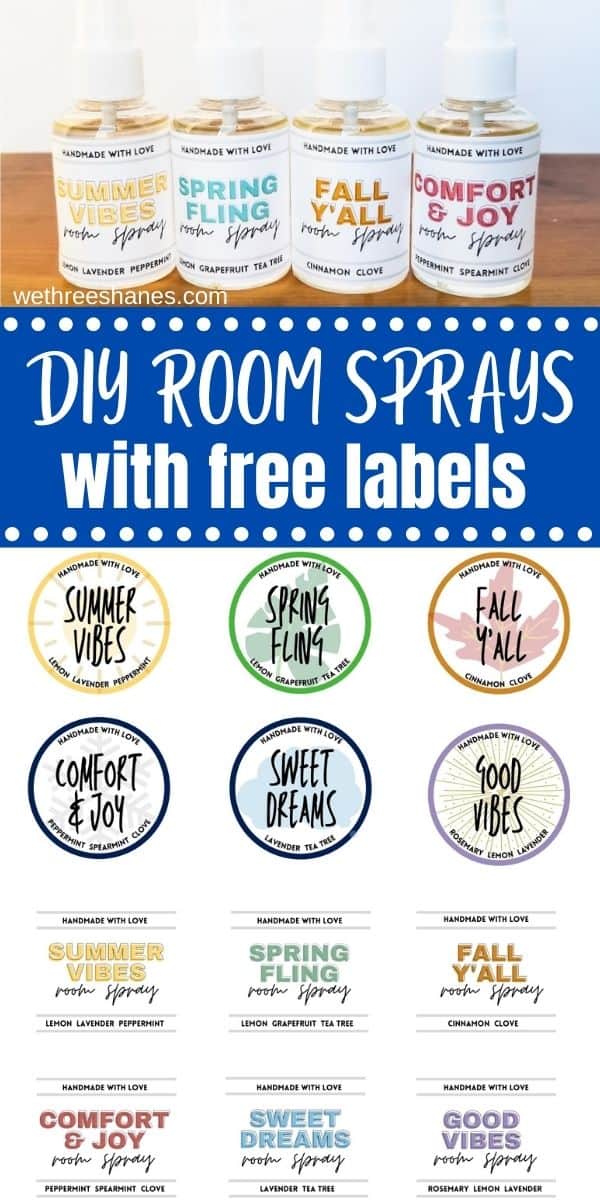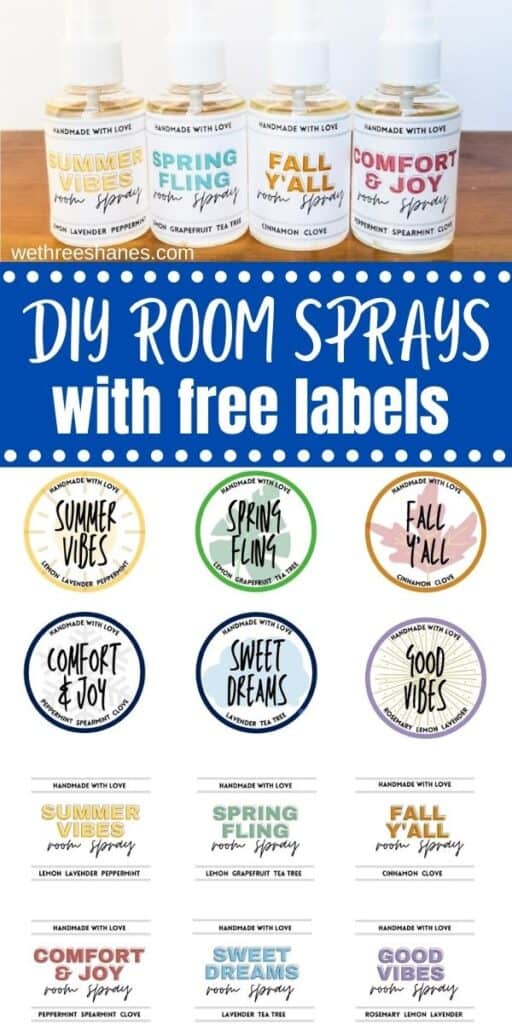 Homemade Room Sprays
Once you know the basics of making your own room sprays with essential oils, you'll be able to mix and match to make your own favorite scents. DIY room sprays are a non-toxic, natural way to freshen the air in your house that is safe for the whole family.
They make a great gift for friends this holiday season. It's fun to receive a set of room sprays that will work for the whole year instead of one spray that you can only use during the Christmas season.
My favorite is the Summer vibes. So even though it seems like fall here in Texas, I'm all about that one. Which DIY room spray is your favorite? Let us know in the comments.
---
You Might Also Like: