Easy Last Minute Thrift Store Costume Ideas for Halloween
A killer list of the best last minute thrift store costume ideas for you to DIY this Halloween. Look great and save money at the same time.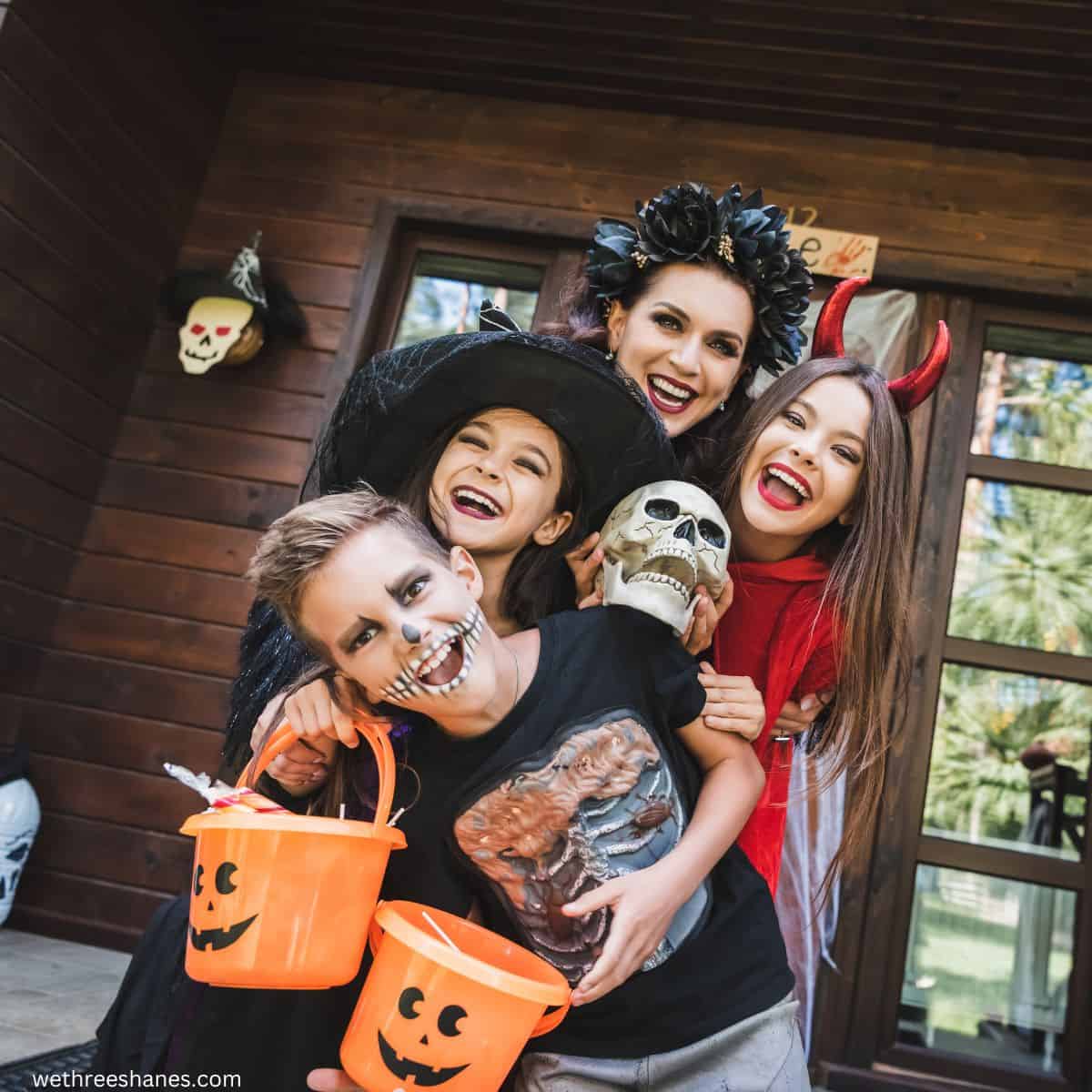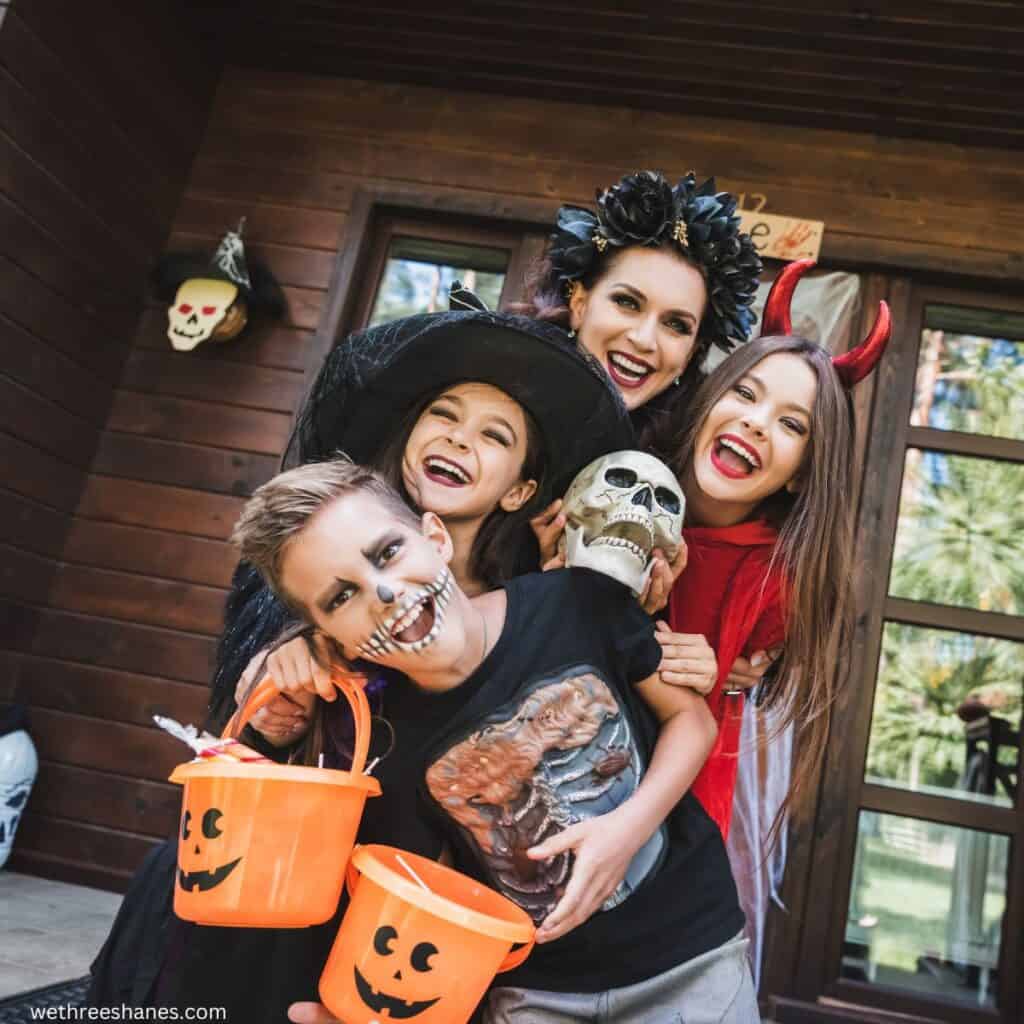 (THIS POST PROBABLY CONTAINS AFFILIATE LINKS. OUR FULL DISCLOSURE POLICY IS LONG & BORING BUT, YOU CAN FIND IT HERE.)
Thrift Store Halloween Costumes
Guess what time of the year is creeping around the corner? You got it – it's Halloween time! And you know what that means: time to conjure up some seriously awesome costumes that will make your friends scream with delight.
Now, I know what you might be thinking: "But wait, my crypt of creativity is locked and I'm on a budget!" Well, fear not, because I've got a trick (or treat) up my sleeve for you.
Picture this: wandering through the aisles of your local thrift store, surrounded by a treasure trove of funky, unique, and utterly bizarre goodies. Yep, we're diving headfirst into the world of thrifted Halloween costumes, where creativity knows no bounds and your wallet remains happily plump.
Whether you're aiming to be the ghost with the most, a zombie with a zest for life (or unlife?), or just craving some offbeat costume inspiration, thrift stores are the enchanted forests you need to explore.
​
Why head to your local goodwill for fun costumes?
I have been utilizing thrift stores for Halloween costumes all of my adult life. I have always been able to find what I need to make a costume work and you can too as long as you're flexible and get a little creative.
Here are some the reasons I turn to thrift store costumes time and time again:
Last-minute halloween costumes are always available at a second hand store so when it's crunch time, head there for some inspiration and great costume finds.
A store-bought costume is easy but it's never unique. You can really let your creativity flow with DIY costumes made from thrifted items.
Thrift store Halloween costumes save you money. Give yourself enough time and check more than one store for items you need and you're sure to save money. I always do.
Sustainable practices are my favorite reason to shop second hand for costumes. I hate when I have to buy a costume direct because most of the time I don't find another reason to use it. It goes into a box for later but later doesn't come. But thrifted items are given a second life which makes me happy.
Thrifted Costume Ideas
Okay, Halloween enthusiasts, let's jump into some Easy Halloween costume ideas:
A Tourist
A tourist costume from the thrift store consists of a loud Hawaiian shirt, shorts with socks and sandals, a fanny pack, and accessories like a sunhat, camera, and maps. Don't forget the enthusiastic attitude for the full effect!
Used car salesman
To pull off a used car salesman costume from the thrift store, find a loud, colorful suit with a flashy tie. Add a dress shirt with a contrasting collar, and don't forget to throw in a pocket square. Complete the look with oversized sunglasses, a fake mustache, and carry around a toy car or some "sales" brochures for that convincing touch.
Nerd
For a nerd costume, grab some high-waisted, plaid pants, suspenders, oversized glasses, a bow tie and a pocket protector. Add in a calculator or a stack of books for extra flair!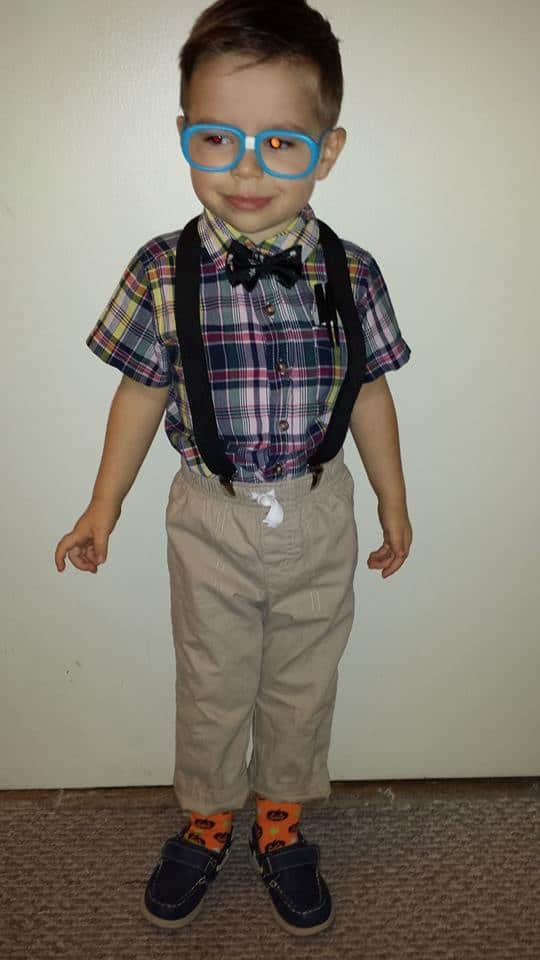 Creepy Doll
To create a creepy doll costume from the thrift store, find a vintage-looking dress, pair it with knee-high socks and worn-out shoes, and add some pale makeup with dark circles. Accessorize with a crack doll makeup and tangled, unkempt hair for an eerie touch.
Ventriloquist Dummy
Remember Slappy from Goosebumps? He's an easy yet creepy costume to pull off last minute. You might even be able to find everything you need right in your own closet.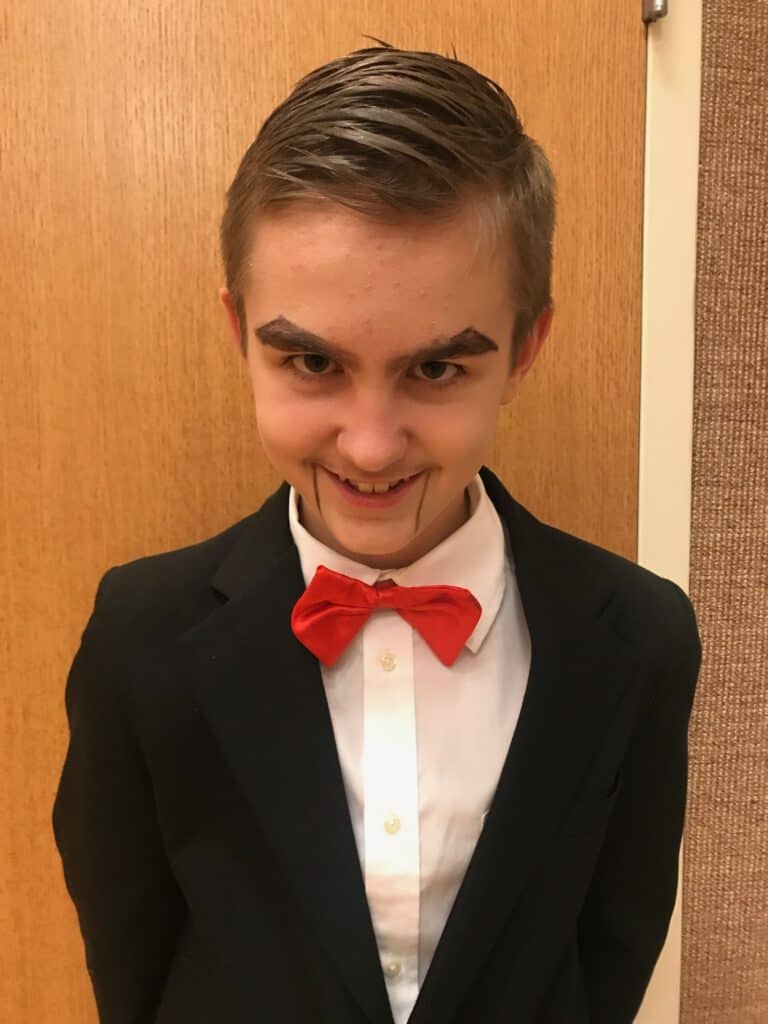 Grandma or Grandpa
This can also be a great group costume. Years ago when we were celebrating Halloween in LA we saw a group of young men that were dressed as grandma's, riding on scooters. It was hilarious and so smart since they got to ride around for the night instead of doing a bunch of walking.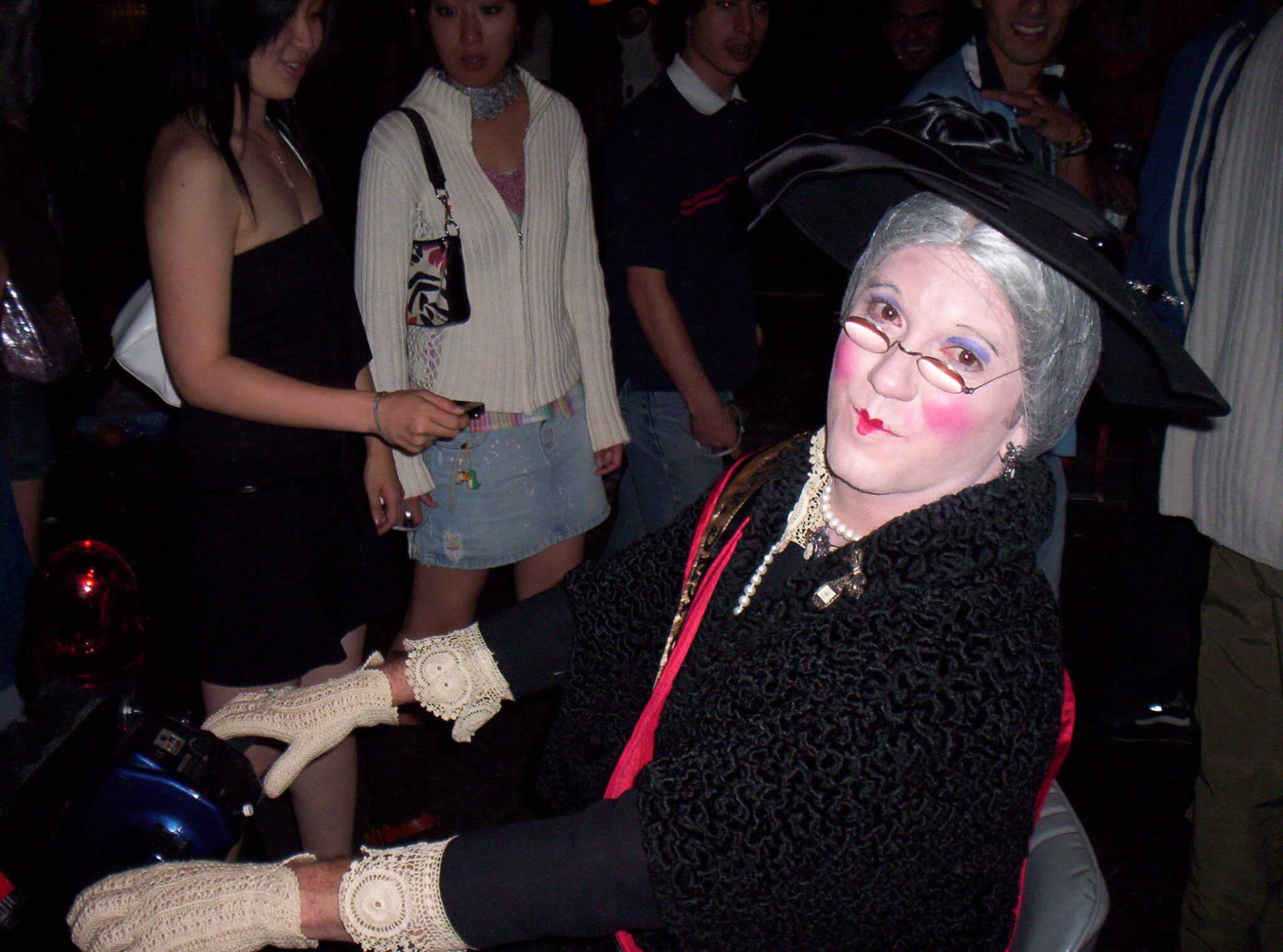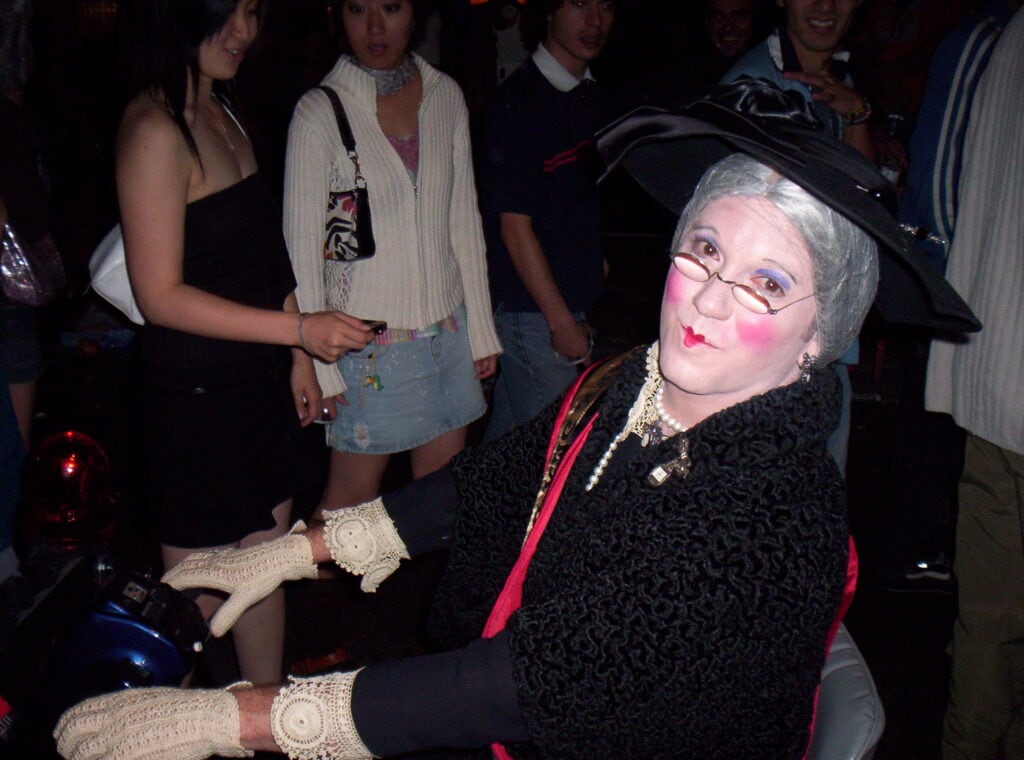 Crazy Cat Lady
To pull off a crazy cat lady costume from the thrift store, layer on mismatched clothes, robe, or pajamas, attach stuffed cats all over, and carry a tote overflowing with cat plushies. Dishevel your hair, add some "cat eye" glasses, and don't forget a mug labeled "Cat Mom."
Rosie the Riveter
Nail the iconic Rosie the Riveter look with a thrifted twist. Find a denim shirt or overalls, and roll up the sleeves. Add a red polka-dot bandana as a headband, and sport some red lipstick. Pair with work boots and flex that empowered bicep pose for the perfect thrifted Rosie the Riveter costume!
Scarecrow
To craft a scarecrow costume, find some old jeans and a plaid shirt, then stuff them with hay or newspaper for a stuffed effect. Top it with a floppy straw hat, draw on freckles and a stitched smile, and complete the look with brown boots and a rake prop.
Farmer or Cowgirl
Overalls or worn out jeans, a cowboy hat and maybe red bandana are all you really need for this look. This look is comfy and easy to adapt to the weather in your area.
Lumberjack
To assemble a lumberjack costume from the thrift store, grab a plaid flannel shirt, worn jeans, and work boots. Add a beanie or cap, strap on a toy axe, and create a scruffy beard with makeup for that rugged look.
Hunter & Deer
To craft a hunter and deer costume combo from the thrift store, dress as a hunter in camo clothes and accessorize with a toy rifle or binoculars. For the deer, find a brown outfit and add white spots. Attach antlers and paint your nose black to complete the woodland transformation.
A Fox
This is another cute animal you can easily throw together at the last minute. Find a cute orange sweater of coat, add some ears, and some simple makeup will create the look. Just be prepared for some what does the fox say comments coming your way.
Hippie
To put together a hippie costume, seek out bell-bottom jeans or a flowy skirt, a tie-dye shirt, and a vest with fringe. Add round sunglasses, a headband, and peace sign accessories. Finish with sandals or moccasins for that groovy vibe! Top it all off with a flower crown.
50's Housewife
For a 1950s housewife costume from the thrift store, search for a vintage-style dress with a fitted waist and a flared skirt, paired with a retro apron. Don't forget pearls, gloves, and a headband, and complete the look with heels or flats. Carry a prop like a cookbook or a baking utensil for added authenticity.
Here I am as a 50's housewife years ago. Speaking of thrift store costume ideas, check out my friends thrifted Jareth costume from the Labyrinth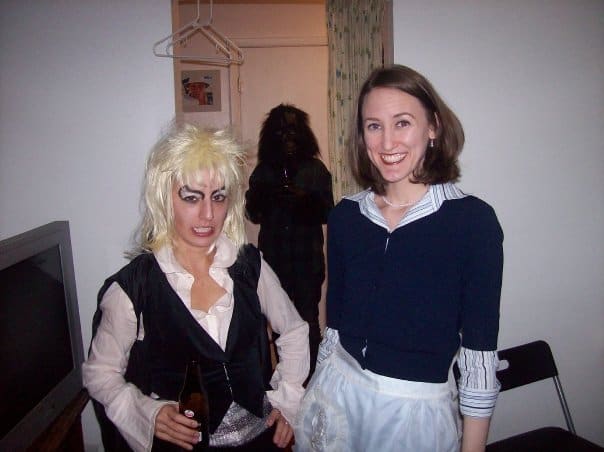 Greaser
To rock a greaser costume from the thrift store, find a denim or black leather jacket, a plain white t-shirt, and slim-fit, blue jeans. Style your hair into a pompadour or slicked-back look using gel or pomade. Accessorize with a bandana, sunglasses, and fingerless gloves, and finish with classic high-top sneakers or boots. Go for your own look or go for Sandy's final look from the movie Grease.
Newsie
To nail a newsie costume hunt for high-waisted pants, a button-up shirt, suspenders, and a flat cap or newsboy hat. Tuck pants into ankle boots or pair with old sneakers. Carry a newspaper prop and embrace that street-smart attitude!
Your Favorite Era
Honestly choose any era for a fun Halloween costume. I've been a flapper, a hippie, an 80's valley girl. They are always fun and pretty easy to find clothing at the thrift store to pull these off.
Here's Katie and I in our 80's outfits and my husband as an 80's gym teacher.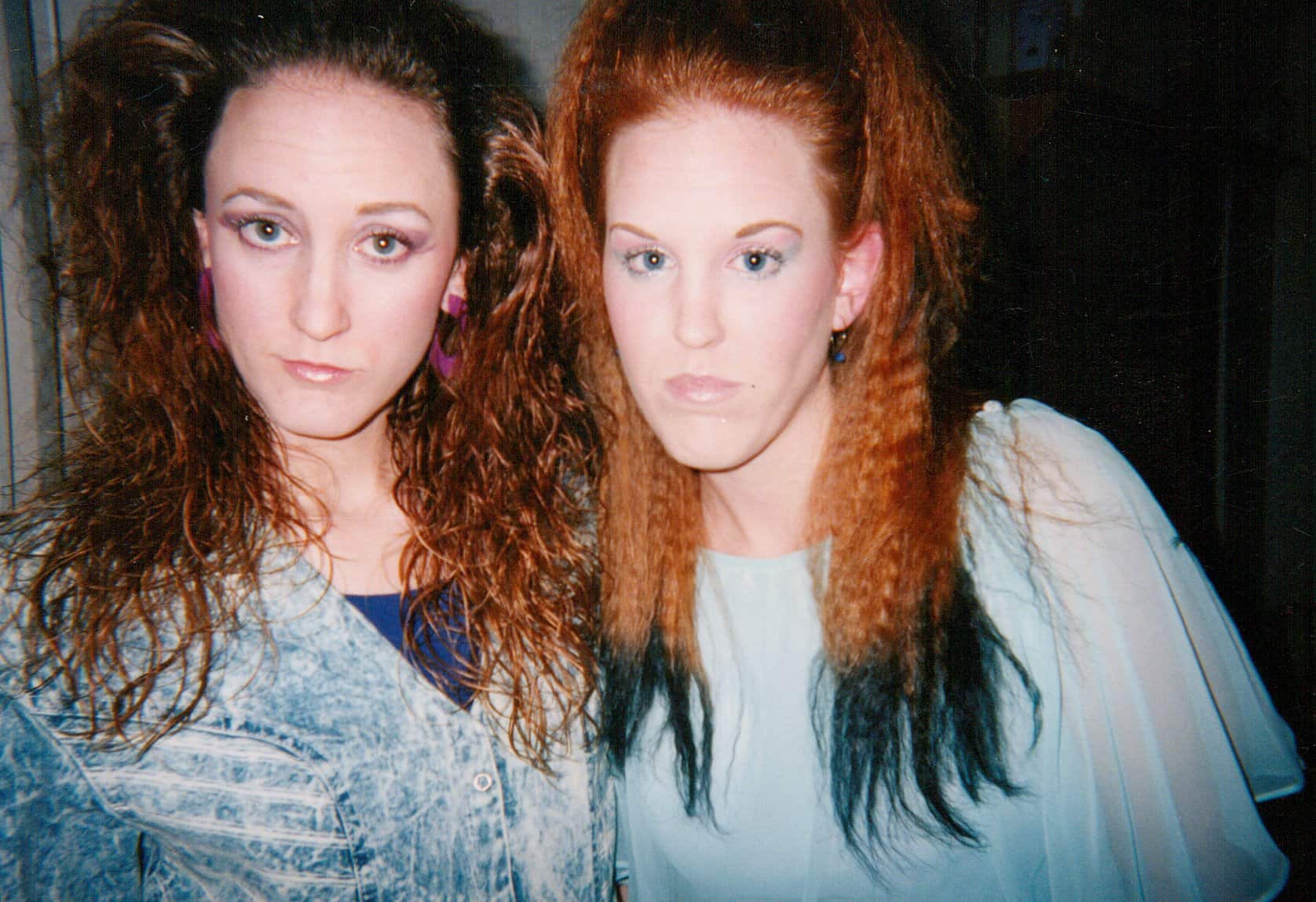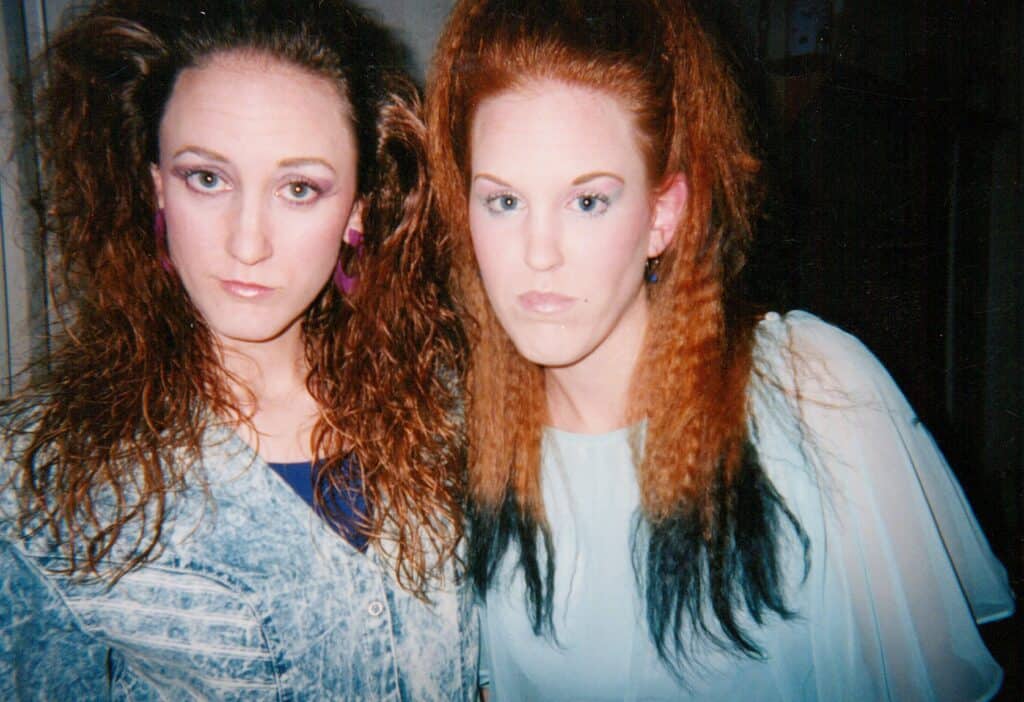 Librarian
For a librarian costume from the thrift store, go for a modest dress or skirt-blouse combo. Add a cardigan, sensible shoes, and a pearl necklace. Wear glasses (real or fake), tie your hair into a bun, and carry a stack of books or reading glasses for that studious touch.
Cops and Robbers
To create a cop and robber duo costume, dress as a cop in dark pants, a blue shirt, and a badge. Add a toy police hat and a belt with accessories like a toy baton and handcuffs. For the robber, don black clothes or a black and white striped shirt, a mask, and a swag bag. Pair with gloves and a beanie, and carry a "loot" bag for the finishing touch.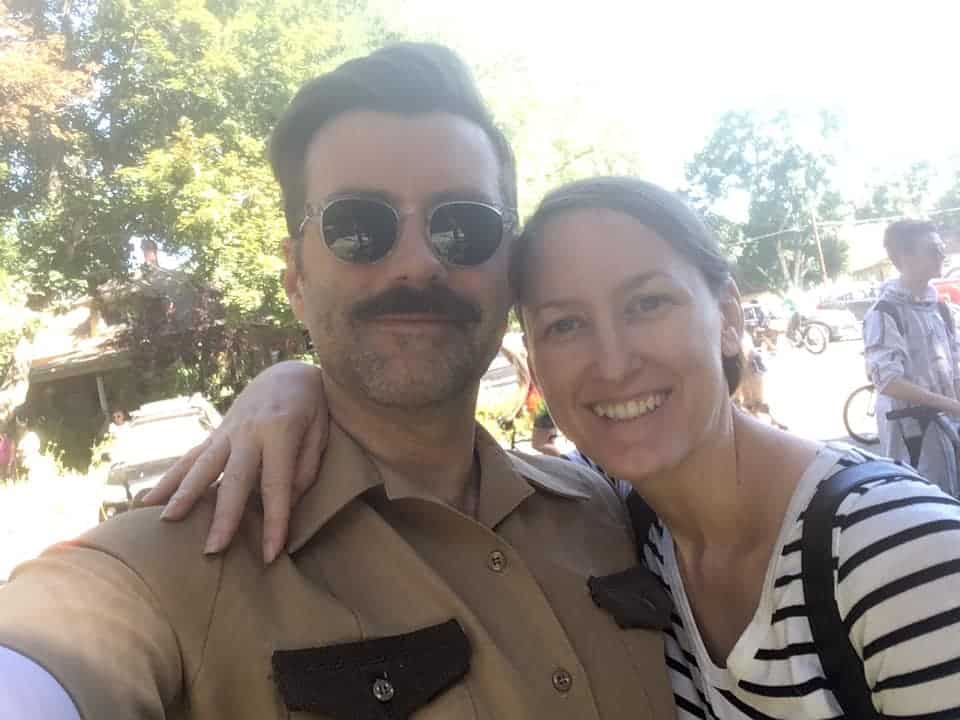 Waldo
Search for a red and white striped shirt, a matching beanie, and blue jeans. Add round glasses and a pair of brown shoes. Don't forget to carry a red and white striped walking stick or cane to complete the iconic look!
Mime
For a mime costume from the thrift store, look for black and white striped clothing, like a shirt and leggings or pants. Pair with suspenders and white gloves. Grab some white face paint and apply dark eyeliner for that classic mime face. Don't forget to bring along an imaginary box or use white face paint to create a "trapped in a box" illusion!
Prom Queen
To create a prom queen costume, seek out a fancy vintage dress with sequins or satin. Look for a tiara or crown and a sash. Add a pair of heels and some costume jewelry to complete the regal look. Carry a bouquet of flowers for that extra touch of elegance!
Doctor
Look for a white lab coat or a professional-looking jacket. Pair it with dress pants or a skirt, and a collared shirt. Or you can go for a full scrubs look since scrubs are always easy to find at the thrift store. Add a stethoscope around your neck and carry a clipboard with some medical notes. For added authenticity, wear glasses and a name badge with a doctor's name.
Greek God or Goddess
For a Greek god or goddess look, search for a flowing, draped white or gold dress or robe. Can't find either then look for a sheet. You can do a lot with one. Add a belt or ribbon to cinch the waist. Look for gold accessories like cuffs, laurel wreaths, and sandals. Style your hair in loose waves or up in a bun for that divine look. Don't forget to radiate confidence and power worthy of the gods!
A Wizard
Speaking of sheets, you can do a lot with one from the thrift store to turn it into a great costume. You can cut it up, sew it together, or dye it for the perfect color. A sheet always makes great wizard robes or a cape for just about any costume that needs one. Just like my cute nephew as Gandalf the Grey in his grey thrift store sheet and mop beard from the Dollar Store.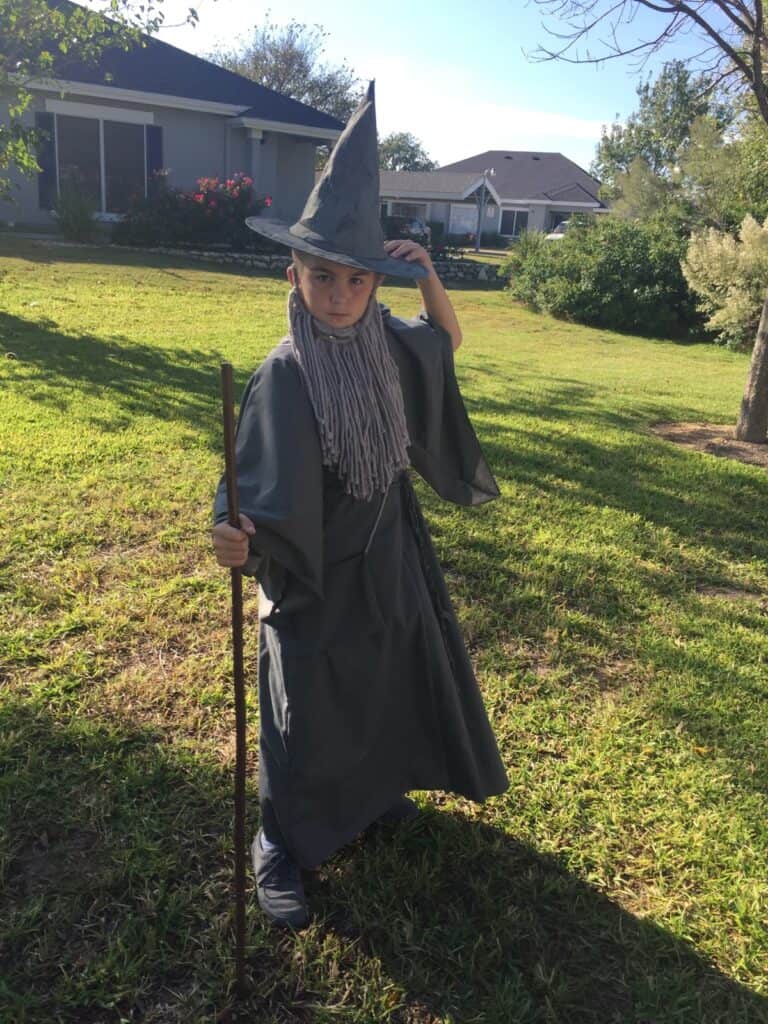 Pirate
Store bough pirate costumes always look the same but there are plenty of things you can get from the thrift store to form your own unique pirate costume. Look for a billowy white shirt, dark or striped pants or a skirt, and a vest or jacket. Add a belt with a large buckle and a bandana/scarf for your head. Look for an eyepatch, a toy sword, and boots as well. You can add some chunky jewelry and a smokey eye to complete the look.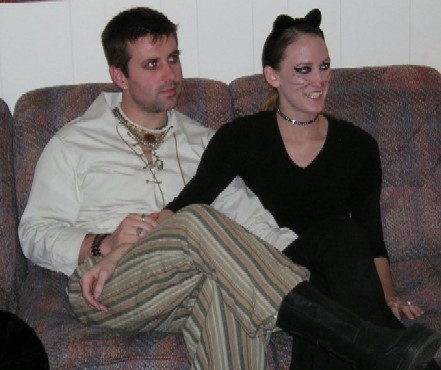 Black Cat
Look for a black body suit or black pants paired with a black long sleeve shirt, really any black outfit will work for this. Add black shoes and gloves for paws. Create a tail from a black scarf or fabric, and attach some wire or stuffing to make it curl. Paint your nose black and use black eyeliner to draw whiskers and cat-like features on your face.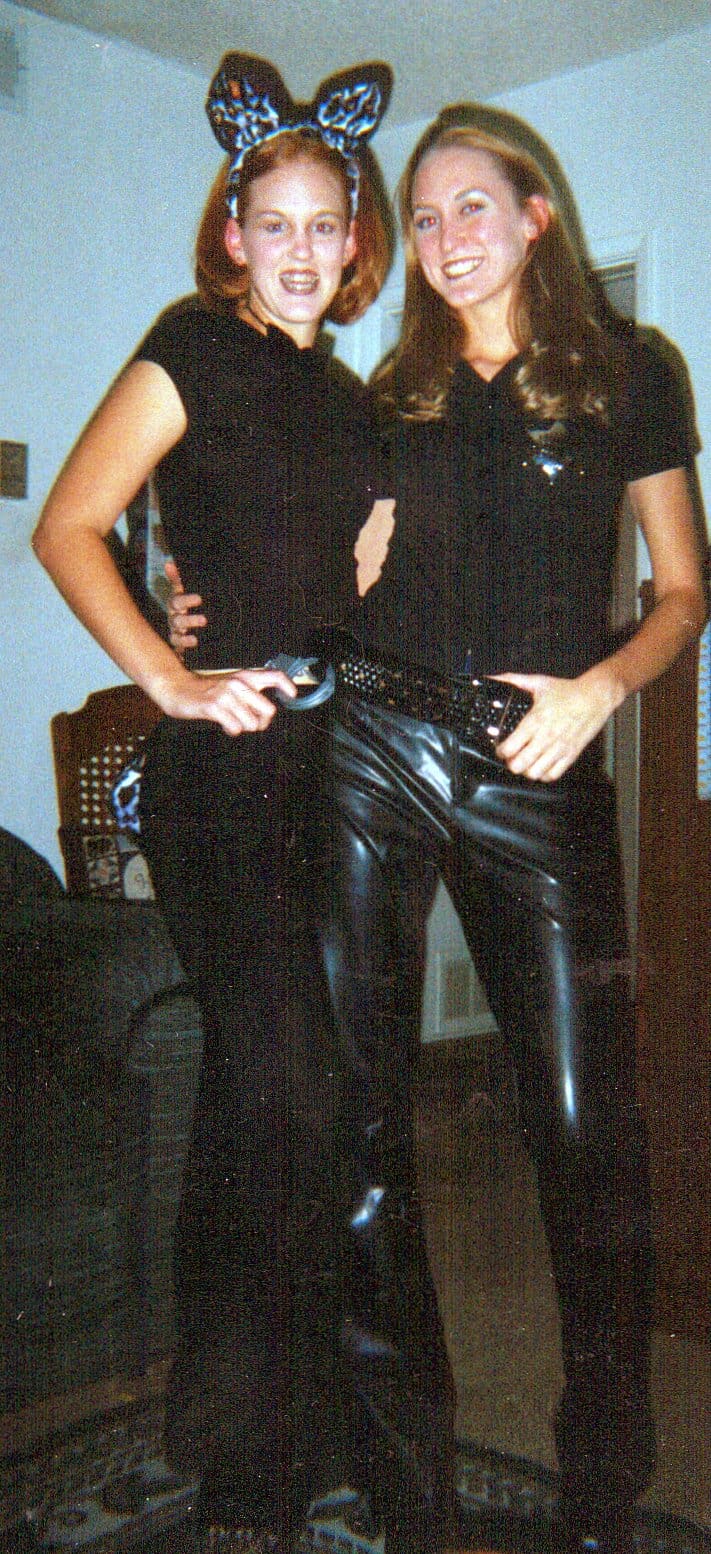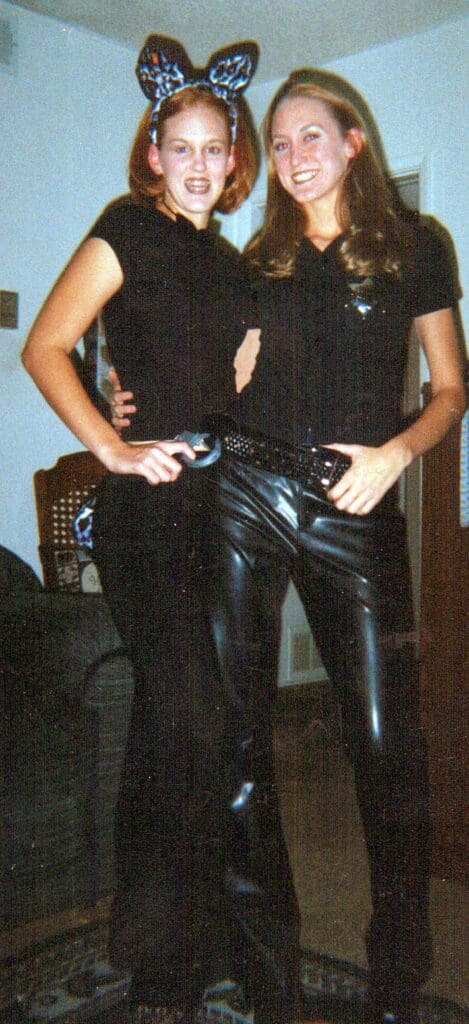 Witch
To conjure a witch costume look for a long, dark dress or skirt with a flowing silhouette. Add a witch's hat and layer on dark accessories like a choker necklace and fingerless gloves. Don't forget a broomstick as a prop, and use dark makeup to create a mysterious and spellbinding look!
Ghost
For this classic look, search for a white or light-colored sheet that you can transform into a flowing ghostly robe. Cut out holes for eyes and drape the sheet over your head. Keep your face pale and use dark makeup to create hollow, shadowy eyes. Wear white or light-colored clothing underneath for that eerie ethereal effect!
A Devil
This is a great last minute costume for anyone. Just search for whatever red clothes you can find. Add some devil horns and you're good to go.
Zombie
Take a razor blade to any normal clothes you find at the thrift shop for that undead vibe. Use gray or pale makeup to create a deathly complexion and add dark circles around your eyes. Mess up your hair, add fake wounds or scars, and use fake blood for a gruesome touch. Walk with a zombie-like gait and channel your inner undead for the full effect!
Pop culture reference
Picking favorite movie characters or a favorite character from a popular TV show is always a fun as last-minute couples costumes or group costumes that get a lot of attention.
Don't get caught up on small details when going the pop culture route, just shoot for the larger picture and general "feel" of your character to pull it off.
For instance, here's my partner and I as some of our TV characters for Halloween. Can you tell who we are?
Are the clothes exact replicas of an iconic look? Not necessarily but everyone who watches the shows knew exactly who we were and loved our looks. That's what you're going for.
Ken and Barbie
I expect to see a lot of these costumes this year after the movie was such a huge hit. For a Ken and Barbie costume set from the thrift store, search for preppy and stylish outfits in the color pink. For Ken, look for a collared shirt, khakis or dress pants, and dress shoes. For Barbie, go for a fashionable dress, heels, and some costume jewelry. Don't forget to style Ken's hair neatly and Barbie's hair in a chic way. Carry around toy accessories like a miniature purse for Barbie and a toy smartphone for Ken for added playfulness!
Wednesday Adams
You can go for the classic look with a black dress and white collar but a black dress with tons of ruffles or chunky sweater vests in stripes or squares to look more like the modern Wednesday from the newer TV show.
Good Omens
Crowley and Aziraphale would be a fun couple costume. For Crowley you need to look for a skinny tie or sparkly scarf, sports coat, skinny jean or leather pants in black and some round sunglass. Aziraphale needs lots of beige layers.
Patrick Star
Patrick star is a pretty easy costume to conjure up from the thrift store. You need a pink shirt, or white one that you can dye pink. Find some green shorts and paint purple blobs on them. Make a cone hat out of felt or paper and you're good to go.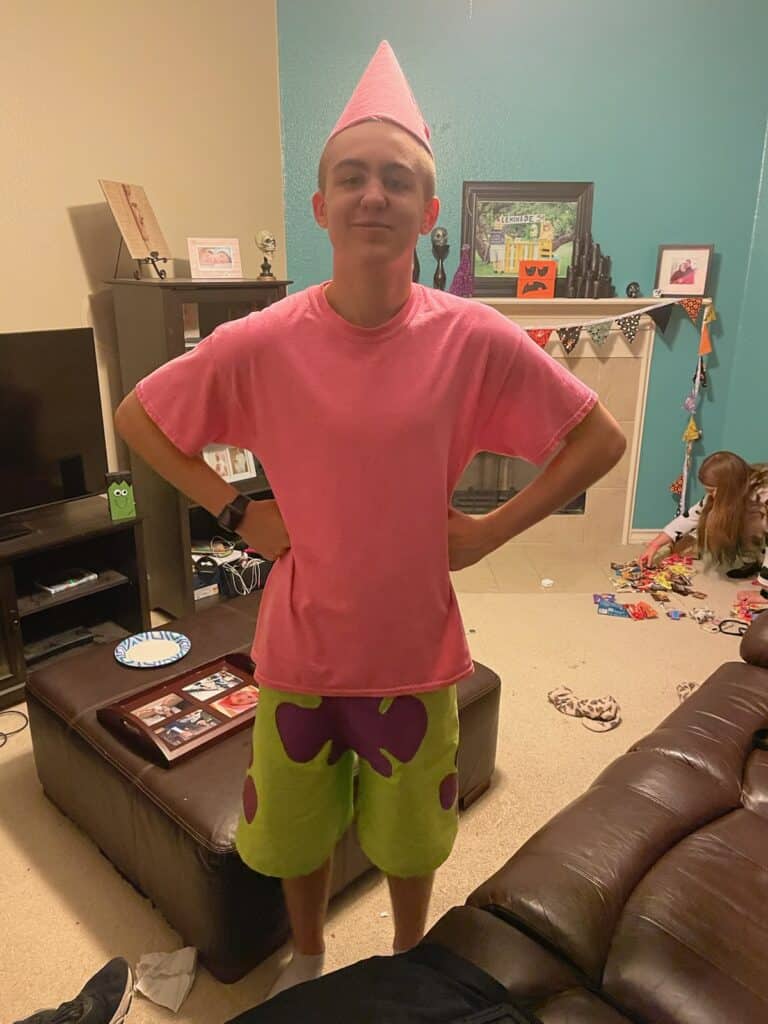 Clue Characters
If you haven't seen the Clue movie then what are you doing with your life? Haha! The characters are iconic and would be fairly easy to come up with thrifted versions of their outfits if you start looking early enough. This would be a fantastic group costume.
Jim & Pam
To embody Jim and Pam from "The Office" with thrift store finds, go for everyday office attire. For Jim, look for a dress shirt, tie, and khaki pants, and add a "Dunder Mifflin" name tag. For Pam, seek out a casual office outfit like a cardigan, blouse, and knee-length skirt. Don't forget to playfully exchange knowing glances throughout the night for that classic Jim and Pam dynamic!
Britney Spears
The Hit Me Baby school girl look is pretty iconic and always pops up as a Halloween costume. You'll need a white button up shirt, grey sweater, black pleated skirt to pull this look off.
Dangle from Reno 911
With Reno 911 coming out with an 8th season just last year, you might see more Dangle costumes around again. This thrift store Halloween costume is such a great example of pop culture perfection. It's recognizable and hilarious.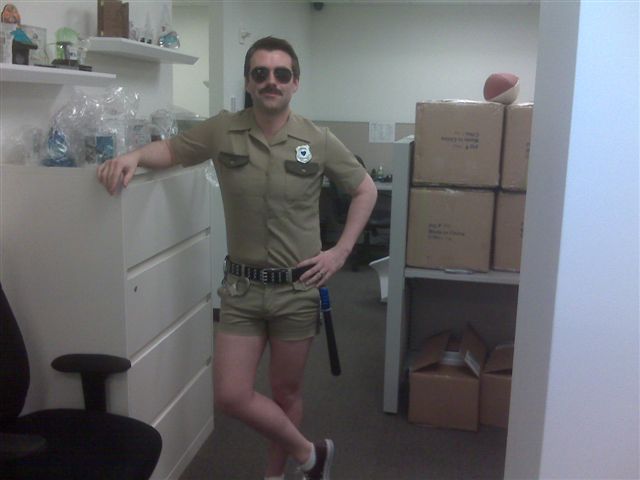 Pulp Fiction
Another classic movie with easy looks to copy. Seek out a black suit or blazer, white dress shirt, and black tie for that classic "Mia Wallace" look. For "Vincent Vega," find a black suit, white dress shirt, and skinny black tie. Don't forget to style your hair accordingly, and carry a fake cigarette for extra flair. You'll be ready to dance the twist and quote some memorable lines!
Ghostbusters
Ghostbusters are a classic and pretty easy to pull off with thrifted clothing. Here's my family's Ghostbusters look from years ago. Most of the items were thrifted but obviously the stay puft marshmallow man took some extra sewing work.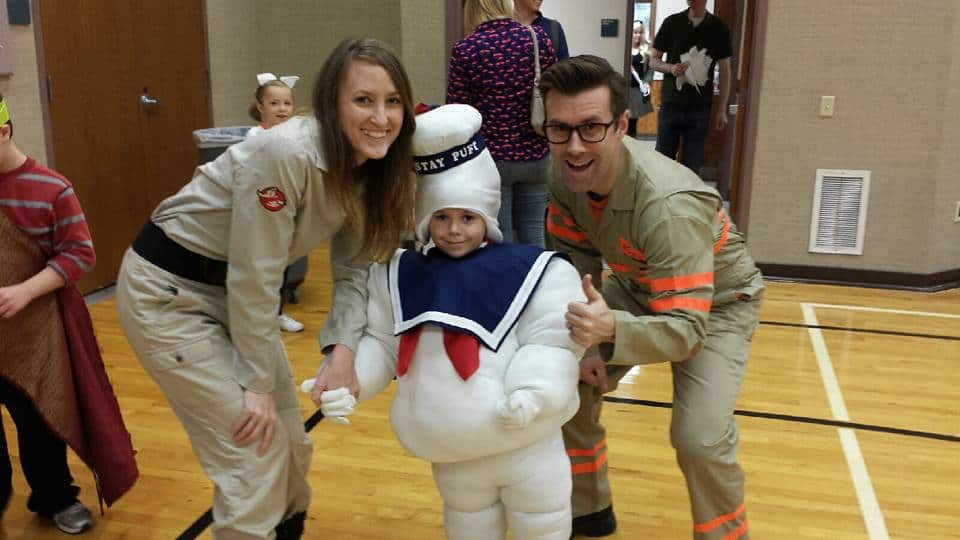 Risky Business Tom Cruise
To pull off Tom Cruise's character in "Risky Business" using thrift store items, focus on recreating that iconic look. Seek out a white button-down dress shirt, white crew socks, and a pair of black sunglasses. Don't forget to find some old brownish underwear or shorts to complete the outfit. Slide around the floor in your socks and give that signature "Risky Business" grin for the full effect!
Audrey Hepburn
To capture Audrey Hepburn's style from the thrift store, search for a little black dress with a classic silhouette. Add a string of pearls and black gloves. Pair with black ballet flats or elegant high heels. Style your hair in a chic updo or a short bob, and finish the look with a touch of red lipstick. Don't forget those oversized sunglasses for that timeless Audrey charm!
Marilynn Monroe
To channel Marilyn Monroe's glamour from the thrift store, look for a white dress, halter style if possible, that flows and twirls. Add strappy heels and some faux diamonds or rhinestone jewelry. Style your hair in loose waves or pin-up curls, or try a blonde wig. Don't forget a bold red lipstick. Carry yourself with that signature Marilyn confidence and smile for that iconic look!
Mary Poppins
To become Mary Poppins look for a high-collared white blouse and a knee-length skirt. Add a black bowtie and a red or blue ribbon belt. Seek out a black or dark-colored jacket, and finish the look with a wide-brimmed hat adorned with flowers. Don't forget to carry an umbrella and a carpet bag for that iconic Mary Poppins touch!
Nacho Libre
Nacho Libre is a fun toddler costume because their belly is just perfect for the character. It was my sons costume a good 11 years ago and he got tons of compliments. We found leggings at the thrift store and dyed them turquoise and then I used some thrifted red fabric for the cape and knee patches. We found the red diaper cover and red socks at the thrift store as well. We just needed to buy the afro and draw on a thin mustache.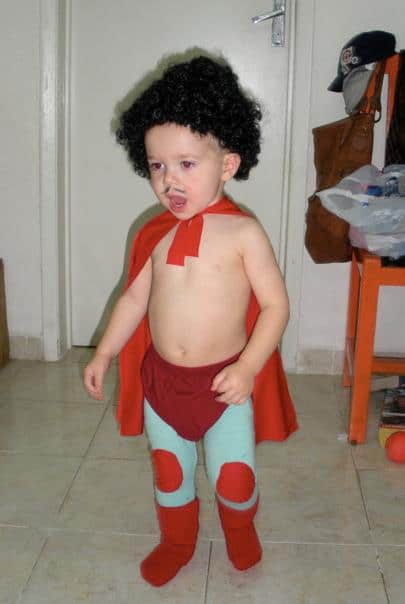 A Minion
To craft a fun Minion costume from the thrift store, search for a pair of denim overalls and a yellow long-sleeved shirt. Add black gloves and black shoes or boots. Create a pair of goggles using plastic cups and black pipe cleaners for the straps. Don't forget to carry around a banana or a toy blaster for an extra playful touch!
Video Game Characters
These are always fun and popular to take on as DIY Halloween costumes and thrift store often have a treasure trove of items to pick from when creating one. Here's my kiddo as a character from the video game Plants vs Zombies.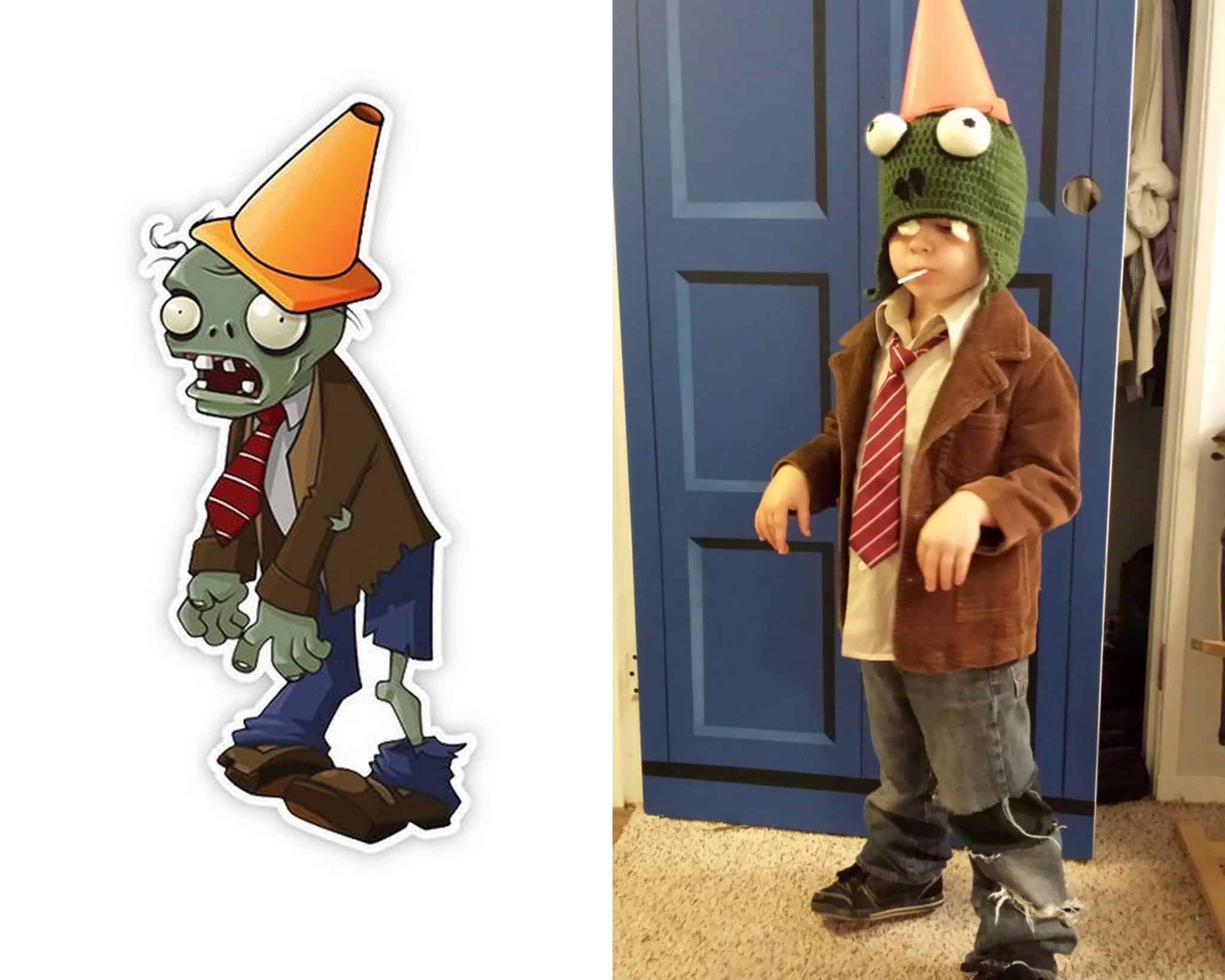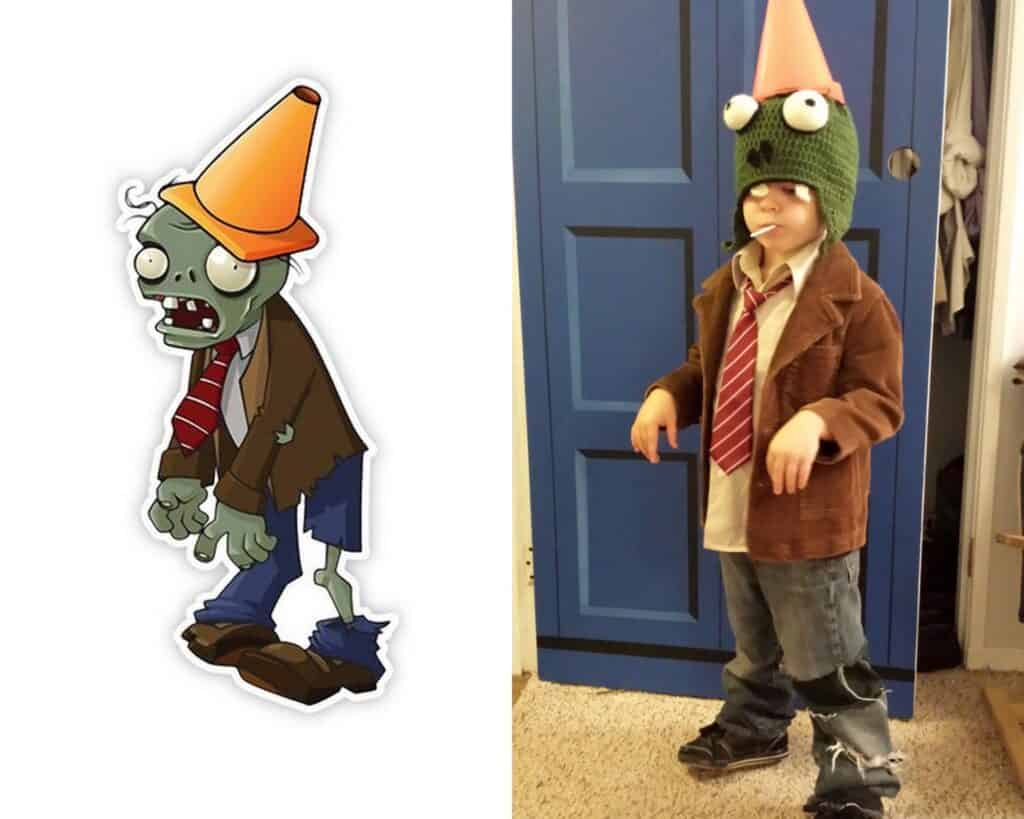 Darla from Finding Nemo
Sometimes a smaller but funny side character makes the perfect, unexpected Halloween costume. Katie created this Darla costume with a couple of thrift store finds. Her shirt is perfect with the rock n roll girl decal but she could have pulled off the look with a plain purple shirt as well since she nailed the other details like pigtails, headgear, and a fish in a bag.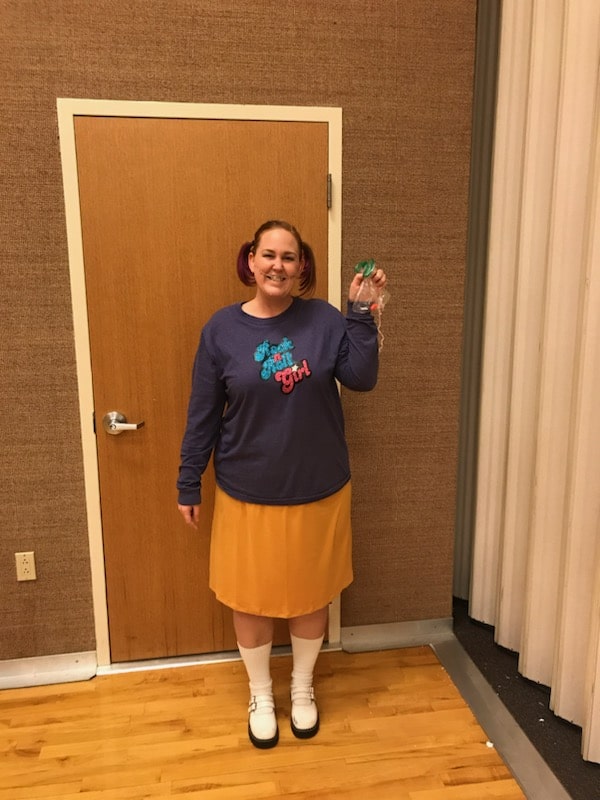 Remember, when utilizing the thrift store for Halloween you want to start looking for items you need as early as you can. Items can come and go quickly so something that wasn't there one week might be there the next.
Keep an open mind and go for the over all feel of the costume ideas and don't get hung up on total specifics. But do go for lot's of small details that will pull your entire look together.
Need a Halloween Costume, Head to the Thrift Store!
Going to your local thrift stores for halloween costumes can be a lot of fun. Give yourself plenty of time and shop around until you find all the pieces you need to pull your look together.
I've been thrifting Halloween costumes for years and years and I've always been able to find what I need when I give myself enough time. I love piecing together a look for a truly unique costume.
Give it a try this year. I think you'll find it's a great way to save money while being eco-friendly. Let your creativity flow!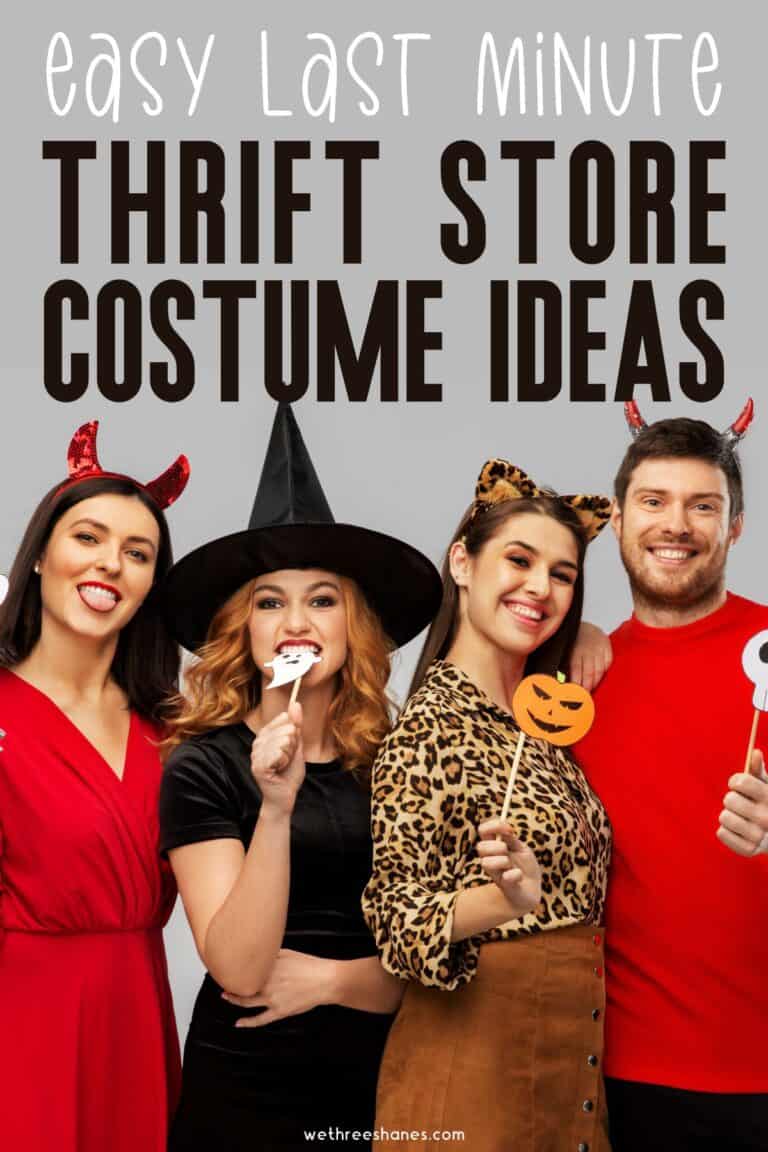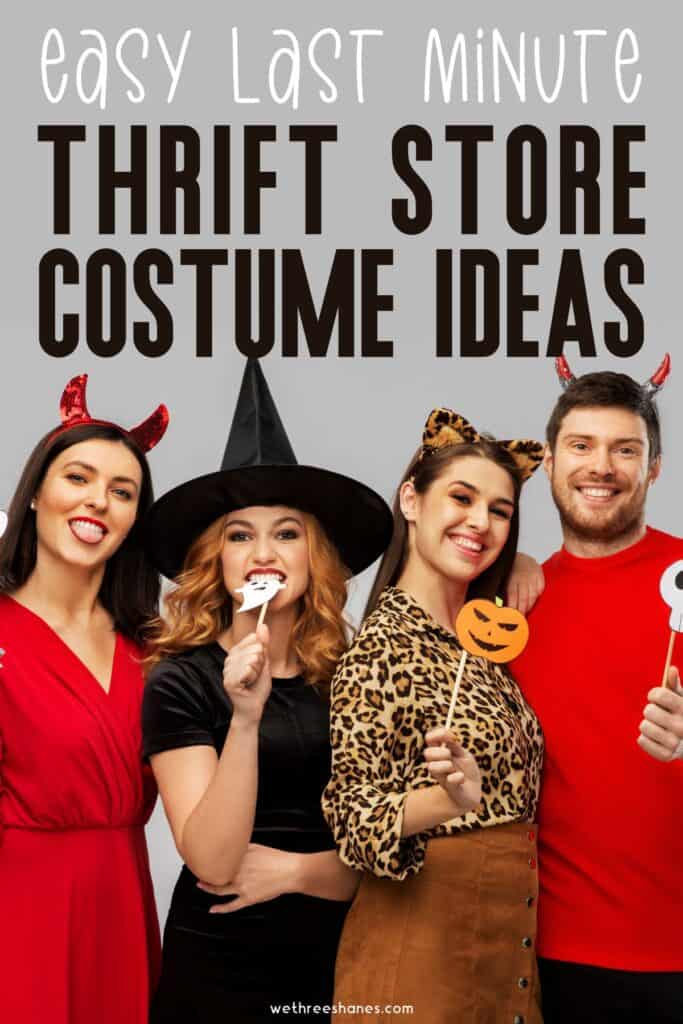 Do you shop the thrift store for Halloween costumes? What has been your favorite costume you've gotten from the thrift store? Let us know in the comments section below!
You Might Also Like: