Christmas Stocking Stuffer Ideas for Her that She'll Love
This gift guide is full of unique and budget-friendly stocking stuffer gift ideas for her, sure to make the women in your life feel special this holiday season. From quirky trinkets to personalized treats, these delightful surprises will leave her with a heart full of joy and a stocking full of smiles!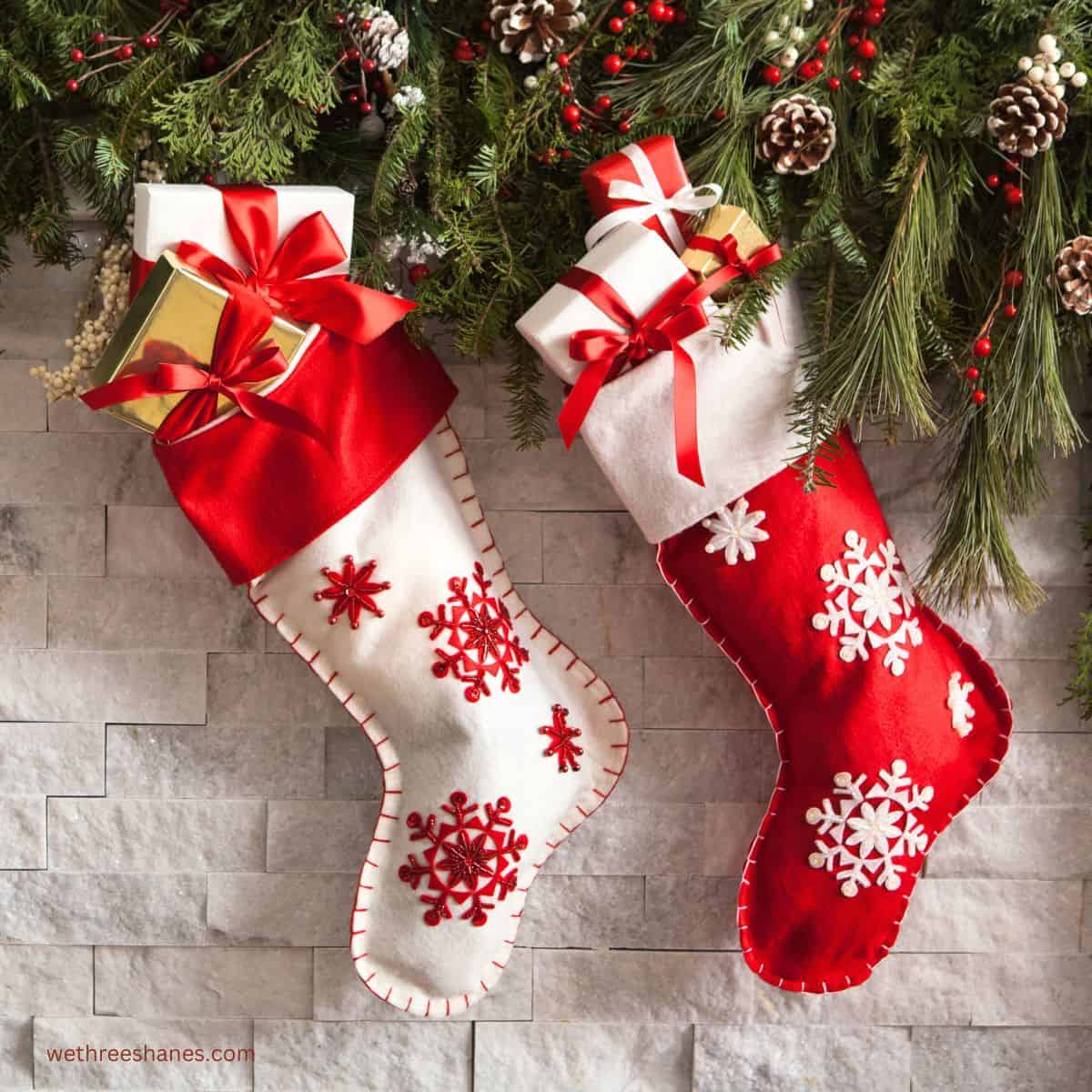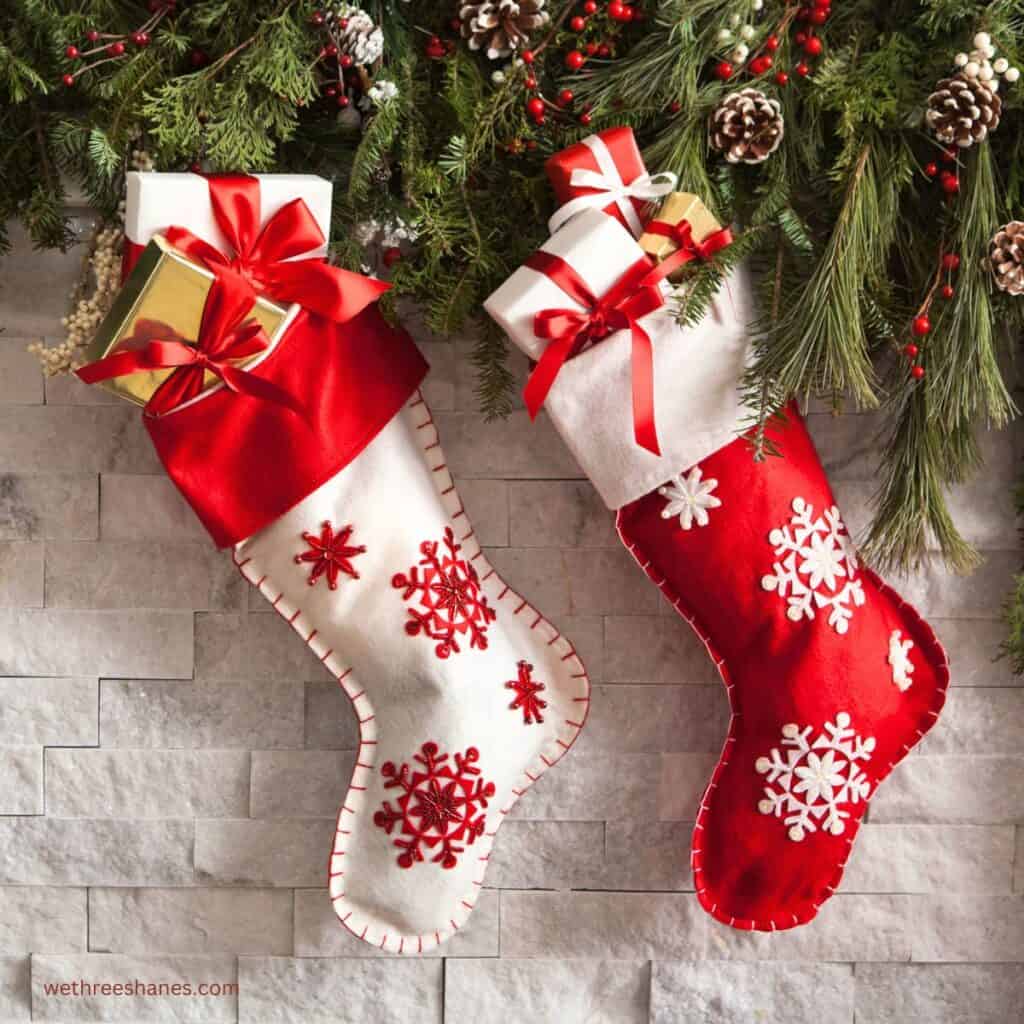 (THIS POST PROBABLY CONTAINS AFFILIATE LINKS. OUR FULL DISCLOSURE POLICY IS LONG & BORING BUT, YOU CAN FIND IT HERE.)
Stocking Ideas For Her
Picture this: it's Christmas morning, and the excitement in the air is palpable as everyone gathers around the tree to open gifts. But wait, what about those humble little stockings hanging by the fireplace?
It's easy for stocking stuffers to become an afterthought amidst all the holiday hustle and bustle, but let's put a twinkle in those stocking-stuffer eyes! Small gifts can be just as enchanting and delightful as their bigger counterparts, and we're here to prove it.
Whether you're shopping for your partner, sister, mom, or best friend, we've got you covered with a best gifts list of unique and affordable stocking stuffer ideas for her. Get ready to uncover a treasure trove of small wonders that will show you that size doesn't matter when it comes to spreading joy and making this holiday season unforgettable!
Perfect Gift Tips
Picking out stocking stuffers for her should be a thoughtful process. Here are some tips to help you find great stocking stuffers:
1. Consider Her Interests: Think about her hobbies, favorite activities, and passions. Tailor the stocking stuffers to match her unique tastes.
2. Pay Attention to Preferences: Take note of things she has mentioned wanting or items she may have admired while shopping together.
3. Keep Things Small: Make sure it fits in the stocking. I've seen some pretty ridiculous suggestions on these stuffer gifts lists. A serving tray, mini waffle maker, or collapsible popcorn bowl on a favorite stocking stuffer list. Really? Keep things small. Small is the point and so fun. The big gifts come later.
4. Practical and Fun: Include a mix of practical and fun items. Think about both everyday essentials and enjoyable treats.
5. Quality Over Quantity: Focus on thoughtful and high-quality gifts rather than trying to fill the stocking with numerous cheap items.
6. Variety of Items: Include a diverse range of items, such as beauty products, accessories, treats, and small gadgets.
7. Sensory Appeal: Consider gifts that appeal to her senses, such as scented candles, bath products, or gourmet treats.
8. Avoid Overly Practical Items: While practical gifts are nice, remember to balance them with items that are purely for enjoyment and indulgence. The practical should never out number the good stocking stuffers.
9. Ethical and Sustainable: If she cares about sustainability, consider eco-friendly and ethically made products.
10. Stocking Stuffer Themes: You can create a theme for the stocking stuffers, like a spa-themed stocking with bath bombs, face masks, and scented candles. Just don't do the same theme year after year or she'll start to get bored.
11. Remember Sentimental Value: Gifts that hold sentimental value, like a personalized photo or a heartfelt note, can be cherished for years to come.
12. Shop Early: Start shopping for stocking stuffers early to have enough time to find unique and meaningful gifts.This will also help spread out the cost.
13. Include Edible Treats: Add a couple of her favorite chocolates, candies, or gourmet snacks for a sweet surprise.
14. Avoid Allergens: Be mindful of any allergies she may have when selecting beauty products or treats.
15. Have Fun with It: Enjoy the process of selecting stocking stuffers and remember that it's the thought and effort that counts the most.
By using these tips, you can make the process of picking out stocking stuffers for her enjoyable and successful, resulting in a stocking filled with gifts that she'll love and appreciate.
What do you put in a woman's Christmas stocking?
Choosing unique and thoughtful gifts for a woman's stocking can make the holiday season even more special. Here are some ideas for unique stocking stuffers:
Personal Safety Alarm – a great way to show someone you really care and want them to be safe. This personal alarm goes on her keychain or purse. When you pull it the alarm goes off as well as a strobe light.
Magnet Purse Hanger – This is similar to a purse hook but much more convenient. There's a heavy duty magnet in a nice looking leather tag that can be hooked to any purse. The magnet is strong enough to hold the purse on all kinds of surfaces like the bathroom stall door when there's no hook available, the grocery cart for extra security, or barstools or chairs for at restaurants. It's an easy way to keep a purse off the floor.
Rechargeable Hand Warmers – these are portable devices designed to provide warmth and comfort for your hands during colder weather. They come with various heat settings, offering a convenient and reusable way to keep your hands toasty and cozy in chilly conditions.
Peeps Eyeglass Cleaners – these eyeglass cleaners are my husbands favorite. They do a great job of cleaning glasses and they are easy to carry with you so they are always at hand.
Ultrasonic Jewelry Cleaner – generates 46,000 Hz of ultrasonic sound waves for a powerful yet gentle clean that won't harm your valuables. You can use it to clean jewelry, glasses, coins, retainers and more.
Coin Purse – A small coin purse or wallet can be both practical and cute. It can be a convenient way to bring along an ID and cards when she doesn't want to worry about carrying a purse around.
New Best Seller Book – If she's a reader then get her the newest best seller from one of her favorite authors or from a similar author.
Book Stamp or Embosser – is perfect for people who have a collection of books. It's a great addition to anyones library.
Magnetic Bookmarks – Give book lovers a set of magnetic bookmarks with cute and quirky designs. They keep your place without falling out or ruining book pages.
Stationery – A cute pocket notebook, planner, or set of fancy pens might be just what she needs.
Letter Opener – We got one as a Christmas gift years ago and have since lost it and I miss it all the time. I think I'll put one in my own stocking this year. 😁
Password Book – Passwords are getting more and more complicated so a password book is the perfect way to keep them all in one spot.
Pocket-Sized Coloring Book – Look for intricate adult coloring books she can carry with her. Grab this set of portable colored pencils to add to the stocking as well.
Mindfulness or Affirmation Cards – Affirmation cards for her are a collection of uplifting and positive messages, often designed on small cards. These cards typically contain encouraging phrases, empowering affirmations, and motivational quotes intended to boost confidence, self-esteem, and overall well-being. They serve as a powerful tool for self-reflection and daily inspiration, helping women cultivate a positive mindset and embrace their inner strength and worth.
Kitchen Gadgets – If she enjoys cooking, look for handy kitchen tools or unique gadgets like cord organizers or this cute flower steam releaser.
Spice Blends or Specialty Salt – I love to cook and I've received specialty salt and spices as gifts and I always love them. It gives you something new to try while cooking which is always fun.
Wine or Champagne – If she enjoys wine, consider adding a miniature bottle of her favorite wine or champagne. Mini Martinelli's works too!
Wine Bottle Stopper – A wine bottle stopper is a practical and handy tool used to seal an opened wine bottle, preserving the freshness and flavor of the wine. They are a functional and decorative additions to any wine lover's collection.
Wine Coasters – will get her laughing and laughing is always fun, especially on Christmas morning.
Ear Warmer Headband – is a versatile and cozy accessory designed to keep your ears warm and protected during cold weather. Ear warmer headbands are both practical and fashionable additions to anyone's winter wardrobe.
Text Friendly Winter Gloves – designed with special materials in the fingertips that allow you to use your smartphone or touchscreen devices without taking the gloves off making touchscreen gloves are a must have for cold climates.
Novelty Socks – Choose fun and colorful socks with cute patterns or her favorite characters. If that's not her thing then go for a cozy pair of fuzzy socks. New socks are always a welcome gift.
Jewelry – A beautiful necklace, pair of earrings, or a bracelet can make for a sentimental and cherished gift. Keep her mind in style and metal preferences when choosing jewelry. I like to wear sterling silver and never wear gold so if I got a gold necklace then it would most likely not get worn.
Fitness Bands – If you know she enjoys working out then fitness bands might be a good thing. However, make sure this is something she's into otherwise it can have the opposite effect you were hoping for. This particular set comes in varying resistance and cute ombré colors.
Lip Balm or Lip Gloss – If you don't know her favorite lip balm then opt for a moisturizing lip balm or a flavored lip gloss.
An Eye Mask – this can be a sleep mask for better beauty sleep or a cooling eye mask for relaxing.
Face mask – Speaking of masks, beauty masks are always fun. You can get a clay mask, under eye masks or a sheet mask.
Ice roller – provides a cooling sensation and can help reduce puffiness, soothe irritated skin, and alleviate muscle soreness. The ice roller is a refreshing and versatile addition to your skincare and self-care routine.
Compact Mirror with LED Lights – A compact mirror with built-in LED lights is practical for on-the-go touch-ups.
Shampoo Bars – I love shampoo bars (I've linked to my absolute favorite ones). They are so cute and work great. They save on plastic so while this one is good for anyone, it's especially great for our eco friendly chicks.
Handcrafted Soap – Gift her with beautifully crafted artisanal soaps in unique scents and designs.
Skincare and Beauty Products – Treat her to her favorite skincare items, makeup, or luxurious bath products. Check out her beauty products to see what's running low and get her a new one or get her a gift card to Ulta and she can choose her own.
Beauty Gift Sets are always nice because it comes with multiple items in the same scents.
Glass Nail File – it's super pretty and can be used at home or thrown in her purse for on the go nail mishaps.
Silk or Satin Pillowcases – are better for your hair and the delicate skin on your face so if she doesn't already have one then this would be a nice gift. They come in different colors and sizes so make sure you get her one that matches her bedding.
Miniature Perfume or Body Mist – A travel-sized version of her favorite scent is both practical and thoughtful.
Nail Strips – If she likes to have her nails done then some gel wraps might be fun for her. A nude nail polish is always a perfect addition as well.
Mini Hand Cream – A travel-sized hand cream can keep her hands soft and moisturized, especially in the winter months. It's the perfect size to go in her purse for soft hands on the go.
Hair Accessories – Consider hair clips, satin scrunchies, or headbands in trendy designs.
Back Scratcher – cuz why not. They work and they feel good.
Eco-friendly Reusable Straws – Choose sleek glass, silicone, or stainless-steel straws for the home or collapsible straws that she can carry in her bag.
Reusable Makeup Remover Pads – Offer eco-friendly makeup remover pads for her skincare routine.
Safety Razor – if she's eco conscious and doesn't already have a safety razor then this is a great buy. I switched years ago and love mine. Just leave it in the box or don't put a blade in before dropping it in her stocking.
Scented Candle Tin – Choose her favorite scents to create a cozy and relaxing atmosphere at home.
Cool Electric Lighter – if you get her a candle then get her a cool lighter to go with it.
Aromatherapy Rollerball – Gift her a rollerball with essential oils for relaxation or focus.
Bluetooth Ear Buds – if she doesn't have bluetooth ear buds then they are a must. I wear mine around the house while I listen to the latest true crime podcast and get things done. An ear bud cleaning kit goes well with the buds.
Portable Charger – is a helpful gadget to have and fits great in a stocking.
Blue Light Glasses – everyone knows your not supposed to be on screens before bed but sometimes it's the only time you have at the end of a busy day so blue light glasses are a great alternative.
Phone Tripod – If she likes taking selfies of herself or a group then a phone tripod is another helpful gift.
Favorite Candy or Snack – these make great last-minute gifts to fill up the rest of a stocking. Who doesn't love getting their favorite treats. And you get bonus points for knowing what their favorites are.
Gourmet Chocolate Bars – Look for specialty chocolate bars in unique flavors or a specialty box.
Gourmet Hot Chocolate Packet – Include a single-serving packet or two of gourmet hot chocolate.
Aromatic Herbal Tea Blends – Look for exotic or rare herbal tea blends in different flavors that she can enjoy during cozy evenings.
Tea Infuser – Choose a cute tea infuser in a fun shape or design.
Mini Photo Frame – A tiny photo frame for her favorite picture is a sentimental gift.
Card Game – We love card games in our house so the more the merrier. There are so many out there to choose from that you're sure to find a good one for your stocking friend or family members. Pick a game you two can play together or one the whole family can enjoy.
Gift Cards – A gift card is always a welcome gift especially if you really don't know what to get. Make sure to pick a store they love or an amazon gift card since you can get just about anything from them.
Handmade Crafts – Consider creating something special yourself, like a handmade ornament or a personalized keychain.
A Thoughtful Note – Write a heartfelt letter or a sweet note expressing your love and appreciation.
How much does the average person spend on stocking stuffers?
The average amount spent on stocking stuffers can vary based on personal preferences, budget constraints, and the number of people in a household. There is no fixed rule or definitive data on the exact average spending for stocking stuffers. However, some general guidelines and estimates can be helpful:
1. Percentage of Gift Budget: Some people allocate a certain percentage of their overall holiday gift budget for stocking stuffers. This can range from 10% to 25% or more, depending on individual preferences.
2. Budget-Friendly Approach: Many individuals choose to keep stocking stuffers relatively inexpensive, aiming for small, thoughtful gifts that fit within their budget.
3. Set a price point and stick with it: Those small items add up fast and so does the cost of them. Choose a budget and stick with it.
4. It's the Thought That Counts: The value of stocking stuffers lies more in their sentiment and thoughtfulness rather than their cost. Affordable and meaningful gifts can have a significant impact.
5. Family Traditions: Some families may have traditions of giving a certain number of stocking stuffers per person or setting specific spending limits for each stocking.
Ultimately, the amount spent on stocking stuffers is a personal choice and can vary widely from one person to another. It's essential to consider what fits comfortably within your budget and to focus on finding gifts that will bring joy and happiness to the recipients.
Whether it's a few small and meaningful items or a more extravagant stocking, the spirit of giving and the thought behind the gifts are what truly matter during the holiday season.
Show Her You Care with Stocking Fillers She'll Love
Okay holiday gift-givers! Hopefully you found some perfect little treasures to stuff into those festive stockings. There's a treasure trove of small wonders to show that size doesn't matter when it comes to spreading joy and making this holiday season unforgettable! 
Remember, the most meaningful stocking stuffers are those that show you know and understand her preferences. The key to finding a great gift is to consider her interests, hobbies, and personality.
Even inexpensive items can hold sentimental value and make the holiday season extra special for her. It's the thought and effort that count the most in making these little surprises special. 
I hope you found some great ideas for stocking stuffers for all the women in your life. What are some of your favorite stocking stuffer ideas? We'd love to hear about them in the comments below! It's always fun to see what you come up with!
You Might Also Like: