Ultimate Homemaking Bundle 2018 | Grab Yours Now!
129 Resources to help you thrive in homemaking & mothering.  One tiny price. The Ultimate Homemaking Bundle is the MUST HAVE HOMEMAKING COLLECTION OF THE YEAR & it's only on sale for 6 days. Grab yours now before it goes away!
This post contains affiliate links. You won't pay any extra for making a purchase through these links but we earn a commission for purchases made through links. This helps keep the blog running which we really appreciate! You can read more about it in our full

 disclosure

.
Since 2013, Ultimate Bundles has been selling the Ultimate Homemaking Bundle, a complete collection of resources to help you create a home and life you love.
Over the years, a crazy number of people (100,000!!!) have invested in themselves, their family and homes by grabbing a copy of the bundle. Ultimate Homemaking Bundle is always a great deal and full of incredible resources. This year's Bundle is the most resources ever included in one of these bundles!
Whether you want decluttering and organizing tips, ideas to help you balance all your roles, healthy meal plans, mothering & marriage tips, or anything else related to homemaking, this bundle has you covered.
With an amazing selection of digital tools, it's designed to equip, inspire and give you that extra helping hand every homemaker wishes they had.
---
About the Bundle
Dates it's available: April 11-16, 2018
Price: $29.97
Value: 129 products worth $3,687.47
Contents: 62 eBooks, 34 printable packs & workbooks, 3 membership sites, 30 eCourses, videos and audios
A bundle is a collection of eBooks, online courses, videos and audiobooks which are made (and normally sold individually) by expert homemakers. Ultimate Bundles collects them in a single package for a huge discount, and offers it for ONE WEEK only.
Will our homes ever be perfect? Probably not. Will these tools make life completely stress-free? Nope.
But learning smart strategies and solutions, while saving yourself time and stress trying to figure things out on your own, sure does go a long way.  With a little help, you really can create a home and life that (while imperfect) is still pretty freaking awesome!
We've always stressed that we're not perfect here at We Three Shanes. We're just three sisters doing our best to find a balance in life so we can live more intentional, stress-less lives. If you're on the hot mess train and want to hop off then you need this bundle in your life!
---
Why I Bought the Bundle
I bought my bundle yesterday and already have so many things I want to implement my head is spinning. Since there is so much value in this bundle it can be overwhelming. I have a good amount of struggles when it comes to homemaking that I've been trying hard to focus on this year.
My house is full of constant clutter and while it's not an utter mess at all times, it definitely isn't as clean & organized as I'd like. If someone dropped by unannounced they wouldn't suddenly find themselves on an episode of Hoarders but it wouldn't be a Fixer Upper reveal either.
That's why I couldn't wait to buy this years bundle. There are a number of items that will help me fight the challenges I have in these areas. Check out all the resources the bundle offers when it comes to de-cluttering & cleaning.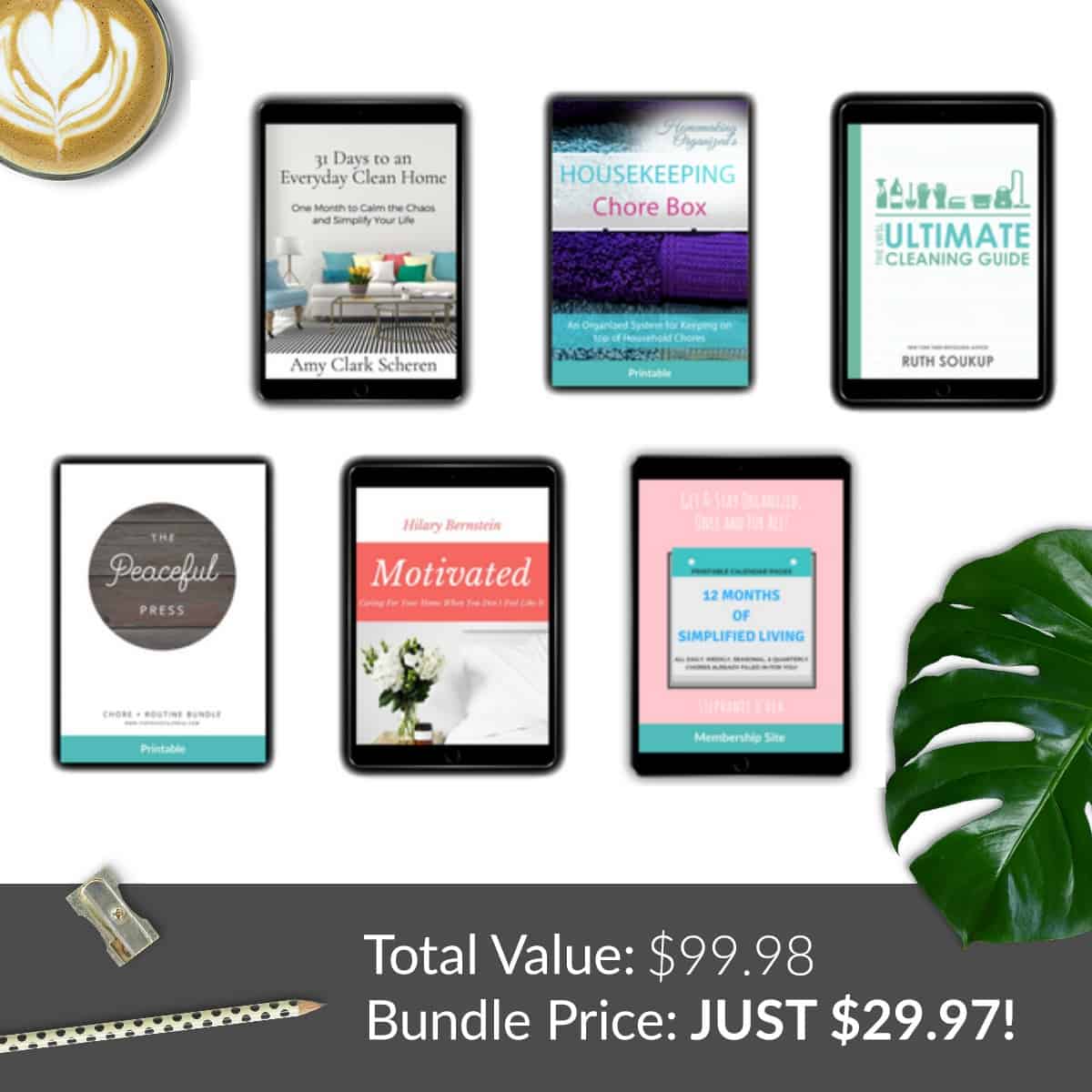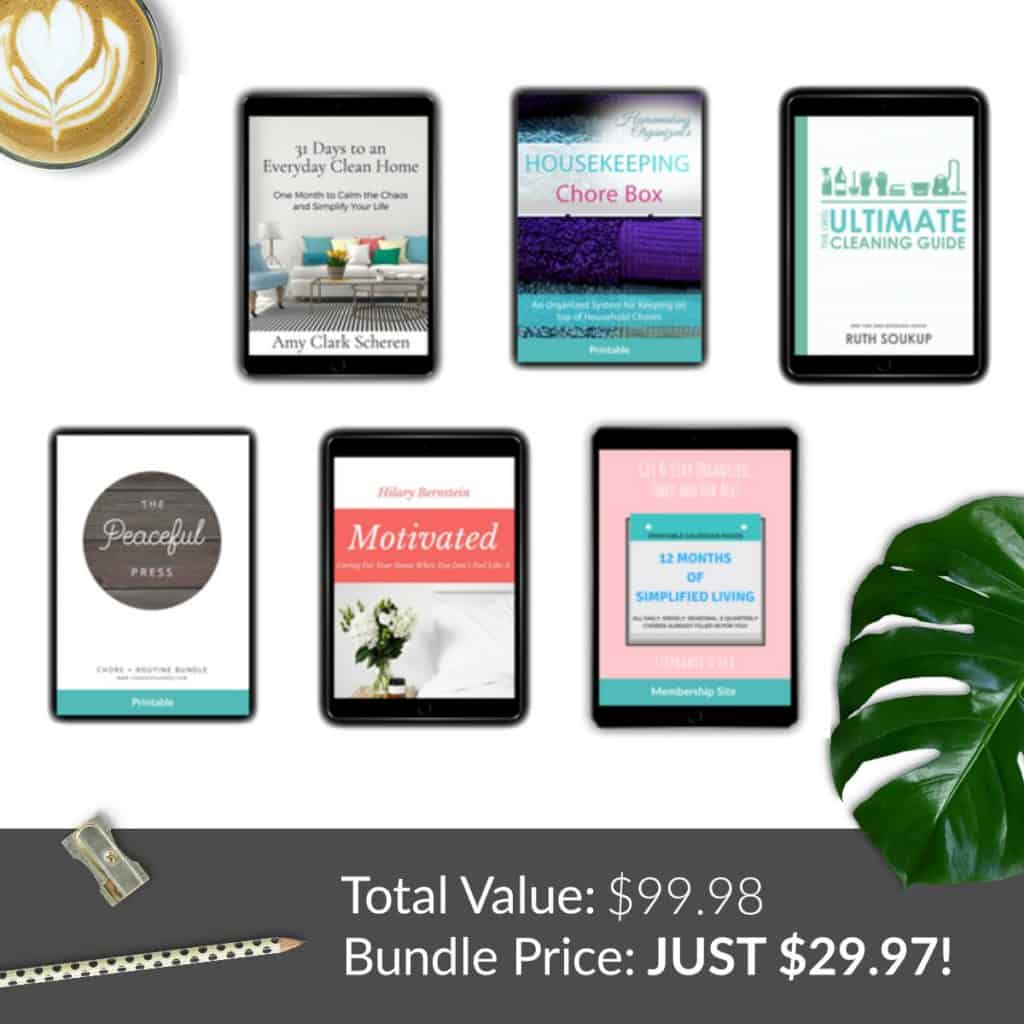 12 Months of Simplified Living: Printable Calendar Subscription by Stephanie O'Dea ($47.00)

31 Days to an Everyday Clean Home by Amy Scheren ($8.99)

Housekeeping Chore Box by Kemi Quinn ($9.00)

Motivated: Caring For Your Home When You Don't Feel Like It by Hilary Bernstein ($9.99)

The LWSL Ultimate Cleaning Guide by Ruth Soukup ($20.00)

The Peaceful Press Chore Pack by Jennifer Pepito ($5.00)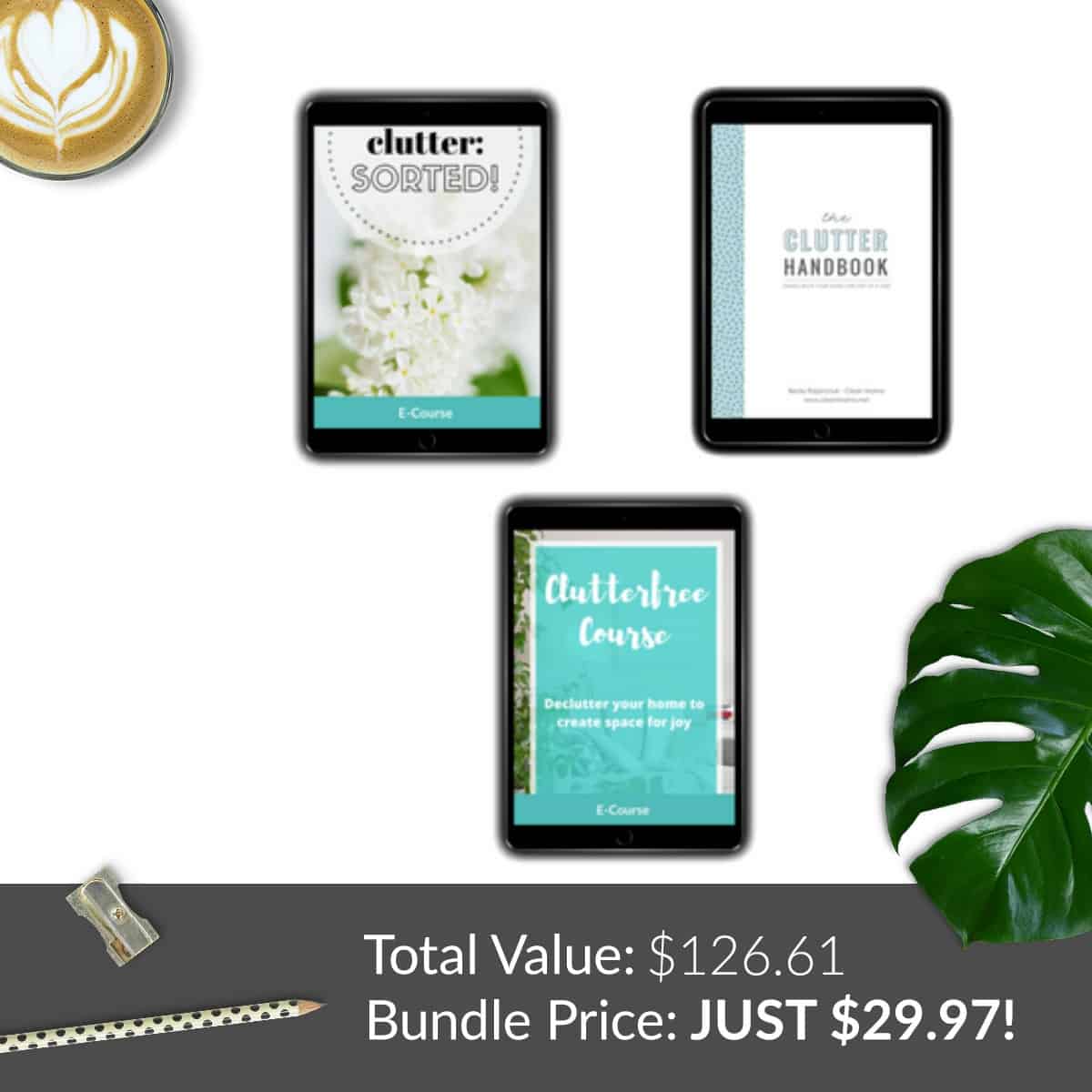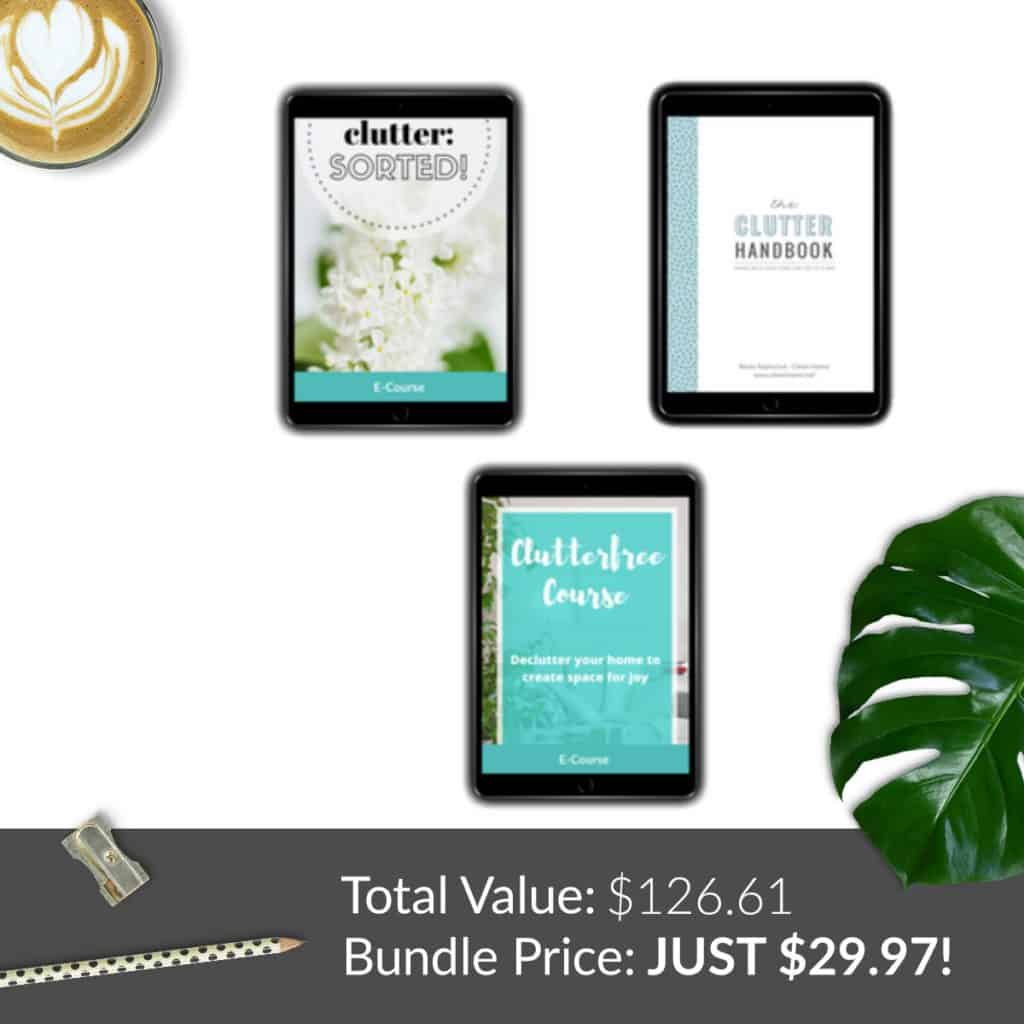 Clutter: Sorted: Take Your Home From Chaos to Calm, Step by Step by Chrissy Halton ($67.61)

Clutterfree: Declutter Your Home to Create Space for Joy by Christina Tiplea ($49.00)

The Clutter Handbook by Clean Mama ($10.00)
Together that's a total value of 226.59 and you get it all for $29.97! To me this bundle is worth the price for these resources alone but you still get more. I'm also really excited about the all the recipe/meal planning and budgeting goods.
---
Other Resources
There are so many helpful resources in the Ultimate Homemaking Bundle that I can't possibly write about them all. So here's everything that's covered in a quick glance.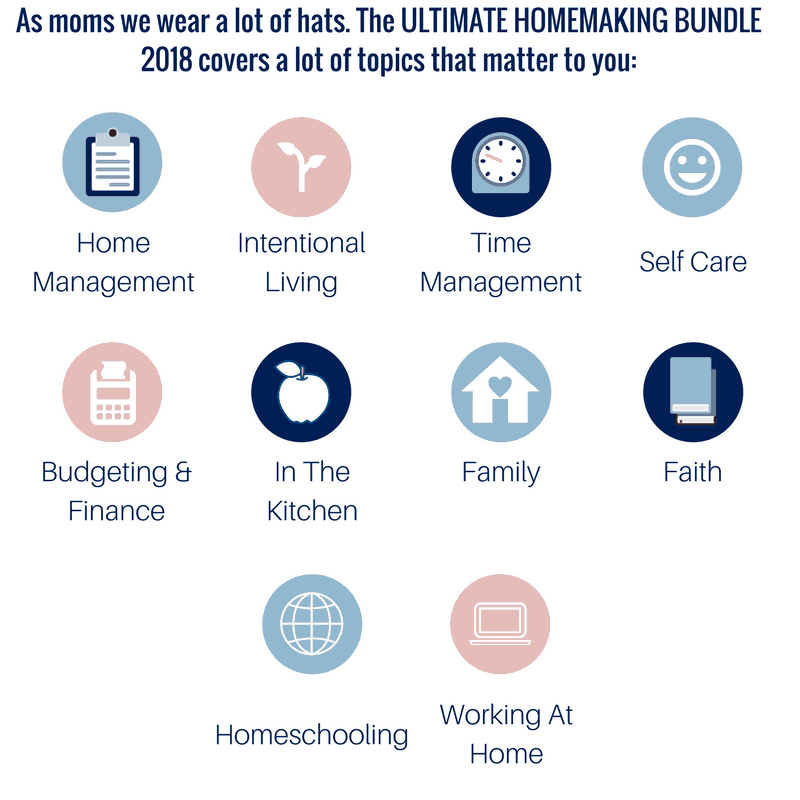 If you would like more information or want to check out all 129 Resources in the Ultimate Homemaking Bundle you can do that right HERE!
If you're like me and don't want to waste one more second in a stressful mess then just click the button to buy now.
I'm ready for stress-less homemaking – take me to my bundle now!
---
Bonuses
I can't forget to mention the bonuses! Choose from bonuses worth more than $180: like free kids' books from Bookroo, unlimited books, audiobooks and magazines with a 3-month Scribd subscription, or free natural eyeshadow from Orglamix – just to name a few! These bonuses are only good if you purchase the bundle by 4/12/18. That's today!
My favorite bonus is the FREE Style Challenge from Get Your Pretty On.
Here's how the GYPO Style Challenges work: Depending on which challenge you choose, you'll get up to 64 mix-and-match, on-trend outfits that will make you feel like a million bucks.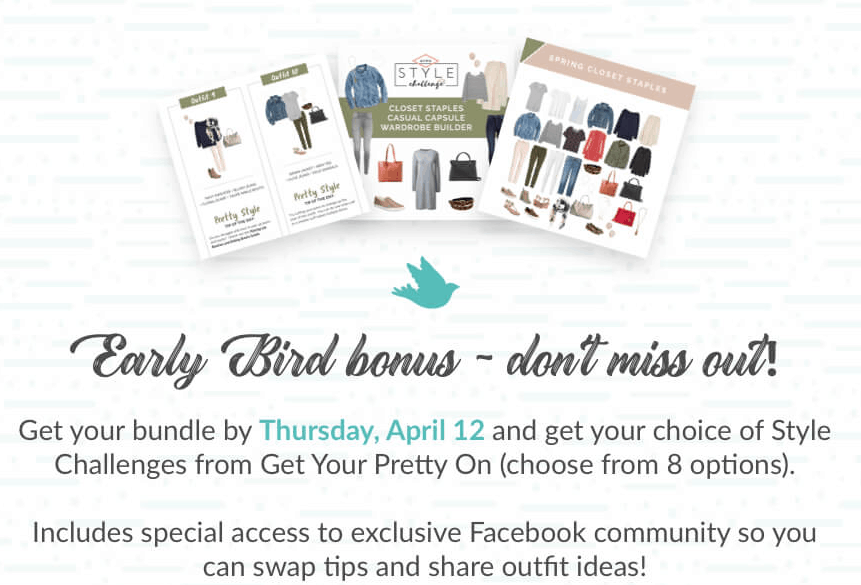 I grabbed the Closet Staples Wardrobe Builder. This is a year-round capsule wardrobe builder of stylish and versatile casual clothes. Including a closet staples shopping list of 43 pieces covering all four seasons plus 64 days of mix and match outfit ideas created from pieces on the list. These classic pieces are reused across multiple seasons giving you the most bang for your shopping buck.
If you remember I just cut my wardrobe in half so this is a great tool to have on hand for figuring out the best ways to piece together outfits with less clothes. It also gives me an idea of what might still be missing from my closet or what to buy in the future to create a real capsule wardrobe which is definitely a goal of mine. If you haven't whittled down your closet yet then this will be a great resource for you when deciding which clothing items to keep.
This bonus alone usually sells for $39.00. I know it's hard to spend money on yourself. But when you buy the bundle by midnight tonight (4/12/18), you'll get that special bonus and treat yourself without spending an extra penny!
Bonuses End in

Not sure it's right for you? No worries, that's why it's got a 30 day full happiness guarantee.
This homemaking and mothering gig is hard, and finances can be tight. But it doesn't mean you can't invest in yourself, your family and your home with a collection of resources that make it less stressful and more enjoyable – at a price that's too good to miss!
Ultimate Bundles has more awesome bundles that go on sale through out the year so make sure you sign up for our monthly newsletter to be kept in the loop.
---
You Might Also Like:
---